Raphael (Studio City, CA)
Raphael Restaurant
11616 Ventura Blvd, Studio City, CA 91604
818.505.3337
www.raphaelonventura.com
Mon 04/11/2011, 07:15p-11:55p

The last time we touched bases with
Adam Horton
was during his stint at
Test Kitchen
, where he was attempting to "put a modern face on Saddle Peak traditions." Since that time, Horton has parted ways with the venerable
Saddle Peak Lodge
, enjoyed a six-week vacation in Southeast Asia, and returned to helm the kitchens at
Raphael
in Studio City.
Opened in October of 2009, Raphael is the eponymous eatery of the Raphael family, the former owners of the Bel-Air Bar & Grill (which they sold off in 2007). Son Alon Raphael originally served as the managing partner, but has since left to pursue a graduate degree. As such, the business is now run by father Arnon Raphael and sister Shoshana Raphael. The restaurant debuted with former Water Grill line cook Steven Barkulis as Executive Chef, and featured a global menu of world cuisine inspired by the family's unique cultural heritage. However, Horton and Alon had been long-time friends ever since their days as fifth graders at Carpenter Avenue Elementary, and had always wanted to have a restaurant together. Raphael wasn't quite ready for Horton back in 2009, but a recent renovation provided the perfect opportunity to bring in the Chef.
About the Chef
: A native of Sherman Oaks, Horton attained his culinary education at the California School of Culinary Arts in Pasadena. During his time there, he worked at Saddle Peak Lodge under mentor Warren Schwartz (now at Westside Tavern), and continued cooking there after his graduation in 2004. However, feeling the need to expand his horizons, he left in 2005 to
stage
across Europe, landing at Gordon Ramsay at Royal Hospital Road, Le Moulin de Mougins, La Palme d'Or, Taillevent, and La Maison Troisgros. Horton returned in 2006 to cook at
Melisse
in Santa Monica, under Josiah Citrin and Brendan Collins. He eventually returned to the Lodge in 2006, serving as sous to Steven Rojas. Rojas, however, left the restaurant in July 2008, and thus Horton was promoted to Chef de Cuisine, and later Executive Chef, a title he would retain until Valentine's Day this year. He will be replaced at SPL by Chris Kufek, while Pastry Chef Kasra Ajdari and Sous Chef
Heather Bogue
(now Chef de Cuisine) have followed Horton to Raphael.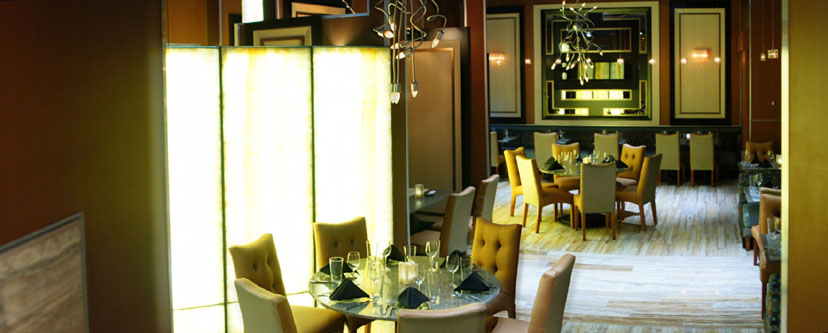 The former recording studio was transformed into a restaurant by family matriarch and designer Terry Raphael, while a recent remodel of the space into the building next door (home of a former porn shop--hey, we are in the San Pornando Valley after all!) has upped seating capacity to nearly 100. The old dining room has since been turned into an expanded bar/lounge area.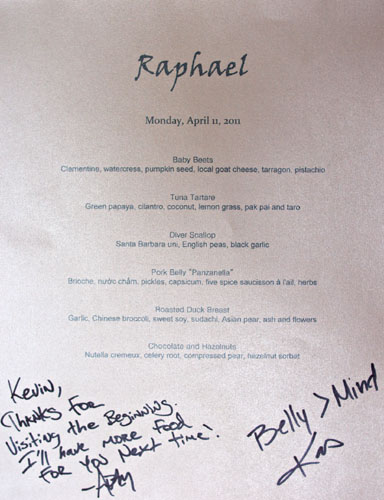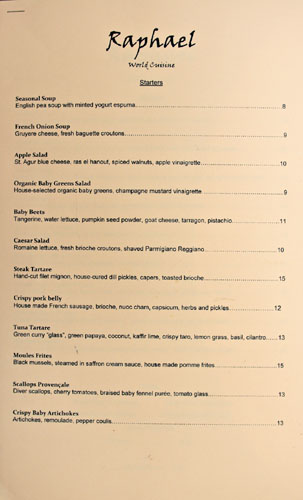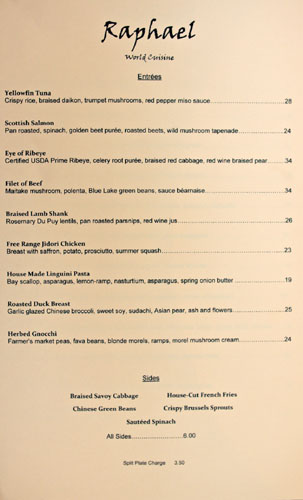 The regular menu at Raphael is still in the process of transitioning, but we were able to get a taste of Horton's influence via a special six-course "Industry Night" tasting menu, priced at $55 (with a few additional courses thrown in for good measure). Click for larger versions.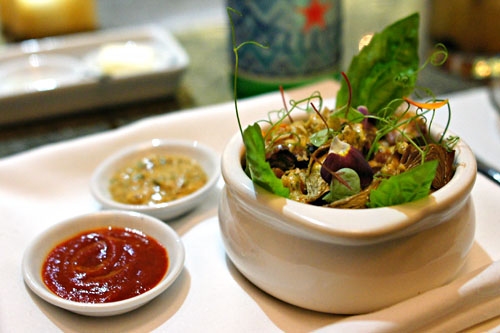 Amuse Bouche: Crispy Baby Artichokes
| Artichokes, remoulade, pepper coulis
Artichokes and I don't generally mix very well, but our first course was arguably the best preparation of the vegetable that I'd ever had. Its subtly sweet, lightly grassy flavor was wonderfully conveyed, accented by a touch of astringency and a lovely bit of pungency from the basil. Dipping sauces were both commendable as well.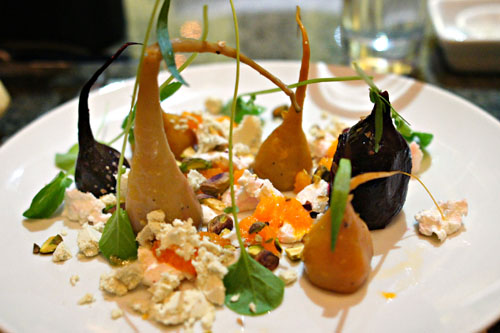 1: Baby Beets
| Clementine, watercress, pumpkin seed, local goat cheese, tarragon, pistachio
Beets, my bane, arrived beautifully plated. Fleshy and succulent in consistency, they showed off their prototypical beet-y sweetness, which I found adroitly tempered by the soft, creamy lusciousness of the goat cheese. The watercress, meanwhile, provided a countervailing peppery prick, and I appreciated the savoriness and crunch imparted by the pistachios and pepitas. My only complaint was that there was simply
too much
food here; a smaller plate with the same ratio of ingredients would've been much more appropriate.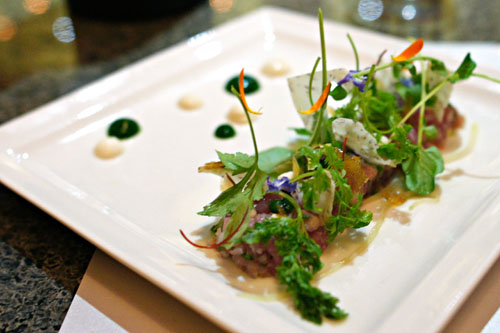 2: Tuna Tartare
| Green papaya, cilantro, coconut, lemon grass, pak pai and taro
Tuna tartars are almost clichéd at this point, but Horton's incorporation of Thai flavors deftly perked up an otherwise humdrum dish. The fish itself was very subtle, and thus served as a fitting base for the various herbs employed to really sing. The use of carrot "glass" imparted a definite sweetness to things, and I enjoyed the textural contribution from the taro chips. A light, bright, refreshing dish.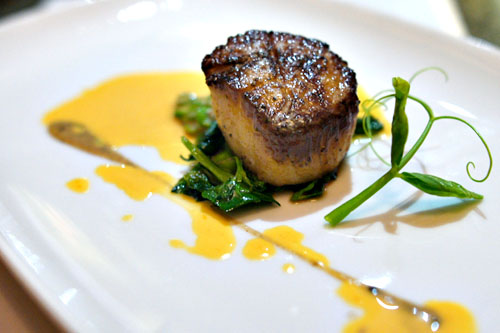 3: Diver Scallop
| Santa Barbara uni, English peas, black garlic
A singular scallop came nicely charred, yet still pleasingly rare on the inside. It was a joy to eat alone, but I did appreciate how its inherent savor was heightened by the paired sea urchin sauce, while the pea tendrils did a great job balancing out the flavors.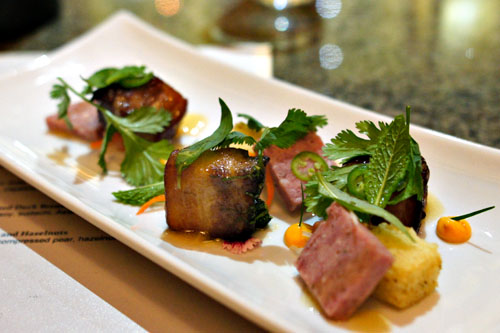 4: Pork Belly "Panzanella"
| Brioche, nuoc cham, pickles, capsicum, five spice saucisson à l'ail, herbs
Pork belly was the star of this Vietnamese-inspired dish, a deconstructed
banh mi
basically. Indeed, the pork was expectedly fatty, but not overwhelmingly so, with a nice bit of char and a lightly crisp crust. Both it and the comparatively restrained garlic sausage were superbly tempered by the crisp, tangy pickles and cilantro, while peppers and Sriracha added a well-placed touch of heat to things. The heady flavor of the
nuoc cham
, meanwhile, helped tie everything together.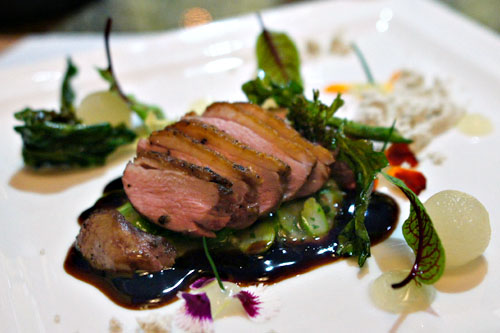 5: Roasted Duck Breast
| Garlic, Chinese broccoli, sweet soy, sudachi, Asian pear, ash and flowers
Duck was wonderfully tender, with a great depth of flavor that really made the bird good enough to stand alone. Nevertheless, the breast also went quite well with the contrasting flavors of the dark, viscous sweet soy and the bitter
kai lan
broccoli, while the sudachi added light traces of sourness to the fray. The globes of Asian pear, meanwhile, served to brighten the dish.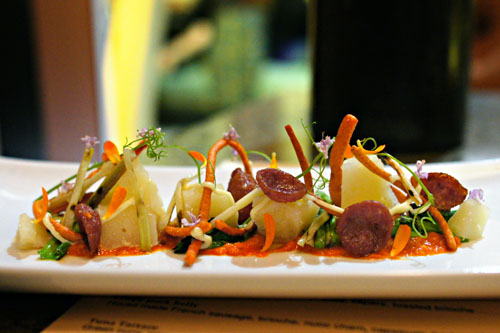 Cheese: Idiazabal
| Grilled ramps, romesco, fuet sausage, piquillo pepper chip, basil flower
It was now Pastry Chef Kasra Ajdari's time to shine. He started off with a cheese course, his homage to Catalan-style grilled calçots. The cheese, nutty and rich in flavor, paired surprisingly well with the tartness of the romesco, while the grilled ramps provided a delightful onion-y piquancy that was key. The
fuet
, on the other hand, added an almost pepperoni-like saltiness to the course, and I really liked the crunchiness imparted by the piquillo chips. Definitely one of the most adventurous cheese courses that I've had.
Dessert: Condensed Milk Flan
| Bell pepper glass, Peppadew pepper purée, candied pumpkin seeds, smoked paprika, fresno chile meringue, almond milk ice cream
As expected, the flan was dense and heavy, with a delectable caramel smack that formed a natural match with the almond milk ice cream. That alone would've been a classic flavor profile, but this dessert was much more ambitious, showing off the many faces of chile pepper--sweet, savory, and spicy variations that added additional layers of complexity to the dish. I really liked the plating on this one as well.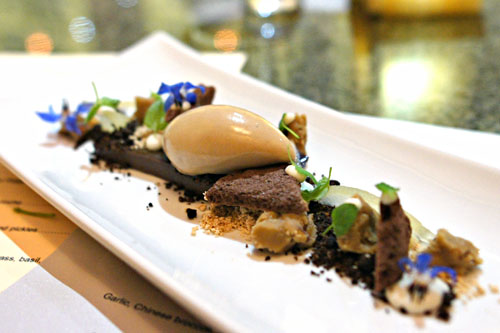 6: Chocolate and Hazelnuts
| Nutella cremeux, celery root, compressed pear, hazelnut sorbet
Our final course of the evening brought use a traditional pairing of chocolate with hazelnut, but in disparate forms and textures. It was an effective combination to be sure, but also very sugary, so the pear and celery definitely helped to moderate things. There was also a marked savoriness in the dessert that I found quite interesting, though I couldn't quite put my finger on it.
Although Horton and his team have just recently arrived on the scene here at Raphael, they seem to be taking to their new surroundings like a fish to water. It was great to see both Horton's and Ajdari's growth from my last meal with them at
Saddle Peak
. Their food just seems more personal, more unbridled here, and it'll be interesting to see how the cooking evolves as the months pass. For the time being, we can all enjoy what's quite possibly the most progressive cuisine in Porn Valley.