Rancho Valencia, The Restaurant (Rancho Santa Fe, CA)
Rancho Valencia, The Restaurant
5921 Valencia Cir, Rancho Santa Fe, CA 92067
858.759.6216
www.ranchovalencia.com/dining/the-restaurant
Sat 04/30/2011, 07:30p-12:10a
Nestled in a high-end residential neighborhood in Rancho Santa Fe, Rancho Valencia was the vision of San Diego developer Harry Collins (the family also owns La Valencia Hotel in La Jolla). Built in 1989, but looking much older due to its antique Spanish- and Mediterranean-style, the resort was sold last year to a group led by Jeff Jacobs, scion of Qualcomm founder Irwin Jacobs, for $15 million. In preparation for a renovation of the property, the hotel has completely revamped the kitchen staff, bringing in a trio of chefs to revitalize the Restaurant's admittedly staid menu.
Executive Chef Eric Bauer is a native of Chicago, and trained at the School of Culinary Arts at Kendall College from 1998 to 2000. Following graduation, he worked at the City's Ritz-Carlton, then moved on to the Four Seasons hotel chain, starting as a cook but moving up the ranks to become a sous, and later executive sous chef. One of Bauer's first assignments was at the nearby Aviara resort in Carlsbad (now a Park Hyatt), where he was mentored by Chef Pascal Vignau (who now runs Savory in Encinitas). He left Aviara in 2003, then worked at the Four Seasons Hotel Westlake Village up in Los Angeles and the Four Seasons Resort at Peninsula Papagayo in Costa Rica, where he trained in Latin and Mediterranean cuisine under Chef James Cassidy. In October 2007, Bauer left to pursue an Executive Chef position at Morels French Steakhouse & Brasserie at The Palazzo in Las Vegas, where he stayed until January 2009. He returned to San Diego in May that year, helming the kitchens at Anthology in Downtown's Little Italy, where Bradley Ogden serves as consulting chef. Bauer left to join Rancho Valencia's team in May last year, and was replaced at Anthology by Todd Allison, who was most recently at the Hilton Checkers in Downtown LA.
Chef de Cuisine Aaron Martinez, meanwhile, attended the Arizona Culinary Institute in Scottsdale, graduating in 2003. He worked at the three-star Michelin Martin Berasategui in San Sebastián, Spain, and also was the opening sous chef at Addison (under William Bradley), cooking there from 2006 to 2009. Following, he traveled to Heuvelland, West Flanders, Belgium and took on a position at the famed In de Wulf before joining the Rancho Valencia team in 2010. Martinez is joined by Sous Chef David Volk, who comes to us having worked at Wolfgang Puck's Postrio in San Francisco and Blanca in Solana Beach (now helmed by Gavin Schmidt), among other places.

Though described by the resort as an "elegant Mediterranean setting," the dining room is clearly starting to show its age.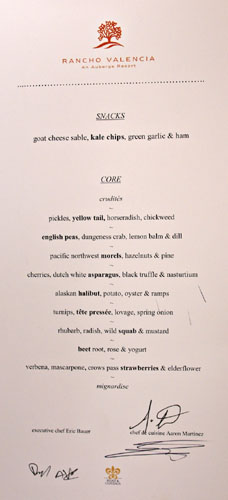 The Restaurant's regular menu of "Coastal Ranch cuisine" can best be described as tired, featuring such straightforward selections as
iceberg salad
,
onion soup
,
roasted and braised lamb
,
32 oz. prime côte de boeuf
,
chocolate chip cookie sundae
, and
carrot cake
. We, of course, were here for something entirely different: an unadvertised, contemporary degustation of 11 or so courses, priced at a very reasonable $110. I'm told that, given time, the rest of the menu will be similarly refreshed. Click for a larger version.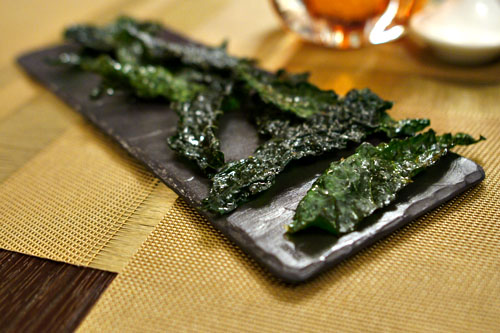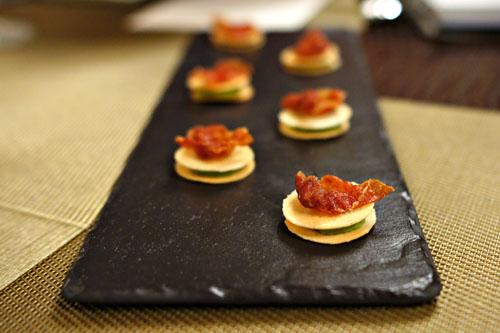 snacks: goat cheese sable, kale chips, green garlic & ham
We were curiously greeted by a platter of wrinkled kale chips, crisp in consistency and somewhat disconcertingly tangy in savor. The
sablés
, meanwhile, were more to my liking, showing off the chèvre beautifully while accenting the cheese with a delightfully salty crunch from the prosciutto.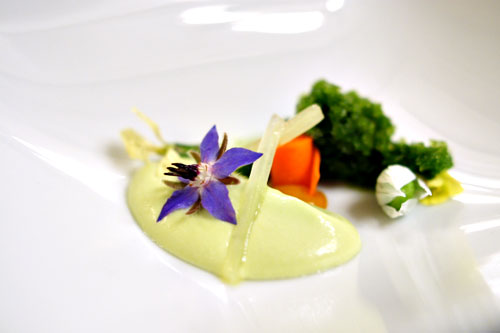 crudités
Our amuse bouche was a humorous riff on
crudités
, a classical French dish of raw veggies with dipping sauce. Though
crudités
usually comprise carrot sticks, celery, broccoli, and the like, what we had here was a combination of romaine purée, lettuce granité, pickled carrot, and wildflowers. It was a lovely celebration of the vegetables, with each of their unique tastes forcefully conveyed on the palate--a light, bright, refreshing burst of flavor, grounded by the lusciousness of the romaine.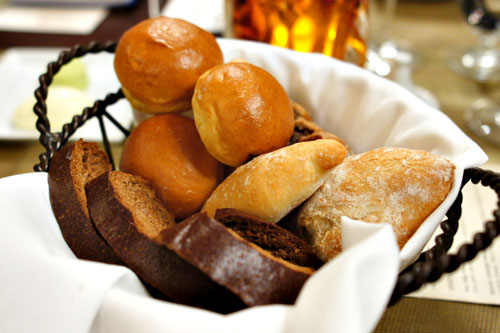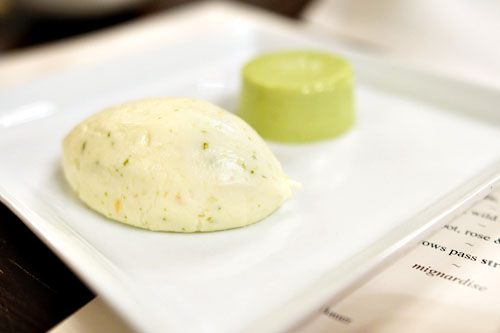 Bread service consisted of brioche, pecan raisin, ciabatta, and squaw varieties, served with a wonderful ramp butter and an equally intriguing horseradish butter.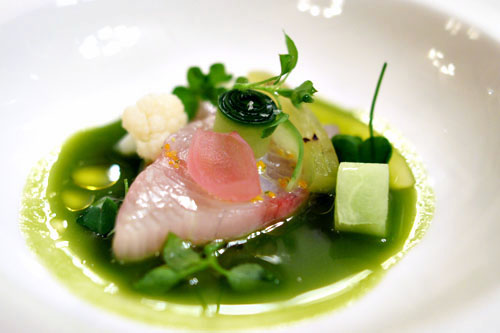 1: pickles, yellow tail, horseradish, chickweed
The first proper course brought together the seemingly suddenly popular
hiramasa
(yellowtail kingfish) with pickled cauliflower, onion, and cucumber, all in a horseradish-chickweed jus. I really appreciated the clean, focused flavor of the fish, and how it was paired with the considerable acidity at play here. The additional crunch from the veggies was a bonus.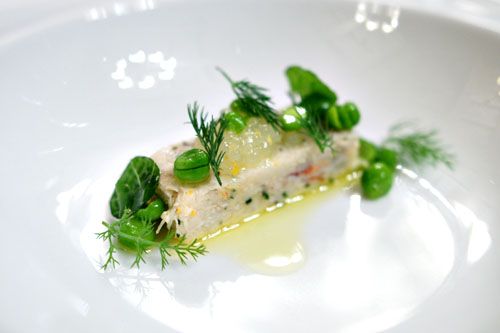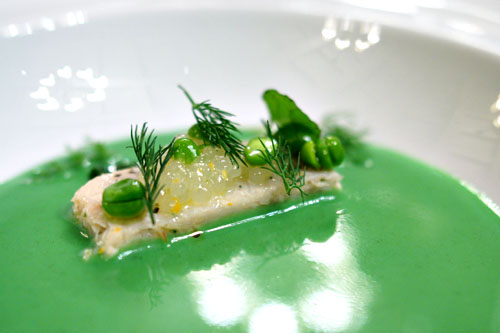 2: english peas, dungeness crab, lemon balm & dill
Dungeness crab was shaped into terrine form, topped with dill fronds, lime tapioca, and placed in a sea of brazenly verdant pea velouté. I definitely enjoyed how the inherent sugariness of the crustacean was presented here, and how that was moderated by the green, herbaceous flavors in the dish, while the whole shebang was perked up by a tinge of citric tang. I found the texture of the peas tremendously satisfying as well.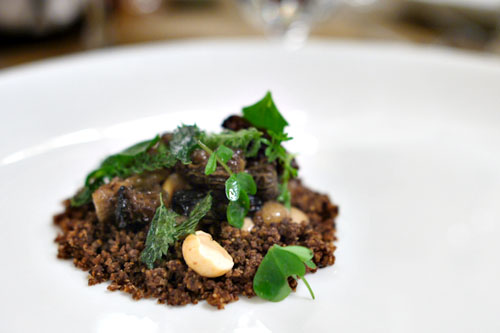 3: pacific northwest morels, hazelnuts & pine
Morels arrived grilled and strewn amidst a commixture of pine soil, hazelnuts, nettle, wood sorrel, and yarrow. Described by my dining companions as "
Noma
-esque" and tasting of a "savory Ferrero Rocher," the dish tactfully conveyed the essence of a forest floor (much in the same way as Craig Thornton's
wandering the forest
dish), showing off an earthy, nutty sweetness countervailed by the herbaceous flavors of the various greenery. Easily the most avant garde, cerebral dish of the evening.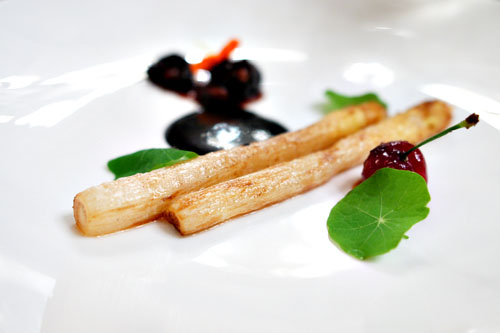 4: cherries, dutch white asparagus, black truffle & nasturtium
White asparagus was cooked near meltingly tender, and demonstrated just a hint of the vegetable's signature astringency. The tableside pairing of a murky truffle jus (which was so dark as to suggest the use of squid ink) was a welcomed addition, the heady savors of the fungus permeating the asparagus admirably. Bing cherries stuffed with black truffle were an interesting addition--nicely restrained in their sweetness--but not absolutely necessary for me.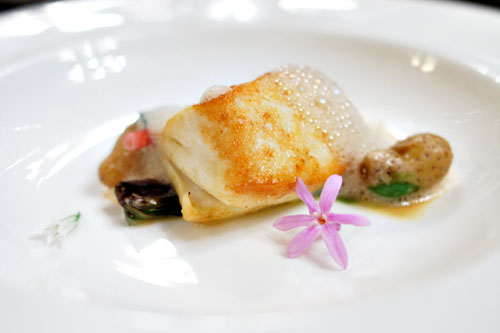 5: alaskan halibut, potato, oyster & ramps
Delicate, lean, flaky, slightly spongy to the touch, and finished with a delightfully crisp crust, halibut was presented in the best light possible. Its natural flavor was accentuated by the use of a fish fumé broth, while the oyster-ramp emulsion added further depth and complexity. Rounding things out were the hay-smoked potatoes, which served to ground the dish.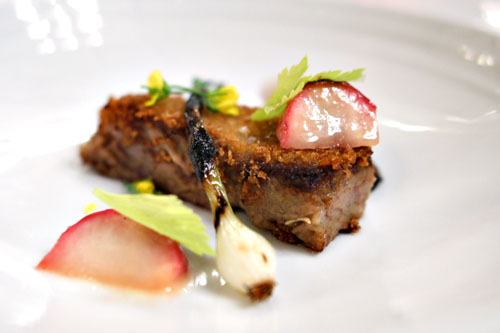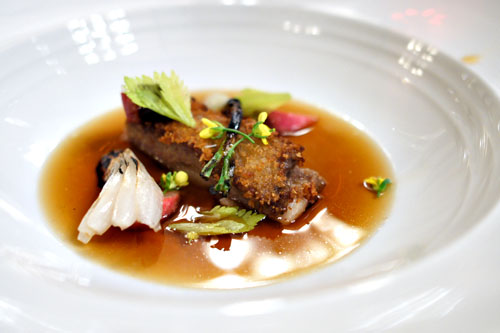 6: turnips, tête pressée, lovage, spring onion
Tête pressée
translates to "pressed head," and is merely an epithet for head cheese. As you'd expect, the dish showed off a delectably meaty savor, and was supremely supple in body, with a lovely bit of crispness as well. Given the gravity of the
tête
, the grilled spring onions, lovage, chives, celery, and turnips were crucial in balancing the dish.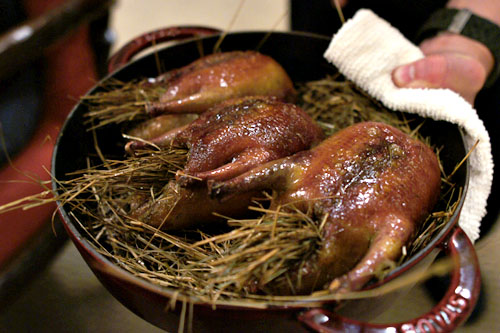 Prior to the serving of our next course, a trio of beautifully hay-roasted squabs was presented to us. I recall their aroma as being quite intoxicating.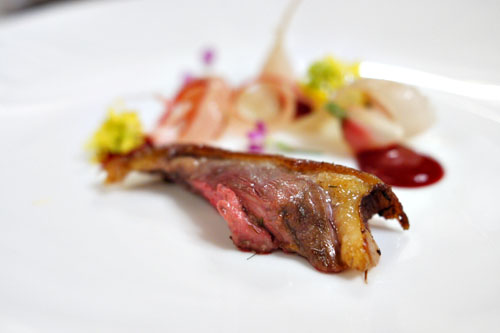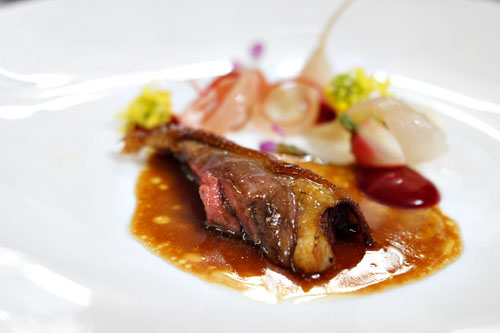 7: rhubarb, radish, wild squab & mustard
Squab was marvelous, simply one of the best preparations that I've experienced in a while. Cooked to a pleasingly rare temperature, the bird deftly conveyed a perfect confluence of smoky and savory flavors, heightened by the application of a sauce made from its bones and hay. The meat was then paired with a rhubarb-mustard gel and various radishes, the combination of which provide tart, almost floral counterpoints to the dish.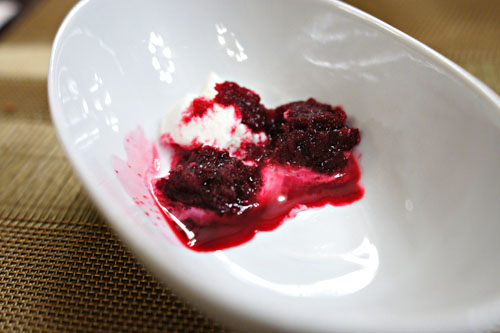 8: beet root, rose & yogurt
Serving as a sort of intermezzo in the meal, beet root was joined by rose granita and yogurt, making for a bright interplay of sugary and lactic flavors that served to cleanse the palate.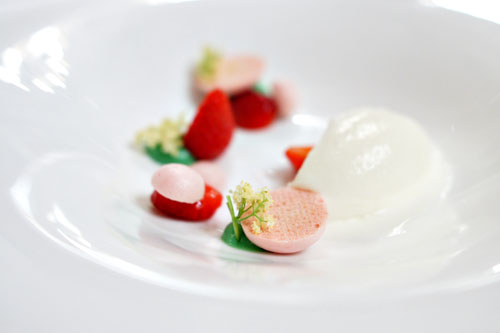 9: verbena, mascarpone, crows pass strawberries & elderflower
Strawberry was presented in sliced, consommé, and meringue "chip" form. A cremeux of mascarpone cheese showed off a prototypical sourness, moderated by the berries as well as the elderflower, while the verbena added a touch of levity to the fray. A light, refreshing dessert, with a lovely "green" floral character.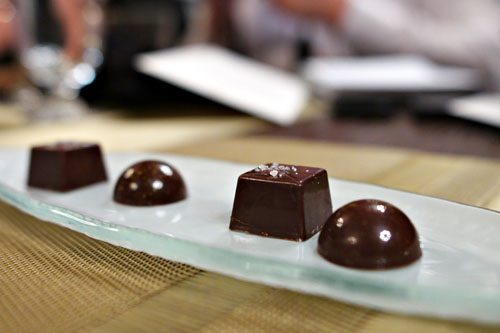 mignardise
Mignardises were created from local chocolate and came in two varieties: salted caramel and orange truffle.
One of my dining companions described her expectations of the food here as "WASP-y pedestrian," but the reality was far from it. Rather than tepid hotel fare, what we received was what looks to be some of the most exciting cooking going on in San Diego at the moment, a combination of bold, lusty flavors, artful plating, and a dash of restrained modernist verve. The kitchen is capable of doing great things as we've seen, and it's my hope that this rejuvenation can spread to the rest of the menu as well.