Pheast Underground Dinner (Los Angeles, CA)
Pheast Underground Supper Club
Los Angeles, CA 90066
thepheast.tumblr.com
Fri 04/29/2011, 07:30p-02:45a

Though high-end underground dining has existed in some form or another for years here in LA, the movement really took off last year with the arrival of
Craig Thornton
's
Wolvesmouth
. Since then, several new underground supper clubs have popped up, the most promising of which appears to be Isaiah Frizzell's
Pheast
.
A self-described hillbilly, Frizzell hails from the small town of Columbia, Tennessee. Though his grandfather was famed country music singer
Lefty Frizzell
, he grew up poor, with his family moving constantly around the South for the better part of 12 years. The family finally disintegrated when he was 16, and the young Chef was left homeless in Dallas. Frizzell pursued cooking as a way to find himself, even going as far as to use food stamps to purchase luxury goods such as caviar and jamón ibérico, his copy of
Larousse Gastronomique
in hand. He eventually took on an interest in Indian cookery, then dabbled in vegetarian, macrobiotic, and even vegan cuisines (he once served as a vegan personal chef) before coming back to classic omnivore cooking once he started working in professional kitchens.
Inspired by the musings of Jeffrey Steingarten as well as Thomas Keller's seminal
French Laundry Cookbook
, Frizzell taught himself the intricacies of contemporary cooking (even getting versed in pastry), and eventually started working as a sous for Dallas chef Tony Gardizi. The duo would create spontaneous degustations of 10 or more courses, and through these dinners, Frizzell refined his skills, and more importantly, cemented his own personal culinary style. After some traveling, he moved from Seattle to Los Angeles late last year and settled in Los Feliz, a location that allows the Chef to easily partake in his daily hikes through Griffith Park, a constant source of inspiration for his cooking.
Frizzell eventually got involved with
a razor, a shiny knife
, helping the supper club with their last event here in Los Angeles. There, he met fellow chef Linda Lloyd, and the two launched Pheast. Entitled
My Bloody Valentine
, their first event, a 10-courser with wine and cocktails, was supposed to occur on Valentine's Day, but the event was subsequently cancelled after Lloyd pulled out because of family issues. Pheast's next event, held in Silver Lake, was at the end of March and featured products from The Cheesestore of Silverlake and McCall's. Frizzell then returned home to Dallas to cook before coming back to LA to work with Libry Darusman (from Mark Gold's Eva) at his
Room Forty
pop-up. Darusman, it turns out, would also be assisting in tonight's meal, held at a quaint residence in Del Rey, not too far from
Waterloo & City
.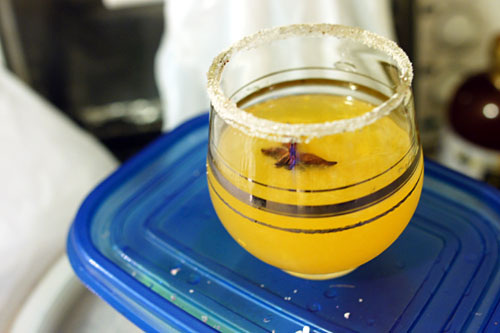 Upon arrival, we were handed a welcome cocktail created by our host Nick, a friend of Frizzell's. A blend of Pig's Nose Scotch, orange, lemon, and star anise, finished with a clove-sugar rim, the drink deftly used the citrus to offset the weight of the whisky, while the anise and clove added a lovely sweet spice on the finish.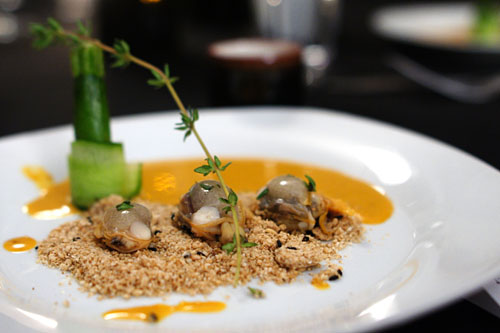 1: clam, uni, dashi, sesame, zucchini, cucumber
For our first course, a delightful trio of clams arrived sitting atop a "sand" of powdered shiitake, white sesame, and black sesame. I thoroughly enjoyed how the ocean-y savor of the clam played with the earthiness of the mushroom-sesame combination, and how the zucchini and cucumber served to lighten things up. At the same time, the uni sauce accentuated the brine of the dish, but was a bit overwhelming at times. The dashi shot, finally, contributed a marked umami complexity to the mix, and helped tie everything together.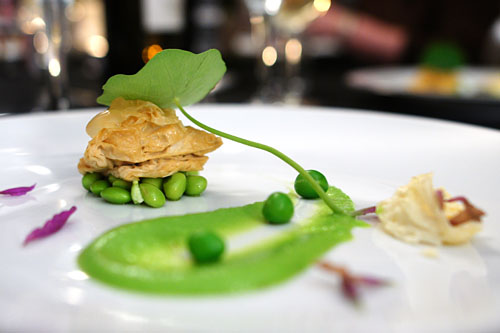 2: yuba, milk skin, nasturtium, edamame, english pea, lavender, yuzu
Being somewhat of a pea and edamame fiend, I was especially looking forward to this course. Taken alone, the yuba was fairly blunt in flavor, but the tofu skin worked beautifully when eaten in concert with the light, bright pea purée and blanched soybeans. I also adored the floral component contributed by the lavender, as well as the prick of citric tang from the yuzu.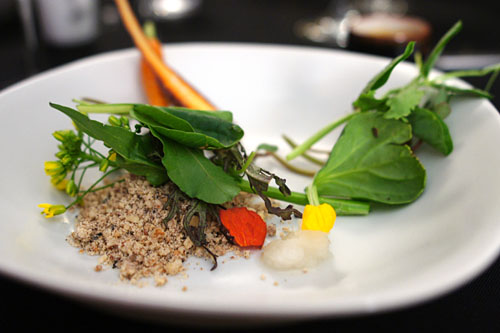 3: bouquet of greens with soil
Dishes composed of raw vegetables and "soil" have become in vogue in the past few years, and here we get to see Frizzell's interpretation of the concept. He utilized purslane, broccolini, kale, carrot, and various flowers, set in a hazelnut-chicory-almond-salt-pepper-sugar soil, with the whole amalgam finished with a carrot, yuzu, olive oil, and S&P vinaigrette. The bitter, biting, unadulterated flavors of the greens were forcefully conveyed here, yet deftly countered by the gravity of the carrot broth, while the nutty "dirt" served to ground the dish. Quite nice.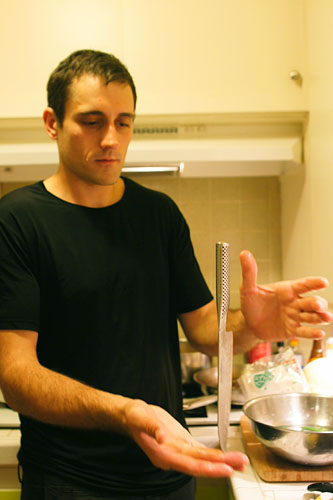 Knife balancing skills.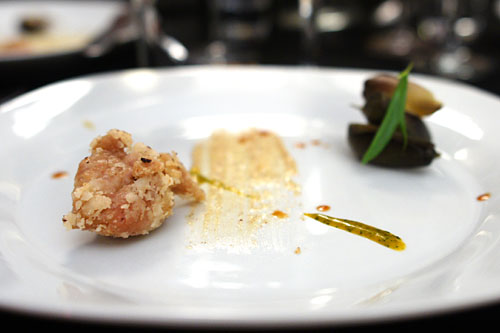 4: artichoke heart, veal sweetbread, shiso, mango, longpepper mayo
Veal sweetbread arrived in tempura'd form, accompanied by a shiso-mango emulsion and long pepper mayonnaise. As expected, it was a delectable nugget of crisp, savory goodness, gorgeously accented by the heat of the mayo, while the mango added a slight tinge of sweetness. I wasn't quite as sold on the artichoke however, which didn't quite fit in the dish for me.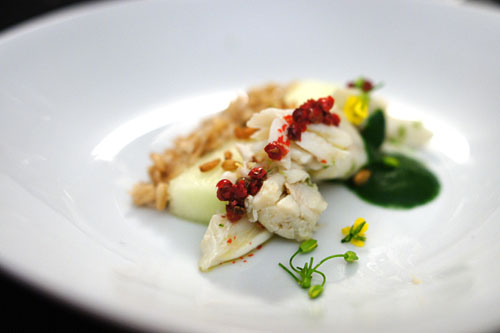 5: crab, honeydew, oat, stinging nettle, peppercorn
Crab was superb, supple and fresh, with a delightful sweetness heightened by the money melon and finished beautifully by the spice of pink peppercorn. I also appreciated the subtle astringency of the nettle purée, as well as the tempering effect of the oat groats. Just a very well integrated dish.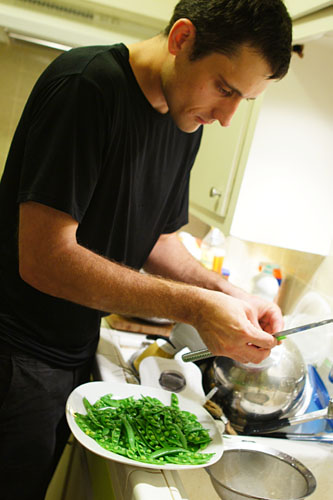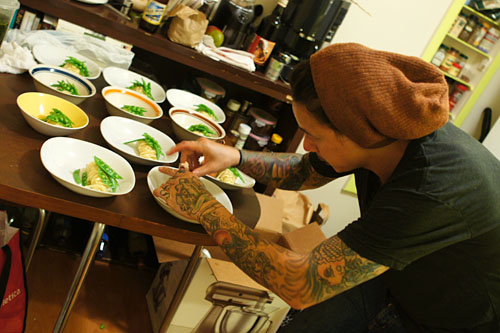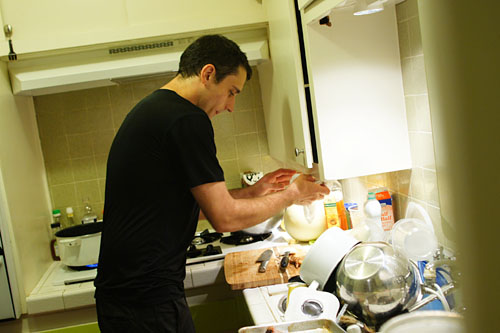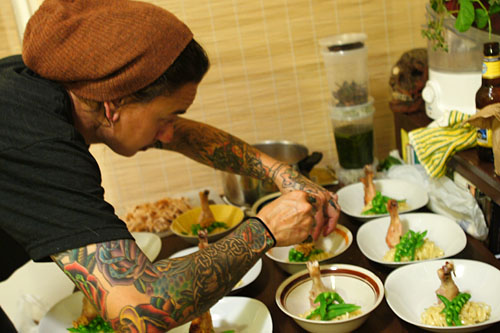 Preparing the chicken dish. When it comes to tattoos, Darusman might be the only chef in the city with more than
Cole Dickinson
(
Michael Voltaggio
's Chef de Cuisine at his upcoming
Ink
).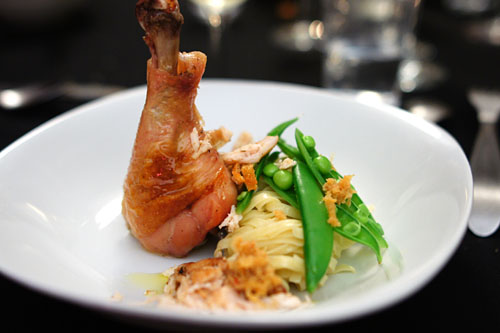 6: chicken, momofuku xo sauce, sugar snap, noodle
Standing erect, a chicken drumstick (my favorite part of the bird) arrived perfectly cooked, showcasing a profound depth of flavor further heightened by the deep, heady relish of the Momofuku-inspired XO. It was an immensely satisfying combination to be sure, one expertly balanced by the relatively subdued tastes of the snap peas and noodles.
Chicharrón
of chicken skin, meanwhile, added a lovely bit of textural variation to the dish.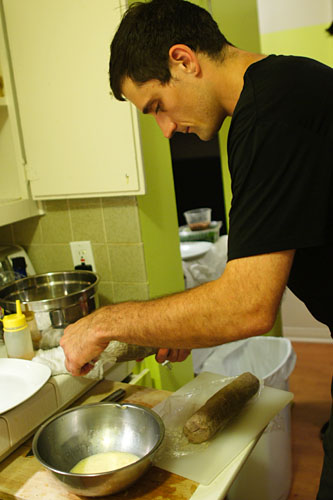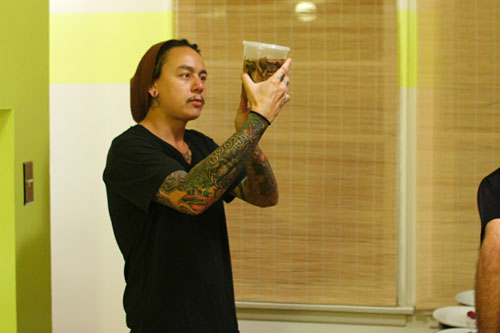 Getting the tube meat ready for service.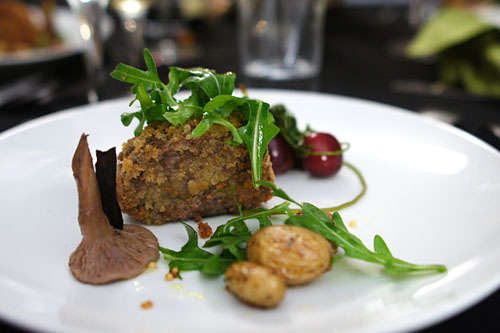 7: crispy lamb rillettes, fingerling confit, pickled blue-foot, arugula
Tonight's
pièce de résistance
was a disk of lamb rillettes, coated in panko bread crumbs and fried crisp. As you'd expect, the lamb itself was a tender, salty, unabashedly savory eating experience, an admixture of deep, dark flavors moderated by the confit potatoes, tangy mushrooms, and peppery arugula. I was a bit concerned about the cherries, but they worked surprisingly well in the dish, adding a refreshing bit of tart sweetness to things.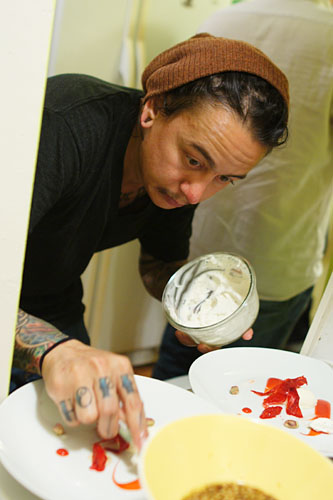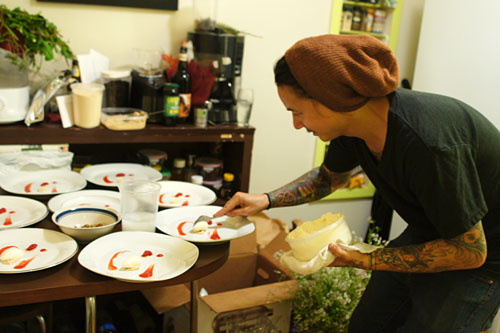 Plating the sweet stuff.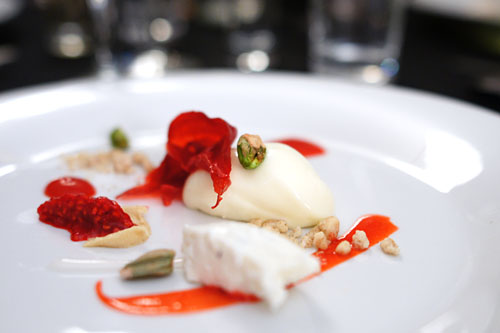 8: rose, goat cheese, strawberry, raspberry, elderflower, pistachio, malt
Our multifaceted dessert consisted of rose cremeux, Nick's homemade lavender-honey-lemon goat cheese, almond sugar, strawberry Fruit Roll-Ups, raspberry and strawberry coulis, elderflower fluid gel, pistachio, and malt "cookie dough." I absolutely adored the intense floral character of the cremeux, and how that played with the tangy chèvre and unmitigated sugariness of the berry fruit. A lovely mélange of flavors, all finished with a trace of salt from the pistachio. One of my dining companions even commented that the dessert "tasted like Valentine's."
I had high hopes for Pheast, and indeed, Frizzell and company did not disappoint, putting forth a superb suite of dishes showcasing modern technique and an intriguing blend of global influences. We were able to speak with the Chef on multiple occasions throughout the evening, and his energy and enthusiasm were palpable, his motions and movements spry, but deliberate. He was cooking a mile a minute in an admittedly lilliputian kitchen, yet was able to turn out food that managed to surprise, delight, and impress us all. This "traveling kitchen band" is the most exciting thing to hit the LA underground dining scene since
Wolvesmouth
, so I recommend that you get in while you still can.