Piccolo (Los Angeles, CA)
Piccolo Restaurant
5 Dudley Ave, Venice, CA 90291
310.314.3222
www.piccolovenice.com
Thu 07/28/2011, 07:30p-10:45p

The history of Piccolo is inextricably tied to that of another notable Los Angeles Italian eatery,
La Botte
, as well as its owner, Stefano De Lorenzo. Many years ago, De Lorenzo worked at Il Moro in West LA, and here, he would meet chef Antonio Muré. De Lorenzo and Muré hit it off, and in April 2004, they opened Piccolo (fun fact: it was originally called Piccolo Cipriani before the Cipriani family of Harry's Bar fame complained) at the former 5 Dudley space in Venice. Piccolo was a near-instant hit, giving De Lorenzo and Muré the resources to open La Botte in November 2005.
Muré, however, grew tired of splitting his time, and left the partnership in 2006, selling his stake to Piccolo's manager, the Rome-born, Melbourne-educated Vittorio Viotti. Viotti brought in a new chef in the form of Alberto Lazzarino, who also spent time at Il Moro and who was most recently at Osteria La Buca. Lazzarino, though, wouldn't last long, and was summarily replaced by Roberto Ivan (affectionately known as "Bobo"), who was subsequently made a partner in the business as well.
Born in Conegliano, Veneto, Bobo grew up in the small town of Sacile in the Friuli-Venezia Giulia region of north-east Italy. He went to culinary school in Longarone, Veneto, and started out as a commis at the Michelin-starred Al Capriolo in Vodo Cadore. From there, Bobo worked at hotels in Venezia and his hometown of Conegliano, and then traveled the world, landing in England, Germany, Monte Carlo, New York, and of course, California.

Piccolo translates to "small" in Italian, and at 1200 sqft, the original space certainly lived up to that moniker. However, in May 2010, the restaurant added another 1000 sqft by expanding into the gallery next door, in the process doubling the size of the main dining room, adding an eight-seater bar, and building a wine cellar-
cum
-private dining room.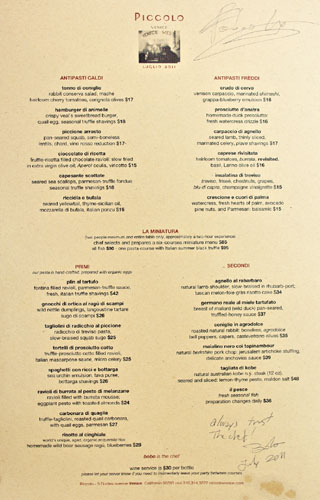 Given that Chef Bobo hails from Veneto, it's not surprising that Piccolo's menu is heavily slanted toward Northern Italian fare. Despite the presence of a tasting menu, we actually ordered à la carte. However, the kitchen ended up splitting every dish into two, effectively creating a custom degustation--a very thoughtful touch! Click for a larger version.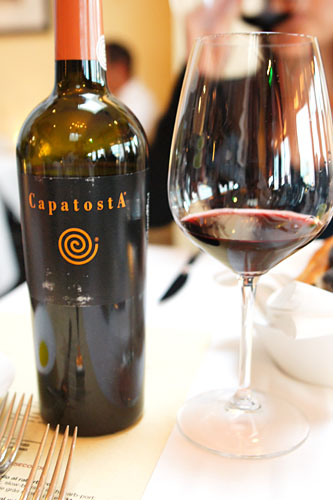 Piccolo's former sommelier Pietro Biondi has been replaced by Fabio Lai, a busboy turned waiter turned sommelier who began his restaurant career at age 13. To pair with our entire menu, he chose a bottle of the 2005 Poggio Argentiera Morellino di Scansano Capatosta [$75], a 100% Sangiovese from the Maremma region of Tuscany. Lai did well, as the wine was delicious, showing off notes of tart cherry intermixed with a subtle woodiness and moderate tannins--very nicely balanced.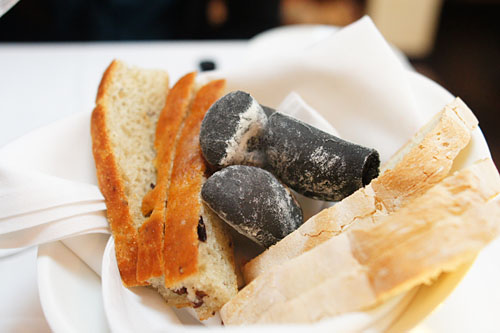 Bread comprised focaccia, white, and squid ink varieties.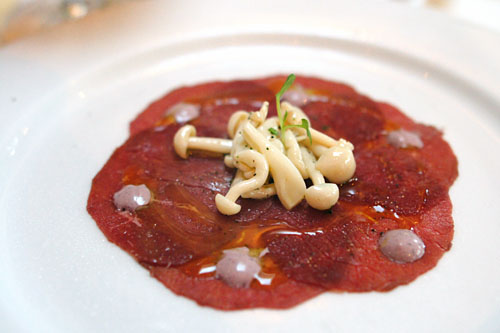 crudo di cervo [$16.00]
| venison carpaccio, marinated shimeshi, grappa-blueberry emulsion
I often find carpaccios rather boring, but this version was a refreshing departure from the norm. I really appreciated the interaction between the slight astringency of the EVOO and the boozy sweetness of the blueberry, and how that all played over a savory base of venison. At the same time, the snappy shimeji mushrooms did a great job in mixing things up texturally.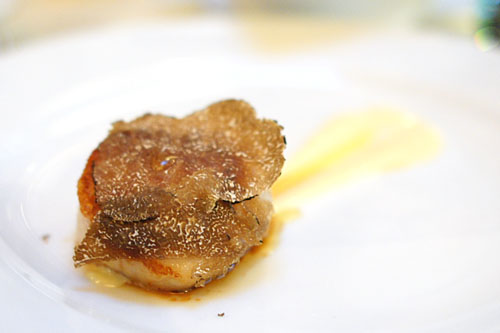 capesante scottate [$18.00]
| seared sea scallops, parmesan-truffle fondue, seasonal truffle shavings
This rather large scallop was cooked spot on, and was one of the tastiest that I'd eaten in a while. It had a lovely sear, along with a creamy, rare interior and a wonderfully saline relish that played perfectly with the heady aromatics of the truffle. The Parmigiano, meanwhile, added additional heft and savoriness to the dish, but wasn't strictly necessary in my eyes.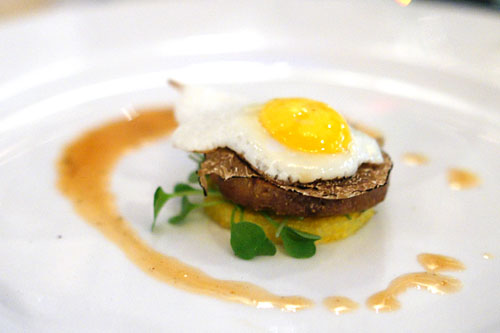 hamburger di animelle [$18.00]
| crispy veal's sweetbread burger, quail egg, seasonal truffle shavings
Sweetbreads were superb, easily one of the best preparations that I've ever experienced. I liked the tanginess of the herbs on the attack, and how that all got intertwined with the savory depth of the
animelle
, while the essence of truffle made itself known on the long, lingering finish. The polenta, meanwhile, served to temper the dish, and I loved the overarching lusciousness of that quail egg. Just a very well-integrated bite overall.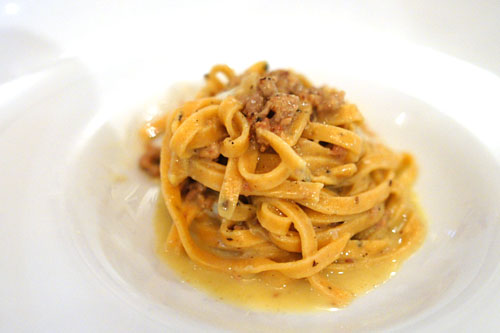 carbonara di quaglia [$27.00]
| truffle-tagliolini, roasted quail carbonara, with quail eggs, parmesan
Here, Bobo substitutes quail for bacon in his version of carbonara. I appreciated the satisfyingly supple consistency of the tagliolini, as well as the dish's restrained, refined savoriness, all moderated by an overarching egginess. Once I was done with the pasta, I eagerly sopped up the remaining liquid with some of that whimsical
pane nero di seppia
.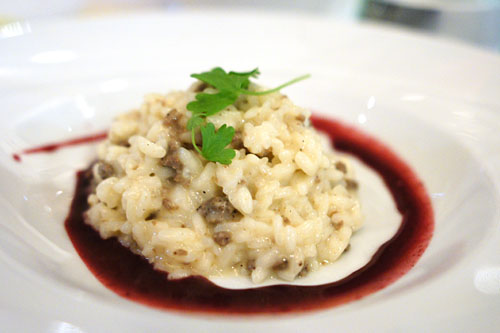 risotto al cinghiale [$28.00]
| world's unique, aged, organic acquerello rice, homemade wild board sausage ragú, blueberries
I believe this was my first time having a risotto made with Acquerello rice, a type of
carnaroli
that's actually aged for one to three years. My palate probably isn't refined enough to discern the effects of that aging, but I do know that the rice was cooked to a very
al dente
consistency. Flavor-wise, I thoroughly enjoyed the rustic smack of the boar, and adored how it contrasted with the sweetness of those blueberries.
coniglio in agrodolce [$35.00]
| roasted natural rabbit: boneless, agrodolce bell peppers, capers, castevetrano olives
Our final savory course brought us roulades of rabbit. Here, I appreciated the immensely flavorful, leporine relish of the dish, and how that was balanced by the piquancy of the
agrodolce
vegetables. My concern was that the
coniglio
could've been juicier, more succulent.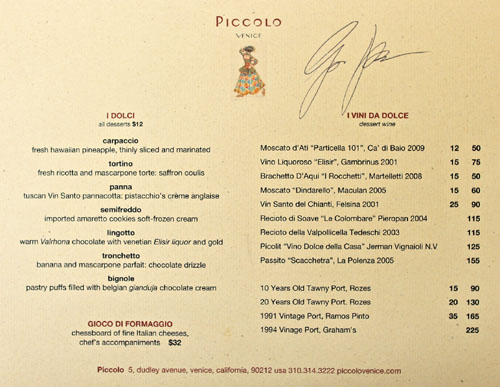 Dessert at Piccolo is the charge of Giacomo Dalmonte, who just happens to be the half-brother of Chef Bobo. Click for a larger version.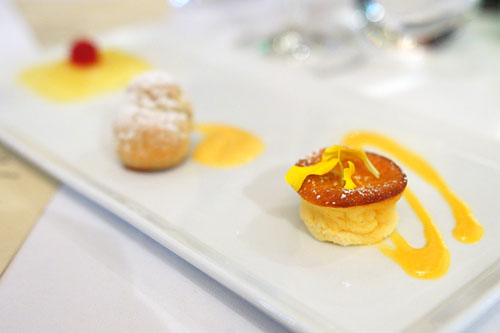 carpaccio
| fresh hawaiian pineapple, thinly sliced and marinated
bignole
| pastry puffs filled with belgian gianduja chocolate cream
tortino
| fresh ricotta and mascarpone torte: saffron coulis
We were first brought a complementary sampler of desserts. I began with the pineapple carpaccio, which I found light and refreshing, with a markedly sugary contrast in the form of a dollop of prickly pear gelée. Next up was a classically delectable cream puff stuffed with hazelnut-chocolate filling; I wanted about a dozen more! Last was a ricotta-mascarpone tart, which showed off a great citrus backbone tinged with the pungency of saffron--quite nice.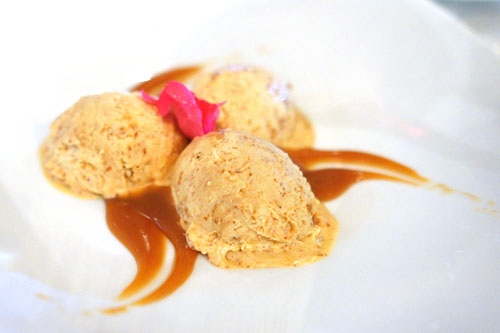 semifreddo [$12.00]
| imported amaretto cookies soft-frozen cream
We also ordered the semifreddo, which was actually bordering on
too
sweet for me. It certainly wasn't bad though, and I adored the amaretto-laced finish of the dessert.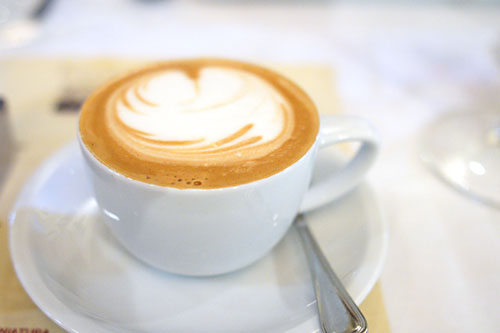 Cappucino, fittingly, to close.
All in all, a very solid, satisfying meal from Piccolo. I appreciated how Bobo's food deviates a bit from the Italian norm--no red sauce here--and how he incorporates his own creative flourishes into the dishes. Given the quality of this dinner, I'm a bit tempted to check out the new
Hostaria del Piccolo
in Santa Monica, which opened last December. Helmed and owned by GM Christian Bertoini and Chef Germano Minin (in partnership with Viotti and Ivan), the restaurant is the lower-priced, pizza-focused
fratellino
of Piccolo. I might have to give it a shot some time.