sugarFISH (Los Angeles, CA)
sugarFISH
600 W 7th St, Los Angeles, CA 90017
213.627.3000
www.sugarfishsushi.com
Tue 11/02/2010, 08:00p-10:40p

Of all the sushi chefs here in the Southland, perhaps none is more feared, and revered, than Kazunori Nozawa, affectionately known by some as the "sushi Nazi." At his eponymous Sushi Nozawa in Studio City, he's praised for his "Trust Me," omakase-style philosophy. However, dining at Sushi Nozawa can be an intimidating, and pricey proposition, hence the advent of sugarFISH.
sugarFISH is a joint venture between Nozawa,
Sapient
co-founder Jerry Greenberg, Nozawa's son Tom (who heads up kitchen operations), Emanuele "Lele" Massimini (who manages the front-of-the-house for the restaurants), Cameron Broumand (in charge of real estate), and design/marketing guru Clement Mok. The restaurant aims to deliver "extraordinary sushi, every day" by utilizing many of the same purveyors that the original restaurant uses. However, the menu has been streamlined, and there is no sushi bar, and no sushi chefs in the traditional sense. In fact, the fish is distributed from a centralized facility out to the various restaurants. The end goal of all this is, thus, to deliver sushi more efficiently (i.e. more cheaply). The first sugarFISH actually opened up in Marina del Rey back in June 2008, with a Brentwood outpost appearing a year later. The concept had intrigued me right from the start, so when I was invited to check out the new DTLA location (in the 1915-era Robinson Co building, right across the street from Bottega Louie), which recently celebrated its grand opening, I jumped on the opportunity.

Inside, things are sleek, modern, minimalist, a pleasant amalgam of metal, wood, and concrete that manages to intrigue, but not overwhelm. The lighting, however, wreaked havoc on my photos!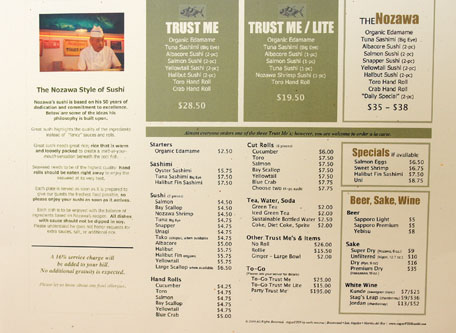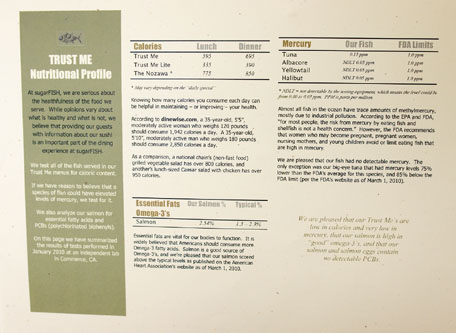 The restaurant prides itself on its three fixed price meals, and that's what the vast majority of patrons opt for. We went with
The Nozawa
, the priciest of the trio at $37. Interestingly, nutritional info is listed on the back of the menu, a nod to the health conscious nature of the City I suppose.
The Nozawa
rang in at a surprisingly reasonable 850 calories. Click for larger versions.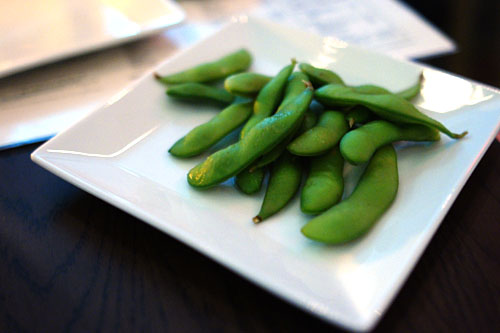 1: Organic Edamame
We began with a plate of
edamame
(boiled soybeans). Delightfully salty with a crisp crunch, they were exactly what you'd expect.
2: Big Eye Tuna Sashimi
Big eye tuna was superb, with the clean, delicate flavor of the fish beautifully balanced by the tart and tangy application of scallion and housemade ponzu. Note that, mostly for sustainability reasons, Nozawa does not use bluefin tuna.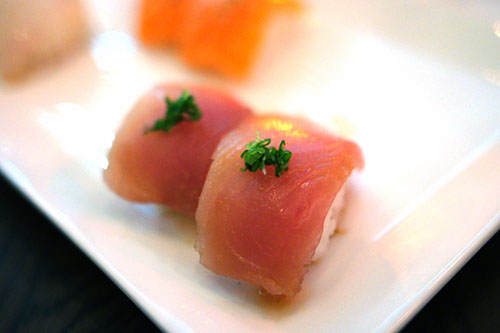 3: Albacore Sushi
Unlike at many other places, albacore was served plainly raw, not seared. This was a somewhat heavier fish for me vis-à-vis the big eye, but again, the perk of piquancy from the ponzu and scallion was key.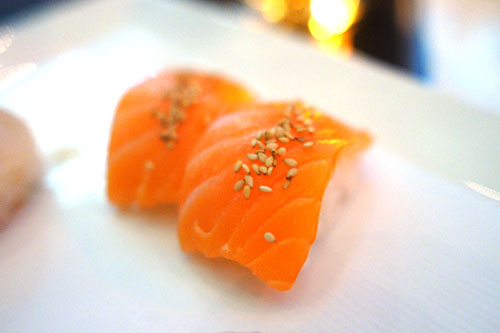 4: Salmon Sushi
Salmon, though not historically part of the
edomae
sushi tradition, was one of my favorites of the evening. Farmed in Scotland, the fish was suitably fatty, rich, yet nicely tempered by the nutty application of sesame seeds.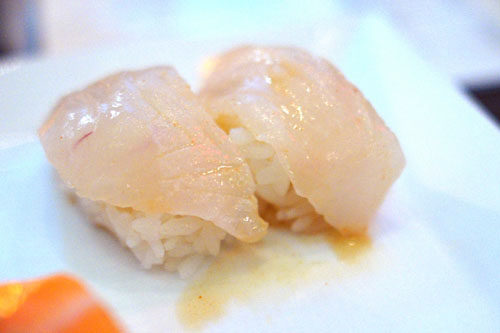 5: Snapper Sushi
Snapper was slightly creamy in consistency, with the vinegar essence of the
shari
(sushi rice) really coming to the fore. The homemade chili ponzu, meanwhile, added a mild kick to things.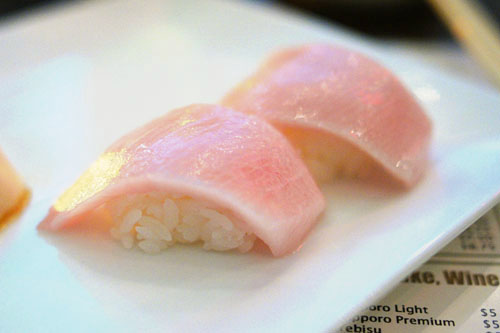 6: Yellowtail Sushi
The staple of my early sushi-eating days, hamachi was very full-flavored, showing off a bit of characteristic unctuousness. Nicely balanced by the rice and salty prick of soy.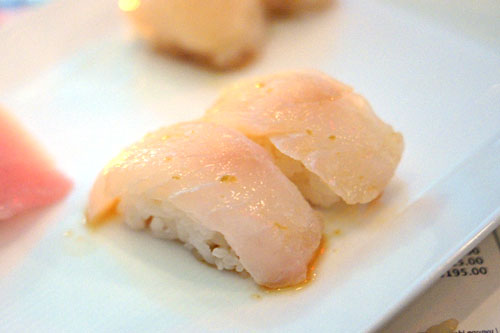 7: Halibut Sushi
Halibut demonstrated a great interaction between the marked tanginess of the yuzu ponzu and the moderating rice. Another one of my favorites.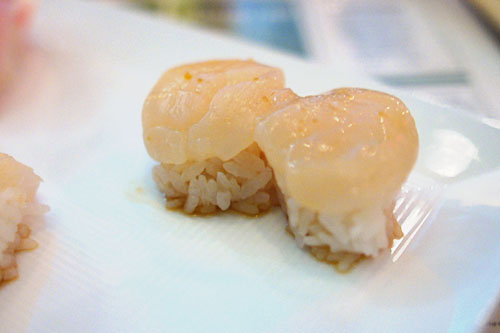 8: Large Scallop Sushi
The menu includes a changing "Daily Special," which, today, was large scallop (versus the small bay scallops normally used). Creamy and with a light, sweet brine, the bivalves were deftly accented, again, by the yuzu ponzu.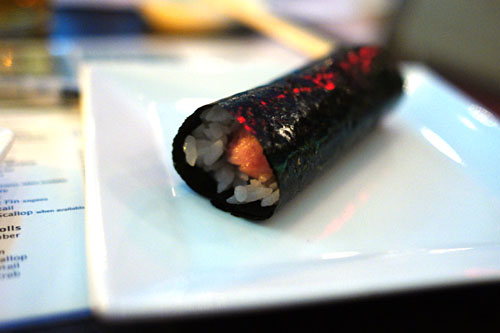 9: Toro Hand Roll
Nozawa prides himself on his
nori
(seaweed), and indeed, the example used here was wonderfully crisp, with a particularly intense seaweed relish. Very nice with the luxuriousness of the toro.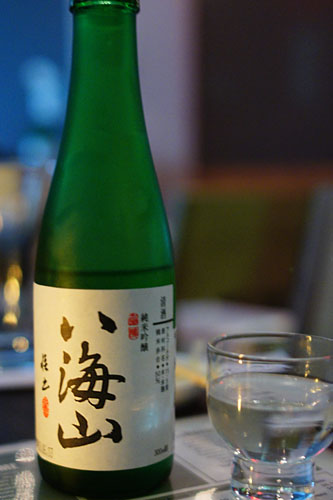 At this point, with our Yebisus dispensed with, we ordered up a small (10oz) bottle of Hakkaisan [$35], which, as always, was delicious. Hakkaisan's sort of become my go-to sake these days.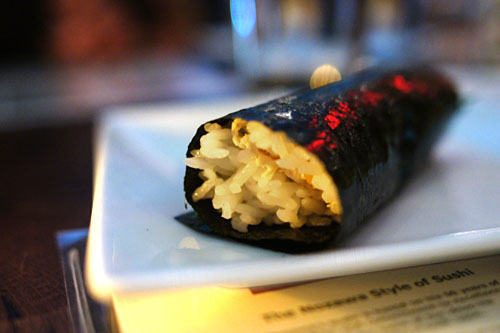 10: Crab Hand Roll
The crab roll is perhaps Nozawa's signature dish. It's a relatively simple amalgam of crab, rice, and
nori
, but always manages to be immensely satisfying, with the inherent sweetness of the
kani
playing gorgeously with the seaweed. A table favorite.
At this point, we were done with the prix fixe portion of our meal, and quite satiated to boot. Of course, since we were already here, trying a few more items a la carte was the natural progression. And thus...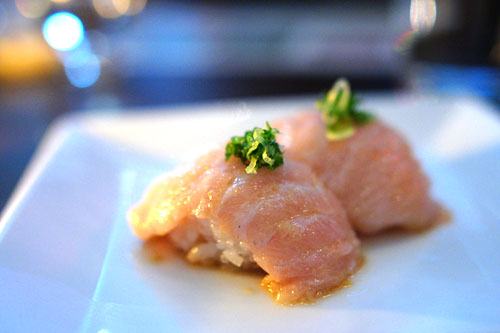 Albacore Belly Sushi [$MP]
One of the stars of the meal was clearly the albacore belly--the "toro" of albacore, basically. An off-the-menu special, the belly was superb, with a stupendous texture and heavy, fatty flavor that went perfectly with the ponzu and scallion combo.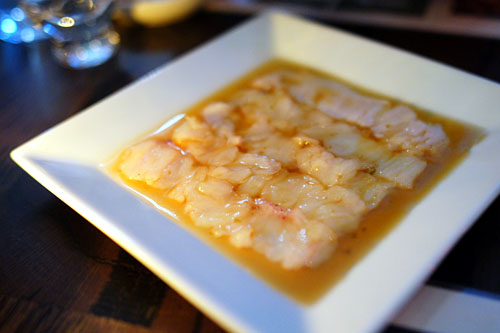 Halibut Fin Sashimi [$7.50]
Halibut fin, or
engawa
, was excellent. It's something that you don't see all that often offered at restaurants, and I loved its firm, crunchy texture paired with the light, tangy ponzu. Also available in sushi form if you're so inclined.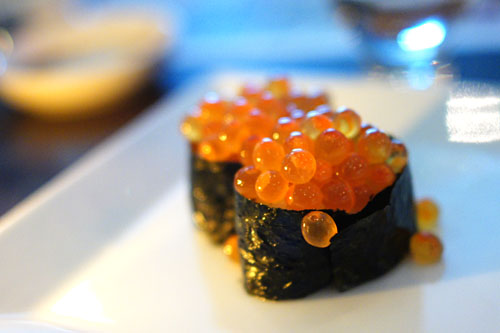 Salmon Eggs [$6.50]
Giant, gamboge globules of salmon roe showed off beautiful bursts of briny goodness upon mastication, with their salty, sea-tinged savor adroitly offset by their seaweed wrapper.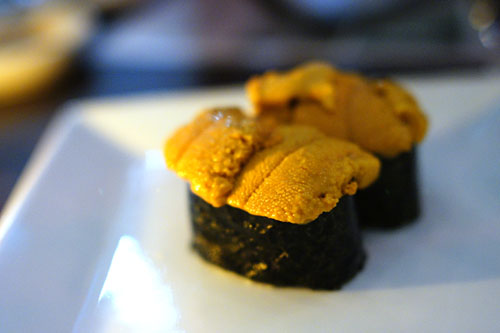 Uni [$8.75]
Uni can be a dicey proposition, but the example here did not disappoint. The Catalina urchin's cool, creamy, briny character was beautifully present on a tempering base of rice and
nori
.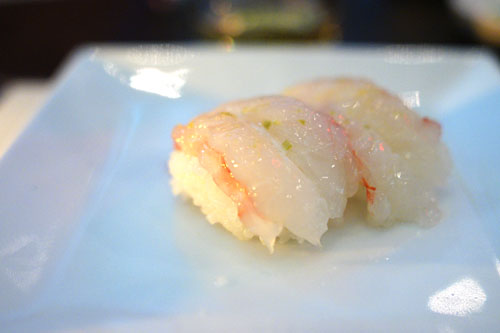 Sweet Shrimp [$6.75]
Raw shrimp was garnished with lemon and what I believe was
yuzukosho
(an admixture of yuzu, chili, and salt). Snappy and sweet, the amaebi went impeccably with the tangy, spicy savor of the condiment. Unfortunately though, no deep fried heads were to be found here.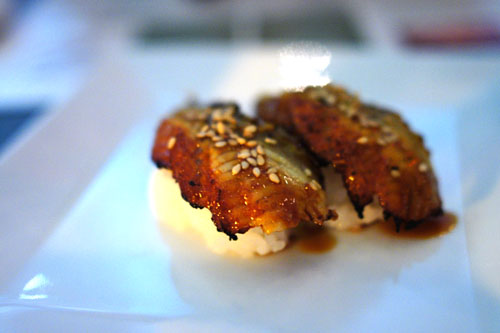 Unagi [$4.75]
We closed with unagi, a sort of traditional finisher in the absence of tamago. It was a thoroughly classic preparation, a lush mix of sweet and savory flavors keenly balanced by the earthy
goma
(sesame seeds).
I have to say that I can't fault the quality of the sushi, especially at this price point. You'll be hard pressed to find any better, for any less. Certainly, don't come in here expecting
Urasawa
-like brilliance, but the fish definitely seems on par with (or actually better than) the likes of an
Echigo
or
R23
. Overall, I was pleasantly surprised. Thus, sugarFISH does well on the food front, but some may deride the whole experience as a bit curious. I'm used to sitting at a sushi bar, watching my fish being prepared, chatting with the chef, and perhaps buying him (yes, invariably a male) a
biru
or two. That part of the "sushi experience" is absent, but given what sugarFISH aims to accomplish, it's an understandable trade off. For now, people don't seem to mind, and the sugarFISH train continues its expansion, with a Santa Monica location opening up next January, and even a rumored
WeHo outpost
debuting sometime in the future. It's Nozawa without the fascism, and pretty damn good at that.