Girasol (Studio City, CA)
Girasol Restaurant
11334 Moorpark St, Los Angeles, CA 91602
818.924.2323
www.girasolrestaurant.com
Wed 09/18/2013, 08:45p-11:15p
Girasol's probably the most exciting thing to hit the Studio City dining scene since Adam Horton started cooking at
Raphael
. Named after the Spanish word for "sunflower," the place opened on July 1st and takes over the supposedly "cursed" space formerly occupied by a string of mediocre establishments (8 1/2 Taverna, Nick's Grill, ZenChi Cafe, and Studio Bar-B-Q). The draw here is clearly Executive Chef CJ Jacobson, whom we know from his two appearances on
Top Chef
, and the restaurant certainly hits all the culinary buzzwords
du jour
, advertising the cooking as local, hyper-seasonal, refined-rustic, sustainable, approachable-yet-unique Cal cuisine. We shall see.
About the Chef
: Chris Jacobson hails from El Toro, CA (the O.G. Lake Forest) and grew up somewhat disinterested in food. He attended Pepperdine University, and during his tenure there, played volleyball under legendary coach Marv Dunphy, even reaching the NCAA Men's Volleyball Championship match in 1998. After graduating with a degree in TV/radio production and a minor in history, he played volleyball professionally in Europe and even tried out for the 2000 Summer Olympics in Sydney. While living in Belgium, Jacobson first began developing an appreciation for food, and upon his return to the US in 2001, started working at Abbot Kinney mainstay Axe. Following, he enrolled in the Le Cordon Bleu program at the CSCA, and from there, cooked at
Wolfgang Puck
Catering, and then at
Campanile
for a year and a half.
In 2005, Jacobson was diagnosed with testicular cancer, but overcame the condition after undergoing radiation therapy and surgery. However, this caused him to leave the restaurant biz and move into the less stressful role of private cheffing, securing clients such as Arianna Huffington and the Marciano family (of the Guess clothing line). In 2007, Jacobson was thrust into the national limelight through his appearance on
Top Chef
Season 3, where he finished in sixth place. With this newfound celebrity, he served as a menu consultant for Hilton Garden Inn in 2008, and also had plans to open Town and Country, an ambitious restaurant concept in Chicago, with fellow
TC
contestants Dale Levitski and Sara Nguyen. The idea was scrapped, though, following the economic downturn that year (interestingly, Levitski and Nguyen are working together now at Sprout, also in Chicago).
Jacobson's next move came in 2009, when he took on the Executive Chef role at The Yard in Santa Monica. While working there, he also assisted Michael Chiarello on the first season of
Top Chef Masters
, then participated in the James Beard Foundation's Celebrity Chef Tour and cooked a dinner at the Beard House in New York. In 2012, he left The Yard and
staged
for three months at René Redzepi's vaunted Noma in Copenhagen, and later competed on Season 10 of
Top Chef
, where he was eliminated in the fifth episode (though he rocked Last Chance Kitchen). After this renewed bit of fame, Jacobson began consulting for George Abou-Daoud, revamping menus at The Mercantile, Rosewood Tavern, and The Bowery before taking over the kitchens at Girasol.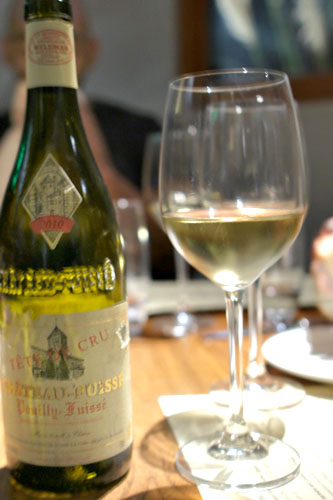 As far as beverages go, Girasol still lacks a full liquor license, so cocktails aren't really an option at this point, while the wine list doesn't exactly scream excitement either. Corkage, though, is an option at $25, and a couple of my dining companions were gracious enough to bring along a few bottles. First was the
2010 Château de Fuisse Pouilly-Fuissé Tête de Cru
, which I found light and citrusy, with a refreshing acidity and quaint minerality to it, all joined by a certain roundness and viscosity on the tongue. I quite liked this one, though others at the table were complaining about it being over-oaked.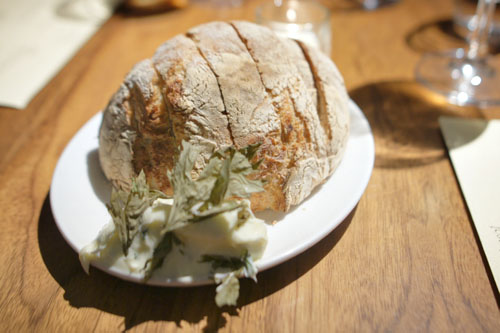 House Bread [$4.00]
| With Lovage Butter
I keep going back and forth on the idea of restaurants charging for bread, but Girasol's tonight was worth it, arriving at the table properly warm and wonderfully smoky, nicely crisp and crusty on the outside, with a soft, fluffy interior that I found quite beguiling. As good as the bread was, I was a fan of the butter as well, its silky consistency and herby lovage nuances proudly conveyed.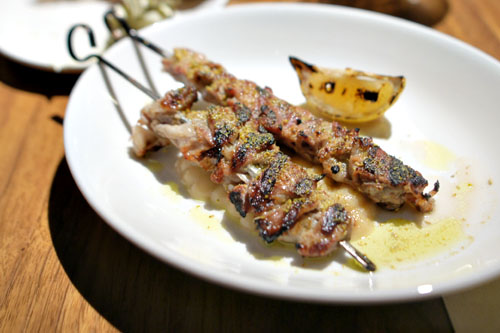 Marinated and Grilled Pork Satay [$11.00]
| Caramelized Onion Puree, CA Olive Oil, Grilled Lemon, Fennel Pollen
The pork satay was another winner, the meat coming out tender, juicy, and wonderfully savory, with a fantastic countervailing char bitterness. The tinge of sourness from the lemon was much appreciated as well, and the sweetness of the onion coming through on the back end was pretty neat, too. My favorite component here, though, was the fennel pollen, which lent some wonderful aromatics to the course that just tied things together beautifully.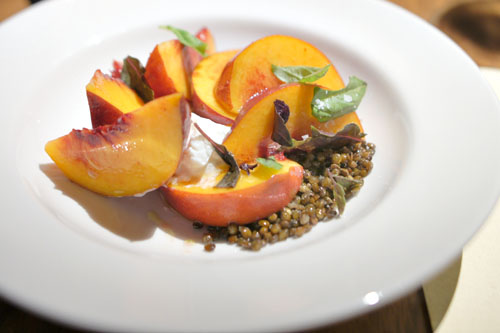 Apricot and Burrata Cheese [$12.00]
| Crispy Lentils, Opal Basil, Sea Salt
Here, the sweetness of the stone fruit was really at the forefront (though some pieces were underripe), transitioning gracefully to the classic, yet always effective combination of basil and burrata, punctuated by hits of salt on the palate. Unfortunately, the crunch of the lentils was far too jarring here, really serving to distracting from, rather than enhance the dish.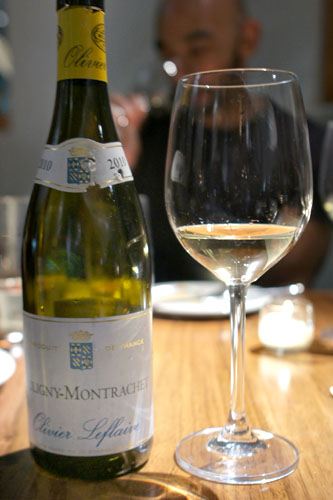 The
2010 Olivier Leflaive Puligny-Montrachet
was a standout: spicy and herby, with a softly acidic quality and a fantastic blend of stone fruit and wet minerality. Very focused, with a pleasing finish.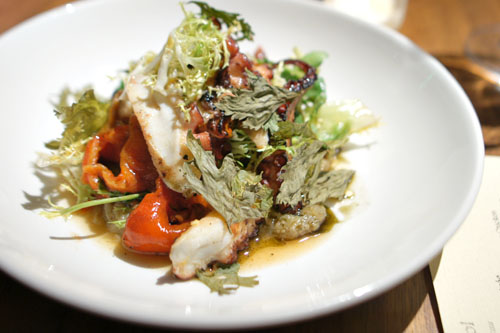 Octopus Salad [$17.00]
| Long Roasted Eggplant, Little Gem, Rosemary Ash Oil, Sweet & Sour Chili, Toasted Lovage
Given my penchant for octopus, this was obviously a must-order for me. The main ingredient I found masterfully cooked, its tender, yet still substantial consistency combining with a subtle brine and great char astringency, all making for thoroughly enjoyable eating experience. The octopod's various accompaniments made sense as well, resulting in a mélange of smoky, earthy, and tangy flavors that added further points of interest to the dish.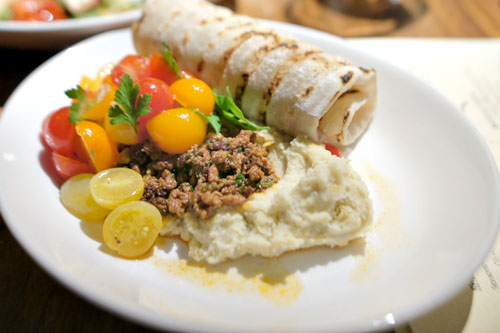 Dried Fava Bean Puree [$14.00]
| House Chorizo, Cherry Tomato, Parsley, Grilled Flatbread
Fava was puréed into in an almost hummus-like form, its subtle flavors dutifully augmented by the pleasant spice of the accompanying chorizo, all while tomatoes served to brighten up the dish. Use the included flatbread to scoop up everything, and the result is strangely comforting.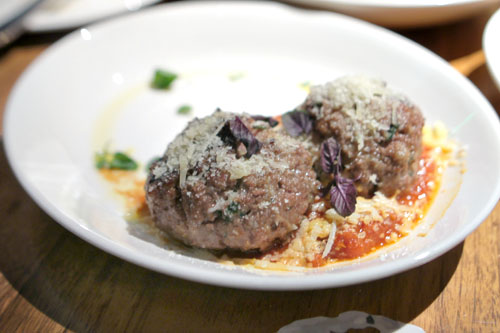 Grilled House Ground Meatballs [$13.00]
| Nicoise, Long cooked Tomato Sauce, Parmesan
Meatballs, meanwhile, were some of the best I've had. They showed off a crumbly texture and came slightly rare, which I appreciated. Taste-wise, they were spot on: wonderfully savory in a straightforward fashion, with the tanginess of the tomato coming through toward the finish.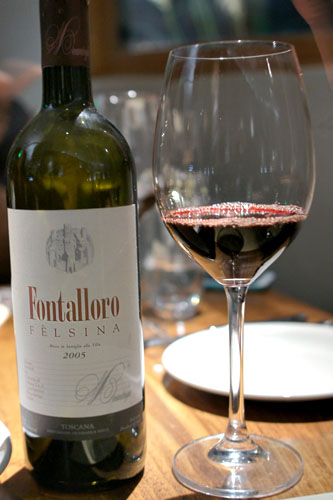 With the reds, we moved from Burgundy to Italy, and first to the plate was the
2005 Fattoria di Fèlsina Berardenga Fontalloro
. I found it a lovely presentation of Sangiovese, rather easy drinking and nicely balanced with its sourish cherry notes and earthy, woody musk.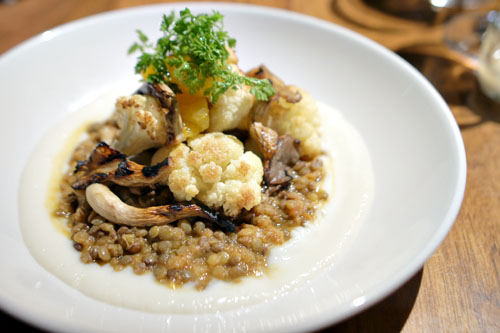 Tamai Farms Pan Roasted Cauliflower [$18.00]
| Grilled Oyster Mushroom, Mandarin Satsuma, Almond Cauliflower Puree, Lentils
At this point, we moved into the larger plates. I'm a big fan of cauliflower, and Jacobson's rendition of it here really delivered. The veggie itself showcased its inherently light, delicate flavors and trademark crispness, and was deftly paired with the headier, earthier notes from the mushrooms, all while the purée and lentils acted to ground the dish. A great vegetarian option to be sure.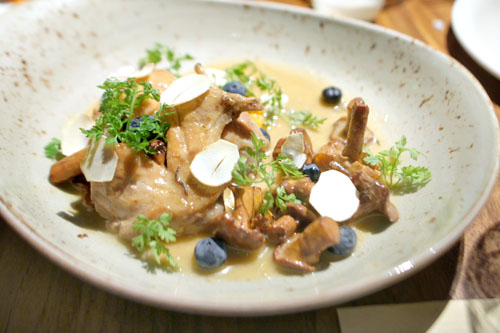 Rabbit [$32.00]
| Chanterelles, Squash, Blueberry, Chervil, Shaved Chestnuts
One of two specials tonight was the rabbit (the other was grouper). The kitchen did a nice job with the it, the meat being dense, mild, with a straightforward savoriness that melded very well with the rich, earthy nuances from the mushrooms. Chervil added a nice brightness to the dish, and the blueberries just a modicum of sweetness.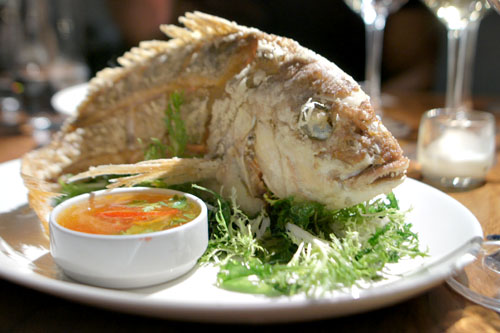 Whole Fried Red Snapper [$28.00]
| Crispy Greens, Fermented Fresno Chili, Sauce of Kumquat, Sorrel and Citrus
The oft-photographed snapper reminded me of a similar dish at
Salt Air
. The version here was similarly delectable: juicy and flavorful, with a delightfully crisp skin. I quite enjoyed the fish bare, but the fermented chili-kumquat-sorrel dipping sauce that came along was something else, imparting a sour-smoky tint to the main ingredient that recalled Islay scotch(!).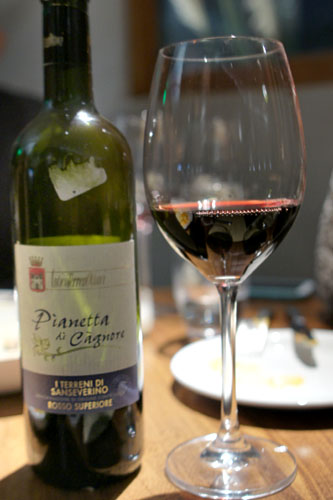 Our final wine of the evening was the
2004 Antico Terren Ottavi Pianetta di Cagnore
. It made a strong showing as well, displaying heady aromas of dark floral, fruit laced with spice, which continued onto the palate where it was joined by subtle tannins and traces of astringency.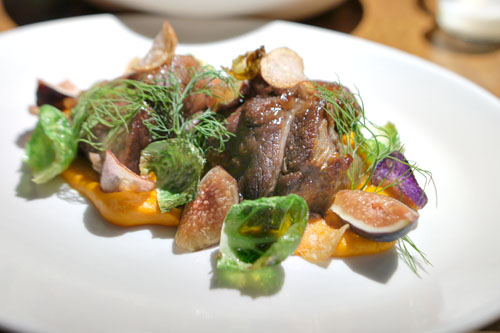 Braised Leg of Lamb [$21.00]
| Carrot Puree, Crispy Brussels, Ruby Plum, Fried Potato, Dill Flower
Our final savory course of the night brought us an artful presentation of lamb. The leg, unfortunately, was a touch dry, though its ovine flavors were still dutifully conveyed, and particularly apt when paired with the sweetness of the carrot and fruit, while the Brussels and dill contributed a bit of levity to the fray.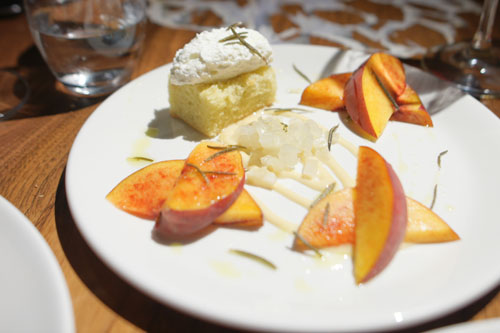 Olive Oil Cake and Peach [$8.00]
Naturally, we opted for all three of Girasol's desserts, and the first was this great rendition of olive oil cake. The cake itself I found wonderfully moist, with a subtle, yet omnipresent olive-y character that went superbly with the dollop of crème fraîche on top. The juicy sweetness of the peaches made for a fitting pairing, and I really liked the herbaceous overtones (fennel?) as well.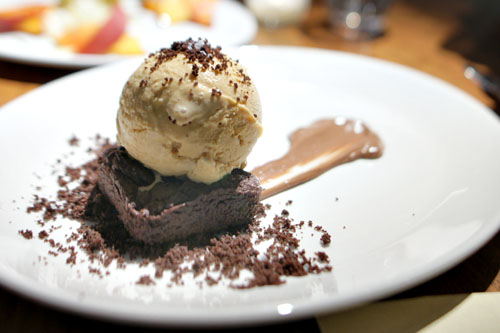 Dark Chocolate Chiboust [$8.00]
The requisite chocolate cake was successful, the cake itself bursting with rich, dark, sugary flavors, a perfect pair to the caramel ice cream and its delightful pricks of salt.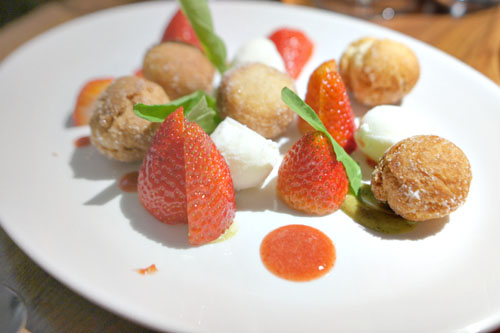 Strawberry and Doughnuts [$8.00]
Finally, buttermilk donut holes were presented with strawberries, globules of crème fraîche ice cream, pistachio coulis, and what I believe was sorrel. Here, the sweet, tangy fruit served as a foil to the slightly savory nature of the fried dough, with the crème fraîche adding a well-placed jolt of tanginess to the mix. Lovely bit of piquancy from the greenery, too. One nit: I would've liked the doughnuts to have come out warmer.
I don't think anyone really doubts that Girasol's a much-needed new addition to the Studio City scene. Like I mentioned above, it's one of the most exciting developments to hit the area in a while. The food's mostly successful, and you can see flashes of Jacobson's pan-ethnic influences and Noma training. Given Girasol's locale, I understand the need to make some of the plates more approachable, but I'd also like to see the Chef push things a bit more, to show us more of his progressive leanings (that is, if the owners--Roman and Ella Gofman--will let him). We've all witnessed Jacobson on
Top Chef
and what he produced on the show, and we can even peek at what he's up to
on his Instagram
, so I think things are moving in that direction. I'm curious to see where he takes this.