LALovesPI (West Hollywood, CA)
#LALovesPI Tasting Benefit
8730 Sunset Blvd, West Hollywood, CA 90069
323.443.7782
nightout.com/events/lalovespi
Sun 12/08/2013, 05:10p-09:30p
This past Sunday, a number of the City's movers and shakers in the culinary and cocktail scenes convened at the newly-opened
Church Key
to support Typhoon Haiyan (Yolanda) relief efforts, raising funds for the Philippines-based anti-poverty organization
Gawad Kalinga
and its
US subsidiary
. Participants donated their time and product for the event, and thus 100% of the proceeds (over $10,000) went toward GK's Operation Walang Iwanan ("no one left behind"), which focuses on the provisioning of food and supplies, reconstruction of damaged areas, and relocation of displaced persons affected by the disaster. The event was the brainchild of Marian Bacol-Uba, Ken Baranda, Devon Espinosa, and Cari Hah, who put together the fundraiser in just a few weeks time.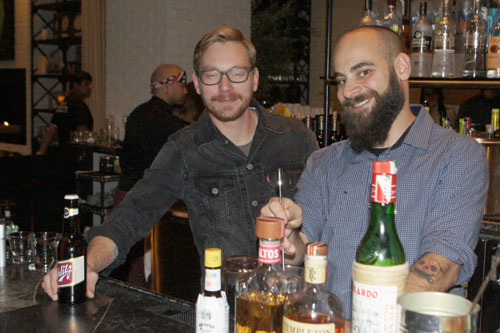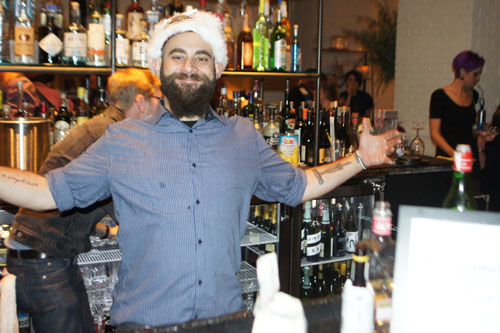 Schlitz-ologist
Nathaniel "Nate" Oliver (Harvard & Stone) does his best Asian impression, while
Josh Goldman
(Soigné Group) is clearly working on a beard of
ZZ Top proportions
.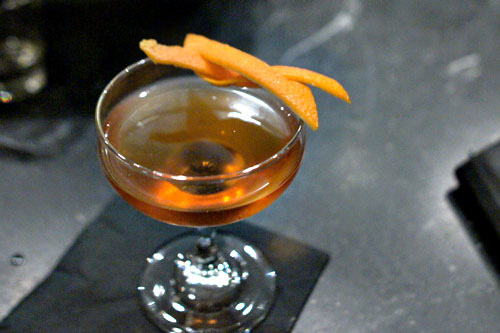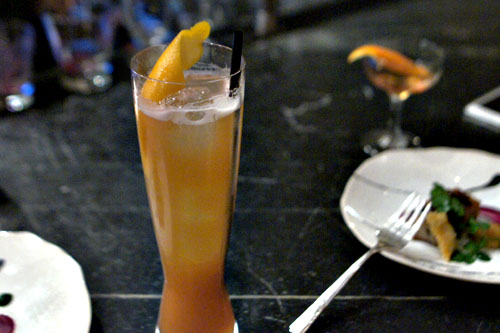 Josh made the highly aromatic
Trilla for Manila (Altos reposado, Templeton rye, maraschino, Angostura)
, while Nate presented the only beer cocktail in the group, the prosaically-named, yet refreshing
#1 (Schlitz, pineapple, Bénédictine, bitters, Becherovka)
.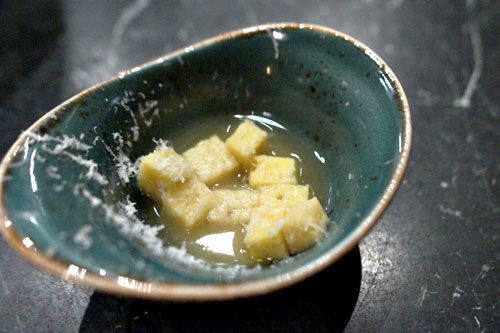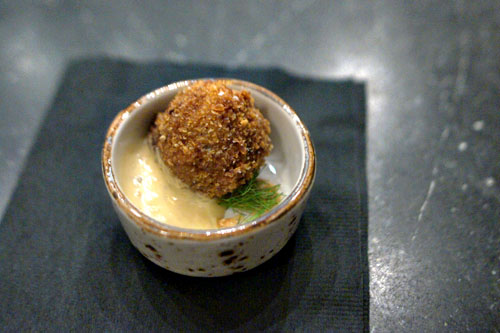 My first bites were
Parmesan Dumplings in Broth
from
Steve Samson
(
Sotto
) and a
kare-kare
-inspired
Oxtail Stew Croquette with Peanut Butter Sauce
from Kevin Luzande (Acabar).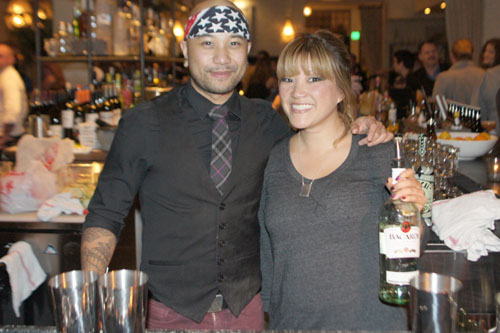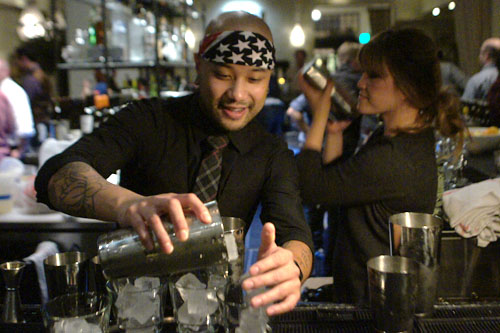 Joey Bernardo
(Harvard & Stone) mixes it up with
Jaymee Mandeville
(Bacardi).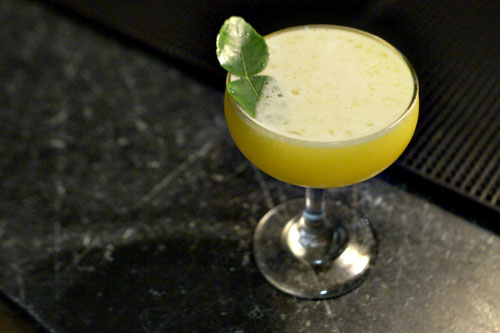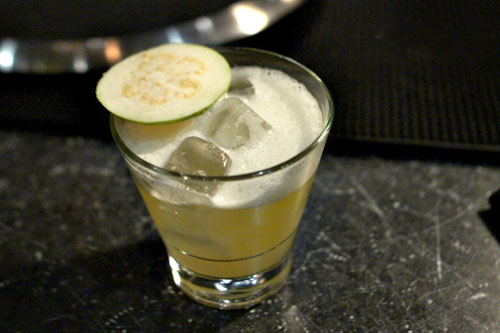 Both of 'em were rockin' Bacardi tonight, Jaymee with her tropical
Jaquiri (Bacardi, jackfruit purée, lime)
and Joey with his
Honey Cebu-Boo Child (Bacardi, honey syrup, lemon juice, cherry bitters, mango/calamansi foam)
, which made great use of the bittersweet maraschino but which also should've just been named
Honey Cebu Boo
.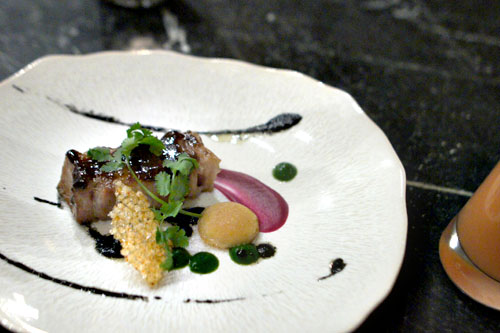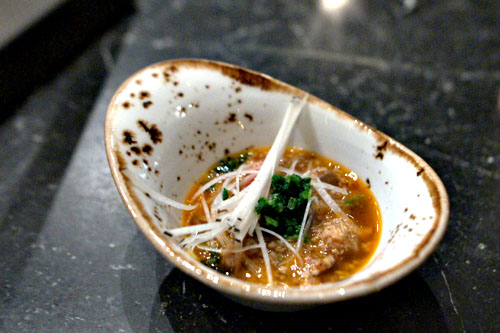 Lamb Belly
was probably the heartiest dish of the evening, while the
Pork and Radish Mapo
from
Micah Wexler
(Wexler's Deli) was a crowd-pleaser as well.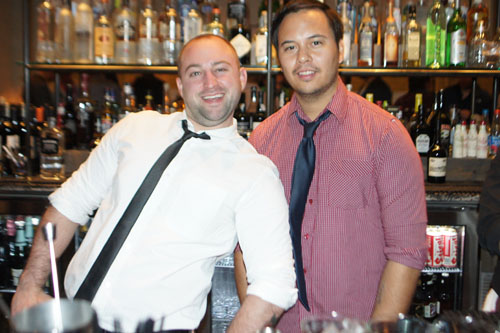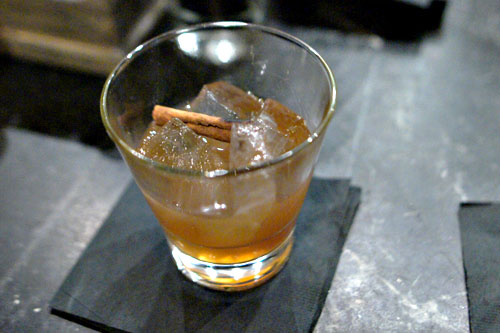 Assisted here by Ben Leipzig Scott (
MessHall
), Andrei Kissin (
Rivera
) created the very autumnal
Noynoy's Last Drag (coconut palm sugar, tiki bitters, Evan Williams, atomized Batavia arrack, scorched cinnamon)
, named after President Benigno Aquino III of the Philippines.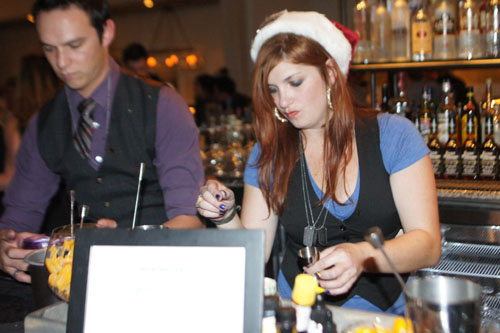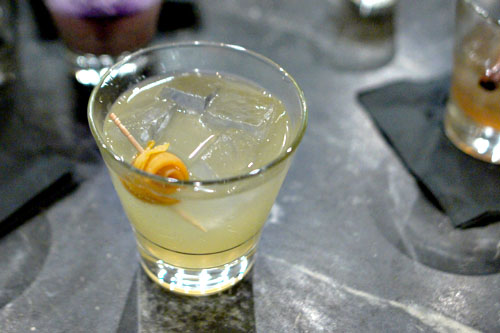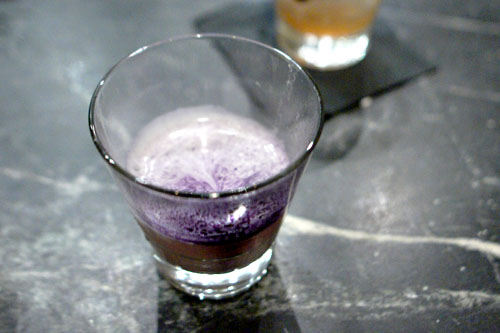 Nick Meyer
(all of Bill Chait's places basically) teamed up with
Kiowa Bryan
(
Eveleigh
) and gave us two drinks. First was the super citrus-y
Calamansi Love (calamansi, lemon, Aviation gin, Thai chili, pamplemousse, dried mango)
, which was followed up by the almost dessert-y (think
halo-halo
)
Ube-Bee I Like It Raw (ube, black peppercorn, falernum, Aviation gin, dry curaçao, egg white)
.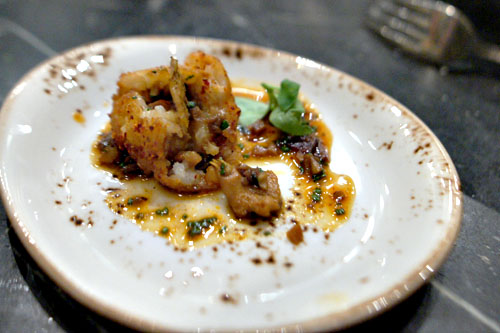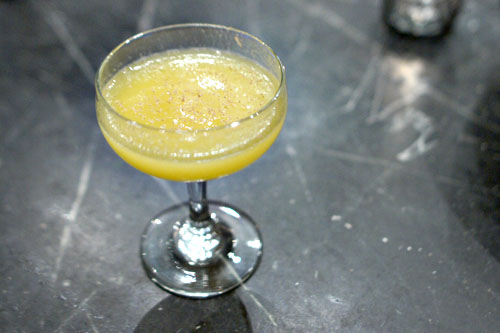 Ray Garcia
(Fig) served up a dish of
Coconut-Crusted Scallop
, which I accompanied with the
Nitro Green Mango Shake (Grey Goose La Poire, agave, lime, green mango, nutmeg)
from
Devon Espinosa
(The Church Key).

At this point, I was beckoned into the kitchen.
Kris Morningstar
(Ray's & Stark Bar) certainly looks content.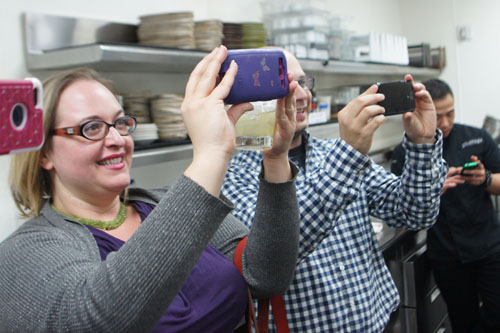 Left
: Devon and mom Anabelle Espinosa, along with event PR rep and co-organizer
Marian Bacol-Uba
.
Right
: Gotta pose for the bloggers (conspicuously absent tonight: CoC).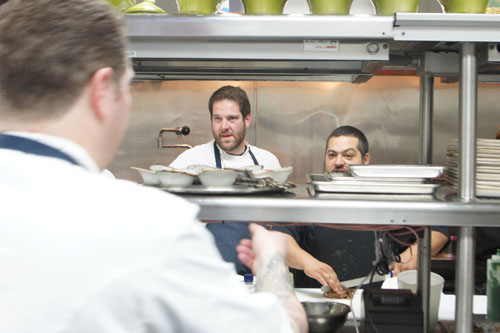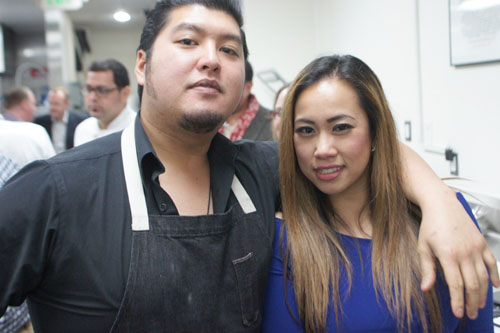 Left
: Micah and
Eric Greenspan
(The Foundry) behind the pass.
Right
: Kevin, looking gangsta with Marian.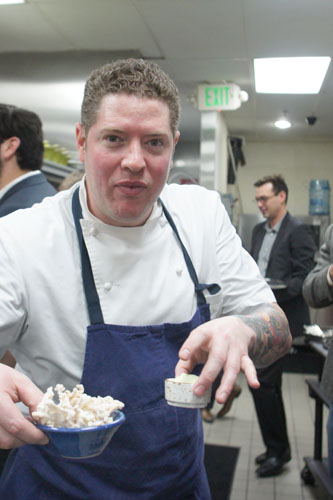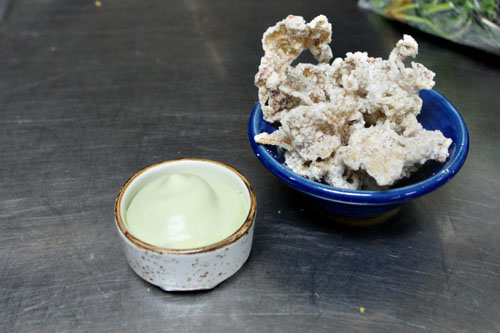 Steven Fretz
(The Church Key, Top Round) gleefully presented an order of his much bandied about
Pig Ear Cheetos with Avocado Mousse
.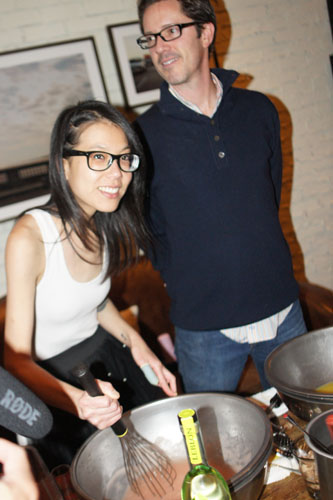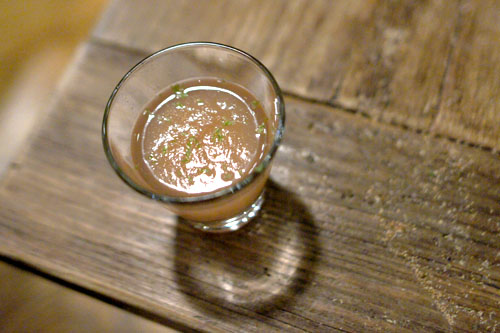 Dan Bayha (The Church Key) backs up
Cari Hah
(Peking Tavern), adorable as ever with her
Strawberry Kalamansi Caipirinha (Leblon cachaça, Giffard Fraises des Bois, kalamansi juice, lime juice, simple syrup, liquid nitro)
.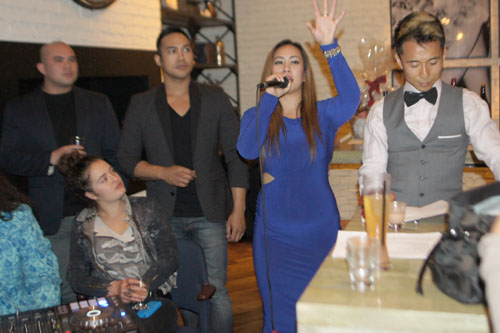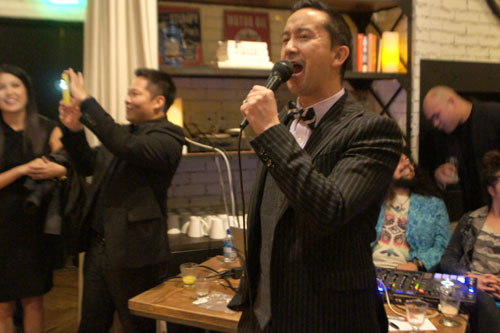 At this point, we broke for a bit so that the participants could say a few words. Joined on stage by actor and co-MC
James Kyson
, Marian kicked things off by channeling her inner
Mariah
, then passed the mic over to Tony Olaes, Gawad Kalinga USA Chairman & CEO, who assured us that we were
all
Filipino tonight.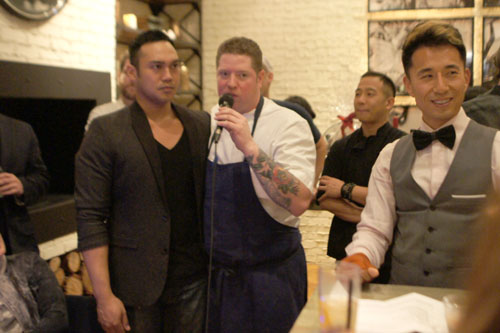 Next up: Steven and Perry Cheung (Phorage).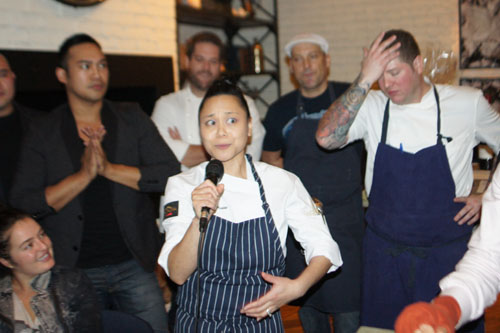 The newly-married
Sally Camacho Mueller
(Pastry Chef, Jonathan Club) and Chef Kevin.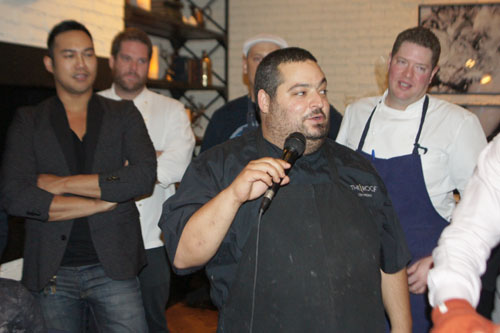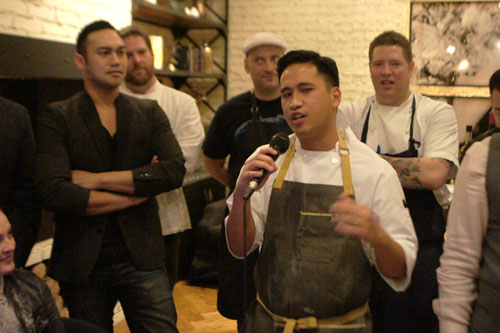 Chef Greeny, raising an eyebrow
The Rock style
, alongside Ian Opina (Pastry Chef, The Church Key).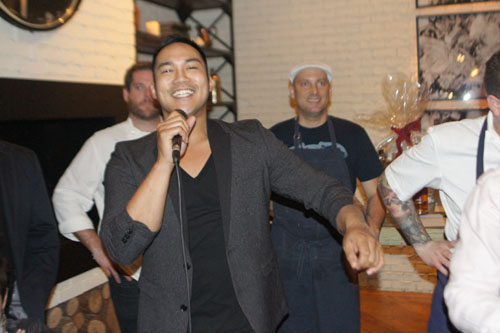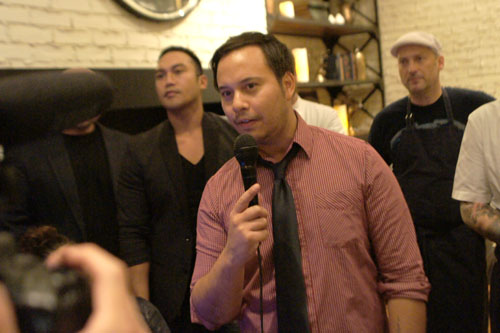 One and a Half Filipinos: Devon and Andrei.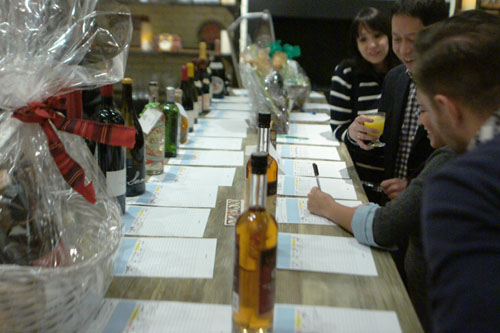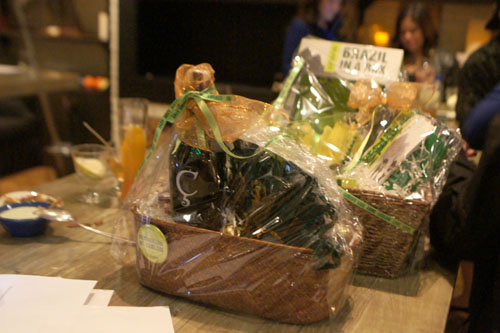 Some solid action over at the silent auction (which featured
alotta
booze); I ended up taking home a pair of Leblon gift baskets.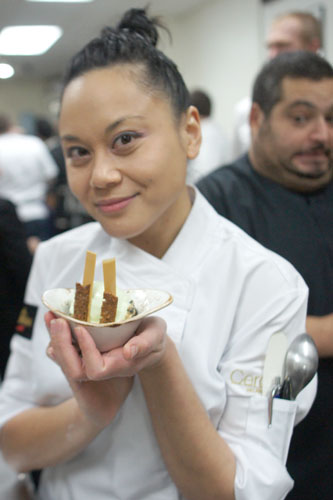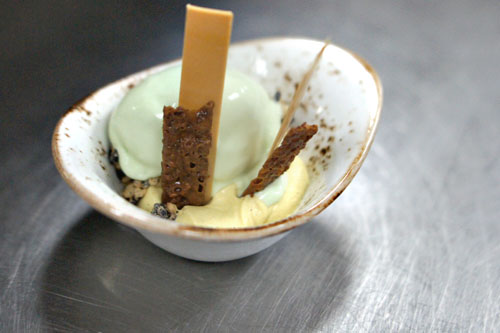 Sally, semi-photobombed by Greeny, presents her
Pandan Ice Cream, Dulcey Sweet Corn Pudding, Puffed Black Rice, Cashew Nougatine
.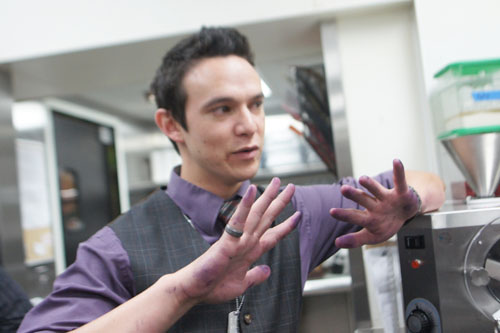 Caught purple-handed: Nick's sticky fingers were from working with ube, not getting busy with
Grimace
.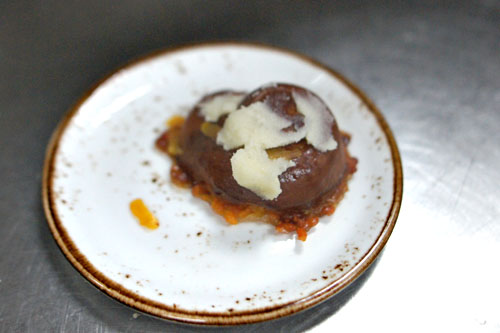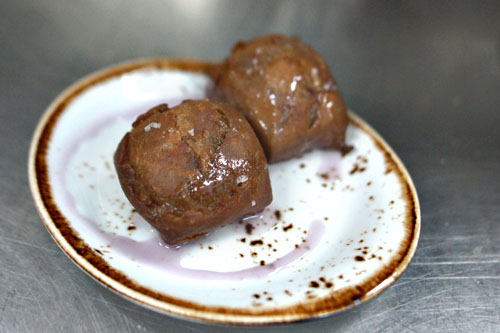 More desserts: a cheesy
Ensaymada
and some
Sugar-Glazed Purple Potato Puffs
.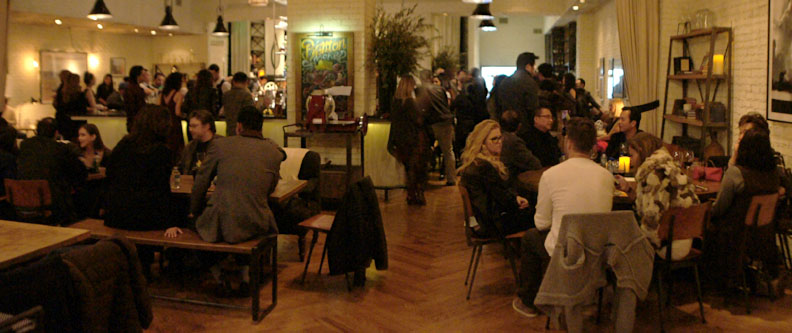 Back in the dining room...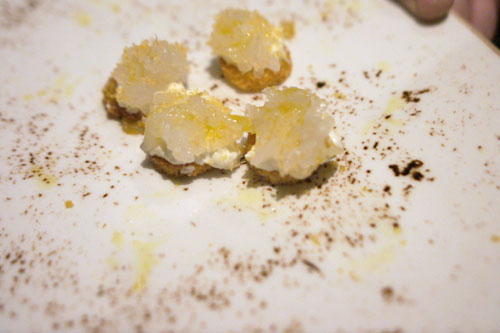 Bottarga, Burrata, and Shiro Ebi
from
Anthony Carron
(800 Degrees), perhaps the most unconventional bites of the night.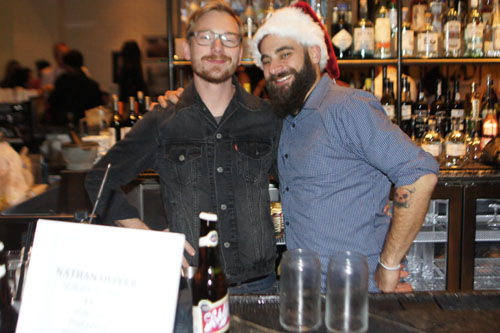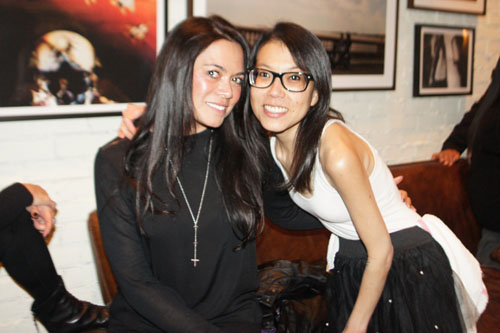 Left
: Nate and Josh in happier times.
Right
: Cari and Leblon rep
Rachel Bennett
slangin'.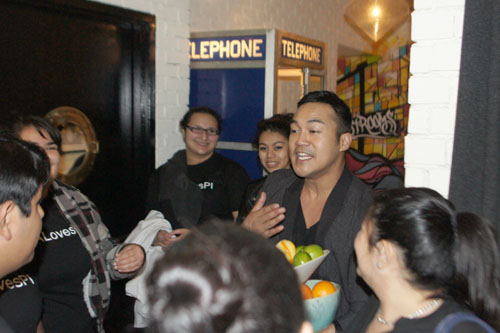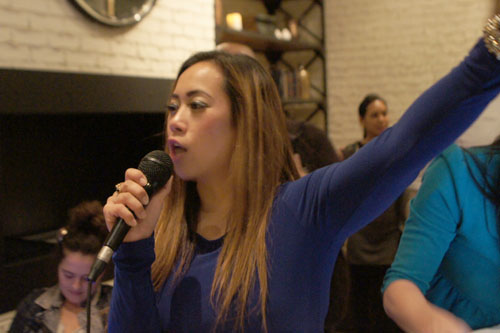 Left
: Devon thanks the team for a job well done--all the people in the black shirts (donated by
Pro Club Inc
) were volunteers.
Right
: A few final words from MC Marian (drop the mic).