Kiyokawa (Beverly Hills, CA)
Kiyokawa Restaurant
265 S Robertson Blvd, Beverly Hills, CA 90211
310.358.1900
Wed 12/04/2013, 08:00p-11:05p
One of the more interesting Japanese restaurants to come up in recent years has been Kiyokawa, an unassuming eatery located at the very edge of Beverly Hills known for the Chef's eminently seasonal, whimsically-presented omakase dinners. The place is the work of 52-year-old Satoshi Kiyokawa, a Kobe native who's been in the States since 1997. He previously worked at Bishamon in Covina before opening up his eponymous restaurant in late 2005. Kiyokawa sort of flew under the radar for several years, before being "discovered" by Jonathan Gold back in 2009. Since then, it's been a bit of a favorite among LA's Japanese-eating populace, so I figured it was time for me to finally give the place a go.




As is the case for many Japanese establishments, the standard bill of fare here is to be largely ignored in favor of the Chef's ever-changing omakase experience (priced at $95). In fact, we didn't even glance at the regular
carte
, and didn't order off the drink menu above either, choosing instead to bring our own beverages (corkage is $30 a bottle). Click for larger versions.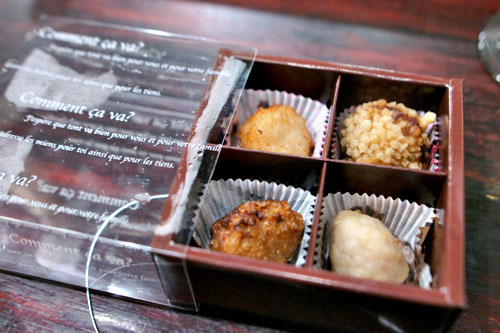 1: Furitta
Our first course comprised a quartet of seafood fritters. Going clockwise from top-right, we had: a fantastic Spanish mackerel, ginger, and scallion ball coated in rice cracker, the savory fishiness of the
sawara
balanced by the zing of
shoga
; monkfish and monkfish liver, with the mild, firm fish giving way to the earthy center of
ankimo
; a delightful shrimp and eggplant, the brine of the
ebi
perfectly tempered by the lightness of the vegetable; and finally, a superbly saline, succulent scallop, tinged with the essence of truffle butter. A thoroughly enjoyable start to the meal.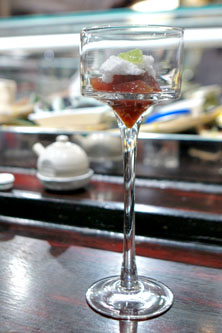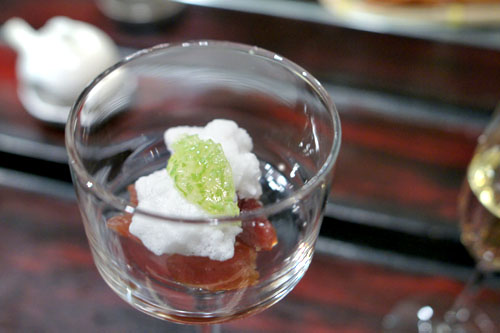 2: Mebachi no Tarutaru
Bigeye tuna from Hawaii arrived marinated in soy and wasabi, then topped with a dashi-egg white foam and a dollop of okra gel, the whole shebang sitting in what must've been the tallest goblet I'd ever encountered. The fish itself was clean and slick, with a depth to it that was enhanced by the heat of wasabi, all while the foam imparted an additional creamy complexity to the course. I was torn about the okra though, since it gave the dish a sort of gooey, gelatinous consistency, but also provided a much needed bit of levity at the same time.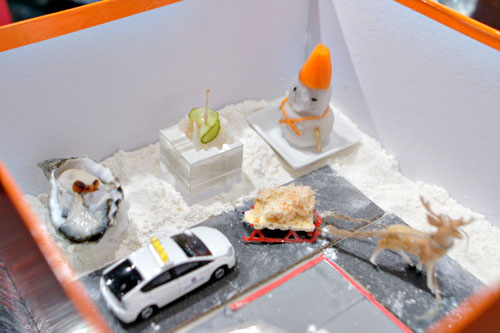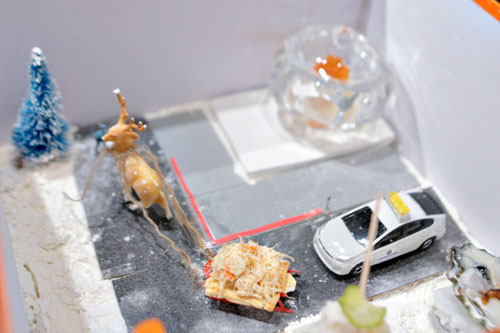 3: Zensai Jiorama
Our next course was part of the new holiday omakase menu, introduced just days prior, and it was, without a doubt, the craziest plating that I'd ever witnessed. Situated in a large orange gift box was a diorama (crafted by the Chef himself) depicting a sleigh-pulling reindeer being ticketed by an officer driving a Toyota Prius. Set in the scene were five separate little snacks: an applewood-smoked trout with daikon, a nicely smoky, almost hammy bite moderated by the crunch of the radish; a Washington oyster with an earthy-sweet miso sauce, my least favorite item here with its sort of heavy-handed flavors; king crab with cucumber, the sweet brine of the crustacean evened out by the bright
kyuri
; a snowman of taro, with the starchy root vegetable going alongside a filling of ocean-y sea urchin; and lastly, coconut and snow crab claw, paired with saltine, which recalled an hors d'œuvre you might expect to see at someone's dinner party in the 70's.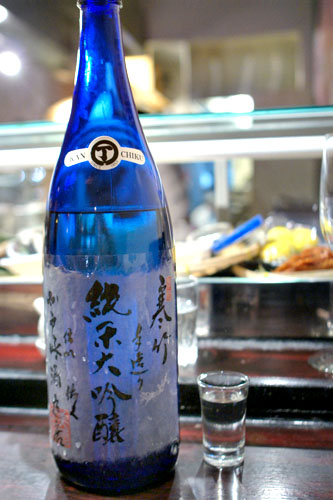 Terroni somm Michael Nemcik (
Sirena
,
LudoBites
, Farmshop,
Sotto
,
Lucques
Catering,
AOC
,
Tavern
) was alongside us tonight, and unsurprisingly, he brought with him some great booze for us all to share. Most impressive was his magnum of Kanchiku Junmai Daiginjo from Nagano's Totsuka Shuzo brewery, a sake that's only brewed during the sub-freezing winter months. The result of the process is a wonderfully dry, light, smooth sake, one with a balance of floral, earthy, and boozy notes over an omnipresent undercurrent of rice-y nuances--superb.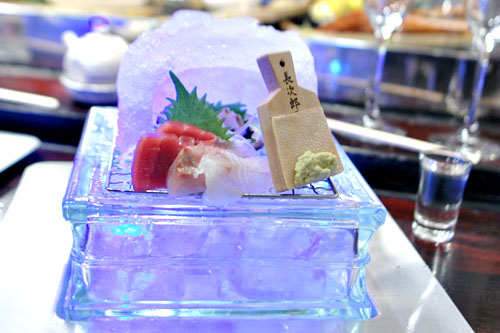 4: Sashimi
Set in an LED-lit glass building block, replete with ice cave, was our sashimi course, featuring four varieties of fish served with fresh wasabi on a miniature sharkskin
oroshigane
(so
kawaii
!). Bluefin from Spain was classically dense and meaty, with a rich savor that was amped up with a touch of
shoyu
. The halibut, on the other hand, was utterly clean and mild, a perfect canvas on which to apply soy and 'sabi, while the amberjack was more full flavored, with a delightfully snappy texture to boot. Last up was the Santa Barbara abalone, as crunchy and ocean-y as you'd expect.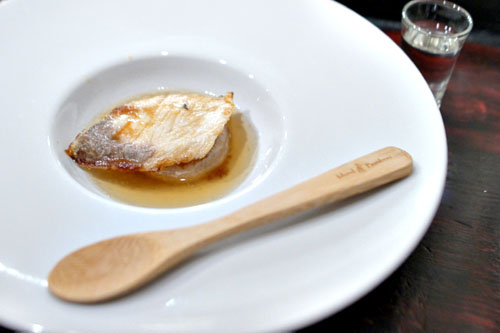 5: Hamachi to Daikon no Nimono
Next up was a traditional Japanese winter dish, composed of baby yellowtail and two-day long-cooked daikon. The radish was the star here, coming out super tender and just teeming with sweet, savory flavors, an umami-bomb that perfectly balanced out the ocean-y character of the fish. Homey and comforting, this was a standout course.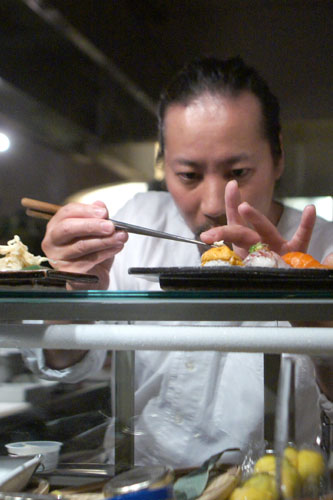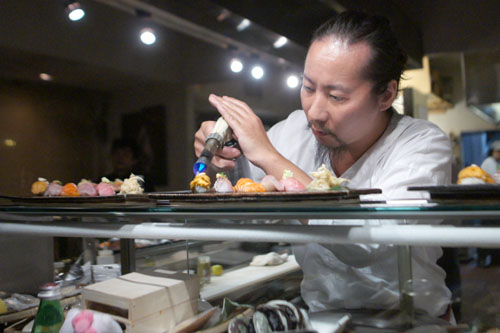 Above, we see Satoshi-san diligently preparing our sushi course...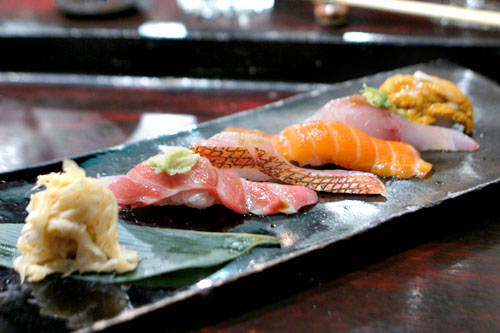 ...The end result of which was a pretty beautiful plate of the stuff.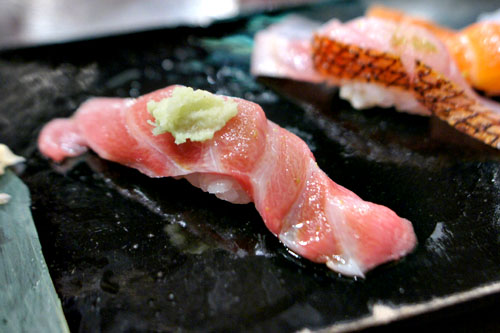 6a: Otoro
First to bat was the blue fin belly, an unabashedly fatty, yet sinewy cut of the fish that really needed the wasabi to balance out its heft.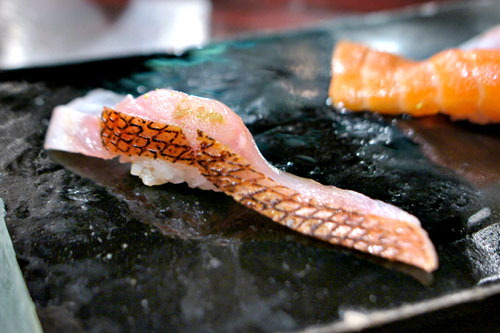 6b: Kinmedai
Golden eye snapper was as excellent as always, the
yuzukosho
here really adding a salty-spicy kick to the fish that paired swimmingly with the slight char of the skin. A favorite.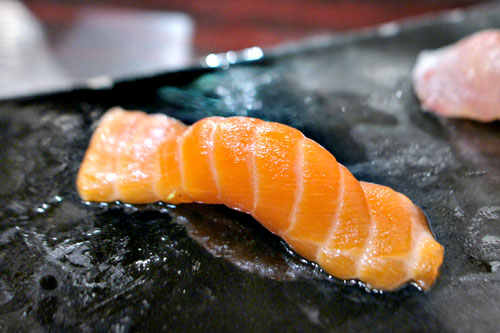 6c: Nijimasu
Wild ocean trout was another winner, the smoked soy here imparting a fantastic counterpoint to the lushness of the fish.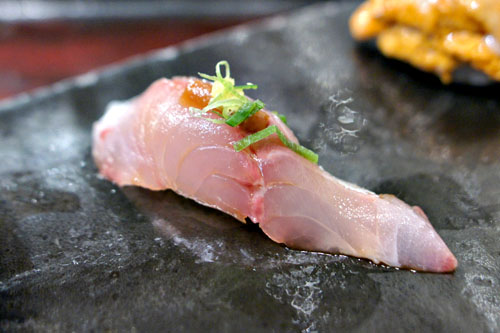 6d: Sawara
Spanish mackerel was also spot on, its brine pairing in classic fashion with the scallion and ginger, while a touch of miso gave us just a little something extra.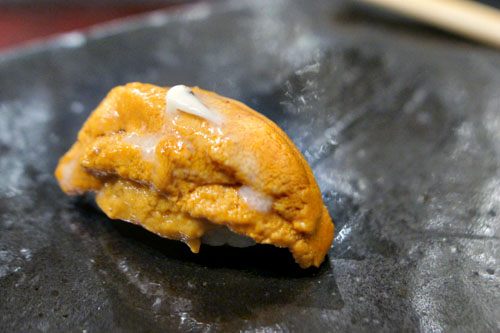 6e: Uni
Last but certainly not least was Santa Barbara uni with truffle butter. Here, I just loved how the sweet-saline nature of the urchin played with the heady flavors of that truffle.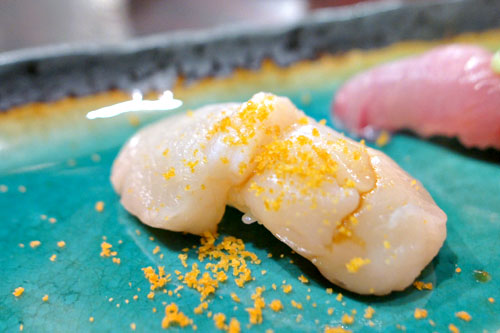 Hotate [$4.50]
At this point, we were done with the savories, and opted for two additional
nigiri
courses. First was this Hokkaido scallop dusted with
karasumi
, a smart presentation of the bivalve wherein its sweetness served as a great foil to the saltiness of the mullet roe.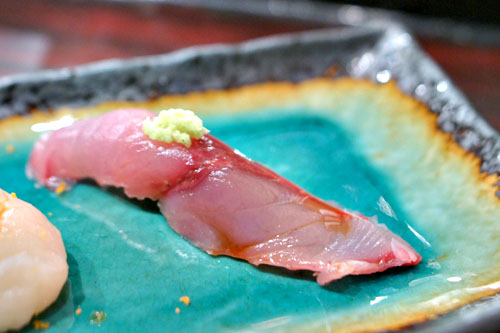 Inada [$4.00]
Next was baby yellowtail, a snappy, leaner, more contemplative version of the fish that was opened up nicely by that mound of wasabi on top.
For dessert, Michael opened up a half bottle of the 2005 Château d'Arche Sauternes. I rather liked this one, finding it honeyed and fruity and viscous sure, but also a bit more restrained, a bit more austere than usual for the style, with perhaps less spice and acid than I'm accustomed to.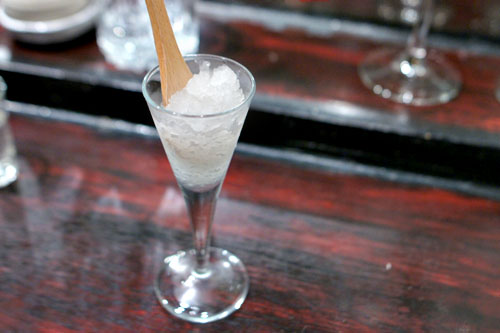 7: Yuzu Sorube
Here was a housemade yuzu sorbet, with its superb balance of sweet and sour making it an affective palate cleansing course.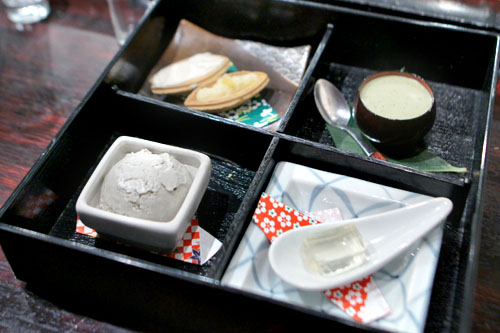 8: Dezato Bento
Dessert arrived in bento box form. Starting from the lower-right and going clockwise, we had: a sugary Moscato ice wine gelée, which melded nicely with the Sauternes; the excellent homemade black sesame ice cream, which blended nutty, earthy, and sweet flavors in an almost peanut butter-like taste; chestnut and wonderfully floral Earl Grey black tea tarts; and lasty, a bittersweet green tea tiramisu with an almost fluffy texture to it.
Kiyokawa's creations were even more fanciful than I'd imagined, and quite unlike that of any other Japanese place in LA. Don't let that distract you from the cooking though, which, save for a few quibbles, was largely effective. The Chef's presentations, though, can be polarizing, and they definitely were in our party, the diorama course in particular. Some of my dining companions yearned for a much more minimalist aesthetic, devoid of any of the playful touches we see here. I can certainly see their point; the focus should be on the food, after all. At the same time though, I don't really have a major problem with it, as long as the cooking doesn't suffer. And, with pretty much every other Japanese chef veering toward pared-down plating, the change of pace doesn't hurt, either. In the end, just come in knowing what to expect.