Allumette (Los Angeles, CA) [2]
Allumette Restaurant
1320 Echo Park Ave, Los Angeles, CA 90026
213.935.8787
www.allumettela.com
Wed 06/25/2014, 08:05p-11:25p

Sadly, by the time you read this, Allumette will have likely closed its doors for good. The restaurant is serving its last meal on June 28th after roughly a year-and-a-half in business. Helmed by one Miles Thompson, Allumette started out as
The Vagrancy Project
, a pop-up first held at the Chef's Hollywood apartment and later at Bill DiDonna and Charles Kelly's Allston Yacht Club. Seeing Thompson's potential, the two gave him his own stage, turning AYC into Allumette, an ambitious project for Echo Park that debuted in January last year to considerable fanfare. The restaurant was well-regarded by the culinarily adventuresome set and critics alike, and picked up a slew of honors--
Bon Appétit's 50 Nominees for Best New Restaurant in America 2013
,
Los Angeles Magazine's Top 10 Best New Restaurants of 2013
,
LA Weekly's 99 Essential Restaurants 2014
,
LA Mag's 75 Best New Restaurants 2014
,
Jonathan Gold's 101 Best Restaurants 2014
--but apparently just never clicked with the neighborhood's clientele, who were ostensibly "
more focused on cheap tacos
."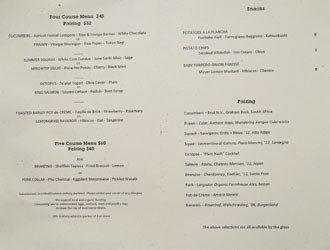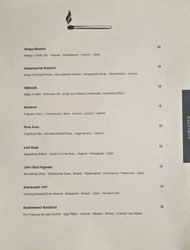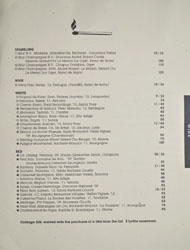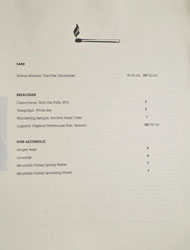 As for Allumette's menu, it switched from à la carte to prix fixe back in February (though you could still order individual items at the bar). Diners get four courses for $45 or five for $60, with an additional $32 or $40 for beverage pairing, along with the option of a few snacks. Also to drink, you had a selection of wine from co-owner Charles Kelly, as well as cocktails by the talented Serena Herrick. Click for larger versions.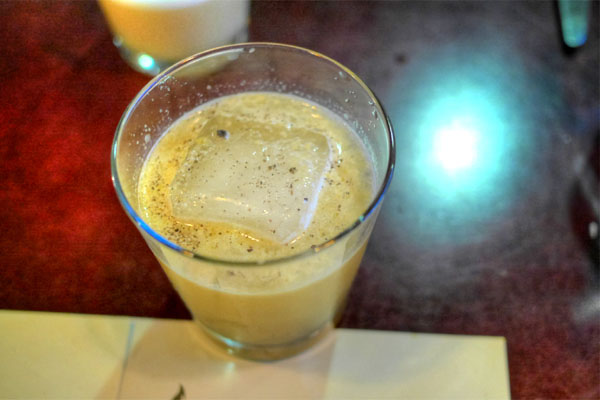 Blacksmith 1987 [$12.00]
| Oolong Infused Elote Mezcal - Kumquat - Honey - Lime - Smoked Salt
Though we certainly planned to do the beverage pairings, we opted for a round of Herrick's cocktails to go with our snacks. The
Blacksmith 1987
instantly appealed to me thanks to its inclusion of mezcal, and indeed, the smoky weight of the booze was put to good use here, melding beautifully with the sweet, floral, citrusy notes in the cocktail. Very well balanced.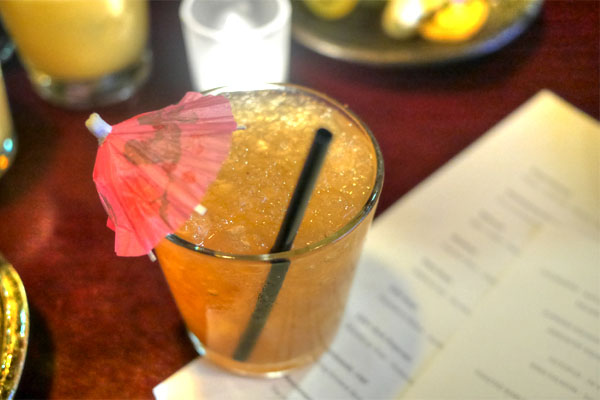 Life's Rich Pageant [$12.00]
| Blackstrap Rum - Dominican Rum - Sherry - Passionfruit - Cinnamon - Falernum - Lime
The
Life's Rich Pageant
, on the other hand, was a much more lighthearted cocktail, one teeming with sweet spice and fruit, resulting in a gluggable concoction that muted the rum quite handily. Almost candy-like at times.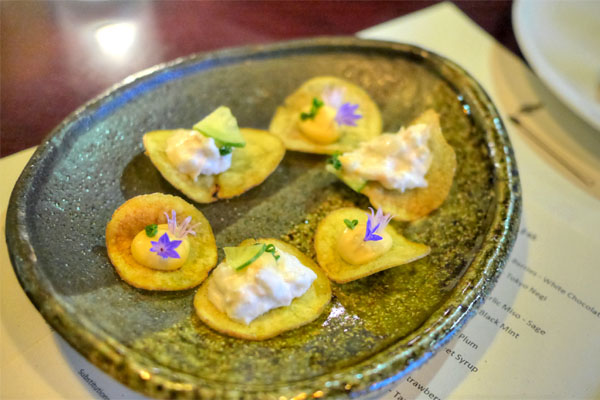 POTATO CHIPS [$7.00]
| Smoked Whitefish - Uni Cream - Chive
Our first of three snacks brought out some delightful bites of potato chip. The uni version was expectedly lush, with the richness of the roe working nicely alongside the chive, while the chip gave things a great hit of crunch. The whitefish, though, was even better, with the smoky brine of the commixture working gorgeously in concert with the inherent saltiness of the chips.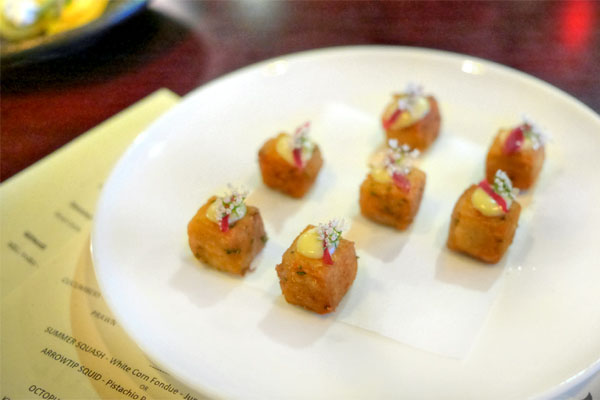 BABY TORPEDO ONION PANISSE [$8.00]
| Meyer Lemon Mustard - Hibiscus - Cilantro
Cuboid fritters of onion really showed off the savoriness of the veggie in a fun, compact package, the mustard and cilantro adding a kick of offsetting piquancy to the mix.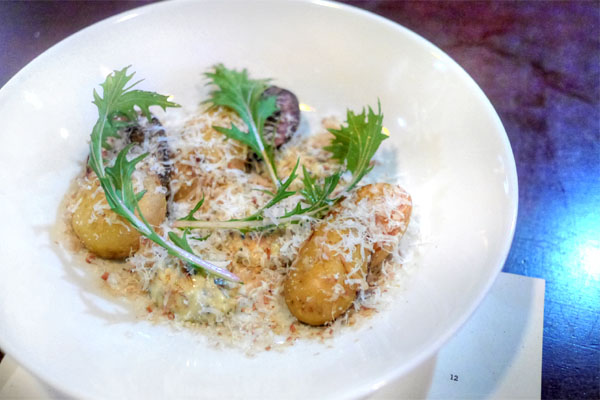 POTATOES A LA PLANCHA [$6.00]
| Furikake Aioli - Parmigiano-Reggiano - Katsuobushi
Potatoes were excellent, hearty and delicious alone, but really taken up a notch when eaten with the paired aioli, which imparted a fantastic depth of flavor to the tubers. Great zing from that mizuna on top, too.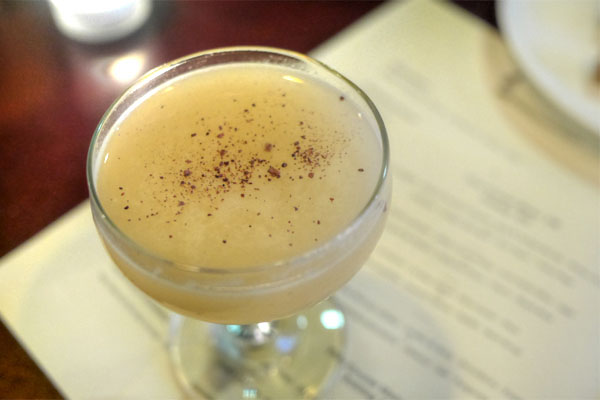 Khaleesi [$12.00]
| Capurro Pisco - Cherimoya - Aloe - Cacoa - Lemon - Agave
Apparently named after something from
Game of Thrones
(a fact that was initially lost on me, as I don't watch the show), the
Khaleesi
was probably my favorite cocktail of the night. I loved the incorporation of cherimoya here, with the fruit's sweet, sugary nature commingling beautifully with the aloe, the whole amalgam evened out by just the right amount of zip from the cacao.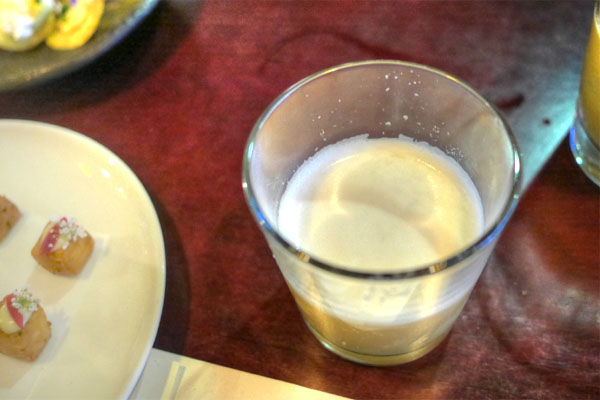 Gentlemen's Breakfast [$12.00]
| The Famous Grouse Scotch - Egg White - Lemon - Ginger - Honey - Candy Cap Bitters
The
Gentlemen's Breakfast
was something that I had on my last visit, and was a bit different than I remembered, probably due to the removal of Islay scotch from the equation. As a result, tonight's drink was much more ginger-forward, with the egg white and citrus serving to balance out its considerable spice.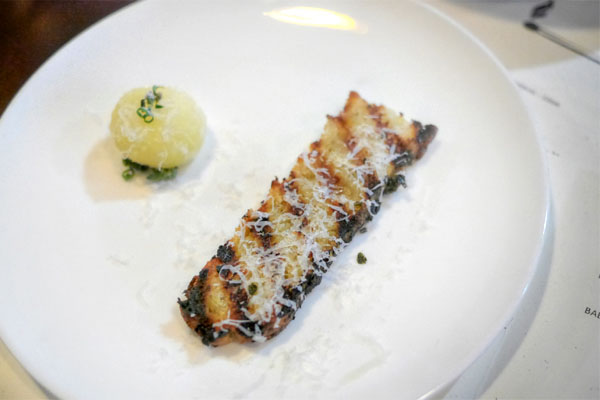 Allumette's "bread & butter" continued to be some of the most intriguing I've had, comprising an utterly smoky, buttery, cheese-dusted grilled focaccia accompanied by an unabashedly luxurious mascarpone-potato "butter."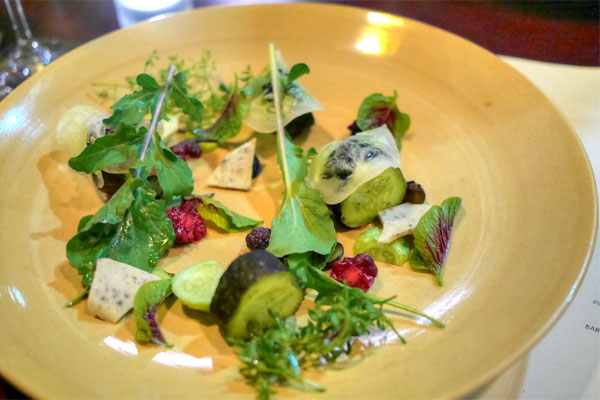 1a: CUCUMBERS - Apricot Fennel Compote - Ripe & Unripe Berries - White Chocolate
Brut N.V., Graham Beck, South Africa
Our meal proper commenced with a cucumber salad of sorts, and it was quite the sight to behold. The light, bright flavors of the veggie were proudly displayed, countered by the zesty greens while the berries imparted jolts of sweet-n-sour. By far the most interesting item was the white chocolate, which provided a sugary heft to the dish, but which also seemed to simultaneously intensify all the other flavors at play. Very neat.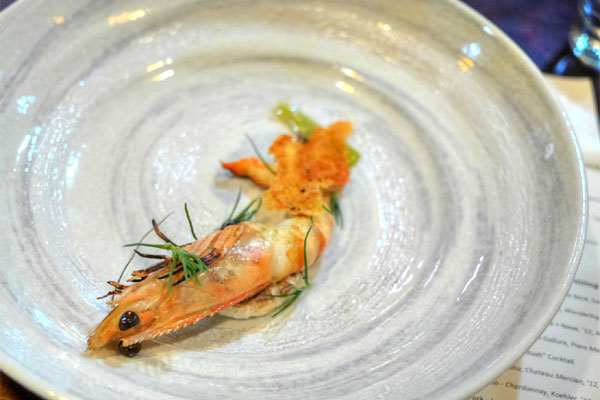 1b: PRAWN - Vinegar Meringue - Rice Paper - Tokyo Negi
Cider, Anthem Hops, Wandering Aengus Ciderworks
The prawn, meanwhile, arrived just rare enough, and loaded with char goodness to go along with its innate brine. I loved the spiciness of the crispy yuba skin, while the meringue added a tangy, creamy character to the plate.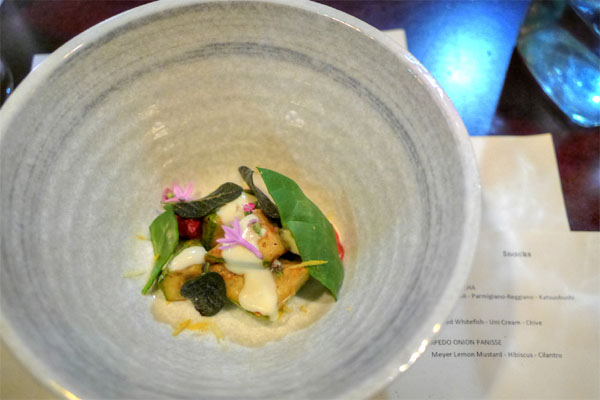 2a: SUMMER SQUASH - White Corn Fondue - June Garlic Miso - Sage
Sauvignon, Erste + Neue, '12, Alto Adige
The squash was some of the best I've had, with a great crunch and savor to it that meshed flawlessly with the various accoutrements. I was especially a fan of the fried sage leaves.
2b: ARROWTIP SQUID - Pistachio Ponzu - Cherry - Black Mint
Vermentino di Gallura, Piero Mancini, '12, Sardegna
Another standout was the squid. The cephalopod itself showed off a lovely char, but the crux was the pistachio-cherry-mint combo, which gave up a sharp, sweet, nutty flavor profile that I'd never encountered before with squid. Lovely astringency and crunch from the onion, too.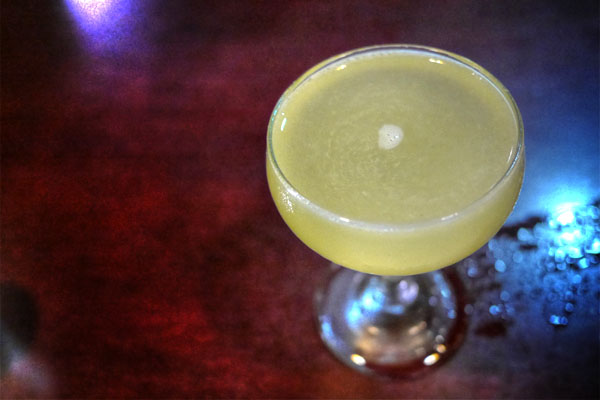 Strega Genesis [$12.00]
| Strega - Dolin Dry - Fennel - Cardamom - Lemon - Lime
Given that we were all children of the 80's/90's, we naturally couldn't resist a cocktail named the
Strega Genesis
. Think loads upon loads of fennel on this one, amplified by the herby, spicy smack of the Strega.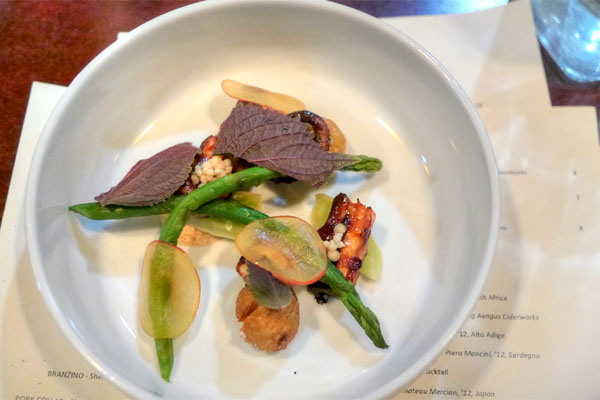 3a: OCTOPUS - Za'atar Yogurt - Okra Caviar - Plum
"Plum Rush" Cocktail
Octopus came out sticky and salty, an in-your-face presentation of the ingredient that really called for the moderating effect of the dish's various elements, making for one well-integrated bite. I was especially fond of the asparagus and cool, minty greens here.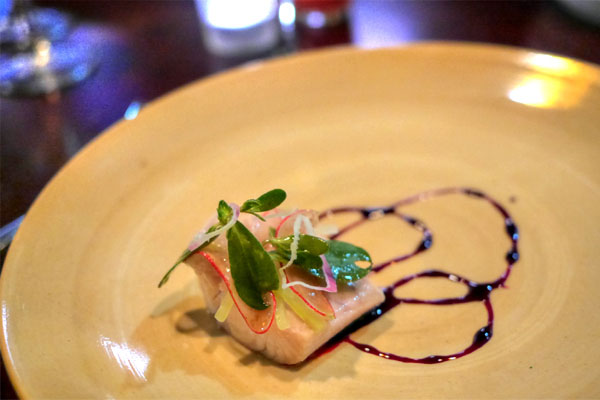 3b: KING SALMON - Soured Celtuce - Radish - Beet Syrup
Koshu, Chateau Mercian, '12, Japan
Salmon was cooked to a flaky, near gelatinous consistency, its strong salinity perked up by the sugary beet syrup while the celtuce and radish imparted a touch of levity to things.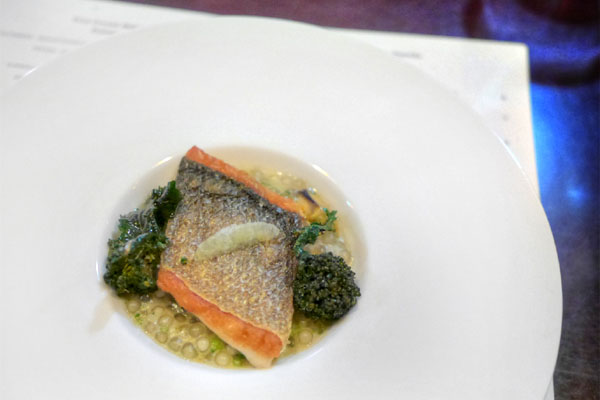 4a: BRANZINO - Shellfish Tapioca - Fried Broccoli - Lemon
Chardonnay, Koehler, '12, Santa Ynez
The branzino was excellent, arriving super moist, super briny and with a wonderfully crisp skin to boot. I found it delicious on its own, but the astringency of the broccoli and the tempering tapioca really made the dish sing.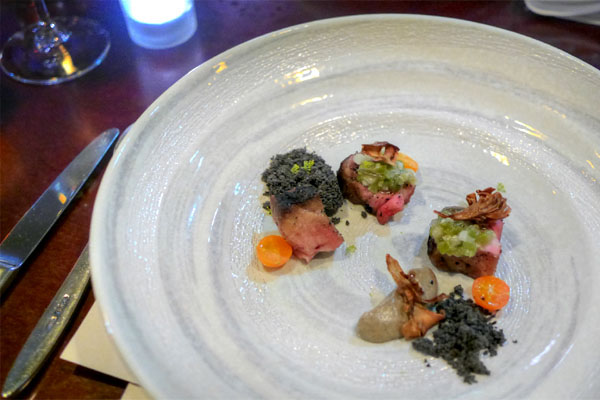 4b: PORK COLLAR - Pho Charcoal - Eggplant Mayonnaise - Pickled Wasabi
Logsdon Organic Farmhouse Ales, Seizon
In our last savory course, rare cuts of pork were brazenly smoky, their boatloads of porky goodness balanced out near completely by the blast of sour heat from the 'sabi. Very cool, especially when taken with the aromatic, anise-y spice of the
pho
-inspired "charcoal."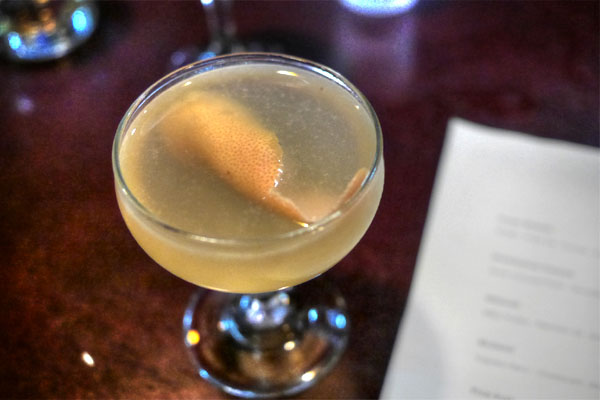 Shemingway Daiquiri [$12.00]
| Avuá Cachaça Prata - Amontillado Sherry - Grapefruit Syrup - Maraschino - Lemon
A couple cocktails to pair with dessert. The
Shemingway Daiquiri
was a worthy take on the classic drink, its fruity, tropical nature underscored nicely by the weight of the sherry and cachaça.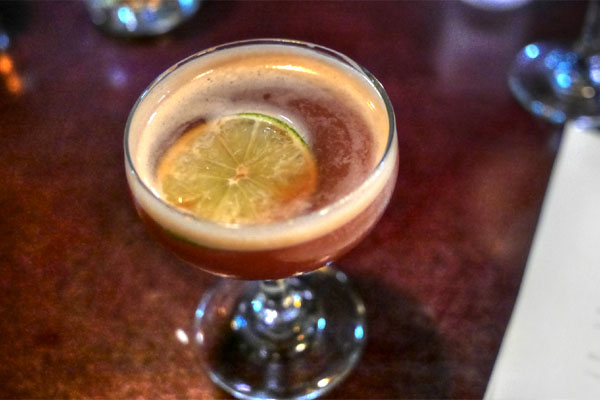 Last Ango [$12.00]
| Angostura Bitters - Smith & Cross Rum - Orgeat - Pineapple - Lime
Another repeat from last time, the
Last Ango
was just as I remembered, a masterful blend of sweet, cinnamon-y spice countervailed by the bitters and Smith & Cross.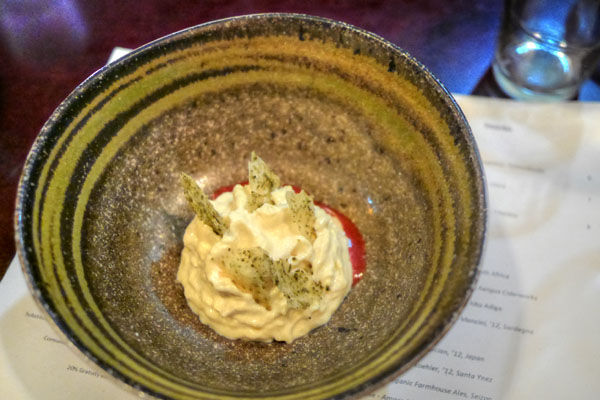 5a: TOASTED BARLEY POT-de-CRÈME - Feuille de Brick - Strawberry - Rosemary
Amaro Meletti
Time for dessert. Allumette's
pot de crème
was one of the strongest I've had, its toasted barley and
feuille de brick
giving up a familiar, yet unidentifiable flavor profile that I really enjoyed, especially when taken with the sugary strawberry.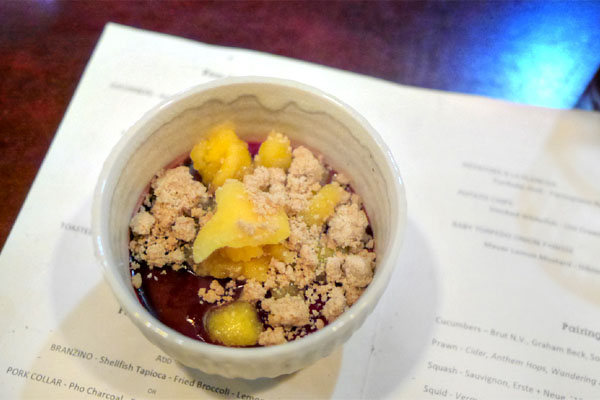 5b: LEMONGRASS BAVAROIS - Hibiscus - Oat - Tangerine
Rosenhof, Welschriesling, '06, Burgenland
The bavarois, finally, was a winner as well, a mishmash of sour, sweet, floral and aromatic nuances grounded perfectly by the oat.
It's been great to see Thompson's cooking progress over the past couple of years. His food's better than ever now, a more mature, more understated expression of his style that's nonetheless imbued with a palpable blend of thoughtfulness, complexity, and novelty. It's sad to see this place go, but I guess it was really a case of having the wrong concept--a concept ahead of its time--for the space. I do sincerely hope that the Chef manages to wind up somewhere else in the City. Allumette, you'll be missed.