Wexler's Deli (Los Angeles, CA)
Wexler's Deli at Grand Central Market
317 S Broadway, Los Angeles, CA 90013
213.624.2378
www.wexlersdeli.com
Sat 07/12/2014, 03:10p-07:00p

When we last saw Micah Wexler, he was slanging high-end Middle Eastern-slash-Mediterranean fare at
Mezze
and helping out with The Cure at UMAMIcatessen. Mezze ended up shuttering in October 2012, and since then, we hadn't heard much from the Chef until rumblings of Wexler's Deli began to surface earlier this year. The eponymous eatery debuted at the end of April, serving up artisanal-y renditions of well-worn deli classics.
Apparently, Wexler wound up in the Homer Laughlin Building space as a result of attending a cheese-making class at Altadena's Institute of Domestic Technology. The school's founder, Joseph Shuldiner, just happened to be consulting on Adele Yellin's revitalization of GCM, and invited the Chef to take up residency at the historic 1917 location, which comprises a mix of old school stalls (e.g. chop suey specialist China Cafe and
pupuseria
Sarita's) and newbies such as Eggslut, Horse Thief, Berlin Currywurst, Olio, and Belcampo Meat Co. To open the
J. Marx Atelier
-penned, 350-square-foot stall, Wexler teamed up with his old Mezze partner Michael Kassar, and also brought in David Sanfield, who co-founded Pitfire Pizza with
Paul Hibler
in the late 1990's.
Above, we see the menu for Wexler's Deli, which is just about as straightforward as you can get. And in case you're wondering, that the food here is
not
strictly kosher.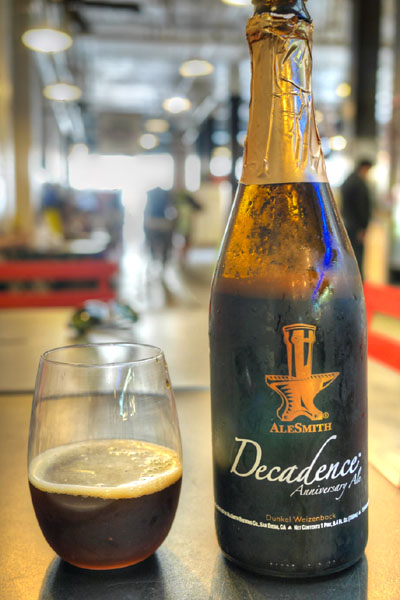 Given the lackluster boozing situation at GCM, we decided to bust out some beers from home, starting with the
2009 AleSmith Decadence Dunkel Weizenbock
(the first bottle sampled from my '05 to '13 Decadence vertical). This was a lovely example of a mature beer, a dark, heady dunkel loaded with flavors of caramel, fruit, and spice over a base of wheat-y character. Very smooth, with the ABV well hidden.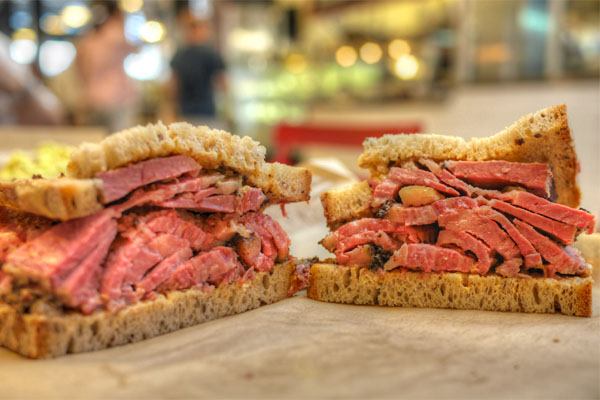 The O.G. [$11.00]
| Pastrami, Mustard, Rye
Naturally, we had to get underway with the most O.G. sandwich available. You had your classic pastrami on rye goodness here, but with the meat fattier, juicier, and cut a tad thicker than you might typically get. Lovely tang here from the traditional accompaniment of mustard, too, and that Etchea Bakery rye just makes sense. Can't go too wrong with this.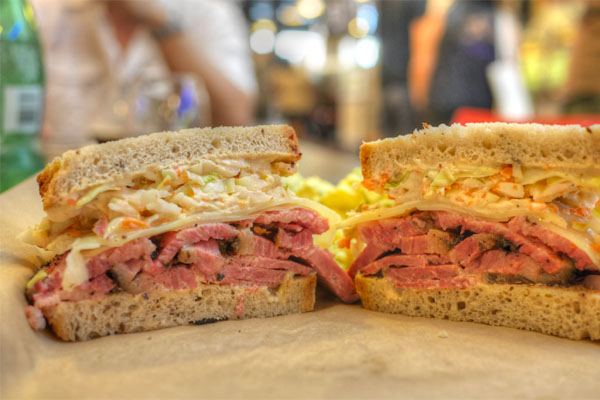 Macarthur Park [$12.00]
| Pastrami, Coleslaw, Swiss Cheese, Russian Dressing, Rye
We followed up with another pastrami sandwich, this time Wexler's homage to the legendary "#19" at Langer's Deli. If you can only get one item here, this just might be it, with the meat forming a perfect base on which the creamy coleslaw and tangy dressing could really shine, the Swiss adding just that extra touch of gravity to the fray.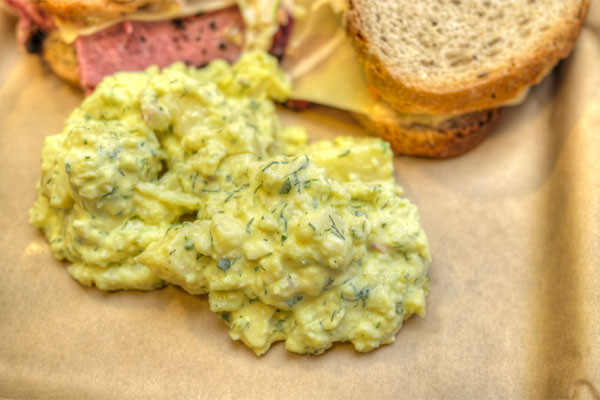 Potato Salad [$2.00]
Wexler's potato salad was
on point
, a lush, satisfying preparation beautifully accented by overarching aromatics of dill.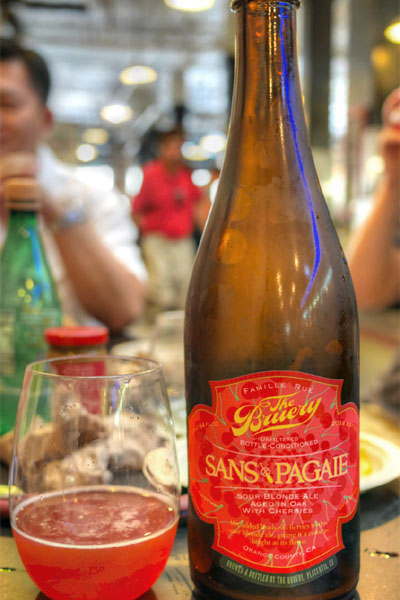 Time for some sour stuff. The
2014 The Bruery Sans Pagaie
was a bracing beer to be sure, a beautifully-ruby-toned, barrel-aged blonde with cherries. Think super funky, with a foundation of tart, unripe cherry and citrus joined by hints of barnyard and vinegar.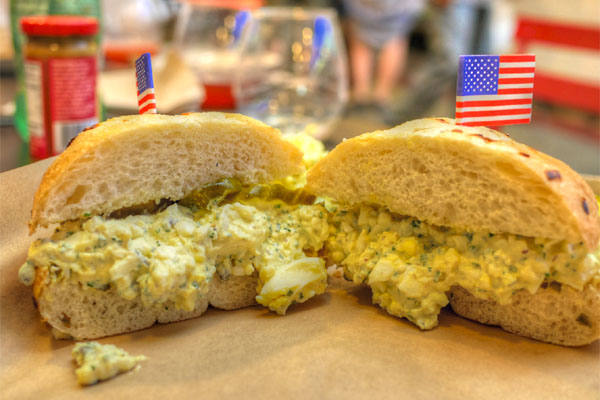 Ruskie [$9.00]
| Egg Salad, Pickles, Kaiser Roll
Somewhat ironically, this ostensibly Russian-inspired sandwich came topped with the old Stars & Stripes, but nationality aside, this was some of the finest egg salad I've had. It really showed off all that you'd want from the sandwich filling, but with a great counterbalancing tartness and herbaceousness that took it over the top.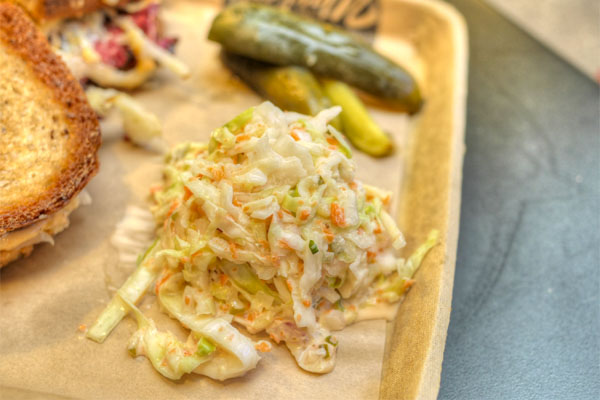 Pickle & Coleslaw [$2.00]
Pickles are all brined in-house of course, while the coleslaw was spot on, a properly crunchy and acidic presentation that went swimmingly with the food.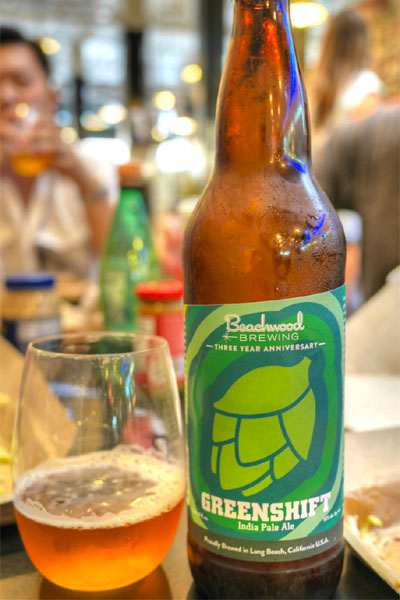 The requisite IPA slot was filled by the brand new
2014 Beachwood Greenshift
, which was crafted for the brewery's three-year anniversary party earlier in July. Made with a wide variety of hops, this one was super citrus-y in a nice way, yet smooth despite its high DIPA ABV, with a counterbalancing touch of tropical fruit that really worked for me.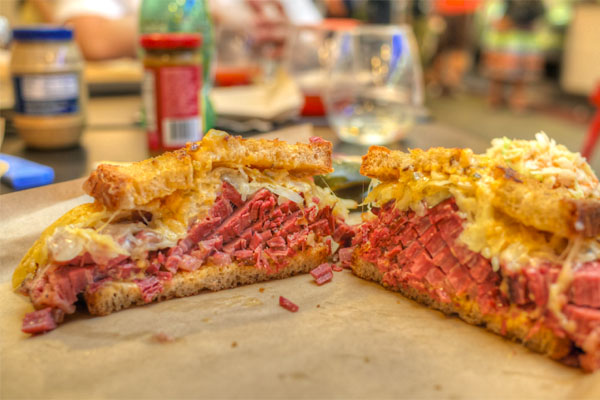 Reuben [$12.00]
| Corned Beef, Sauerkraut, Swiss Cheese, Russian Dressing, Rye
I thoroughly enjoyed Wexler's take on the classic Reuben, easily the most intensely-flavored item of the day. The beef itself I found earthy and deep, and it linked up flawlessly with the kraut while the cheese and dressing imparted further luxuriousness to the dish. Yum.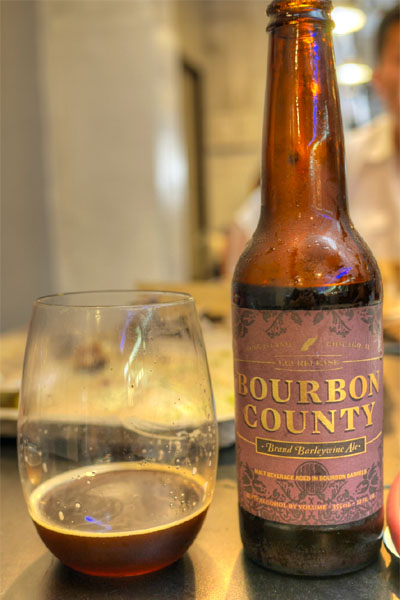 Getting into the heftier brews now, up next was the vaunted
2013 Goose Island Bourbon County Brand Barleywine
, which was aged in bourbon barrels formerly used to age Bourbon County Stout. The beer lived up to expectations, smelling of dark fruit and caramel joined by a some barrel-y qualities as well, while the taste was more of the same, with chocolate, coconut, and some distinct "stout-y" characteristics on proud display.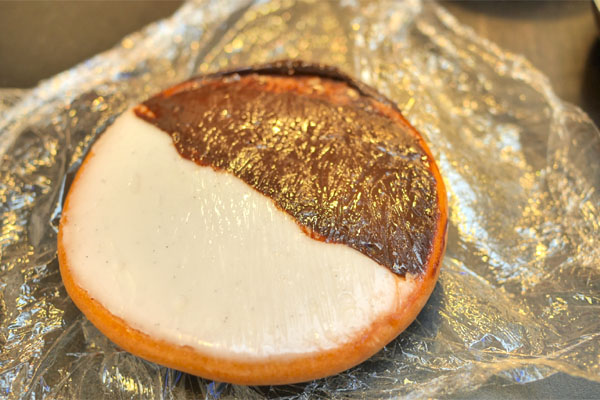 Black & White Cookie [$4.00]
At this point, we enjoyed a mid-meal dessert, a spongy, soft half-and-half cookie that's custom made for the deli.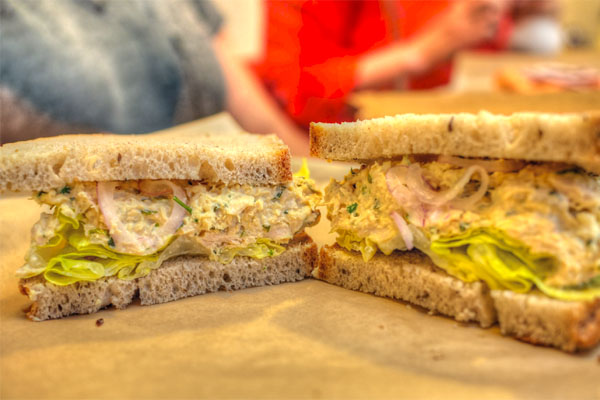 Ocean Avenue [$9.00]
| Tuna Salad Sandwich, Lettuce, Red Onion, Rye
I'm a big tuna salad fan, and Wexler's did not disappoint. I was actually one of the best iterations I've had, with the lettuce and onion forming a perfect foil to the rich, creamy, subtly ocean-y savor of the salad.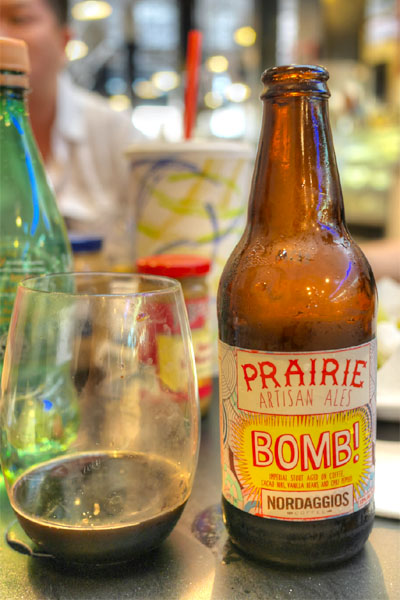 Our first stout was the oft-talked-about
2014 Prairie Bomb!
, an imperial aged with coffee, cacao nibs, vanilla beans, and chili pepper. You had plenty of coffee and chocolate going on here, along with a strong roast quality and just a touch of heat toward the back end.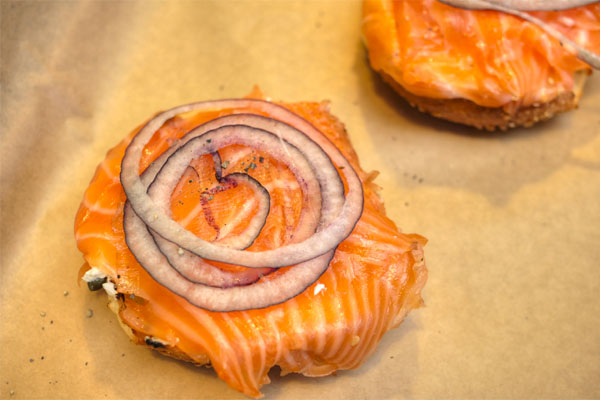 Bagel w/ Lox & Cream Cheese [$9.00]
We had to give Wexler's house-cured salmon a go as well. Served here on a soft, specially-made bagel, the lox really delivered, playing beautifully off of the cream cheese while the onion added just the right amount of crunchy astringency to the mix.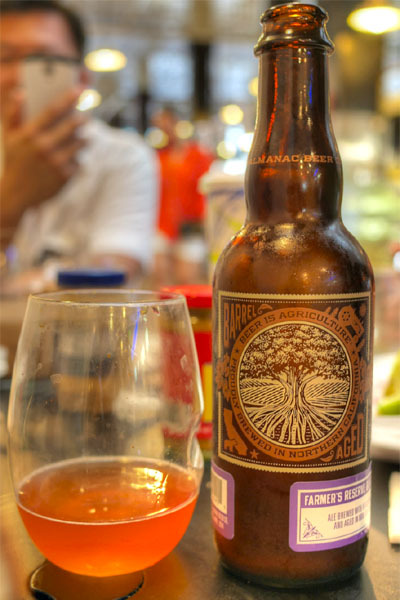 Our second sour was the
2014 Almanac Farmer's Reserve Blackberry
, which managed to be a lot more approachable than the Sans Pagaie above. I found it yeasty and citrusy on the nose, with the palate commingling said notes with a focused tartness and hints of berry fruit toward the finish.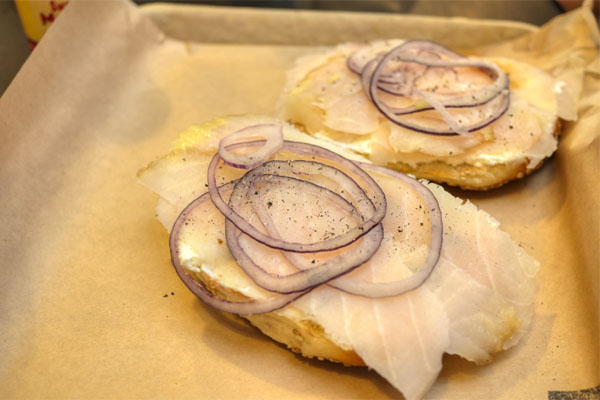 Bagel w/ Smoked Sturgeon & Cream Cheese [$9.00]
The house-smoked sturgeon satisfied as well, conveying a more intense, brinier flavor profile compared to the salmon. Very tasty.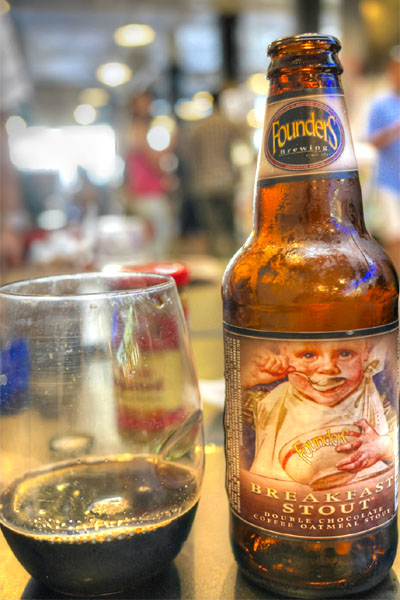 Continuing on with the stout theme, here we had the well-regarded
2013 Founders Breakfast Stout
. Brewed with oats, chocolate, and coffee, this one definitely gratified, showing off boatloads of chocolate and coffee in perfect harmony alongside a lovely roasty, malty character.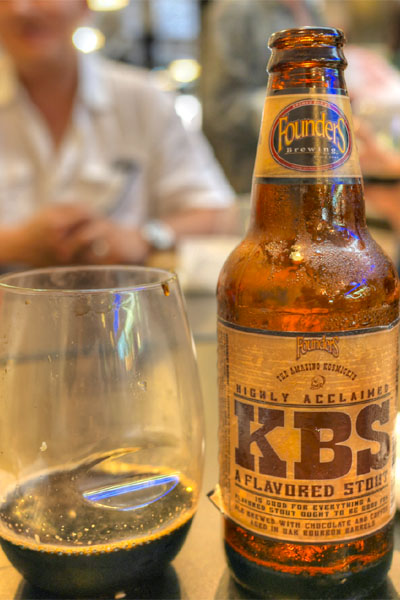 Now, with the standard Breakfast Stout in play, I felt compelled to bring out a bottle of the
Founders KBS (Kentucky Breakfast Stout)
for comparative purposes. KBS is a chocolate-coffee stout aged in oak bourbon barrels for about a year, and vis–à–vis the standard FBS, you had your balance of chocolate and coffee nuances, sure, but what set this one apart was the barrel character, which gave up hints of bourbon and vanilla that really worked beautifully in the beer.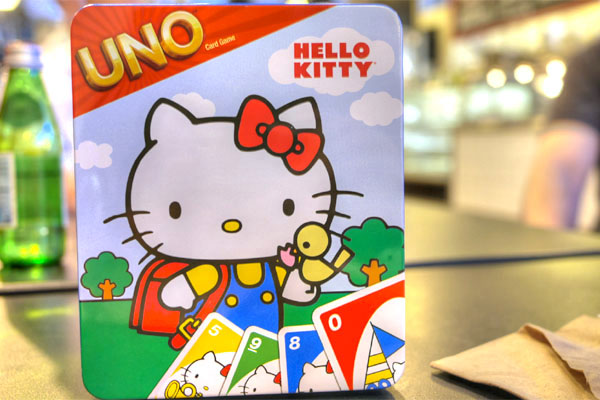 With the meal done with, we lingered around and played a few rousing rounds of Hello Kitty Uno.
The
2014 Tap It Cafe Noir
was an imperial porter with coffee, aged for eight months in pinot noir barrels. It was a crisp, dry beer with plenty of roasted coffee attributes over a backdrop of chocolate-y malt and a whisper of wood. A good, solid beer; it only suffered a bit in comparison to the Founders we had right before it.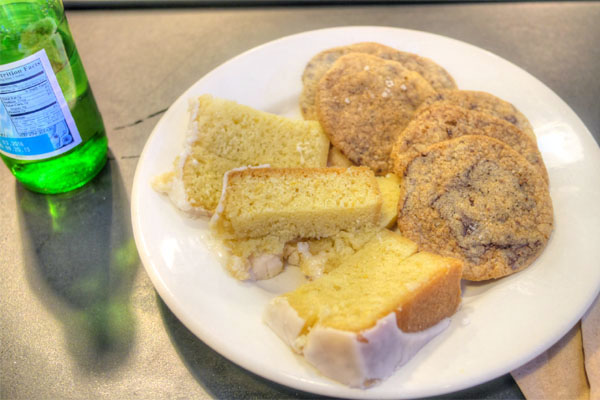 Stan Weightman Jr from the nearby
Valerie Confections
stall overheard our merriment, and sent out some complementary cookies and cake for us to enjoy.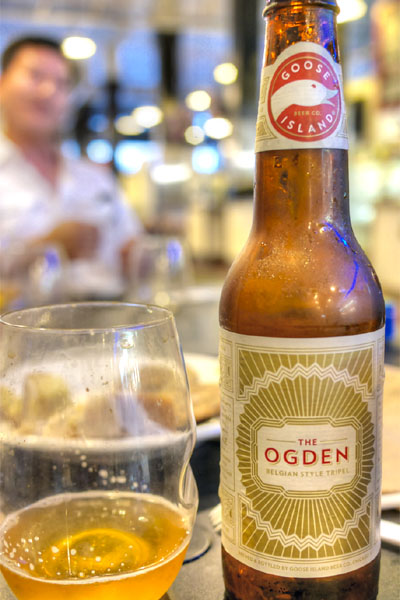 We closed with something lighter, the new
2014 Goose Island The Ogden
, a Belgian-style tripel ale. This really was very nice, with some tropical, floral qualities to pair with the yeasty, hoppy nature of the beer.
I'm not a huge deli guy in general, but I really was pretty impressed with what Wexler's doing here. The food was largely delicious, and the overall feel of the place was that of a classic deli, but with a more deliberate, thoughtful, "cheffy" thrust to it that I enjoyed. As for what's next, there are rumblings that Wexler and Kassar are teaming up for another place, a full-service type of establishment that hopefully can come to fruition sooner rather than later.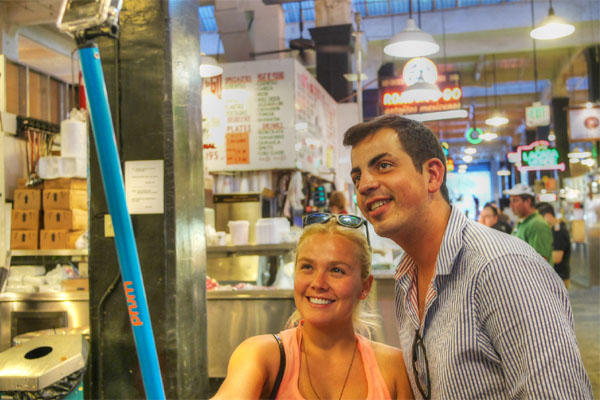 Selfie level: advanced.