Trois Mec (Los Angeles, CA) [2]
Trois Mec Restaurant
716 N Highland Ave, Los Angeles, CA 90038
323.462.1344
www.troismec.com
Thu 07/10/2014, 08:00p-10:45p

In terms of the biggest debuts of 2013, I think
Trois Mec
pretty much has to be right at the top. Indeed, over the past year, this joint effort between Chef Ludo, Jon Shook, and Vinny Dotolo in the old Raffallo's Pizza space on the outskirts of Hollywood has become perhaps the most of-the-moment, "LA" restaurant here in the City, and has picked up almost every award and honor possible:
Esquire's Best New Restaurants 2013
,
Los Angeles Magazine's Top 10 Best New Restaurants of 2013 (#1)
,
GQ's 25 Best New Restaurants in America 2014 (#2)
,
LA Weekly's 99 Essential Restaurants 2014
,
LA Mag's 75 Best New Restaurants 2014 (#2)
, and
Jonathan Gold's 101 Best Restaurants 2014 (#8)
.
As such, Trois Mec is rightfully one of the hottest tickets in town, and I do literally mean tickets, which are required to be purchased ahead of time, a particular wrinkle that has made it somewhat difficult for me to come back here. Nevertheless, after some careful planning and coordination, I was able to return to see how the place had progressed. As for the staff, Douglas Rankin's still running the day-to-day as Chef de Cuisine, but General Manager Ashley Ragovin decamped a while back (she was last seen at
Superba Food + Bread
), replaced by Adam Vourvoulis (
ink
,
Mozza
,
Church & State
).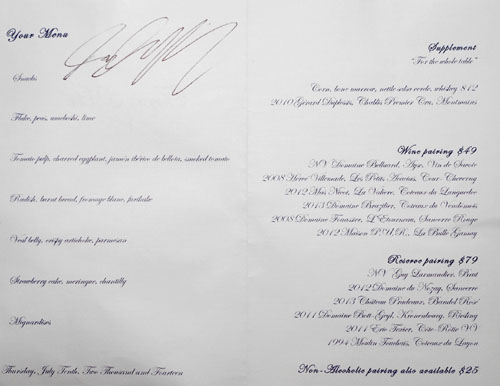 As for Trois Mec's menu, it's still five courses plus snacks at $96.47 a head, which covers the base price of $75 plus 18% service and tax. A beverage pairing is offered at $49pp (or $79 for a "reserve" variant and $25 for a non-boozy one); in addition, the wine list has been expanded with greater depth and breadth, and there are even beer options (perhaps thanks to Vourvoulis, who's partial to brews). Sadly however, corkage is still not allowed. Click for a larger version.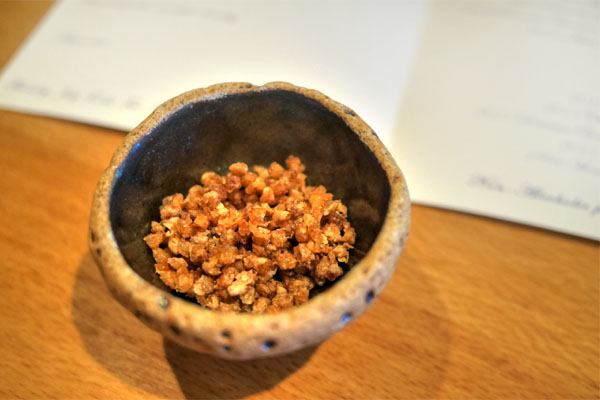 Snack #1: Buckwheat Popcorn
NV Domaine Belluard, Ayse, Vin de Savoie
We started with what has become Trois Mec's signature snack, a wonderfully crispy, crunchy, utterly savory buckwheat "popcorn" balanced by the zing of rice wine vinegar.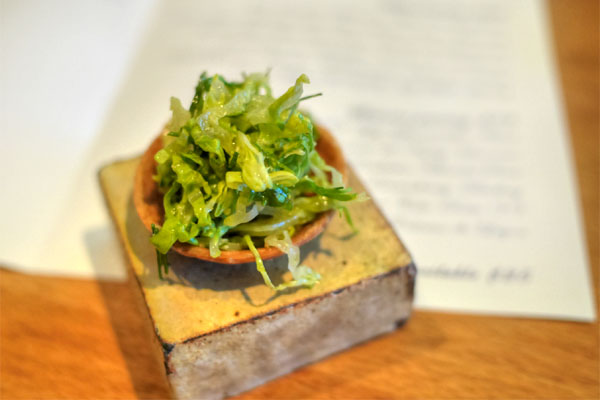 Snack #2: Herb Tart
NV Domaine Belluard, Ayse, Vin de Savoie
Next was an herb tart with pistachio, a miniature salad of sorts teeming with bright, summer-y flavors set against the dish's nutty, buttery crust. Nice lingering tartness on this one to boot.
Snack #3: "Tater Tot"
NV Domaine Belluard, Ayse, Vin de Savoie
Trois Mec's "Tater Tot" comprised tapioca, passion fruit, and Parmesan, a winning combination to be sure that combined the lush, salty cheesiness of the Parm with the delightfully gelatinous-yet-crisp texture of the tapioca, the whole thing underpinned by a modicum of sugary fruit. Damn good.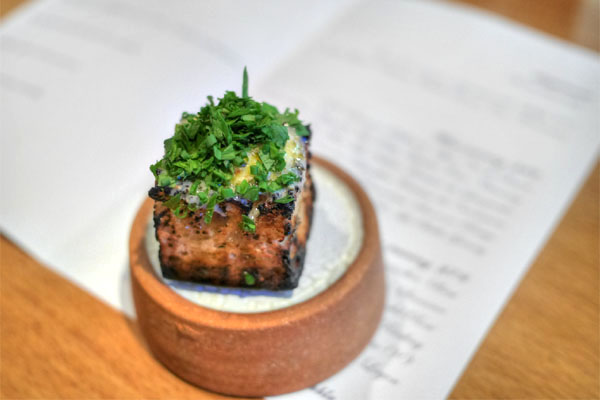 Snack #4: Garlic Bread
NV Domaine Belluard, Ayse, Vin de Savoie
The restaurant's take on garlic bread was a pretty much flawless bite, an amalgam of unabashedly buttery and char flavors set off by a countervailing touch of sharpness that satisfied in the basest way possible.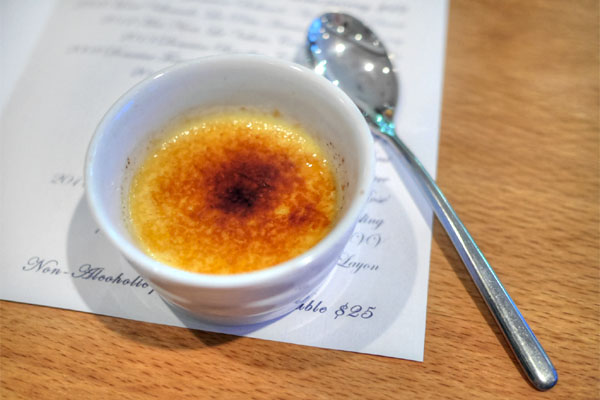 Snack #5: Dijon Crème Brûlée
NV Domaine Belluard, Ayse, Vin de Savoie
Our "dessert" snack was crème brûlée infused with Dijon, which showcased the classic sweetness of the dish initially, but which also finished with the distinct heat of the mustard. I much appreciated the perfectly caramelized top on this one, too.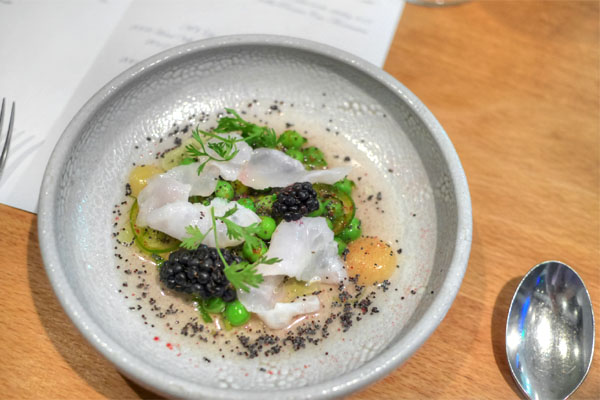 1: Fluke, peas, umeboshi, lime
2008 Hervé Villemade, Les Petit Acacias, Cour Cheverny
The meal proper commenced with what probably amounted to the best fluke dish I'd ever tasted. The fish itself was spot on, an ideal base on top of which the various, disparate thrusts of savory, sugary, tart, and bitter could really shine. I was especially fond of the texture and sweetness on those peas, as well as the subtle spice of what I believe were poppy seeds. A pretty awesome interplay of flavors going on here overall, and my favorite course of the evening.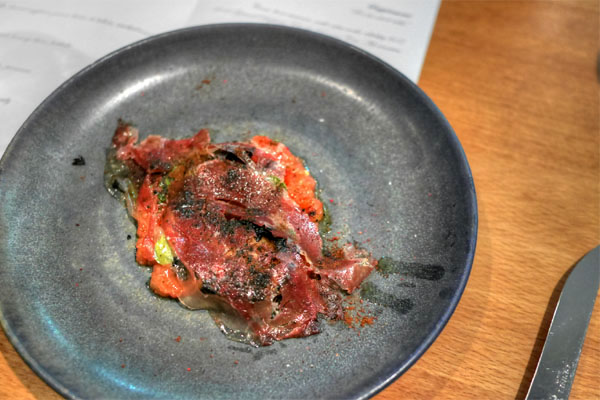 2: Tomato pulp, charred eggplant, jamón ibérico de bellota, smoked tomato
2012 Mas Nicot, La Valiere, Coteaux du Languedoc
Following was the most polarizing course of the night (and certainly not the prettiest). You had boatloads of smokiness up front, which then led to the juicy sweetness of tomato, and finally the salty depth of the ham, which really underscored the entire dish. It was a combination that worked for me, but didn't quite jive with a couple of my dining companions.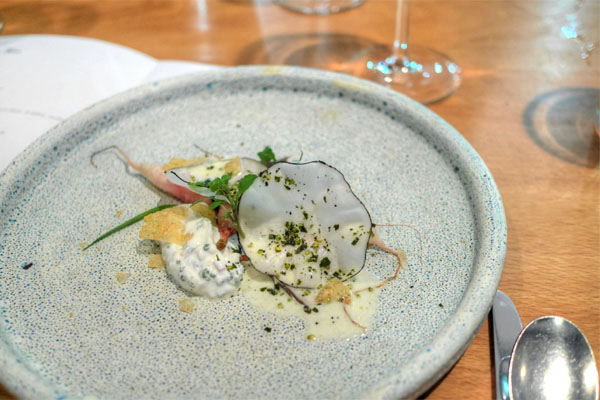 3: Radish, burnt bread, fromage blanc, furikake
2013 Domaine Brazilier, Coteaux du Vendômois
Brined and roasted radishes were crunchy and bitter, just what I'd want. They paired beautifully with the lushness of the accompany fromage blanc while the burnt bread sauce imparted an overarching smokiness to the entire experience. Some lovely umami notes from the use of
furikake
, also. Another standout for me.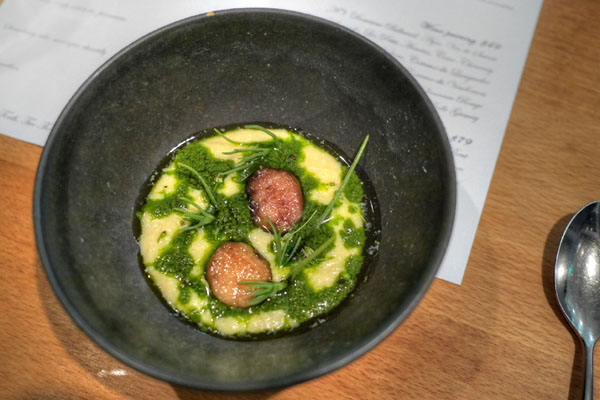 Supplement: Corn, bone marrow, nettle salsa verde, whiskey [$12.00]
2010 Gérard Duplessis, Chablis, Premier Cru, Montmains
Trois Mec now offers the option of a supplementary course for the entire table, and obviously, we had to oblige. The corn was suitably sweet, really showing off the nature of the kernels in a comforting, satisfying manner while the marrow added additional luxuriousness to the fray. The crux here, though, was the combo of nettle and cilantro, which really did a fantastic job in imparting a bright, zesty quality to the entire dish. A table favorite.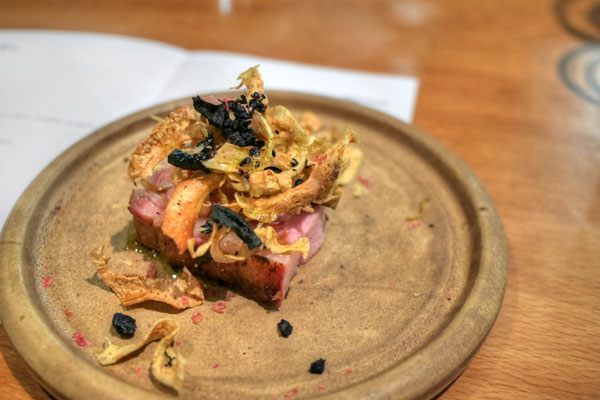 4: Veal belly, crispy artichoke, parmesan
2008 Domaine Fouassier, L'Etourneau, Sancerre Rouge
Our most substantial item of the evening was a supple, fatty, slightly chewy slab of veal belly, an immensely flavorful cut loaded with heady aromatics. Fried shards of artichoke augmented the experience with their crispy, salty character, though I wasn't quite sold on the use of olive, which I found a tad distracting.
5: Strawberry cake, meringue, chantilly
2012 Maison P.U.R., La Bulle Gamay
Dessert brought out the classic pairing of strawberries and cream, an unquestionably effective combination that was taken up a notch here by dish's base of strawberry cake, a heavy, dense preparation that grounded the dessert with its potent bit of sweetness. Nice texture from those meringues, too.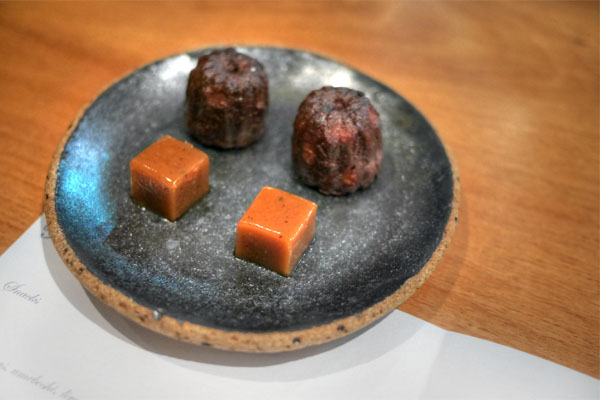 Mignardises
Mignardises this evening comprised fermented black garlic caramels, which blended the traditional sugariness of the candy with the unmistakable relish of garlic, as well as smoked milk canelés, which somehow had a vaguely Asian-y flair to them that reminded me of
tamago
.
After my previous meal here, I predicted that Trois Mec would become of the City's most essential dining destinations, and that prognostication has certainly held true. I deemed it Ludo's best cooking to date, a sort of culmination of his LudoBites days, classical training, and France's bistronomic zeitgeist all rolled into one. That was over a year ago, so I was quite curious how things have held up. I'm happy to report that the kitchen is performing as good as ever, even with Lefebvre absent in the kitchen tonight. I sensed a bit more confidence in the cooking, and I'm sure that the team will only continue to grow and evolve. Now, to check out Petit Trois next door...