Alimento (Los Angeles, CA)
Alimento Restaurant
1710 Silver Lake Blvd, Los Angeles, CA 90026
323.928.2888
www.alimentola.com
Tue 07/08/2014, 08:25p-11:15p

I was quite the fan of
Sotto
when it first opened back in 2011, but one of the things that'd always struck me as odd was that the restaurant had two head chefs: Steve Samson and Zachary Pollack. They always warn about having too many cooks in the kitchen, so I wasn't surprised when it was announced back in February that Pollack would be starting his own place (though he still retains an ownership stake in the old restaurant). Alimento ("food" in Italian, roughly) thus debuted on June 26th in Silver Lake (an area the Chef had been interested in even pre-Sotto), a sort of trattoria-style joint just a stone's throw away from
L&E Oyster Bar
. As for the cooking, it veers away from the Southern Italian slant that he and Samson presented at Sotto. Rather, the food is more of a pan-Italian affair, but with traditional flavors re-interpreted.

Alimento occupies the old Back Door Bakery building, which, if you recall, was supposed to become Bleu Sage. The roughly 1,300-square-foot space seats just over 40 diners, with an additional dozen to come on the patio.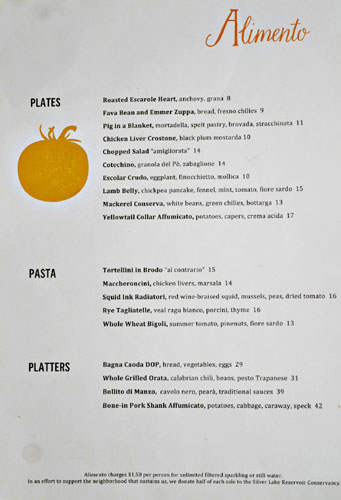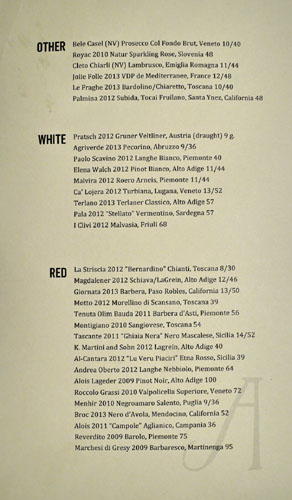 As for Alimento's menu, it features more traditional-leaning fare as well as dishes that you'd probably never encounter in Italy, broken up into smaller plates, housemade pastas, and larger platters. To imbibe, there's a concise, eclectic, mostly-Italian wine list of about 30 bottles chosen by Ryan Wenger (
The Hart & The Hunter
), as well as a smattering of beers. Controversially, there's also a $1.50pp charge for filtered still or sparkling water, with half of the fee going to the
Silver Lake Reservoirs Conservancy
. Click for larger versions.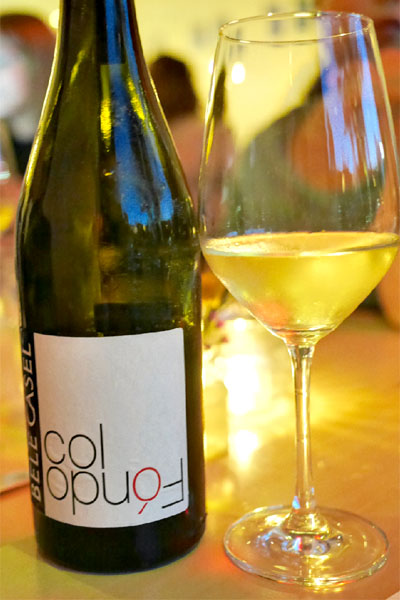 Alimento definitely seems like a wine-focused place, so we opted for a sparkler to start, the
Bele Casel (NV) Prosecco Col Fondo Brut, Veneto [$40]
. I found it a rather nice example of Prosecco, fresh and fizzy, with a good amount of fruit character joined by a just a slight bit of breadiness underpinning everything.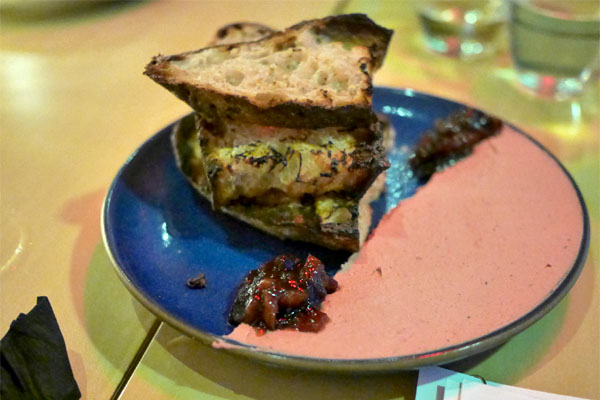 Chicken Liver Crostone [$10.00]
| black plum mostarda
We had to try the chicken liver, naturally, and Alimento's was a fine presentation, with the silky offal's earthy, in-your-face savor vibrantly conveyed, tempered just enough by the sweet 'n' sour zing of that mostarda. Lovely over the charred bread as well.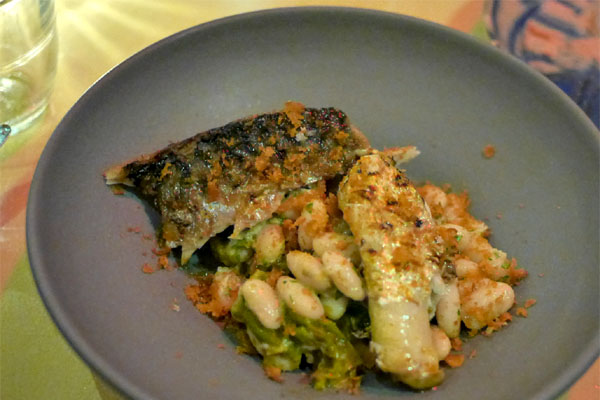 Mackerel Conserva [$13.00]
| white beans, green chilies, bottarga
My favorite item of the night turned out to be the mackerel. I loved the fish's juicy, emphatic brine, taken up a notch by the sprinklings of bottarga, while the white beans did a wonderful job in grounding the dish. Superbly balanced.
Cotechino [$14.00]
| granola del Pò, zabaglione
Given my penchant for tubed meat, the
cotechino
, a sort of cooked salami, was a must try. I really appreciate the sausage's rustic, gritty consistency and deep flavors, especially when taken with the paired sabayon. I wasn't as convinced about the granola however; although it did provide a great textural contrast to things, it seemed to go overly sweet.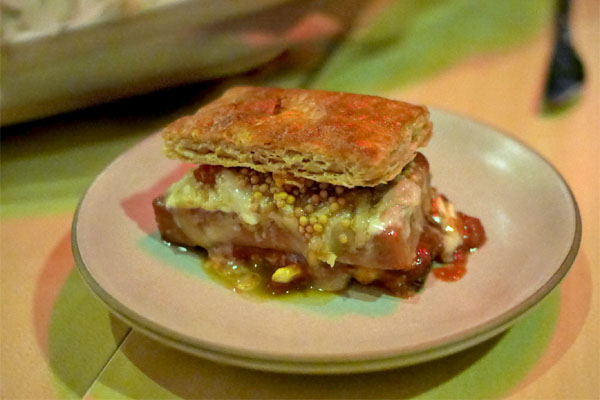 Pig in a Blanket [$11.00]
| mortadella, spelt pastry, brovada, stracchinata
Next up was an unconventional Italianate dish featuring a delightful braised mortadella, a satisfying, somewhat hammy cut of pork that paired swimmingly with the lush
stracchinata
cheese while that mustard-turnip combo added the perfect touch of piquancy to the dish. I was a big fan of the spelt pastry as well, which provided just enough textural complexity.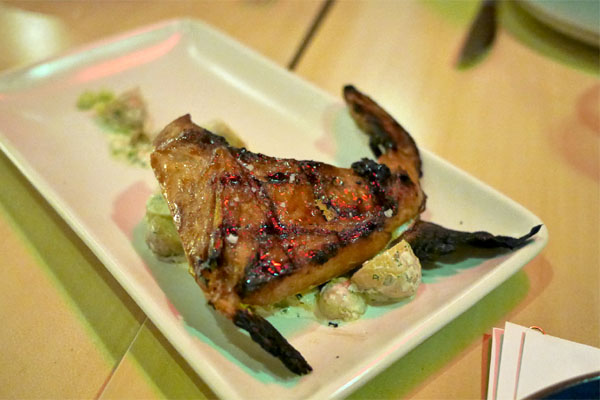 Yellowtail Collar Affumicato [$17.00]
| potatoes, capers, crema acida
The yellowtail was another standout, the fish's inherent goodness enveloped by a veil of delectably smoky notes while the "potato salad" imparted an offsetting acidity to really set things off.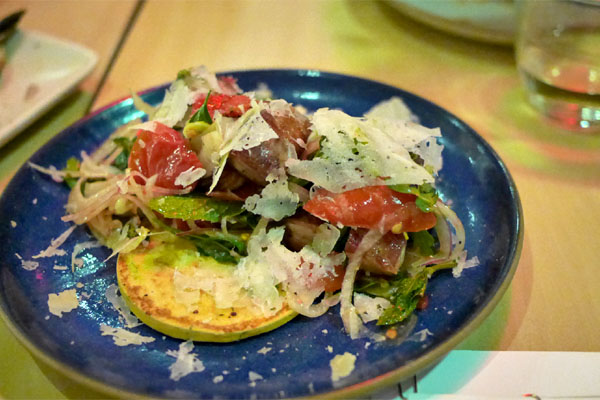 Lamb Belly [$15.00]
| chickpea pancake, fennel, mint, tomato, fiore sardo
The lamb was delectable, fatty and lush and savory all at the same time, yet smartly set against the brightness of the included mint, tomato, and fennel. Great kick of salt from that
fiore sardo
as well, though I would've liked a more substantial texture on the pancakes.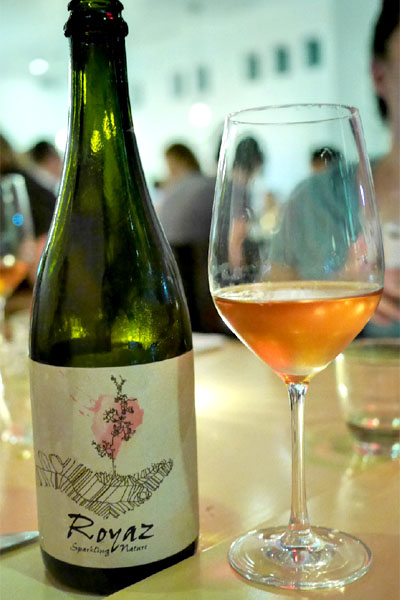 We decided to stay on the sparkling track, and followed up the Prosecco with the
Royaz 2010 Natur Sparkling Rose, Slovenia [$48]
. Tons of strawberry on the nose here, and a bit less when tasted, along with a touch of spice and a not unpleasant bitterness toward the finish.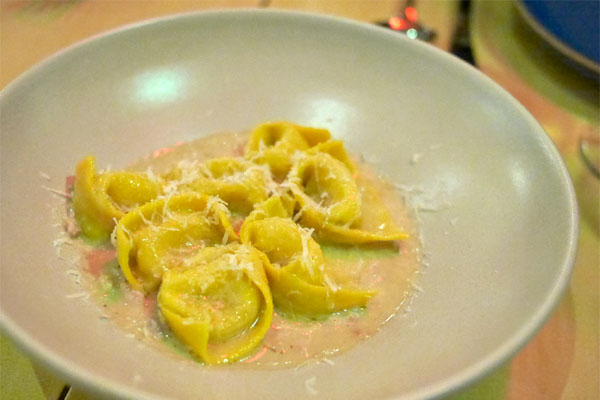 Tortellini in Brodo [$15.00]
| "al contrario"
Next, we moved into Alimento's housemade pastas, starting with the Chef's take on a sort of "pasta in broth" dish. The tortellini were almost dumpling-like in nature, just bursting at the seams with a salty, satisfying broth while the included cream sauce added further luxuriousness to the experience.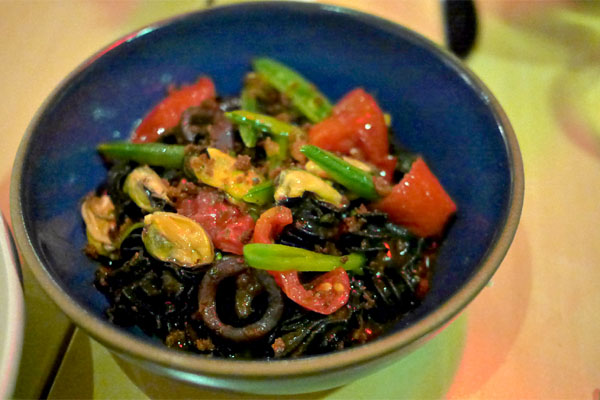 Squid Ink Radiatori [$16.00]
| red wine-braised squid, mussels, peas, dried tomato
These "little radiators" were something that I'd never encountered before, but were put to good use, doing a nice job in complementing the ocean-y flavors at play. I quite appreciated the counterbalancing bit of levity from the veggies here as well, and loved the subtle undercurrent of heat in the dish. Great crunch from the breadcrumbs, too.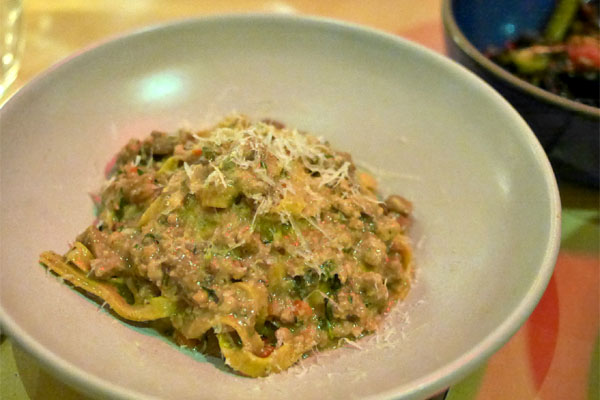 Rye Tagliatelle [$16.00]
| veal ragu bianco, porcini, thyme
Last up was the tagliatelle, paired with its classic accompaniment of meat sauce. Think rich, hearty, satisfying flavors, amped up by the porcini while thyme offered up an aromatic counterpoint.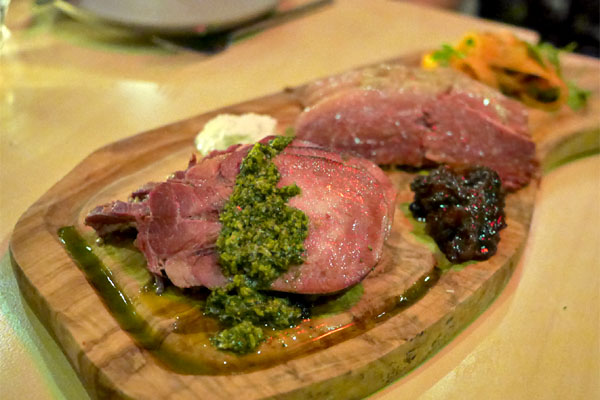 Bollito di Manzo [$39.00]
| cavolo nero, pearà, traditional sauces
We were pretty full by this point, but still opted to get one of Alimento's platters, this one featuring two cuts of boiled beef, served with horseradish, mostarda, a sort of salsa verde, and Tuscan kale. First was the tongue, which I found suitably tender, with an almost ham-like quality to it that paired swimmingly with the tang of the included green sauce. We also enjoyed what I believe was brisket, which was even more flavorful and even more tender--delicious alone, and great with a dab of horseradish as well.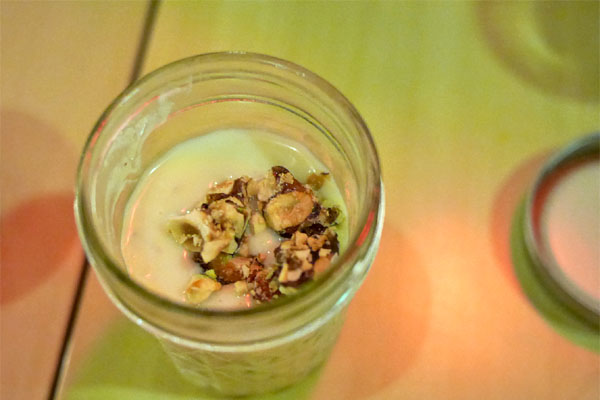 Rice Pudding [$6.00]
Alimento has no written dessert menu, but we eagerly ordered one each of everything our server recited. First up was the restaurant's take on rice pudding. Done up with condensed milk, it was pretty much just what you'd want from the dessert: rice-y, but also loaded with sweet spice, the nuts on top adding a well-placed crunch.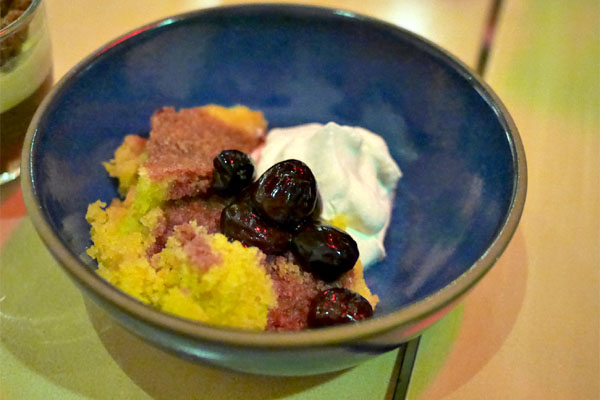 Almond Cake [$7.00]
The polenta-almond cake also delivered, showing off sweet, nutty flavors, but with the essence of the cornmeal shining through. Quite nice when taken with the cherries and cream.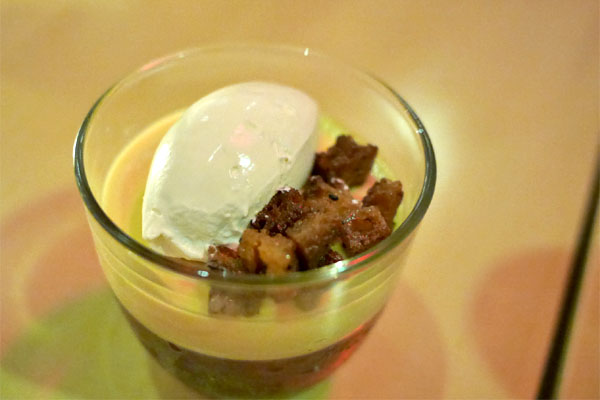 Chocolate Budino [$7.00]
And to close?
Budino
of course, this one composed of both milk chocolate and dark chocolate, along with caramel and bread crumbs. Just as tasty as you'd expect.
Alimento's yet another feather in Silver Lake's dining cap. We're not talking faithful Italian here though. Sure, the menu incorporates Italian ingredients, Italian preparations, and is certainly inspired by the country and its various regions, but the cooking here is more about the Chef's exploration of the cuisine. And as such, it's quite unlike any other Italian joint around. In the end, you shouldn't be coming here for strict Italian food, you should be coming here for Zach's food.