Belcampo Meat Co. (Santa Monica, CA)
Belcampo Meat Co.
1026 Wilshire Blvd, Santa Monica, CA 90401
424.744.8008
www.belcampomeatco.com/restaurant/santa-monica
Wed 07/29/2015, 08:00p-11:15p

Last March, we saw the debut of
Belcampo
at Grand Central Market. The opening marked the humane/sustainable/organic butchery operation's first foray into the Los Angeles area, but that was just the beginning. A much larger location dropped in Santa Monica in April, the SoCal flagship for Belcampo that brings together butcher shop, retail, bar, and full-fledged restaurant under the watch of Chef Maiki Le.
About the Chef
: Mai-Khanh Le grew up in the OC, graduating from Orange's El Modena High in 2000 as salutatorian. She began working as a server at Norms her senior year, and also took classes at the Orange County School of Culinary Arts. She ended up attending Brown, achieving a Bachelor's degree in Human Biology in 2004, and during her time there, worked as Assistant Manager for the school's food services division. Following graduation, Le moved to New York and briefly studied pastry arts at the French Culinary Institute. In December 2004, she became a tournant at Patricia Yeo's Sapa, and stayed there until March 2007, when she opened Yeo's Monkey Bar as sous. That September, she went to work for Jehangir Mehta, helping him debut Graffiti, and also assisted him on
The Next Iron Chef
before departing NYC in August 2009.
Le moved to Southern California the following month and found a position under Josie LeBalch at her eponymous Josie in Santa Monica. For five months starting in April 2010, she helped open
Momed
, where LeBalch was consulting, and also oversaw the launch of Next Door by Josie in August 2011. During her stint here, Le achieved victories on Food Network's
24 Hour Restaurant Battle
(for her Vietnamese-Indian comfort food concept) as well as
Chopped
(an Aussie-themed battle where she beat out Michael Bryant, who was CdC at Eva at the time). However, she was out the door by February 2014, leaving to start work at Belcampo (Palo Alto, GCM, and here).
In Santa Monica, Le is joined by Pastry Chef Courtney Reed (
Patina
, The Standard,
Joe's
in Venice with
Kris Tominaga
, The Beverly Hills Hotel) as well as General Manager Chrissy Anderson, an alum of Dinner Lab,
Salt Air
, and
A-Frame
. Meanwhile, Head Butcher duties are handled by Alex Jermasek. He started off at Lindy & Grundy before moving to
Ink
,
Short Order
, and
Chi Spacca
prior to joining Belcampo at the company's Marin location.

Belcampo takes over the old home of Dakota Lounge, and Temple Bar before that. The somewhat ole-timey butcher shop's out front, while the 86-seater dining room is a bit hidden in the back. Penned by SF-based
BCV Architects
and OC-based Uchizono Design Development, the space shows off an updated-pubby sort of vibe.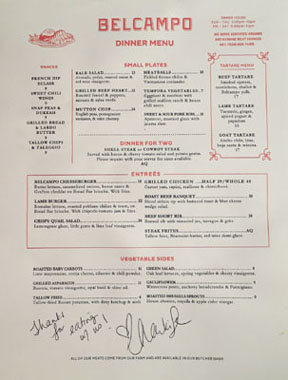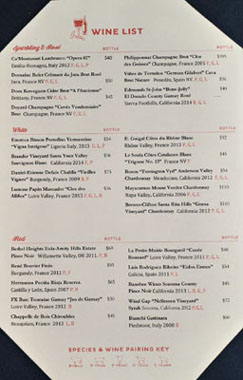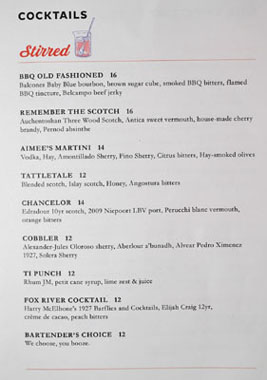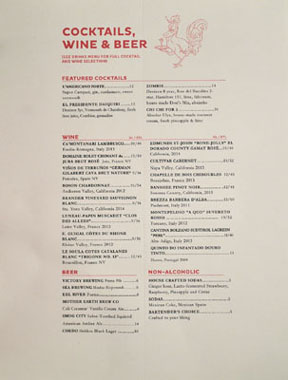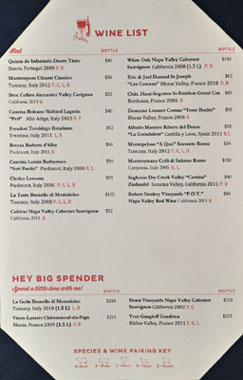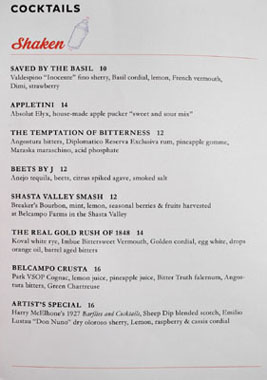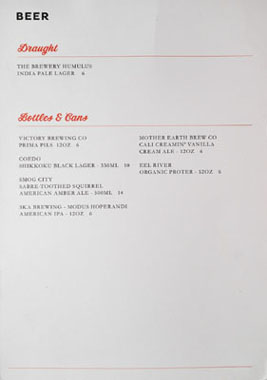 As for Le's food at Belcampo, it's a rustic, meat-centric Cal cuisine menu separated into snacks, small plates, larger ones, and sides. Lunch and brunch are also options. To imbibe, there's a New World-Old World wine list (mostly reds, natch), as well as a smattering of beer. The main draw for me, though, was clearly the market-driven cocktail program, designed by none other than
Josh Goldman
of Soigné Group. Click for larger versions.
Meatballs [$13.00]
| Pickled fresno chiles & Vietnamese coriander
I can't
not
order meatballs on a menu, so we started with these somewhat oblong versions. They were tasty indeed, and a bit of a departure from the norm, coming out juicy and savory sure, but also imbued with an Asian-y spice and sweetness that was nicely set off by the zesty herbs up top.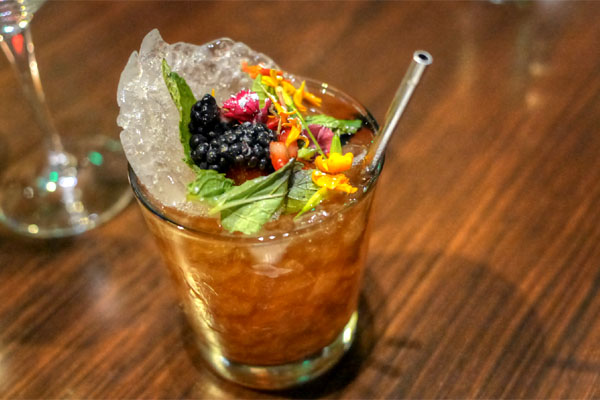 Cobbler [$12.00]
| Alexander-Jules Oloroso sherry, Aberlour a'bunadh, Alvear Pedro Ximenez 1927, Solera Sherry
In terms of cocktails, an early favorite is Goldman's take on the cobbler, which combines multiple sherries with scotch. The result is a wonderfully aromatic drink that veers boozy and brimming with dark fruit at first, but with the delightfully nutty, oxidative notes of the sherry coming in through the finish.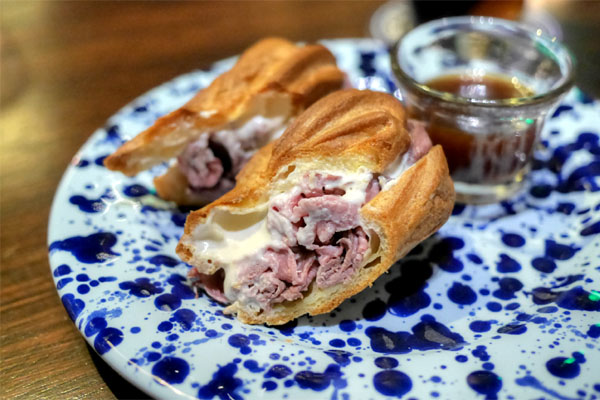 French Dip Eclair [$8.00]
Here we see the most whimsical item on the menu: a French dip sandwich, rendered in éclair form. It was also one of the best, coming out properly focused in its beefiness, the au jus only intensifying the dish's depth. The sheer creaminess of the accompanying sauce gave up an additional level of luxuriousness, but my favorite part was the subtle sweetness of the pastry.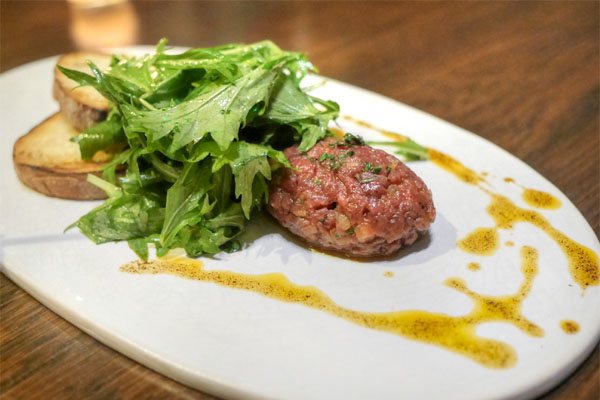 Goat Tartare [$17.00]
| Ancho chile, lime, hoja santa & mizuna
No fewer than three tartars were on offer here, and we ended up going with the most interesting preparation, featuring goat. I found the meat quite restrained, actually, soft and springy in consistency with a subtle savoriness deftly accented by the zip of its various accoutrements. Great over the included toast.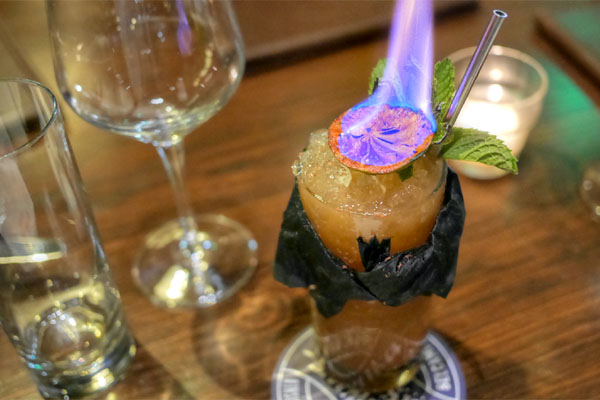 Zombie [$14.00]
| Denizen 8 year, Ron del Barrilito 2-star, Hamilton 151, lime, falernum, house made Don's mix, absinthe
I'd tasted Goldman's take on the iconic Zombie at both
Acabar
and
Brilliantshine
, so trying it tonight was a must. This just might've been the best version yet, boozy at its core indeed, but also balanced, with a superb commingling of sour, sweet, and spicy flavors shining through and doing justice to the Tiki classic.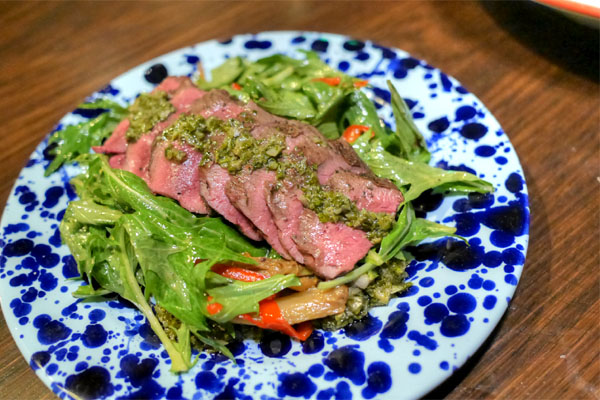 Grilled Beef Heart [$12.00]
| Roasted fennel & peppers, mizuna & salsa verde
Beef heart came out lightly cooked, with a springy, supple, almost elastic texture to it and a flavor profile that leaned earthy, austere. The greenery up top did a nice job imparting the necessary brightness and tang to the course, though I would've liked a harder sear on the meat.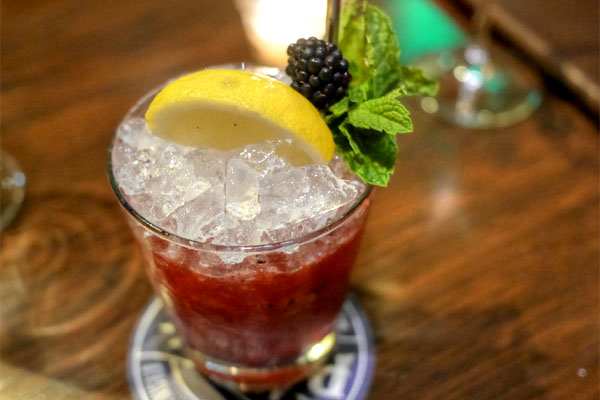 Shasta Valley Smash [$12.00]
| Breaker's Bourbon, mint, lemon, seasonal berries & fruits harvested at Belcampo Farms in the Shasta Valley
This version of the Smash managed to be one of the lighter-hearted drinks we had. Think refreshing overall, with a strong citrus, fruit, and spice component augmented by an omnipresent layer of bourbon-y booze.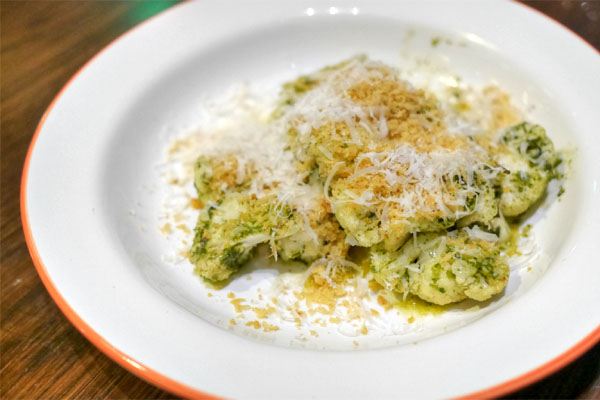 Cauliflower [$9.00]
| Watercress pesto, anchovy breadcrumbs & Parmigiano
Le's veggie preps are worthwhile as well. Her cauliflower was one of the more interesting iterations I've encountered in recent times, lively from the pesto, yet loaded with the funky depth of anchovy while the breadcrumbs gave up a delightful crunch.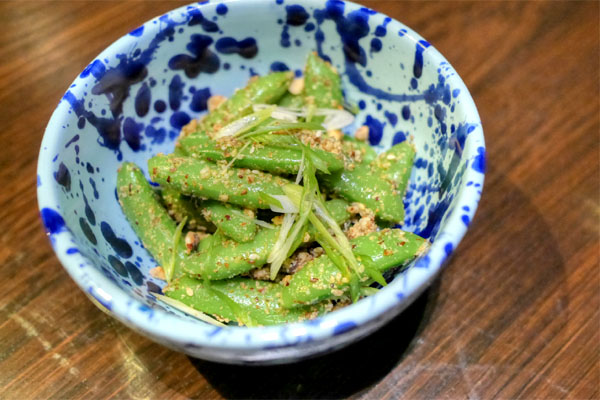 Snap Peas & Dukkah [$7.00]
The peas were even better. Light, bright, and snappy to the bite, their delicate flavors made for a perfect complement to the nutty, spicy heft of the accompanying
duqqa
.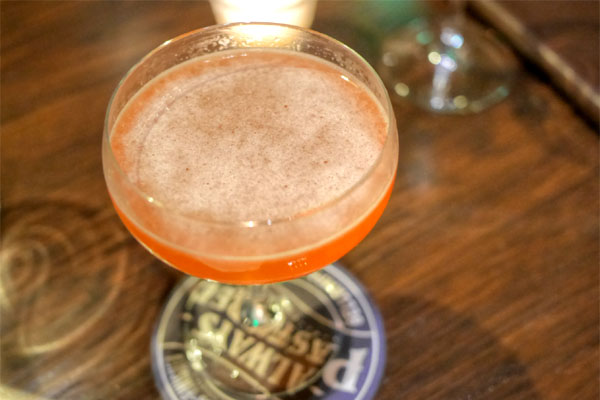 Saved by the Basil [$10.00]
| Valdespino "Inocente" fino sherry, Basil cordial, lemon, French vermouth, Dimi, strawberry
Our next cocktail was also a winner, demonstrating that classic pairing of basil and strawberry in an elegant manner, perked up by hits of citrus while the combination of fortified wines provided the necessary gravity.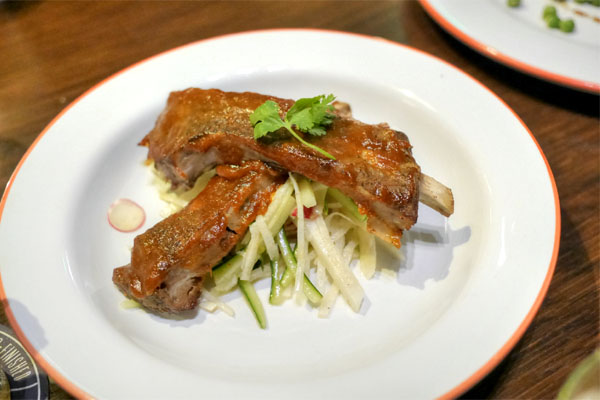 Sweet & Sour Pork Ribs [$11.00]
| Aprincot, mustard glaze with jicama slaw
I have a hard time resisting ribs, and the ones tonight were as tender as you'd want, falling off the bone pretty much, but with just enough resistance. I definitely appreciated the crunch and countering effect of the slaw, though the meat itself I wanted more explicitly porky, less sweet.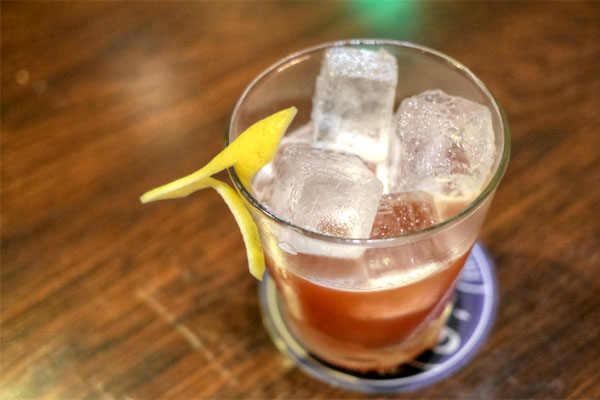 Artist's Special [$16.00]
| Harry McElhone's 1927 Barflies and Cocktails, Sheep Dip blended scotch, Emilio Lustau "Don Nuno" dry oloroso sherry, Lemon, raspberry & cassis cordial
Here we come to what just might be my favorite cocktail of the evening. I loved how well-integrated this was, its initial kick of citrus and fruit transitioning seamlessly to a rich, concentrated sweet-spice from the oloroso while the scotch provided the requisite heft.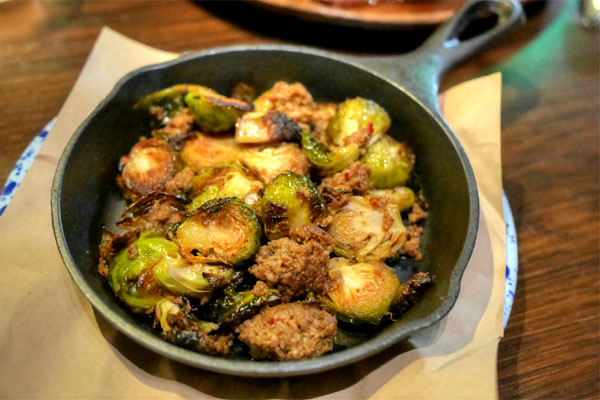 Roasted Brussels Sprouts [$9.00]
| House chorizo, tequila & apple cider vinegar
Brussels were well-textured and just bitter enough, with the spicy depth of chorizo coming unexpectedly, but effectively.
Lamb Porterhouse [$14.00]
| English peas, pomegranate molasses, & mint chutney
Lamb came out well-charred, tender, and deeply savory, its explosion of ovine flavors smartly matched to the brightness of the accompanying mint and peas.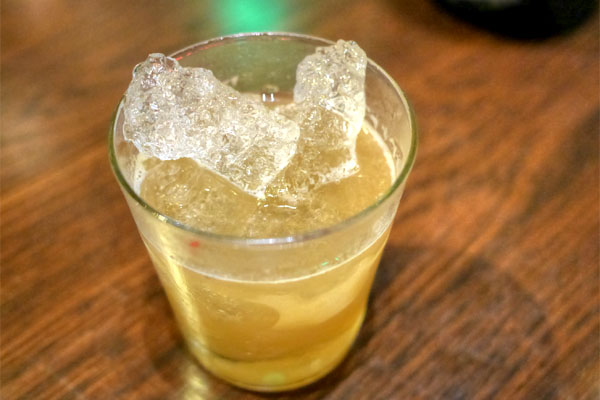 Bartender's Choice [$12.00]
| We choose, you booze
One of my dining companions requested a whiskey-centric concoction, and was provided a straightforward commingling of bourbon, honey, and fresh squeezed lemon juice. Think simple but successful, with its nose of honeyed citrus leading to the potency of the spirit on the tongue, the finish coming in smooth and soft with more of that honey.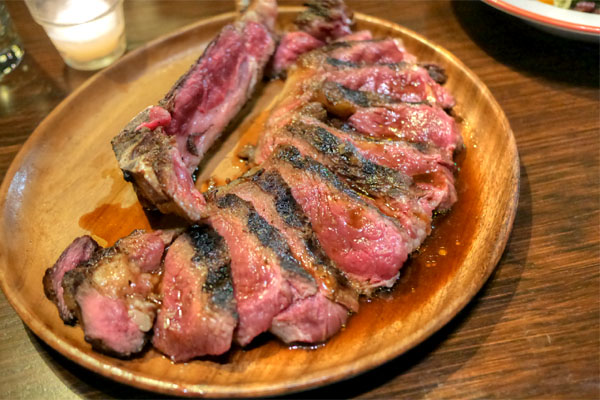 Cowboy Steak [$134.00]
| 27oz
At this point, we arrived at our sole large format course, one of three available options tonight (the others were a 27oz strip and a 36oz porterhouse). It was a beautiful cut of meat, cooked med-rare on the bone and served sliced. It displayed a commendable bit of charring that I appreciated, while coming out expectedly leaner than your typical rib eye. Flavors were clean, subtle, beefy, but not in an in-your-face sort of way. Definitely a different stylistic presentation than what most people are used to.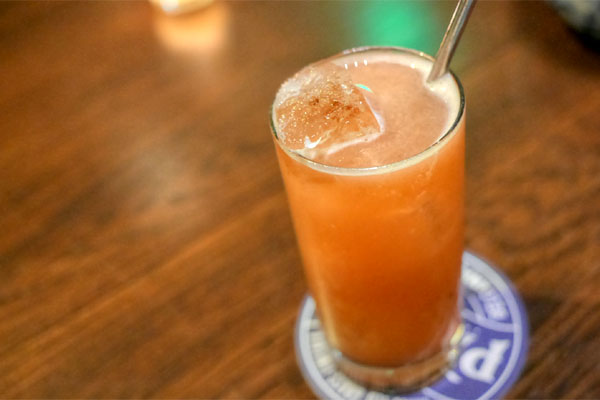 Tom & Berries [$16.00]
| Tomcat gin, Medlock Ames verjus, Bianco vermouth, rhubarb bitters, lacto-fermented strawberry soda, aceto balsamico di Modena
This pun-y cocktail was certainly to my liking, with a classic interplay of sweet-tart flavors beautifully tempered by a smooth, creamy, pleasantly tangy lactic component.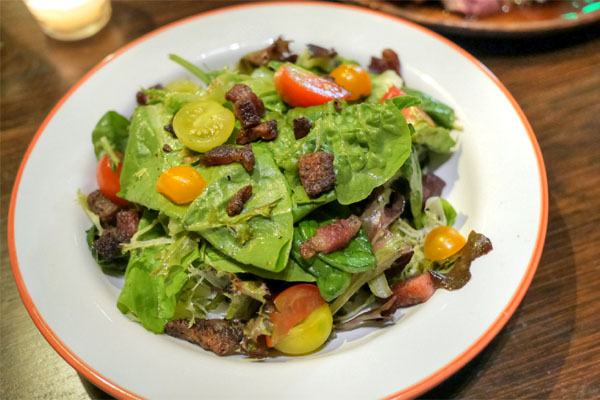 Bacon & Cherry Tomato Salad
The steak came with a duo of sides. First was this straightforward salad, which had the salt and fat of the bacon behind it to make things just interesting enough.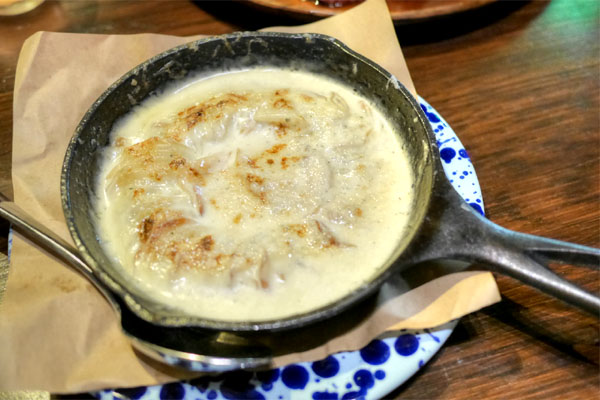 Potato Gratin
The gratin, meanwhile, was a laudable rendition, the satisfyingly textured potatoes tied together by a the cheesiness of it all. Super comforting.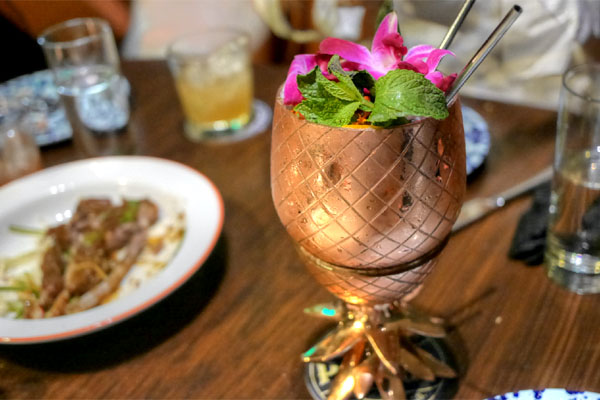 Chi Chi for 2 [$30.00]
| Absolut Elyx, house-made coconut cream, fresh pineapple & lime
Our final cocktail was a doozy, both in terms of taste and presentation. Basically a vodka-based piña colada, it was a blast of tropical nuances, a viscous concoction teeming with sweet, true-to-life coconut flavors cut by the tartness of lime and pineapple.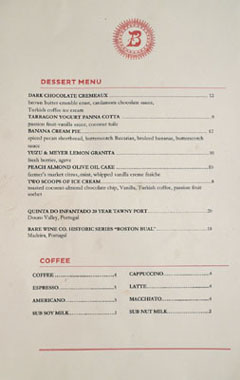 Of course, we made room for Reed's desserts. Click for a larger version.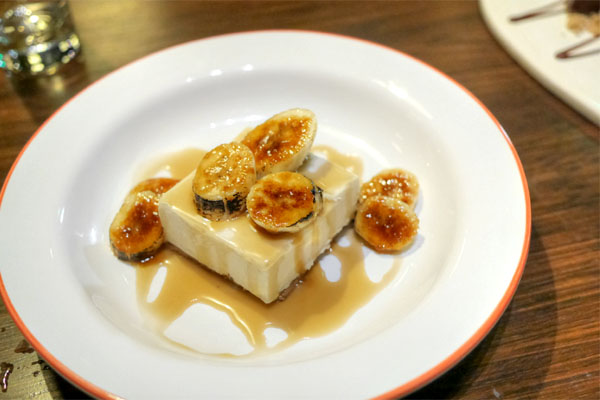 Banana Cream Pie [$12.00]
| spiced pecan shortbread, butterscotch Bavarian, bruleed bananas, butterscotch sauce
Her banana cream pie was a crowd pleaser, arriving light and creamy, with a boatload of focused banana flavors amped up by the richness of butterscotch while the shortbread offered up a spicy counterpoint.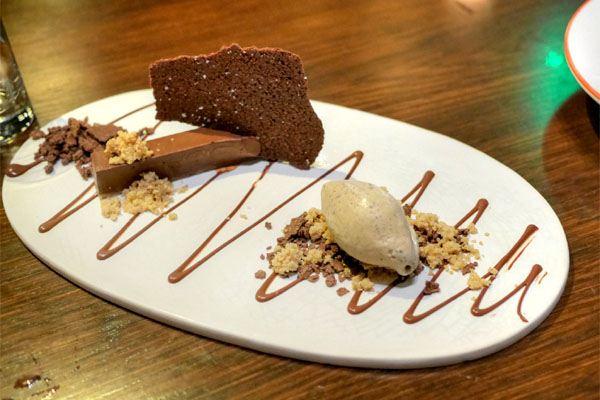 Dark Chocolate Cremeaux [$12.00]
| brown butter crumble crust, cardamom chocolate sauce, Turkish coffee ice cream
The essential chocolate dessert delivered a jolt of strong coffee flavors from the ice cream while the cremeaux gave up all the bittersweet notes that you'd want, the crumble crust imparting a great textural element to the mix.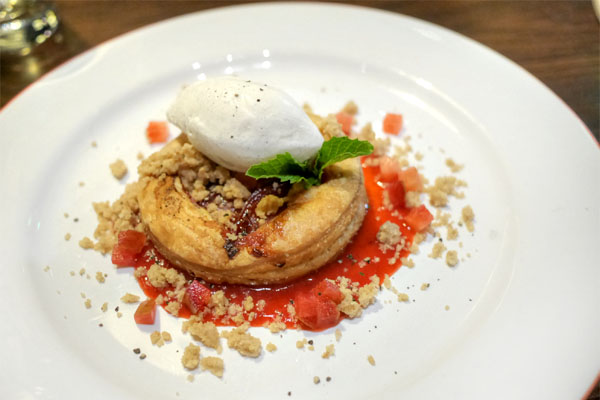 Dinosaur Egg Tart [$13.00]
| vanilla pastry cream
My favorite was a special this evening, ostensibly an improved version of Reed's dessert that I'd had nearly four years ago at
Joe's
. It was the consummate stone fruit tart, showing off the fruity, tangy flavors of the pluot against a wonderfully flaky crust, the vanilla-tinged ice cream doing a great job just bringing it all together.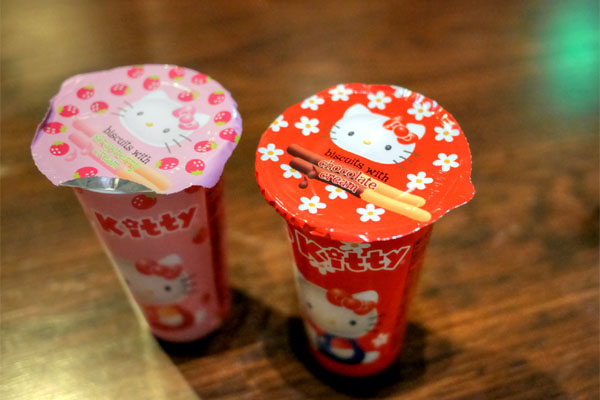 A duet of Hello Kitty Yan Yans that we had on us sufficed as our mignardises course.
We didn't really get to explore the butchery aspect of this place, but the food component here is certainly a step up from what we experienced over at
Belcampo's Grand Central Market location
, which is to be expected given the much larger scale. Le's cooking does an admirable job showcasing the quality of the various meats while at the same time presenting complete, cohesive plates, and the cocktail program is unquestionably one of the best I've encountered in a while. It all makes for
yet another
superb addition to the SaMo dining scene.