Working Class Kitchen (Long Beach, CA)
Working Class Kitchen Restaurant
1322 Coronado Ave, Long Beach, CA 90804
562.494.0306
www.workingclasskitchen.com
Sat 12/19/2015, 04:40p-06:30p

My latest foray into Long Beach brought me to Working Class Kitchen, a sandwich shop/deli/butcher that opened back in January 2015. It's the latest addition to Michael Dene's Long Beach-based Michael's Restaurant Group, which also operates the likes of Michael's on Naples, three Michael's Pizzerias (Downtown LB, Naples, Rancho Mirage), and Chianina Steakhouse. Heading things up here is David Coleman, who basically serves as Executive Chef for all of Dene's restaurants.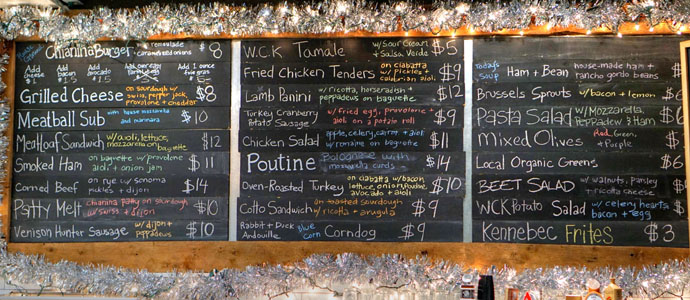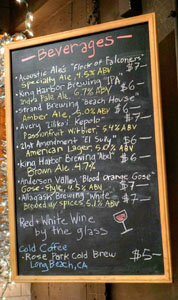 WCK's oft-changing menu features all manners of sandwich-y type items joined by a number of sides. To drink, you get eight beers on tap, a couple in bottles, and some wine. We were told that corkage was $10, though we didn't end up getting charged. Click for larger versions.

The deli case, with plenty of meaty things available to go.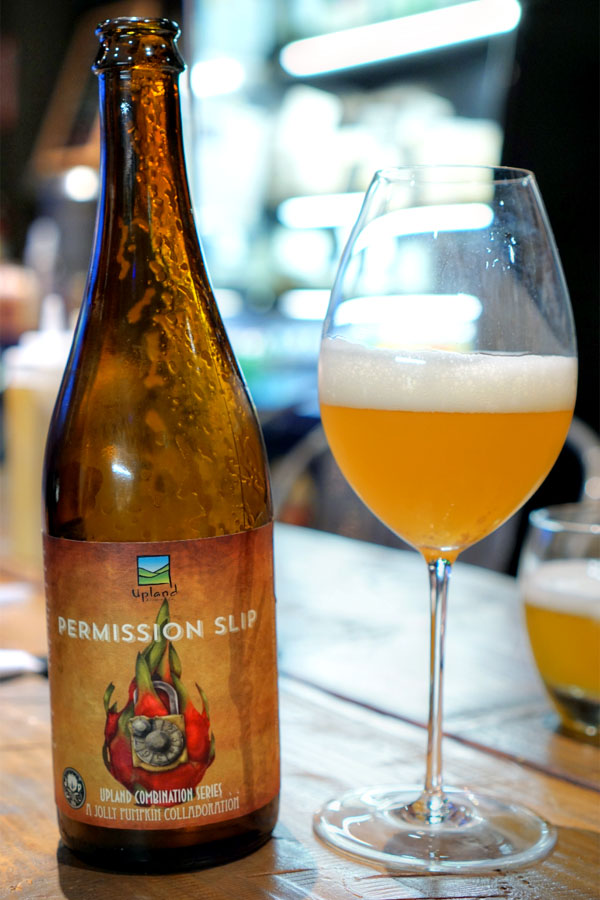 Kicking things off was the
2014 Upland Permission Slip
, a blended oak-aged sour with Indiana persimmon and dragon fruit, brewed in collaboration with Jolly Pumpkin. The aroma was definitely yeasty, dry, with a citric component to it, while the taste went acidic at first, with the back end presenting a mix of round, tropical fruit.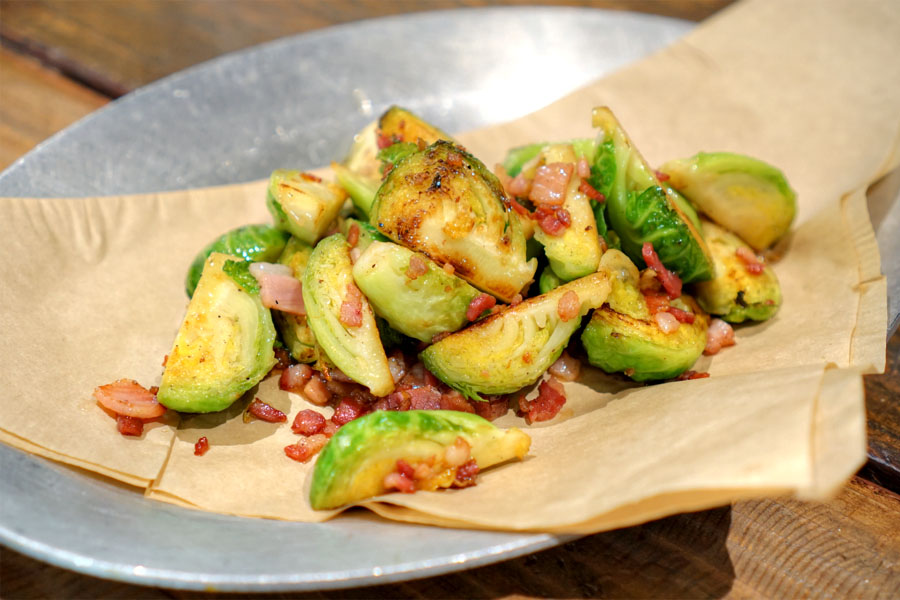 Brussels Sprouts [$6.00]
| w/ bacon + lemon
Brussels were delightful: firm-yet-yielding to the bite and loaded with plenty of tart, salty flavors.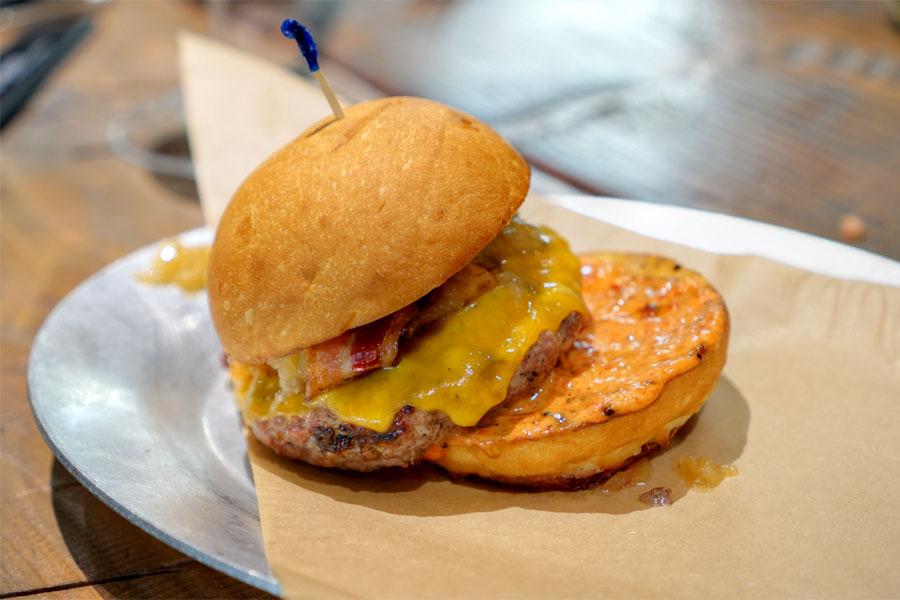 Chianina Burger + Cheese + Bacon [$8.00 + $1.00 + $1.50]
| with remoulade + caramelized onions
The signature burger was pretty old school in essence, presenting a spot on commingling of med-rare meat and cheese that was hard not to like. Add in the salty, crunchy bacon and tangy spread, and you get a gratifying experience indeed.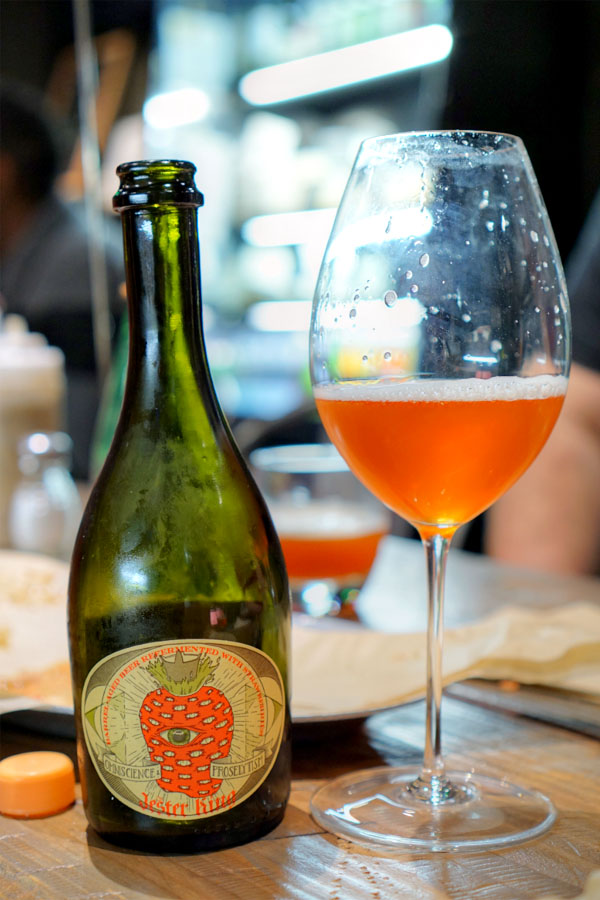 My favorite beer this evening was the
2014 Jester King Omniscience & Proselytism
, a barrel-aged sour refermented with Oregon strawberries. Think a really aromatic nose of jammy, tart berry, while the palate showed off a dry, sour character, but with the fruit still present throughout it all. I don't get to try too many strawberry beers, so this was a treat for sure.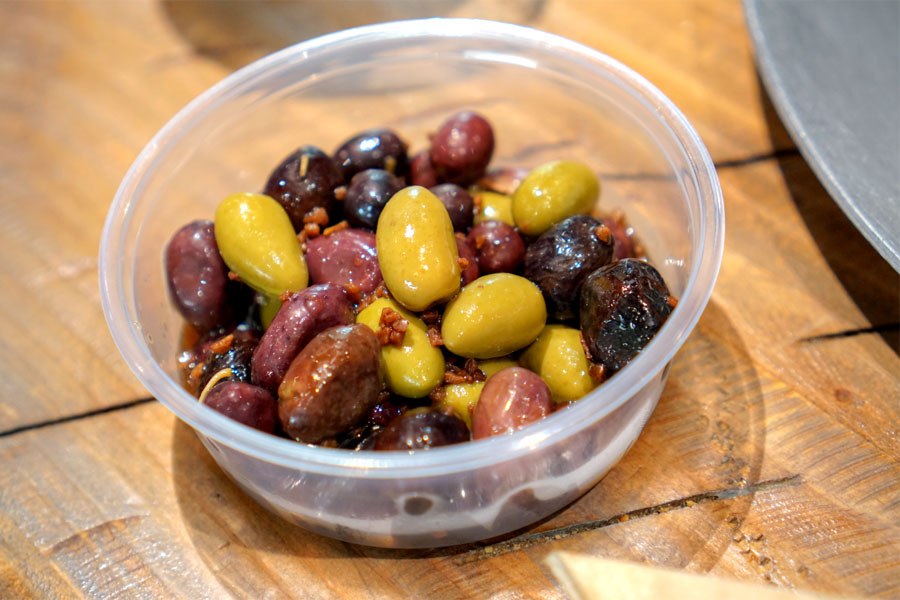 Mixed Olives [$3.00]
| red, green + purple
Olives did their job, and I appreciated the variety.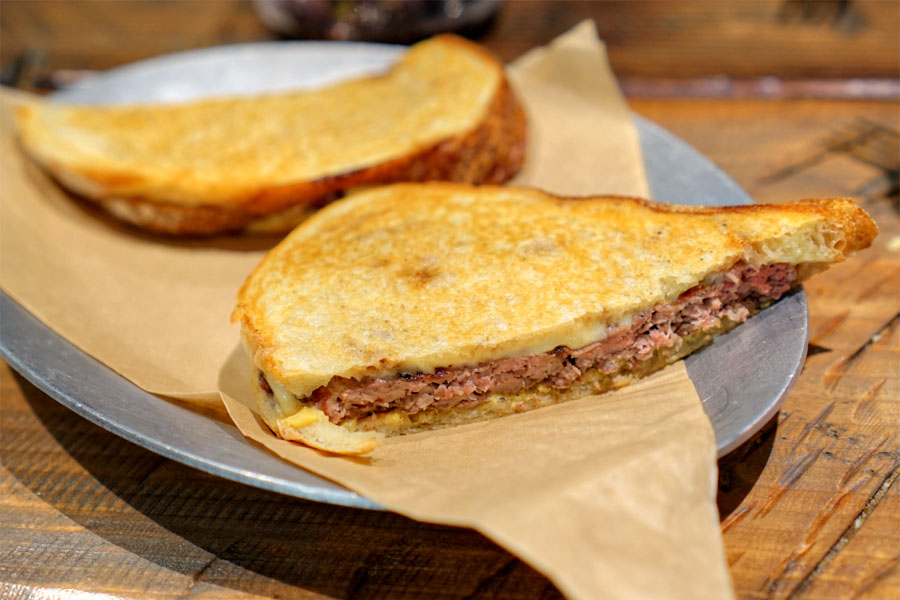 Patty Melt [$10.00]
| chianina patty on sourdough w/ swiss + dijon
The patty melt displayed a tasty marriage of beef and Swiss, with the dijon adding just a touch of zip to things. Great crispness on the bread, though I would've liked less cook on the meat.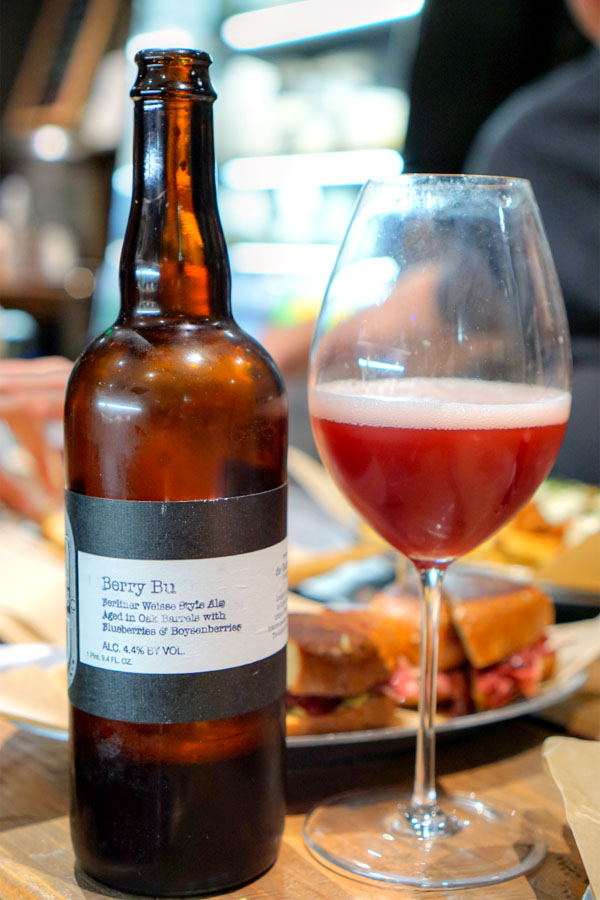 Next was another fruited beer, the
2015 de Garde Berry Bu
, a Berliner Weisse-style ale aged in oak with blueberries and boysenberries. I got lots of jammy fruit and lacto on the nose, while the taste went tart, lactic again, and acidic on the finish, with berries all over the place. I actually found this mildly reminiscent of fruit-on-the-bottom blueberry Yoplait--not necessarily a bad thing.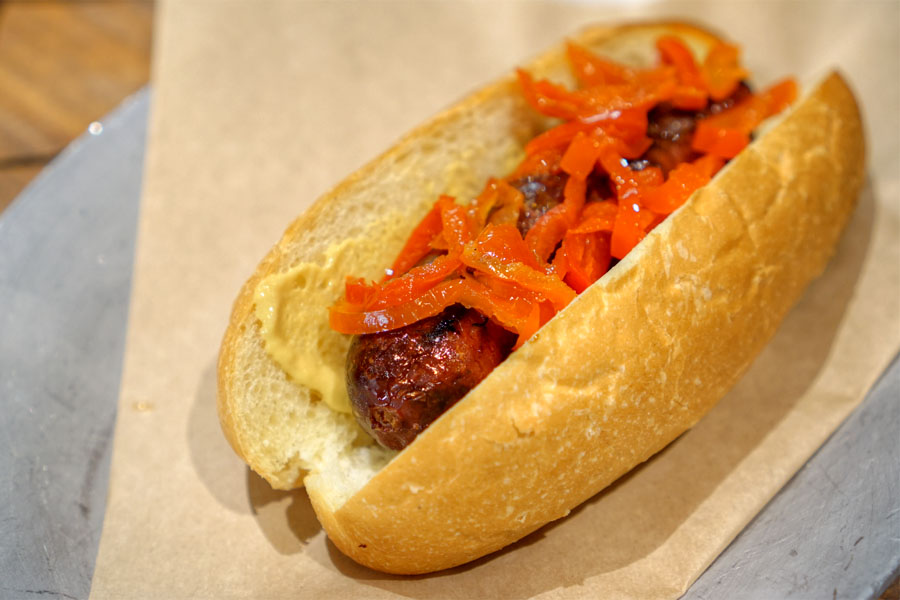 Venison Hunter Sausage [$10.00]
| w/ dijon + peppadews
Our lone sausage of the meal felt firm to the bite, while taste-wise, it definitely veered rustic and spicy, so the piquancy of the peppadews was key.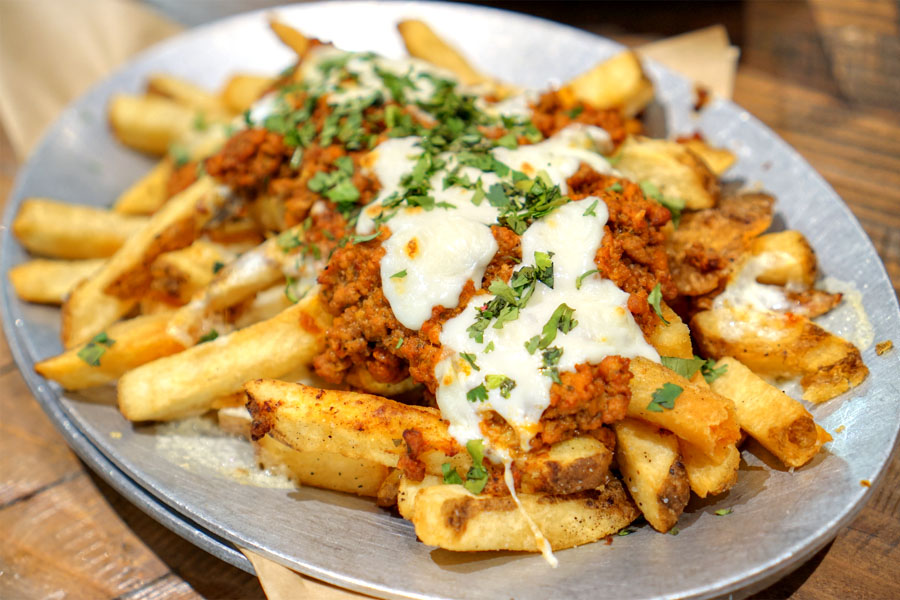 Poutine [$14.00]
| bolognese with mozzarella curds
Poutine was obviously a must-order. It was a cozy sort of dish, with the beefy bolognese working hand-in-hand with the mozz to properly enrobe the fries.
IPA duties were handled by the
2015 Beachwood 9
, an anniversary ale brewed with nine hop varietals: Citra, Centennial, Chinook, Mosaic, Equinox, Nelson Sauvin, Galaxy, Warrior, and Comet. The beer was super fresh, with robust aromas of pine and citrus. The taste was similarly sharp, "bitey," with more resin, pine, and hop bitterness, all on top of a malt base.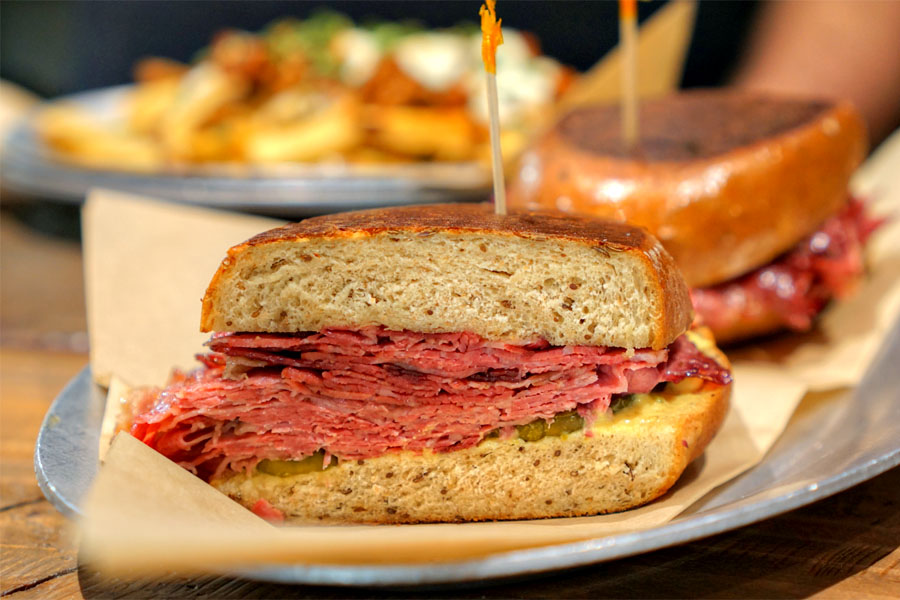 Corned Beef [$14.00]
| on rye w/ sonoma pickles + dijon
The corned beef was my favorite of the sandwiches, with the meat itself arriving super flavorful and perfectly matched to the pickles and mustard. Loved the spicy finish and crunch of the bread, too.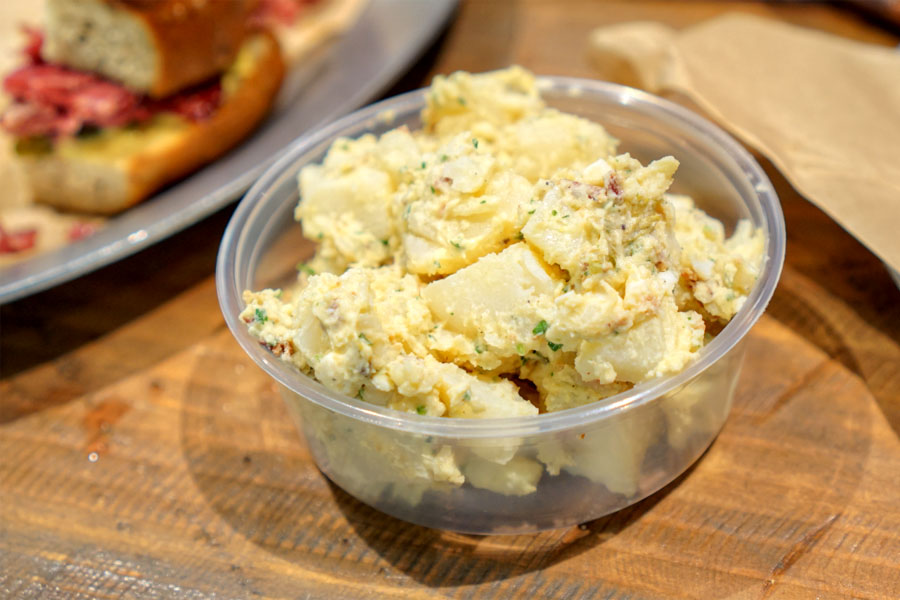 WCK Potato Salad [$3.00]
| w/ celery hearts, bacon + egg
I'm a big proponent of potato salad, and WCK's was just what I wanted: spicy, tangy, salty, with a hearty, firm bite to the actual taters.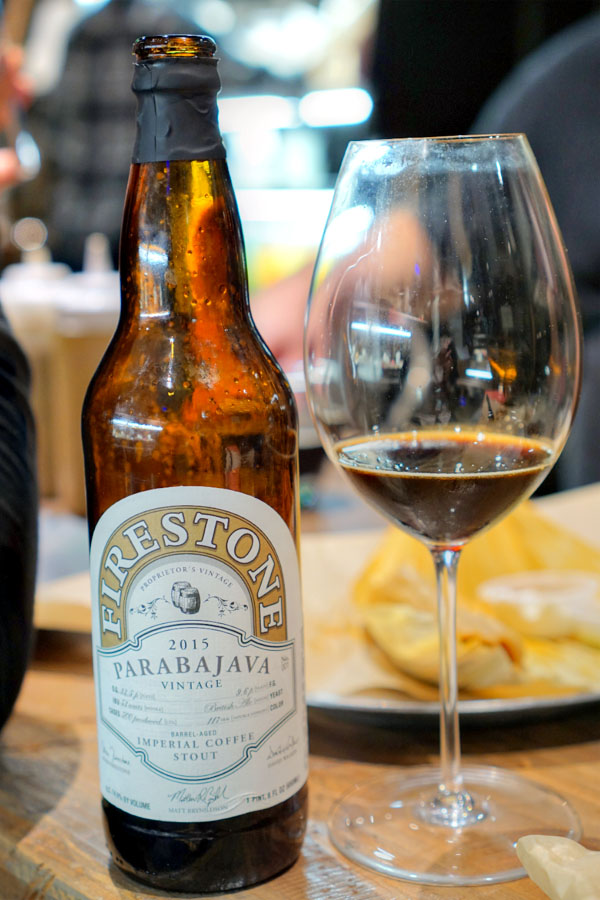 Our final beer was the newly-released, much-hyped
2015 Firestone Walker Parabajava
, a barrel-aged imperial coffee stout with Intelligentsia El Diablo espresso beans. On the nose I got loads of sugary chocolate intertwined with coffee astringency and roast. The taste followed, with more coffee over a base of sweet malt, oak, and bourbon, the beer finishing a bit tangy.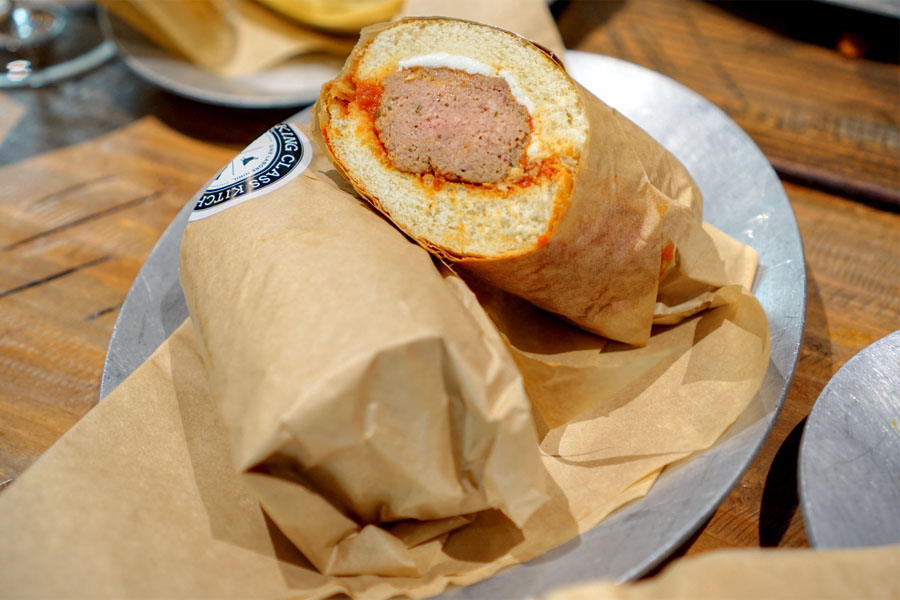 Meatball Sub [$10.00]
| with house mozzarella and marinara
A meatball sub showed off all the traditional flavors that you'd expect, with the tart tomato sauce working as a complement to the meat. I really would've liked more texture, more heartiness on the actual balls though.
W.C.K. Tamale [$5.00]
| w/ sour cream + salsa verde
A pork
tamal
really showed off the inherent character of the
masa
, with the meat imparting additional richness and salt. Nice use of the salsa verde to impart acidity and brightness to the dish.
We all left pretty satisfied with Working Class Kitchen. It's a nice neighborhood-y spot with some straightforward, but satisfying food, and a place that I could see myself visiting often if I lived in the vicinity.