LA Hwaluh (Los Angeles, CA)
LA Sashimi Restaurant
2707 W 8th St, Los Angeles, CA 90005
213.387.8589
Thu 04/07/2016, 08:00p-09:55p

It'd been a long while since I last had Korean-style sashimi (I think the last time was at the now-shuttered
Neptune's Lounge
on Western), so a stop at LA Hwaluh (also known as LA Sashimi) made sense.

The restaurant's located in a nondescript strip mall on the outskirts of Koreatown (Westlake, actually). It's a decidedly bare bones, O.G. sort of joint, one where you'd picture
ajeossis
gathering to pound soju.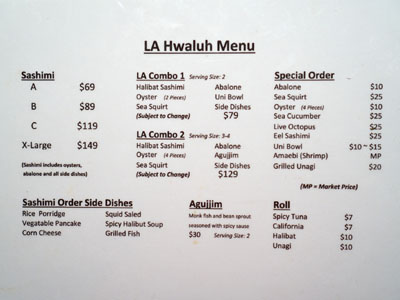 The menu's simple, comprised mostly of à la carte items of
hwal eo
("live fish"), but there are combo options as well. We ended up going with the
LA Combo 1 [$79]
and adding on a couple dishes, which was actually plenty for four people. Click for a larger version.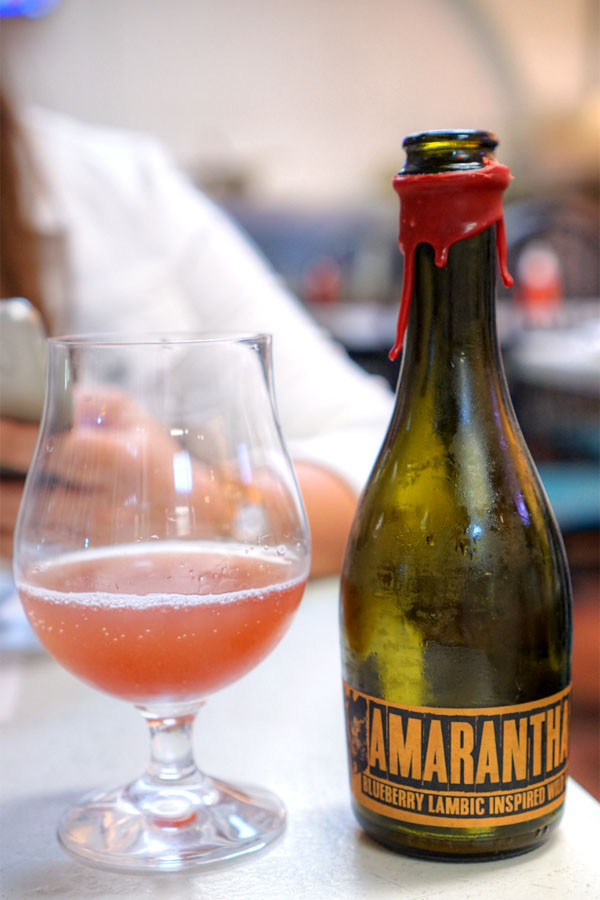 The restaurant has a long-standing BYOB policy, which everyone in the place seemed to make use of, us included. Our first beverage was the
2015 Phantom Carriage Amarantha
, a lambic-inspired wild ale with blueberries and one of the first bottled releases from the brewery. Appealing nose of tart, jammy fruit; taste showed off a decidedly funky bent, intermixed with more berry and considerable acidity.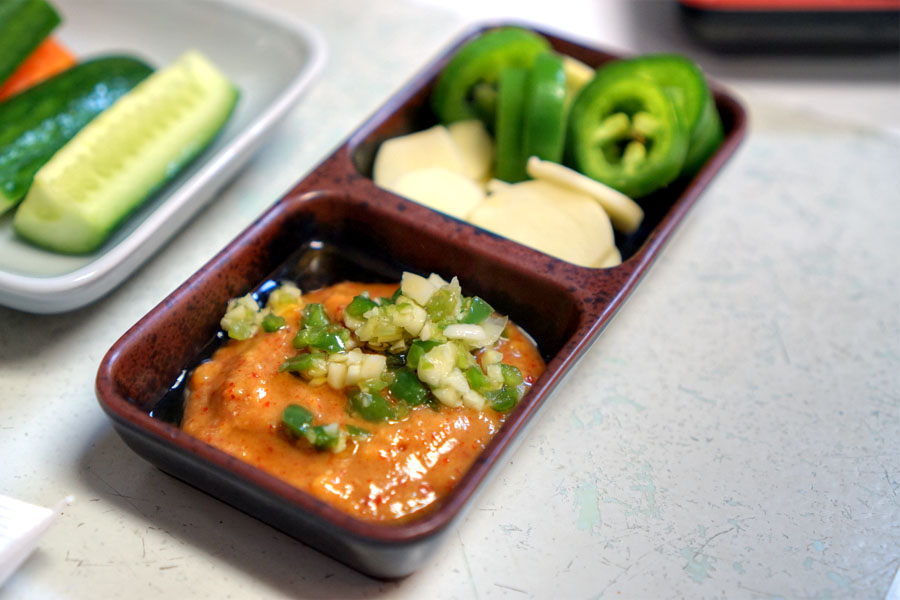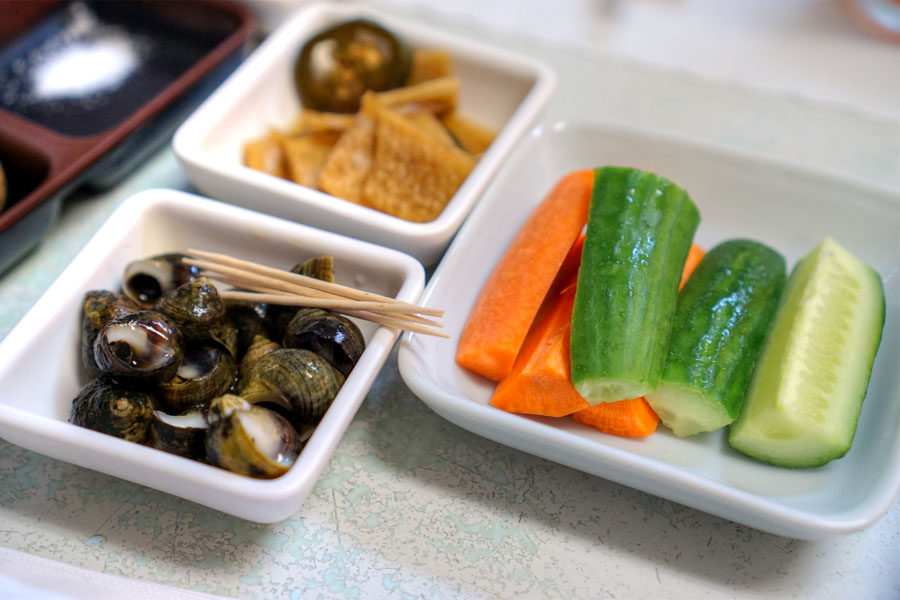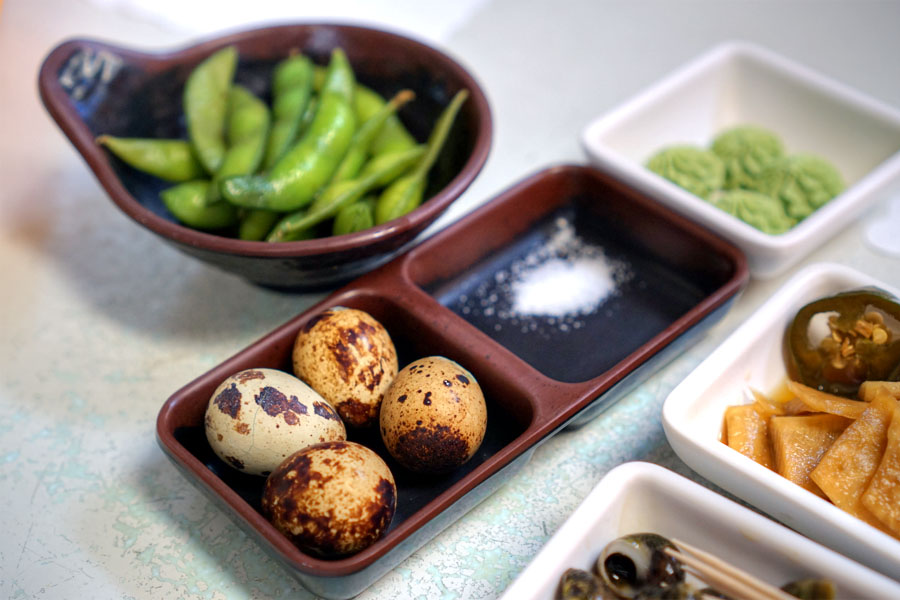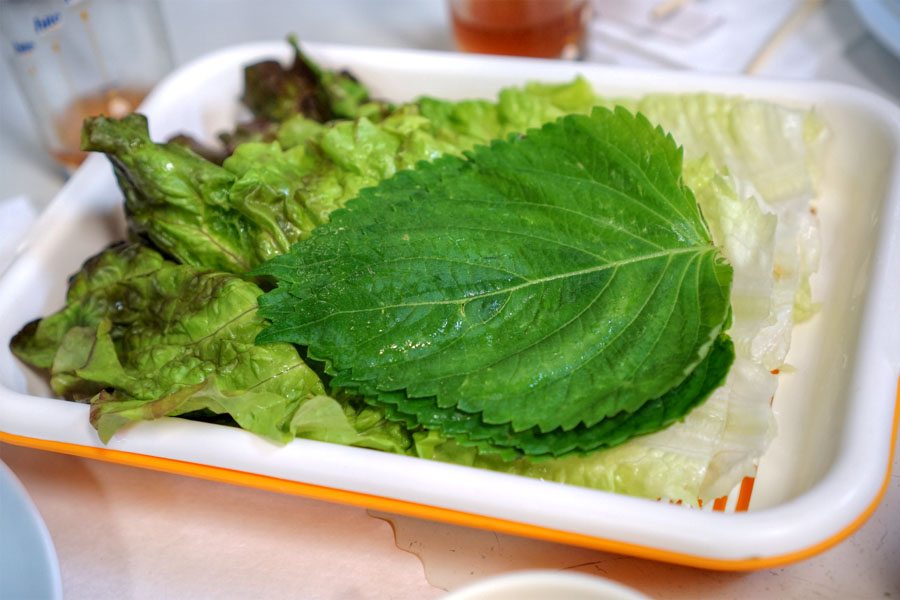 Our various accoutrements, the most interesting of which were probably the extremely-difficult-to-peel quail eggs.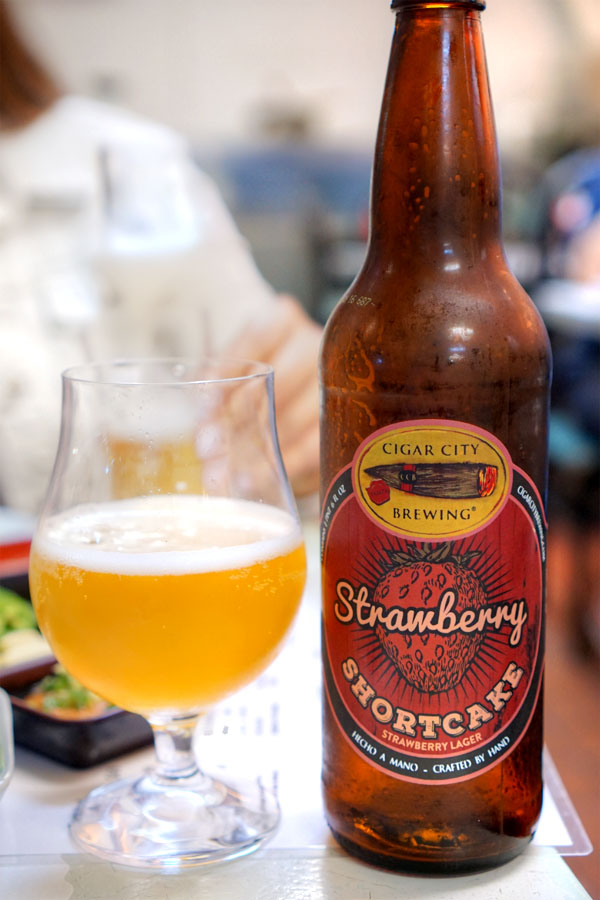 Brewed with strawberries, vanilla, and cypress wood for the Florida Strawberry Festival, the
2016 Cigar City Strawberry Shortcake
lager definitely tasted like its namesake. Lots of sweet berry and vanilla on the nose, while the palate had more of the same, with a graininess bringing up the back end. A fun one for sure.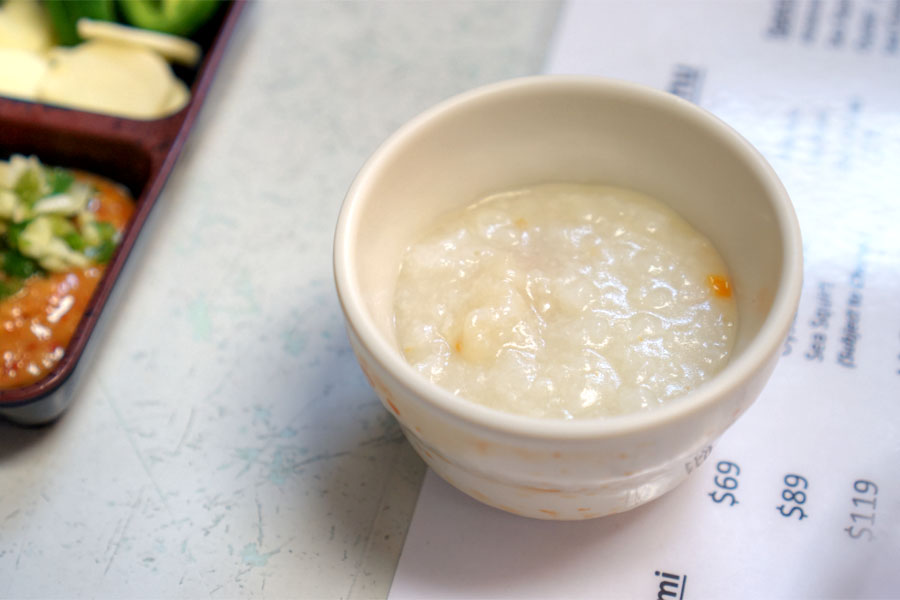 Rice Porridge
The
juk
was on the blander side, though it did work as a counterpoint to all the seafood.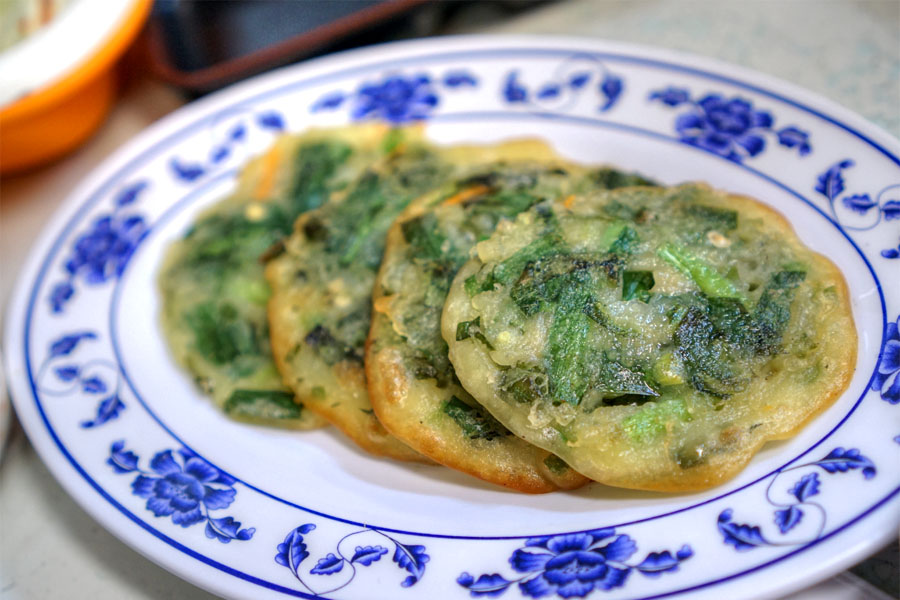 Vegetable Pancake
Mini
pajeon
were tasty, really doing a great job showing off the zip of green onion.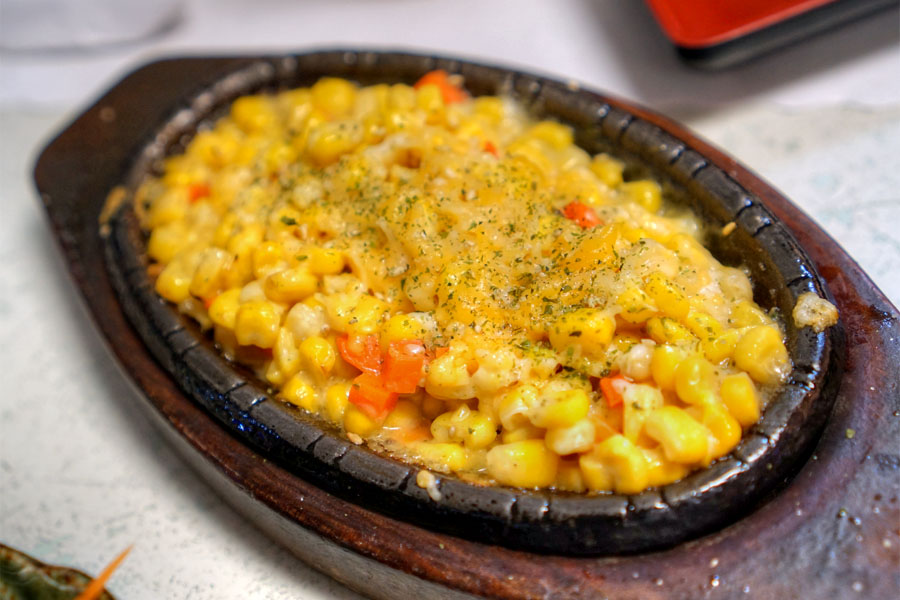 Corn Cheese
Corn cheese was less cheesy than a lot of examples you'd find around K-town, but that wasn't necessarily a bad thing for me.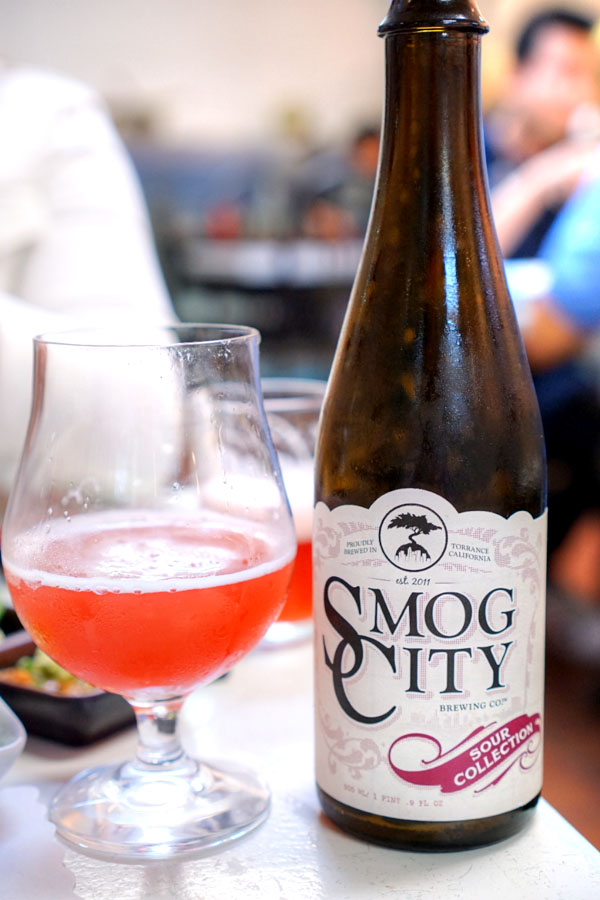 Here was the
2016 Smog City Ch'nooks & Crannies
, a sour blonde brewed with cranberries and dry-hopped with Chinook. Think tart and lightly hoppy in terms of aroma, with a lovely floral character. On the tongue I found the beer super floral once again, with a sour-fruity element and overarching layers of hops.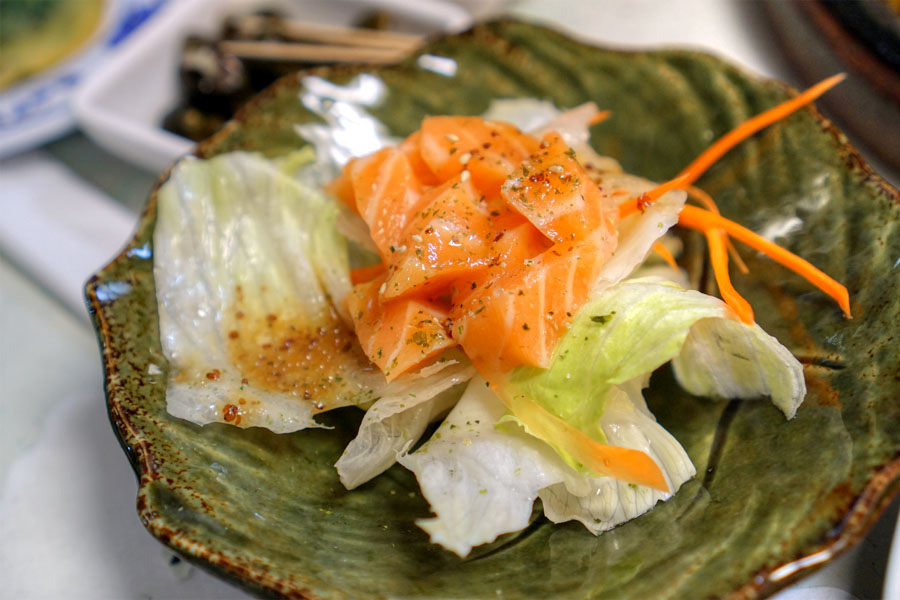 Salmon Salad
We received a salmon salad in place of the advertised squid salad.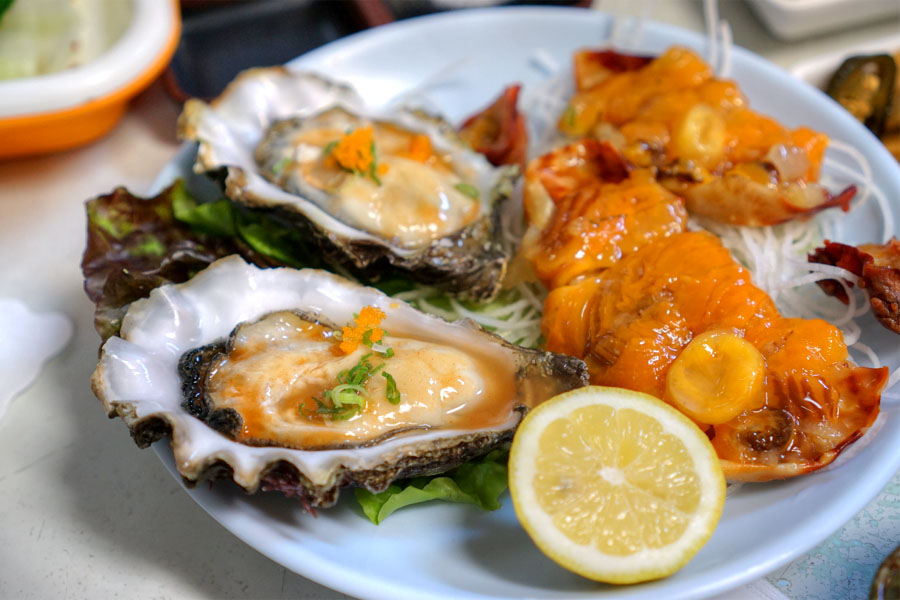 Oyster & Sea Squirt
Gul
were large, meaty examples, their brine balanced out by a sharp, lingering spice. Unfortunately though, I did get some shell fragments in the oysters. Meanwhile, I wasn't a huge fan of the
meongge
, which I found super saline, sure, but also possessing of an astringent quality that most of us found off-putting.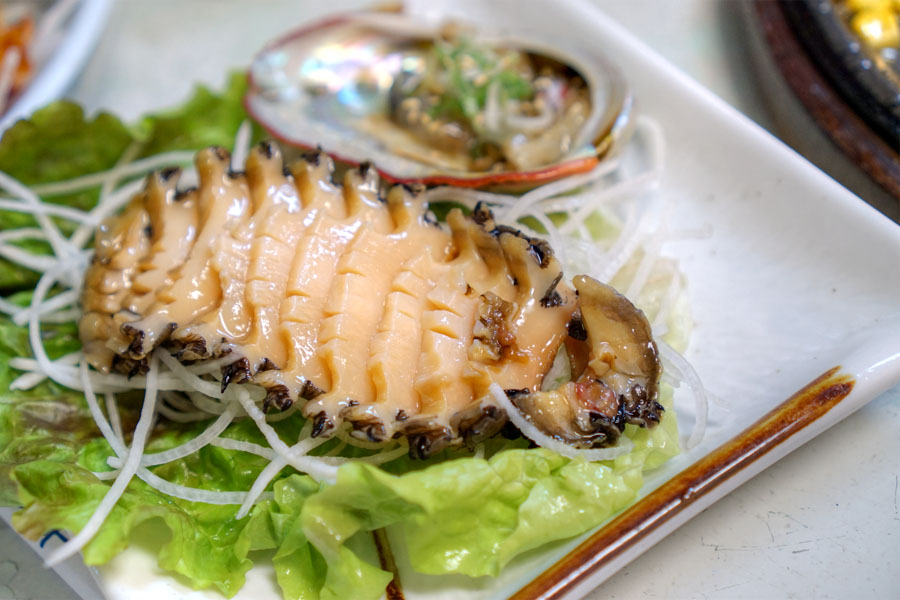 Abalone
The
jeonbok hoe
looked appealing, a firm, slightly crunchy preparation subtly tasting of the ocean.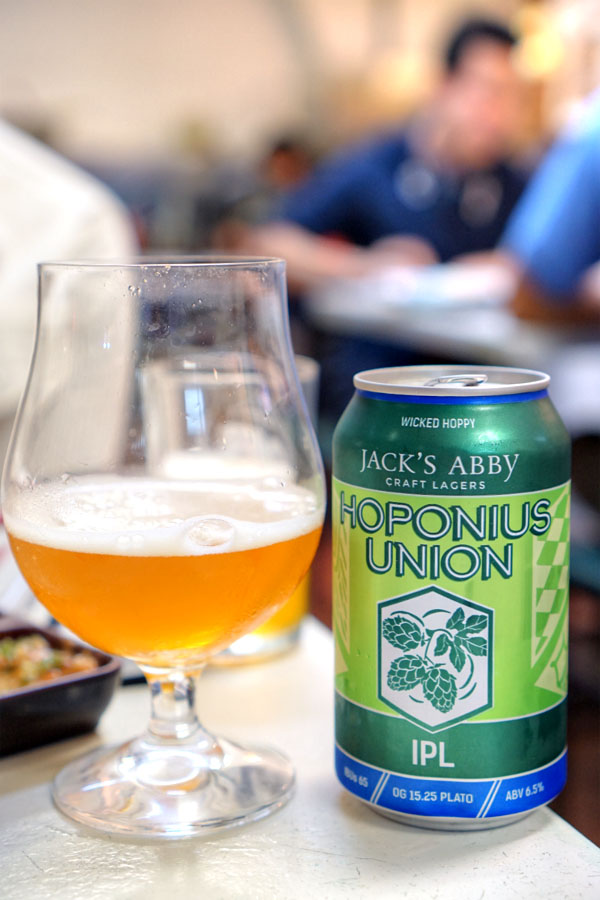 Our hoppiest beer of the evening was the
2016 Jack's Abby Hoponius Union
, an India pale lager. Very aromatic nose filled with hops and a good amount of citrus; taste was piney at first, but then transitioned to a soft, smooth, malty backing.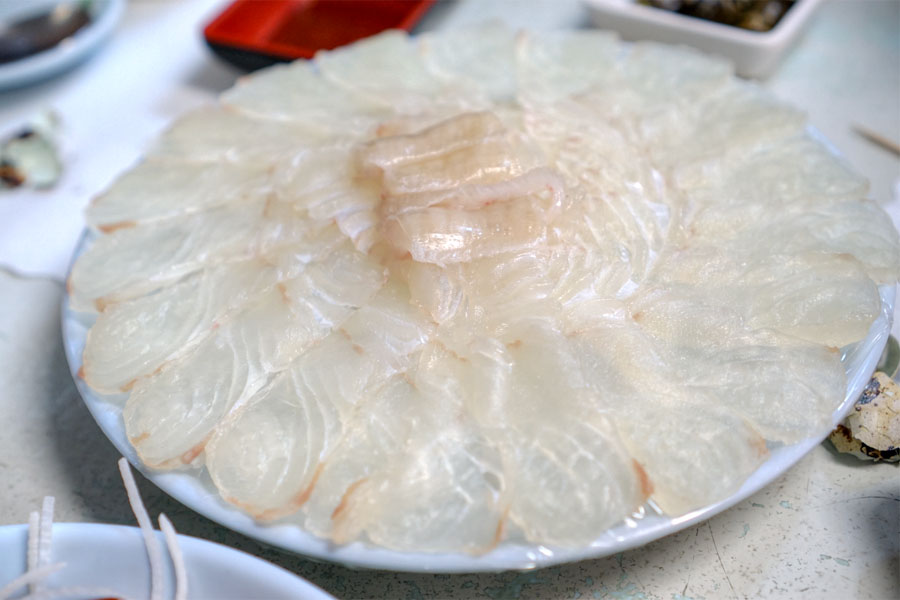 Halibut Sashimi
Supple cuts of
gwangeo hoe
didn't really have much flavor on their own, so a dip in the sweet-spicy
chogochujang
was definitely called for. Also tasty wrapped in lettuce or perilla with a dab of
ssamjang
.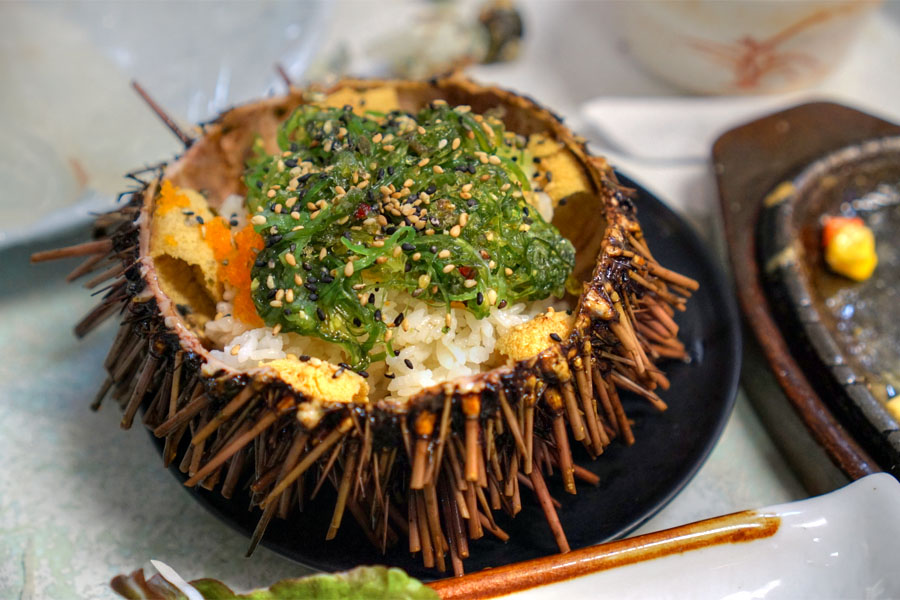 Uni Bowl
A
hoedeopbap
-esque presentation of
seomge hoe
was a table favorite, with the lushness of the sea urchin well-matched to the savory, nutty flavors in the dish.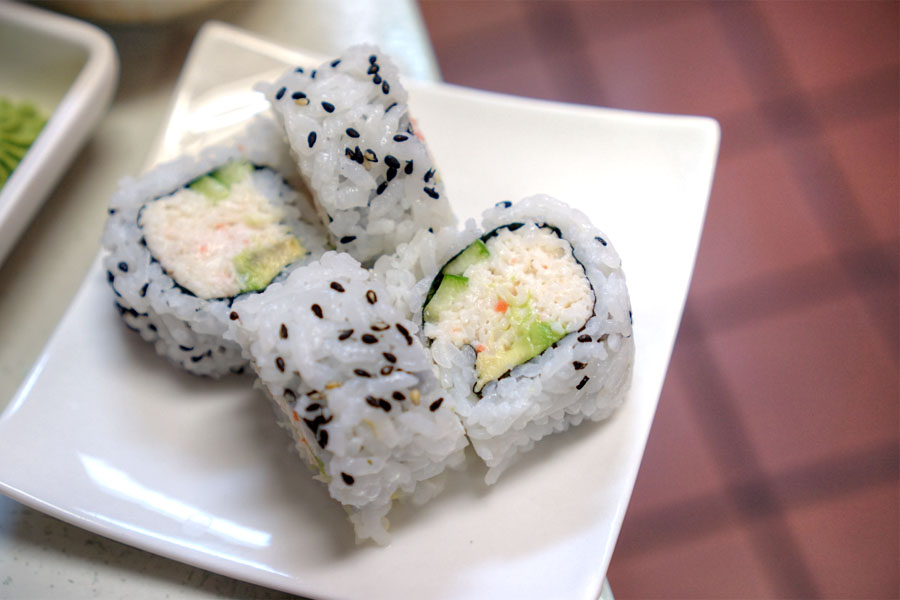 California Roll
California rolls were perfectly serviceable.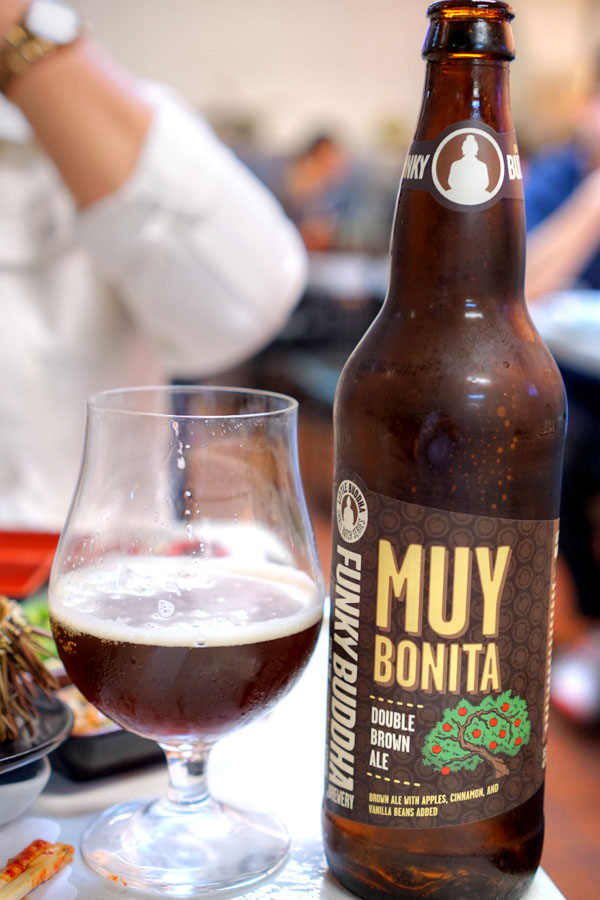 The
2016 Funky Buddha Muy Bonita
was a brown ale with apples, cinnamon, and vanilla beans added. This was a fun beer as well, unabashedly sweet 'n' spicy on the nose, with a taste that conveyed a strong malt backbone accented by more spicy cinnamon and sweet apple.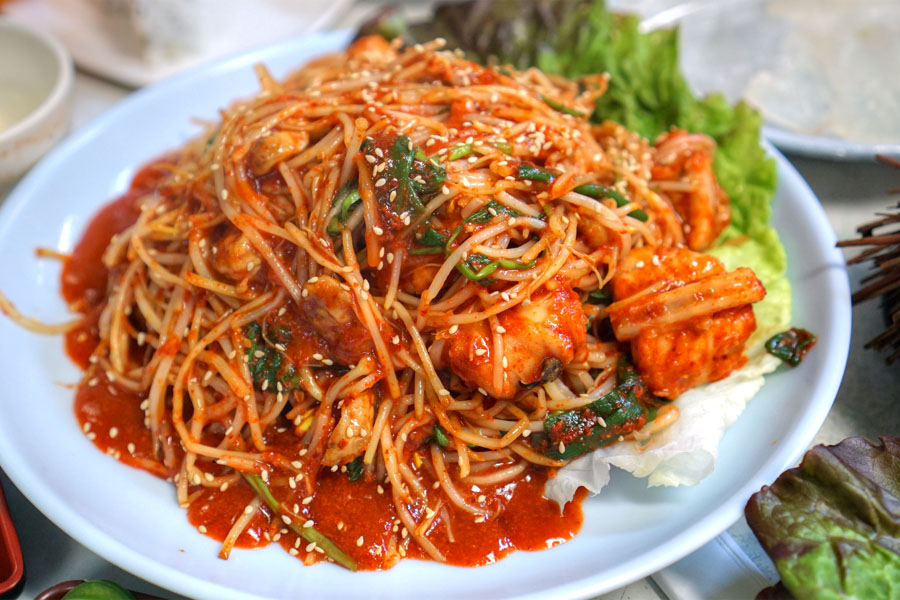 Agujjim [$30.00]
| Monk fish and bean sprout seasoned with spicy sauce
Our heftiest dish of the night brought super meaty, bony chunks of monkfish set in a sharp, spicy sauce. My favorite part? The light, crunchy, veggie contrast from the
sukjunamul
.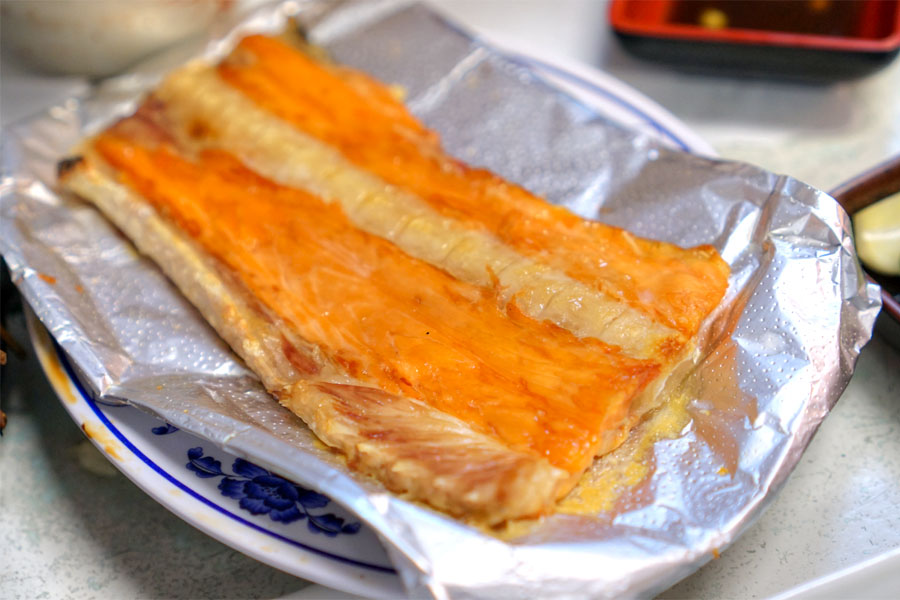 Yeoneo gui
(salmon) was generally tasty, though more cooked than I'd prefer.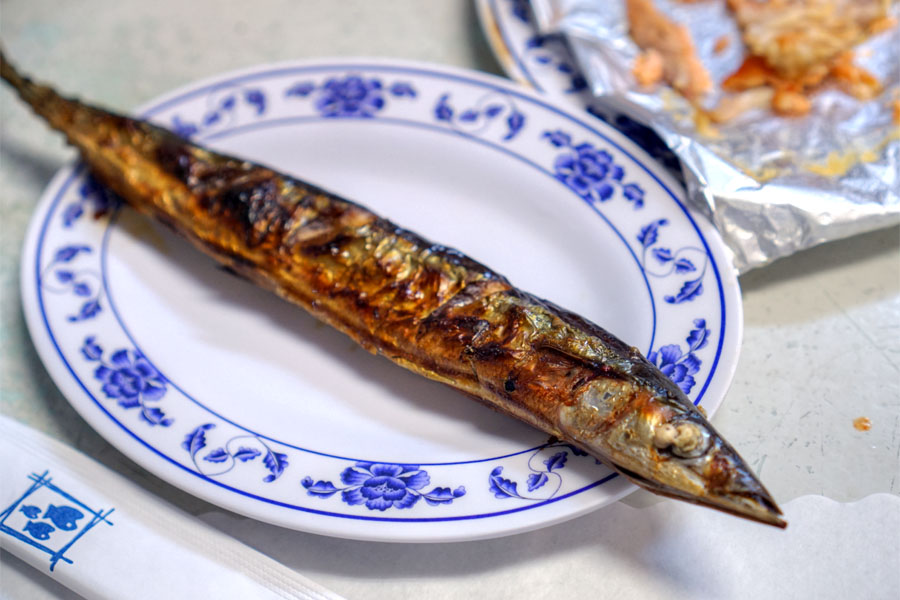 Grilled Fish
The
kkongchi gui
was more enjoyable, with a heavy char paired with the mackerel pike's inherent fishiness.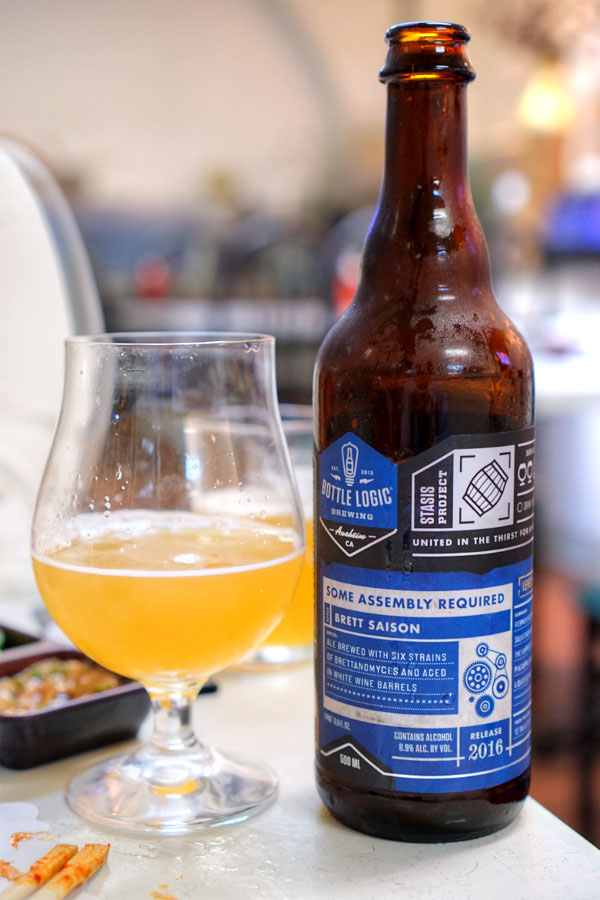 One of the most recent releases from the brewery, the
2016 Bottle Logic Some Assembly Required
was a saison brewed with six strains of
Brettanomyces
and aged in Sauvignon Blanc barrels. I really enjoyed this one, finding a sweet bouquet filled with intriguing spice notes. On the palate, more sweet tropical spice at first, leading to plenty of tempering barnyard and funk.
Live Octopus [$25.00]
Sannakji
came out rhythmically writhing, but wasn't nearly as intimidating as you might think--just make sure to chew thoroughly. In terms of taste, think light and fresh, with a subtle brine perfectly matched to the accompanying sesame and sesame oil.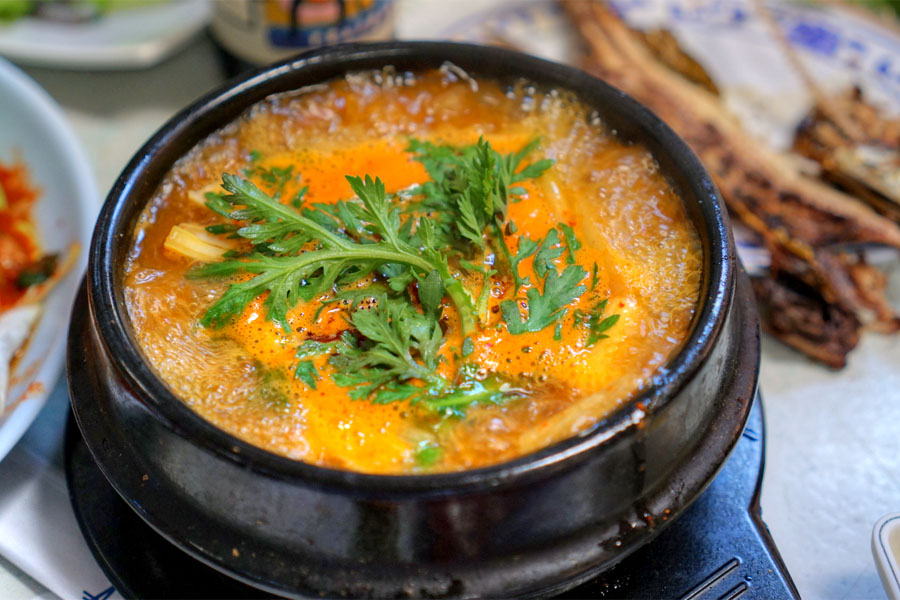 Spicy Halibut Soup
The
maeuntang
was a hearty, homey fish stew imbued with plenty of deeply spicy flavors.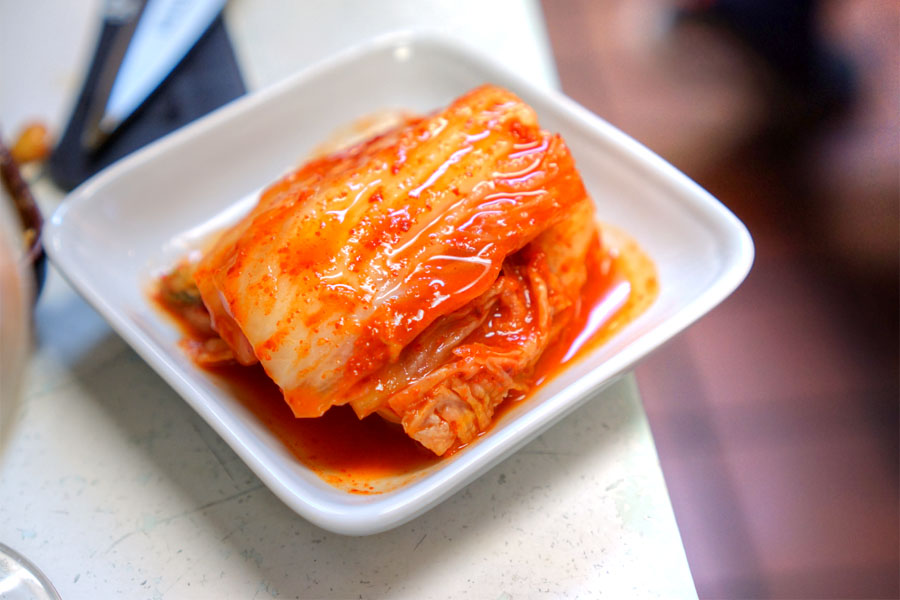 I'm used to the
baechu kimchi
coming out at the beginning of the meal, but appreciated it at the end, too.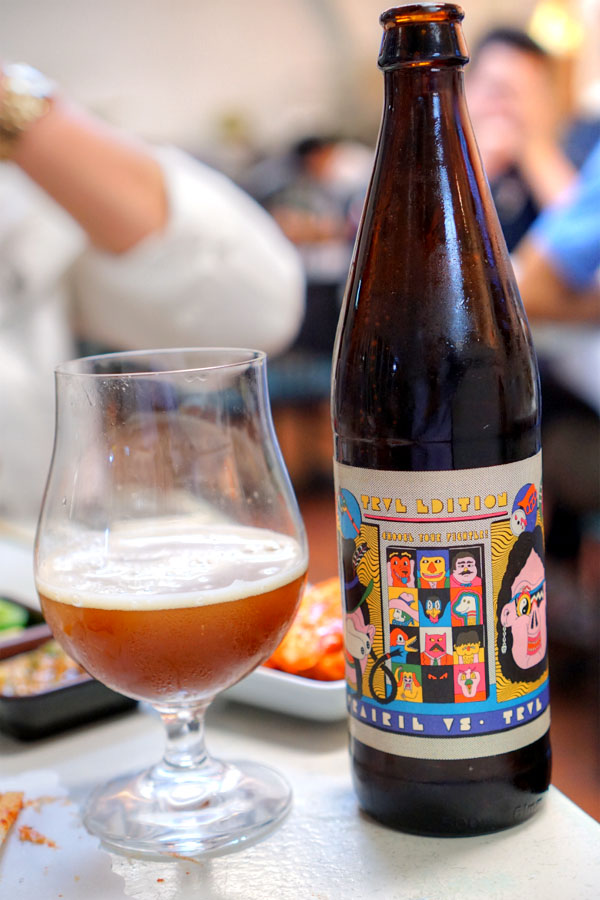 The
2016 Prairie & Friends Trve Edition
was a sour red farmhouse ale created in collaboration with Denver's TRVE Brewing Company. It was my least favorite beer of the night. Nose was good, tart with a sweet 'n' spicy character. The taste went awry, starting out pleasantly sour, but finishing with a disconcerting flavor profile that I couldn't quite identify.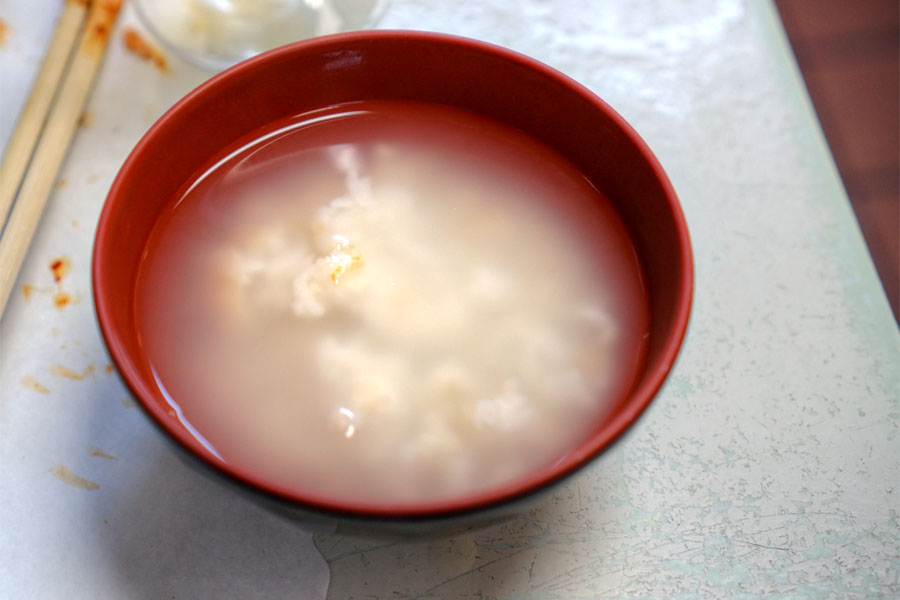 Nureun bap
didn't taste like much, and thus worked as more of a palate cleanser.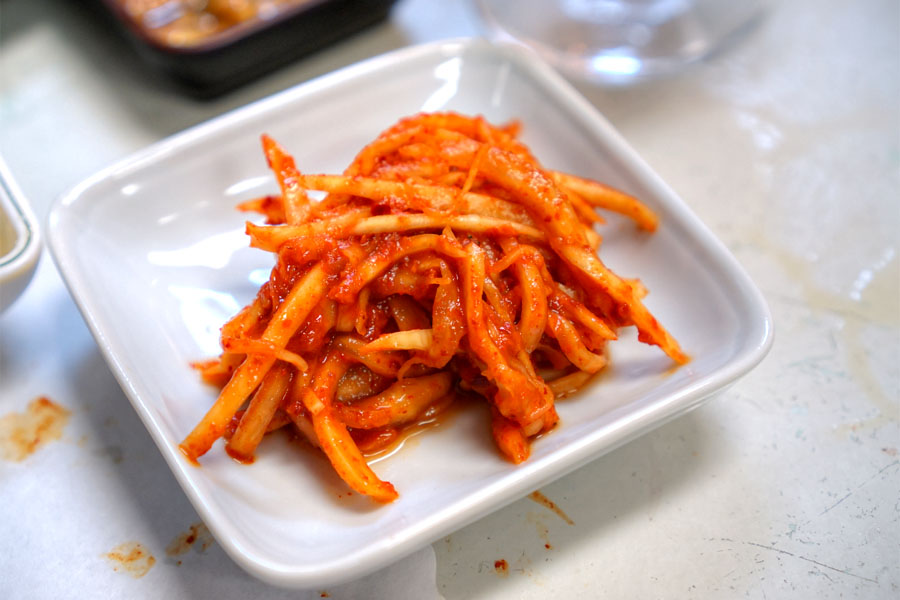 Musaengchae
(radish salad) was properly crunchy and spicy.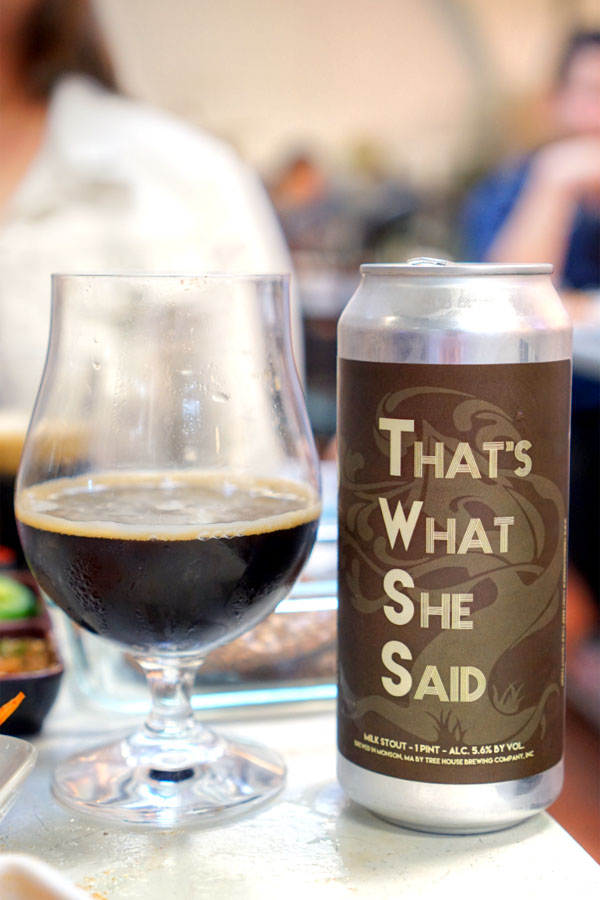 We closed with a milk stout, the
2016 Tree House That's What She Said
. It was lovely: sweet, smooth, and really strong on the chocolate, with an offsetting smoky, roasty complexity to it.
LA Hwaluh made for one of the more interesting meals I've had in the past few months. You certainly won't find the subtlety and finesse of Japanese-style sashimi here, but you may want to visit for a distinctly different (and much more affordable) sort of raw seafood experience.