Gwen (Los Angeles, CA)
Gwen Butcher Shop & Restaurant
6600 Sunset Blvd, Los Angeles, CA 90028
323.946.7513
www.gwenla.com
Sat 08/13/2016, 07:30p-10:55p

I don't think there's any question that Gwen's the biggest opening to hit Hollywood in a while. The restaurant-slash-butcher shop debuted on July 12th (well the restaurant part anyway, the
boucherie
dropped at the end of June), and comes to us from none other than
Curtis Stone
, along with brother Luke Stone. It's named after their maternal grandmother, who resided on a farm on the outskirts of Melbourne. The brothers got a taste for raising livestock there, and actually started their culinary careers as butchers before Luke decided to go the business route and enter the floral industry via his purchase of
Strathmore Flowers
in 1999.
Apparently, the Stones had always wanted to run a "European-style" butcher shop together, and Gwen fulfills that long-held dream of theirs. The store features its own, massive, environmentally-controlled dry-aging room, and also serves up housemade charcuterie and sandwiches in addition to the wide array of meats. Co-Head Butcher duties are handled by Alex Jermasek (
Belcampo Meat Co
,
Chi Spacca
,
Short Order
,
Ink
, Lindy & Grundy) and Daniel Roderfeld (Eataly in both New York and Chicago).
On the kitchen side, recall that Chi Spacca's Chad Colby was to supposed to helm things, but ended up dropping out of the project in May. In his stead comes Executive Chef Gareth Evans, a native of England who started out in London at Gordon Ramsay. In 2001, he moved to Marcus Wareing's Savoy Grill, where he stayed for three years, then relocated to Paris. There, he cooked at La Table de
Joël Robuchon
for two years, then returned to London in 2006 to become sous at L'Atelier de Joël Robuchon. In 2007, Evans came to New York and worked at
Per Se
for a year before taking over the kitchen at Gordon Ramsay at The London. He remained there for five years before joining the team at Maude.
Rounding out the team are Chef de Cuisine Juan Rendon (Maude, Norman's at the Ritz-Carlton, Victoria & Albert's at the Grand Floridian), Director of Restaurant Operations Ben Aviram (Maude,
Alinea
,
The French Laundry
), Sommelier Fahara Zamorano (Alinea,
Terrine
,
Faith & Flower
), Bar Manager Mitchel Bushell from New Zealand, and AGM David Mikula of Jonathan Benno's Lincoln in New York.



Gwen takes over the side-by-side spaces that formerly held The Mercantile and Township Saloon/District. The restaurant spans roughly 7,000 square-feet, and was penned by
Home Studios
, based out of Brooklyn. I get a grittier Art Deco vibe from the place, which is actually sort of refreshing to see. Surrounded by the butcher shop, bar, and
asador
station, the main dining room (and adjoining chef's counter) seats 52, while a mezzanine-level room (replete with its own bar) holds another 26 diners.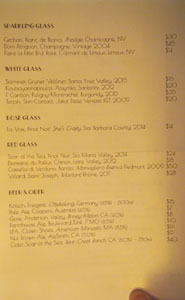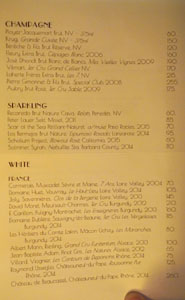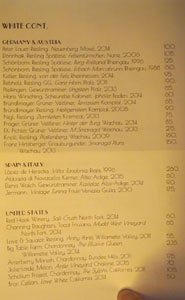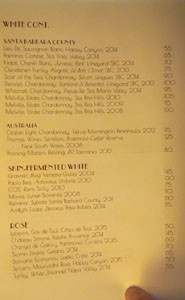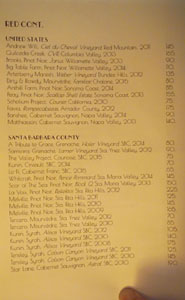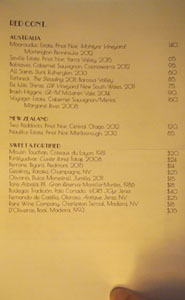 As for Gwen's menu, you get a six-course tasting at $95 a head comprising charcuterie/antipasti, salad, pasta, live fire-cooked meat with sides, intermezzo, and dessert. There are also (pricey) substitutions offered for your main course, while a Butcher's Scraps bar menu is available on the patio. To drink, you get to pick from a 2,000-bottle, globally-represented wine cellar, and there's also a small, seasonal cocktail list and a smattering of beers. Click for larger versions.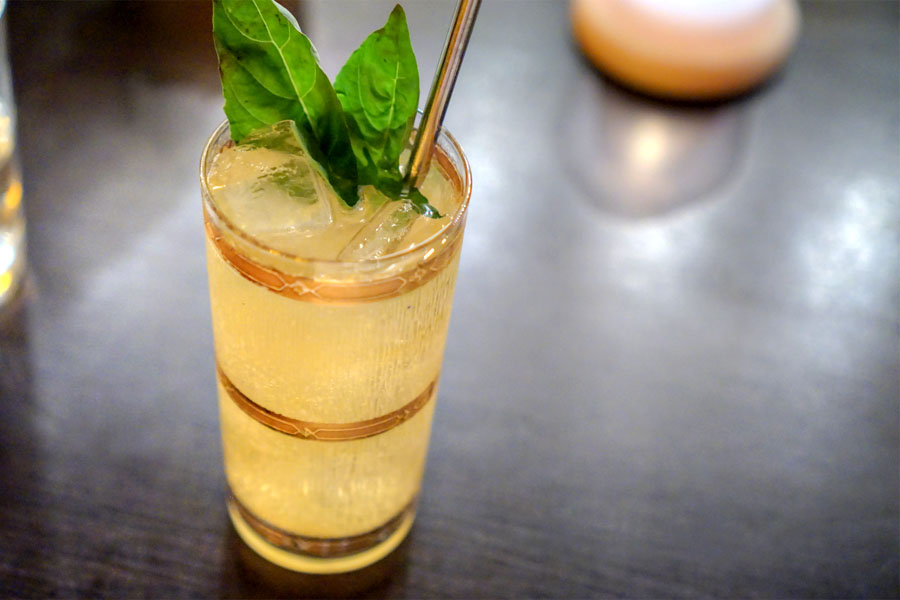 Spritz in Nature [$15.00]
| Apricot, Basil, Gin, Rancio Sec & Soda, served tall
Since there were only eight cocktails on offer, we ended up trying them all, beginning with this take on a Spritz. Nose was quite good--deep, savory, sweet--while the taste showcased super ripe stone fruit intertwined with some pickle-y flavors.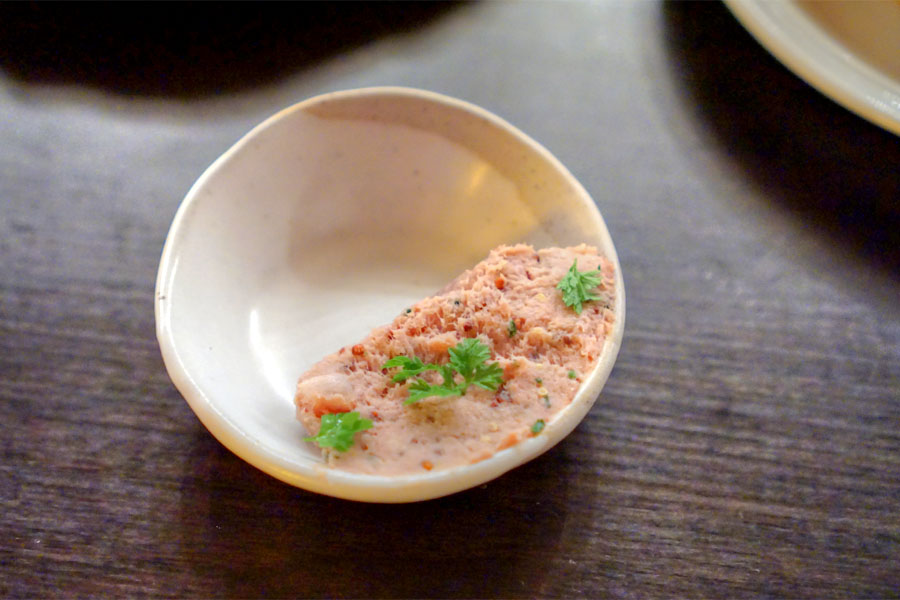 1a: "First Bites"
| Pork Rillette
Rillettes were enriched with cognac, prune, and mustard, and conveyed a sweetness that complemented the inherent porkiness of the spread.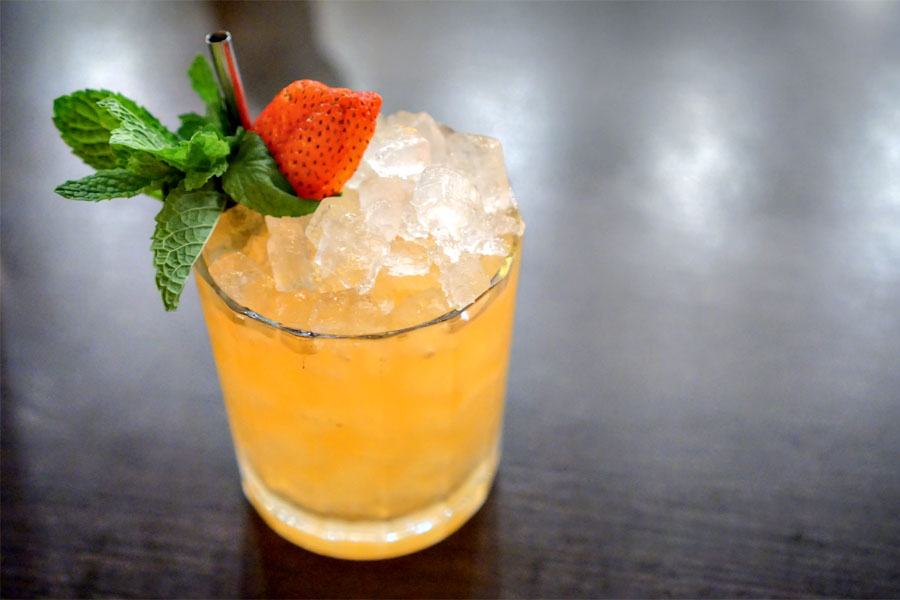 Cup Styled [$17.00]
| Strawberry, Sherry, Rum, served down
Our second cocktail showed off a refreshingly sweet, fruity spice, with a bit of a kick from the rum and some lovely minty aromatics.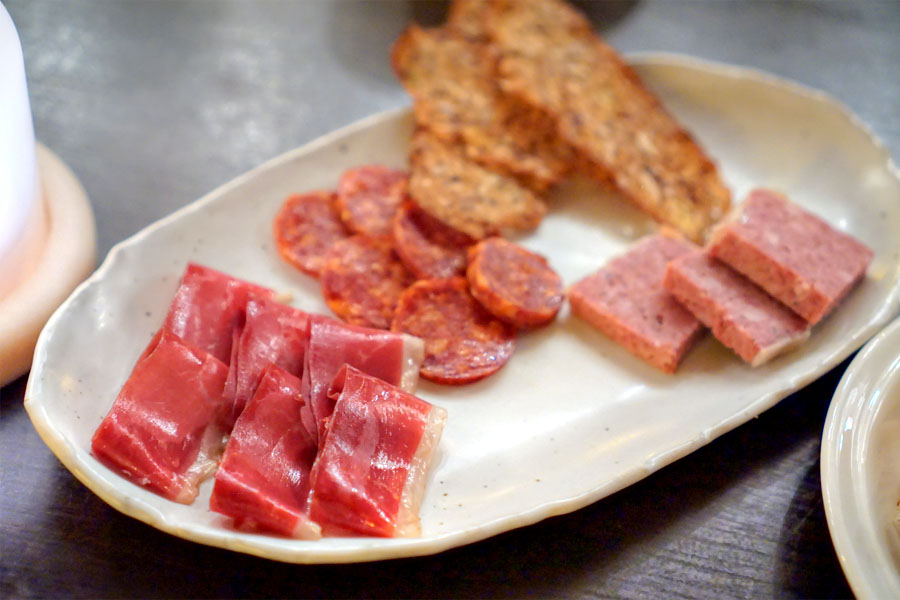 1b: "First Bites"
| Duck Speck, Spanish Chorizo, Pork and Liver Terrine
The charcuterie plate brought a heady, unabashedly salty duck speck; an earthy-spicy chorizo; and a dense, delish, classically-leaning pâté.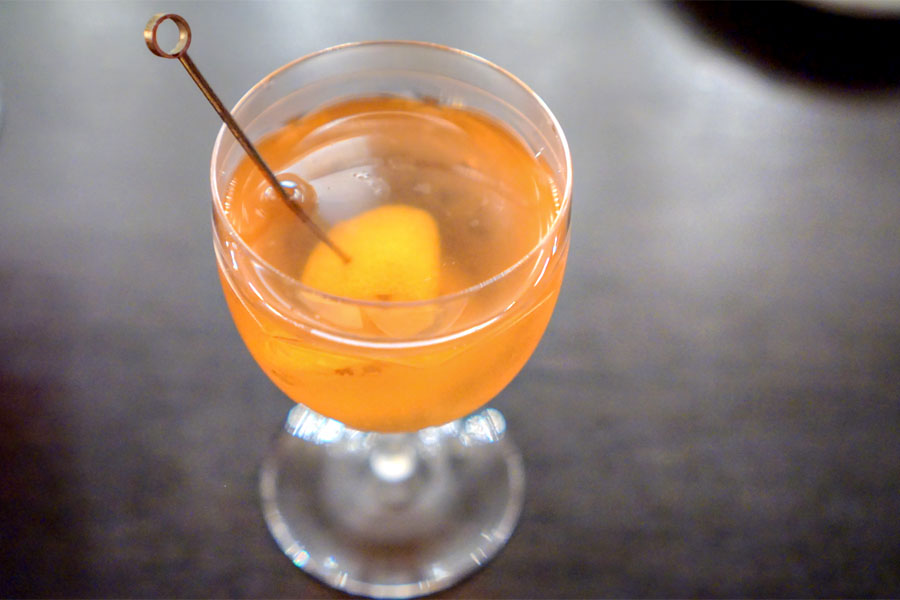 Martini Inspired [$15.00]
| Peach Vermouth, Kina & Pisco, served up
I got plenty of bittersweet, aromatic, slightly herbal fruit flavors with this cocktail, while its bouquet was rife with bright, candied peach notes.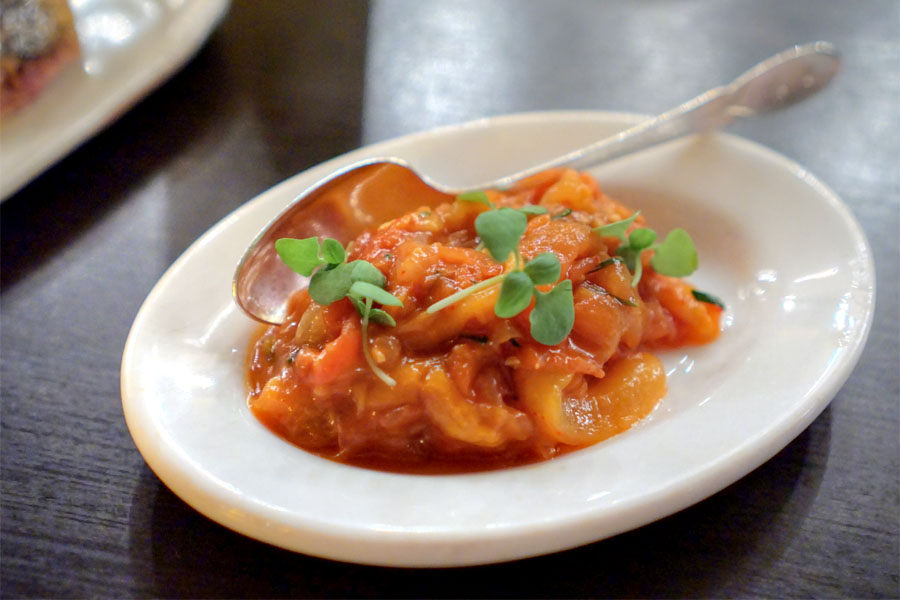 1c: "First Bites"
| Marinated Peppers
A piperade-esque preparation of red peppers and stewed tomatoes was tart, tangy, with a savory backing, though rather one-dimensional.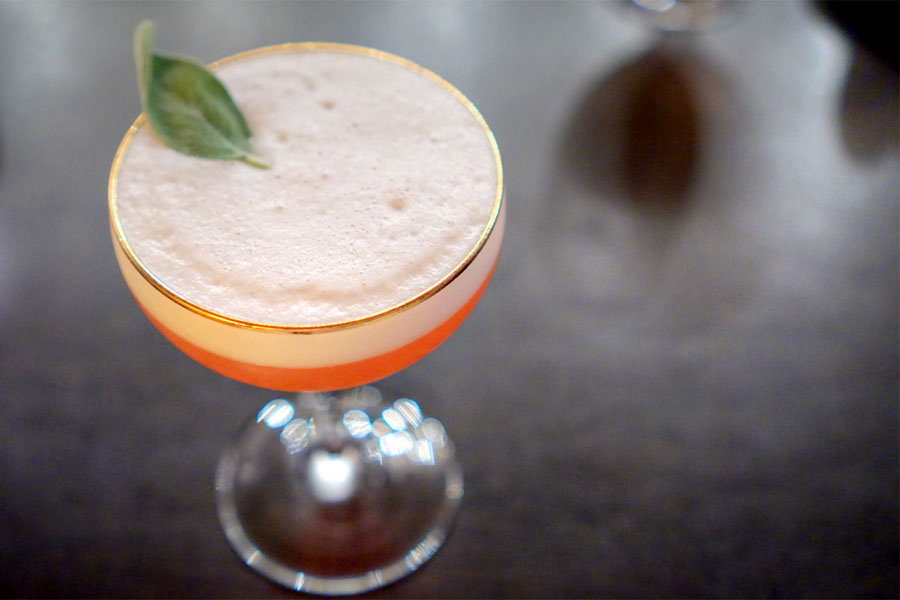 Sour Profile [$18.00]
| Gin, Salted Watermelon, Bianco, served up
Light, summery notes of watermelon at the forefront, with a trace of tartness and herbaceousness to even things out.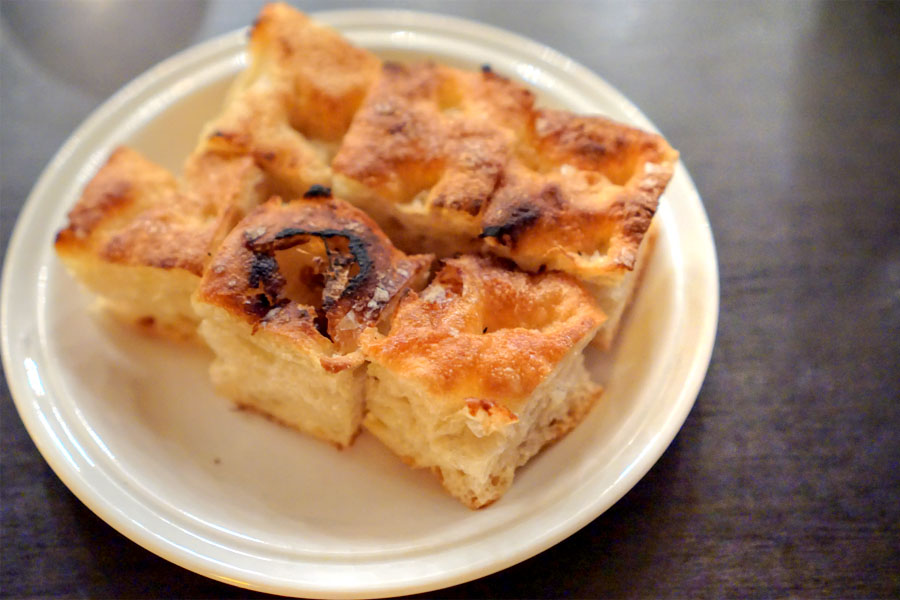 1d: "First Bites"
| Focaccia
Focaccia arrived with a lovely char and smoke.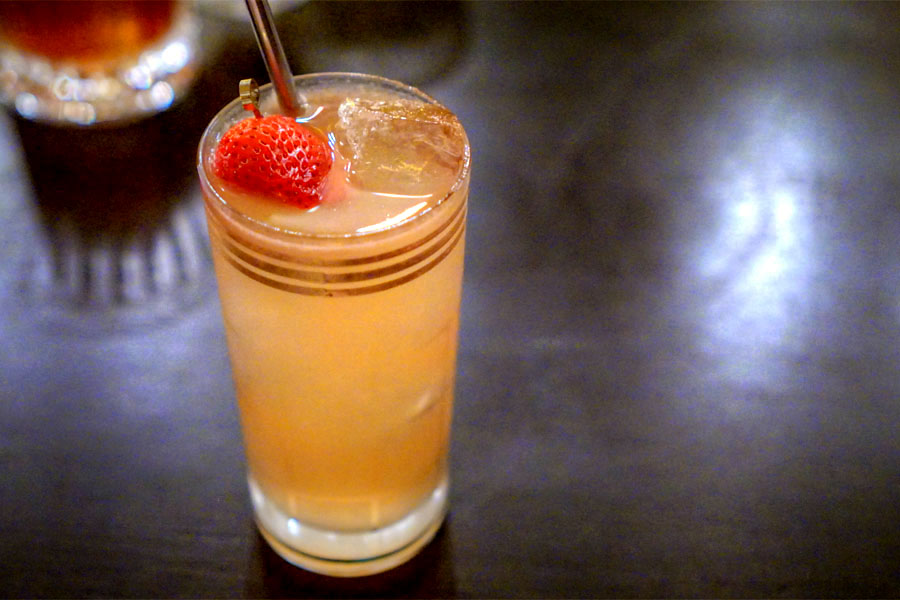 Collins Family [$17.00]
| Passion Fruit, Mezcal, Ginger, served tall
Passion fruit formed a foil to the bittersweet, smoky, medicinal nature of this cocktail.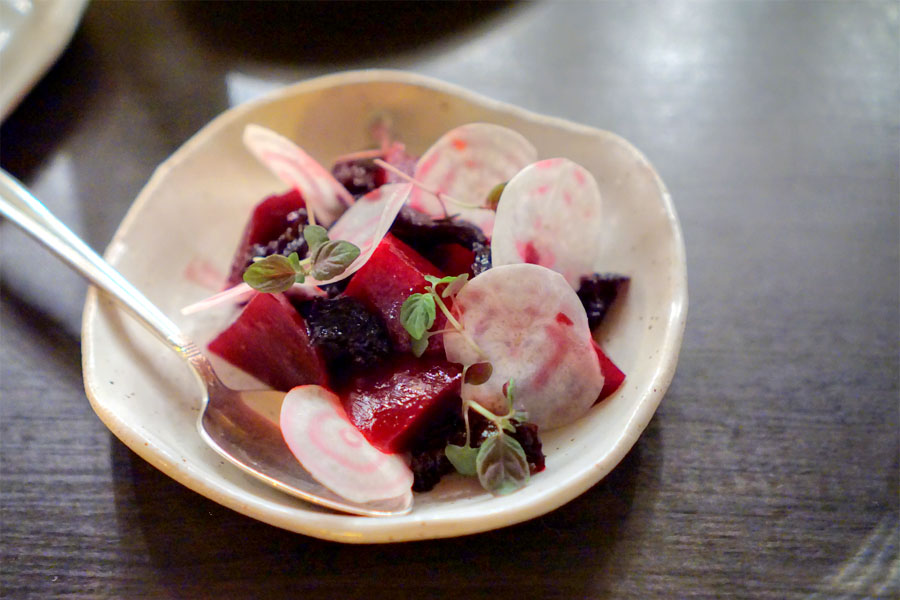 1e: "First Bites"
| Chewy Beets
Beets had the right amount of tangy sweetness on display, and came prepared three ways: thinly sliced raw, roasted then pickled, and slightly dehydrated and chewy (the Chef's specialty apparently).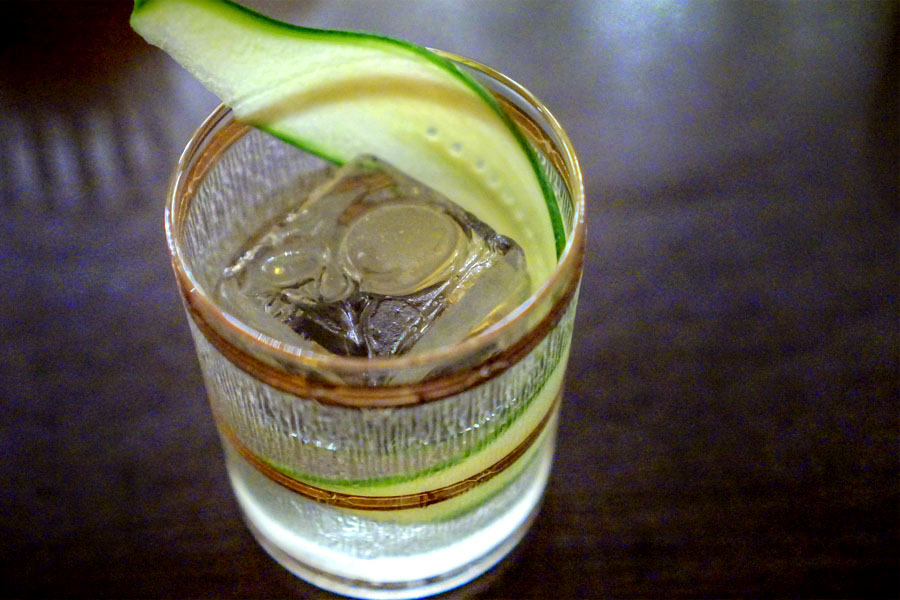 Negroni Reflection [$17.00]
| Cucumber Genepi, Genever & Dry Wine, served on rocks
This Negroni variation had a fantastic nose of cucumber along with sweet-yet-vegetal flavors cut by a persistent alcoholic heat.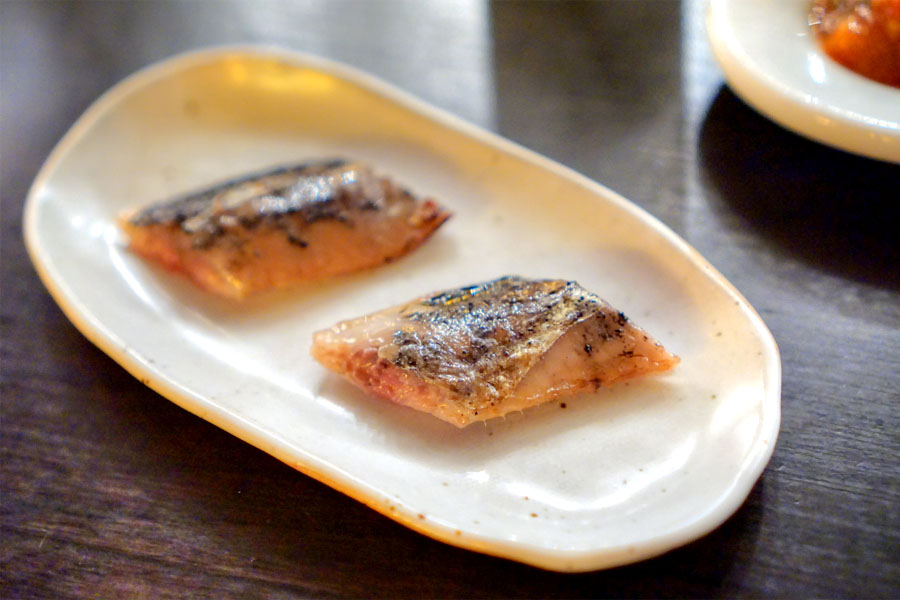 1f: "First Bites"
| Grilled Sardines
The Japanese sardine was my favorite of the small bites, a super oily, super fishy (in a good way) preparation that hit all the right notes.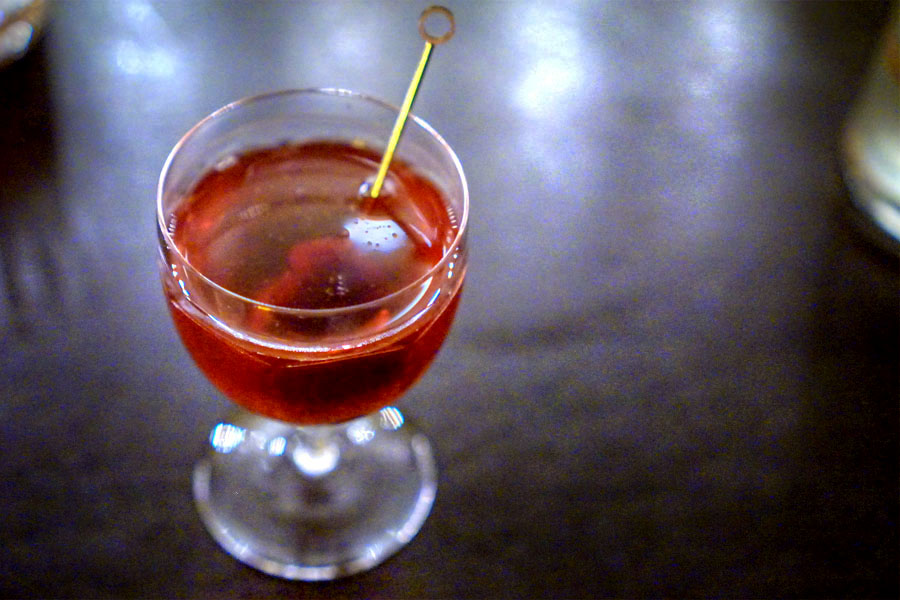 Manhattan Schooled [$19.00]
| Saffron Vanilla, Pot Still Rum, Sherry & Sweet Wine, served up
A celebration of spicy, aromatic dark fruit and the oxidative notes of sherry, with just a whisper of vanilla on top. Lovely.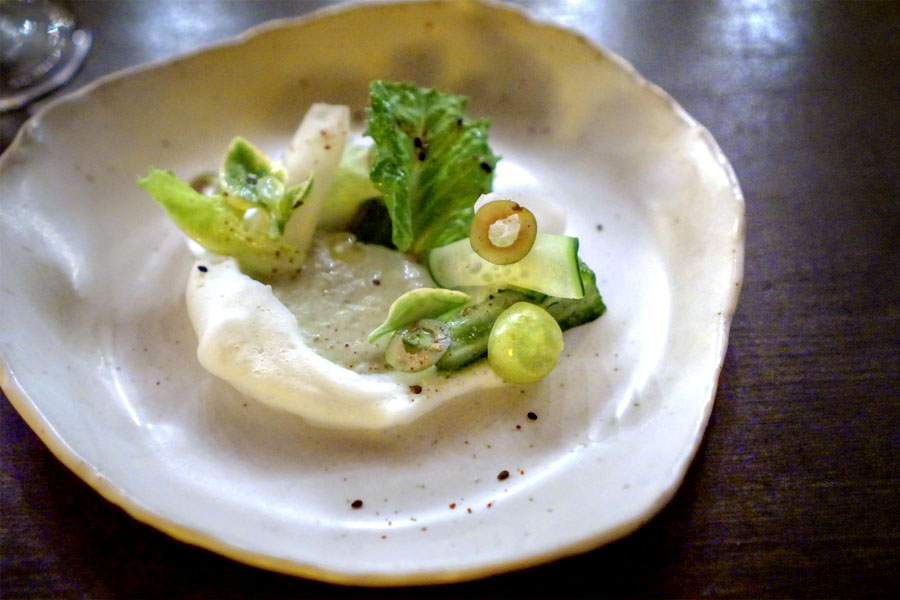 2: Crystal Ice Lettuce
| Cucumber Gazpacho, Castelvetrano Olives, Fizzy Grapes
Our salad course was light and bright, crunchy to the bite with an interplay of sweet-sour-savory flavors going on.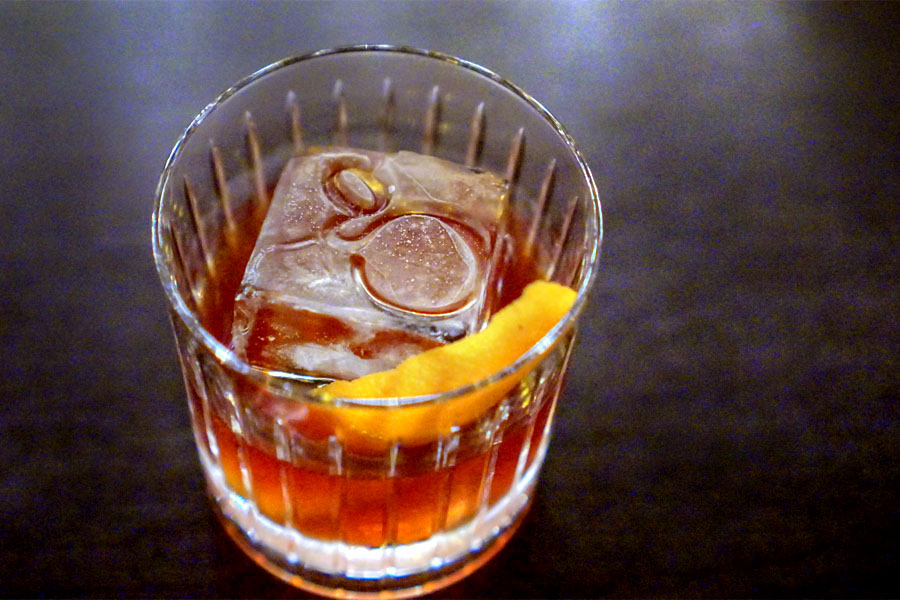 Old Fashion Drink [$20.00]
| Cherry, Coffee, Rye & Brandy, served on rocks
Our final cocktail was also a favorite of mine: delectably sweet 'n' spicy to the smell, with a palate brimming with spice, fruit, and a bitterness from the coffee.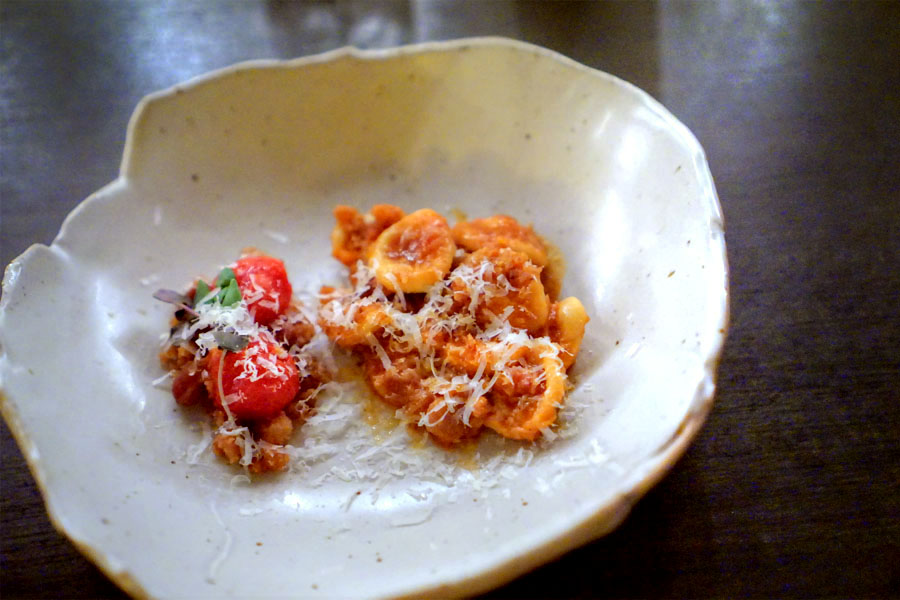 3: Orecchiette
| Pancetta, Pickled Fresno Chili, Tomatoes, Pecorino
The hand-formed pasta was a crowd pleaser thanks to its balance between salty house-smoked bacon, herby breadcrumbs, and rich tomato flavors.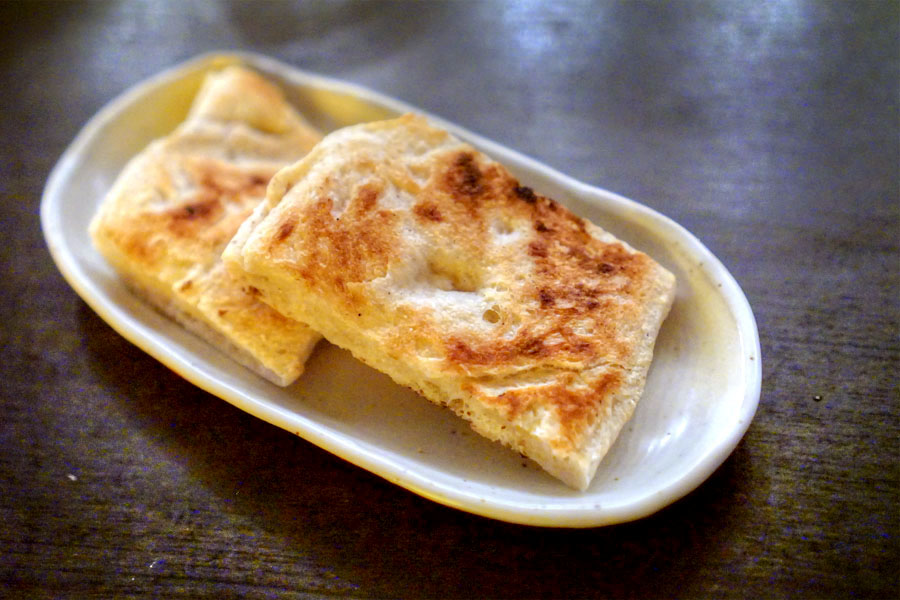 A smoky, crunchy-fluffy flatbread worked beautifully with the orecchiette.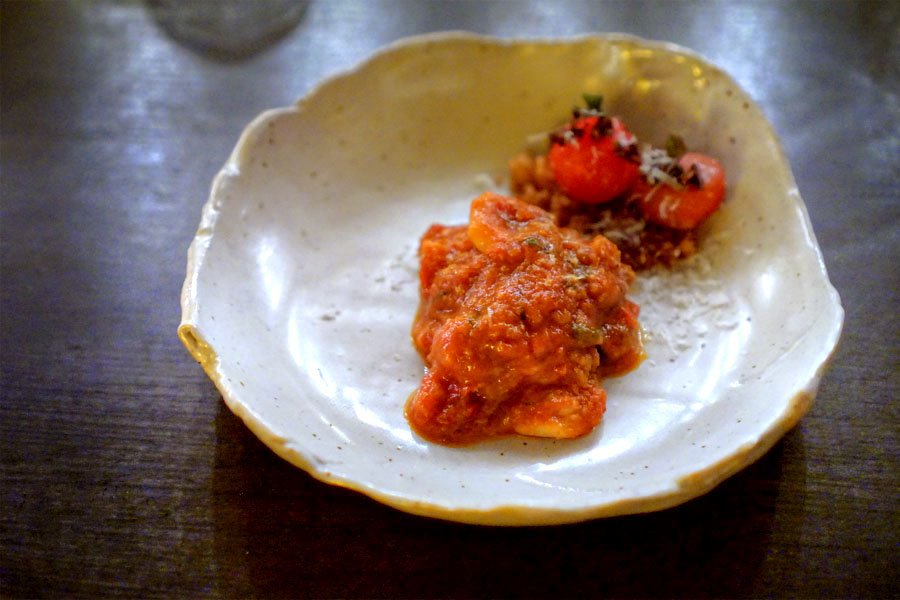 Supplement: Orecchiette [$18.00]
| Pancetta, Pickled Fresno Chili, Tomatoes, Pecorino
We liked the pasta so much that we ended up ordering an extra round of it, though at quite a significant cost.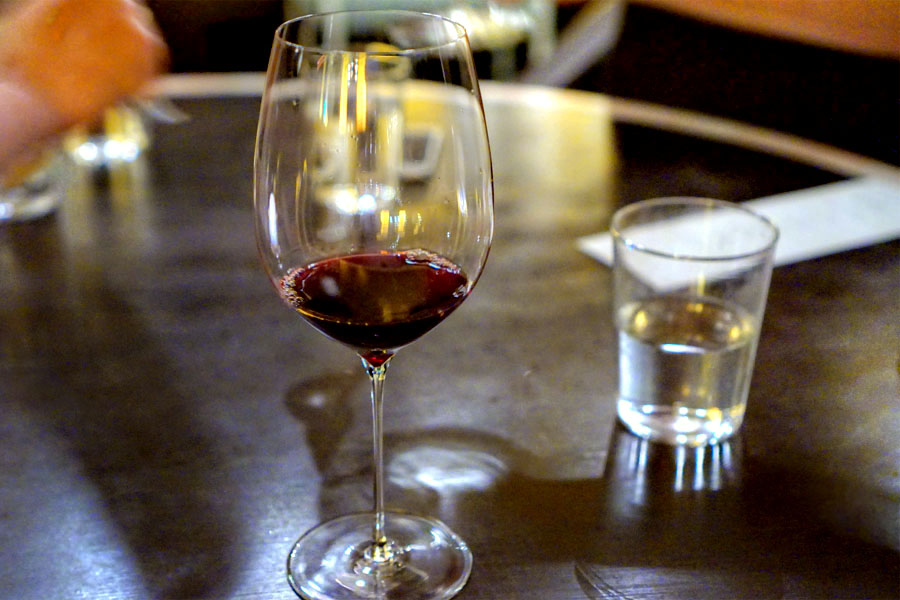 With the cocktails all drunk up, we moved on to a bottle of the
Landot, Haut Médoc, Bordeaux, 2004 [$105]
(I forgot to snap a photo of the bottle unfortunately). Nose was quite appealing--jammy and earthy. Palate was more austere, with some funkier flavors and spice alongside dark berry fruit.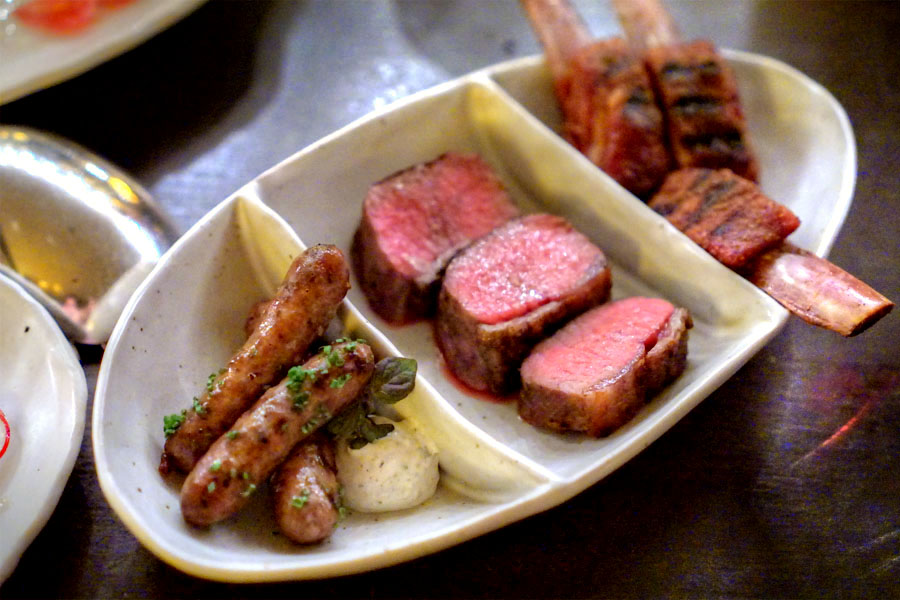 4a: Asador Lamb
| Merguez, Ribs
And now, on to our main course. Sausage from the butcher shop was herby and almost breakfast-y, and came with some yogurt to cut its richness. The roasted loin ate tender, flavorful, with a well-placed hit of salt and char to round things out. The table favorite, though, was the grilled rib, a super tender, super smoky presentation that kept us yearning for more.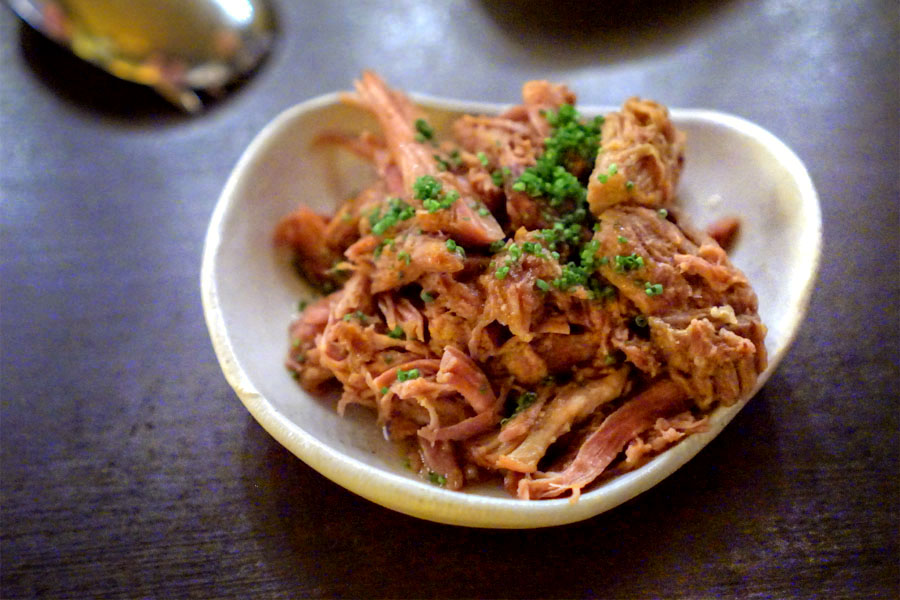 4b: Asador Lamb
| Shoulder
Shoulder was soft and juicy, with a great herbiness that matched well with the accompanying lamb jus.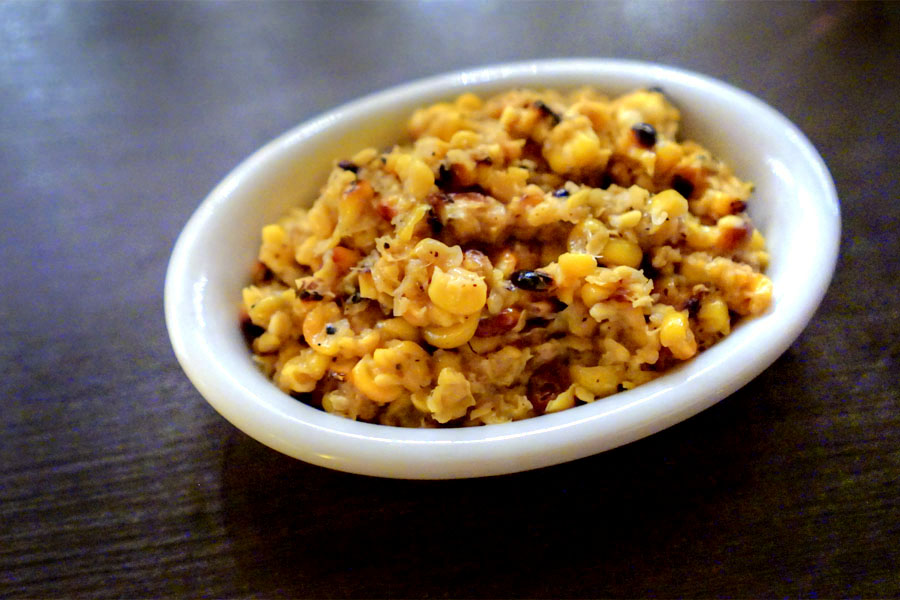 4c: Asador Lamb
| Charred Corn
Cooked with butter and black pepper, the corn was the sweetest I've ever had, with a distinct caramel-y character that reminded one of my dining companions of Cracker Jack.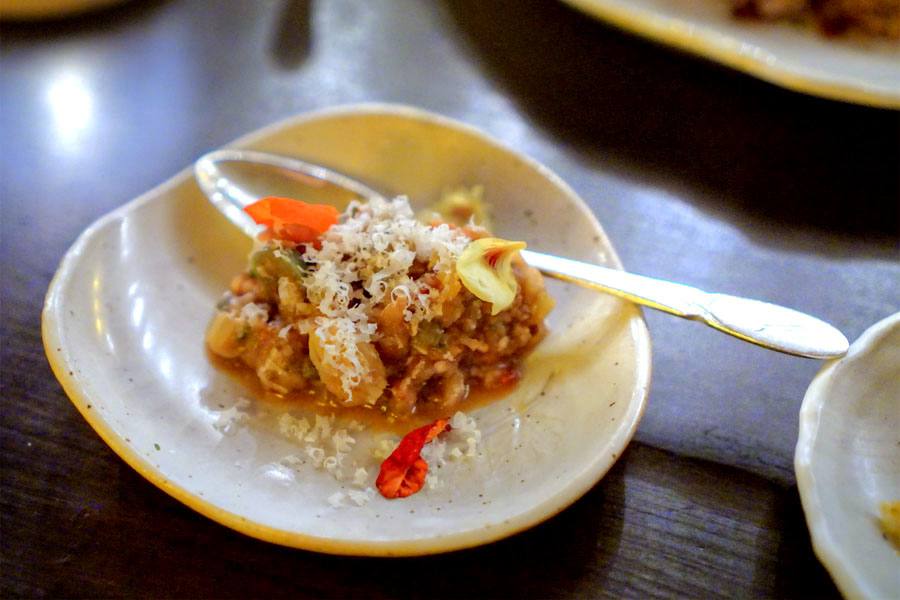 4d: Asador Lamb
| Smoked Eggplant
An eggplant tapenade with golden raisins and what I believe was dark chocolate was properly smoky, but with a sweetness to balance things out.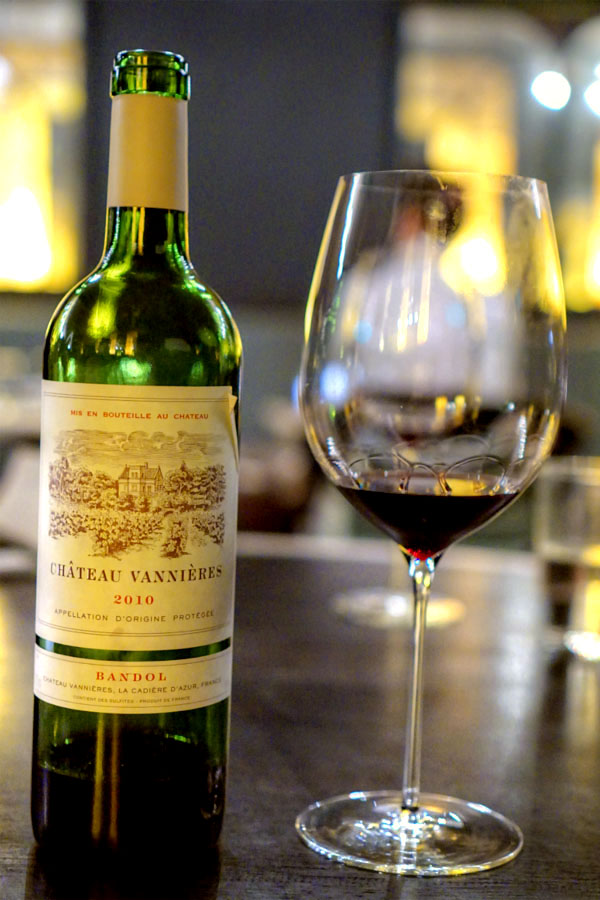 Our second wine was the
Château Vannières, Bandol, Provence, 2010 [$110]
. Intensely fragrant nose of earthy and rich berry. Taste brought cassis and some raisin-y notes commingled with peppery spice.
4e: Asador Lamb
| Summer Beans and Radish
Crunchy, waxy beans with Aleppo pepper and garlic breadcrumbs made for a welcomed respite from the meat.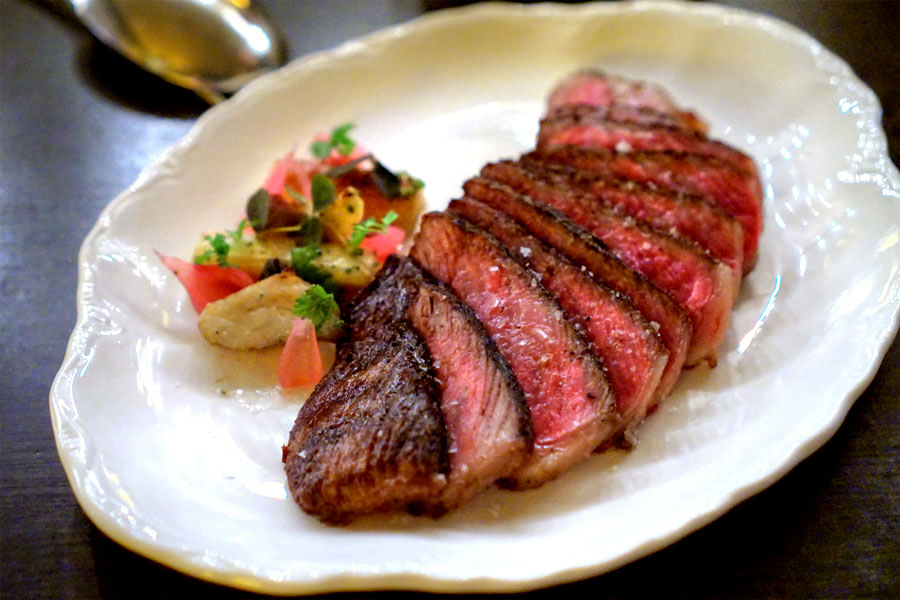 Supplement: New York Strip Wagyu [$210.00/12oz]
| Blackmore Farms
A strip steak from vaunted Australian producer Blackmore was delicious, and sort of landed somewhere between your usual American wagyu and the stuff you get from Japan. It wasn't as over-the-top rich as the latter, but instead displayed a great balance of fat and lean, of tenderness and chew. It's something that I could easily eat a whole serving of, which isn't always the case with full-blooded wagyu.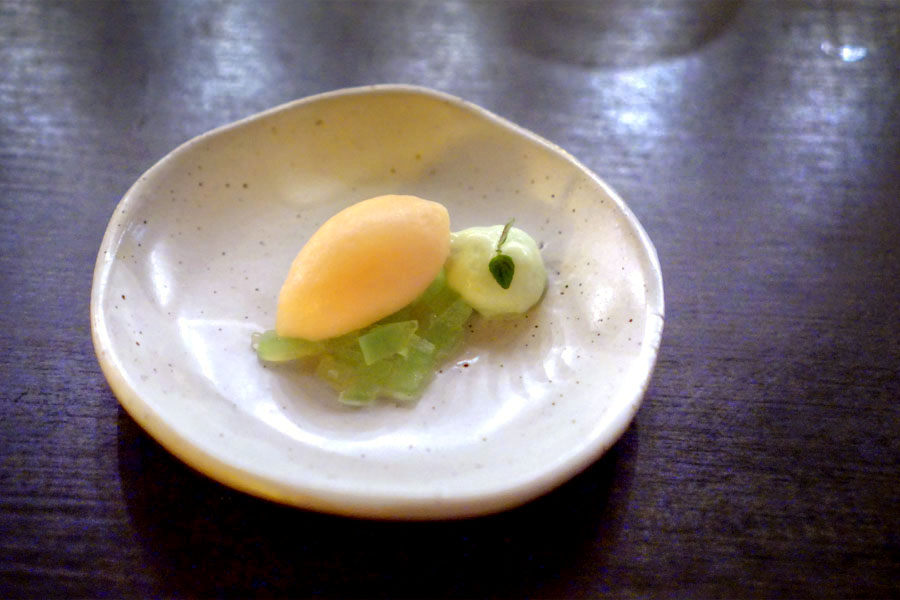 5: Melon Sorbet
A melon sorbet worked as a sweet, refreshing palate cleanser of sorts, and had a bit of a pickle-y component from the cucumber foam and honeydew bits.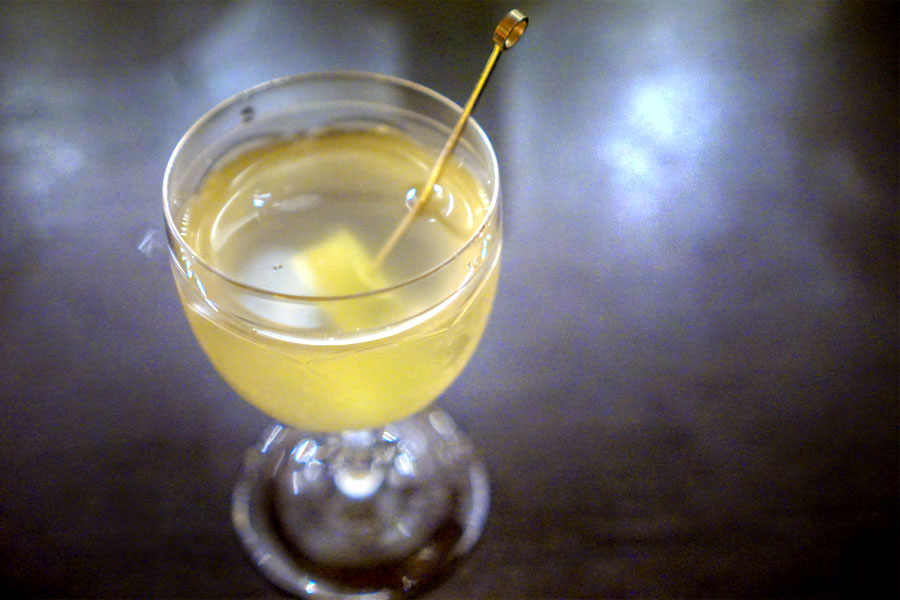 Bar Manager Mitchel Bushell happened to be close by our table, and after we chatted for a bit, ended up sending out an off-menu cocktail comprising what I believe was pisco, fino sherry, and pineapple-infused sherry vermouth. It managed to be a favorite as well. Think bittersweet, boozy on the nose, with a savory component. The palate showed off the pineapple, but had its sweetness tempered by more bitterness and a smoky element.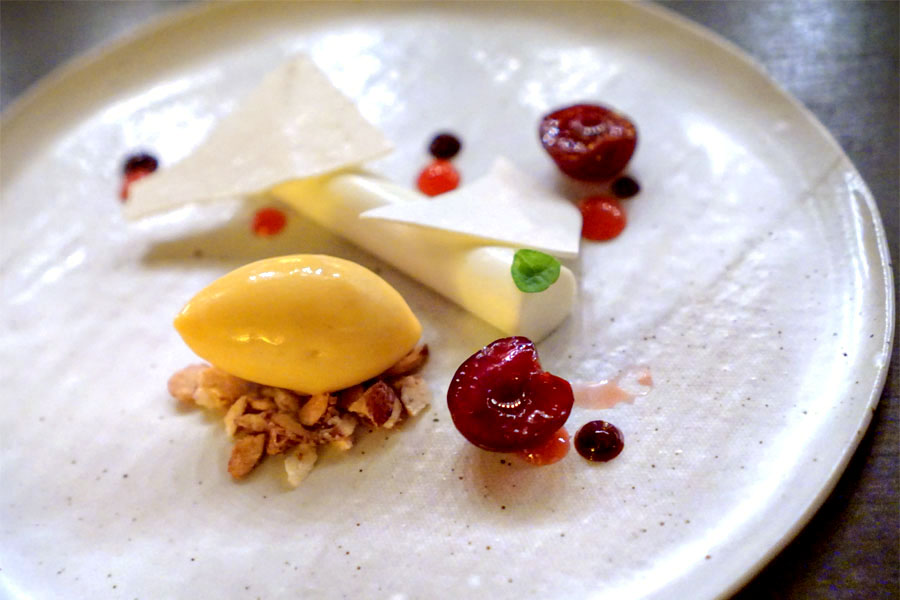 6: Creme Fraiche Panna Cotta
| Almond, Cherry, Peach
Dessert proper played the relatively restrained flavors of the panna cotta and lemon verbena meringue against the sweetness of peach sorbet and cherry, with the almond contributing a moderating crunchiness.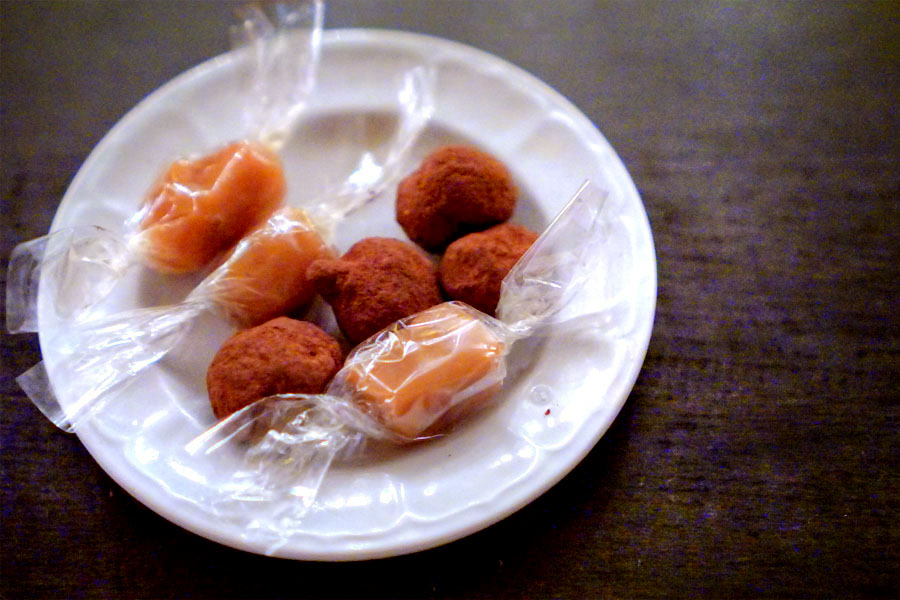 Post-meal candies: bone marrow caramels and some fantastically salty-sweet chocolate-macadamia dragées (nuts coated in caramel and dragged through chocolate).
The Stone brothers look to be doing some good work with Gwen. The cooking's definitely homier than what you'd find at Maude, but works for the concept, and I liked the whole prix fix menu setup that they have going. It all makes for a familiar, cozy, yet compelling sort of dining experience that I haven't really seen around these parts. I imagine that the menu will change seasonally, so there could be some strong reply value with this one too.