Horse's Mouth (Los Angeles, CA)
Horse's Mouth Restaurant
528 S Western Ave, Los Angeles, CA 90020
213.394.0564
www.horsesmouthla.com
Tue 11/29/2016, 07:55p-10:15p

One of the more notable non-Korean Koreatown debuts over the past year has been Horse's Mouth, which soft-opened at the end of July. It's a seafood-focused, pan-Asian-y restaurant from Chefs/Owners Charlie Yusta and Michael Vaquero, who started out in New York and come to us from the catering world (
Chefs on the Run Catering
,
Off the Shelf Catering
). General Manager duties, meanwhile, are being handled by one Robert Roman.

Horse's Mouth takes over the
Beer Belly
-adjacent address that was previously home to IOTA Brew Cafe, Gul Hyang, E Hwa Jang, and Captain 21 (a
noraebang
with attached Vietnamese eatery). The building retains the same basic layout from the IOTA days, though the room's been cleaned up, and exudes a classier sort of vibe. Capacity is around 100 between the main dining room and the patio out front. Note that IOTA's former back room is now a separate
suljib
type place called LA Ddong Ggo (a second location of the Fullerton original).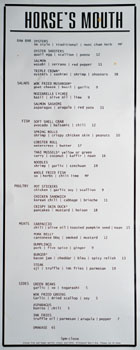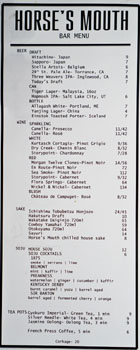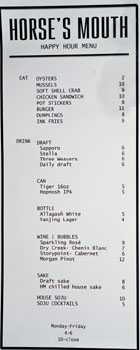 The menu's filled with fusion-y smaller plates, while a roughly eight course "omakase" option is also available at $65 a head. Drink-wise, you get six beers on tap plus a few more in cans/bottles, a brief wine list (without vintages--never a good sign), a smattering of sake, soju cocktails, and tea. Corkage is $20. Click for larger versions.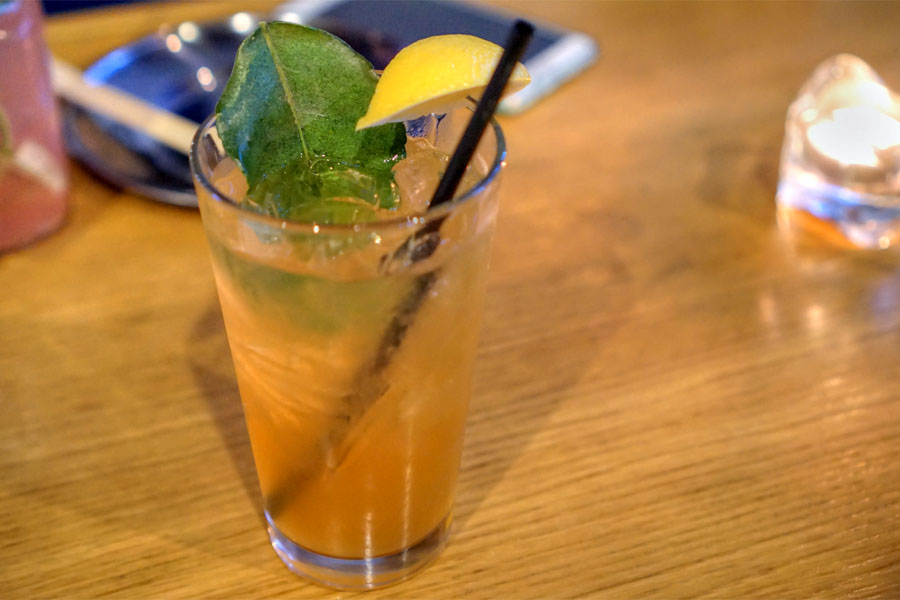 Kentucky Derby [$6.00]
| burnt caramel, yuzu, barrel aged
We ended up sampling three of the soju cocktails. Our first veered a bit boozy at first, but with a strong citrus component coming in later and a finish redolent of the advertised caramel.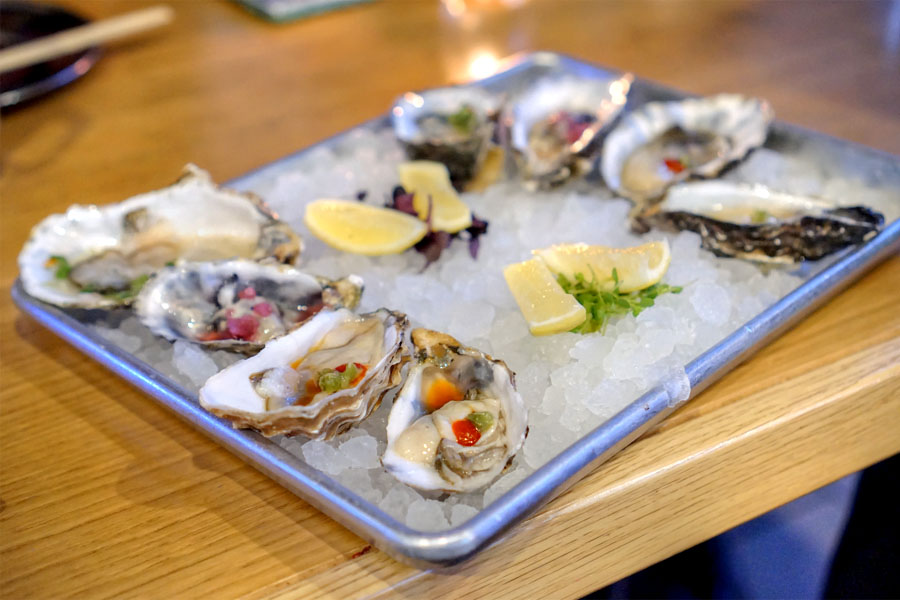 Oyster [$3.00x8]
| hm style, traditional, nuoc cham herb
Two types of oysters were on offer tonight, presented with a variety of toppings: clean, briny "Pacifics" and comparatively mild, meaty Nautiluses from Baja (a Japanese strain).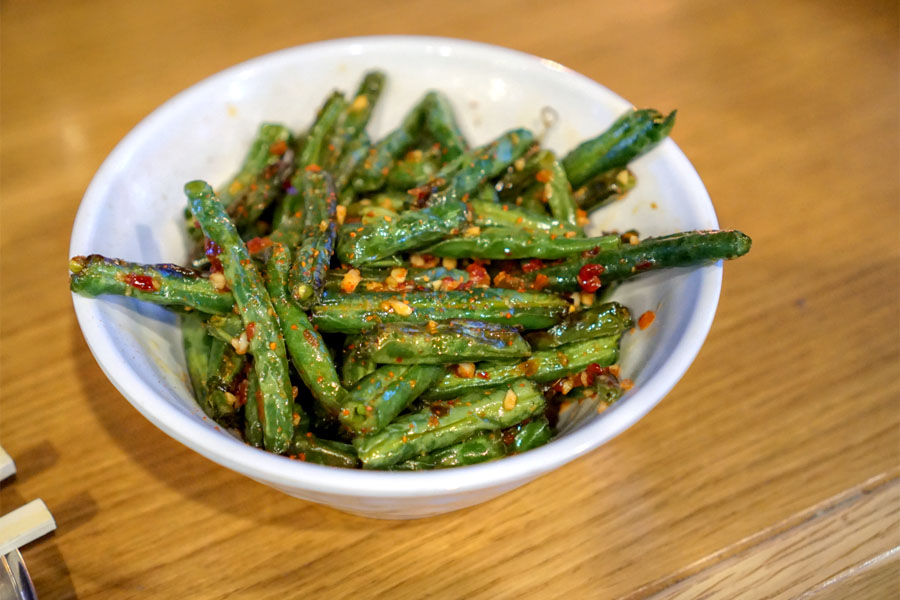 Green Beans [$5.00]
| garlic, xo, togarashi
Greens beans were very tasty, coming out well-spiced and garlicky, with the savoriness of the XO nicely conveyed.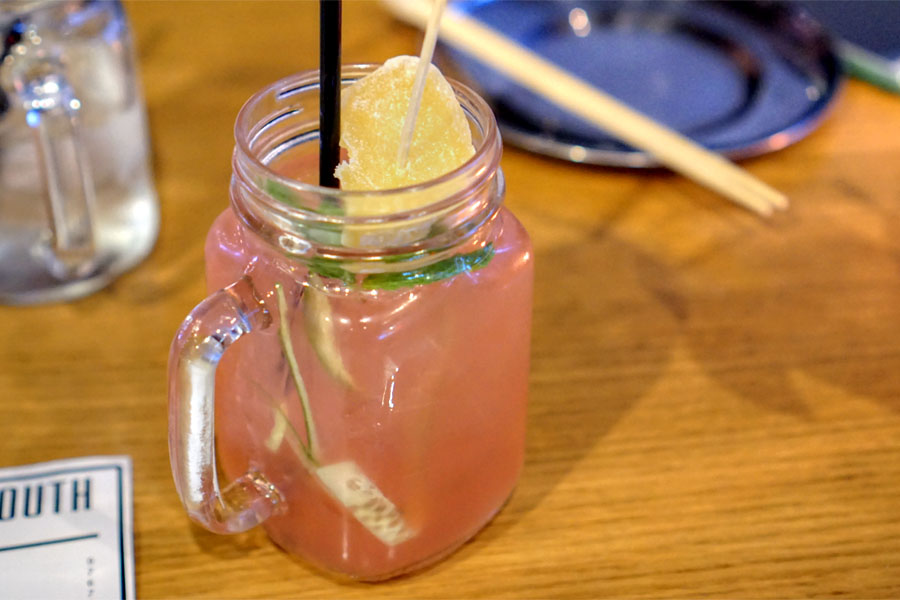 Preakness [$6.00]
| watermelon, ginger, cucumber, kaffir
The lightest of the cocktails brought lots of watermelon commingled with ginger, the finish letting us know the presence of soju.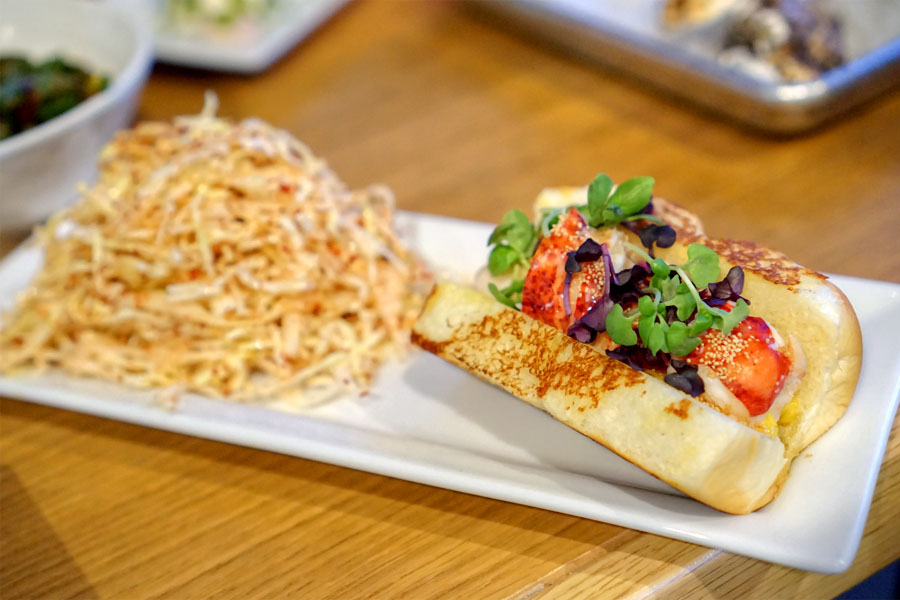 Lobster Roll [$17.00]
| watercress, butter
The lobster roll was a must-try of course. There could've been more of the actual lobster, but what meat we had was largely on point: well-textured, snappy, and infused with a hint of almost curry-esque spice. It made sense with buttery bun, and I was quite a fan of the crunchy slaw, which was teeming with sesame oil.
Spring Rolls [$10.00]
| shrimp, crispy chicken skin, peanuts
The spring rolls were a favorite of mine. The star here was the chicken skin, which simultaneously added crunchiness and salt, though the peanuts and shrimp did their job as well. Good enough alone, but definitely improved with a dab in one of the two included sauces.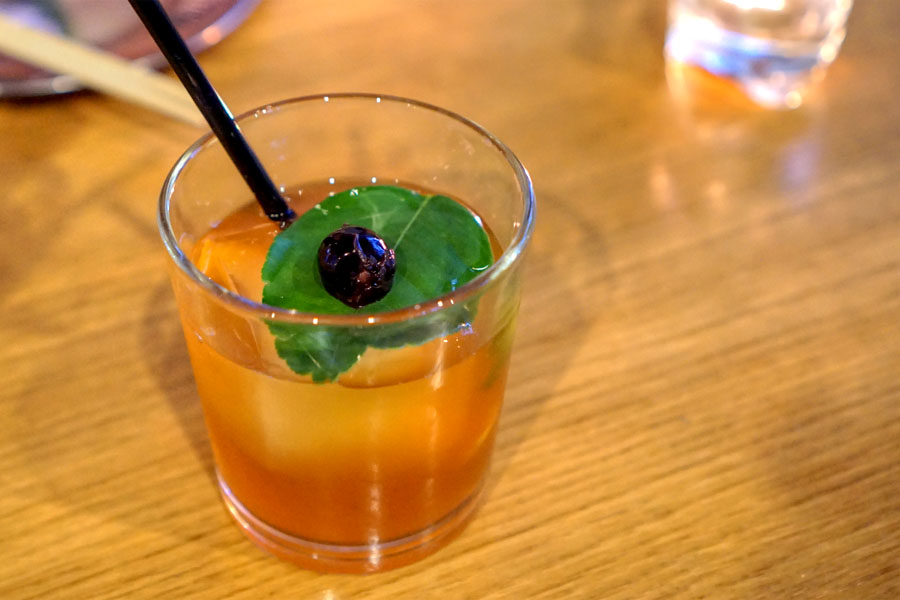 Sir Barton [$6.00]
| barrel aged, fermented cherry, orange
Surprisingly, I found this the least boozy of the cocktails, as the fruitiness of the cherry and orange really dominated.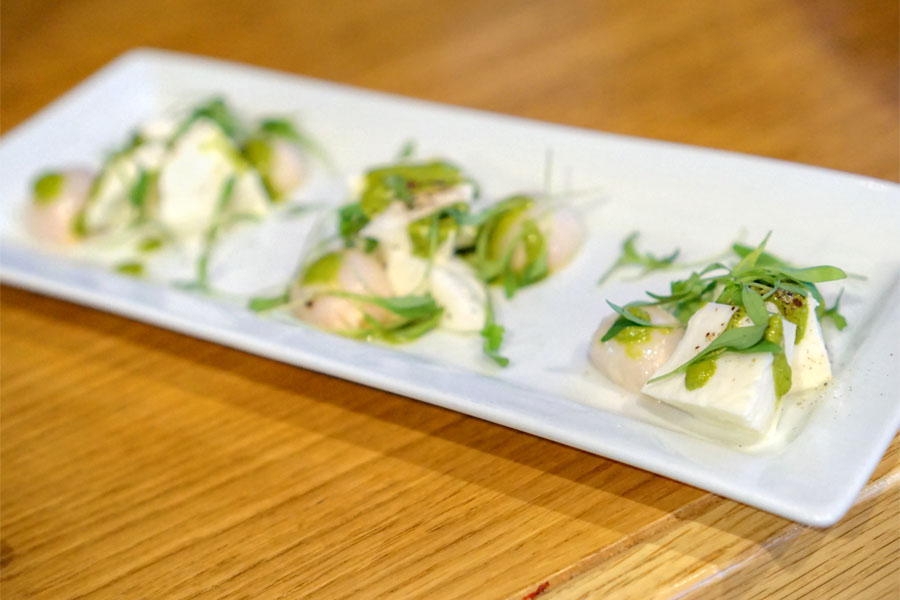 Mozzarella Lychee [$9.00]
| basil, olive oil, lime
The pairing of mozzarella and lychee was a bit unexpected, but not unwelcomed. The creamy, lush nature of the cheese actually played well against the sweetness of the fruit, with the basil adding an herby accent to the dish.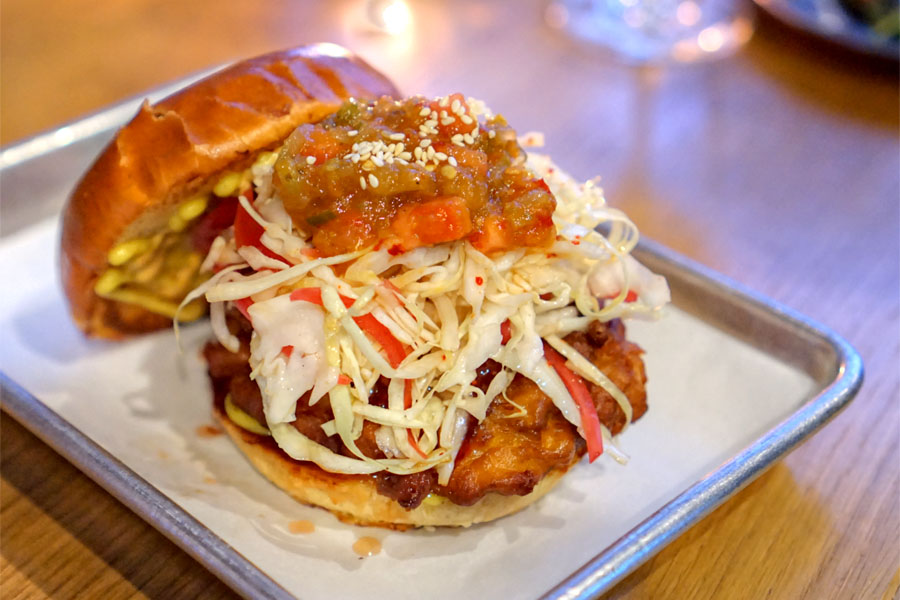 Chicken Sandwich [$11.00]
| korean chili, cabbage, brioche
The chicken sandwich worked out flavor-wise, the bird meshing well with sweet-n-spicy notes while the slaw added acidity to the mix. I did wish that the actual patty were crispier, though.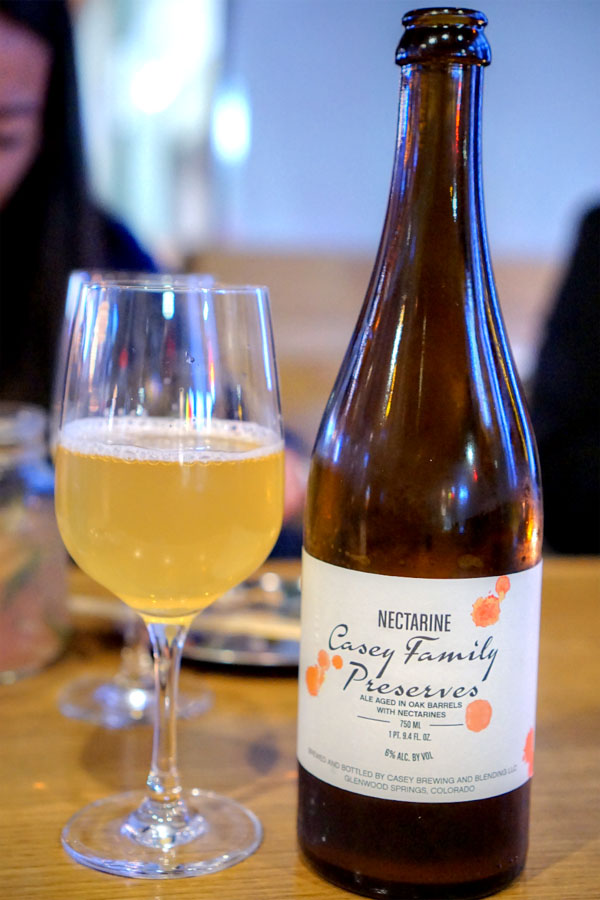 I brought along a couple bottles tonight, and first was an oak-aged saison, the
2015 Casey Family Preserves: Nectarine
. Nose of bright, sour stone fruit intertwined with funk. The palate brought more tart, true-to-life nectarine transitioning to yeast and oak. Quite lovely.
Noodles [$19.00]
| shrimp, garlic, szechuan
Noodles were very ginger-y, vegetal, with sweet coconut to balance things. The shrimp were well-cooked, not overdone, and I appreciated the crunch of the bean sprouts as well.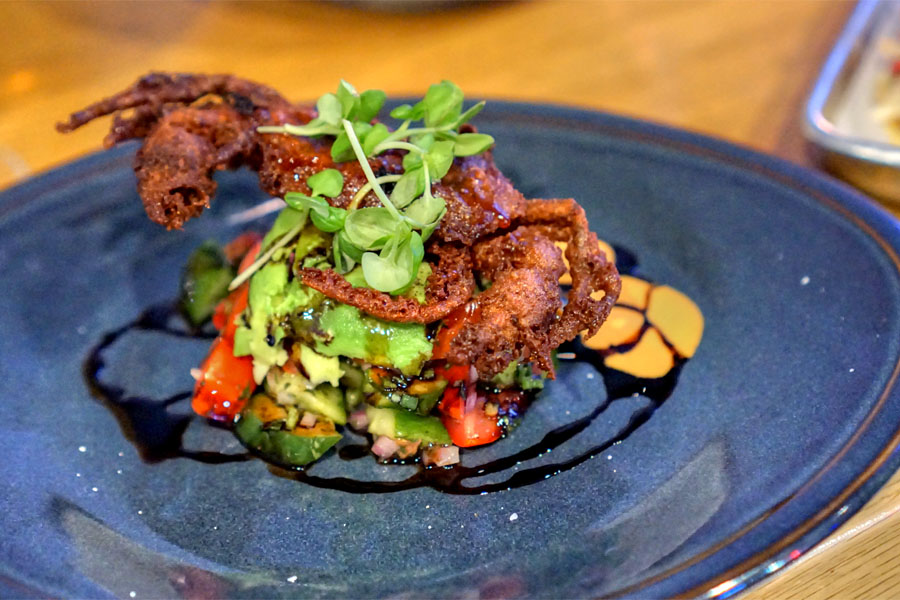 Soft Shell Crab [$12.00]
| avocado, balsamic, chili
I wasn't particularly enamored with this one, as I found the dish somewhat lacking in actual crab character.
Pot Stickers [$9.00]
| chicken, garlic soy, scallion
The pot stickers were pretty prototypical in terms of taste, but I would've liked 'em crispier.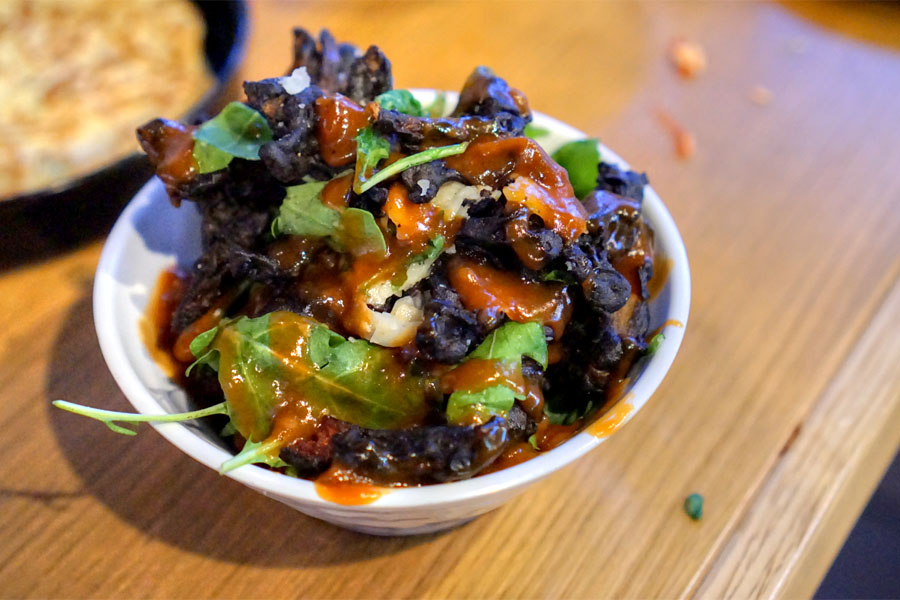 Ink Fries [$7.00]
| truffle oil, parmesan, arugula, pepper
I really didn't get this dish. The fries themselves seemed overcooked and underseasoned, and the accompaniments of arugula and whatever sort of sauce that was didn't help.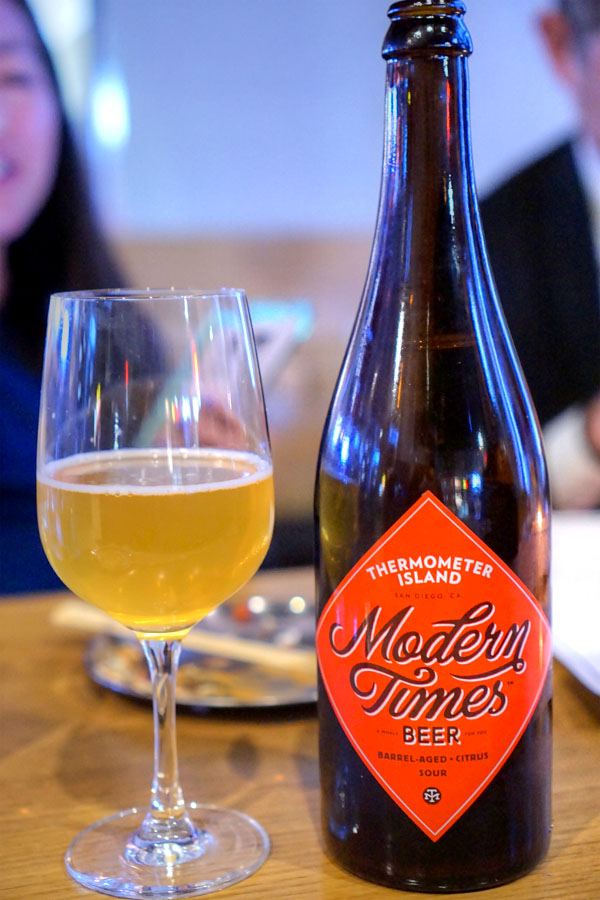 Our second beer was the
2016 Modern Times Thermometer Island
, a sour red wine barrel-aged saison refermented with Cara Cara and blood oranges. Aromas here were lemon-y, astringent, and not that appealing. The taste followed, bringing more harsh citrus notes that recalled cleaning agent or, as one of my dining companions described, urinal cake.
Pork Belly [$12.00]
| cantonese bbq, smoked, mustard
Pork belly came out slightly on the dry side, though its marriage of salty and sweet flavors worked. I could've used more of that mustard to even things out a tad, and the
rousong
on top didn't add much.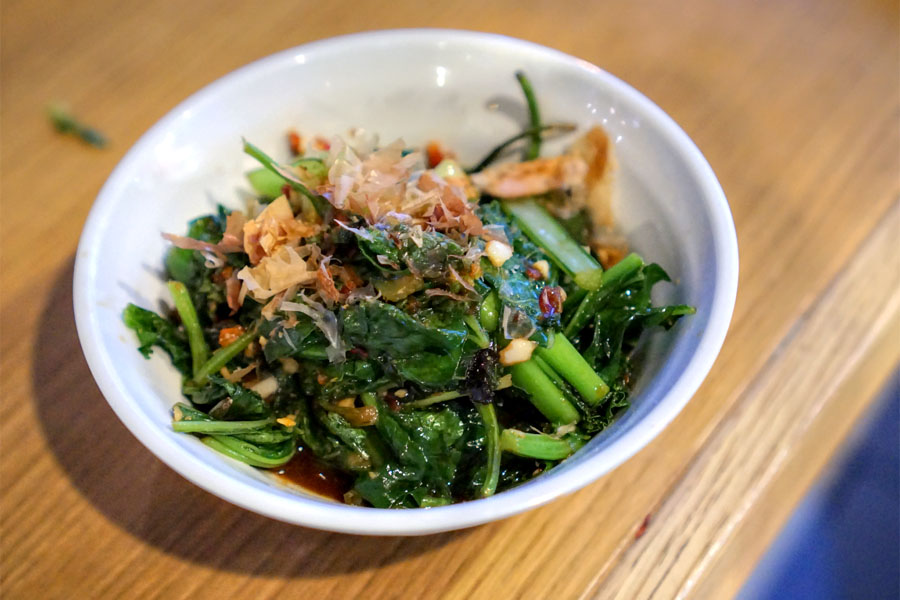 Wok Fried Greens [$5.00]
| garlic, dried scallop, soy
A side of greens really hit the spot. Think salty and deeply savory, with a countering bitterness and a smidge of heat from the shishitos.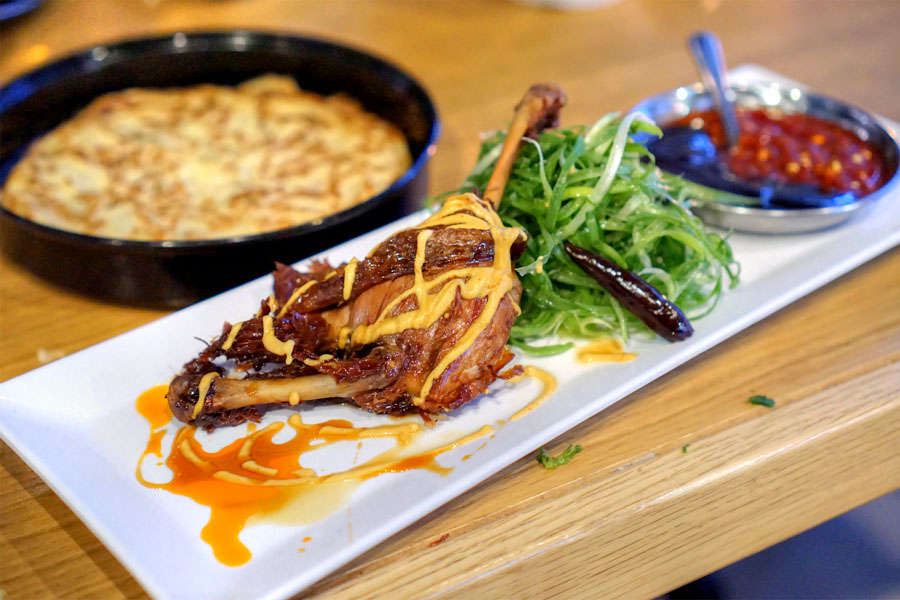 Crispy Skin Duck [$18.00]
| pancakes, mustard, hoisin
Last up was the duck. It didn't too much for me alone, but taken with zesty green onion and folded in to a pancake with a drizzle of sauce...pretty tasty.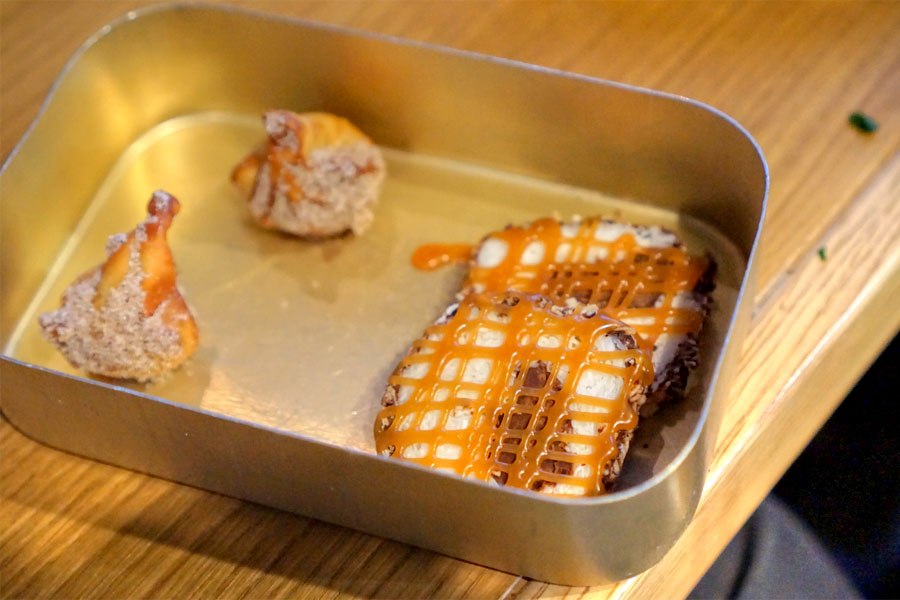 Chocolate Sushi & Wontons [$6.00]
Our off-menu dessert came in a
doshirak
-style box. First was a
futomaki
-like creation of chocolate ganache rolled in coconut that tasted like a Samoa cookie. We also had fried wontons with five spice, which I felt had a strong anise character and a slight Danish butter cookie essence from the wrapper.
We ended up having some highs and some lows in the meal. I like the idea of Horse's Mouth overall, and there's some potential here, but I do think that there's some work to be done with regard to tweaking and refining the menu. Hopefully the place can last long enough for us to see that.