Terra Cotta (Los Angeles, CA)
Terracotta Restaurant & Bar
3760 Wilshire Blvd, Los Angeles, CA 90010
213.365.1077
www.terracottala.com
Fri 12/16/2016, 08:00p-11:35p

Recently, a friend's birthday dinner was held at Terra Cotta, one of the most ambitious restaurants we've seen in Koreatown in a while. The place soft-opened in mid-November and is located in the Wiltern Theatre/Pellissier Building, an art deco landmark known for its unique blue-green glazed ceramic tiles, hence the name. Terra Cotta comes to us from Juchon "Cris" Lee--the force behind K-Town staples
Kang Hodong Baekjeong
and
Ahgassi Gopchang
, as well as newcomers Golden Pouch and Klat--while the kitchen is run by Chef Danny Ye.
About the Chef
: An LA native, Ye didn't set out to become a chef. Instead, he attended USC, and attained a master's degree in Urban Planning and Public Administration. After graduating in 2004, he landed a job at an architectural firm, and started working on projects for Wolfgang Puck and Daily Grill, which sparked his interest in things culinary. He enrolled at Le Cordon Bleu/CSCA in Pasadena, and did his internship at the original Nobu in Tribeca. Ye wound up staying in the Nobu family for seven years, cooking at other locations including our own
West Hollywood outpost
and Nobu at Capri in Southampton. During this period, he also
staged
at The Fat Duck and Arzak, oft regarded as two of the top restaurants in the world. At the start of 2013, Ye became Executive Chef at New York's Harlow (from Nobu managing partner Richie Notar), and the following year, opened Harlow East in Sag Harbor. However, Harlow shuttered in August 2015, and he subsequently transitioned to Saltbox, a Montauk eatery by former Harlow partner Jon Krasner, where he stayed until earlier this year.


Terra Cotta occupies the address that formerly held Novel Cafe/Novel Bar/KONY Pizzeria/The Harp Irish Bar, Opus (where
Josef Centeno
first made a name for himself), and Atlas Supper Club, and was revamped by
Sean Knibb
(
The Line
,
Littlefork
,
A-Frame
). It's a somewhat grandiose space, with the multiple chandeliers adding a touch of schmanciness to the room. You'll find booths in the front, an elevated banquette in the back, tables in the middle (including two lengthy communal numbers), a rather impressive bar on one side, and three high-capacity, soaring booths on the other. There are also a few counter seats peering into the kitchen.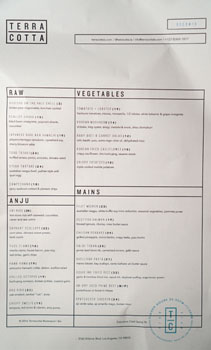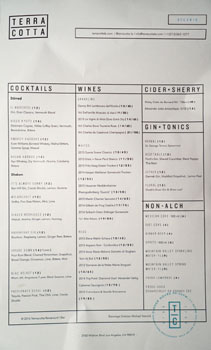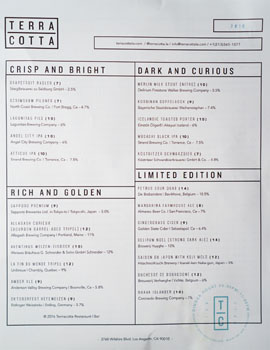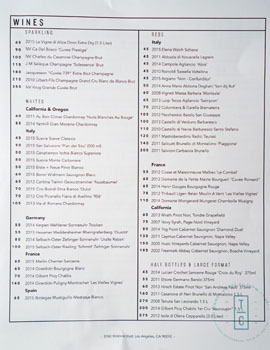 The menu presents a selection of pan-Asian, fusion-y dishes from Ye, in both smaller and larger formats. For drinks, Beverage Director Michael Nemcik has put together an appealing array of cocktails, an Old World-slanted wine list (heavy on the Italians), as well as a very workable selection of beer. Click for larger versions.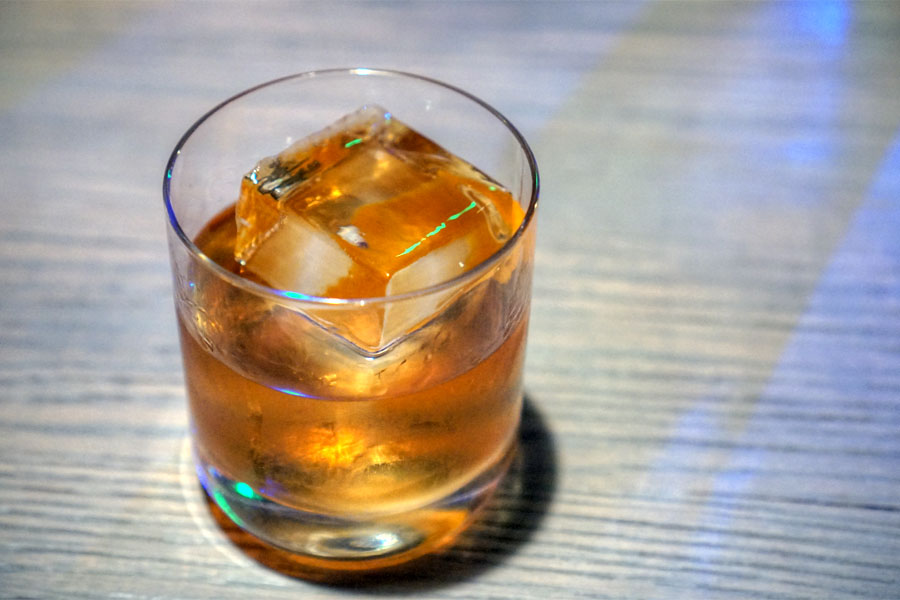 Smokey Karaoke [$12.00]
| Evan Williams Bonded Whiskey, Walnut Bitters, Gomme Syrup, Mezcal
We were definitely mixing our booze tonight, and began with a couple cocktails. This ode to
noraebang
made for a nice start, with a nose brimming with sweet spice and a taste that showed off the whiskey before transitioning to smoky mezcal and a sweetness from the gomme on the finish.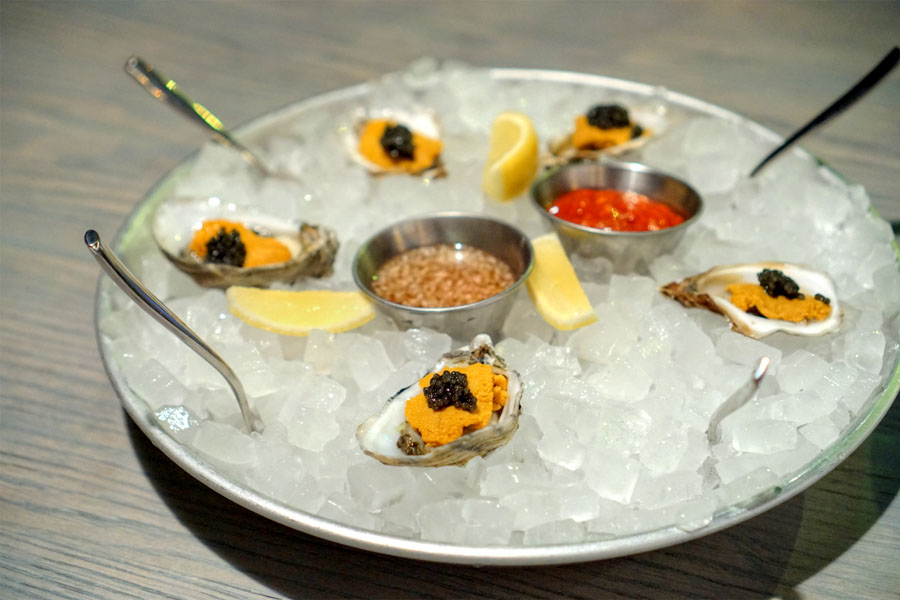 Oysters on the Half Shell [$3.00/each]
| korean pear mignonette, kimchee cocktail
Oysters had their salinity augmented by the caviar, but the uni made for an overall sweet, creamy experience, punctuated by the tartness of the
bae
mignonette.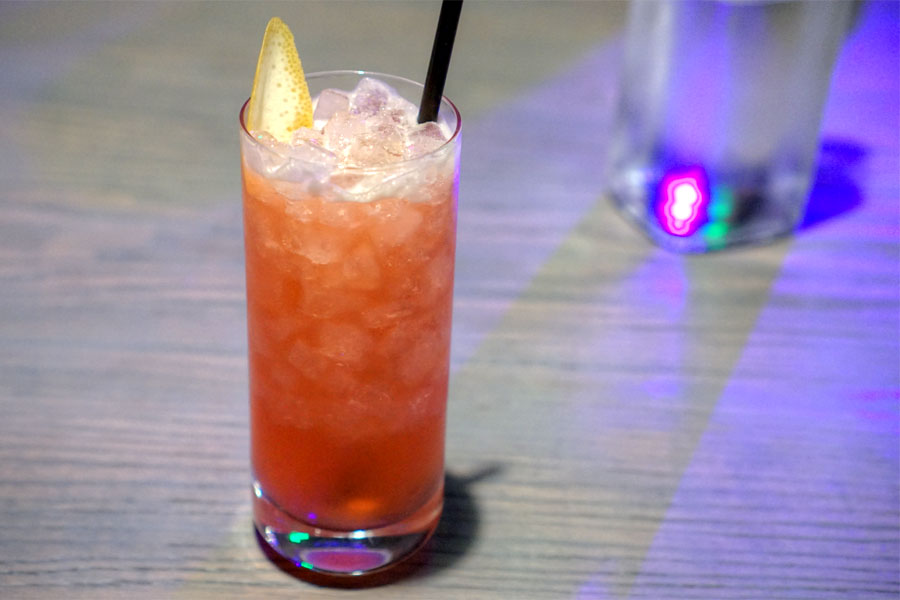 Raspberry Fix [$12.00]
| Bourbon, Raspberry, Lemon, Ginger Beer, Bitters
This next cocktail went down easy with its tangy, fruity flavors laced with zesty notes of ginger. You barely noticed the bourbon.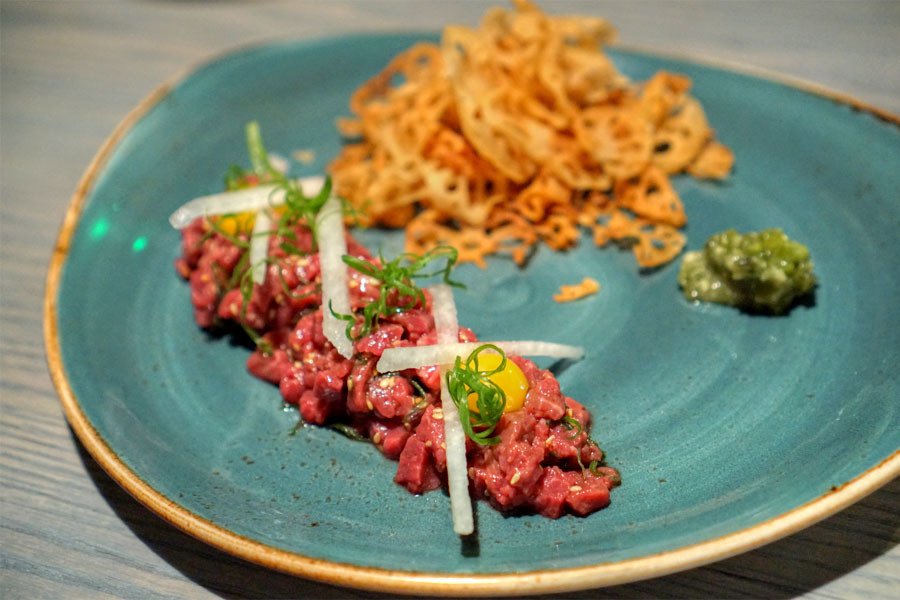 Steak Tartare [$24.00]
| australian wagyu beef, yukhae style with quail egg
The tartar was a smart take on the Korean staple of
yukhoe
. Great springiness and bite to the meat, which was well-seasoned with sesame oil while the wasabi added a piquancy to the mix. Nice crunch from the fried lotus root, too.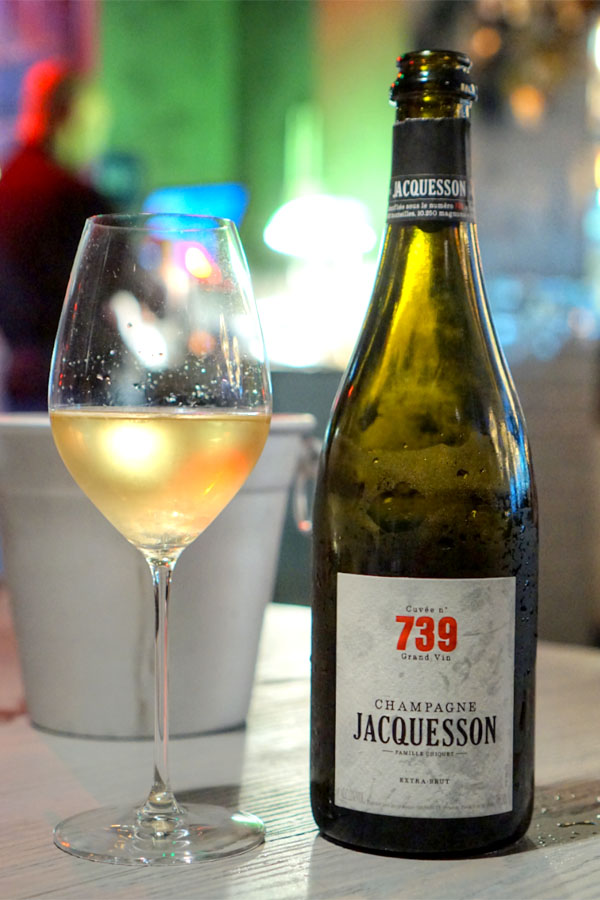 The birthday girl scored a few bottles, starting with the
Jacquesson "Cuvée 739" Extra Brut Champagne
, which was lovely. Gorgeous nose filled with toasty notes and an underlying fruitiness. The palate brought more biscuity flavors, joined by a crisp minerality and a touch of vanilla.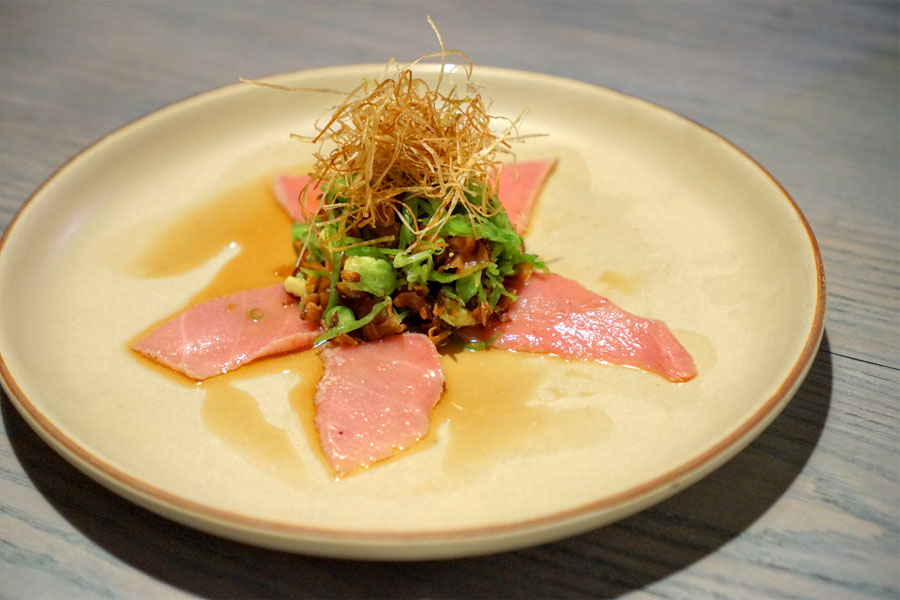 Japanese Buri aka Hamachi [$19.00]
| jalapeno/tarragon emulsion, crystallized soy, cherry blossom salsa
Slices of yellowtail were soft and fatty, well-complemented by the tangy, savory dressing while the salad on top added some strong garlicky notes.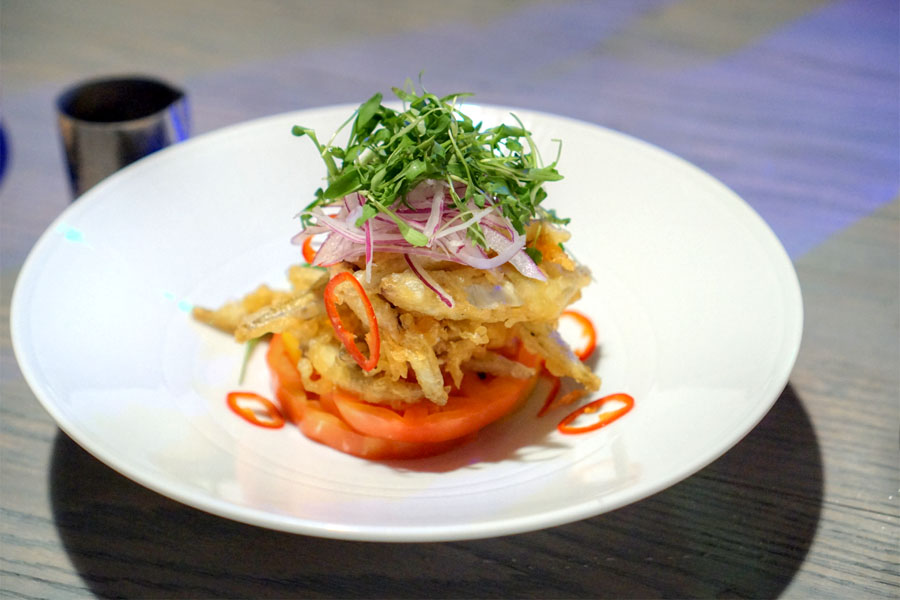 Crispy Smelts [$19.00]
| tempura, red onion & cilantro, ama ponzu
Smelt were crunchy yet almost fluffy to the bite, and paired swimmingly with the brightness of onion and cilantro. Rounding things out was a tart, spicy, very familiar-tasting
amazu
sauce.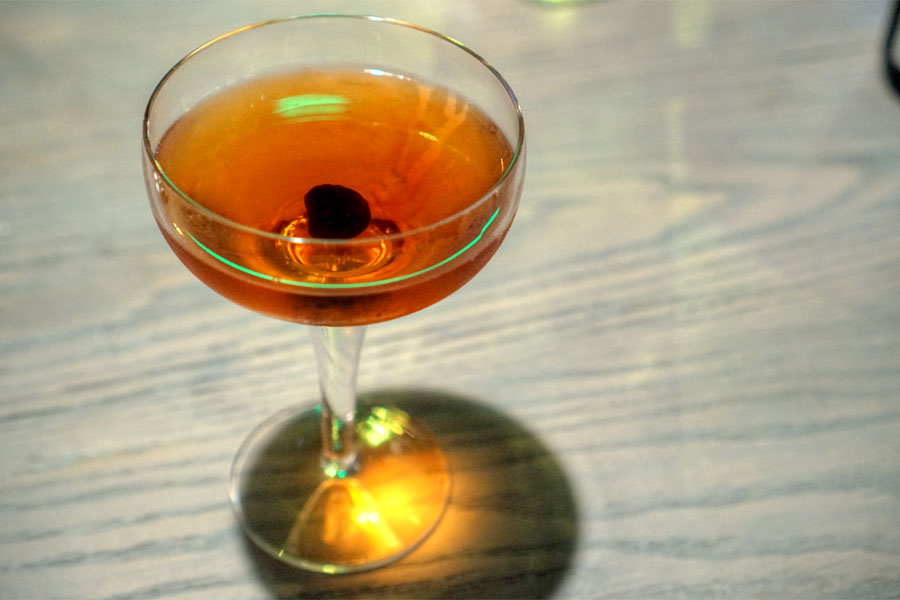 Vieux Kyoto [$14.00]
| Delamain Cognac, Nikka Coffey Grain, Vermouth, Benedictine, Bitters
A take on the Vieux Carré hit the mark, substituting Japanese whisky for rye. Compared to the classic cocktail, I'd say that this was much more whisky-forward, the Nikka really making itself known throughout the entire experience. I also got dark fruit, spice, and a finish imbued with some almost hay-like nuances.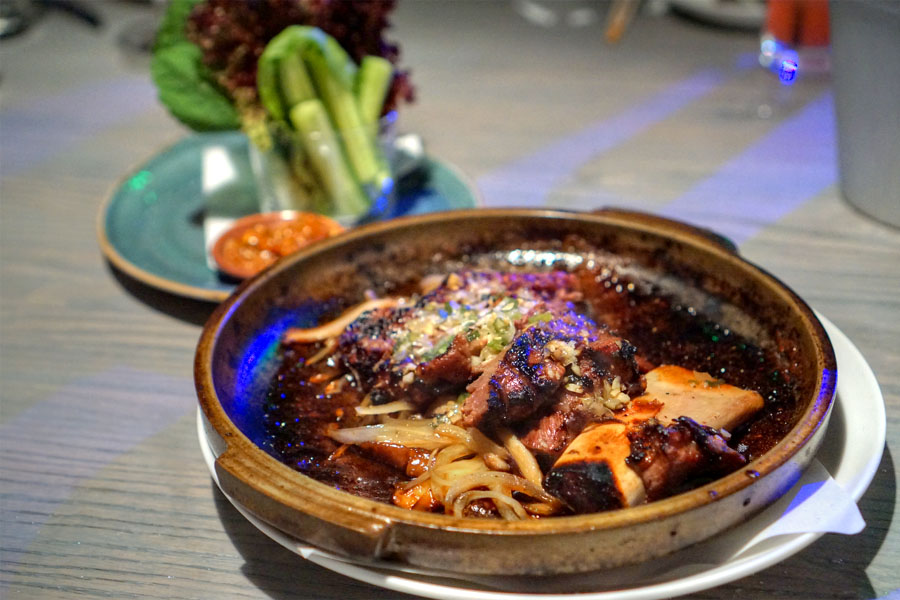 Galbi Toban [$25.00]
| prime beef short rib, caramelized onions, galbi sauce
This marriage of Korean BBQ and
tobanyaki
was a table favorite. The meat came out well-charred, and had all your classically sweet, savory flavors on display, with the onions adding a further facet to the dish. Tasty alone, or with the included veggies.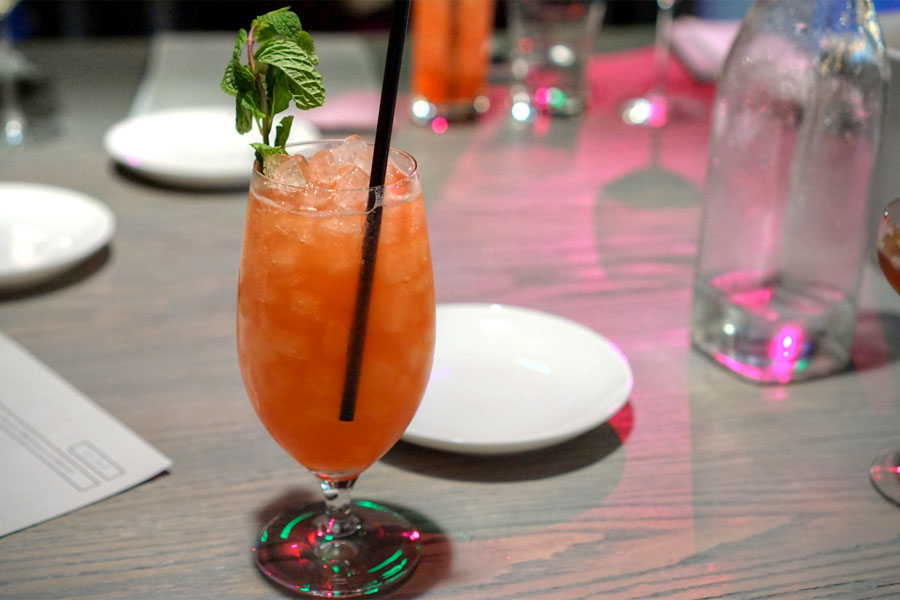 Upside Down [$14.00]
| Four Rum Blend, Charred Persimmon, Grapefruit, Blood Orange, Cinnamon, Bitters, Mint
This tiki-inspired creation showed off boatloads of tropical flavors and sweet spice, with nary a trace of booze despite the foursome of rums. This could be dangerous.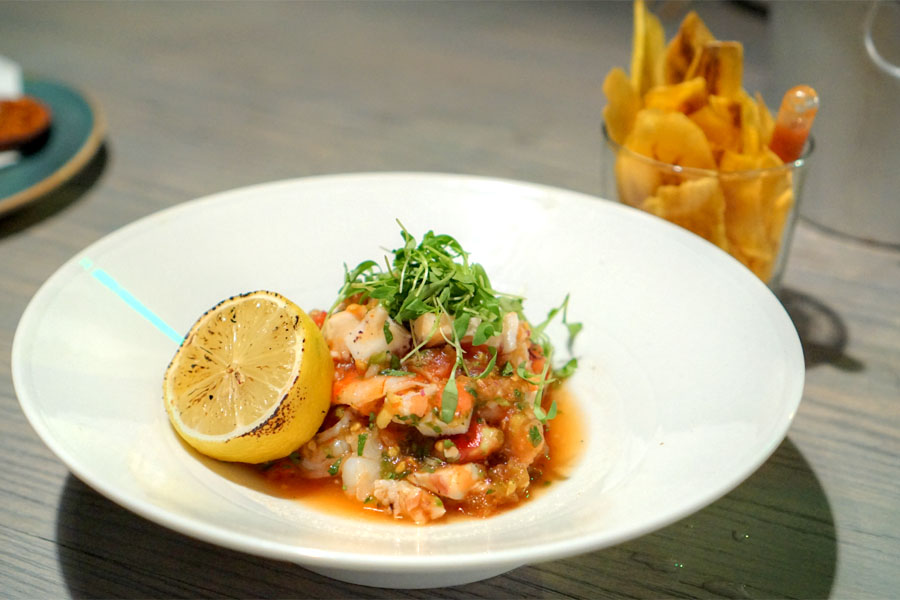 Campechana [$18.00]
| spicy seafood cocktail & plantain chips
A Mexican-y seafood cocktail arrived bright, fresh, and herby, and was a joy to eat. I will say that I would've preferred standard tortilla chips to the included plantains, though.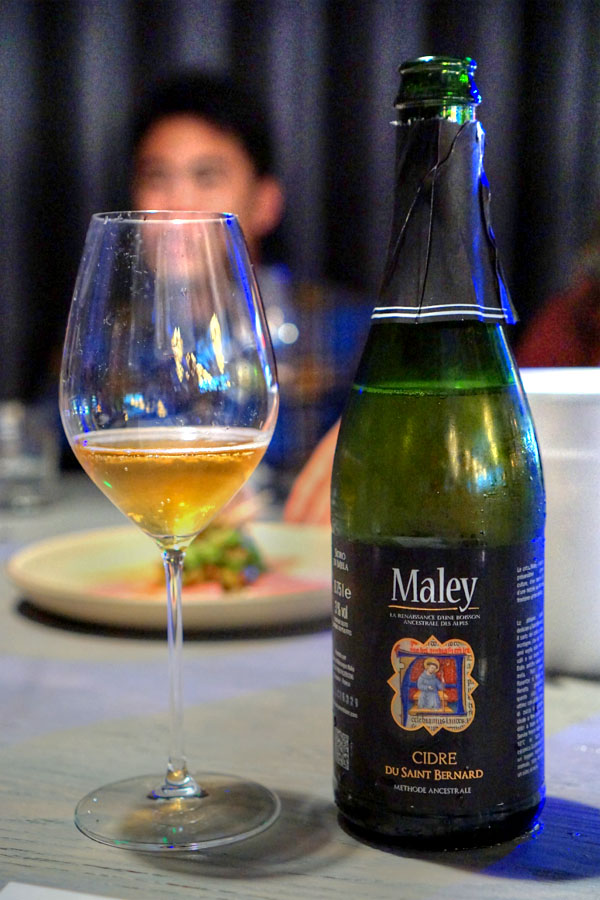 Cider duties tonight were handled by the
Maley Cidre du Bernard NV
. Smelled of juicy, sweet apple commingled with funk. The taste, meanwhile, was soft, with more fruit flavors and less of that barnyard. The birthday girl likened it to "Martinelli's with a kick."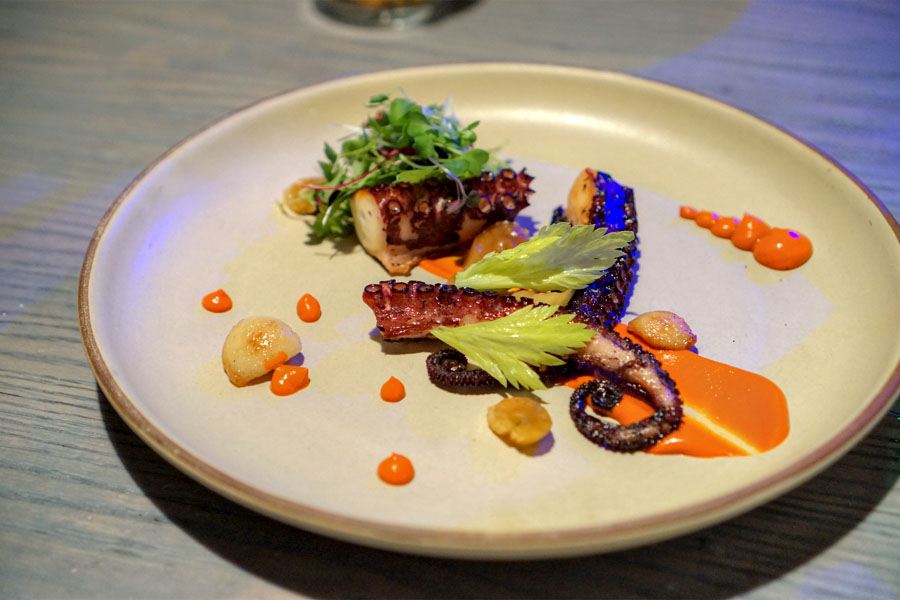 Grilled Octopus [$19.00]
| kochujang romesco, korean pickles, roasted garlic
Our octopus ate tender, with a strong brine element, and made sense with the
gochujang
-enhanced romesco, though I wanted more aggressive seasoning on the protein.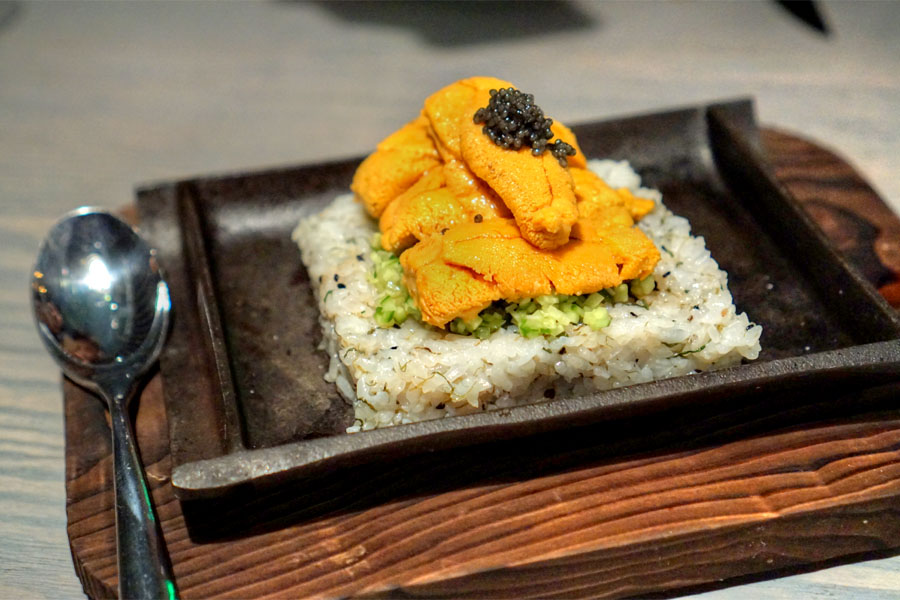 Uni Rice [$24.00]
| hot stone rice with seaweed, cucumber, caviar and sea urchin
This was a must-try for us, and delivered. The dish wasn't shy about the uni, and conveyed the urchin's sweet, creamy brine in spades, tempered by a lemony note and the base of rice.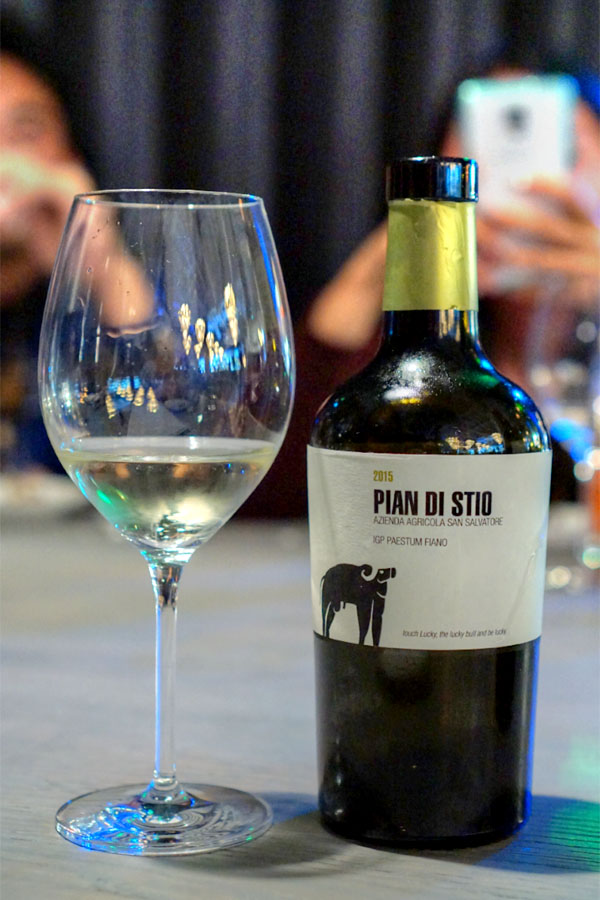 The
2015 San Salvatore 'Pian di Stio'
was a fun one. Fresh aromas of apple, with a floral component. The palate went mineral-driven, but with more of that tart apple making itself apparent. The birthday girl found the wine reminiscent of "green apple Jolly Ranchers."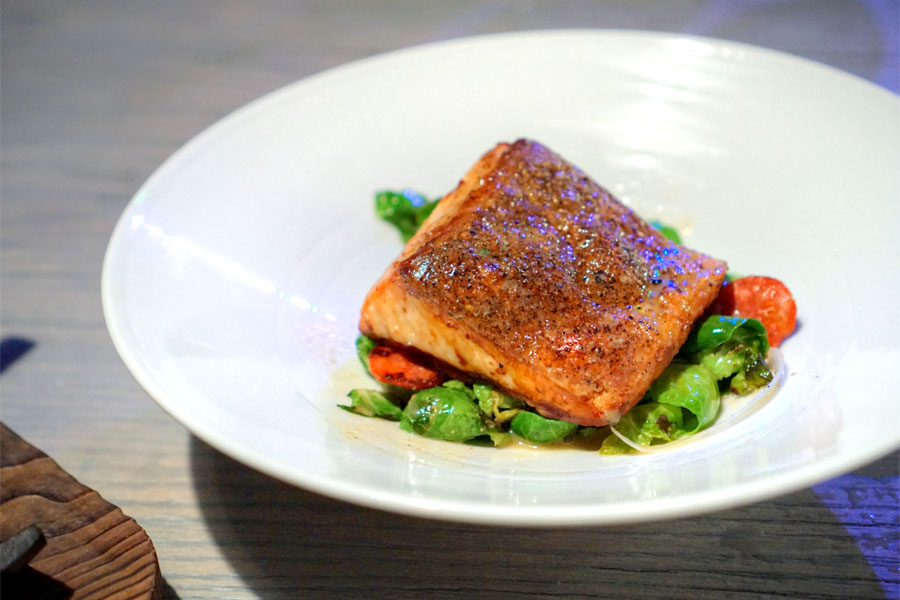 Scottish Salmon [$19.00]
| brussels sprouts, chorizo, miso butter sauce
The salmon was a surprise hit. I was especially fond of its crisp, salty skin and how the fish meshed with the heat imparted by the chorizo. Great brightness from the Brussels, too.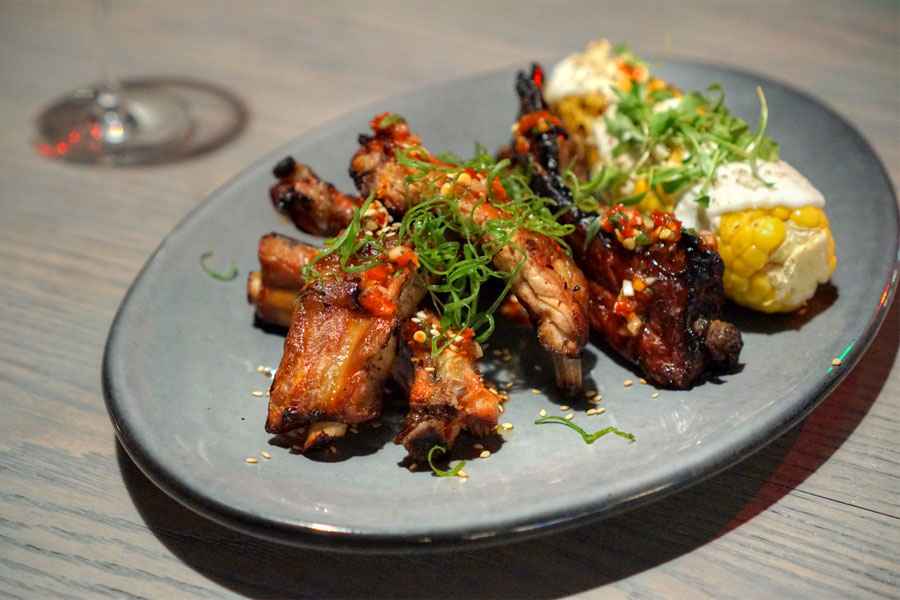 BBQ Ribs [$23.00]
| oak smoked, sambal "rub", elote
Ribs came with a crisp, well-charred bark and satisfying, sambal-fueled flavors that were evened out a bit by the sweetness of the corn.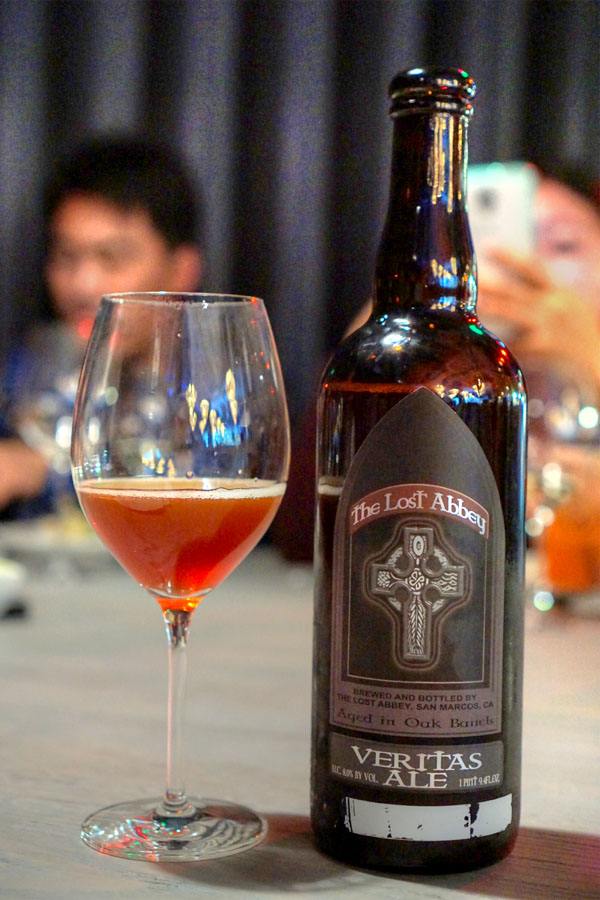 Time for beer. Our first bottle was the
2014 The Lost Abbey Veritas 014
, a blended oak-aged sour ale with cherries. Nose was oaky, tart, with sweet, cherry-tinged spice. The palate followed, displaying more sour cherry, acidity, and funk.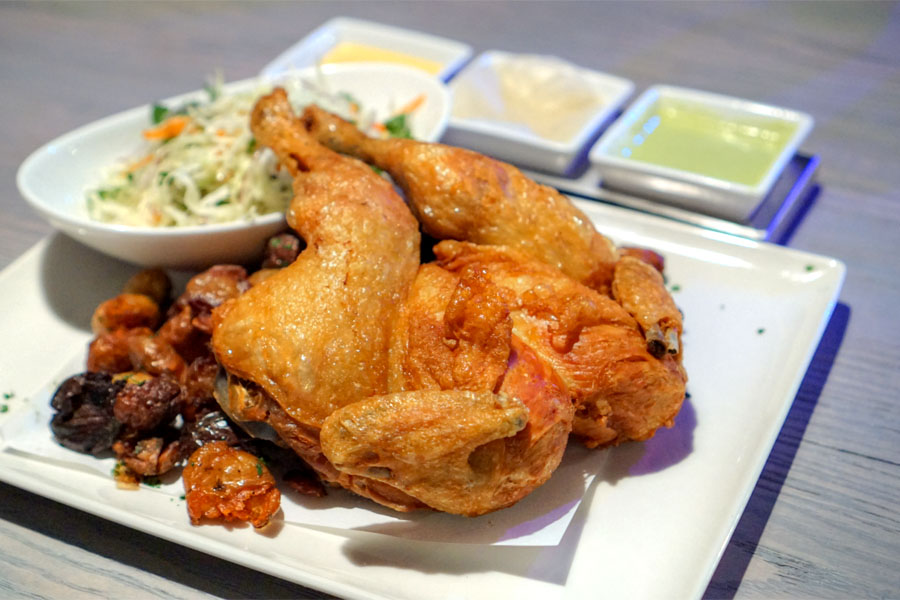 Spatchcock Chicken [$24.00]
| aji verde salsa, aji amarillo mayo, korean moo
A seemingly
tongdak
-inspired chicken was another highlight, the bird arriving properly moist, tender, and flavorful, with a crispy skin to boot. I was a fan of the tangy slaw as well, and the dipping sauces added further interest to the dish.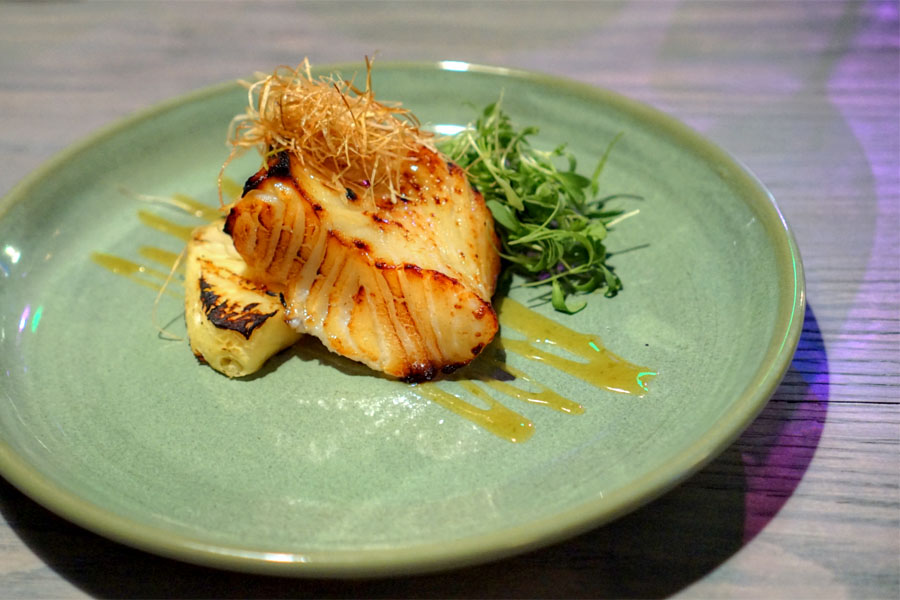 Chilean Seabass [$25.00]
| grilled pineapple, microcilantro, crispy leeks, yuzu kocho
Toothfish came out flaky, soft, and slippery, with a restrained yet comfortingly familiar flavor profile that I enjoyed. The pineapple did seem a bit redundant, though.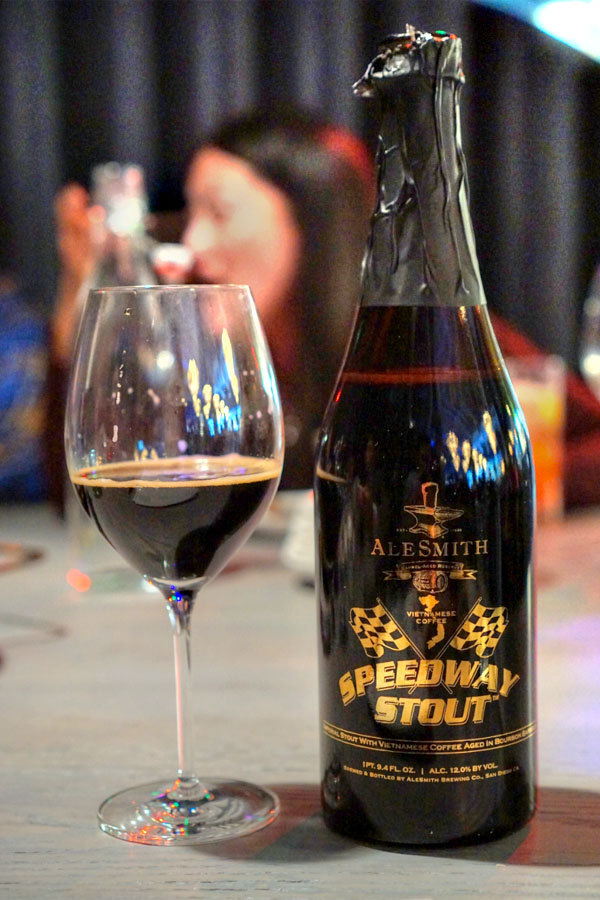 Next to drink was a highly-regarded, bourbon barrel-aged
ca phe sua da
stout, the
2014 AleSmith Barrel-Aged Vietnamese Coffee Speedway
. The beer held up surprisingly well despite being over two years old, smelling strongly of bitter, roasty coffee all up in your face. Its taste brought more of those aromatic coffee notes, joined by large amounts of chocolate and cocoa powder, with a little vanilla mixed in.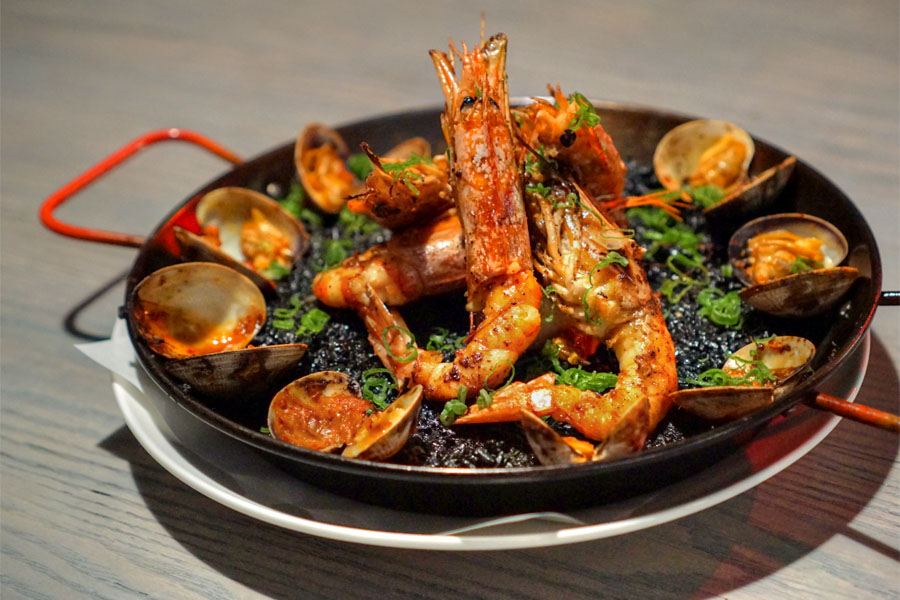 Squid Ink Fried Rice [$32.00]
| garlic & kimchee fried rice, squid ink, dayboat scallops, argentinean prawn
We ended our savories with a rather garlicky fried rice, one underpinned by a persistent kimchi spice and the brine of squid ink. The shellfish were generally well-prepared, though I wanted something to lift the dish, to make it a tad less heavy.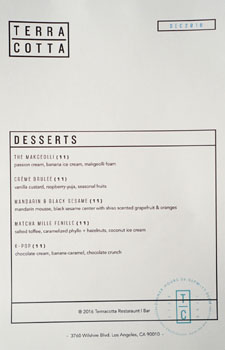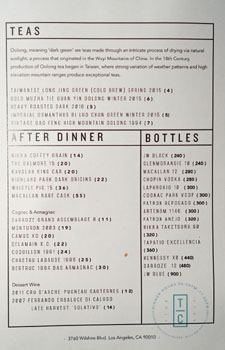 Dessert comprised five theme-appropriate selections, the work of consulting pastry chef Jason Licker, who apparently specializes in Asian-y sweets. On the flip side of the dessert menu are teas, after dinner drinks, and, surprisingly (or not, this is K-Town after all), a bottle service list. Click for larger versions.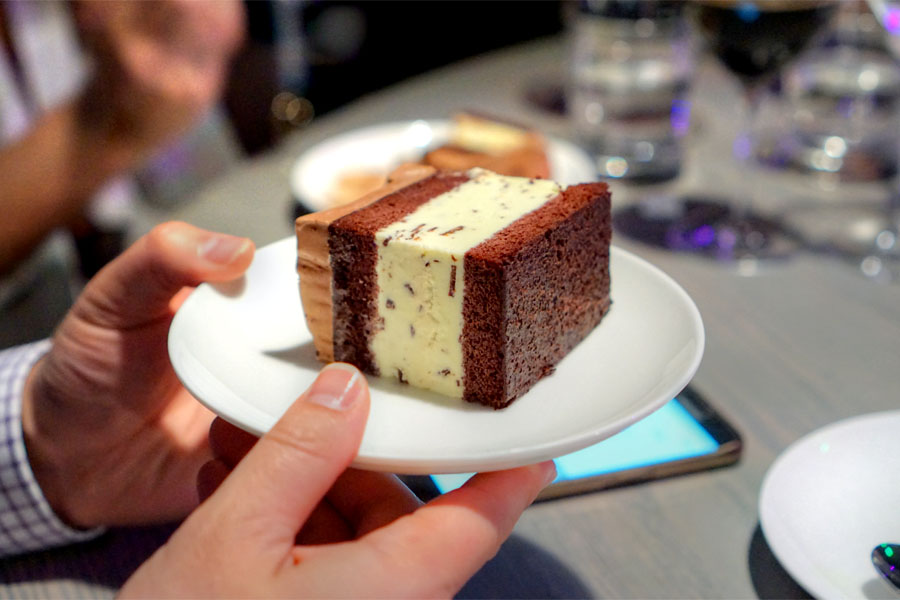 Given that it was a birthday tonight, we brought in a Fresh Mint Chocolate Cake from Sweet Rose Creamery. True to its name, this was
very
minty indeed, but fortunately the chocolate worked as a sweet counterpoint to make for a balanced cake overall.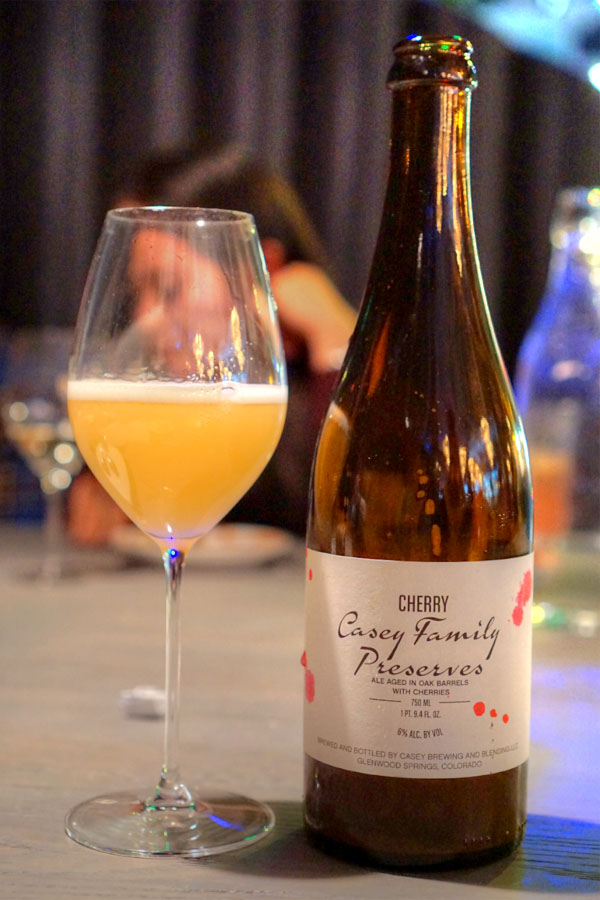 Our final drink was the
2016 Casey Family Preserves: Golden Cherry
, a saison-style ale aged in oak barrels with golden cherries from a single tree in Palisade, CO. This was quite unlike your typical cherry beer. Bouquet was super barnyard-y, with bright cherry mixed in. The taste again went unabashedly funky, acidic, with the fruit appearing in significant amounts only on the finish.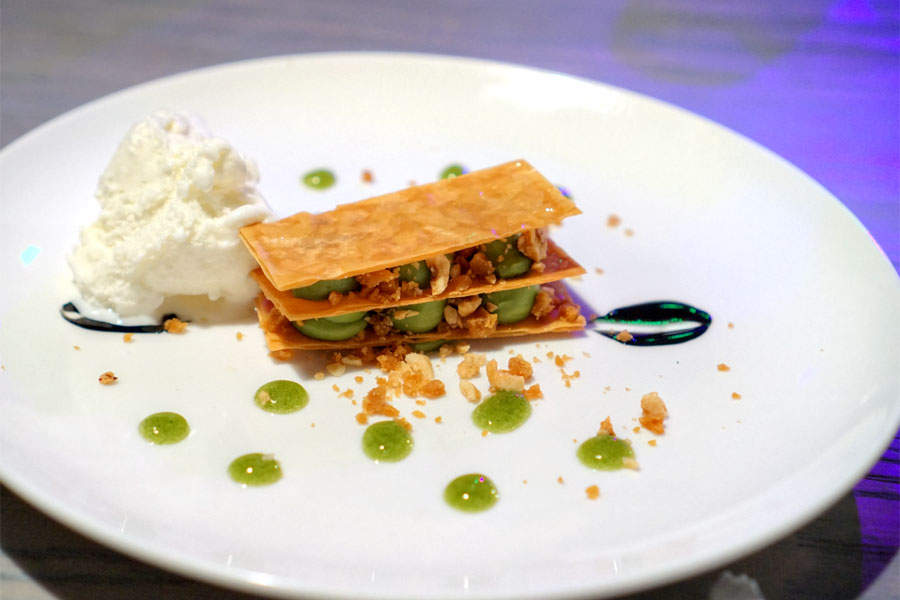 Matcha Mille Feuille [$11.00]
| salted toffee, caramelized phyllo + hazelnuts, coconut ice cream
The mille-feuille worked: a crisp, crumbly preparation that had the bitterness of the green tea set against contrasting sweet, nutty elements. Strangely, I got notes of Danish butter cookie here as well.
The Makgeolli [$11.00]
| passion cream, banana ice cream, makgeolli foam
This homage to
makgeolli
did recall the traditional Korean beverage, but most of my attention was paid to the banana and tartness of the passion fruit.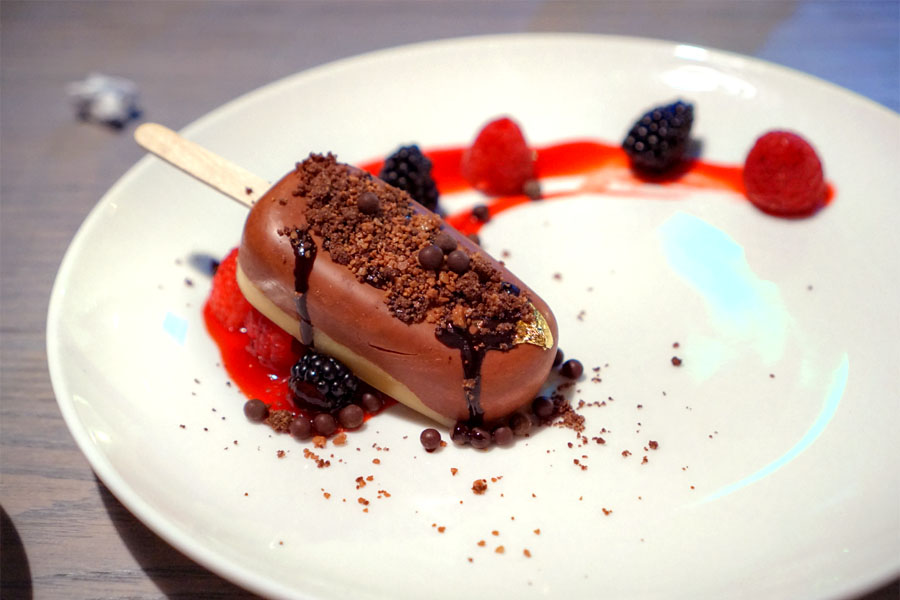 K-Pop [$11.00]
| chocolate cream, banana-caramel, chocolate crunch
Last up was an ice cream bar of sorts. Think bountiful amounts of chocolate, set against the tartness of the included berry fruit. I will say that I found the name "K-Pop" rather cringey, and that's coming from someone who appreciates the genre.
Our consensus was that Terra Cotta was easily better than expected. Taking a look at the place, it seems like the type of restaurant where the food might be an afterthought. However, the cooking was mostly on point: fusion-y sure, but interesting enough to keep things from becoming too trite, and well-executed for the most part. The beverage program is also of note, with its good amount of diversity, especially for K-Town (I'd like to try more of that cocktail list). I hope the place sticks around.