Beer Belly (Long Beach, CA)
Beer Belly Bar
255 Long Beach Blvd, Long Beach, CA 90802
562.436.2337
www.beerbellyla.com
Fri 12/23/2016, 07:20p-09:40p

The LBC's beer scene got a bit brighter recently with the debut of
Beer Belly
on Pepero Day last year. The place was announced at the start of 2016, and is the second location of Jimmy and Yume Han's seminal Koreatown craft beer bar, which opened back in 2011. Chef duties here are again handled by Wes Lieberher, who apparently moved to Long Beach not long ago. He's joined by Executive Sous Chef Michael Strupczewski and GM Joshua Haskal.


Beer Belly's situated just around the corner from
Beachwood BBQ
and the Promenade, in a roughly 3,000 square-foot space that was once home to furniture store Metropolitan Living. It was designed by
MAKE Architecture
, the same firm behind the original restaurant, and is a surprisingly sleek, wood-swathed room with plenty of angular lines.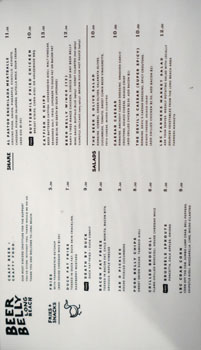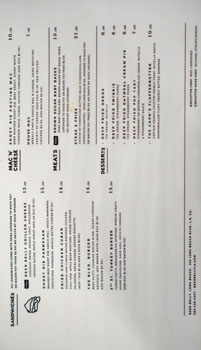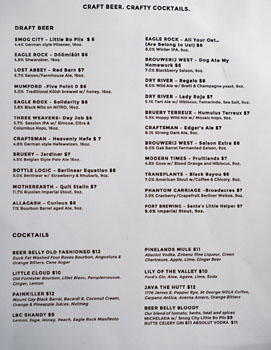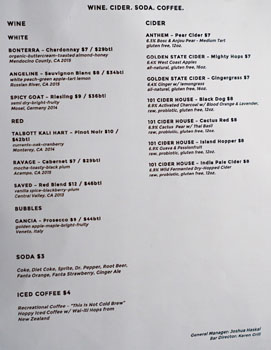 Lieberher's menu is similar to that of the K-Town restaurant, with its generally hefty, beer-friendly grub, but there are a few LBC exclusives to try. As for the suds, they have two dozen taps going, mostly featuring craft beers from the greater Los Angeles area, though there's no bottle selection yet. You also get a handful of wines, but more interesting is the cocktail list, possible due to the location's full liquor license. The drinks are the handiwork of Karen Grill, a
Julian Cox
protégé who works at Han's Frank N Hanks and who previously tended bar at Melrose Umbrella Co, Sassafras, The Churchill,
Bestia
, Big Bar,
Rivera
,
Playa
, and
Sotto
. Click for larger versions.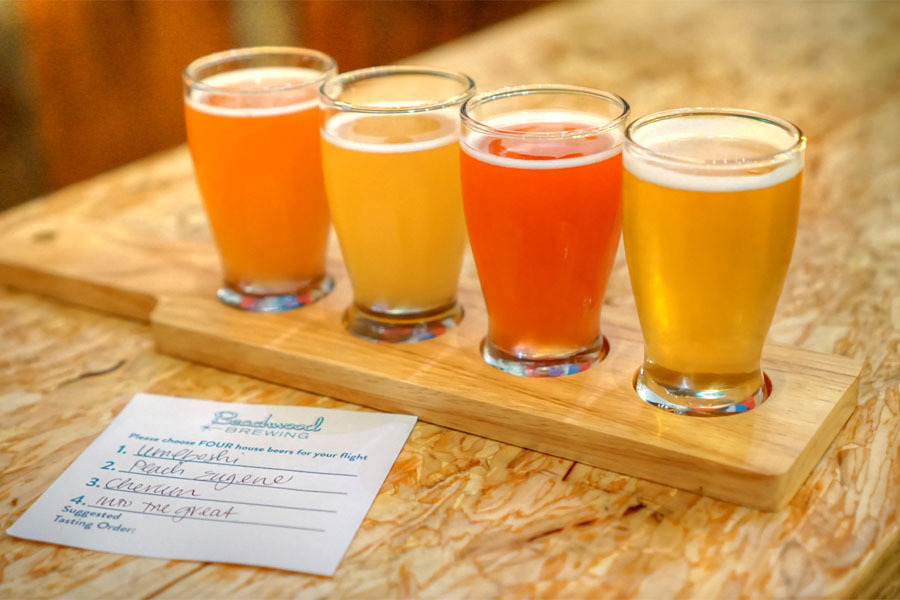 The waits here can be pretty long (ours was 40 minutes), but the time can go by a lot quicker if you stop by for a drink at sour specialist Beachwood Blendery next door.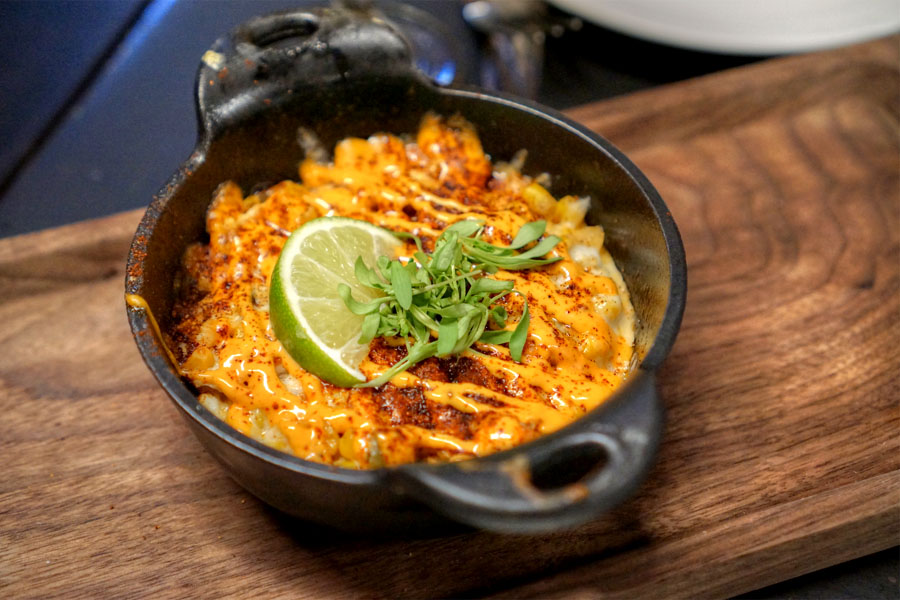 LBC Crab Corn [$9.50]
| corn off the cob, jumbo lump crab, bell peppers, chipotle aioli, mozzarella, lime, micro cilantro
Given my penchant for
esquites
, this was a must-try, and didn't disappoint. I got a great marriage of heat and brine, with the sweet-saltiness of the mozz-enriched corn serving as a base to it all.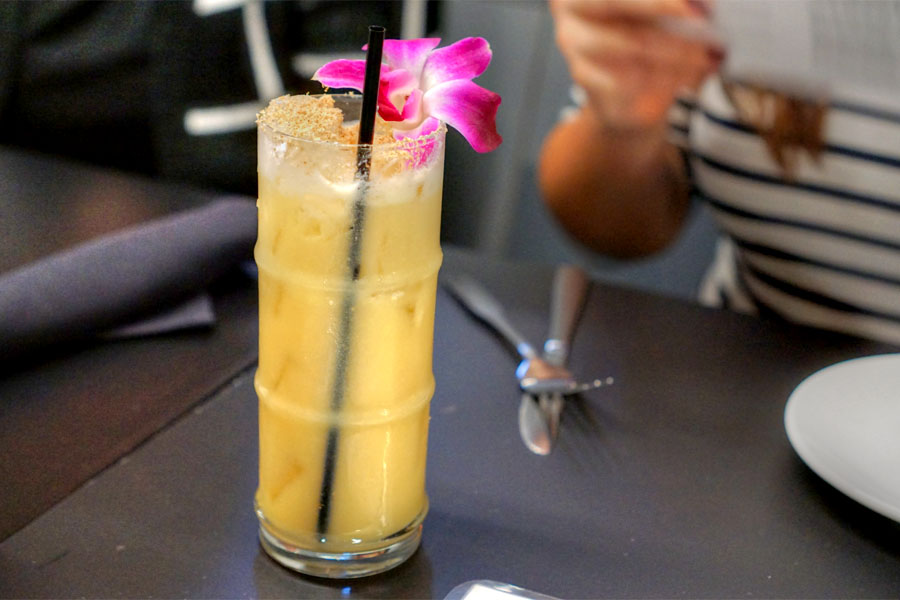 Painkiller [$12.00]
| Mount Gay Black Barrel, Bacardi 8, Coconut Cream, Orange & Pineapple Juices, Nutmeg
This tiki-ish cocktail conveyed aromas of sweet spice from its liberal dosing of nutmeg. On the palate, I found it viscous, tropical, softly fruity, with barely a trace of the rum.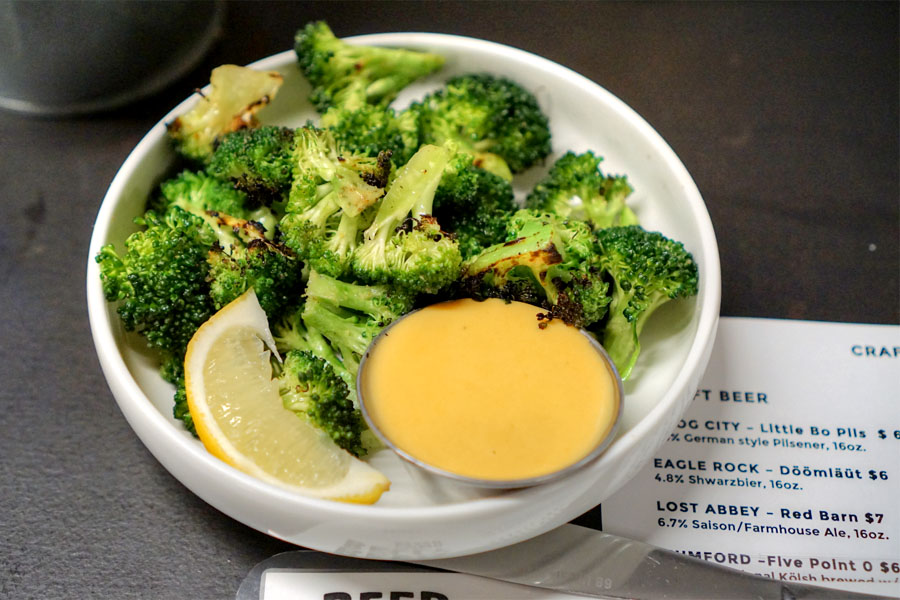 Grilled Broccoli [$6.50]
| flame-grilled broccoli, house cheddar whiz
Florets of broccoli were charred just enough. Nice with a squirt of lemon and even better with a dip in that semi-slutty cheese sauce.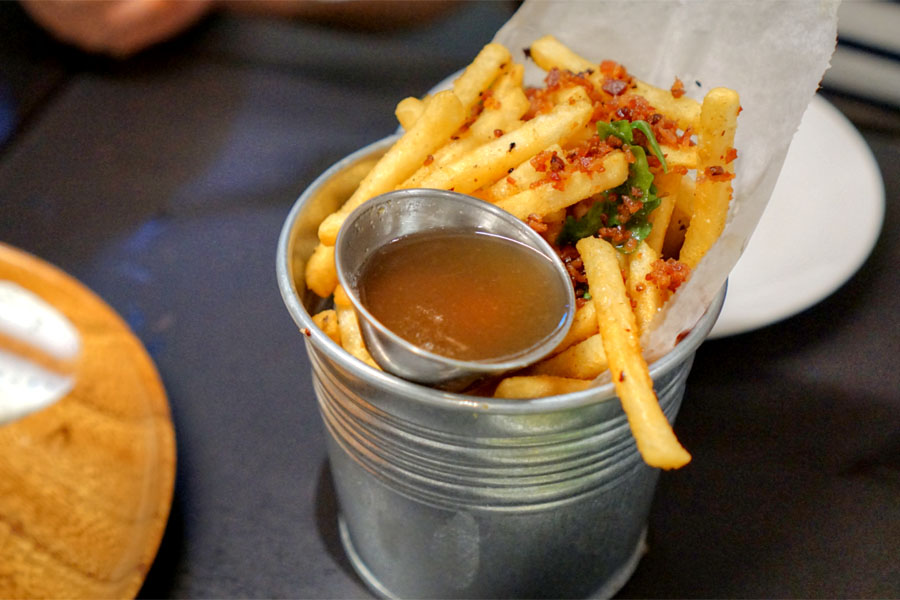 Bacon Fat Fries [$9.50]
| tossed in bacon fat, chile morita, bacon bits, arugula, maple vinegar
Fries were well-textured, and definitely took on the taste of the advertised bacon. I didn't really need the paired maple vinegar though, which was on the sugary side.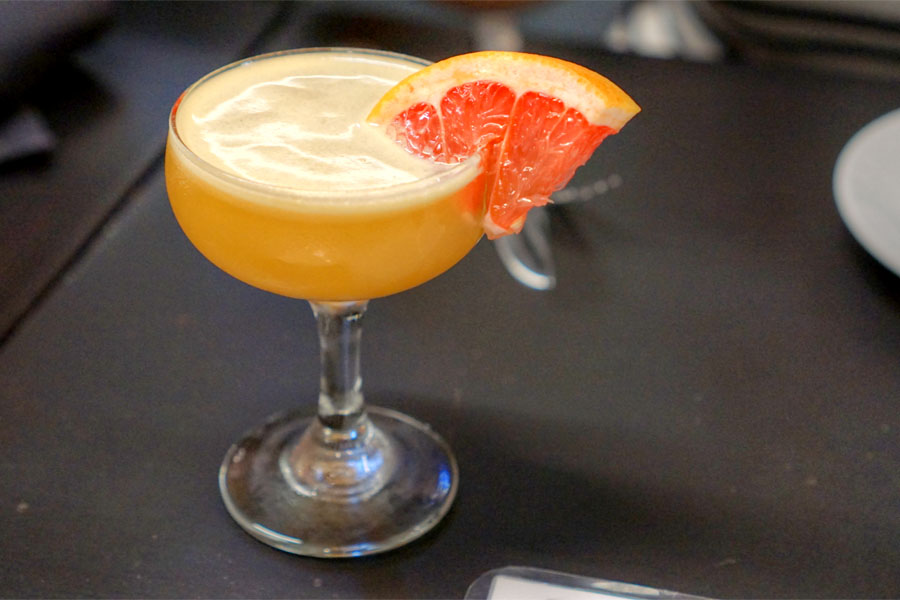 Little Cloud [$10.00]
| Old Forrester Bourbon, Lillet Blanc, Pamplemousse, Ginger, Lemon
This next cocktail drank bittersweet and slightly astringent, but also showed off contrasting fruity notes and had the zestiness of ginger underpinning everything.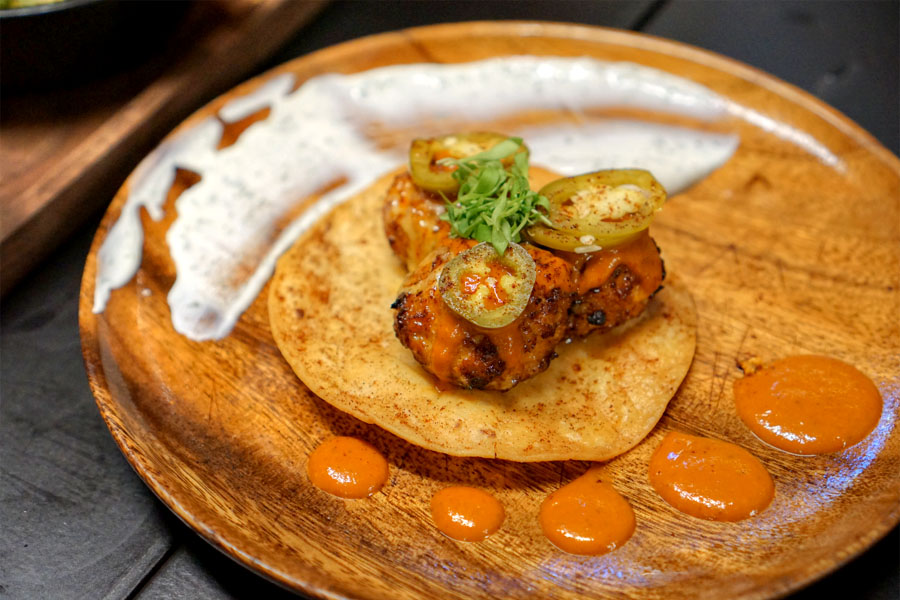 Al Pastor Enchilada Meatballs [$11.50]
| ground pork, onion, pineapple, guajillo, achiote, cheddar, pickled jalapeño, Nutella mole, sour cream
The meatballs were a favorite of mine, coming out soft and savory, with a kick of spice and a well-placed crunch from the tostada.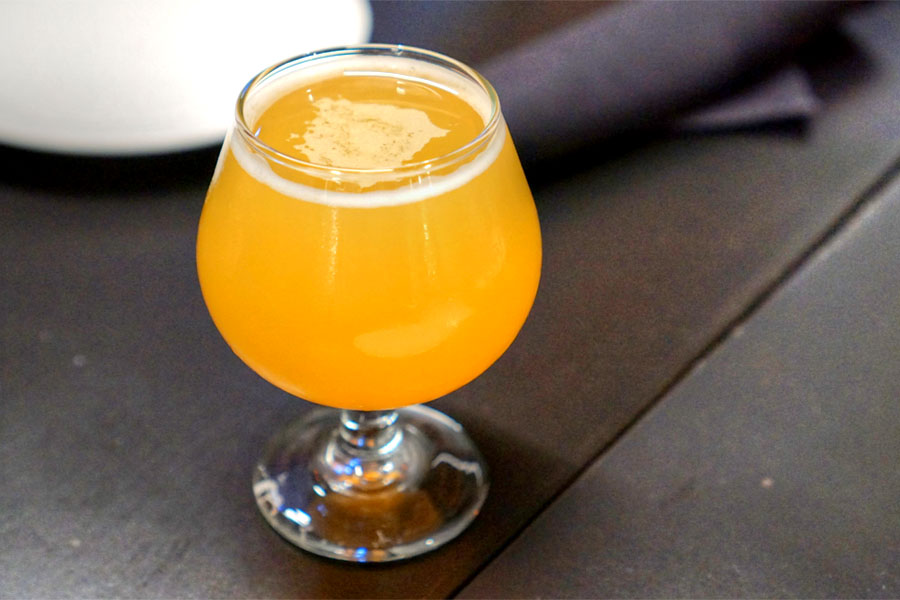 Our first beer was the
Eagle Rock - All Your Oat... Are Belong to Us [$6]
, a winter IPA brewed with oats. This one smelled fantastic, with wonderful aromas of juicy citrus and hops commingled. The taste wasn't quite as appealing, displaying a classic piney bitterness that led to a soft sweetness that I'm assuming was due to the oats.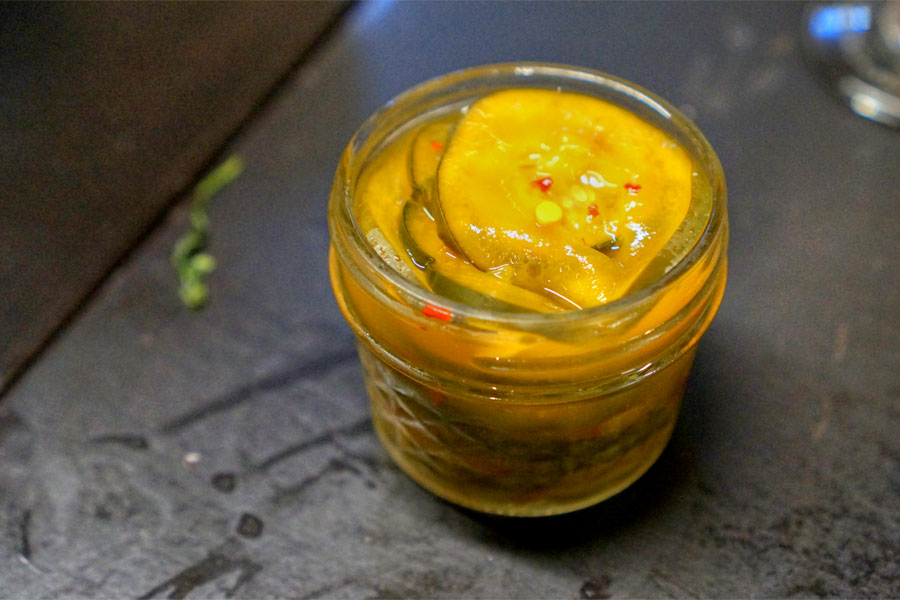 Jar o Pickles [$3.50]
| house pickled cucumbers
Pickles were sweet 'n' sour, with a spicy finish. I would've liked a bit more variety here with regard to the veggies used, though.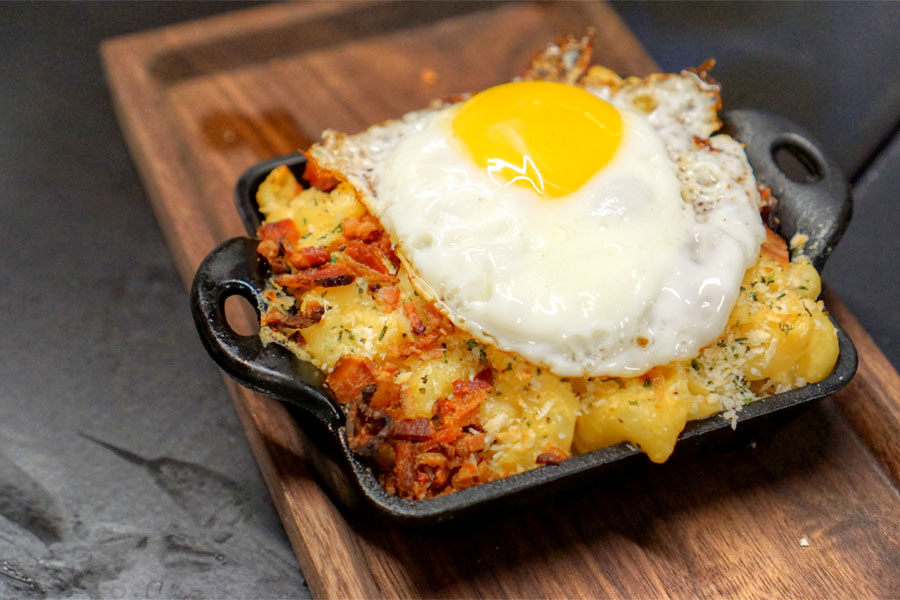 House Mac [$7.50 + $1.50 + $2.00]
| weekly chef's choice mac n cheese, using rotating variety of cheese + add egg + add bacon
Tonight's mac 'n' cheese featured a combo of Cheddar and Swiss, and turned out to be one of the better versions I've had in recent times. Think classically cheesy and satisfying, with a lovely punch of salt from the bacon and an excellent lushness from that runny egg.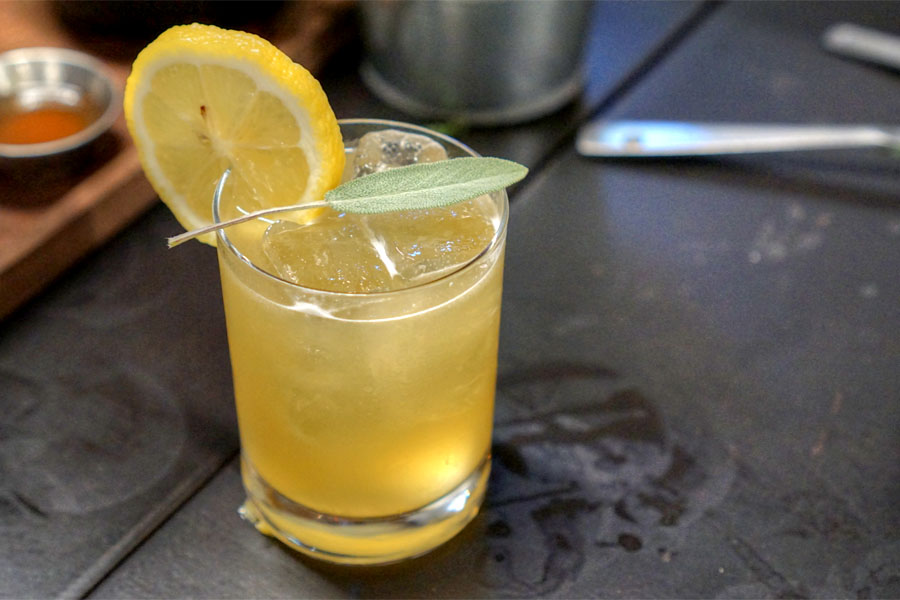 LBC Shandy [$9.00]
| Lemon, Sage, Honey, Peach, Eagle Rock Manifesto
The shandy was super easy-drinking, bringing lots of stone fruit and honeyed sweetness balanced by lemon and the spiciness of the witbier.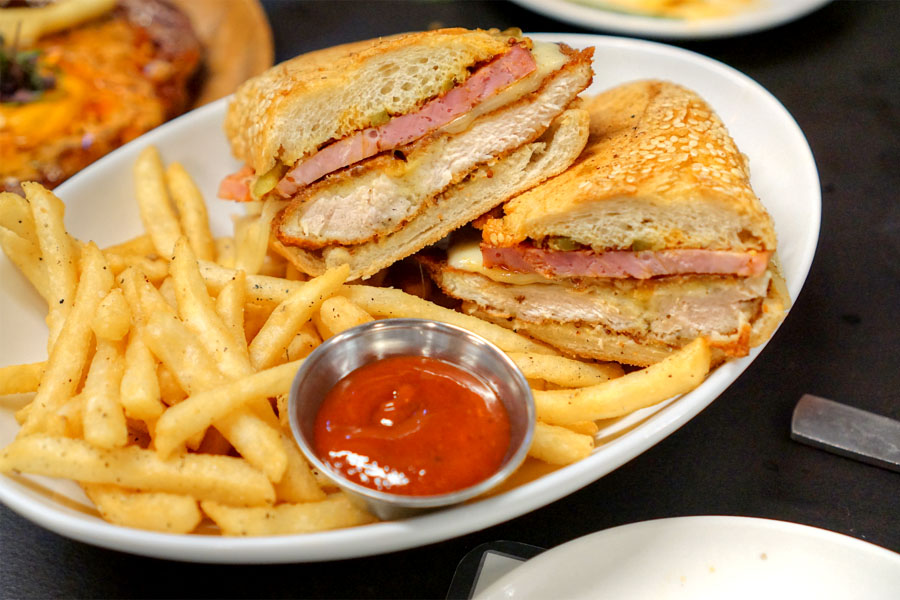 Fried Chicken Cuban [$14.50]
| pounded and Cuban spiced breaded chicken, chili ham, apple beer mustard, house pickled jalapeño, Swiss cheese, sesame baguette
Beer Belly's take on the Cuban sandwich brought all the traditional flavors you'd expect, but I wanted a crispier, juicier patty. Superb fries though, especially when taken with that spicy ketchup.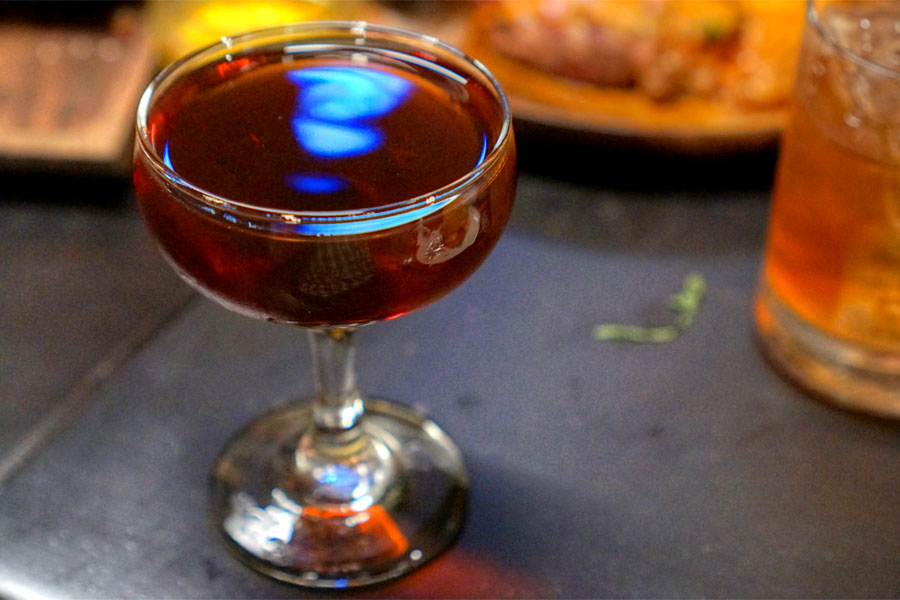 Java The Hutt [$12.00]
| 1776 James E. Pepper Rye, St George NOLA Coffee, Carpano Antica, Averna Amaro, Orange Bitters
This cocktail was one for the coffee fiends. Nose brimming with dark fruit and roast. Palate had more of that aromatic fruit, along with further coffee, bitterness, and a boozy, herbal finish.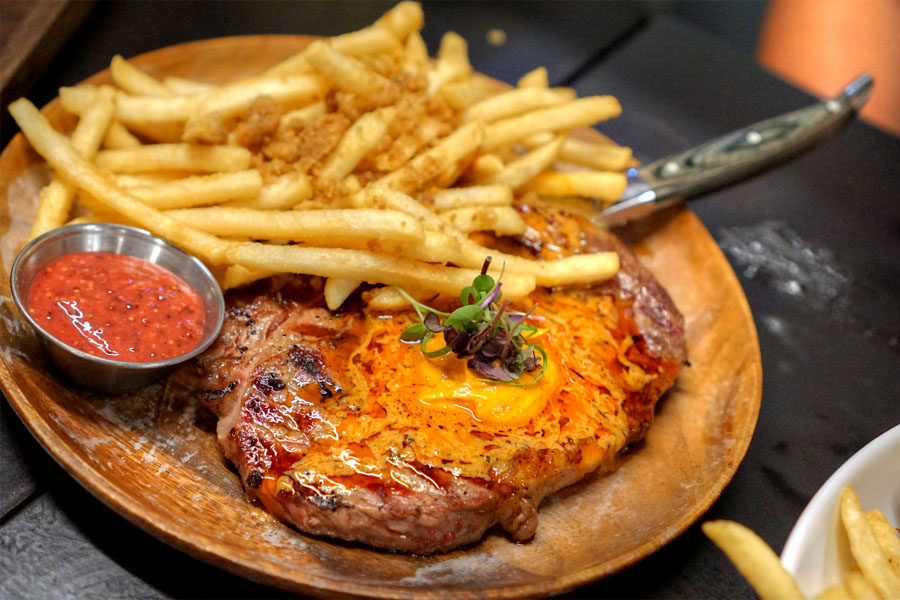 Steak & Fries [$21.00 + $3.00]
| choice of compound butter (blue cheese/scallion, chipotle/cilantro), fries + upgrade to duck fat fries
I really wished that the cut here were thicker, which would've made for a more satisfying eating experience. That being said, the steak still ate pretty well, with some nice char flavor and a touch of piquancy from the chipotle butter. Duck fries were on point, as expected.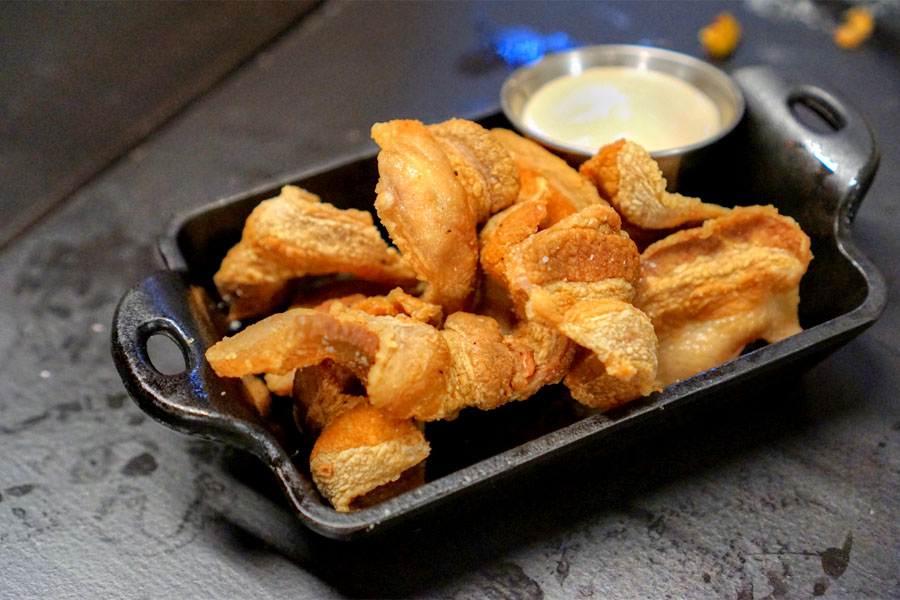 Pork Belly Chips [$8.50]
| sweet onion sugar, Tabasco aioli
This is always a fun one: super crispy, super porky, but with a sweetness on the close. Yum.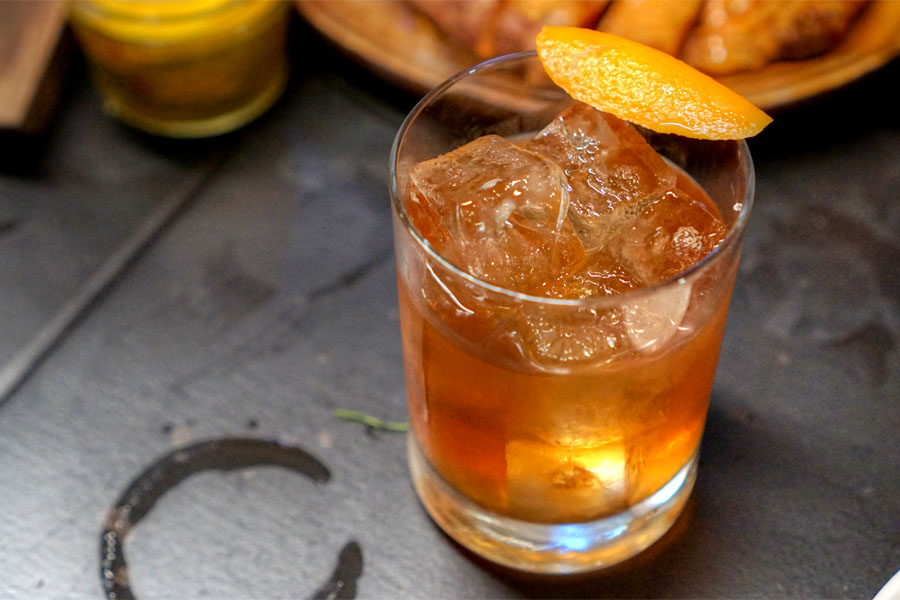 Beer Belly Old Fashioned [$12.00]
| Duck Fat Washed Four Roses Bourbon, Angostura & Orange Bitters, Cane Sugar
The restaurant's take on the Old Fashioned met the mark. It showcased your classic citrus, bittersweet, boozy components, but with the potency of the duck fat pervading the entire drink.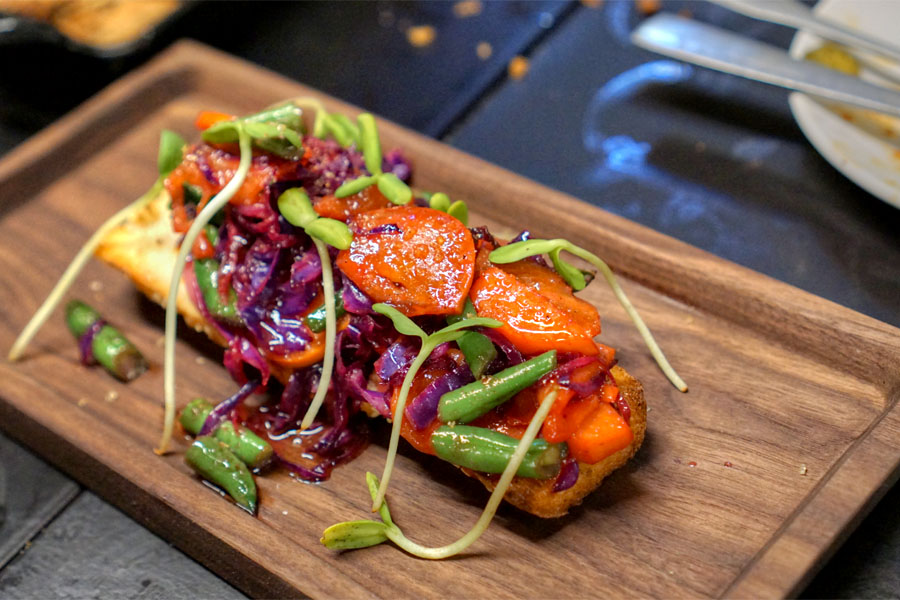 LBC Farmers Market Salad [$12.50]
| ask your server, weekly rotating salad with locally sourced vegetables from the Long Beach area farmers markets
Tonight's salad special wasn't quite a salad in my eyes, but worked well enough with its warm red cabbage, persimmon, green beans, and sprouts bringing a sort of sweet, vegetal flavor profile that meshed with the funkiness of the cheese.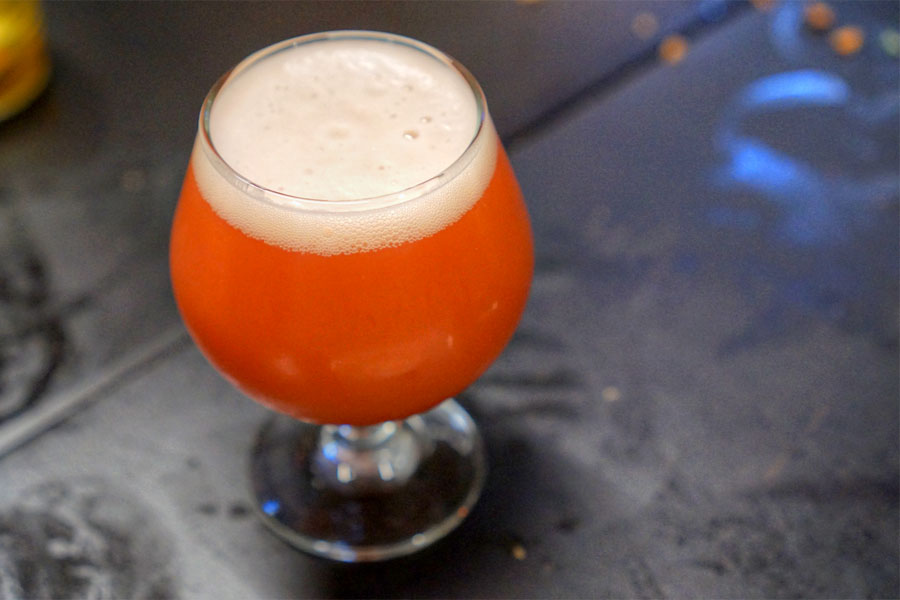 Last up to drink was a Berliner Weisse, the
Bottle Logic - Berlinear Equation with Strawberry & Rhubarb [$6]
. It was a straightforward sour, with a medium amount of jammy fruit intertwined with lots of tart flavors and a wheatiness on the back end.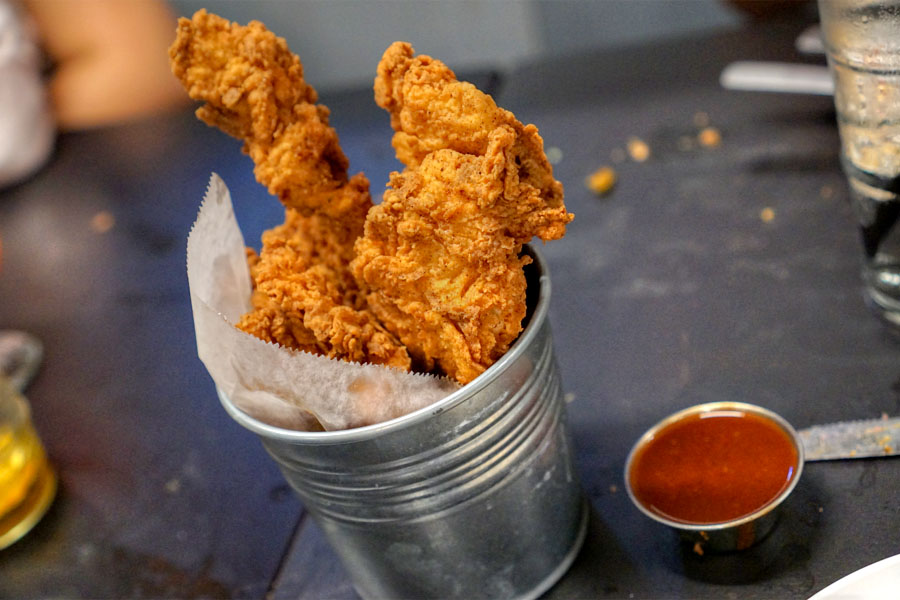 Buttermilk Fried Chicken [$10.50]
| breast strips, corn aioli or housemade bbq
We ended with the fried chicken, a tasty close to the meal. The bird ate tender and juicy, with a super crunchy skin and plenty of seasoning.
I enjoy the original Beer Belly up in K-Town, and this location pretty much brings more of the same down south. The cooking's basically pubby food, but with just enough of a twist, hearty, heavy stuff that's meant to be eaten while imbibing. And speaking of the drinks, the beer list is worth checking out certainly, but I was pleasantly surprised by the cocktail program here. Definitely a worthy add to Long Beach's beer scene and dining scene overall.
---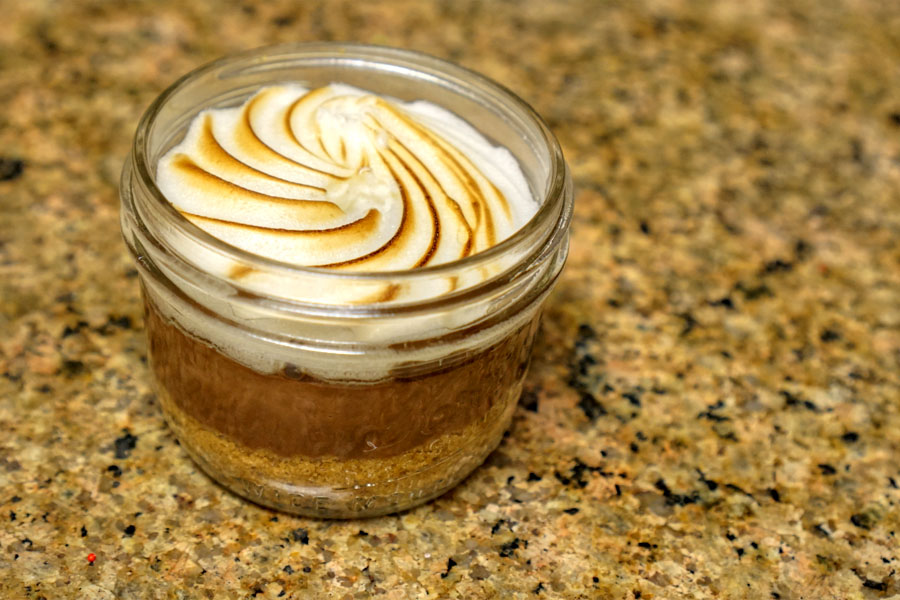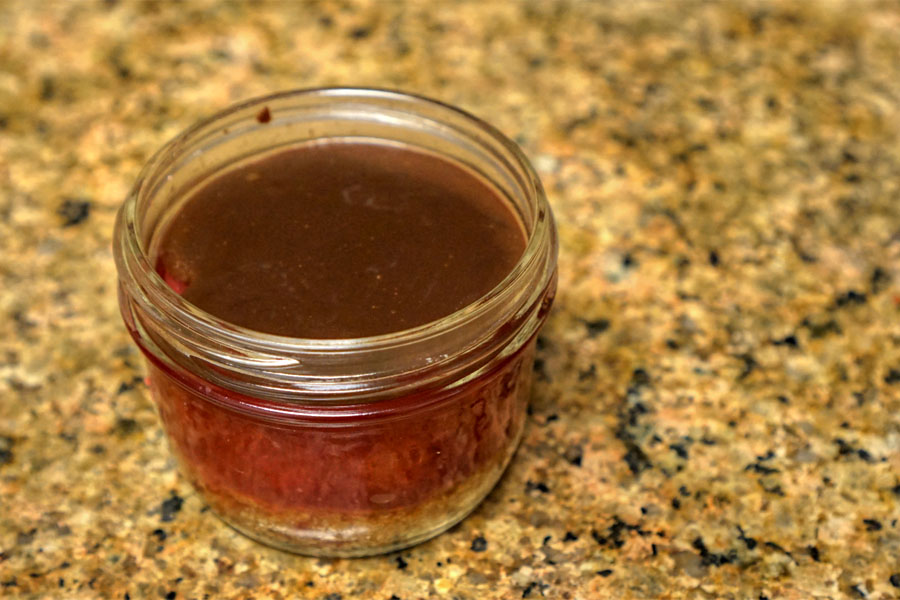 After dinner, we headed home for some Smores and Chocolate Cherry Cutie Pie Jars (basically miniature pies) from
The Pie Bar
.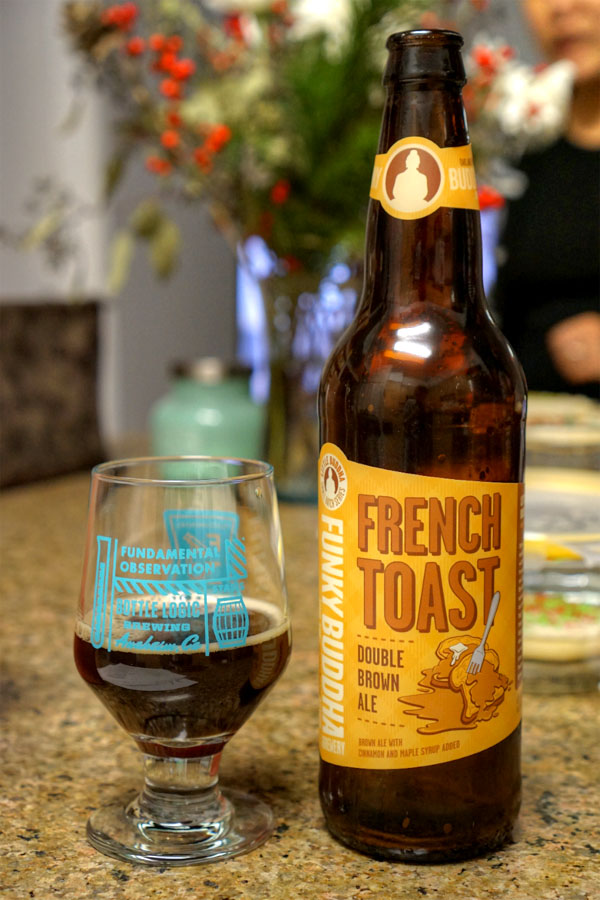 To pair with dessert, we opened up a couple beers. First was the
2016 Funky Buddha French Toast
, a double brown ale with cinnamon and maple syrup that did a pretty good job recalling its namesake dish. Smelled of strong maple and sweet baking spice. In terms of taste, I found it slightly tangy at first, but again with plenty of sweet spice and a bit of apple in there.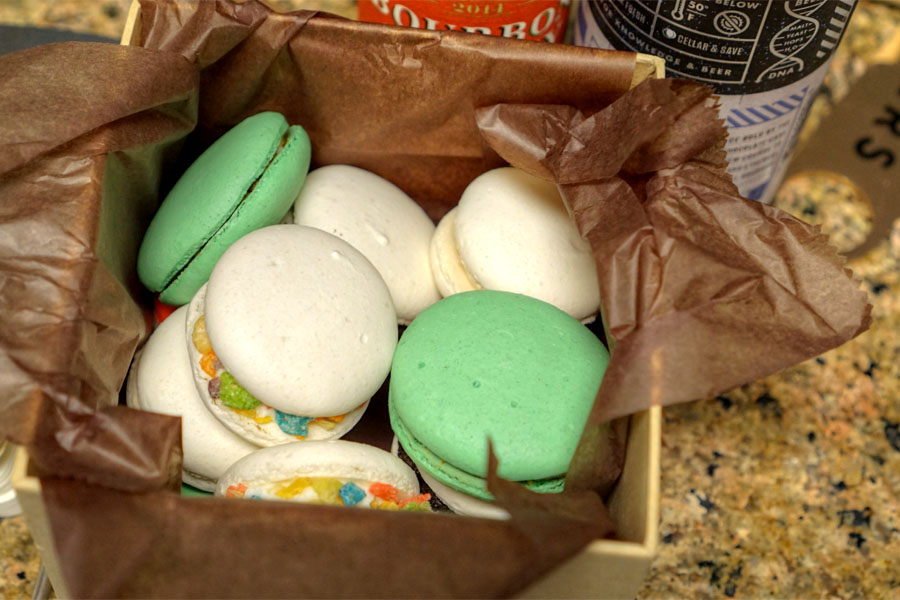 We also enjoyed a selection of macarons from local purveyor
CC's Macarons
. Flavors were Coconut, Cookies 'n Cream, Fruity Pebbles, Nutella, Pistachio, and Salted Caramel.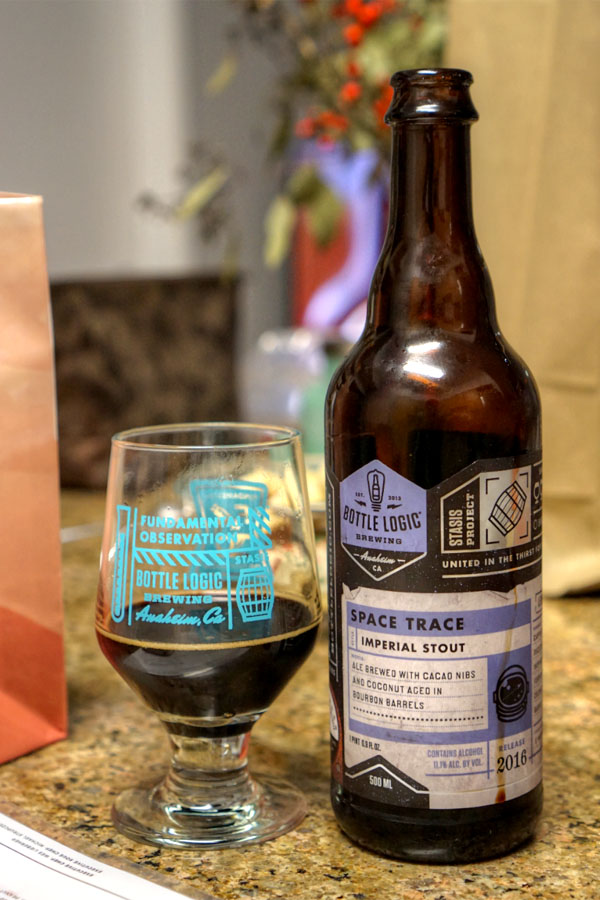 Finishing things out was the
2016 Bottle Logic Space Trace
, an imperial stout brewed with cacao nibs and coconut, aged in bourbon barrels. Bouquet brought coconut at first, then rich chocolate, dark fruit, and alcoholic heat. The palate displayed a slight astringency and booziness at first, the transitioned to more of that decadent chocolate and stewed fruit, with coconut appearing once again on the long finish.