4th and Olive (Long Beach, CA)
4th & Olive Restaurant
743 E 4th St, Long Beach, CA 90802
562.269.0731
www.4thandolive.com
Tue 12/27/2016, 07:00p-10:10p

4th and Olive's been in the news recently due to its proclivity for hiring disabled veterans, though I actually first became interested in the place when I heard that they were serving Alsace-inspired cuisine, something I don't see all too often. The restaurant opened, fittingly, on Veteran's Day 2016, and comes to us from partners Daniel Tapia, Adam Grimm, and Alex McGroarty.
The mastermind behind the project is Scottsdale native Dan Tapia, a US Naval Academy grad who spent six years as a submarine nuclear engineer. He began his hospitality career as the GM of The West End in Manhattan, and went on to manage several other bars in the area. This led to consulting work in New York and Washington DC, followed by a return to Phoenix, where he ran bars at the Wrigley Mansion Club and Hotel Valley Ho. Tapia eventually relocated to the Southland, and found work behind the bar at Brass Cap in Pacific Palisades and Ozumo in Santa Monica. In July 2012, he became a sommelier and floor manager at
Pizzeria Mozza
, and by April 2013 he had moved on to
Bouchon
. However, Tapia allegedly faced disability discrimination at the Beverly Hills bistro, and was out by the middle of the following year. This led him to start his own business, DTap Tavern Company, in December 2013. His original plan was to open a craft cocktail bar called Frontenac Sazerac Company, but he ended up changing direction upon seeing the property that now houses 4th and Olive.
General Manager duties are being handled by Adam Grimm, who hails from Northern California. After graduating from Menlo-Atherton High School in 1998, he became a server for the Hillstone Restaurant Group up in Napa Valley. He left in August 2000 to attend college at the University of Colorado Boulder. During his time there, he took on server, cook, and bartender roles for the local Big Red F Restaurant Group, and in March 2004, started working at Proto's Pizza, also in Boulder. In November 2006, Grimm relocated to the Los Angeles area and landed a server gig at Gladstones in Malibu, where he stayed for over eight years. He moved on to Water Grill Santa Monica in November 2013, and left in July 2015 to start work on 4th and Olive.
Finally, Alex McGroarty serves as Executive Chef. He grew up near Pittsburgh and started cooking at a young age. After cutting his teeth at Jamba Juice, his first real restaurant job came at the age of 15, when he became a dishwasher at a local bistro. By 17, he was second-in-command at the restaurant. McGroarty attended the University of Delaware to study history, and during his time there, served as a manager at a local eatery. In 2003, he moved to New Haven, CT and worked various restaurant jobs for nearly a decade. The Chef eventually relocated to Los Angeles, and found employment at Chris Phelps and Zak Walters'
Salt's Cure
. He even helped the duo open the now-shuttered Storefront Deli in Los Feliz at the end of 2012.

Unsurprisingly given its name, the restaurant's situated at the corner of 4th and Olive in Long Beach's East Village neighborhood. The building used to house Wilmoth Printing as well as a medical marijuana dispensary, but has since been completely redone. It's a rough-hewn space, apropos for the concept with lots of wood, lots of exposed brick, and some nautical touches here and there given Tapia's Navy background.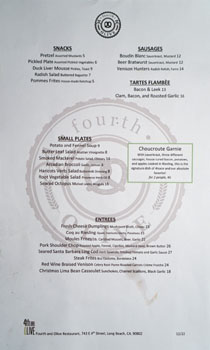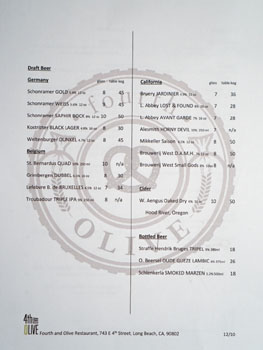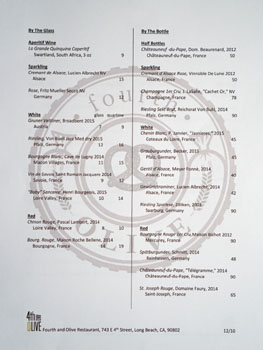 McGroarty's Cal-Alsatian menu features mostly snackier, smaller plates but there are also some more substantial mains. Drink-wise, Tapia's put together a small, concept-appropriate, German- and French-focused wine list, and there's also an Old World-heavy beer selection as well. Corkage is $25, though it was waived tonight since we purchased a bottle off the list. Click for larger versions.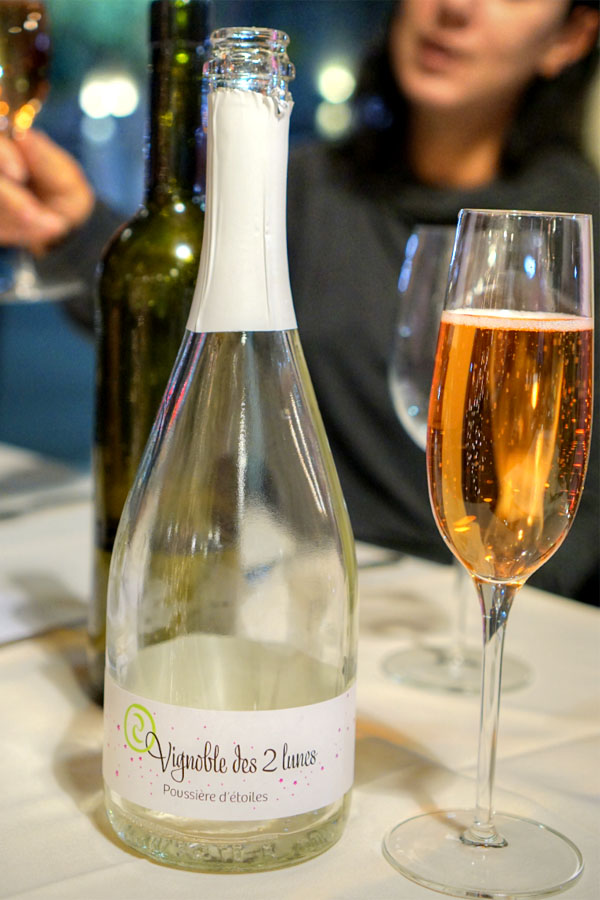 Kicking things off was something sparkling, the
Cremant d'Alsace Rosé, Vignoble des 2 Lunes 2012, Alsace, France [$50]
. Nose of light strawberry and toast. The palate went dry, yeasty, slightly bitter, with more of that fruit showing up, joined by a trace of alcoholic heat.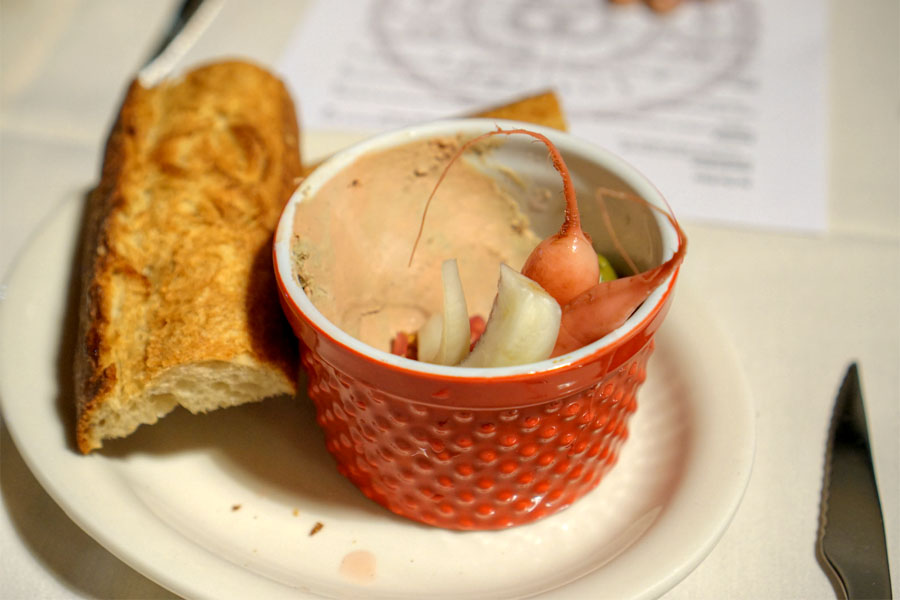 Duck Liver Mousse [$9.00]
| Pickles, Toast
A mousse of duck liver brought bountiful amounts of earthiness along with a whisper of sweet spice. A fitting pairing with the pickles, though it definitely could've stood to be creamier in terms of mouth feel.
Pickled Plate [$6.00]
| Assorted Pickled Vegetables
Speaking of pickles, here we had a healthy selection of 'em, each varying in their acidity, crunch, and funk.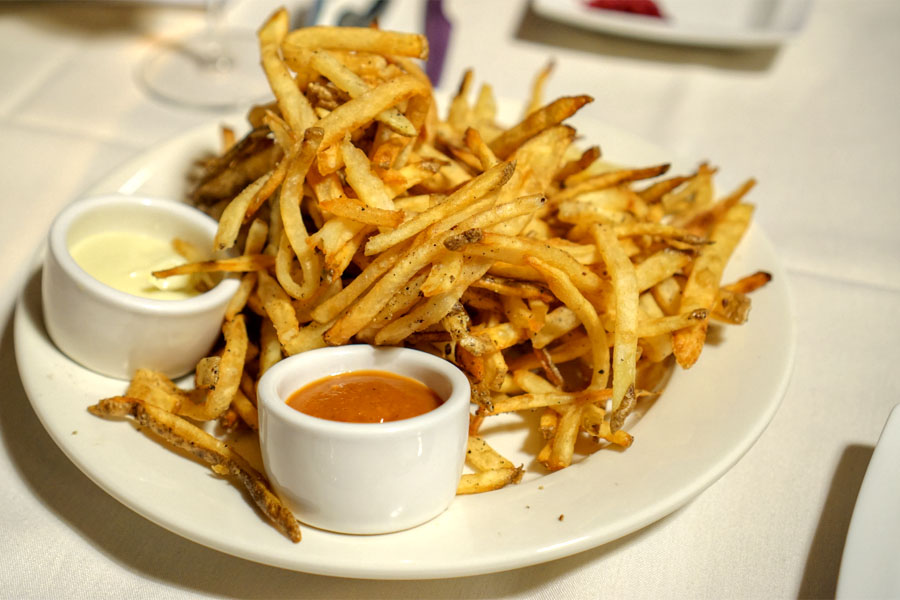 Pommes Frites [$5.00]
| House-made Ketchup
Texturally, fries were a mix of crisp and soft, and came lightly seasoned. Delightful with a dip into the thin, tangy ketchup provided.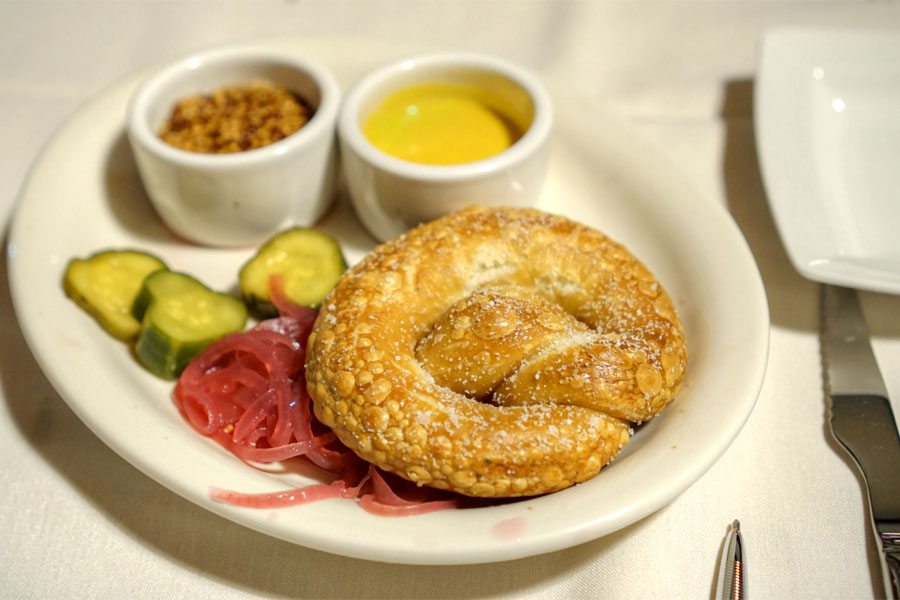 Pretzel [$5.00]
| Assorted Mustards
We had to get the pretzel of course, which ate salty and crusty tonight. Be sure to dip it into one of the two mustards: one powerfully pungent, the other whole grain and honey-infused.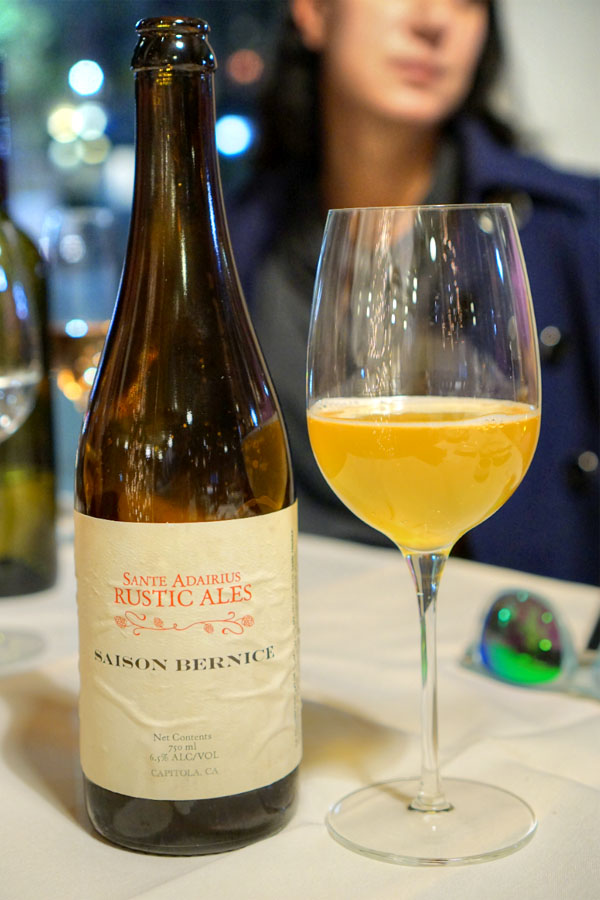 My bottle tonight was the
2015 Sante Adairius Saison Bernice
, a farmhouse ale fermented with
Brettanomyces
. The beer smelled of tart, bright lemon with light barnyard. Taste-wise, I got more of that sour citrus astringency mixed with a definite funk, while the finish veered sweet and nearly candied at times. Crisp and refreshing overall.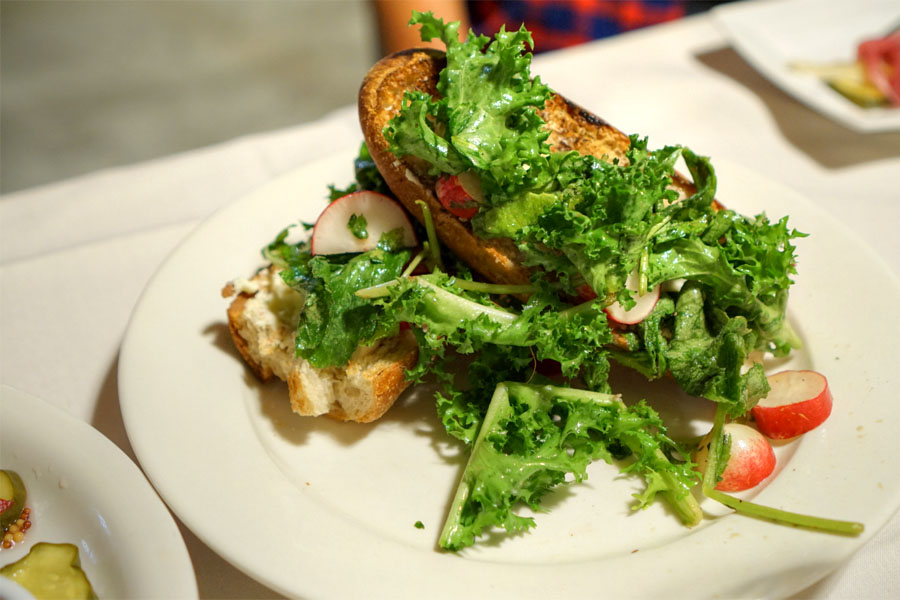 Radish Salad [$7.00]
| Buttered Baguette
Here, the liberal use of butter helped cut the bitterness of the veggies, while toast served to further moderate things.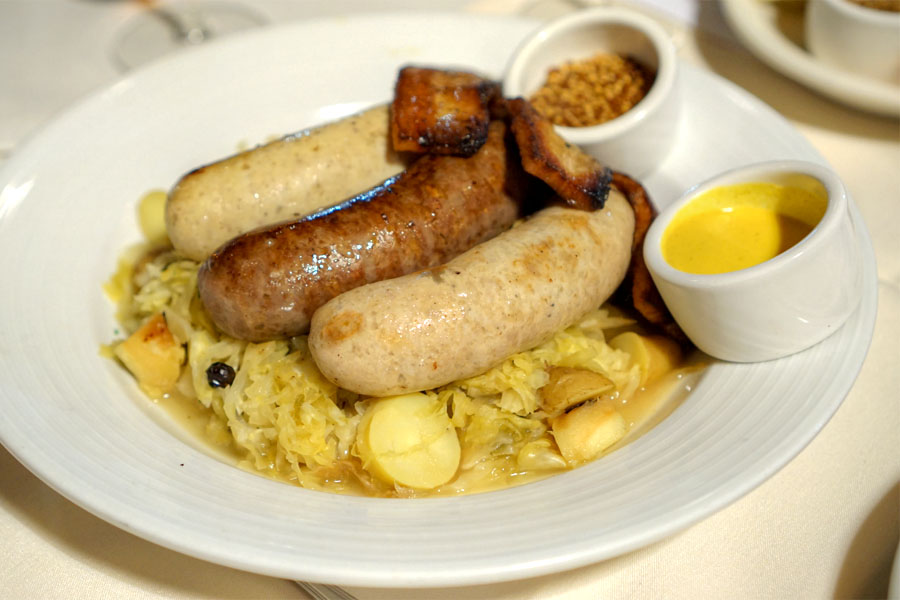 Choucroute Garnie [$40.00]
| With sauerkraut, three different sausages, house cured bacon, potatoes, and apples cooked in Riesling
Naturally, we had to try the restaurant's signature dish. Of the three sausages, the boudin blanc was of course the softest, and the most delicate with its spicing. On the other hand, the venison was easily the most robust, the gamiest, with a spongy texture, while the brat sort of slotted itself right in the middle. Accompanying the tubed meat was a great house-cured bacon, a crunchy, super porky, vaguely
samgyeopsal
-like preparation with a good ratio of fat to lean. Balancing everything out was a tangy kraut, potatoes, as well as more mustard.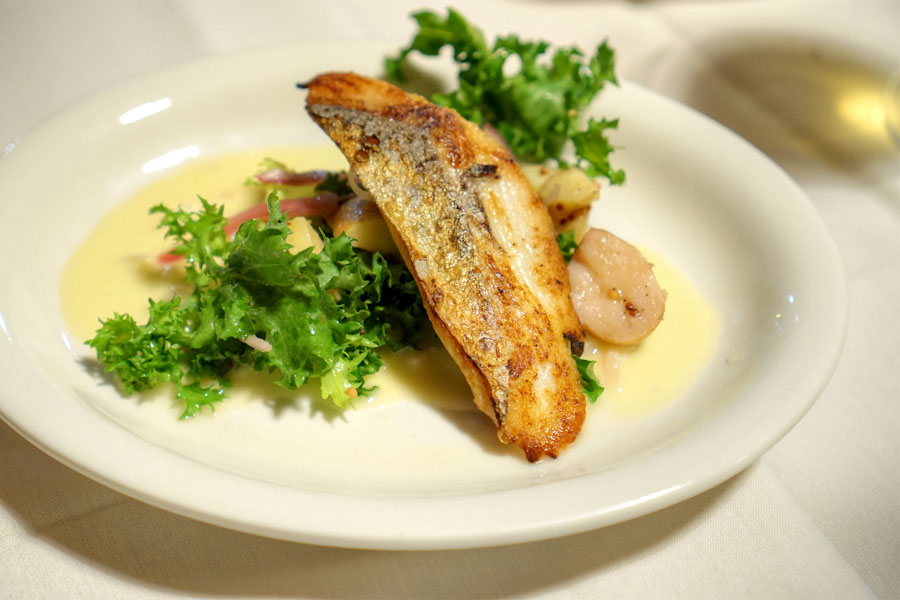 Smoked Mackerel [$14.00]
| Potato Salad, Chicory
Mackerel arrived imbued with proper amounts of smoke and brine, and was smartly paired with a comparatively mild potato salad for contrast.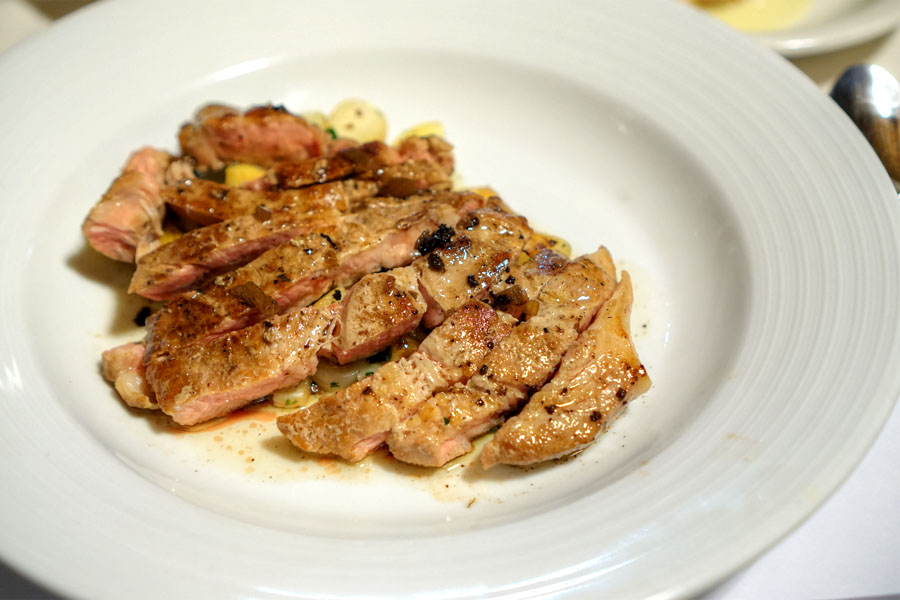 Pork Shoulder Chop [$26.00]
| Roasted Apple, Fennel, Cipollini, Mustard Seed, Brown Butter
The pork showcased a springy sort of consistency, a hint of sear, and a porky-sweet flavor profile cut by the zestiness of fennel and onion.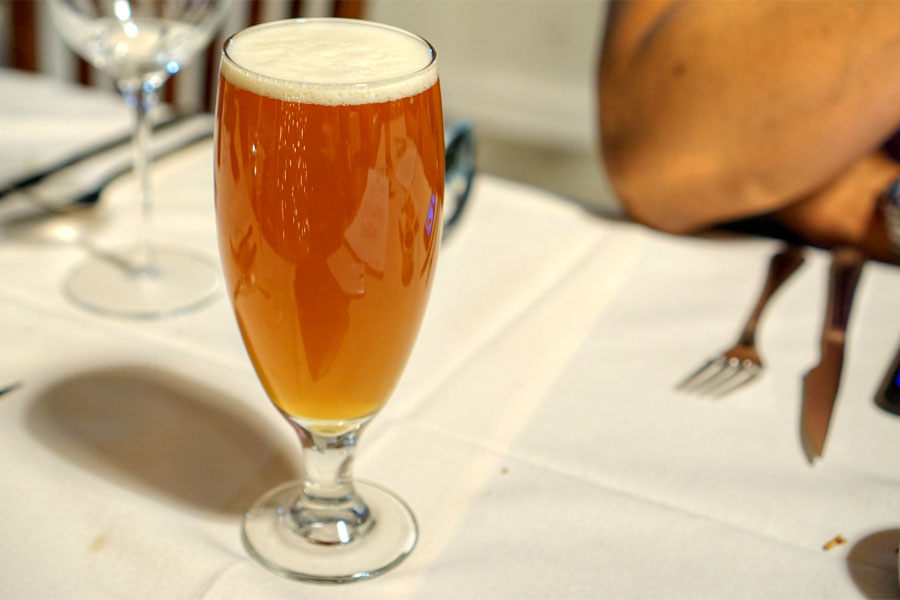 Next to drink was the
Lost Abbey Avant Garde [$7]
, done in the bière de garde style. Aromas here were decidedly malty and sweet, with a hint of spice. The taste followed, showing off more sugary malt, biscuits, honey, and dark fruit before finishing bitter.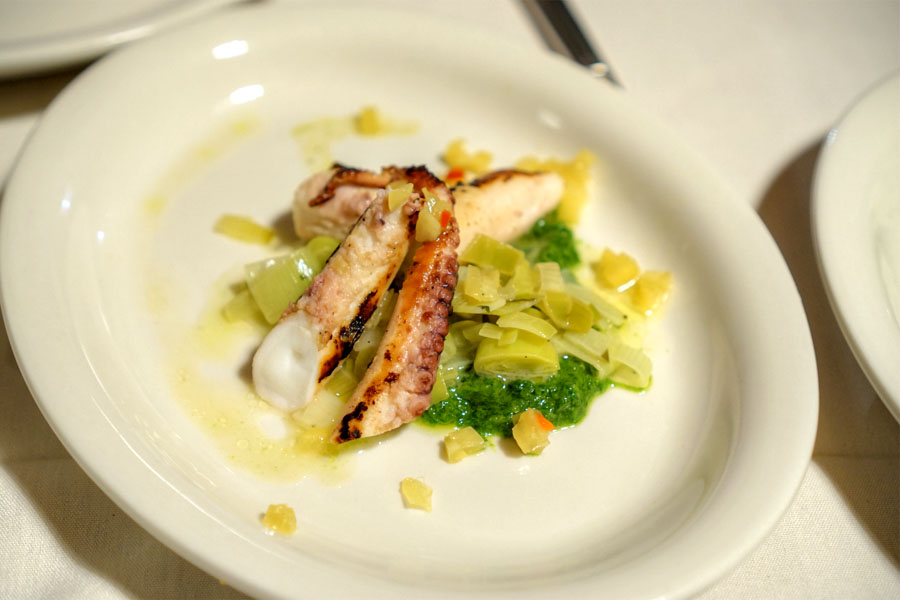 Seared Octopus [$16.00]
| Melted Leeks, Arugula
Octopus came out soft and supple, with a nice charring going on. Excellent with the super bright, pesto-like sauce and tangy leeks.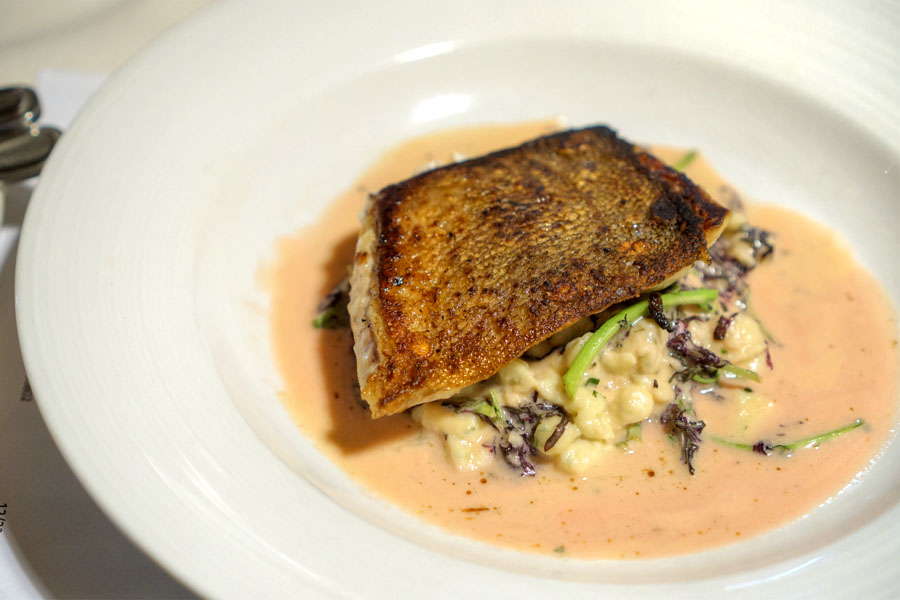 Seared Santa Barbara Ling Cod [$27.00]
| Herb Spaetzle, Smoked Tomato and Garlic Sauce
Lingcod was very tasty, and went particularly well with the bitterness of the greens. I appreciated the herby spaetzle here as well, though I would've liked a crispier skin on the fish.
Our final beverage was the
Troubadour Triple IPA [$8]
. Nose brimming with sweet malt. The taste brought more of the same, and had a sort of candied character along with a bitter backing.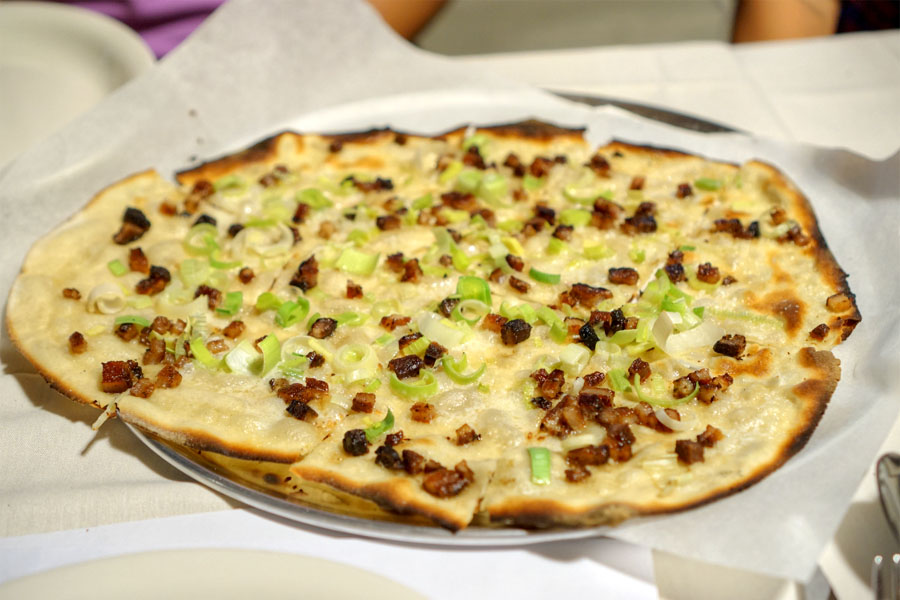 Bacon & Leek Tarte Flambée [$13.00]
The Alsatian specialty of
Flammekueche
worked as our final savory. Thin and crunchy, the tart displayed the saltiness of the lardons against the zippiness of leeks, with crème fraîche serving as a tangy underpinning to it all.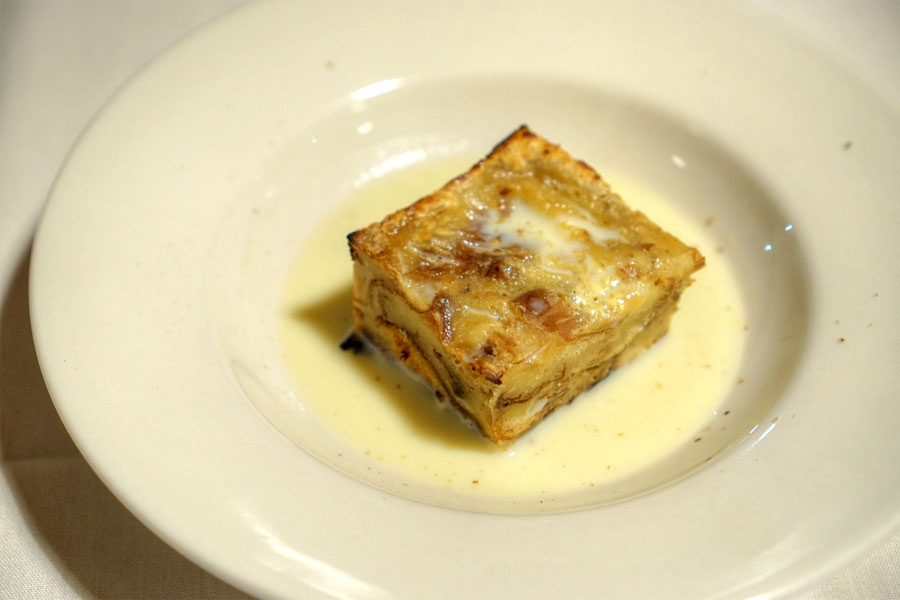 Bread Pudding [$6.00]
There's no printed dessert menu, but the restaurant did have two offerings this evening. Described by our server as a "beggarman's cake," the bread pudding ate light in terms of texture, and had a restrained sweetness to it that was augmented by the included sauce.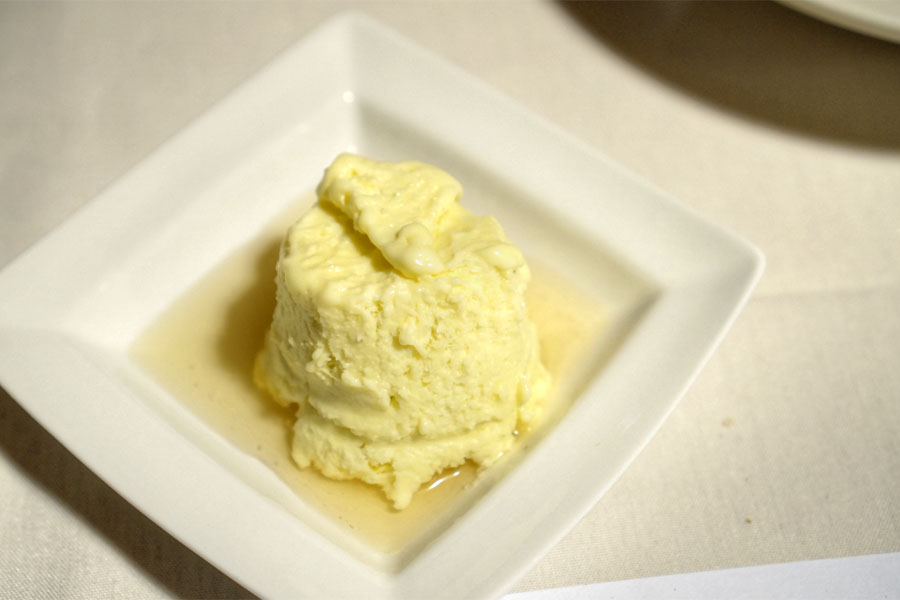 Soufflé Glace [$6.00]
Last up was a sort of frozen mousse that our server likened to an "adult ice cream." It was certainly tasty, giving up a creamy, almost stone fruit-like sweetness that served as a contrast to the tangy, acidic Riesling-mint glaze.
I'm glad we checked this place out. The kitchen's putting out some renditions of Alsatian comfort food that hit the spot
and
are quite a bit different than the usual offerings in the area. 4th and Olive fills a nice niche in the East Village dining scene, and Long Beach in general, so I hope they can stick around.