Shiraz (Glendale, CA)
Shiraz Restaurant
211 S Glendale Ave, Glendale, CA 91205
818.500.8661
www.shirazrestaurant.net / www.shirazrestaurantglendale.com
Tue 01/17/2017, 07:55-09:45p
Our perpetual search for BYOB-friendly restaurants brought us to Glendale's Shiraz recently. The place opened back in 1986, and claims to be one of the oldest Middle Eastern eateries in the area (they also have a location in Sherman Oaks).

Inside, things are surprisingly schmancy. The main dining room seats 150, and there's also a covered patio with space for 80 more. Given that the restaurant also functions as an event space, you'll also find another 25-seater private room, as well as a banquet hall on the second floor for 110 guests.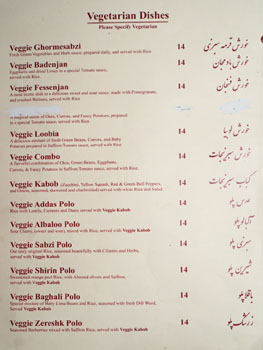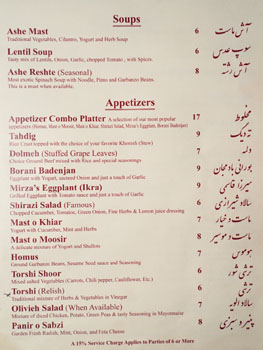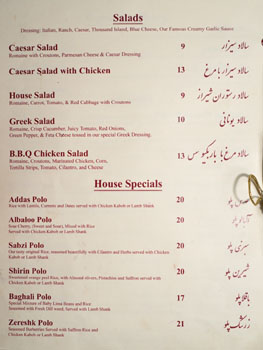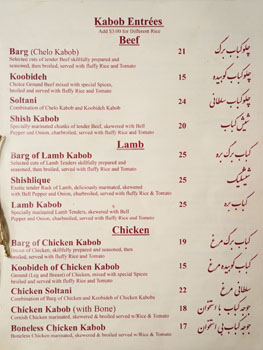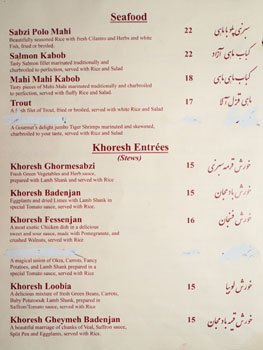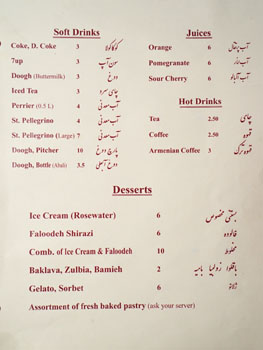 Shiraz's menu is a fairly lengthy affair, and features all your Persian-Armenian favorites, with a particular focus on kebabs, stews, and pilafs. The restaurant no longer sells alcohol, but as mentioned above, corkage is free, so take advantage of it. Click for larger versions.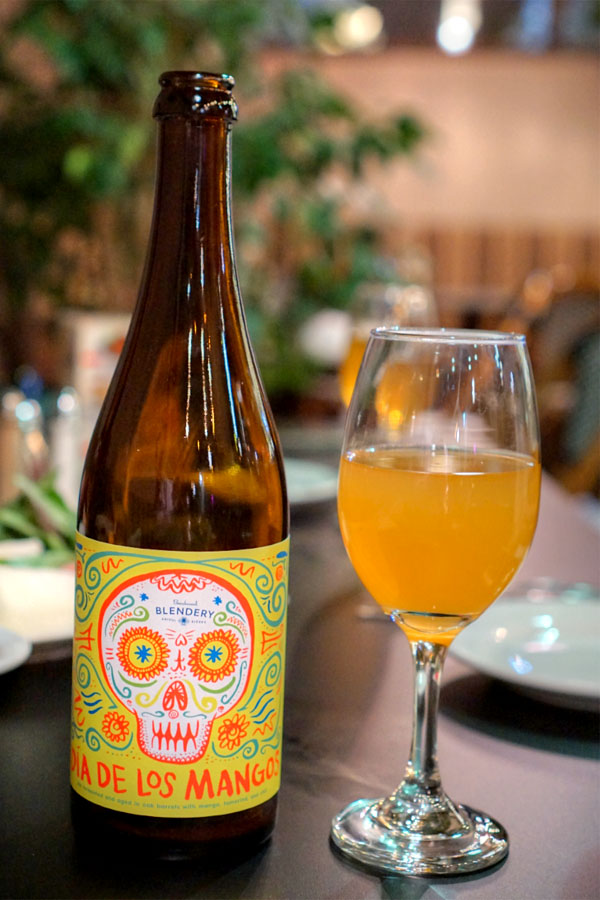 Our first bottle was the
2016 Beachwood Blendery Dia de los Mangos
, a lambic-inspired beer comprising a blend of year-old barrels of sour ale, further aged with mango and tamarind for eight weeks and infused with ancho, Aleppo, ají amarillo, Guajillo, and green serrano chili peppers. This one smelled decidedly acidic, with light funk and fruit mixed with oak. For taste, I got lactic sourness and mango, along with nose-tingling spice and a lasting heat on the finish.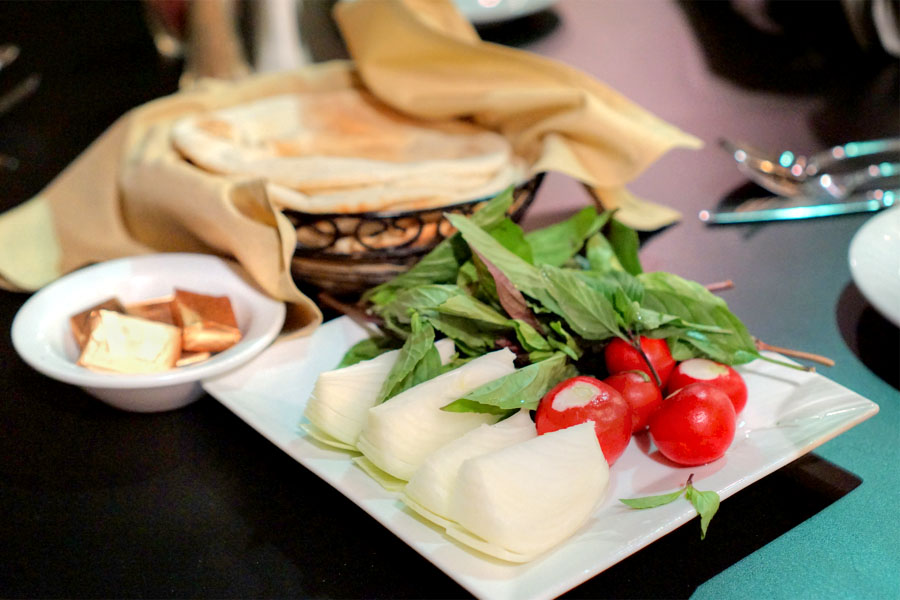 The usual accoutrements were quickly brought to the table: radish, onion, mint, and basil (the
sabzi khordan
), along with butter and warm, chewy pitas.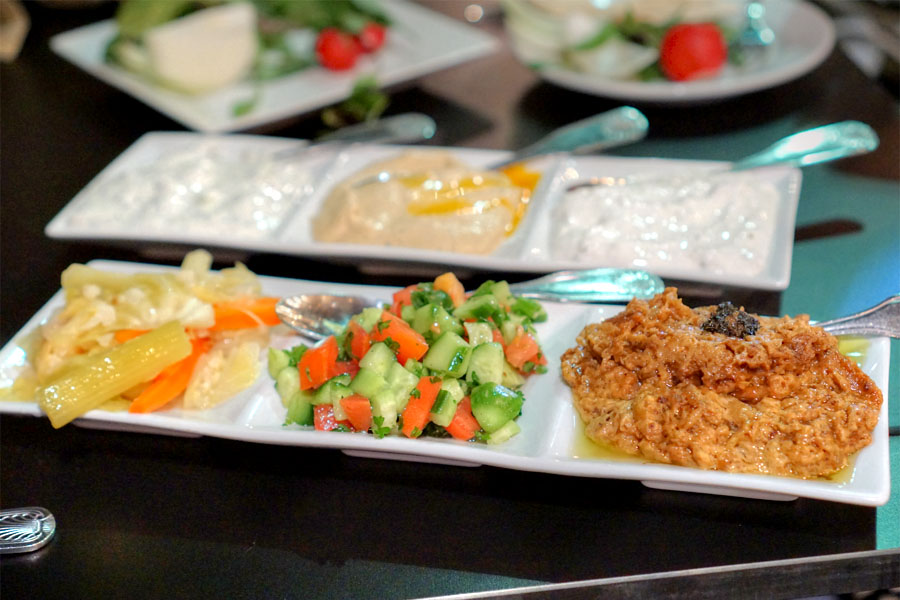 Appetizer Combo Platter [$17.00]
| A selection of our most popular appetizers (Homus, Mast o Moosir, Mast o Khiar, Shirazi Salad, Mirza's Eggplant, Borani Badenjan)
We began with a selection of apps to accompany the flatbread:
Mast o Khiar - Cool and creamy, just as you'd want.
Homus - A gritty, classic preparation that really showed off the nuttiness of the tahini.
Mast o Moosir - Quite lactic, with subtle shallot on the back end.
Torshi - Tart, salty, crunchy, and a seeming substitute for the "Mirza's Eggplant" advertised on the menu.
Shirazi Salad - Bright and crunchy, with plenty of lemon-y tang.
Borani Badenjan - Smooth, smoky, and served surprisingly warm.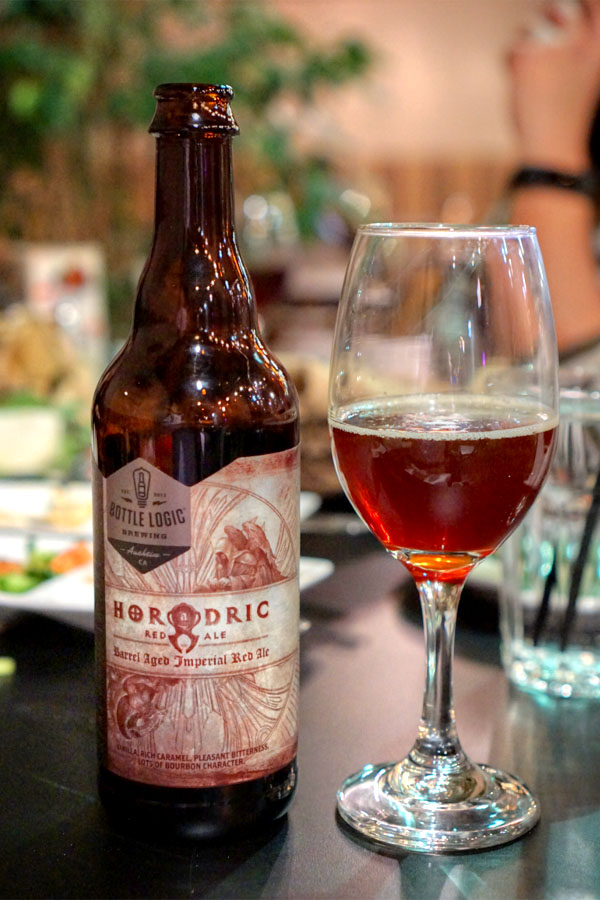 Next to drink was the
2016 Bottle Logic Horadric
, a Buffalo Trace barrel-aged imperial red ale produced exclusively for last year's BlizzCon convention in Anaheim. Nose of tart red fruit and rich caramel-y malt. Palate brought more caramel flavors and dark fruit along with a smidge of bitterness and plenty of barrel character. Very well put together, and one of the best red ales I've had, no doubt.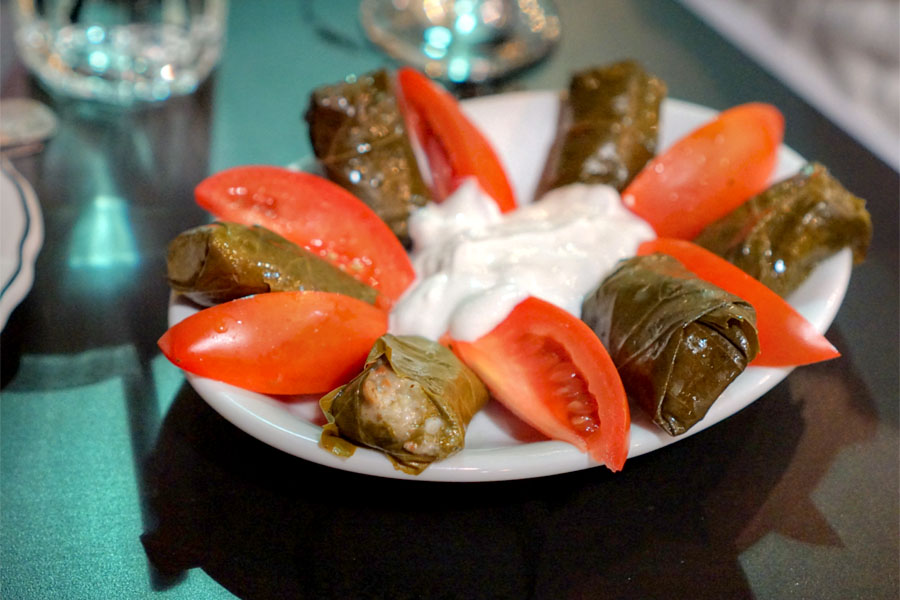 Dolmeh (Stuffed Grape Leaves) [$7.00]
| Choice Ground Beef mixed with Rice and special seasonings
I'm not usually a fan of
dolma
, but quite enjoyed these, to my surprise. I found 'em particularly well balanced, with the grape leaves giving a pinch of piquancy to the savory stuffing of rice and beef. Even better with the yogurt and juicy cuts of tomato.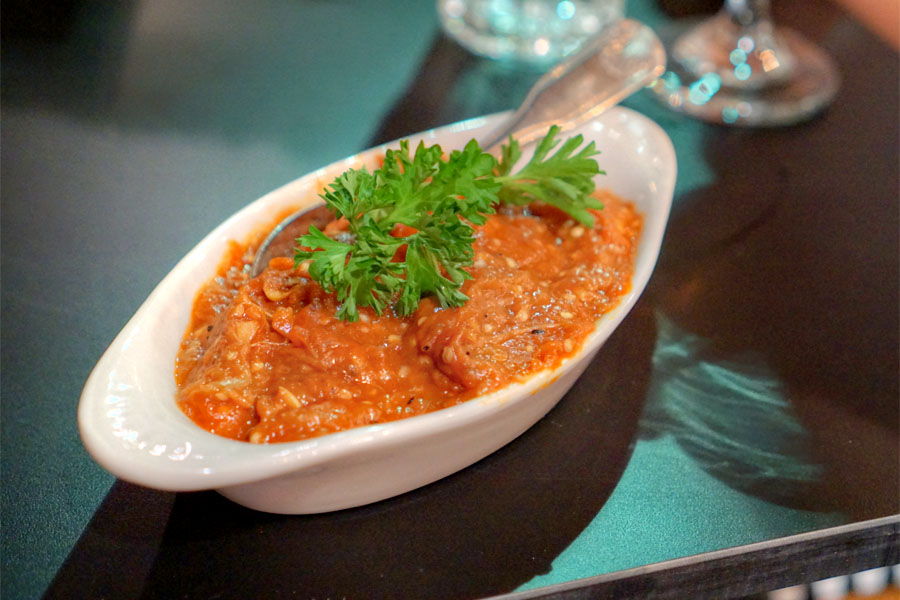 Mirza's Eggplant (Ikra)
| Grilled Eggplant with Tomato sauce and just a touch of Garlic
The kitchen sent out a dish of
ikra
after we'd inquired about the missing eggplant. Think smooth and rather smoky, with a touch of tartness from the tomato.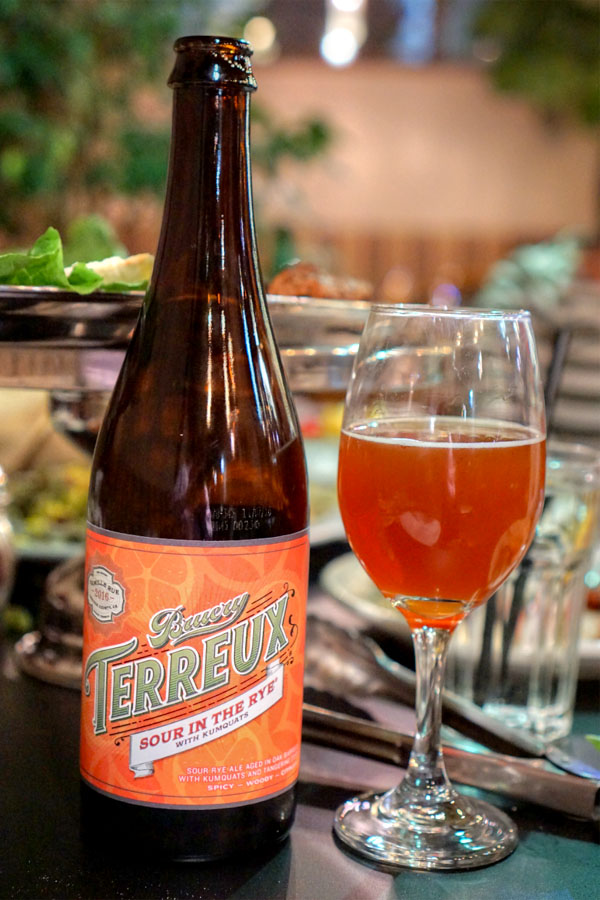 Here we had a sour rye ale aged in oak, the
2016 Bruery Terreux Sour in the Rye with Kumquats
. Potent nose with rich spice character and a muddled sweetness. In terms of taste, I got more of that spiciness, along with almost pineapple-like flavors, wood, and a finish imbued with more tropical fruit.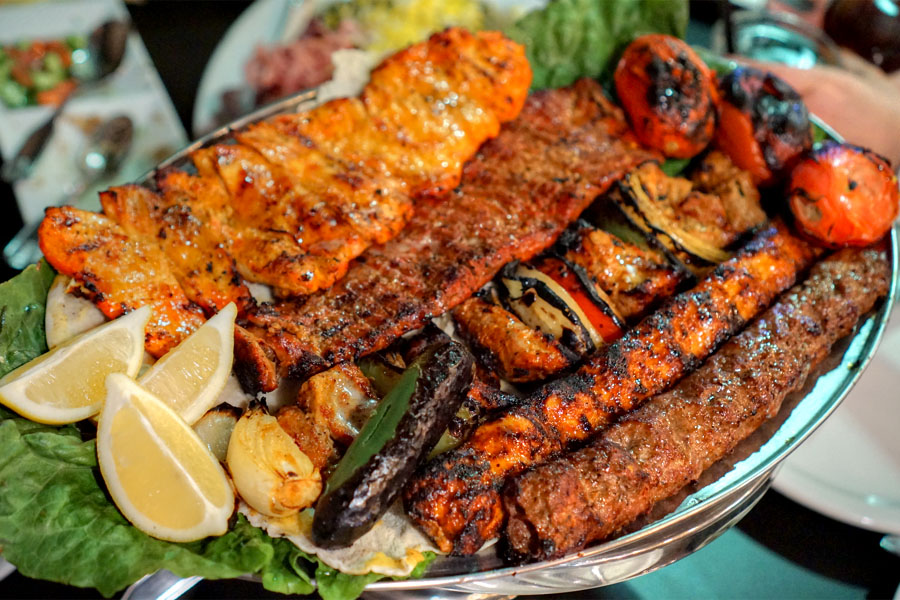 Chicken Soltani [$22.00]
| Combination of Barg of Chicken and Koobideh of Chicken Kabobs
Lamb Kabob [$25.00]
| Specially marinated Lamb Tenders, skewered with Bell Pepper and Onion, charbroiled, served with fluffy Rice and Tomato
Beef Soltani [$24.00]
| Combination of Chelo Kabob and Koobideh Kabob
At this point we moved on to the kebabs, which were brought out together in an impressive display. Top to bottom:
Barg of Chicken Kabob - Great charring and seasoning, though it could've stood to be juicier in spots.
Barg (Chelo Kabob) - Surprisingly tender, with again a good sear to it.
Lamb Kabob - Definitely "lamb-y," but in a restrained manner, with a soft, almost spongy texture. Nice with the smoky veggies.
Koobideh of Chicken Kabob - Juicy and springy to the bite, well-seasoned, well-charred.
Koobideh - A classic koobideh, with a great spice and herby character.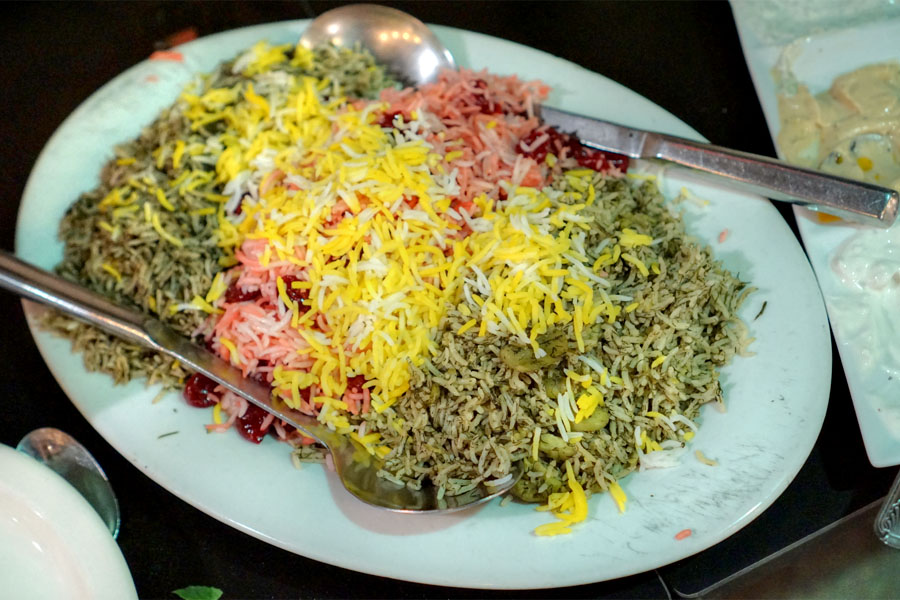 Sabzi Polo
| Our tasty original Rice, seasoned beautifully with Cilantro and Herbs
Albaloo Polo
| Sour Cherry, (Sweet and Sour), Mixed with Rice
Baghali Polo
| Special Mixture of Baby Lima Beans and Rice
The kabobs all came with our choice of rice, and we went with three different varieties:
Sabzi Polo - Imbued with a deep, bitter, herbal, vegetal quality.
Albaloo Polo - Delightfully sweet 'n' sour, with an appealing color.
Baghali Polo - Perhaps my favorite of the trio, thanks to the almost funky element imparted by the beans.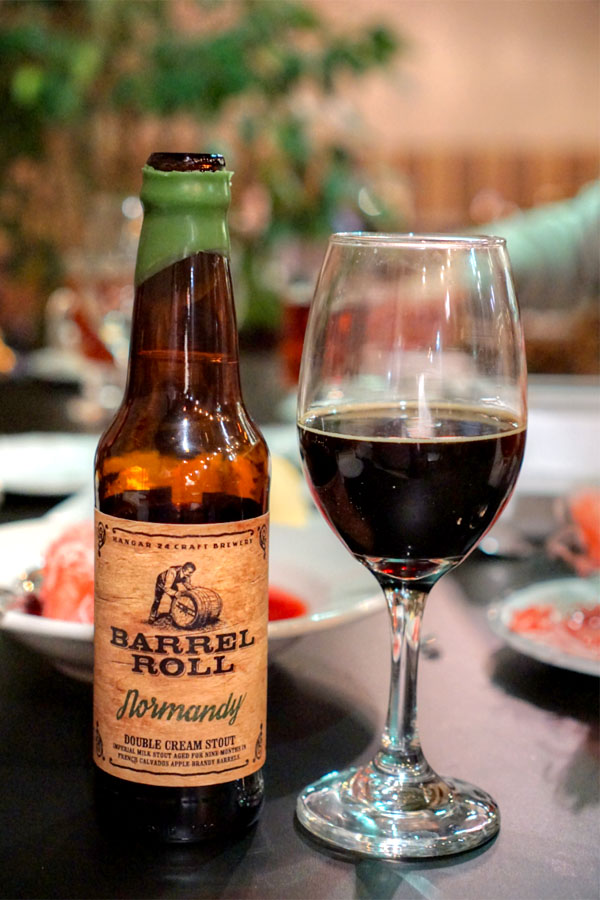 Our final beverage was the
2016 Hangar 24 Barrel Roll: Normandy
, a double cream imperial milk stout aged for nine months in French Calvados barrels. In terms of aroma I got lots of chocolate combined with light soy sauce and a tart quality. The taste showcased more of that chocolate and soy, along with oak and a lingering savoriness. I really didn't get much of the apple brandy.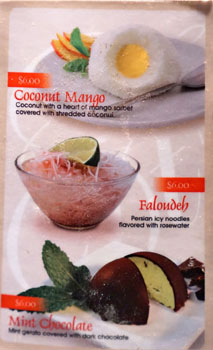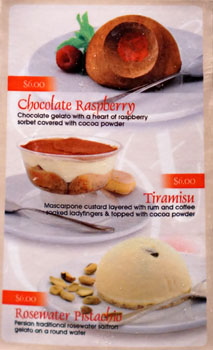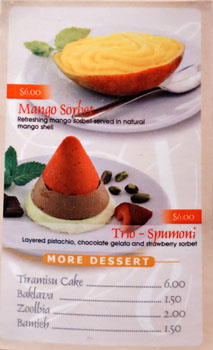 We saved just enough room for dessert, and Shiraz offers up your prototypical selections. Click for larger versions.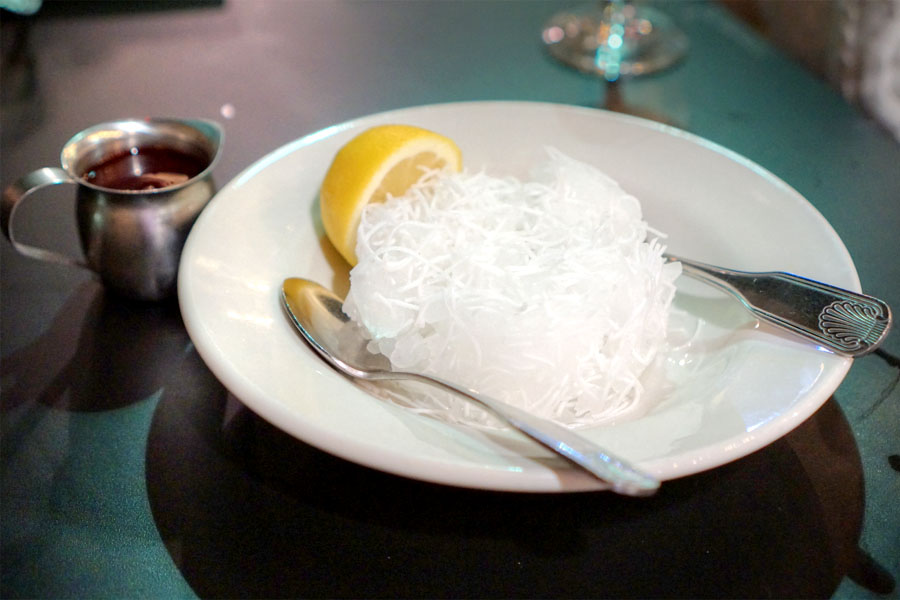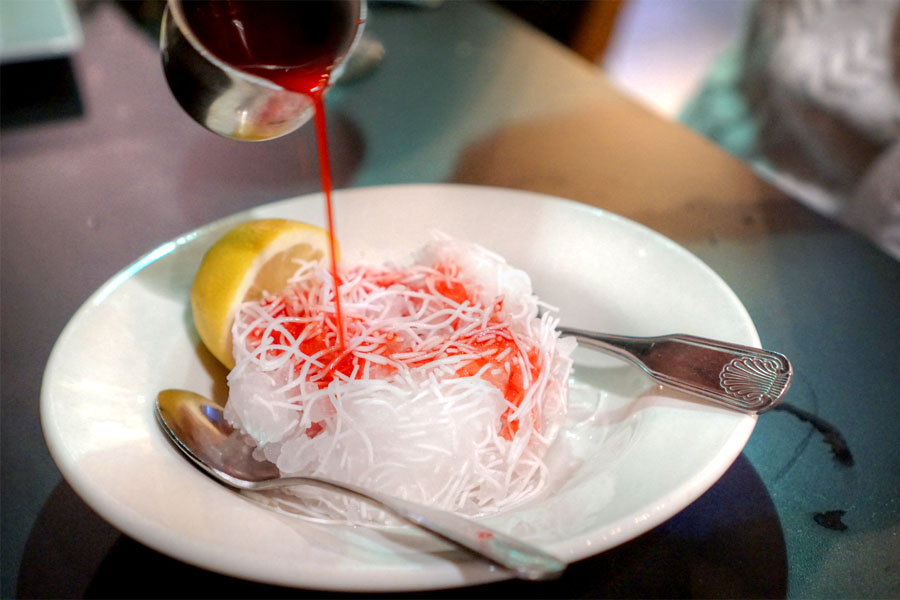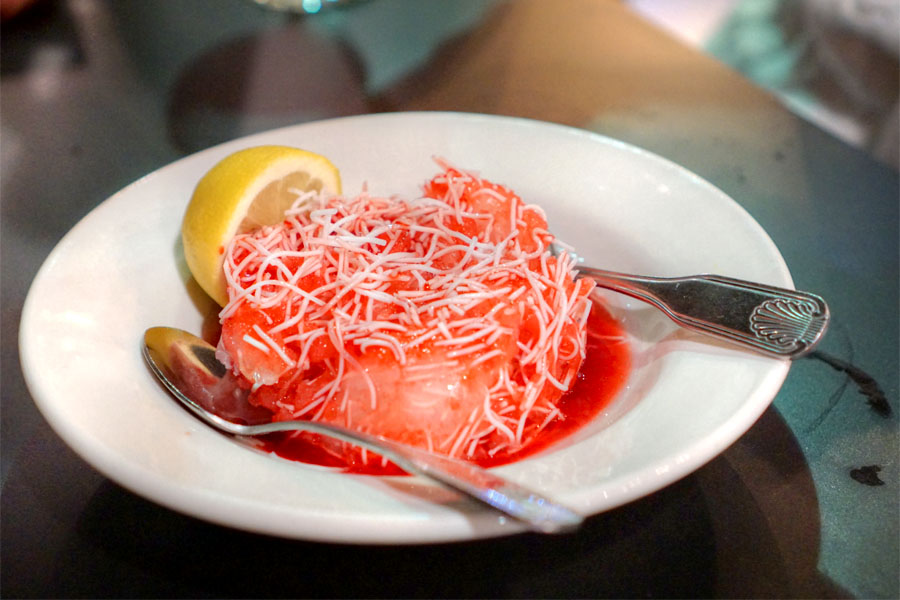 Faloudeh [$6.00]
| Persian icy noodles flavored with rosewater
The
faloodeh
arrived all icy and bracing, with plenty of sourness from the syrup that was actually tempered a bit by the noodles.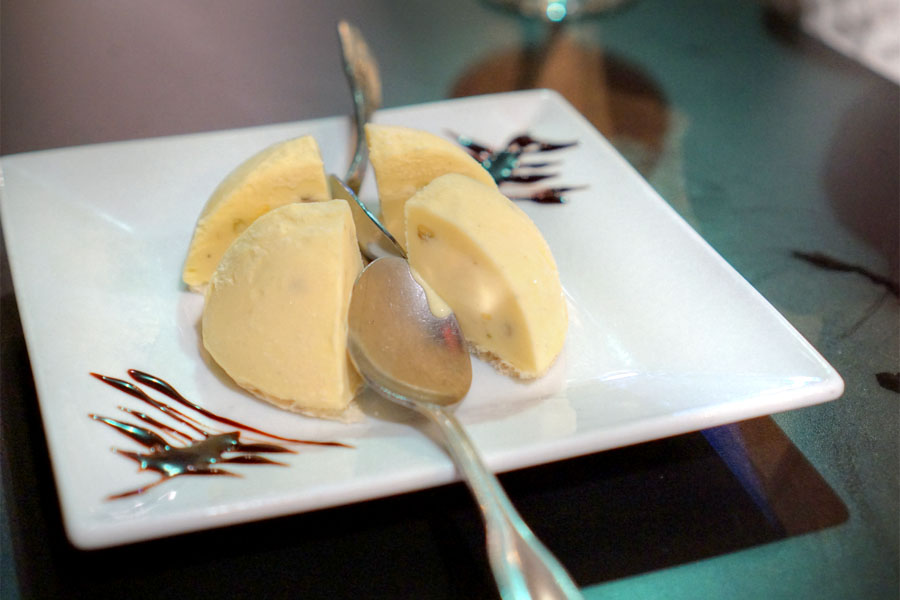 Rosewater Pistachio [$6.00]
| Persian traditional rosewater saffron gelato on a round wafer
The
bastani sonnati
satisfied with its refreshing floral flavors and bits of nutty pistachio. Interesting textural contrast from the wafer, too.
We enjoyed our meal at Shiraz, and had no real complaints. The place doesn't stray too far from the usual Persian cuisine tropes, but there's certainly some solid cooking going on. Service was pretty on point as well, and the BYOB aspect certainly makes the restaurant all the more appealing.