Lost at Sea (Pasadena, CA)
Lost at Sea Restaurant
57 E Holly St, Pasadena, CA 91103
626.385.7644
www.lostatseapas.com
Tue 12/13/2016, 08:00p-10:25p

Old Pasadena's dining scene got a boost recently with the debut of Lost at Sea, which opened at the start of August. The restaurant is a neighborhood-y sort of spot focused on seafood, and comes to us courtesy of Chef Tim Carey and co-owner Santos Uy.
About the Chef
: Carey was born in 1981 and grew up right here in Pasadena. After graduating from Loyola High School in 1999, he attended Seattle University and a couple local community colleges, but never received a degree. He eventually relocated to San Diego, and in 2003, became a fishmonger at Point Loma Seafoods. He stayed there for a year before moving back up to the LA area to attend the California School of Culinary Arts (he also worked at a market in San Marino during this period). Upon completing his degree in 2005, Carey found a job at Sbicca in Del Mar, while the following year saw him transition to San Diego's Island Prime. Three years later, he returned to Los Angeles and secured a position under
Tony Esnault
at
Patina
. He left the storied Downtown restaurant in 2011 to become Executive Chef at Uy's Papilles in Hollywood. Carey then moved out of that post in June 2016 to focus on Lost at Sea.
Uy's also a native Angeleno, from La Cañada Flintridge. He too went to Loyola (c/o '01), after which he attended USC, where he received a B.S. in Italian in 2005. Soon after, he became the first employee at Silver Lake Wine, and in October 2006, took on a part-time sommelier position at
AOC
in order to get some experience on the floor. Uy left both jobs in April 2008, when he and childhood friend Daniel Kronfli opened Bacaro LA near USC. The duo followed up with Mignon, a wine and cheese bar in Downtown, but their partnership dissolved in 2011, leaving Uy with Mignon and Kronfli with Bacaro. In December that year, Uy debuted Papilles with Carey, and in September 2012, he and Kevin Stuart (Infinity Imports) instituted the now-defunct Knackig, a sausage pop-up at Mignon. January 2013 saw Carey revamp the menu at Mignon to focus on more bistro-like fare, and in July 2015, Uy partnered with
Charles Olalia
to open Rice Bar. Most recently, he launched Cento Pasta Bar in December 2015, a pasta pop-up at Mignon run in concert with former
Bestia
/
Sotto
cook Avner Lavi.

Lost at Sea occupies the former home of the short-lived Sangers & Joe and its predecessor, The Market on Holly. The restaurant retains the same basic format and furnishings of the previous tenants, though a bit more color has been added to the space.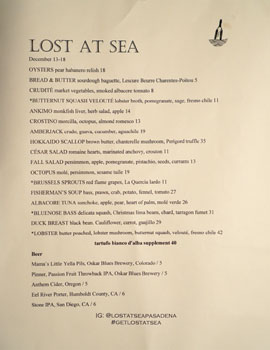 Menu-wise, Lost at Sea features a selection of seafood-focused starters and mains with a sort of Cal-French-Latin bent. Given Uy's penchant for wine, you do get a compact, "esoteric" (their word) list of small production, Old World-centric, reasonably-priced bottlings. There are also a few beers, but nothing too exciting. Corkage is $20 a pop. Click for larger versions.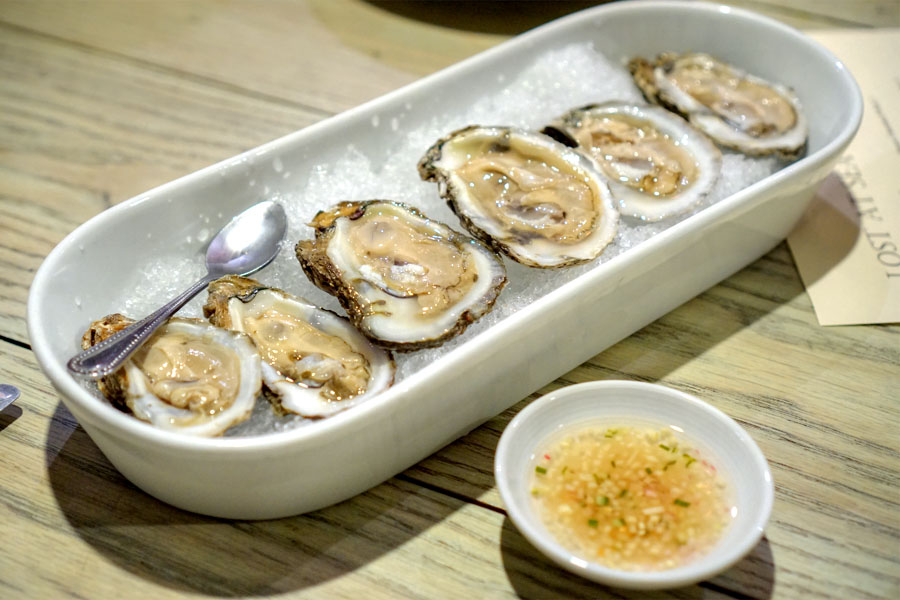 Oysters [$18.00]
| pear habanero relish
Tonight's oysters were of the Blue Point variety, slightly firm to the bite and with a high salinity that was tempered by the included tangy-hot condiment.
Bread & Butter [$5.00]
| sourdough baguette, Lescure Beurre Charentes-Poitou
The bread was fairly uneventful, though it was properly crusty and came with a lovely pat of French butter.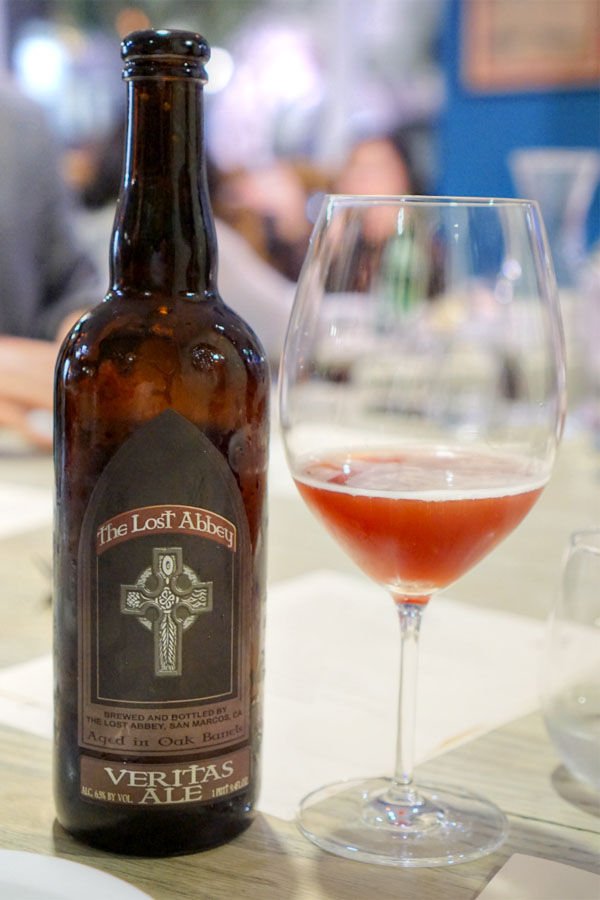 I'd brought along two bottles tonight, the first of which was the
2016 The Lost Abbey Veritas 017
, an oak-aged sour ale with blackberries and Brett. The nose was very mineral-driven upon first sniff, with tart fruit coming in soon after. The palate brought more sour, acidic berry and light jamminess leading to a yeasty funk on the finish.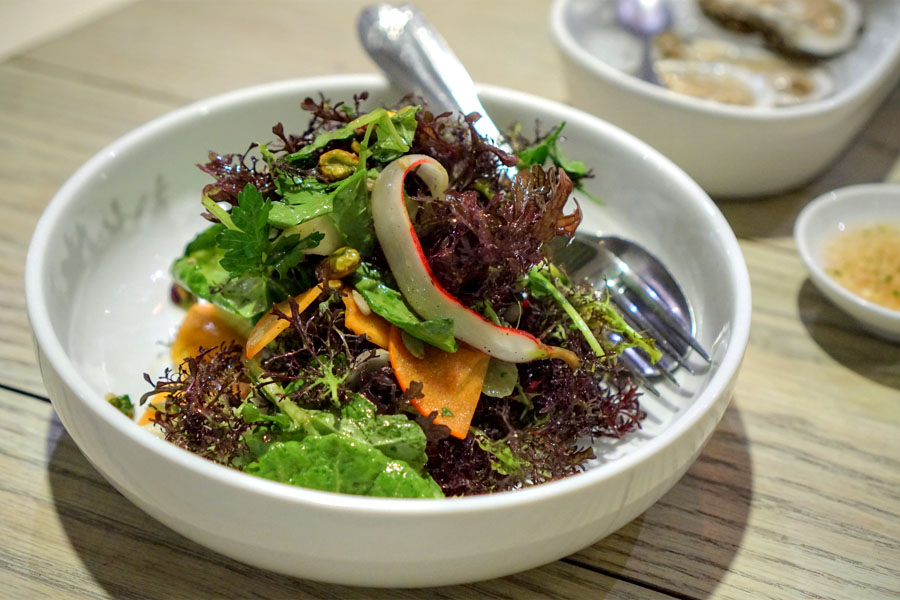 Fall Salad [$13.00]
| persimmon, apple, pomegranate, pistachio, seeds, currants
The salad was appropriate for the season with its balance of sweet, nutty flavors matched with an enveloping bitterness from the greens.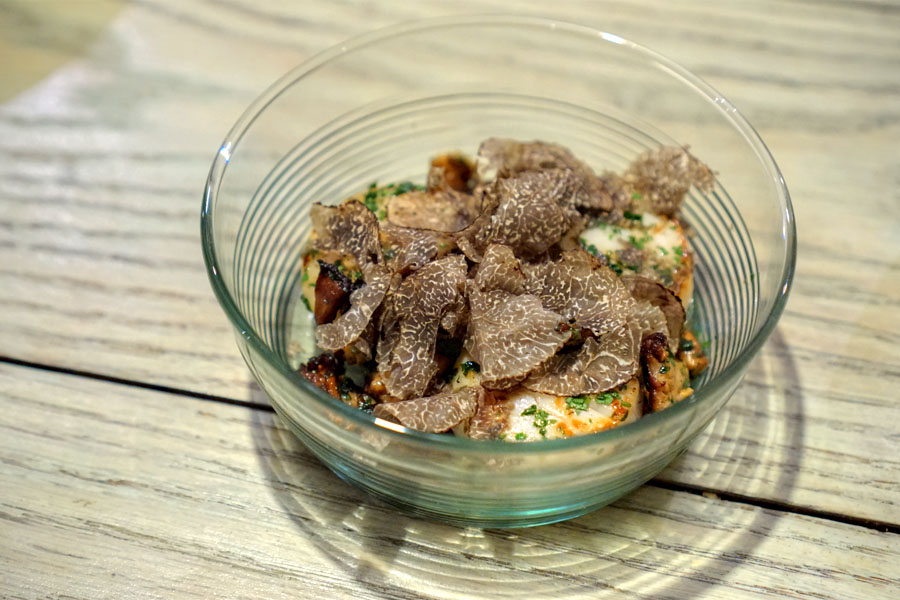 Hokkaido Scallop [$35.00]
| brown butter, chanterelle mushroom, Perigord truffle
Scallops were soft and particularly sweet, while the duo of truffles and chanterelles imparted plenty of woodsy, musky flavor to the mix. I could've used a bit more caramelization on the scallops, though.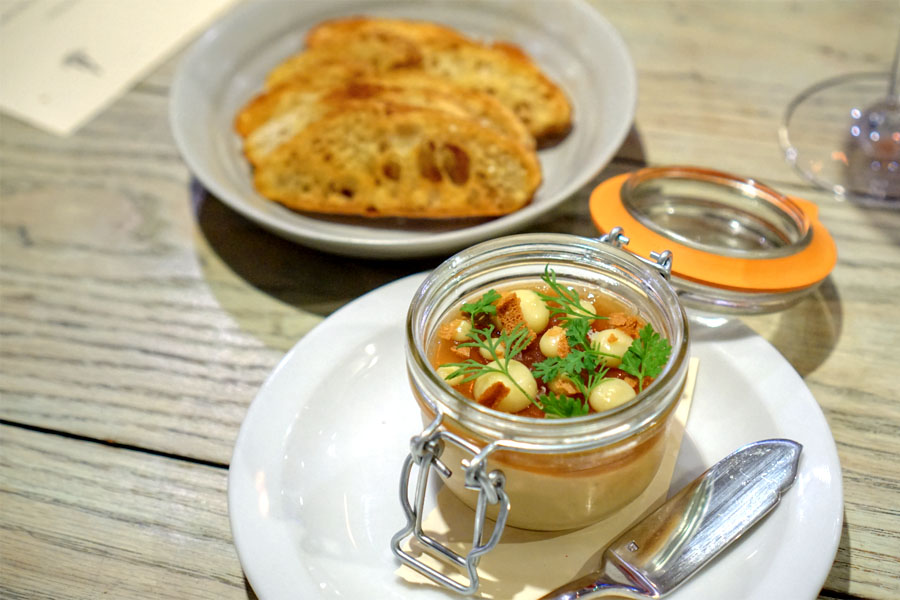 Ankimo [$14.00]
| monkfish liver, herb salad, apple
The ankimo was unlike any other preparation I've had before, arriving more like a chicken liver mousse. Taste-wise, it displayed boatloads of earthy, in-your-face brine set against the fruitiness of apple.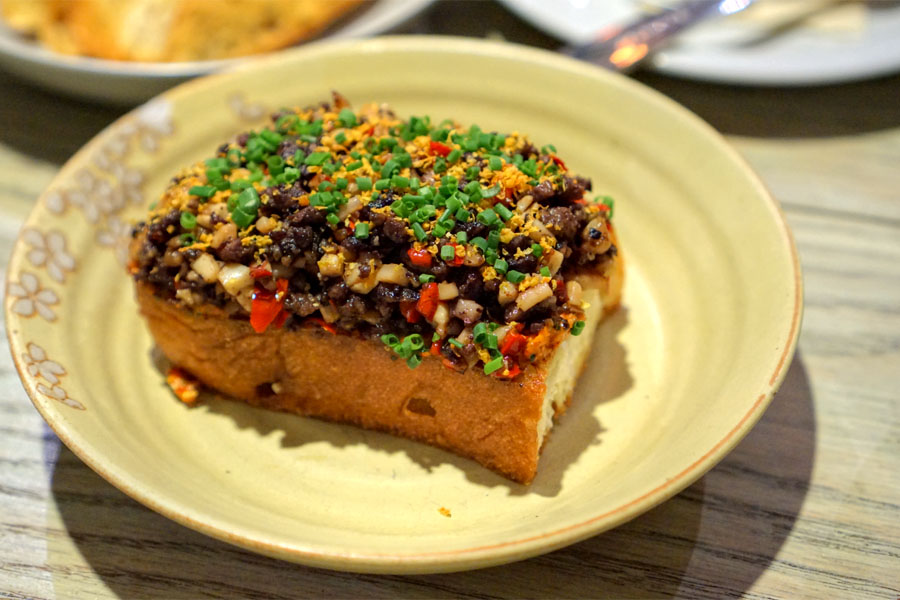 Crostino [$13.00]
| morcilla, octopus, almond romesco
The crostino was a standout for me. Loads of deep, savory spice here that I found very gratifying, with the crunchy bread serving as the perfect vessel.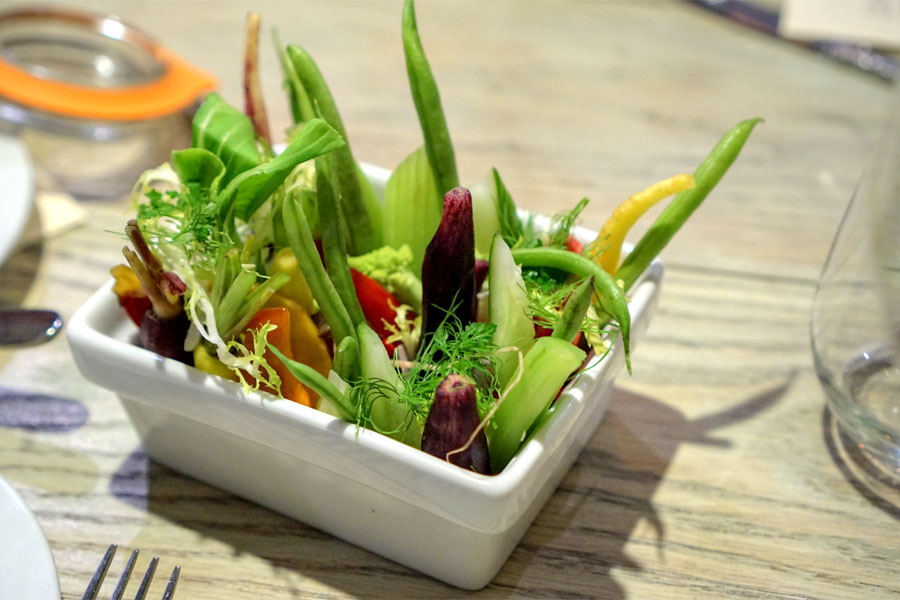 Crudité [$8.00]
| market vegetables, smoked albacore tonnato
Carey's take on crudité was effective. Think bright, fresh, crunchy veggies, all playing with the smoky, fishy heft of that tonnato.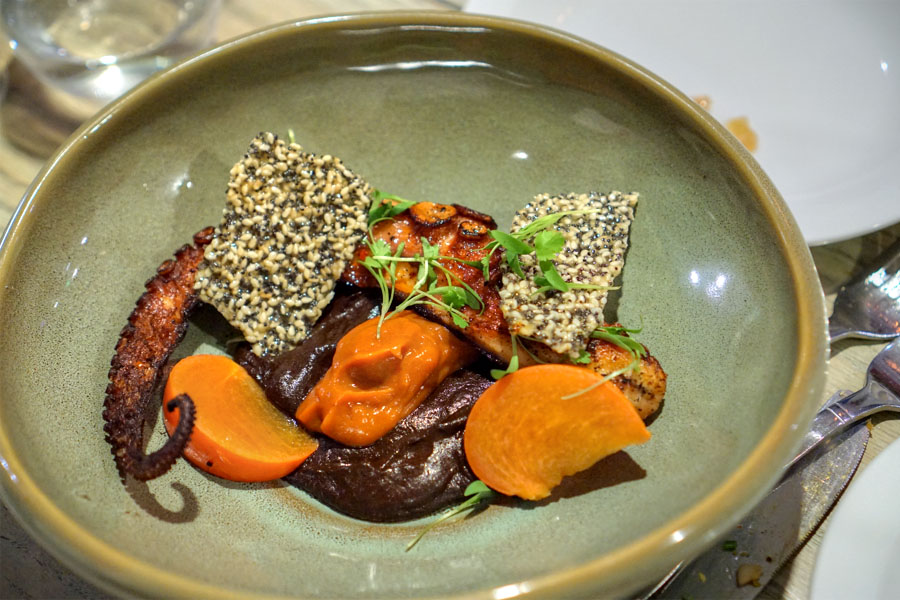 Octopus [$19.00]
| mole, persimmon, sesame tuile
The octo was another favorite, coming out slightly-chewy, well-charred, and beautifully paired with the sweet, savory depth of mole. Nice textural variation from the tuiles, too.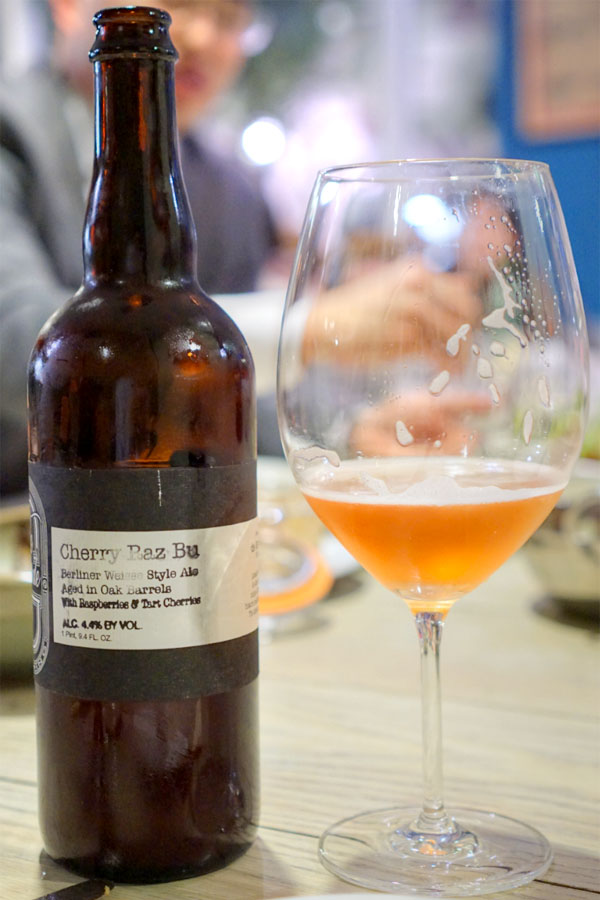 Our second bottle was the
2015 de Garde Cherry Raz Bu
, a Berliner Weisse-style ale refermented and aged in oak barrels with raspberries and Montmorency cherries. Aromas of tart, acidic cherry all over the place. The palate was effervescent, and brimming with unabashedly sour berry fruit and some almost
umeboshi
-like expressions.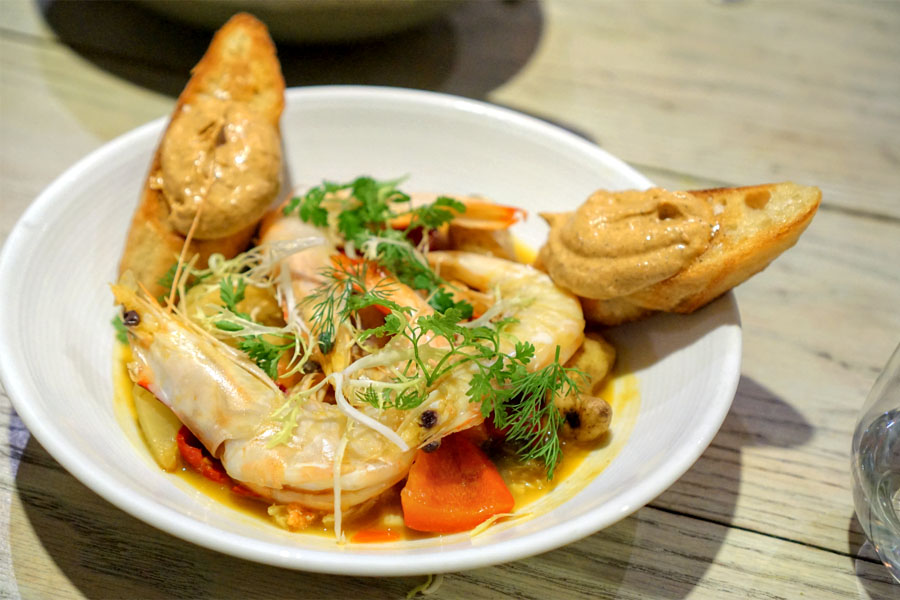 We'd ordered the Fisherman's Soup, but unfortunately the kitchen had run out of the dish, so Chef Carey subsequently sent out this abbreviated version. It was a welcomed consolation, showcasing a good amount of brine (augmented by the
rouille
) but balanced by spice, with the peppers providing a sweet-tart component and the potato a bit of weight. Nice zippiness from the fennel to boot.
Brussels Sprouts [$11.00]
| red flame grapes, La Quercia lardo
Brussels were very satisfyingly textured, and made for one of the better preparations of the veggie that I've had in recent times. I found a superb savoriness and char on the sprouts, enhanced by the saltiness of the included lardo, and there was a great contrast with the non-charred bits as well.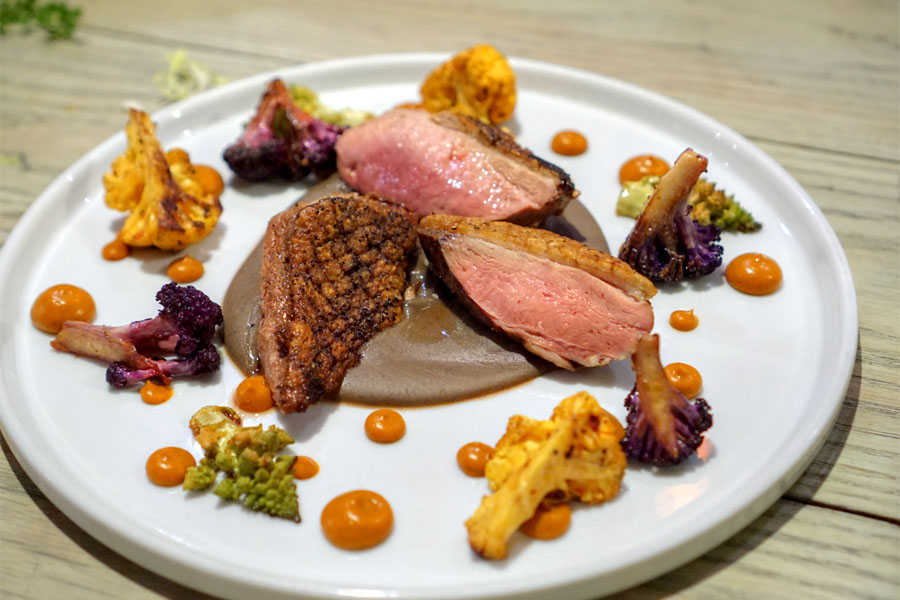 Duck Breast [$29.00]
| black bean, cauliflower, carrot, guajillo
Duck was deeply-flavored, with some nice skin and a tender, substantial bite. I much appreciated the spiciness imparted by the beans and how that moderated the bird, and those smoky florets of crunchy cauliflower worked too.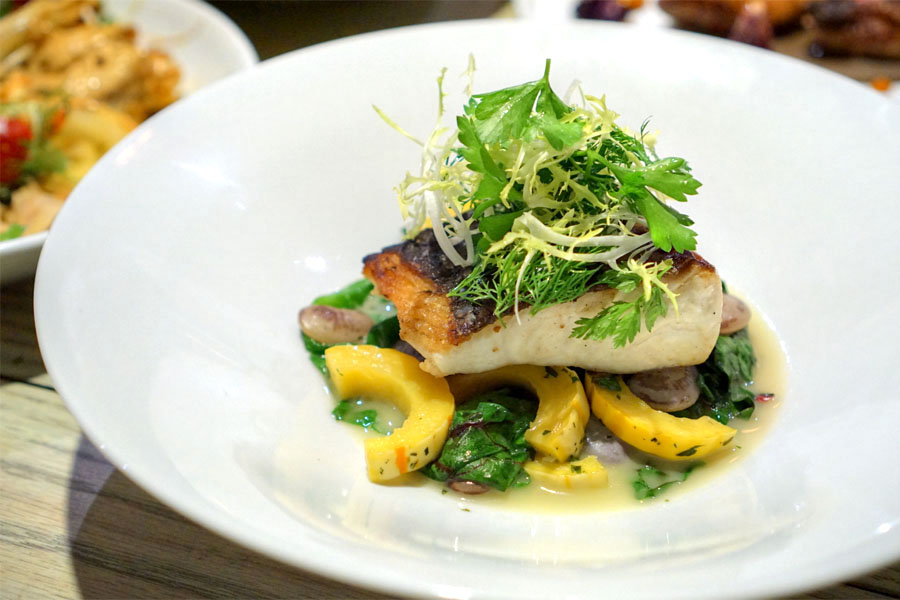 Bluenose Bass [$31.00]
| delicata squash, Christmas lima beans, chard, tarragon fumet
Our final savory was the sea bass, another standout course. The fish came out flaky, with crispy skin and a subdued, but persistent brine that matched beautifully with the light, bright fumet. I liked the bitterness of the chard too, not to mention the contrast provided by the lima beans.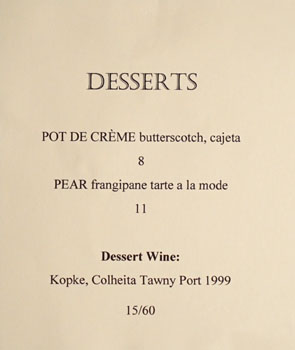 Lost at Sea's dessert menu is one of the smallest I've encountered. I'd like to see a bit more variety here, but my guess is that the restaurant is stymied by the lack of a dedicated pastry chef. Click for a larger version.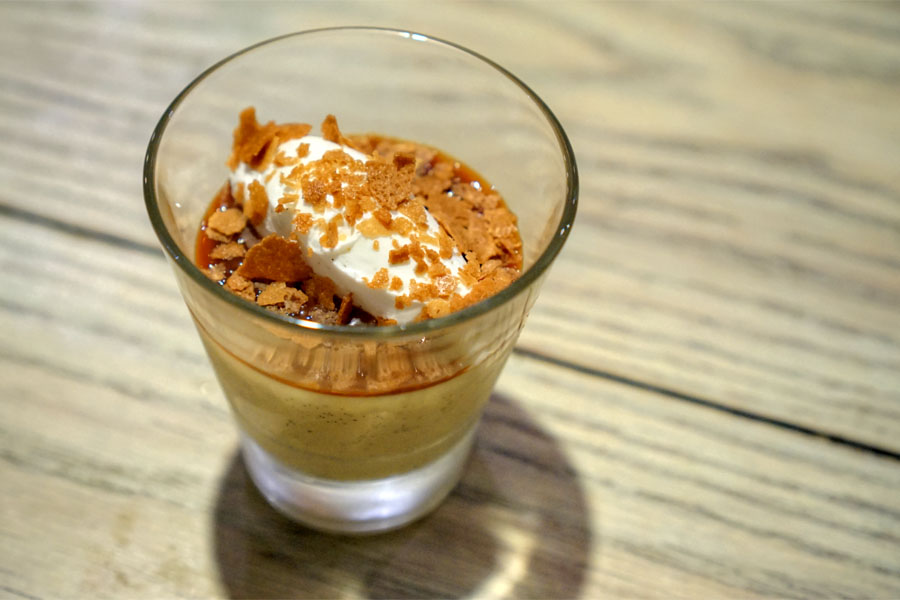 Pot de Crème [$8.00]
| butterscotch, cajeta
Given that there were only two desserts on offer, we opted for both. The pot de crème worked itself out, bringing classic flavors joined by the sticky kick of butterscotch and
cajeta
. Nice crunchy bits on top, too.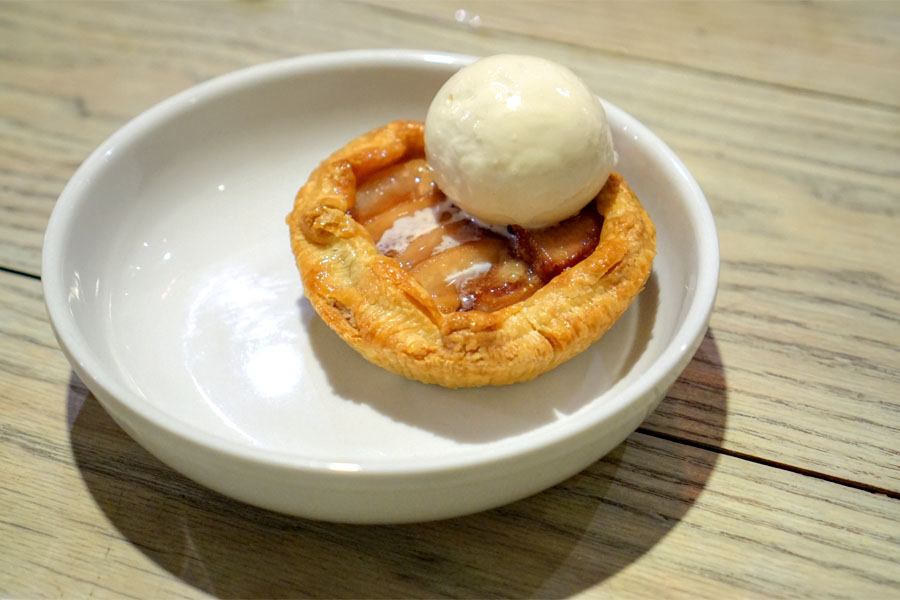 Pear [$11.00]
| frangipane tarte a la mode
The tart was a pleasant surprise. I got massive amounts of sweet, almond-y fruit flavors commingled with warm spice, all balanced by the delectably vanilla flavors of the ice cream.
I think we were all generally quite happy with our meal here. We saw a good range of cooking from Carey's kitchen tonight, with the dishes doing an admirable job drawing from various culinary traditions--it made for a nice mix of fun and finesse. A very welcomed addition to the Old Pasadena dining scene, and the most exciting restaurant to hit the area since
Union
.