The Ponte (Los Angeles, CA)
The Ponte Restaurant
8265 Beverly Blvd, Los Angeles, CA 90048
323.746.5130
www.thepontela.com
Sun 03/19/2017, 07:20p-10:20p

Like many Angelenos, I was surprised at the quick shutter of Kris Morningstar and Stephane Bombet's
Terrine
at the end of last year. I was also taken aback when it was announced that Bombet would be partnering with none other than Scott Conant to turn the place into a casual-contemporary Italian joint. It was a fast turnaround to be sure, as The Ponte (named after the Pontelandolfo immigrants located in Conant's hometown of Waterbury, CT) grand-opened on February 21st, not even two months after Terrine's New Year's Eve closure.
Of course, Conant's not going to be manning the kitchen here on a day-to-day basis. That task falls on the shoulders of Executive Chef Freddy Vargas. Vargas is a longtime compatriot of Conant's, having worked at Scarpettas in New York and Miami before becoming opening CdC at the
Beverly Hills location
in 2010. In 2013, you might recall that he left briefly to run the show at SBE's Mercado di Vetro (he was replaced by
Alex Stratta
), but was back with Conant later that year, this time as Exec Chef. When Scarpetta closed in 2016, Vargas stayed on and worked at its replacement, Geoffrey Zakarian's Georgie.
Also on the team here are General Manager Kelly Guilday (an alum of
Playa Provisions
and
Stefan's at LA Farm
) and the familiar Ryan Wainwright, Director of Bar Programs at Bombet Hospitality Group.


The darker, more bistro-y decor of Terrine has been replaced by a softer, more neutral sort of aesthetic courtesy of Marc Ange's
Bloom Room Studio
. And fortunately, one of LA's most charming patios remains intact.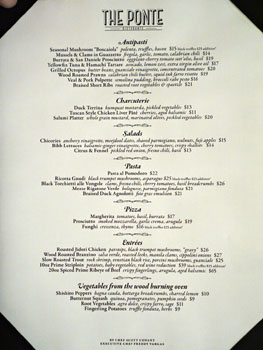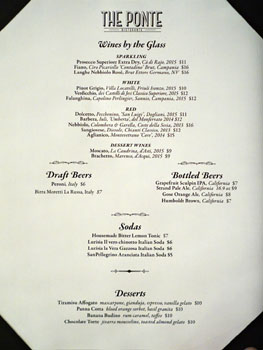 The Ponte's menu features familiar Italian selections, with something for everyone so to speak. There's also a separate brunch offering, as well as a small
bar menu
. To drink, Wainwright's got an appealing array of cocktails divided into classic and modern, a strong assemblage of amaro, and an exclusively Italian wine list. Click for larger versions.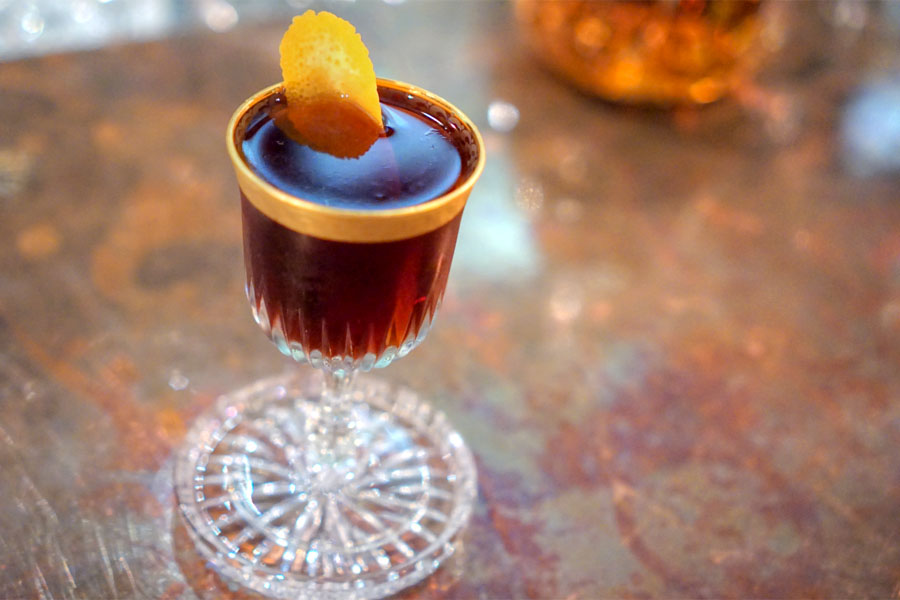 Ospite Amaro [$13.00]
| Cocchi Dopo Teatro, Alessio Chinato, Lucano Anniversario, Wild Turkey 101 Rye, Bitters
Speaking of that aforementioned bar menu, we ended up arriving early for our reservation and thus made good use of it. In our first cocktail, we had a nose rife with dark fruit and bitterness, with citrus providing an uplifting sour tone. The taste veered similarly bittersweet, and also showcased distinct cherried notes along with a strong medicinal/herbal character, everything punctuated by the spiciness of the rye.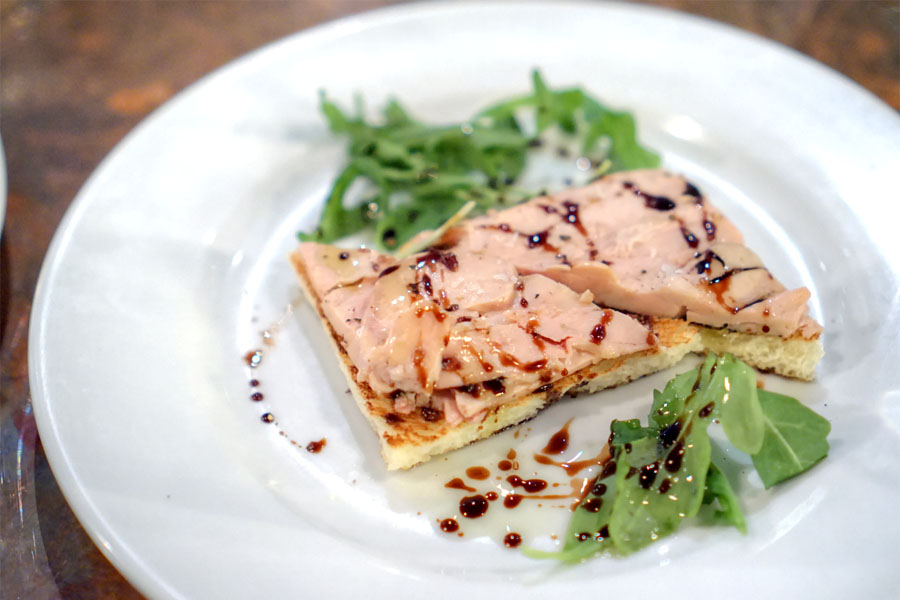 Foie Gras Crostino [$12.00]
| Aged Balsamic, Arugula
Foie was just what I wanted, a silky, delicate preparation tarted up by the balsamic and zesty arugula.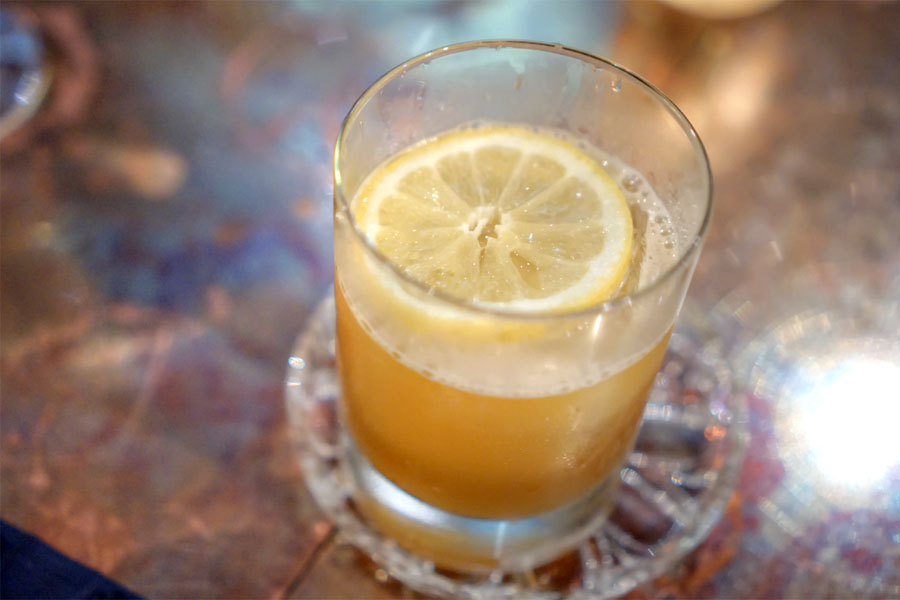 Toscano Sour [$13.00]
| Dewar's Scotch, Lorenzo Inga Amaro, Lemon Juice, Honey, Miracle Mile Toasted Pecan Bitters
A take on the whiskey sour worked. Appealing sweet 'n' sour nose with a touch of bitterness. The taste demonstrated the weightiness of the scotch commingled with pecan, sweet spice, light herbs, and a sugary backing of honey.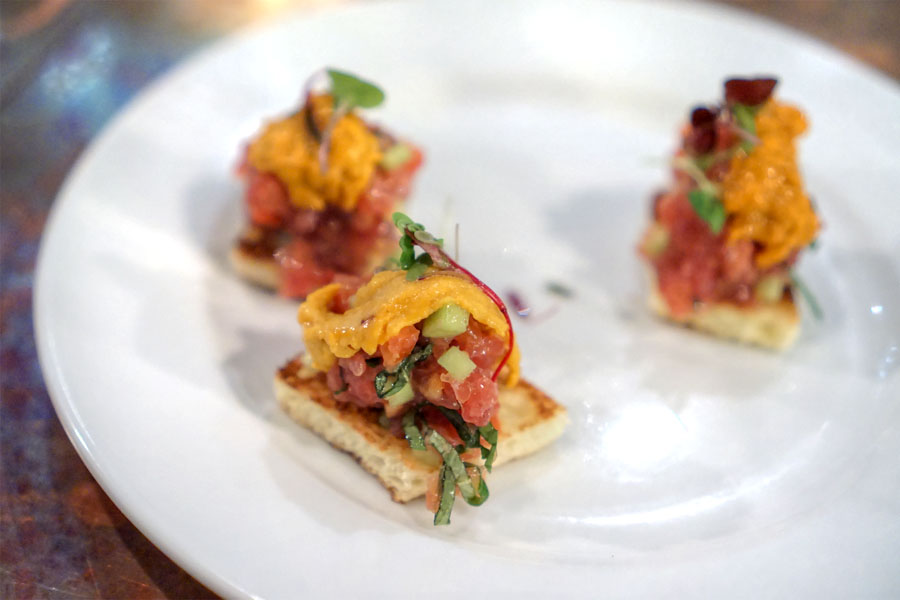 Santa Barbara Uni Bruschetta [$15.00]
| Tuna, Tomato, Cucumber, Basil, Brioche
The bruschetta was sent out by mistake, but we didn't mind. The sweet brine of the urchin was nicely presented, balanced out by supple, mild cuts of tuna, crunchy bits of cucumber, and a sort of overarching bitterness.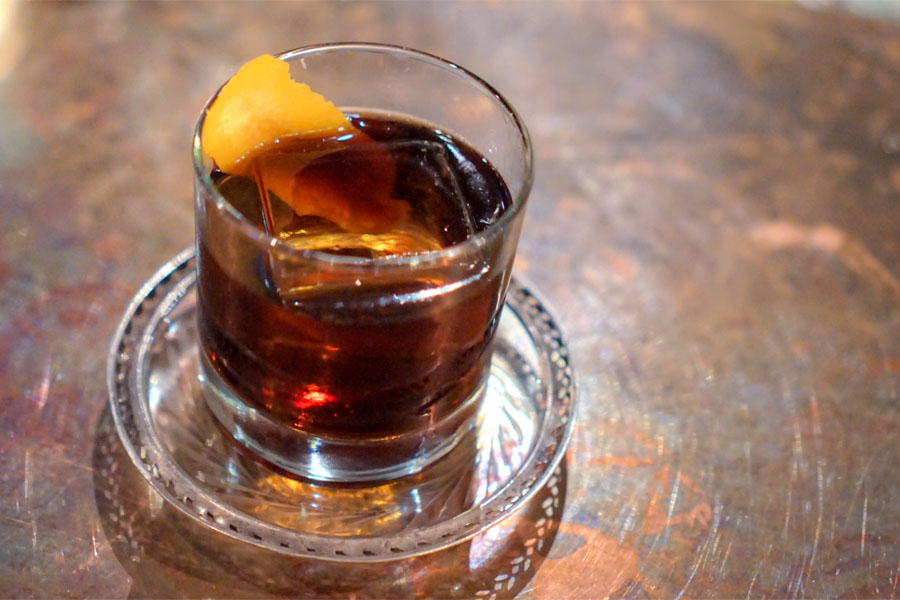 Vecchio Stile [$14.00]
| Elijah Craig Small Batch, Caramelized Contratto Fernet Reduction
Here was a variation on the Old Fashioned cocktail. A delightfully bittersweet, herbal bouquet led to a palate filled with bitter, boozy, herby notes and the caramel-y sweetness of the fernet reduction. Pretty neat.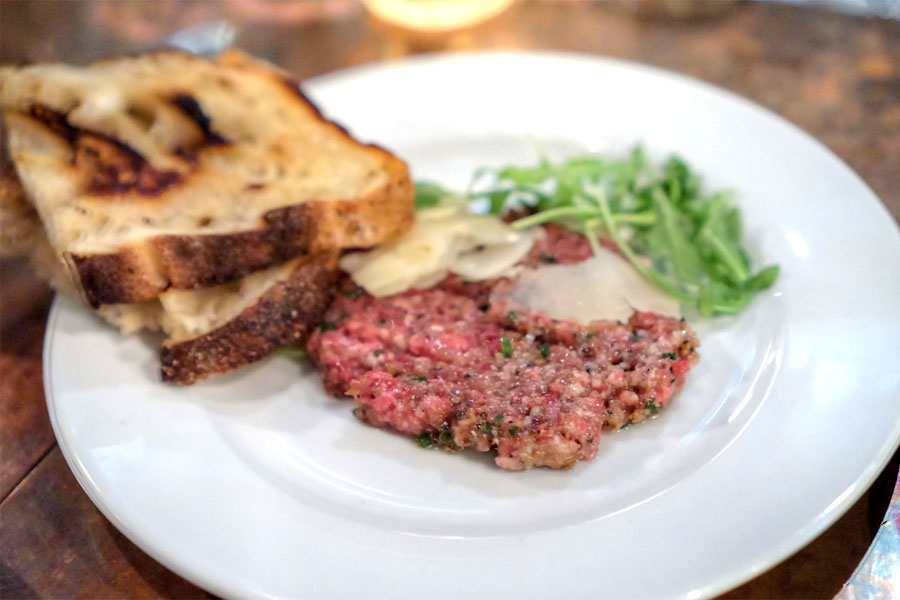 Steak Tartare [$15.00]
| Preserved Truffles, Parmigiano, Pickled Shallots
The tartar featured supple cuts of beef imbued with just enough truffle-y musk. Arugula gave the dish a touch of brightness, and the toast served to moderate things a bit.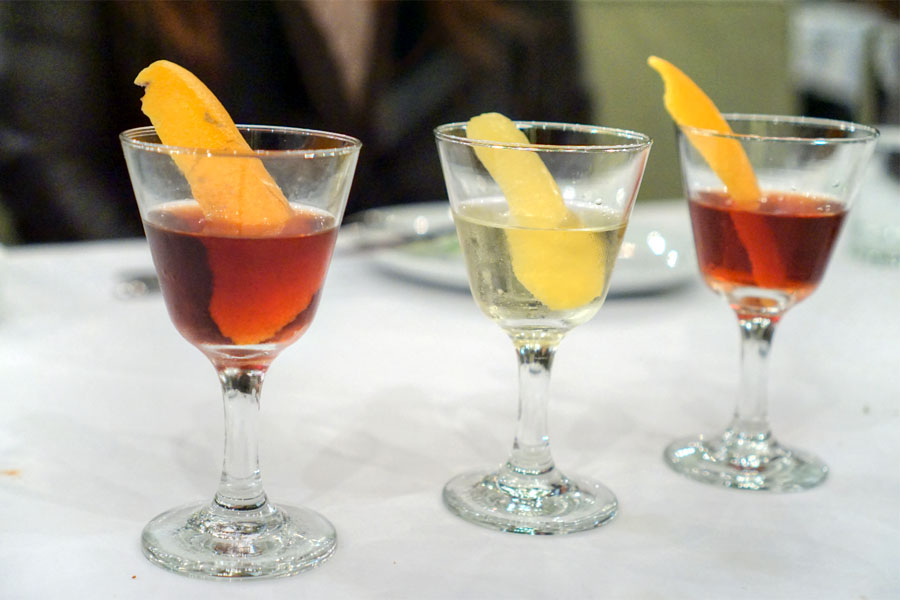 Flight of All Three Negronis [$15.00]
| 2oz of each
At this point we made our way to our table on the patio. A flight of three negronis was reminiscent of a similar arrangement featuring Manhattans over at
Viviane
, another (former) Bombet property. All three were lovely and had their own unique charms. Right to left:
Campari Mixte | Occitan Gin, Bombay Dry Gin, Campari, Alessio Vermouth di Torino - The most classic of the trio. Appealingly astringent and bitter on the nose, with plenty of citrus. Taste-wise, think bitter and botanical, but with a sweet-ish finish.
White Negroni | Occitan Gin, Bombay Dry Gin, Contratto Bianco Vermouth, Bordiga Extra Dry Vermouth, Kina L'Avion, Salers Aperitif - Super bright lemon dominated the aroma. On the palate, things got a lot more herbal, a lot more medicinal, a lot more bitter, but also very well-integrated. One of the best "white" versions I've had.
Mezcal Negroni | El Silencio Mezcal, Campari, Alpe LYS, Punt-e-Mes, Cocchi Dopo Teatro - This mezcal-containing variation also hit the mark. The spirit's woody, smoky flavors were at the forefront, joined by a touch of sweetness and the bitter bite of quinine. Superbly balanced.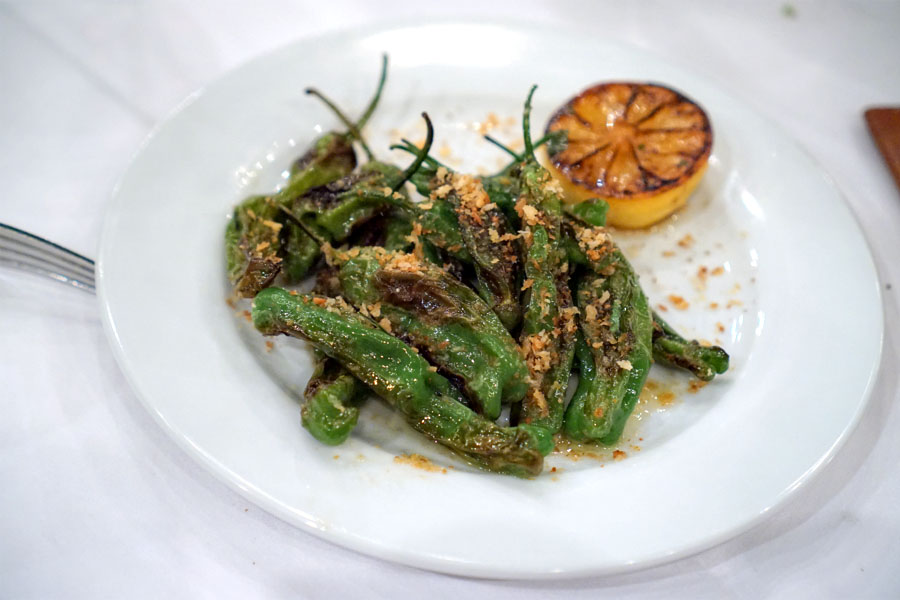 Shishito Peppers [$10.00]
| bagna cauda, bottarga breadcrumbs, charred lemon
Shishitos were deftly charred, their heat matched by salty bottarga and tart lemon. Very nice.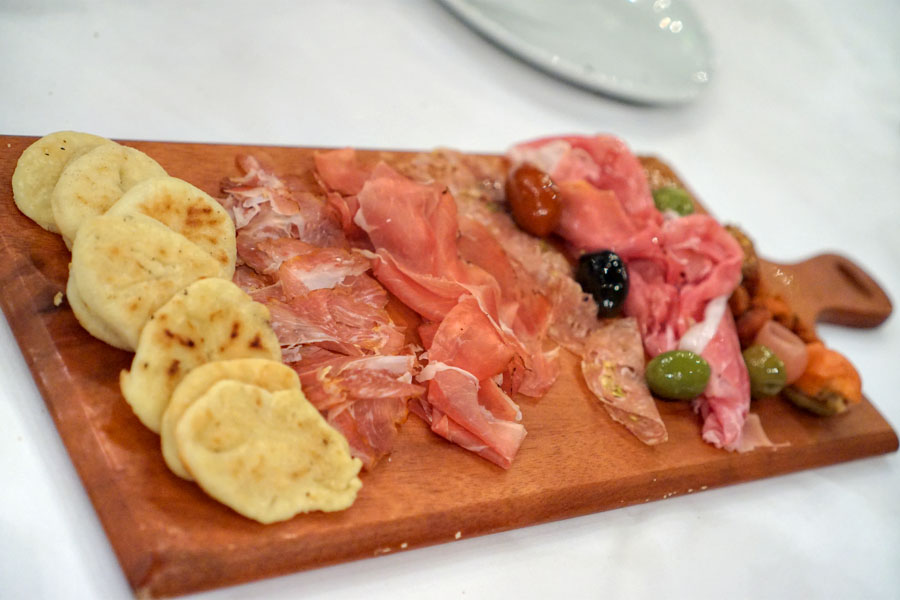 Salumi Platter [$20.00]
| whole grain mustard, marinated olives, pickled vegetables
The night's salumi selection was composed of four cured meats. Going right to left, we had: salty, slick, nutty prosciutto; fatty, herby, super-flavorful soppressata; spicy, almost anise-y speck; and rich, waxy, fatty coppa. Also appreciated were the crisp rounds of
tigelle
bread and that piquant kumquat mostarda.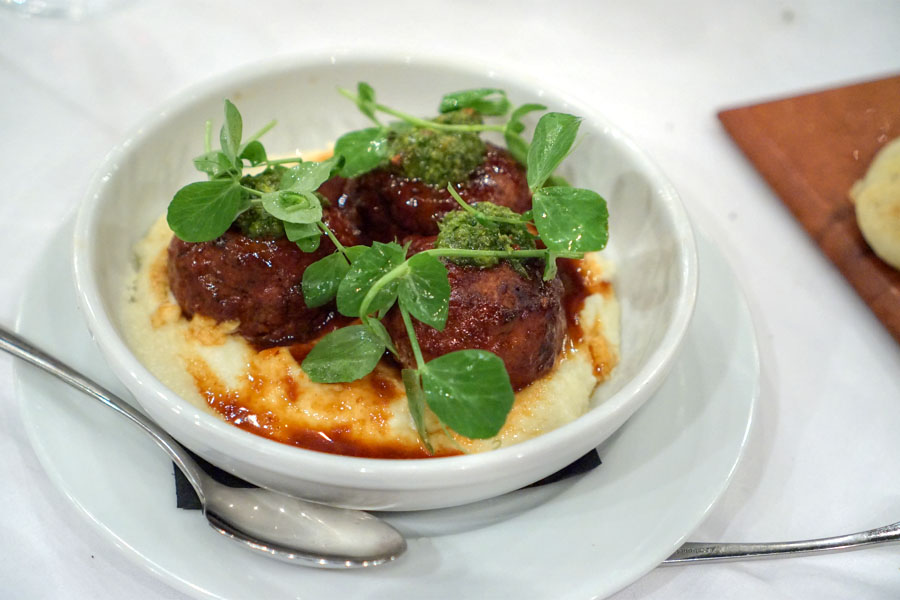 Veal & Pork Polpette [$16.00]
| semolina pudding, broccoli rabe pesto
Meatballs were savory and salty, homey in essence and with the semolina serving as a crucial counterpoint. I definitely welcomed the brightness imparted by that pesto.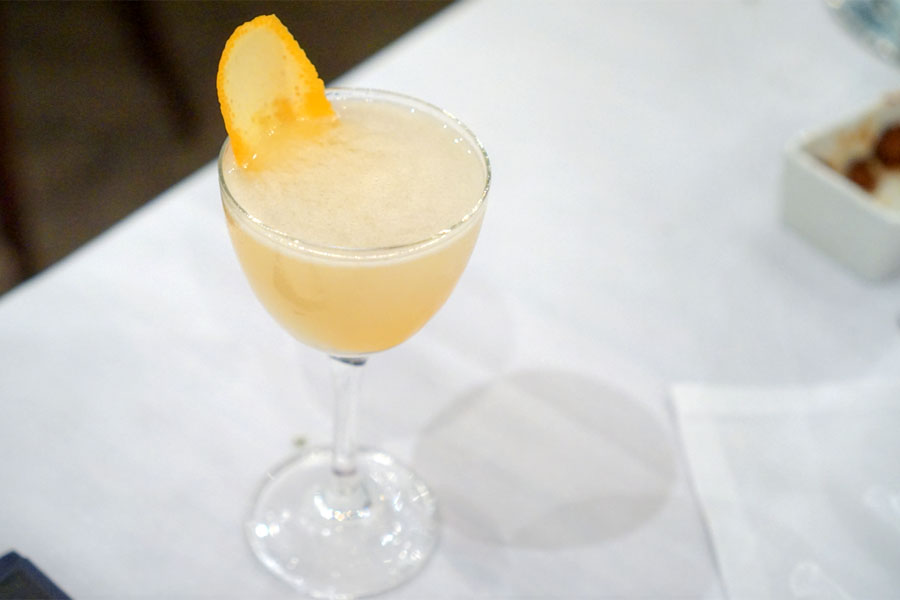 Marina Militare [$13.00]
| Plymouth Gin, Lime Juice, Lazzaroni Amaretto, Orange Flower Water, Regans Orange Bitters
This ostensibly navy-inspired cocktail brought nearly candied fruit flavors to the forefront, but also showed off the right amount of tempering bitterness. I was especially fond of the nutty-sweet amaretto here.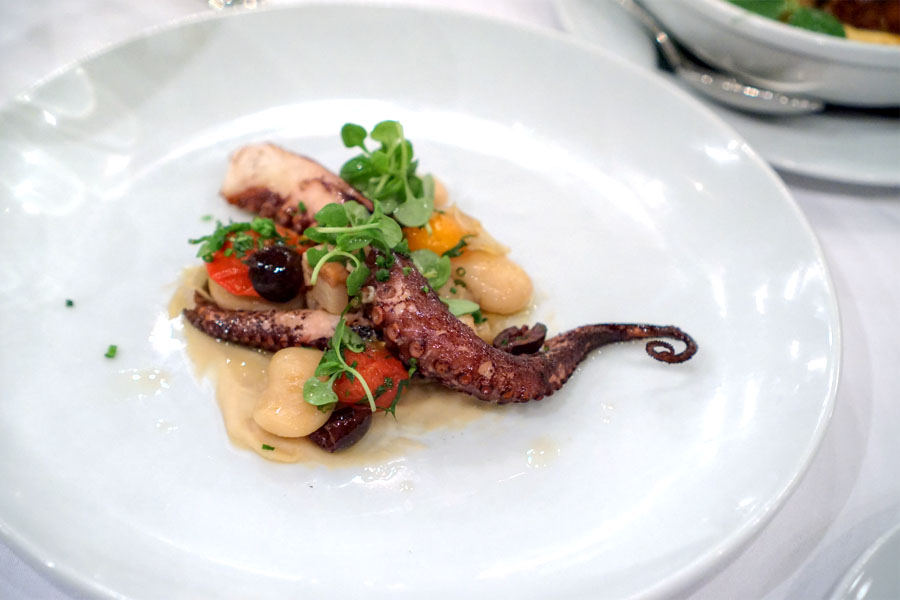 Grilled Octopus [$20.00]
| butter beans, guanciale vinaigrette, concentrated tomatoes
Texturally, octopus displayed a mix of tenderness and snap, its briny qualities matched by astringent char and the tanginess of olives. The lima beans, meanwhile, worked to lend some heft to the dish.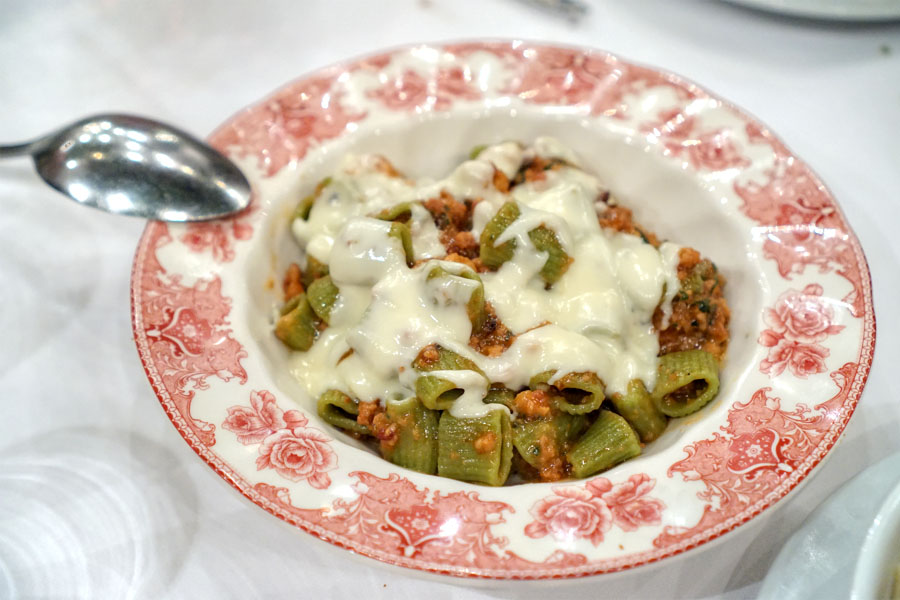 Mezze Rigatone Verde [$21.00]
| bolognese, parmigiano fonduta
Rigatoni showed off a nice firmness, and made for a cozy base to the aggressively savory flavors of the
bolognese
.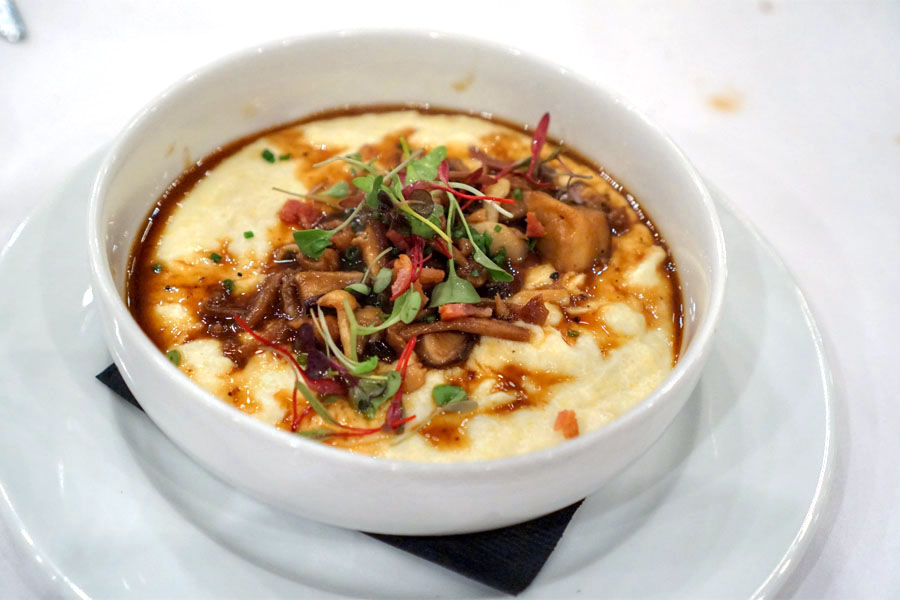 Seasonal Mushroom "Boscaiola" [$15.00]
| polenta, truffles, bacon
Our polenta course was satisfying, with the cornmeal functioning as a marvelous stage for the earthy flavors of mushroom and truffle.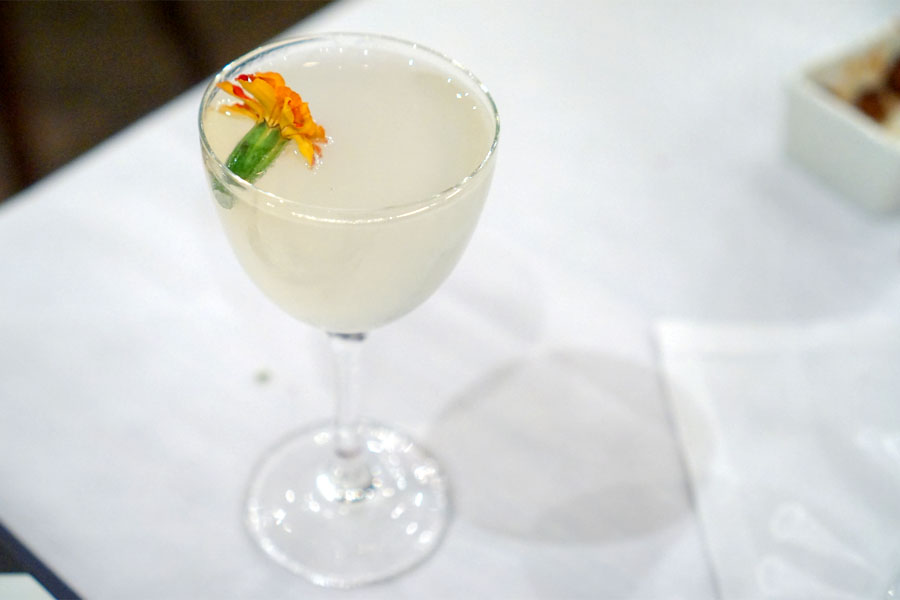 Playa Fortuna [$13.00]
| Bacardi Superior, Lime Juice, Coconut Cordial, Tartaric Acid
This next cocktail came from the "Award Tour" portion of the list, and displayed an enticing interplay of sweet coconut and tart lime, the rum peeking through just enough.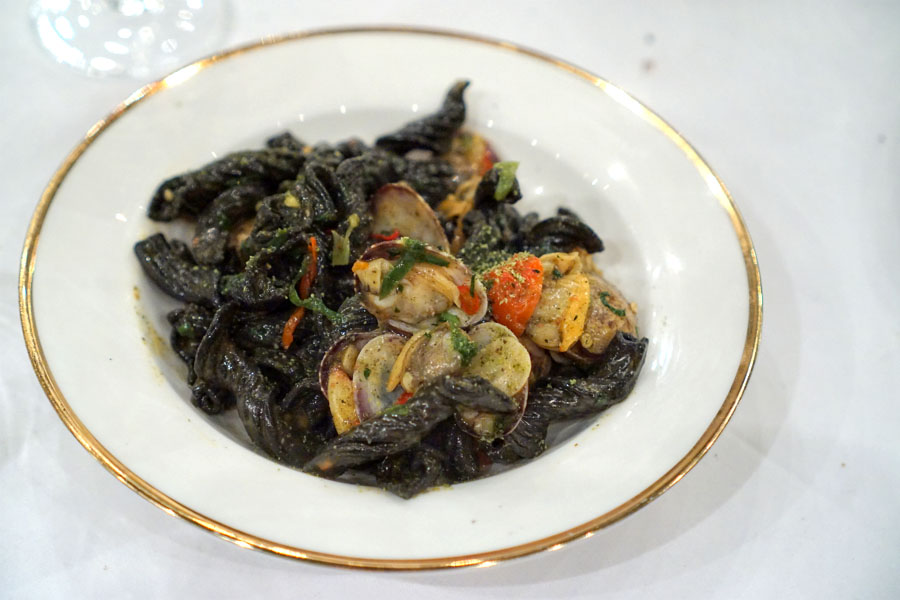 Black Torchietti alle Vongole [$26.00]
| clams, fresno chili, cherry tomatoes, basil breadcrumbs
Our second pasta course was probably my favorite of the bunch. I was a fan of the in-your-face brine of the clams, and how that went back-and-forth with the heat of the Fresnos. Nice bite on those noodles, too.
Funghi Pizza [$16.00]
| crescenza, thyme
The pizza had your classic flavors of herb, cheese, and mushroom going for it, along with just a tinge of sweetness. I would've liked more actual
funghi
here though.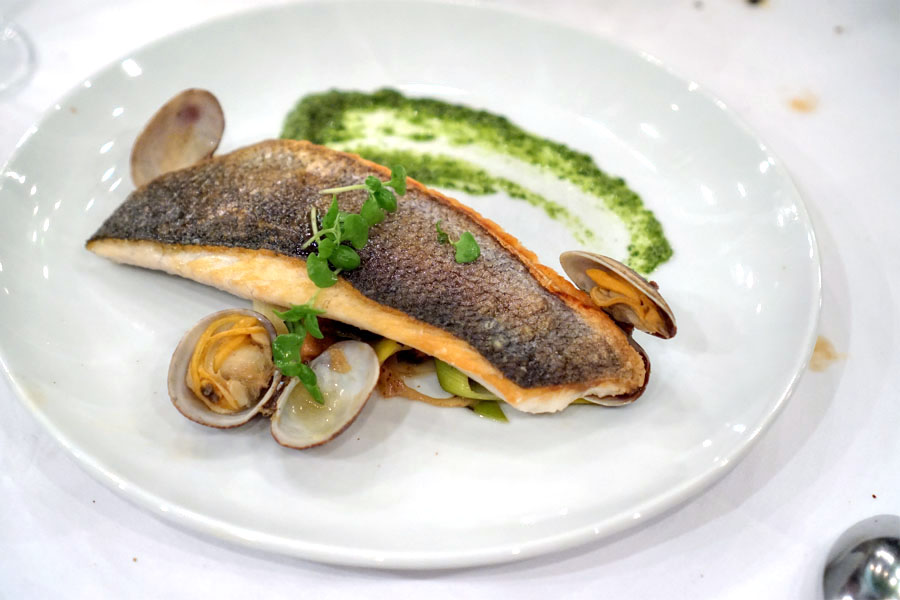 Wood Roasted Branzino [$27.00]
| salsa verde, roasted leeks, manila clams, cippolini onions
The seabass did an commendable job showcasing its soft, mild flesh and crispy skin, with the clams working to enhance the fish's natural salinity. Great brightness from the salsa as well.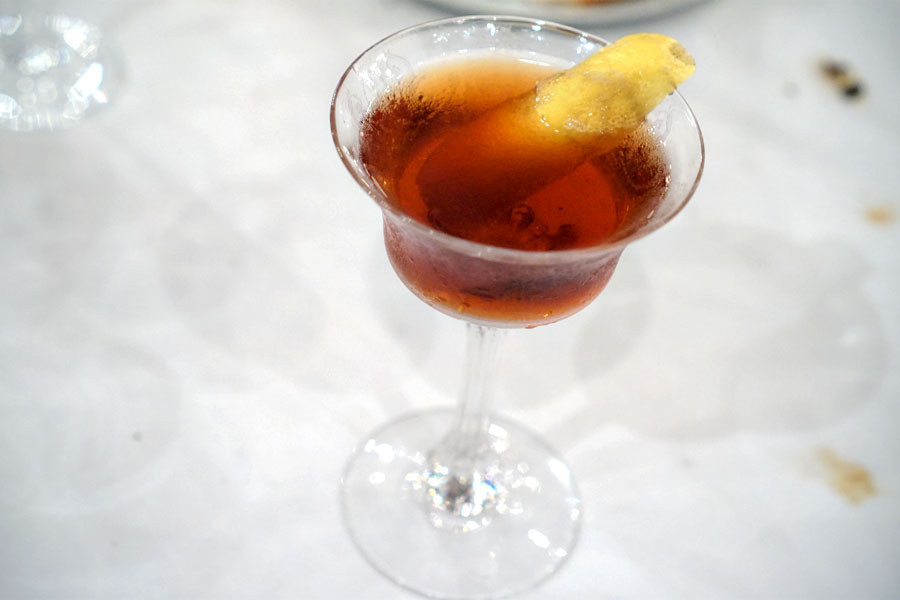 Vieux Carré [$12.00]
One of my dining companions requested a Vieux Carré, and the bar was more than happy to oblige, crafting one using Russell's Reserve 6 Year Old Rye. It seemed to hit the mark, a boozy cocktail delivering tasty elements of dark fruit and rye spice, accented by bitter, herbal notes and a touch of citrus.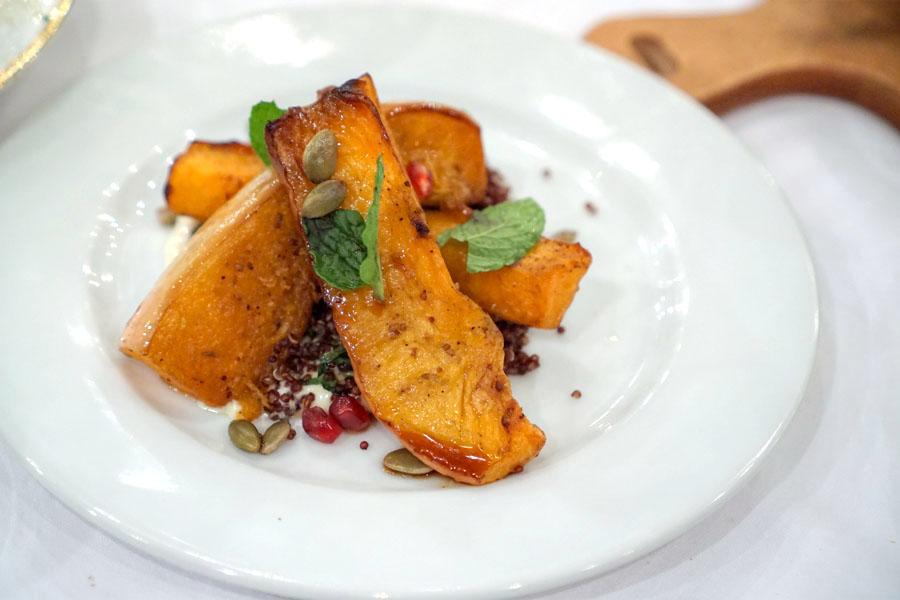 Butternut Squash [$9.00]
| quinoa, pomegranates, pumpkin seeds
Butternut squash was relatively restrained in its sweetness fortunately, the nuttiness of the quinoa and pepitas further offsetting its sugariness. Nice use of mint to boot.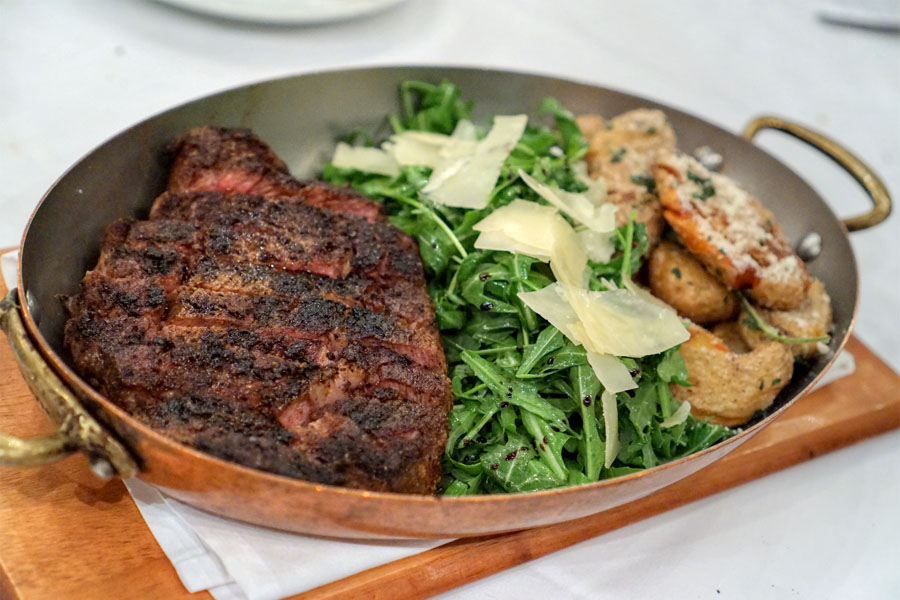 20oz Spiced Prime Ribeye of Beef [$65.00]
| crispy fingerlings, arugula, aged balsamic
The rib eye arrived properly tender, properly juicy, with plenty of flavor and an assertively spiced crust. The potatoes worked as a natural pairing, while arugula gave us a zestiness that lifted the dish.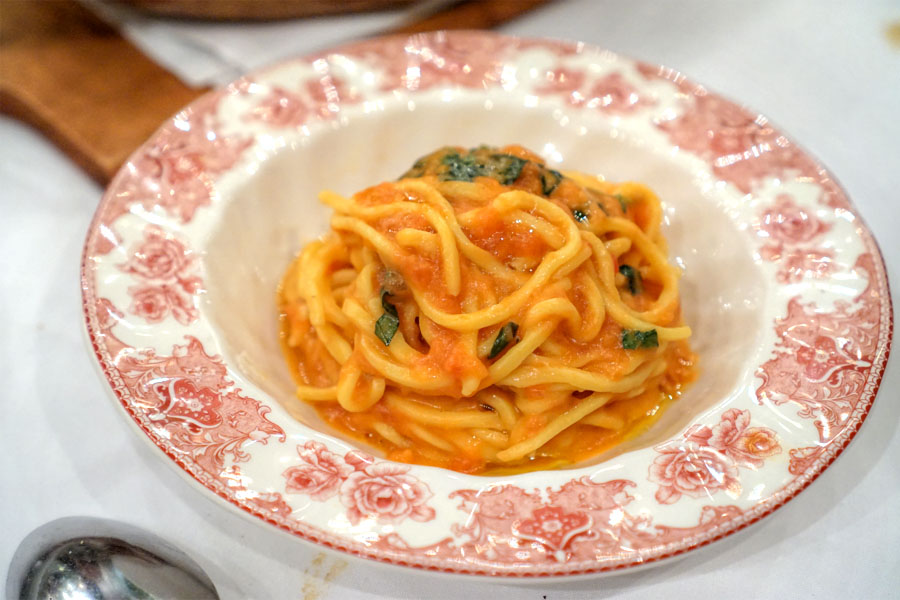 Pasta al Pomodoro [$22.00]
Conant's signature spaghetti was on the menu, naturally, and we felt compelled to order it, naturally. The pasta itself had the right texture, and I was certainly a fan of the marriage of tart tomato and bright, herby basil. Not quite as transcendent as when I had it at Scarpetta (where Conant himself prepared it for us at the kitchen counter), but still very tasty.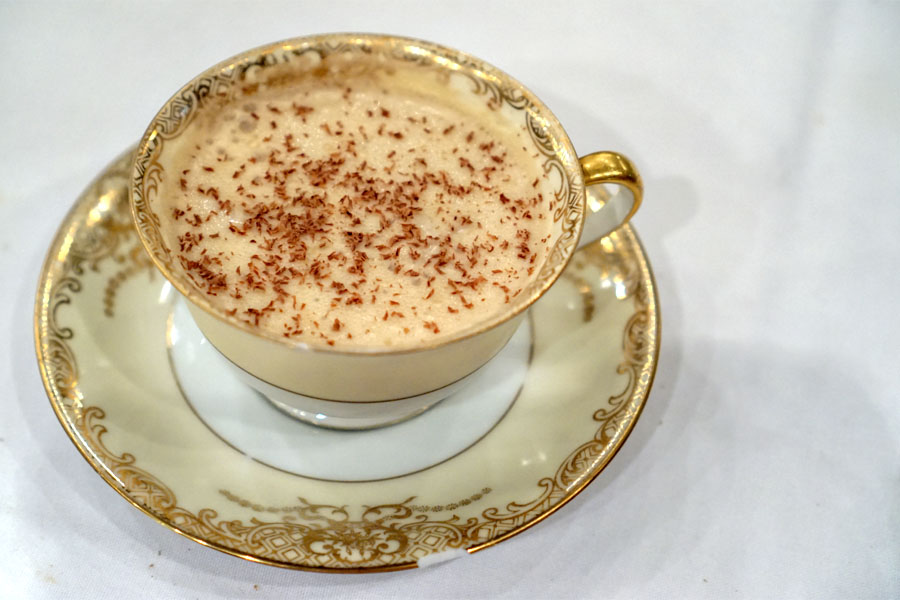 Lucano Correcto [$13.00]
| Coffee Infused Amaro Lucano, Diplomatico Reserva Exclusiva, Café Moka, Cream, Chocolate Bitters, Shaved Bitter Chocolate
Our final cocktail was definitely a table favorite, and very apropos for dessert. Delicious aromas of sweet chocolate and strong coffee. In terms of taste, I got bitter, roasty coffee at first, joined by dark fruit, chocolate, and boozy heat. One of my fellow diners even likened this to an alcoholic
ca phe sua da
.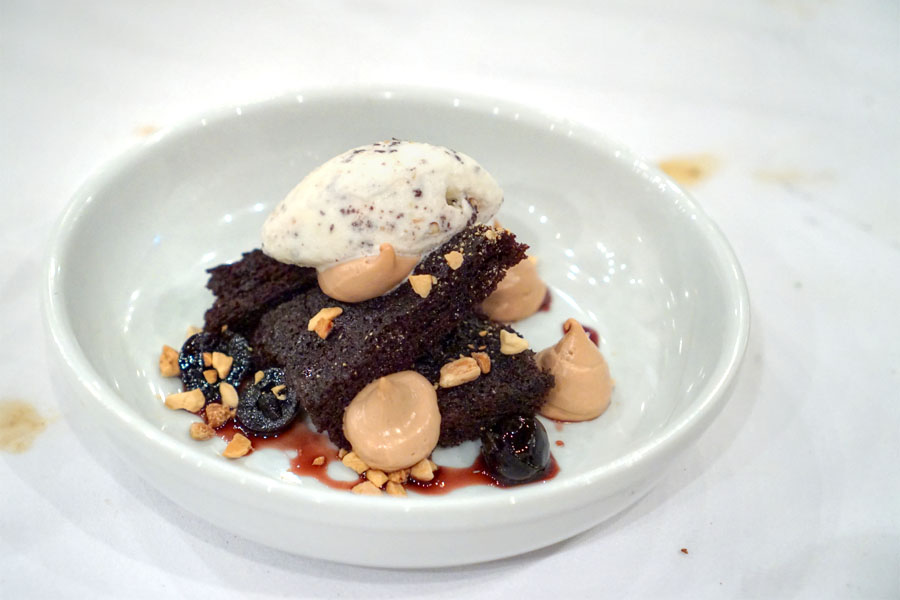 Chocolate Torte [$10.00]
| jivara mousseline, toasted almond gelato
The
dolci
made for a strong conclusion to the meal. Our first did a wonderful job showcasing the chocolate, but also gave up plenty of nutty, smoky, crunchy qualities to make for an eminently balanced dessert.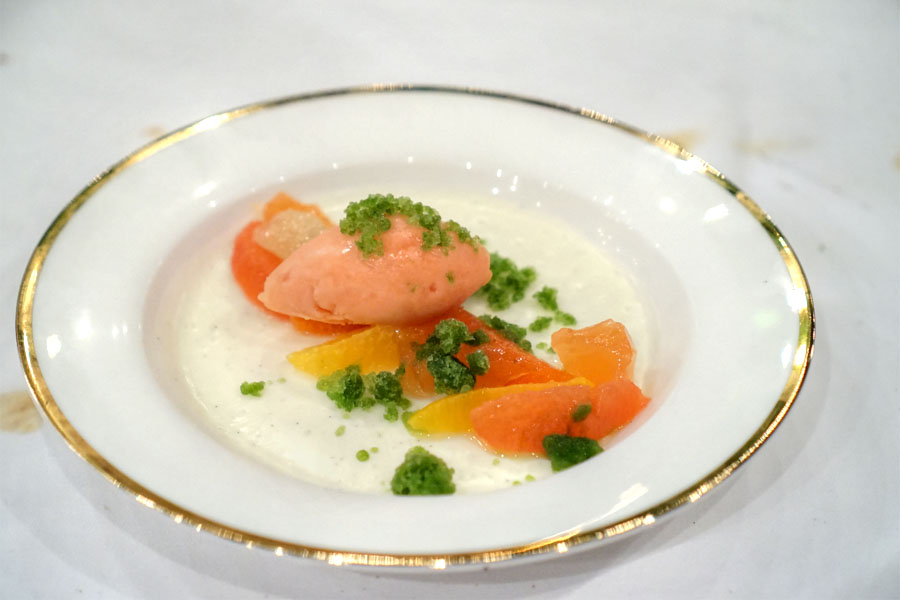 Panna Cotta [$10.00]
| blood orange sorbet, basil granita
Here I got flavors of vanilla from the panna cotta, which meant that the citrus worked as a natural, logical pairing. What was more interesting was that granita, which was almost bracing in nature, both in terms of its coldness and its herbaceousness.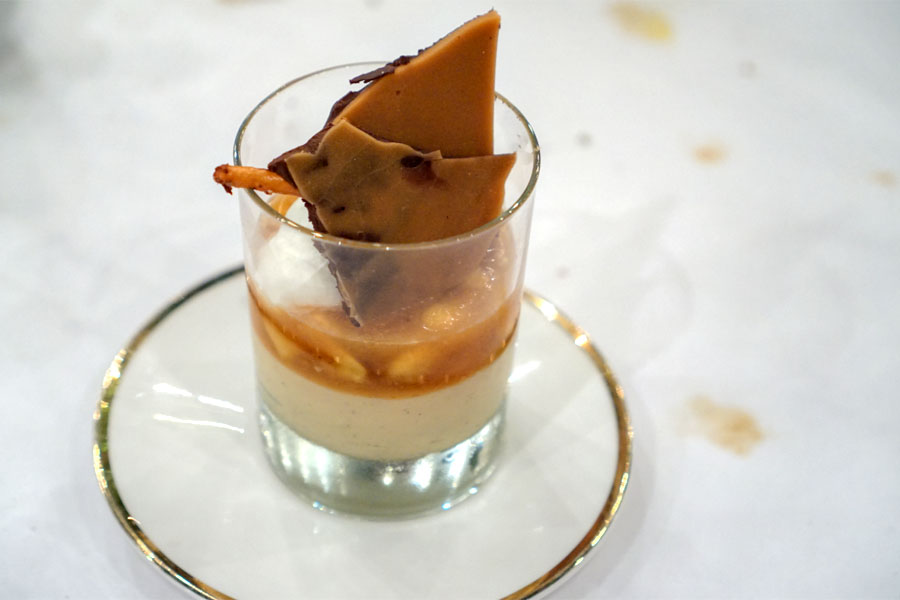 Banana Budino [$10.00]
| rum caramel, toffee
Last up was the pudding, which I have to say is
the
dessert to get. The star here was that banana and how well the fruit was conveyed, but the incorporation of that rum caramel and crunchy, salty toffee definitely worked wonders. Better than
Mozza's
I'd say.
I was sad to see Terrine go, but The Ponte's not a bad replacement, and hopefully it can stick around longer than its predecessor. The food's more straightforward, more approachable than one might expect from the former Scarpetta team. But there's wide-ranging appeal, which I imagine will help keep the place busy. We shall see.