Breva (Los Angeles, CA)
Breva Restaurant at Hotel Figueroa
939 S Figueroa St, Los Angeles, CA 90015
213.660.3006
www.brevadtla.com
Fri 04/20/2018, 08:45p-11:45p

It's been a while since we caught up with Casey Lane. The last time was over at
The Parish
, the Chef's gastropub in Downtown, back in August 2012. Since then, he's cancelled his plans for Itri, an Italian joint that was supposed to take over the old Angeli Caffe, and ended up closing The Parish at the end of September 2013 (the space is now home to
Preux & Proper
). It hasn't been all bad news though. In July 2016, he launched Casa Apicii in New York's Greenwich Village. Lane also got tapped to open an Italian restaurant at the La Peer Hotel in West Hollywood, and the resultant Viale dei Romani debuted back in January. More importantly, he was hired to run the entire culinary program at the newly revamped Hotel Figueroa. Breva, a Basque- and Mediterranean-inspired eatery, dropped on February 19th, the first concept to open in the hotel. He's joined here by none other than Dushan Zaric (Employees Only, Macao Trading Company), who's his counterpart on the beverage side of things.

Upon entering, you'll find yourself in the lobby/lounge area, which, along with the entire property, has been redesigned by local firm
Studio Collective
(Westbound, Estrella, Chi Lin, Crossroads Kitchen). It's home to Bar Figueroa, where you can get drinks and a light meal.

Off to the side of the bar is the formal dining space for Breva.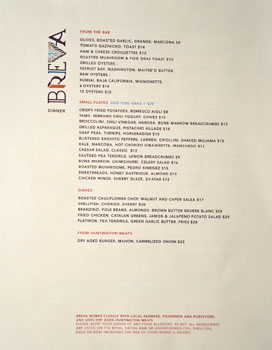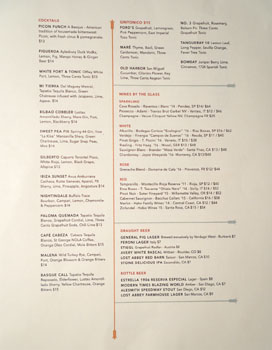 As for the menu, it's mostly composed of smaller plates meant for sharing. Given that this is the main restaurant for the hotel, breakfast and lunch are also served. Drink-wise, you get a proper selection of cocktails, a few beers, and your requisite wines by the glass. Note that there's also a much larger wine list available if you're interested. Click for larger versions.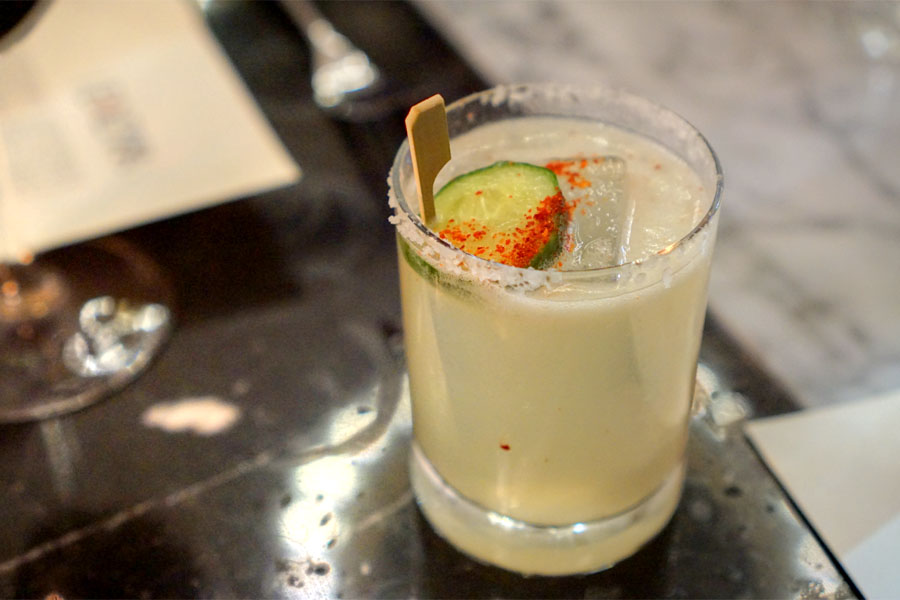 Mi Tierra [$14.00]
| Del Maguey Mezcal, Tapatio Tequila Blanco, Green Chartreuse infused with Jalapeno, Lime, Agave
Given who was behind the bar program here, we of course made our way through several of the cocktails. First was this duo of agave spirits, a smoky, vegetal sort of concoction with a sweetness to it as well as a bit of heat on the back end.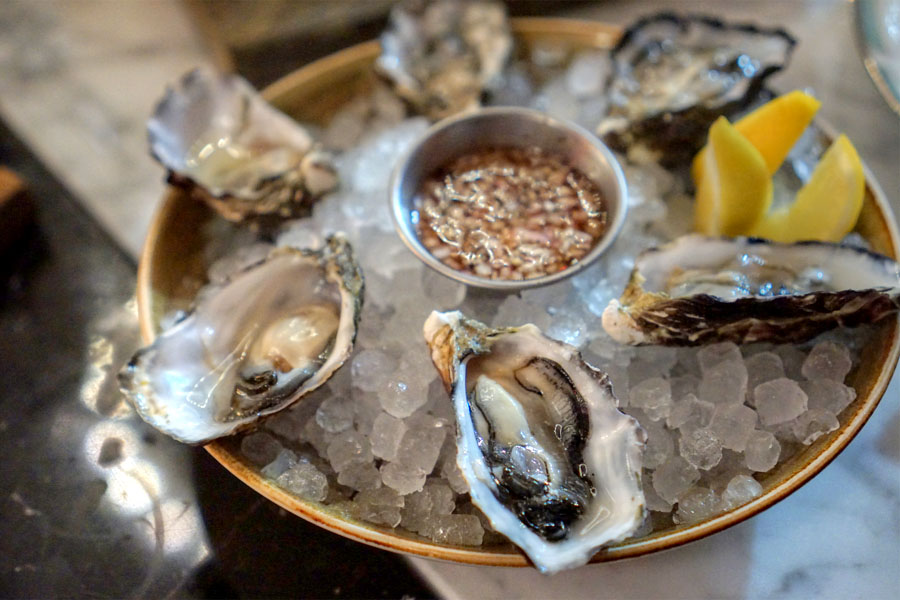 Raw Oysters - Kumiai. Baja California. Mignonette. [$18.00]
Pacific oysters were fresh and clean, showing off a focused brine that matched up well with a squirt of lemon.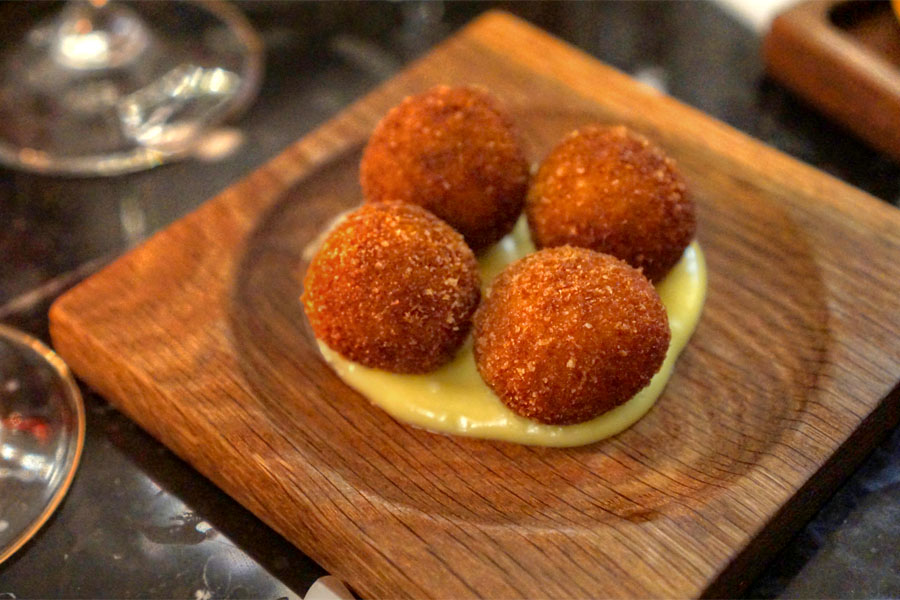 Ham & Cheese Croquettes [$12.00]
Croquetas
were lovely, coming out creamy and crisp, with a gratifying filling of ham and cheese.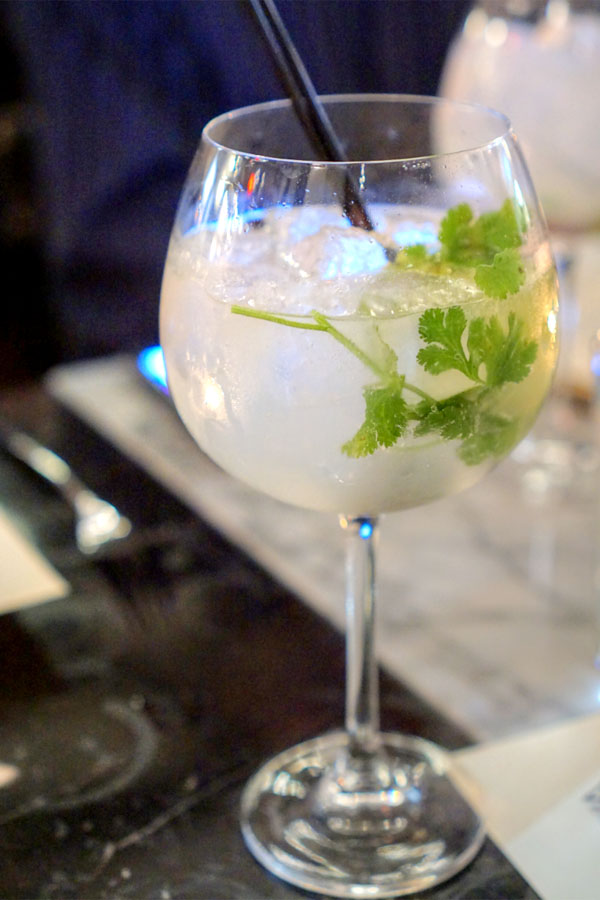 Old Harbor [$15.00]
| San Miguel Cucumber, Cilantro Flower, Key Lime, Three Cents Aegean Tonic
The cocktail menu features several variations on
gin tonic
, so we sampled a couple of 'em. Our first showed off lots of cucumber, as well as an herbaceous element from the cilantro and a pervasive bitter quality. Definitely more robustly flavored that your usual G&T I'd say.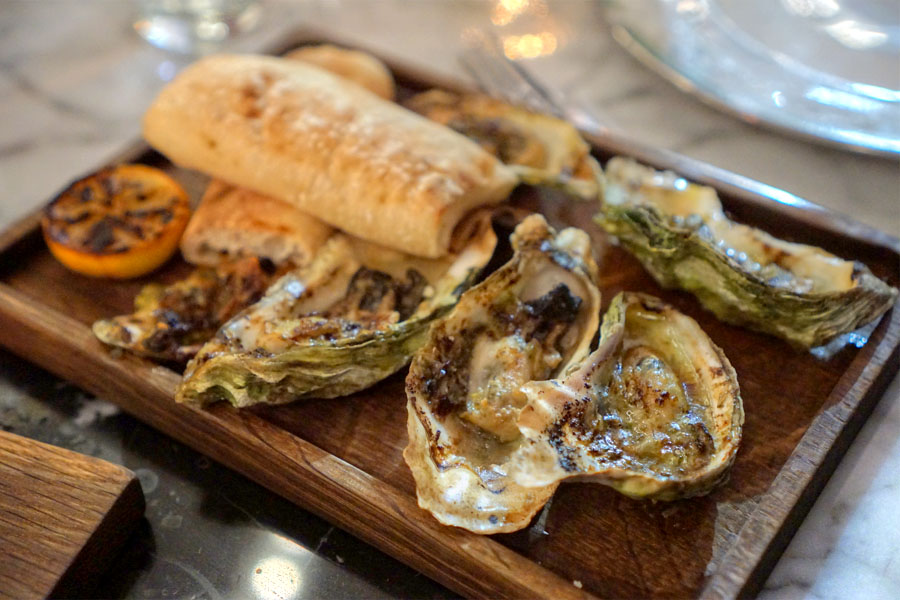 Grilled Oysters - Patriot Bay. Washington. Maitre'd Butter. [$18.00]
Meaty, grilled
ostras
conveyed plenty of buttery, herby notes that paired well with oysters' natural saltiness. Tasty, though the included bread was pretty ho-hum.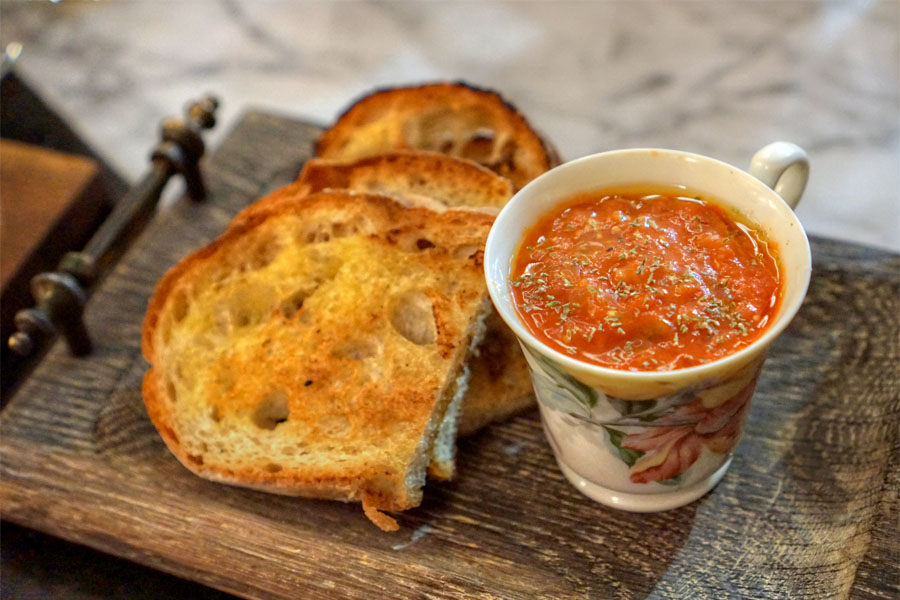 Tomato Gazpacho. Toast [$14.00]
A cup of gazpacho was definitely on the bright, tangy side, and had an almost salsa-like character. And of course, the toasty, smoky bread on the side made sense too.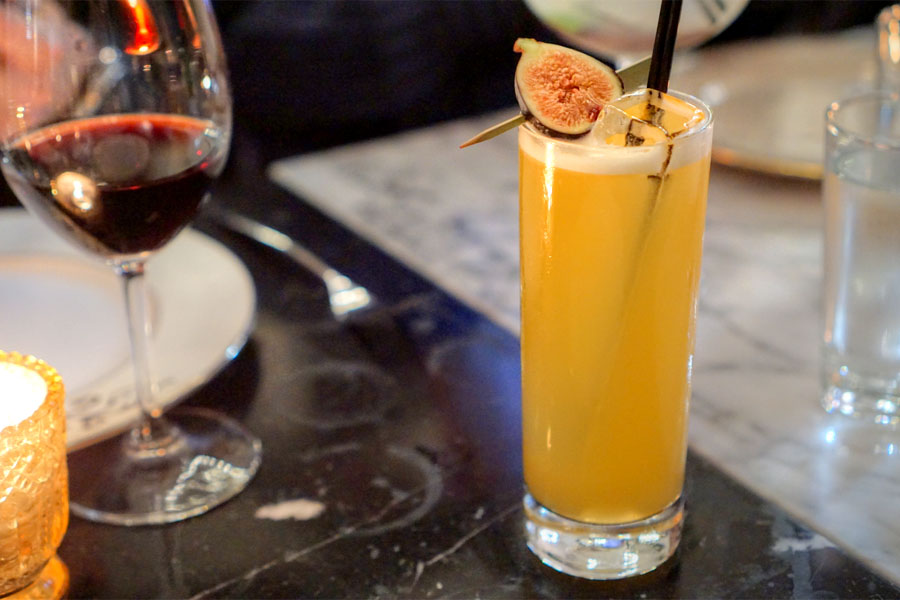 Figueroa [$14.00]
| Aylesbury Duck Vodka, Lemon, Fig, Mango Honey & Ginger Beer
The hotel's namesake cocktail wasn't shy about the ginger, making this a zesty, astringent drink, but one with a general fruity sweetness as well.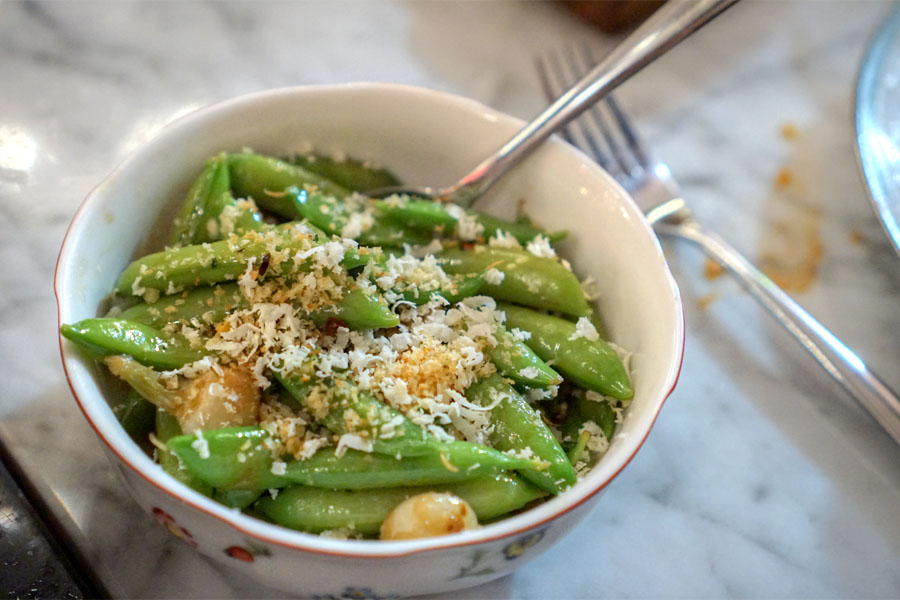 Snap Peas. Turnips. Horseradish [$10.00]
Peas were as snappy as advertised, with light, refreshing flavors and just a smidge of horseradish heat, which was probably a good thing. I was a fan of the radishes here as well.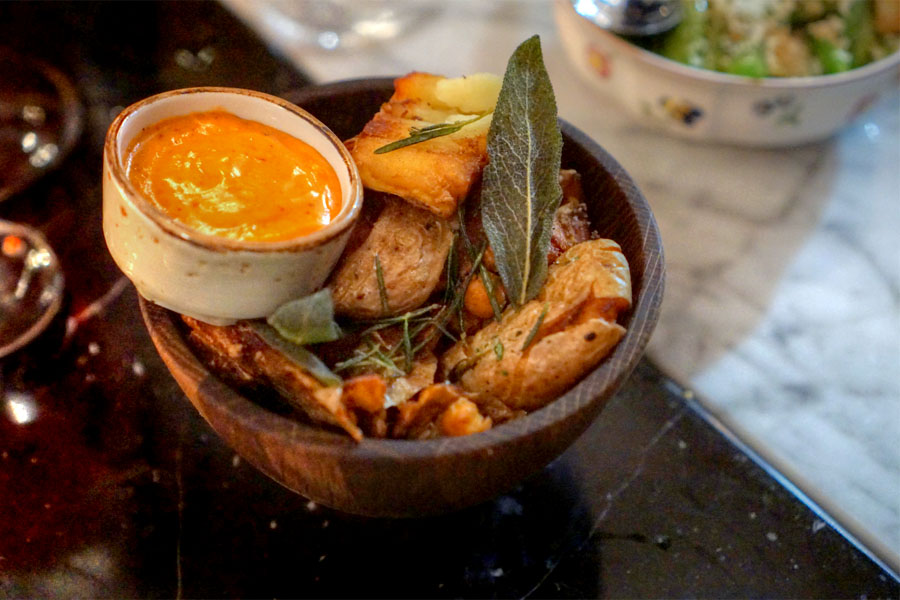 Crispy Fried Potatoes. Romesco Aioli [$8.00]
Potatoes were hearty and homey, with an herbaceous accent from what I believe was sage. The chickpeas were a welcomed addition, and of course the tangy romesco worked as a pairing.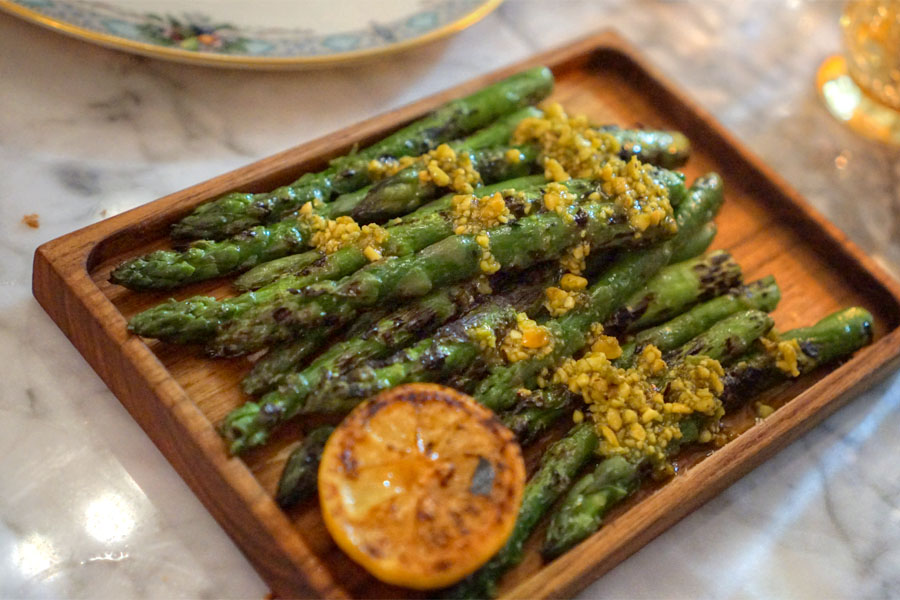 Grilled Asparagus. Pistachio Aillade [$18.00]
Firm, substantial stalks of asparagus made for our favorite veggie dish of the night. The key was its excellent use of smoke and char, and I certainly didn't mind the lemon and zippy
aillade
, either.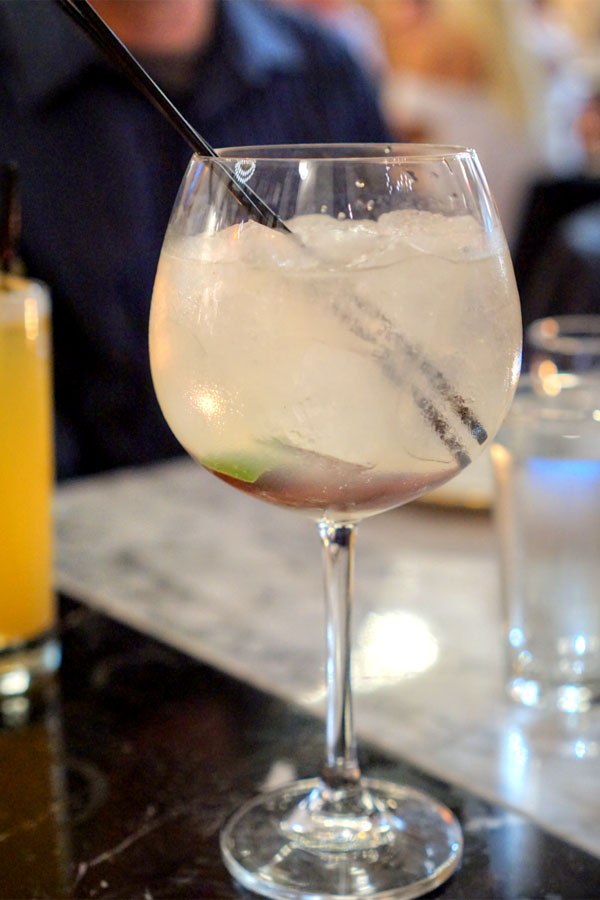 Tanqueray 10 [$15.00]
| Lemon Leaf, Long Pepper, Seville Orange, Fever Tree Tonic
Our second gin and tonic wasn't quite as interesting. It was easy drinking though, and very citrusy, with a light floral quality. One of my dining companions even likened it to "boozy Sprite."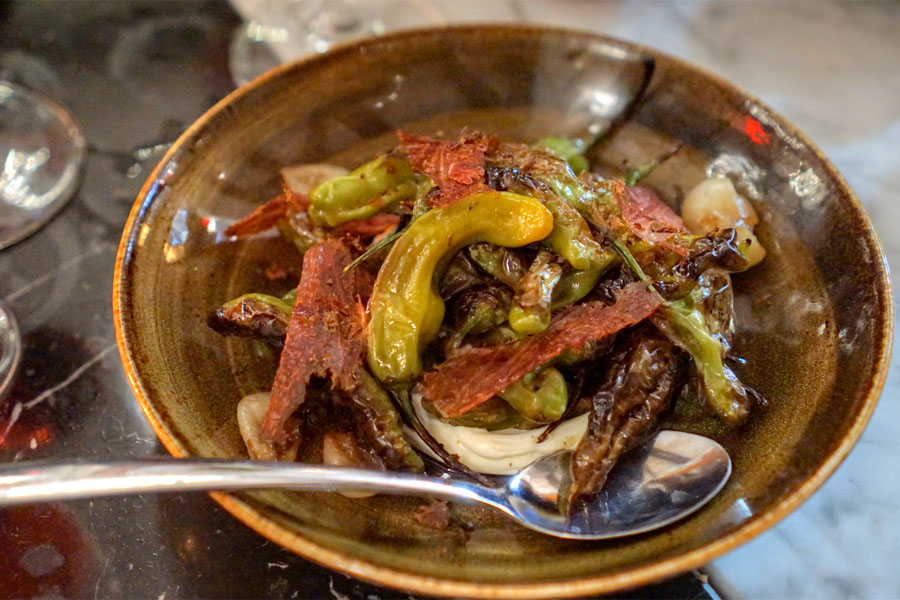 Blistered Shishito Peppers. Labneh. Cipollini. Shaved Mojama [$15.00]
Shishitos came out pleasantly smoky, their subdued heat well matched to the cool creaminess of yogurt while
mojama
imparted an extra punch to the dish.
Sauteed Pea Tendrils. Lemon Breadcrumbs [$9.00]
I found the pea tendrils bright and fresh, with a garlickiness that reminded us of the preparations you often find at Chinese restaurants.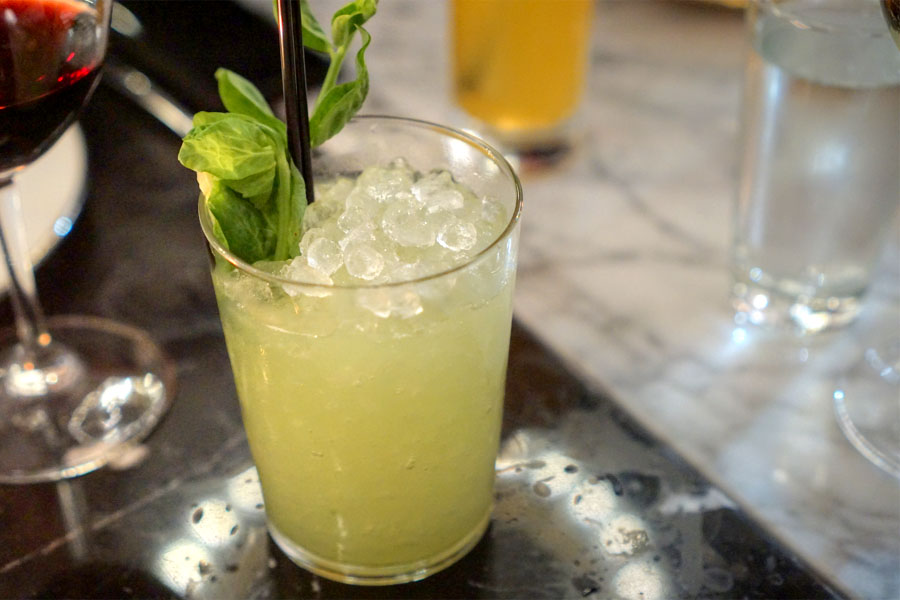 Sweet Pea Fix [$14.00]
| Spring 44 Gin, Yuste "La Kika" Manzanilla Sherry, Green Chartreuse, Lime, Sugar Snap Peas, Mint
This was probably the most intriguing of the cocktails. I found it heavy on the peas, with a vegetal sweetness giving way to Chartreuse and a nutty salinity from the sherry.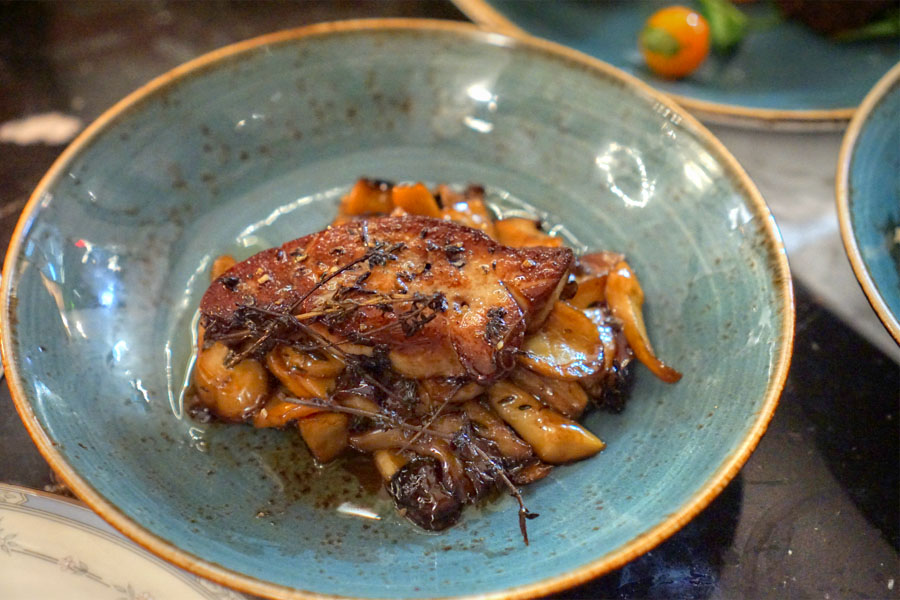 Roasted Mushrooms. Pedro Ximenez + Foie Gras [$15.00 + $20.00]
Mushrooms had a meaty, rubbery consistency, their woodsiness matched by the PX's decidedly sweet 'n' sour flavors. We also added foie gras to the dish, a classically seared preparation that actually worked surprisingly well as a complement.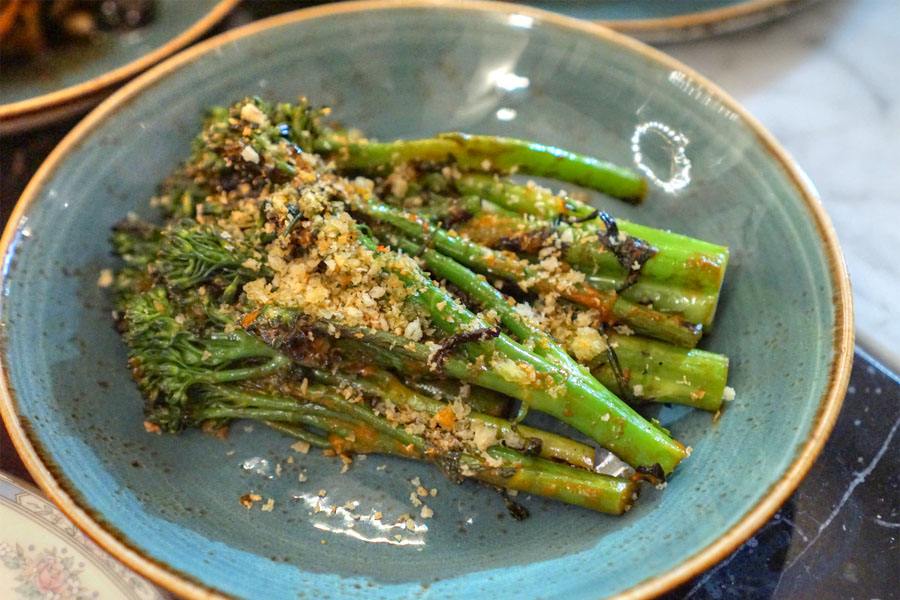 Broccolini. Chili Vinegar. Harissa. Bone Marrow Breadcrumbs [$13.00]
Crunchy stalks of broccolini were bitter at first, but also had a palpable sweetness to them. The veggie took well to the heady flavors of chili and harissa, and one of my fellow diners was even reminded of Chili Cheese Fritos.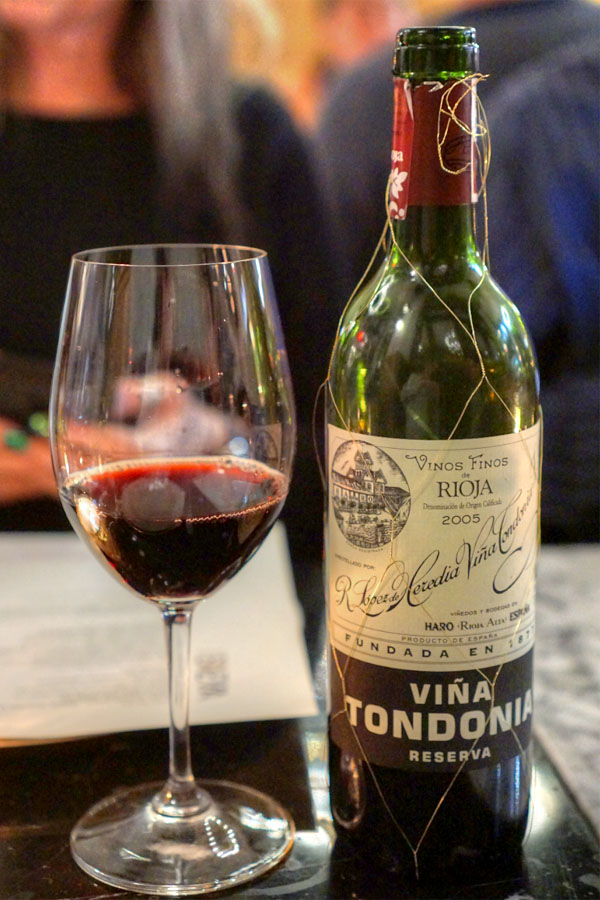 For our wine, we went with the rather well-known Tempranillo blend that is the
2005 R. López de Heredia Rioja Reserva Viña Tondonia [$88]
. It had an appealing nose filled with rich, fresh red fruit and a touch of earth. The palate was thick, with a distinctly savory, almost meaty quality, some rusticity, and plenty of dry herbs bringing up the rear.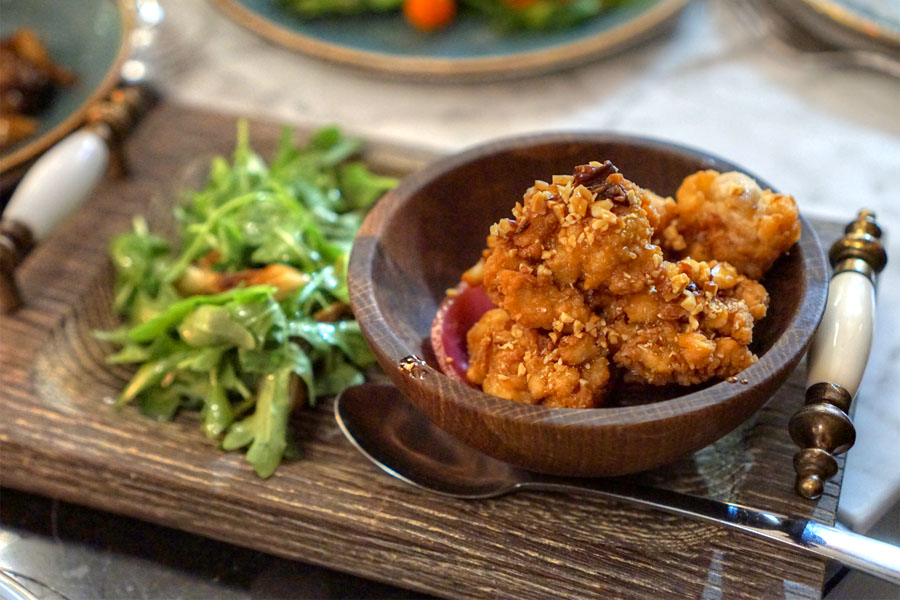 Sweetbreads. Honey Gastrique. Almond [$15.00]
Sweetbreads were well textured, though I found the honey here a bit much, and overall the dish ate sweet. Fortunately, the acidity of the onions helped, as did the bitterness of the salad on the side.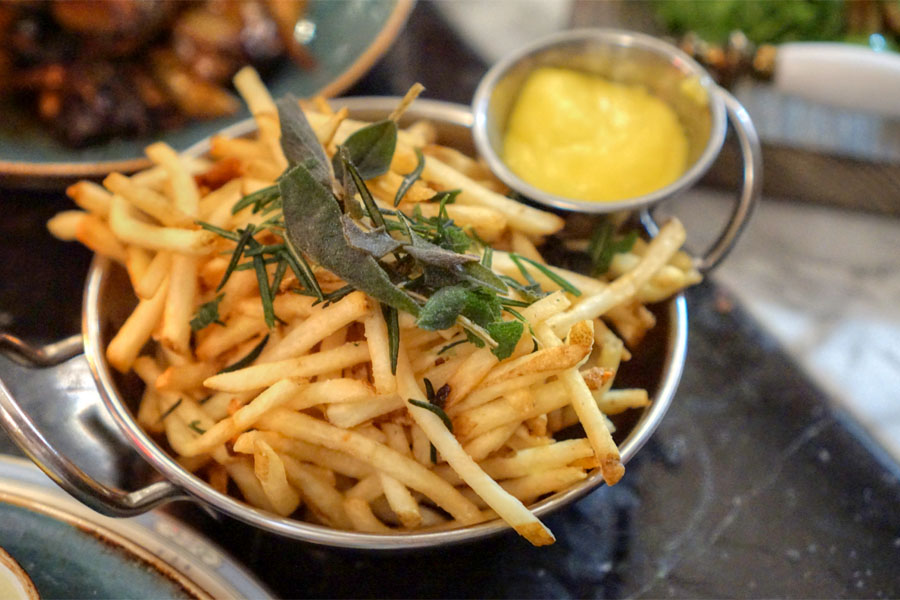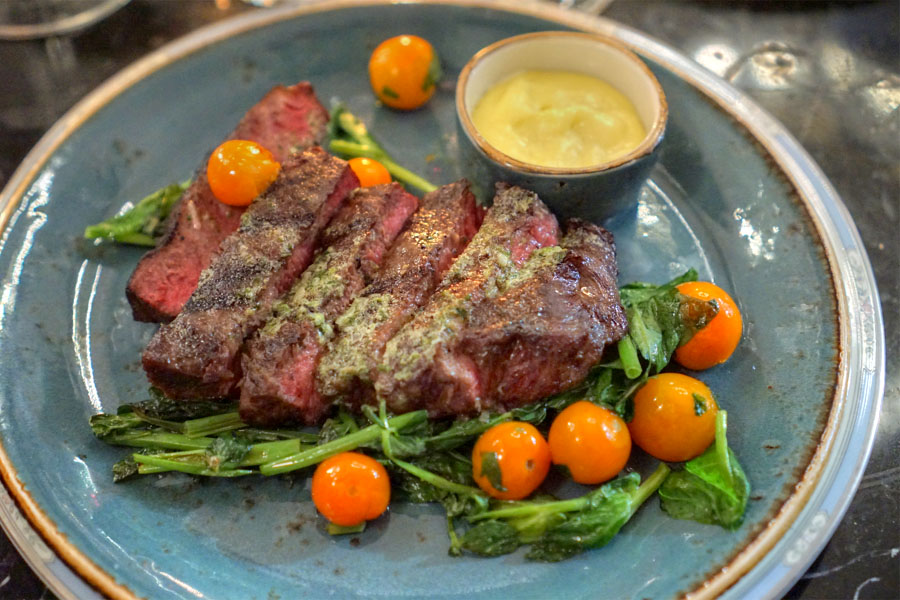 Flatiron. Pea Tendrils. Green Garlic Butter. Fries [$28.00]
The flat iron served as our first of two mains. The steak was a tad dry, though pretty tender, and certainly delivered in the taste department, while the tendrils worked for contrast. As for the fries, they were pretty much just what I wanted, coming out thin, crisp, and really nicely herby.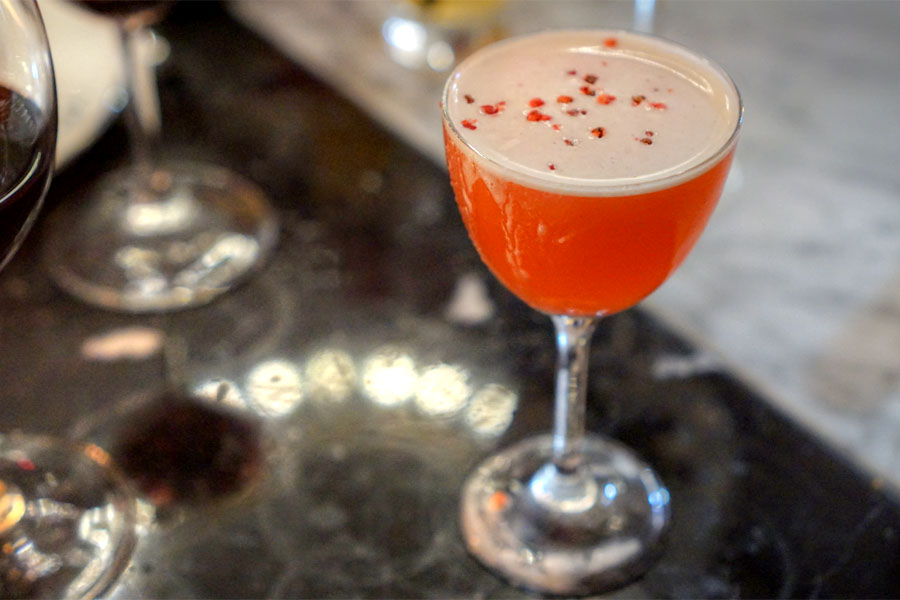 Nightingale [$14.00]
| Buffalo Trace Bourbon, Campari, Lemon, Chamomile & Peppercorn
This was likely my favorite cocktail of the bunch. It had a creaminess on the palate, while flavors were anise-like, with a bitterness in the background from the Campari. My favorite part? The spice and crunch from the peppercorns.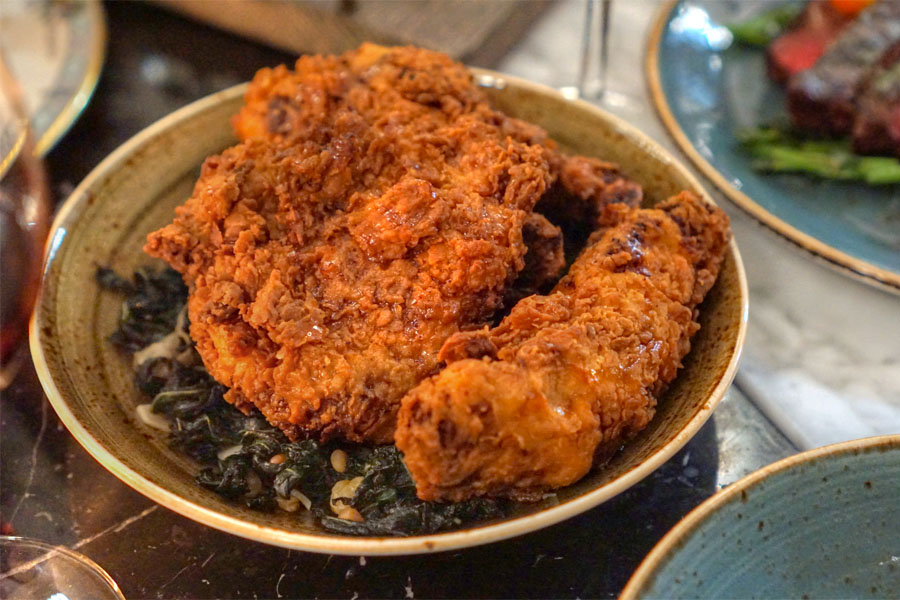 Fried Chicken. Catalan Greens. Jamon & Jalapeno Potato Salad [$29.00]
According to our server, the fried chicken is one of the most popular items on the menu, and with good reason it seems. The bird was spot on, arriving juicy and tender, even the white meat, while flavors were robust without overwhelming the inherent taste of the meat. The skin was pretty great too, while the greens imparted an earthiness and a bitterness to things. The potato salad, meanwhile, was unlike any other I've had, though still very tasty with its copious amounts of cheese and pork.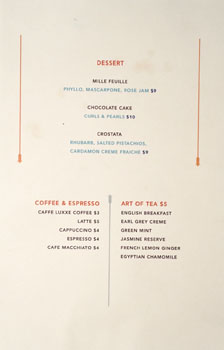 With only three desserts offered, we just got 'em all. Click for a larger version.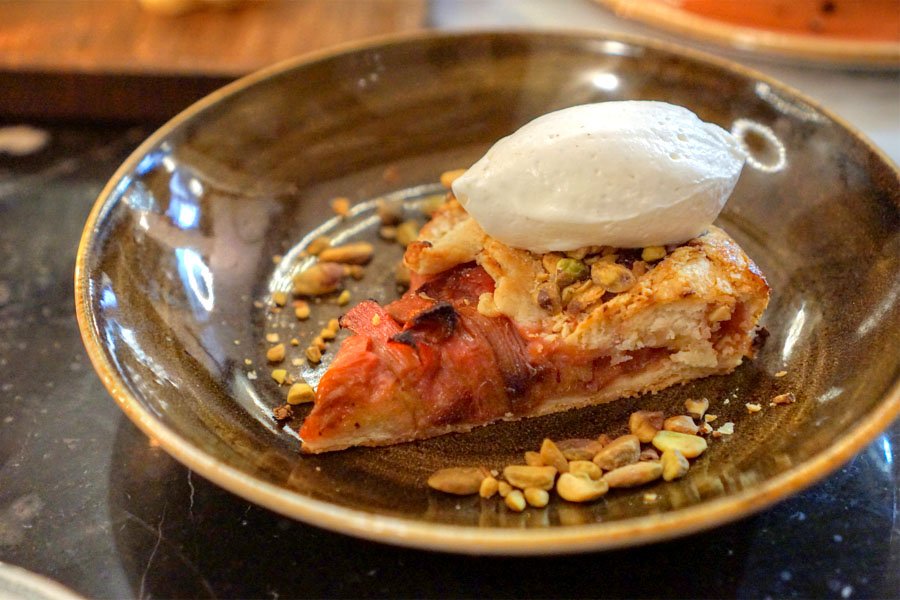 Crostata [$9.00]
| Rhubarb, Salted Pistachios, Cardamom Creme Fraiche
The fruit tart was nice enough, the tangy, sweet rhubarb having a back-and-forth with what I believe was rosemary. Pistachios provided some textural contrast, while the crème fraîche definitely conveyed a savoriness that I appreciated.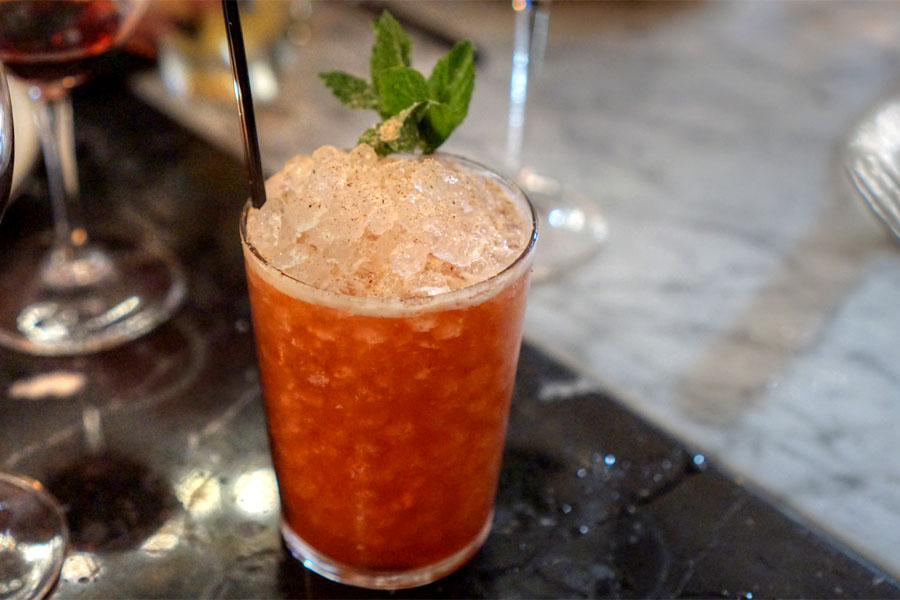 Ibiza Sunset [$14.00]
| Avua Amburana Cachaca, Rutte Genever, Aperol, PX Sherry, Lime, Pineapple, Angostura
Our final cocktail was on the quaffable side. I got lots of berried sweetness, but balanced by the bitterness of Aperol and a bit of an earthiness.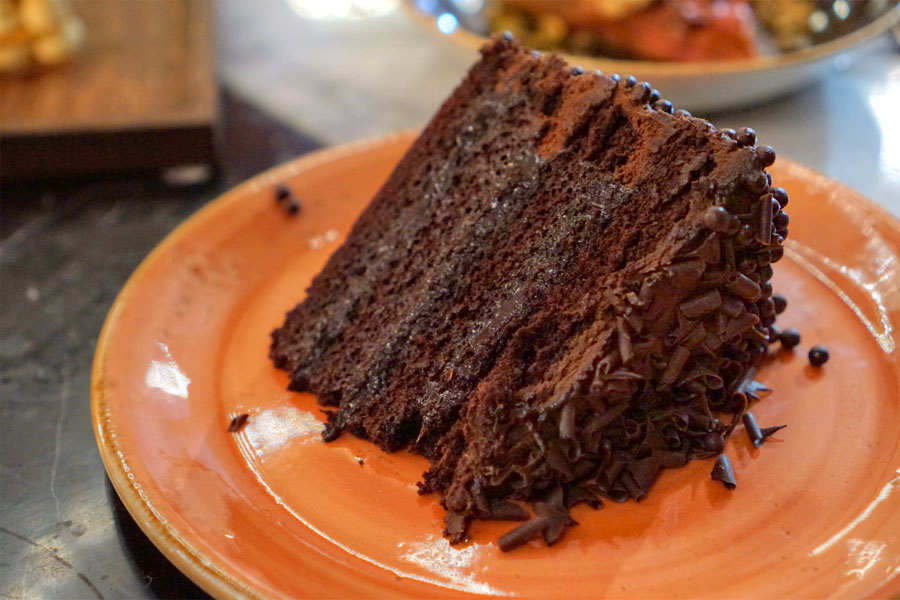 Chocolate Cake [$10.00]
| Curls & Pearls
The chocolate cake was as rich and dense and sweet as it looked, but fortunately was never cloying.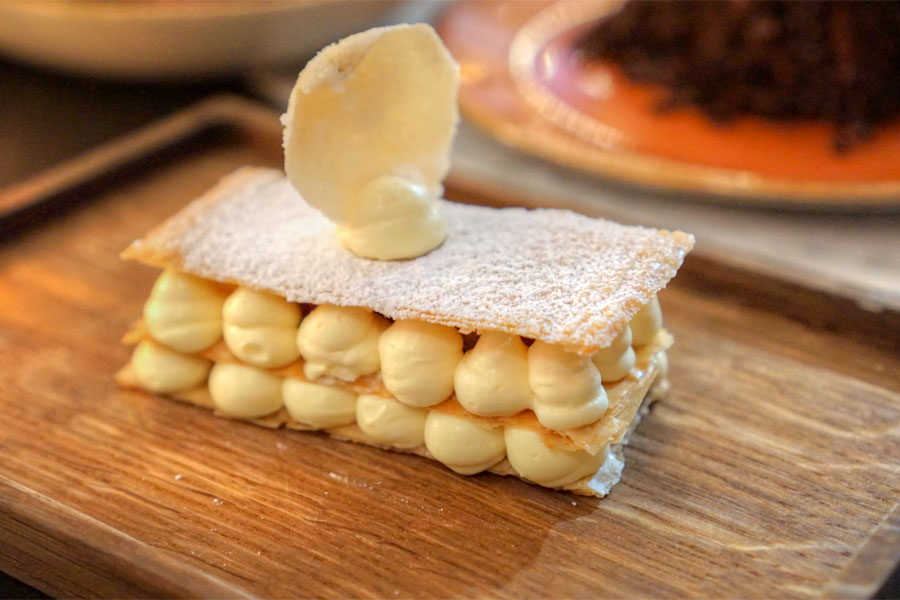 Mille Feuille [$9.00]
| Phyllo, Mascarpone, Rose Jam
The Napoleon ended up being my favorite of the desserts. I loved the crispness of the puff pastry here, and how it all melded with the floral, fruity jam and creamy, lactic nature of the mascarpone.
We had a solid meal at Breva. I had no major issues with the food, and the drinks were quite good too, though at the same time, I'd like to see Lane and the team do more, since there's a lot to explore given this place's Basque inspiration. As for what's next, Veranda, the hotel's poolside Italian restaurant, opened on April 24th. More interesting is Bar Alta, Zaric's high-end cocktail bar that's slated for the mezzanine level--that one's definitely on my list to check out.