Highland Park Brewery - Chinatown (Los Angeles, CA)
Highland Park Brewery Chinatown
1220 N Spring St, Los Angeles, CA 90012
213.878.9017
www.hpb.la
Sat 04/14/2018, 02:50p-04:40p

The Chinatown drinking scene just keeps getting hotter and hotter, this time with the debut of Highland Park Brewery in mid-March. Robert "Bob" Kunz started HPB back in '14 in the back of
The Hermosillo
, and since then, has garnered considerable attention for his brews. He and partner Ross Stephenson have apparently been working on this expansion since at least 2016, which will allow the brewery to realize an expanded barrel program for more funky and sour beers.


HPB's new home is located in a northern stretch of Chinatown, across the street from
Nick's Cafe
and the Los Angeles State Historic Park. The structure previously sported signage for "B.C. Food Inc" and the "Yan Ping Friendship Asso," but has been totally reworked by
Raveled Studio
(
Mikkeller Bar
,
Birds & Bees
),
Knowhow Shop
, and
CLTVT
.

~30 taps are available, split between 18 or so house brews, about six guest beers, as well as wine and whatnot. The draft list is quite dynamic, as during our time here, we saw the addition of America's Preference (a hoppy pilsner) and Saison Bernice (see below), while the cider was switched out for another.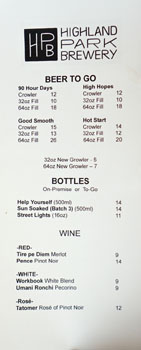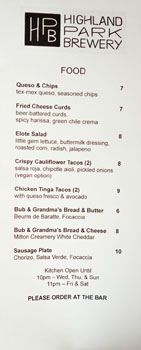 In addition, you get the option of growler/crowler fills, as well as beer to-go. Food-wise, there's a small selection of brew-friendly eats created by Ken Concepcion (Now Serving,
CUT
) and executed by Michael Ruiz (Epic Taco Shop,
Preux & Proper
). Click for larger versions.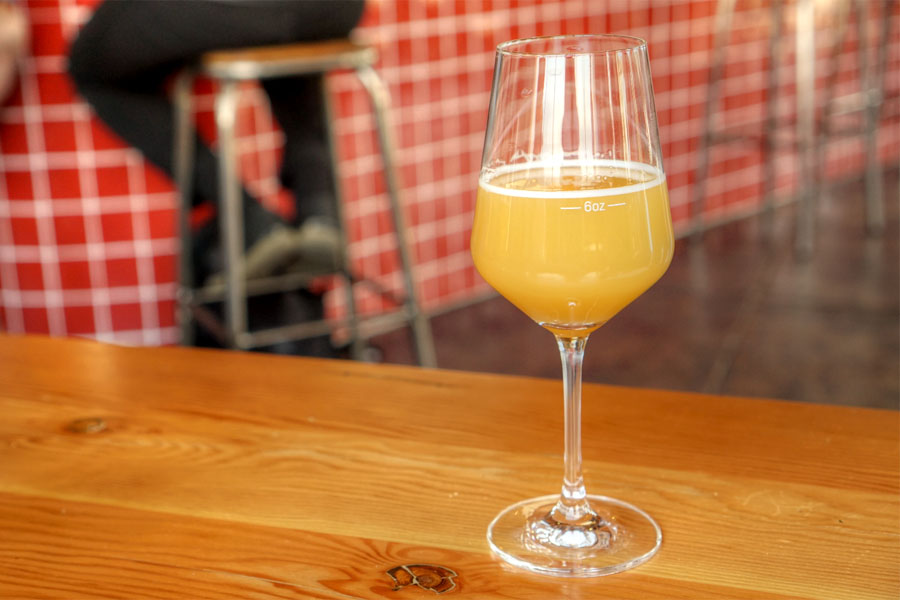 We began with the
Good Smooth [$5/6oz]
, a hazy double IPA hopped with Citra, Ekuanot, and Vic Secret. It smelled pretty great, the hops really coming through with a mix of piney, juicy, citrusy, and slightly tropical notes. The palate was as thick and as smooth as expected, with a relatively subdued fruitiness and more of that hop bitterness coming through. Nicely balanced.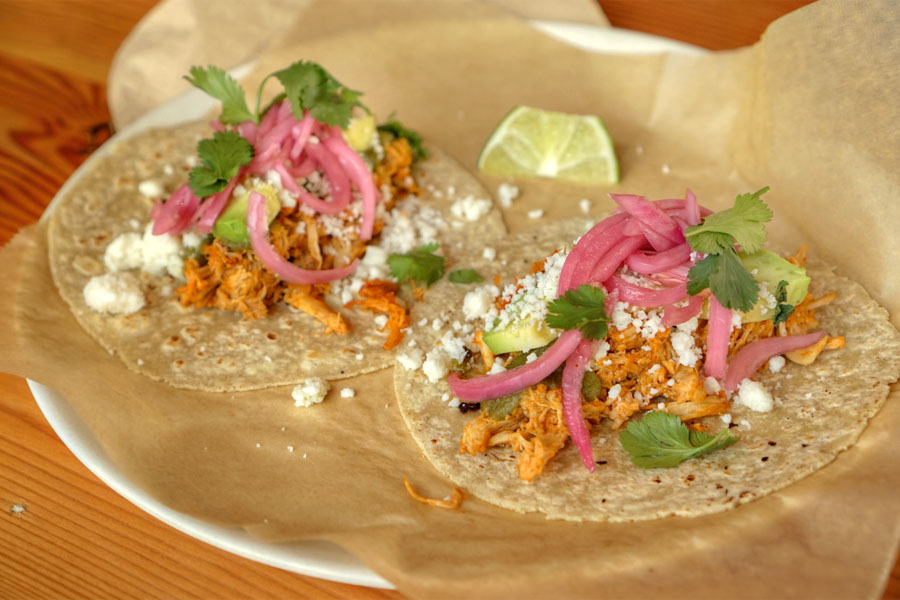 Chicken Tinga Tacos (2) [$9.00]
| with queso fresco & avocado
Food-wise, up first were the
tinga de pollo
tacos, which were surprisingly delicious. I found the meat tender, juicy, and well-spiced, while pickled onions offered up a crunch and acidity. The creaminess of the avocados sort of tied everything together, and the tortillas were satisfying and substantial. Definitely our favorite food item that we tried.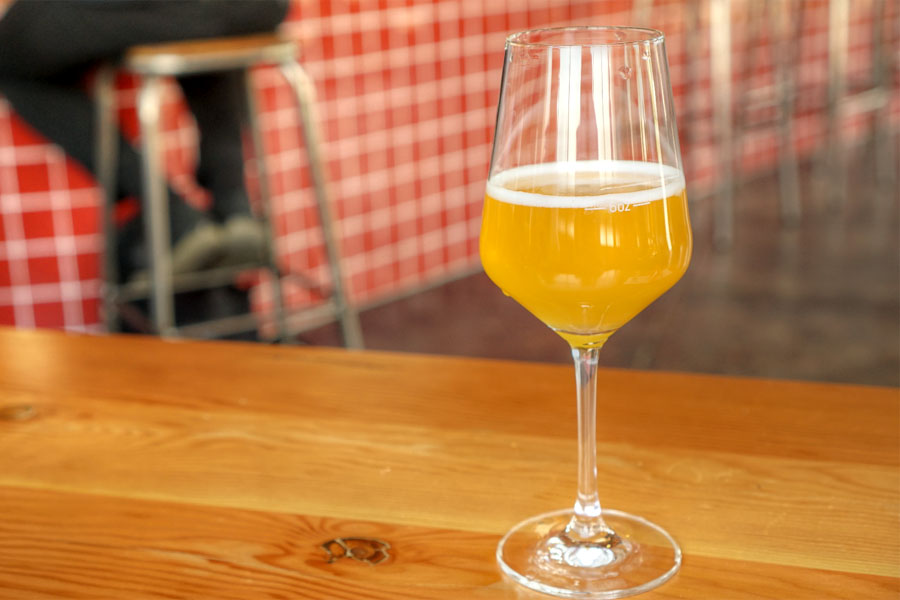 Next to drink was the
Athletic Susan [$6/6oz]
, a Lacto-, Pedio-, Saccharo-, and Brett-fermented farmhouse wheat beer aged in barrels that previously held another beer called Lazier Susan (a saison with Masumoto peaches and nectarines). Its nose showed off a light stone fruit sweetness, joined by a mild acidity. The taste was somewhat tart, with a bit of an earthy, funky character and traces of the advertised fruit. Enjoyable, but actually a touch uninteresting.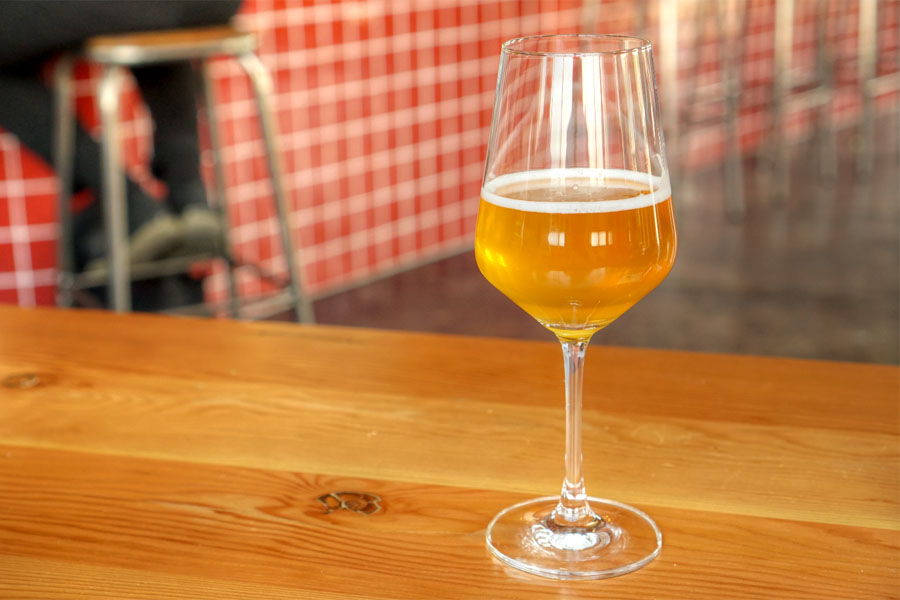 Created in collaboration with Long Beach's
Beachwood Brewing
,
Why We're Here [$6/6oz]
was a lambic-inspired sour ale with black limes. This one smelled super sour, with a citrusy, almost urinal cake-like element. The taste went in a similar direction: really tangy at first, astringent, with a lingering acidity and bitterness.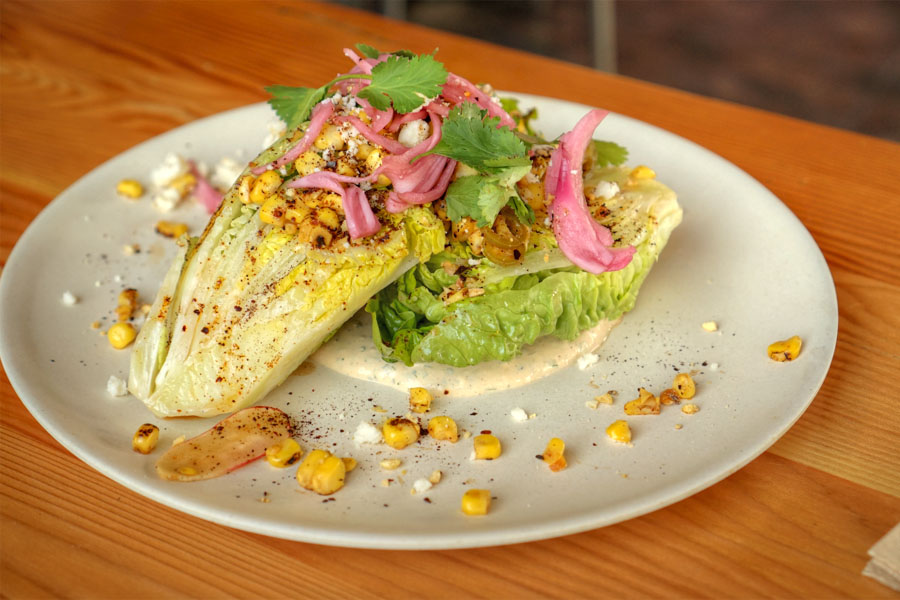 Elote Salad [$8.00]
| little gem lettuce, buttermilk dressing, roasted corn, radish, jalapeno
This
elote
-inspired salad worked. The lettuce ate bright and crunchy, and was well accompanied by the heat in the dish, as well as those pickle-y onions and crumbles of
cotija
. The buttermilk dressing was key in bringing everything together, and I quite liked the crunchy, nutty bits here too.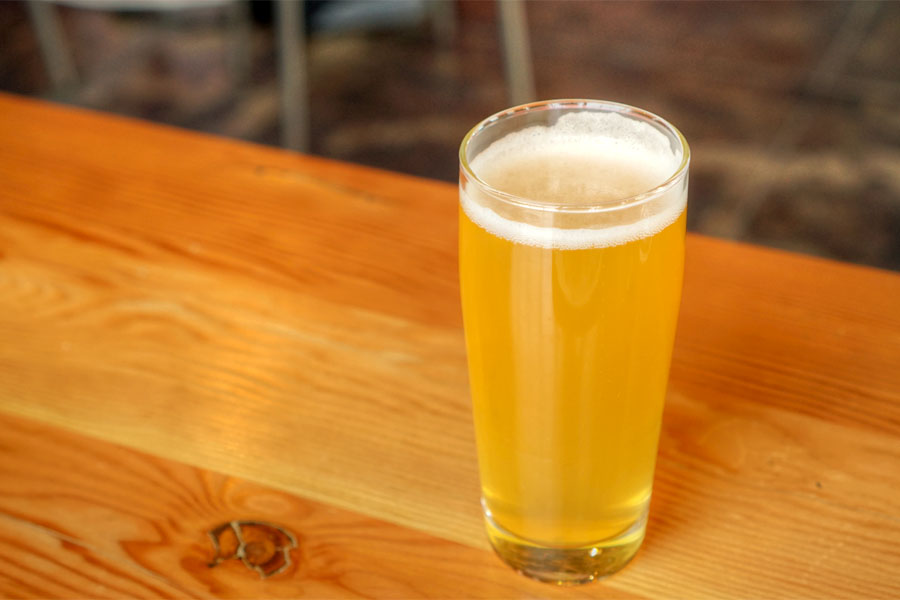 The
High Hopes [$5/9oz]
was a hoppy pale ale made with Seville oranges. I got huge, appealing aromas of citrus, while the taste was similarly orange-centric, but with a bit of a bite. Refreshing, and perfect for the hot weather we were having that day.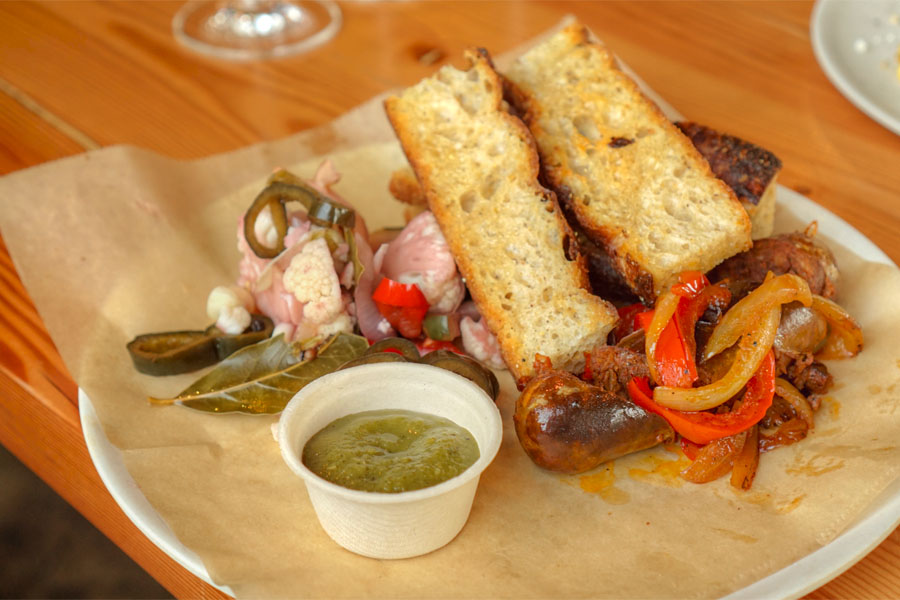 Sausage Plate [$10.00]
| Chorizo, Salsa Verde, Focaccia
Chorizo was tasty, a sort of gritty, rustic preparation with a delectable chili-fueled spice and savor. Onions and bell peppers worked as accompaniments, while the pickles added crunch and, more importantly, acidity, as did the zippy sauce on the side. However, since this was supposed to be a sausage plate, I really wanted more than one link. Some variety would be appreciated--more sausage less bread I say.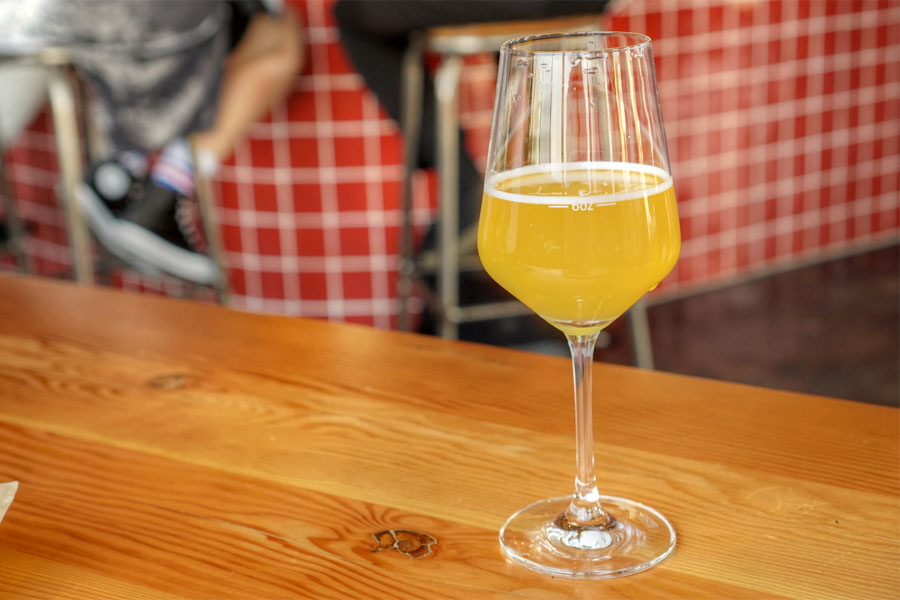 Here was the
On Leaves [$5/6oz]
, a rustic saison fermented in oak with forest leaves (lemon balm, mugwort, eucalyptus, and more) added. The beer smelled rather juicy, with a tart, fruity character that I liked. Taste-wise, things were earthy, grainy, with light stone fruit and an herbaceous, floral quality that really came through on the back end. Nice!
Our sole dark beer, the
Late Night [$6/6oz]
was an imperial stout with Trystero Pacamara coffee and roasted coconut. The bouquet was all about fruity, bitter coffee and coconut all up in your face. On the palate, I got a wonderfully sweet, roasty coffee complexity at first, which then transitioned to a super long, lingering finish filled with true-to-life coconut. Easily one of the best non-barrel aged stouts I've had in recent times.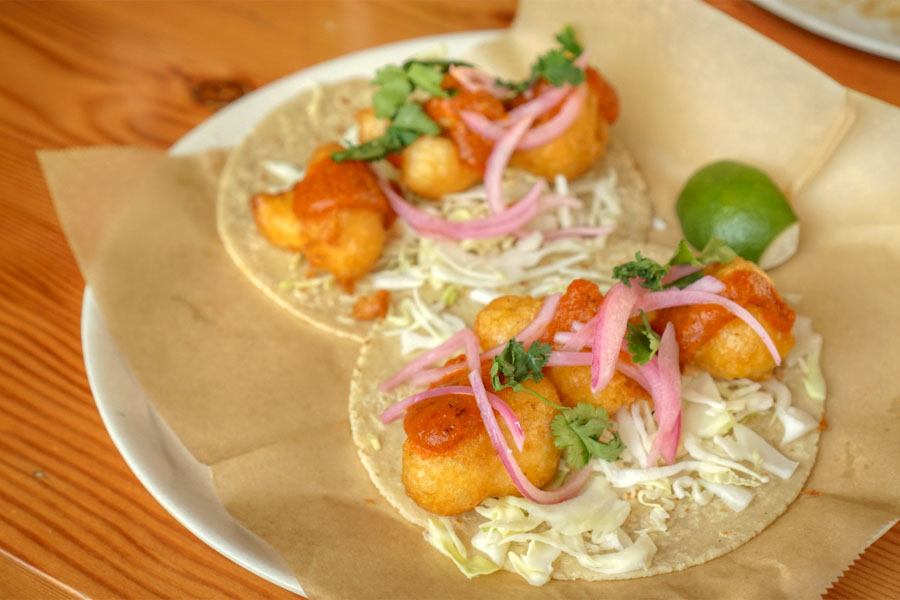 Crispy Cauliflower Tacos (2) [$8.00]
| salsa roja, chipotle aioli, pickled onions (vegan option)
The cauliflower tacos weren't as good as the chicken versions, but I supposed that's to be expected. The veggies were nicely textured--meaty, with a light, crisp batter--but were underseasoned. Meanwhile, the salsa on top added a bit of smoke and spice, but lacked oomph, and we were actually forced to make use of the sauce from the sausage plate above.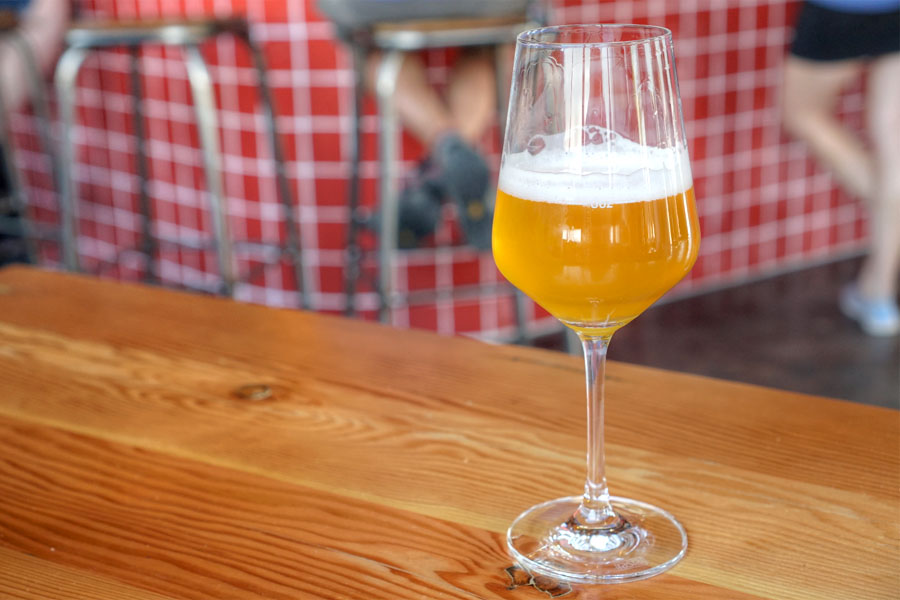 Our last beer was a guest tap, the
Sante Adairius Saison Bernice [$5/6oz]
, a sort of a prototypical example of the American saison style. Its nose was delightful: juicy, yeasty, funky, and with a definite stone fruit sweetness. In terms of taste, think tart and puckering at first blush, but with some Brett-y, earthy notes on the mid-palate and a finish filled with bright, refreshing fruit.
We were quite happy with how this place turned out, and it was great seeing how HPB's beers have progressed. Food-wise, things were pretty good, and given that there's a full kitchen here, hopefully the team will be able to evolve the menu in due time. I'm sure I'll be back.