Cheat Codes 2 at Playground 2.0 (Santa Ana, CA)
Invitation Only: Cheat Codes 2 at Playground 2.0
220 E 4th St, Santa Ana, CA 92701
714.560.4444
www.playgrounddtsa.com
Thu 05/09/2019, 07:00p-10:10p

Amazingly, it'd been nearly six years since my last meal at Jason Quinn's
Playground 2.0
. I figured that it was finally time for a revisit, and decided to come back for a unique meal, one featuring dishes from restaurants around the world, recreated as accurately as possible--in the Chef's own words: "pure plagiarism." These are dishes that the team knows already work, hence the name "Cheat Codes." Do note that there was an earlier incarnation of this series back in April 2017.
The inspiration behind Cheat Codes was actually Quinn's own path to becoming a chef. He didn't have any formal training or really any culinary mentors, but wanted to learn, and his way of learning was to read (cook)books. He was able to absorb a lot in this manner, but as a result, sometimes conflated what was an original idea of his with something that he might've been exposed to in a book. Once in a while though, he'd come across a dish that was such a good idea and that was so traceable and inextricably linked to one chef's journey; this is what tonight's dinner was all about. If you're familiar with
Corey Lee
's In Situ inside the San Francisco Museum of Modern Art, Cheat Codes is sort of like that.
Quinn was assisted this evening by Justin Werner (Corton, Per Se, Craft, Colicchio & Sons), Travis Larsh (Ox, Del Frisco's Grille), and Irie Murphy (Orange Hill), while Jonathan Dale handled the FOH and beverage pairings.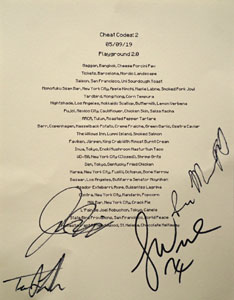 We were here for dinner #11 of a total of 18, and above is the menu we received at the end of the meal, listing all 22 featured restaurants and dishes (we were also provided an abbreviated version to follow along with during the course of dinner). Pricing was fixed at $350 a head, which sounds like a lot, but it included beverage pairing, tax, and service (so figure $200 or so for food only). Click for a larger version.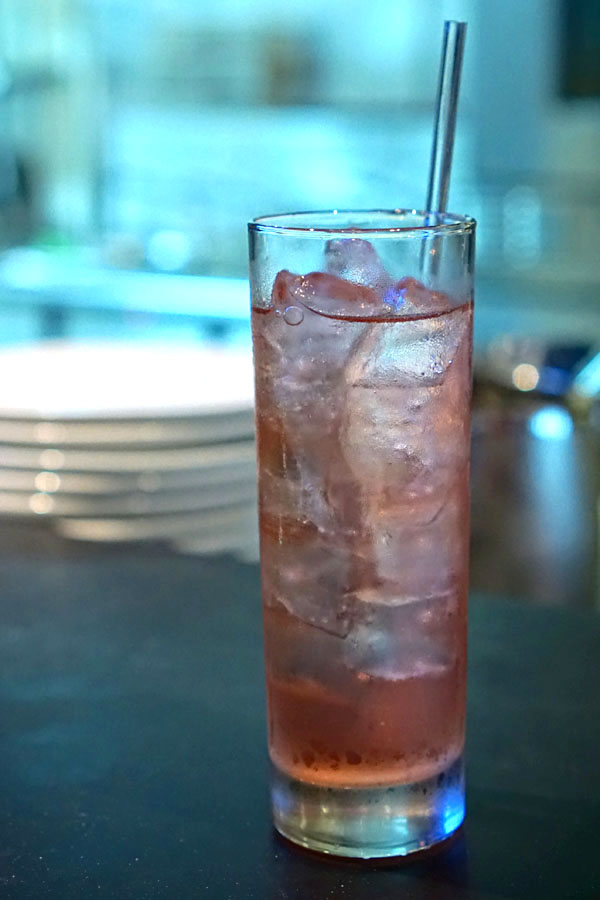 Our welcome cocktail was named Hipster's Paradise, and is apparently sometimes available on draft next door at Playground. Composed of gin, Lillet, and housemade rose hip liqueur, the spritz-slash-gin and tonic hybrid was refreshingly carbonated, and showed off a floral element at first, leading to a touch of bitterness and astringency on the back end. A fitting apéritif.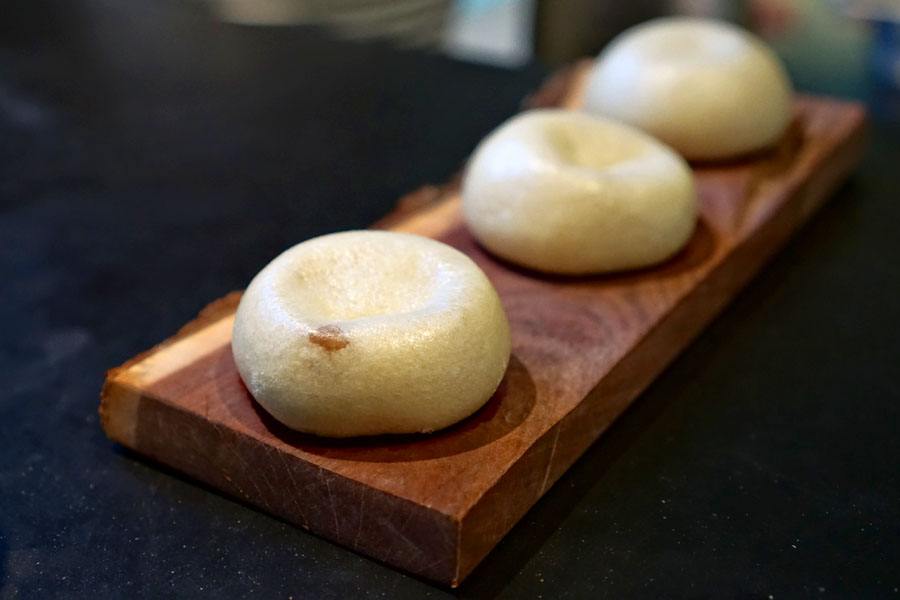 1: Gaggan, Bangkok, Cheese Porcini Pav
The dinner commenced with a dish from Gaggan Anand's eponymous eatery in Bangkok, which serves progressive Indian fare. We had here a take on the classic
pav bhaji
, one comprising Tomme de Savoie mixed with dry porcini powder, stuffed in steamed dough. It was a hot, homey sort of bite, with plenty of cheesiness and a properly fluffy texture on the bun. Meanwhile, our beverage pairing for this course (and the next several) was an Oeil de Perdrix, a Swiss rosé that blended strawberry and apple notes with a pleasant toastiness and plenty of acidity.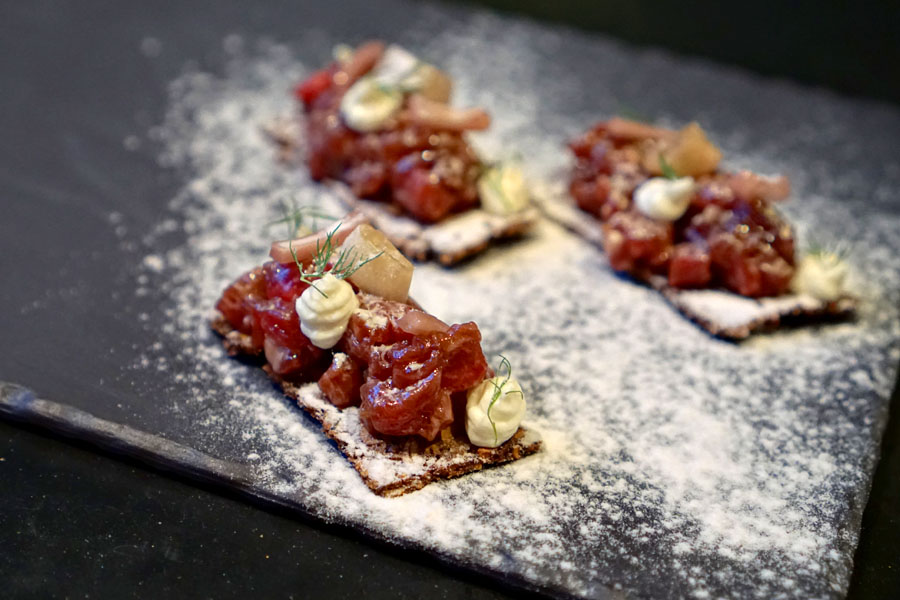 2: Tickets, Barcelona, Nordic Landscape
From Albert Adrià's Tickets came one of two dishes that, according to Quinn, the kitchen "absolutely nailed." It was a beef tartar, served on a seeded rye chip, with smoked cheese, pickled alliums, fresh dill, and vinegar powder "snow." The meat itself was perfectly textured--springy, supple, yet substantial--and showed off a great depth, one that played off the contrasting juicy, sweet, creamy elements present, while the finish conveyed the lingering tartness of the pickles.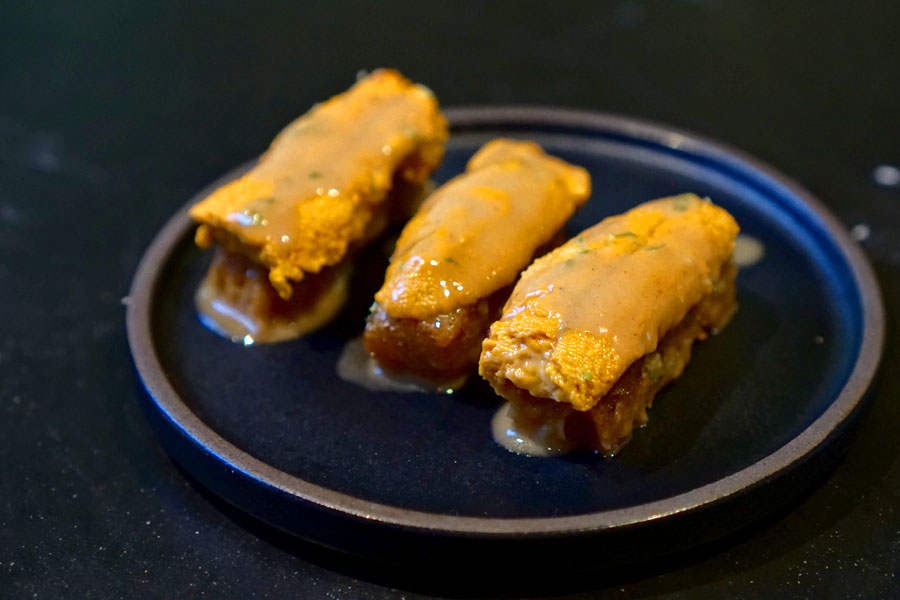 3: Saison, San Francisco, Uni Sourdough Toast
Next was a
canapé
from Joshua Skenes' Saison, where Werner had
staged
two years prior. We had here yesterday's sourdough, poached in a butter sauce, then toasted, with housemade
shirodashi
, aromatics, lime zest, and sea urchin. The roe, unsurprisingly, ate creamy, sweet, and oceany, but was perked up nicely by the citrus. Just as important, though, was the bread, which was simultaneously crunchy yet absolutely saturated with boatloads of umami.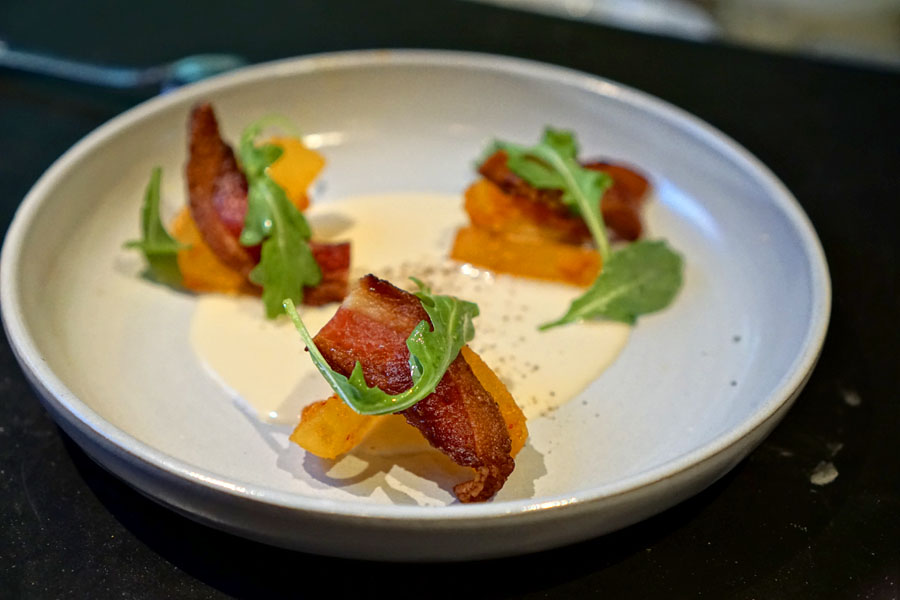 4: Momofuku Ssam Bar, New York City, Apple Kimchi, Maple Labne, Smoked Pork Jowl
This was a dish that, according to Quinn, really shows off David Chang's facility for effectively combining disparate flavors, in this case: Fuji apple kimchi, maple
labneh
, and smoked pork jowl bacon from Tennessee. I got a superb juiciness from the fruit, while the bacon provided both salt and crunch, and the arugula a zesty accent. The yogurt, meanwhile, worked to bring it all together. Smart and surprisingly cohesive.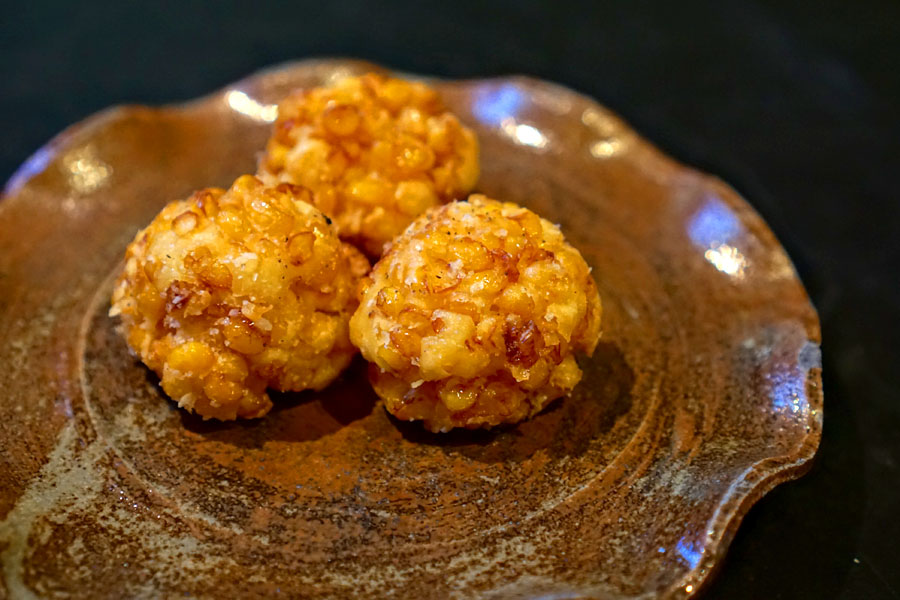 5: Yardbird, Hong Kong, Corn Tempura
Yardbird (not to be confused with the restaurant at Beverly Center) is a yakitori-style spot in Hong Kong run by Canadian Matt Abergel, one known for its iconic corn tempura. The fritter was faithfully reproduced tonight, and presented a keen saltiness at first bite, one that soon transitioned to the intrinsic, unmistakable sweetness of corn. Very well textured, and reminiscent of Indonesian corn
perkedel
. Interestingly, Abergel is apparently planning on opening a place called Chicken and Charcoal in Downtown LA sometime this year.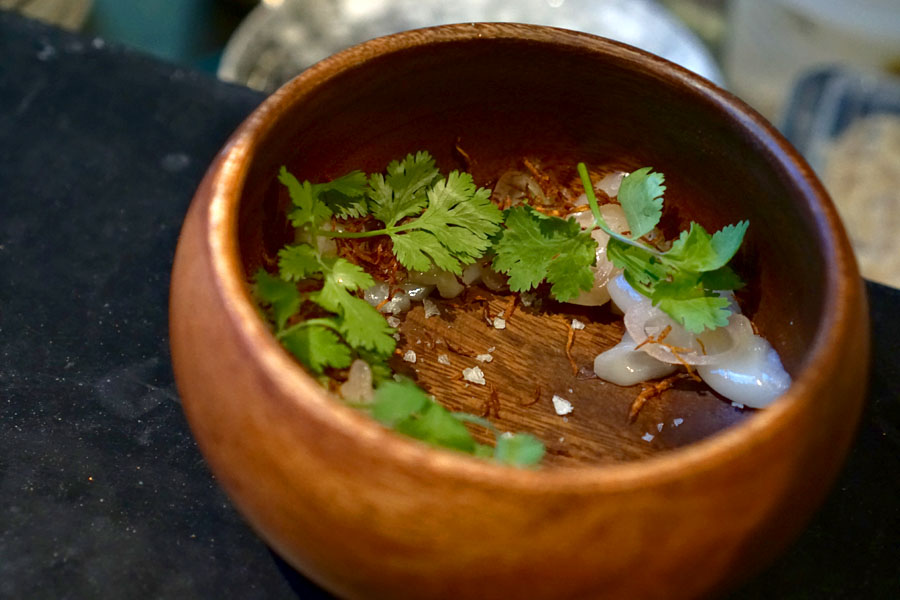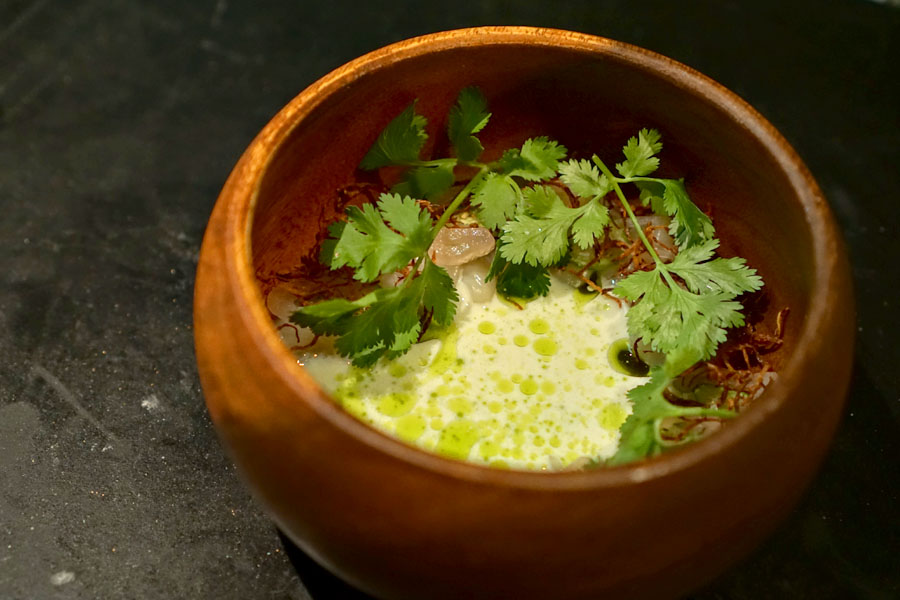 6: Nightshade, Los Angeles, Hokkaido Scallop, Buttermilk, Lemon Verbena
Mei Lin's Nightshade was the closest, and newest restaurant to be featured tonight, and apparently Quinn and Werner went there with their respective SOs recently and ate the entire menu. In any case, this dish masterfully married the clean brine of scallops with the creamy piquancy of that buttermilk-lemon verbena dressing, all while the close was imbued with gingery heat and herb. A standout dish for me. To pair with this course, we had the Takatenjin Junmai Daiginjo from Shizouka, a rich, full-bodied, super fruity sake that stood up well to the food.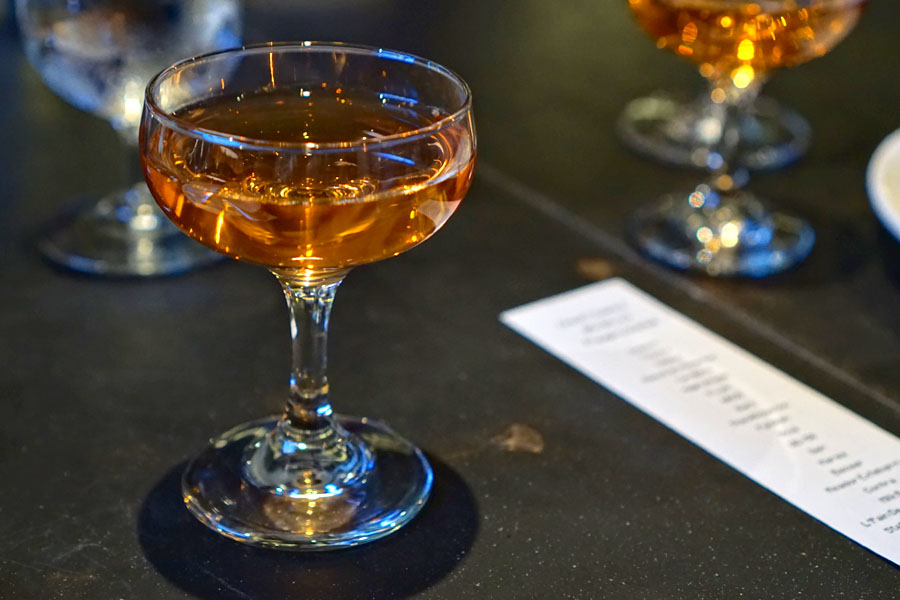 Our next cocktail was a clarified milk punch inspired by strawberry lemonade, one containing mezcal, yellow Chartreuse, and unsurprisingly, strawberry and lemon. I got a nose of smoke and yogurt, while the palate blended strawberry and even more smoke with notes of tart citrus. Soft and smooth.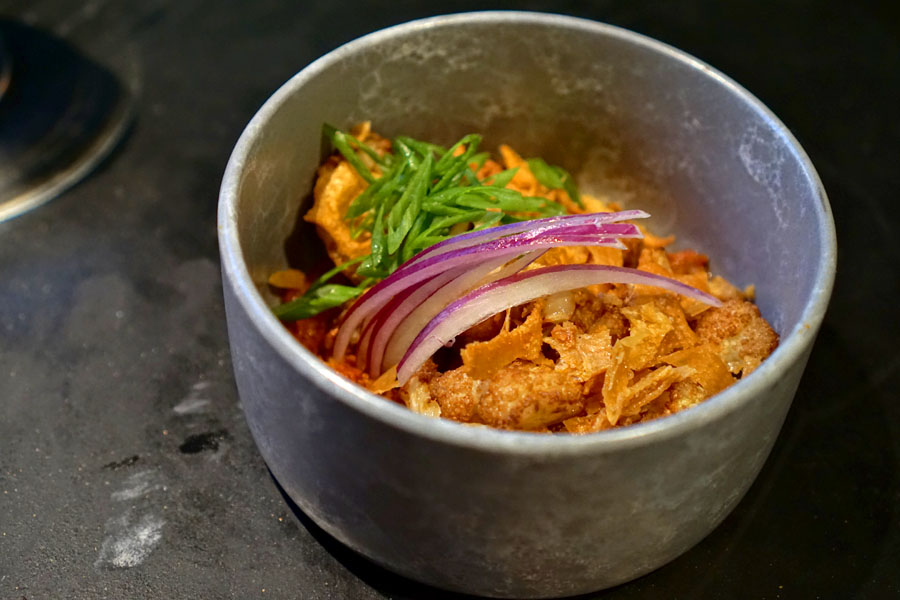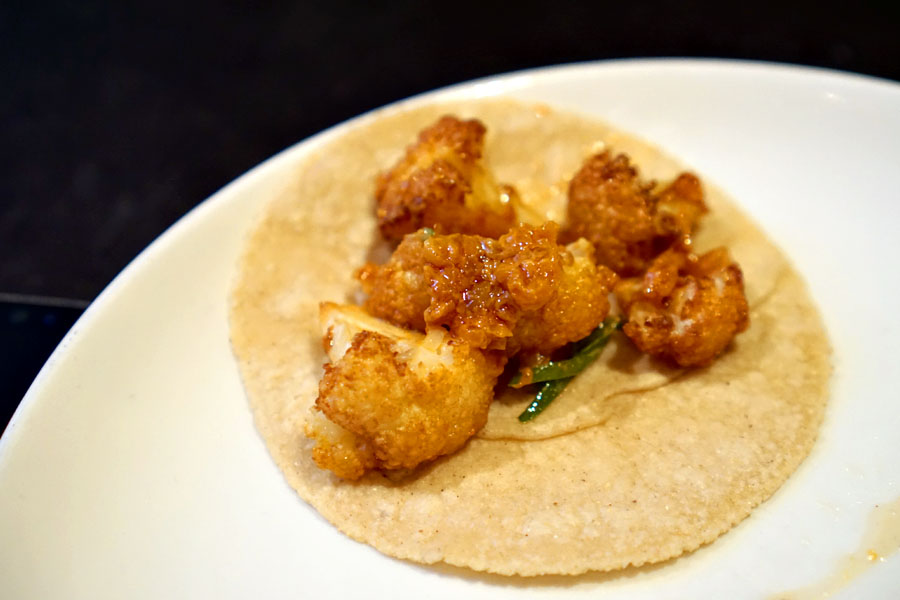 7: Pujol, Mexico City, Cauliflower, Chicken Skin, Salsa Macha
From Enrique Olvera's standard-setting Pujol came another favorite dish of mine. Fried cauliflower was tossed in fresh lime juice, then set atop
salsa macha
(roasted peanuts with chipotle), while on top we had crispy chicken skin, red onion, and scallion. Once everything was mixed up, the resulting cauliflower was pretty wonderful, giving up a great nutty, smoky spice offset by the zestiness of the onions. I thoroughly enjoyed the veggie just by itself, but it was even better when wrapped up in a tortilla (made in-house with Masienda
masa
flour).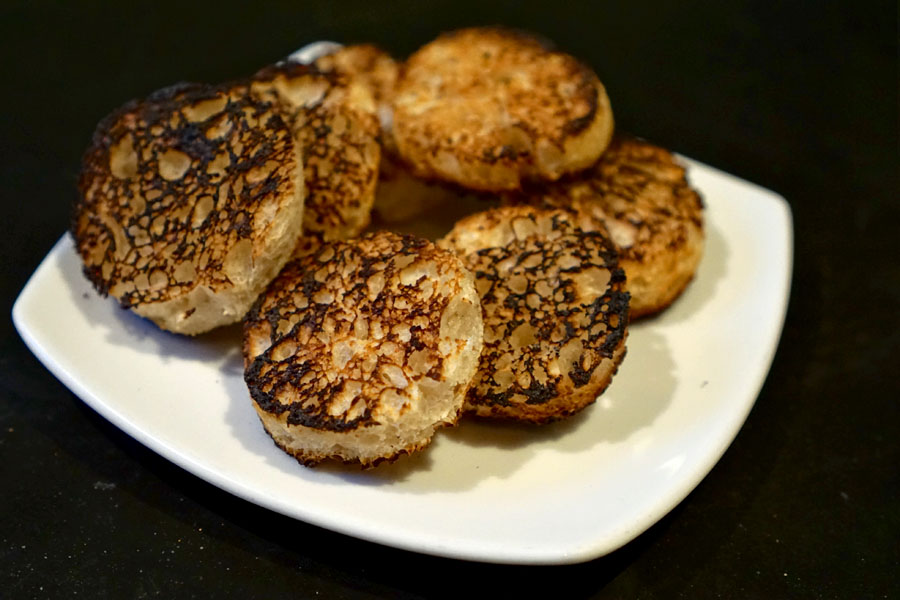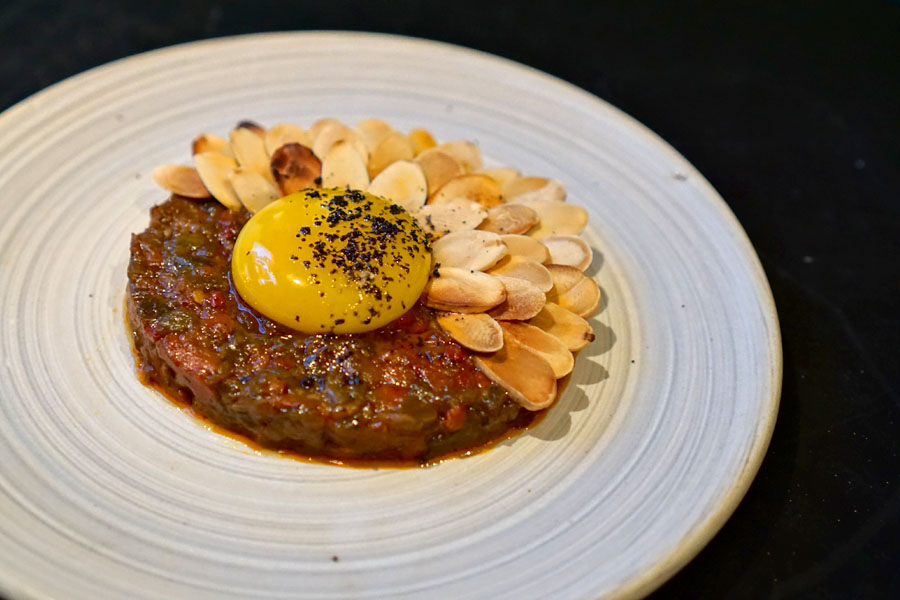 8: ARCA, Tulum, Roasted Pepper Tartare
We stayed in Mexico for our next course, but traveled to Tulum's ARCA, a restaurant situated in the jungle from Noma alum Jose Luis Hinostroza. A tartare of fire-roasted pepper was dressed with
morita
oil, then topped with cured egg yolk and toasted almonds. The end product was a great commingling of smoke and nuttiness, with an unabashedly deep spice from the chilies and a bit of garlickiness on the finish. Nice counterpoint from the grilled sourdough, too.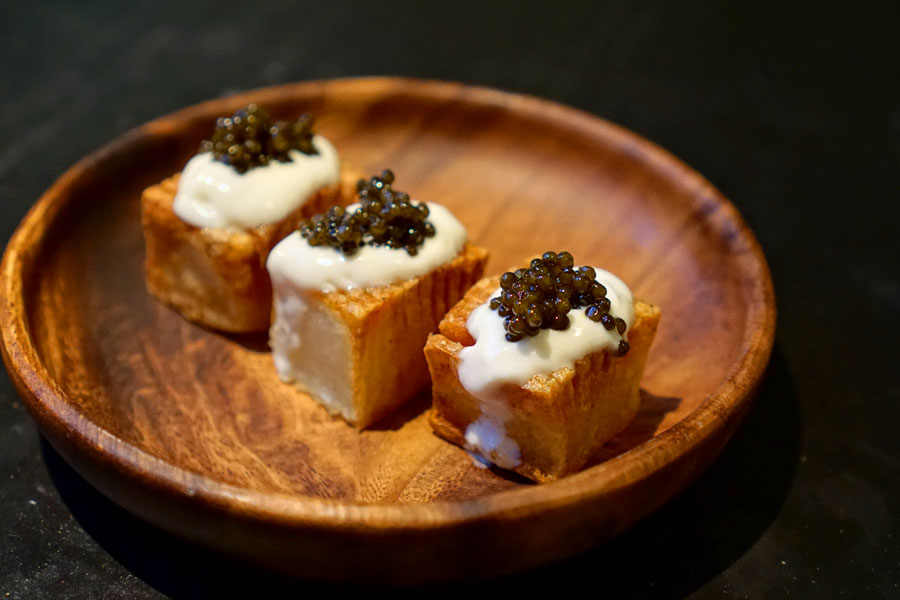 9: Barr, Copenhagen, Hasselback Potato, Creme Fraiche, Green Garlic, Osetra Caviar
Speaking of Noma, Thorsten Schmidt's Barr is located in the former home of the game-changing Nordic restaurant, and serves cuisine inspired by the North Sea region. Hasselback-style potatoes were pan-fried with green garlic-infused clarified butter, then drizzled with housemade crème fraîche and dolloped with Royal Shassetra caviar from Petrossian. It's hard to go too wrong with these ingredients, and indeed, this was an utterly gratifying mash-up of salty, creamy flavors set over a backdrop of perfectly fried, crunchy tater. Our wine pairing, meanwhile, for this and the next three courses was a 2012 Riesling, one with delectable flavors of ripe tropical fruit balanced by a dry herbaceousness.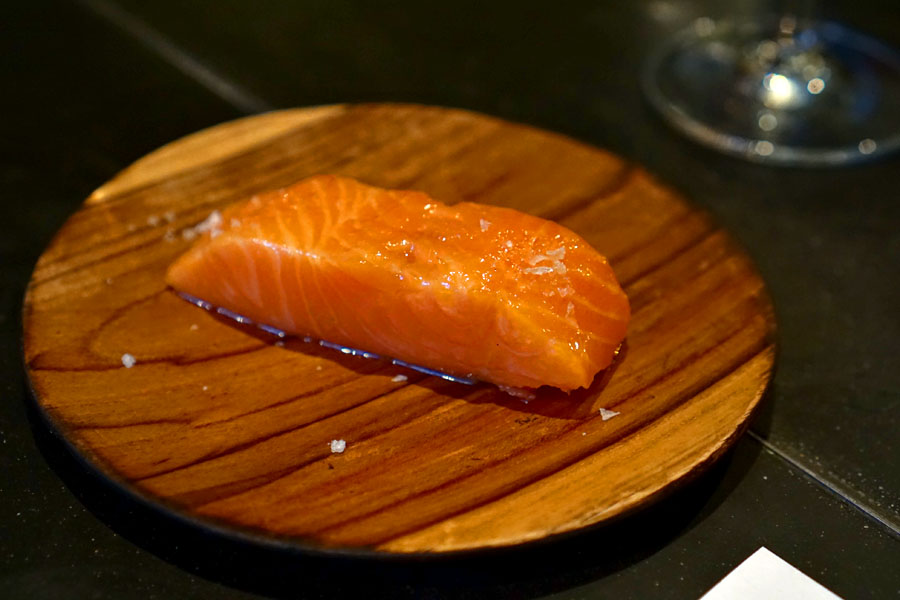 10: The Willows Inn, Lummi Island, Smoked Salmon
Yet another Noma connection came in the form of The Willows Inn's Blaine Wetzel, who previously worked as a sous chef there and has really embraced the Noma ideal of using locally-sourced ingredients. Apparently, there was a cook from The Willows Inn who came to
stage
at Playground, and according to him, the best dish there was this salmon: brined for 37 minutes (at 20%) and smoked for seven hours (never over 105°F) while being glazed with a combination of butter, brown sugar, and verjus. The filet was pretty amazing texturally, coming out all silky and smooth, with a spot on mélange of sweetness and smoke layered over the inherent fattiness of the fish. I found this very familiar, yet so much more than that at the same time--it was a little bit profound, and a favorite dish for a couple of my dining companions.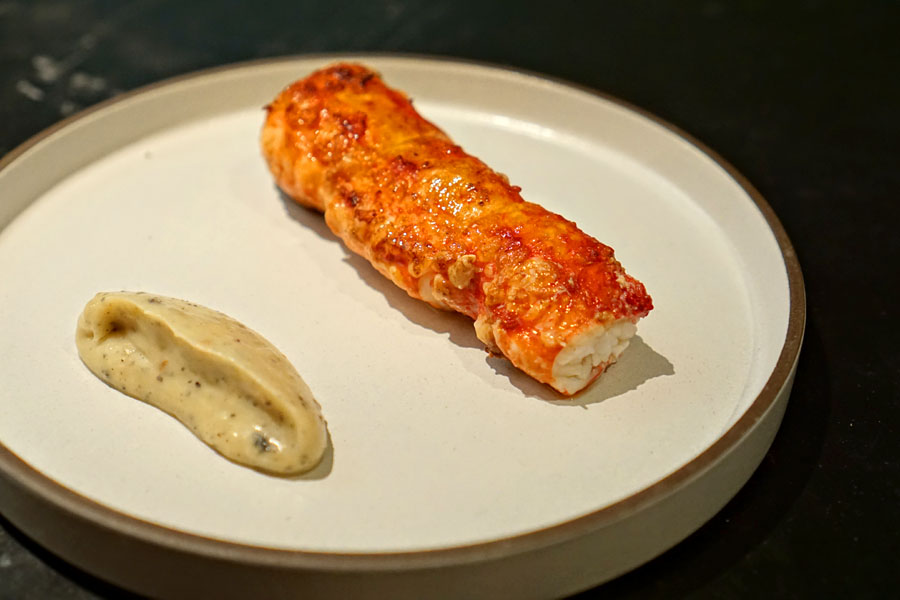 11: Faviken, Järpen, King Crab With Almost Burnt Cream
The final dish in the Nordic section of our meal came from Fäviken, Magnus Nilsson's remote-but-lauded restaurant in Sweden. This was live king crab (meat removed prior to cooking), brushed with housemade cultured butter, grilled dry
a la plancha
, then sprayed with
ättika
vinegar. All this effort made for one of the tastiest renditions of crab I've had, one with a meaty, super gratifying texture and bountiful amounts of sweetness, all cut by a healthy dosing of smoke. As for the cream: start with a super hot cast iron pot, pour in fresh cream, and watch for a perfect relationship of burnt cream on the bottom to heavily reduced cream on top. Once you get the right color, scrape the caramelized lactose from the bottom of the pot and emulsify it back into the reduced cream. The result was a condiment that enhanced, but didn't overwhelm the already smoky nature of the crab. According to Quinn, this was the most expensive bite they've ever served at Playground 2.0, and it tasted like it--a favorite for many of my fellow diners.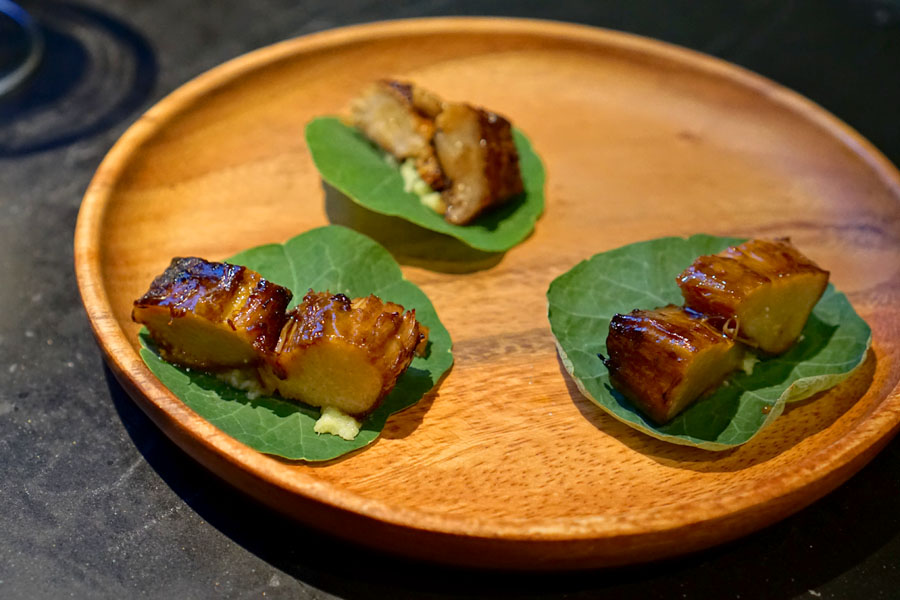 12: Inua, Tokyo, Enoki Mushroom Nasturtium Taco
This is the last mention of Noma, I promise (I guess it's pretty apparent that the restaurant has had a major impact on modern gastronomy). Thomas Frebel formerly headed up R&D there, and caught the attention of the Kadokawa Shoten publishing company when he worked at the Noma pop-up at the Mandarin Oriental in Tokyo back in 2015. The company offered him space at their headquarters building in Fujimi, and he thus stayed in Japan following the pop-up and ended up opening Inua in 2018, serving Nordic-inspired food using solely Japanese ingredients. We had here the stem of
enokitake
, sous vide'd in A5 wagyu beef fat, grilled over
binchotan
while being seasoned with Yasuo Yamamoto's four-year cedar barrel-fermented
shoyu
. Following the grill, the mushrooms are brushed with egg yolk (which coagulates) and served atop nasturtium with freshly-grated wasabi. The end result was a super meaty, rich, salty, satisfying presentation of
enoki
, one that was certainly one of the best morsels of 'shroom I've ever had, with a perfect accent in the form of that wasabi. The Chef mentioned that a previous diner mistook the mushroom for beef, and I could see it--this was one of the most delightful bites of the night for sure. As for the wine for this and the next two courses, we had a grassy, mineral-driven 2015 Puligny-Montrachet, one with a good amount of citrus fruit, toast, and oak.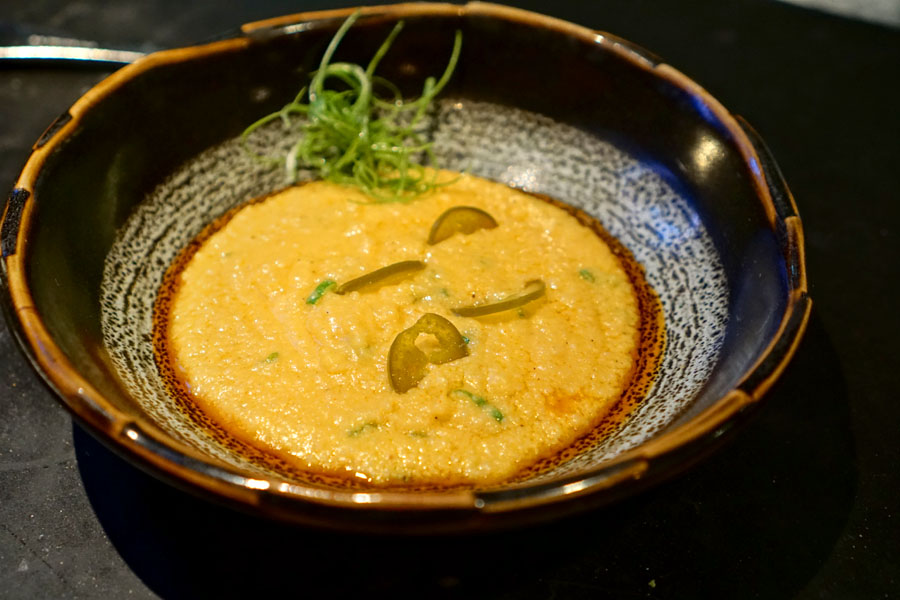 13: WD-50, New York City (Closed), Shrimp Grits
Next, we paid a visit to Wylie Dufresne's now-shuttered wd~50, which is oft credited for helping popularize molecular gastronomy in the US. A riff on shrimp and grits that Quinn actually ate at In Situ, this was shrimp, put through a meat grinder, cooked in foaming butter with cayenne pepper, ground two more times, warmed in vegetable stock, then finished with butter and freeze-dried corn powder. The end product was a pretty damn reasonable approximation of the classic dish, but with a more pervasive brine from the shrimp, as well as a wonderful lingering heat and herby accent. One of the coziest courses of the night.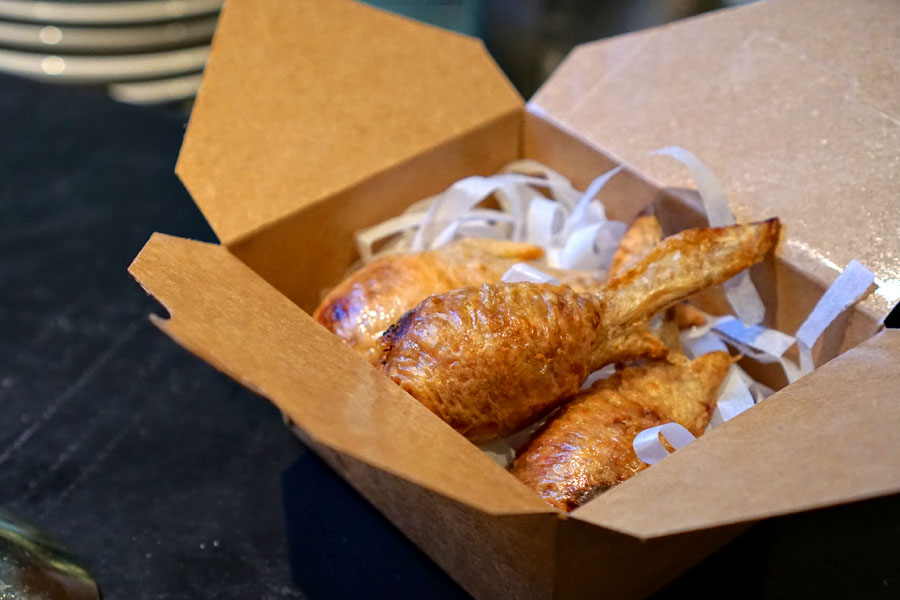 14: Den, Tokyo, Dentucky Fried Chicken
The most playful course of the meal came from Den, Zaiyu Hasegawa's "
kaiseki
with a sense of humor" spot in Shibuya. The "DFC" wasn't straight fried chicken, rather, the crispy wings came stuffed with what I believe was sticky rice, and had a noticeably curry-tinged flavor profile, with plenty of fruity notes to boot. It was reminiscent of Chinese
zongzi
for me, and I will say that I actually would've liked to have tasted more of the actual chicken.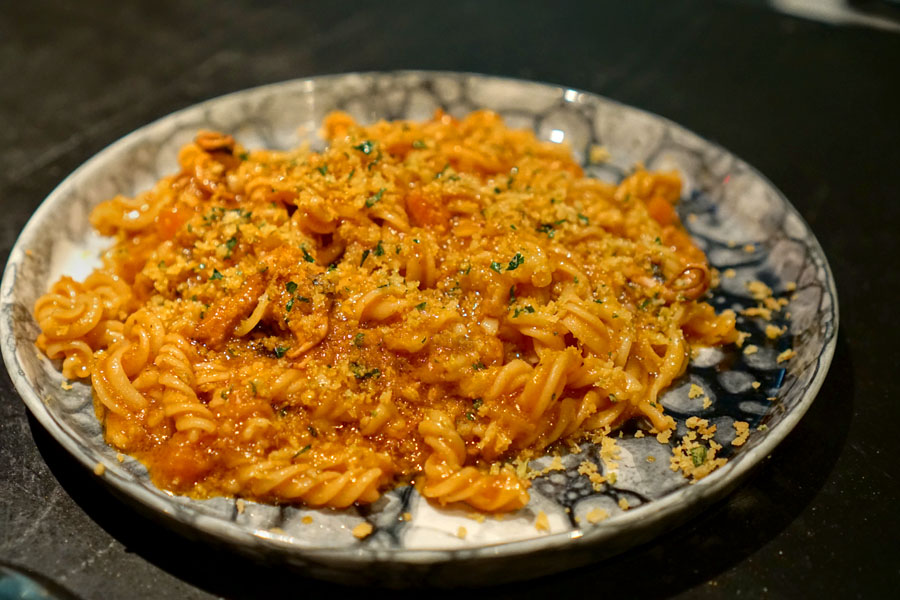 15: Marea, New York City, Fusilli, Octopus, Bone Marrow
Our sole pasta course came from Michael White's Marea, and blended Italian flavors with non-traditional techniques. This was housemade fusilli with a ragout of baby octopus and red wine, mounted with a large quantity of bone marrow (instead of butter) and sprinkled with herby
mollica
breadcrumbs. The thing that stood out to me the most was the meatiness and brine of the octo, and how that played with the tartness of tomato and traces of red wine. I actually didn't get that much from the marrow, though I was a big fan of those crispy crumbs on top. And the wine for this and the next couple courses? A 2012 Barolo from the Mosconi vineyard: tannic, with robust fruit, spice, and violet.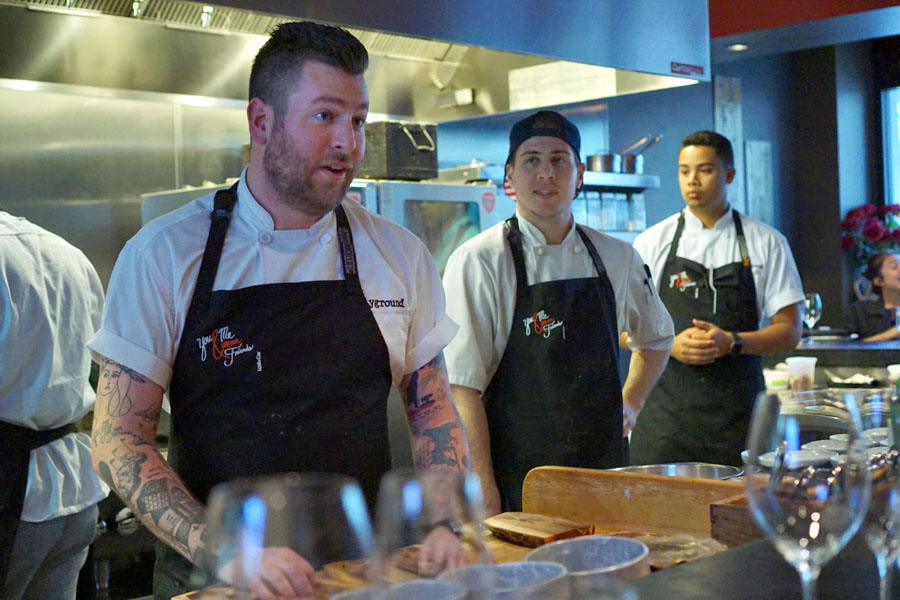 Quinn, along with cooks Larsh and Murphy.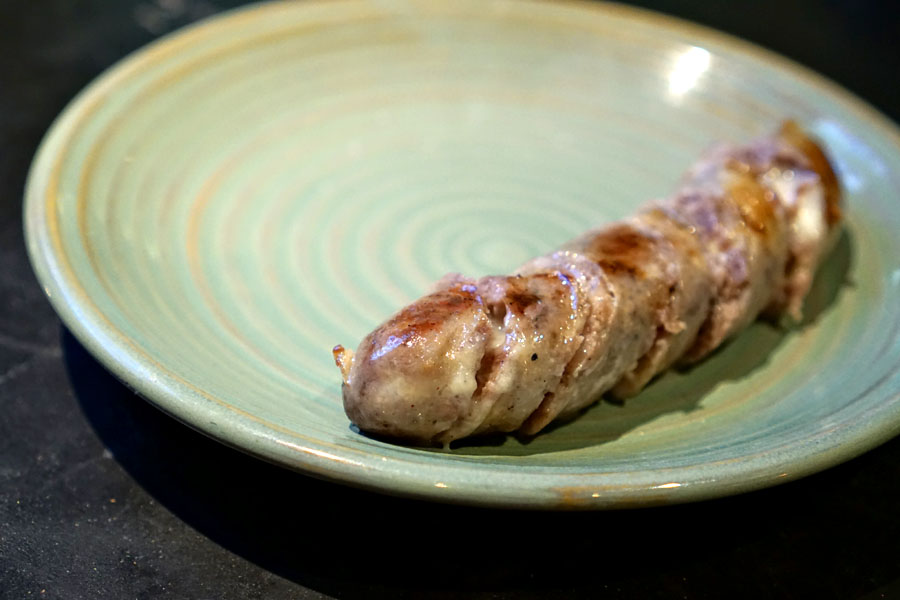 16: Bazaar, Los Angeles, Butifarra Senator Moynihan
Our penultimate savory course certainly wins the award for most phallic dish of the evening. The sausage was invented as a special at José Andrés' tapas joint Jaleo in DC, and was named in honor of the late Daniel Patrick Moynihan, a regular at the restaurant. The dish eventually made its way to The Bazaar right here in LA, where I'd actually had it for myself.
Butifarra
is a Spanish countryside sausage with around 35% fat, but tonight, the fat was removed and replaced with Idiazabal; in addition, the kitchen took some liberties with the pork, and used the
secreto
cut of
jamón ibérico de bellota
(the finest pork on the planet by Quinn's estimation). The ensuing sausage was a perfect presentation of pig, and I was enamored with all the char and crispy bits present, as well as how well the meat meshed with the lusciousness of that cheese. A favorite of mine.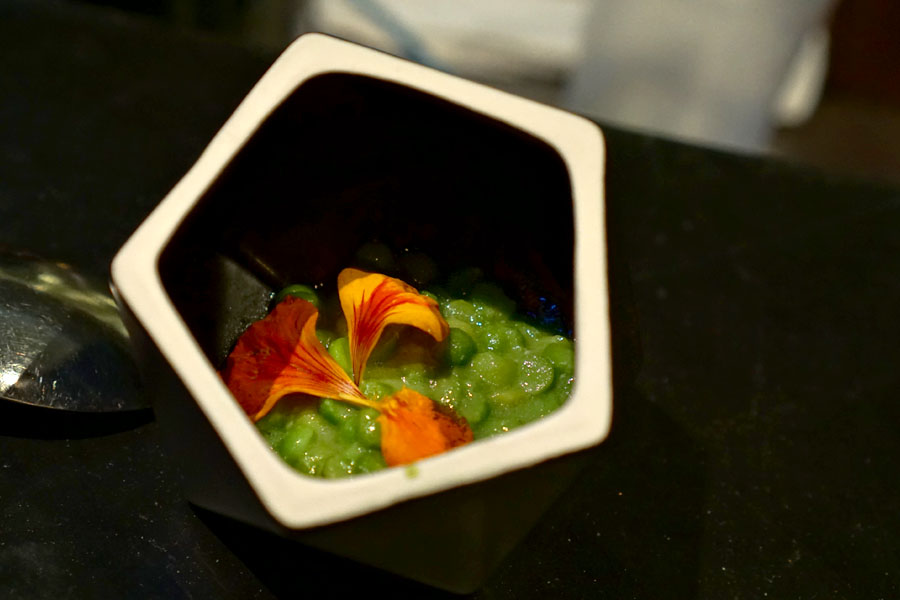 17: Asador Etxebarri, Axpe, Guisantes Lagrima
For our final course before dessert, we referenced Victor Arguinzoniz's Asador Etxebarri, Quinn's favorite restaurant. This was Playground's version of their dish of
guisantes lágrima
, or tear-shaped peas, grilled in their pods over charcoal (five minutes per side), then shucked and served with the juiced pods. The key here was the interplay between the "green" sweetness of the peas and the pervasive smokiness present. They were wonderful texturally too, though I did want a touch more acidity.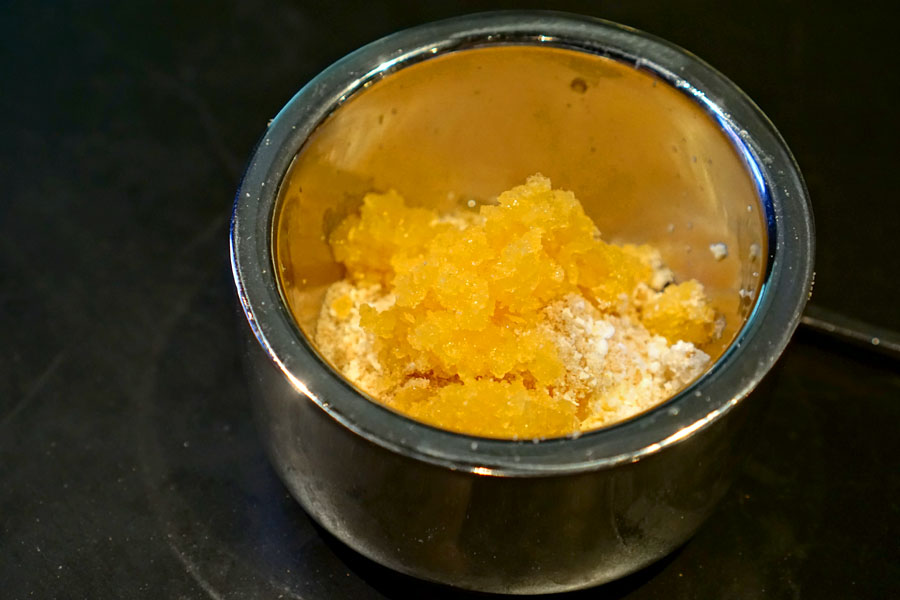 18: Contra, New York City, Mandarin, Popcorn
Time for dessert, and our first came courtesy of Jeremiah Stone and Fabián von Hauske's Contra in the Lower East Side, a restaurant that, according to Quinn, does a great job at combining flavors that don't seem like they should go together. This was a buttered popcorn mousse with tangerine supremes, malted milk crumble, candied popcorn crumble, and tangerine granita. It was a standout course for me, as I was really a fan of the back-and-forth between sweet, juicy citrus and the almost funky characteristics of the popcorn. Some excellent textural play as well here. All desserts were paired with the 2015 Champalou Vouvray Les Tries, a great, fresh example of the style brimming with racy notes of stone fruit, flowers, and honey.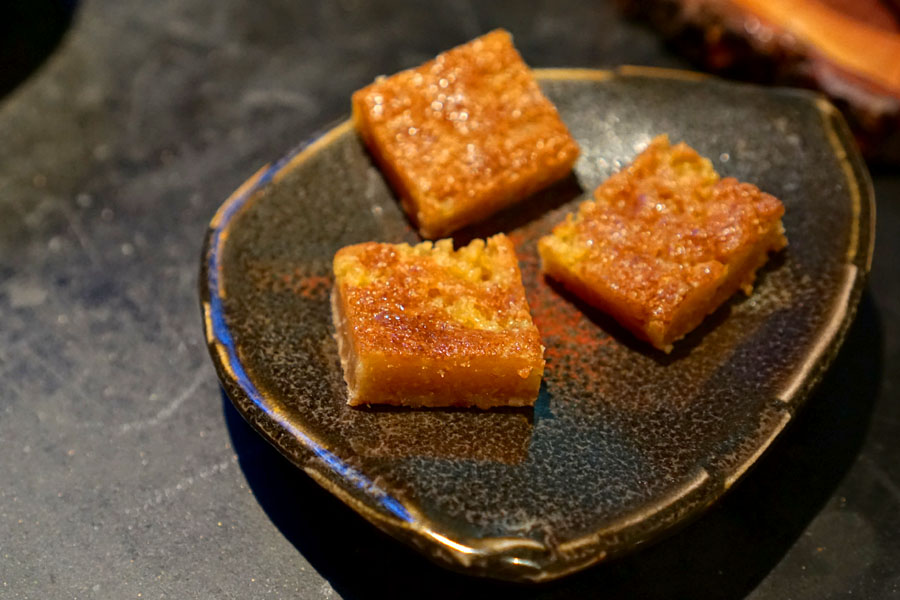 19: Milk Bar, New York City, Crack Pie
We stayed in NYC for our next course, which featured Christina Tosi's famed Crack Pie (which, unfortunately, was renamed to the prosaic "Milk Bar Pie" in April). I found the treat worthy of its reputation, as its in-your-face flavors of toffee, caramel, and dark fruit satisfied in an almost base sort of manner.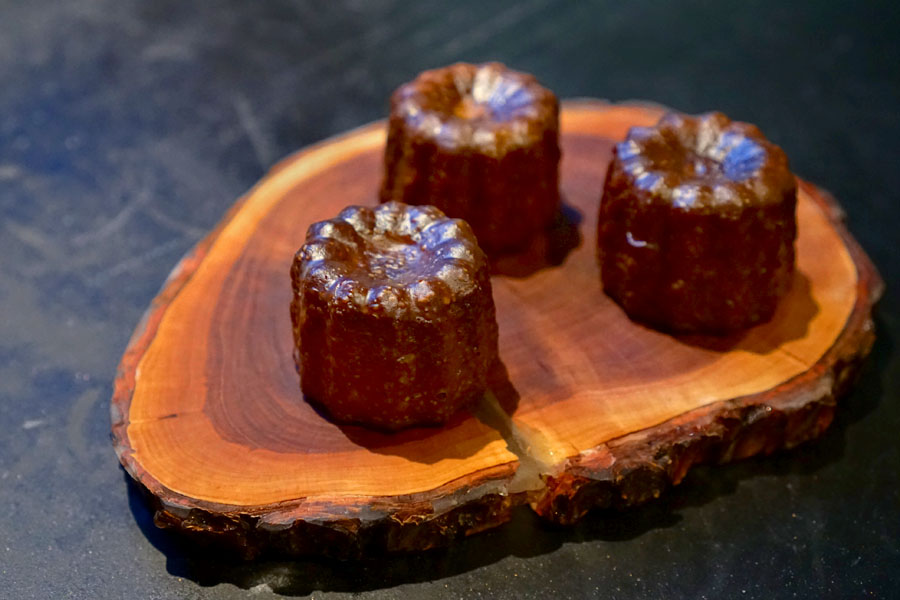 20: L'Pain De Joel Robuchon, Tokyo, Canele
Next up were canelés from Joël Robuchon's eponymous bakery in Shibuya, which apparently are baked for 80 minutes in a copper bowl lined with beeswax, and took three months of R&D at Playground to replicate. They were pretty much spot on though, with their crisp, thick, caramelized crusts giving way to fluffy, custardy, eggy insides.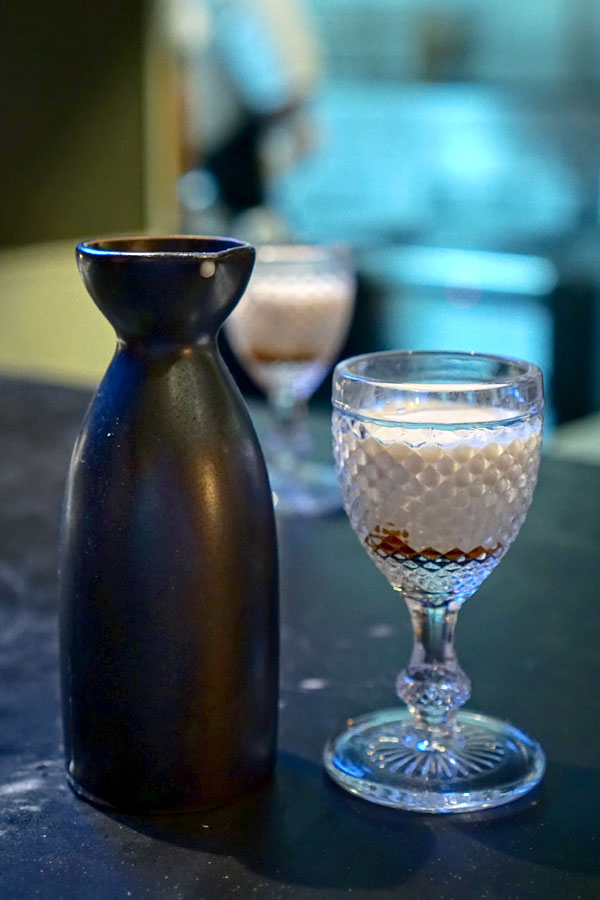 21: State Bird Provisions, San Francisco, World Peace
State Bird is run by the husband-and-wife team of Stuart Brioza and Nicole Krasinski and serves modern American fare with dim sum-style service. Their signature digestif is this marriage of roasted peanut milk with muscovado simple syrup, which was super peanut-y and tasted almost Snickers-esque.
22: The Restaurant At Meadowood, St. Helena, Chocolate Meltaway
Quinn and Werner aren't huge fans of chocolate, but understand its role as a closer, hence this
petit four
of sorts from Christopher Kostow's vaunted Napa Valley eatery. It was a chocolate ganache stabilized with two different inverted sugars and finished with a reduction of port wine infused with oak chips and vanilla beans. The sticky treat showed off mounds of dark berry flavors with a hint of savoriness in the background.
This was a thoroughly enjoyable, eye-opening, educational, and sometimes whimsical meal. Given that there was minimal creativity involved with the food (but instead rote replication), I can't give Quinn and his team credit for that, but I can say that the dishes were executed with precision and panache. The Chef was an engaging and ebullient host as well, and reveled in explaining the background of each dish served. As good as the food was though, I left 2.0 a bit saddened, and the dinner sort of threw in our faces all the great restaurants we're missing out on here in LA. On the plus side, I suppose it did give me more ideas on places I need to check out.