Alameda Supper Club (Los Angeles, CA)
Alameda Supper Club at The Manufactory at ROW DTLA
757 S Alameda St, Los Angeles, CA 90021
213.375.3315
www.alamedasupperclub.com
Tue 04/30/2019, 08:15p-11:10p


The road to Alameda Supper Club begins with bread baker Chad Robertson and pastry chef Elisabeth Prueitt. After running Bay Village Bakery in Point Reyes Station in the late 1990s, the husband-and-wife team founded Tartine Bakery in San Francisco's Mission District in 2002. The place quickly became a hit, and spawned an offshoot called Bar Tartine in 2005 and an eponymous cookbook in 2006. In 2008, the duo won the "Outstanding Pastry Chef" award from James Beard after being nominated for it the previous two years. Given the success of the brand, expansion made sense. A location was supposed to open in Tokyo in 2015, but never materialized. However, things sped up at the start of 2016, when LA restaurateur
Bill Chait
joined the Tartine team as managing partner.
The 5,000ft
2
Tartine Manufactory opened in August that year inside San Francisco's Heath Ceramics factory, and in August 2017, it was announced that the Tartine folks would be partnering up with Chris Kronner to take over Henry's at the Graduate Berkeley hotel. Then, in October 2017, Tartine debuted for the first time in LA, in the form of a small cafe situated inside the flagship Fred Segal store at 8500 Sunset. Meanwhile, noted barman
Julian Cox
joined the team that December. January 2018 saw the launch of Tartine Bakery in Seoul, while smaller outposts opened at the Ryse Hotel and SSG Food Market in April and December that year, respectively. The Manufactory Food Hall, a small collection of eateries at SFO, bowed in January this year.
For The Manufactory LA, the Tartine team has partnered with Chris Bianco of Pizzeria Bianco in Phoenix, who happens to be a friend of Robertson's. The long-awaited, 40,000ft
2
space opened at the end of January and features multiple concepts in one. The complex is headlined by Tartine Bianco, an all-day eatery that highlights Tartine's iconic bread products. There's also the Market, which sells specialty food as well as casual eats, not to mention the self-explanatory Ice Cream + Coffee Window. However, we were here specifically for Alameda Supper Club, a dinner-only spot sporting Cal-Italian fare. ASC opened on March 17th, and is ostensibly the most Bianco-influenced part of The Manufactory. Day-to-day duties, meanwhile, are handled by Chef de Cuisine Lee Foden-Clarke, a native of Cornwall who worked at Paul Ainsworth at Number 6 before becoming a sous at
Bouchon
in Beverly Hills. Curiously, a former Bouchon colleague, Camden Hershberger, is actually the CdC at Tartine Bianco.


Alameda Supper Club is located on the southern edge of The Manufactory, on one side of a kitchen shared with Tartine Bianco (though do note that there's another kitchen downstairs used for most of the prep work). In addition, ASC boasts a private dining room that holds up to 14 diners, while you'll also find a substantial patio space as well, replete with its own bar.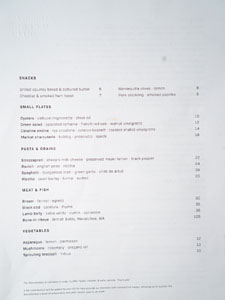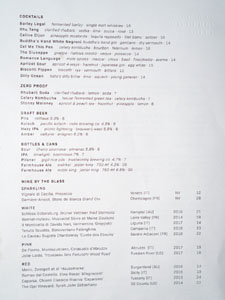 The menu's pleasingly compact, and features The Manufactory's most elevated cuisine in a mix-n-match format. Drink-wise, there are cocktails from Julian Cox, as well as a wine selection chosen by none other than Taylor Parsons, who's probably most known for his work at
Republique
. Click for larger versions.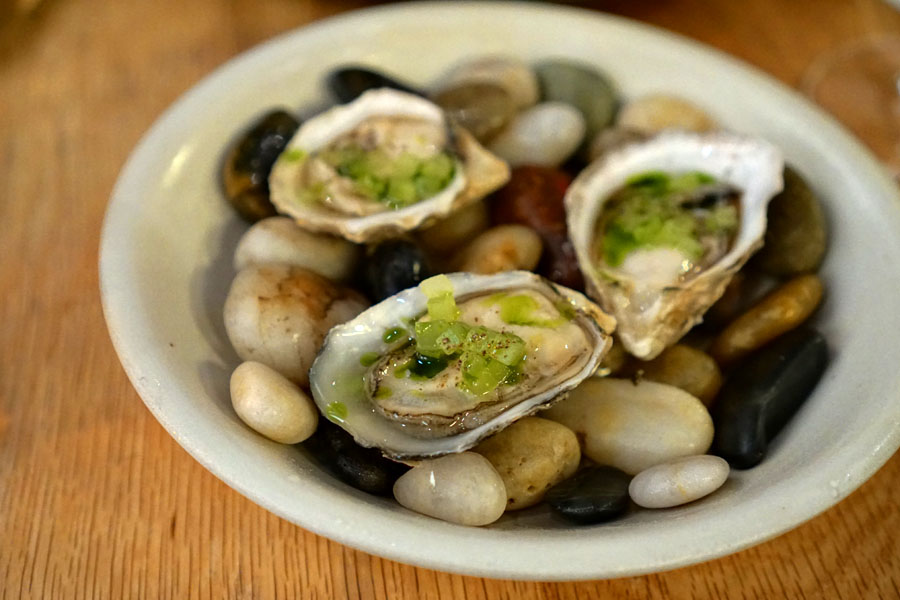 Oysters [$15.00]
| celtuce mignonette, chive oil
Kusshis were fresh and briny, their salinity working well with the brightness of the mignonette while I detected an unexpected hint of heat on the finish.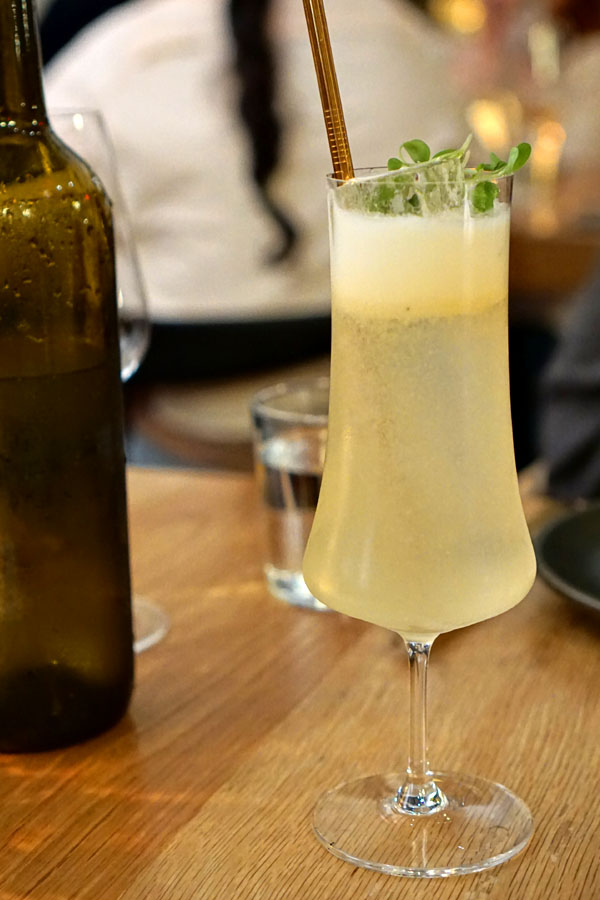 Celine Dijon [$16.00]
| pineapple mostarda, tequila reposado, lillet blanc, seltzer
The delightfully punny cocktail showcased sweet pineapple at first, which then led to a pungent mustard finish laced with herbs. Very neat.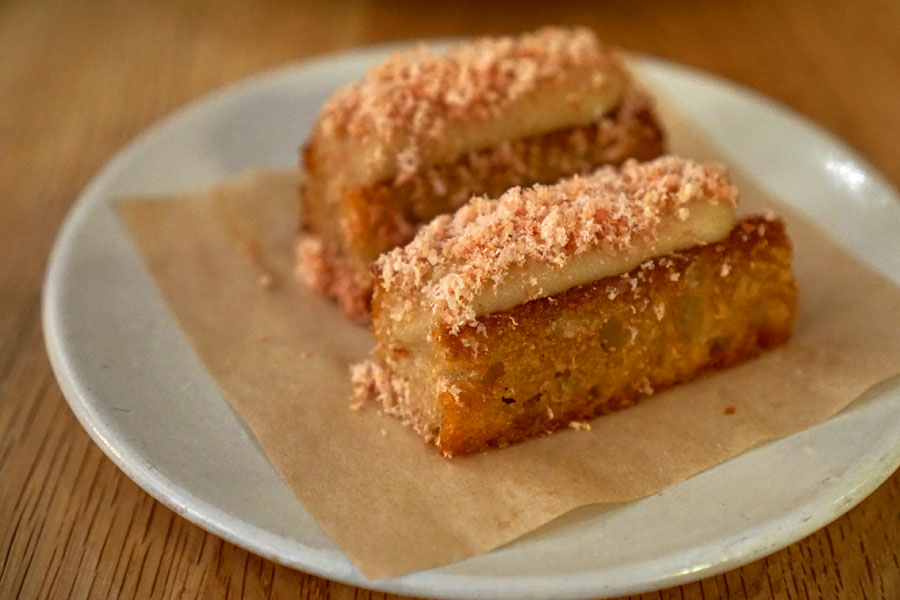 Cheddar & smoked ham toast [$7.00]
A combination of cheese and ham displayed a familiar, deeply satisfying savoriness, one accented by a well placed bit of smoke and the toastiness of the bread. And if you're wondering, I believe those were dehydrated speck shavings on top.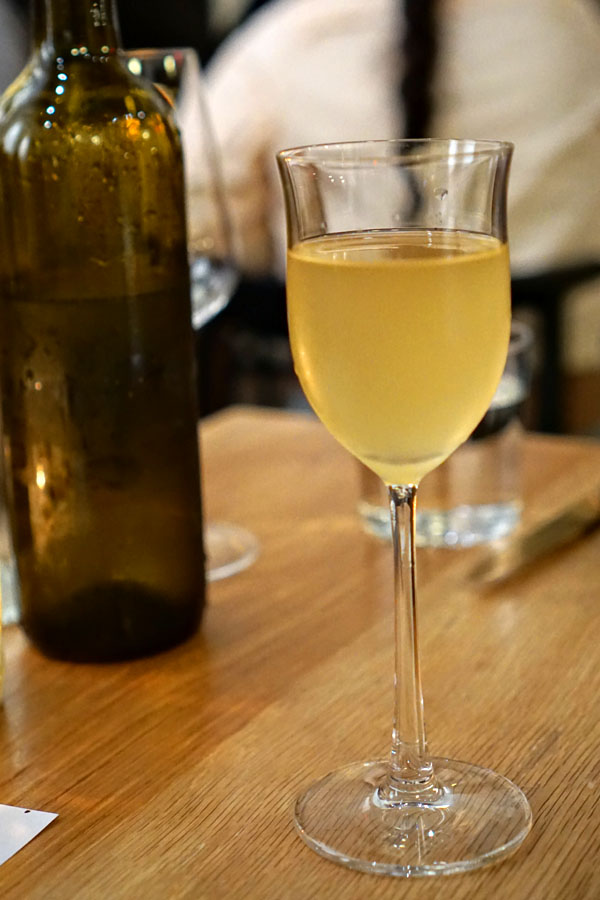 Biscotti Pippen [$13.00]
| biscotti, rye, vermouth, bitters
Next came one of the best-monikered cocktails of the year. It smelled super sweet and nutty, while the palate went boozy and bitter at first, with sugary, almond-y flavors coming in later. Curiously, I found this almost beer-like at times.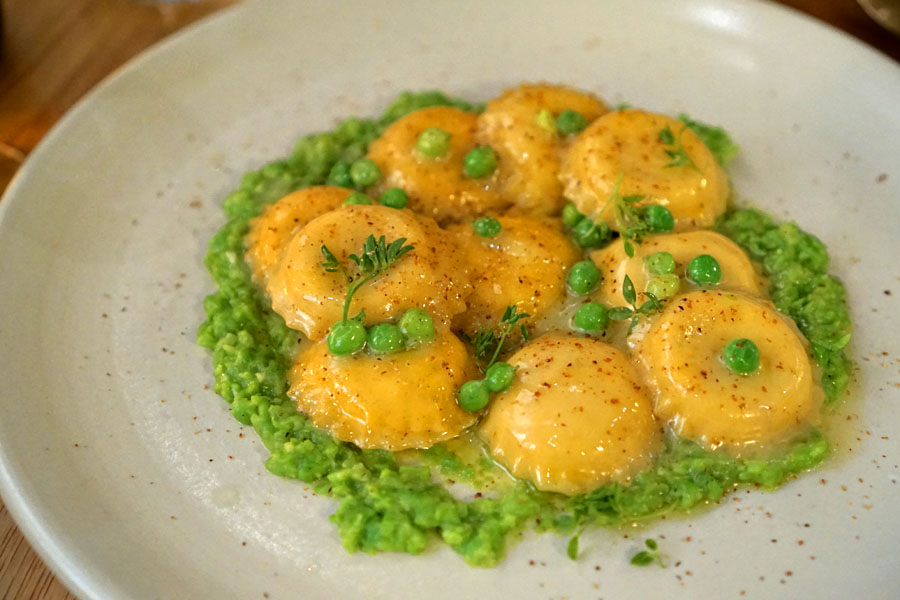 Ravioli [$24.00]
| english peas, ricotta
Fluted ravioli showcased the sweet, bright nature of the peas, seamlessly paired with the creaminess of ricotta. I believe there was a bit of citrus in here as well, which worked as a zippy accent to the pasta.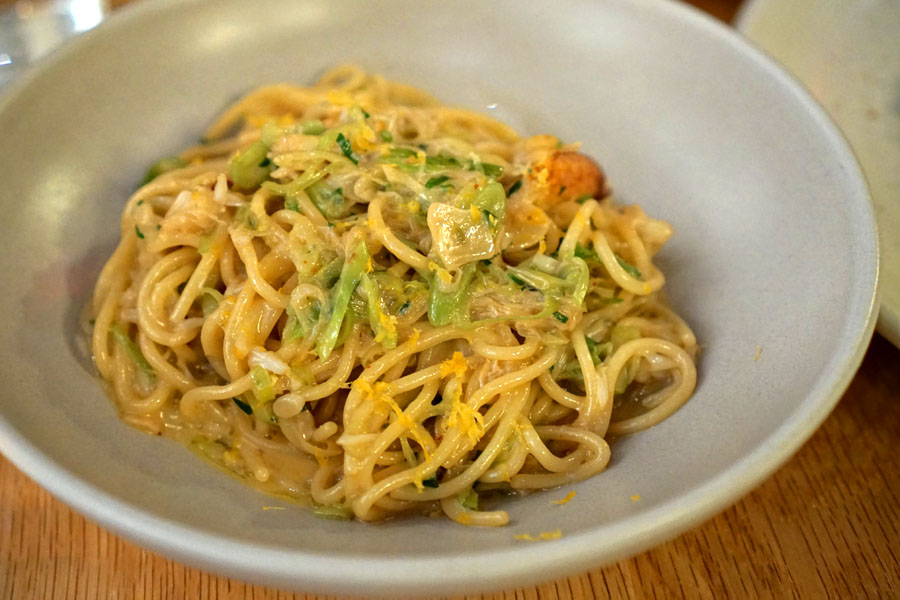 Spaghetti [$26.00]
| dungeness crab, green garlic, chile de árbol
My favorite dish, though, was the spaghetti. The pasta arrived superbly textured, while the sweet, oceany flavors of crab were definitely highlighted. Green garlic functioned as an effective contrast, but my favorite part just might've been that tingling heat on the back end.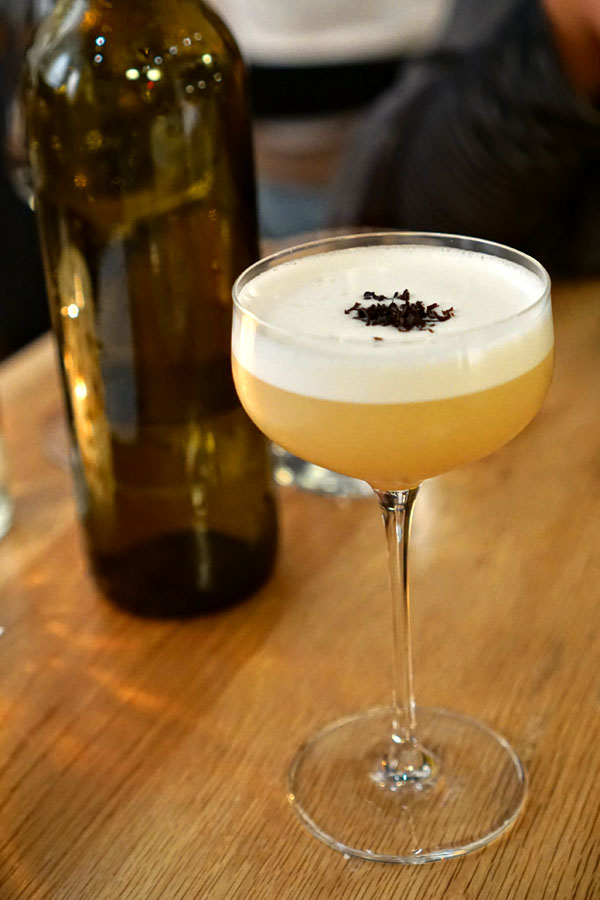 Apricot Sour [$15.00]
| apricot 4-ways, hazelnut, japanese gin, egg white
A variant of the classic sour cocktail delivered with its sweet, floral, fruity flavors, set against a background of botanicals and a smidge of citrus.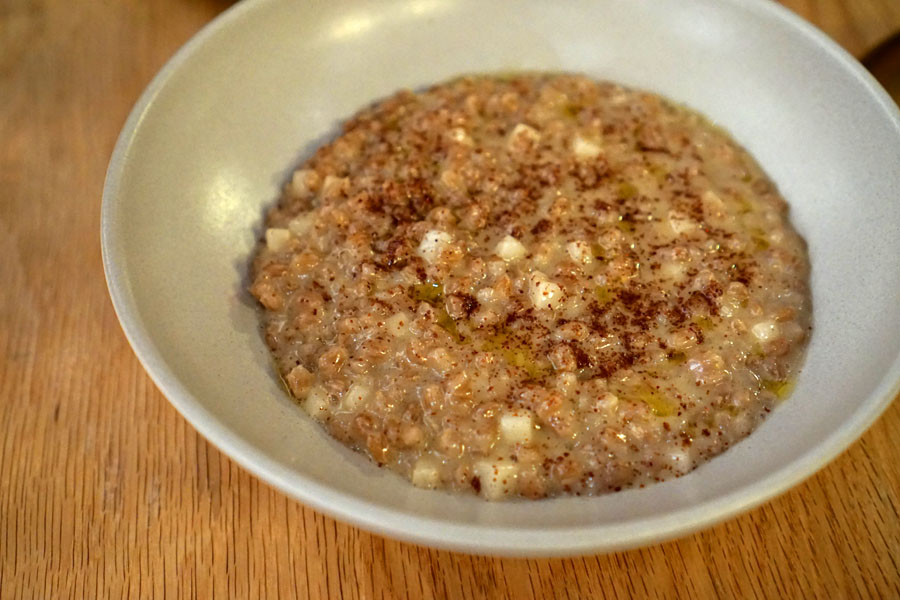 Risotto [$20.00]
| pearl barley, turnip, sumac
A nutty barley risotto was my least favorite dish this evening, as I felt it lacking compared to a rice-based preparation. It was just missing the creaminess and luxuriousness of the traditional dish, and I found the tartness of the sumac rather monotonous. I did like the crunch and contrast provided by the turnip, though.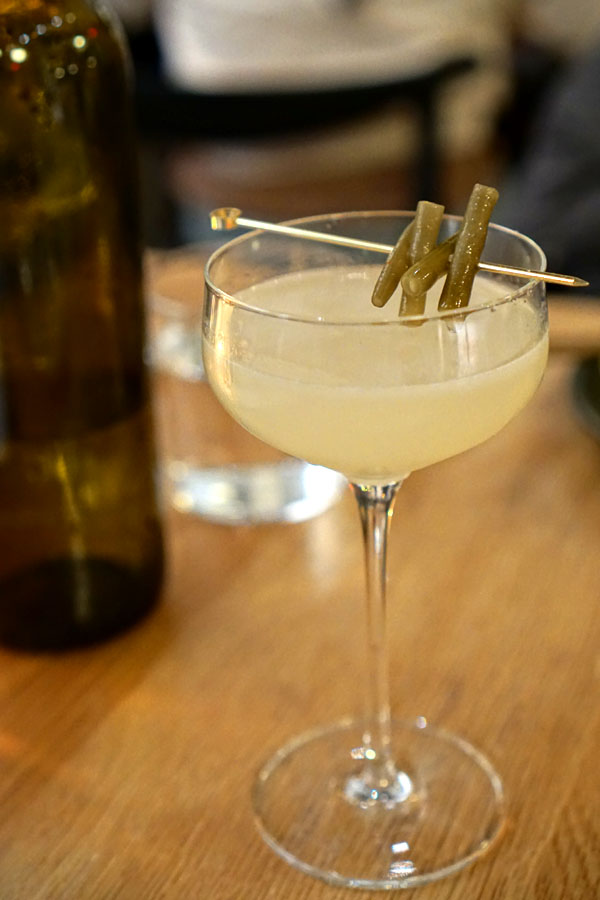 Dilly Ocean [$14.00]
| hata's dilly brine, lime, aquavit, young genever
This was definitely the most polarizing of our cocktails. I got an intense nose of anise and brine that was on the bracing side. The taste was sweet at first, while notes of caraway from the aquavit came in later, joined by a citric tartness.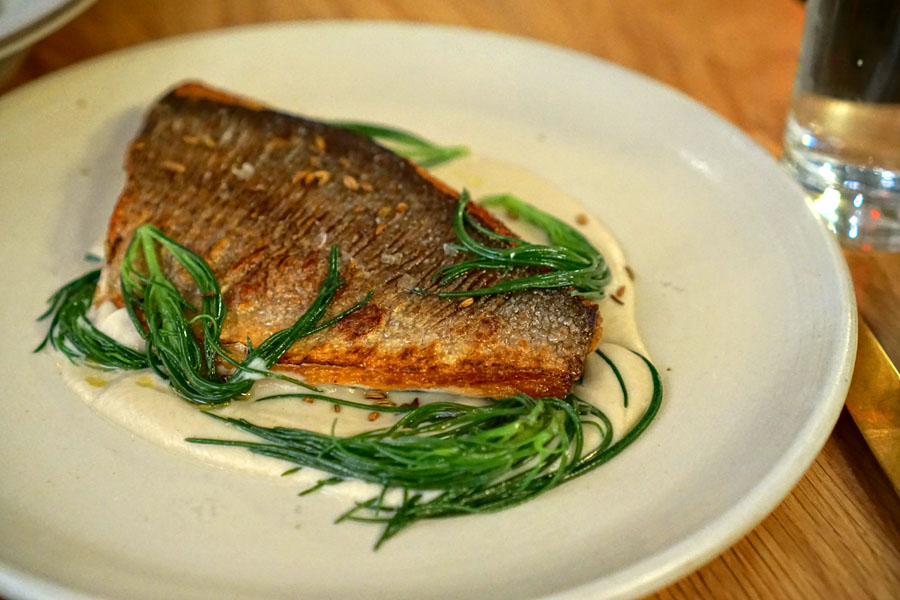 Bream [$32.00]
| fennel, agretti
Bream was super flavorful, and had a wonderfully crisp skin to boot. The
agretti
served as a workable counterpoint to the fish, and I didn't mind the fennel, either. My only concern was the purée (parsnip?), which veered overly sweet.
Romance Language [$14.00]
| mole spices, mezcal, citrus, basil, finochietto, averna
Our final cocktail smelled of astringent dark fruit, with a touch of herb. Taste-wise, I got bittersweet berry fruit and smoky mezcal initially, while the unmistakable flavors of mole came in on the back end.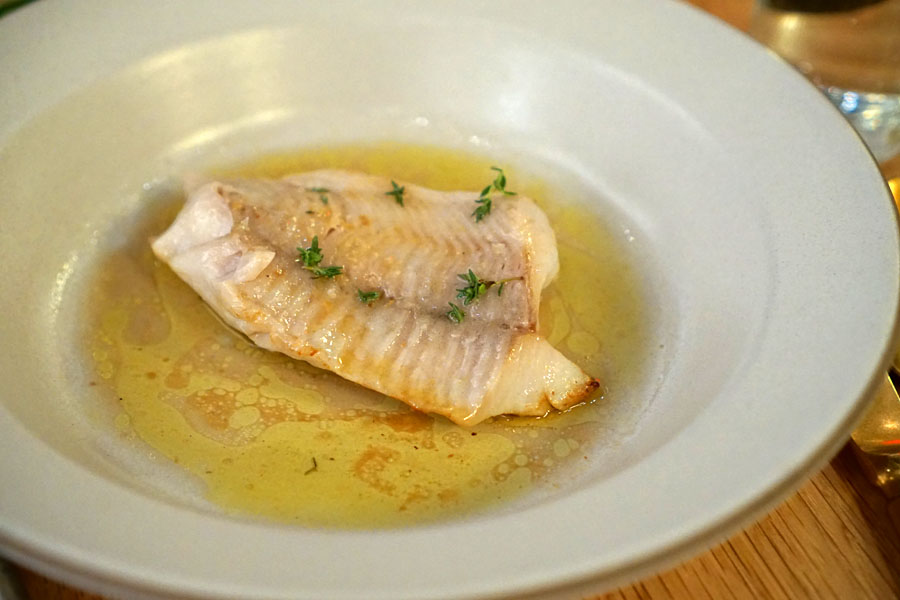 Black cod [$36.00]
| colatura, thyme
Cod ate utterly soft, buttery almost, its relatively restrained flavors perked up by the piquancy of that
colatura
-enhanced sauce.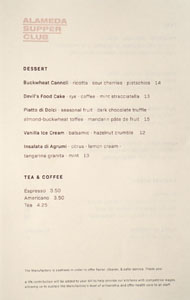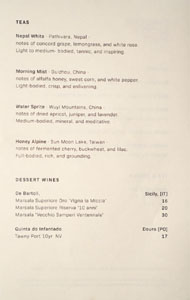 Desserts here are the charge of Pastry Chef Leah Chin-Katz, an alumna of the original Tartine Bakery who's also worked at Campton Place, Thermidor, and Spork. Click for larger versions.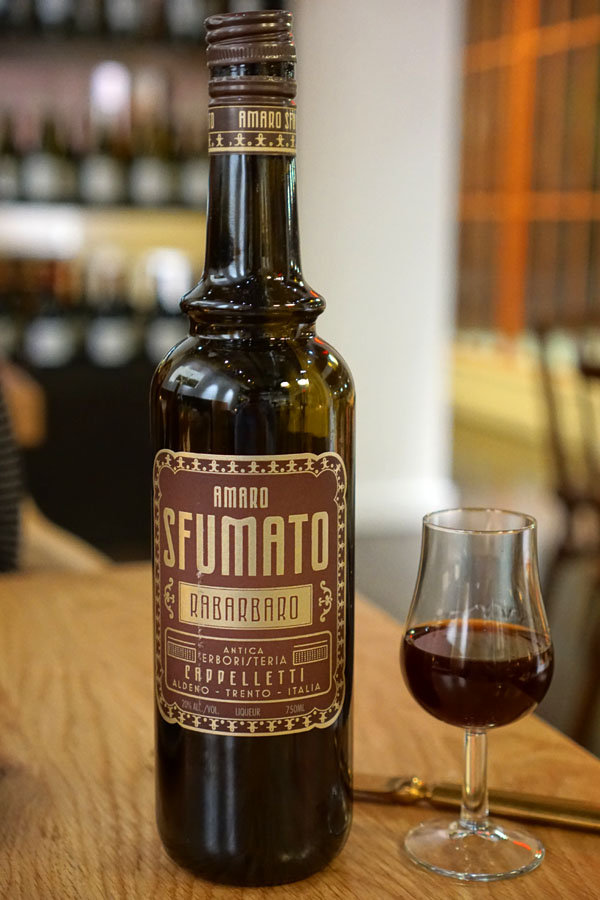 Digestif duties were handled by the
Cappelletti Sfumato Rabarbaro [$9]
, an earthy, smoky, spicy, rhubarb-based amaro.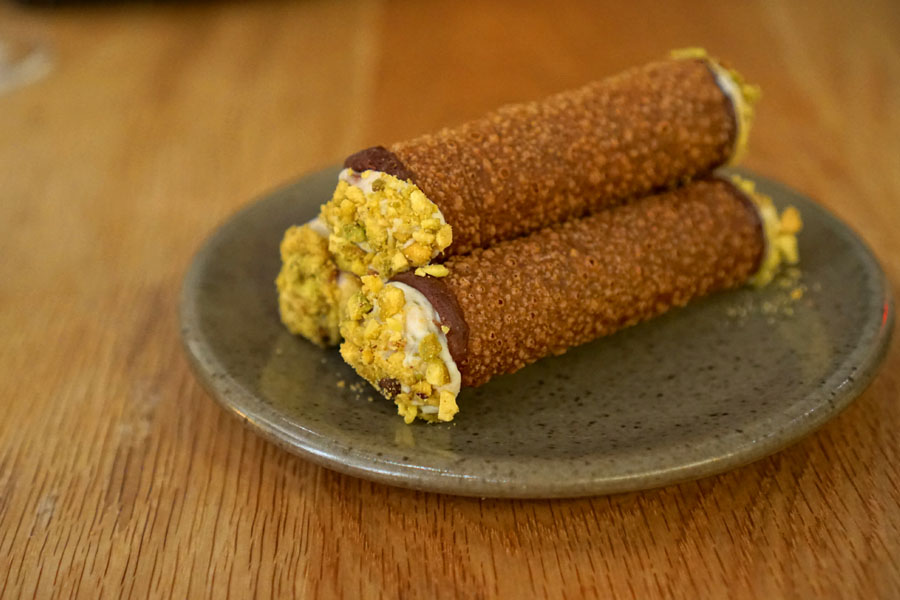 Buckwheat Cannoli [$14.00]
| ricotta, sour cherries, pistachios
Cannoli were classic at their core, the creaminess of ricotta meshing beautifully with the pistachios and subtle sourness from the cherries.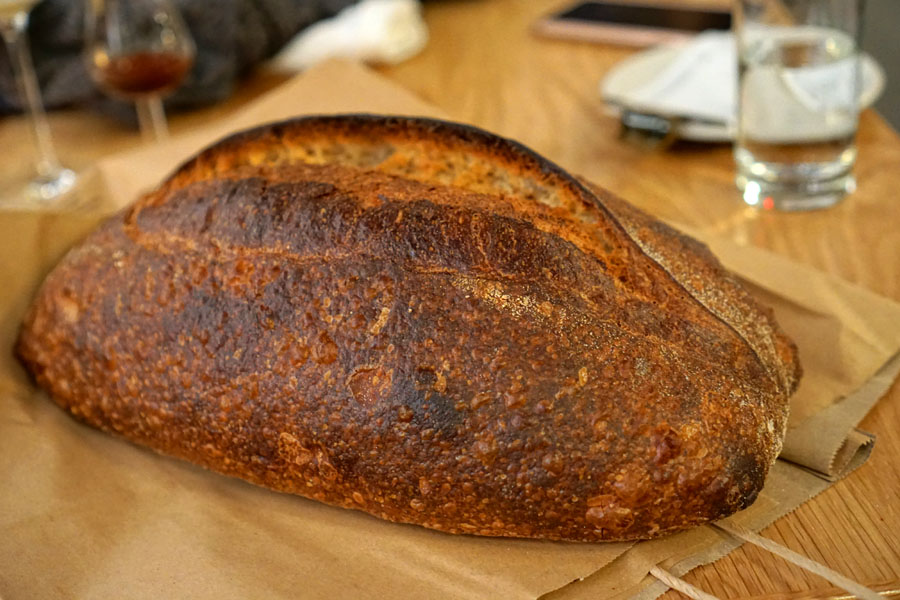 To take home: a loaf of Tartine's iconic country bread (I think they'd made too much and were trying to give it away).
Alameda Supper Club's Italian-
ish
fare makes pretty good sense for the space. The food mostly works at this early stage, though I do hope the kitchen will continue to push things, to be more daring, perhaps even a bit irreverent with the cuisine. I still do need to try the other parts of The Manufactory, and I'm sure I'll eventually make my way through the entire place. As for what's next for the team, Tartine is apparently planning on opening up more spots in LA, with the locations mentioned being Hollywood, Santa Monica, and Silver Lake, so more to come I guess.