Sushi I-Naba (Manhattan Beach, CA)
Sushi Inaba
1300 Highland Ave, Manhattan Beach, CA 90266
310.545.3345
www.sushi-inaba.com
Sat 05/04/2019, 08:30p-11:50p

I'm always curious about new sushi spots in the Los Angeles region, and one that I'd been hearing a lot of chatter about over the past several months is Sushi I-Naba, which is actually part of the
Inaba
family of restaurants. The place opened back in April 2017 as more of a casual take-out spot, but quickly added high-end omakase dinners to their list of offerings. I believe the original chef was a fellow named Shin-san, but he's since been replaced by one Yasuhiro Hirano (as of August 2018 I believe).
About the Chef
: Hirano was born and raised in Kisarazu, Chiba Prefecture. His family was in the seafood business--mom operated a sushi restaurant while dad ran a fish market--and he began learning the trade at age five. He was never formally trained, and after finishing high school in the middle of 1998, moved to the US. At this point, Hirano, seeing all the difficulty that his parents went through, wasn't particularly interested in cooking. He was ostensibly supposed to be a student Stateside, but ended up focusing his efforts mostly on surfing and hanging out with his Japanese friends. In 2000, at the age of 20, he moved back to Japan, embarrassed that he still couldn't speak English. It was around this time when Hirano's father passed away, and he ended up inheriting his dad's prized knife, which sparked a renewed passion in food. He began working at sushi restaurants and saving money, and later moved back to the United States in 2003.
His first post was at Sun & Moon Cafe in Manhattan Beach (at the current site of
Little Sister
), a middling spot where apparently customers would eat
phở
at the sushi bar. It was a fun, easy job though, and Hirano would eventually meet a Hawaiian sushi chef there, one who subsequently brought him over to 705 Restaurant in Hermosa Beach, a place that had both a sushi bar and a dance floor, not to mention lots of drugs and a kitchen staff that didn't give a damn. He later moved over to Japonica (then part of the Inaba family), which he managed for nearly 10 years. The Chef then received an offer from
Maruhide Uni Club
, which he ran for about two years ending in 2015. The head of Inaba group then asked him to return, this time to Inaba Steakhouse, which Hirano renamed WA Dining-Sake and Steak House. In 2018, he was offered the chance to take over Sushi I-Naba, which he accepted, eager to make use of his family's connections to top-notch seafood.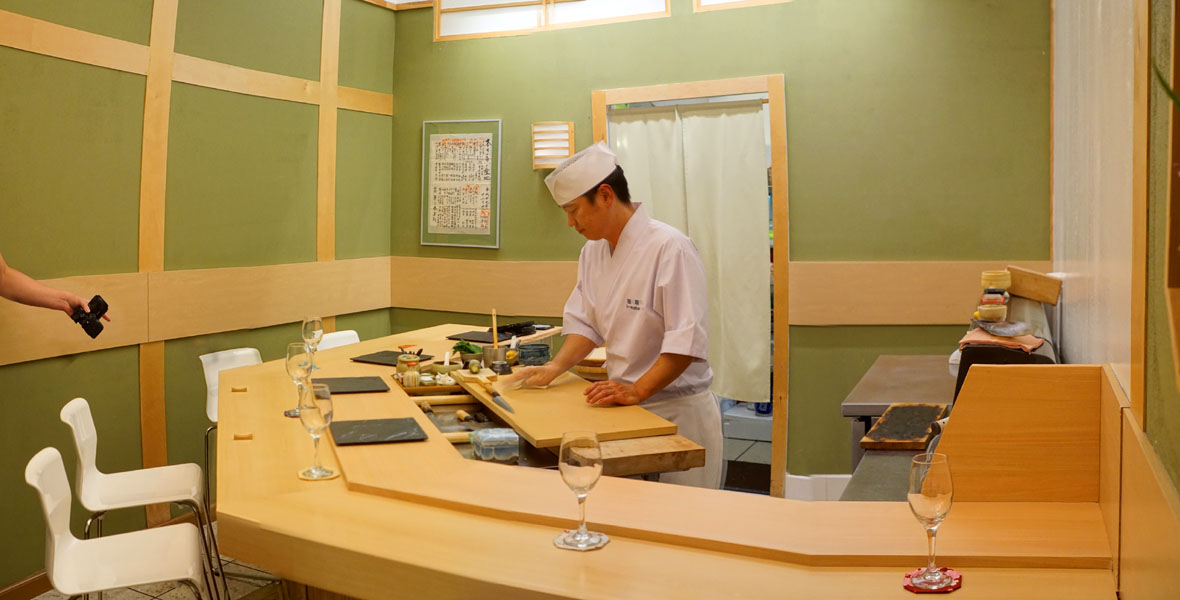 I-Naba inhabits a space that was previously home to Precise Optics (a sunglass boutique) and Nikau Kai (a surf shop). With its mere six seats, it just might be the tiniest restaurant I've ever encountered. The photo above is pretty much it.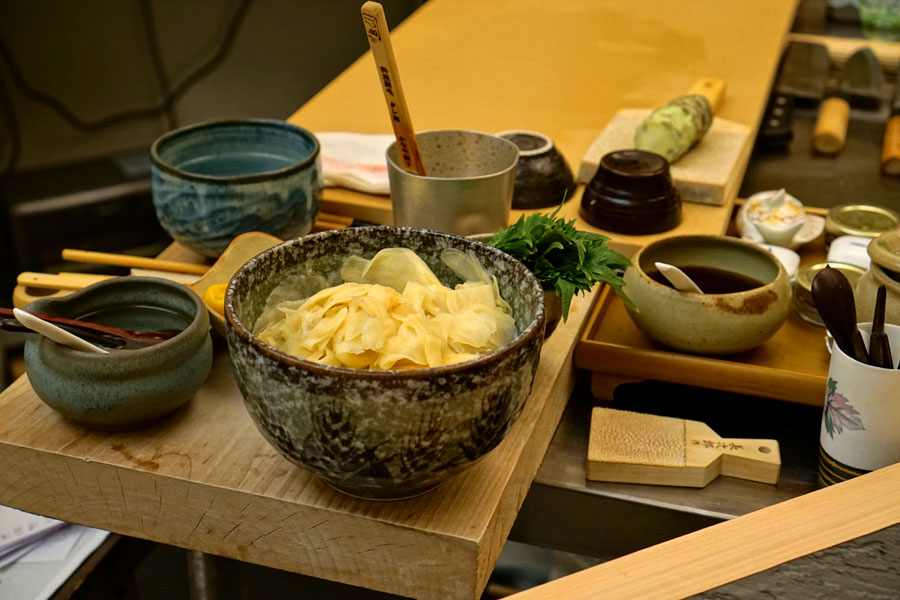 Here we see some of Yasu's "
mise en place
," so to speak. As for the menu, we went for the flagship "I-Naba" omakase at $220 a head. There are also options at $180 ("Umi"), $150 ("Hama"), and $120 ("Nami"), while lunch is even more affordable with its mini-tastings and chirashi bowls.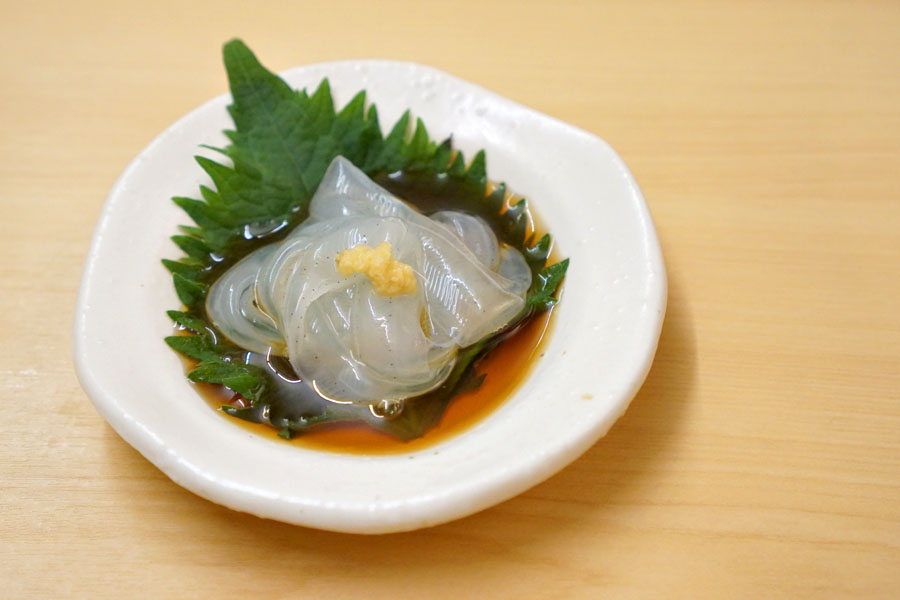 1: Noresore
Our meal commenced with something that I'd never had before:
noresore
, or baby conger eel (i.e.
anago
). The translucent slivers were soft and slick, and possessed a very delicate taste that was accented by the piquancy of the
sanbaizu
(a blend of vinegar, mirin, and soy sauce). I even ate the shiso on the bottom, which imparted a nice minty finish to the dish.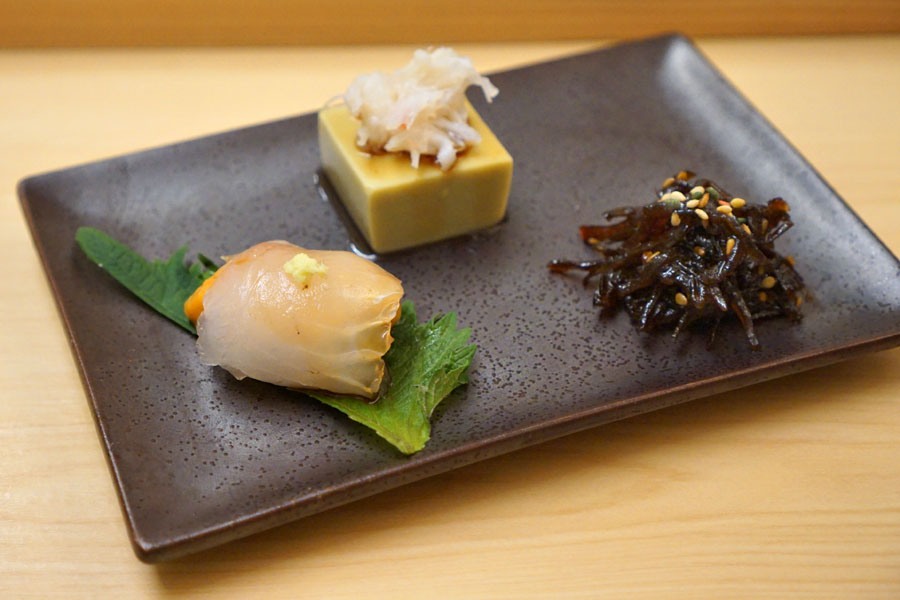 2: Zensai Moriawase
Here we had a selection of three little bites. Going from left to right:
Hokkaido Sea Urchin Wrapped in Halibut - The sweetness of the uni was on vivid display, moderated by the fish, which also provided textural contrast. The shiso, meanwhile, made for a bright counterpoint to it all.
Crab Butter Tofu with Hokkaido Snow Crab - The use of kanimiso resulted in a super earthy, luxuriant tasting "flan" of sorts, one offset by the familiar, sweet brine of zuwaigani.
Slow Braised Seaweed with Pepper - Kombu no tsukudani was a delight. I found the seaweed sticky and chewy, with a growing, lingering sweetness, as well as very palpable heat from the togarashi. Do note that Yasu-san changes the seasoning of his tsukudani regularly.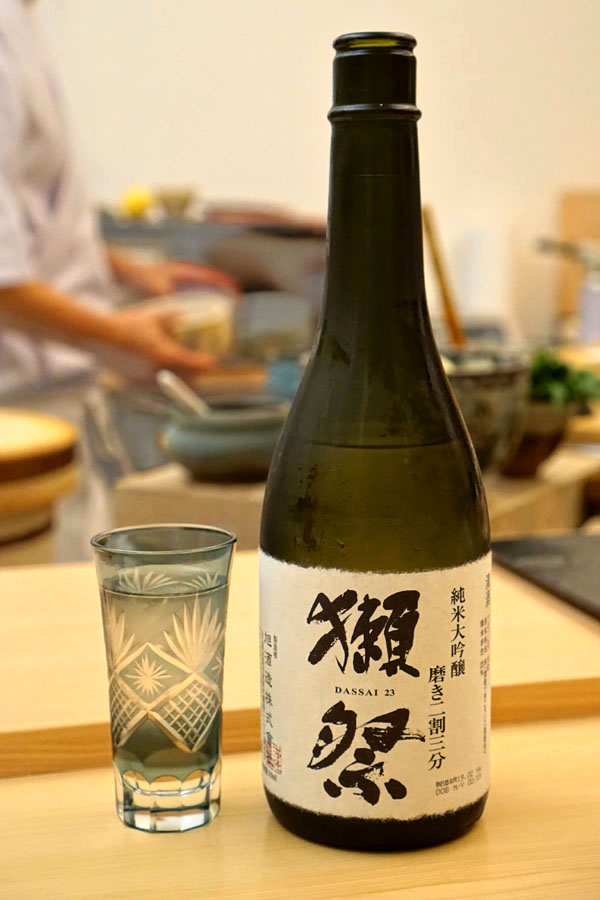 To drink, we began with a bottle of the
Dassai 23 Junmai Daiginjo
, a popular 23%
seimaibuai
sake produced by Asahi Shuzo out of Yamaguchi Prefecture. I got a racy nose filled with melon and bubblegum, with an undercurrent of ricey nuttiness. The palate was viscous, soft, full-bodied, with robust notes of honeydew, stone fruit, and flowers, cut by a touch of minerality. A classic expression.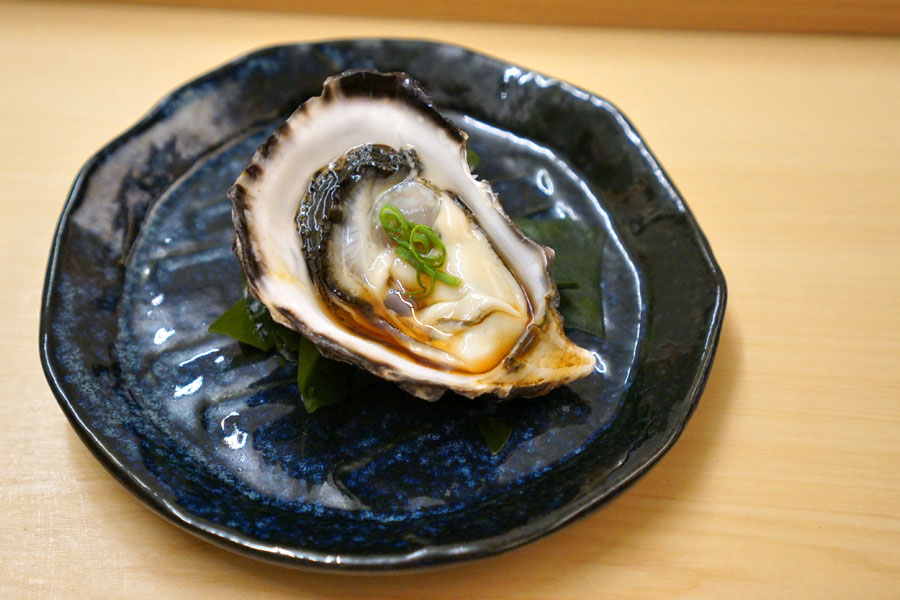 3: Kusshi Kaki
A single, perfect Kusshi oyster ate super clean, its refreshing flavors of the ocean working hand-in-hand with the tart, slightly sweet nature of the accompanying ponzu. Try the seaweed on the bottom as sort of a palate cleanser.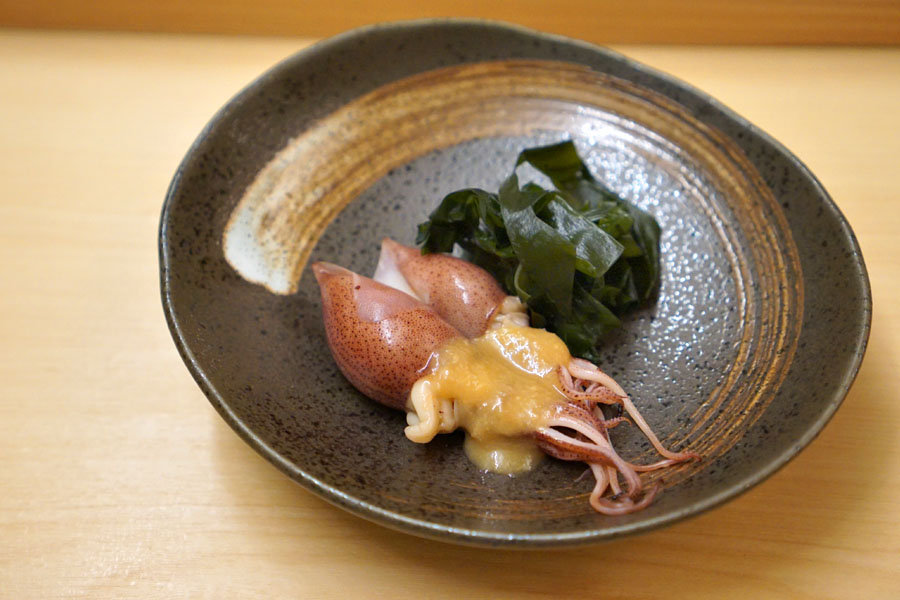 4: Hotaru Ika
Firefly squid had a pleasantly "snappy" texture, and showed off what I'll describe as pops of salinity once you bit down on them. The
sumiso
(miso vinegar) on the side provided a necessary burst of sweetness and savoriness, and once again, the
wakame
was much appreciated.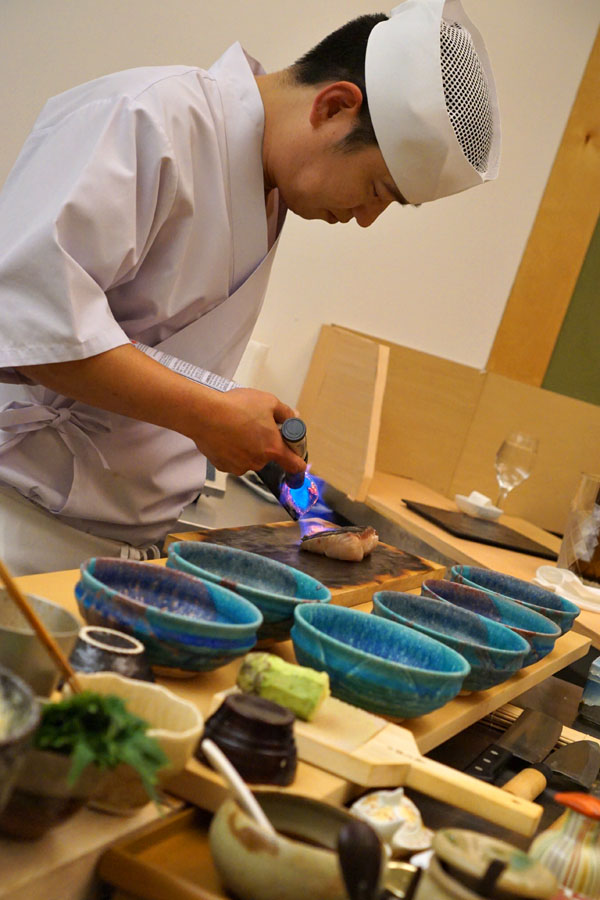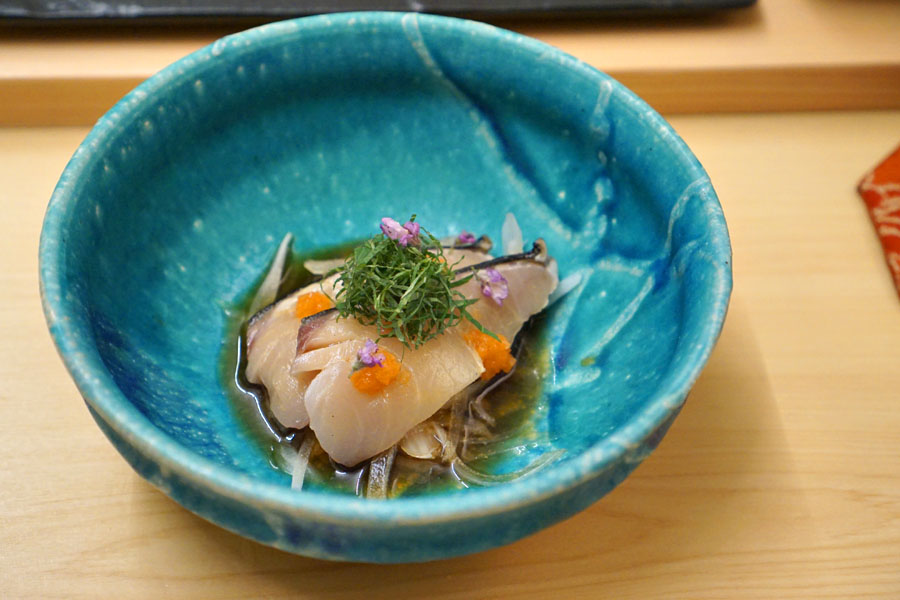 5: Sawara no Tataki
Spanish mackerel arrived torched, not directly, but via a cylinder of charcoal, a technique that I don't think I'd ever seen before. In any case, the deep, umami-laden flavors of the fish went great with the subtle smoke imparted by the sear, and I loved the moderating zestiness provided by those onions. Nice minty finish from the chiffonade of shiso up top, too.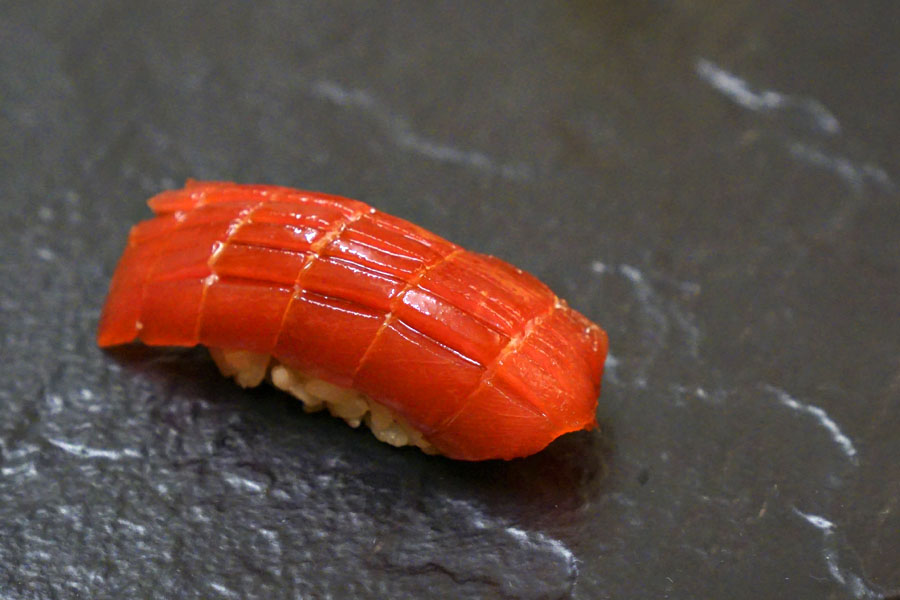 6: Kuromaguro Akami
Our parade of
nigiri
began with bluefin tuna from Spain, aged for seven days according to Yasu-san. It was one of the best pieces of
akami
I've had. I found a supple, velvety consistency, an umami-rich flavor profile, and a long-lasting savoriness that meshed well with the wasabi present. The rice here was key too, its subdued stickiness and subtle tartness working well as a complement to the fish.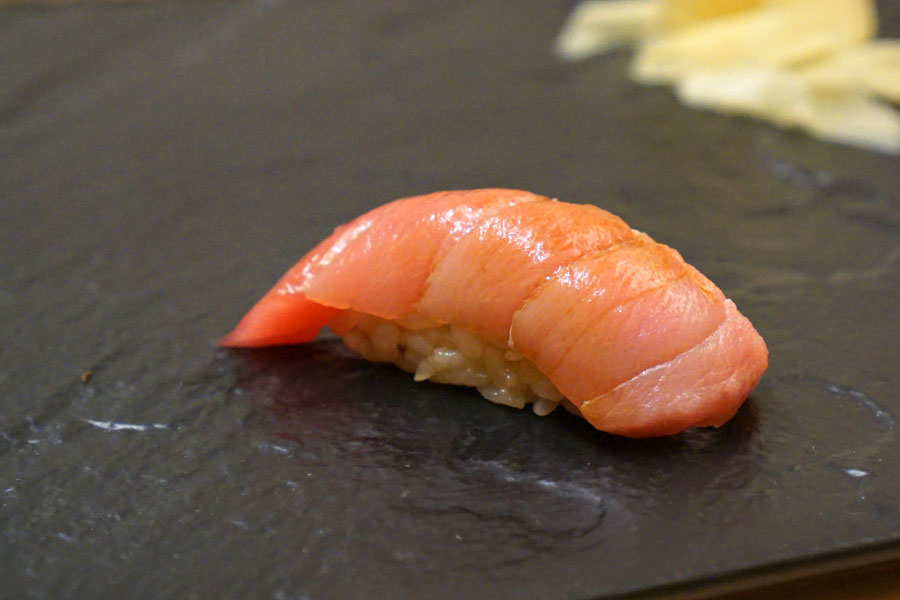 7: Chutoro
The medium toro, meanwhile, came from Japan, and was aged 18 days, as the Chef varies his aging length depending on the
neta
at hand. This was a very noticeable step up in terms of fat and lusciousness, so the presence of the rice was even more crucial for balance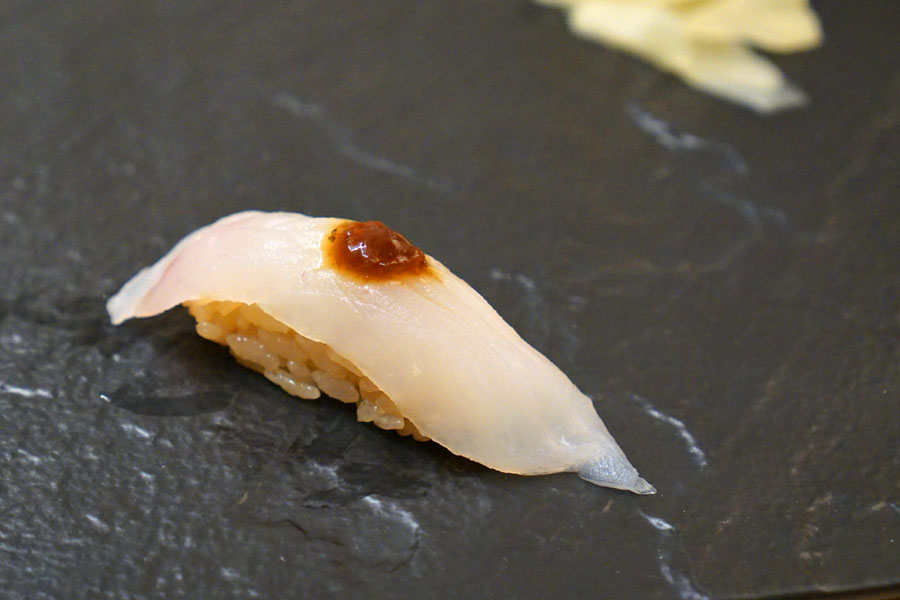 8: Hirame
Here was one week-aged flounder with
ume jouyu
. I found the fish surprisingly rich and deeply-flavored, so the tartness of the plum soy actually worked well as an accent piece.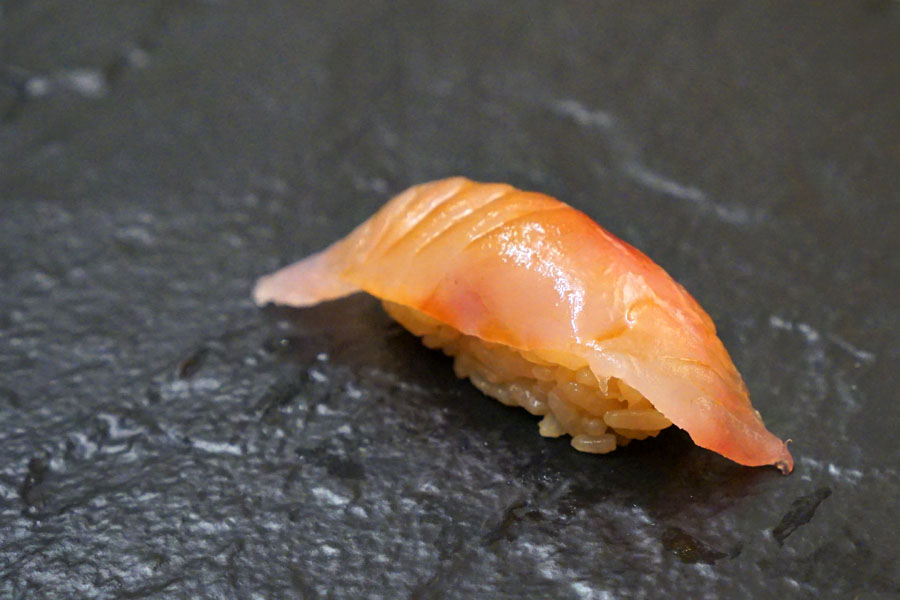 9: Isaki
The unfortunately-named chicken grunt was actually one of the more austere tasting fishes tonight, yet I found it somehow alluring, perhaps because it really showed off the nature of the Chef's
shari
.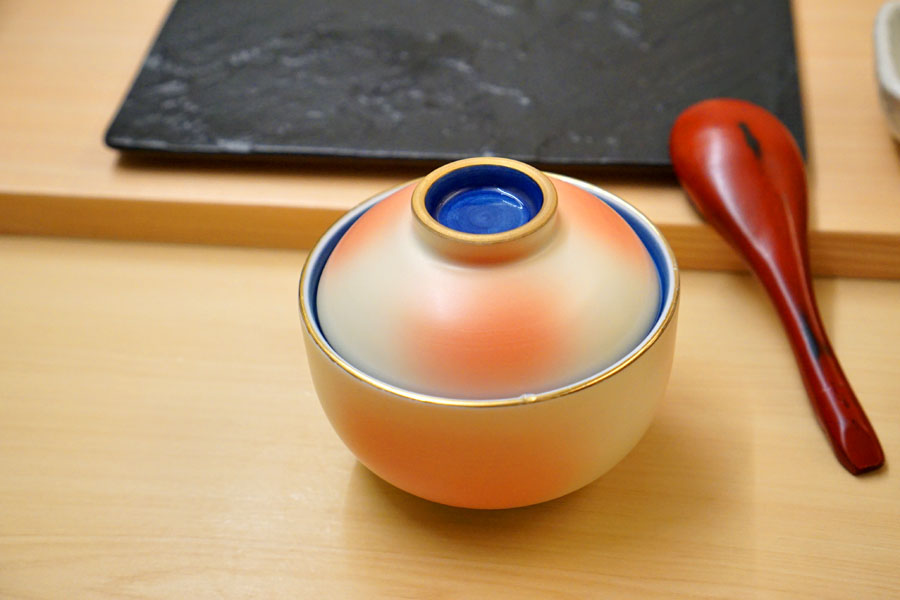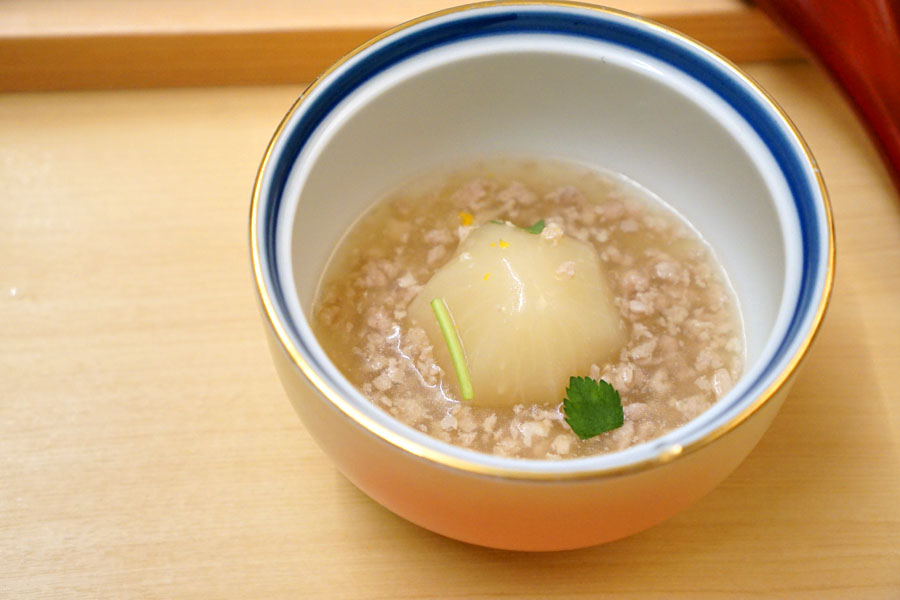 10: Kabu no Soboro-Ni
We had a brief break from the sushi in the form of this simmered turnip with chicken gravy. The dish really showed off the unmitigated essence of the bird, joined by a touch of sweetness, while the crunch and bitterness of the turnip was key for balance. A homey interlude.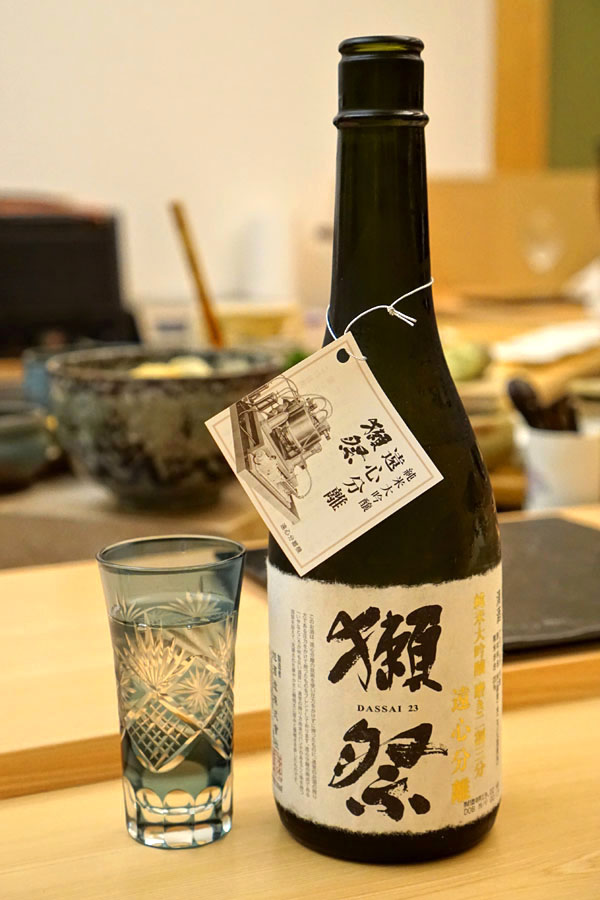 Next to imbibe was the
Dassai 23 Centrifuge Junmai Daiginjo
, which was the same as the bottle above, but with the sake separated from its lees using a centrifuge instead of a hydraulic press. The resultant liquid was actually surprisingly different. The nose was much more muted, delicate, subdued, but still contained a marked sweetness. Meanwhile, I found the mouthfeel noticeably smoother, silkier, almost watery, while I got less fruit and more nuttiness and ricey characteristics. This was very clean, though I do somewhat prefer the bolder, brasher disposition of the original. I will say, though, that the sake definitely got more assertive as it warmed.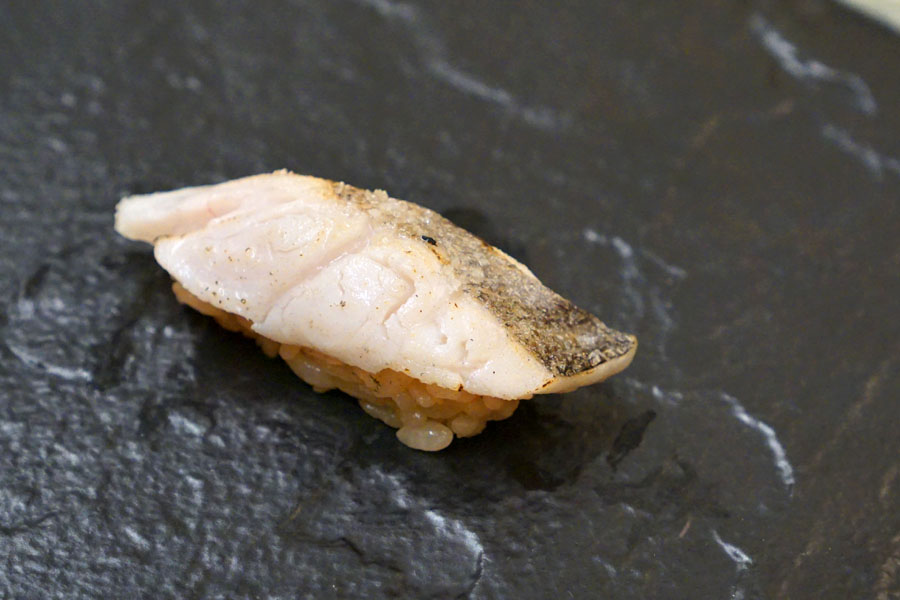 11: Tachiuo
Beltfish is a relatively rare sight in LA, and tonight it came seared, with a squirt of lemon and a dash of seaweed salt. This was a real treat, as I loved how the smokiness of the char meshed with the fattiness in the fish, the whole experience punctuated by pinpricks of salt.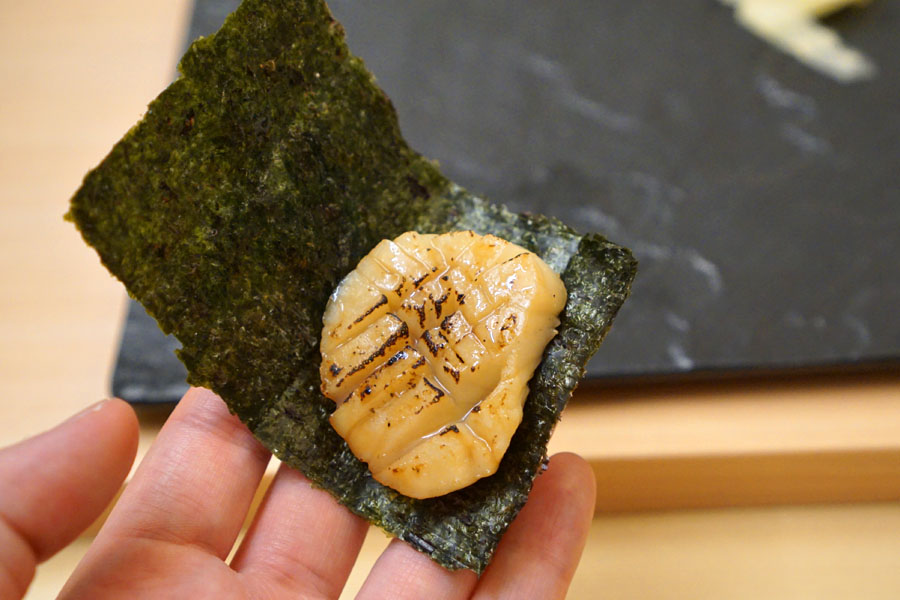 12: Hotate no Isobeyaki
Here was Hokkaido scallop done in the style of
isobeyaki
, which is when grilled mochi is brushed with soy then wrapped in
ajitsuke nori
. It was an absolute joy to eat, as I was a huge fan of the interplay between the sweetness of the
hotategai
and the smokiness of the sear, and how that was moderated by the seaweed.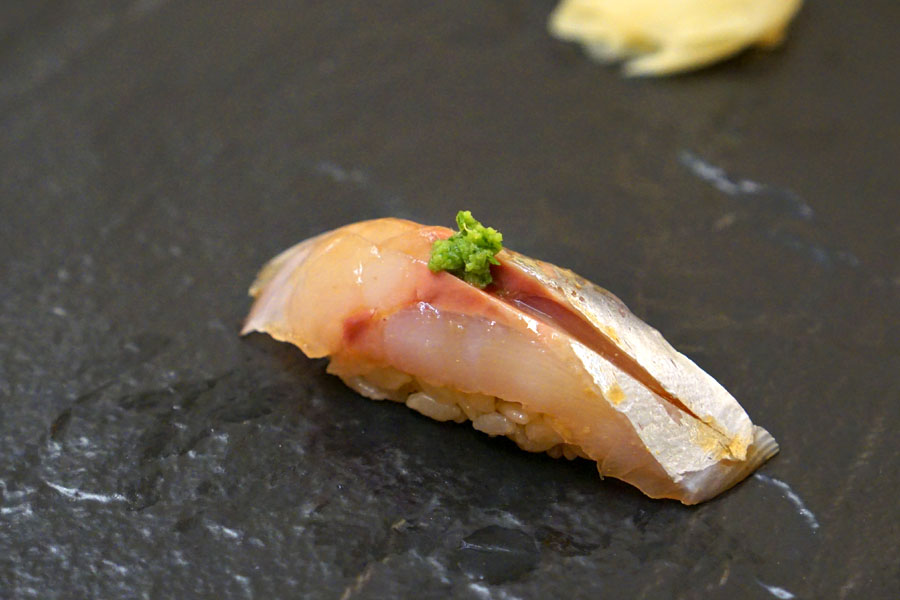 13: Aji
Horse mackerel had a satisfyingly meaty bite to it, along with clean, crisp flavors that matched up superbly with its zippy accoutrements of scallion and ginger.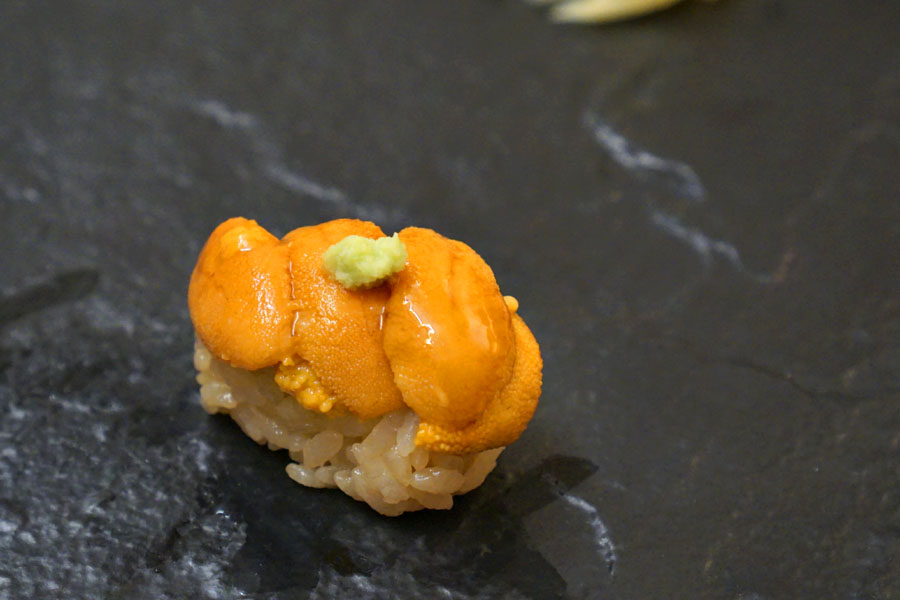 14: Uni
Hokkaido sea urchin showed off its signature bitterness and minerality at first, but this soon transitioned to a lush, creamy sweetness that we all relished.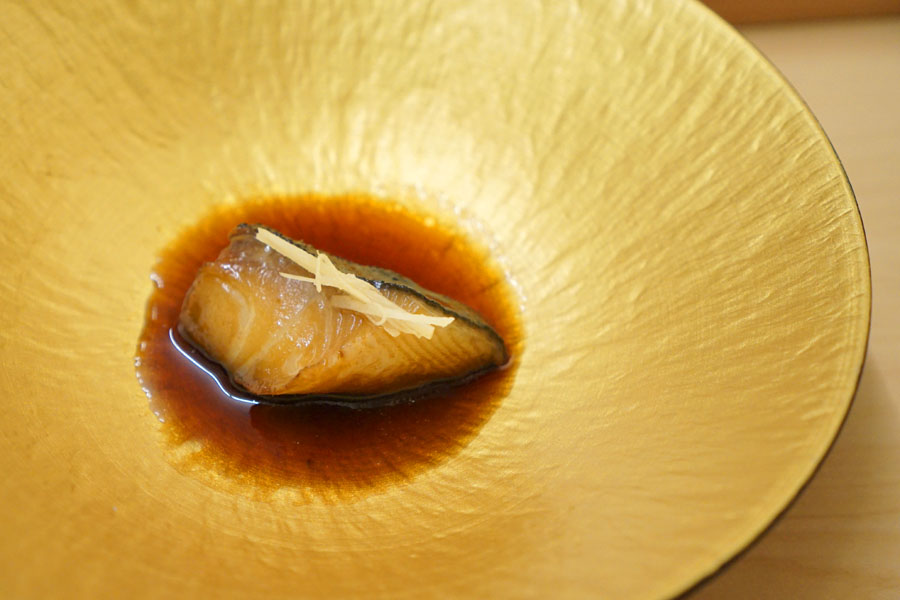 15: Gindara no Nimono
Simmered black cod was super buttery, almost decadent in fact, so the zestiness of the accompanying ginger was absolutely crucial.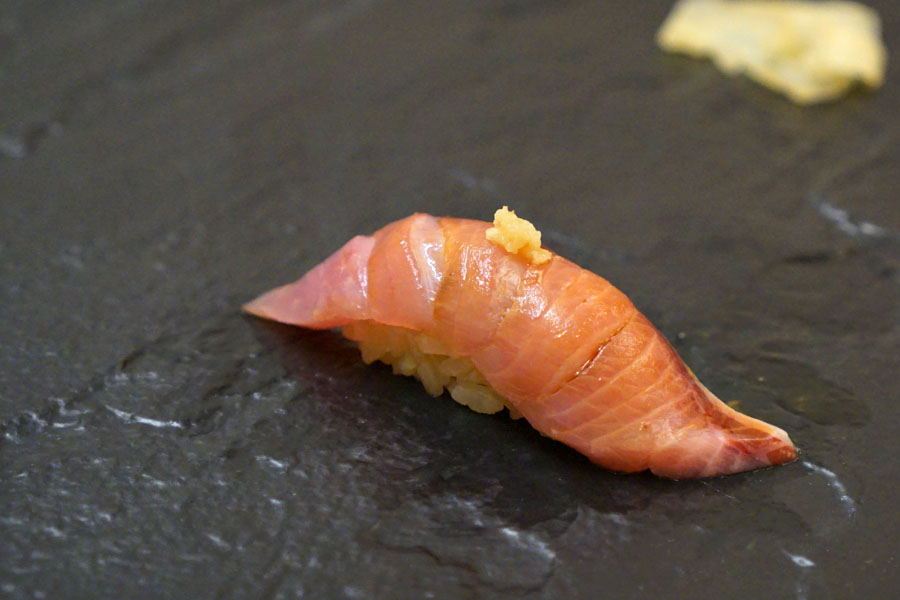 16: Buri
Late stage yellowtail showed off one of the most gratifying textures of the night--think firm, yet yielding--while its flavors were decidedly savory and robust.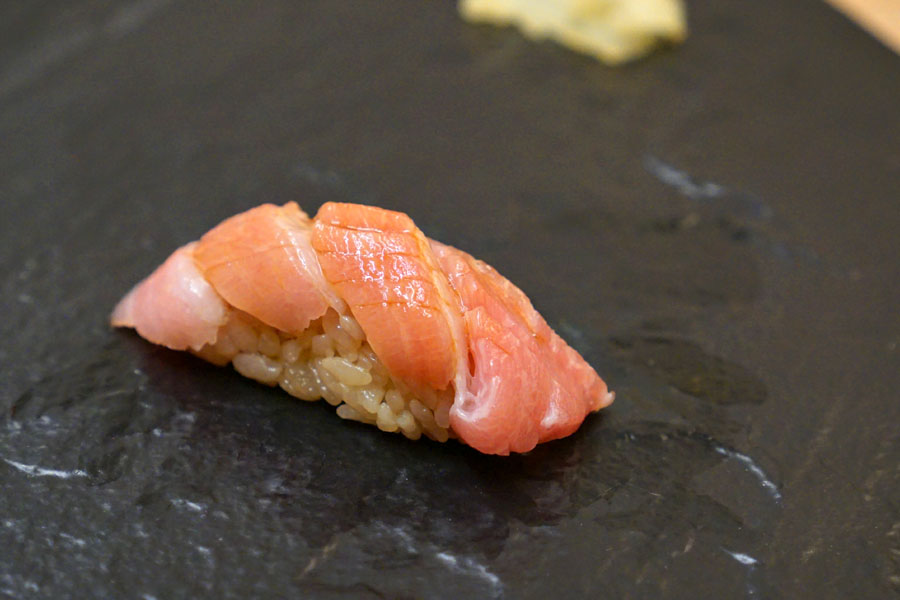 17: Otoro
Aged 28 days, this ultra fatty tuna belly was as luxuriousness as I wanted, throwing a mash-up of brine, fat, and umami all up in my face. It might've been too much had it not been for the excellent contrast provided by the
sushi-meshi
.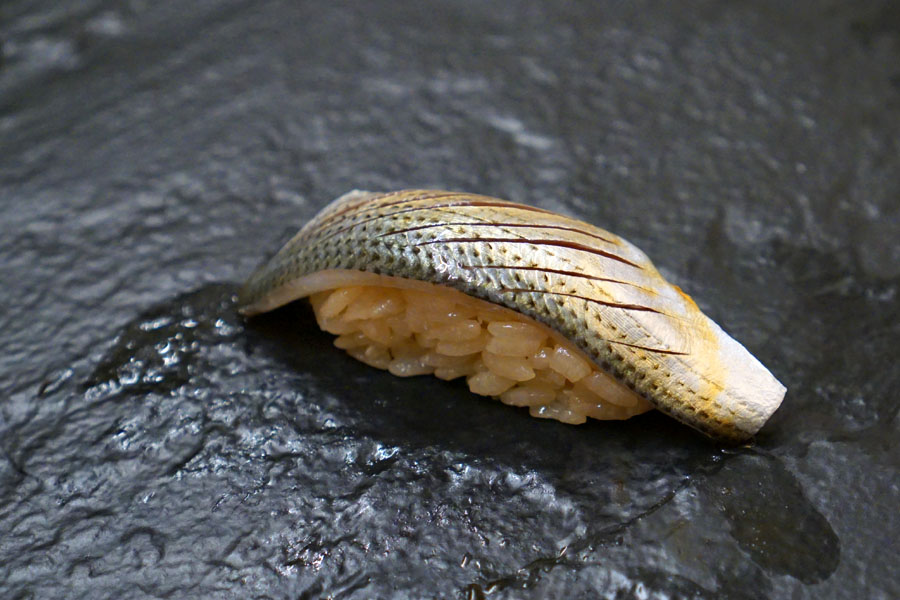 18: Kohada
A beautifully silver sliver of gizzard shad conveyed a forceful, but never overwhelming salinity that I rather enjoyed, and again, the rice was critical here.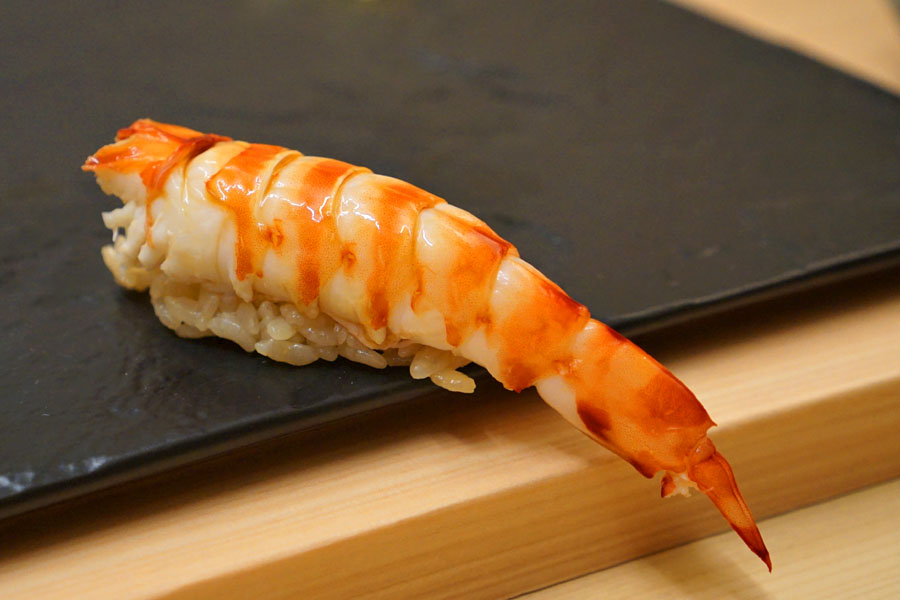 19: Kuruma Ebi
The tiger prawn was a large, impressive looking specimen to be sure. I found it wonderfully meaty and plump, as well as delightfully sweet.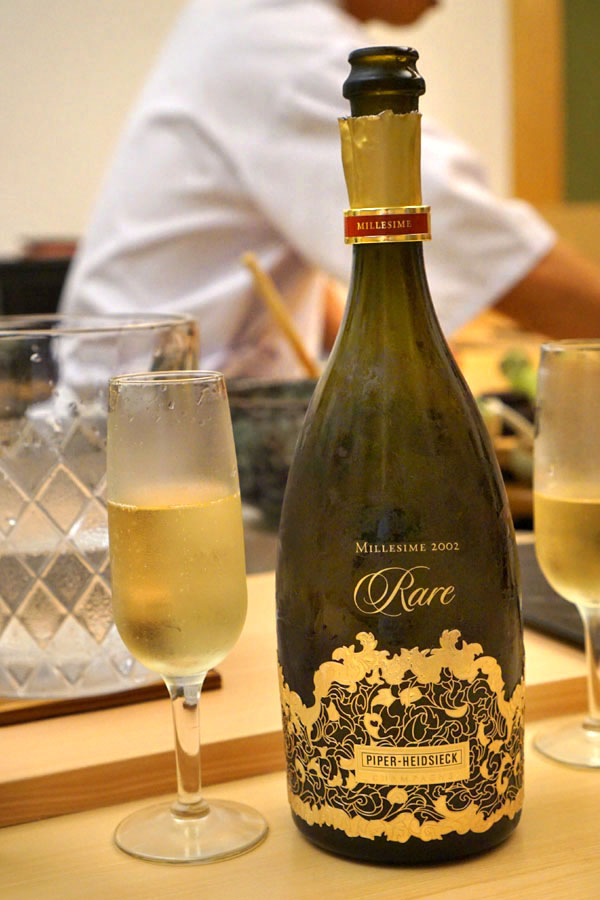 With the sake all drunk up, we moved on to wine, specifically the
2002 Piper-Heidsieck Champagne Cuvée Rare
. It had an intoxicating nose filled with notes of apple, nuts, and sweet brioche. On the palate, I got lots of heady toast, caramel, pome fruit, and a trace of oxidation, along with a nice acidity. This one was definitely showing its maturity, but was far from tasting old.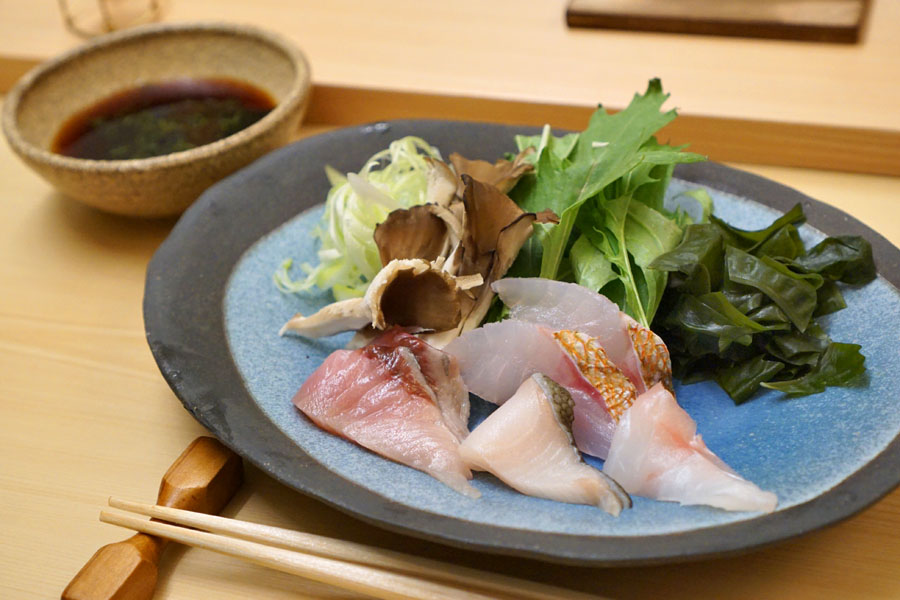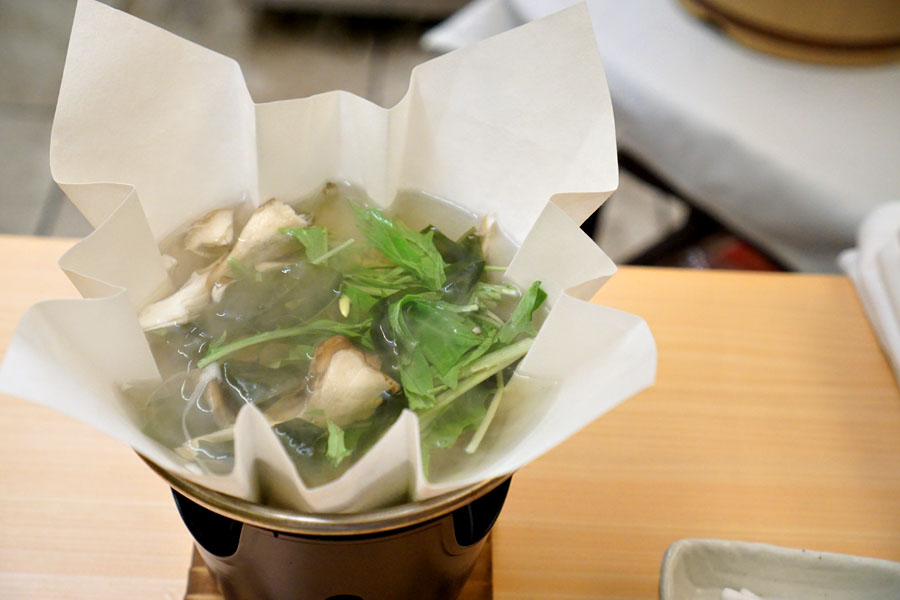 20: Shabu-Shabu
Our shabu-shabu course consisted of four varieties of fish, with various accompaniments, all cooked in a
kami nabe
. Counter-clockwise from top:
Akamebaru - An uncommon sight in LA, the red rockfish had a super meaty consistency, as well as a smoky flavor profile that I quite fancied.
Buri - Mature yellowtail was a delight, cooking up with a particularly finespun taste and texture.
Gindara - The black cod, meanwhile, was the most opulent fish here, and matched swimmingly with the tanginess of the ponzu-based dipping sauce.
Ishidai - Last up was the Japanese knifejaw (or striped beakfish), which I don't think I've had before. I found it on the firmer side, with an almost chicken-like savoriness.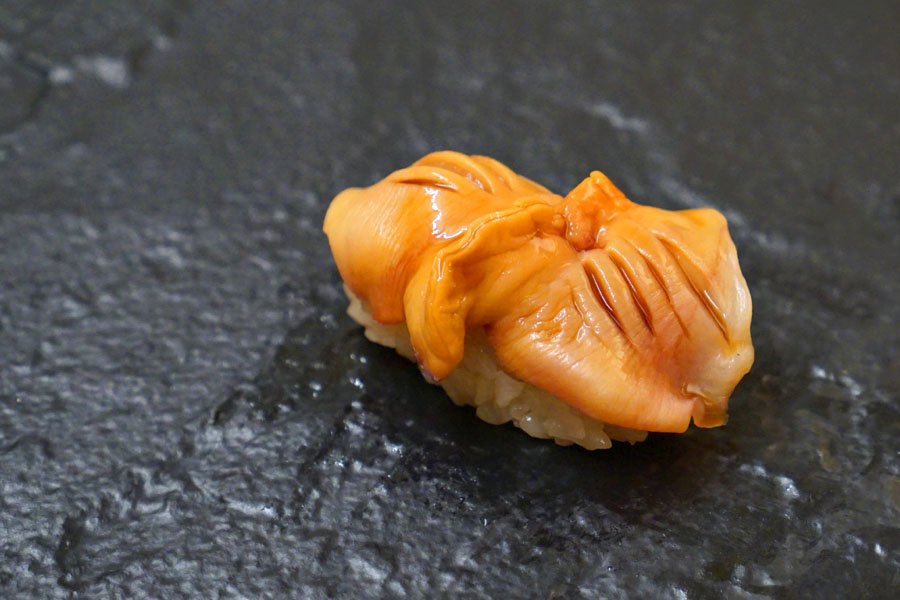 21: Akagai
Ark shell (or red clam) displayed a squishy-yet-substantial consistency, while it tasted strongly of the ocean.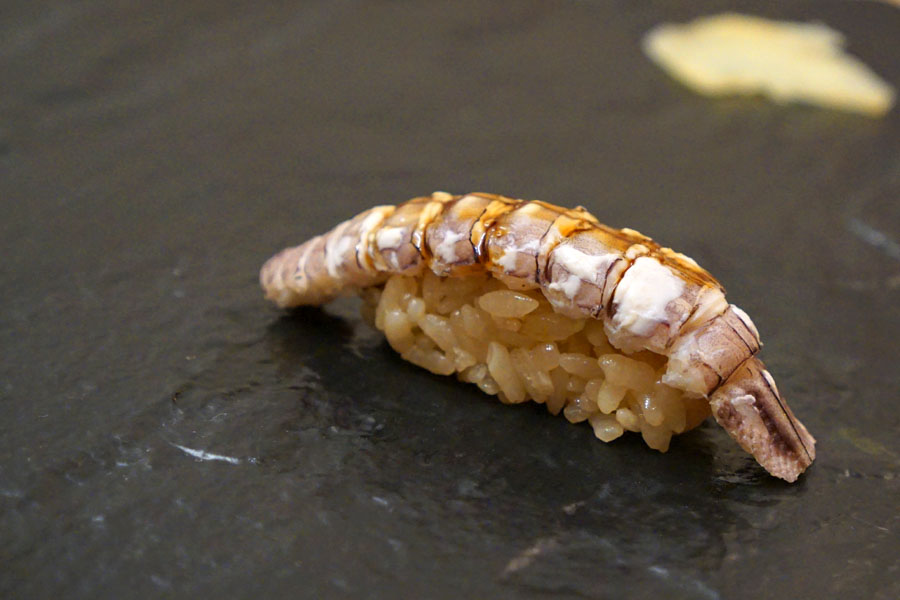 22: Shako
I loved seeing this mantis shrimp, since it's a pretty rare sight around these parts. I'd say this was soft to the bite, as well as super, super sweet, and well matched to the rice.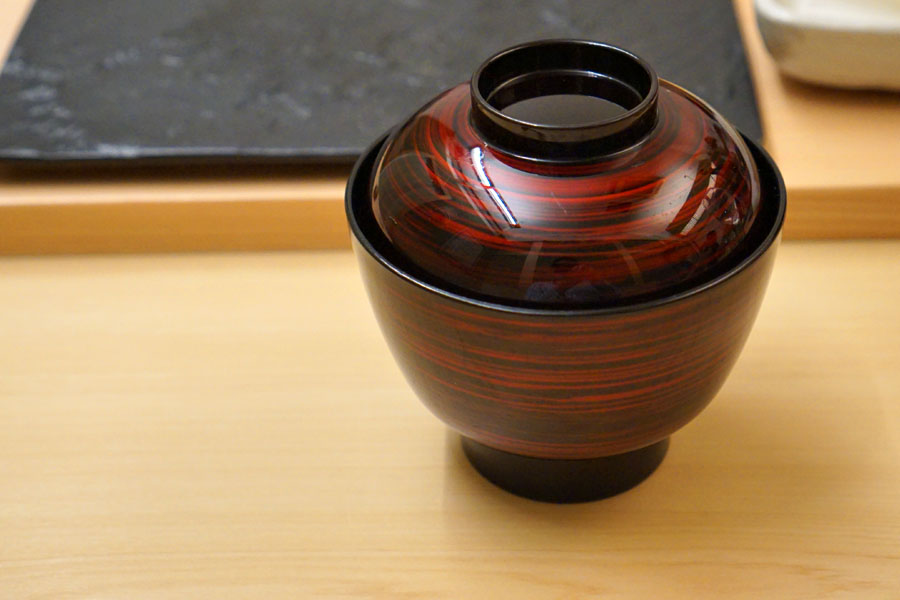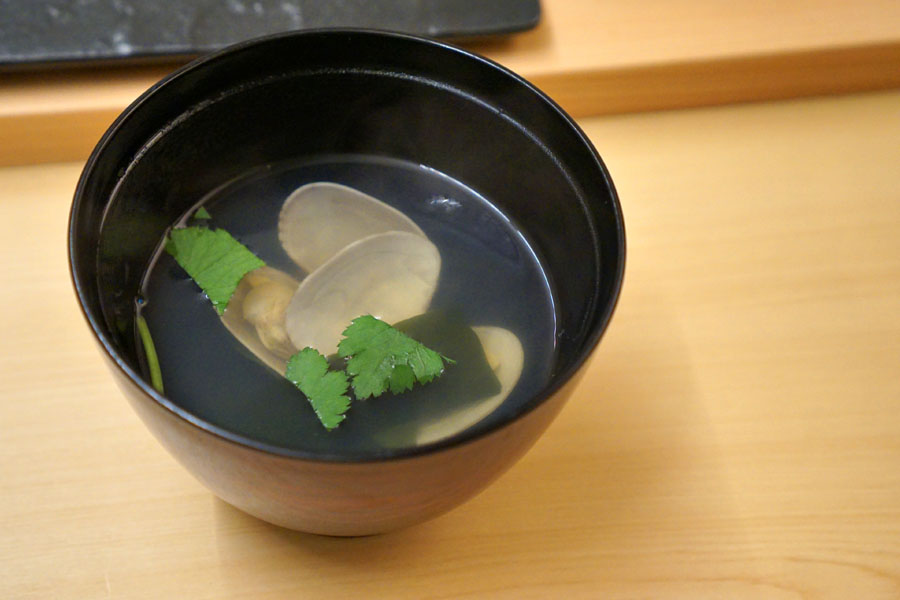 23: Hamaguri no Ushiojiru
A clear soup really showed off the intrinsic goodness of the clams, and I certainly didn't mind the kelp, either. Very clean tasting, yet sort of profound.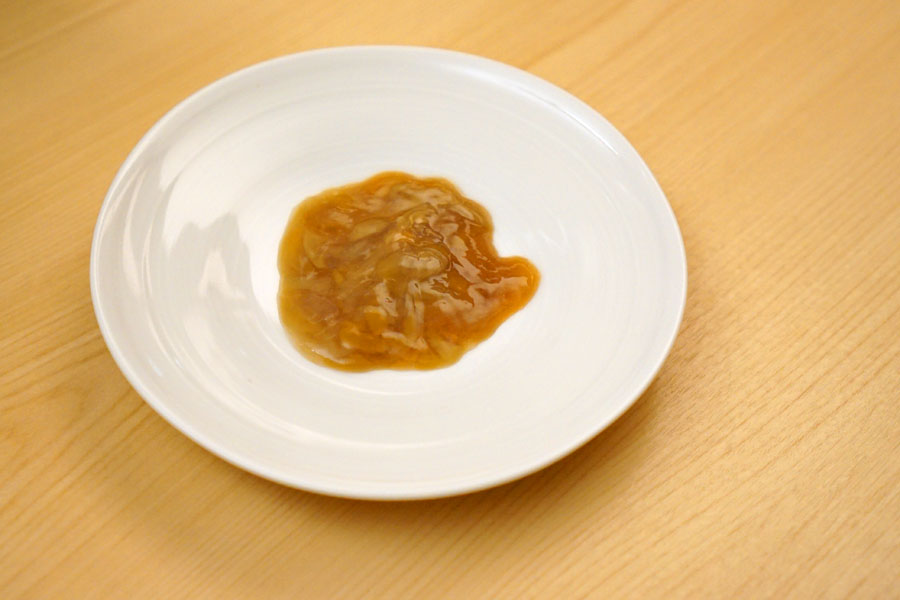 At this point, we had a "bonus" course of sorts when Yasu-san gave us a taste of the
konowata
(salted, fermented viscera of sea cucumber) that he was working on. Not surprisingly, it was an intense eating experience, and not for everyone. I got lots of salinity, but with a very acerbic quality to it, while there was also an underlying sweetness if you looked hard enough.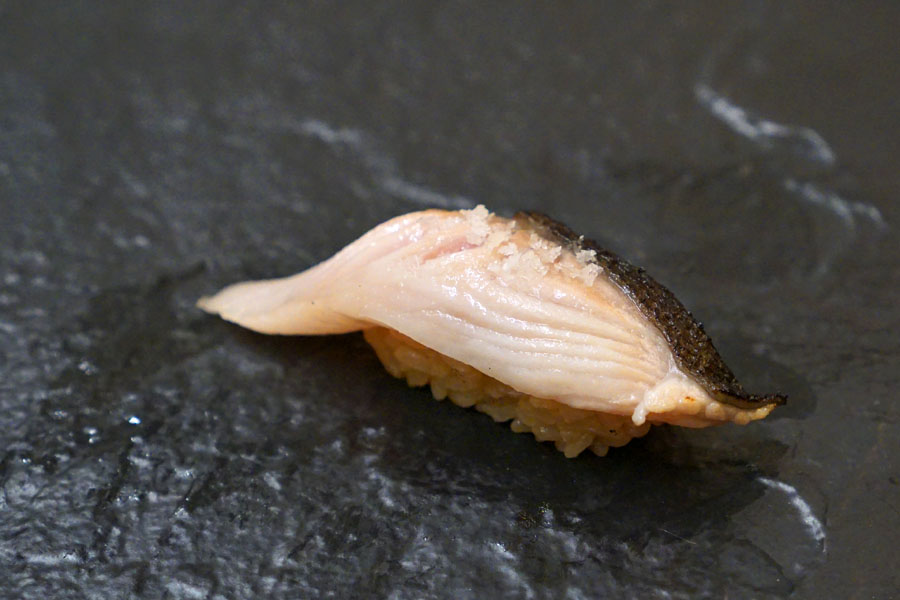 24: Gindara
Our final piece of sushi was the black cod, which gave up a perfect combination of smoke and fat, all perked up by the application of yuzu salt.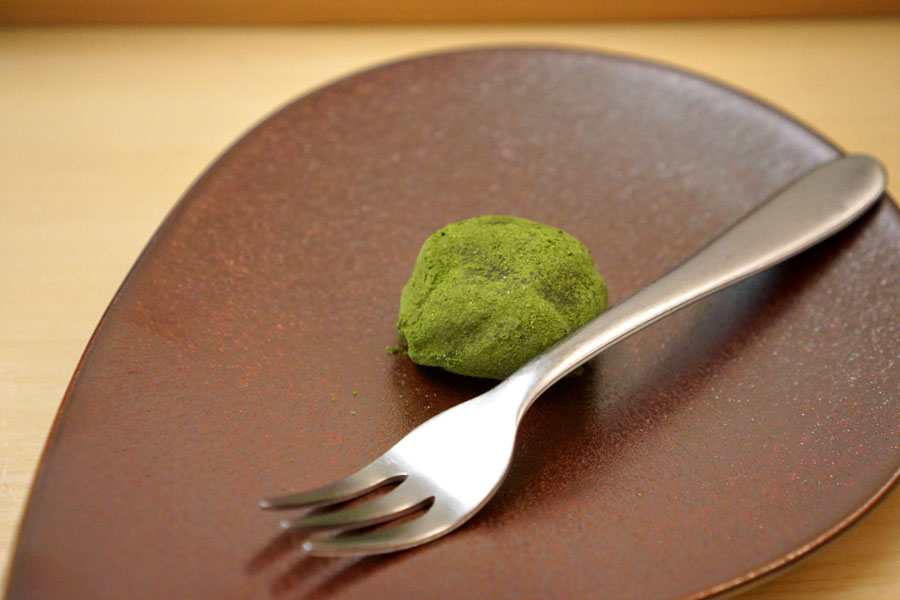 25: Matcha Mochi
The green tea mochi was among the softest I've had, while its balance of bitterness and sweet, nutty nuances was spot on. I wonder if they make this in-house.
When I first heard about I-Naba, I was a bit skeptical given the restaurant's unexpected location, but make no mistake, this is the real deal. Yasu-san's facility with seafood is hard to beat, as he's able to coax out flavors (and often times, textures) that often remain imperceptible at other sushi joints. As for the
shari
, the use of
akazu
is perhaps a bit more evident here, but at the same time, the rice doesn't really call attention to itself, instead serving as a flawless foil in each bite. Service, meanwhile, was also top-notch, both by Yasu-san himself--whom we found charming and enthusiastic--and our server, Yoshi-san. I have no problem placing I-Naba in the top echelon of
edomae
sushi spots in the Southland; this is a must-try for all your sushi fanatics out there.