Poca Madre (Washington, DC)
Poca Madre Restaurant
777 I Street NW, Washington, DC 20001
202.838.5300
www.pocamadredc.com
Mon 05/13/2019, 08:05p-10:25p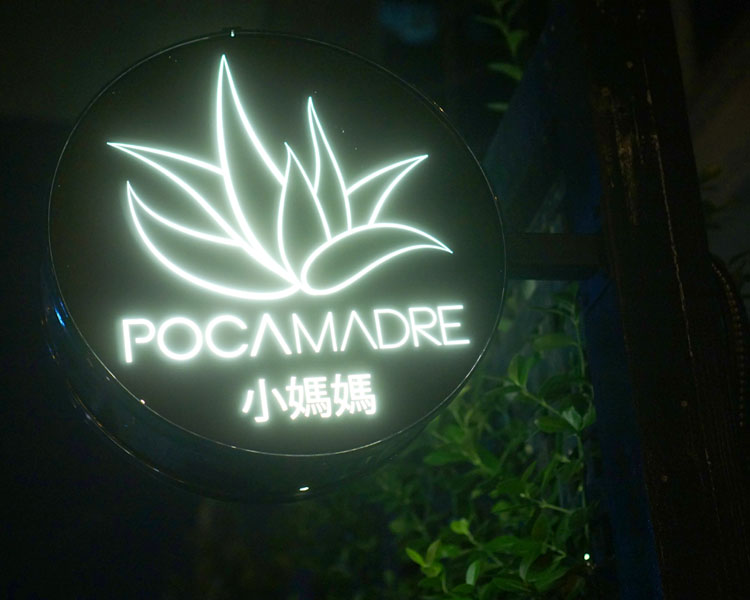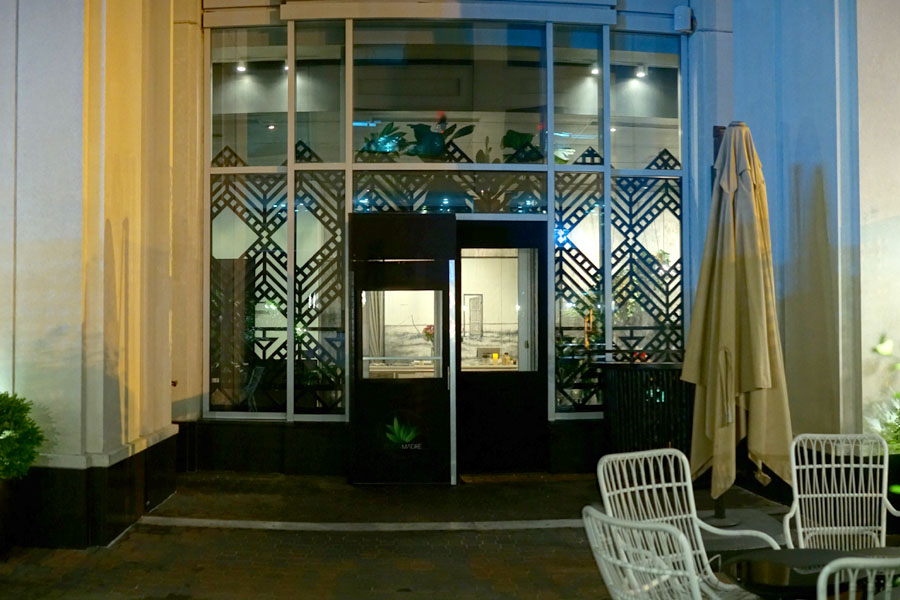 My last visit to the Capital was in August last year, and during that trip, I was able to dine at Eric Ziebold's
Metier
. I asked the staff there for some restaurant recommendations, and one of the places mentioned was Chinatown's Poca Madre, which had just opened. Named after a
Distrito Federal
term for "cool," the place is the work of Chef/Owner Victor Albisu and serves up his vision of contemporary Mexican cuisine.
About the Chef
: Albisu was born in 1975 in Fairfax, VA, and grew up in nearby Falls Church. The son of a Peruvian mother and Cuban father, he first fell in love with cooking thanks to his paternal grandfather Paco, who was a baker back in Cuba and had a penchant for barbeque. At the age of 12, he began working in the butcher shop of his mom's grocery in Alexandria, and would also spend summers at his aunts' Cuban cafeterias in Miami. Albisu attended George Mason University in Fairfax, majoring in Politics and International Relations, and achieved his B.A. degree in 1999. Following, he worked for an international aid organization, but ended up getting bored, and later moved to France. There, he attended Le Cordon Bleu in Paris, finishing up his studies in 2001, and then went to work at Alain Passard's famed l'Arpège.
Albisu soon returned to DC though, and found employment at the longstanding Tabard Inn in Dupont Circle. From there, he cooked at seafood joint DC Coast, as well as two establishments owned by Knightsbridge Restaurant Group: 701 and Ardeo+Bardeo. He also worked at Robert Wiedmaier's Belgian-French eatery Marcel's, and from 2006 to 2007, contemporary Latin American joint Ceiba. In 2008, he became CdC at Laurent Tourondel's BLT Steak, eventually rising to the post of Executive Chef (and cooking for the Obamas). Albisu left BLT in 2012 to start work on Del Campo, an upscale South American steakhouse in Penn Quarter that would open in April 2013. The restaurant was largely well received, and even landed a "Best New Restaurant" nod from
Esquire
. The Chef then debuted fast-casual
taqueria
Taco Bamba in June 2013, situated next to his mom's Plaza Latina Market in Falls Church.
At the start of 2015, Albisu competed on
Beat Bobby Flay
, where he bested Flay in a steak and eggs battle, and later that year, he was deemed "Chef of the Year" by the RAMW. In February 2016, he was selected as a semifinalist for Beard's "Best Chef: Mid-Atlantic" award, while that September saw the opening of Taco Bamba in Vienna. Del Campo was revamped in April 2017 (focusing on lower priced share plates), while Taco Bamba Springfield bowed that September. In November 2017, Taco Bamba popped up inside Del Campo during lunch, and the experiment provided extremely successful. As a result of that, the following March, Albisu announced that Del Campo would be closing, replaced by
both
another Taco Bamba and the upscale Poca Madre. The former dropped not long after in April, while the latter, inspired by the Chef's travels to Mexico, landed in June 2018 with CdC Faiz Ally at the helm. Finally, another Taco Bamba opened in Fairfax in December 2018.

Designed by local firm
Swatchroom
, the restaurant is rendered in earthy tones, offset by pops of green and bronze. The main dining room is split into two sections. I was seated in the lower Agave Bar area, while there's also the upper Mezzanine, with its suspended greenery; total capacity between these two spaces is 48. A private dining room seats an additional 20, while the patio holds another 50 when the weather's warm.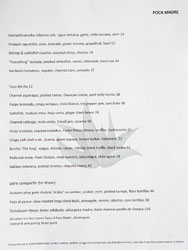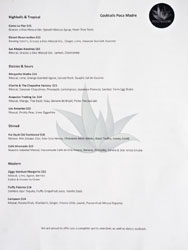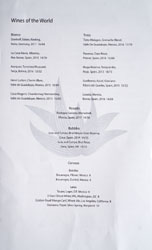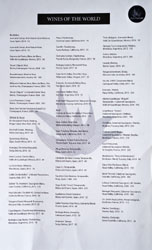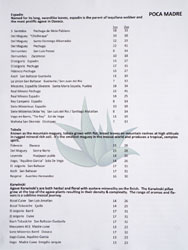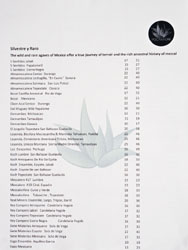 Poca Madre's menu is tight, focused, which I like, with dishes listed in order of increasing intensity/size. In addition, there's a 12-course "taco omakase" that I'm curious about, available Tuesdays and Wednesdays only (I may attempt it on a future visit). Drink-wise, you get interesting-sounding, (mostly) mezcal-based cocktails from Beverage Manager Amin Seddiq, along with a handful of beers and wines from around the globe. The restaurant also features one of the largest mezcal lists I've seen. Click for larger versions.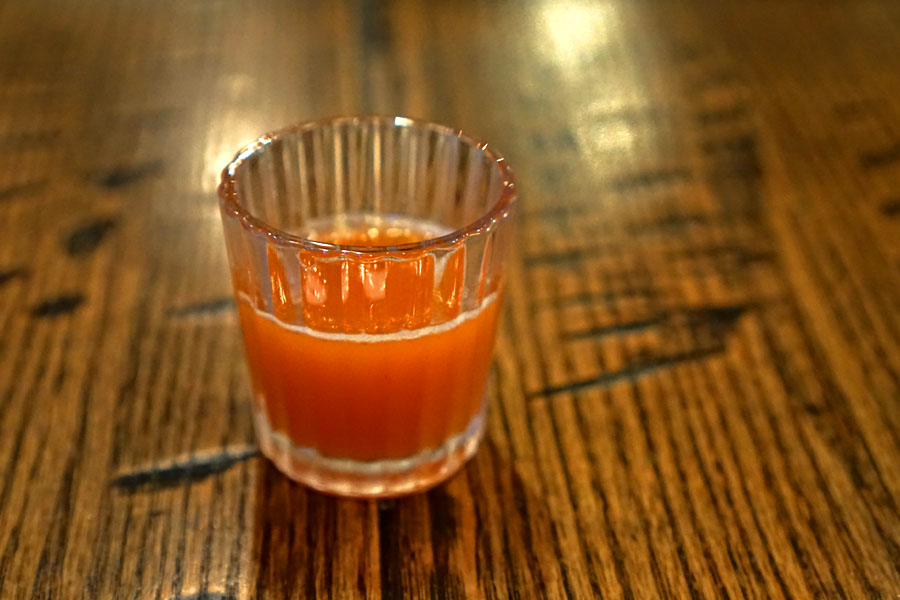 Our meal commenced with a complimentary shot of mezcal mixed with passion fruit and lime. The smokiness of the spirit was apparent on the nose, but taste-wise, I definitely got the passion fruit up front, while the mezcal just peeked through on the back end.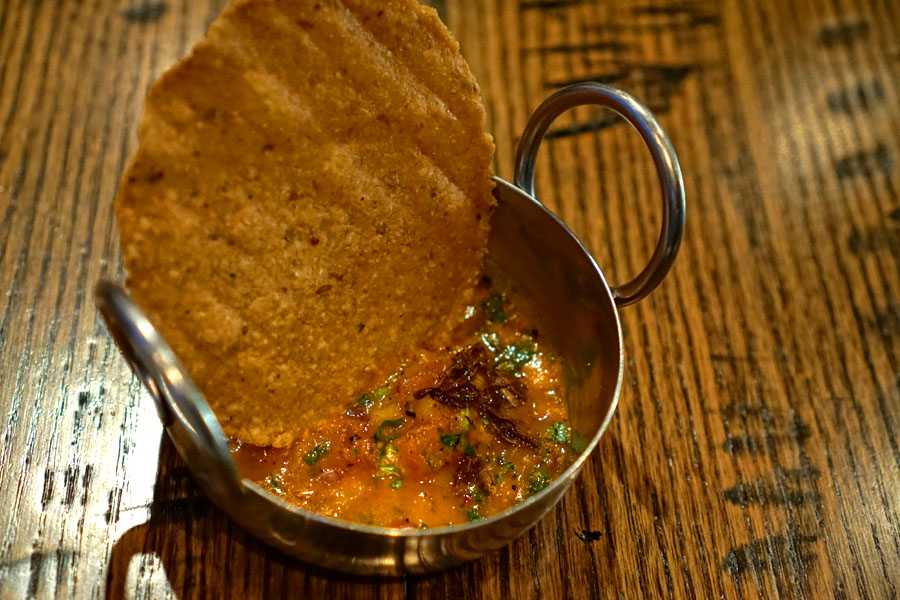 A spicy tomato salsa with
chapulines
and lime showed off a wonderful depth, while its finish really highlighted the sour-salty notes of the grasshoppers. Meanwhile, a sole, salty, super crunchy tortilla chip worked as a perfect accompaniment.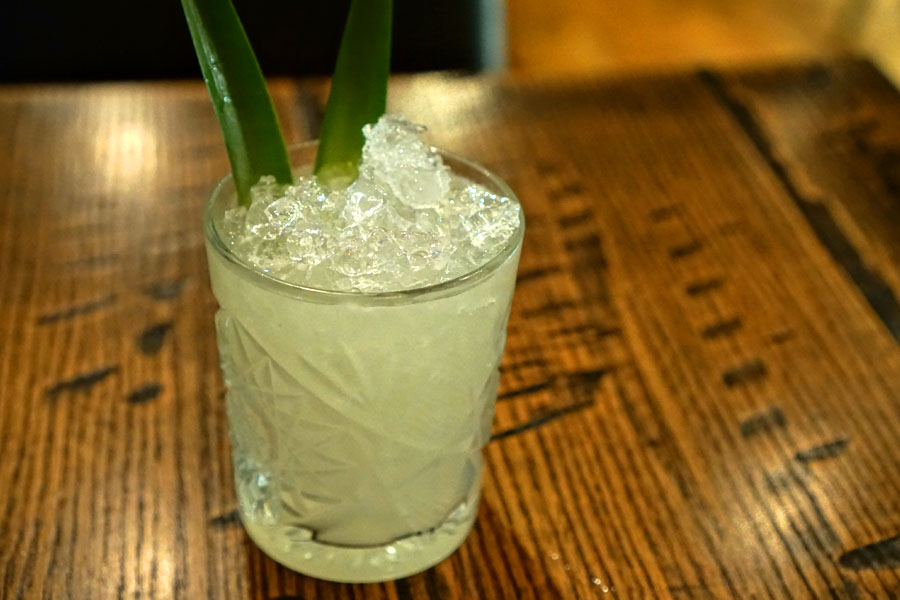 Desert Resurrection [$15.00]
| Deuling Sotol's, Gracias a Dios Mezcal Gin, Ginger, Lime, Oaxacan Sea Salt, Epazote
The night's first cocktail really showed off the grassy, smoky, soil-like nuances of sotol (with perhaps some contribution from the
epazote
), evened out by citrus and a trace of lingering salt.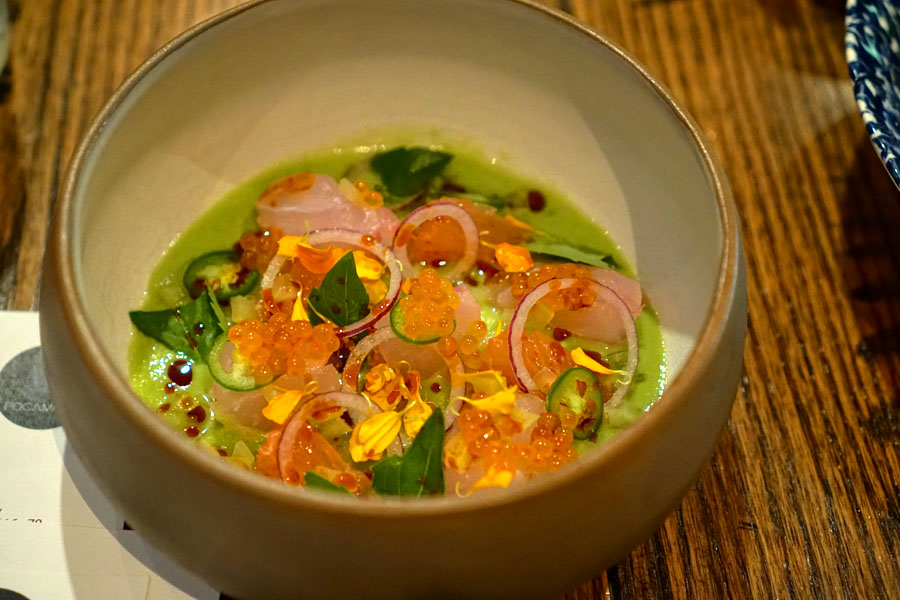 Snapper aguachile, yuzu, avocado, green tomato, grapefruit, basil [$12.00]
Cuts of snapper were super clean, and matched beautifully with the vaguely Asian-y herbaceousness present, all while the avocado served as a tempering force. The best part here, though, was the dish's multifaceted heat, which grew and stayed with me. The grapefruit, meanwhile, provided pops of acidity, and the spherifications a textural contrast. A strong start.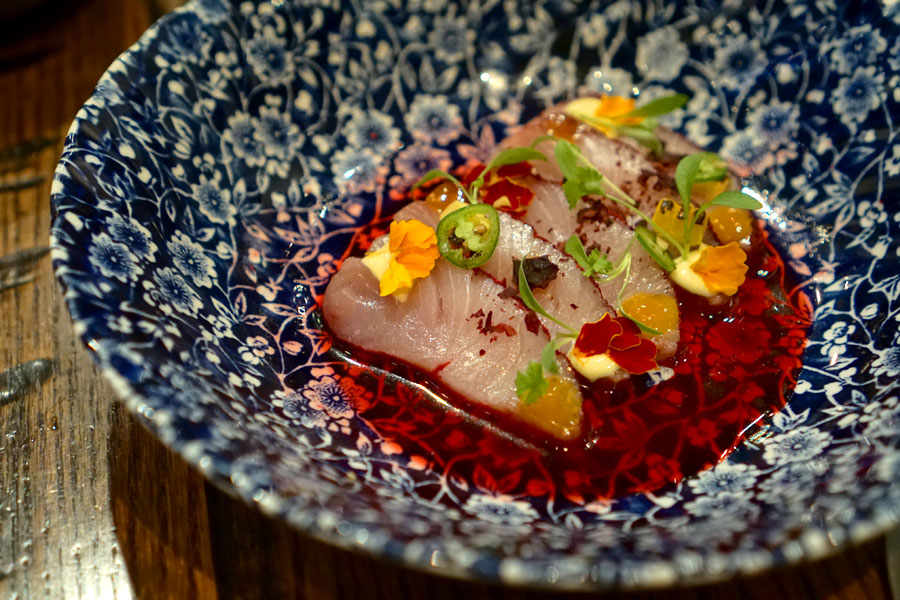 Hamachi ceviche, hibiscus salt, agua Jamaica, garlic, chile serrano, corn [$14.00]
At first blush, I got loads of fresh, fruity, floral flavors, along with a sort of drying tartness. However, this soon gave way to the brine and fat of the yellowtail, while the herbs imparted a brightness to it all. There were also some crispy bits here for texture.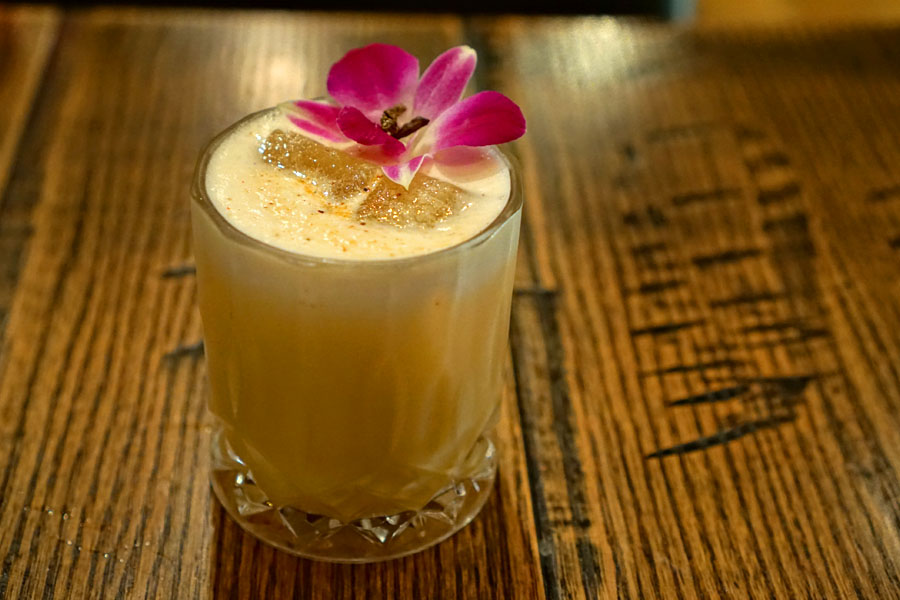 Charlie & The Chapuline Factory [$15.00]
| Mezcal, Oaxacan Chapulines, Pineapple, Lemongrass, Japanese Peanuts, Sambal, Farm Egg Shake
Time for more
chapulines
in our next cocktail. I found it super smooth, with its loads of soft, fruity pineapple notes commingling with the sour-savoriness of the grasshoppers. Crucial here was the sambal, which gave the drink and overarching and growing heat that worked as a great accent. I will say that I didn't really get much from the peanuts until I got to the dregs at the bottom of the glass.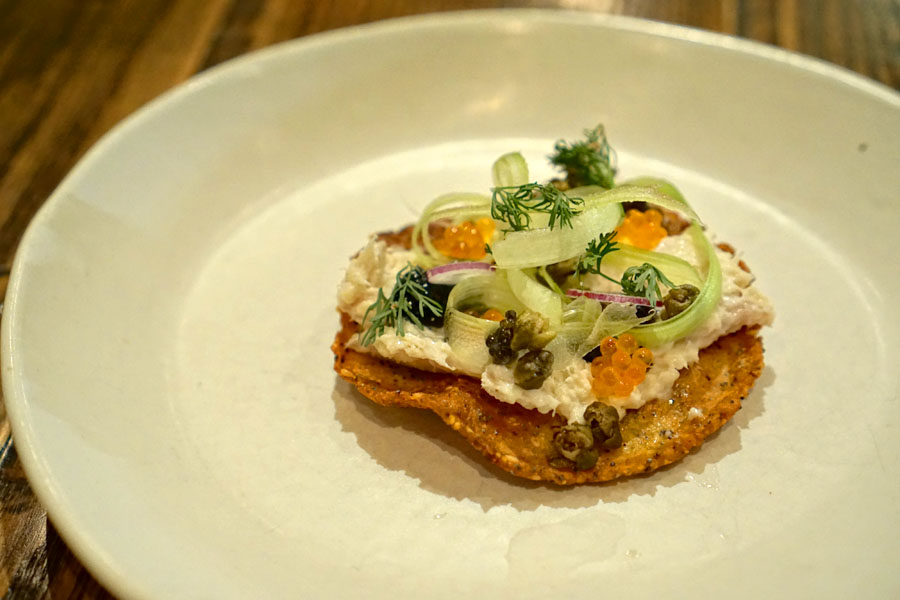 "Everything" tostada, smoked whitefish, caviar, chilemole, trout roe [$14.00]
This Mexican-Jewish mash-up of sorts was surely the funnest dish of the night. I was a big fan of how the caviar augmented the smoked fish, contrasted by the "everything" spice and slight heat in the dish, all while the celery served to lighten the mood. Excellent crunch from the actual tostada, too.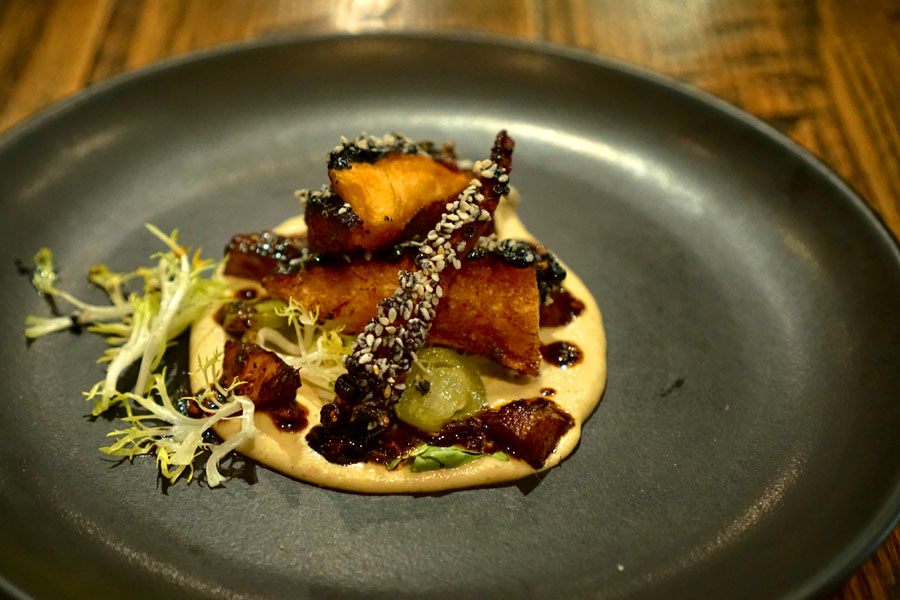 Pulpo laminado, crispy octopus, mole blanco, ink pepper jam, sunchoke [$18.00]
Octo arrived with a superb char, along with flavors that simultaneously went in smoky, savory, sweet, and nutty directions. The white mole actually worked as a moderating element, while the sunchoke imparted crunch.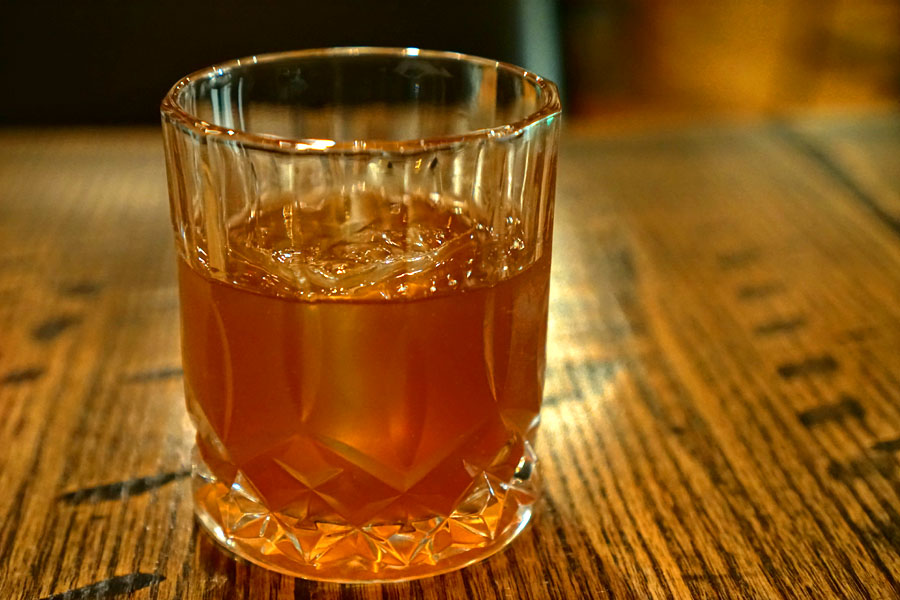 Fat Duck Old Fashioned [$16.00]
| Mezcal, Ron Zacapa 23yr, Foie Gras Honey, Chocolate Mole Bitters, Black Truffle, Honey Comb
An Old Fashioned variation conveyed a nose brimming with honey and mole, while the palate was a marriage of chocolate and honey, along with a lingering funk courtesy of the foie-truffle combo. A pretty neat take on the most classic of cocktails.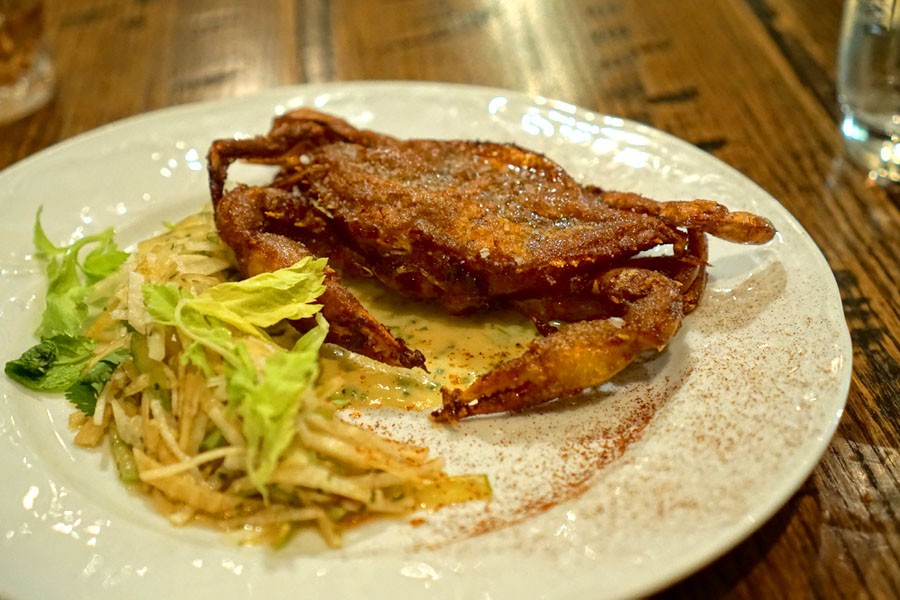 Crispy soft shell crab, jicama, green papaya, brown butter, habanero [$22.00]
The crab, unfortunately, was the weakest course of the night. It was on point in terms of texture, coming out crispy, yet creamy on the inside. However, the brown butter was just far too overpowering, almost completely obliterating the sweet brine of the crab. The slaw, though, did help even things out, and had a nice heat to it as well.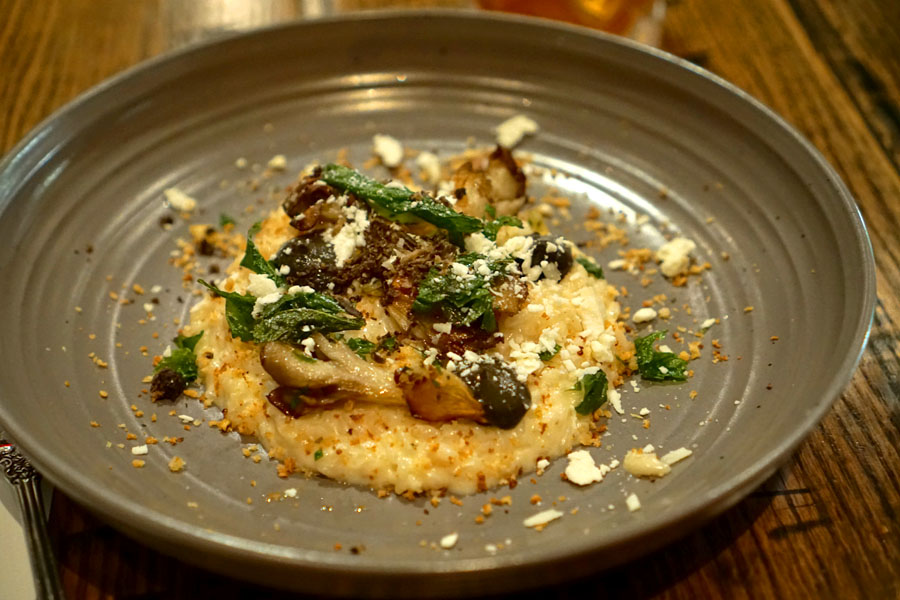 Arroz cremoso, roasted maitakes, Castel Rosso cheese, truffles, huitlacoche [$22.00]
Our final savory displayed a proper cheesiness that you'd expect from a good risotto, not to mention a pleasantly al dente consistency. Maitakes added further interest to the dish, but the star of the show was the corn smut, which had a woody funk to it that worked in unison with the truffles.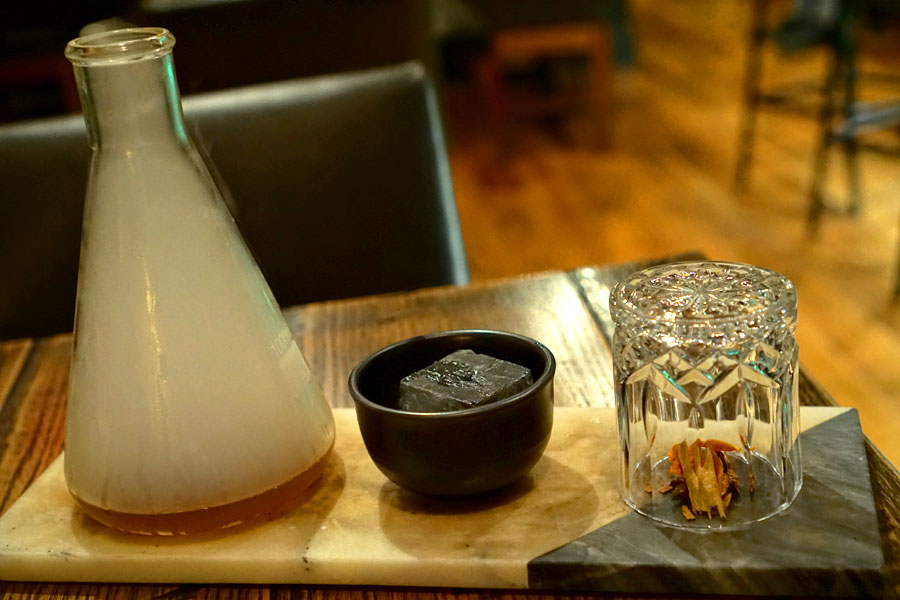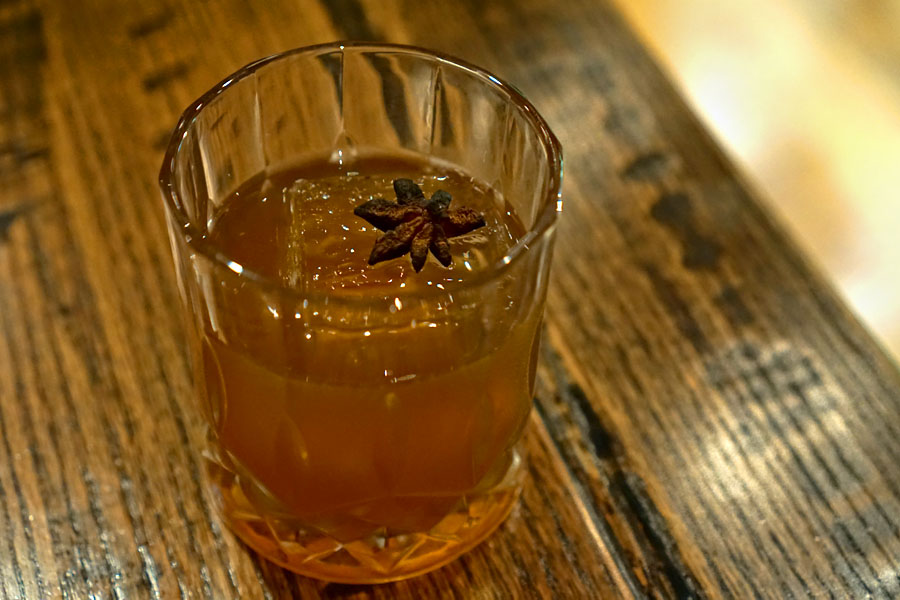 Café Ahumado [$15.00]
| Nuestra Soledad Mezcal, Housemade Café de Olla Amaro, Banana, Piloncillo, Canela & Star Anise Smoke
We concluded with the most challenging (and theatrical) cocktail of the bunch. Its nose with super smoky, with further notes of tea and anise. Taste-wise, I got characteristics of sweet tea and tea smoke, with wisps of cinnamon and a spice element that lingered, somewhat disconcertingly, on the back of the throat.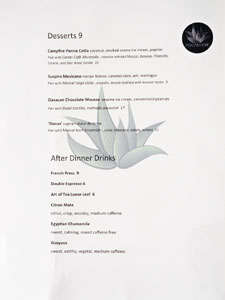 To close: a foursome of desserts, along with recommended cocktail pairings. Click for a larger version.
Campfire Panna Cotta [$9.00]
| coconut, smoked crema ice cream, pepitas
This creative take on panna cotta was pretty great. It had a pervasive base of sweet coconut, joined by a delightful nuttiness from the pepitas, transitioning to a sweet smoke. I got a nice crunch from the seeds, too.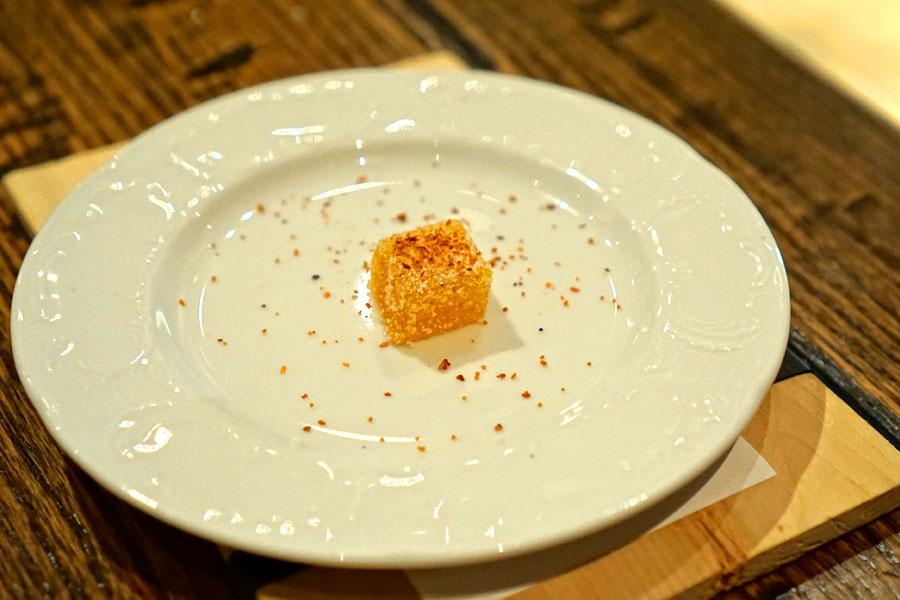 Last up was a passion fruit-mango
pâte de fruit
dusted with chile. Think pleasantly soft to the bite, with passion fruit and a penetrating heat leading to lingering mango.
With the lone exception of that crab, I enjoyed my time here at Poca Madre, and I'm glad the folks at Metier put the place on my radar. Albisu and company are doing a laudable job presenting a contemporary take on Mexican cuisine, but in a fashion that still incorporates traditional techniques and ingredients. It's a different type of Mexican dining for the District, closer to what's going on in the CDMX than probably anything else DC has seen before. The restaurant is still young though, so I do hope that the Chef can keep pushing, refining, and redefining.