Kabuto (Las Vegas, NV)
Kabuto Edomae Sushi
5040 W Spring Mountain Rd, Las Vegas, NV 89146
702.676.1044
www.kabutolv.com
Mon 08/26/2019, 08:30p-10:55p

After dining at
Guy Savoy
the previous night, I was in the mood for something completely different, and opted for sushi. And as far as sushi in Vegas goes, one name that I'd heard a lot about was Kabuto. Named after a type of helmet from Japanese antiquity, the spot is situated in Chinatown's Seoul Plaza (yes, so a Japanese eatery in a Korean shopping center in Chinatown), and soft-opened in April 2012. It's actually part of Takashi Segawa's
Mon Restaurant Group
, which also owns the likes of Monta, Monta Chaya, Sushi Mon, Goyemon, Ramen Kobo, and Chamon Matcha Salon in the Las Vegas area, not to mention Marugame Monzo in Downtown LA.
Kabuto was opened by Chef Gen Mizoguchi, a Tokyo native who moved to New York in 2005 to work at Megu under none other than
Raku
's Mitsuo Endo. The two quickly became friends, which is largely why Mizoguchi moved to Vegas in 2012 for the debut of Kabuto. The place soon established itself as one of the go-to spots for real-deal
nigiri
in the desert, and was even deemed one of
Bon Appetit
's "
Best New Restaurants of 2012
." However, Gen-san was out by the start of May 2014 (following a mysterious two week shutter for "renovations"), having left to work on his own restaurant, Yui Edomae Sushi, which bowed in November 2015.
Mizoguchi was replaced by Ken Hosoki, his former second-in-command. Ken-san actually lived in Southern California circa 2011, working at sushi places in both Huntington Beach and Venice; interestingly, he was also a fan of the late
Kasen
in Fountain Valley. My
itamae
tonight, meanwhile, was Toshi, who was manning the middle of the counter. Toshi-san has been here for about two years, and previously worked at
sushi-ya
in Yokohama and Tokyo before deciding that he wanted to venture outside of Japan. He apparently wound up at Kabuto after simply applying for a job here online. The third person behind the bar was Ishi-san, a larger man working to Toshi-san's right.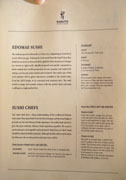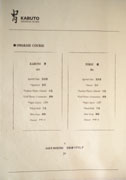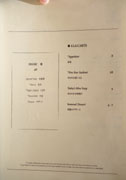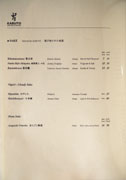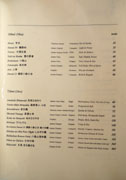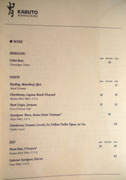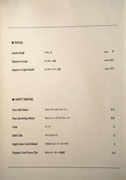 Kabuto is an omakase-focused place, and guests are encouraged to choose one of three different levels (I opted for the flagship "Kabuto" option at $120pp), though do note that à la carte ordering of sushi was allowed at the end of my set menu. Drink-wise, I went for the sake pairing offered at $52, but if that's not your jam, there's also a decent selection of sake by the bottle, a few wines, and your typical Japanese beers. When I inquired, corkage was $20, limit one bottle. Click for larger versions.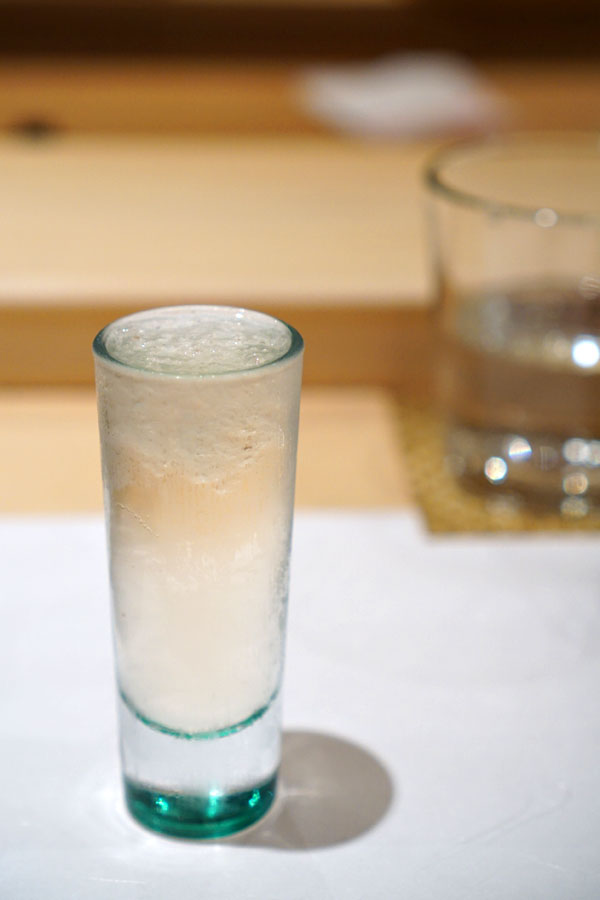 1: Shokuzenshu
Apéritif duties were handled by this strawberry sake, which was aged four-to-six months I believe. Weighing in at just 2% alcohol, I tasted the sweet yet subdued flavors of the fruit, backed by the boozy, ricey character of the sake. A fun start.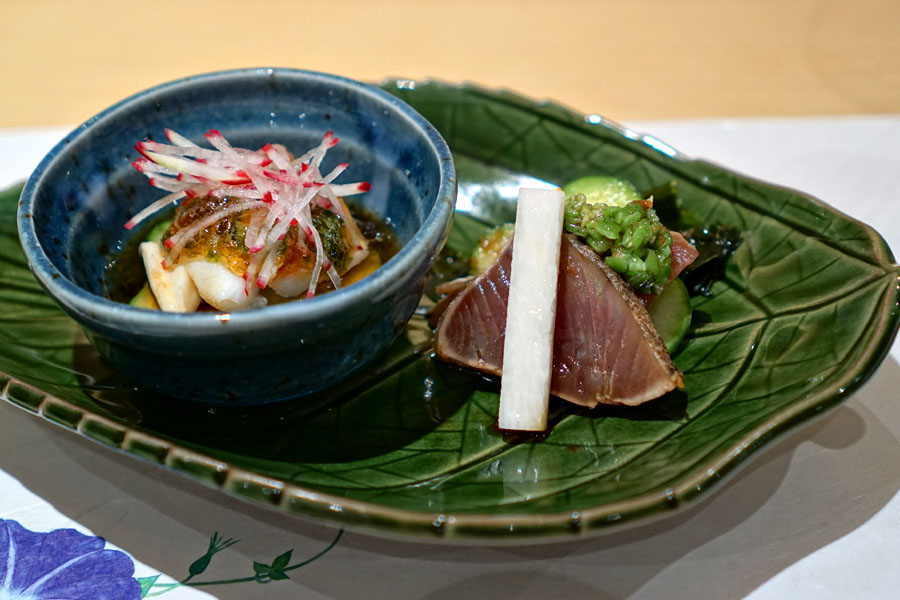 2: Zensai
Here was a duo of starters. I began with the soy-marinated bonito, which showed off a wonderful blend of smoke, umami, and fat, countered by the zestiness of what I believe was chopped onion, while the
yamaimo
offered up a mild, mucilaginous contrast. We also had some meaty-but-delicate cuts of octopus, paired with sweet shards of crabmeat. It was a tasty combination, one perked up by light, crunchy cucumber and the unmistakably tart, slimy nature of
mozuku
.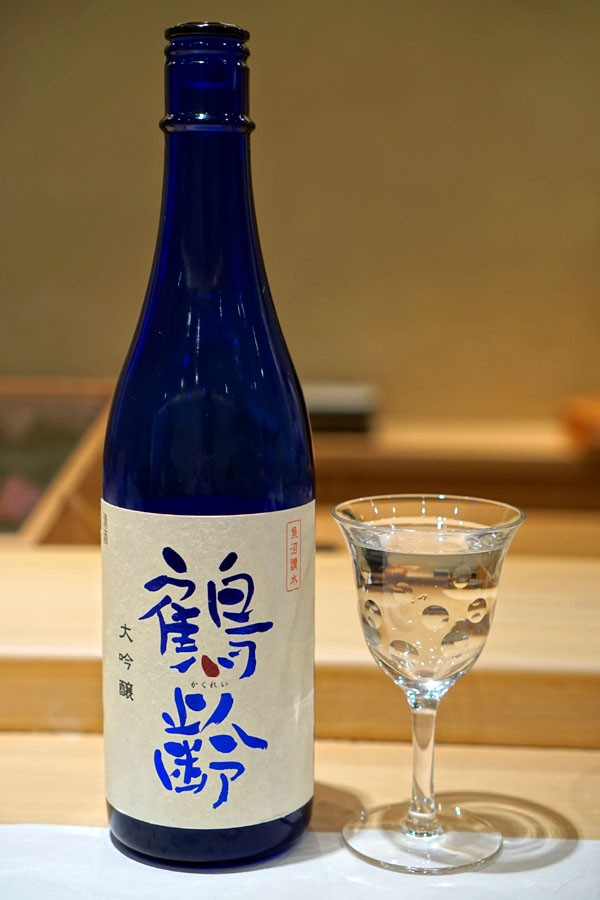 The first of five sakes in the pairing was the
Aoki Kaku-Rei, Daiginjo, Niigata
, meant to go with the sashimi course below. It smelled great, giving up a super aromatic nose filled with fragrant fruit and rice. Meanwhile, I found its palate soft and smooth, with more pome fruit and light flowers leading to boozy spice on the back end.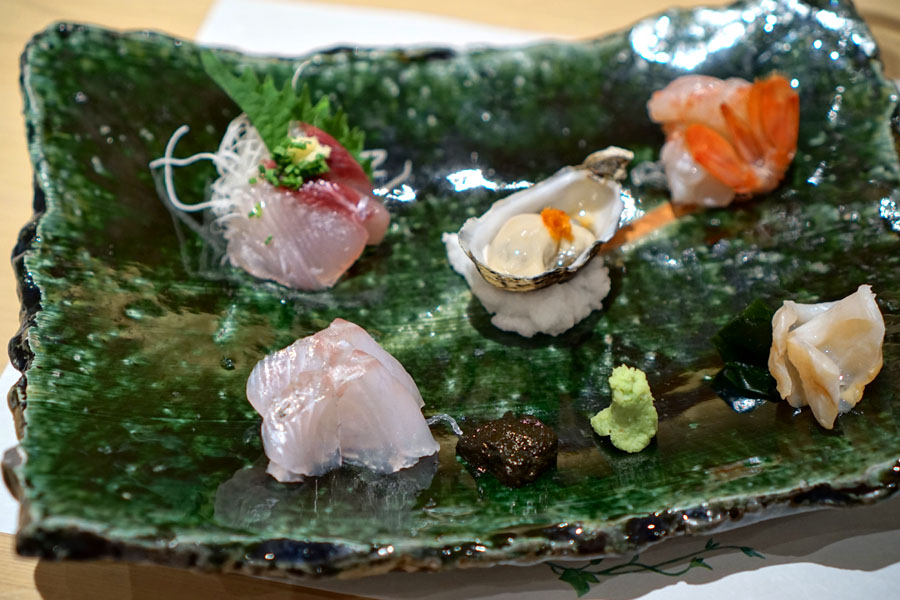 3: O Zo
The requisite
sashimi moriawase
featured five items, paired with a three year-aged
daiginjo
soy sauce. Counter-clockwise from upper-left:
Sawara - Spanish mackerel from Japan; this was excellent thanks to its refined brine, and I was pretty floored at how well the fish paired with ginger--my favorite of the fivesome.
Suzuki - Japanese sea bass ate delicate and clean, while the homemade seaweed paste on the side added an extra kick of smoke and savor.
Shigoku - Sourced from the Seattle area, the oyster showed off a long-lasting salinity that matched up swimmingly with the tanginess of ponzu and momiji oroshi.
Mirugai - Geoduck also came from Seattle, and conveyed strong oceanic flavors that were offset beautifully by the wasabi; I was also a fan of the texture of the giant clam, which was a mix between crunchy and yielding.
Botan Ebi - This Canadian-sourced shrimp display a deft balance between creamy and crispy consistencies, and really opened up gorgeously with a dab of sabi and soy.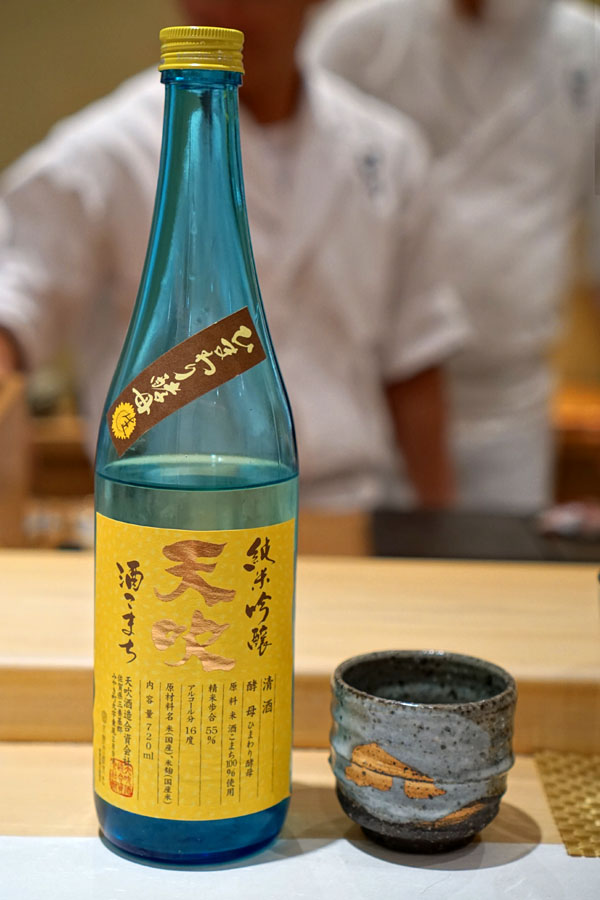 Next to imbibe came the
Amabuki Himawari, Junmai Ginjo Nama, Saga
, made with sunflower yeast. The sake smelled almost unbelievable funky, and had this savoriness to it that mellowed out with time. Taste-wise, it was more restrained, and showcased earthy flavors up front that led to sweet, ricey notes and dry, lingering alcoholic heat. This was an aggressive sake meant to stand up to the grill plate below.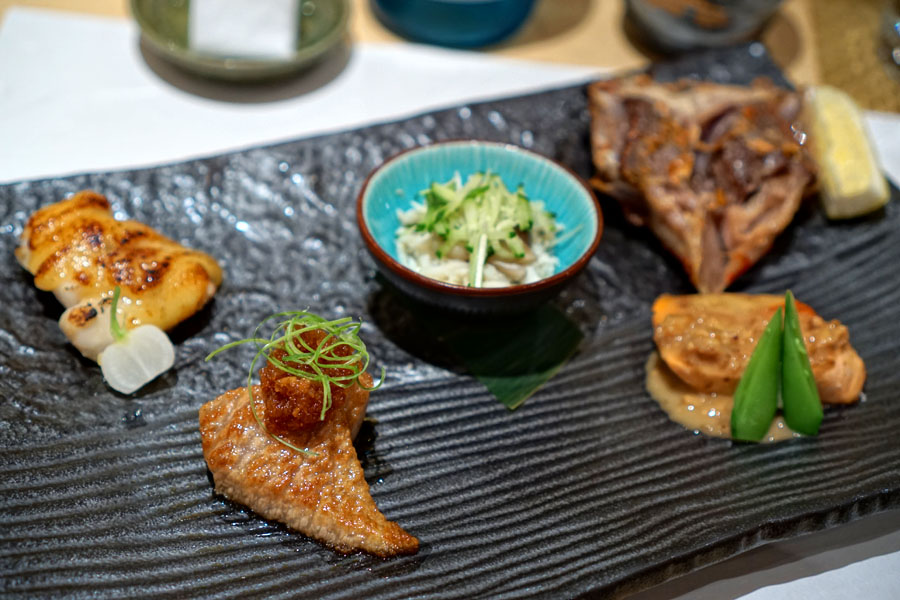 4: Yakimono
Featuring grilled items, this was the most substantial course of the night. Clockwise from upper-right, we had:
Kinmedai Kama - Golden eye snapper collar just might've been the best kama I've ever had. I loved its firm, somewhat rubbery, yet pliant texture--which reminded me a bit of chicken oysters--while its flavors were uncompromisingly salty and savory and smoky and delicious, especially with a squirt of the included lemon.
Sake - King salmon arrived with a sweet-nutty orange clam-scallop sesame cream sauce, though unfortunately it was cooked more than I would've preferred.
Watarigani - Set in a mushroom dashi, blue crab ate fresh and juicy, though I wanted more aggressive seasoning on this one.
Toro - Grilled tuna belly was firm, fatty, and fishy, so its acidic condiment on top was much appreciated.
Shiromisakana - I found the whitefish soft and smoky, but its sweet miso sauce was actually a bit too sugary for my liking.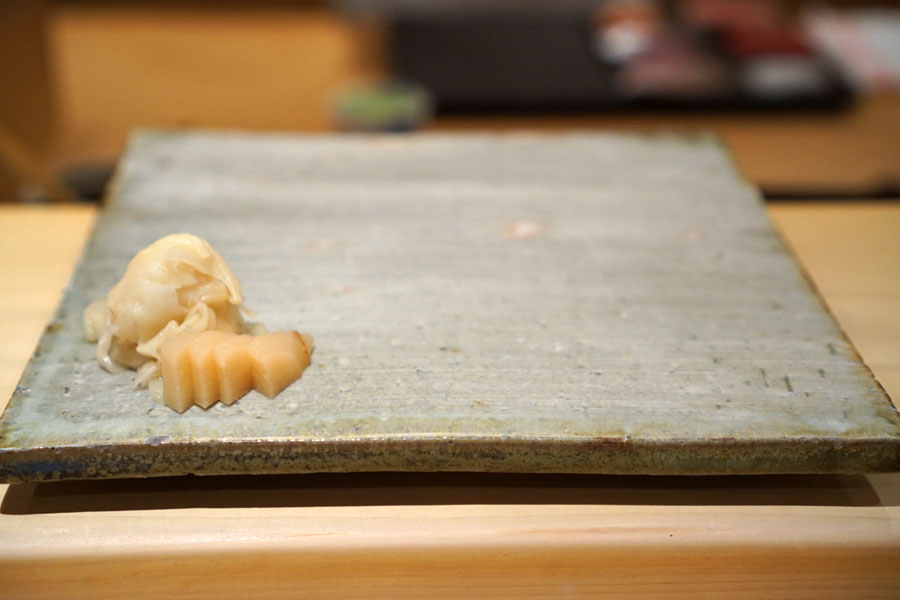 At this point Toshi-san brought out the
geta
, signaling the beginning of the
nigirizushi
phase of the meal. Note the two varieties of
gari
, with the ginger in front being homemade if I understood the Chef correctly.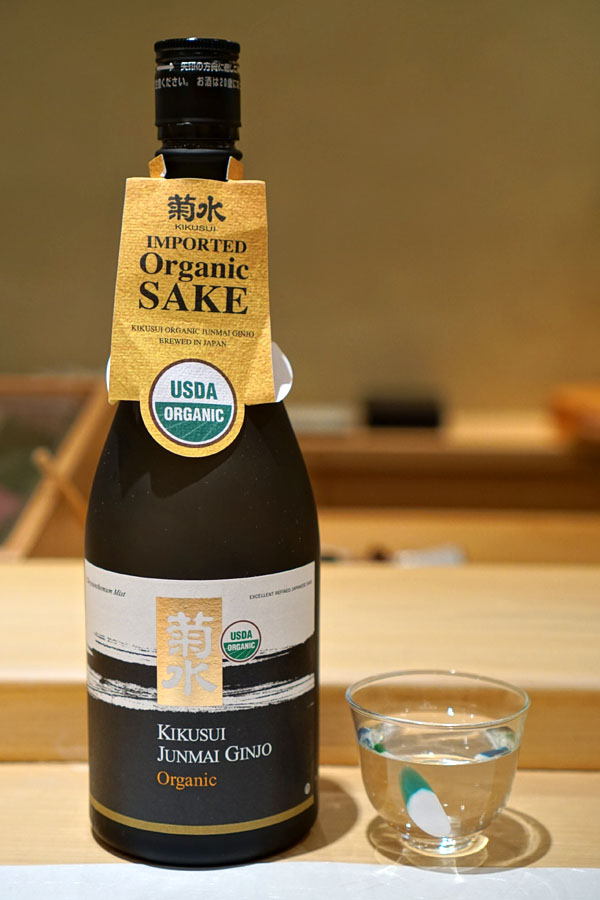 To pair with the more lightly-flavored sushi, we had the
Kikusui, Organic Junmai Ginjo, Niigata
. It had a fantastic nose brimming with juicy stone fruit, while in terms of taste, I found it very balanced, the sake's base of sweet rice intermingling with tropical fruit and melon.
5: kasugo-tai
Spring baby snapper was a superb start to the sushi. I loved its wonderful pricks of sea salt and its citric freshness from its sprinkling of yuzu zest, while the fish itself ate lean and clean, with a hint of umami complexity.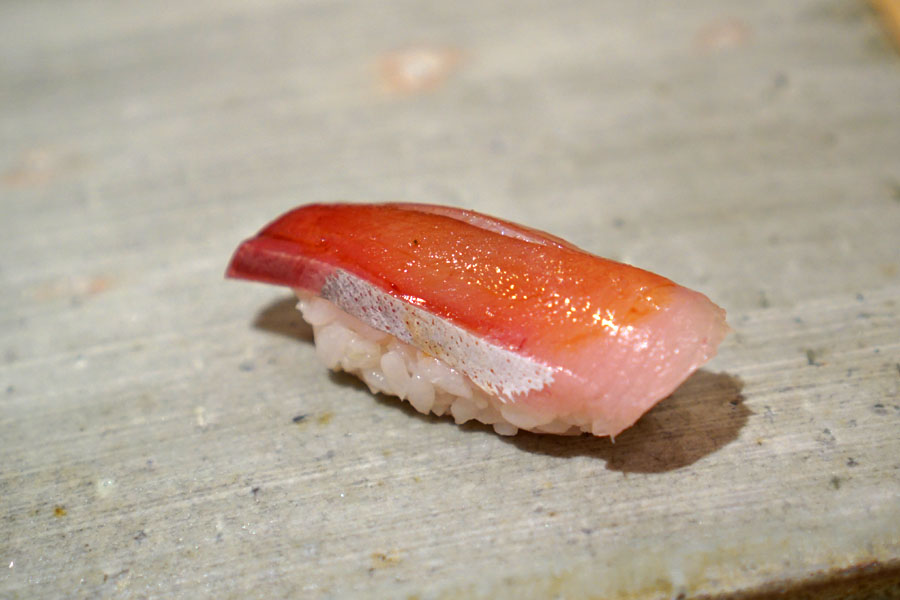 6: inada
Young yellowtail featured a noticeable, yet restrained and refined fattiness that matched superbly with the soy. What was really interesting here was how the warmness of the
shari
really made itself known.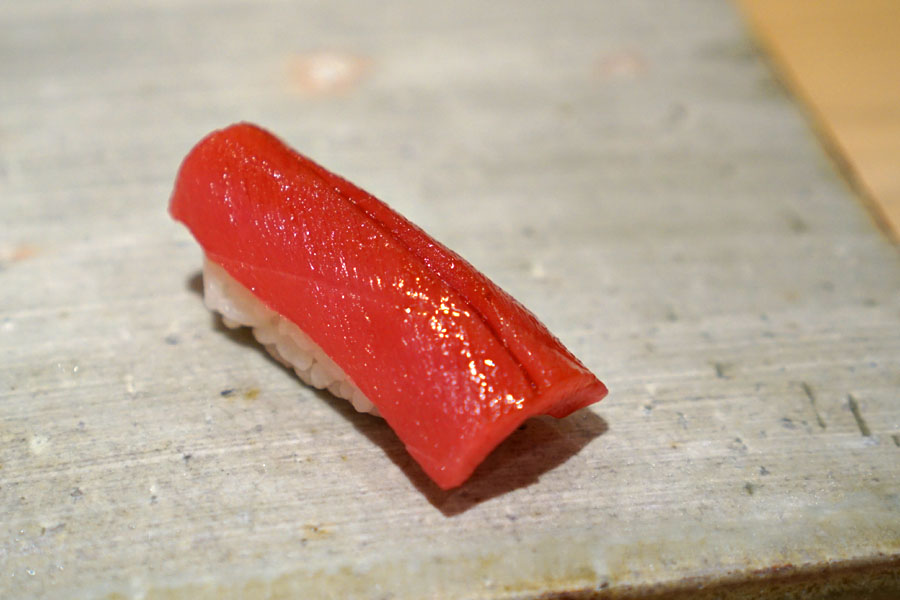 7: akami
A supple cut of lean tuna showed off a beautifully ruby red hue, while its relatively mild flavors were enhanced by a brushing of
shoyu
.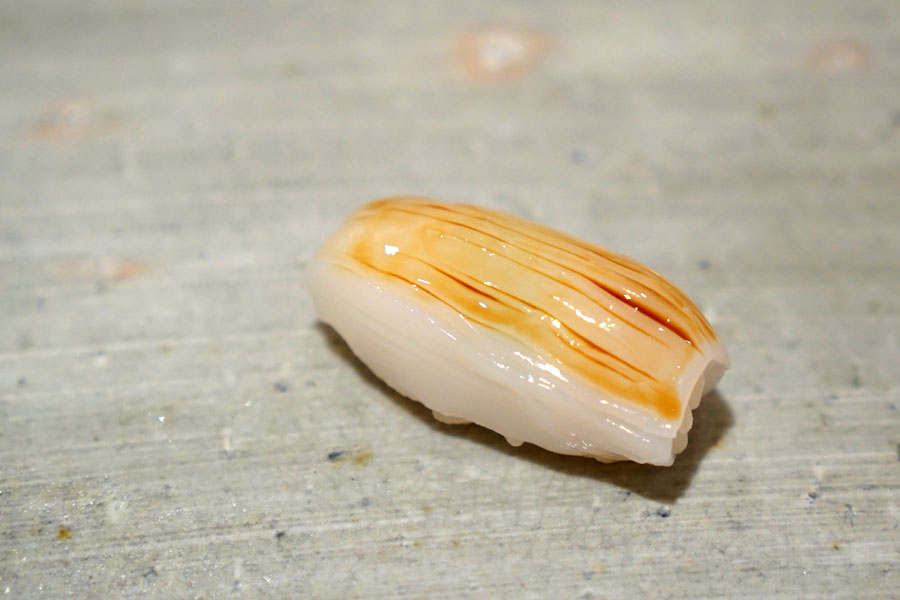 8: shin-ika
The baby ink squid was no doubt one of the best examples I've had. I was huge fan of its smooth, cushiony consistency, and how well the squid meshed with accompanying flavors of soy and subtle, creeping wasabi, all while the rice served an especially crucial role here for contrast.
9: ezo-bafun uni
Japanese sea urchin was a joy to eat. This particular serving had an especially thick, viscous consistency, as well as a spot on balance between sweet and mineral-driven flavors.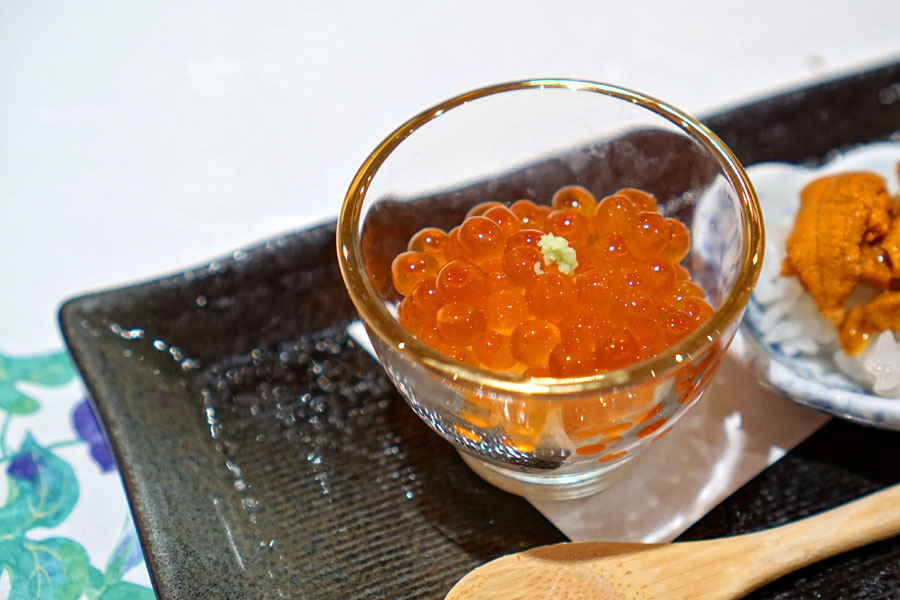 10: ikura
The salmon roe was one of the better examples I've tasted. The key was how the roe's robust brine married with a backbone of sweet, almost nutty flavors.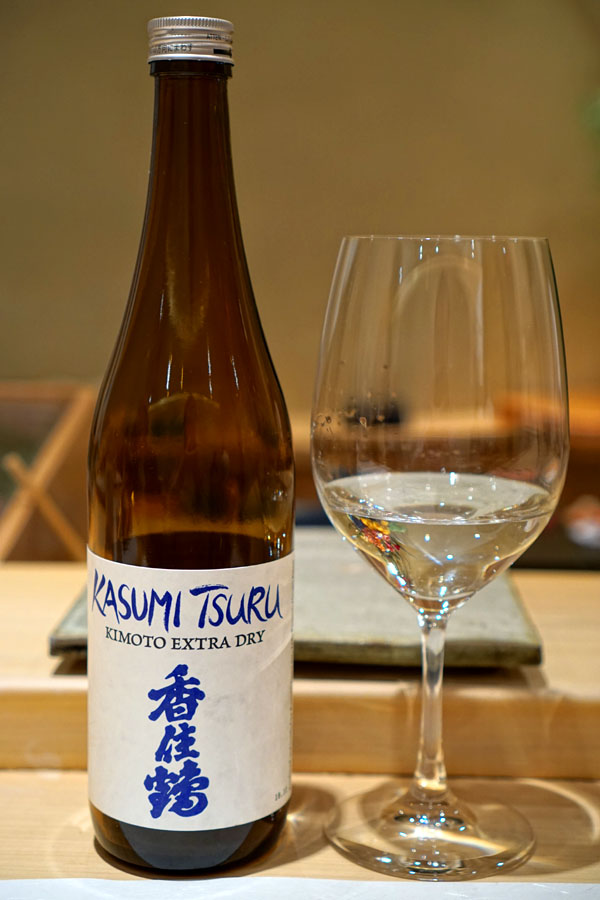 The second sake pairing for sushi was the
Kasumi Tsuru, Kimoto Extra Dry, Hyogo
. It had a fairly strong nose of alcoholic sweetness and a trace of umami, while the taste blended distinct rich, ricey notes with an almost austere sort of fruitiness and a bit of earth.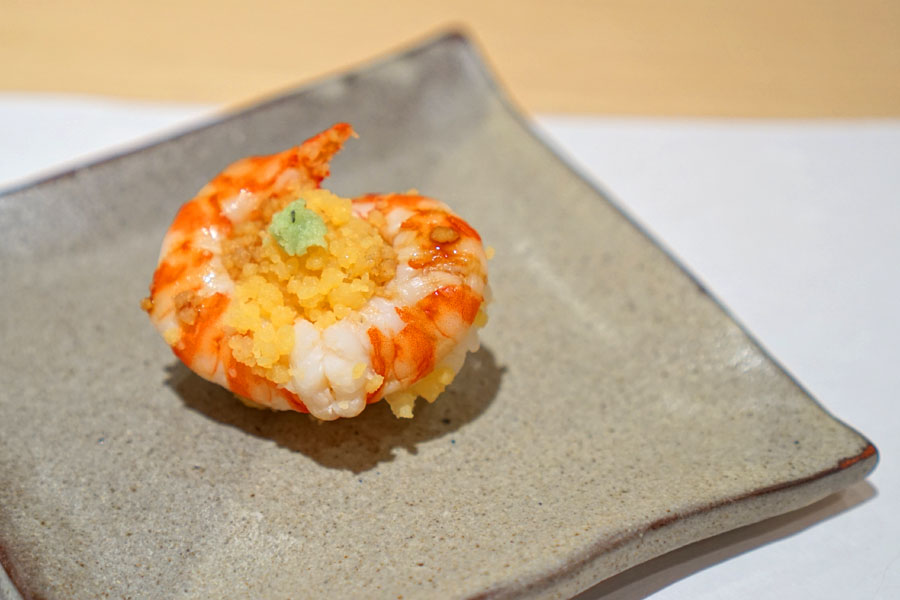 11: karako ebi
Next was what must be the most unusual shrimp sushi I've ever had. The actual
saimaki ebi
was about what you'd expect, but what made this interesting was that egg yolk mixture, which added a definite heft to the bite that came through on the finish. I found the rice here especially crucial for balance.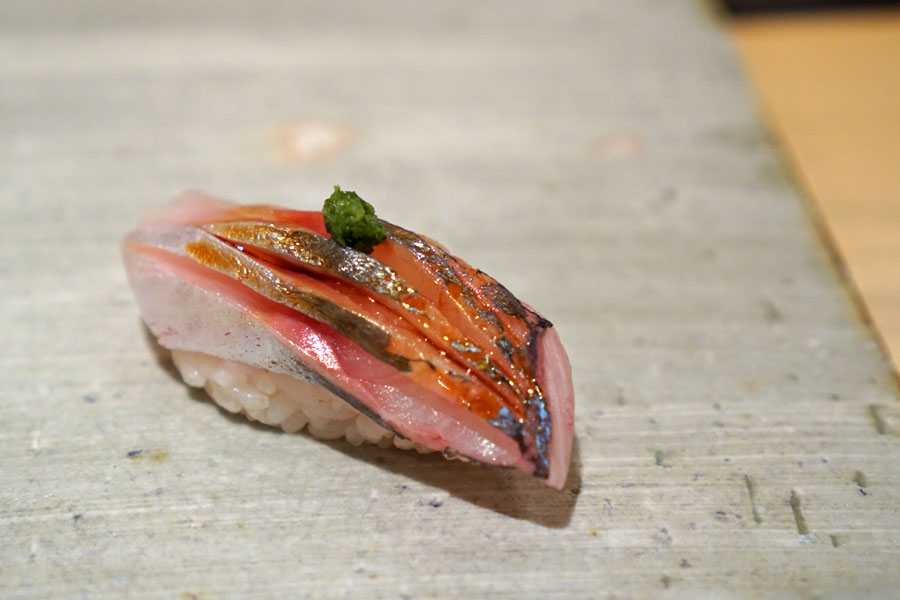 12: ma-aji
The jack mackerel was another favorite. It was one of the cleanest, most elegant examples of the fish I'd ever had, and I was absolutely smitten by the brightness of that pesto-like condiment on top.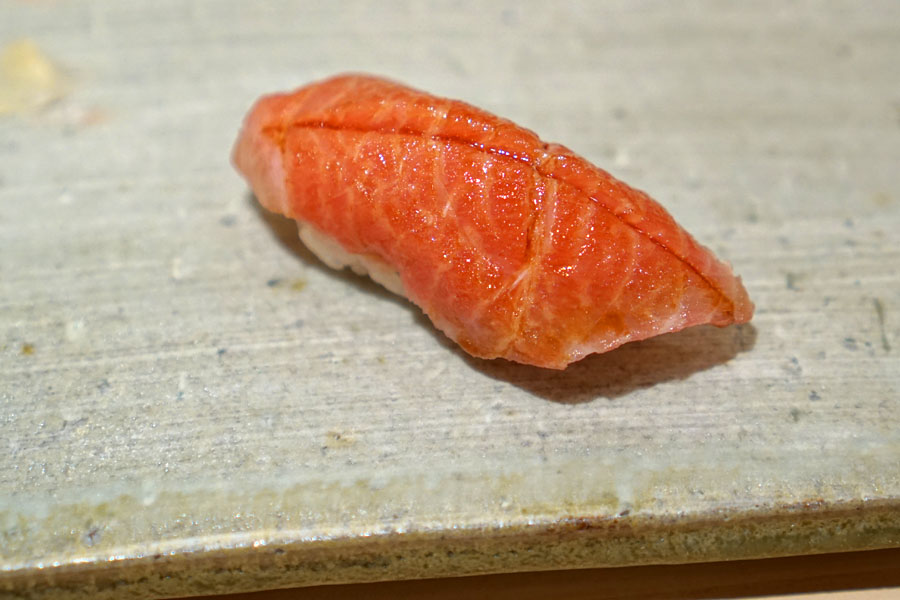 13: kamashita-toro
Another standout was the hard-to-find
kamatoro
. Cut from the collar of the tuna, it was wondrously marbled and oily and lush, so the soy was crucial here, serving as a link between the fish and the rice.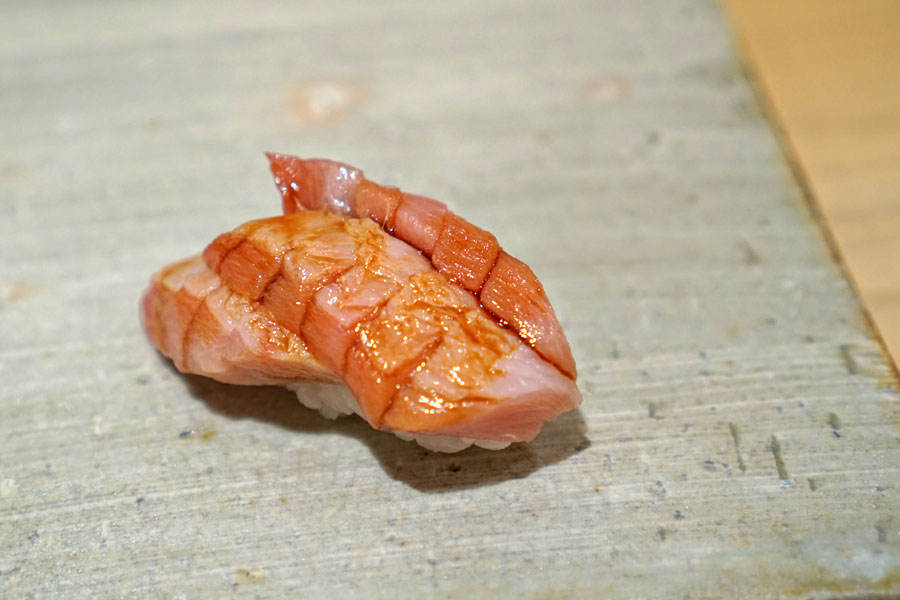 14: jabara-toro
This underbelly cut of toro was also a treat. I found it super, super savory, while texturally it was softer, but also showed off more sinew. It was a stark difference compared to the
kama
--a much grittier, more rustic experience I'd say.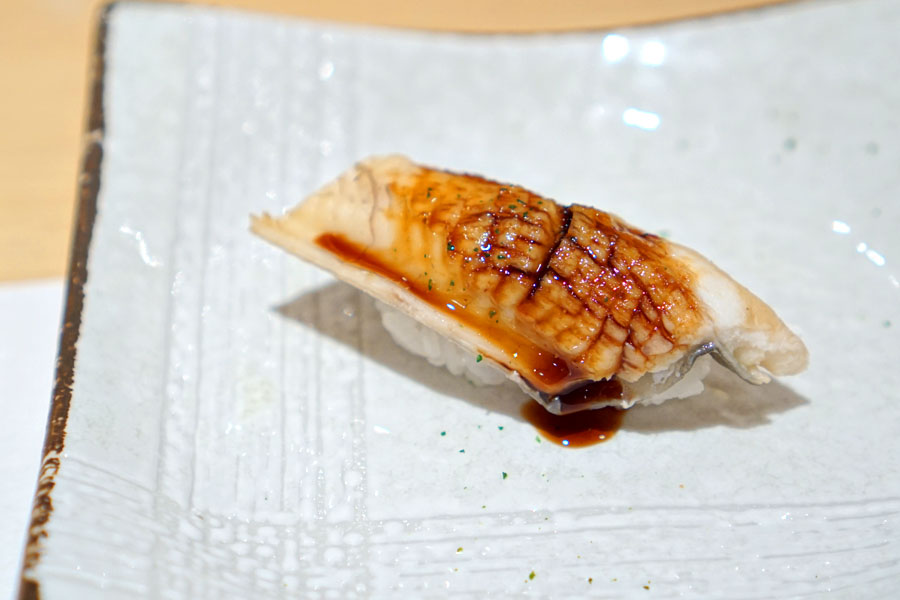 15: kogane anago
Golden sea eel was particularly subtle and exquisite, its sweet-savory dressing playing well with the tartness of yuzu zest. Very nice.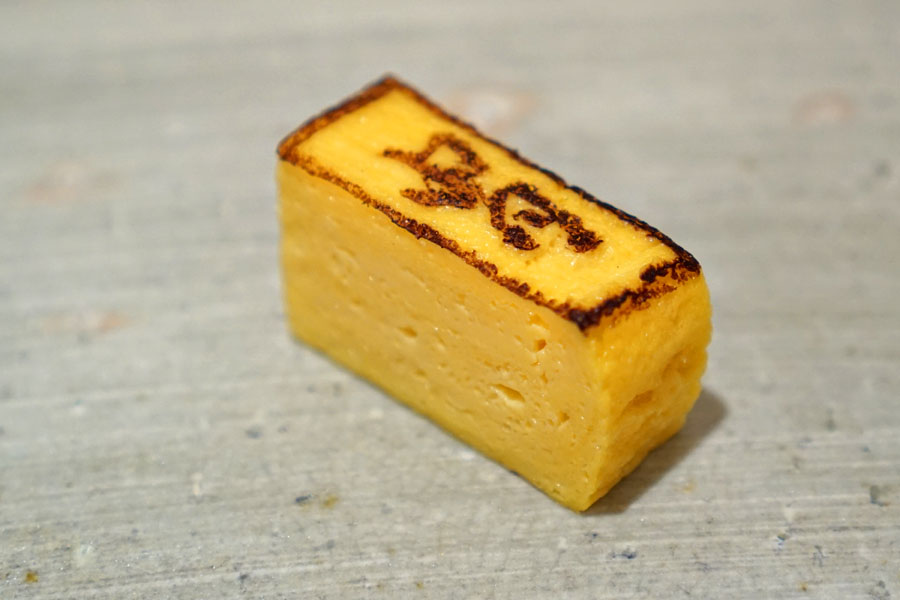 16: gyoku
Tamago signaled the end of the sushi. It displayed a very gratifying "hammy" sort of savoriness, and in fact, was one of the least sweet examples I've had. What I found surprising was how hot (temperature-wise) the omelette was; it actually was painful to hold for more than a few seconds!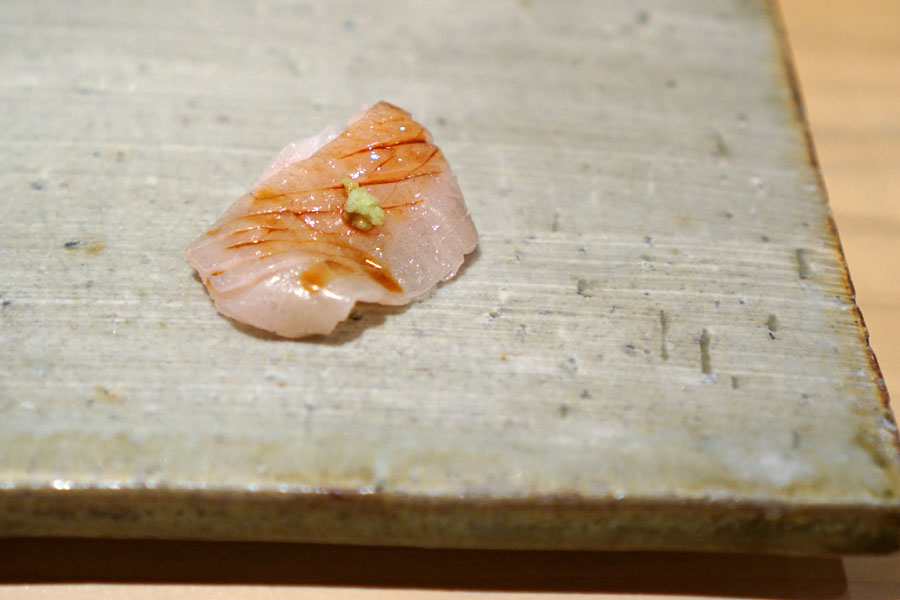 At this point in the meal I was offered the chance to order sushi à la carte, and started off with
engawa
. Unfortunately, there wasn't enough fluke muscle fin left, so Toshi-san ended up serving me the little piece he had remaining, free of charge. The appeal with this part of the fish is its crunchy, snappy texture, and that's exactly what I got.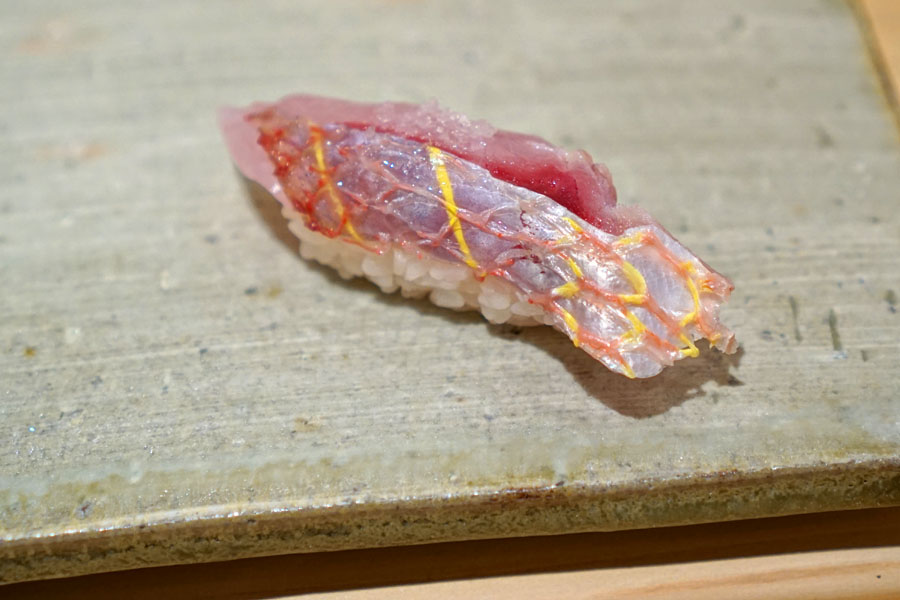 itoyori [$6.00]
Threadfin bream was perked up by pops of salt and citrus, while it also conveyed an unexpected funk on the finish.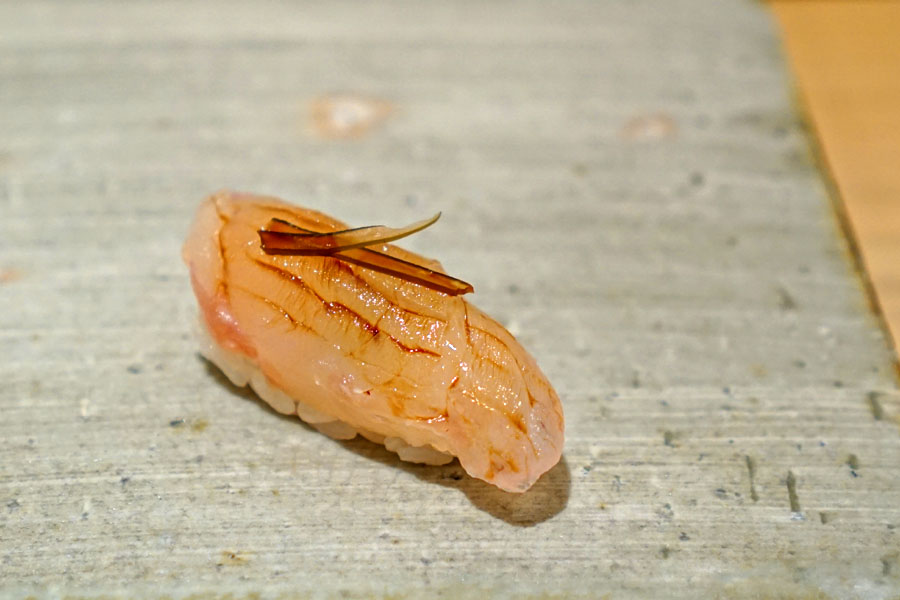 akahata kobujime [$6.00]
Red rock cod was another uncommon selection. I found it meaty to the bite, with a concentrated flavor profile replete with lingering umami notes from its kelp treatment.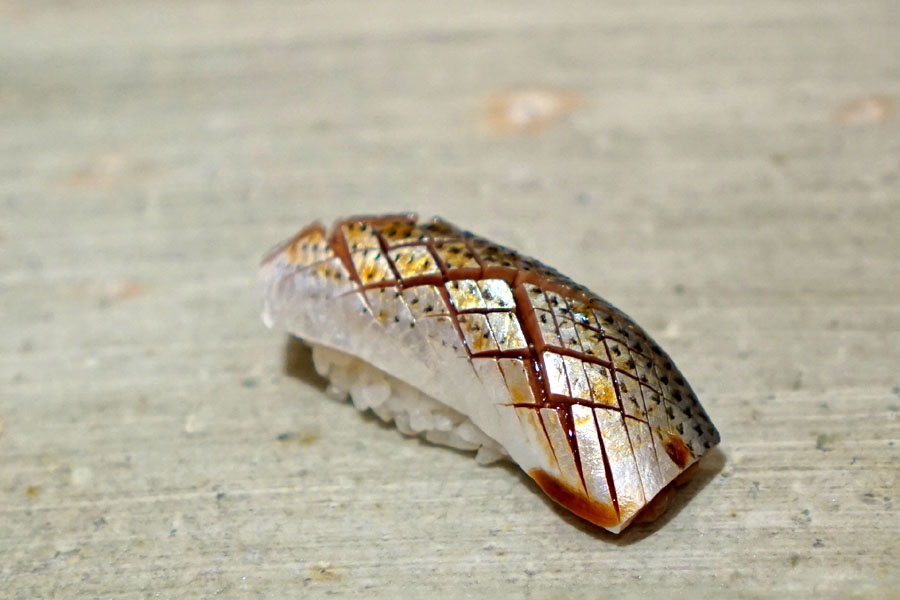 kohada [$6.00]
The gizzard shad revealed a robust yet refined brine, countered by the heat of wasabi, an undercurrent of sweetness, and of course the rice.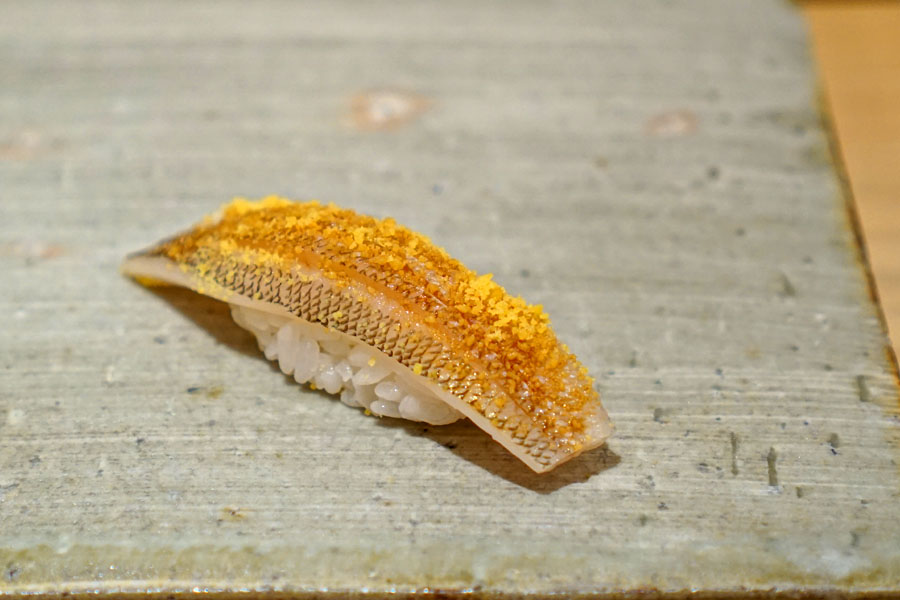 kisu [$7.00]
Sand borer (a.k.a. Japanese whiting) was a lean, clean fish, but one with more complexity than you'd expect, especially given its semi-sweet topping of
kimizu
(made with egg yolk and vinegar).
17: Temaki
With the
nigiri
done with, we were served a tuna hand roll, which turned out to be one of the best I've had. I loved its straightforward yet undoubtedly effective marriage of tuna and wasabi, all moderated by the
shari
, but what struck me the most was the nori and how utterly crispy it was. Simple but sort of profound.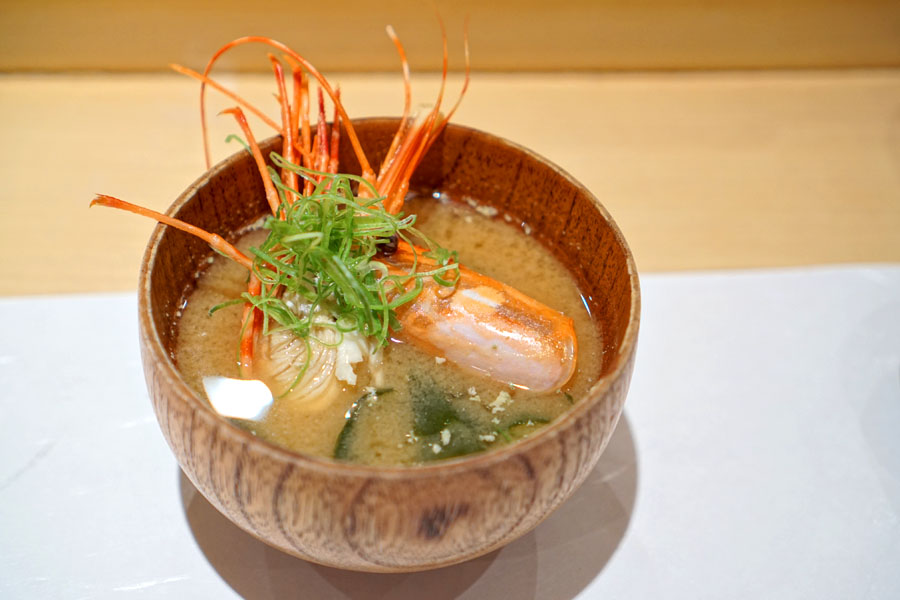 18: Wan Mono
Miso soup was enhanced by the sweetness of shrimp, and I especially enjoyed all that scallion up top.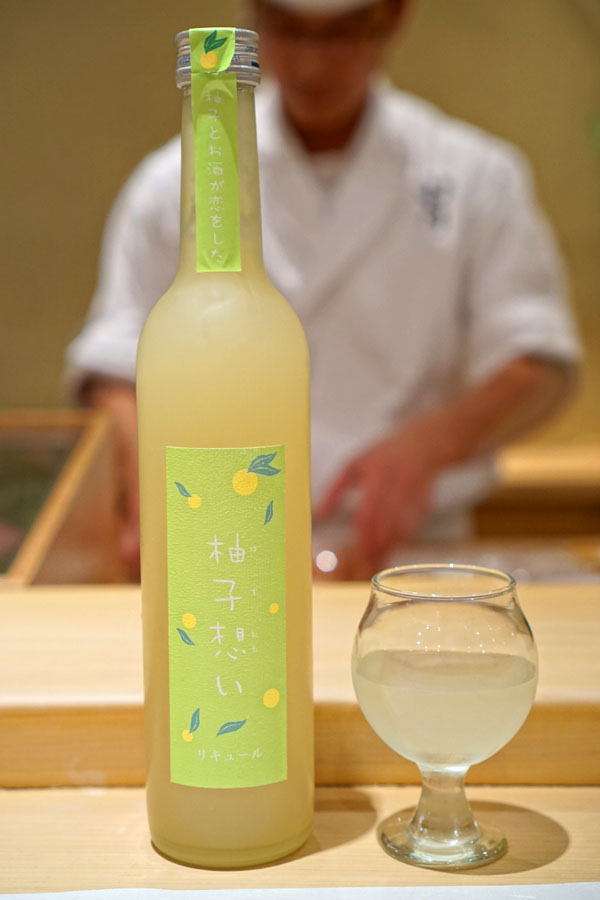 The evening's final beverage was the
Yamamoto Honke Yuzu Omoi, Junmai, Kyoto
, a sake with yuzu juice added. Think refreshing citrusy sweetness, but counterbalanced by acidity, some herbaceous notes, and a touch of alcoholic heat.
19: Sudachi Cheesecake
There were three options for dessert this evening: Japanese
sudachi
cheesecake topped with blueberry sauce, sesame panna cotta with black sesame caramel, and green tea ice cream with red bean paste. Obviously I went with the first option, and I was not disappointed. I found the cake surprisingly light, and was a big fan of the sourness imparted by the citrus and how that worked with the sweetness of the berries. Excellent crust here, too.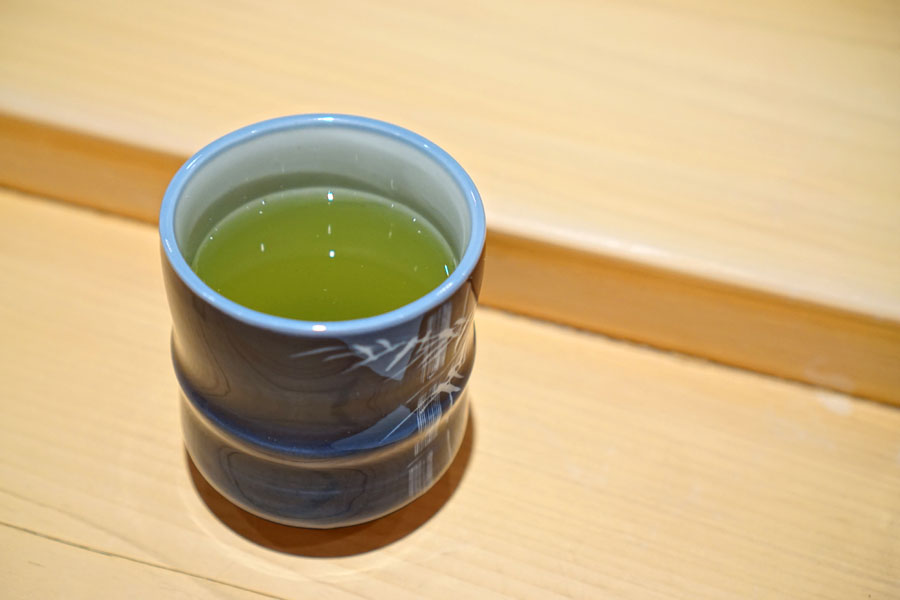 Along with dessert cake a piping hot cup of green tea.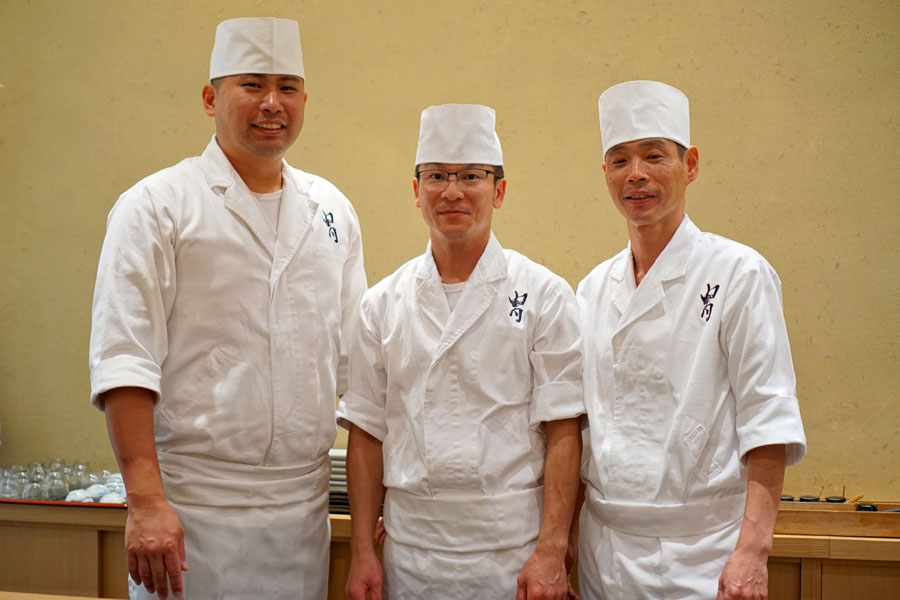 The bar team: Head Chef Ken Hosoki on the right, along with Toshi (center) and Ishi.
Kabuto was actually my first experience with off-Strip sushi, and I came out of the meal pretty impressed. I can't really find much fault with the sushi, and I definitely appreciate the wide variety of
neta
available here. The food stacks up well to the upper echelon places in Los Angeles. Service was commendable too, and the option of a sake pairing was a nice touch that I just don't see very often at all. A lot of people consider this place the best sushi in Las Vegas, and after eating here, I can certainly see why.