Bee Taqueria (Los Angeles, CA)
Bee Taquería
5754 W Adams Blvd, Los Angeles, CA 90016
323.452.9575
www.beetaqueria.com
Thu 08/15/2019, 08:00p-12:00a

If you recall, I actually tried to visit Alex Carrasco's Bee Taqueria at the start of August, but was thwarted due to the unexpected early birth of the Chef's son, which pushed out the restaurant's grand opening from the 6th to the 8th (though the place actually soft-opened at the end of July). Named after a beehive that was discovered while remodeling, the West Adams modern taco spot is the Chef's first solo project. Located in the old JNJ Burger & BBQ, the place seems liked it could be SoCal's "next great taqueria," so I was eager to pay it a visit.
About the Chef
: Alejandro Carrasco was born in 1985 in Mexico City, the youngest of five children (he had two brothers and two sisters). He grew up in a poor family, and didn't have a father present, while his mom would work various jobs to make ends meet (e.g. selling books and yogurt drinks, or renting out the patio of the family home to a local body shop). He eventually got interested in skateboarding after meeting a skater from Canada, who later gifted him a free skateboard. After extensive practice, he got quite good at the sport, and at the age of 15, decided that he wanted to skate for a living. However, around this time, Carrasco also began helping his mother around the house: cleaning, doing the laundry, and cooking; he thus became interested in food almost inadvertently. He started out doing simple dishes, but eventually expanded his repertoire thanks to help from his grandmother and other relatives.
A wealthy cousin of his studied at Le Cordon Bleu Mexico, which got the budding cook curious about culinary school. Around this time, Carrasco seriously injured his leg while skating, and realizing that he could never skate professionally, decided that he wanted to go to Le Cordon Bleu and pursue a career in cooking. Thus, he made it a point to finish high school, and had to enroll at a Catholic school given that he was previously such a hooligan, having gotten involved in fighting and graffiti. His brother actually paid for this schooling, and this is when he really committed to bettering himself. Following graduation though, Carrasco realized that culinary school was still far too expensive, and subsequently started taking English classes in preparation for a move to the United States.
He thus came Stateside in 2001 along with his brother, who worked in radio in the LA area. The two lived in Torrance, and the Chef's initial goal was to make some money, go to culinary school, buy a car, and return to Mexico. It turned out that his brother knew a manager at California Pizza Kitchen, and was able to get Carrasco a busser job at the newly-opened CPK at Rolling Hills Plaza. However, he quickly realized that you don't actually need a culinary degree to cook, and after threatening to leave, was given a dishwashing position so he could be in the kitchen. Two months later, he was promoted to prep after two guys quit, and was thus really able to hone his knife skills. Following, he landed another prep gig at La Vecchia Cucina in Santa Monica, where he learned a lot. His brother then secured a job at the Viceroy hotel, and got him an interview with Chef Warren Schwartz, who'd taken over the property's Whist restaurant in September 2004. Due to his limited English skills, Carrasco was given a dishwasher job, but soon mastered a number of other tasks in the kitchen.
After five months, he wanted to leave, but Schwartz recognized his contributions and promoted him to a position on the line. Schwartz, though, ended up leaving the Viceroy in June 2008 to get ready for the opening of Westside Tavern that October. Carrasco was supposed to come along, but due to poaching allegations, he stayed at Whist for a while before moving over. He cooked on the line at Westside Tavern until 2013, but during that period, worked a number of second jobs, which allowed him to both learn more and make more money. These included
Waterloo & City
(which opened in May 2010), where
Brendan Collins
made him do pastry, as well as
Osteria Mozza
, where he was also on the line. He also helped
open Bouchon
and served as a sous at
Joe's
following the departure of
Kris Tominaga
in 2011. Other stints included City Tavern in Culver City and Jordan Kahn's
Red Medicine
.
With some help from his girlfriend, Carrasco was able to land a sous position at
Ricardo Zarate
's
Paiche
, which debuted in April 2013. Just a few months later, he moved to Santa Barbara to become Executive Chef at Blue Tavern inside Hotel Indigo, which bowed that November. However, Zarate's empire famously collapsed in the fall of 2014, and though Carrasco had already moved to
Mo-Chica
by September, even that restaurant eventually shuttered at the end of the year. Seeing the writing on the wall, the Chef became CdC at Manhattan Beach Country Club in November 2014, where he cooked until 2017. In May 2016, he joined forces with old friend
Phillip Frankland Lee
(the two had worked together at Whist and Westside Tavern) to take over El Chavo in Los Feliz, replacing
Freddy Vargas
(Brandyn Tepper and
Octavio Olivas
were also involved).
January 2017 saw Carrasco take on the Exec Chef role at
Scratch Bar & Kitchen
. During his tenure with Lee, he also ran
Woodley Proper
and headed up the company's projects up at Montecito Inn. However, the Thomas Fire put a hold on the Santa Barbara restaurants, and as a result, he wound up joining Zarate once again in July 2018, this time at Once at The Palazzo in Las Vegas. He served as EC there, but after realizing that he needed to have his own business, left in May this year. Carrasco partnered with none other than his old boss Ricardo Zarate for Bee Taqueria, along with a HaeJin Baek. They were initially considering a location in Sawtelle, but eventually settled on this quaint, backyard-y spot. The Chef largely built the place (tables and benches) using his own hands (he had a mere $25,000 to work with), and event painted the street art himself (with the help of a friend).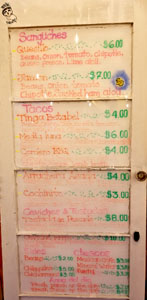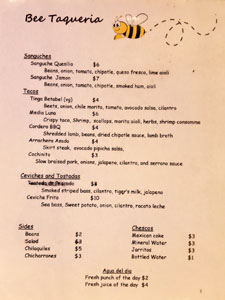 Here we see Bee Taqueria's opening menu, which is fairly traditional, though with a few twists here and there. Expect things to get more progressive as time goes on. Drink-wise, all you get are a few soft drinks (including housemade
agua fresca
), but BYOB is also an option. Click for larger versions.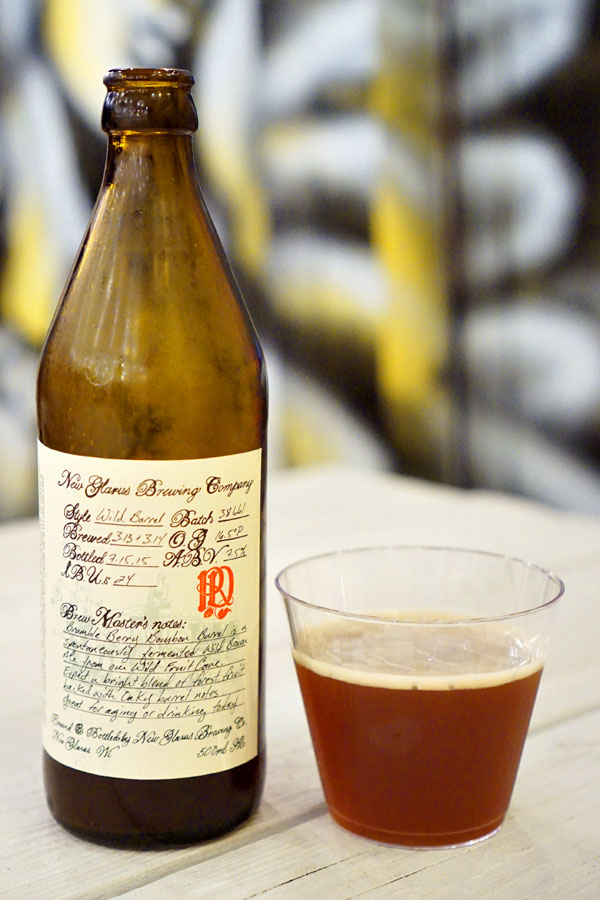 We took advantage of the BYO option and brought along some beer, the first of which was the
2015 New Glarus R&D Bramble Berry Bourbon Barrel
, a spontaneously-fermented wild brown ale with bramble fruit. Appealing nose of tart, fresh berry with a backbone of oak and yeast. The palate brought more sweet fruit, along with more sourness, an undercurrent of barrel, and notes of leather, spice, earth, and bitterness, especially on the back end.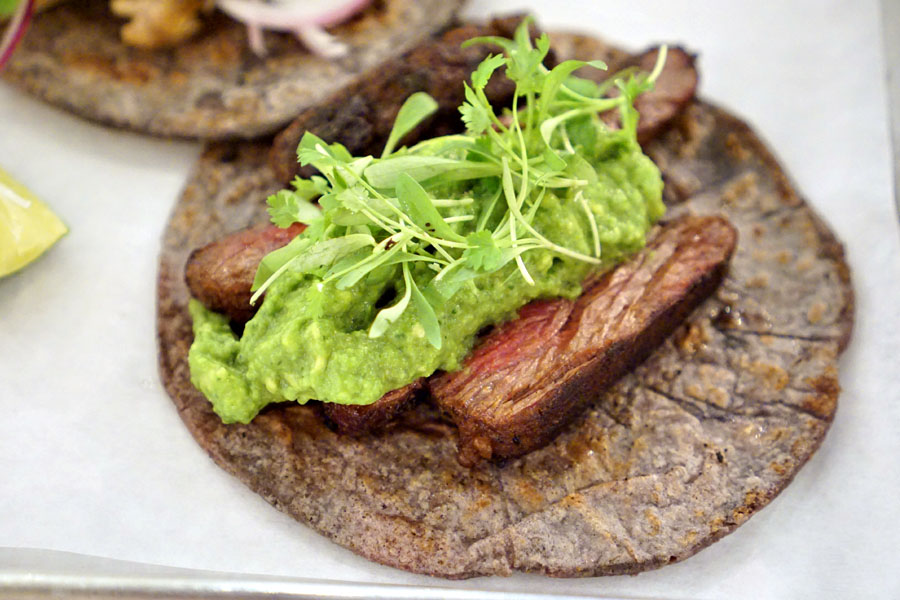 Arrachera Asada [$4.00]
| Skirt steak, avocado pipicha salsa
Up first was Carrasco's take on the classic asada. Cooked slightly rare, the beef was a big step up from most of the stuff you see in tacos, showing off a great char and smoke along with spot on seasoning. It was tasty alone, but even better when paired with that super bright
pepicha
-enhanced salsa. As for the tortilla, I found it thick, substantial, really highlighting the Chef's Boyle Heights-sourced
masa
and serving as an effective foil to the meat. A superb start.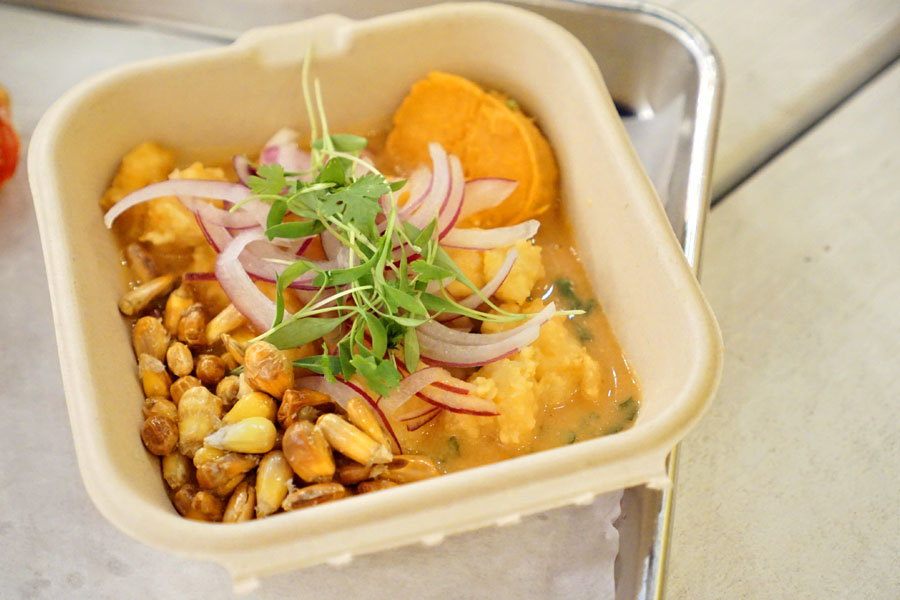 Ceviche Frito [$10.00]
| Sea bass, sweet potato, onion, cilantro, rocoto leche
Next was a dish that could've come right out of the Ricardo Zarate playbook. Fried fish showed off an assertive brine, one evened out by the acidity of that pepper-infused
leche de tigre
. Onions provided a further zestiness that I really appreciated, but my favorite part was the salty crunch from the
cancha
.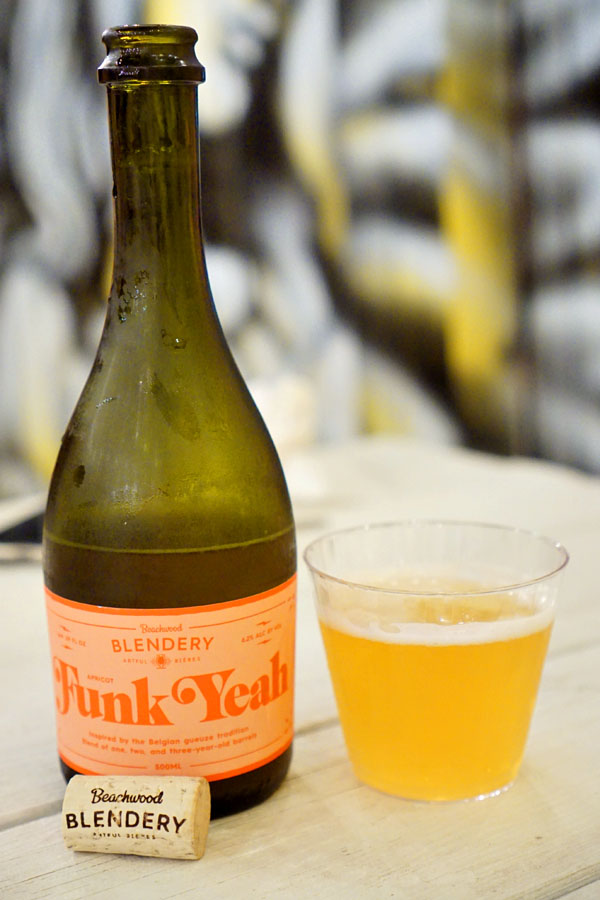 Our next beer was the
2018 Beachwood Blendery Apricot Funk Yeah
, a gueuze-inspired blend of one-, two-, and three-year-old oak barrel-aged sour ales, with apricots added. It smelled funky and acidic at first blush, and had the stone fruit coming in later. Taste-wise, I got more apricot, commingled with yeast, funk, oak, and plenty of sourness.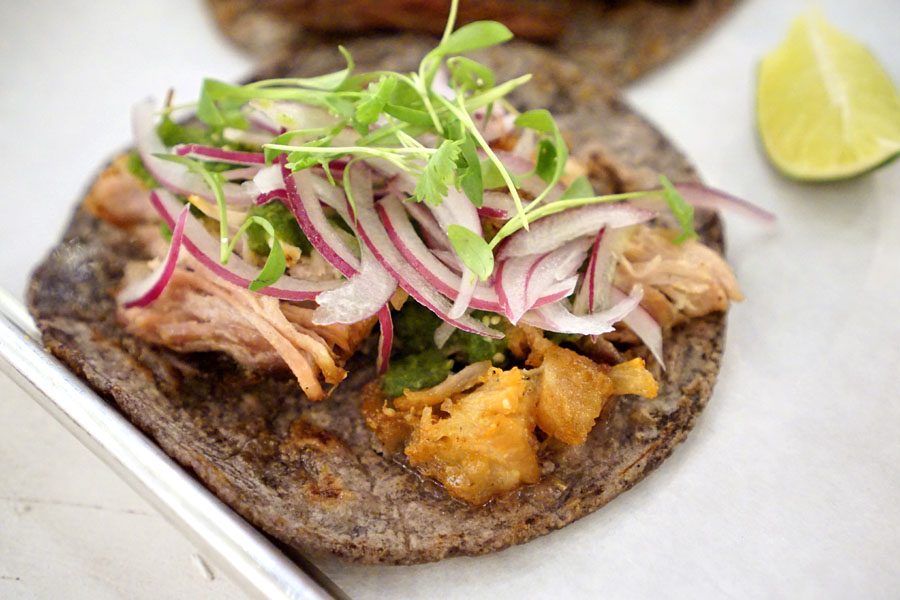 Cochinito [$3.00]
| Slow braised pork, onions, jalapeno, cilantro, and serrano sauce
This carnitas-like preparation really conveyed the depth of the slow-cooked pork, and worked swimmingly with the zestiness of onions/cilantro and especially that serrano-based salsa. My only concern was that the meat was a touch dry in places.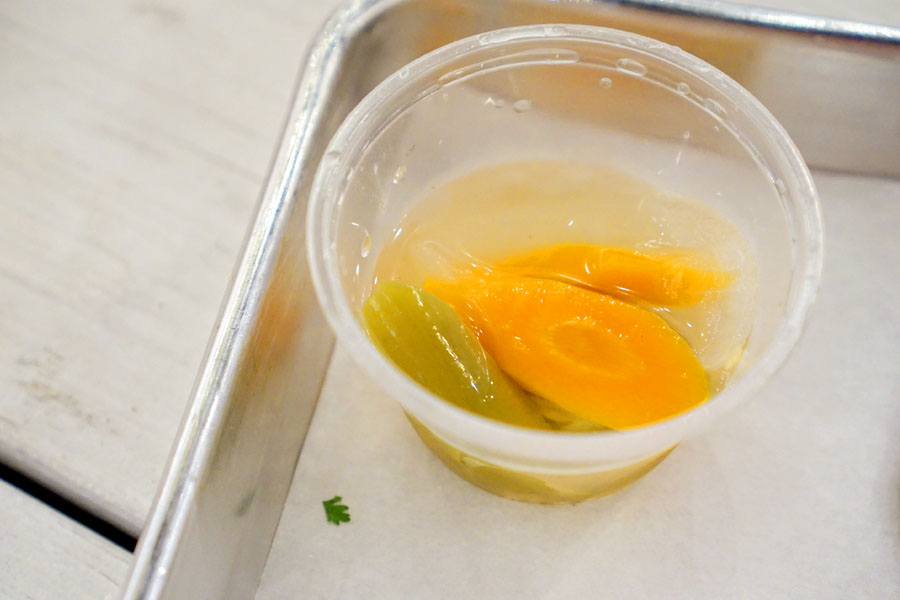 The tacos came with a side of
escabeche
-style pickles.
The
2016 Cycle Trademark Dispute: &+ (Red Label)
was a bourbon barrel-aged stout with vanilla, chilies, and cinnamon. The beer conveyed tasty aromas of sweet spice, along with chocolate and bourbon. In terms of taste, there was a base of barrel and chocolate and roast, along with a decent amount of cinnamon and overarching notes of fragrant vanilla, while the peppers came through more on the finish.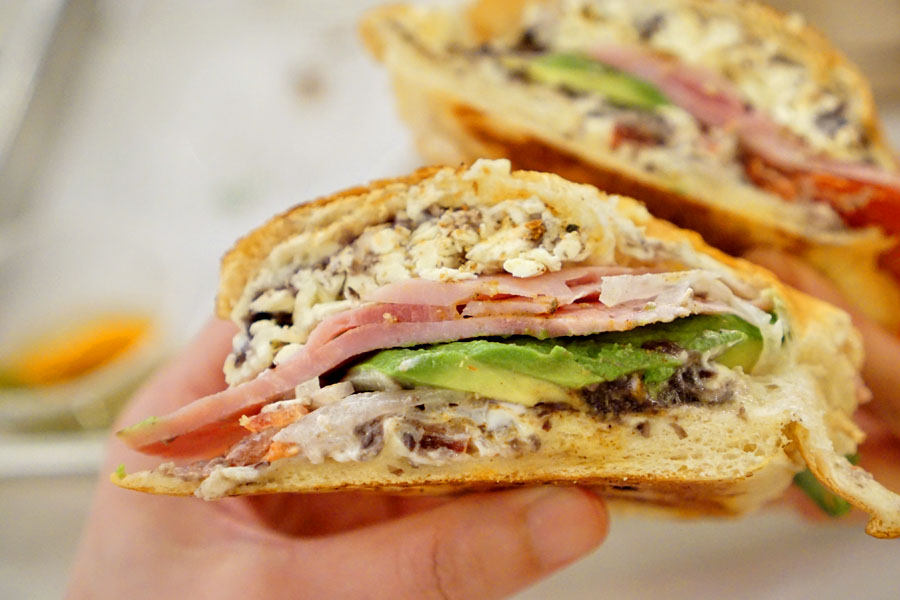 Sanguche Jamon [$7.00]
| Beans, onion, tomato, chipotle, smoked ham, aioli
We had here what basically amounted to a torta, something that the Chef makes for his family. I loved how the sandwich's salty base of ham married with the creamy, cheesy combo of beans, queso, and avocado. At the same time, the onions provided a fantastic offsetting zing to the dish, and I was a big fan of the soft bread here. The flavors meshed perfectly, making this probably the best torta I've ever had.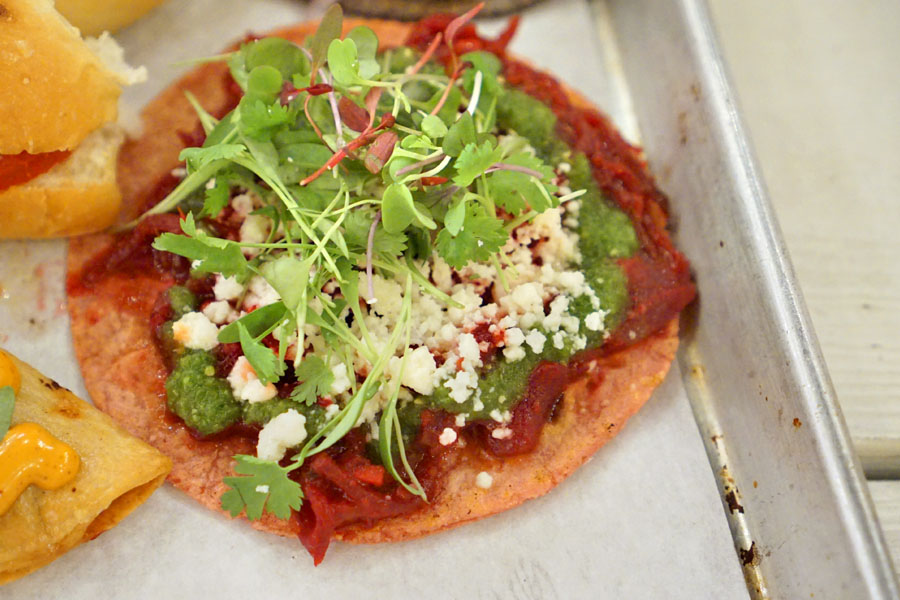 Tinga Betabel [$4.00]
| Beets, onion, chile morita, tomato, avocado salsa, cilantro
Our second round of food ended up being comped by the Chef, since he felt bad about closing the restaurant unexpectedly last week after we drove all the way out. We started with a
tinga
-esque presentation of beet, which I imagine must be Carrasco's requisite vegetarian dish. Fortunately the sweetness of the
betabel
was subdued, and matched especially well with the cheese and cilantro. Also key here was the tortilla, which also functioned as a crucial contrast.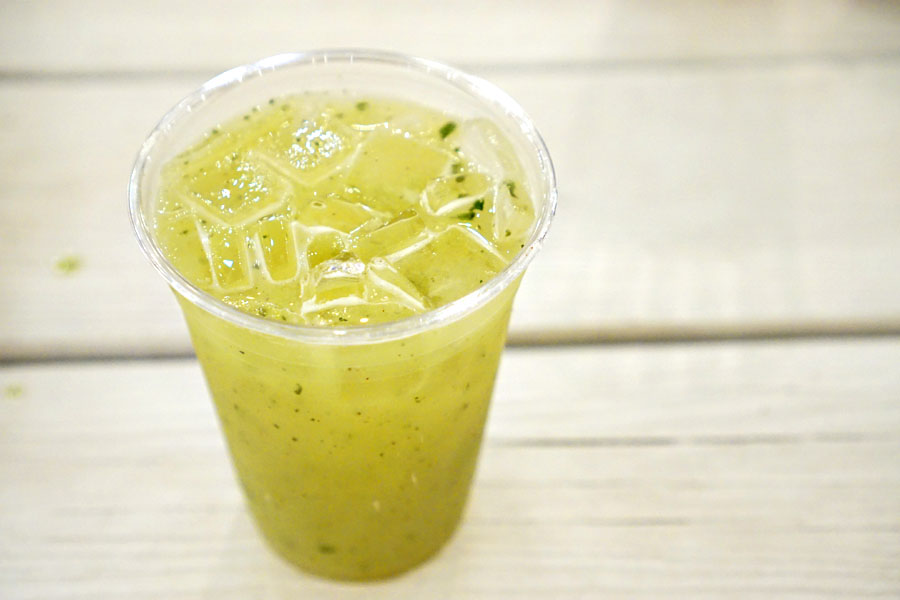 Bee's
Fresh punch of the day [$2]
featured kiwi and mint. It was a breezy, refreshing drink, with lots of the advertised mint but not enough kiwi.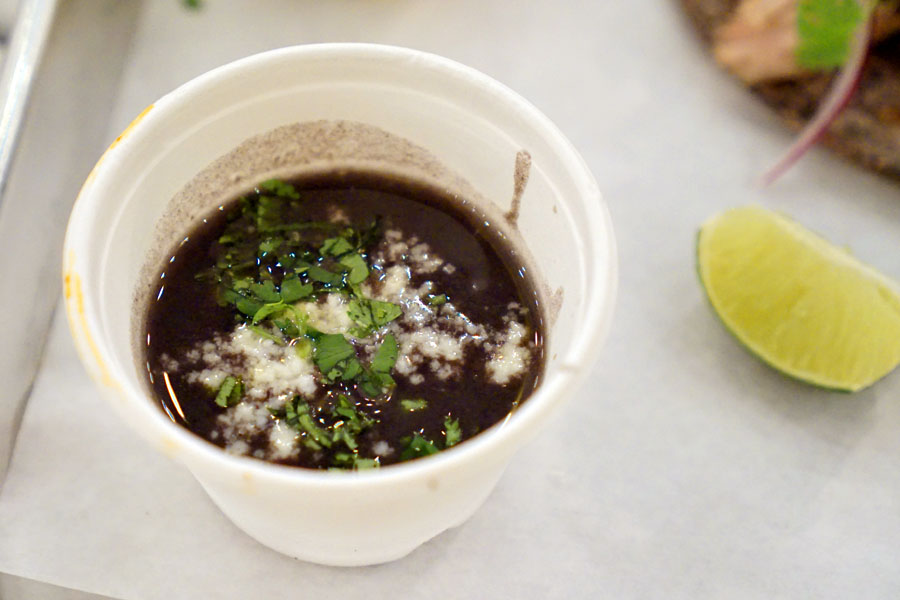 The tacos also came with a complimentary side of black beans, which were brightened up nicely by the chopped cilantro on top.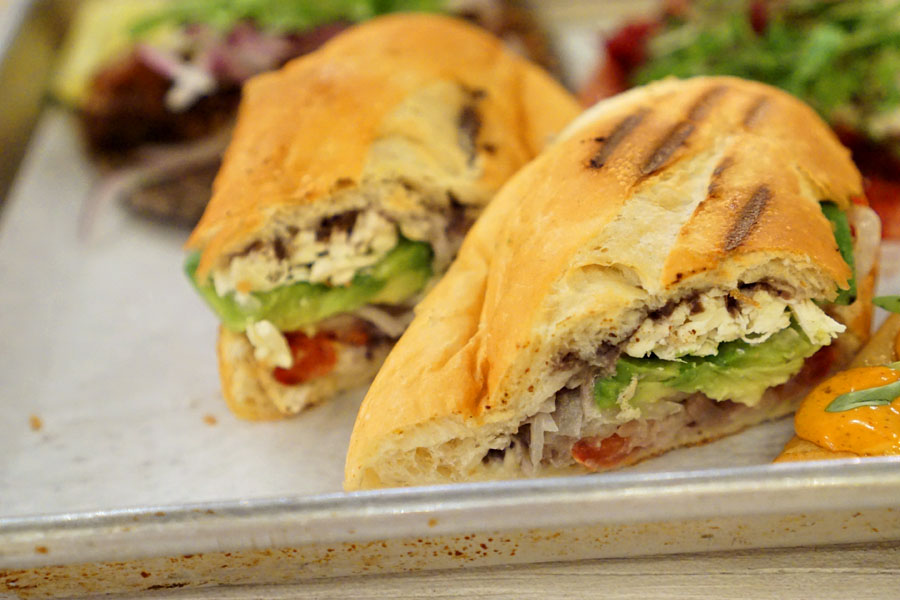 Sanguche Quesillo [$6.00]
| Beans, onion, tomato, chipotle, queso fresco, lime aioli
Our second sandwich was pretty much the same as the one above, but without the additional heft and savoriness of the ham. Still a strong, delicious effort.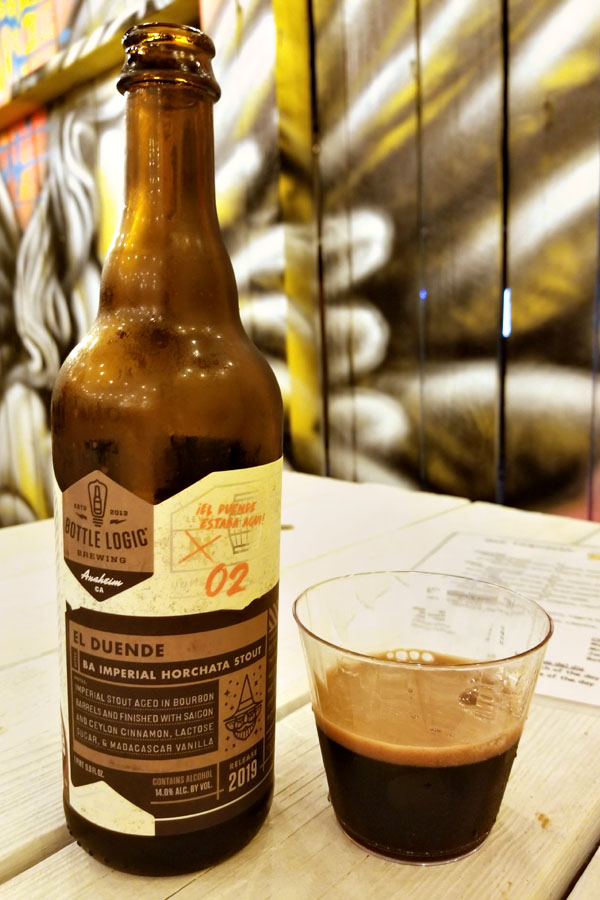 The evening's final beer was the
2019 Bottle Logic El Duende
, an horchata-inspired bourbon barrel-aged imperial stout with Saigon and Ceylon cinnamon, lactose, and Madagascar vanilla. Bouquet of spicy cinnamon layered over a base of roasty chocolate. As for the palate, I found it soft and smooth, with more hot-spicy notes mixed with chocolate, hints of vanilla, and light barrel. A fitting dessert beer.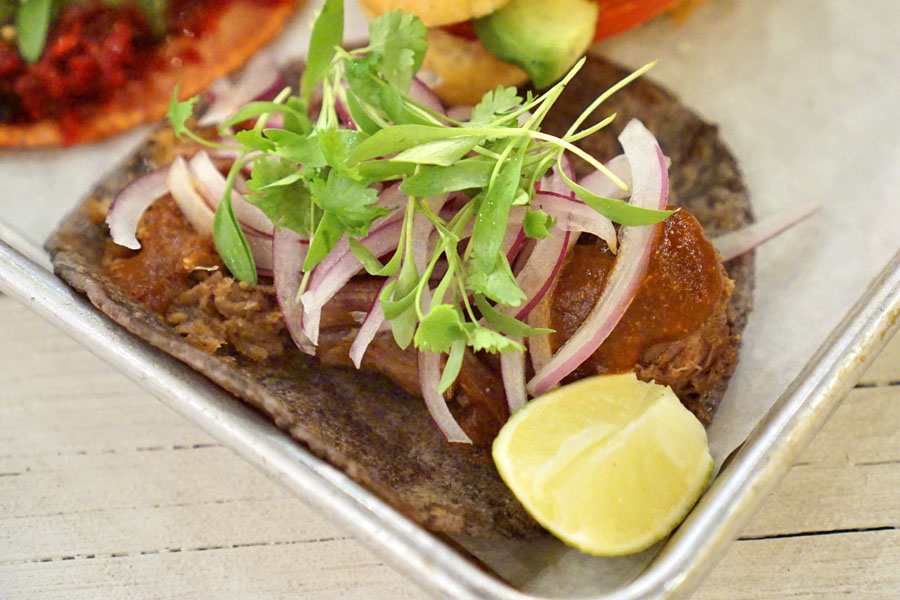 Cordero BBQ [$4.00]
| Shredded lamb, beans, dried chipotle sauce, lamb broth
A barbacoa-inspired preparation of lamb displayed a wonderful spice and depth, and meshed beautifully with the beans while onions provided a touch of levity. Interestingly, the taco also came with a shot of hearty, homey lamb broth.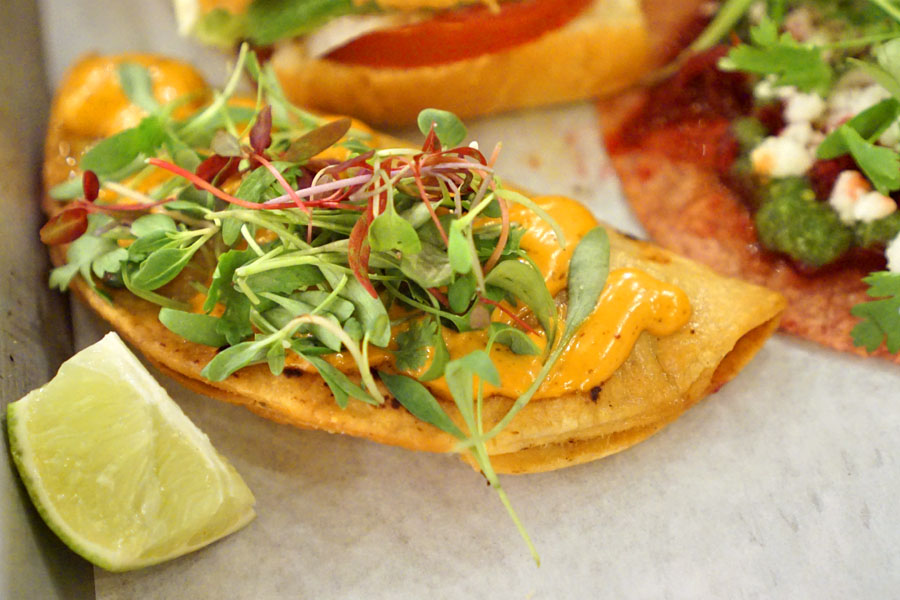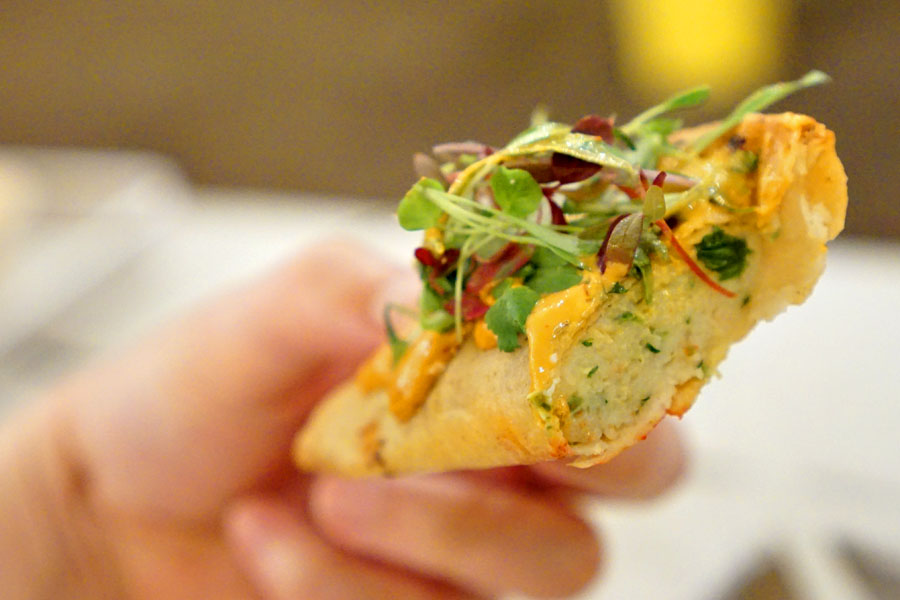 Media Luna [$6.00]
| Crispy taco, Shrimp, scallops, morita aioli, herbs, shrimp consomme
The meal ended with another favorite of mine. The taco really did a wonderful job conveying the sweetness and brine of the seafood, and I loved how well that played with the dish's herbs and smoky heat. Its sheer crunchiness was a joy, too. And if that wasn't enough, the taco also came with a small cup of super intense, spicy shrimp consommé.
Not only was our meal enjoyable, it showed a lot of promise as well. Carrasco's wide-ranging skills and experiences are evident in the food, which is rooted in Mexican culinary tradition, but also incorporates unexpected elements. I'm excited to see what's to come, and there's a lot. He hopes to expand the menu with more unconventional offerings such as
tacos árabes
from Puebla, and wants to add dessert in the form of housemade churros and ice cream. He's even thinking about implementing an all-you-can-eat "Taco Tuesday" offering as well. However, that all pales in comparison with the Chef's "taco omakase," a five-course, reservations-required degustation held in a special area of the restaurant near the kitchen. Think tacos with bone marrow,
chapulines
,
epazote
, even a combination of camembert/honey/guava. That experience commenced on September 10th, so I'll definitely plan to be back for it.