Sweets Raku (Las Vegas, NV)
Raku Sweets
5040 Spring Mountain Rd, Las Vegas, NV 89146
702.290.7181
www.raku-sweets.com
Mon 08/26/2019, 11:00p-12:00a

After a pretty stellar sushi meal at
Kabuto
, I went next door to Sweets Raku, a dessert-focused offshoot of Mitsuo Endo's game-changing
Raku
, which is located on the other end of the same Chinatown strip mall. The spot soft-opened at the end of July 2013, and running the kitchen here is pâtissière Mio Ogasawara, who hails from Japan's Ehime Prefecture. After finishing confectionery school in 1999, she worked as a pastry chef throughout Japan before moving to the US in 2013 at Endo's behest to open this place.

Rendered almost completely in shades of white, the space is centered around a 13-seater dessert bar that affords diners a view of the pastry action.








The menu features desserts of various persuasions (some rather whimsical), and there's even a savory menu for lunch (weekends only I believe). Beverage-wise, you'll find a surprisingly lengthy wine list (focused on sweeter selections, natch), along with a couple ho-hum beers and selections of tea and coffee.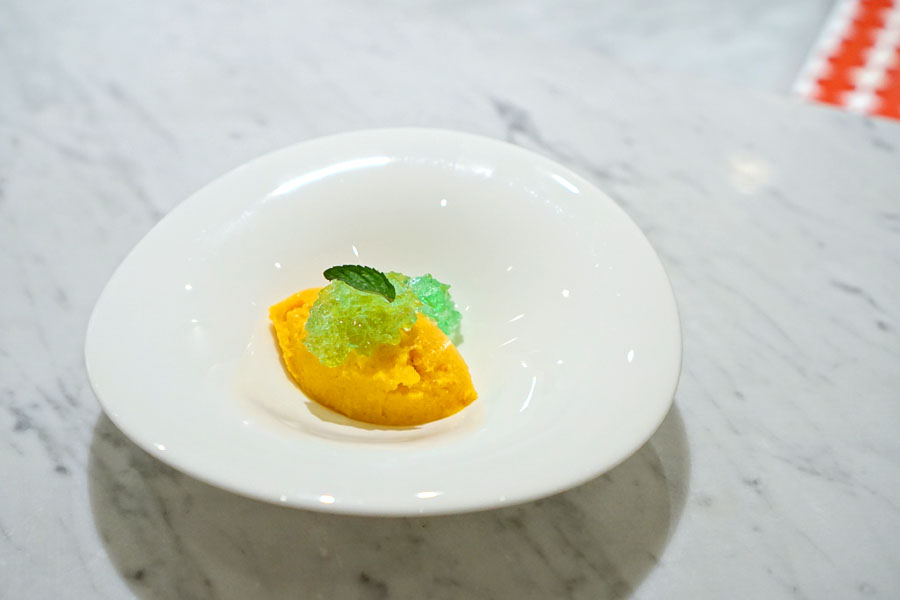 Seasonal Sorbet - Mango [$5.00]
There were two sorbet options this evening--mango and raspberry--and I went with the former on account of my server's recommendation. I think he was right. I loved the super intense, juicy, true-to-life flavors of mango here, and how that all worked with the cool edge of the accompanying mint.
I requested a wine pairing with dessert, and was provided a small glass of the
Ice wine Inniskillin Cabernet Franc, Canada [$7]
. The nose here was as expected, displaying a sugary mix of raisin and cassis, cut by a touch of spicy tartness. Taste-wise, I got more rich, almost candied fruit, contrasted by an omnipresent acidity and sweet spice.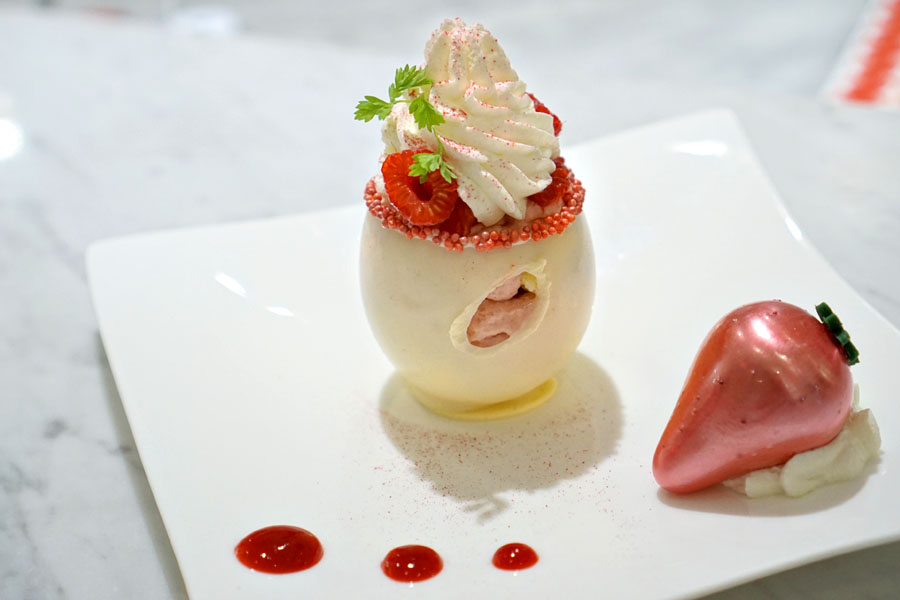 Ichigo [$20.00]
| White Chocolate Cup With Pie Crust & Strawberry Mousse Served with Strawberry Candy Filled With Strawberry Sorbet & Condensed Milk Mousse
My first proper dessert was this exquisite composition of strawberry. Starting with the cup, the fruit made perfect sense with its pairing of pie crust, while that lush, buttery white chocolate shell served to fill in the blanks; there were some crispy bits in there for texture, too. As for the "candy," it was fun for sure, and its filling of strawberry sorbet imparted a brightness and levity that was much appreciated. Overall, an eminently balanced, almost subtle dessert.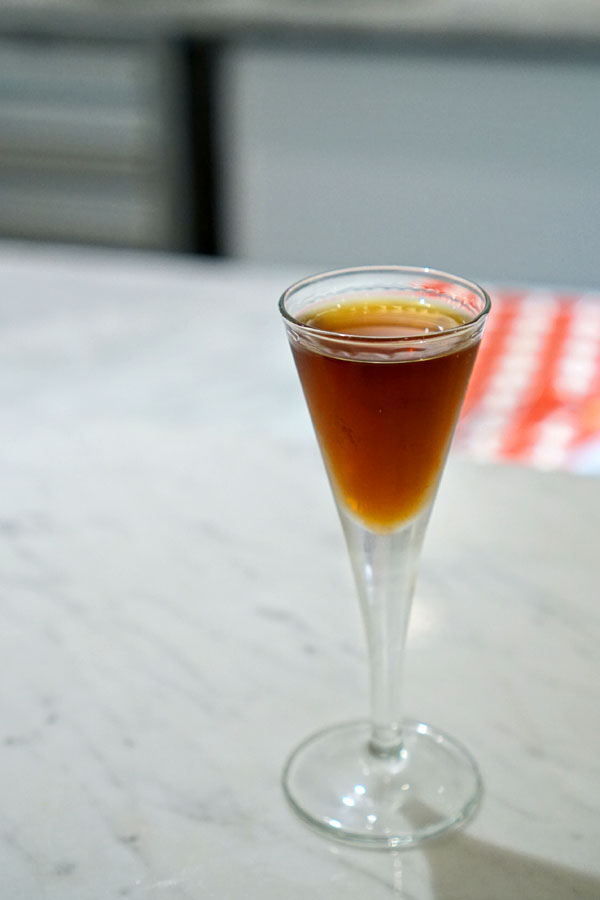 Next to drink was the
Chambers Rutherglen Muscadelle, Napa [$7]
. The wine featured robust aromas of rich, raisin-y grape and molasses. On the palate, I found it somewhat tart, with a pleasant acidity and notes of date cake, caramel, and sweet nutmeat.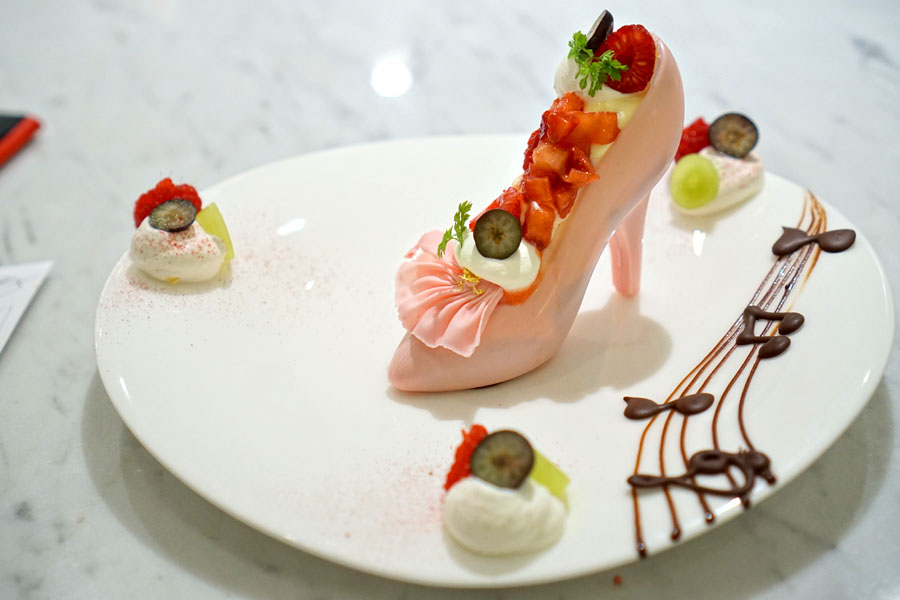 Tango [$20.00]
| White chocolate high heel With mascarpone & Illy Coffee Mousse, Chocolate Cookie inside Served with Fresh Fruits
I was pretty smitten by the fanciful plating and presentation here. Nonetheless, the dessert was tasty too. Delectable flavors of coffee and nuts meshed beautifully with creamy mascarpone and the acidity of berry fruit, all while the chocolate shoe actually served to temper the dish.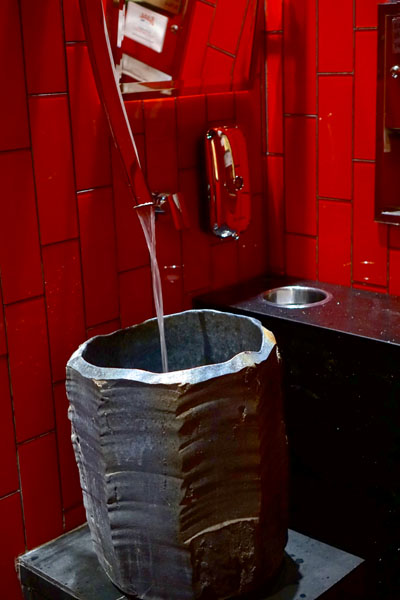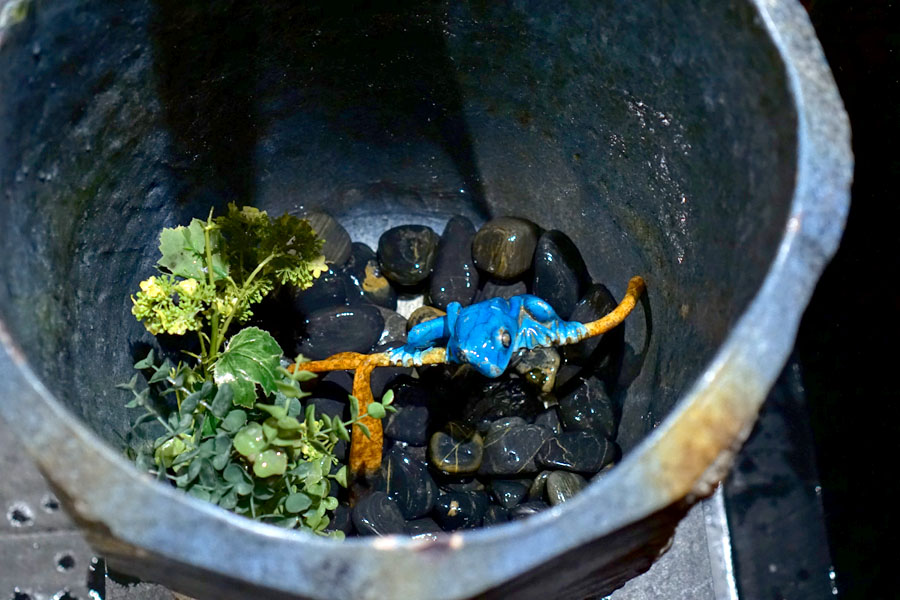 I normally don't photograph restrooms, but this place probably has the most unusual sink I'd ever encountered.
I wish I could've tried more of the desserts here, but I was limited by both time and stomach capacity. That being said, I was quite happy with what I was able to sample. Ogasawara seems to have a knack for putting her own spin on what are some very European-inspired desserts, resulting in some really nuanced, balanced plates that show a certain restraint. If you're dining at Kabuto or any of the other places nearby, Sweets Raku would make for a lovely end to your evening.