é by José Andrés (Las Vegas, NV) [2]
é by José Andrés at The Cosmopolitan
3708 Las Vegas Blvd S, Las Vegas, NV 89109
702.698.7950
www.ebyjoseandres.com
Tue 08/27/2019, 05:30p-08:10p
I remember hearing about
é by José Andrés
back in late 2010, getting excited about the news, and then immediately making a reservation and booking travel. It turns out that I was actually one of the first to dine at the hidden nine-seater restaurant, and I loved my experience, deeming it "easily one of the top dining destinations in the City." That was over eight years ago, so on my latest trip to Vegas, I made it a point to return. Fortunately, it's a lot easier to dine here now. In place of the cryptic email system they had before, as of April 2017 all you have to do is purchase tickets on
Tock
, making for a substantially less stressful process. As expected, there's been significant turnover at the restaurant, and the kitchen is now run by Head Chef Eric Suniga.
About the Chef
: Eric Joseph Suniga was born in January 1978, and grew up in Chico, CA, where he attended Pleasant Valley High School. Early on in his culinary career, he worked at Thomas Keller's seminal
Bouchon
in Yountville, as well as the bistro's outpost at The Venetian in Las Vegas (where he met his future wife, Jennifer Garcia). In 2006, Suniga moved to Portland and found employment at New American spot Ten 01; he stayed in the City for four years, but left in March 2010. From there, he returned to Vegas to work for
Michael Mina
's eponymous Mina Group, a position that involved quite a bit of travel to the company's various properties (including a several month stint at
Stonehill Tavern
). In late 2010, he was installed at SEABLUE at the MGM Grand, and by February 2011, was made Executive Chef there. After the place shuttered in August 2012, Suniga opened Culinary Dropout at the Hard Rock Hotel, staying there for just under a year. In September 2013, he joined
José Andrés
' ThinkFoodGroup and became Head Chef at China Poblano at The Cosmo. Following, he headed up Ku Noodle at the SLS, which opened in 2014 but closed in April 2016. This was followed by his current position here at é by José Andrés, which he's had since at least September 2015.
Assisting Suniga in the kitchen this evening were Javier, Kyle, Joel, Danny, and Isidro.

The restaurant is located on the third floor of the Cosmo's Boulevard Tower, in the back of Jaleo. Above we see the current appearance of the space, which hasn't changed too much from how it looked when the place opened. However, it does seem that the bar has been updated from its original dark surface to its current shiny, metallic state, and I believe the lighting has been altered as well.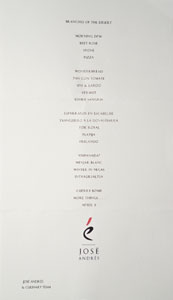 Here we have the night's menu, which is presented to diners at the
end
of the meal. Pricing is $275 a head (compared to a mere $150pp when the place opened), plus $55 for service and $22.69 for tax, making for a total base cost of $352.69. Beverage pairings are offered at $150 (Spanish), $300 (José's), and $500 (Global) a person, though you can certainly order à la carte (see below). Click for a larger version.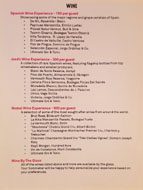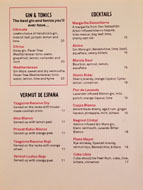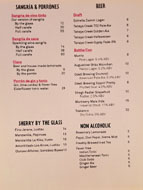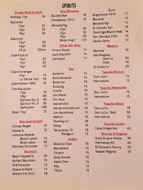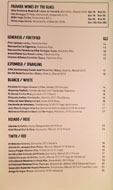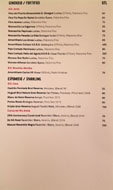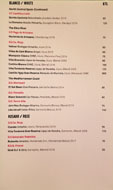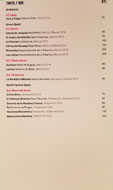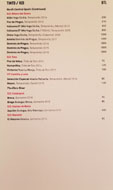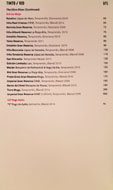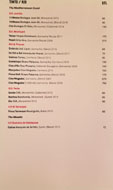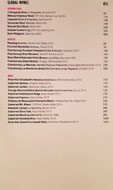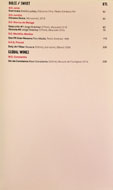 There's a wide variety of drink options available. é's beverage menu lists cocktails, sangria, beer, and spirits, and you also have access to Jaleo's entire Spanish-focused wine list. Click for larger versions.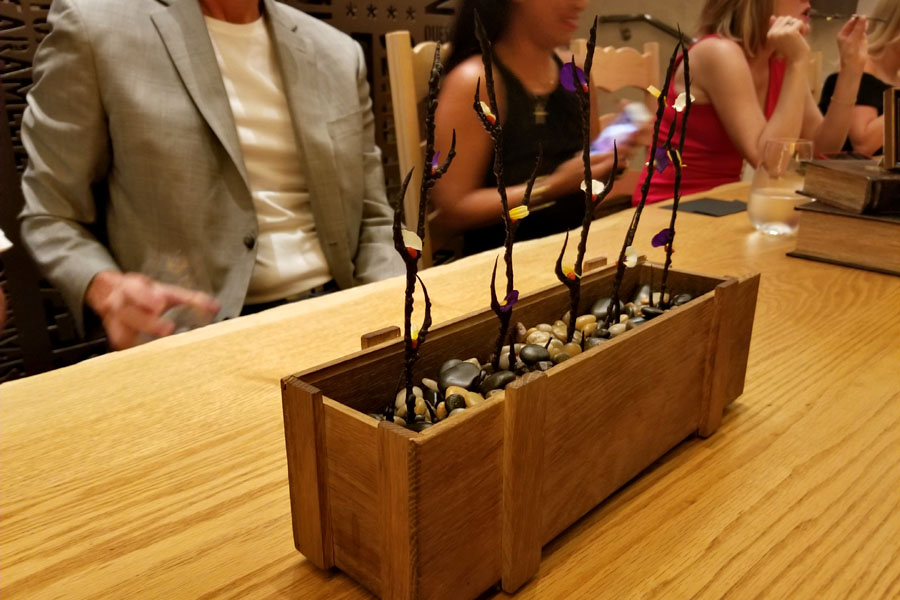 1: Branches of the Desert
Before venturing into the restaurant itself, diners were corralled into an area just outside of Jaleo (the "Terrace"). Here, we had an opportunity to mix and mingle for a bit before being served these "branches" of liquefied Kalamata, replete with "leaves" of edible flowers and piquillo pepper purée. The salty nature of the olive was pretty subdued at first, but grew and lingered, tempered just a tad by hints of floral.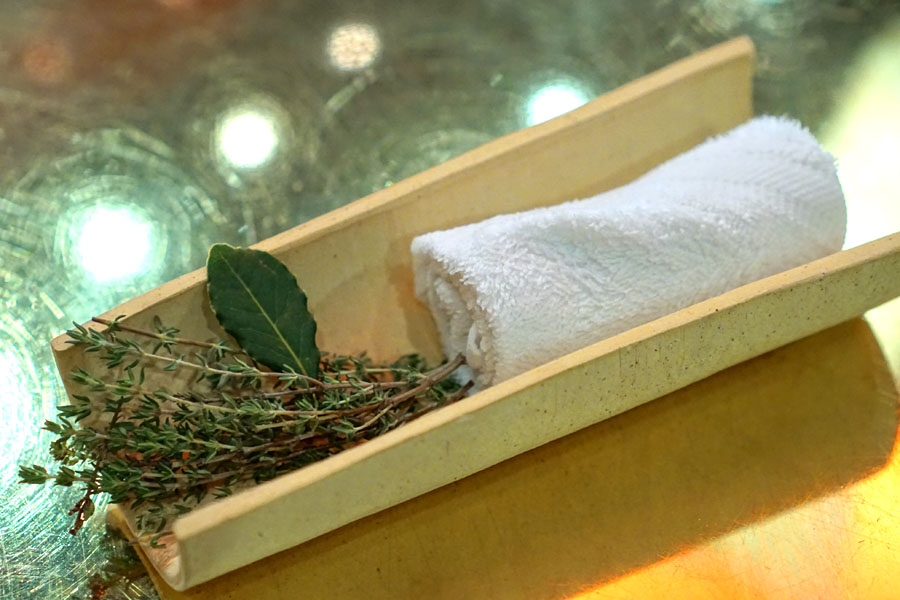 Not too long after, Chef Suniga came out and introduced himself, then took us inside to be seated. After sitting down, we were quickly presented with these warm towels, scented with Mediterranean herbs.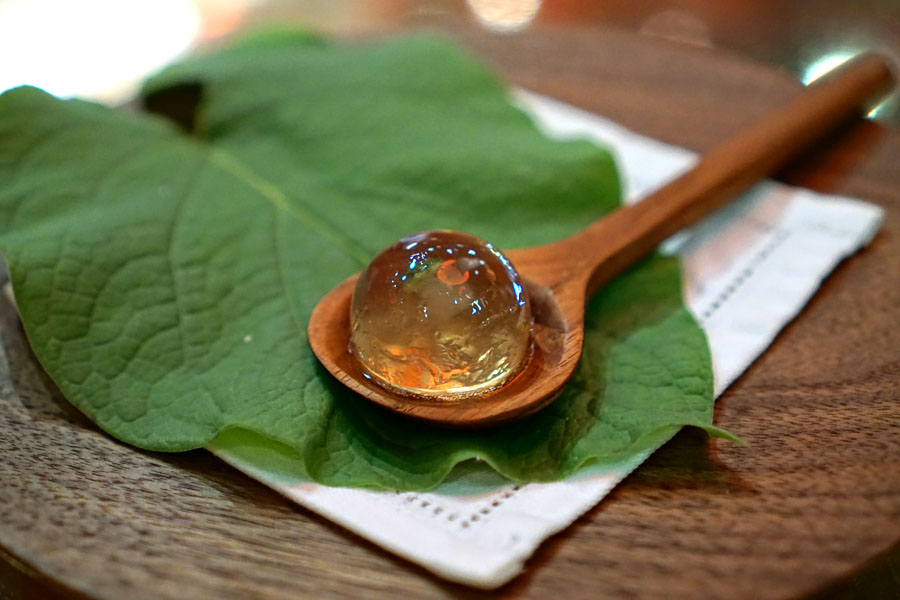 2: Morning Dew
We then enjoyed a "welcome cocktail" of sorts in the form of these cava sangria spheres, with bits of melon and mint leaf floating around. Due to the spherifications' impossibly delicate skins, they had a wonderful pop to 'em, and conveyed a plethora of zesty, sharp, bitter, boozy notes that did a pretty admirable job imitating the classic beverage.
To drink, I opted for a bottle of wine (which I forgot to photograph) to start: the
Blanc de Noirs Reserva, Avinyó, Pinot Noir 2012 [$80]
. On the nose there was a huge amount of juicy apple, along with tart plum and a touch of oxidation--it was almost reminiscent of Mott's apple juice. The palate was pleasantly toasty, with a nice depth to it, and had rich notes of berry fruit coming in later. Delish.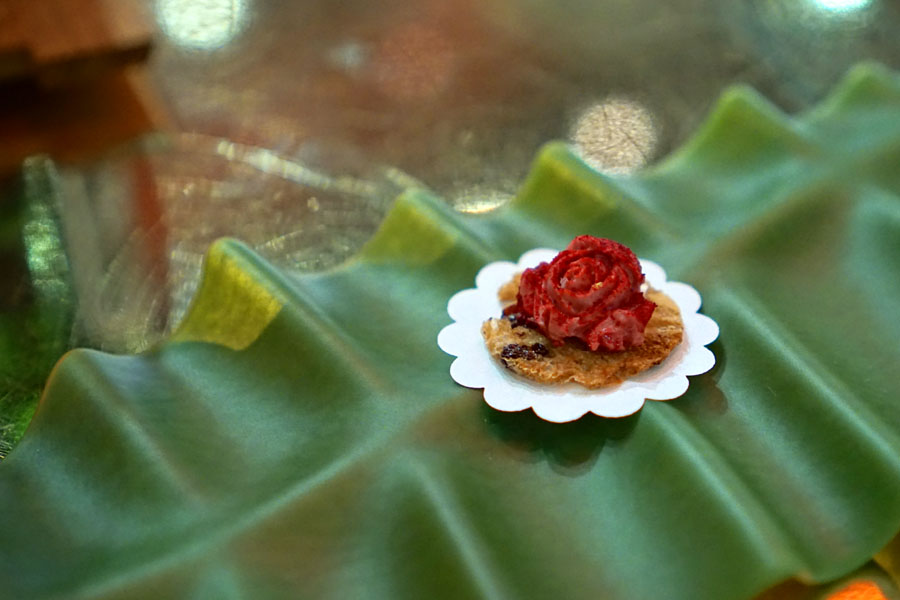 3: Beet Rose
Next up was a selection of three cheeses from Spain. Up first was beet and
queso manchego
, on a walnut-raisin cracker. Here, the earthy, sugary nature of beet was matched beautifully by the butteriness of the cheese, and I loved the sheer crunchiness of the cracker.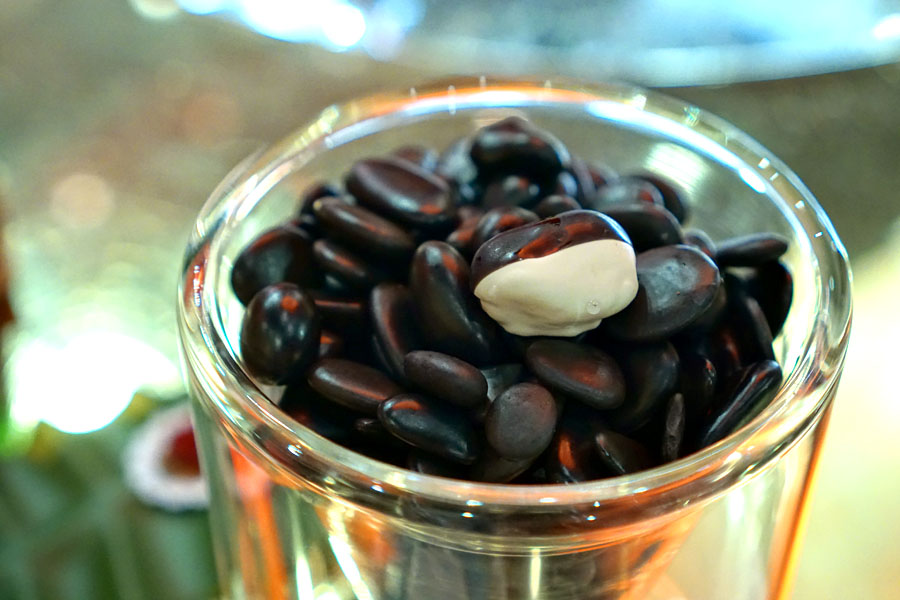 4: Stone
This was a nugget of
queso Idiazábal
, covered with
jamón ibérico
fat and rosemary. I found this soft, creamy, mild, and a bit nondescript actually; I wanted to taste more from the rosemary.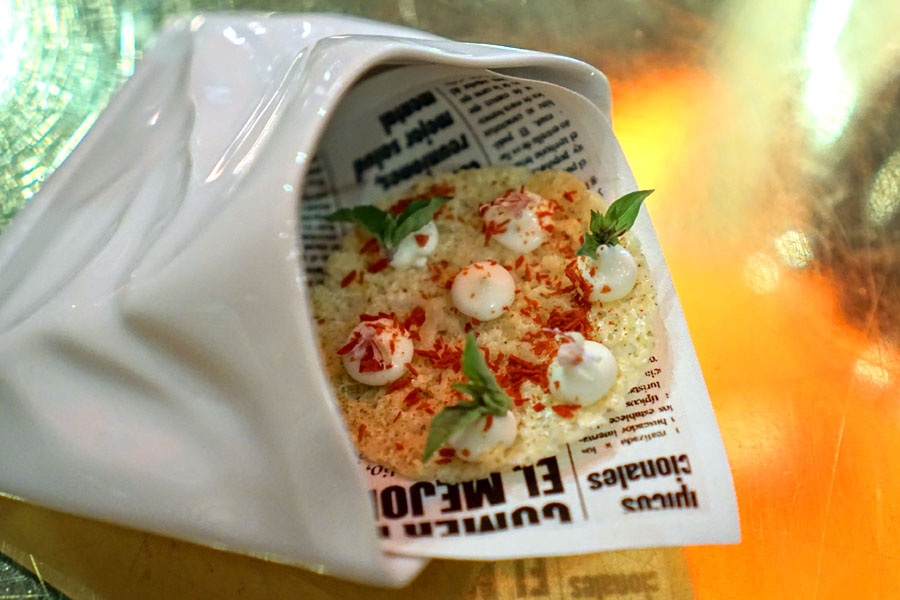 5: Pizza
The standout of the threesome was the miniature "pizza," which combined sheep's milk cheese (I don't recall the name unfortunately) with basil and tomato. I was enamored with the savory, cheesy nature of the bite, and how that worked with the herbs and slight tanginess from the tomato. Excellent crunch, too.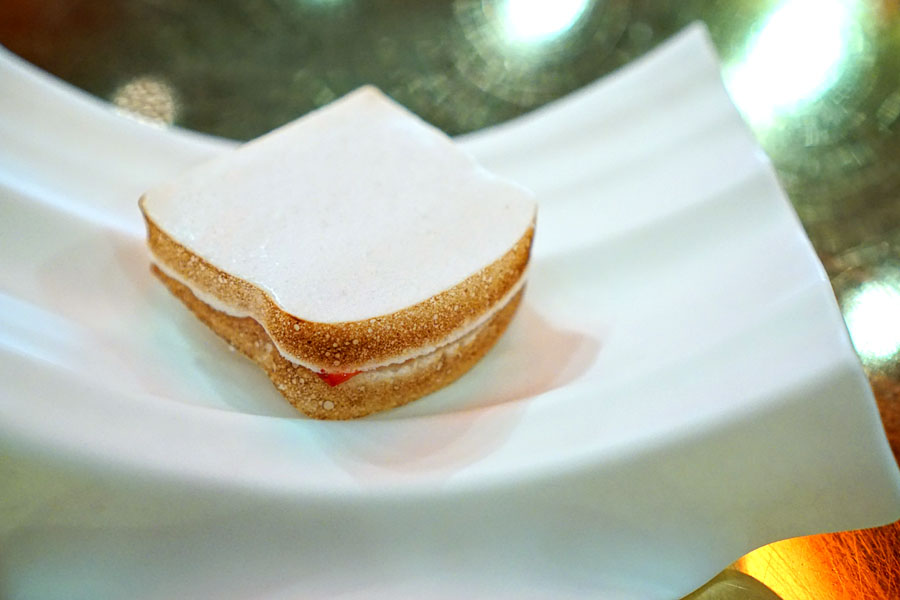 6: Wonderbread
A favorite of mine was this foie gras, strawberry, and apple "sandwich," encased in meringue "bread." I absolutely adored the amazingly airy, ethereal consistency of the meringue, and how it virtually dissolved in the mouth, bringing forth a jammy sweetness cut by the richness of the liver. Like a rarified PB&J.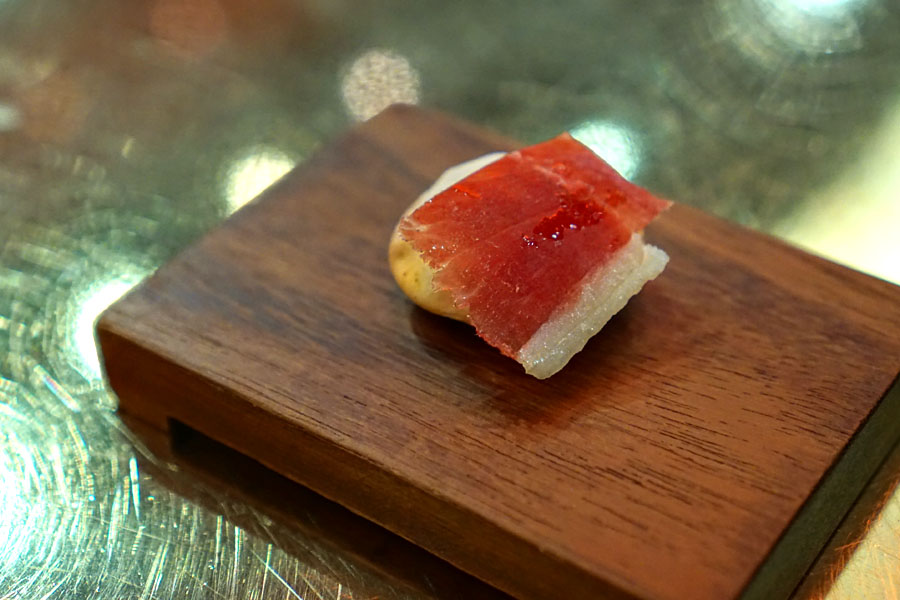 7: Pan con Tomate
This was another superb one-biter: air bread filled with a tomato-olive oil espuma, topped with
jamón ibérico de bellota
. I loved the feathery nature of the bread, as well as the manner in which it released that cool, lush espuma, which really captured the essence of the traditional dish. If that wasn't enough, the ham provided a much-appreciated hit of salt.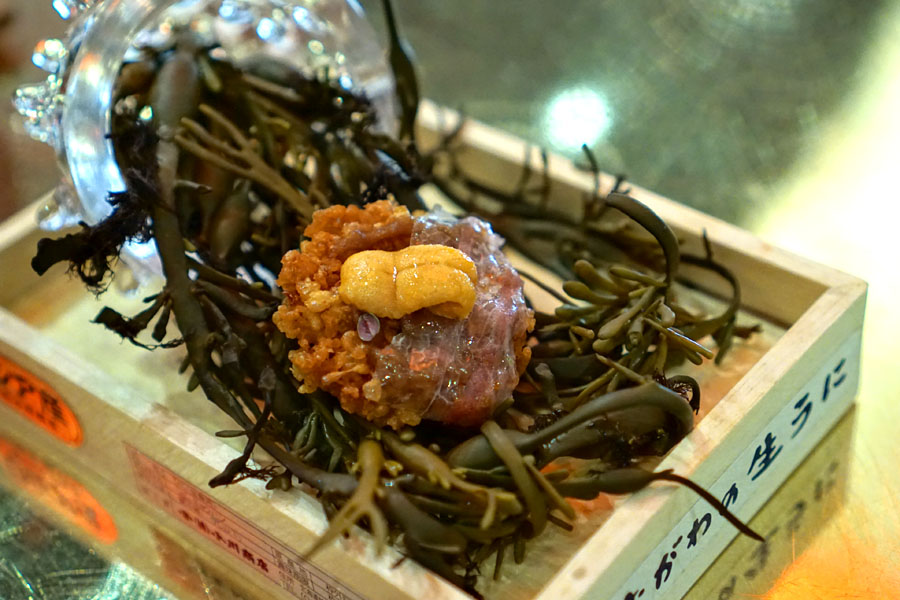 8: Uni & Lardo
Here we had a sea urchin cracker with
ibérico
lardo and fresh Hokkaido sea urchin. The cracker itself was fun, imbued with just a whisper of the sweet salinity of uni. This was of course boosted substantially by the actual uni, while the fatback gave the bite another level of luxuriousness.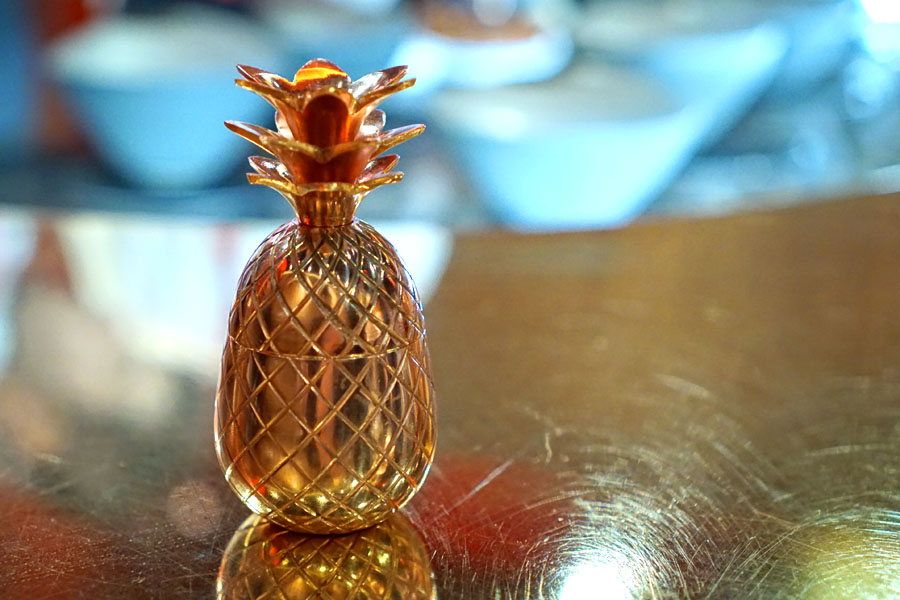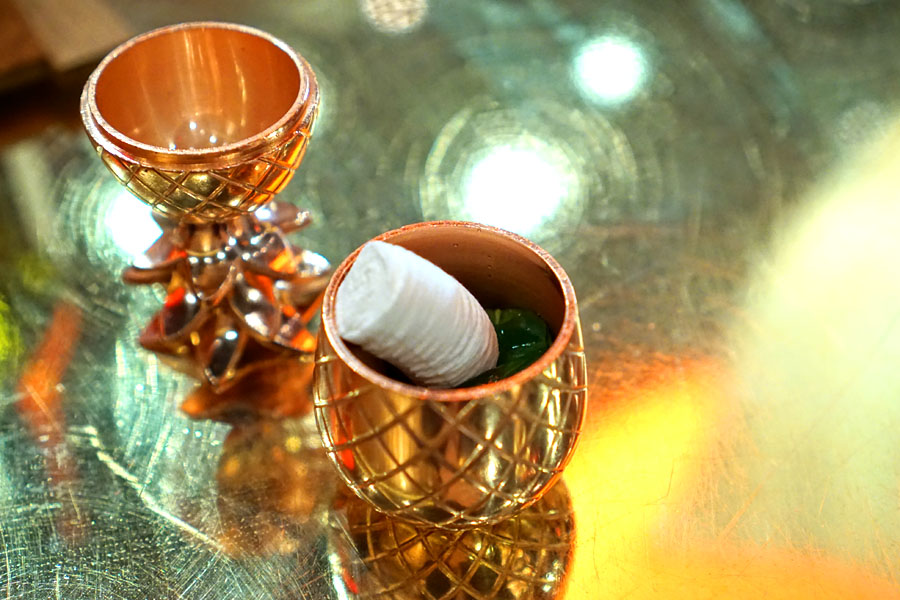 Contained in one of those golden pineapple cups (which are all the rage these days) was a small towel with which to wipe our fingers. Said towel was also perfumed with kaffir lime leaf, so it smelled fantastic.
9: Vermut
An
escabeche
preparation of mussel was accompanied by citrus and liquid black olives. What really worked here was how well the brine of the mussels meshed with the sweet-tart, acidic nature of its marinade, while the olives imparted pricks of piquancy to the mix.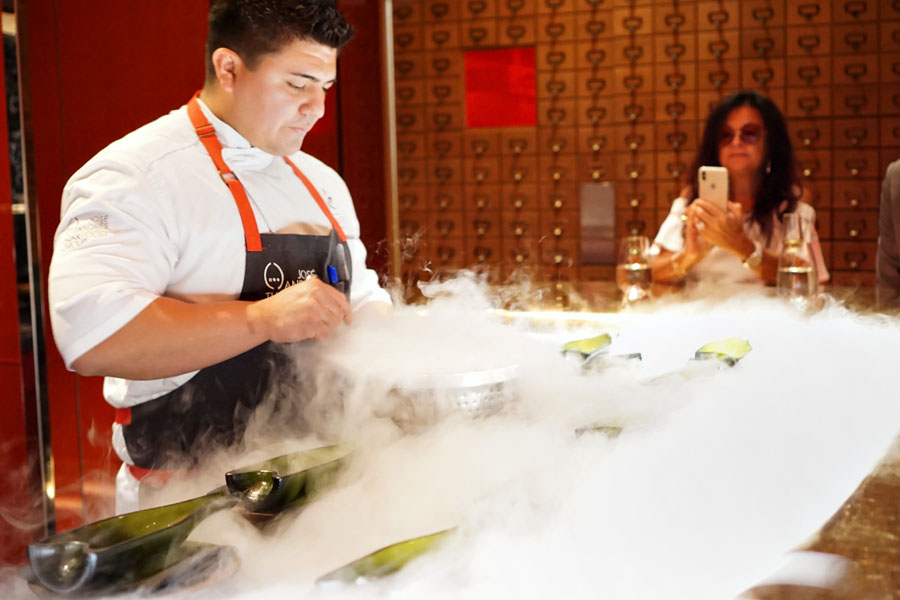 That's a whole lotta smoke for our next course.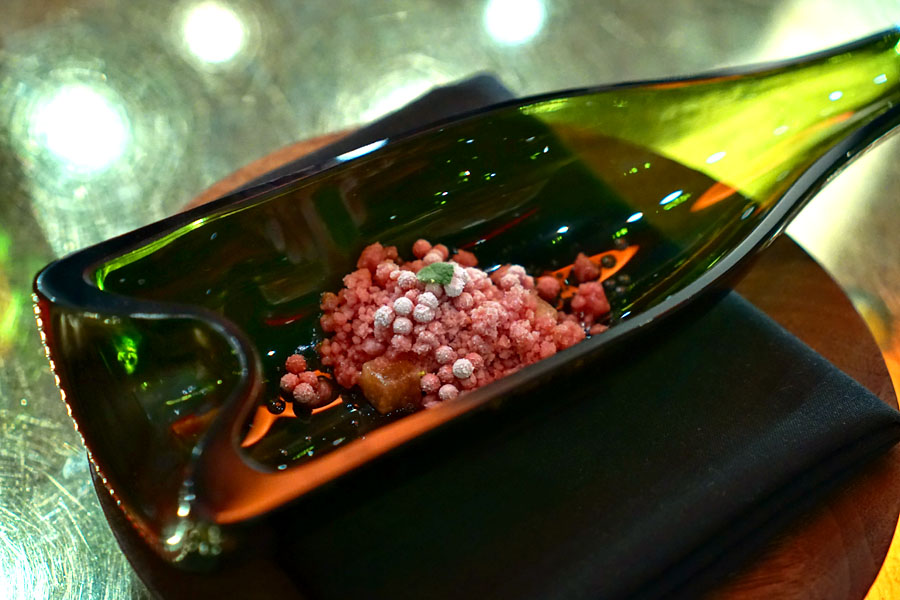 10: Edible Sangria
Serving as a sweet interlude was a liquid nitrogen'd red sangria granita with watermelon, cherry spheres, and pineapple mint. It really did taste like the classic libation, and I was pretty smitten with the botanical, bitter, herby flavors here, and how they interacted with the fruit.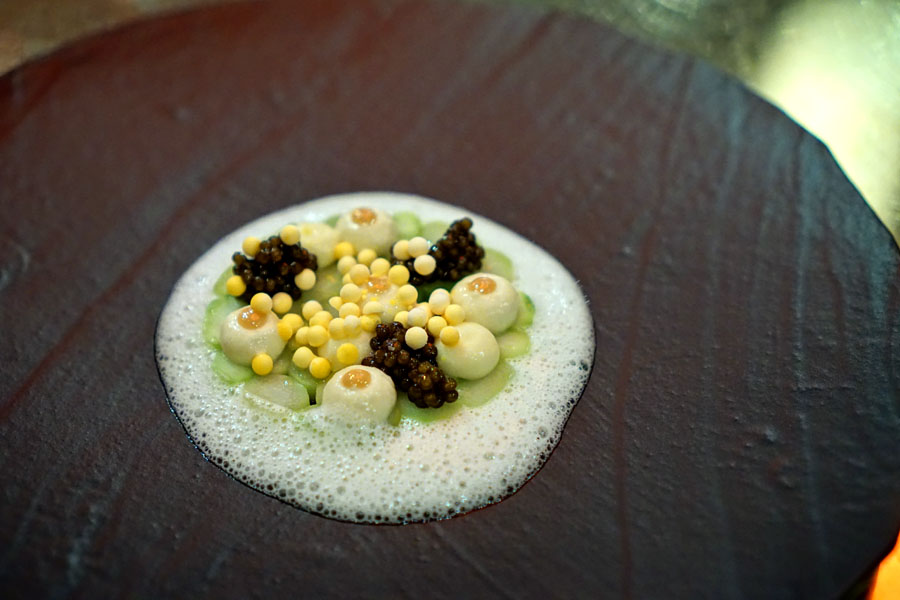 11: Esparragos en Escabeche
Another
escabeche
-inspired course married grated asparagus with Royal Ossetra caviar and egg yolk pearls. I'm a big fan of asparagus, and this was definitely one of the most ambitious preparations I've encountered. The veggie's bitterness and crunch were perfect, and paired gorgeously with the unabashed saltiness of the caviar, while the creaminess of the egg moderated everything.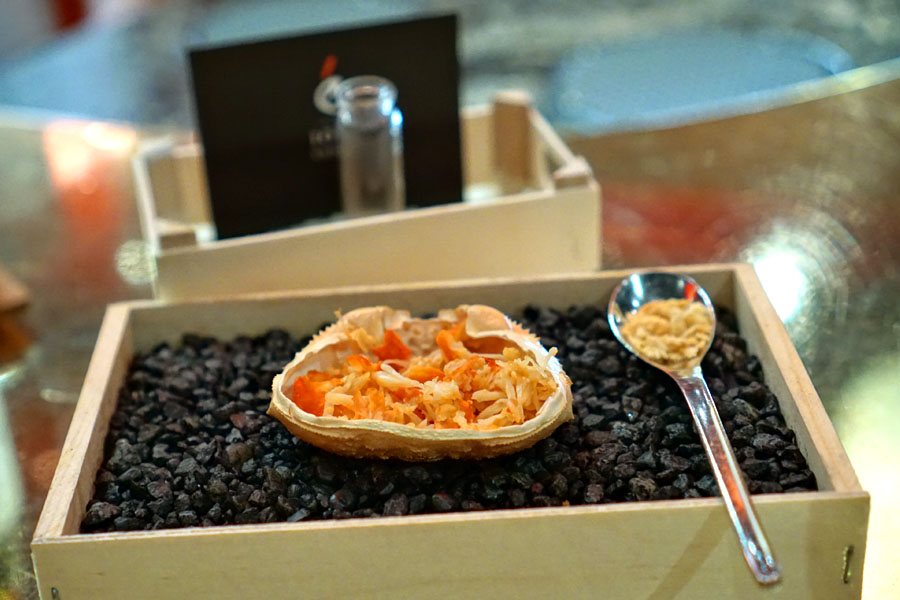 12: Txangurro a la Donostiarra
A rejiggered version of a Basque staple combined king crab with sofrito, along with a vial of crab broth (made from deep-fried, pulverized shells) and a spoon of breadcrumbs. We were instructed to mix it all together, and the end result displayed a fantastic depth and brine and sweetness, while the crumbs provided a wonderful contrast in textures. Yum.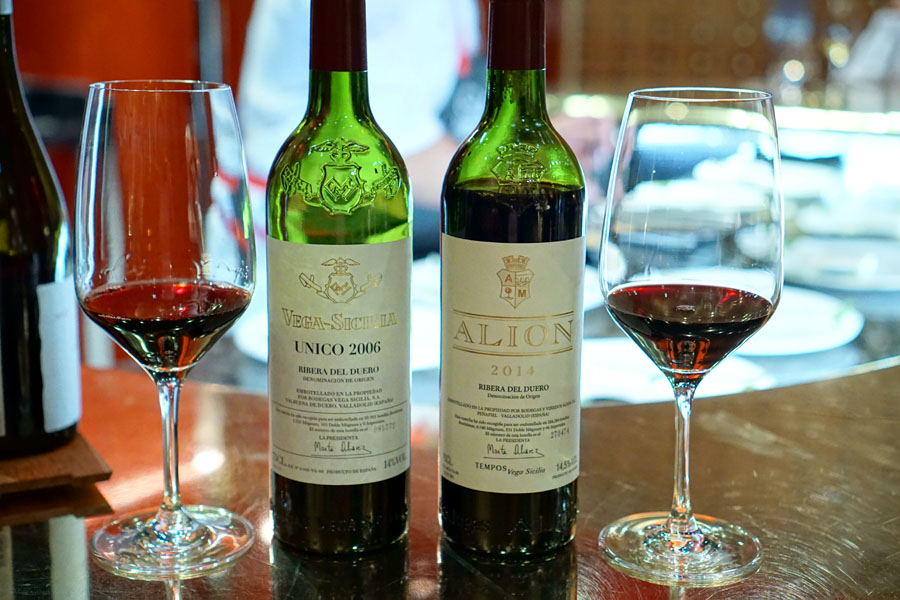 With the sparkling wine drunk up, I asked Robert (the sommelier) to pour a couple glasses of red. First up was the
Alión, Vega Sicilia, Tempranillo 2014 [$25]
, which showed off big, almost jammy aromas of berry fruit, laced with a bit of spice box. On the palate, I found it surprisingly velvety, with unexpectedly subdued tannins, along with plenty more dark fruit, violet, wood, and spice, especially on the finish. The wine was drinking quite well despite its young age. I definitely wanted to try a glass of the Alión's bigger brother as well, the
Único, Vega Sicilia, Tempranillo, (Cabernet) 2006 [$125]
, arguably the most famed Spanish wine of them all. The nose on this one was more restrained in terms of fruit; rather the main thrusts here were earth, mineral, and lots of dry herb. The palate was decidedly more tannic, and displayed more peppery spice, more herbaceous notes, some mushroom-y funk, and a healthy amount of delectable strawberry. This seems like a wine that will just last and last.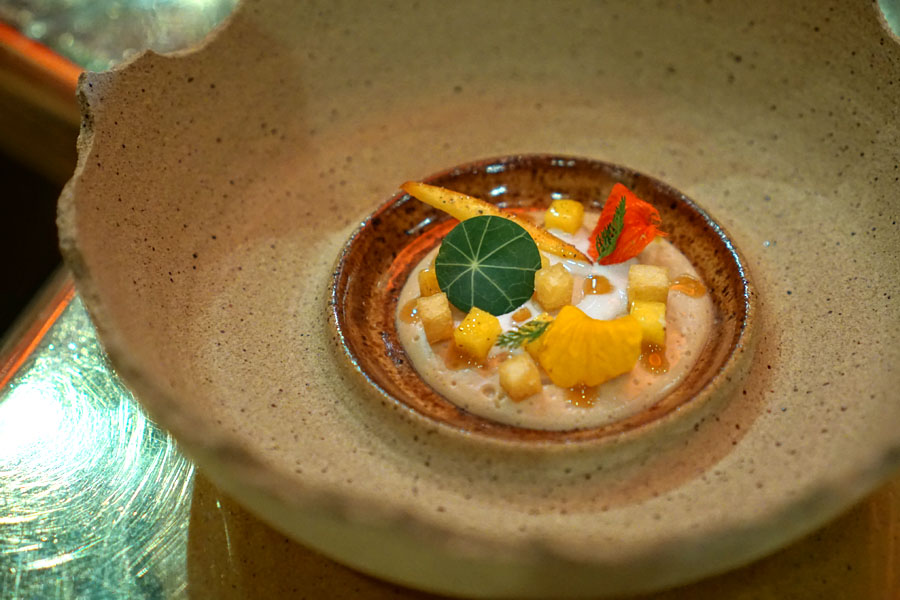 13: Foie Royal
Foie gras was excellent, delivering its refined earthiness in flawless fashion, accompanied by sweet peaches and almonds. My favorite element here, though, was what I believe were fried cubes of potato, which contributed both salt and savor.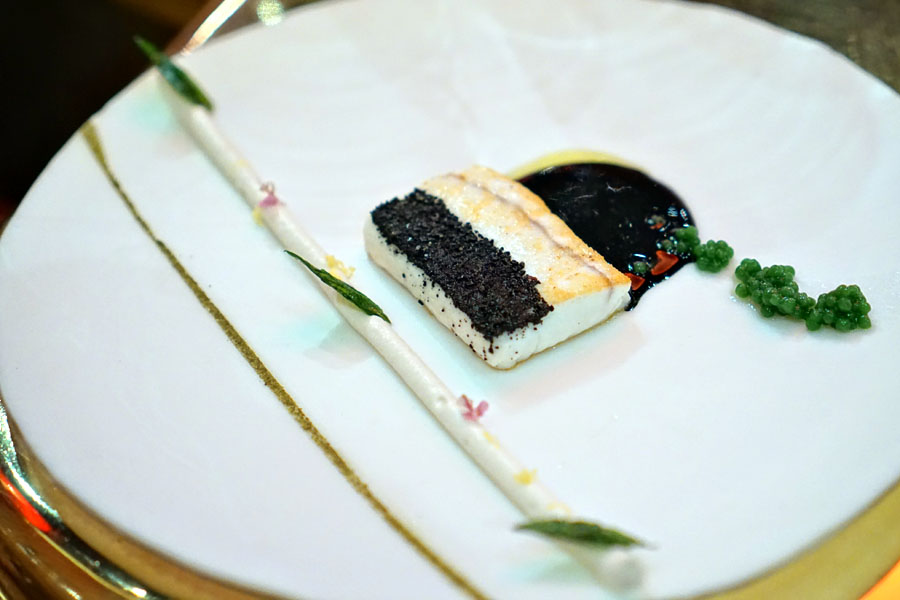 14: Platija
For our fish course, fluke was served with
salsa tinta
and "Mediterranean flavors" of almond and basil. The
platija
ate super juicy, with a particularly full-bodied savoriness that was further enhanced by the salinity of squid ink. It was all fairly intense, so the brightness imparted by the basil was much appreciated.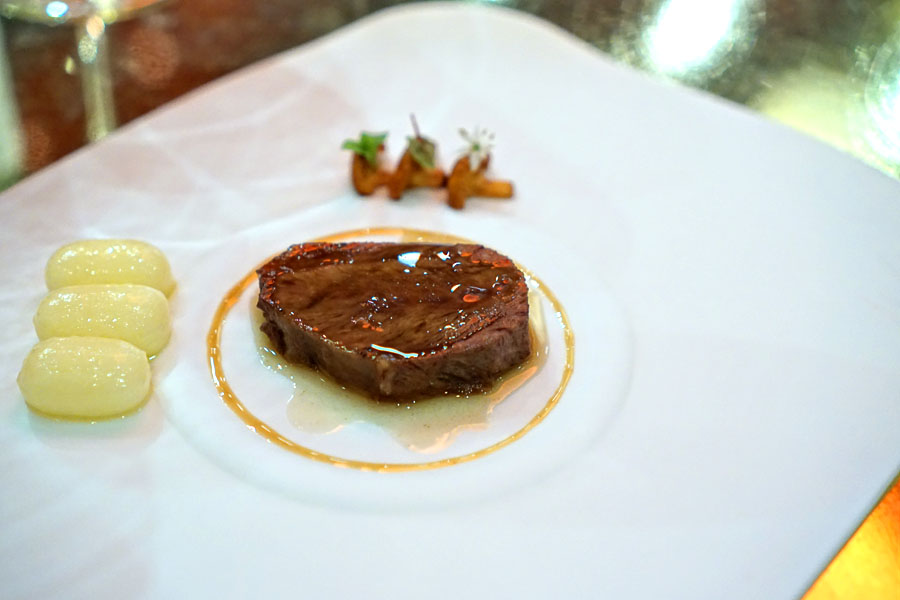 15: Fricando
Our final savory course was this take on Catalonian
fricandó
, a dish of braised beef, made tonight with American wagyu cheek from Nebraska, along with chanterelles. I loved the meat's altogether tender, long-cooked consistency and homey, dark flavors, all perked up by those impossibly light "gnocchi" that just burst in my mouth at the slightest touch.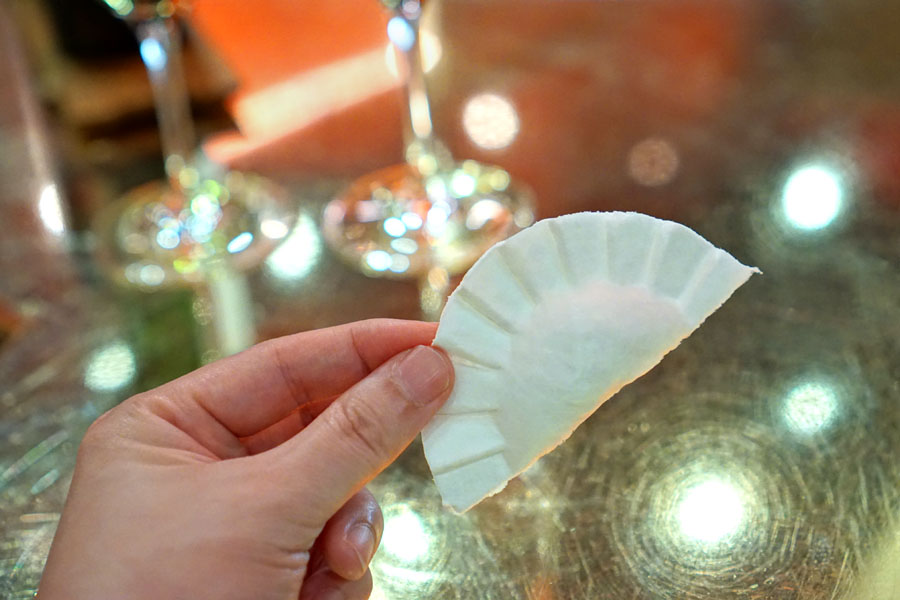 16: "Empanada"
Time for dessert. First was the cotton candy "empanada," stuffed with foie gras and CornNuts (yes, the actual commercial product, which the kitchen subsequently toasted). This was a delight, and I especially enjoyed the sheer sugariness of the cotton candy, and how that linked up with the saltiness and crunch of the corn kernels.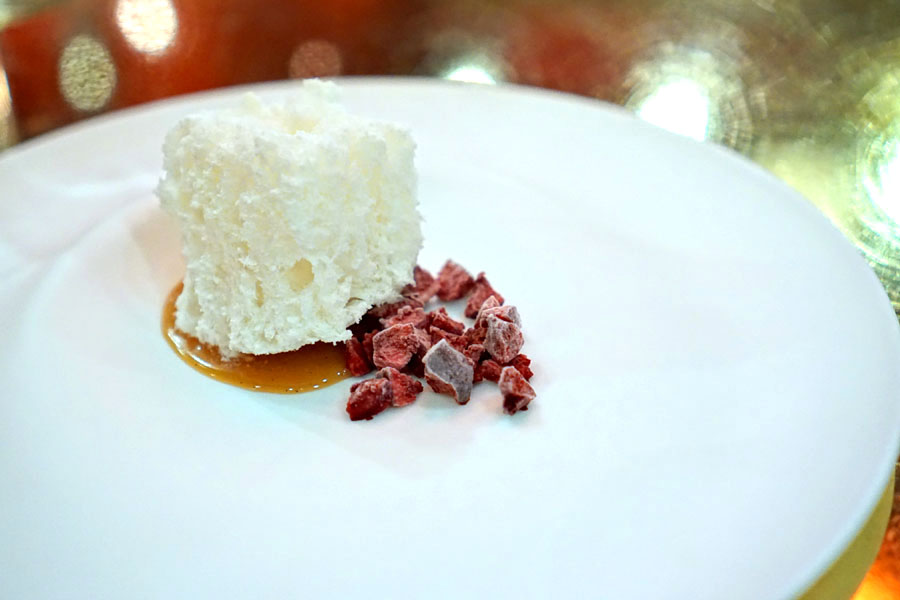 17: Menjar Blanc
Featuring a Marcona almond "cloud," elderflower toffee, and frozen cherries, this riff on
manjar blanco
was my favorite of the desserts. The most interesting thing here was how the cake virtually melted in my mouth, conveying a mix of sweet, nutty flavors in the process. Said flavors just made sense with the tartness of the cherries, and what was also smart was the richness from that toffee. Just make sure to get everything in one bite.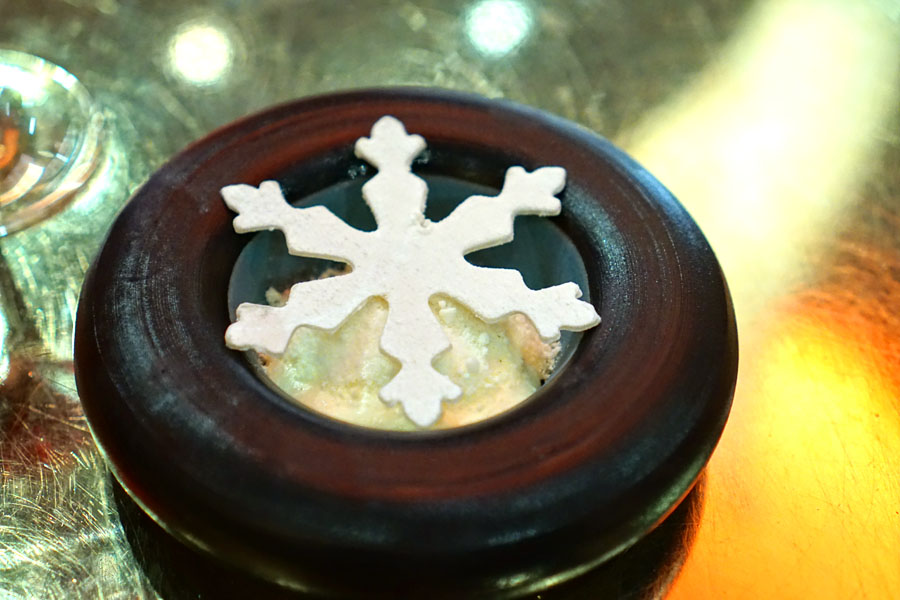 18: Winter in Vegas
Next up was an airy-yet-creamy orange-olive oil sorbet, which was delicious just by itself, but made even better by the crunch of the yogurt snowflake on top.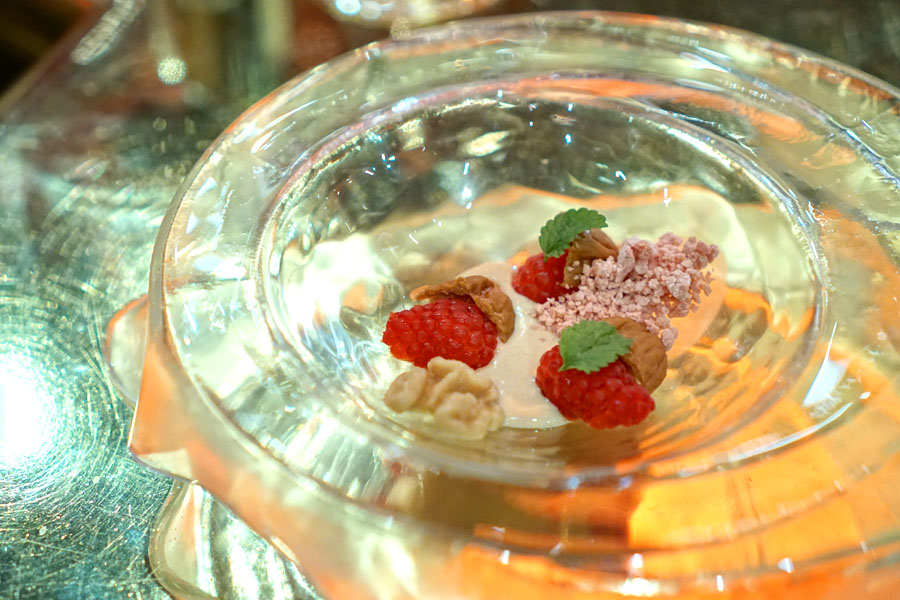 19: Intxaursaltsa
Here was a thoroughly reimagined version of
intxaursaltsa
(a sort of nut-based custard from the Basque region), one incorporating walnut cream and strawberries. The interplay between the nuts and the sweetness in the dish was perfect, and what made this even more fascinating was the almost foie gras-esque richness on the finish.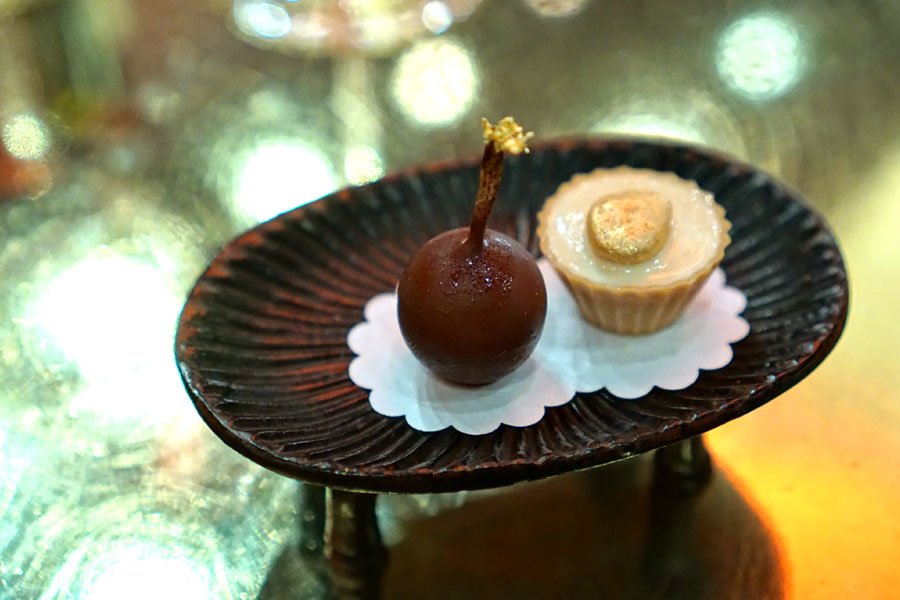 20: Cherry Bomb
The whimsical "cherry bomb" did indeed provide an explosion of liquid cherry and chocolate flavors, along with a touch of herb; just be sure to pull the fuse out. Along with it came a splendid almond nougat candy, made into an ice cream cup and topped, naturally, with 24 karat gold.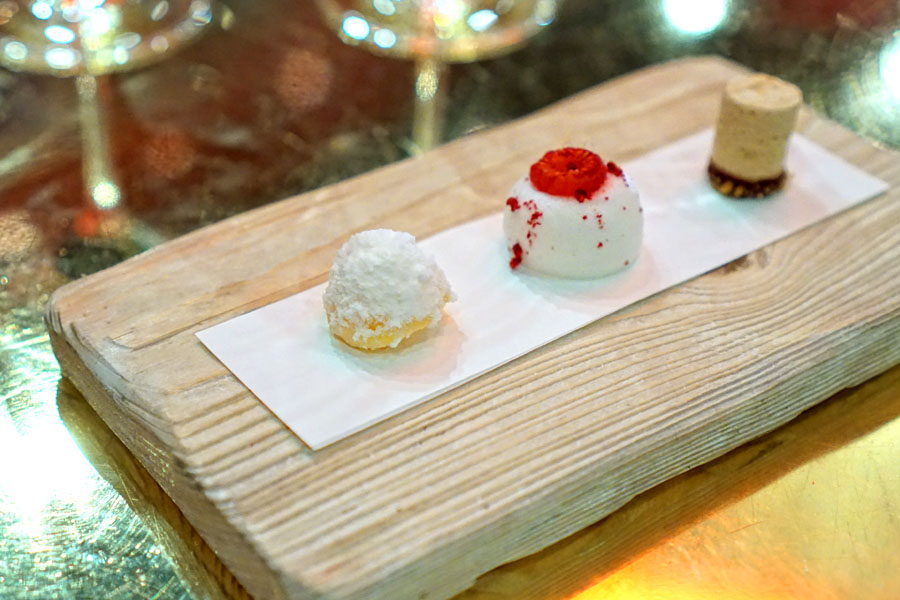 21: More Things....
There were indeed more things to come. On the left was a surprisingly briny citrus custard in a thin sugar coat, which provided a bit of a crunch. Next to it was a super light raspberry bonbon, which dissolved easily, leaving a coating of tart berry flavors on the palate. Then we had a
carajillo
marshmallow, which was filled with spicy, savory coffee flavors.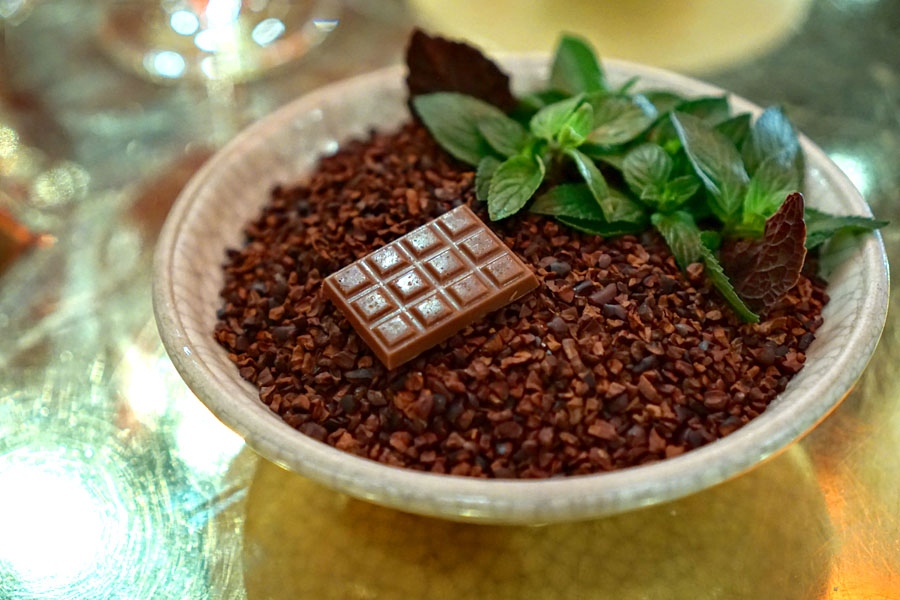 22: After 8
Last up: a milk chocolate saffron tablet with Maldon sea salt and chocolate leaves, all set in chocolate soil. Intriguingly, the tablet had an almost crab-like salinity to it that sort of functioned as a foil to the lushness of the chocolate. And embarrassingly, I actually forgot to eat the leaves, since I was in a rush to catch a flight out of McCarran (which I almost missed!).
This place is known to be
the
spot to go if you're looking for avant garde fare in the City, and é by José Andrés does not disappoint in that regard. It's been over eight years since my last visit here, but the cooking still feels as fun and whimsical and quirky as ever, and I'm pretty sure I'll be back here by the time another eight years roll by. What we're looking at is no doubt one of the premier dining experiences (and I emphasize the
experience
part) in Las Vegas.