Narisawa (Tokyo, Japan)
Narisawa Restaurant
2-6-15 Minami Aoyama, Minato-ku, Tokyo 107-0062
03.5785.0799
www.narisawa-yoshihiro.com
Tue 10/29/2019, 12:35p-03:55p

Of all the meals I had in Japan recently, Narisawa was perhaps the one I was most excited about given all the international praise it's garnered over the years. The creation of Yoshihiro Narisawa, the restaurant serves what it describes as "innovative satoyama cuisine."
Satoyama
refers to a zone of cultivable land situated along mountain foothills, an area where people are supposedly best suited to living and eating naturally, sustainably, and seasonally. This
satoyama
-inspired ethos pervades Narisawa's cooking, which straddles the line between Japanese tradition and the Chef's European training.
About the Chef
: Narisawa Yoshihiro was born on April 11th, 1969 on Aichi Prefecture's Chita Peninsula. His grandfather ran a
wagashi
(Japanese sweets) shop, while his father operated a
pâtisserie
. He thus wanted to cook at an early age, and when he turned 19, decided to pursue his dreams in Europe. In France, Narisawa apprenticed with Paul Bocuse and
Joël Robuchon
, while in Switzerland, he cooked under Frédy Girardet, his most influential teacher. He even spent 1992 in Italy, where he worked with Gualtiero Marchesi as well as Ezio Santin at Antica Osteria del Ponte near Milan. After eight years abroad, he returned home to Japan and, in 1996, opened La Napoule in the seaside city of Odawara, Kanagawa Prefecture.
In 2003, the Chef and his wife Yuko decided to move their business to Tokyo, and Les Créations de Narisawa ended up debuting that November (it was renamed to simply "Narisawa" in 2011). The restaurant was largely well-received, and earned its first Michelin star in the maiden 2008 Tokyo guide. The following year, Narisawa made its first appearance in the "World's 50 Best Restaurants" list, at spot #20, and has remained in the list's upper ranks ever since, peaking at #8 in 2015/2016 (it's currently #22 for 2019). In 2010, the restaurant landed its second Michelin star (which it's kept through the 2020 edition), and in 2013, won the inaugural Sustainable Restaurant Award from
Restaurant
magazine. More recently, in 2018, Chef Narisawa appeared as a guest judge on the Netflix series
The Final Table
.

Narisawa is situated on the ground floor of an otherwise nondescript office building. The space is fairly spare, with lots of dark leather and dark wood keeping the dining room free of distraction.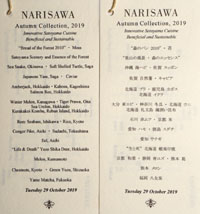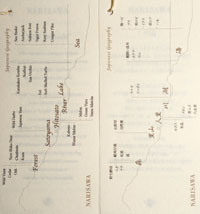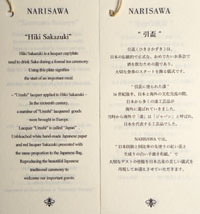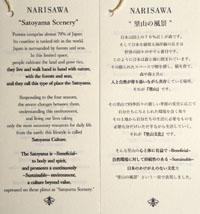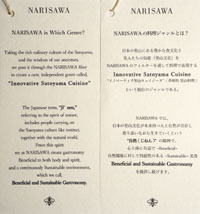 Unsurprisingly, Narisawa is an omakase-only establishment, and our 13-course menu was priced at a not unreasonable ¥30,000 ($275.57) a head, plus 10% tax and 10% service. Note that there are two versions of the menu available--Japanese and English--both of which are pictured above. I guess the thought is: if you're not Japanese, you ought to be pretty cosmopolitan to be dining here, so you probably speak at least a bit of English. Click for larger versions.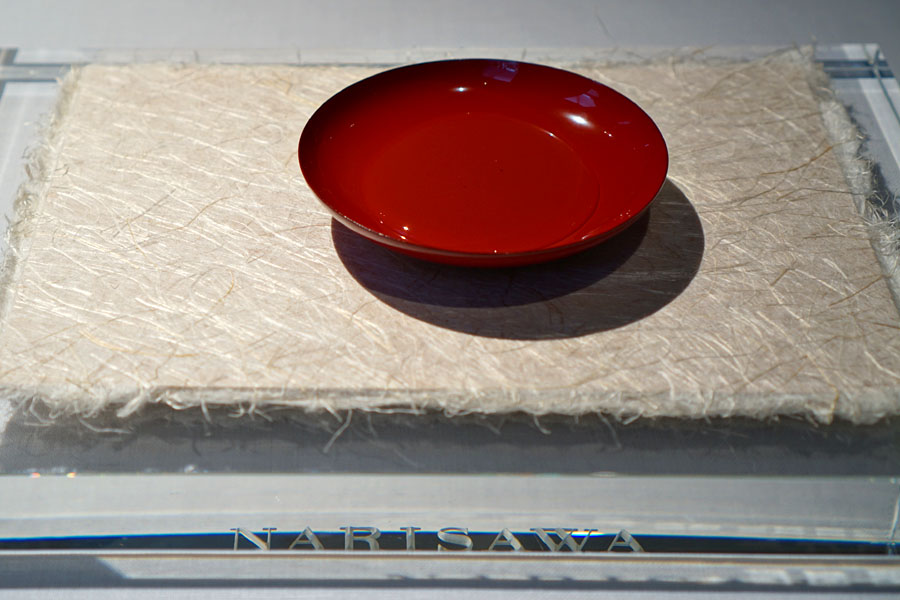 The restaurant's place setting featured an engraved acrylic(?) base to start. Not long after we were seated, a sheet of handmade paper was placed on top, and we were presented with two welcome drink options: an uncommonly fine-spun, Kyoto-sourced green tea; and a sweet, boozy, super concentrated sake from Ishikawa's Sogen Shuzo. Both beverages were served in
urushi
lacquer
hiki-sakazuki
(flat cups traditionally used in tea ceremony) that, when combined with the aforementioned paper, were meant to evoke the visuals of the Japanese flag. Two minutes after being poured our drinks, Chef Narisawa came out to our table to greet us, which was a nice touch.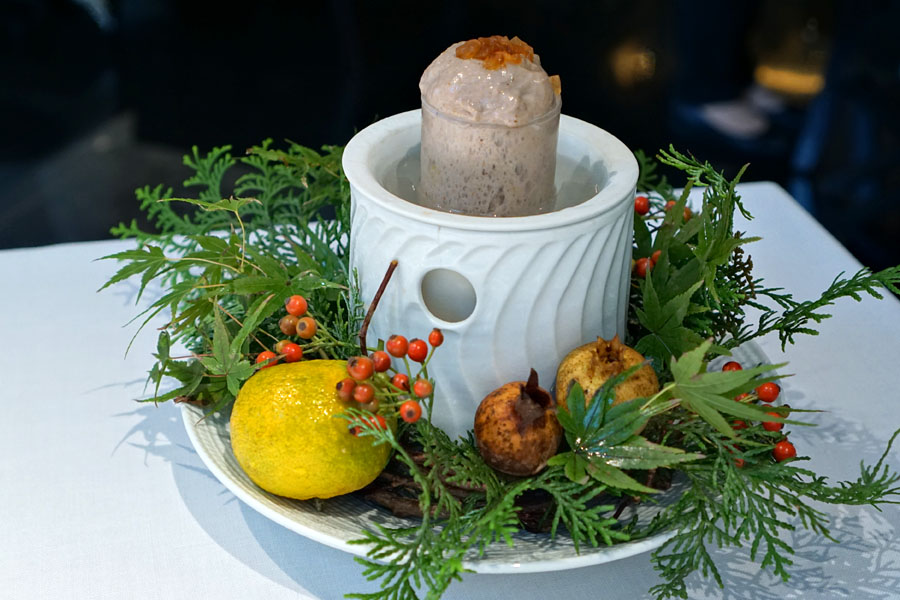 1: "Bread of the Forest 2010" • Moss
We were then presented with apple- and cinnamon-enriched bread dough, which was--aided by a small candle underneath--still in the process of fermenting. I'd never seen anything like this before.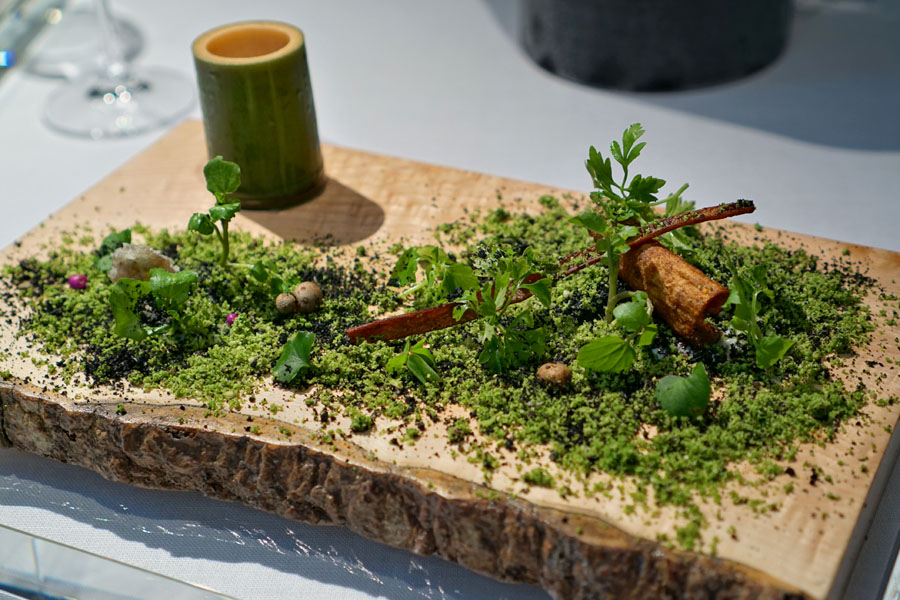 2: Satoyama Scenery and Essence of the Forest
Our first proper course was Narisawa's signature
satoyama no fukei
, an edible terrain of sorts featuring seasonal ingredients arranged to evoke a natural landscape. Composed of a "soil" of
okara
(soybean pulp) and green tea powder laid over a base of fermented soy yogurt, it really did taste as woodsy and verdant as it looked, conveying a mish-mash of earthy, vegetal, astringent, and minty nuances, while the crispy fried burdock(?) gave up contrasting sweet-savory notes. Meanwhile, on the side was a cup filled with
mori no essensu
, or water infused with cedar and oak. It did an admirable job recalling the essence of a fresh forest spring, and duly enhanced the atmospheric nature of the course. I have to note that, curiously enough, we were encouraged to use our hands here, like we were foraging in the woods.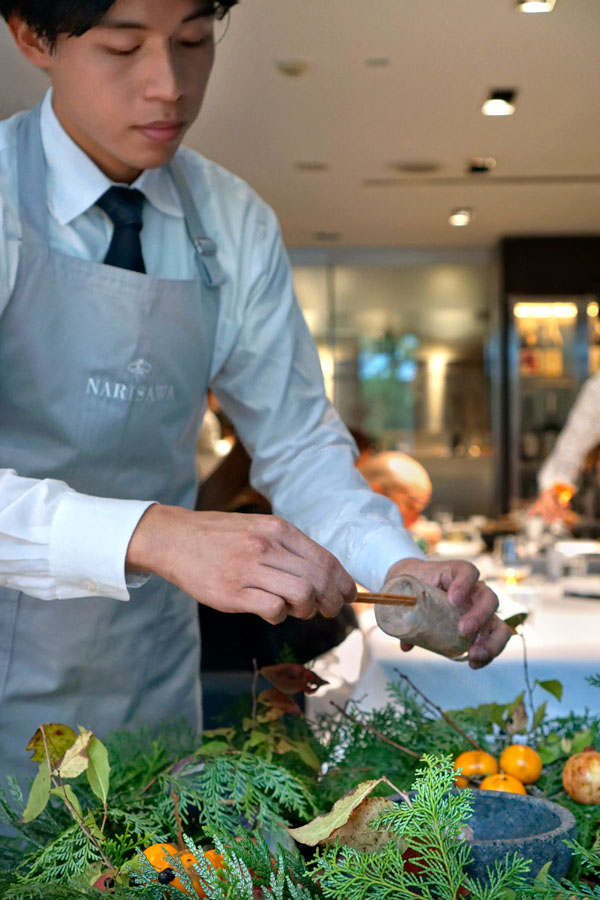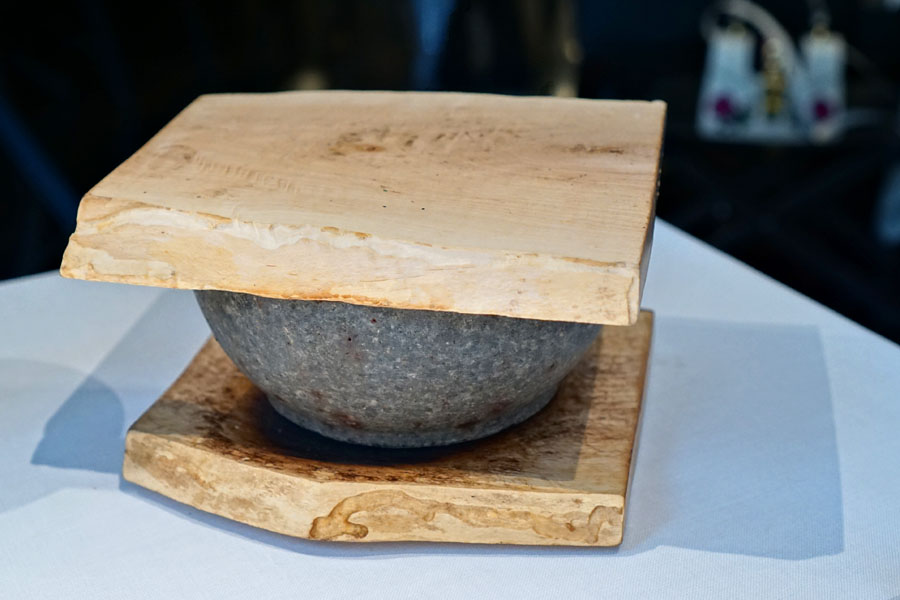 Getting back to the bread, after about nine minutes of fermentation, a server proceeded to scoop up the dough and place it in an
ishinabe
-style hot stone bowl, along with some chestnut powder, and the whole shebang was left to cook.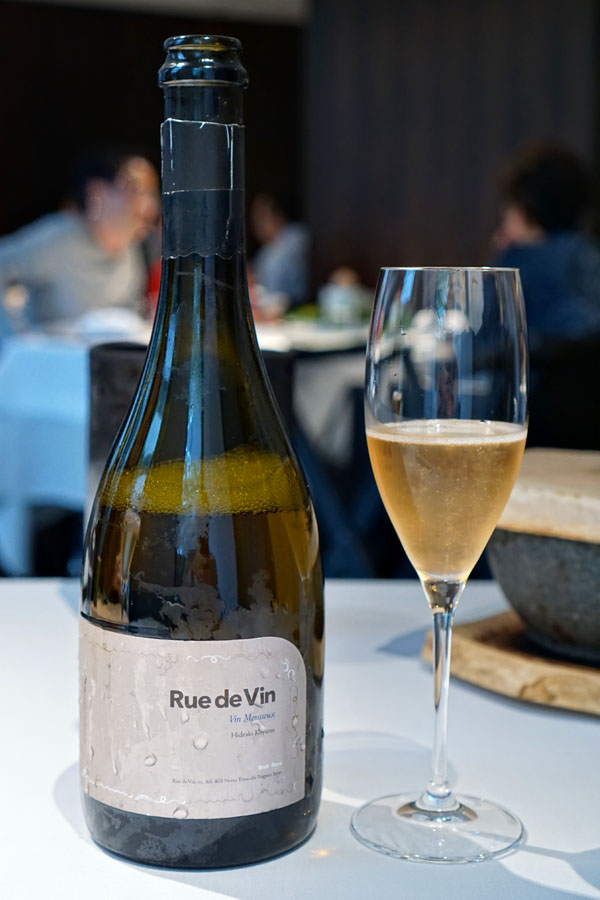 To drink, I opted for a bottle of bubbly, the
NV Vin Mousseux "Spécial", Rue de Vin, Chardonnay/Pinot Noir, Rose, Nagano [¥22,000 ($202.08)]
. The nose here was superb, and the wine smelled like fruit preserves on toast. Tasting it, I got more toastiness up front, leading to nutty, oxidative flavors undergirded by a layer of robust stone fruit. This was my first time have a Japanese sparkler, and I have to say that I was pretty impressed.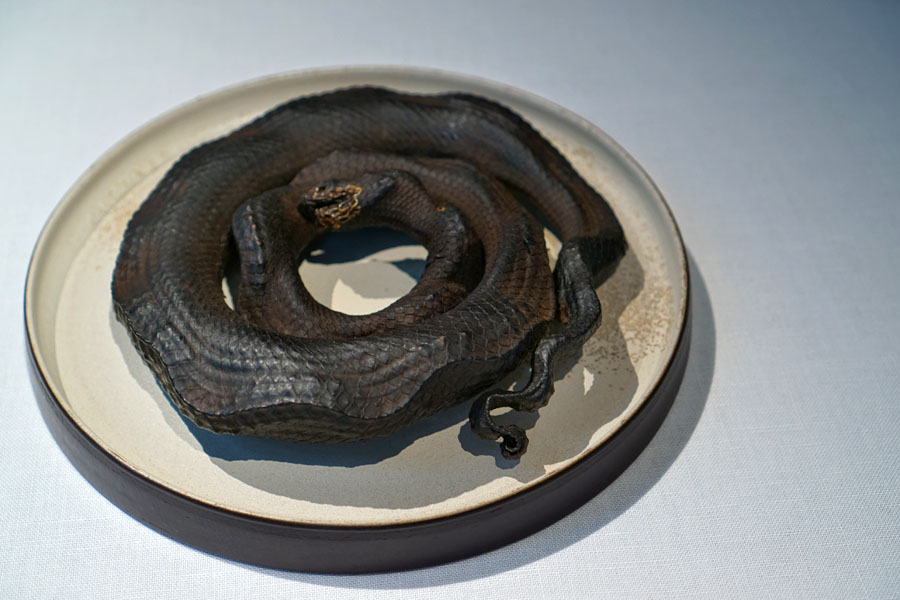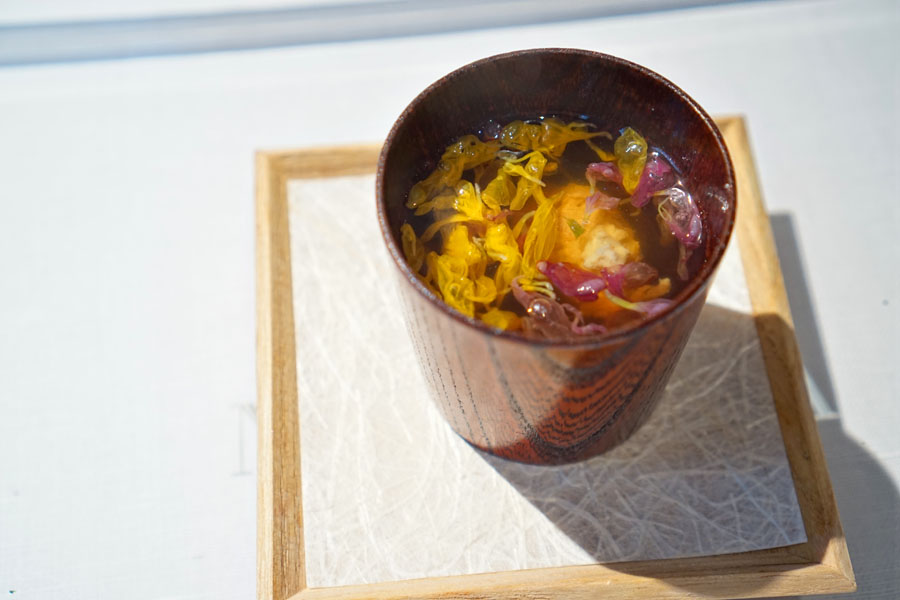 3: Sea Snake, Okinawa • Soft Shelled Turtle, Saga
Here was a soup featuring an
irabu
(black-banded sea krait, a type of venomous sea snake) broth,
suppon
, and
kiku no hana
(chrysanthemum flowers). I found the liquid heady, briny, and herbaceous, with a medicinal bent, while there was also this wonderfully dainty spice that grew and lingered. As for the turtle dumpling, I was definitely a fan, and could've used a few more of 'em. Note that we were also presented with a dried, smoked example of the snake to peer at while we were eating, which was an unusual touch.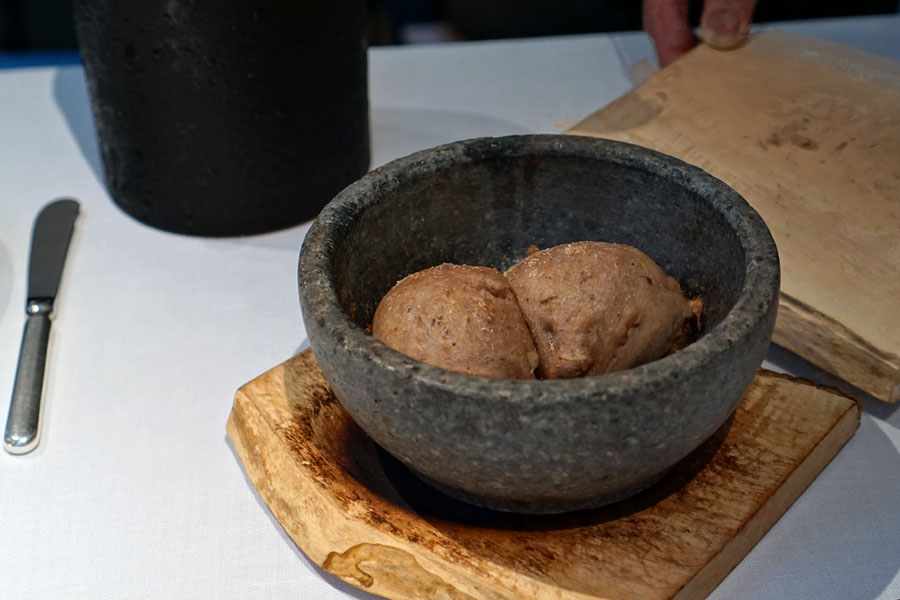 At this point, the bread had been "baking" for 12 minutes at around 200°C and was finally revealed to us.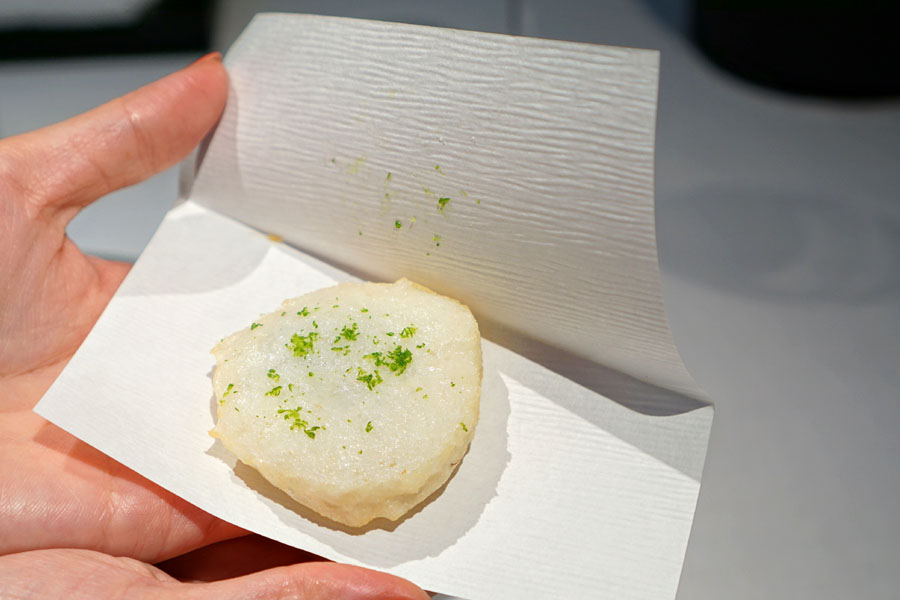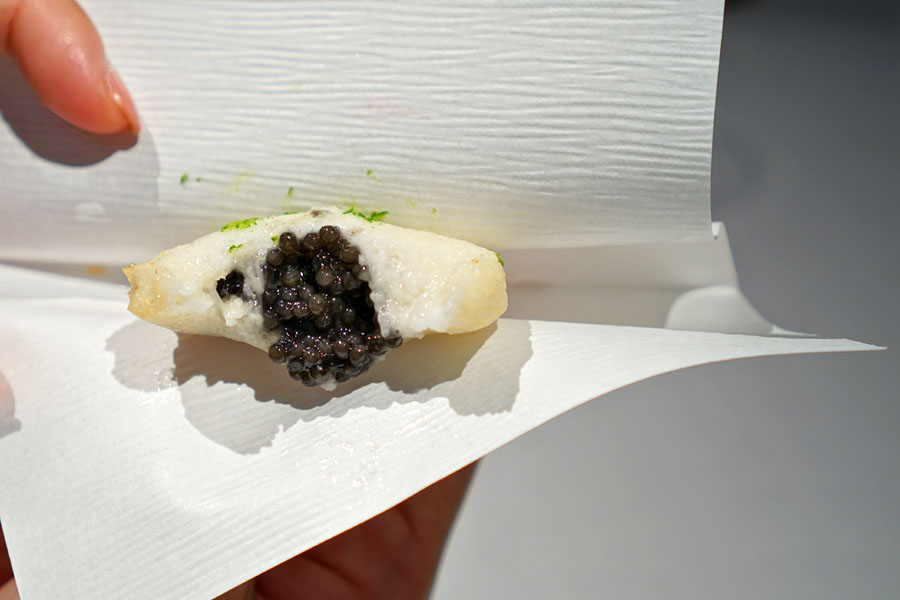 4: Japanese Yam, Saga • Caviar
A medallion of deep-fried
jinenjo
had a pillow-y consistency as well as an almost "cheesy" character to it. Caviar offered up an oceany juxtaposition, while the wild yam came back again on the finish with a noticeable sweetness. Fun.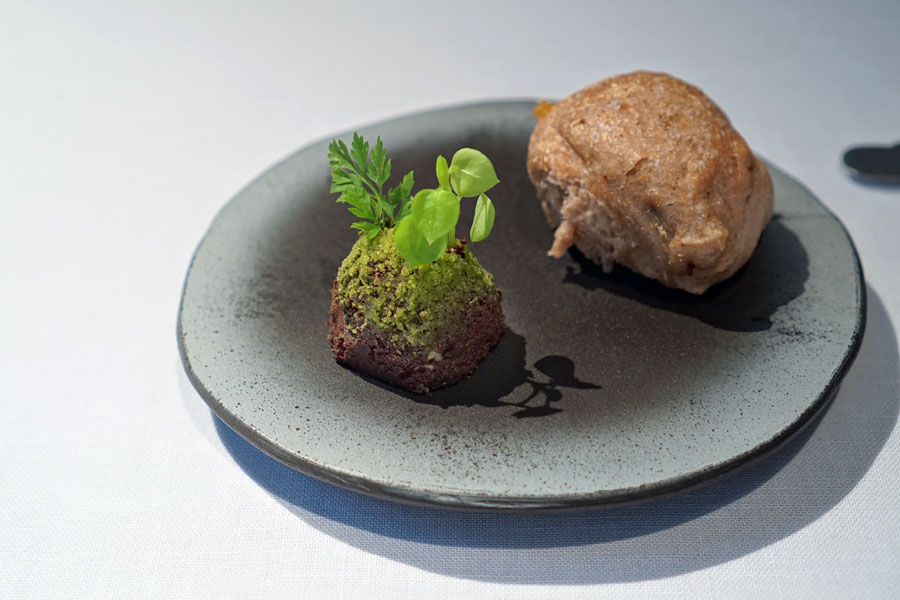 Time to finally try the bread, which was excellent: soft, fluffy, and loaded with plenty of sweet autumnal spice. On the side, meanwhile, was a "moss butter" that came coated with black olive and spinach powder. It had a salty, earthy funk to it, and actually melded surprisingly well with the sweetness of the roll. Some of the best bread 'n' butter I've had, no question.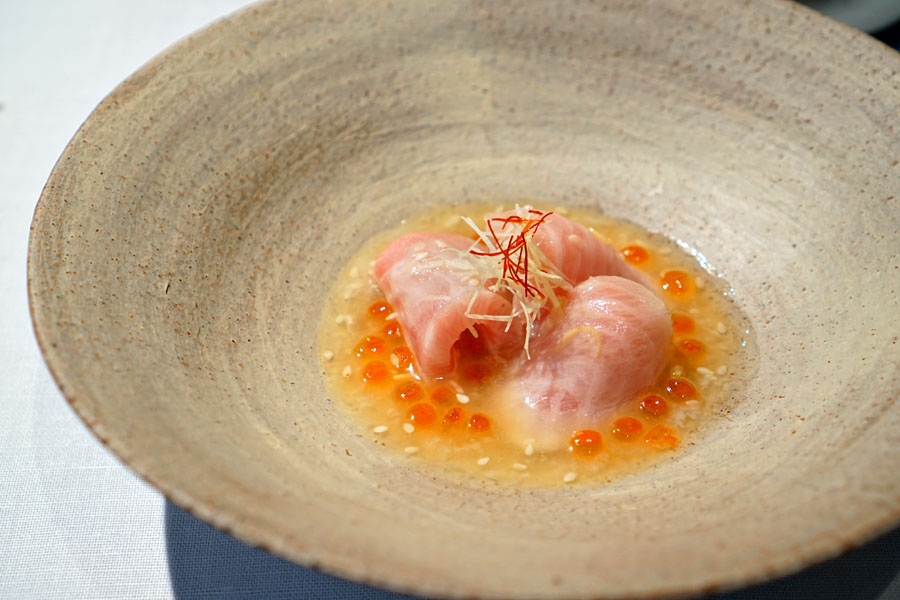 5: Amberjack, Hokkaido • Kabosu, Kagoshima / Salmon Roe, Hokkaido
Buri
sashimi was wondrously fatty and lush and jam-packed with umami, yet somehow delicate and elegant at the same time. It was also unbelievably sweet. A
kabosu
-based ponzu imparted further citrusy, savory accents to the dish, while the Hokkaido ikura imparted pops of brine. Even better? The sheer zestiness from the slivers of ginger up top.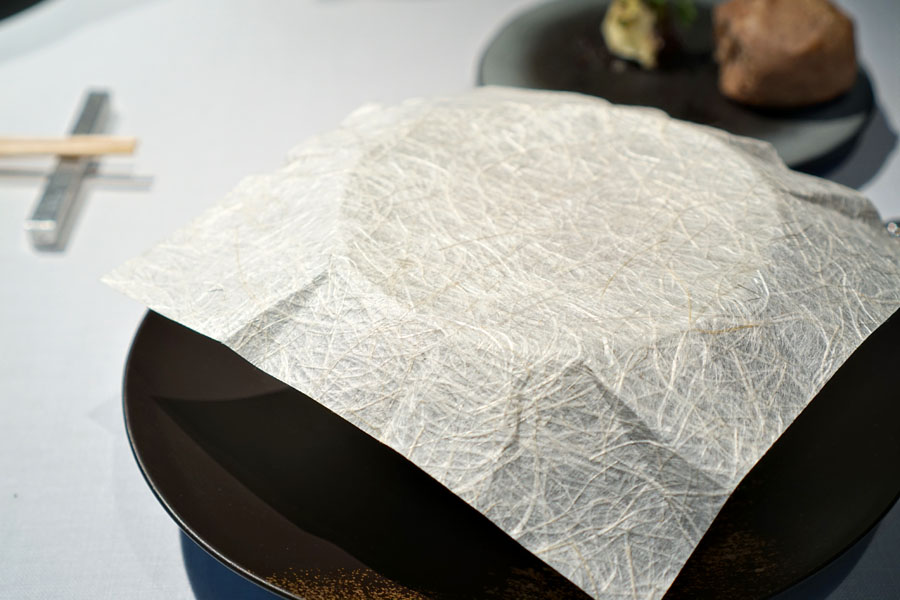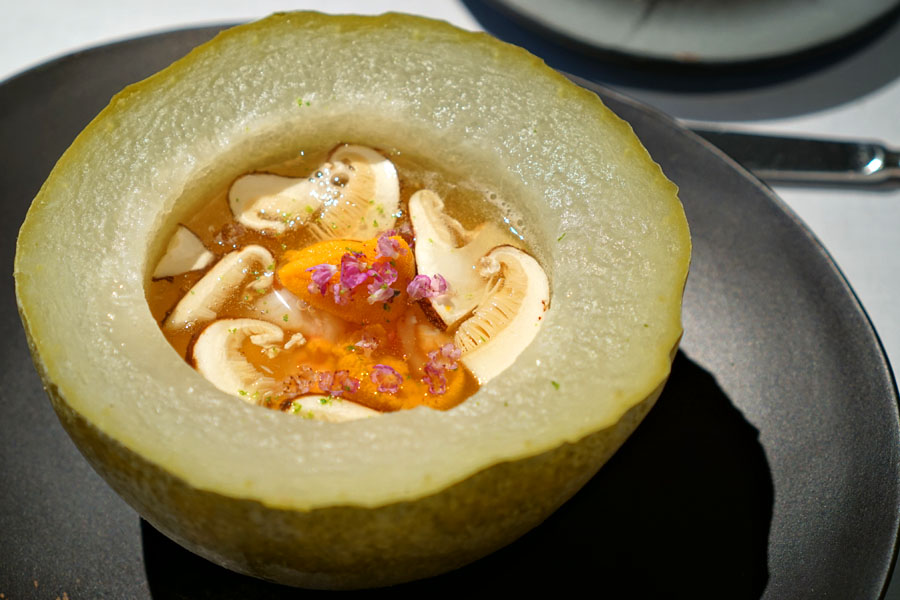 6: Winter Melon, Kanagawa • Tiger Prawn, Oita / Sea Urchin, Hokkaido / Kurakakoi Kombu, Rebun Island, Hokkaido
Kanagawa
togan
served both as an edible vessel and as a foil to the sweet brine of
kuruma ebi
and sea urchin. Matsutakes added an earthy, autumnal musk to the dish, and I loved the slight mintiness present. This was a dish that just tasted of the season, and felt very apropos for the rainy weather we were having.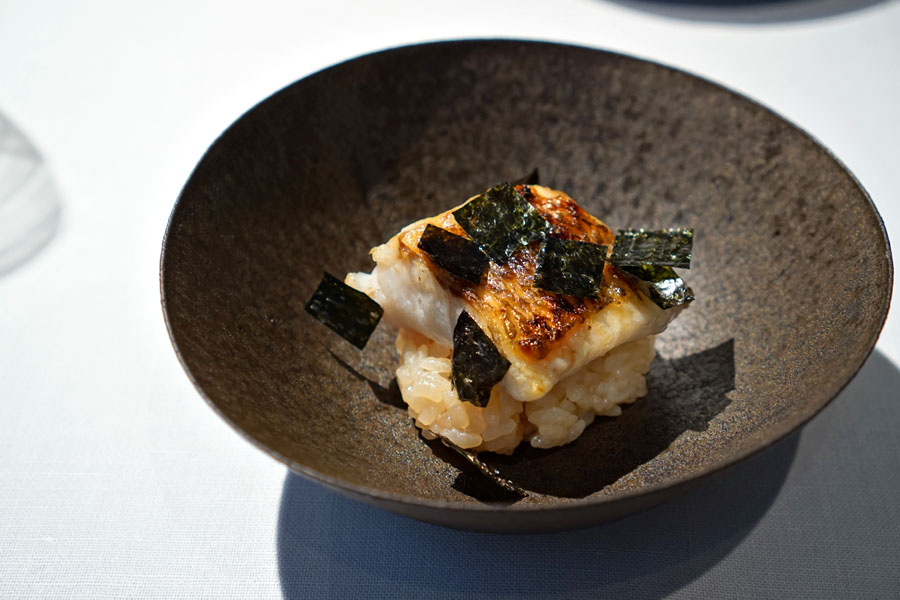 7: Rosy Seabass, Ishikawa • Rice, Kyoto
Akamutsu
(i.e.
nodoguro
) was charcoal-grilled with black vinegar, making for a supple, fatty, eminently luxurious fish with a perfectly crisp, salty skin. It was delicious just by itself, but what made things even better was the balance provided by the seaweed and especially the
shari
, which had just a touch of sweetness; it all made for a flawless conflux of flavors that I found immensely gratifying. This was my favorite course of the meal, and no doubt one of the best pieces of cooked fish I've ever had.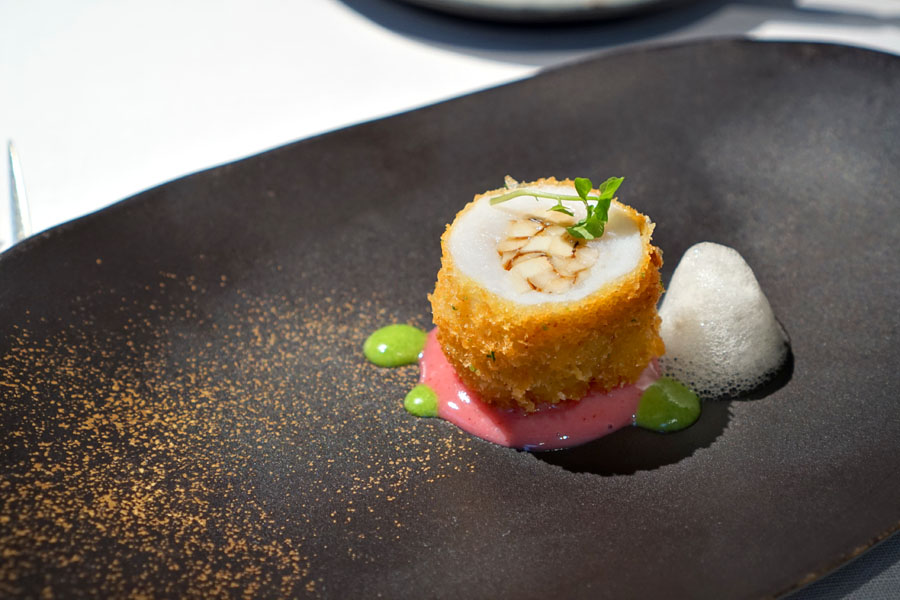 8: Conger Pike, Aichi • Sudachi, Tokushima
Matsutake was rolled in dagger-tooth pike conger, coated with panko, and deep-fried like a croquette. Now,
hamo
is known for its thousands of tiny bones that ostensibly can't be removed, and thus traditionally have to be cut into fine pieces using the
hamo no honekiri
method. What was shocking here was that I couldn't find a single bone, anywhere. This resulted in a smooth, springy, delicate-tasting flesh that was smartly perked up by the crunch and savor of bread crumbs, while the mushrooms added a palpable funk at the dish's core. Brightening things up, meanwhile, was the combination of red
shiso
and green
sansho
sauces, as well as a
sudachi
juice "foam." Probably the best version of the eel I've ever eaten.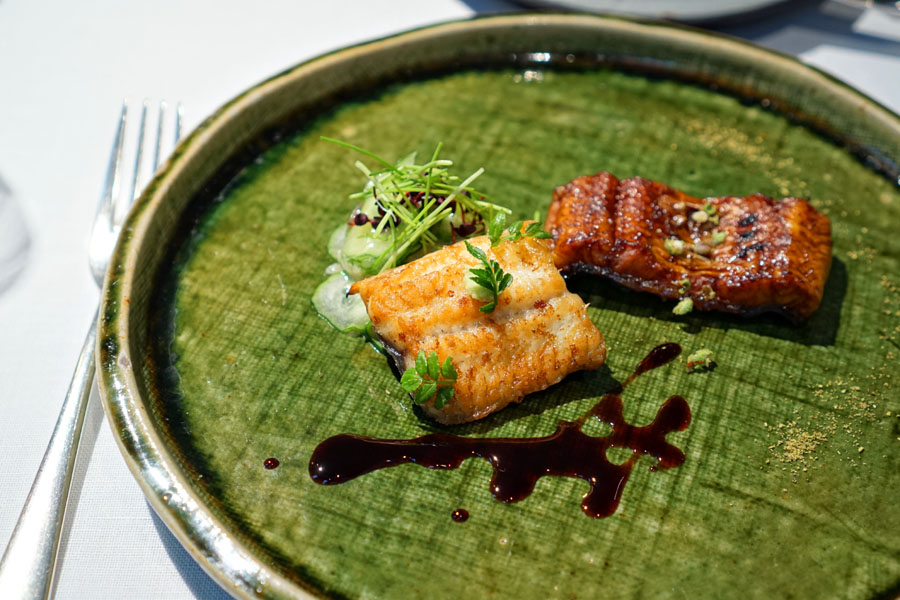 9: Eel, Aichi
Time for more eel. On the right was soft, sticky steamed unagi with pricks of
sansho
pepper, which had all your classic
kabayaki
-esque sweet-n-savory flavors going on. The left was even better: charcoal-grilled eel, one with delectably juicy flesh underneath a wonderfully crisp, salty skin. It meshed superbly with the included wasabi, herbs, and sweet vinegar-marinated cucumbers.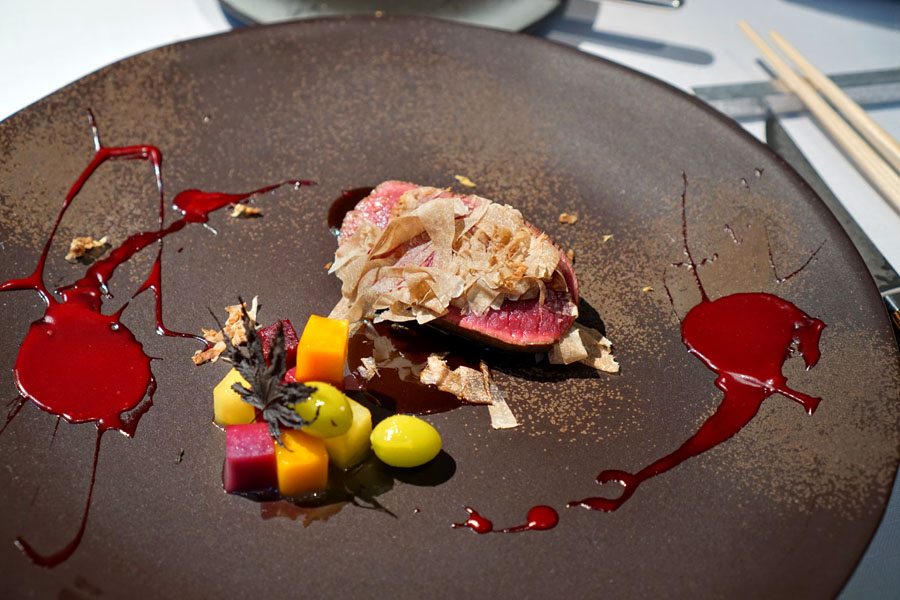 10: "Life & Death" Yezo Shika Deer, Hokkaido
This
seitoshi
-inspired plate was centered on a smoky, full-flavored cut of
yezoshika
fawn, which I found tender yet satisfyingly chewy at the same time. The intensity of Alba white truffle melded beautifully with the gaminess of the meat, and I appreciated the pervasive astringency of sautéed onion, too. A wild berry sauce imparted just enough sweetness to the mix, while further interest was provided by ginkgo, beets, potato, pumpkin, as well as a carbonized maple leaf (
momiji
).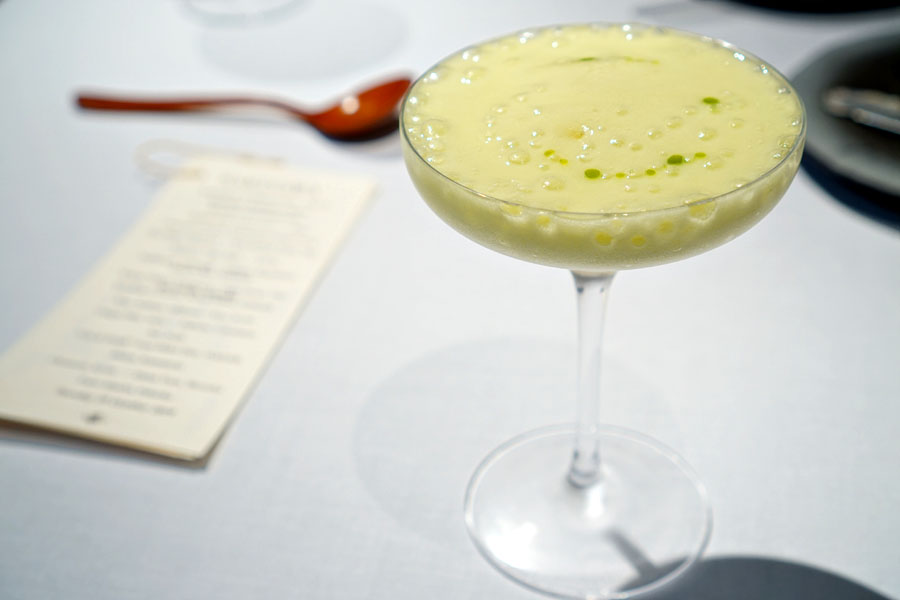 11: Melon, Kumamoto
Our first dessert worked as sort of a palate cleanser, and displayed melon in multiple forms: cream soda, juice, and sorbet, all with vanilla ice cream. Think fun and fruity, and even a bit boozy(?).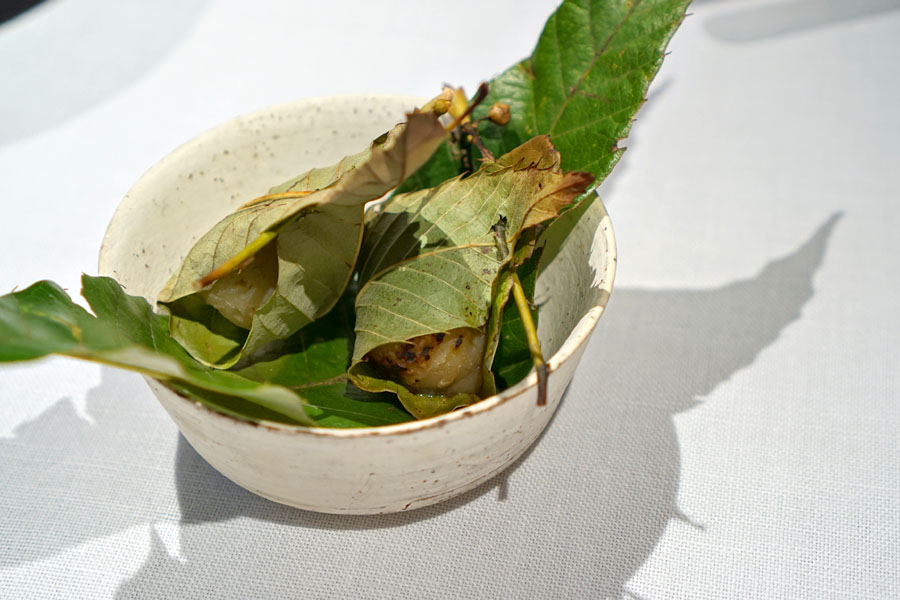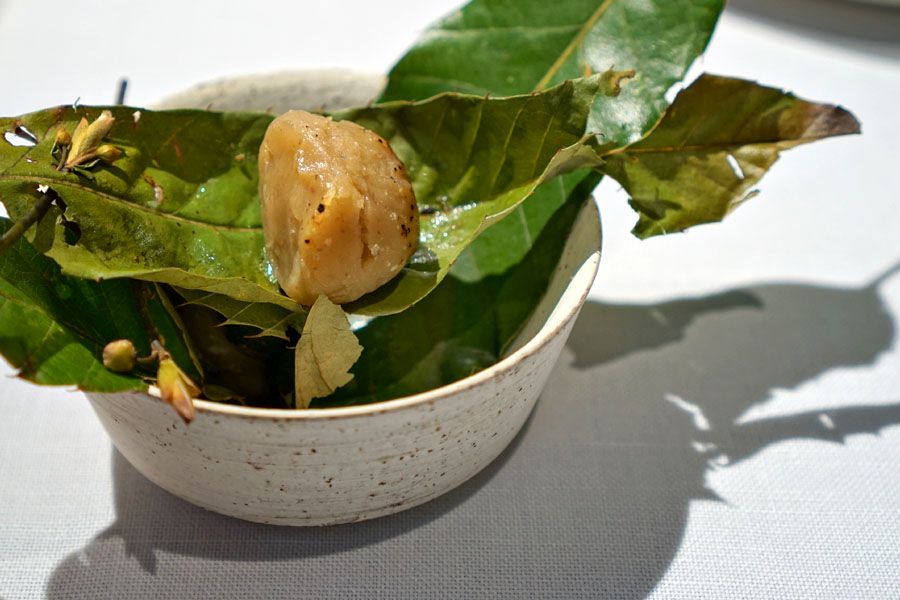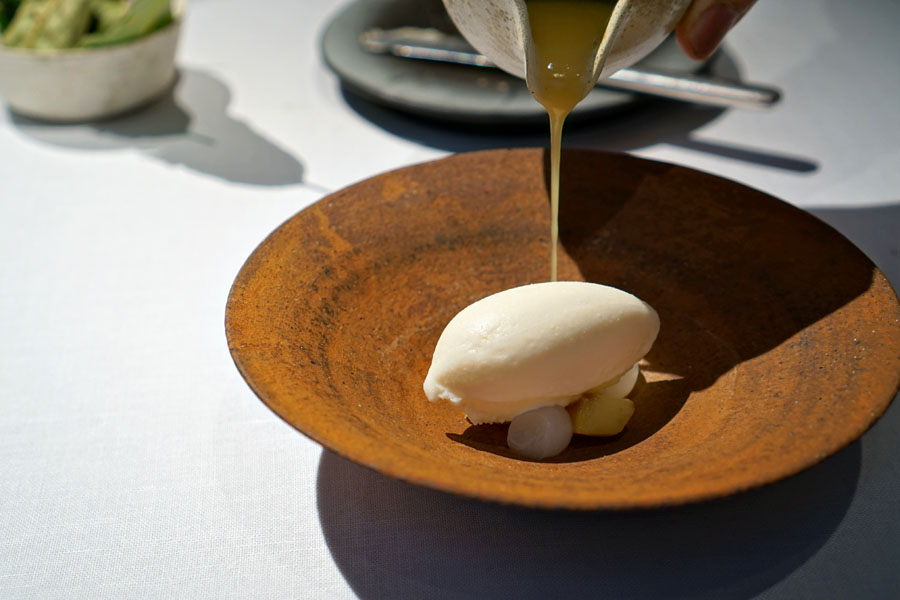 12: Chestnuts, Kyoto • Green Yuzu, Shizuoka
A traditional sweet made from Kyoto
waguri
arrived wrapped in leaves, and had this herbaceous, acerbic quality that I didn't mind. Along with it came a fantastically fruity, boozy rum ice cream, replete with arrowroot mochi (made from Kumamoto
kuzu
) for texture. It melded swimmingly with the accompanying chestnut sauce, and I also appreciated the overarching sourness contributed by that green yuzu.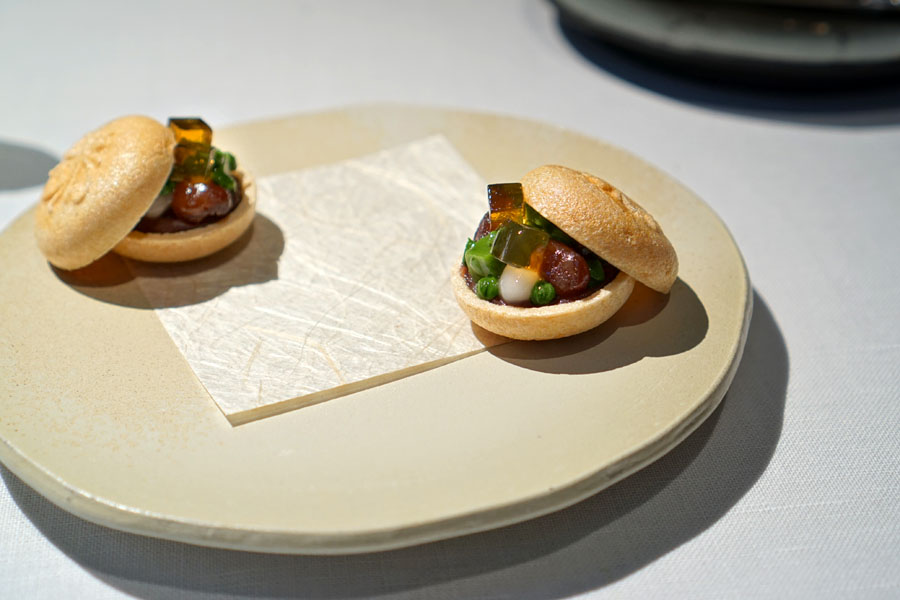 13: Yame Matcha, Fukuoka
Mignardise duties were handled by
monaka
stuffed with matcha jelly, mochi, and adzuki. To me, the flavors seemed to alternate between grass jelly and red bean, with the rice cake wafers giving up a smoky, nutty taste.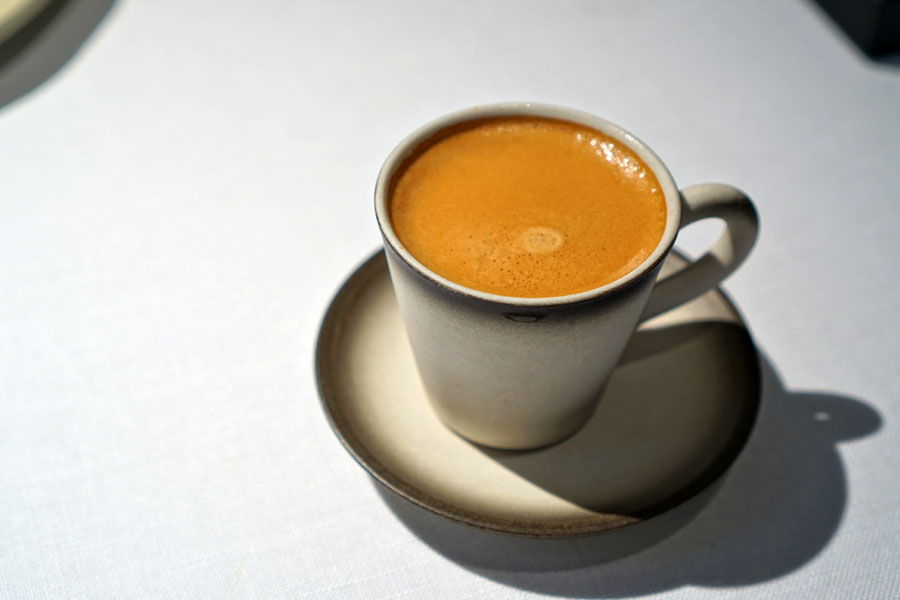 We concluded with a complimentary coffee.
I had high hopes coming in here, and the restaurant didn't let me down. The cooking does a great job blending Narisawa's background in
nouvelle cuisine
with the intricacies, ingredients, and seasonality inherent in Japanese culinary tradition, while at the same time allowing for injections of whimsy, creativity, and the Chef's own personality, not to mention his immutable reverence for nature. Narisawa's helping to push things forward, and overall, there's just a lot here that should get you excited about the future of Japanese cuisine.