Burritos La Palma (El Monte, CA)
Burritos La Palma
5120 N Peck Rd, El Monte, CA 91732
626.350.8286
www.burritoslapalma.com / www.burritoslapalma.net / www.blplapalma.com
Wed 04/01/2020, 05:00p-06:30p

This free-flowing coronavirus traffic recently afforded me the opportunity to check out Burritos La Palma, which is typically difficult for me to visit given that the place is far away and shuts down early. I'd been wanting to try the restaurant for years now--after hearing countless tales of its flour tortilla-wrapped birria burritos--and now was the perfect time.
The history
: The story of BLP actually begins in the United States with the Bañuelos-Lugo family: patriarch José de Jesús Bañuelos Graciano (originally from Monte Escobedo, Zacatecas) and his wife María Elena Lugo Salazar, along with their six children. José worked in the restaurant biz in California, but he never really made it big, and thus decided to move the family back to Mexico. In August 1979, they arrived in the town of Irapuato, Guanajuato, as José wanted to purchase a corn tortilla shop, but the deal eventually fell through, and the family moved on to Jerez de García Salinas, a city in Zacatecas. They then decided to buy a property at the intersection of Calle De La Palma and Leobardo Reynoso streets, in the Colonia Obrera neighborhood. The plot was actually set up for pig farming, but due to the family's inexperience in that field, a large number of their pigs ended up dying.
Following that debacle, José went to Guadalajara and, on March 12, 1980, bought a machine for making flour tortillas and brought it back to Jerez, thus marking the start of BLP. José named the business "La Palma" after the street it was situated on and soon began churning out
tortillas de harina
, which were actually quite novel in the City at the time. Sales were high, and the family eventually expanded into the burrito business about a year later, due to customer demand (apparently the family would make burritos just to eat themselves, but customers convinced José to sell them). The original BLP location is still extant, but the company grew into four more locations in Jerez, along with four in the state of Zacatecas, one way out in Monterrey (now closed), and three in the US, with all locations helmed by family members.
Speaking of those locations in the USA, they're the work of Alberto Bañuelos Lugo (one of José and María's sons) and his wife Lauren Bañuelos. Alberto relocated back up to the Los Angeles area in the 1990s and worked in the restaurant business for two decades before deciding to grow the family brand. He thus acquired a storefront in El Monte and opened the first American outpost of Burritos La Palma on April 7, 2012; he chose that date since it was Sábado de Gloria, a particularly important holiday in Jerez. The restaurant was largely well-received, but flew under the radar until June 2015, when it won the award for "Best Traditional Taco" at Tacolandia (the other two winners were
Mariscos Jalisco
and
Guerrilla Tacos
).
A review by Jonathan Gold appeared a month later, and in February 2016, a Burritos La Palma food truck was launched in Downtown Santa Ana. Alberto took the top prize once again at Tacolandia 2016 that June, and just days later, BLP became an opening vendor at the newly-launched Smorgasburg LA. March 2017 saw the debut of BLP's brick-and-mortar location in DTSA, and in April that year, the restaurant was runner-up at Taco Madness, placing behind winner
Sonoratown
. In January 2018, Alberto was back at Smorgasburg, and that June, he popped up doing breakfast burritos at The Goods Mart in Silver Lake and also opened a location of BLP with an expanded menu inside the existing Plan Check on Fairfax (sort of like a Green Burrito/Carl's Jr. setup), though Plan Check itself ended up shuttering in January last year.
Jonathan Gold passed away shortly afterward, and Alberto actually catered the funeral, along with Guerrilla Tacos, Mariscos Jalisco, and Kogi BBQ. A month later, Burritos La Palma opened at The Fields LA food hall. In April 2019, BLP managed to get into the Elite Eight at Taco Madness, but was knocked out by East LA's Birrieria Gonzalez. However, some much better news came at the end of that May, when the restaurant received a Bib Gourmand nod in Michelin's inaugural California guide. I believe the last competition that BLP participated in was KCRW & Gustavo's Great Tortilla Tournament back in September, when the spot made it to the semifinal round (they'd achieved a similar result back in 2018); the eventual winner was none other than
Taco Maria
.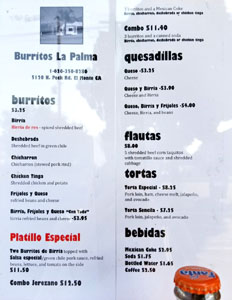 The menu here is simple enough, with the signature burritos joined by several other formats by which to enjoy the birria. Click for a larger version.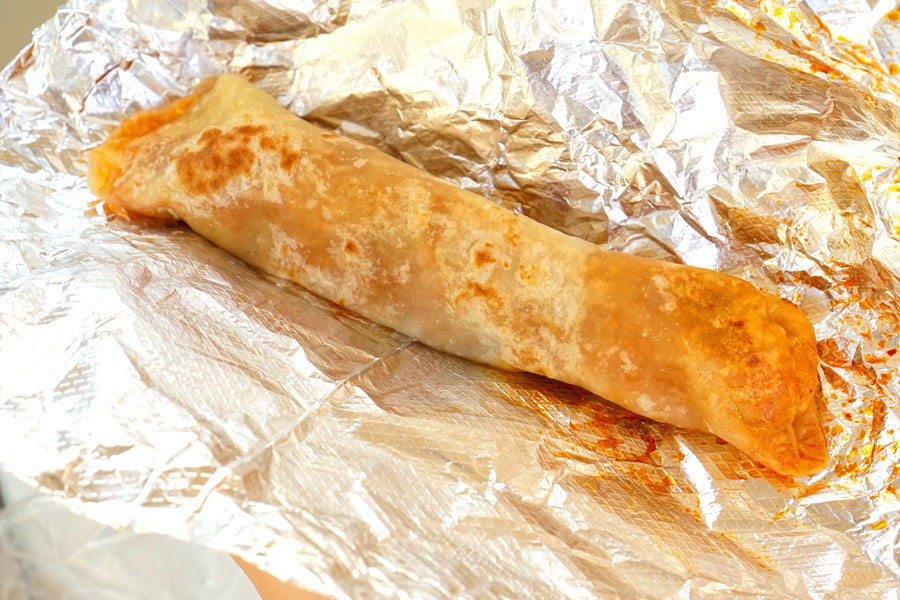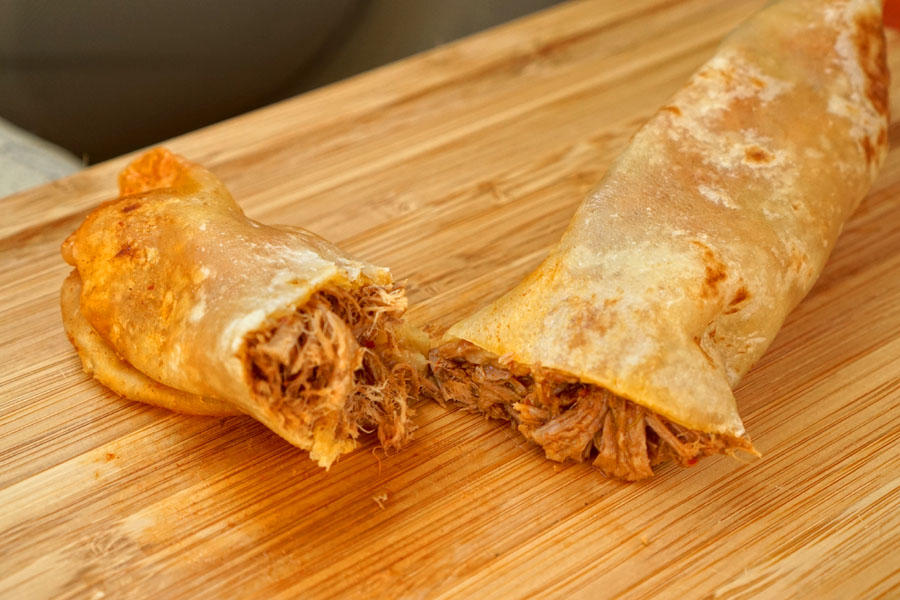 Birria Burrito [$3.25]
| Birria de res - spiced shredded beef
Compared with the overstuffed examples common Stateside, traditional burritos from Mexico tend to be on the smaller, thinner side, with only a couple ingredients, and BLP adheres to that ethos. Naturally, I had to begin with the restaurant's signature birria, made from beef instead of the usual goat. The stewed, shredded meat had a satisfying bite, while flavors were surprisingly nuanced in terms of spice, with an easy-to-enjoy, dry chili-fueled heat. It just made sense with the burrito's chewy, stretchy, semi-transparent housemade flour tortilla, which served to complement the flavors at play.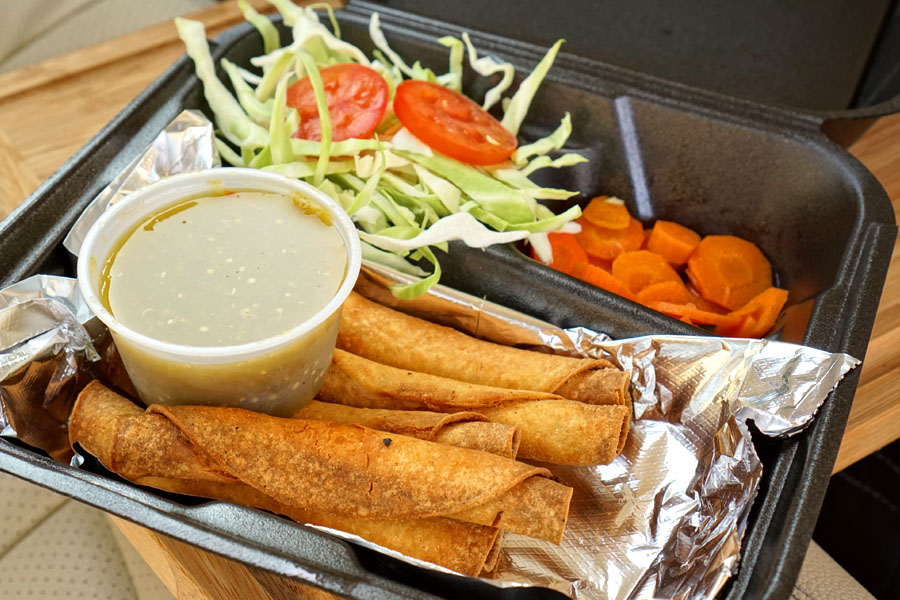 Flautas [$8.00]
| 5 shredded beef corn taquitos with tomatillo sauce and shredded cabbage
Given that I'm generally quite the flauta fiend, I had to try them here. I was a big fan of their sheer crunchiness, though the flip side is that the tortillas actually overshadowed their beef filling. That being said, they were still enjoyable, and really sang with a dip into that wonderfully piquant salsa verde.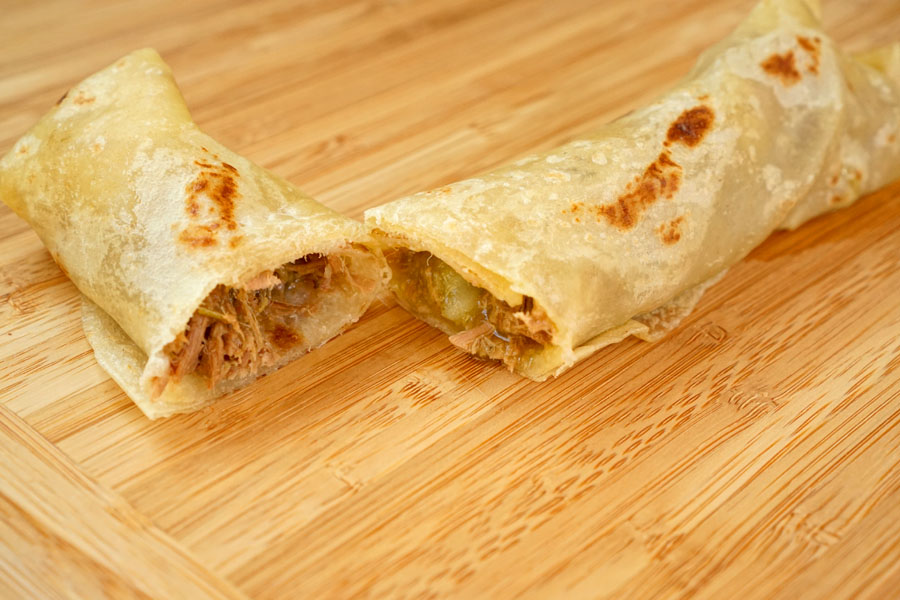 Chicken Tinga Burrito [$3.25]
| Shredded chicken and potato
The tinga was a bit unexpected, since instead of the more adobo-like, tomato-focused qualities I typically find, I instead got a flavor profile that recalled chili verde. Nevertheless, the burrito was still tasty, giving up classic, homey vibes that really opened up with a splash of the thin yet surprisingly potent salsa on the side. I quite liked the incorporation of potato here, too.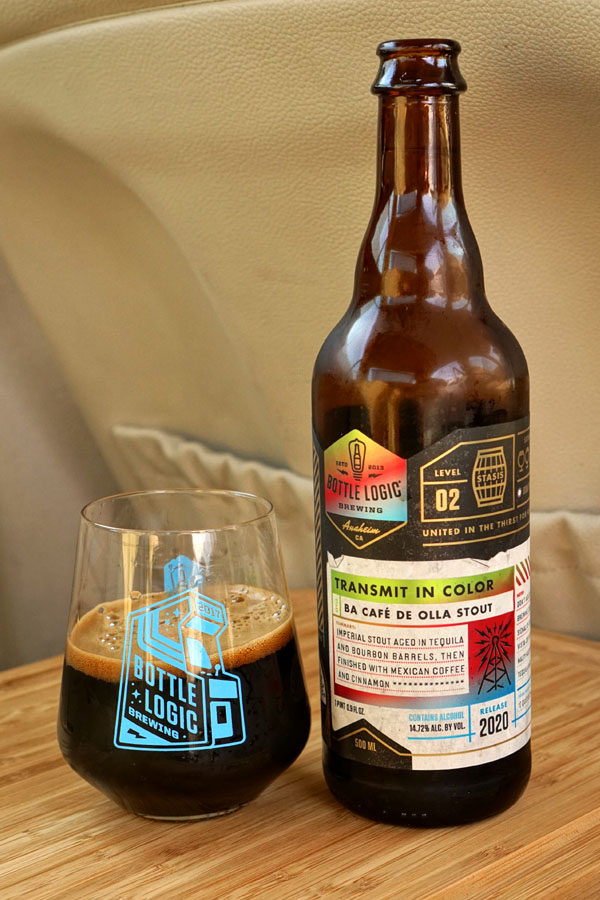 To drink, here we have the café de olla-inspired
2020 Bottle Logic Transmit in Color
, an imperial stout aged in tequila and bourbon barrels and finished with Mexican Bella Vista coffee and Ceylon cinnamon, created in collaboration with Magnanimous Brewing out of Tampa. This theme-appropriate beer smelled of decadent chocolate, laced with sweet spice and a vegetal element from the tequila. Tasting it, I got lots more chocolate-y malt combined with oak and tequila, transitioning to a warm, cinnamon-y spice.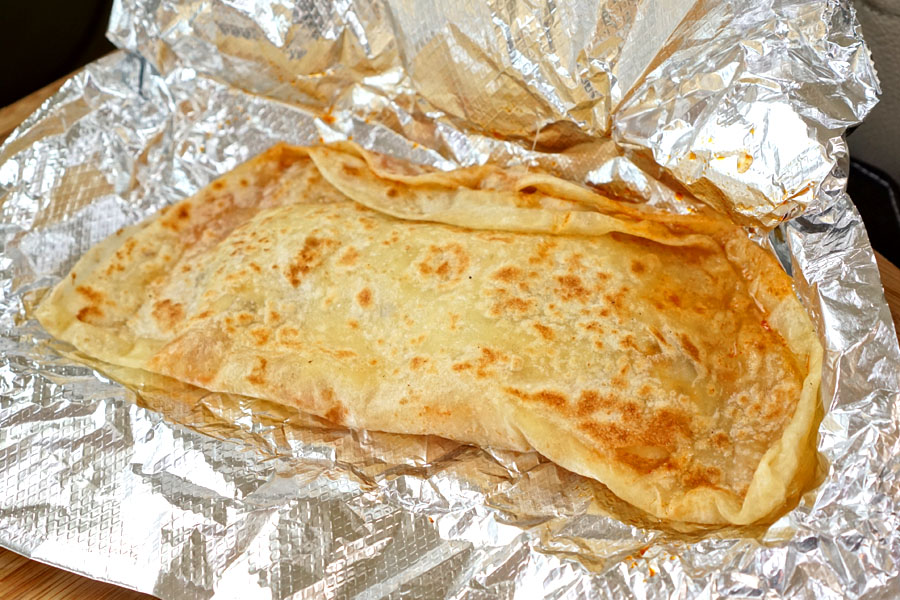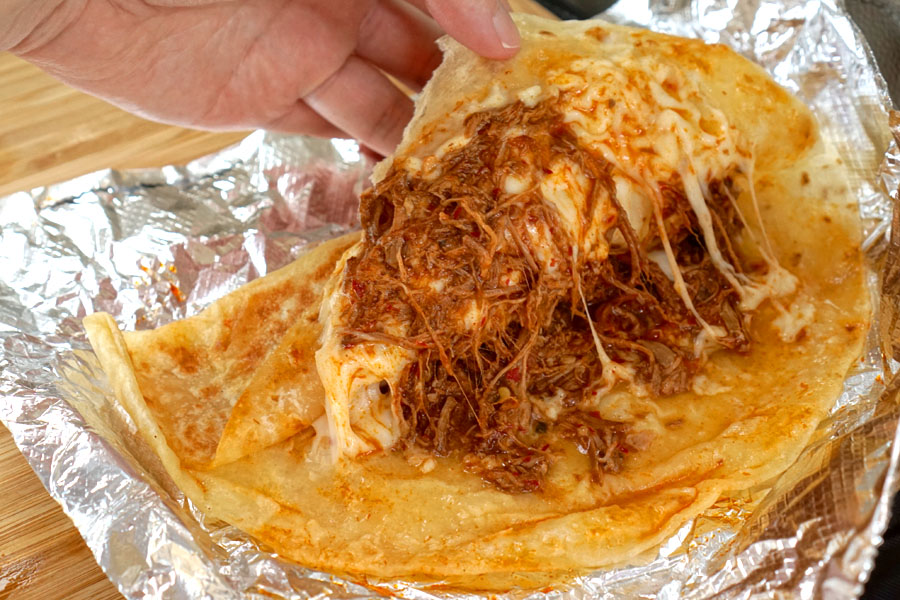 Queso y Birria Quesadilla [$3.90]
| Cheese and Birria
As good as the birria was above, it was even better when taken in concert with plentiful amounts of gooey cheese. I found it a thoroughly gratifying combination, and really putting a bow on things was again that flour tortilla, which had a delicateness that was really apparent in this application.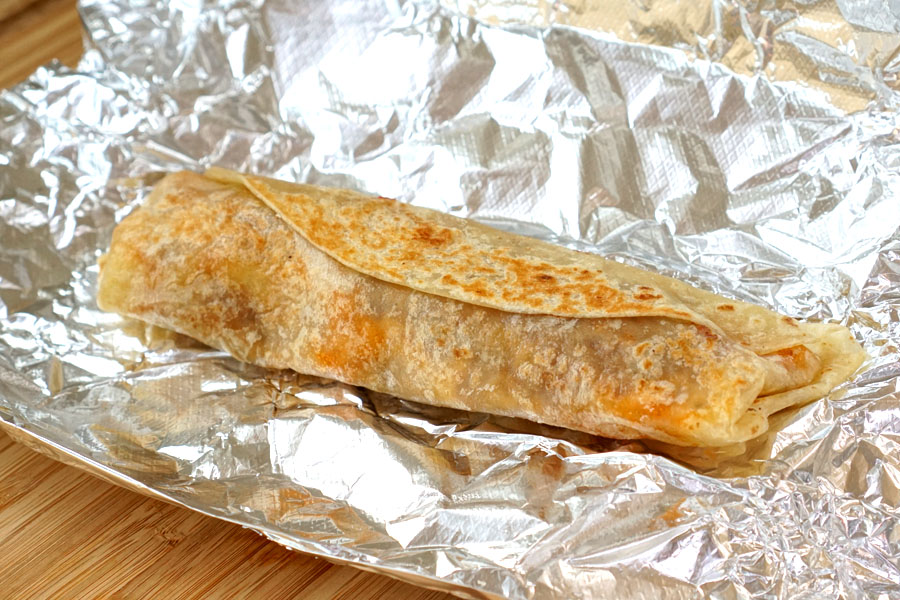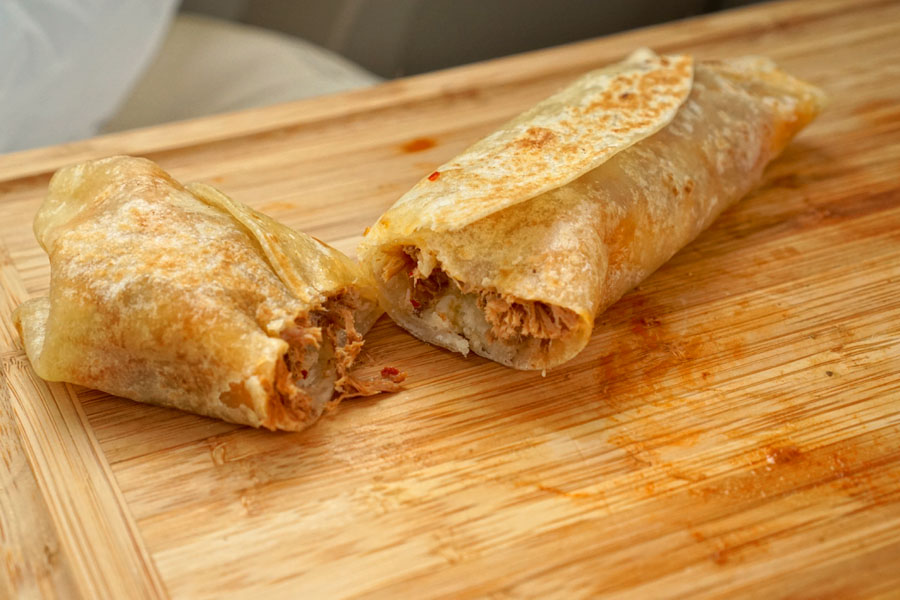 Birria, Frijoles y Queso "Con Todo" Burrito [$3.95]
| birria refried beans and cheese
Here, BLP's birria was married with both cheese and beans, making for an altogether different eating experience. Again, the juxtaposition of beef/cheese delivered, but the most interesting thing here was the use of beans, which really functioned as a moderating force in the burrito.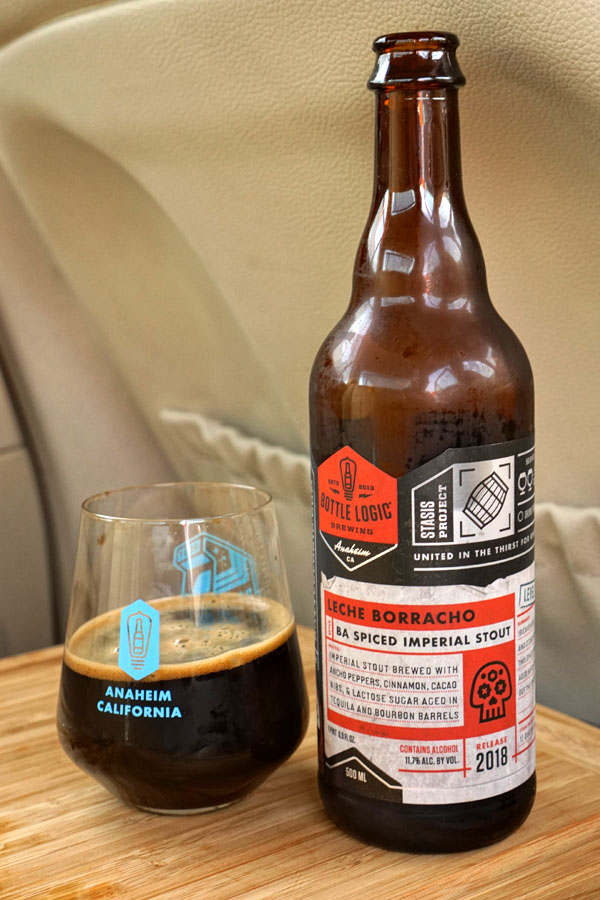 Next to drink came the mole-inspired
2018 Bottle Logic Leche Borracho
, an imperial milk stout brewed with ancho/guajillo/chipotle peppers, cinnamon, Ecuadorian cacao nibs, and lactose, then aged in a combination of red wine-washed tequila and bourbon barrels. The nose here was all about cocoa mixed with cinnamon-y spice and the agave-tinged earthiness of those tequila casks. In terms of taste, I got a blend of heat and warming spice set over a chocolate-y, malty base that had the tequila beautifully integrated, while layered on top was a fragrant hint of vanilla that really appealed to me. Very nice, and easily better than expected.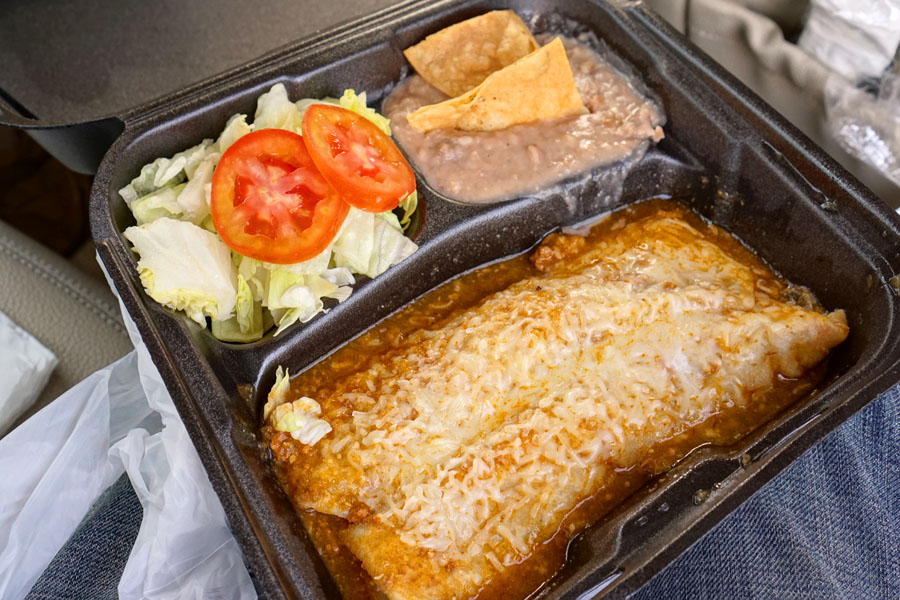 Platillo Especial [$11.50]
| Two Burritos de Birria topped with Salsa Especial/green chile pork sauce, refried beans, lettuce, and tomato on the side
Now here was easily the most untraditional item served at Burritos La Palma, though it's also one of the most popular. The dish was created by the elder Bañuelos, and was meant to echo the Americanized Mexican cuisine he encountered whilst living in California. The overall effect here is not unlike that of an enchilada, as the melted cheese and salsa loaded on top of the burritos really do complete the package. Beans were an effective side dish, and I really did appreciate the crunch and lightness provided by lettuce.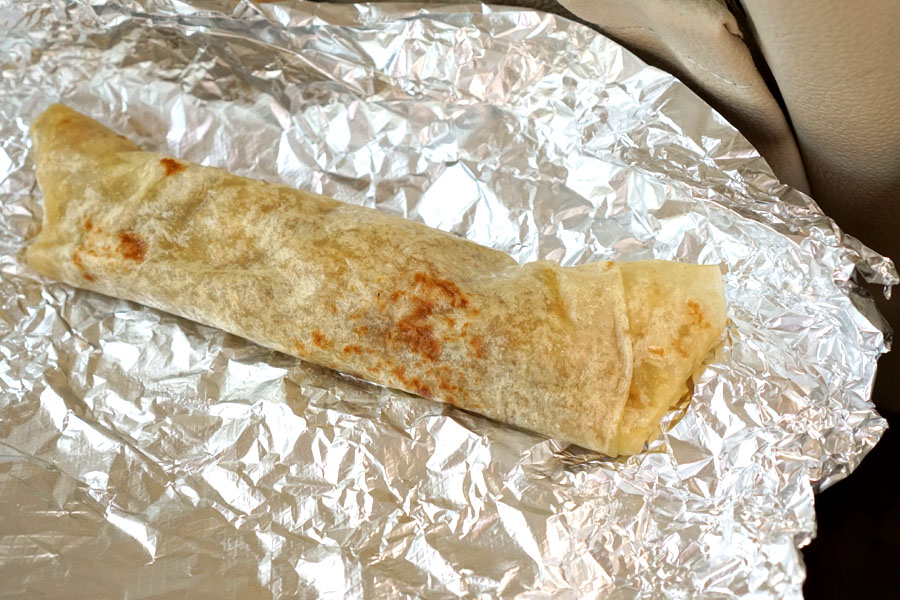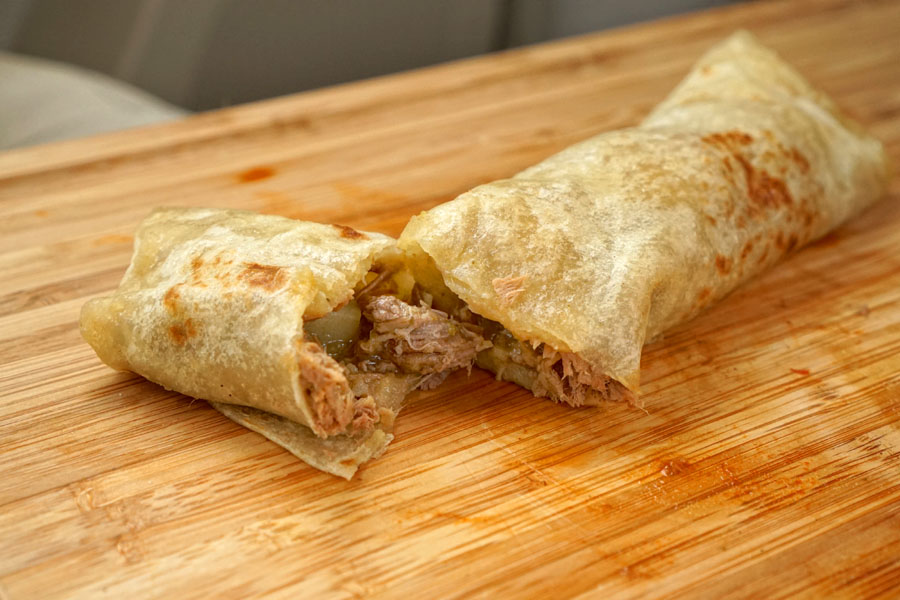 Deshebrada Burrito [$3.25]
| Shredded beef in green chile
My final burrito almost seemed like a beef version of the tinga above, the juicy meat once again conveying cozy, classic chile verde flavors supplement by the inclusion of potato. I will note that the slight
comal
-inflicted sear on the tortilla worked the best here.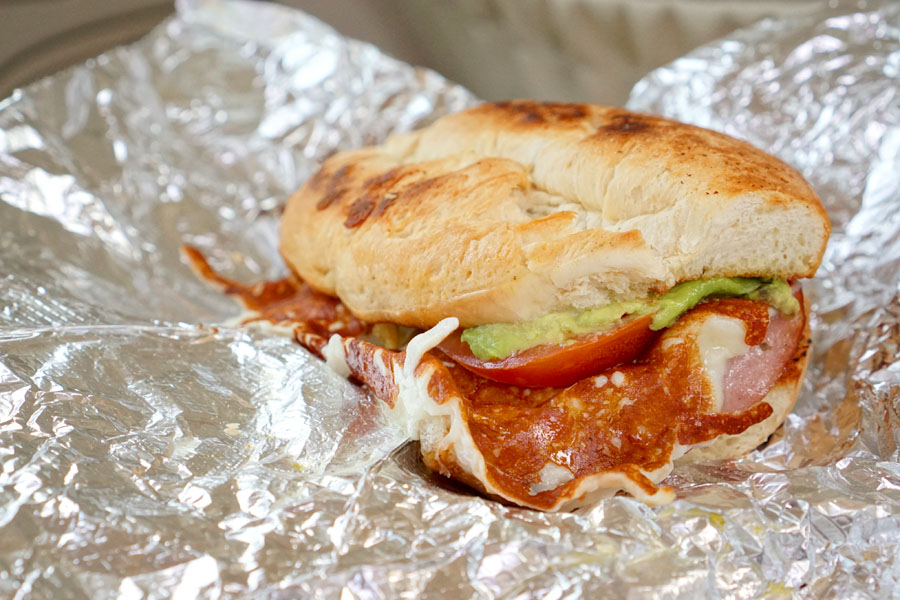 Torta Especial [$8.25]
| Pork loin, ham, cheese melt, jalapeño, and avocado
We ended with a torta, and I have to say that it was easily one of the better renditions I've tried. The crux here was that immensely satisfying back-and-forth between the hearty pork and melty cheese, while tomato and avocado supplied a juicy brightness. There were also these savory, bacon-like bits that really sealed the deal for me, and made for an almost BLT-like sensation at times.
BLP's burritos are quite unlike those I and many others have become accustomed to living here in Southern California, and that's a good thing I reckon. They're straightforward, simple in formulation and in presentation, perhaps even a bit austere, but this severity is also what makes them so endearing. I could see myself coming back here on the regular if I lived in the area.