Shunji (Los Angeles, CA) [2]
Shunji Japanese Cuisine
12244 W Pico Blvd, Los Angeles, CA 90064
310.826.4737
www.shunji-ns.com
Sat 03/28/2020, 05:30p-06:50p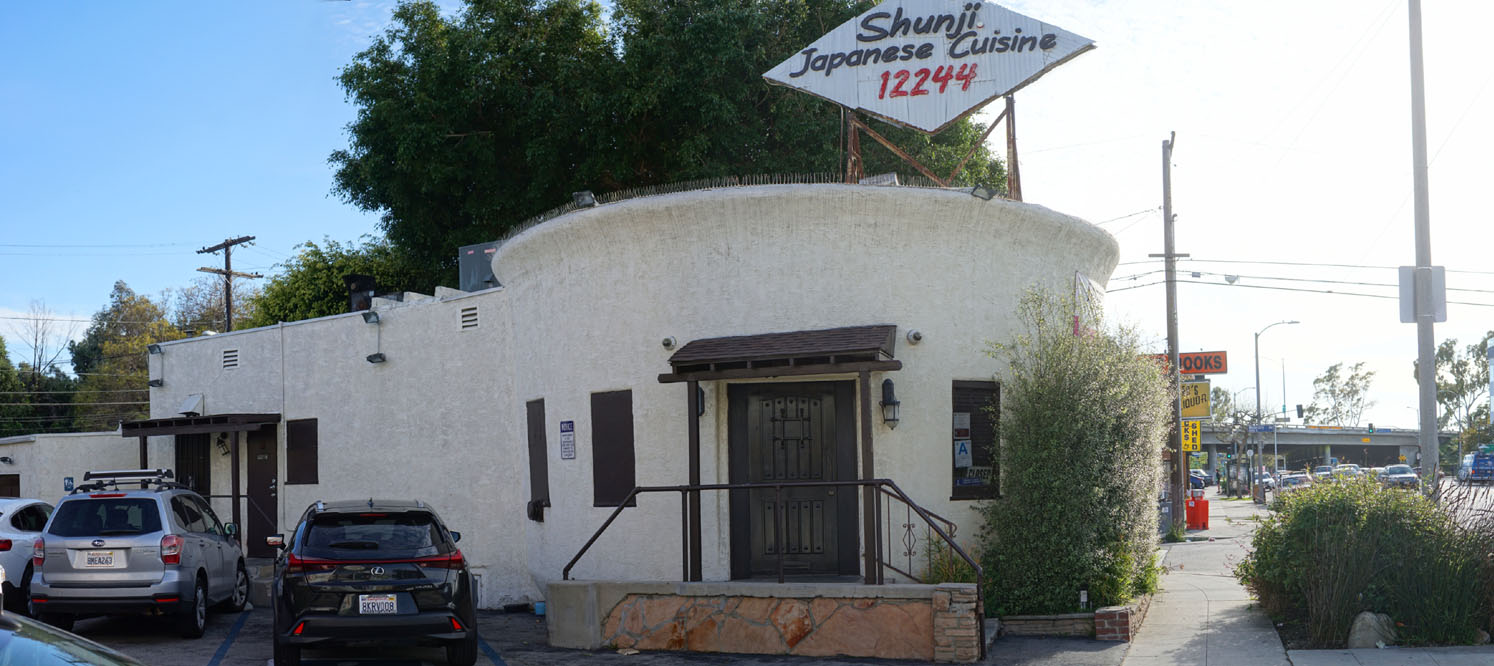 It's been a while since I reported on
Shunji
, over seven years as it happens. In the intervening period, Chef/Owner Shunji Nakao's Santa Monica-adjacent, chili bowl-shaped restaurant has established itself as a staple of high-end sushi in LA. In fact, just days after my last post about this place, it landed at the #10 spot on
LA Times
' list of "
101 Best Restaurants
," and has remained a fixture on said list in the succeeding years: #4 in
2014
, #7 in
2015
, #19 in
2016
, #24 in
2017
, unranked (as was the case with everybody else) in
2018
, and #31 in
2019
. Last June, the spot even scored a star in Michelin's inaugural California guide.
Now given the whole coronavirus situation, I've been on the lookout for good take-out options over the past couple weeks, and when I found out
on Facebook
that Shunji was offering food for pickup, I jumped on the opportunity. Actually, I initially emailed the restaurant for an order a couple days before the 28th, but they were already fully committed, which is a good sign. Do note that ordering has since moved to the
Tock platform
.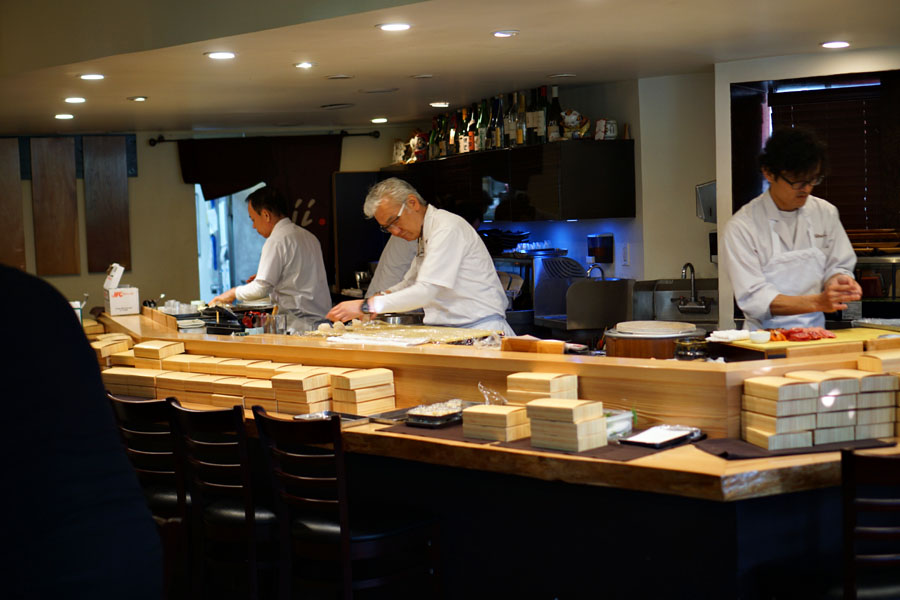 Above we see Nakao-san and his crew behind the bar.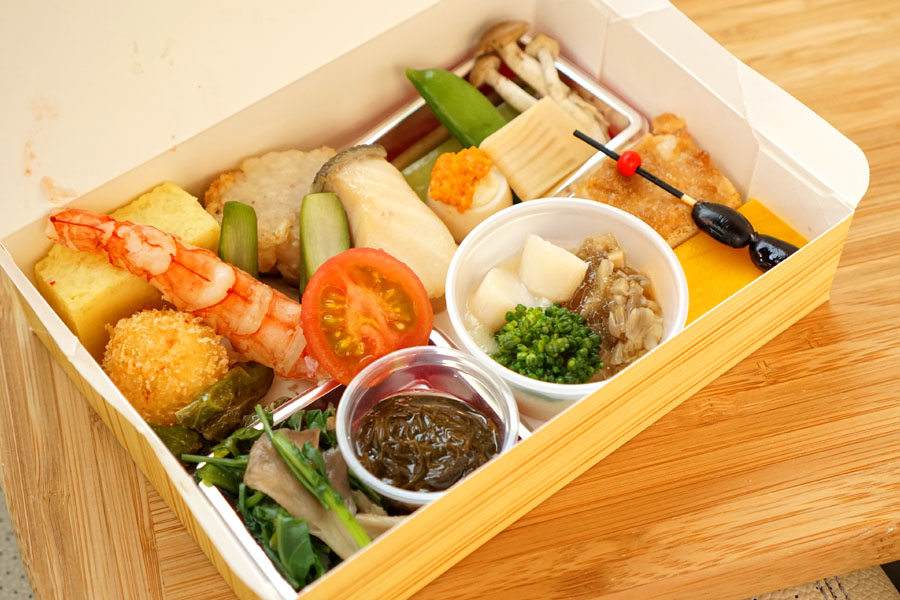 Japanese Appetizer Box [$25.00]
I began with Shunji's assortment of
sakizuke
, or various small bites. Clockwise from upper-right, we had:
A selection of simmered vegetables, specifically: somewhat medicinal-tasting shimeji mushrooms; tart, savory Japanese yam; a crisp, astringent stalk of celery; crunchy, mildly herbaceous bamboo; bright, crunchy snap peas; and a creamy quail egg crowned with Hokkaido bafun uni.
Firm-yet-supple tofu topped with miso and a nutty housemade walnut paste.
A block of super soft, silky pumpkin tofu, one imbued with a subdued earthy sweetness.
Sugary black soybeans (kuromame) on a skewer.
I forget the name of the dish, but this was a vegetable purée made with cauliflower and potato, topped with broccolini, scallop, and three types of mushroom. In terms of taste, think creamy and briny and somewhat vegetal, with a much-appreciated contrast from the sheer bitterness of the broccolini. There were some interesting jellied bits here, too.
Vinegar-dressed mozuku was as slippery as ever, but not quite as acidic.
The ohitashi, made with wild arugula and mushroom, was one of my favorites thanks to its forceful, persistent bitterness, tempered by the woodsiness of the 'shrooms.
Shishito peppers were nicely smoky, with a touch of heat to boot.
The crab fritter was also a standout. I loved how apparent its sweetness and salinity were, countered by some herby bits that also contributed a counterpoint in texture.
The tamagoyaki was one of the creamiest examples I've had, and conveyed a rather subdued sweetness.
Cooked shrimp was nearly creamy in consistency, with classic flavors that were just what you'd expect.
A demisphere of marinated cherry tomato ate juicy, savory, and sour, and even displayed a touch of mintiness on the back end.
Stalks of purple asparagus were pleasantly bittersweet, and really perked up the palate.
Another favorite of mine was the shiitake shinjo, or tempura'd mushrooms stuffed with shrimp. The key here was how the sweetness of the shrimp married so effortlessly with the strong umami stemming from the shiitake.
Last up was the grilled gindara, a fatty, flaky fish that featured a subdued sweetness at first that led to a growing, lingering brine.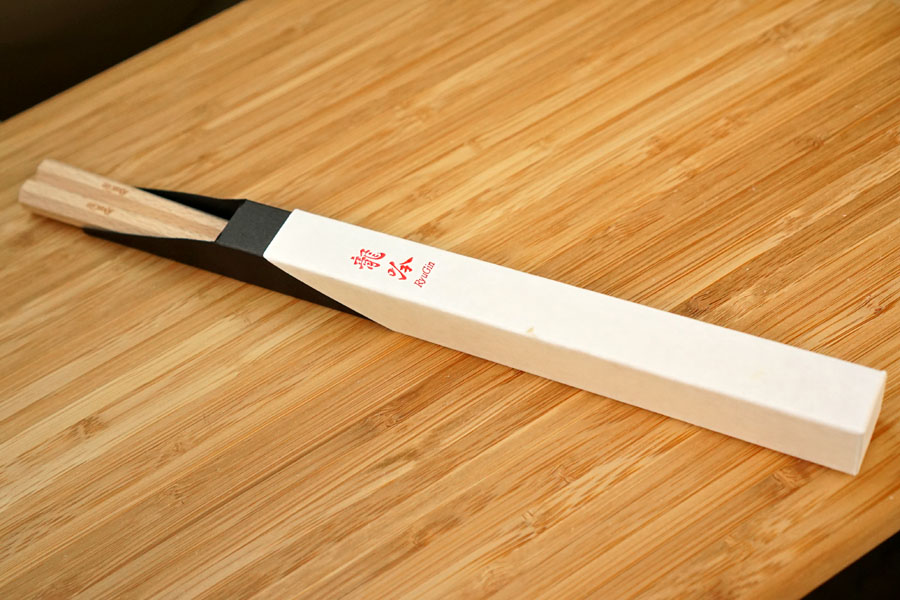 Given the nature of the food, I figured that I'd need chopsticks, so I brought along the set I got from
Ryugin
last year.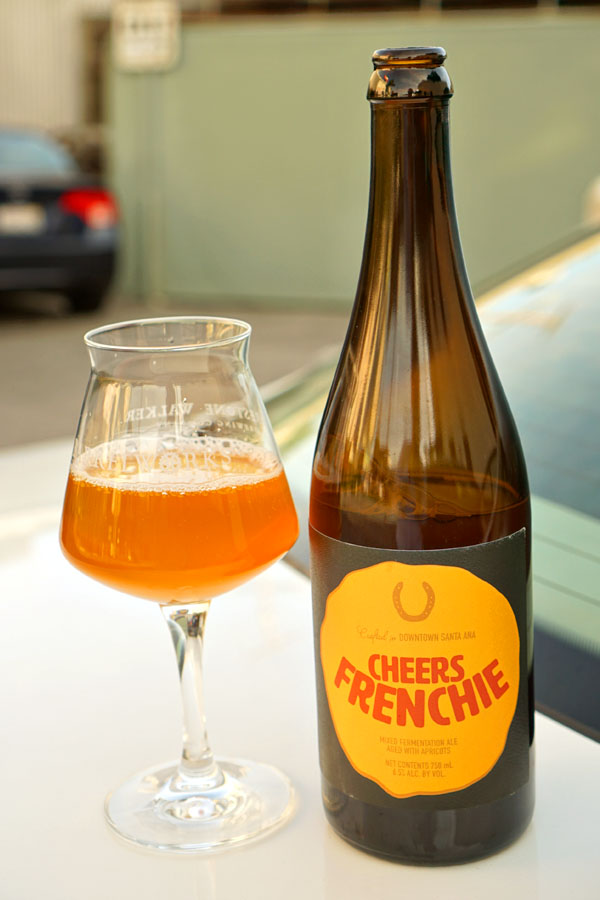 To drink, we have here the
2015 Good Beer Company Cheers Frenchie
, a farmhouse ale fermented with
Saccharomyces
,
Brettanomyces
, and
Lactobacillus
, then aged three months in French oak barrels with apricots. Nose was of rich, robust stone fruit and yeast, backed up by a very palpable funk. Tasting the beer, I got more of that apricot up front, leading to tart, acidic flavors and hints of oak, mineral, and barnyard. Pretty easy-drinking overall.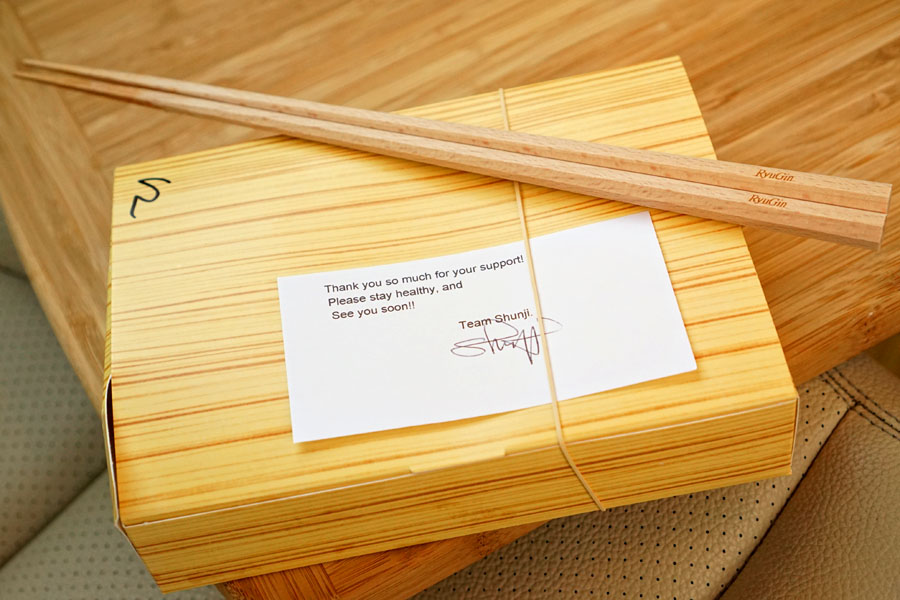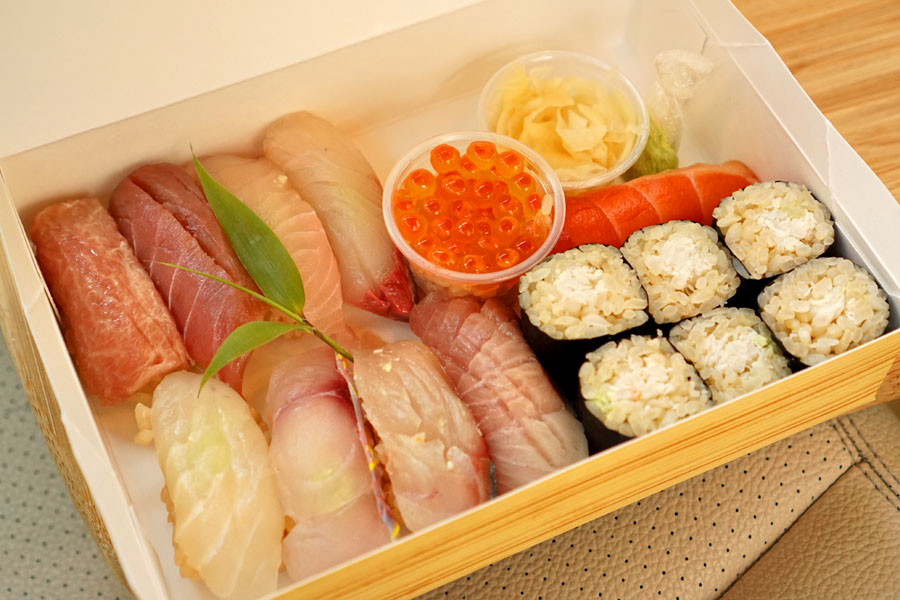 Sushi Box [$48.00]
With the array of
zensai
done with, I moved on to the sushi selection, which featured 10
nigiri
, plus a cut roll, each of which is described below. Note the hand-signed note that comes with each order.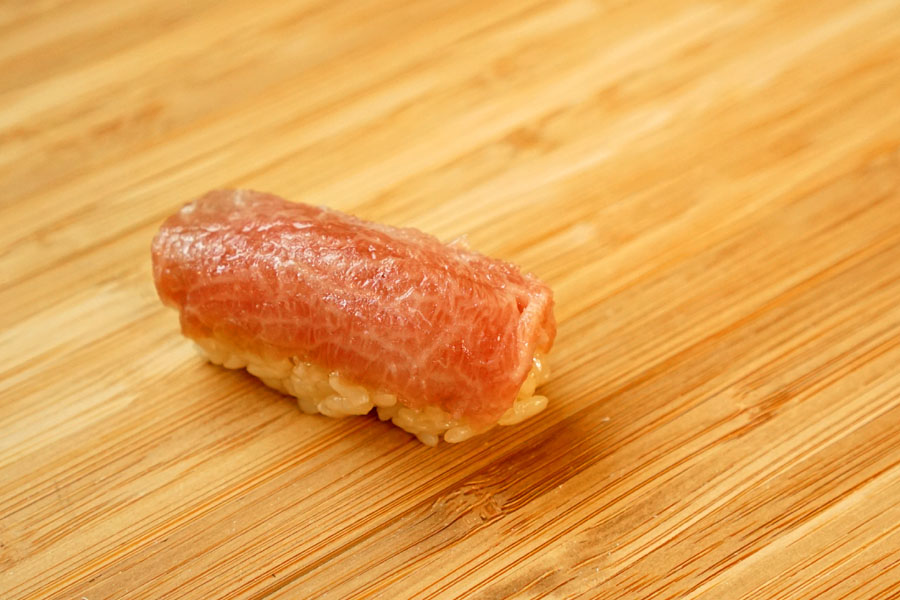 I ate the sushi in the ordered presented in the box, and thus began with Shunji's supple, silken bluefin toro. The sheer fattiness of the fish was very, very noticeable, so the rice (and soy) was absolutely crucial here for contrast.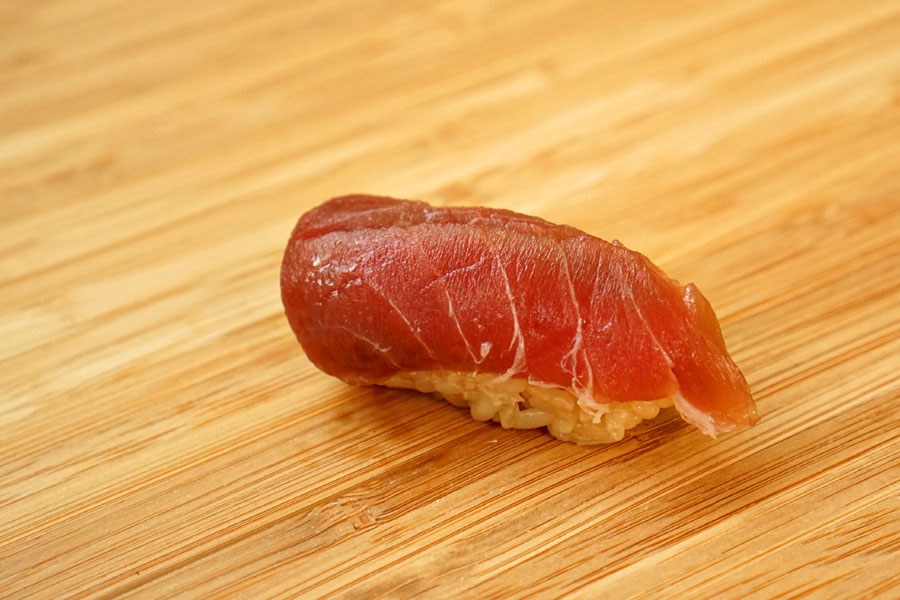 Lean blue fin (
akami
) was up next, and was a fuller-flavored presentation than most I'd say.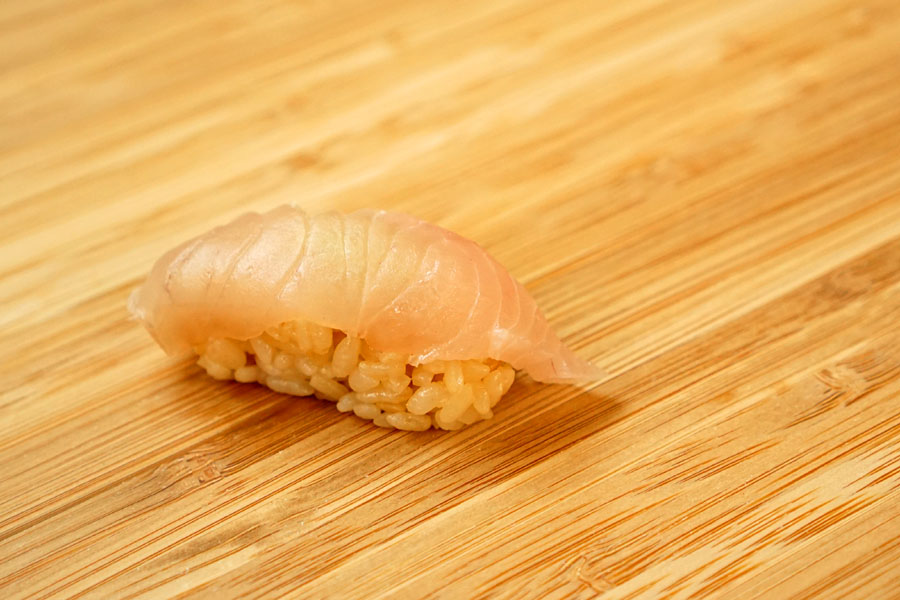 Here was something that I don't think I'd ever had before:
hirasu
, or what was described to me as "seasonal small yellowtail." I found it really aggressively flavored, which I liked, and there was a very apparent application of wasabi here as well. In addition, the rice used on this piece seemed noticeably firmer.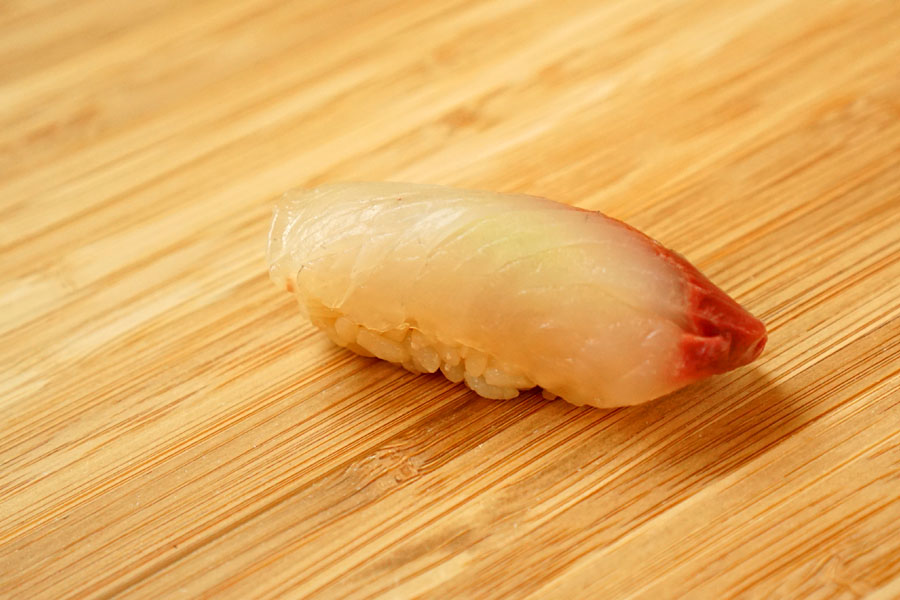 I was told that this was
sawara
, or spring king mackerel. I quite liked the bit of "crunchiness" to the fish, as well as its potent, lingering savoriness, while the
shari
here was very obviouis as well.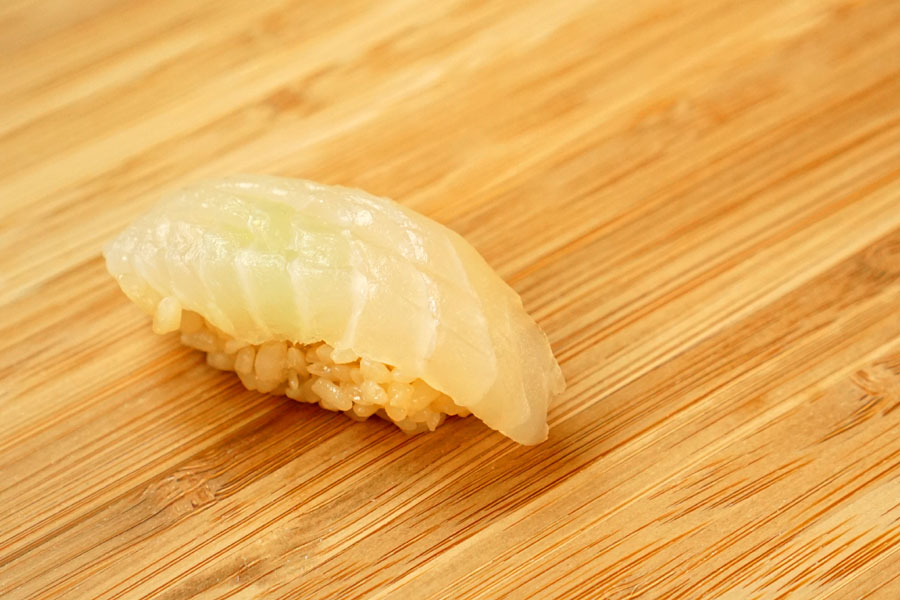 Halibut was soft and almost pillowy in terms of texture. Taste-wise, I found it subtle at first, but then the wasabi kicked in and hit me hard.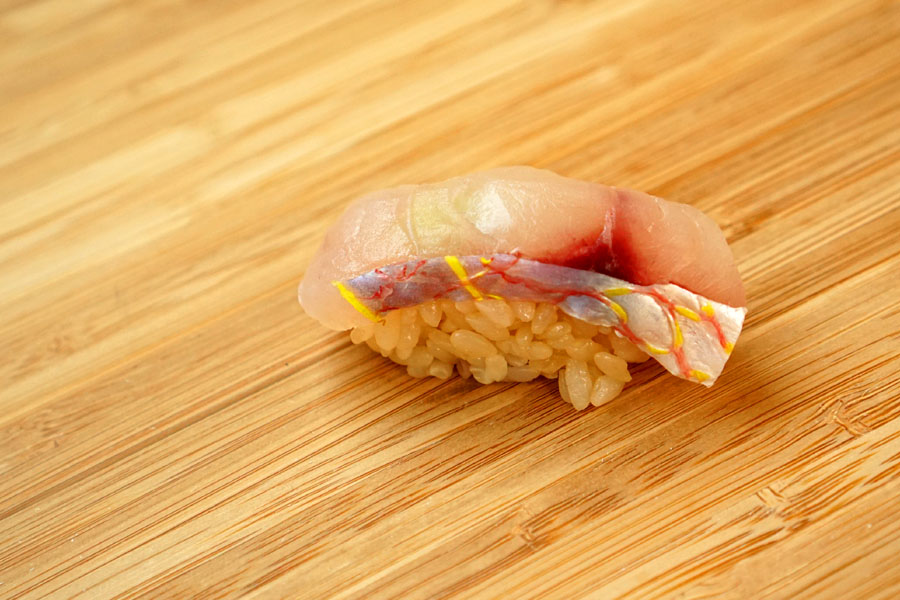 It was nice to see
itoyori dai
(golden threadfin bream) presented, since it's a
neta
that you don't encounter all that often. I'd say that this was a mild, easy-to-eat fish, and that the umami notes from the rice were actually accentuated here.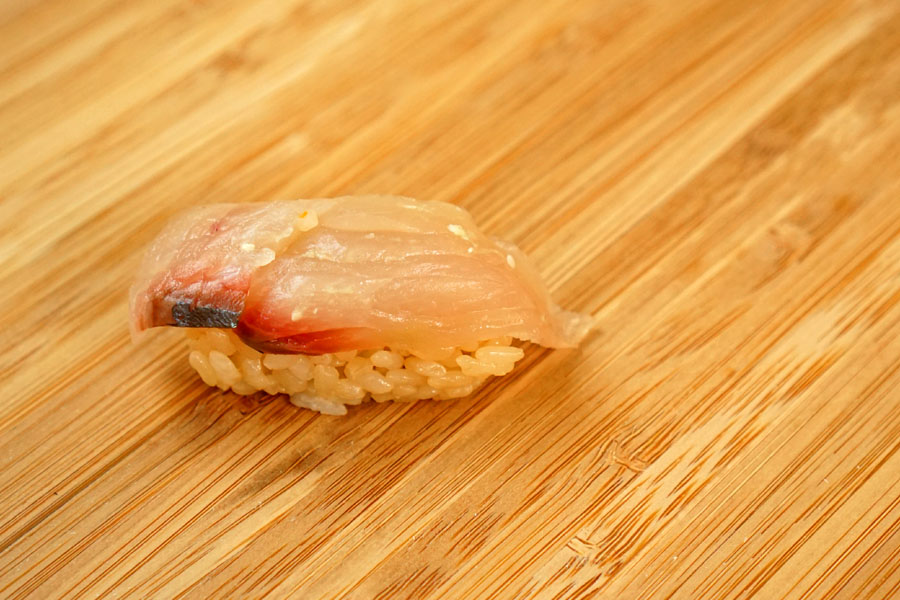 The
shima aji
(a.k.a. striped jack or white trevally) was a favorite this evening. I just found it really refined, nuanced, yet potent, the fish and rice melding beautifully.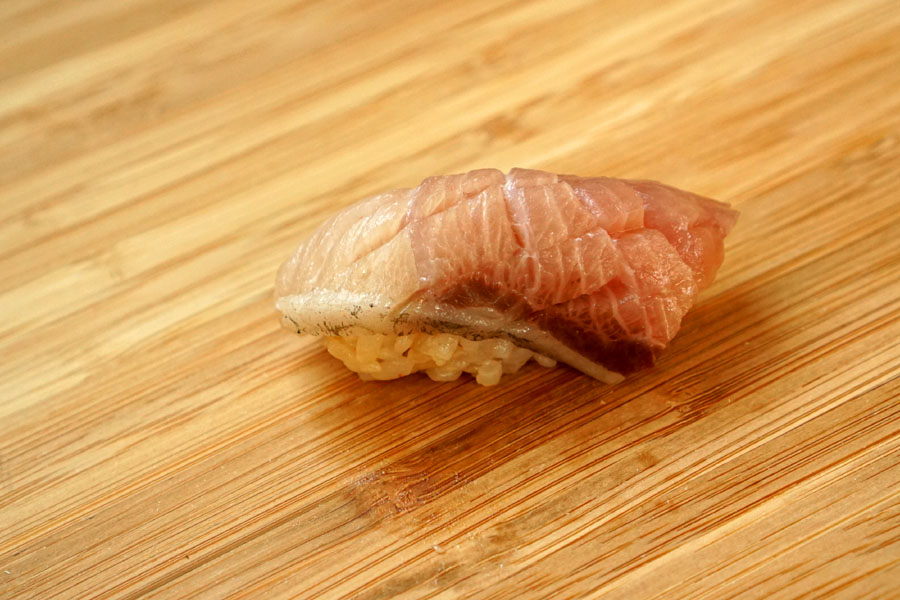 Another favorite was the
sakura buri
, which is apparently only available for a short period in the spring. There was an amazing amount of savoriness, fat, and smoke present, along with an appreciable salinity that just sang when taken with the rice. A first for me.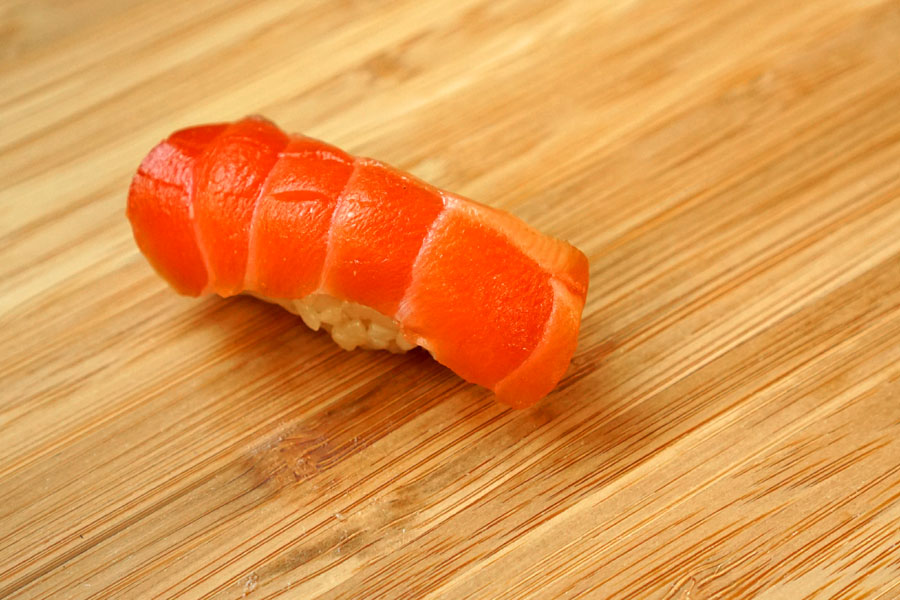 Masunosake
(spring salmon) really delivered with its abundance of rich, smoky flavors. Delish.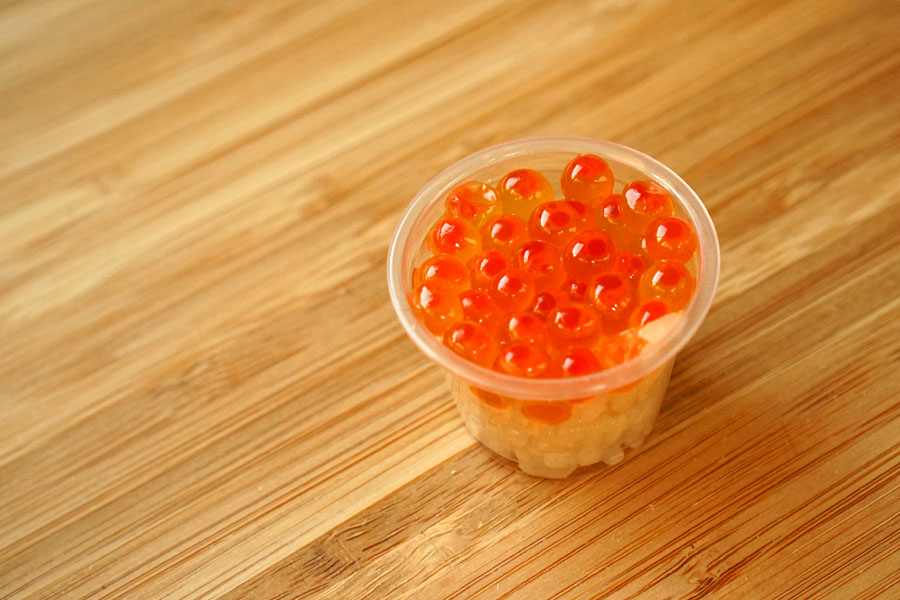 The salmon roe showed off a familiar brine that just made sense with its base of rice.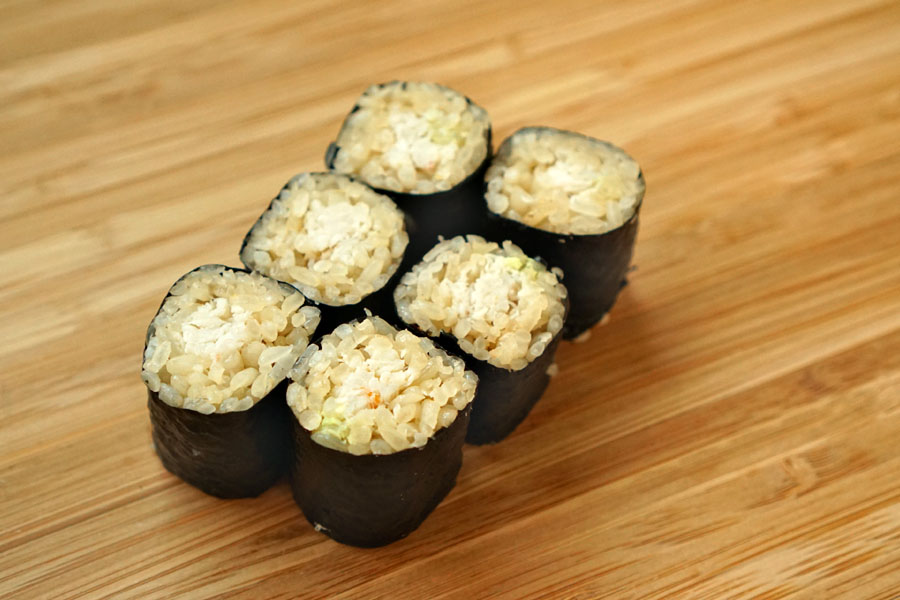 Finishing things off was this blue crab roll, with its gratifying mixture of sweetness, salinity, and nori-fueled umami.
Despite the circumstances, it was nice to be able to report on Shunji after all these years. I have to say that this was the best take-out sushi I've had, though admittedly, that bar is set pretty low. In any case, it was great to see that the restaurant was doing pretty brisk business despite the COVID-19 scare, so hopefully they can keep it up.