Konbi (Los Angeles, CA)
Konbi Restaurant
1463 Sunset Blvd, Los Angeles, CA 90026
213.278.0007
www.konbila.com
Mon 03/23/2020, 03:55p-05:00p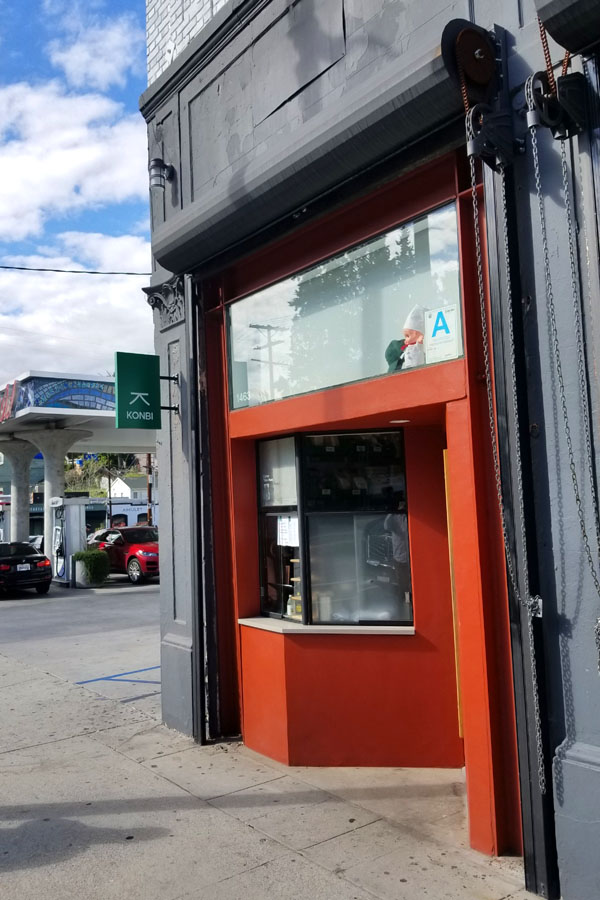 A benefit of the coronavirus is that traffic across Southern California has been much,
much lighter
, which affords Angelenos the ability to check out spots that they couldn't normally visit. Such was the case with Konbi, which is only open during the day. Usually, I would never dare drive all the way to Echo Park from OC on a weekday afternoon, but such a trek is now totally feasible. Inspired by Japanese
konbini
(convenience stores), Konbi became Instagram famous in late '18 thanks to its unexpectedly photogenic egg salad sandwich, and has been the subject of considerable adoration since then. The place is the brainchild of Chefs/Owners Akira Akuto and Nick Montgomery.
About the Chefs
: Nick Montgomery was born in September 1988 and hails, fittingly, from Montgomery, Alabama, though he also spent many of his childhood years in Mississippi. He initially got interested in food by watching cooking shows as a kid, and began his hospitality career at the age of 13, washing dishes at a nursing home. He got his first kitchen job at 14, quickly fell in love with the environment, and eventually made his way to Frank Sitt's Bottega in Birmingham. However, Montgomery soon decided that he wanted to get out of the South, and moved to New York when he was 18 (despite never setting foot in the City prior to that). A friend got him a job at
David Chang
's seminal Momofuku Ssam Bar (which had just opened), and he worked there while attending the French Culinary Institute (c/o 2007). It was at Momofuku where he would first meet friend and eventual business partner Akira Akuto.
Akuto was born in November 1980 in Japan, and spent his younger years between Tokyo and Seoul, as his dad was Japanese while his mom was Korean. In 1986, his family moved to the US due to his father's work, settling in Farmington, Connecticut. Though his mother was a good cook, he didn't each much Asian food growing up, instead preferring Italian, Jewish, and plenty of fast food. After graduating from Farmington High School, Akuto got accepted to Columbia, and relocated to NYC in January 2002 after deferring his matriculation date. He was a subpar student though, and didn't know what he wanted to do, but interestingly, he was able to score an investment banking summer internship (he hated it). However, during his two years at Columbia, Akuto did find himself eating out a lot (mostly stuff like bagels and pizza, but he did make his way to Gramercy Tavern and Le Bernardin), and quickly decided that he wanted to learn to cook in order to impress girls.
Akuto thus enrolled at the Institute of Culinary Education, taking classes on the weekends, and even externed at Craft. After finishing his studies in 2003, he moved back in with his parents, who were now in SoCal (and did not support his decision to pursue a culinary career), and found himself cooking at an unremarkable restaurant here in LA. About a half year later, he moved back to New York and secured a position at the Meatpacking District's 5 Ninth, under Zak Pelaccio. From there, Akuto spent 2005 to 2006 at Franny's in Brooklyn, then toiled at a couple other Italian places before landing a job at the original Momofuku Noodle Bar in 2007. Montgomery actually cooked for him before he started working there, and the two easily connected.
Montgomery eventually left the Momofuku family to cook with Joaquin Baca at The Brooklyn Star, and later relocated to Chicago to work at Paul Kahan's seminal Blackbird. Following, he returned to New York in 2013 to help open Gabriel Stulman's Montmartre, helmed by Chef Tien Ho, whom Montgomery first met at Ssam Bar. He would finally move to Los Angeles in 2015, as he had friends in the City. Meanwhile, Akuto started working as a private chef in June 2009, but came to LA at Montgomery's request. The two collaborated to open
Osso
in the Arts District in May 2015. In spring 2016, they began doing Italian-Japanese pop-ups, and curiously enough, an early version of the omelette sandwich currently on the Konbi menu was created for one of their events. Osso was shuttered by the end of 2016, and in 2017, Akuto and Montgomery started conceptualizing Konbi, even going on a research trip to Japan.
Konbi was publicly announced in March 2018, and the restaurant bowed at the start of October that year, situated inside the former home of E2K Barber & Salon and Dalila's Estetica 2000. The 10-seater,
Otto Design Group
-penned spot quickly established an audience, largely thanks to social media, and in January 2019, was positively reviewed by Patricia Escárcega for the
LA Times
. May 2019 saw Konbi place #4 on
Food & Wine
's list of "
Best New Restaurants
" (
Nightshade
was also on the list), while April had the team slangin' sandos at Coachella. In September 2019, Konbi took the #1 spot on
Bon Appetit
's ranking of "
America's Best New Restaurants
," and in December, was #58 on the
Times
' index of "
101 Best Restaurants
."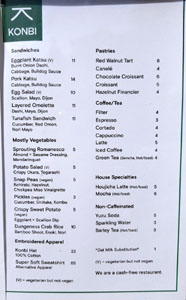 Though Konbi's mostly known for its Japanese-inspired sandwiches (all served on Bub & Grandma's milk bread), the spot also offers an array of vegetable-based dishes, French-style pastries, and a selection of coffee/tea. Click for a larger version.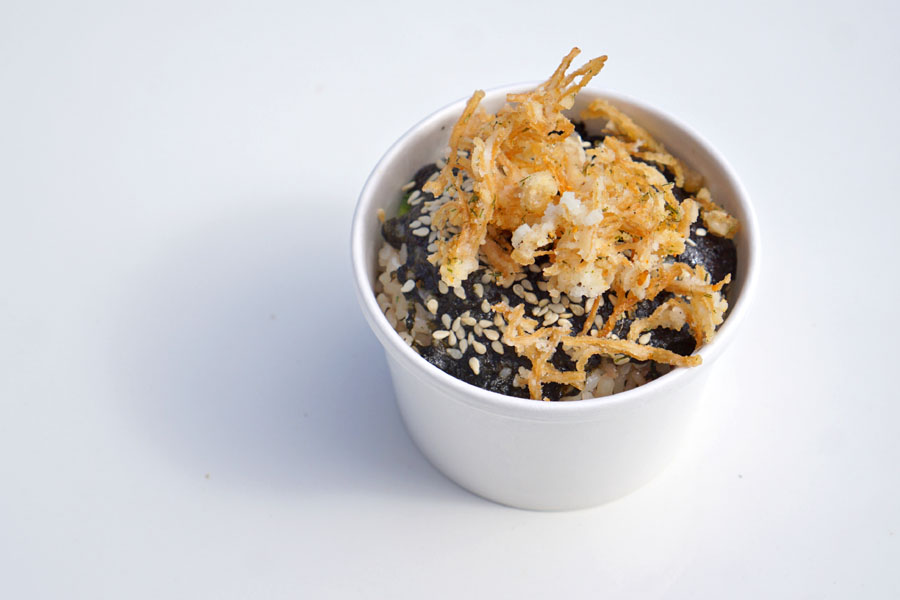 Dungeness Crab Rice [$10.00]
| Bamboo Shoot, Enoki, Nori
The crab rice was a bit of an umami bomb. I definitely got the sweetness of the Dungeness, but even more pronounced was the seaweed and a sort of smokiness that pervaded the dish. At the same time, the rice itself was well textured, and I appreciated the nuttiness imparted by the sesame.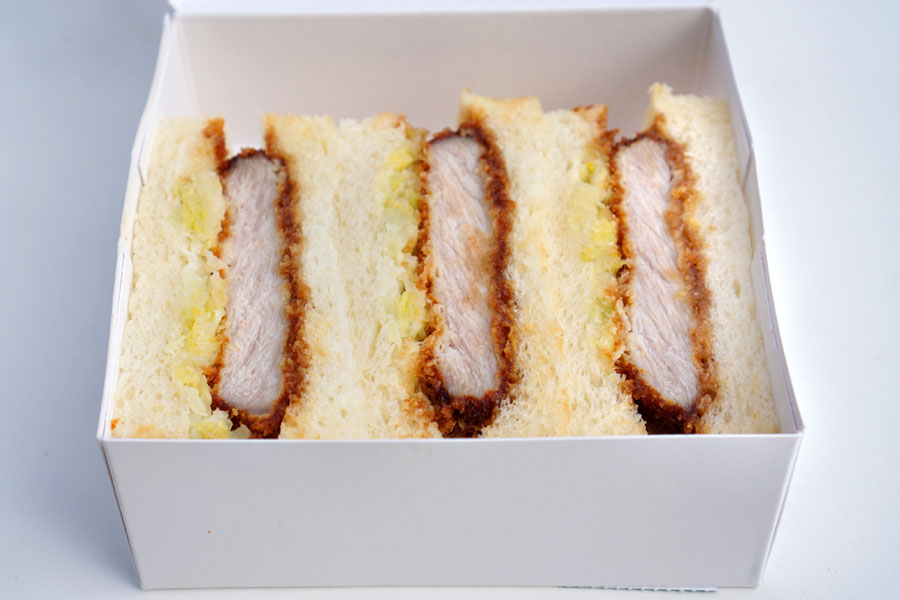 Pork Katsu [$14.00]
| Cabbage, Bulldog Sauce
Koji
-brined loin was just tender enough and pretty succulent, a full-flavored presentation of pork amped up even more by the piquancy of Bull-Dog
sosu
and what I believe was mustard. The cabbage functioned for contrast as you'd expect, but my concern here was that the cutlet's panko crust should've been crunchier.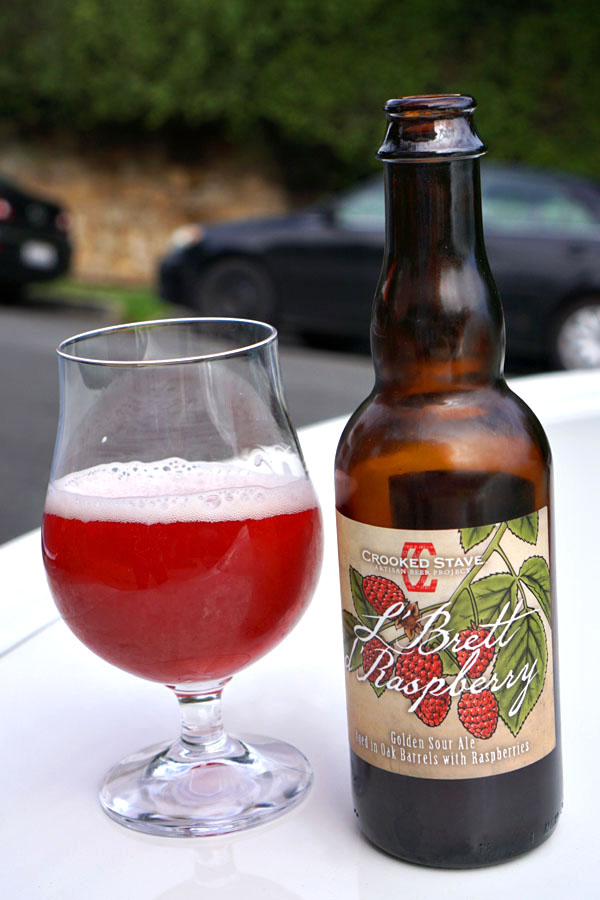 To drink, we had the
2015 Crooked Stave L'Brett d'Raspberry
, a golden sour ale aged in oak with raspberries. Nose here was bright and fruity and fresh, but backed by a slight mustiness. Tasting it, I got a healthy amount of tart berry, with countering elements of yeast, light acid, and subdued oak. Nice, and quite easy-drinking.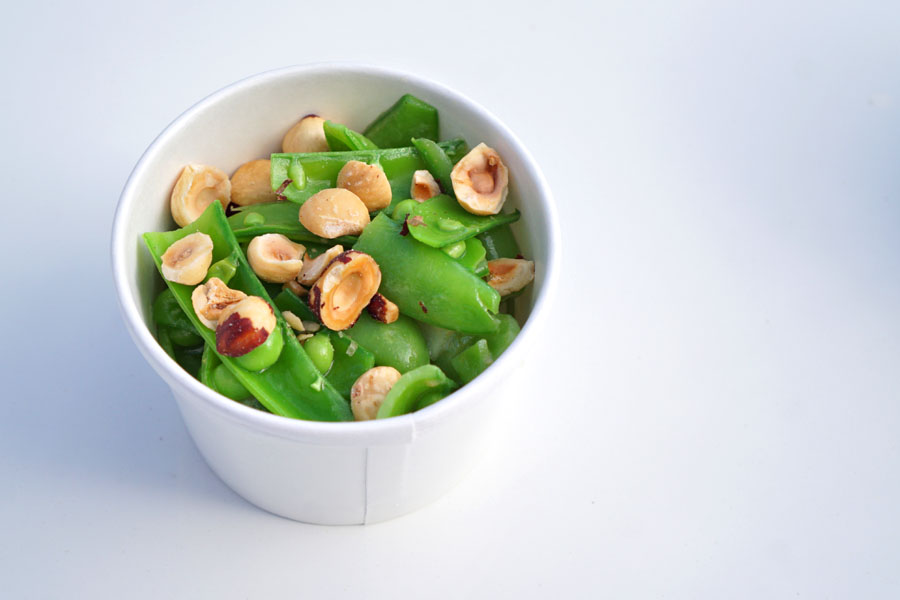 Snap Peas [$5.00]
| Kohlrabi, Hazelnut, Chickpea Miso Vinaigrette
Peas were super bright and crisp, just like I wanted. Pickled kohlrabi imparted a punchiness to the dish, and I have to say that the hazelnuts worked much better than I thought they would.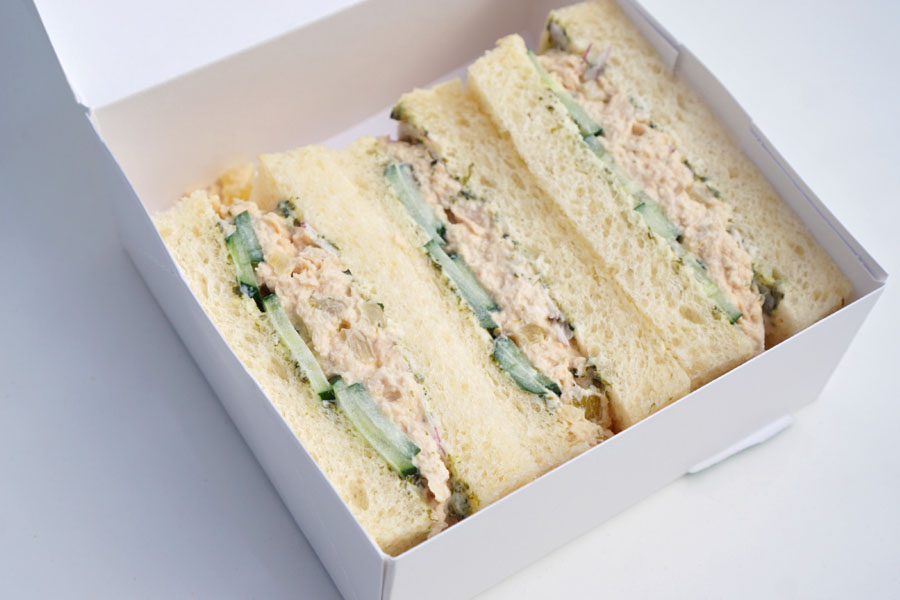 Tunafish Sandwich [$11.00]
| Cucumber, Red Onion, Nori Mayo
This was a new sandwich on the menu, as was actually my favorite of the bunch. The tuna salad itself showed off a deft mix of sweetness and brine, perked up by bits of red onion, and was enjoyable just by itself, but the key here was the cucumber, which imparted a lovely freshness and crispness that really completed the sando. In addition, I think this tuna filling meshed the best with that soft, somewhat squishy milk bread.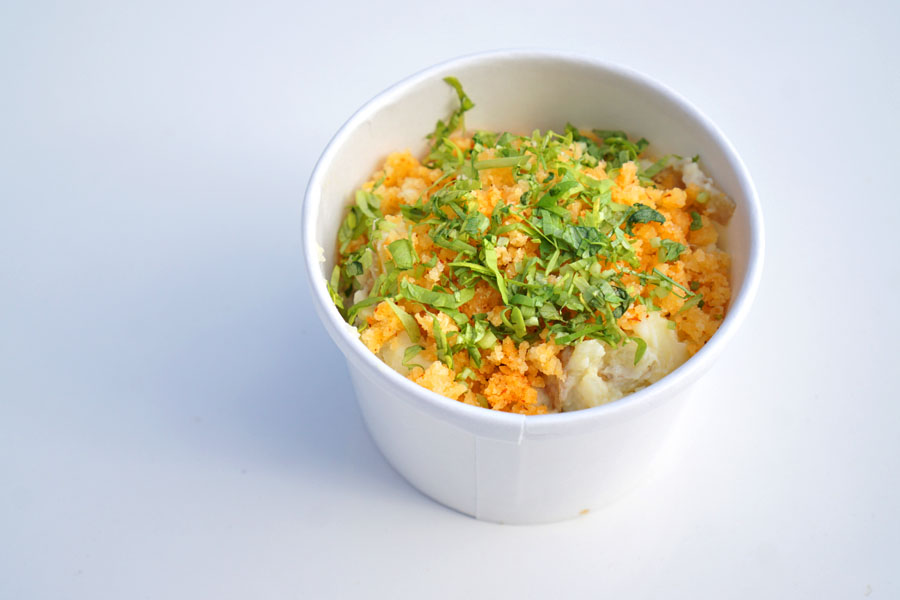 Potato Salad [$5.00]
| Crispy Okara, Togarashi
I'm a sucker for potato salad, and this particular example was one of the more interesting examples I've had. There was a very apparent herbaceousness here that I rather liked, and I did enjoy the heat from the
togarashi
as well, not to mention the textural play from the
okara
. My main issue was that I really wanted the salad to be creamier, as it seemed rather "dry" we'll say.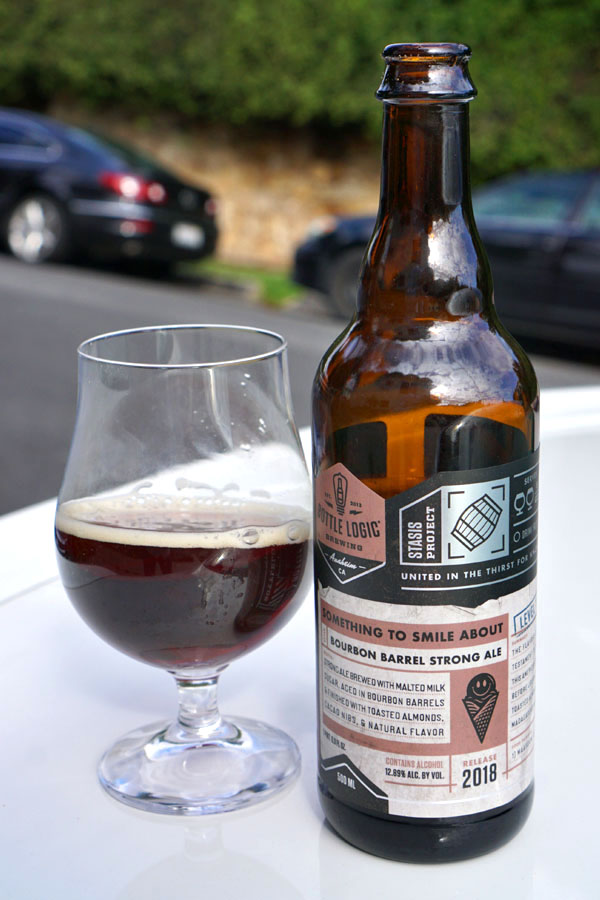 Next to drink came the
2018 Bottle Logic Something to Smile About
, a Rocky Road-esque strong ale brewed with malted milk sugar, aged in bourbon barrels, and then finished with toasted almonds, cacao nibs, and Madagascar vanilla. The beer smelled heavily of the advertised nuts and chocolate, really doing a great job recalling its ice cream inspiration. The palate was super malty and unabashedly sweet, giving up loads of almond and cocoa overarched by wisps of creamy vanilla.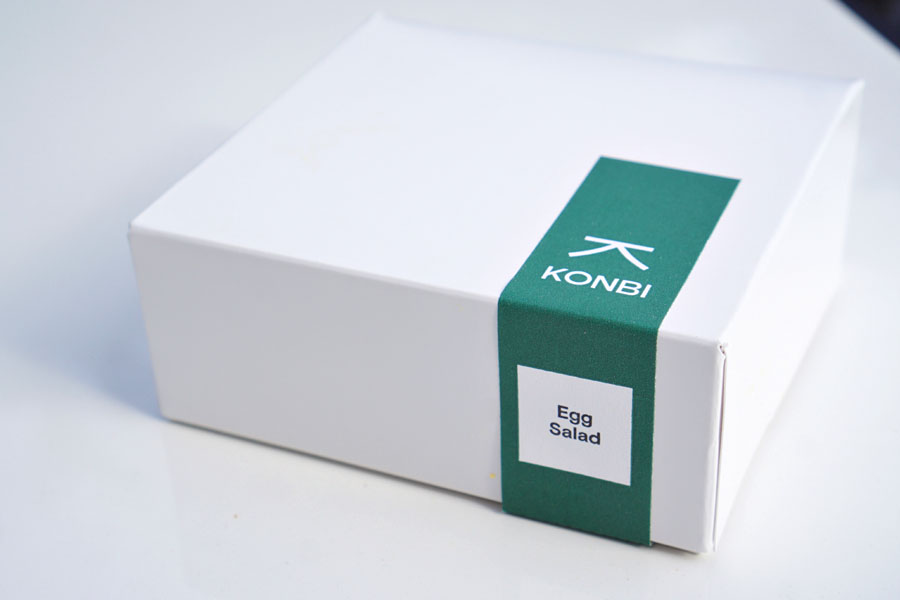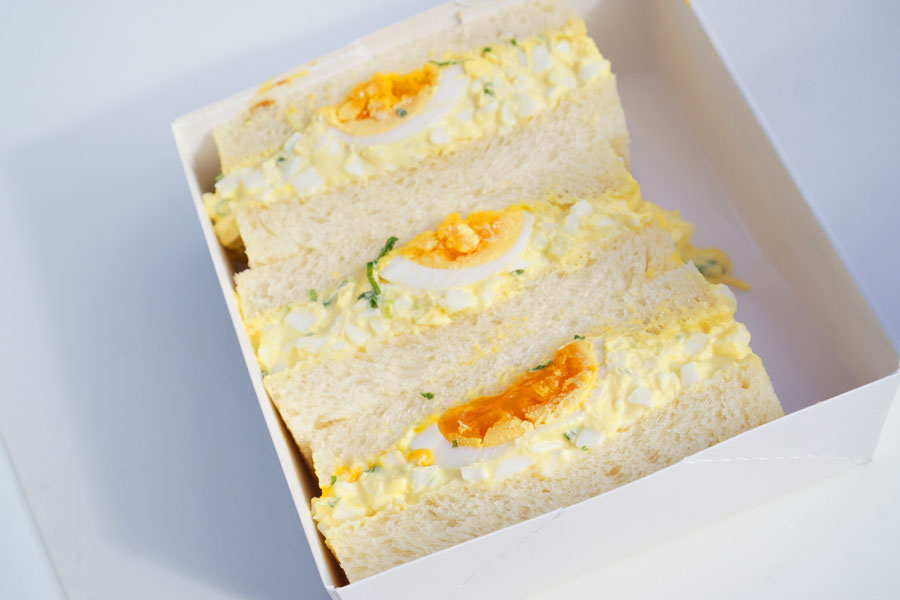 Egg Salad [$10.00]
| Scallion, Mayo, Dijon
Naturally I had to sample the Lawson-style sandwich that sort of started it all for Konbi. I just love egg salad in general, and this was a commendable example. I especially enjoyed the sheer zinginess of the scallions here, as well as the pinpricks of salt. Dijon offered up just a hint of tang, and I also detected this horseradish-like heat that I liked, while the Kewpie mayo just brought it all together.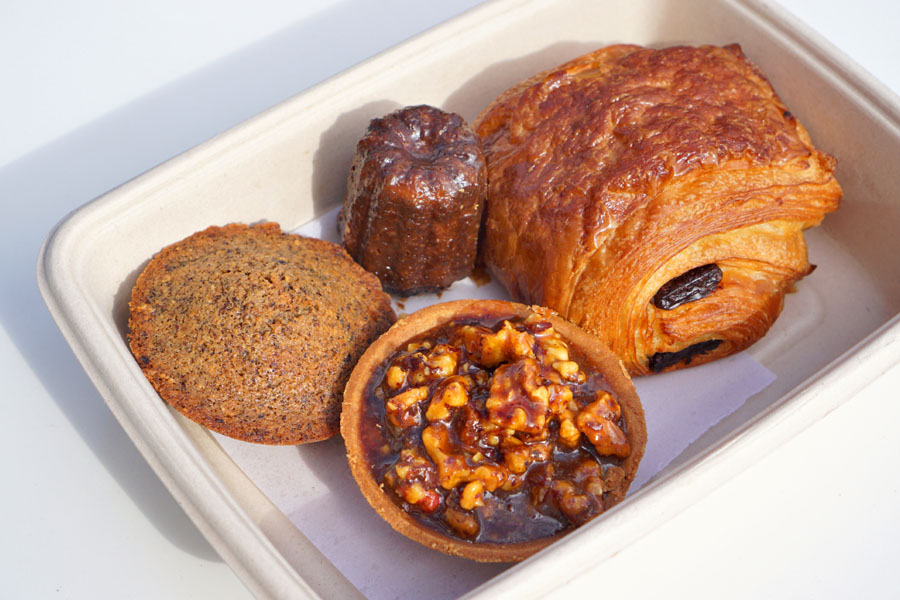 We had to finish with a sampling of Konbi's pastries, which are made in-house by Pastry Chef Jennifer Yee, an SGV native and CIA grad who's spent time at Gilt and Jean-Georges in New York, as well as at Craftsman and Wolves, Bouchon Bakery, and French Laundry up in NorCal.
Red Walnut Tart [$6.00] - Sticky and sweet for sure, but the walnuts still stole the show; nice pastry crust, too.
Hazelnut Financier [$4.00] - Really well textured, with long-lasting flavors of brown sugar alongside hazelnut. Curiously enough, I detected something here that reminded me of a carne asada taco.
Canelé [$4.00] - The canelé was as good as any I've had, thanks to its balance between its wonderfully crisp, thick, caramelized crust and creamy, eggy interior.
Chocolate Croissant [$6.00] - Taking inspiration from the one at Path in Tokyo (the work of Rihito Maruhashi), Konbi's pain au chocolat was pretty much spot on. The pastry here was super crisp and flaky and fragile, and married perfectly with the rich but not overwhelming chocolate. The restaurant is known for selling out of these, and I can see why.
Konbi's received a lot of attention over the past year or so, perhaps too much according to many commentators, and I can somewhat understand where they're coming from. Indeed, what I ate wasn't exactly game-changing, but at the same time, it
was
quite enjoyable, and the cooking here does give the impression of simplicity belying precision--it's sort of much more than meets the eye. In any case, as for what's next for the team, Akuto and Montgomery are apparently open to expanding into another, larger space, and I could see Konbi being a replicable concept for sure. Personally, I'd like to have the duo open something in the vein of their old haunt, Osso.