Tacos 1986 (Los Angeles, CA)
Tacos 1986 Downtown
609 S Spring St, Los Angeles, CA 90014
213.988.7202
www.tacos1986.com
Sat 03/21/2020, 08:40p-10:00p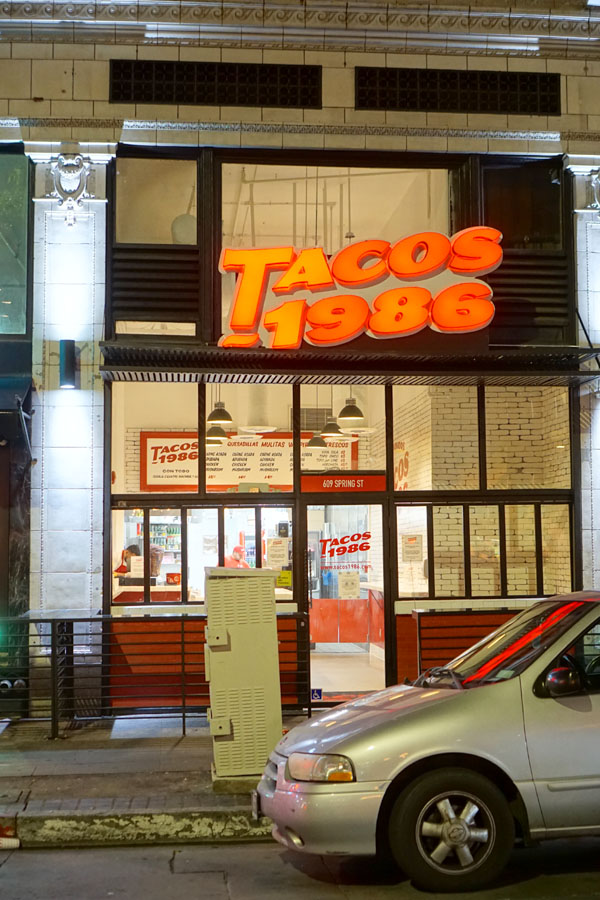 Given that dining rooms in LA are shut down due to coronavirus, I've been compiling a list of take-out options that make sense, and decided to check out Tacos 1986, which is pretty much the taco spot du jour (
del día
?). The place started out as a cart in Hollywood back in late 2018, and bills itself as a Tijuana-style taqueria, one primarily known for its charcoal-grilled carne asada (though gas is used nowadays in their brick-and-mortar locations) and
trompo
-roasted adobada (a.k.a. al pastor).
The background
: The story here starts with Victor Delgado, who was born in San Diego in 1986, hence the restaurant's name. His family relocated to Tijuana before his sixth birthday, but he later moved back to San Diego at age 19, then settled in LA in late 2008 on the advice of his cousin
Frankie Delgado
. Frankie got him a table service job at Voyeur nightclub (under the command of Chef
Micah Wexler
and GM Mike Kassar), which is where Delgado cut his teeth in the hospitality biz; he also spent time at
Mezze
, another Wexler/Kassar project.
While living and working in LA, he had trouble finding a good TJ-style taco joint (at least until
Tire Shop
opened in 2012), and eventually decided that he wanted to fill that void and open his own. Months later, an old friend of Delgado's, Christian Pineda (an architect), debuted Los Tacos No.1 in New York's Chelsea Market to considerable success. Delgado then discovered that a childhood acquaintance from TJ, Jorge Alvarez-Tostado (who goes by "El Joy" or "Joy"), was the guy who did their menu. Joy, for his part, started cooking in 2007, and worked all around the world before landing in NYC, where he spent time at Ignacio Mattos' Isa in Brooklyn.
After leaving Los Tacos No.1 and killing time in Nicaragua, he was recruited by Delgado in February 2018 to serve as consulting taquero on his upcoming taco project. In May that year, Joy came to LA to do a tasting, and returned in September for another tasting, this time for baseballer Adrián González (a potential investor), as well as Zach Brooks of Smorgasburg LA. Though Delgado didn't manage to get any money out of González, the success of that tasting did convince Joy to become a partner, and the two eventually self-financed everything. After pulling out of a Smorgasburg event in October (as they weren't ready), they purchased a custom-designed taco cart and started cooking on November 13th, situated in front of The Confection Co-op at the corner of Highland & Lexington in Hollywood.
Tacos 1986 experienced a breakthrough on December 8th, when they participated in a Smorgasburg pop-up event on the Santa Monica Pier and then cooked for the Eater LA folks that very same evening. Things sort of blew up after that, and the cart soon became a go-to spot for celebs and local chefs alike. However, Tacos 1986 was kicked out of its location in mid-December, but quickly found a new home in Koreatown, right in front of the shuttered Caffé Bene on Western. Delgado and Joy ended up joining the Smorgasburg line-up in January 2019, and in February, Tacos 1986 was reviewed positively by Bill Addison for the
LA Times
. At the start of March, they served briefly at Doheny Room in West Hollywood, but wound up losing their K-town location just a couple weeks later. Very shortly after that setback, it was announced that Tacos 1986 would be popping up in Venice (at Wanderlust Creamery on Lincoln) and north Koreatown (at Full Service Coffee on Beverly).
In April 2019, Tacos 1986 started doing delivery out of the CloudKitchens facility in Pico-Union, and also made an appearance at Coachella. That May, news came that Delgado and Joy were opening up a permanent location in Downtown in concert with
The Playhouse Group
; they'd also be making tacos at The Bungalow in Santa Monica that month. The aforementioned permanent location on Spring, meanwhile, dropped on June 24th and has been doing pretty brisk business ever since (well, at least until COVID-19 showed up). In September 2019, Tacos 1986 popped up in front of the sadly-shuttered
Beer Belly
for a month. November saw the announcement of a second restaurant location in the former Coffee Bean & Tea Leaf at 7235 Beverly (which ended up dropping at the start of April). Finally, in early February, a third outpost opened in Westwood, taking over the old Simple Things on Kinross.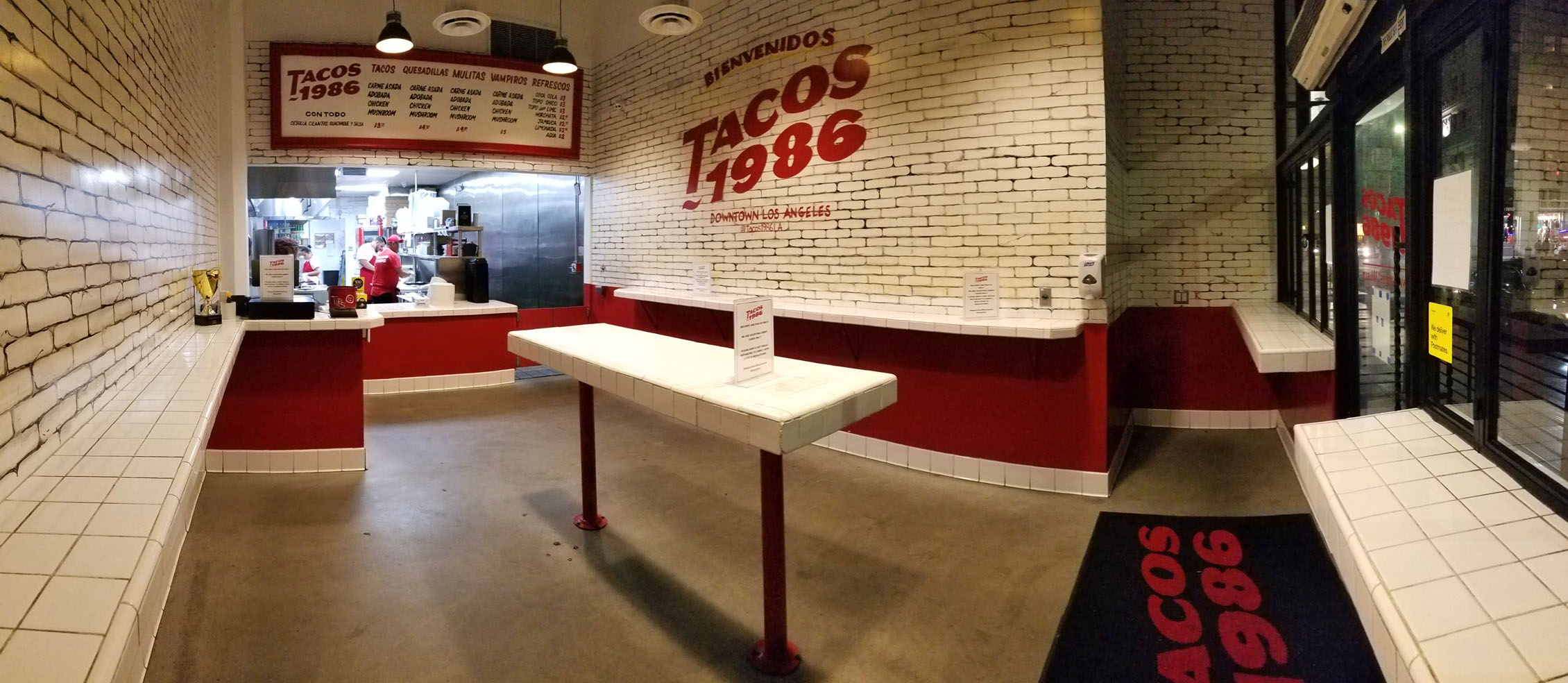 Tacos 1986 takes over a small space that formerly held the likes of Casita Taco Al Carbon, Mediterranean City Grill, and California Fresh. It's a minimal, standing-only sort of setup.

The menu is similarly uncomplicated: just pick your preferred protein and format.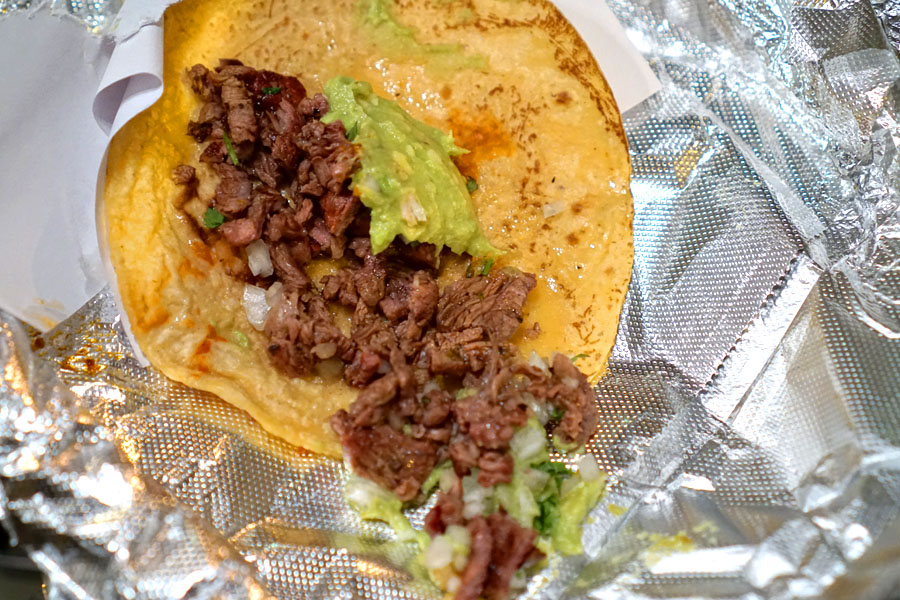 Carne Asada Taco [$3.25]
I started out with the most basic unit of taco consumption, and wasn't disappointed. Despite the lack of charcoal here, there was a healthy dose of sear and smoke to the meat, which I found tender and toothsome overall. The beef meshed well with the brightness of the thicker-than-expected guac, and of course the handmade tortilla worked to bring it all together.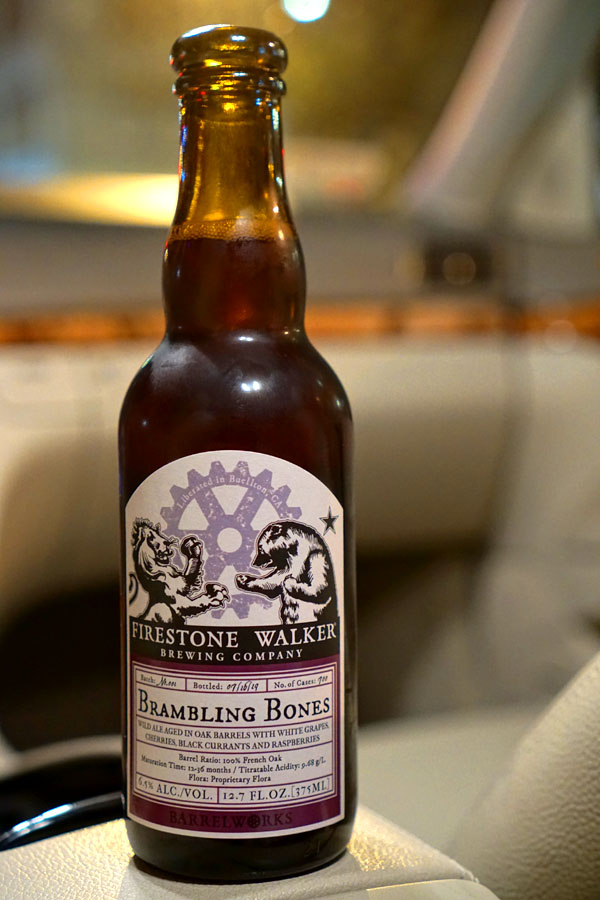 To drink, we had the
2019 Firestone Walker Brambling Bones
, a blended wild ale aged in French oak with white grapes, cherries, black currants, and raspberries. Nose showcased loads of red berry and grape, alongside pleasant notes of oak and yeast. Tasting it, I found the beer tart and fruity, and also very slightly vinous, with a subtle barnyard-y kick and subdued acidity. Rather drinkable on the whole.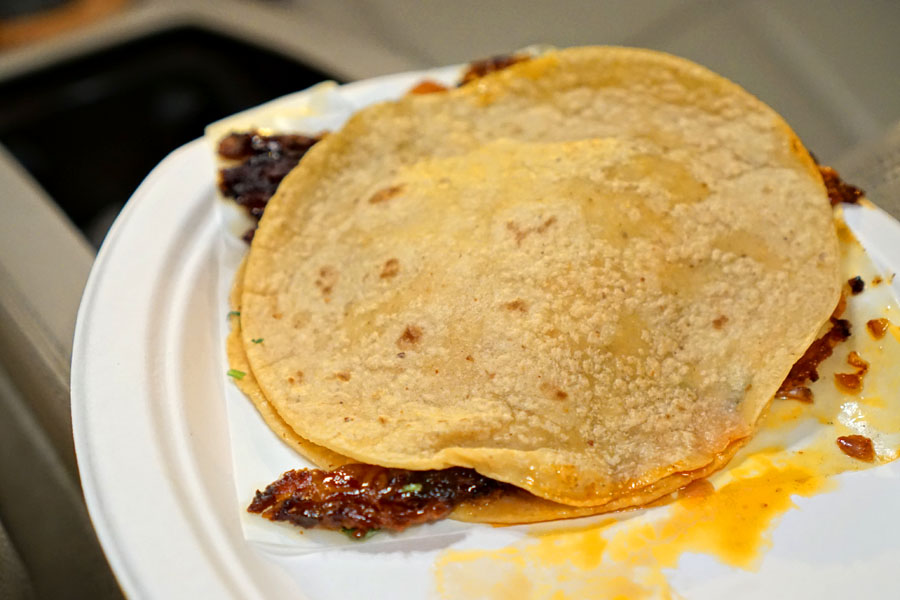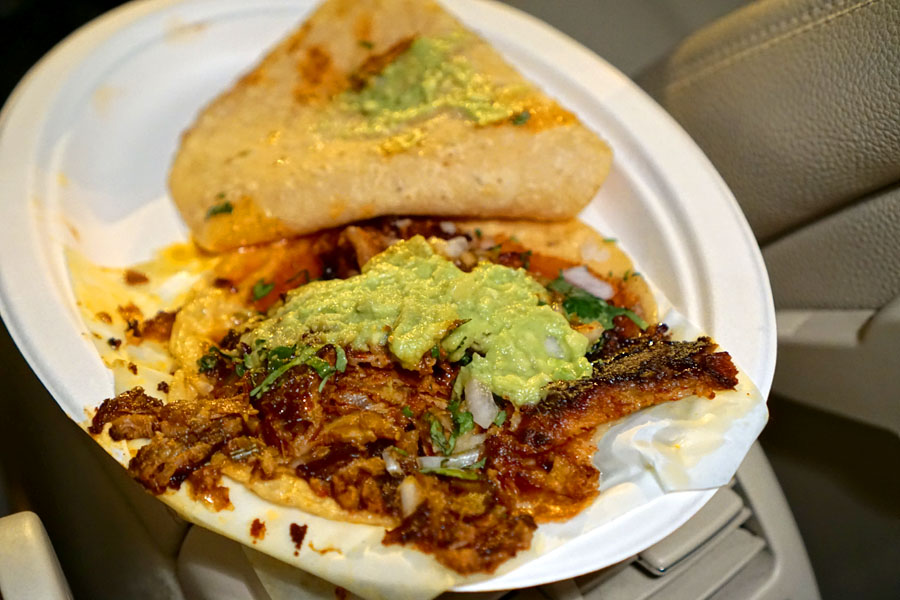 Adobada Mulita [$4.50]
As far as I can tell, the mulitas here are basically quesadillas with an extra tortilla on top. I had mine with adobada, which actually reminded me quite a bit of American Southern-style barbeque. There was this palpable sweetness and spice to the roast pork, which also had some delightfully crunchy bits ("bark") for textural contrast. Given how flavorful the meat was, the corn tortillas were key for balance, while the cheese also served as a moderating element.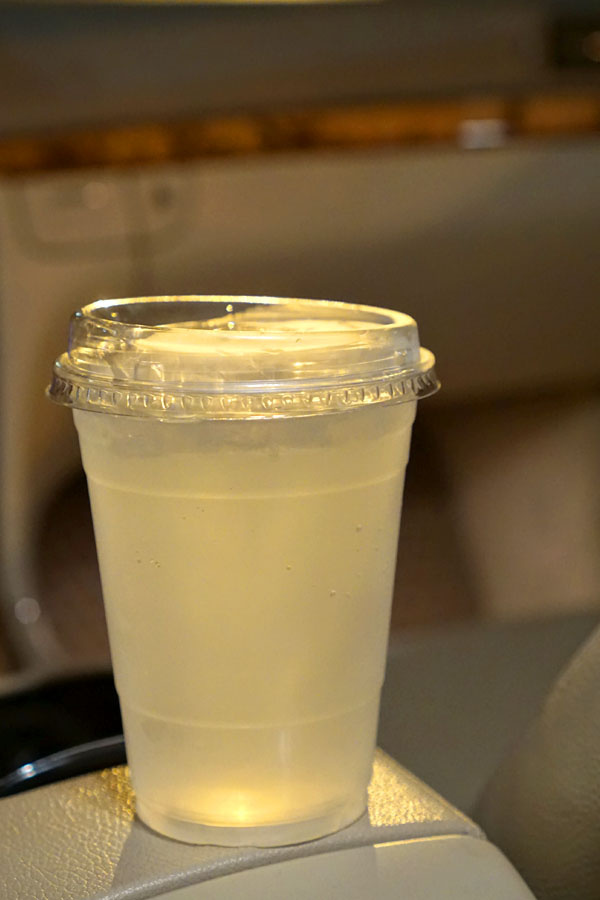 I found the
Limonada [$2.75]
on the subtler side, with an almost herbal element.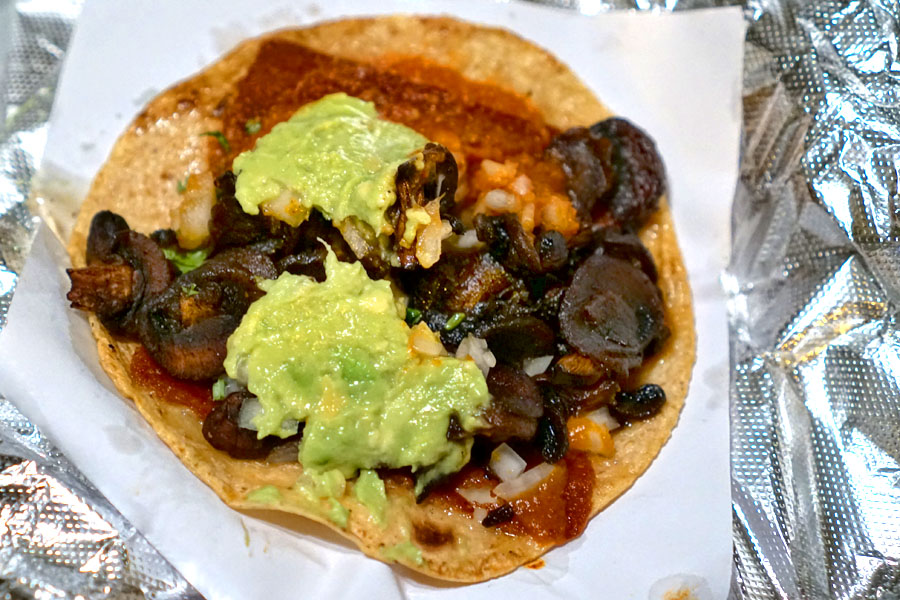 Mushroom Quesadilla [$4.25]
Served in an open-faced quesadilla format,
hongos
were aggressively flavored, a full-throated expression of umami, salt, and restrained heat softened by the presence of melty-yet-crispy cheese and the creamy acidity of that guacamole. Note that mushrooms aren't typically used in TJ-style tacos, but apparently they were an addition meant to satisfy LA's significant vegetarian population.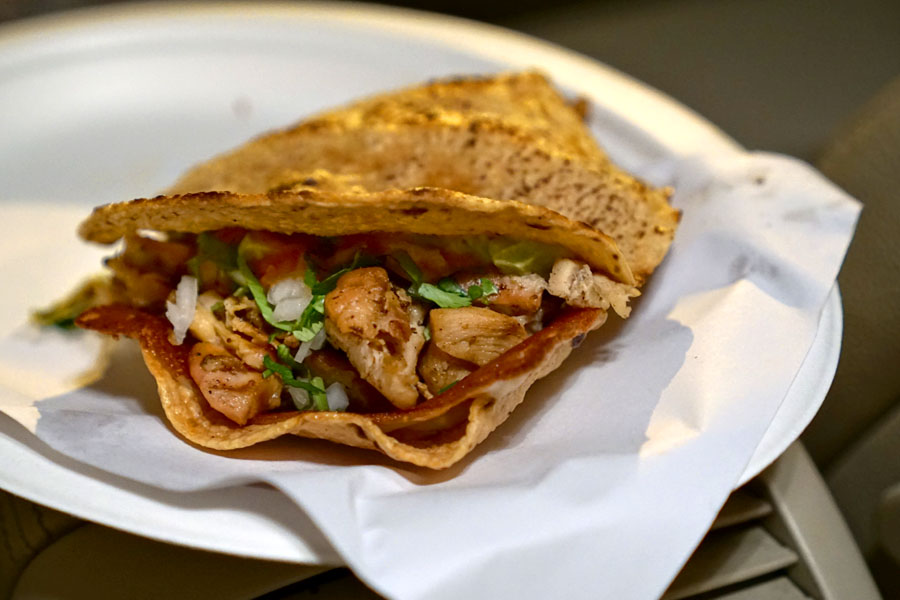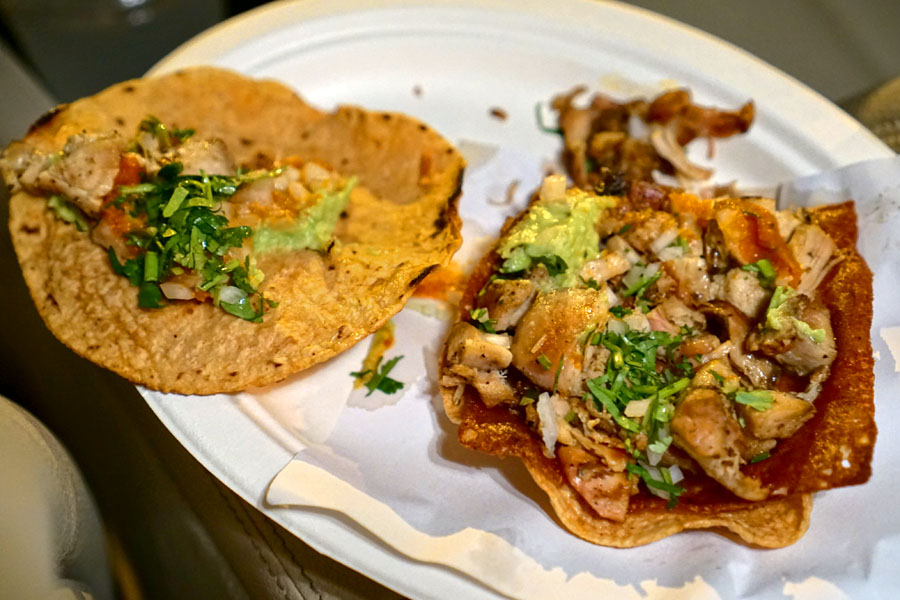 Chicken Vampiro [$5.00]
The vampiros here are like mulitas, but with seemingly different cheese and the tortillas toasted to a super crunchy consistency. And when I say crunchy, these are easily the crunchiest I've had, so keep that in mind if you like your vampiros more like how they make 'em over at
Mexicali
. Now as for the filling, I found the bird well-seasoned and generally quite tasty, though it could've been juicier at times. More than any other meat, the chicken probably melded the best with its accompaniments of onion and cilantro, while the guac was more in the background. Note again that chicken isn't commonly used in traditional Tijuana tacos, but this was yet another concession to LA's dining populace.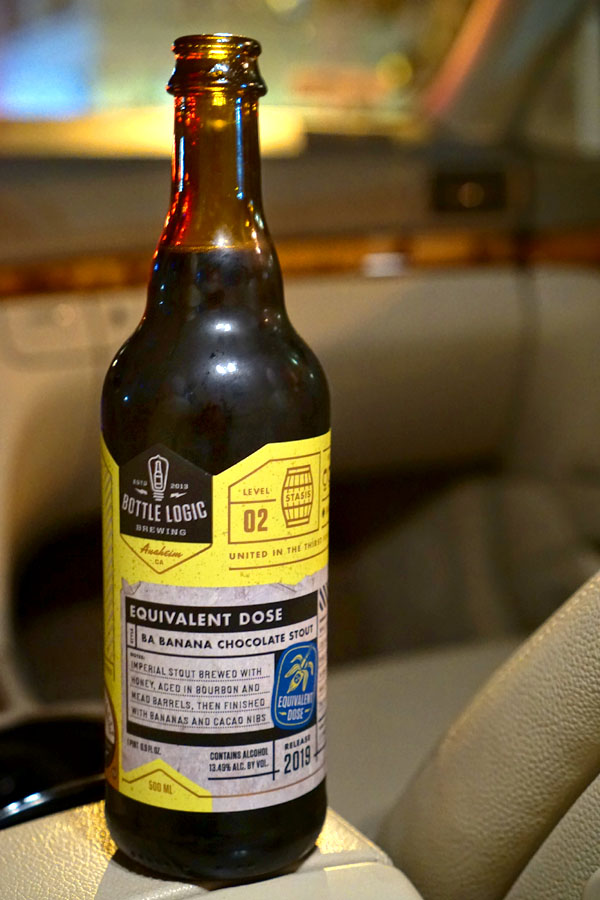 Our second beer was the
2019 Bottle Logic Equivalent Dose
, an imperial stout fermented with Arizona cactus honey, aged two years in bourbon and mead barrels (from Arizona's lauded Superstition Meadery), then finished with bananas and cacao nibs. The beer smelled great, giving up aromas that most certainly recalled chocolate-covered bananas. In terms of taste, I got massive banana taffy up front, along with bold cocoa flavors and honey in the background, while more banana showed up on the finish and stuck around.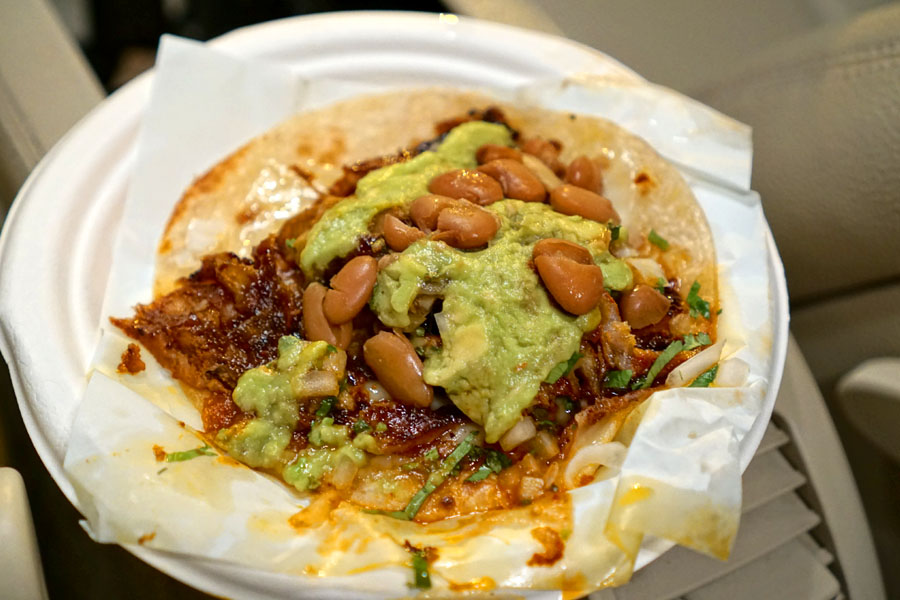 Adobada Perron [$5.00]
Last up was Tacos 1986's fifth, off-menu item, which is akin to a quesadilla, but with pinto beans added and a flour tortilla instead of corn. The creation is ostensibly inspired by a similar dish from Rosarito's famed Tacos El Yaqui, named after a slang term roughly translating to "badass." Like with the quesadilla, the cheese here married well with the full-flavored meat, but the key here was the addition of beans, which gave things a cozy, homey element; in fact, I wanted more of 'em. As for the flour tortilla, it simply wasn't as in-your-face as the corn, and that wasn't a bad thing in this application.
There's a lot of hype surrounding Tacos 1986, and I do agree that it's a bit much at times. Part of it I think has to do with this place being more accessible (compared to something like Tire Shop), along with Delgado's marketing chops and Joy's showmanship. Puffery aside, the tacos here are enjoyable, and somewhat distinctive to boot, their characteristic interpretation of adobada and liberal use of melted cheese taking center stage. Overall, a solid addition to LA's taco lexicon.