Taco Maria (Costa Mesa, CA) [4]
Taco María Restaurant at The OC Mix
3313 Hyland Ave, Costa Mesa, CA 92626
714.538.8444
www.tacomaria.com
Tue 03/17/2020, 07:05p-08:50p

I last reported on
Taco Maria
, Carlos Salgado's widely-lauded modern Mexican spot, back in November 2016, and I'll briefly catch you up on what's happened since then:
December 2016: It was announced that Salgado would be taking over King's Highway/Amigo Room at the Ace Hotel in Palm Springs, starting on February 1st.
February 2017: Semifinalist for James Beard's "Best Chef: West" award.
April 2017: #1 on OC Register's list of "75 Best Places to Eat."
October 2017: Deemed "Best Restaurant" by (the now-defunct) OC Weekly.
October 2017: #5 on Jonathan Gold's list of "101 Best Restaurants" in the LA Times.
February 2018: Semifinalist for James Beard's "Best Chef: West" award.
March 2018: It was revealed that Salgado pulled out of the Ace Hotel in December.
April 2018: The LA Times awarded Taco Maria "Restaurant of the Year" honors.
May 2018: #10 on OC Register's list of "75 Best Places to Eat."
December 2018: An appearance on the LA Times' "101 Restaurants We Love" list, which was unranked.
February 2019: Semifinalist for James Beard's "Best Chef: West" award.
May 2019: #4 on OC Register's list of "75 Best Places to Eat."
June 2019: One star in the inaugural Michelin Guide California (if you're wondering, the only other starred restaurant in OC is Hanare).
December 2019: #3 on the LA Times' list of "101 Best L.A. Restaurants."
December 2019: One of Esquire's "40 Most Important Restaurants of the Decade."
February 2020: Semifinalist for James Beard's "Best Chef: California" award (which is a new category).
Quite a nice haul. Now I've dined at Taco Maria a few times, but only for the prix fixe. Thus, I'd been wanting to try the restaurant's à la carte menu for a while now, which is typically only available at lunch. The recent coronavirus scare gave me an excuse. On the 16th, Governor Newsom ordered restaurants in the state to close their dining rooms, allowing for only take-out and delivery. Salgado was quick to act in terms of instituting a to-go program, basically rejiggering his usual à la carte food for carry-out, and I was convinced.

As we can see above, Taco Maria's take-out selection is pretty much identical to its standard à la carte menu. Click for a larger version.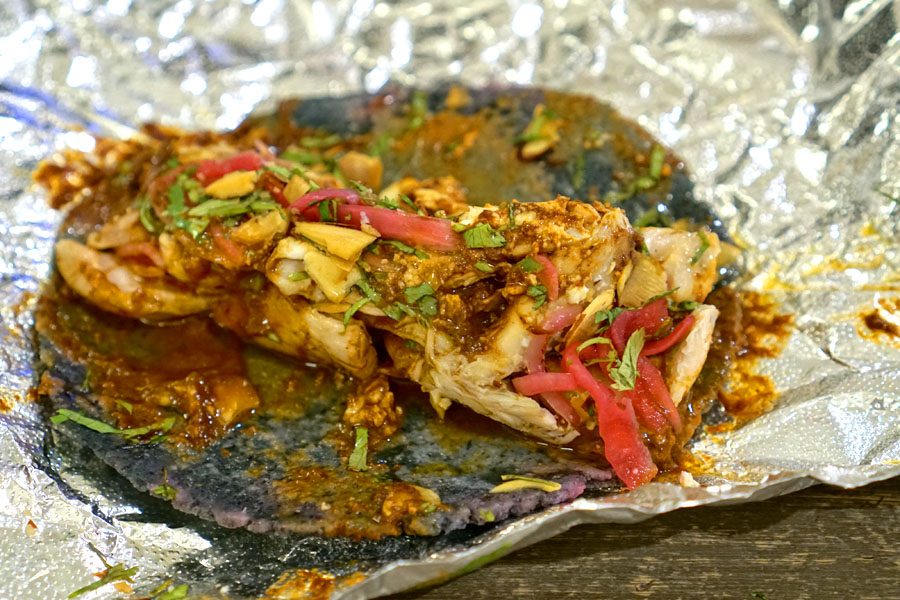 Mole de Pollo [$8.00]
| Jidori chicken, ancho-almond mole, queso fresco
I made my way through most of the tacos, and first was this comforting take on the traditional combo of mole and chicken. The Jidori ate tender but substantial, and made total sense with the sweet heat and nuttiness of the mole, all while pickled onions offered up a zesty counterpoint. I thought this taco paired especially well with the thick, hearty Masienda tortillas utilized at the restaurant.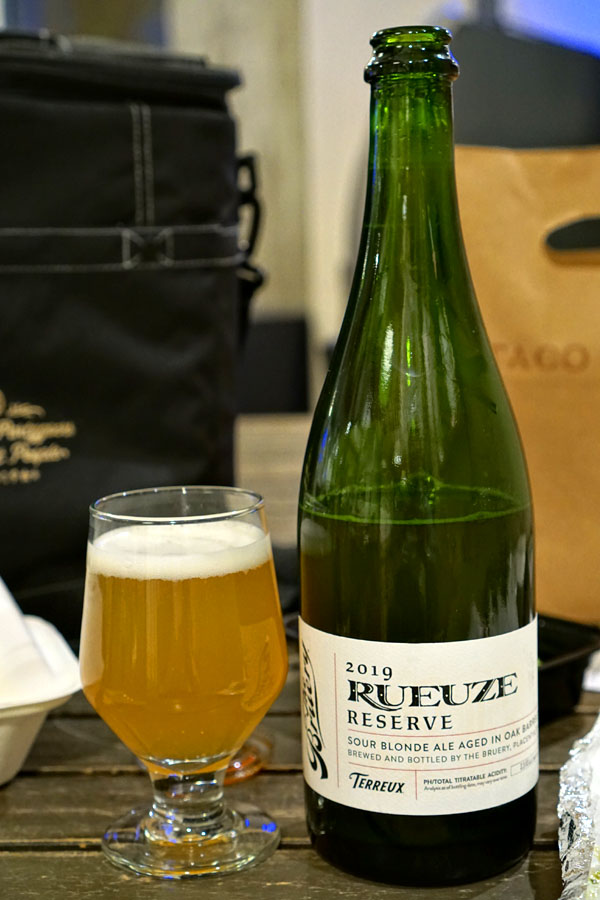 To drink, we have here the
2019 The Bruery Terreux Rueuze Reserve
, a lambic-style blend of oak-aged sour blonde ales. It smelled very nice, giving up notes of rich stone fruit, oak, and yeast. Taste-wise, I got more tropical fruit backed by tart, softly acidic notes, oak, barnyard, and subtle bitterness. Overall, this was one of the strongest beers I've tasted from the brewery.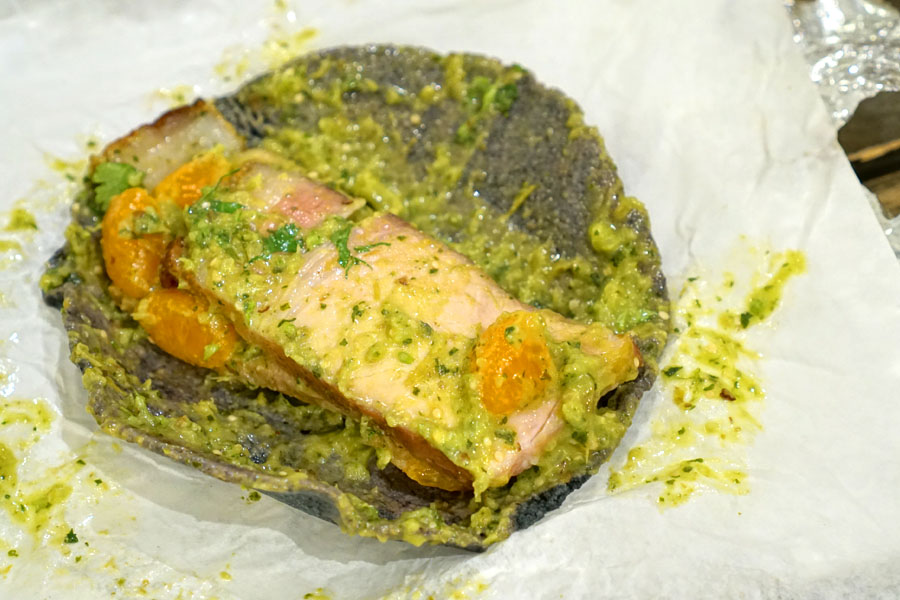 Chuleta de Cerdo [$9.50]
A special this evening, the pork chop taco was a winner. Interestingly, it was probably the densest, meatiest, most filling taco I've ever had, the tender, succulent meat really packing a punch. The contrast provided by the salsa verde was a match made in heaven, while tangerine contributed juicy pops of sweet citrus. Be sure to try this with the salsa below, which imparted yet another layer of complexity.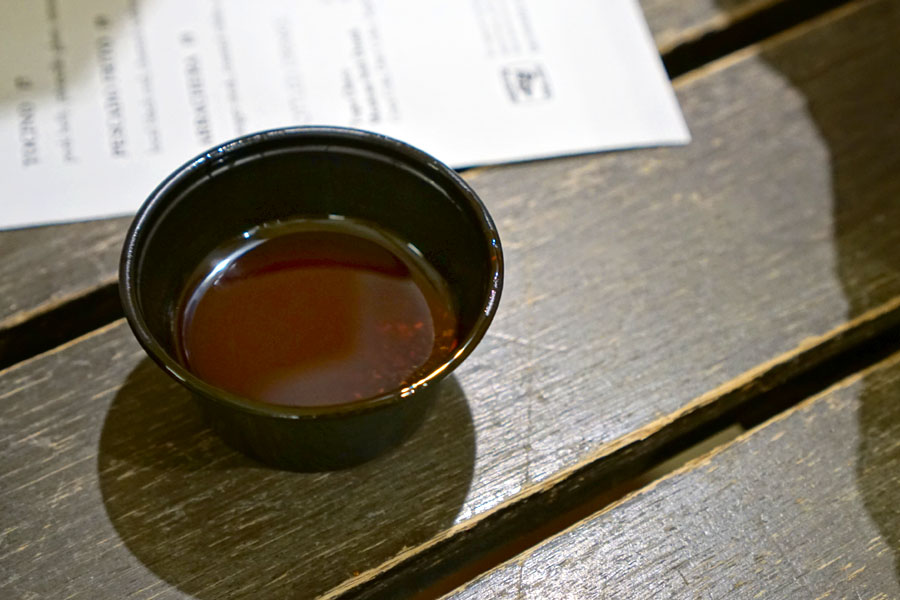 Along with my order came a small container of wonderfully smoky, nutty salsa, one with a prickly, building, long-lasting heat. I sort of wanted to put it on everything (and I did).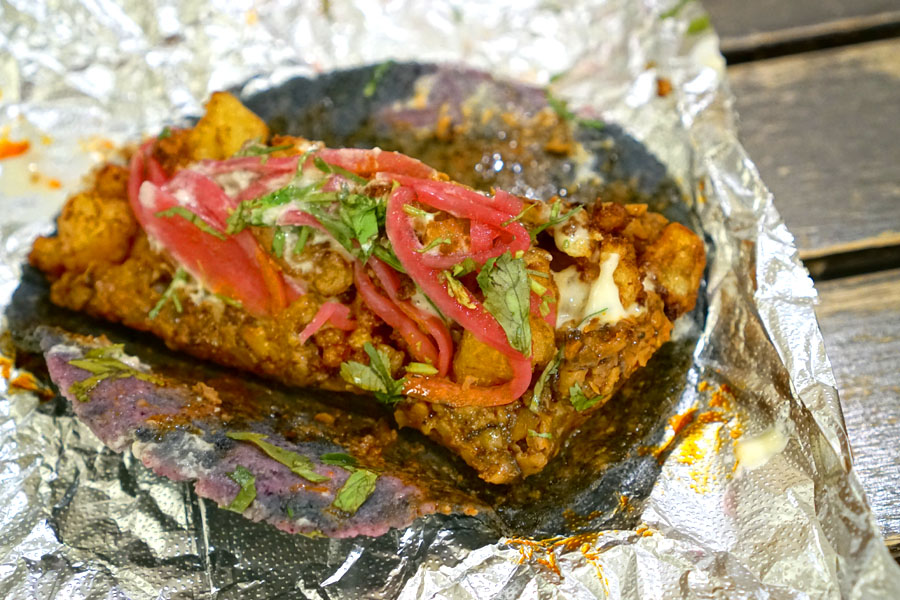 Jardineros [$7.50]
| shiitake mushroom chorizo, crispy potato, queso fundido
Potatoes were superbly-spiced, offering up hearty, homey, satisfying flavors amped by the potency of those mushrooms, all while onion served as a zippy exclamation point. A great vegetarian option.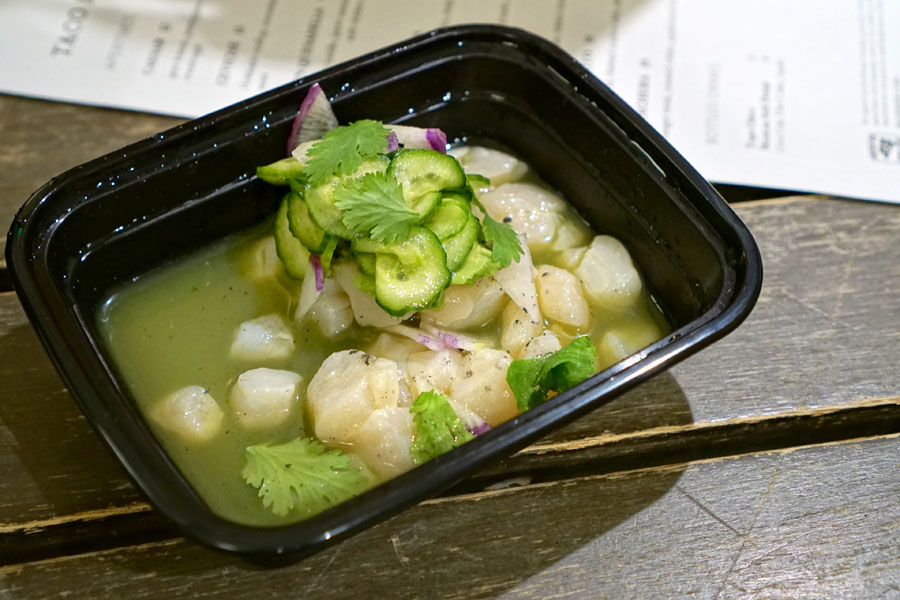 Ceviche [$13.00]
| Hokkaido scallop, cucumber, avocado, jalapeño, hoja santa
Scallops came out well-textured, their sweet brine punctuated by heat and herb along with an underlying sweet-tartness. The cucumber actually served to moderate everything while also providing a bit of crunch to the dish.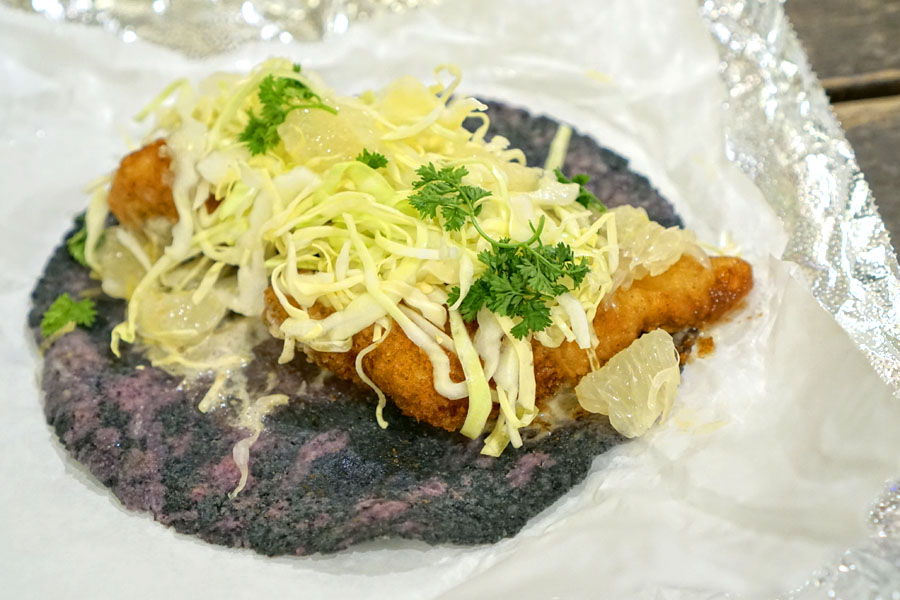 Pescado Frito [$9.50]
| local black cod, charred scallion aioli, cabbage, pomelo
Black cod was properly fried, with a savor and sweetness that I enjoyed. However, the pomelo was just far too domineering, and tended to overwhelm the fish, while the cabbage was lacking in crispness as well. The tortilla here did help bring things together a bit though, which I did appreciate.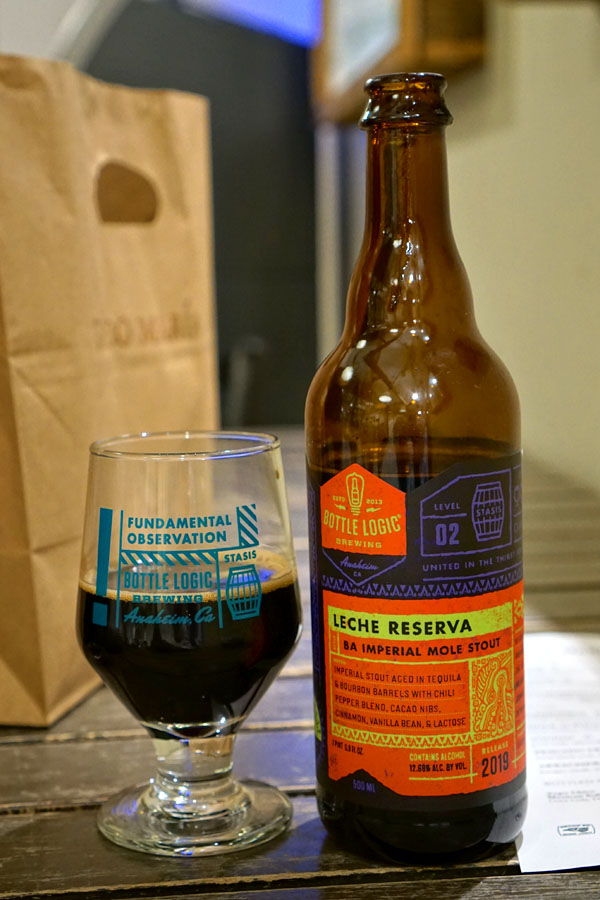 The evening's second beer was the mole-inspired
2019 Bottle Logic Leche Reserva
, which seemed apropos. An imperial stout, it was actually brewed back in 2017 and aged in tequila and bourbon barrels with chili peppers (chipotle, guajillo, ancho), Ecuadorian cacao nibs, Mexican cinnamon, vanilla beans, and lactose. The nose on this one was near ridiculously fragrant, showing off dark fruit, cocoa, and cinnamon-y spice, along with a distinct agave note. In terms of taste, I found this spicy and sweet up front, the booziness from the barrels coming in on the mid-palate, joined by soft, floral notes and layers of lingering vanilla and chocolate. Superbly integrated, and one of the better bottlings I've had from this producer.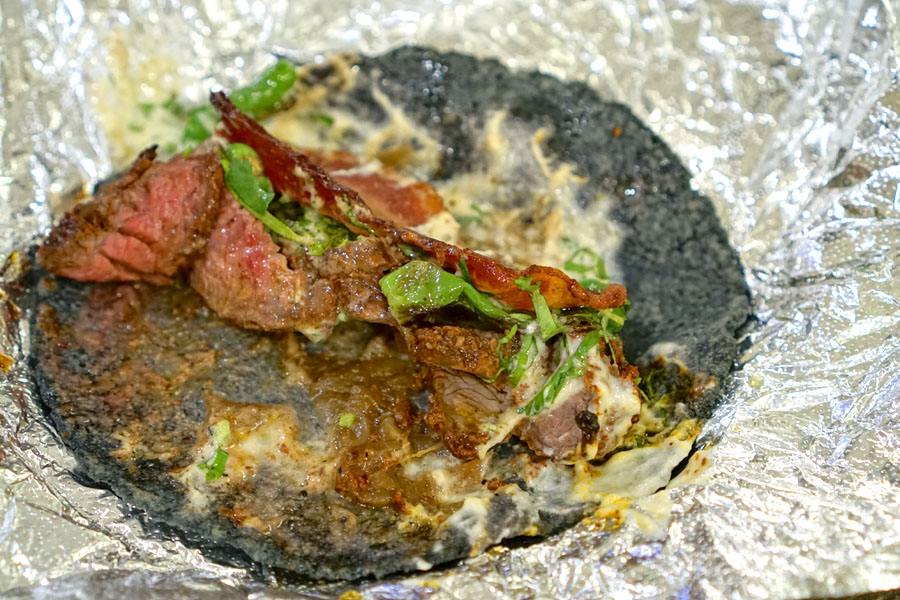 Arrachera [$9.50]
| hanger steak, roasted chiles, applewood bacon, queso
Last up was the hanger steak. I found the meat tender, smartly seasoned, and straight up delish just by itself. However, the piquancy of the chilies here really worked, while the bacon imparted extra oomph and crunch. Yum.
This was the first in a series of potentially many COVID-19 take-out meals, and it was a good one. I'm glad I
finally
got to try Taco Maria's actual tacos, though of course the circumstances could've been better. Salgado is changing up the menu quickly, and as of this writing (just a couple days after my meal), he's already added burritos, entrée plates, and even "Flaming Hot" taquitos, so there's some definite replay value here.