Strong Water (Anaheim, CA)
Juniper Merchant at Strongwater Bar
270 S Clementine St, Anaheim, CA 92805
www.strongwateranaheim.com
Fri 02/07/2020, 07:30p-10:05p
With the unfortunate shutter of Kevin Lee's Puzzle Bar in La Mirada, I think it's safe to say that my favorite cocktail spot in Orange County at this point has to be
The Blind Rabbit
. Given the sheer success of the place, it's not surprising that its owners, Robert Adamson and Ying Chang, wanted to expand. That expansion has come in the form of Strong Water, a "nautical tropical bar" (i.e. tiki bar) concept that was first teased at an event back in July 2017. After a couple years of development, the bar ended up soft-opening on October 29th last year, with the grand opening coming on November 25th.
The partners really went for it with the decor, and the space sort of gives you the sensation of being on an old-timey ship (specifically a brig called the Clementine). Hidden in the back is the "captain's quarters," pictured above. This area serves as a 16-seater gin bar called Juniper Merchant, which debuted in January this year and which was where we were seated.




We see the Juniper Merchant menu above, which lists exclusively gin-based drinks as well as theme-appropriate, Asian fusion-y food. Click for larger versions.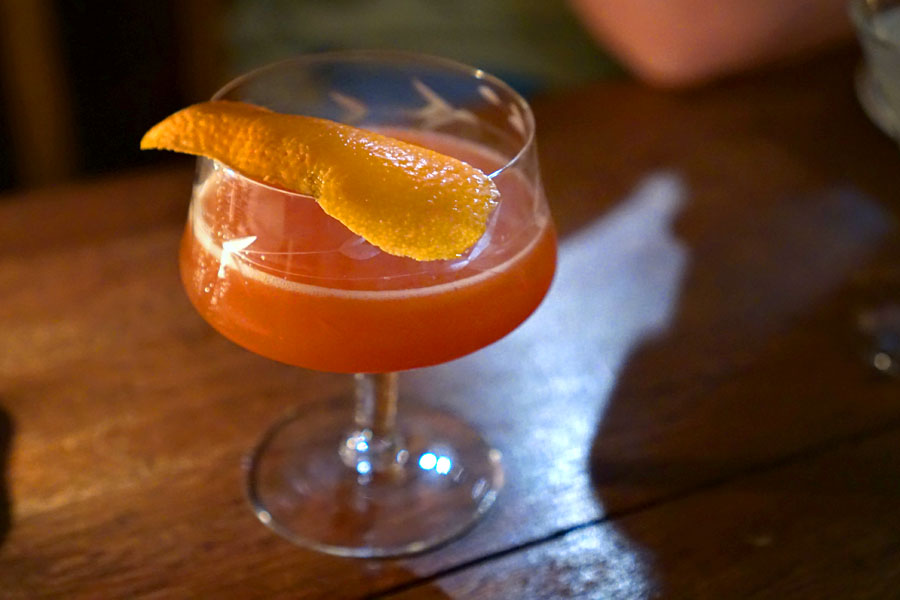 Bitter Choices [$15.00]
| St. George Rye Gin, Sweet Vermouth, Campari, Aperol, Lime, Grapefruit
We wound up trying all 14 cocktails on the menu, beginning with a trio of low-ABV libations. This particular drink looked like grapefruit juice, and indeed it featured the juicy, sweet-tart notes of the citrus, set against herbal, bitter nuances and a hint of rye spice, while unexpected-but-appreciated floral elements appeared on the finish. My favorite of the first round.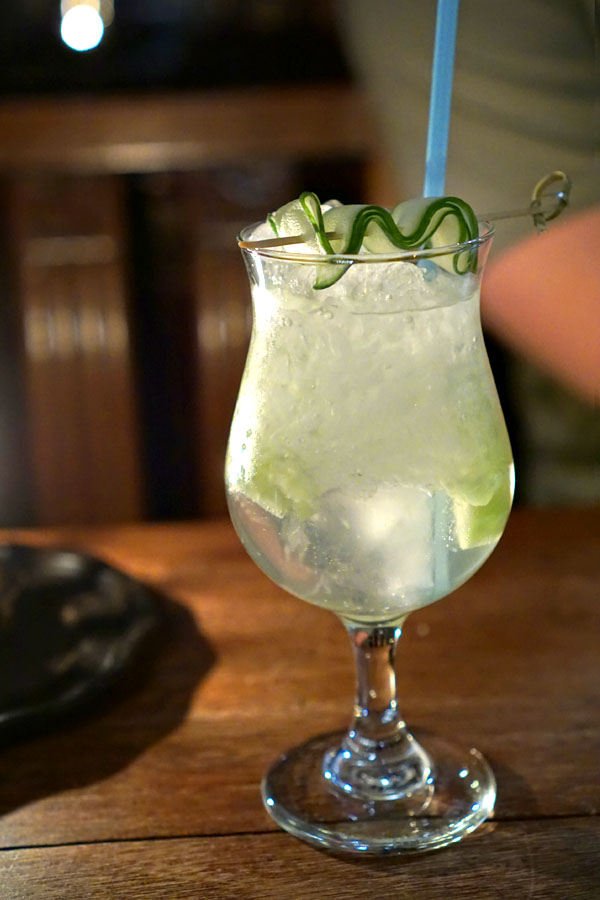 Hendricks & Elderflower Tonic [$15.00]
| Hendricks Gin, Elderflower Tonic, Cucumbers
The relatively easy-drinking number displayed a healthy dose of surprisingly savory cucumber, combined with a sweet, floral base. The elderflower really did come through on the back end.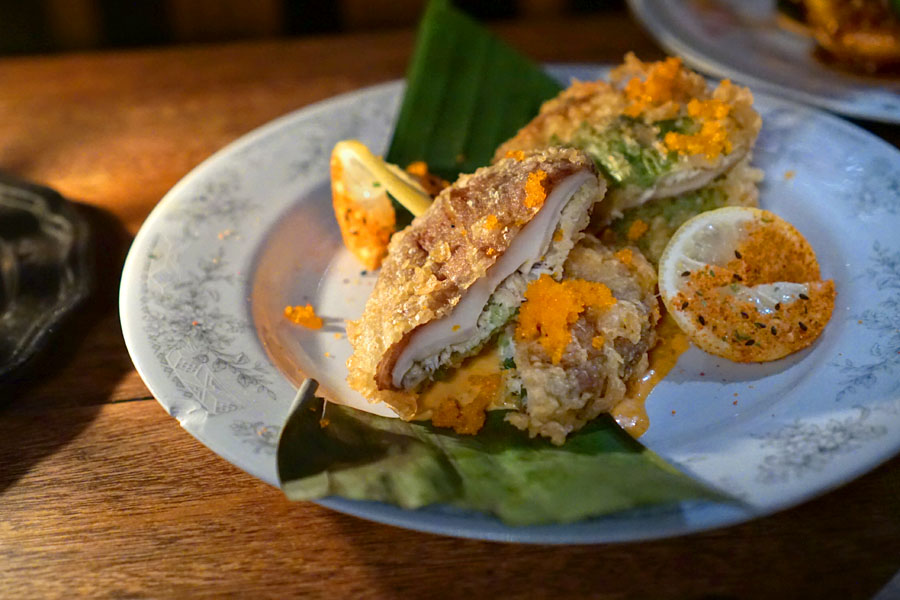 Crab Tempura Mushrooms [$16.00]
| Crab Stuffed Shiitake Mushrooms, Shiso Leaf, Garlic Chives, Tempura Batter, Home-made Kimchi Aioli
Here, the inherent brine of the crab was mostly well conveyed, and worked with the accompanying 'shrooms while the kimchi-boosted aioli imparted a welcomed, long-lasting heat. Nice lightness on the batter, too.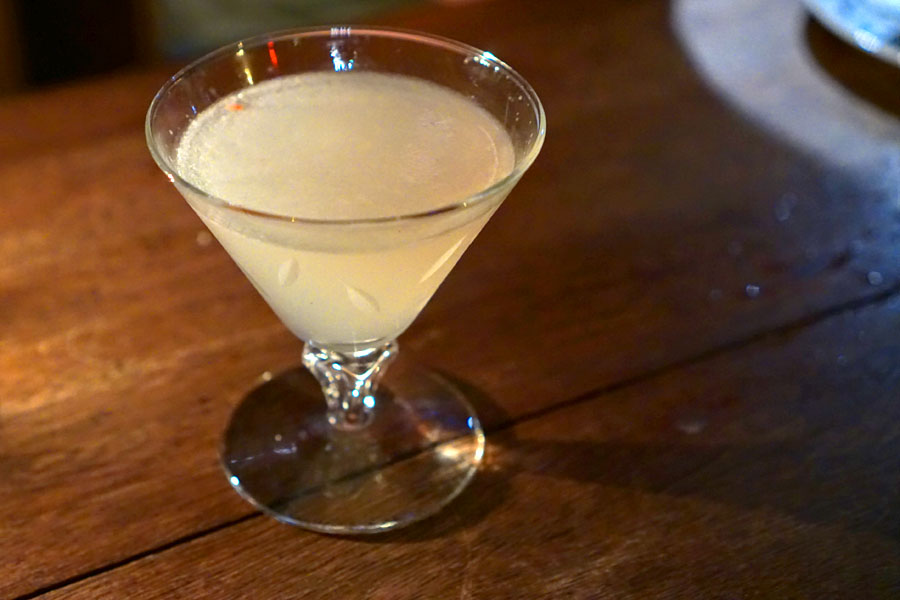 Corpse Reviver No.2 [$14.00]
| Plymouth Gin, Lillet Blanc, Cointreau, Lemon, Absinthe
The most well-known of the corpse reviver variants featured loads of citrus countered by minty, herbaceous layers and just the slightest hint of absinthe. The Cointreau, meanwhile, really made itself known starting from the mid-palate, and lasted long and strong.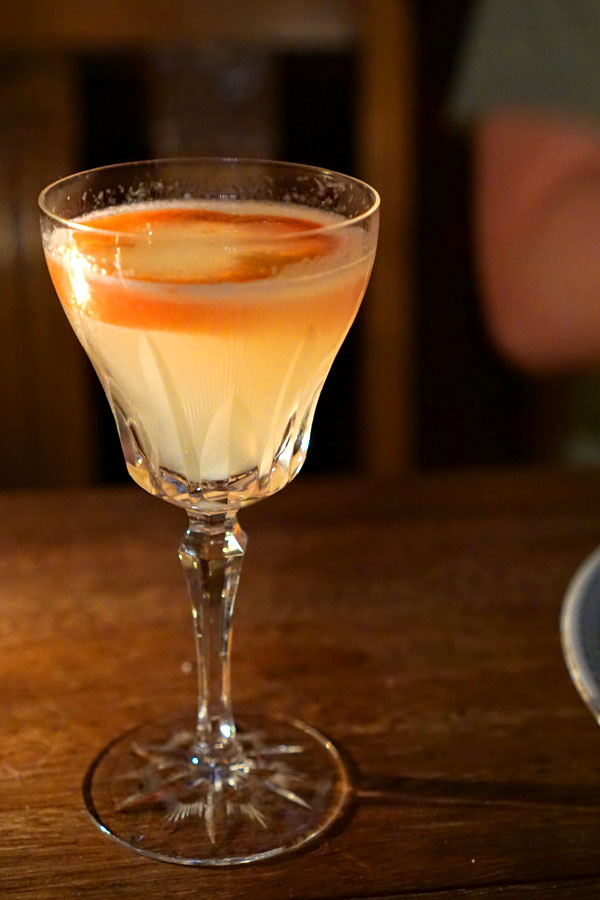 Beautiful Red Bell [$14.00]
| Beefeater London Dry Gin, Red Bell Pepper, Cane, Lime
Our second round was comprised of shaken cocktails, and this was the best of the bunch. I loved how well the sweet, vegetal nature of the pepper was shown, and how that linked up with sugary, citrusy notes and a bit of heat. Super well balanced.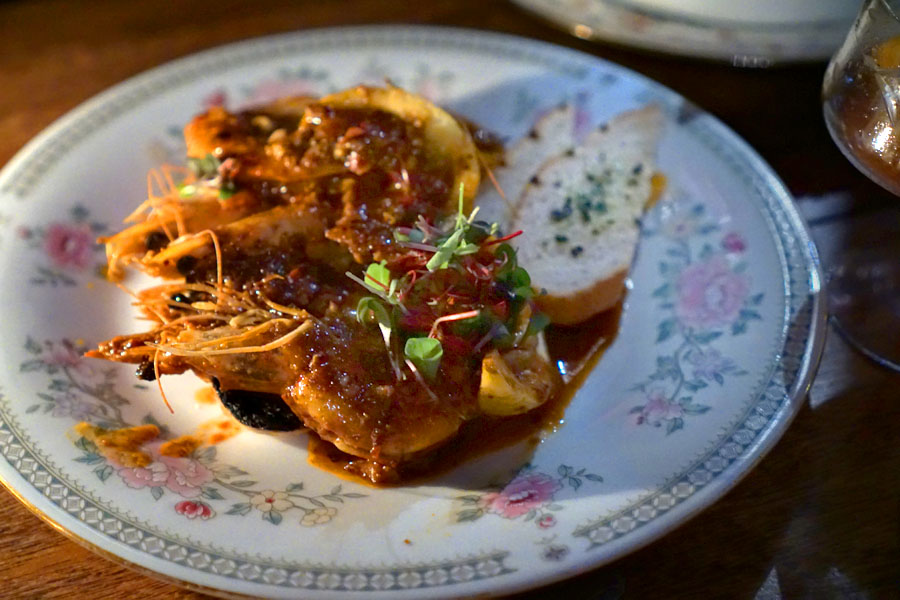 Hawaiian Shrimp Scampi [$18.00]
| Head-on Jumbo Garlic Prawns, Seared Lemon, Himalayan Salt Infused Butter, And Thai Red Pepper
Shrimp were generally well-textured, and showed off a prickly heat that made sense with their underlying sweetness. The bread, however, didn't fit in as well as I'd hoped.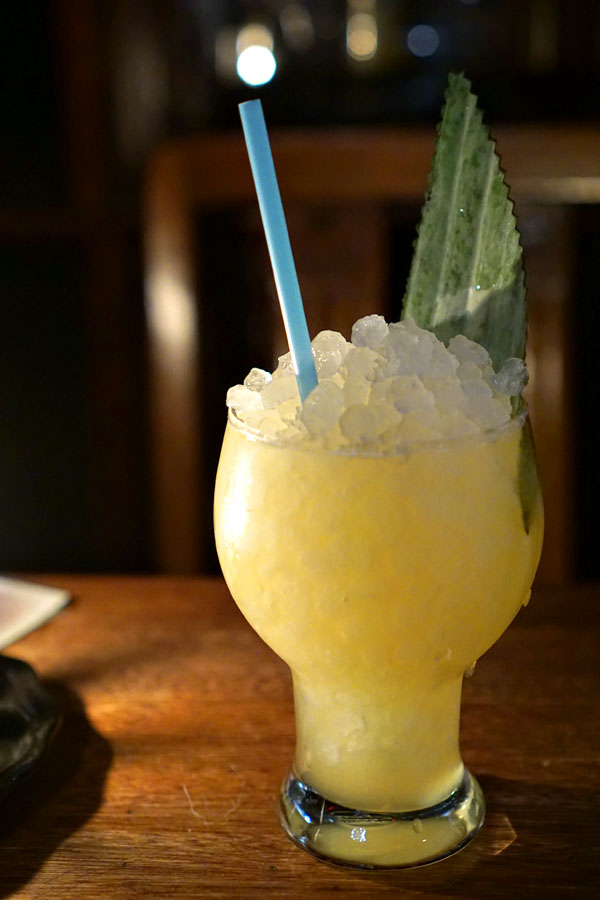 Saturn [$14.00]
| Fords Gin, Velvet Falernum, Lemon, Passion Fruit Syrup, Orgeat
This tiki cocktail staple had boatloads of tropical, fruity flavors all over the place, with nary a hint of booze and a thick, silky mouthfeel.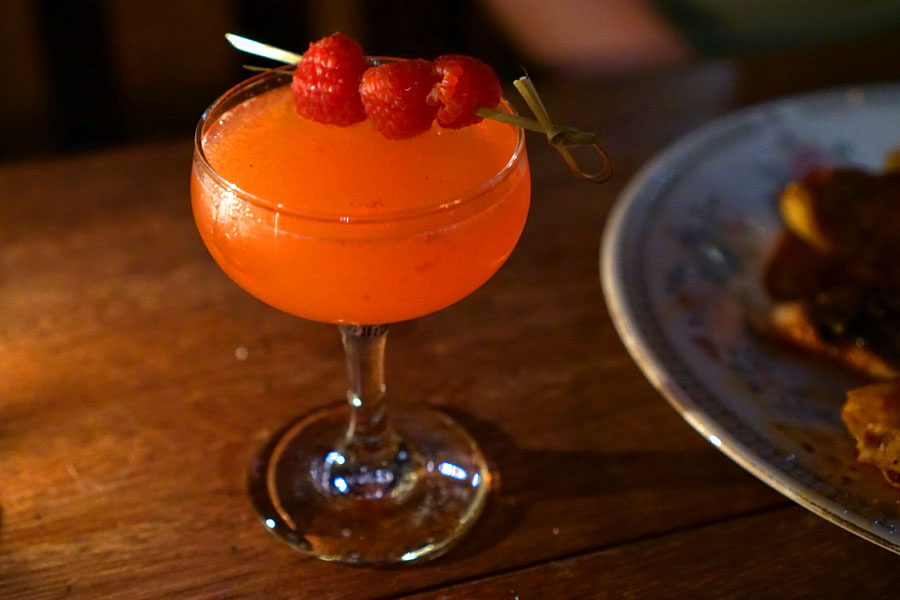 Queen Of Hearts [$17.00]
| Nolets Gin, Cointreau, Raspberry, Lemon, Cane
A ruby-tinted cocktail was up next, offering lots of sweet-tart berry set over a medicinal, botanical backdrop. One of my drinking companions even called it "cough syrupy."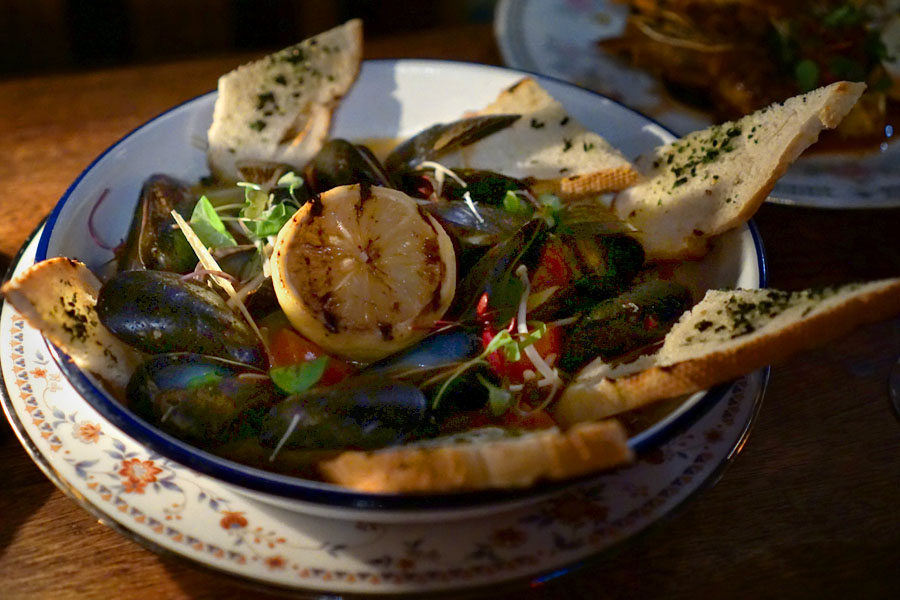 Shipwreck Mussels [$21.00]
| Sustainable Mussels, Green Chorizo, Thai Red Peppers, Enokitake Mushrooms, Lemongrass Sake Broth, and Furikake Crostini
Mussels were nicely textured, coming out plump yet just squishy enough, while their salinity went hand-in-hand with the savory spice of the sausages. It was a tasty combo to be sure, though the enokis didn't come into play much at all. I quite liked the broth here as well, and we even requested more bread with which to sop it up.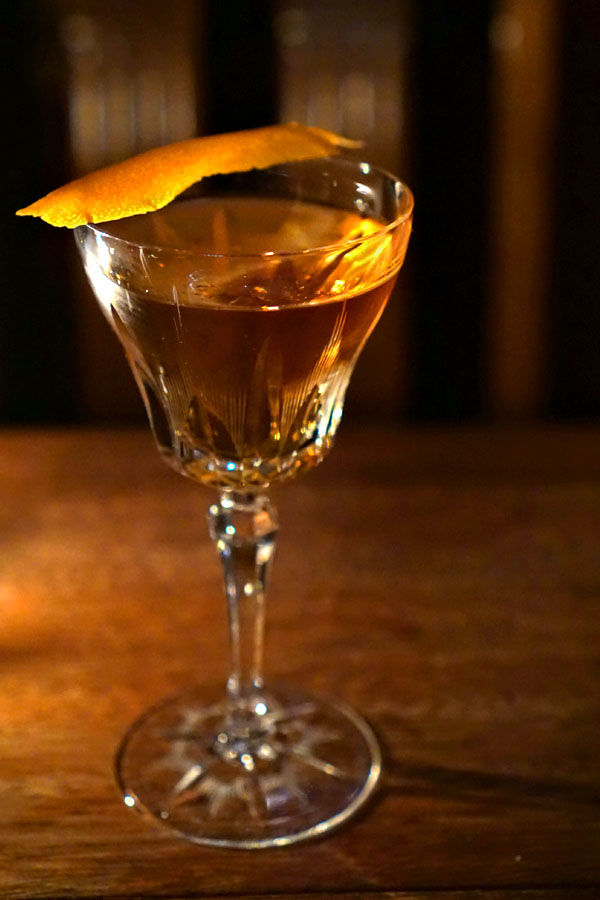 Tailspin [$19.00]
| Beefeater London Dry Gin, Green Chartreuse, Sweet Vermouth, Maraschino Liqueur, Orange Bitters, Campari
Cocktail round #3 consisted solely of stirred drinks. This one had a delicate nose of subtle citrus backed by bittersweet, boozy notes. On the palate, I found it decidedly viscous, with a sugary base topped with delectably minty, herbal, and astringent components. It managed to be our favorite of this threesome.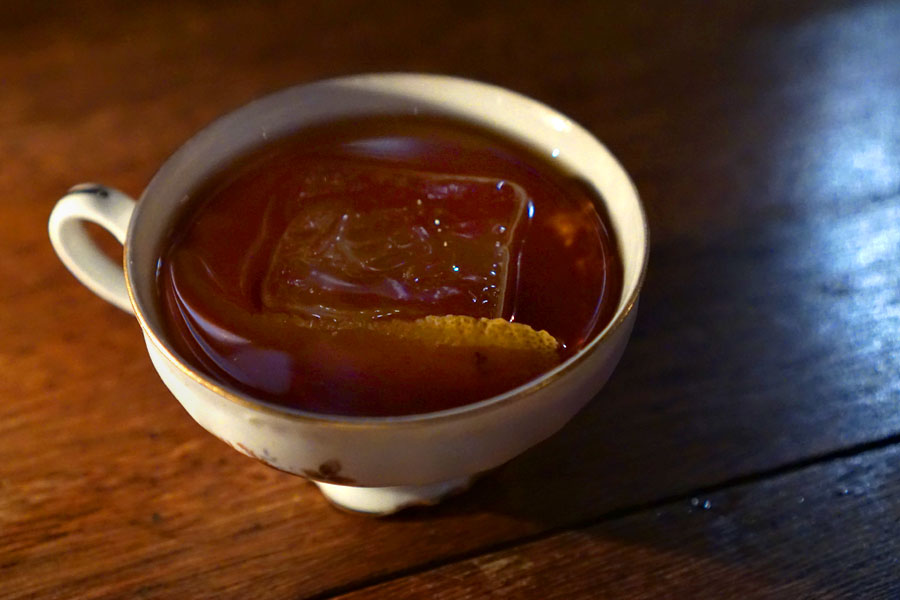 Far East Negroni [$16.00]
| Bombay East Gin, Aperitivo, Sweet Vermouth
This uncommonly-presented Negroni was a fun one for sure, thanks to its elements of candied fruit, chocolate, caramel, and sweet spice.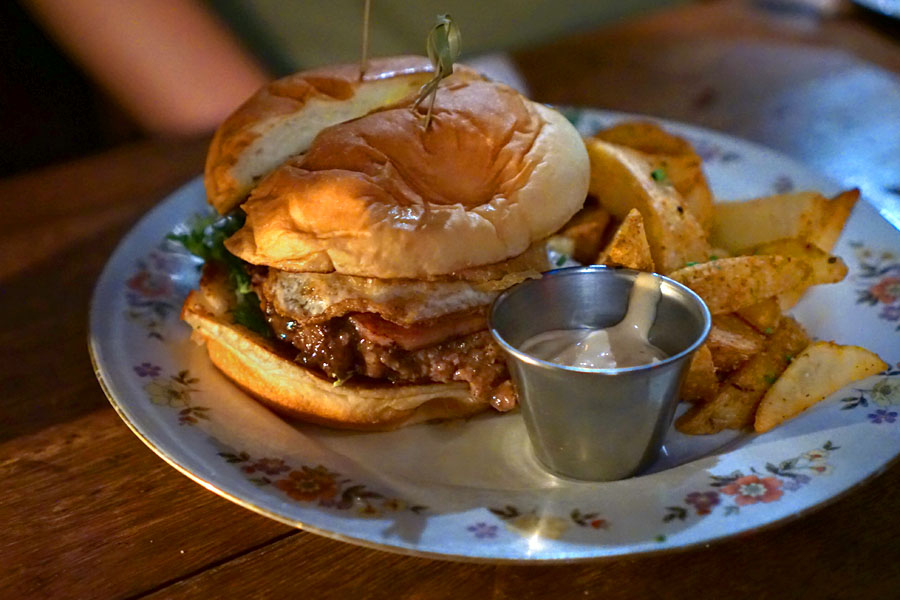 Logo Moco Burger [$19.00]
| Toasted Hawaiian Bun, Polynesian Spread, Grass-fed Wagyu Beef Patty, Frisee Lettuce, Marrow Gravy, Crispy Spam Bacon, With A Fried Egg, Tempura Sweet Maui Onions, And Togarashi Fries
The burger certainly satisfied. I was a fan of the patty itself, which had a great char to it, and I loved how it married with the egg, while the bacon boosted the salt and savor level even more. The bun, meanwhile, was on the sweeter side. I quite liked the
togarashi
-laced steak fries, too, though I wouldn't have minded more seasoning on 'em.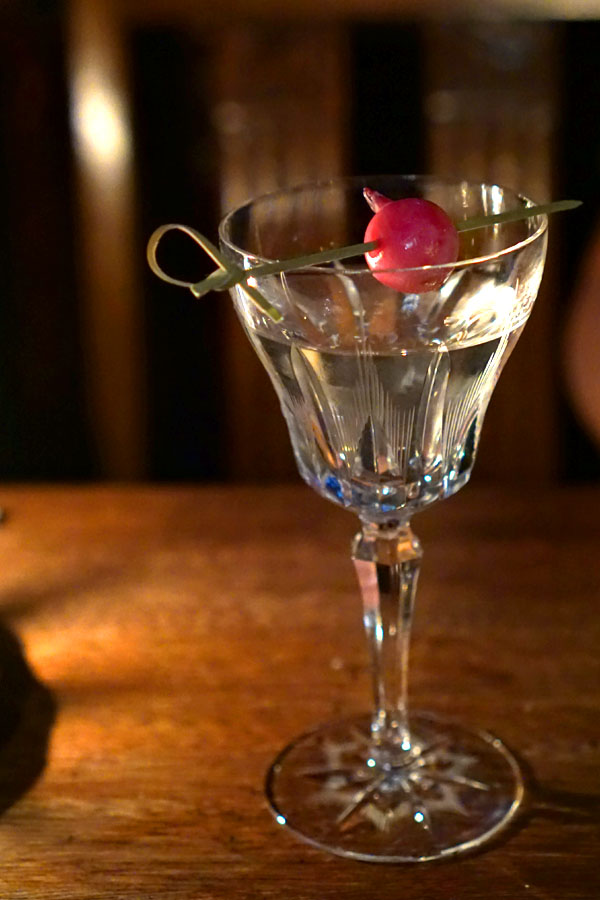 Brackish Waters [$18.00]
| Hendrick's Gin, Pink Peppercorn, Pickle Juice, Celery Bitters
This next cocktail was akin to a super dirty martini. It was teeming with the tart, saline characteristics of pickle, combined with savory, vegetal flavors and the botanicals of gin, all making for a very in-your-face drink indeed.
Hanky Panky [$15.00]
| London Dry Gin, Sweet Vermouth, Fernet Branca
Our fourth round of cocktails was a bit of a free for all, and the Hanky-Panky was my selection. It smelled of subdued dark fruit arranged over a layer of marked bittersweetness. Tasting it, I found plenty of herbaceousness from the amaro, countered by sharp, piquant notes from the gin.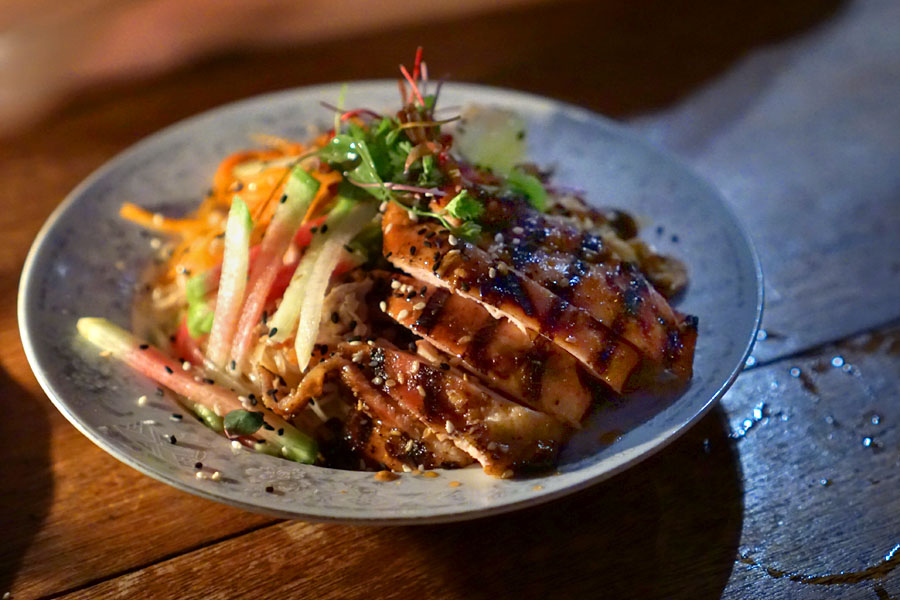 Glass Noodles [$16.00]
| Rice Noodles, Carrots, Baby Bok Choy, Spiced Mushrooms, And Pickled Watermelon Radish. Your Choice Of: Korean Marinated Grilled Chicken or Thai Tofu
The cellophane noodles made for a pleasant surprise. The hero here was the chicken, which had this sweetness and sear that was pretty reminiscent of Korean barbeque. There was also a welcomed acidity and brightness in the noodles, while the mushrooms added further depth. Nice overarching nuttiness from the sesame, too.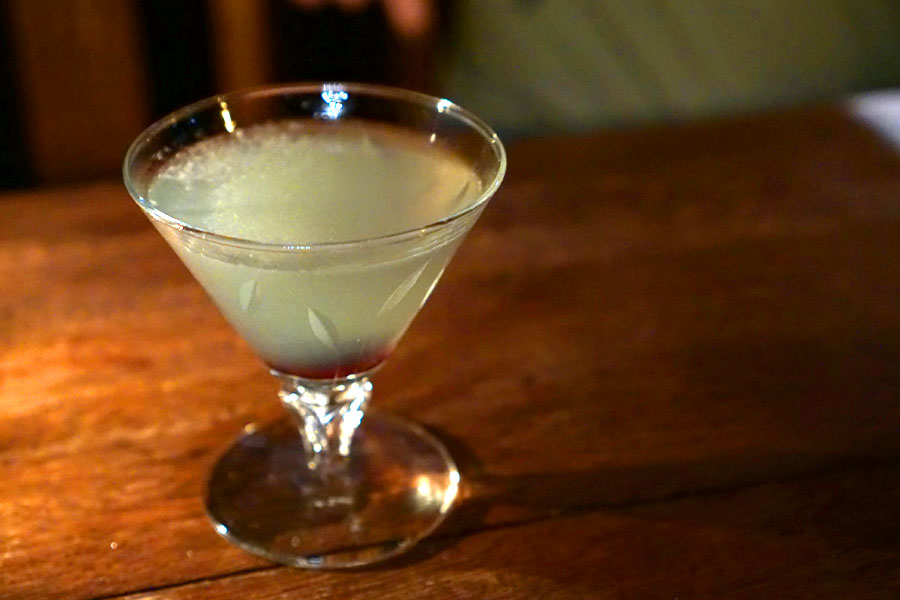 Aviation [$16.00]
| Aviation Gin, Maraschino Liqueur, Creme De Violette, Lime
The Aviation's one of the more notable gin-based cocktails around, and this was a fine version of it. I appreciated how floral it was, as well as its almost savory flavors, joined by a touch of what I'll describe as "nutty chocolate."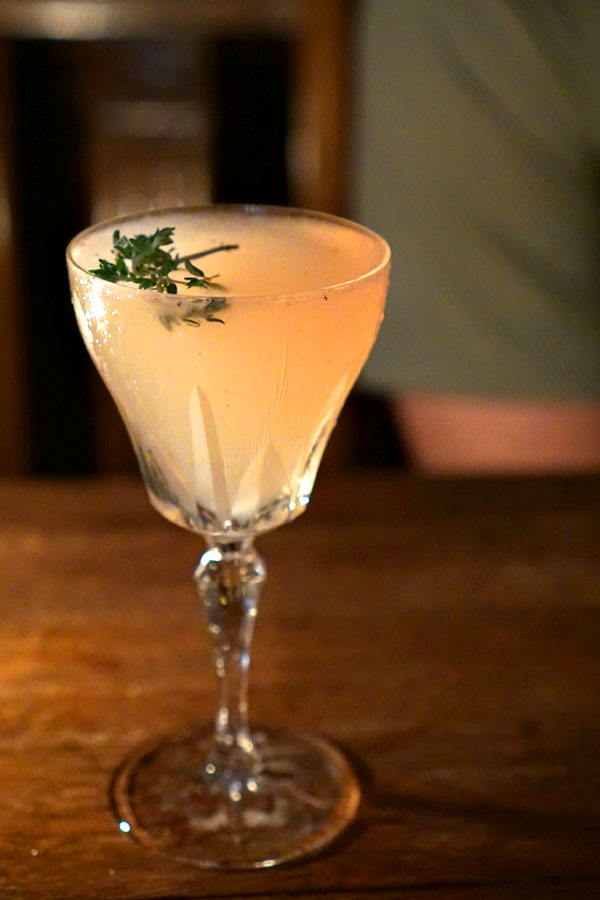 Botanical Good Thyme [$16.00]
| Uncle Val's Botanical Gin, Absinthe, Grapefruit, Lemon, Thyme Sprigs
This cocktail exhibited a blend of sweet-n-sour, melded with the aromatics of thyme, while the gin-absinthe contributed a sharp, acerbic character. The most interesting part was the long-lasting, candy-like flavor on the finish.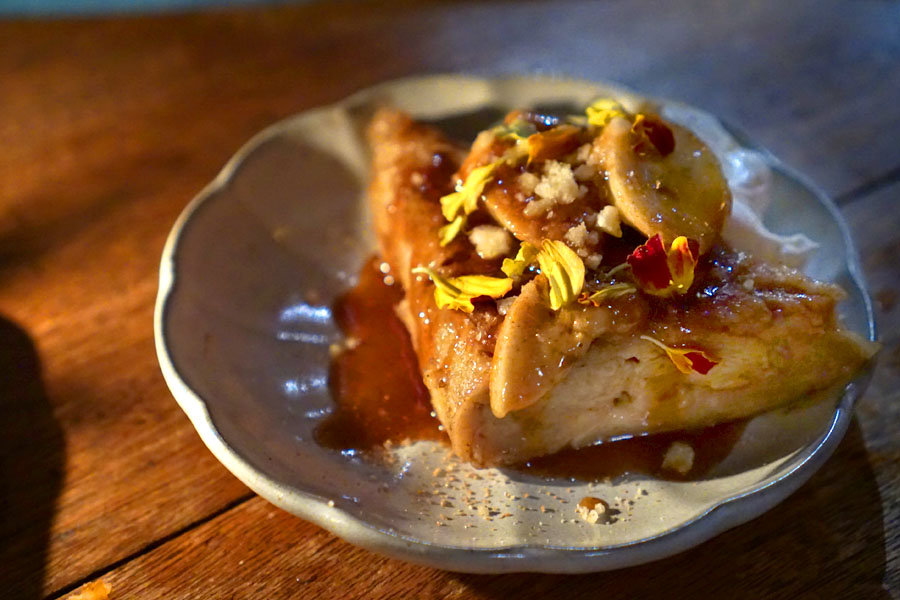 Banana Bread Cake [$10.00]
| Banana Infused Bread Baked Custard Glazed With Banana Rum Sauce & Orange Blossom Whip Cream
This updated take on banana bread ate boozy and raisiny, its sweetness tempered by well-placed pricks of salt.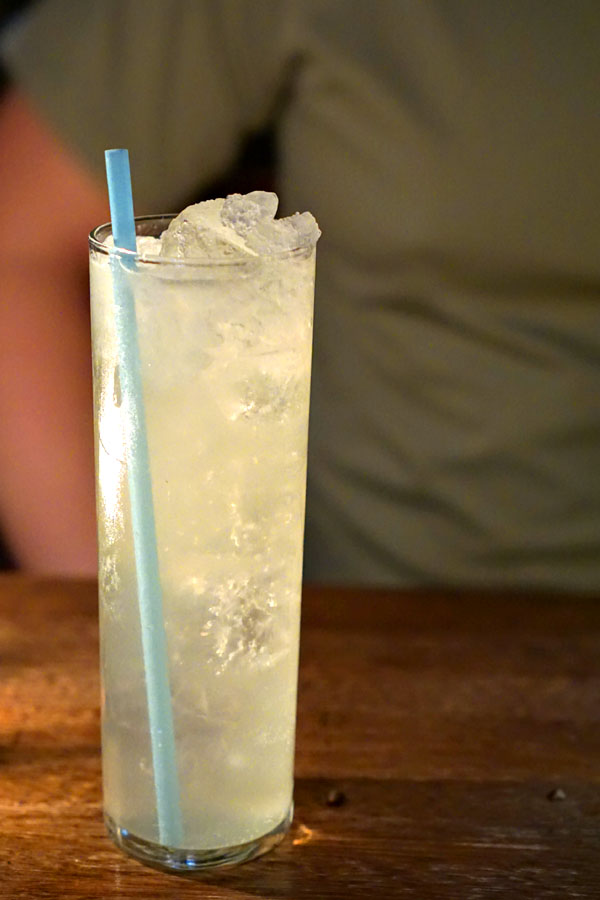 French 75 [$14.00]
| Tanqueray Gin, Lemon, Cane, Champagne
Our lone long cocktail of the night drank fizzy and fruity, displaying almost apple-like flavors supported by the unmistakable pungency of gin. I found this very familiar.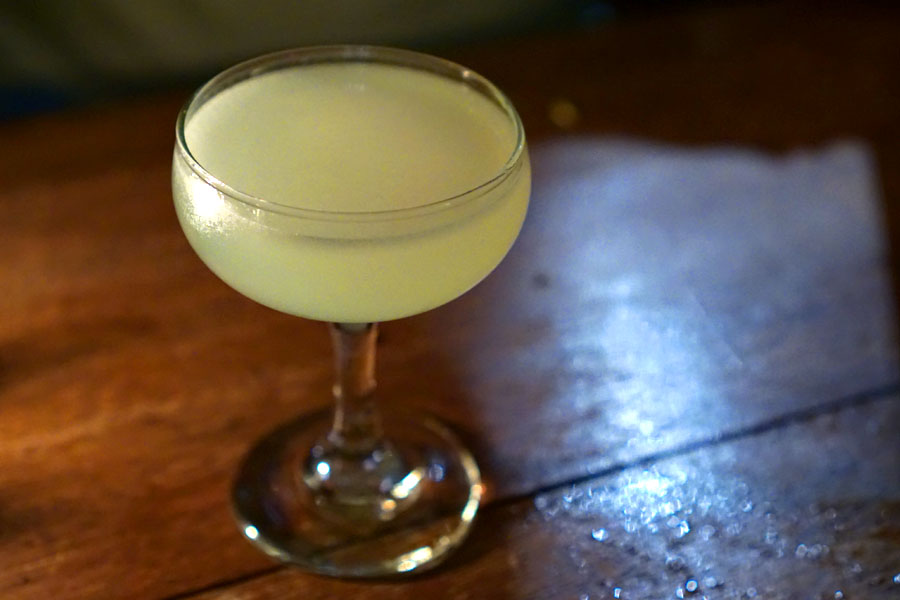 Last Word [$16.00]
| Junipero Gin, Green Chartreuse, Maraschino, Lime
We ended with this appropriately-titled Prohibition-era cocktail. I got an intriguing mix of herb and umami on the nose with this one, while the taste went in a similar direction, but with tart, almost bracing citrus serving as a contrast.
Given the team behind this place, I expected to enjoy myself here, and I most certainly did. Strong Water looks to be the most worthwhile cocktail bar opening to hit Orange County in recent times, and I'm happy to have it around as an option. Now with Juniper Merchant sampled, I just need to come back here and try the normal (tiki) menu.