Citrin (Santa Monica, CA)
Citrin Restaurant & Bar
1104 Wilshire Blvd, Santa Monica, CA 90401
310.395.0881
www.citrinandmelisse.com
Fri 02/28/2020, 08:40p-11:00p

I last visited
Melisse
exactly a year ago, shortly before it closed at the start of March. Since that time, Chef/Owner Josiah Citrin has teamed up with Hans Rockenwagner to (re)open Dear John's, an old-school steakhouse in Culver City that was apparently frequented by Frank Sinatra back in the day. He also did the menu at Costa in Manhattan Beach, which occupies the site of the old Fonz's. However, the idea was always to relaunch Melisse, and indeed, it was reborn on December 20th after a surprisingly quick turnaround. The restaurant is now comprised of two distinct concepts sharing the same building. The first is, well, Melisse, but an even higher-end version that seats a mere 14 diners and serves only a 14-course tasting menu; CdC Ken Takayama is still on board. The second is Citrin, which is what we're talking about here. Citrin is a more casual, more approachable, and yes, cheaper Cal-French spot with a separate kitchen, one that's under the command of Chef de Cuisine Chris Ono.
About the Chef
: An LA area native, Christopher Luke Ono was born in November 1981 and grew up around Culver City. He started his cooking career during his teens, working at his uncle's nearby cafe, and eventually found his way to the California Culinary Academy in San Francisco. He achieved his associate degree in culinary arts in 2004, and following, went to work at Roy's, and then, curiously enough,
Morihiro Onodera
's
Mori Sushi
starting in November the same year. In August 2005, he took on an additional line cook position at fine dining mainstay
Providence
, but left both jobs in March 2008. Ono then traveled to Japan, and while there, apprenticed at
Ryugin
under Seiji Yamamoto.
His next big move came in August 2009, when he landed a sous chef gig at none other than the seminal Eleven Madison Park. He stayed with Daniel Humm until January 2013, leaving to open Betony with fellow EMP alums Bryce Shuman and Eamon Rockey. Betony debuted in May 2013, but Ono decamped before the end of the year, landing at Michael White's Mediterranean-focused Ai Fiori, where he stayed throughout 2014 and part of the following year. He found himself engaged in May 2015, then got married on July 31st (the couple dined at The NoMad on their wedding night) before welcoming son Orion that December. After a trip to Peru, the Chef wound up relocating to Los Angeles in 2016, securing employment as the CdC at
Esters
wine bar in Santa Monica.
He left Esters in May 2018 to take the helm at Paul Hibler's Italian
-ish
Gesso, replacing Doug Miriello. Gesso, however, ended up closing in November that year, and Ono soon began working for Culinary Lab, the group behind
Hinoki & the Bird
, among others. Now at Culinary Lab, he opened Sorra, a rooftop eatery in Hollywood, in spring 2019, but left the company not long after. In July 2019, it was announced that he'd be taking over the kitchen at
Ricardo Zarate
's Pikoh as CdC, replacing James Jung. Ono would eventually transform Pikoh from an all-day spot to a dinner-only "Peruvian cantina," but the place closed in October. He was at Citrin the following month.


Citrin occupies what was once Melisse's main dining area. The space has been totally transformed by
DEX Studios
, the same folks that were responsible for the restaurant's last redesign in 2009. As we can see, the room's much more casual now, befitting the new concept. Note also the significantly expanded bar.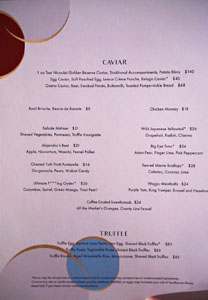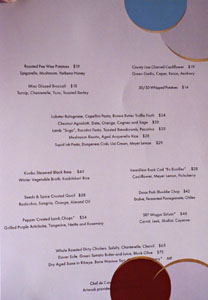 Here we see Citrin's menu, which is exclusively à la carte and fairly lengthy. As expected, it has a more relaxed vibe, though there are definite traces of the old Melisse on there. Click for larger versions.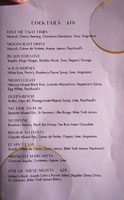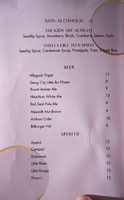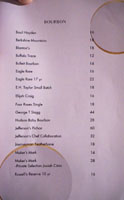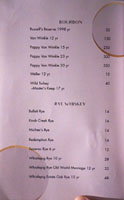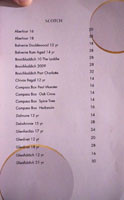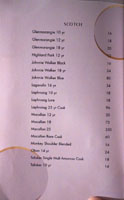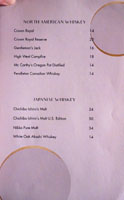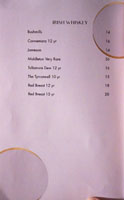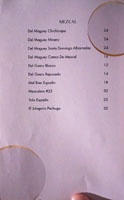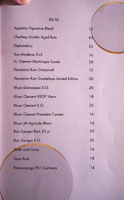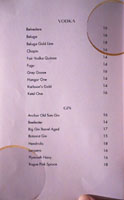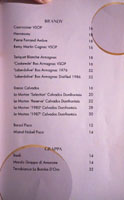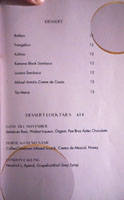 Drink-wise, you get a dozen cocktails that sound interesting enough, as well as a properly impressive, French leaning wine list handled by Wine Director Matthew Luczy (not shown). Corkage is $50 for the first two bottles, and $75 after that, though apparently the restaurant will waive a corkage fee for each bottle purchased from the list. Click for larger versions.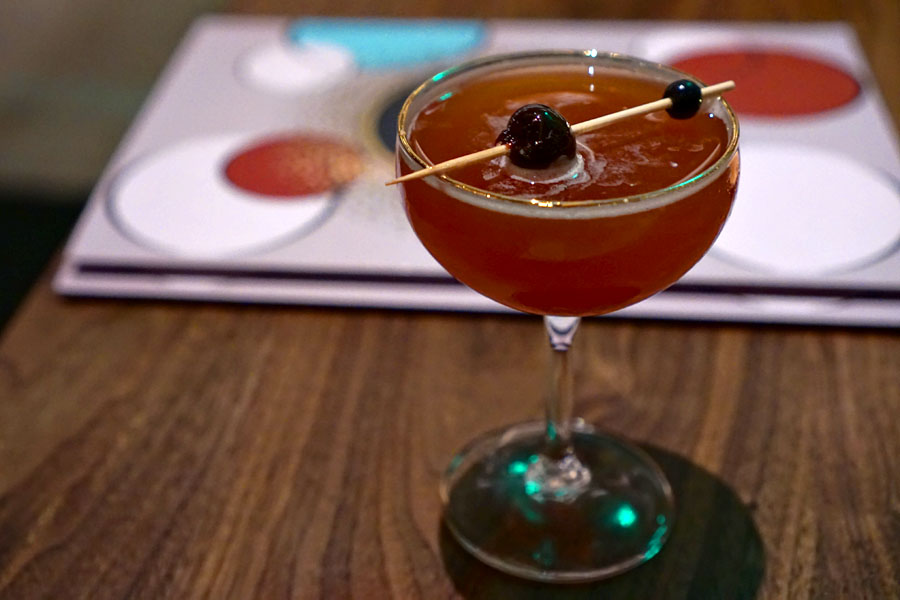 It Ain't Easy [$16.00]
| Scotch, Crème de Cassis, Cynar, Lemon, Bitter Truth Lemon, Peychaud's
We made our way through most of the cocktail list this evening, and our first drink certainly conveyed the smokiness of the whisky, conjoined with countering notes of sweet 'n' sour, while the finish lingered long with more smoke and a touch of Cynar. Surprisingly though, the mouthfeel on this one was rather thin.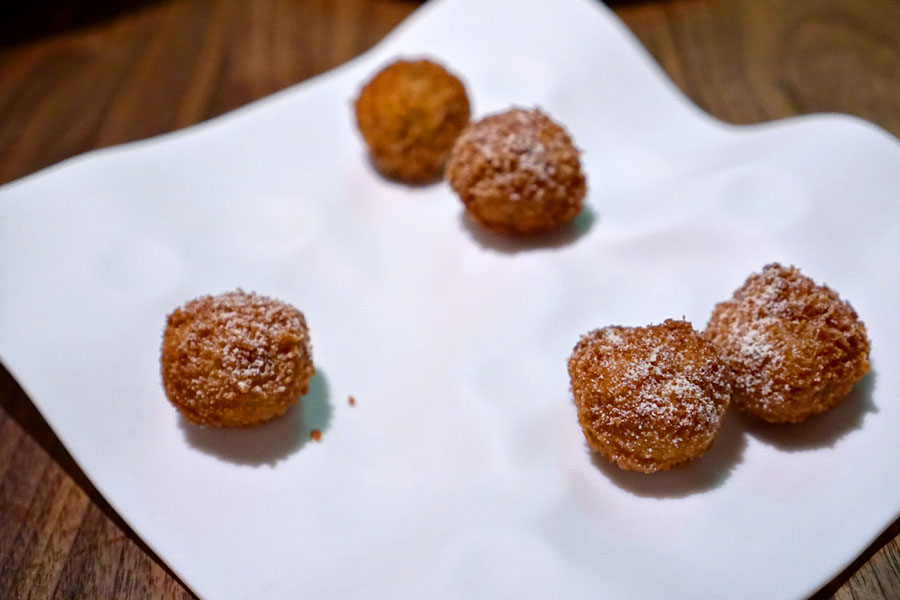 Chicken Mornay [$18.00]
Our first dish was this lighthearted take on chicken Mornay, a fun combination of crisp crusts and hot, cheesy, creamy interiors. In fact, the balls were a bit trashy, but at the same time oh-so satisfying. Just be careful though, as they tended to squirt when being bit into, as one of my dining companions' shirt will attest to.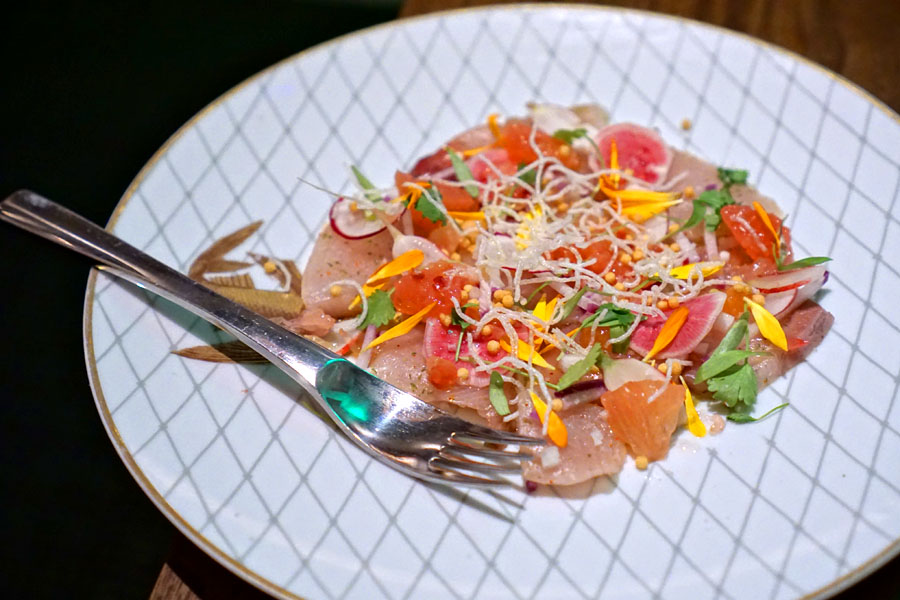 Wild Japanese Yellowtail [$26.00]
| Grapefruit, Radish, Cilantro
Supple, fatty shards of yellowtail made sense against the bitter, herbaceous nuances in the dish, while the grapefruit contributed welcomed pops of brightness and acidity.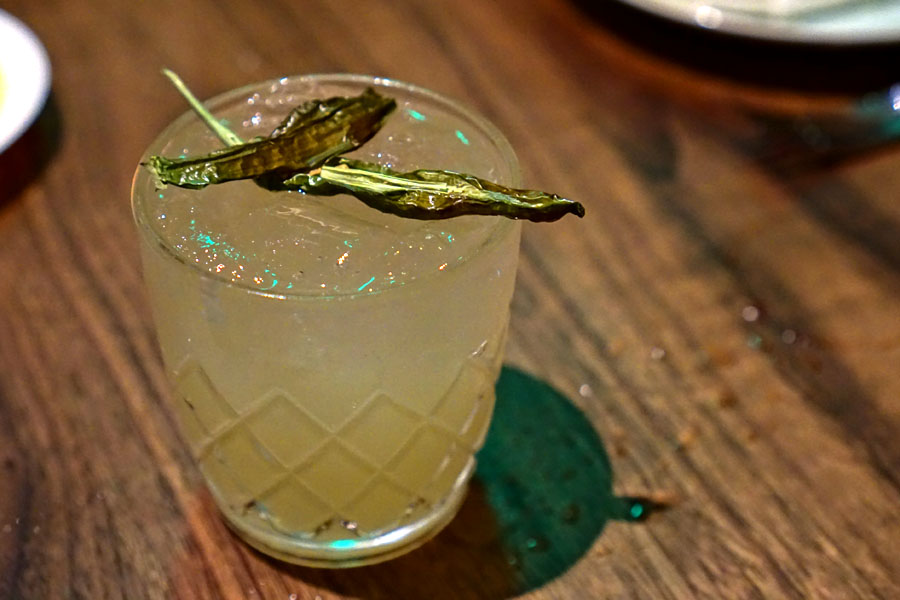 Ready for Love [$16.00]
| Tequila, Kings Ginger, Shishito Shrub, Yuzu, Regan's Orange
This was one of the more interesting cocktails we tried. It had a mishmash of savory and sour flavors, but mixed in was this almost peach-like sweetness that I couldn't put my finger on. A bit odd, but fascinating.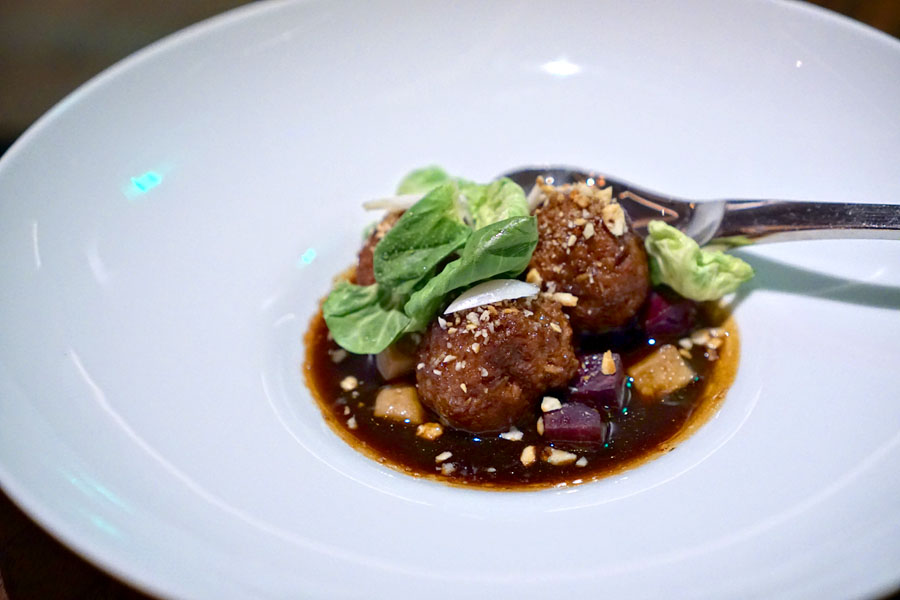 Wagyu Meatballs [$24.00]
| Purple Yam, King Trumpet, Brussel and Hazelnut
Meatballs showed off all the dark, savory flavors I was expecting, making for a cozy eating experience perked up by those crumbles of hazelnut. The use of wagyu here was unnecessary though, as you couldn't really tell either way.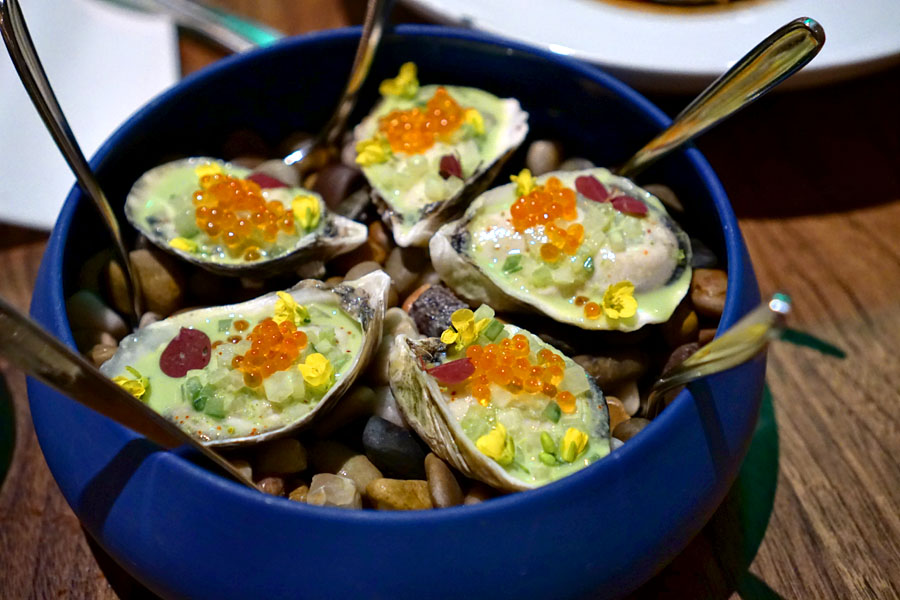 Ultimate F***ing Oyster [$26.00]
| Cucumber, Sorrel, Green Mango, Trout Pearl
The oysters were far from ultimate. Their brine was simply too domineering, and the cucumber and sorrel didn't offer up much in terms of contrast, while the mango was almost a nonfactor. Overall the flavors just didn't come together nearly as well as I was hoping for.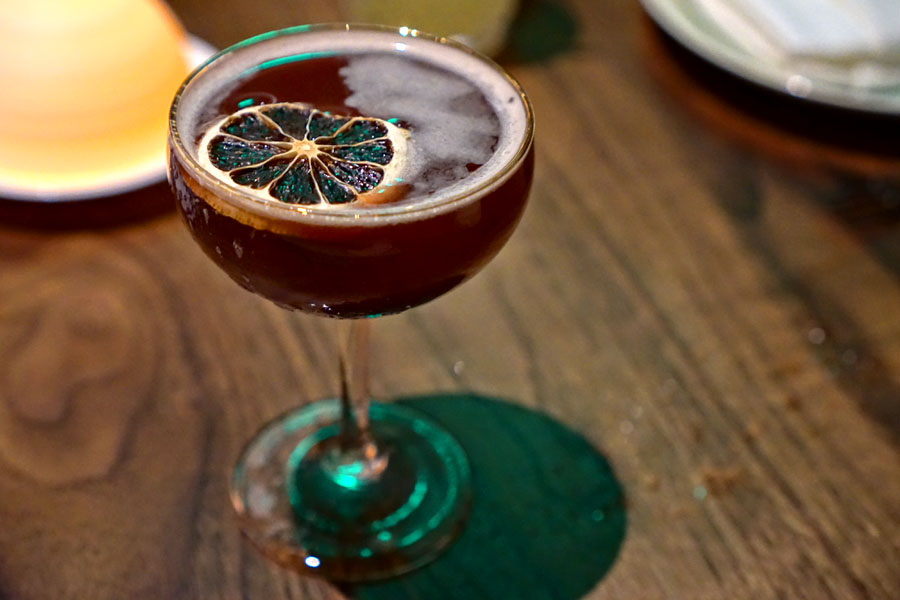 Love Me Two Times [$16.00]
| Mezcal, Cherry Heering, Cinnamon Demerara, Yuzu, Angostura
Our third cocktail displayed loads of cherry right up front, moderated by a marked bitterness while the demerara contributed wisps of the advertised cinnamon. The smokiness of the mezcal wasn't super apparent, instead lurking just in the background.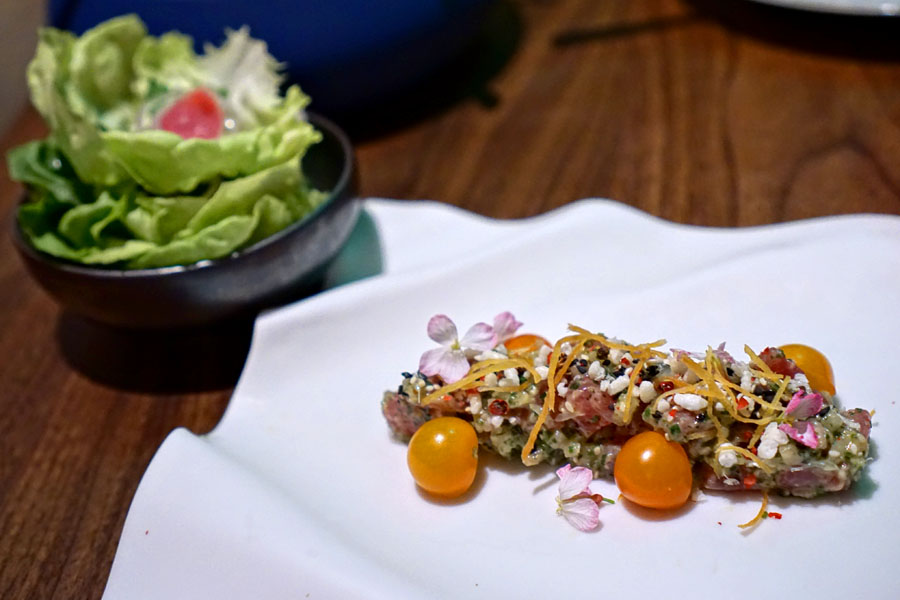 Big Eye Tuna [$24.00]
| Asian Pear, Finger Lime, Pink Peppercorn
This was a standout, as I loved the nutty, crunchy, sesame-like elements in the dish, and how they meshed with the tuna. The tartar was even better when taken with the lettuce cups, a presentation that recalled a dish I had at
Angler
recently.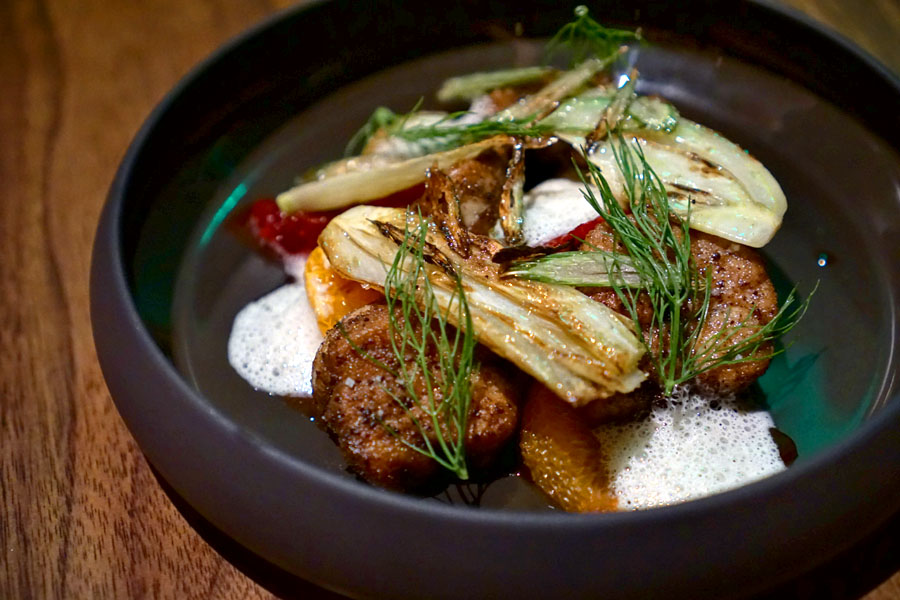 Coffee Crusted Sweetbreads [$24.00]
| All the Market's Oranges,
County Line
Fennel
Sweetbreads were beautifully textured, with deep, savory flavors that almost reminded us of a well-seared steak. Veggies served as a necessary counterpoint in the dish, and I liked the pungency of the fennel here, too.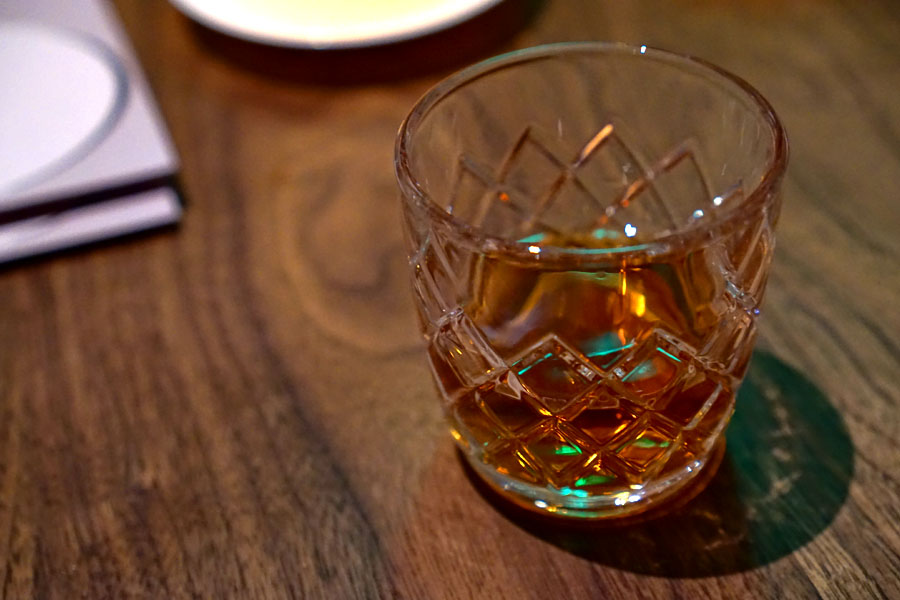 We then ordered a pour of the limited-release
Russell's Reserve 1998 yr [$32.00]
, which was rather reasonably-priced (a bottle typically goes for $1000+ these days). Nose here was intensely fragrant, giving up bountiful amounts of sweet nutmeat laced with whispers of vanilla and berry fruit. Tasting it, I got lots of sweet spice joined by more fruit, oak, and plenty of heat, all leading to a remarkably drawn-out, full-flavored finish.
Lamb "Sugo" [$32.00]
| Bucatini Pasta, Toasted Breadcrumb, Pecorino
Our first pasta course was a crowd pleaser, the lamb coming out with an utterly homey, comforting flavor profile that meshed well with the herbs, cheese, and crunchy breadcrumbs present, while the bucatini itself was firmly textured.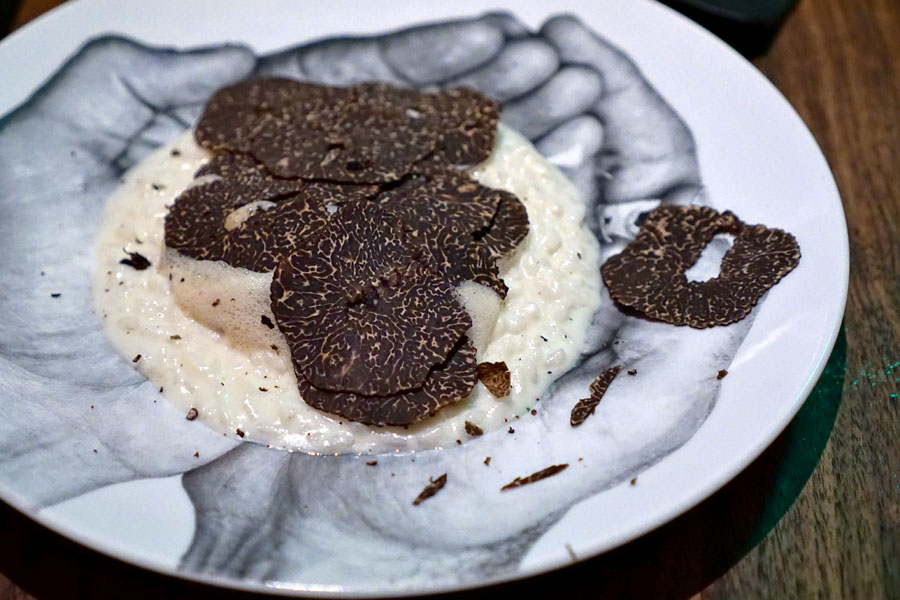 Truffle Risotto [$85.00]
| Aged Acquerello Rice, Mascarpone, Shaved Black Truffles
The risotto was pretty much spot on in terms of consistency, whereas it taste was pretty restrained, its cheesiness subdued, perhaps to prepare us for the unmitigated, woodsy funk of those truffle slices.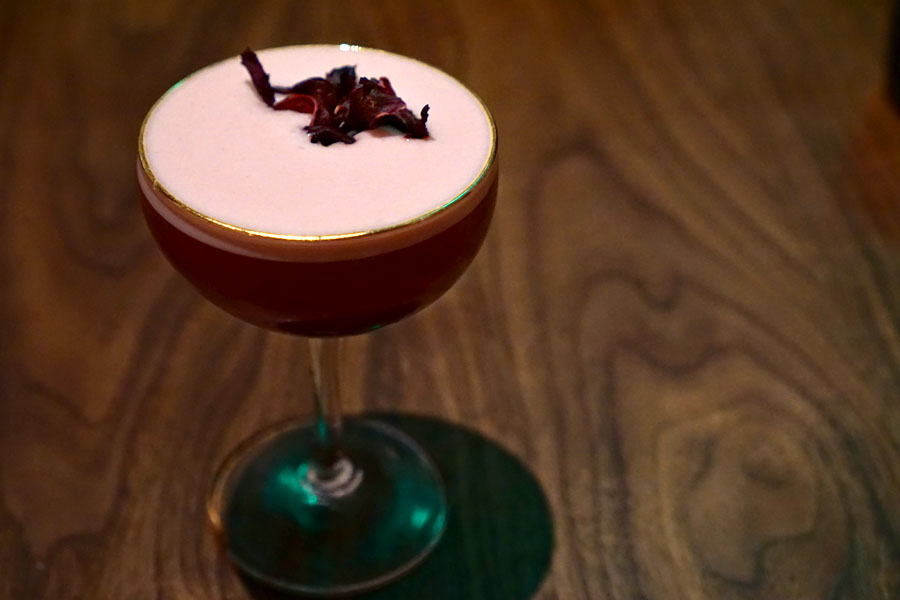 Night Flight [$16.00]
| Hibiscus Infused Black Rum, Luxardo Maraschino, Peppercorn Syrup, Egg White, Peychaud's
This soft, floral, fruity cocktail also had a nice complexity to it thanks to the presence of herbal, bitter elements and a touch of sweet spice.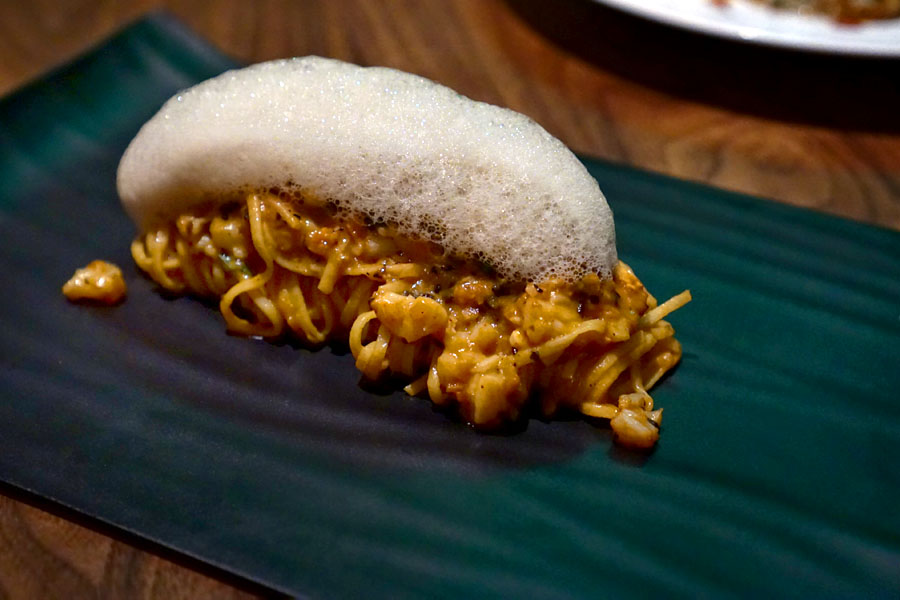 Lobster Bolognese [$34.00]
| Capellini Pasta, Brown Butter Truffle Froth
Melisse's signature pasta dish was as tasty as ever. You had your classic-ish bolognese flavors going on, perked up by well-placed pricks of herbaceousness and the brine of lobster, while the froth imparted further potency. Texturally, the capellini was on the softer side, but that made sense here.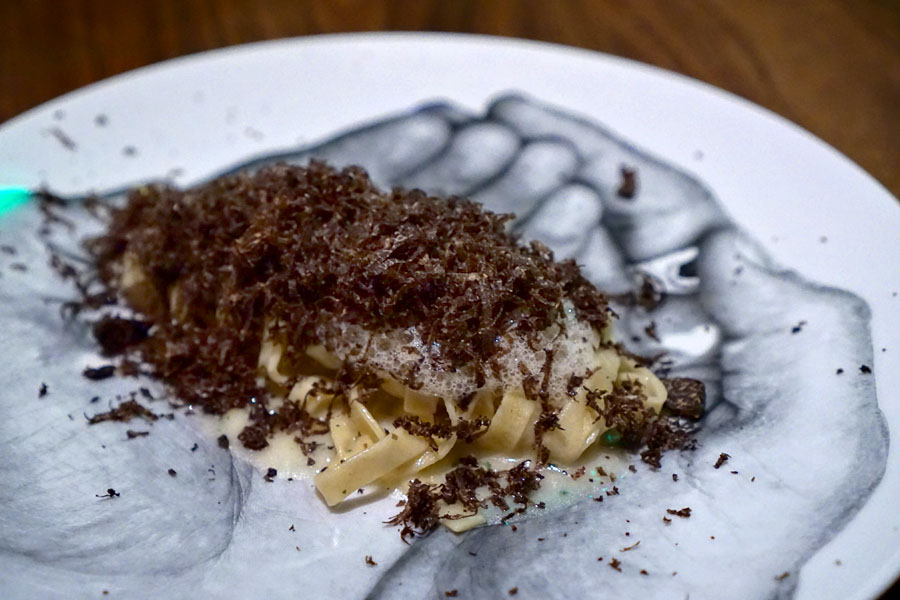 Truffle Pasta [$85.00]
| Tagliatelle Pasta, Grated Black Truffles
This was likely my favorite of the pasta courses given the consistency of the tagliatelle, and more importantly, just how flawlessly the biting, pungent funk of truffle was integrated into the dish.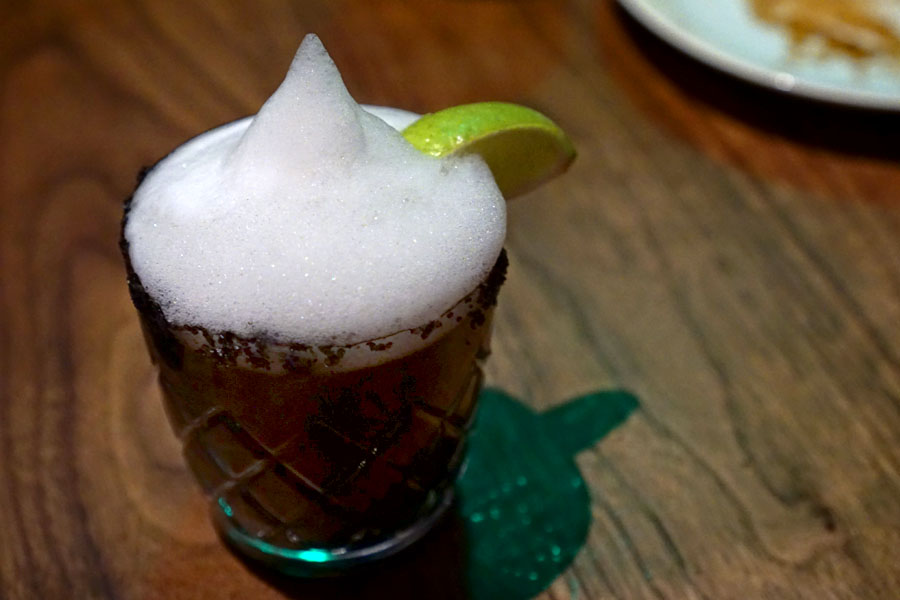 Midnight Margarita [$16.00]
| Charcoal Tequila, Cointreau, Agave, Lime
This riff on the margarita worked it out. It found it softer, more floral than the traditional version of the cocktail, while there was still plenty of citrus and a noticeable astringency from the tequila.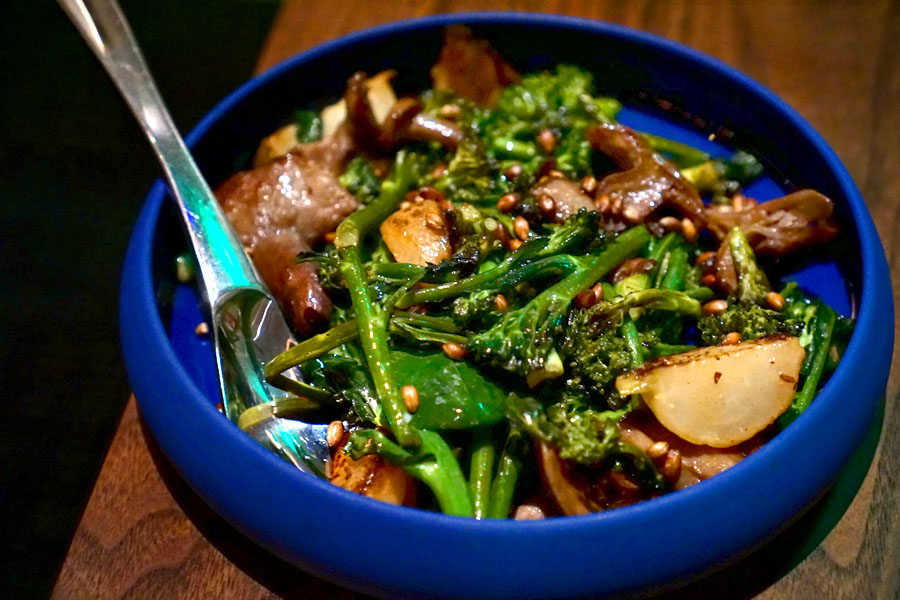 Miso Glazed Broccoli [$18.00]
| Turnip, Chanterelle, Yuzu, Toasted Barley
Broccoli was delightfully bitter, and matched up well with the sourness of yuzu while the miso imparted a base of umami to the dish. Great crunch here from the barley as well.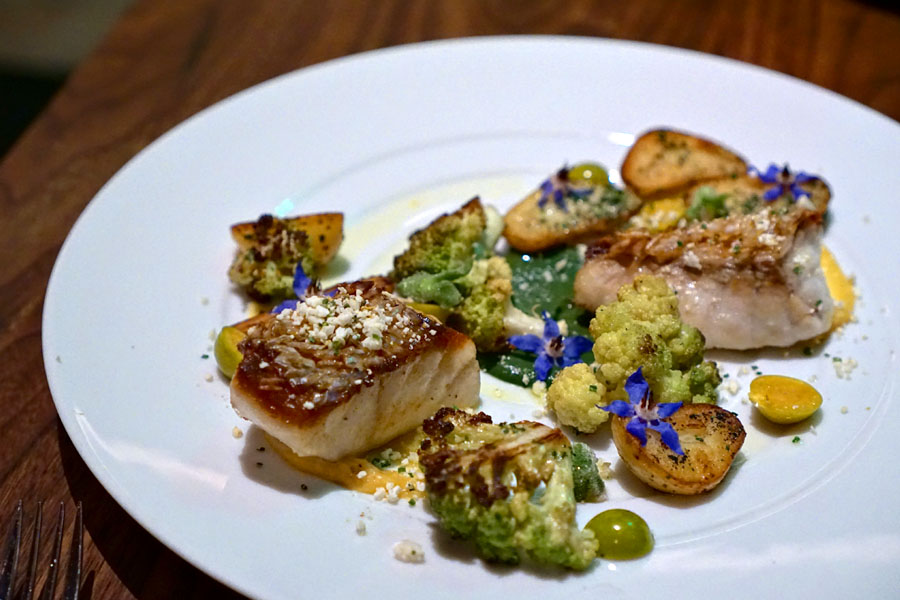 Vermillion Rock Cod "En Ecailles" [$38.00]
| Cauliflower, Meyer Lemon, Pichuberry
In the first of our mains, rock cod conveyed an absolutely delicate brine that linked up nicely to the piquancy of Meyer lemon and Cape gooseberry. The fish's skin was fantastic to boot, showing off a lightness, crispness, and elegance that reminded me of
Guy Savoy
's signature sea bass. If that wasn't enough, the roasted potatoes and cauliflower were spot on, too.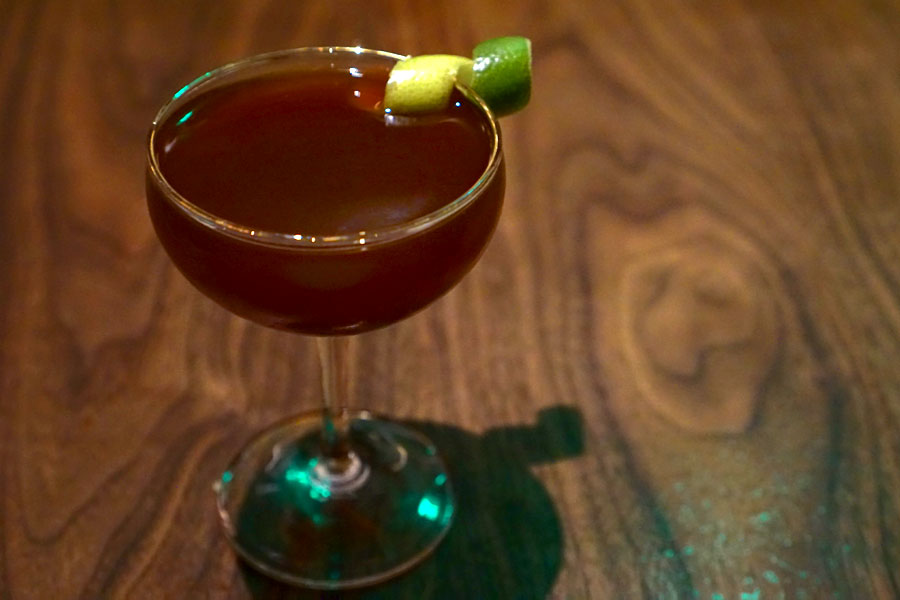 So Divine [$16.00]
| Bourbon, Averna, Black Tea Honey, Fee Bros Aztec Chocolate
This cocktail was slightly Manhattan-ish due to its rich combination of sweetness, whiskey heat, and bitterness, all tarted up by a touch of lime.
50/50 Whipped Potatoes [$14.00]
The potatoes were excellent, arriving just buttery enough, with a great hit of pepper. They delivered texturally too: think creamy for sure, but with the right amount of bite and substance.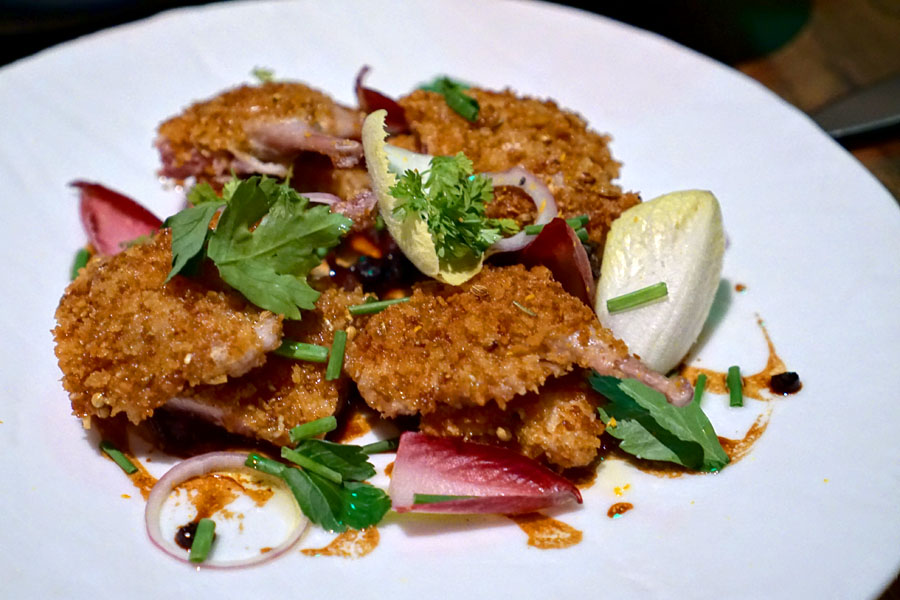 Seeds & Spice Crusted Quail [$38.00]
| Radicchio, Sangria, Orange, Almond Oil
The quail was one of the best preparations I've had in a while. I loved the crust here, and how that combined with the bird's tender, juicy, flavorful flesh. I quite appreciated the counterpoint provided by the herbs and chicory here as well.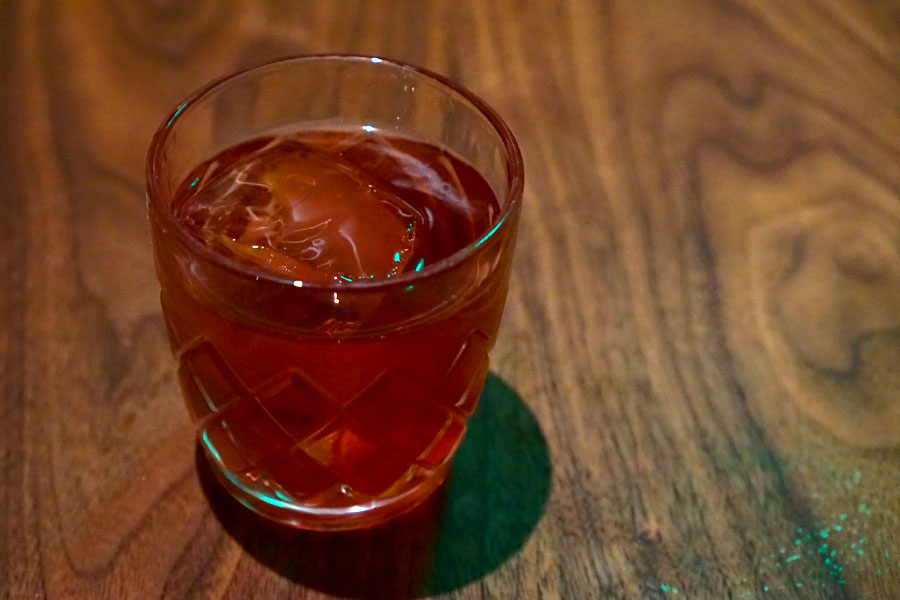 No Time to Play [$16.00]
| Epazote Infused Gin, St Germain, Lillet Rouge, Bitter Truth Lemon
The last of our non-dessert-y cocktails managed to be one of my favorites. The nose here was filled with sweet spice and citrus, but the taste was much more intriguing. I found it herbal and sweet, but with a "butteriness," and it had a quality to it that I couldn't quite identify, which I'm guessing came from the
epazote
.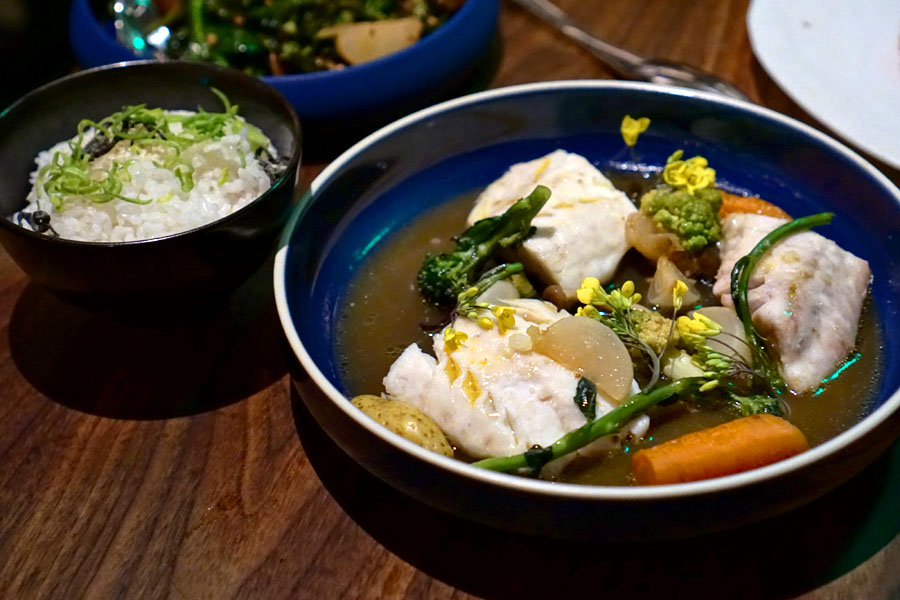 Konbu Steamed Black Bass [$45.00]
| Winter Vegetable Broth, Koshihikari Rice
Bass had a lovely consistency, while flavors were subtle and subdued, working well with the broth and root veggies. However, what really made the dish sing was that well-seasoned, well-textured rice. Mixed in with the fish, it made for a super gratifying, yet nuanced eating experience.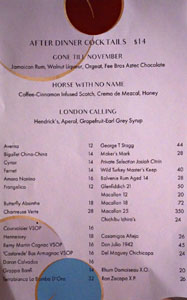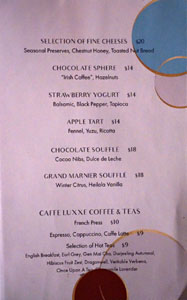 Desserts are classic-ish, and are listed along with an array of after-dinner drinks. Click for larger versions.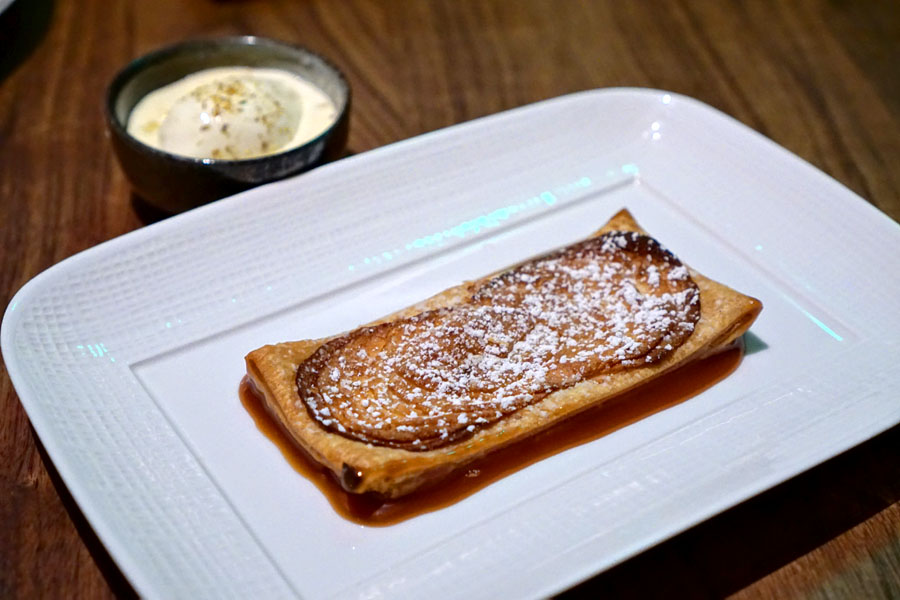 Apple Tart [$14.00]
| Fennel, Yuzu, Ricotta
An untraditional apple pie offered a surprising, but not unwelcomed smokiness, while the unabashedly cheesy ice cream was like an updated take on the classic cheddar.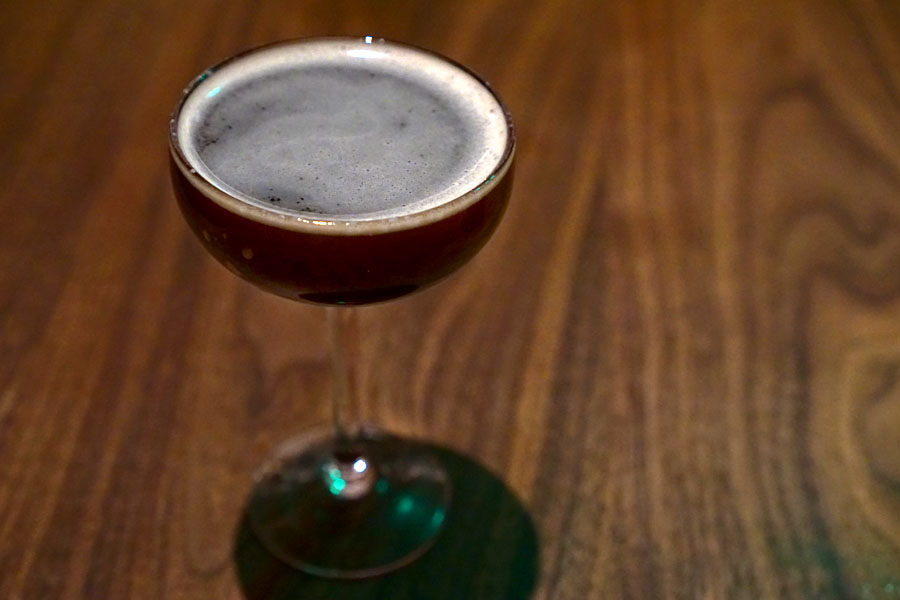 Gone Till November [$14.00]
| Jamaican Rum, Walnut Liqueur, Orgeat, Fee Bros Aztec Chocolate
We ended up ordering two dessert cocktails, and this one drank rich and fruity, showcasing lots of chocolate along with a distinctly prune-like sensation on the finish.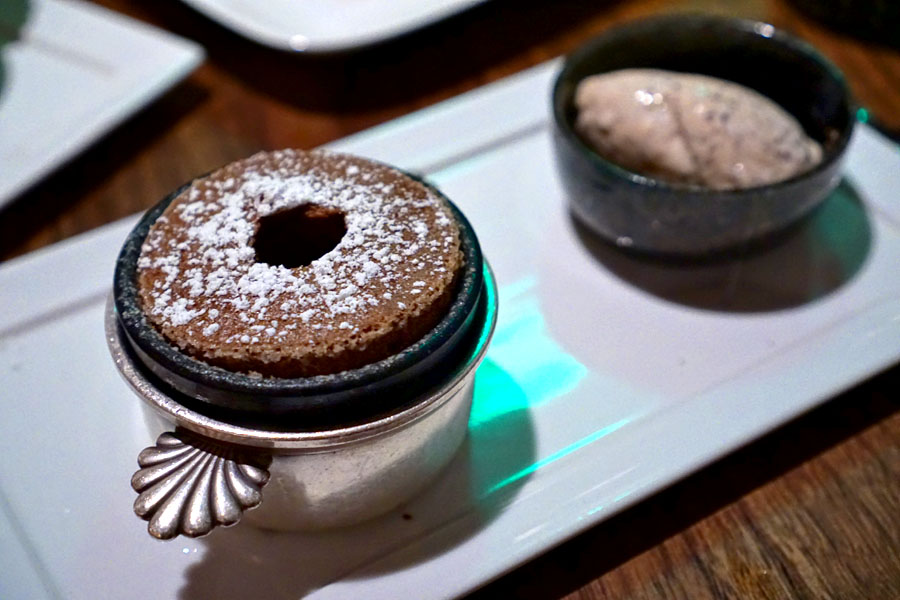 Chocolate Soufflé [$18.00]
| Cocoa Nibs, Dulce de Leche
Our first soufflé had a properly light, airy consistency, with a bit of "graininess," while flavors were utterly classic. Also of note was the accompanying ice cream, which I found eminently satisfying, in an almost base sort of manner.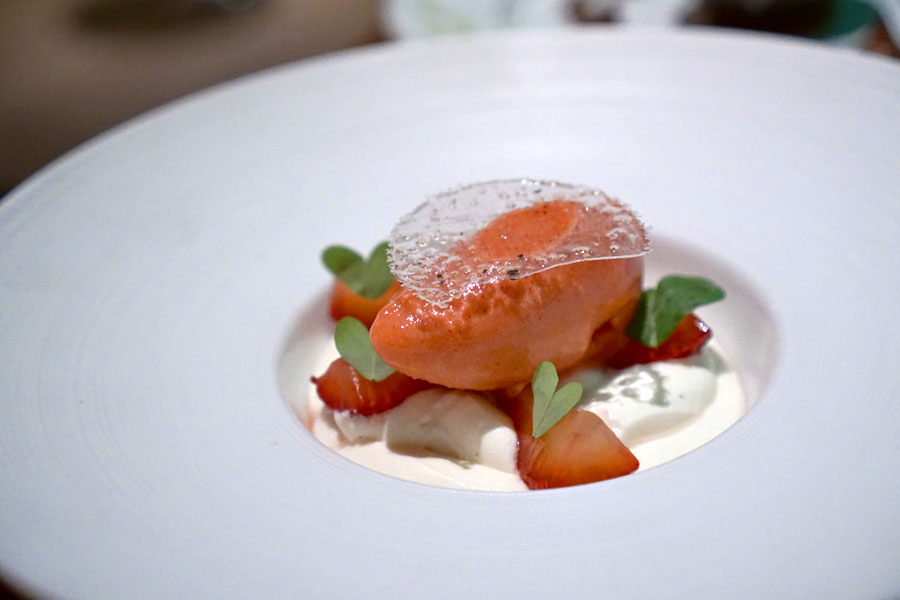 Strawberry Yogurt [$14.00]
| Balsamic, Black Pepper, Tapioca
An updated take on the time-tested marriage of berries and cream certainly delivered, especially with the addition of black pepper to keep things interesting.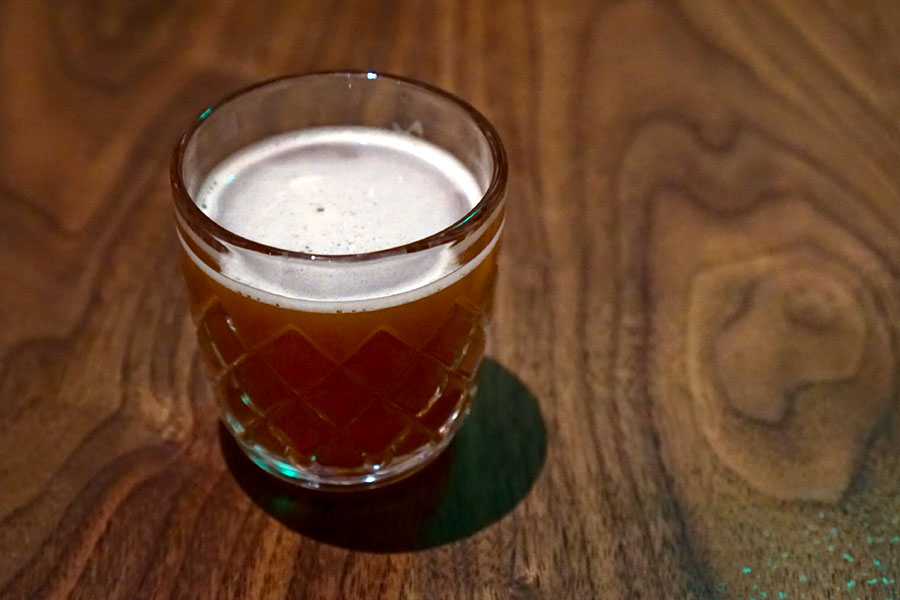 Horse with No Name [$14.00]
| Coffee-Cinnamon Infused Scotch, Crema de Mezcal, Honey
The evening's final cocktail featured loads of coffee, intertwined with sweet, fruity notes, a healthy dose of alcoholic heat, and an overarching layer of smoke. One of my dining companions described the sensation here as "cigarettes and coffee."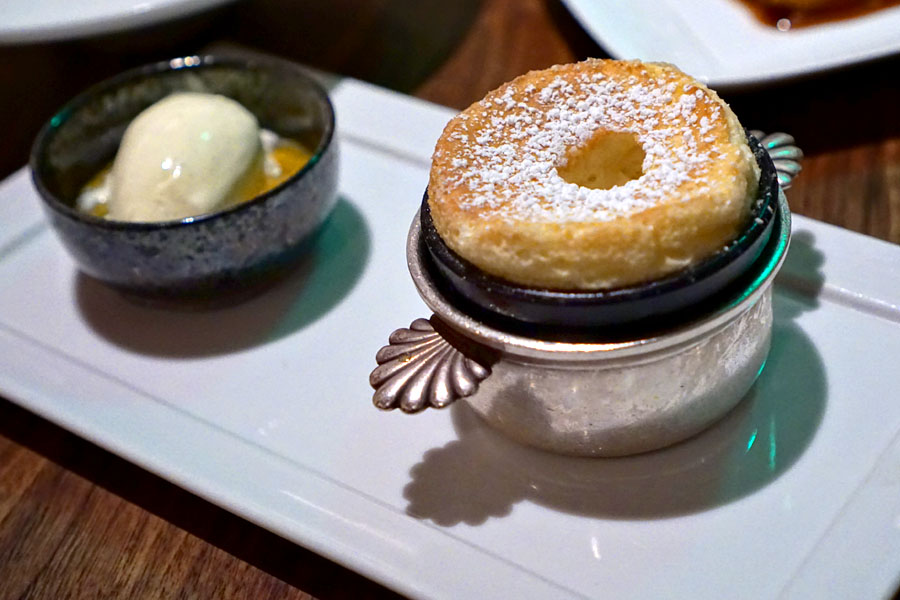 Grand Marnier Soufflé [$18.00]
| Winter Citrus, Heilala Vanilla
Our other soufflé was also on the fluffy side, with flavors that were more "eggy" so to speak, the Grand Marnier only just peeking through. Lovely ice cream here as well.
Chocolate Sphere [$14.00]
| "Irish Coffee", Hazelnuts
It was certainly fun to break through the spherical shell in this dessert, and the process revealed a plethora of chocolate-y, creamy, nutty flavors that complemented each other seamlessly.
I was a tad bit skeptical when I heard that Josiah was splitting Melisse up into two disparate restaurants, but the experiment seems to have worked. Citrin looks to be doing a commendable job in updating the ethos of Melisse for Los Angeles' current dining environment. For the most part, the food here is decidedly more relaxed, more casual, more affordable, but there are definitely vestiges of the old Melisse abound, which is actually a good thing. This place should do pretty well I imagine.