Kakurega (Costa Mesa, CA)
Kakurega Sushi Tapas and Sake
2574 Newport Blvd, Costa Mesa, CA 92627
949.873.5959
www.instagram.com/kakuregacostamesa
Sun 03/15/2020, 07:30p-10:25p

New sushi spots pop up all the time in Orange County, and one that I'd been curious to try for a while now is Kakurega. The name of the restaurant means "hideout" in Japanese, and in fact, the LLC that owns the business is even called Secret Spot. Speaking of ownership, the two chefs behind this joint are Junichi "Jun" Nishizawa and Shogo "Sho" Suzuki. Both of them come from Newport Beach's longstanding Kitayama, which debuted back in 1989 and closed on January 18th this year to make way for a senior housing development. Kakurega, meanwhile, opened around November 2017.

Kakurega takes over a building that previously held Sushi Island for 18 years, as well as Sun Tsumugi before that. The kitschy decor of the former tenant has been excised, and indeed, the space as it stands now is fairly nondescript.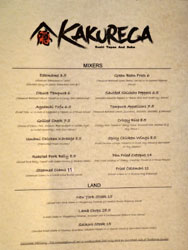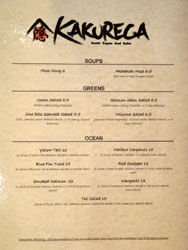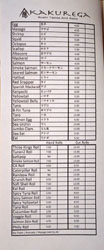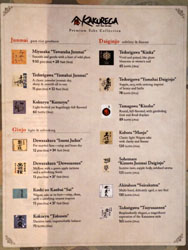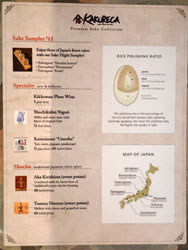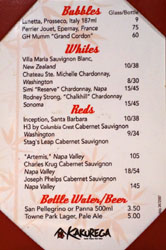 Menu-wise, you have your typical à la carte sushi list (joined by
chalkboard specials
) along with a small array of appetizers and whatnot, though we were clearly here for the omakase, which runs a reasonable $93 a head. To drink, there's some sake, a few beers, and a smattering of wine--nothing too notable. Corkage was a mere $20 total. Click for larger versions.
1: Appetizers / Sakizuke
The meal commenced with a quartet of little bites. A Fanny Bay oyster showed off a forceful, lingering brine, one cut by the tart, savory notes of its ponzu dressing. To the oyster's right was a fluffy, eggy fishcake, topped with what I believe was a
mentaiko
-derived condiment; I loved the cake's almost nutty flavors, as well as how it played with the zestiness of its radish base. Next was a slice of snapper, one that was much softer, much more luscious than usual, and came topped with a delightfully smoky preparation of shishito pepper. Closing out the foursome were bits of fried fresh octopus, which I found wonderfully snappy-yet-tender in terms of consistency, with a properly light batter to boot.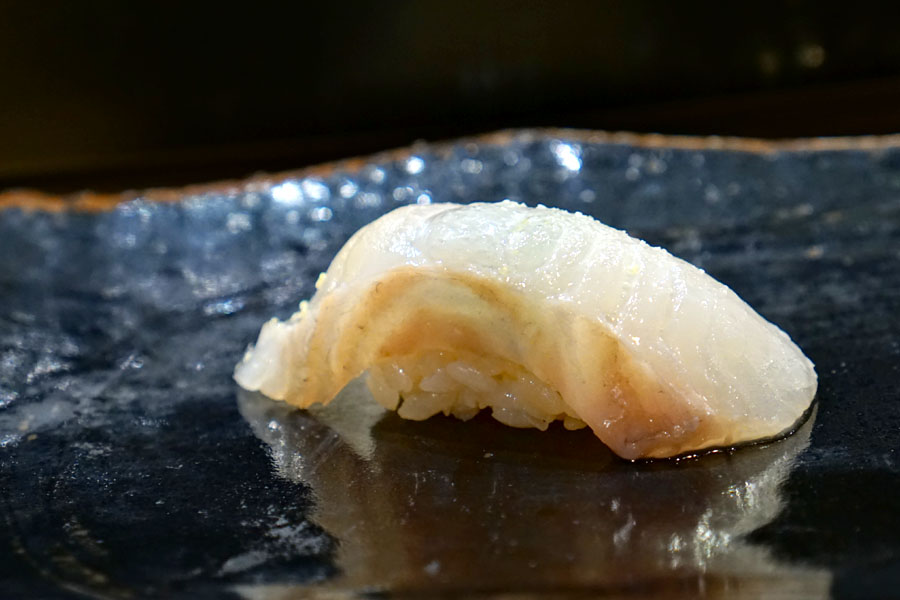 2: Halibut / Hirame
We then got right into the sushi, starting with flounder. It was a supple, mild tasting cut of fish, one smartly perked up by a deft application of citrus and salt.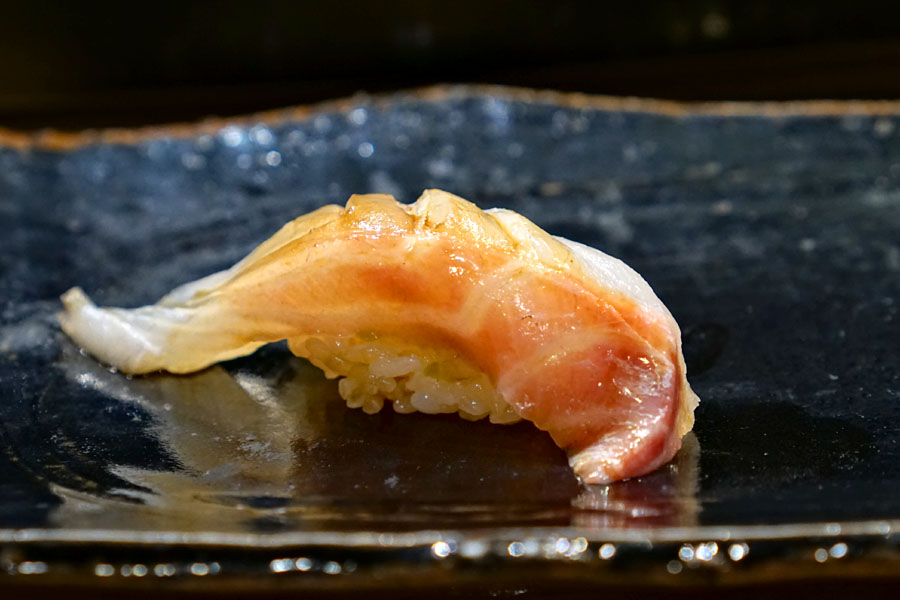 3: Red Snapper / Tai
Snapper had a somewhat softer texture than usual, along with a strong soy element and a light prickly touch of wasabi that lingered long.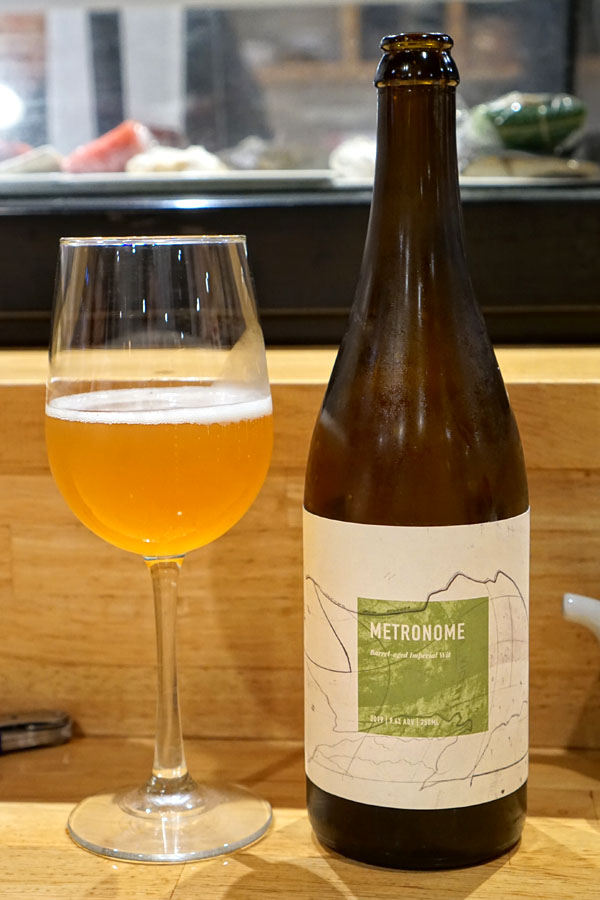 To drink, I brought along a few bottles (which I also made sure to share with the chefs), and first up was the
2019 Sante Adairius Metronome
, a oak-aged, minimally-hopped imperial witbier with Meyer lemon zest, coriander, and lemon verbena. The nose here was of tart stone fruit backed by spice, yeast, and oak. Tasting it, I got a good amount of citrus and apricot, enough to give the beer just a trace of jamminess, while overarching was a layer of earthy bitterness, acidity, and herbaceousness.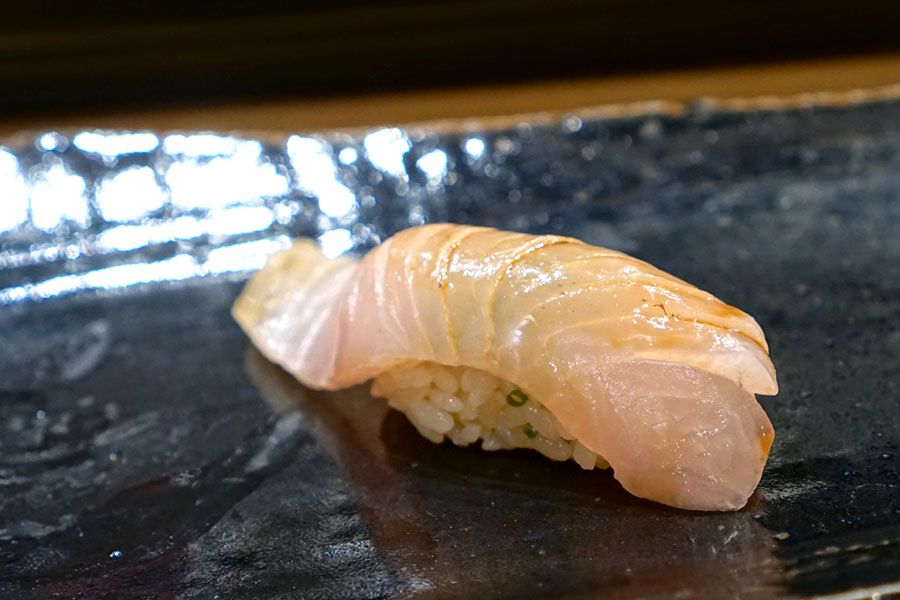 4: Amberjack / Kanpachi
Amberjack was richly flavored, and had a particularly nice back-and-forth with the
shari
here, which was drier than I'm accustomed to, and contained what I believe was chive. I don't believe this rice was used with any other
neta
.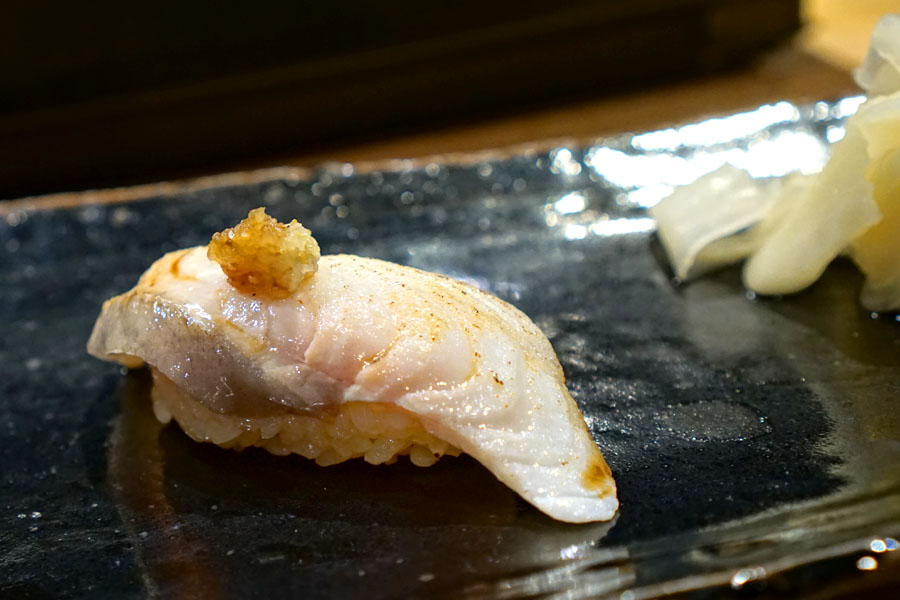 5: Black Cod / Gindara
Sablefish displayed a delectable combination of sear, smoke, and fat, and I quite liked the trace of heat in the bite, too.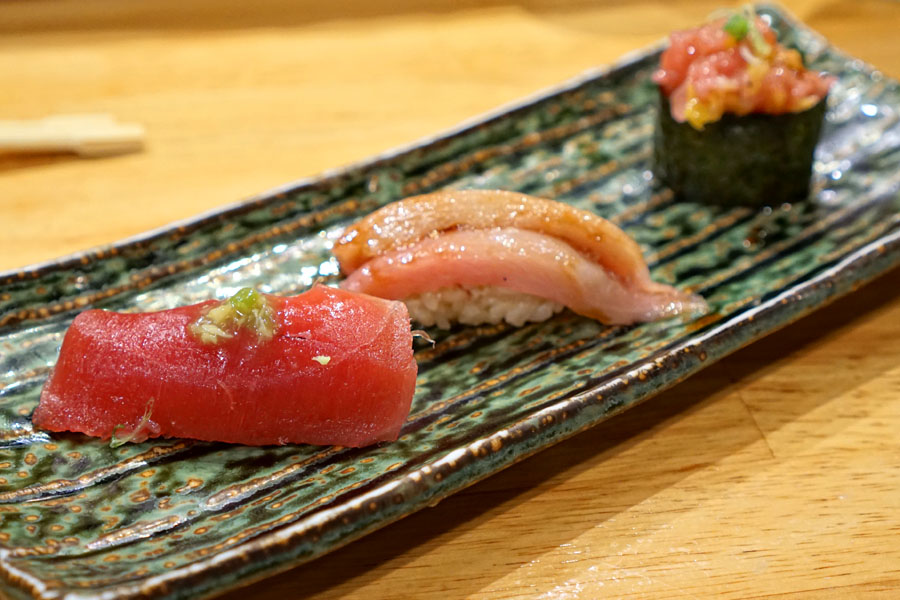 6: 3 Way Blue Fin Tuna / Hon Maguro Moriawase
Next came a tuna three-way. I began with the lean, which I found soft, almost pillowy, with a strong but effective application of wasabi. The chutoro, meanwhile, ate oily, fatty, and lush, and had a good amount of soy and somewhat firm rice for balance. Last came the chopped chutoro with
takuan
, my favorite of the trio thanks to the crunch and tartness of the pickle and the sort of enveloping umami notes provided by the seaweed.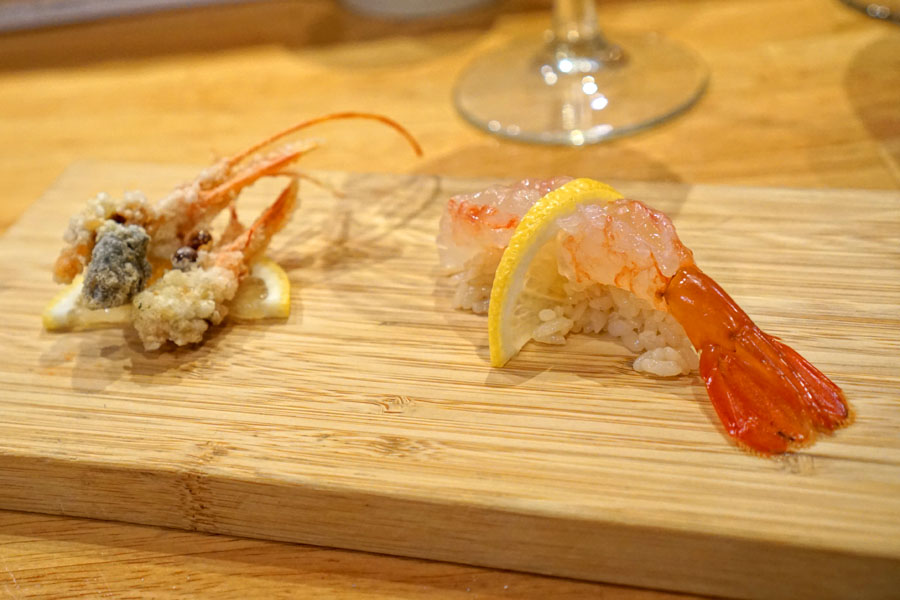 7: Live Sweet Shrimp / Amaebi
Texturally, the sweet shrimp had a pretty much spot on snap that I enjoyed, along with a light lemoniness to pair with its inherent sweetness. And for the fried head? As delicious as usual.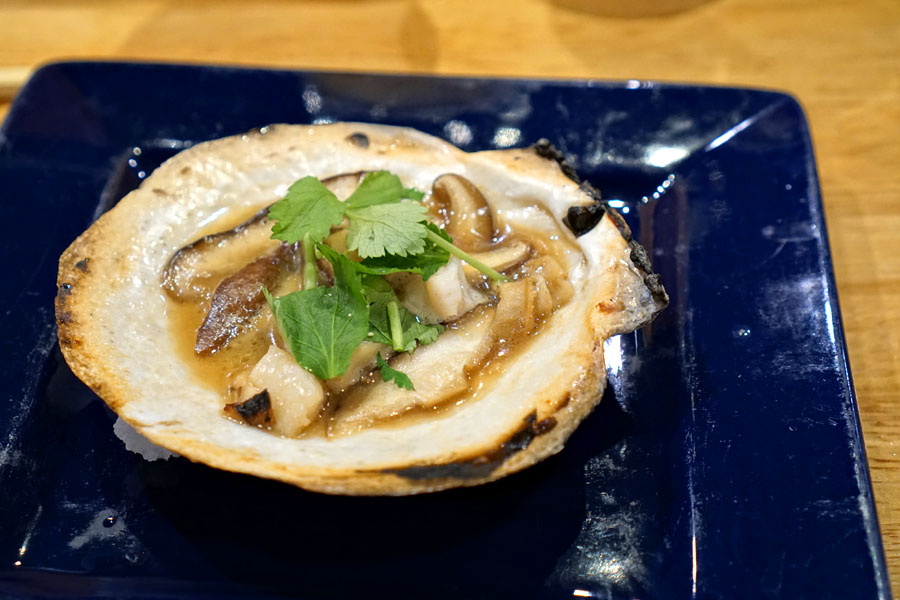 8: Baked Scallop / Yaki Hotate
Hotategai
was cooked a bit more than I would've preferred, though the dish really delivered in the taste department. I especially liked the woodsiness imparted by the mushrooms, and how that worked hand-in-hand with the salinity of the scallop and the citrusy, herby nuances present. Be sure to sup up the buttery broth that remains, too.
9: Fresh Octopus Platter / Tako Moriawase
Here we had three different preparations of
tako
. In the first, crunchy, slippery bits of octopus were paired with ponzu, scallion, and
momiji oroshi
, making for a very classic combination of flavors. Next were four thin, tender slices of octo, smartly perked up by the spicy, sour smack of
yuzukosho
. Finally, we had a redux of the fried octopus from our first course.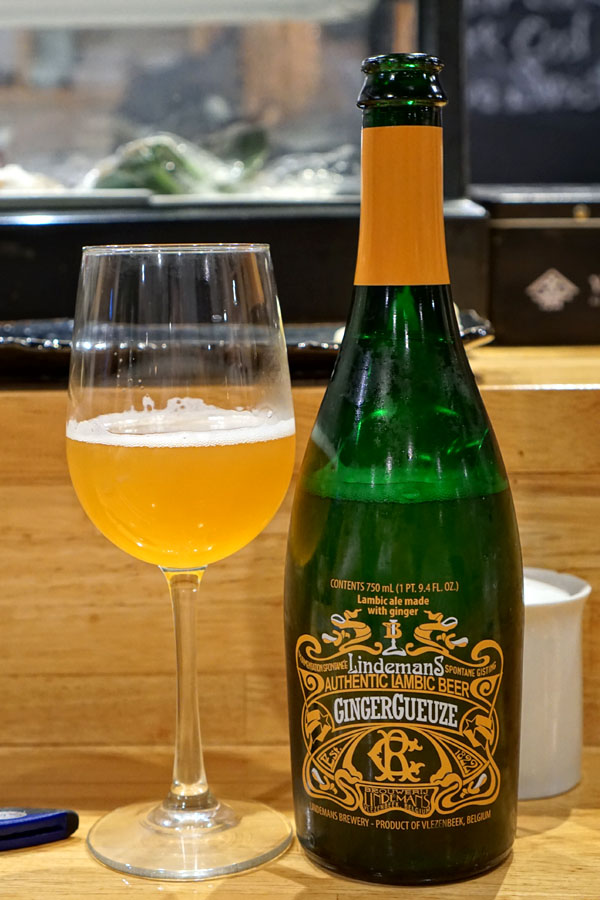 The evening's second beer was the
2017 Lindemans GingerGueuze
, a blend of year-old lambic and two- to three-year-old lambic, fermented in oak with fresh ginger. This one smelled quite astringent, giving up some lemongrass-y notes alongside funk and yeast. On the palate, I got a healthy amount of sharp, pungent ginger, along with the requisite sour notes, acidity, and spice. A nice pairing with the sushi.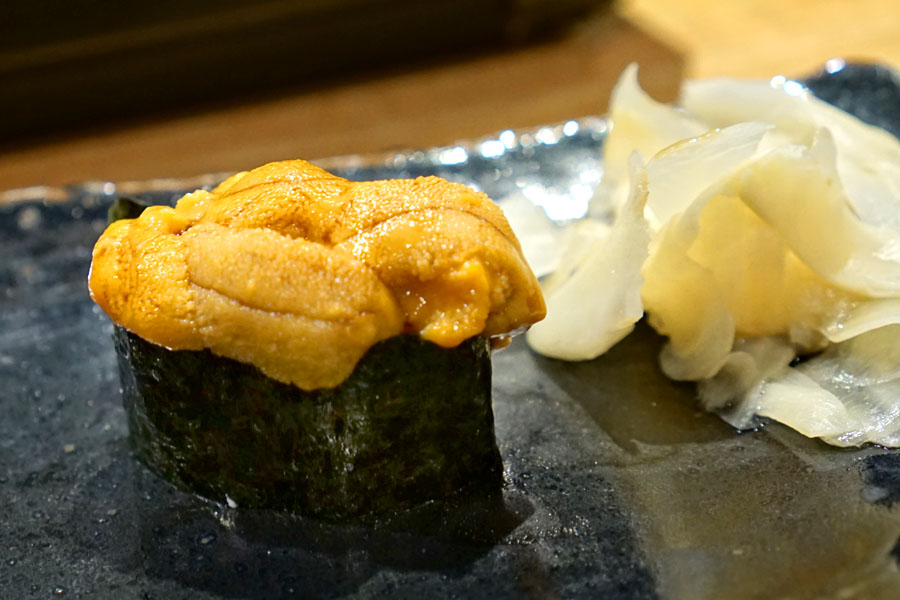 10: Sea Urchin / Uni
Hokkaido uni offered up a steely brine backed by a fairly luxuriousness sweetness, the nori providing a welcomed counterpoint that helped bring it all together.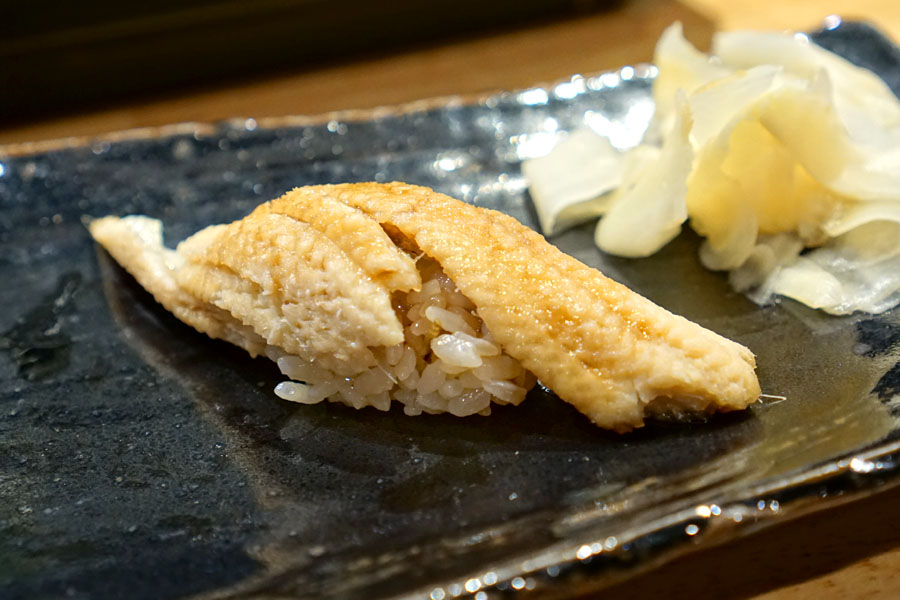 11: Sea Eel / Anago
The eel ate soft, savory, hot, and homey, with the right amount of sweetness.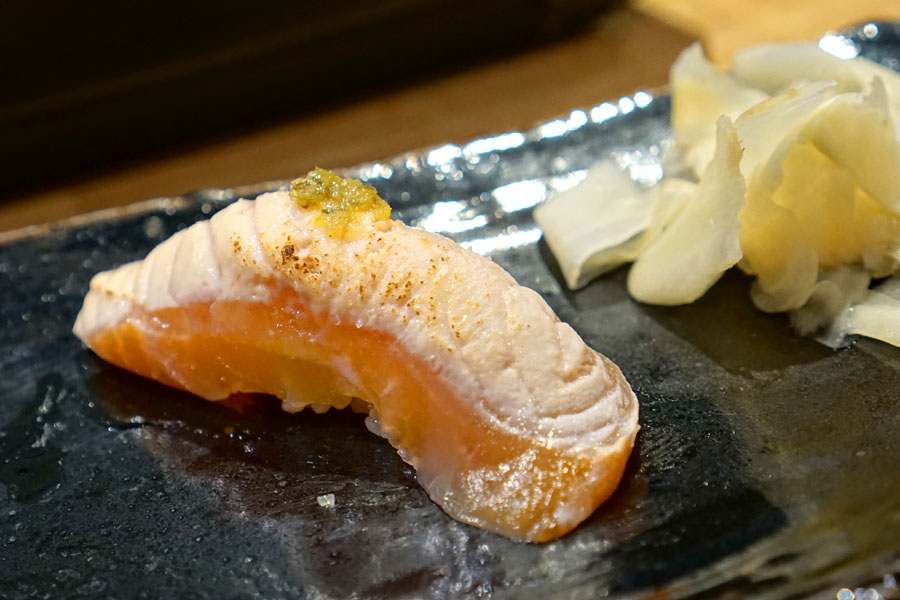 12: Seared Salmon / Aburi Samon
Torched salmon showed off a neat temperature contrast, along with a great sear and savor that matched up beautifully with the pepperiness of
yuzukosho
. The rice was especially crucial here for balance.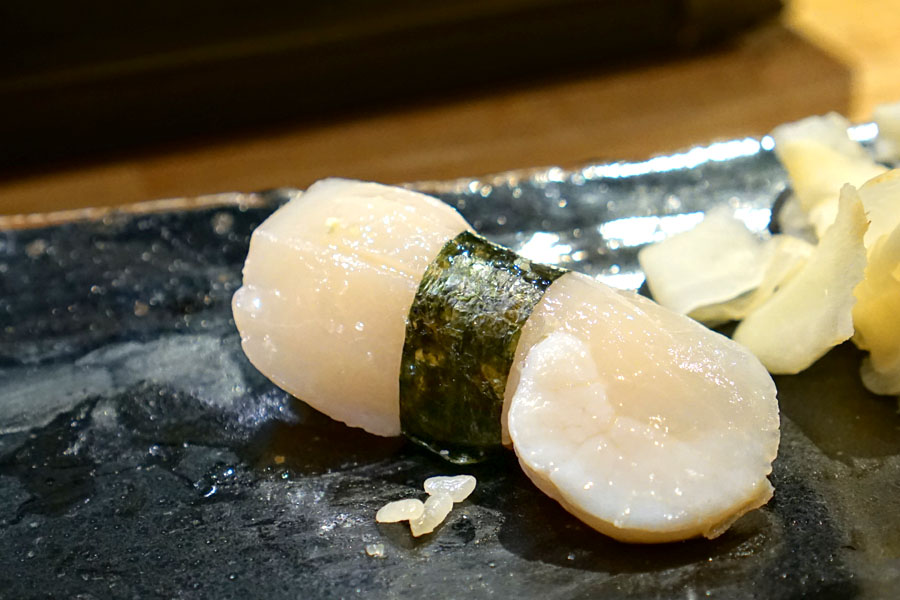 13: Pen Shell / Tairagai
The pen shell was a welcomed sight, since it's a relatively uncommon topping for
nigiri
. I think the best part of
tairagai
is its texture, which is somewhat firm, with an intriguing grain to it; there's nothing quite like it except for
kobashira
. Taste-wise, it's a mix between umami and sweetness, and here the incorporation of seaweed and citrus certainly made sense.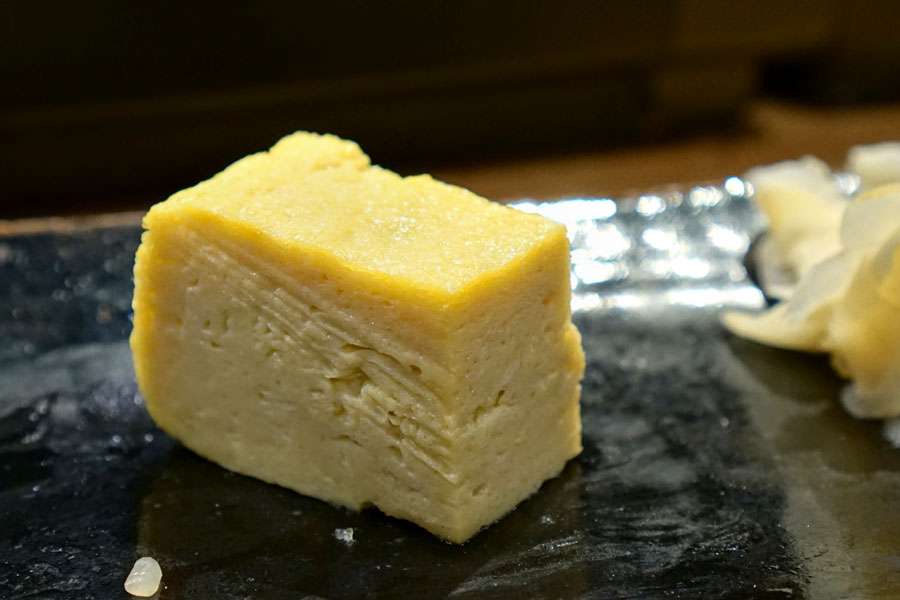 14: Egg / Tamago
The
tamagoyaki
signaled the end of the meal, and Kakurega's was on the sweeter side, with a consistency that veered soft and light.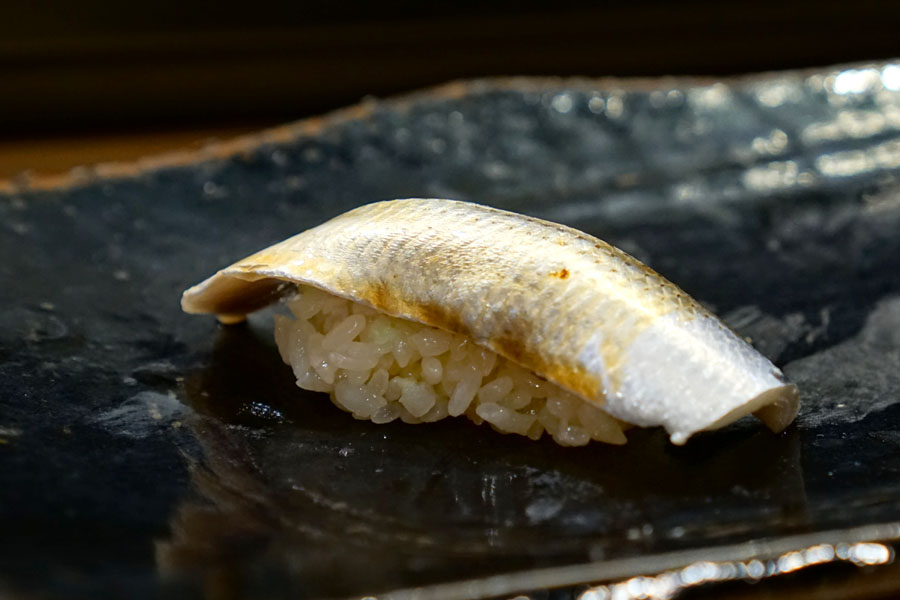 15: Gizzard Shad / Kohada
At this point, I requested
shima aji
, and then
kinmedai
, but the restaurant had run out, so we settled on this instead. It was a pretty classic example, brimming with brine and undergirded by a persistent, almost fruity sweetness.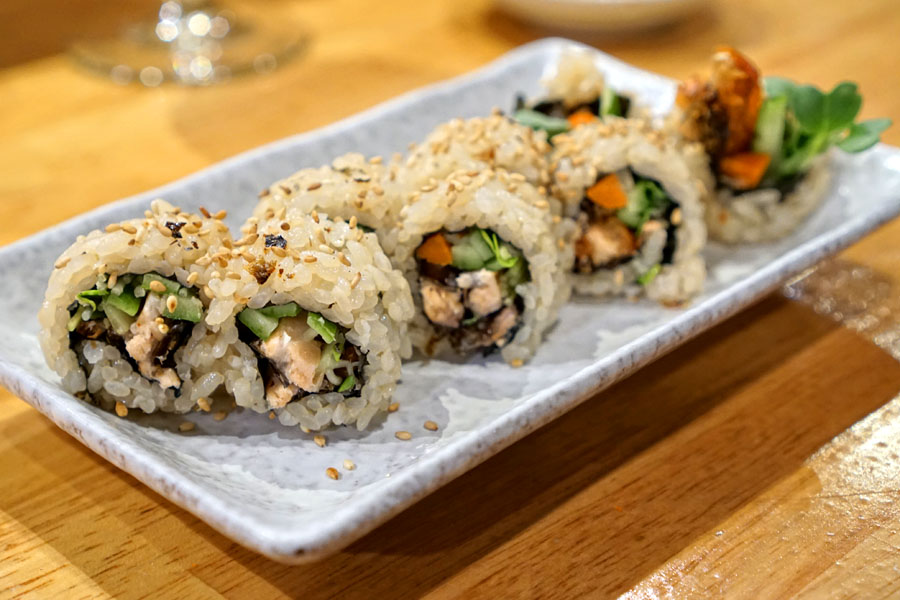 Salmon Skin Roll [$6.50]
I ended up tacking on a roll to the meal, and this wasn't a bad example. In fact, I was quite a fan of the crispness and savoriness of the salmon skin here, and how that linked up with the light, bright cucumber, all while the rice moderated the interaction.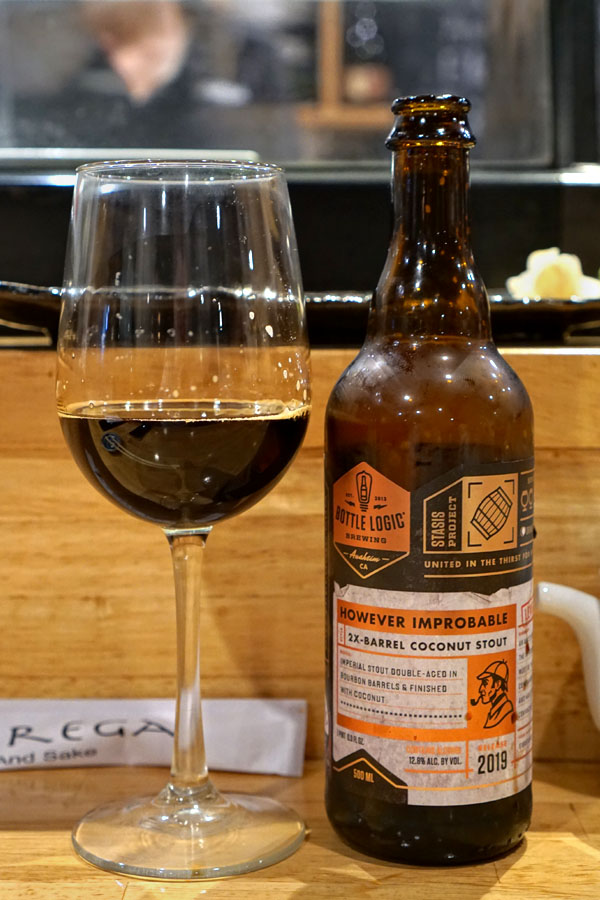 Dessert was not included as part of the omakase, so instead I opened up the
2019 Bottle Logic However Improbable
, which was created in collaboration with Moksa Brewing Company from Northern California. This was an imperial stout that was brewed with coconut back in 2017, then aged in bourbon barrels that previously held Darkstar November (another stout). After a few months, it was transferred to first-use bourbon barrels and loaded with Tahitian vanilla. In late 2018, the stout was removed from the barrels and circulated with more fresh coconut, then toasted coconut before bottling. The end result was a beer that really was fit for dessert duty. The nose on this one was pretty much exactly like a coconut-topped chocolate brownie. In terms of taste, there was a massive influx of chocolate and cocoa powder right up front, with the coconut really coming into play on the mid-palate and lasting long, the whole thing enveloped by layers of fragrant vanilla.
I first found out about Kakurega back in 2018, but I was always hesitant to come here given that the place doesn't take reservations and is known for having a long wait for a seat at the bar. However, I figured that, given the industrywide slowdown in business as a result of the coronavirus, now would be a good time to check it out, and I'm glad I did, especially given that the Governor shut down restaurant dining rooms the day after this meal. I didn't have much to complain about with regard to the food, and I felt that the pricing was rather reasonable as well. Service was friendly, albeit leisurely, and Jun-san and Yuga-san (a junior
itamae
who moved to SoCal from Arizona a year-and-a-half ago and previously worked at
Izakaya Hachi
) served as affable hosts. Overall, another worthwhile choice for sushi in the OC.