Yakiya (Hacienda Heights, CA) [2]
Yakiya Restaurant
17188 Colima Rd, Hacienda Heights, CA 91745
626.581.0080
www.yakiya-us.com
Wed 03/04/2020, 08:15p-10:30p
Regular readers may remember that I posted about
Yakiyan
back in April 2017, not too long after the yakiniku spot opened. However, around June last year, Yakiyan changed its name to Yakiya, omitting the "n" on the end, and I wanted to go back and find out why. After speaking with the staff, it turns out that the change was due to management terminating its relationship with the Taiwanese chain of Yakiyan restaurants. Other than the name, really not much else has changed here, and in fact, Yakiya is still owned by Panda Restaurant Group.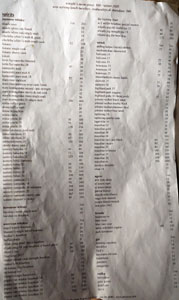 As for Yakiya's menu, the only option for dinner is the $98 "omakase," priced $10 more than I paid last time. The beverage selection is shown above, and it is pretty wide-ranging. We opted for cocktails this evening, but there are also Japanese beers, a smattering of wine, and an array of sakes, including the ultra rare Juyondai Ryusen, surprisingly enough. Also surprising is the spirits list here, which has a particular focus on whiskey and sports perhaps the largest selection of Japanese bottlings I've seen. Click for larger versions.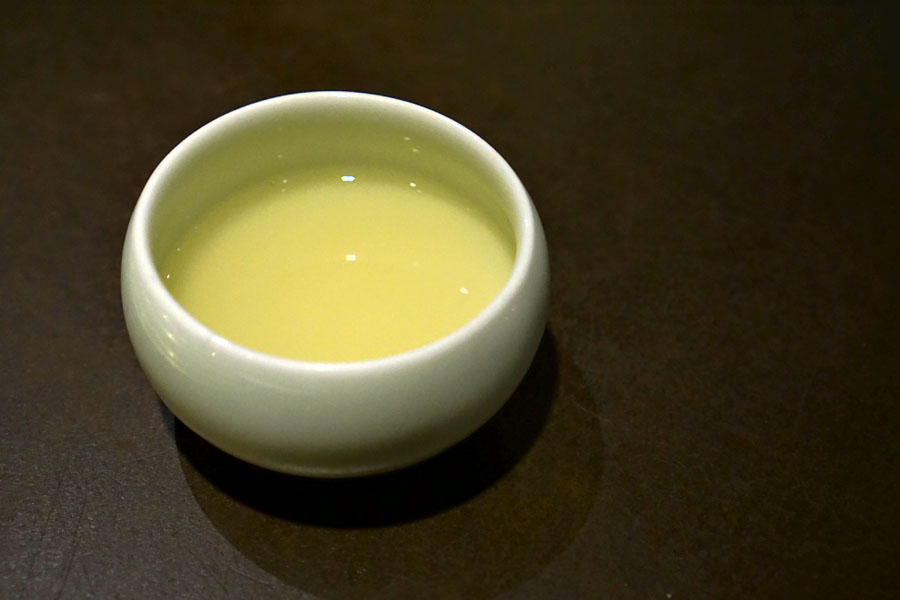 1: Yuzu Juice
The meal began with yuzu juice, ostensibly meant to perk up the palate and get us ready for the parade of meat to follow.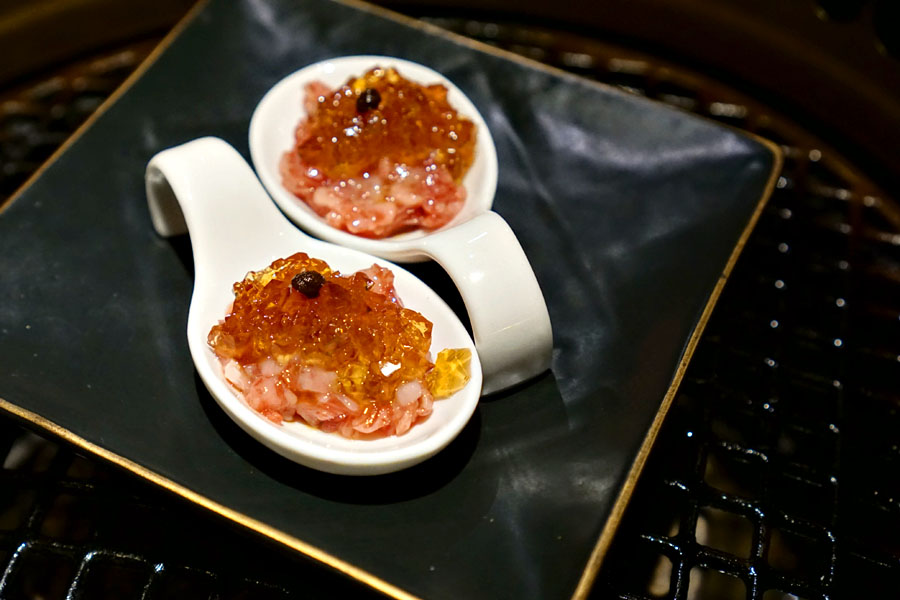 2: Wagyu Tartare Spoon
In our amuse bouche course, supple, fatty shards of wagyu played foil to a delightfully tart, savory sansho(?) gelée, while earthy notes of truffle bookended the experience. Very nice.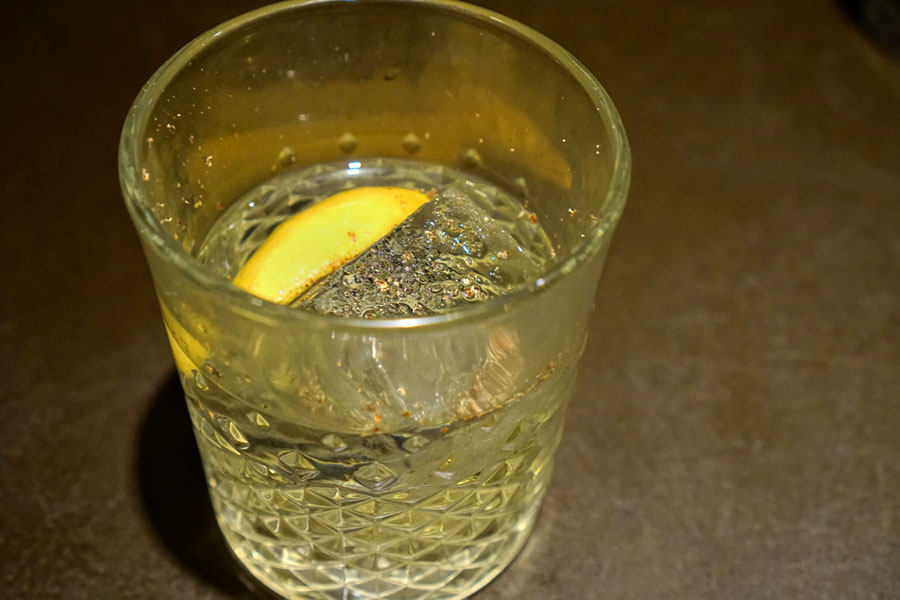 one punch man [$15.00]
| four rum varieties, cognac, absinthe, pineapple, lemon, nutmeg
Our first cocktail had a bright, citrusy, utterly aromatic nose that I was rather fond of, while its taste was unexpectedly soft, with this sort of enveloping sweetness layered over a base of booze. I really didn't get much from the absinthe, though.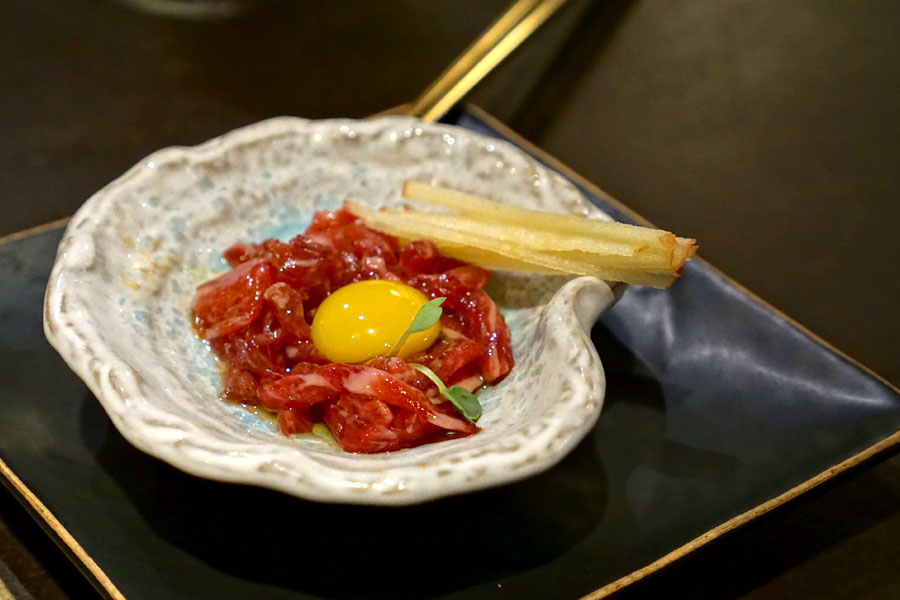 3: Prime Rib Eye Tartar
The tartare largely delivered thanks to its well-textured cuts of ribeye, restrained sweetness, and effective application of truffle. I quite liked the crunch and brightness provided by the juliennes of apple, too.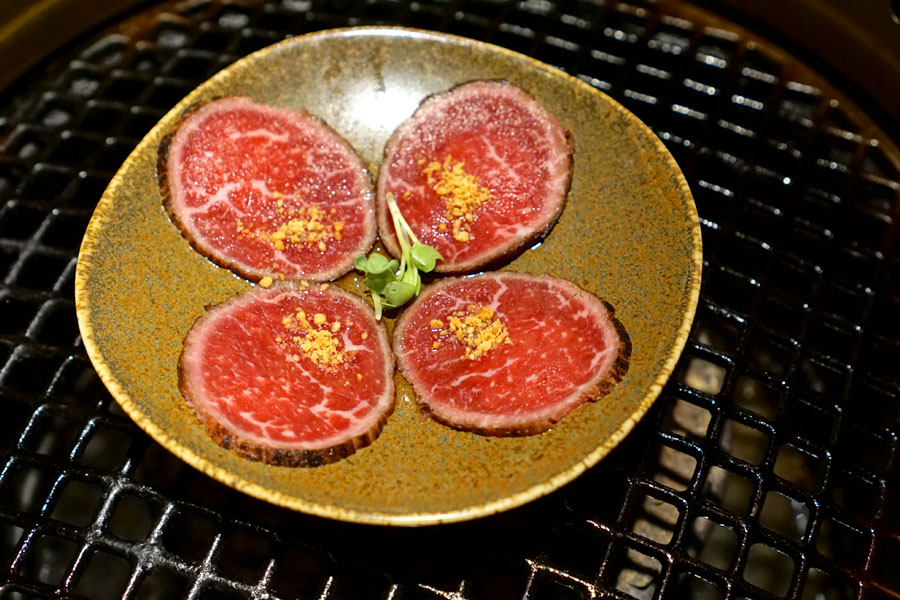 4: Prime Rib Eye Tataki
This was much more interesting than I thought it'd be, and I mean that in a good way. There was quite a bit going on here, and I especially appreciated the smokiness present, and how that played with the tarter notes in the dish while the fried garlic on top contributed savoriness and crunch.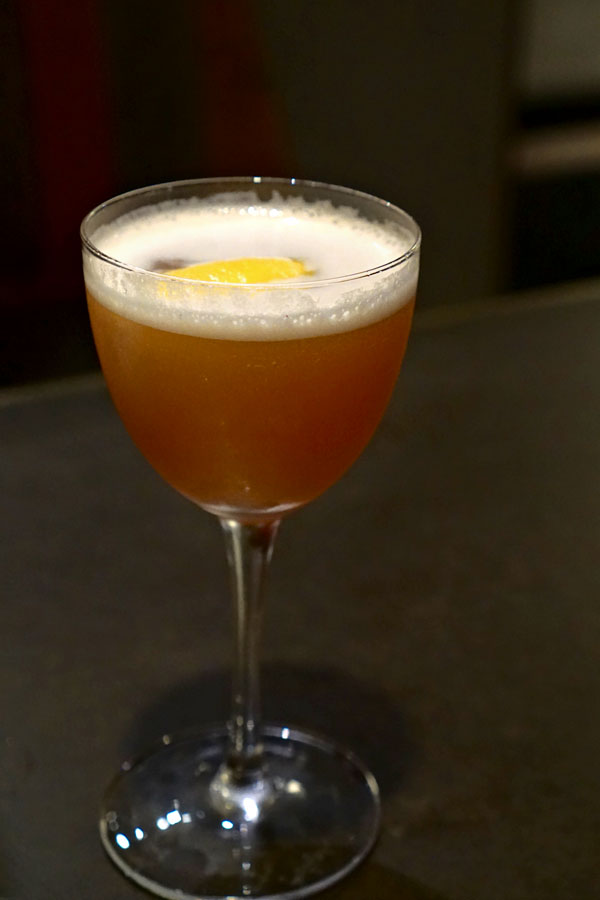 okumanchōja [$14.00]
| old grand-dad bonded bourbon, grenadine, pomegranate, lemon, absinthe
Loads of citrus were present in this cocktail, joined by potent notes of whiskey and the unmistakable bite of absinthe, while fruit and spice offered up counteracting tastes.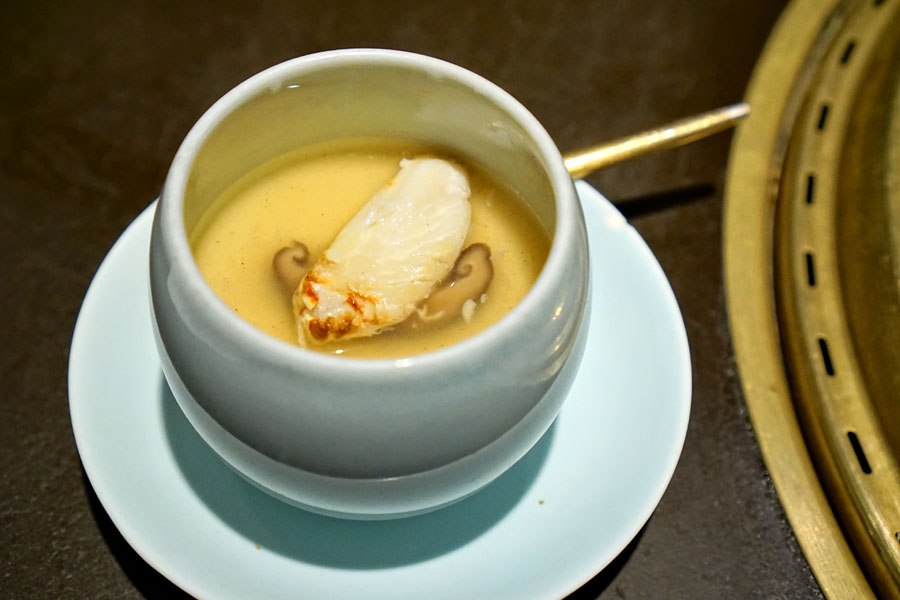 5: Chawanmushi
The chawanmushi featured a hot, loose, jiggly egg custard that was effectively infused with the essence of Dungeness crab. It was a cozy, satisfying combination for sure, especially with the woodsy contribution from the shiitake mushroom.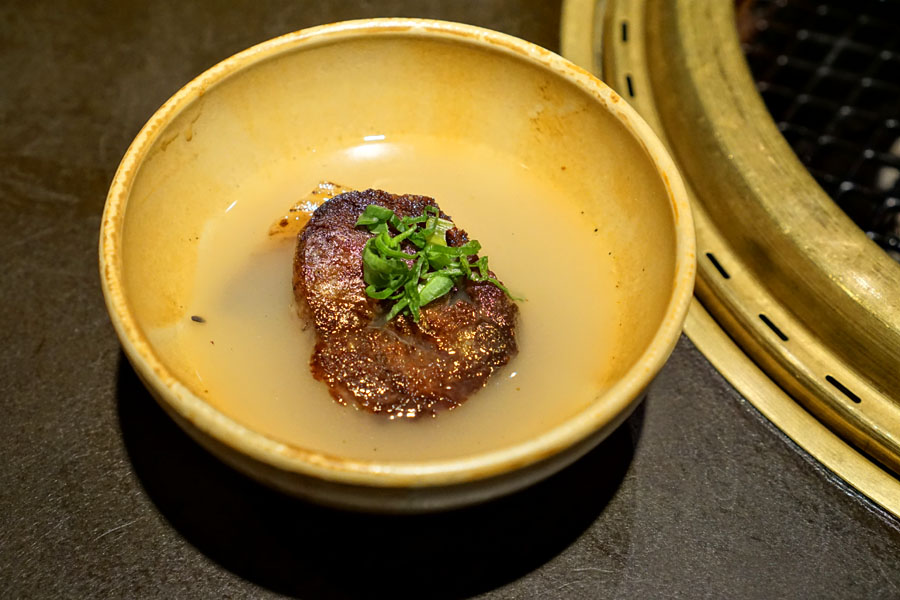 6: Oxtail Soup
One of my favorites this evening was this oxtail soup with beef cheek and seared onions. The beef itself I found tender and super flavorful, with a wonderfully crispy crust to boot. It made total sense when matched with the charred onions and scallions present, while the broth drank smoky and homey.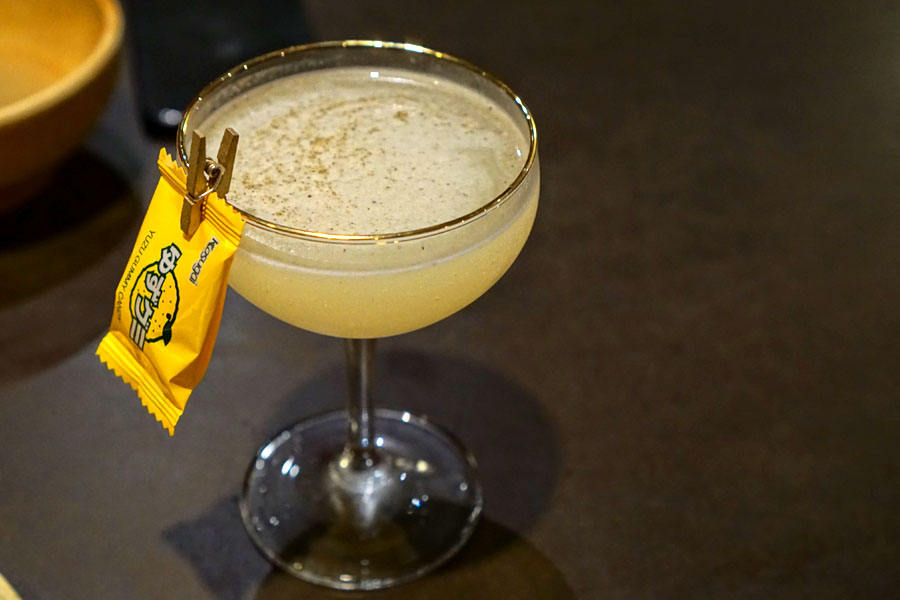 the pagoda [$14.00]
| city of london gin, yuzu, honey, lime, cherry bouquet sake, yuzu gummy
Here we had bountiful amounts of sweet 'n' sour yuzu paired with complementary flavors of cherry and honey, along with a touch of pepperiness. A fun cocktail overall.
7: Crudités
Carrot and cucumber were joined by a savory-sweet miso dip, making for a welcomed respite from all the meat we were having.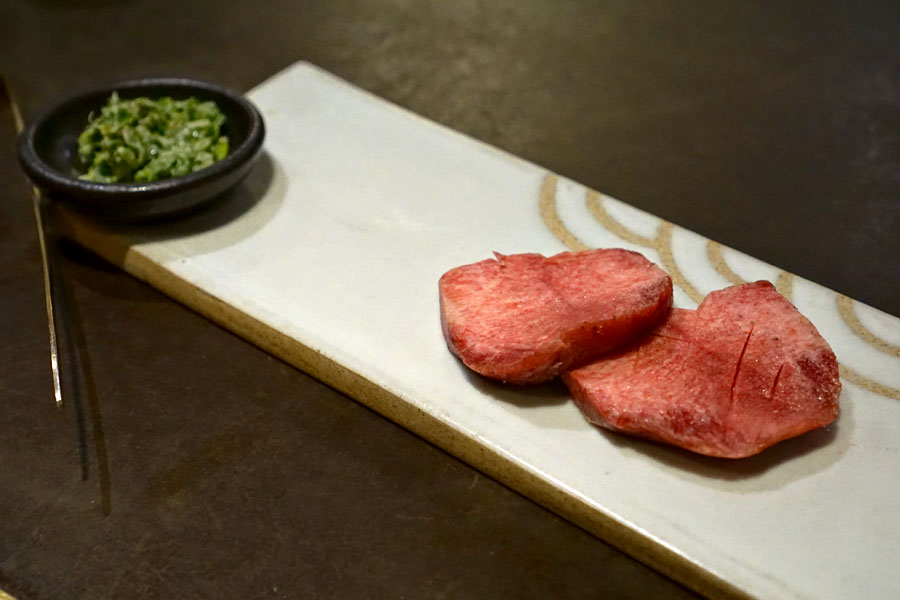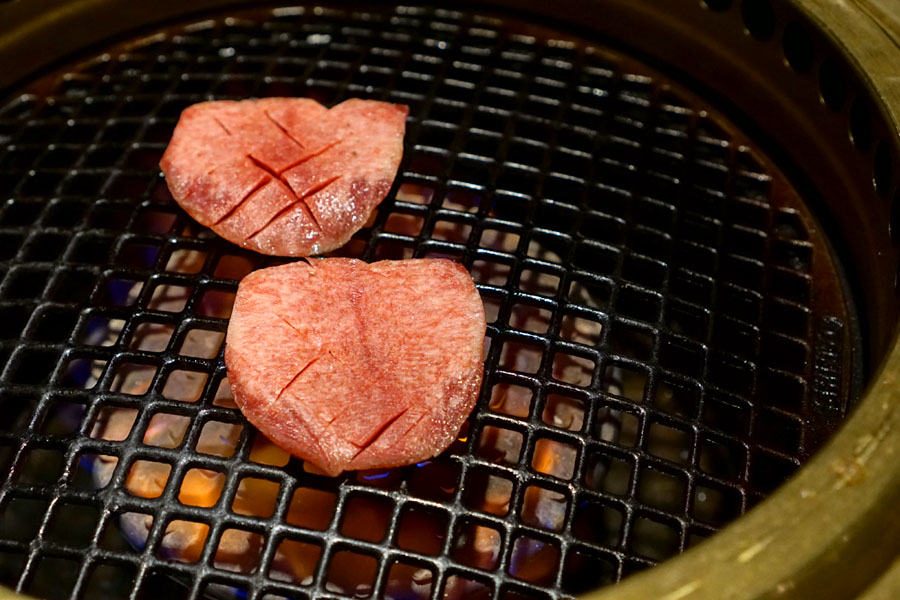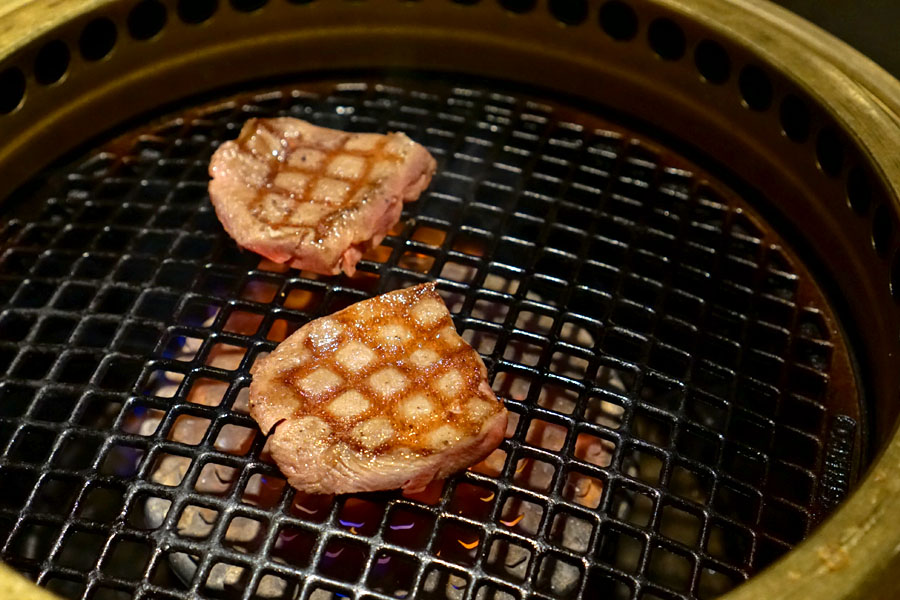 8: Beef Tongue
Our first grill course was
gyutan
, which is actually one of my favorite cuts for BBQ (both Japanese and Korean). The tongue was delicate-but-potent in terms of taste, while texturally, I found it firm, yet pliant, and almost gelatinous at times. The meat was certainly delicious alone, but I also enjoyed it with a dab of the included scallion-based condiment.
a night in roppongi [$14.00]
| xicaru blanco mezcal, crème de cacao, sake matinee, simple, yuzu bitters
Served in a Glencairn whisky glass, this cocktail really conveyed the smokiness of mezcal, blended with sweet notes of chocolate and a hit of tart yuzu for balance.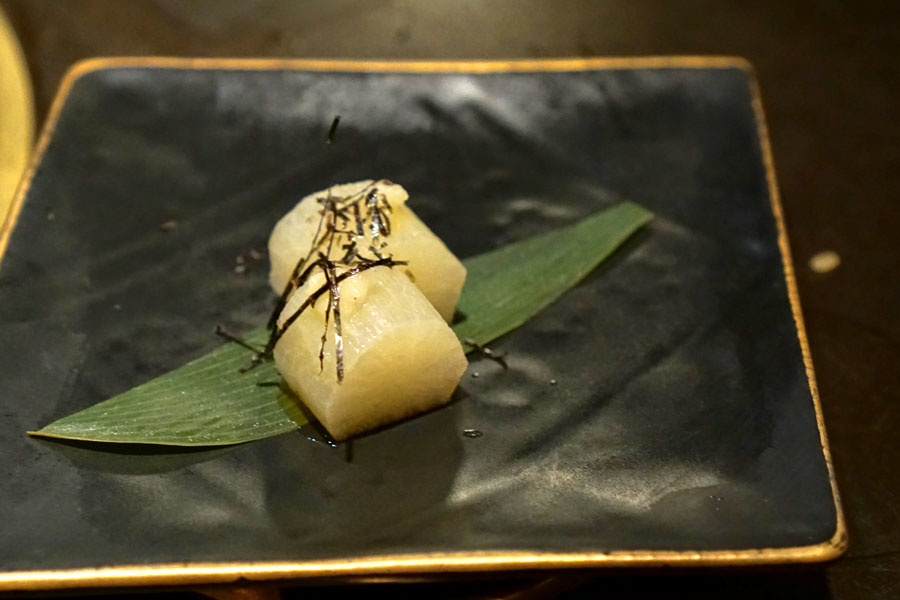 9: Truffle-Marinated Daikon
Preceding the ribeye below were stout cylinders of daikon, marinated with truffle.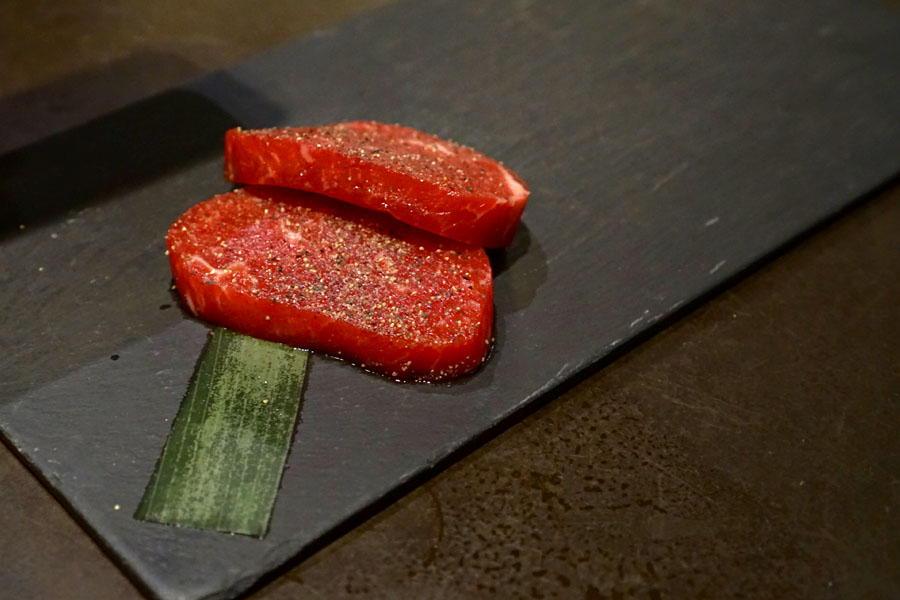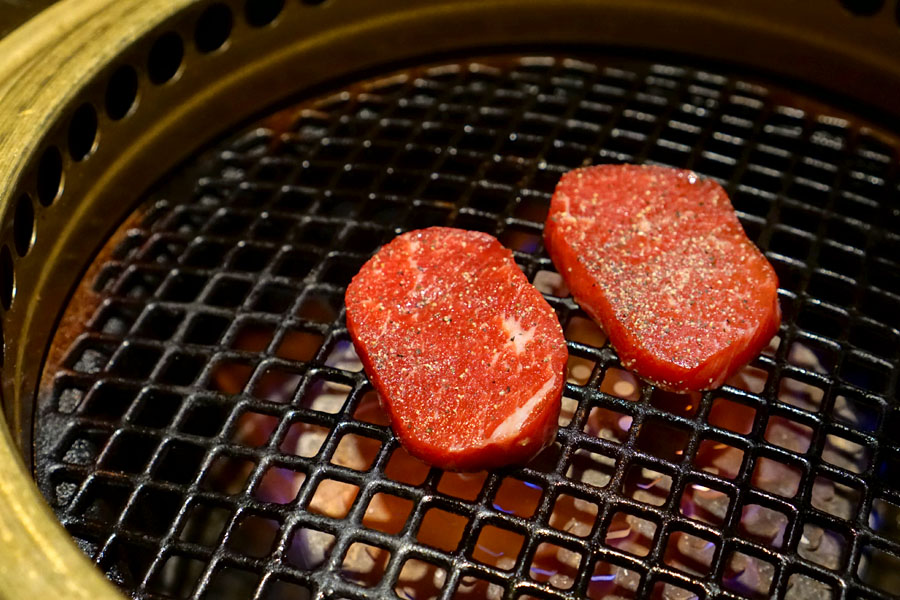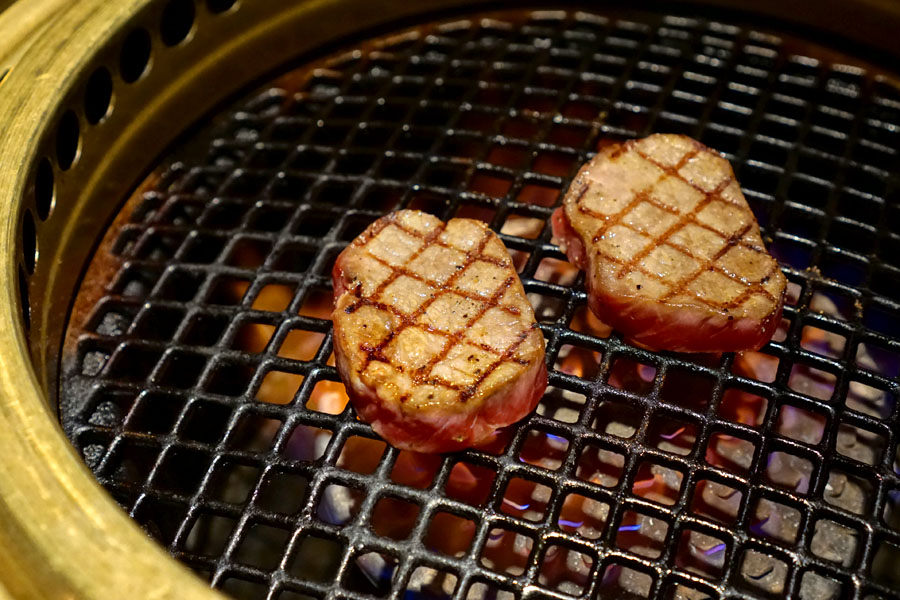 10: Prime Inside Ribeye
Lightly seasoned with salt and pepper, the rib eye smelled great, and developed a lovely smoke and sear, while texturally the meat was uncommonly tender. Be sure to try it with the condiment from the tongue above.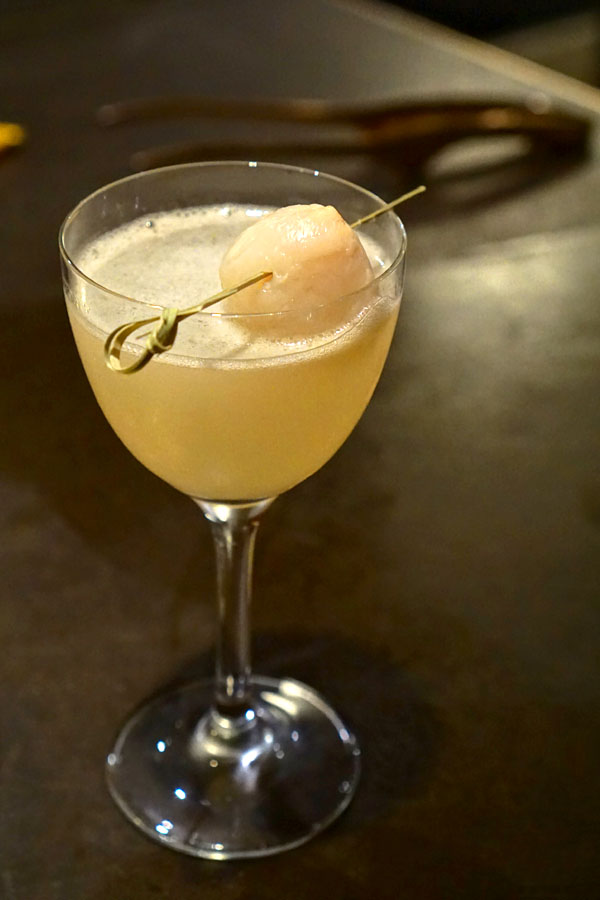 the skytree [$14.00]
| city of london gin, lychee liqueur, lemon, honey, lavender bitters
Next came the most gluggable cocktail we tried. There was just so, so much lychee up front, leading to soft gin botanicals and a finish laced with honey and super floral lavender.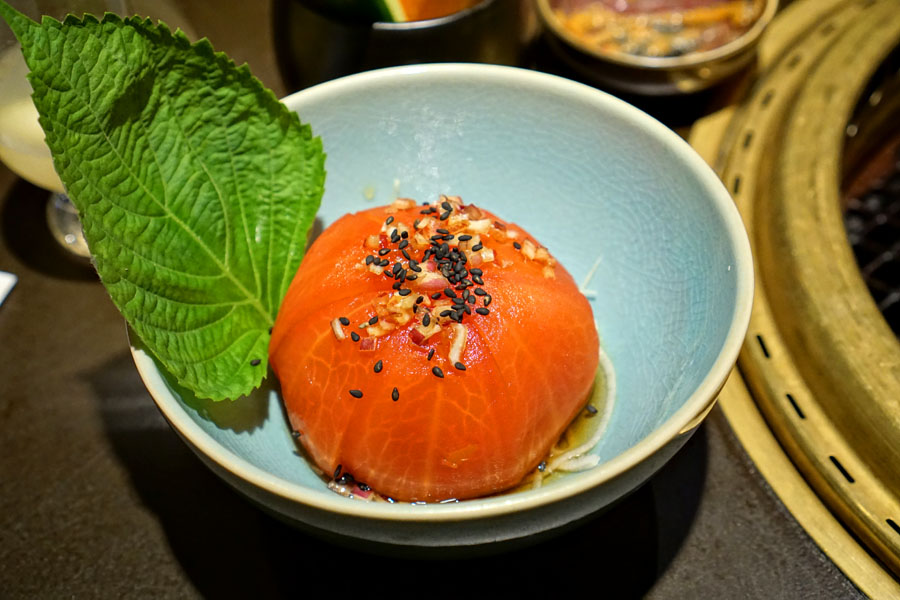 11: Marinated Tomato
A well-peeled tomato arrived juicy and sweet, and showed off a smidgen of offsetting pepperiness that I quite liked.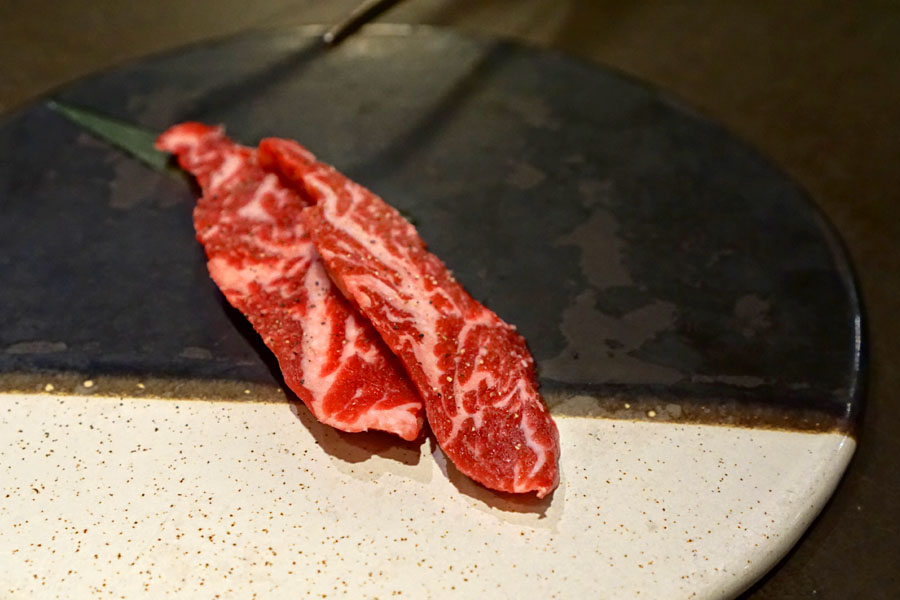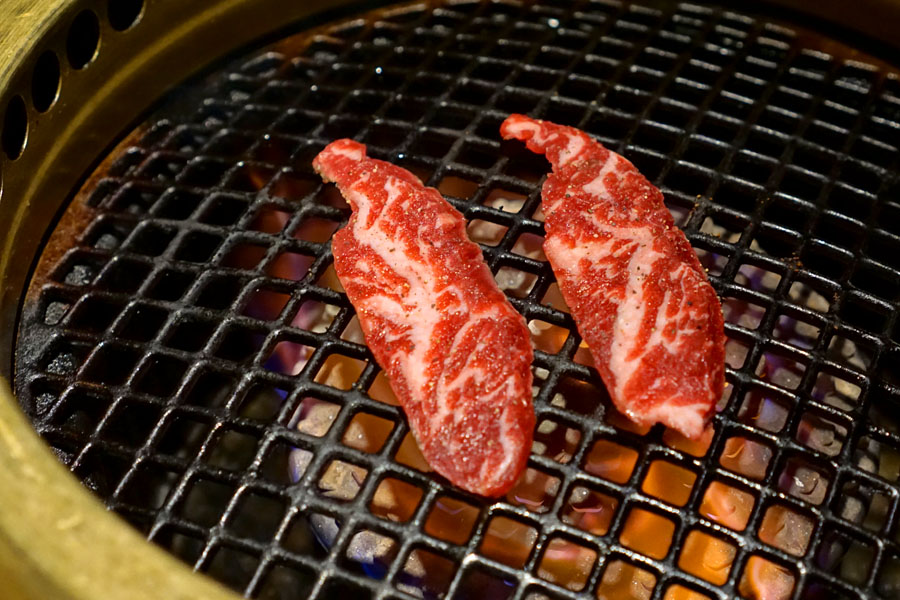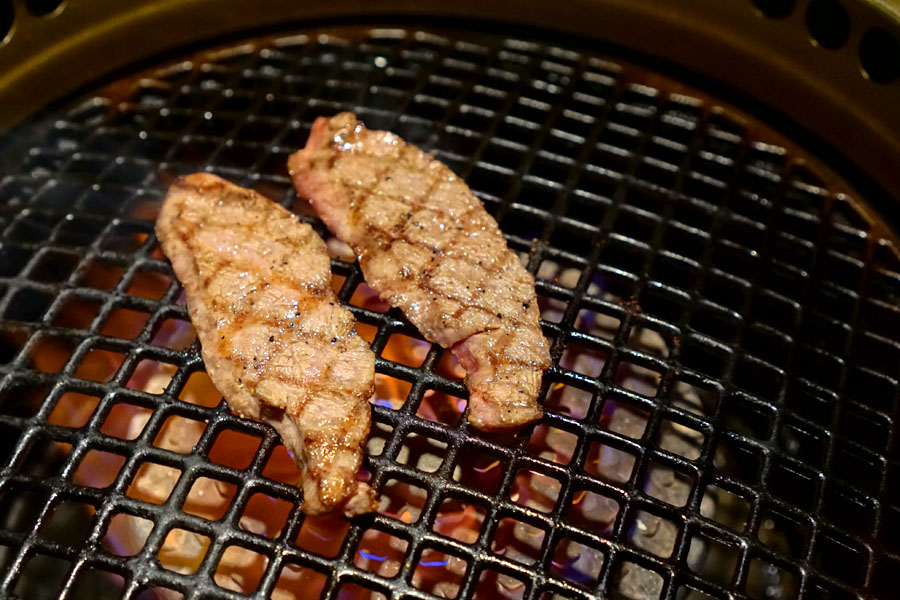 12: Prime Ribeye Cap
The rib eye cap delivered with its spot on consistency and balance of beefy, sweet, and peppery flavors.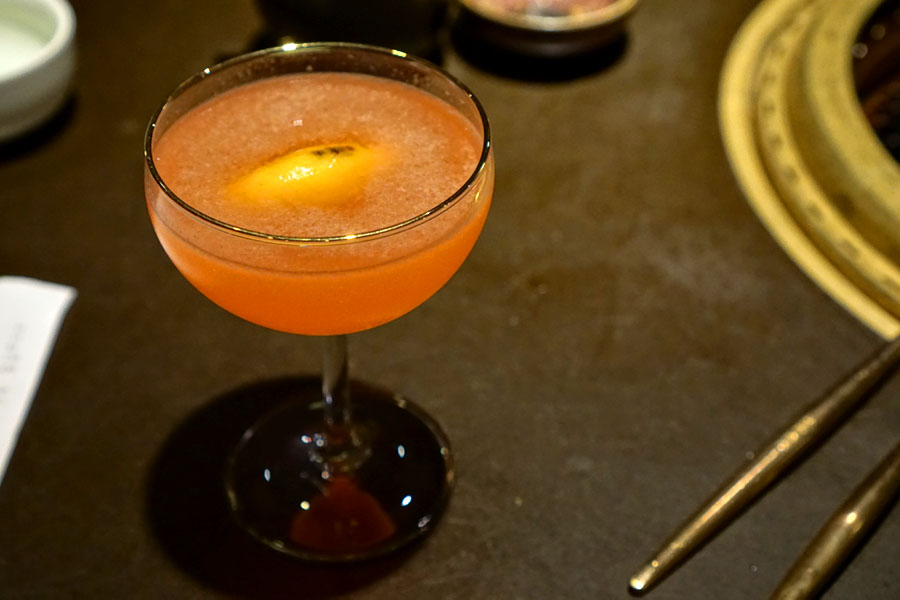 fury on mount fuji [$14.00]
| cimarron tequila, organic strawberries, lime, chili bitters, pica fresa
This was another easy-drinking cocktail. You could certainly taste the tequila, but there was a lot of strawberry and lime backing it up. It was like a smoky cosmo of sorts.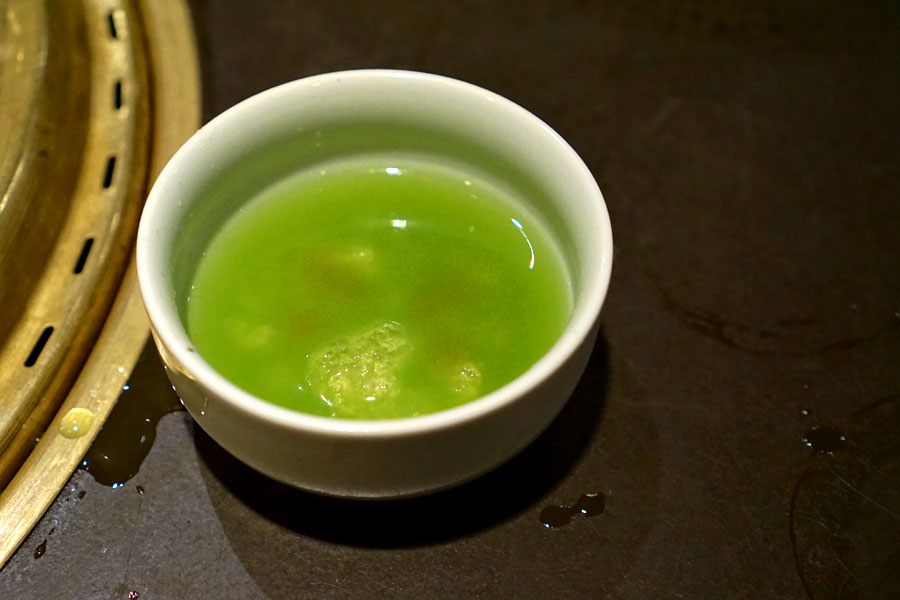 13: Cucumber Juice
Serving as a palate cleanser was this organic cucumber juice with sugary elderflower gelée.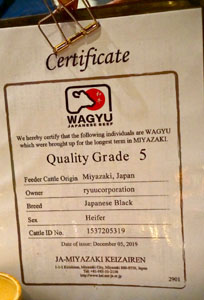 Prior to the wagyu course below, our server eagerly presented the meat's certificate of authenticity. Click for a larger version.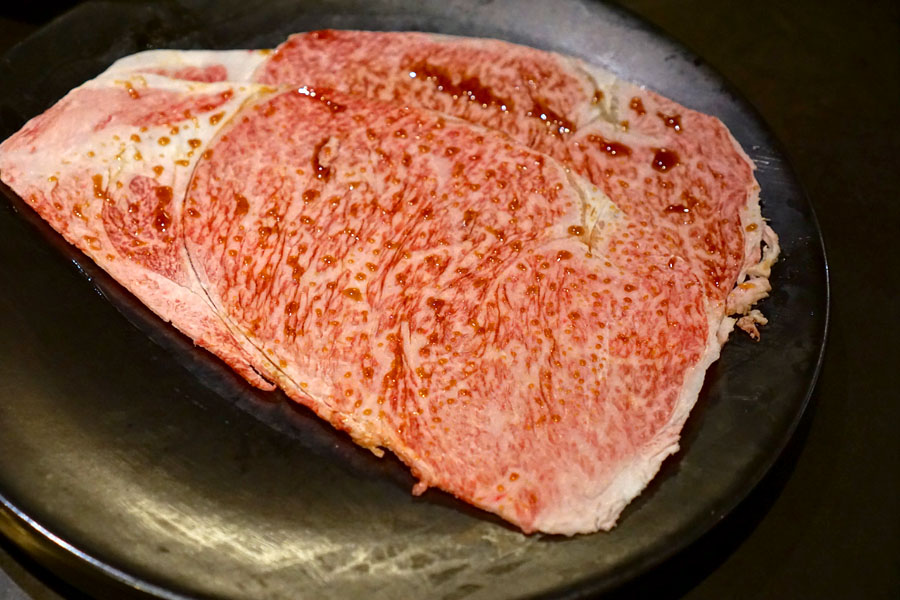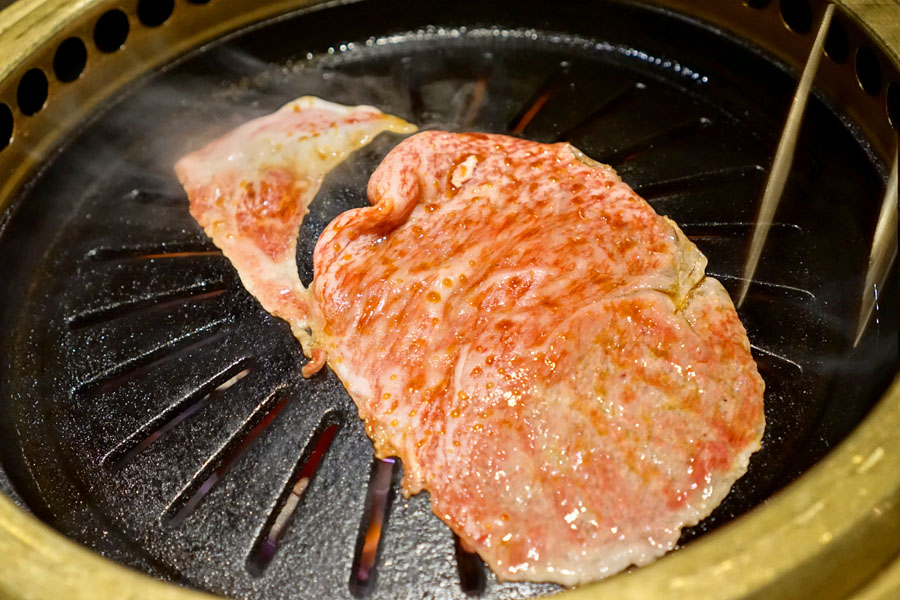 14: A5 Miyazaki Wagyu
Miyazaki strip steak was as ridiculously marbled as expected, and was simply on another level in terms of luxuriousness. The beef had a palpable sweetness to it, along with a touch of smoke, while the Maldon-seasoned poached egg actually served to temper the meat.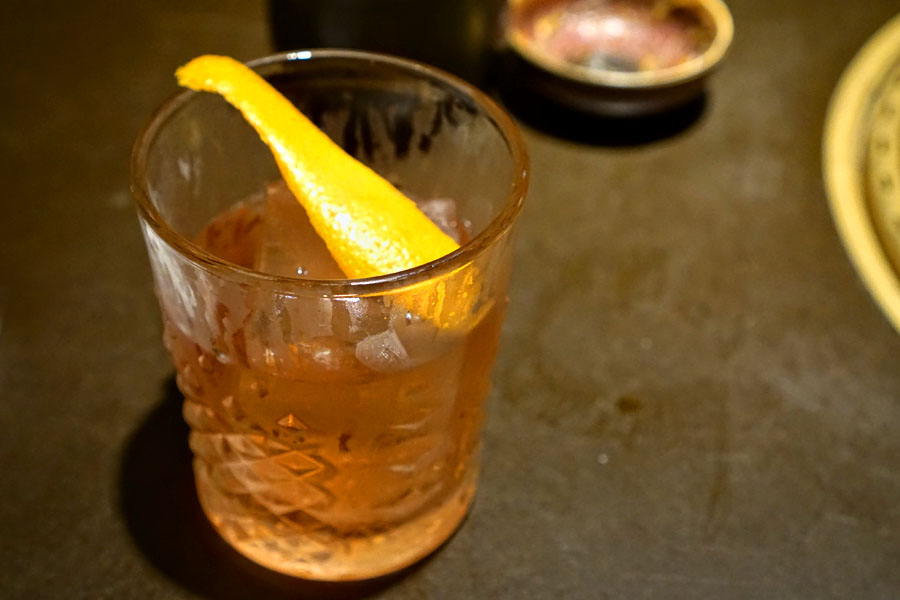 tequila mockingbird [$14.00]
| cimarron tequila, xicaru blanco mezcal, agave nectar, angostura
I was a fan of this cocktail's punny name, and didn't mind drinking it, either. It had a pretty interesting nose, I'm guessing from the combo of agave and Angostura, while the taste was definitely spirit-forward and quite smoky, the bitters really coming into play on the back end.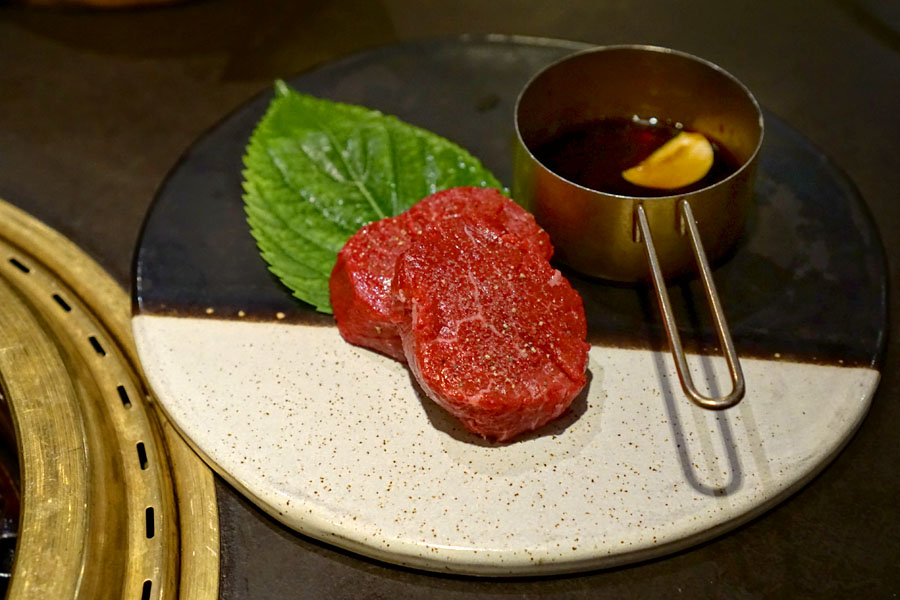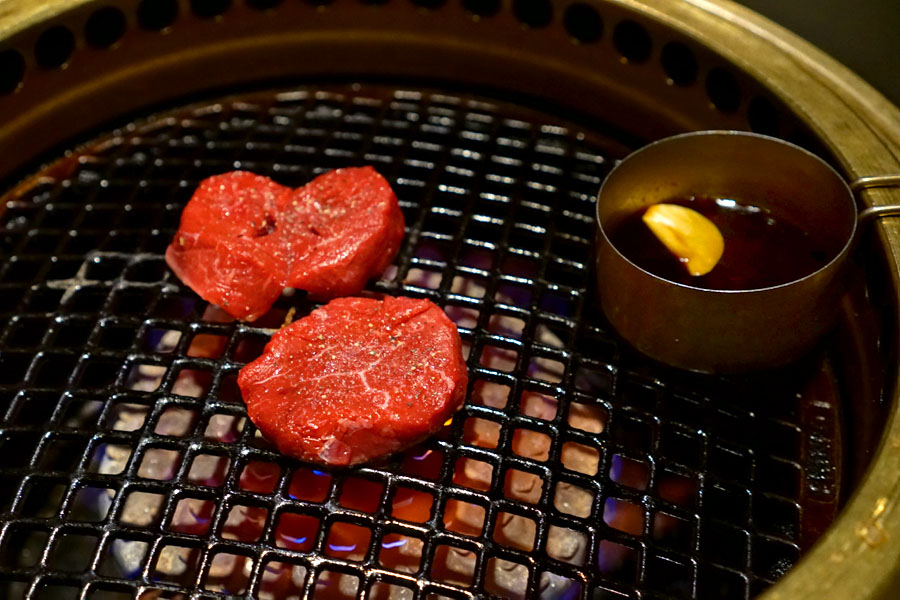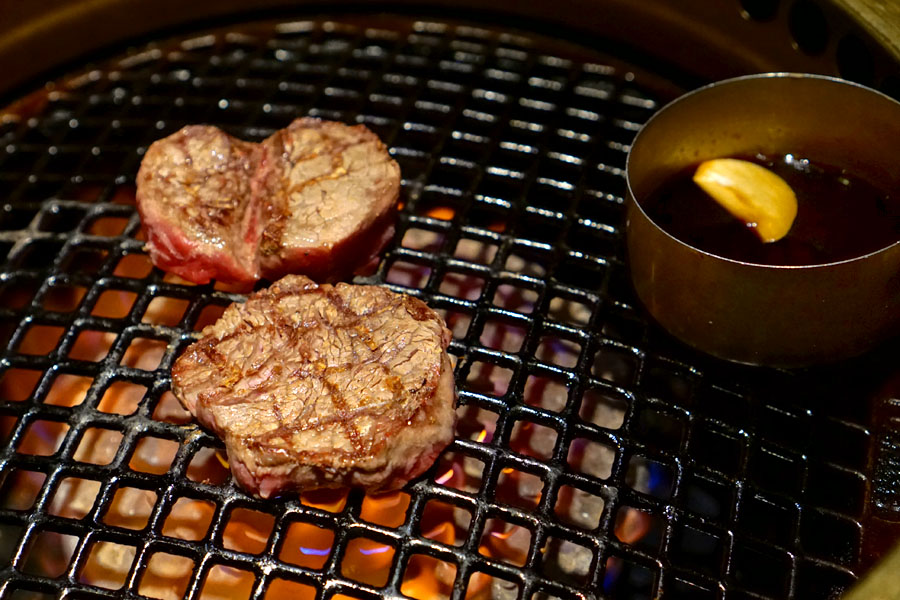 15: Filet Mignon
S&P-seasoned tenderloin showed off the classic tastes and textures that I was looking for, while the beef jus on the side added further potency to the meat.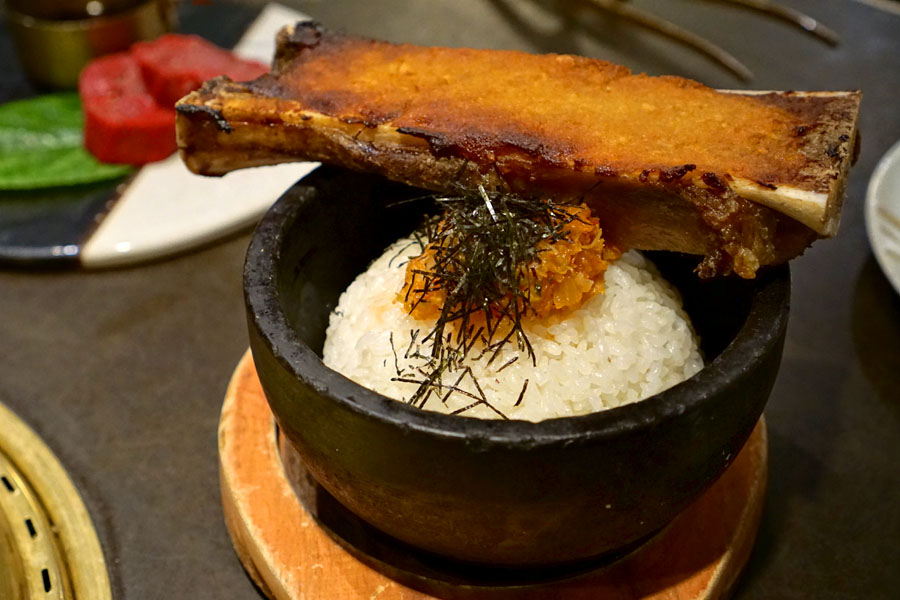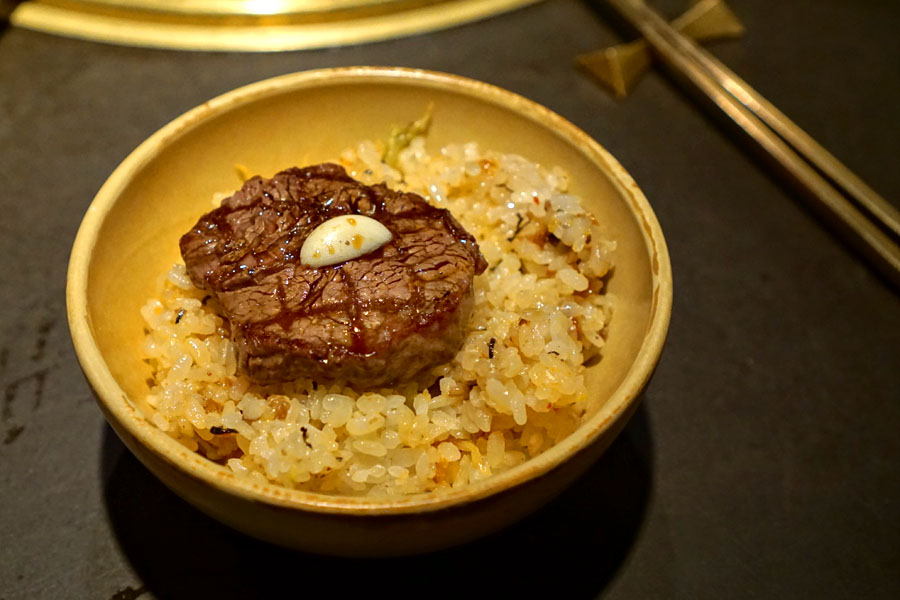 16: Bone Marrow Rice
The filet was accompanied by bone marrow-boosted rice. Said rice served as a superb pairing with the relatively subdued flavors of the steak, and I loved its savory, tangy flavors and strong notes of garlic.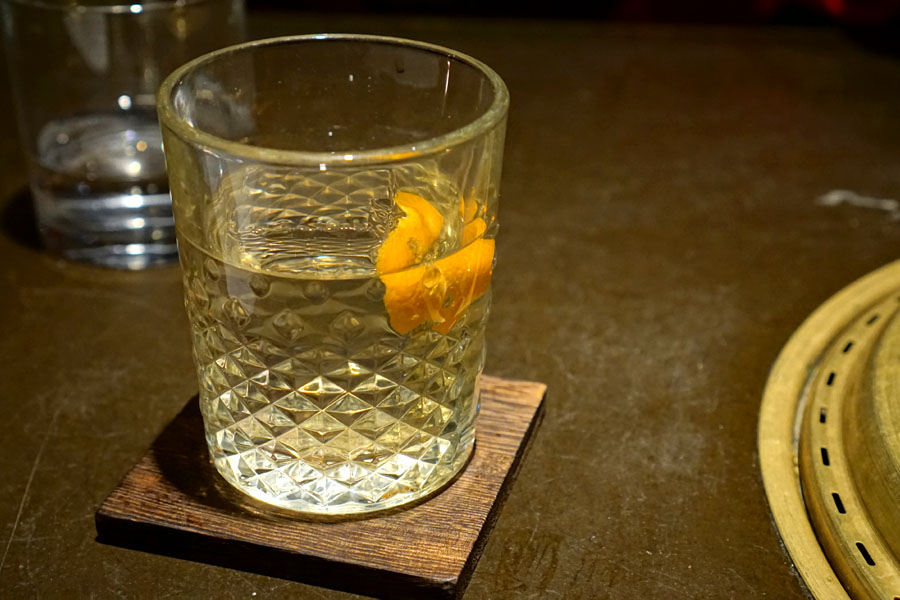 kiku [$14.00]
| suntory toki, honey, orange fig
The night's final cocktail displayed loads of honey and orange on the nose, while the palate was all about the Toki and bitters.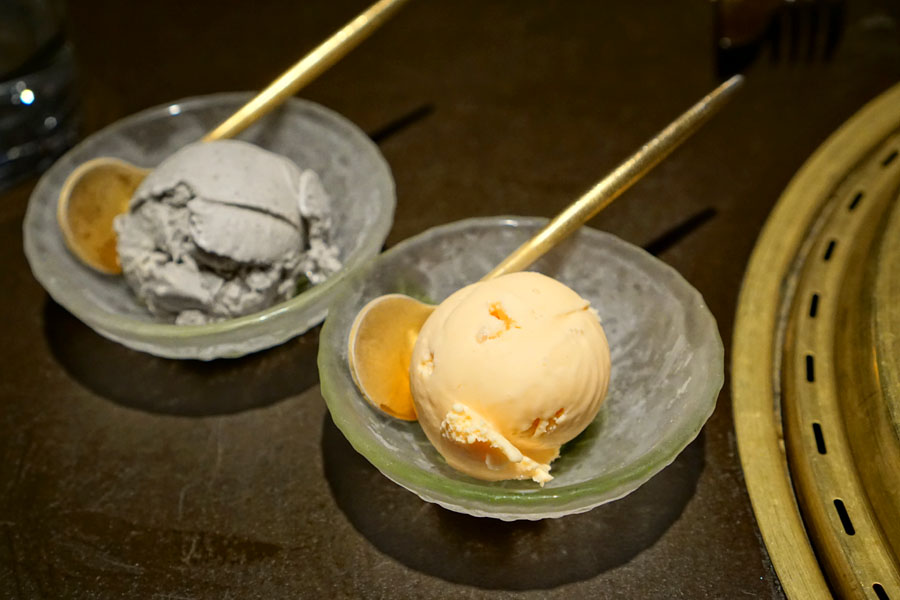 17: Ice Cream
Dessert comprised black sesame and peach ice creams, though green tea was also an option.
Though the name has changed here, really not much else has. Yakiya is still a solid, albeit perhaps a bit unconventional choice for yakiniku in the Southland. It's also, as far as I know, the only "nice" restaurant in the area, so it'll probably continue to do well, especially given its mostly moneyed clientele.