Tacos Baja (Los Angeles, CA)
Tacos Baja Ensenada
5385 Whittier Blvd, Los Angeles, CA 90022
323.887.1980
www.tacosbaja.com / www.tacosbaja.us
Sat 04/25/2020, 08:25p-09:15p

I recently visited East LA to check out Tacos Baja (I think it dropped the "Ensenada" part in the late aughts), a spot that's been on my "to-eat" list for at least a decade now. As far as I can tell, the restaurant comes to us from owner Martin Martinez, who opened this original location circa 1999 in the former home of a Jim's Burgers. The business ended up being rather successful, which allowed for a second location in Whittier (16032 Whittier Blvd), which debuted around late 2007 in a charming A-frame building that previously held Maui Style Hawaiian B-B-Q & Roll. A Glendora outpost soon followed in November 2008; this one took over the old Bam Bam Barbeque, but ended up closing in June 2014 (it's since been replaced by Cabo Tacos). Another Whittier restaurant (13320 Whittier Blvd) dropped in April 2012, replacing a Chinese joint called Panda Rice. The fifth Tacos Baja was in Downey; it opened in August 2016, taking over an address that once held El Caliviche, El Coraloense, Sol y Mar, and Tacos Los Gordos. That one shuttered sometime late last year, and the building was apparently demolished to make way for a Chick-fil-A.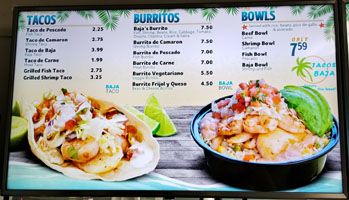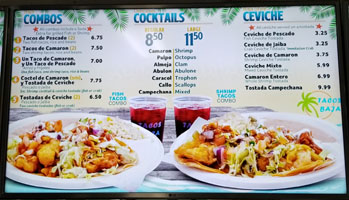 The menu's fairly expansive for a place like this, with mariscos and other sundry dishes in addition to the obvious fish tacos. Click for larger versions.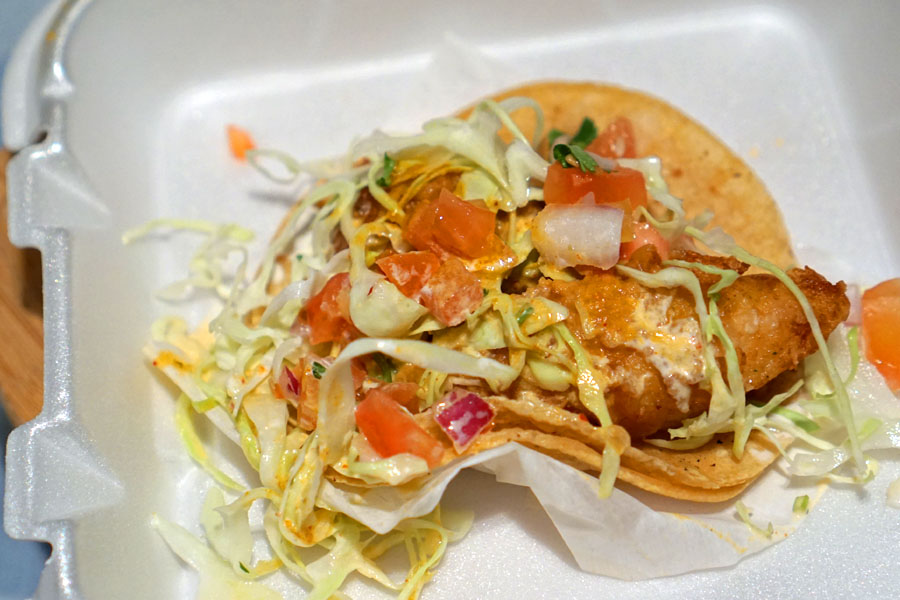 Taco de Pescado [$2.25]
| Fish Taco
I had to start with this place's signature item, and it didn't disappoint. The fish was delicately fried, its subtly crunchy crust hiding soft, juicy flesh. There was a very noticeable, but finespun heat present, and I really appreciated the tempering effect of the crema, not to mention the crispness of those cabbage strands.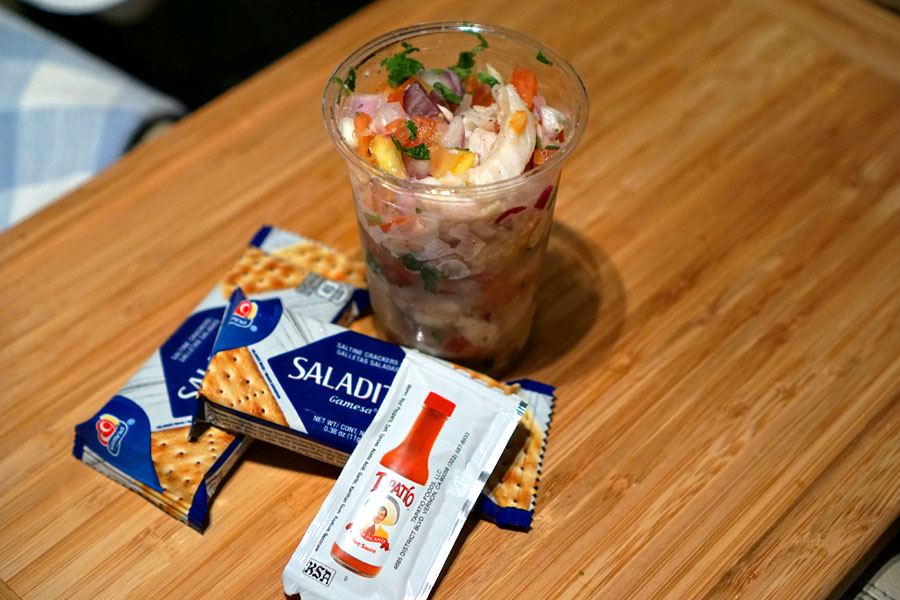 Ceviche de Pescado [$3.25]
| Fish Ceviche Tostada
This was probably the most intense ceviche de pescado I'd ever encountered, and that's not a bad thing. The fish came in substantial chunks, and its brine and umami were forcefully conveyed, yet balanced by the requisite acidity and herbaceousness. However, I do have to give the restaurant a demerit for forgetting the advertised tostada.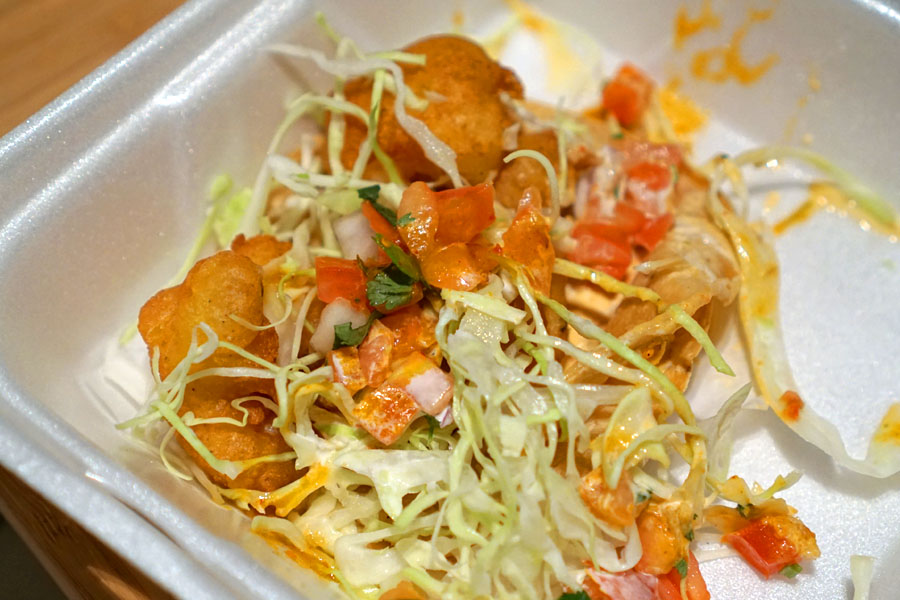 Taco de Camaron [$2.75]
| Shrimp Taco
The taco de camaron was at least as good as the fish, arguably better. The shrimp arrived well-fried and full-flavored, with almost "fluffy" crusts, and they still showed off the snap and succulence that I was looking for. The various accoutrements worked as flawlessly as expected, though I will note that there was a bit less heat here.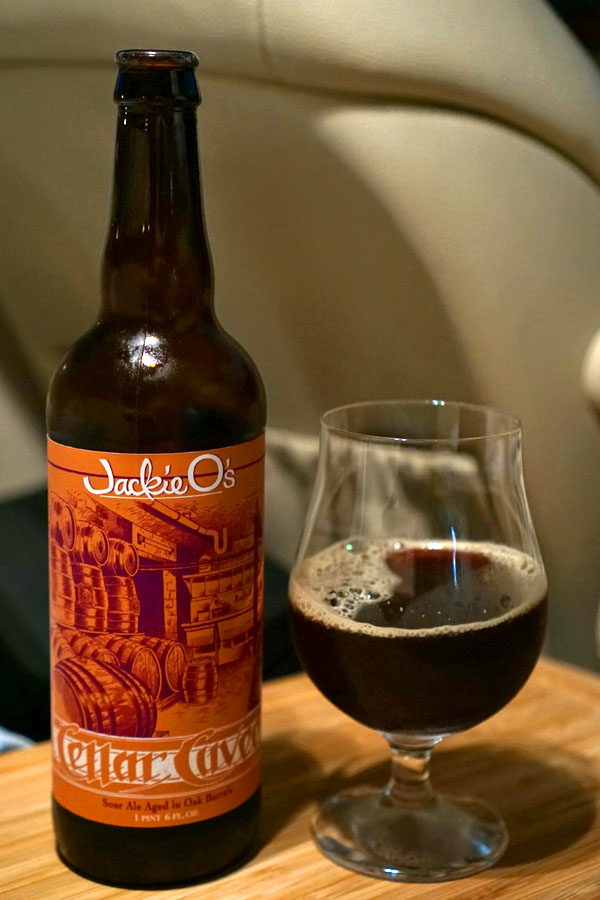 Our first beverage of the evening was the
2014 Jackie O's Cellar Cuvée 8
, a blend of a 20-month oak-aged sour brown ale and a bourbon barrel-aged barleywine. The beer smelled strongly of tangy stewed fruit mixed with touches of oak and funk. The taste was again loaded with tart berry up front, but had notes of chocolate, barrel, balsamic, and malt coming in on the mid-palate and sticking around.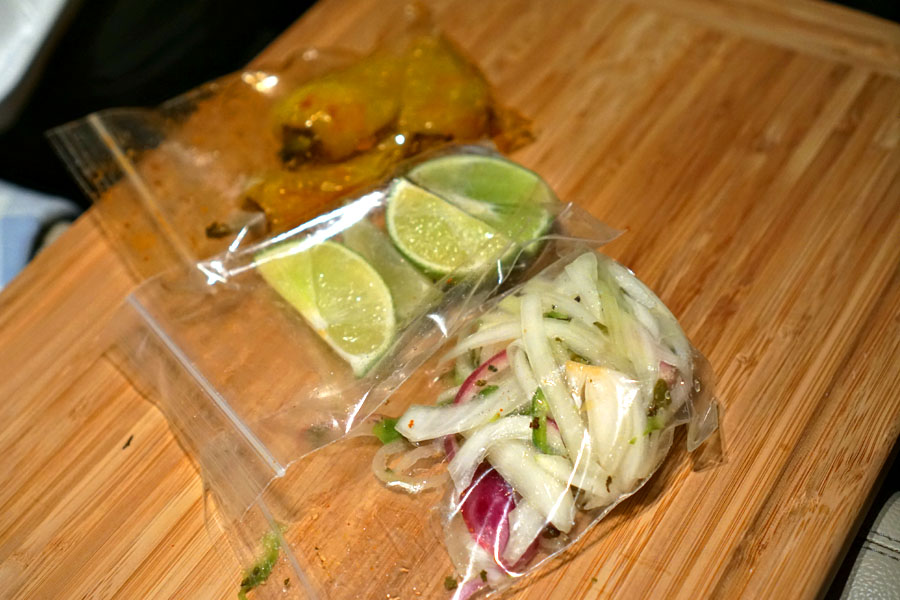 Accessories included pickled onions (which were excellent), limes, and roasted chiles güeros dusted with chili powder.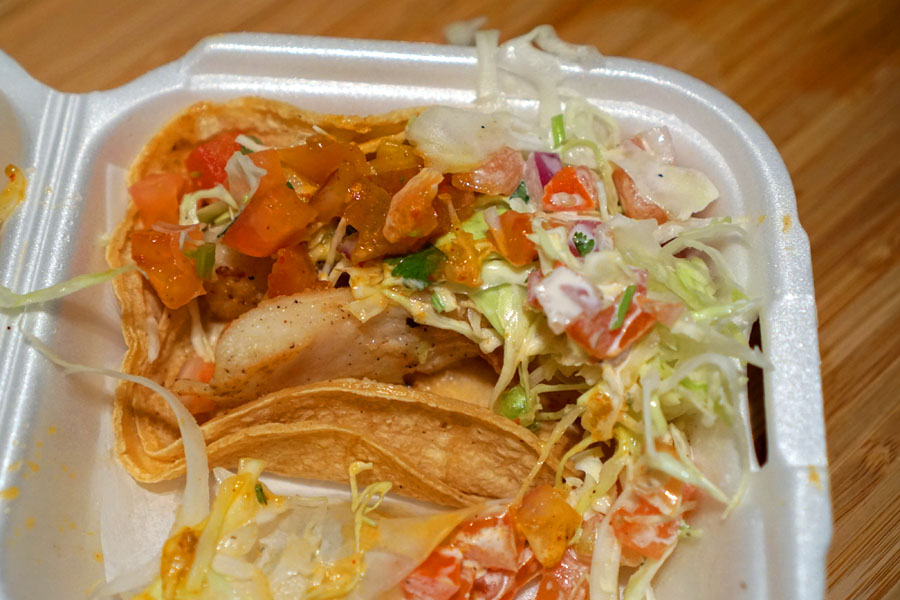 Grilled Fish Taco [$2.75]
The pescado taco is also available in a la plancha form, and I was curious to try it. The fish came out supple, flaky, moist, and really showed of its intrinsic salinity more than in the fried version above. It wasn't necessarily better, but different, and just as worthwhile.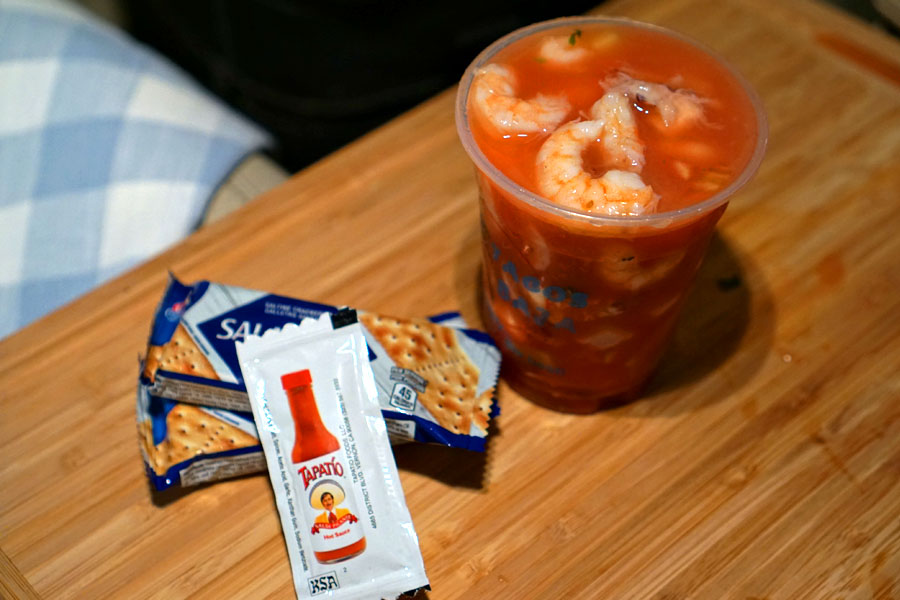 Campechana Cocktail (Regular) [$8.50]
| Mixed
Next came what was clearly the most potent seafood cocktail I've had. What really stood out to me was the shrimp, and the robust savoriness of the octopus, while the tomato-based sauce utilized was fortunately restrained in its sweetness.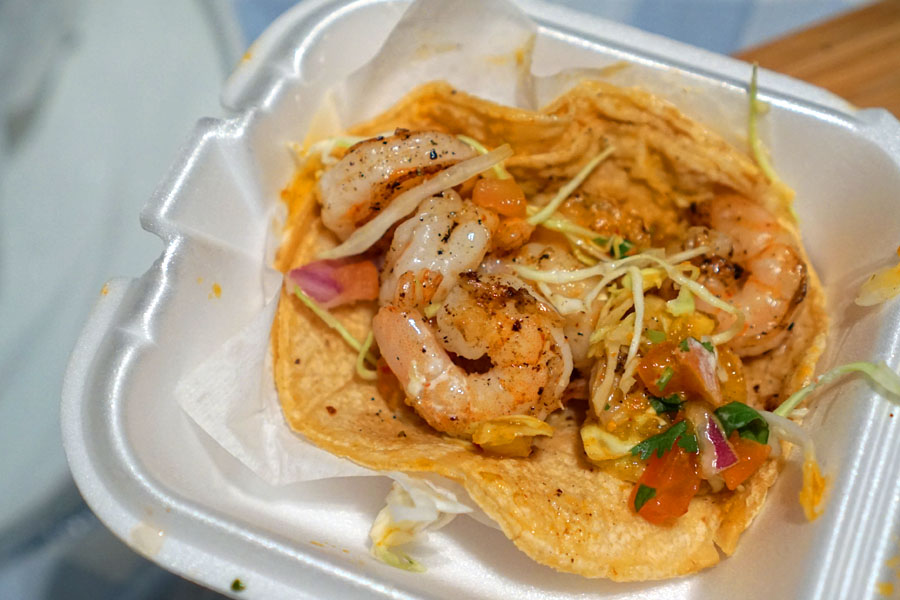 Grilled Shrimp Taco [$3.25]
The grilled counterpart to the camaron taco above was a winner as well. I really enjoyed the cook on the shrimp, their brine and char being particularly on point, while the tortillas really made themselves known as a contrasting element.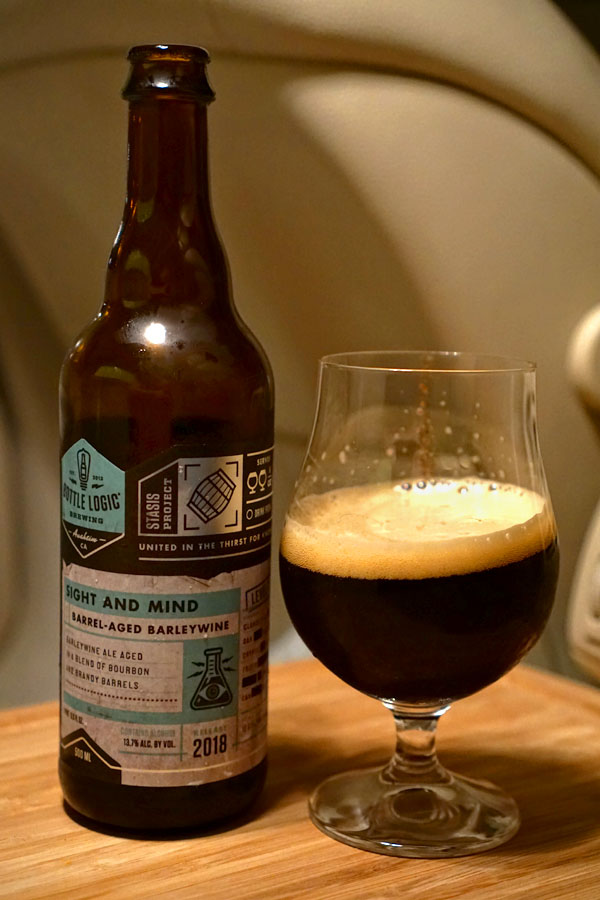 The evening's second beer was the
2018 Bottle Logic Sight and Mind
, a barleywine aged in a blend of bourbon and brandy barrels. Nose on this one showed off a combination of fresh dark fruit and chocolate. Tasting it, I got a vinous sort of sweetness commingled with plenty of malt, while the back end displayed a somewhat candied character along with oak and a smidge of heat.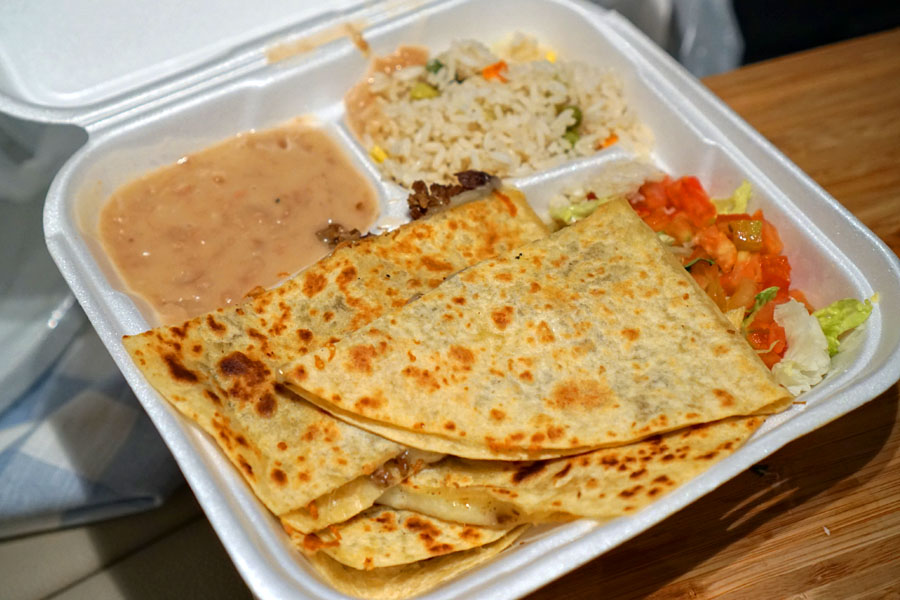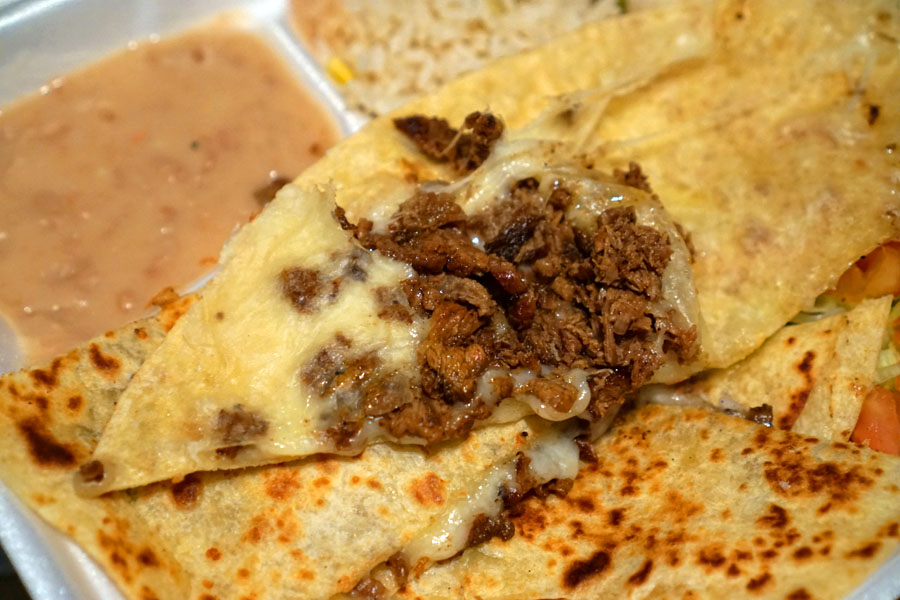 Quesadilla con Carne - Asada [$7.50]
A couple things surprised me here, but neither in a bad way. First, this was quite likely the largest quesadilla I'd ever seen, and second, I had no idea that this came with sides. With that out of the way, the quesadilla was just what you'd expect, its classic interplay between meat and cheese satisfying in familiar fashion. The beans, meanwhile, were pleasantly "grassy" I'll say, while I also liked the addition of lima beans to the rice.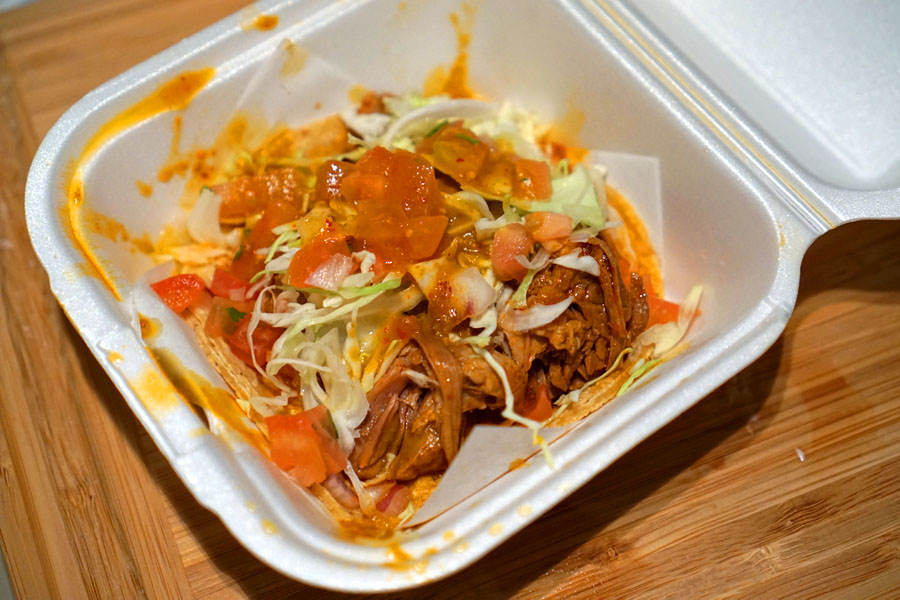 Taco de Carne - Barbacoa [$1.99]
| Meat Taco
Barbacoa came in sizeable chunks, and had this hearty, well-spiced flavor profile replete with a restrained, yet palpable heat. The overall effect was quite cozy.
I'd waited a long time to eat here, and I'm happy to report that the place didn't let me down. The fish tacos were some of the tastiest I've had, while the shrimp was just as good, maybe even better, and everything else met the mark as well. I will also note that the place was still relatively busy despite the coronavirus situation, so that was nice to see.