Sushi Ii (Newport Beach, CA)
Sushi Ii
100 West Coast Hwy, Newport Beach, CA 92663
949.287.6268
www.sushi-ii.com
Fri 04/10/2020, 07:00p-08:00p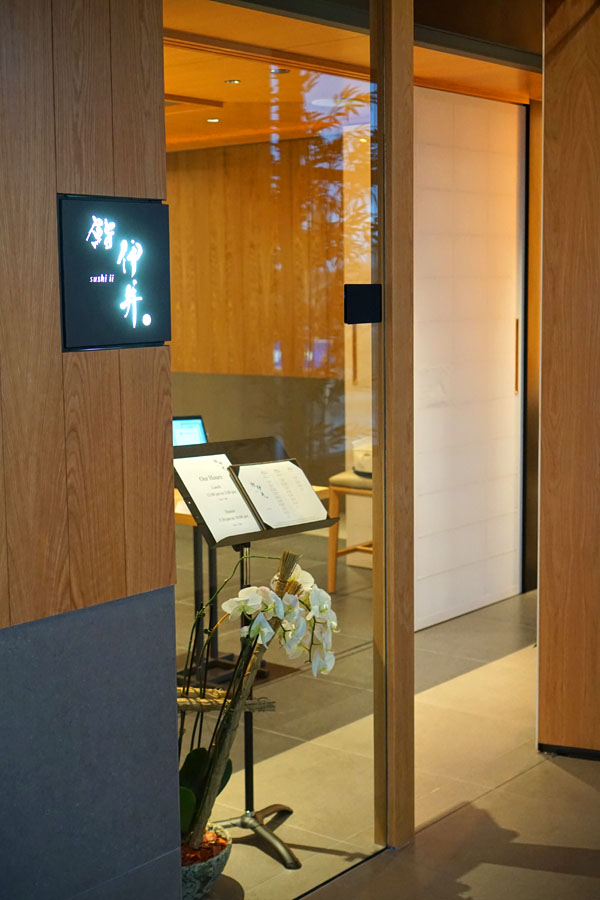 I think one of the strongest facets of the OC dining scene is its array of Japanese eateries, especially when we're talking about high-quality, yet not ridiculously-priced sushi. The latest entrant to that field is Chef Susumu Ii's eponymous Sushi Ii, which opened early this year.
I actually found out about Sushi Ii when I saw it listed
on Tock
, and after looking into the spot a bit more, immediately put it on my "to-eat" list for Orange County. Unfortunately, COVID-19 struck before I could dine here, but when the restaurant started selling take-out, I decided that I had to pay the place a visit.
About the Chef
: Ii Susumu grew up on Okinoerabujima, a small island off the southern tip of Japan that's part of the Amami archipelago. After graduating from Okinoerabu High School in 1977, he moved to Matsubara in Osaka Prefecture and attended Hannan University, where he majored in economics. During his time at college, he apprenticed at local restaurants specializing in Japanese cuisine and sushi, and quickly fell in love with the craft. Ii completed his studies in 1981, and eventually decided to move to the United States.
Now residing in Los Angeles, he started out working under
Sakae Shibutani
at
Shibucho
. With this experience under his belt, Ii and his wife Keiko opened
Kasen
in Fountain Valley in October 1990. Things went smoothly until April 2009, when the couple went back to Japan to care for the Chef's sick parents. Their restaurant then turned into the short-lived Sushi Cocoro, but reverted back to Kasen when they returned in February 2010. The Iis ended up shuttering Kasen for good in the middle of 2017, and the place is now a fusion-y spot called Satoshi Sushi.
However, the next chapter of the Chef's career was soon underway, as he quickly found a group of investors to fund his next restaurant, which would be a much higher-end endeavor. Sushi Ii thus debuted to little fanfare in mid-February, located on the second floor of the new-ish Mariner's Pointe development on PCH. Also involved in this project is GM Natsuko Travioli, a former PIMCO employee who's also a co-founder of the Temakira hand roll micro-chain.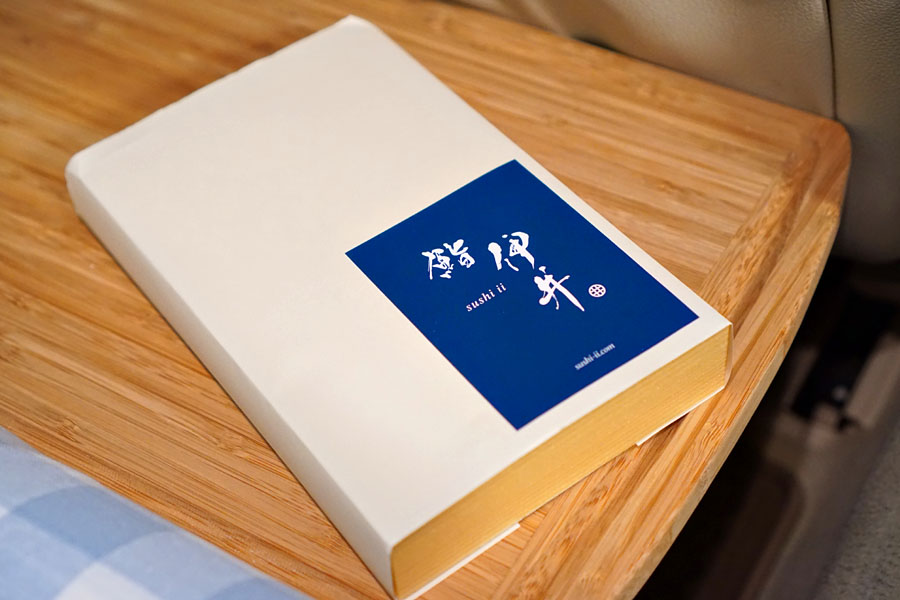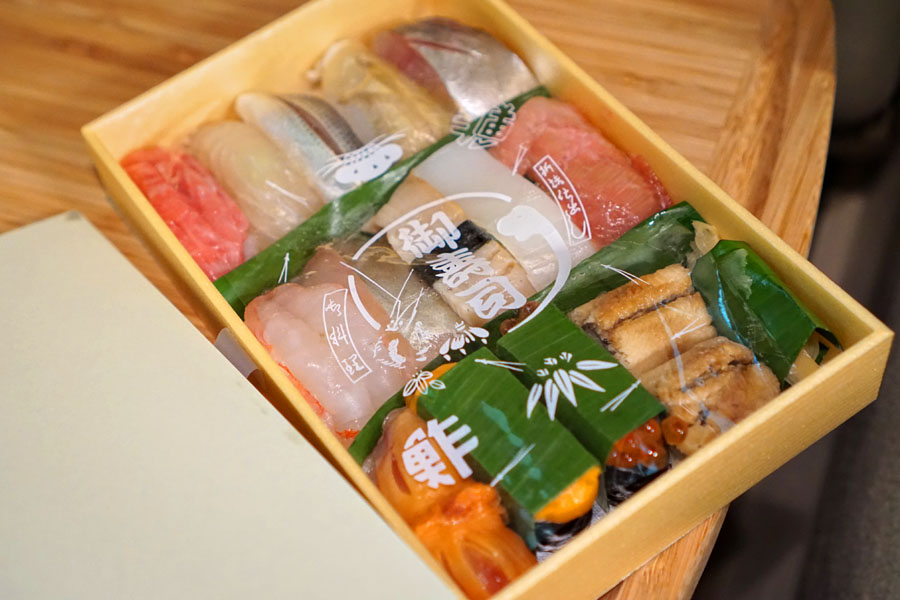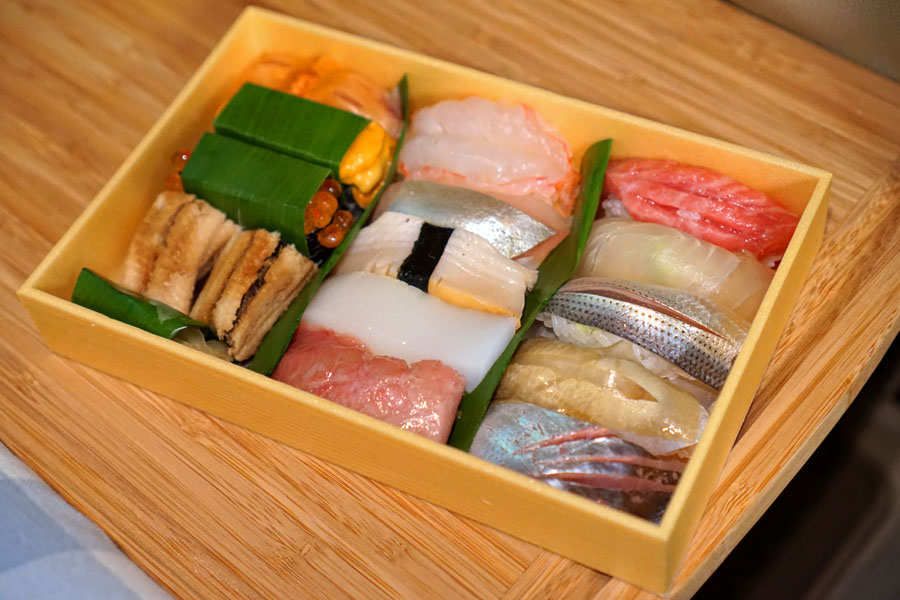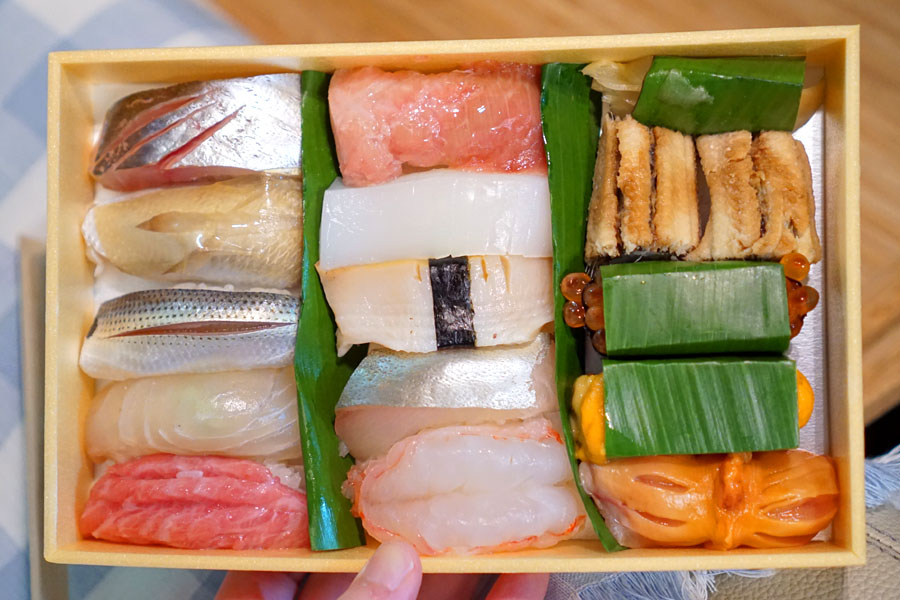 Sushi Ii is normally an omakase-only spot with prices ranging from $60 to $120 at lunch and $120 to $200 at dinner. That's obviously no longer happening, and the restaurant has switched over to offering more casual options like chirashi, box sushi (a specialty of the Osaka region, where the Chef trained), and rolls. However, Ii-san will also make sets of nigiri for you at price points of $60 and $90 (we went with the latter). Just give him a couple days advance notice.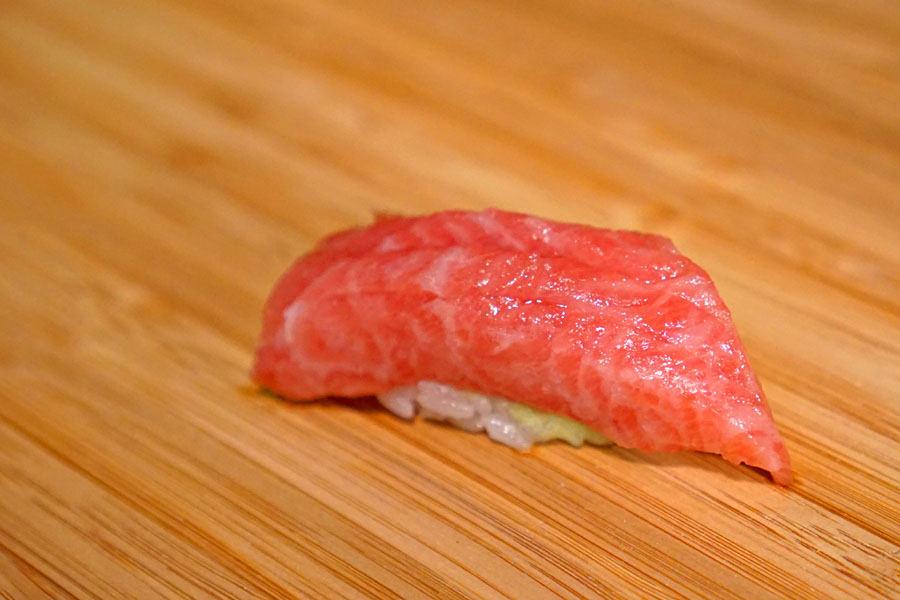 1: Otoro
I ate the sushi in the order presented in the box, and thus started with the bluefin toro, which was exactly what I wanted from the cut: super melty, super fatty, and loaded with a deft mix of sweetness and umami, the rice and wasabi making themselves known on the back end for balance. A strong start.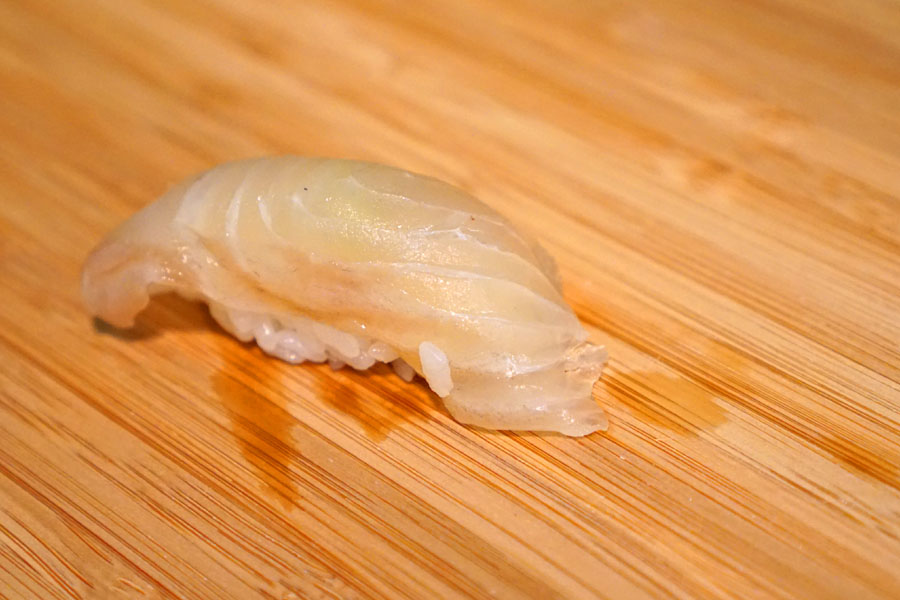 2: Hirame no Kobujime
Though Ii-san generally uses sea bream for his
kobujime
(kelp curing), he went with halibut this evening. The fish had this almost "sticky" consistency that I enjoyed, and really took on the complexity and savor of the kombu, while wasabi served as a fitting accent piece. I'd say that the Chef's warm-ish rice was especially apparent in this bite.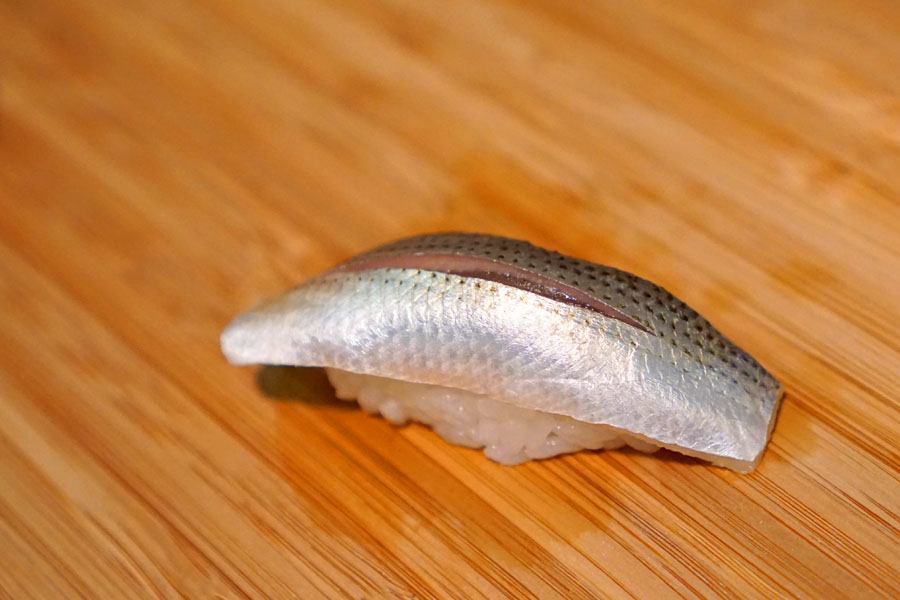 3: Kohada
Gizzard shad displayed a great back-and-forth between sweetness and salinity, and was on point texturally as well.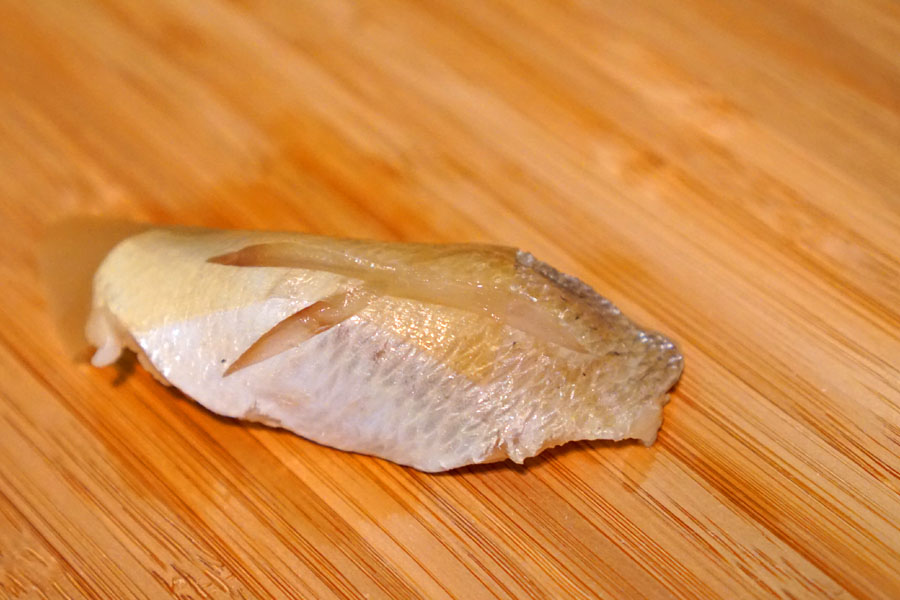 4: Kasugo
I was happy to see baby sea bream on the menu tonight, since the fish symbolizes the beginning of spring. I got the sweet-sour nature of the
battera kombu
(that thin layer on top, a.k.a.
shiroita kombu
) right up front, and this led to a mix of brine and umami and wasabi that definitely satisfied. In addition, I was a big fan of the fish's uncommonly meaty texture.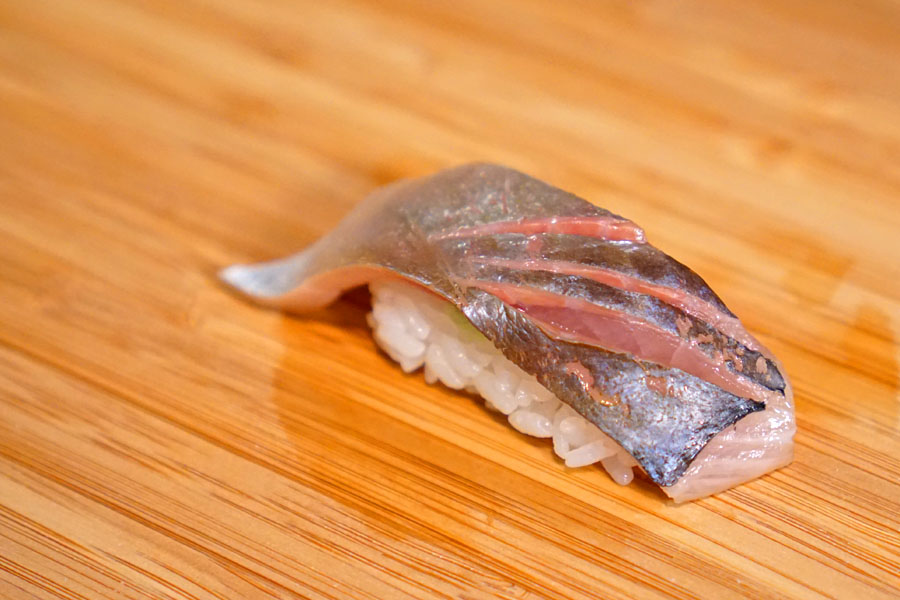 5: Sawara
Spanish mackerel was another springtime treat, and another joy to eat. Though it was hearty in terms of consistency, I was pretty surprised how subtle, how nuanced the fish tasted--a real exercise in elegance.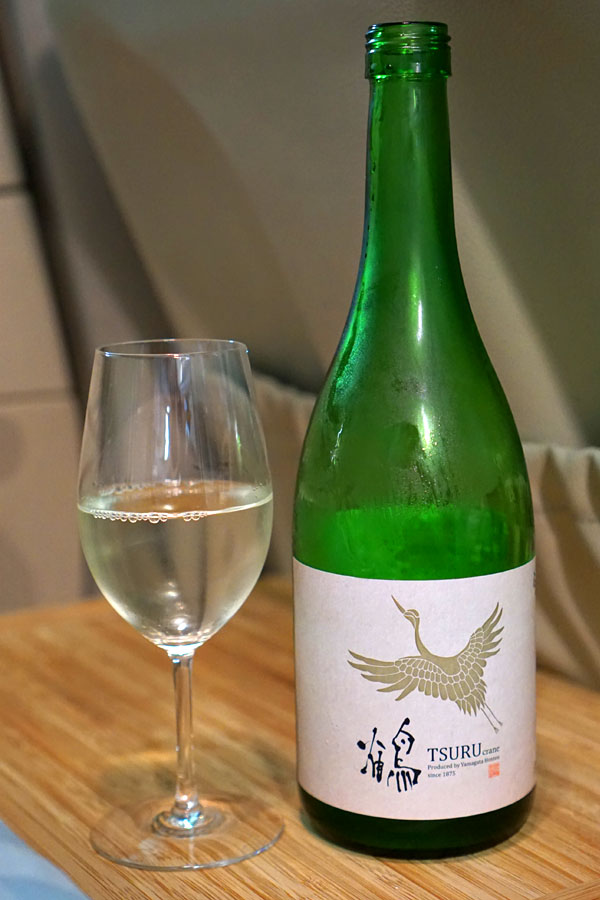 To pair with the sushi, we had a bottle of the
Kaori "Tsuru" Junmai Daiginjo, Yamagata Honten [$60]
from Yamaguchi Prefecture. The nose here was super aromatic, just brimming with tropical fruit and light honey. Tasting it, those tropical notes continued with pineapple at the forefront, while the mid-palate brought subtly acidic, nutty qualities alongside a touch of warming heat that stuck around.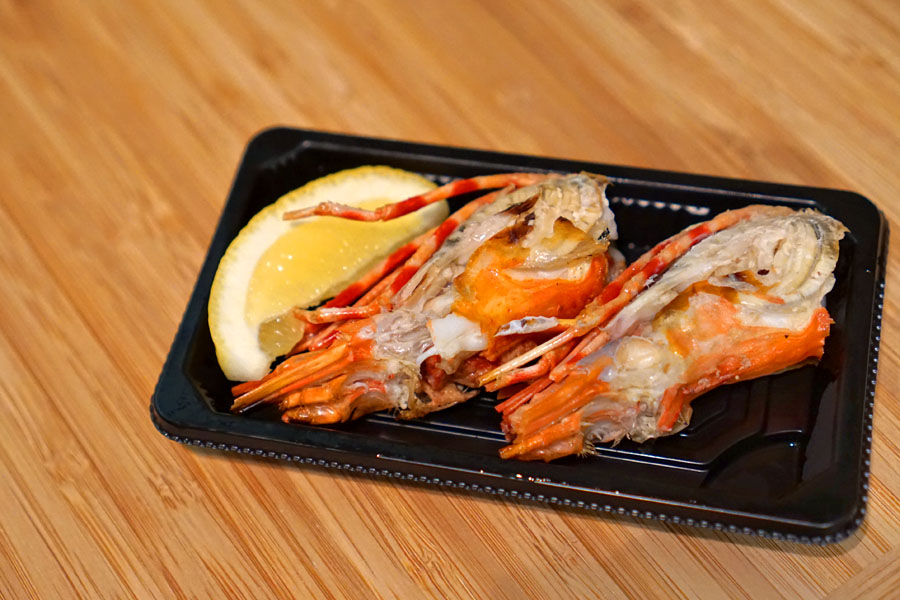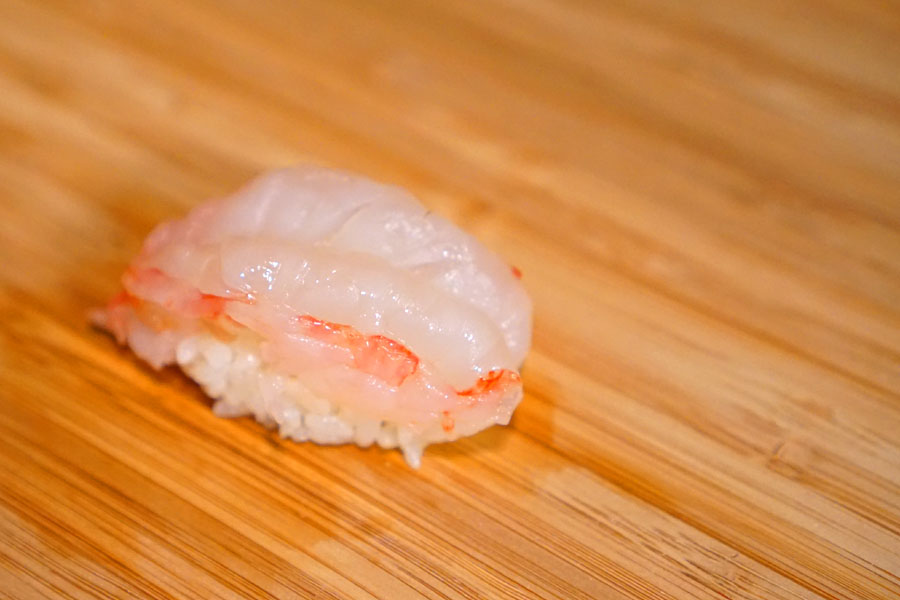 6: Amaebi
Sweet shrimp was pretty much spot on. I loved its crunch and snap, and how its natural sweetness meshed with the combination of wasabi, rice, and soy. I will say that I would've preferred the heads deep-fried.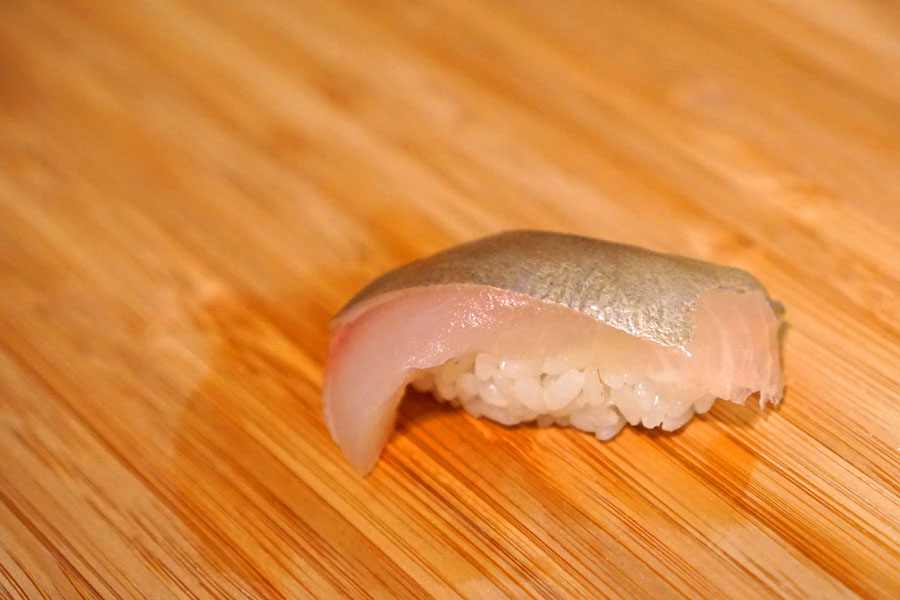 7: Shima Aji
Striped jack had a stupendous texture, and was a joy to chew, while taste-wise, it showcased a really refined umami. A great showing.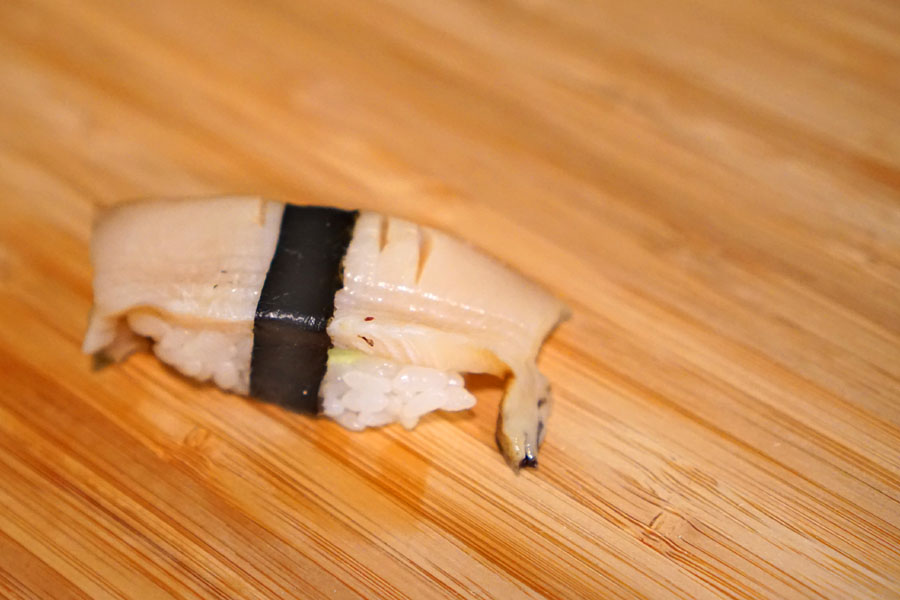 8: Awabi
Abalone was just as firm and crunchy as you'd expect, its sweet-saline nature marrying especially well with the strip of nori.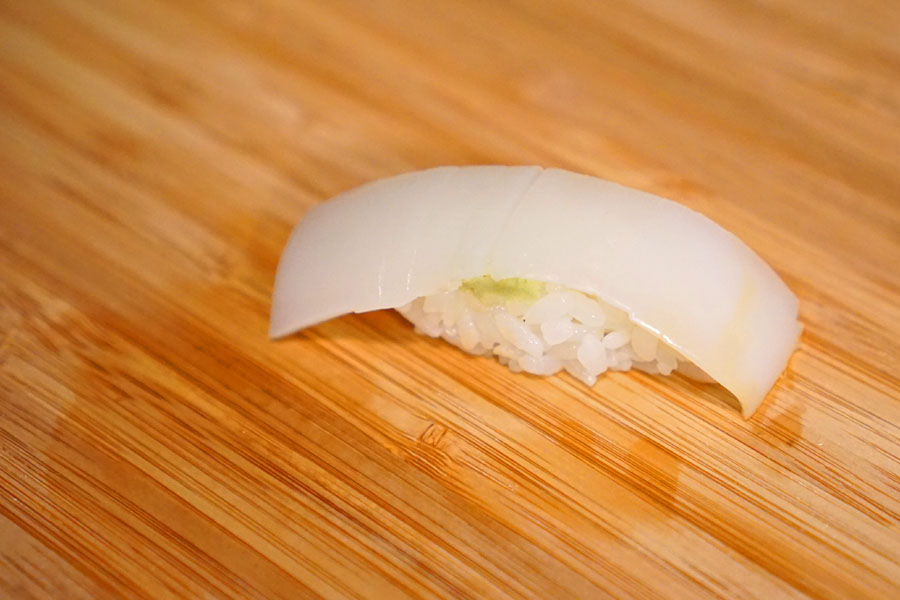 9: Ika
The squid managed to be simultaneously crisp and super creamy and sticky, with flavors that combined sweetness with a healthy dose of wasabi heat.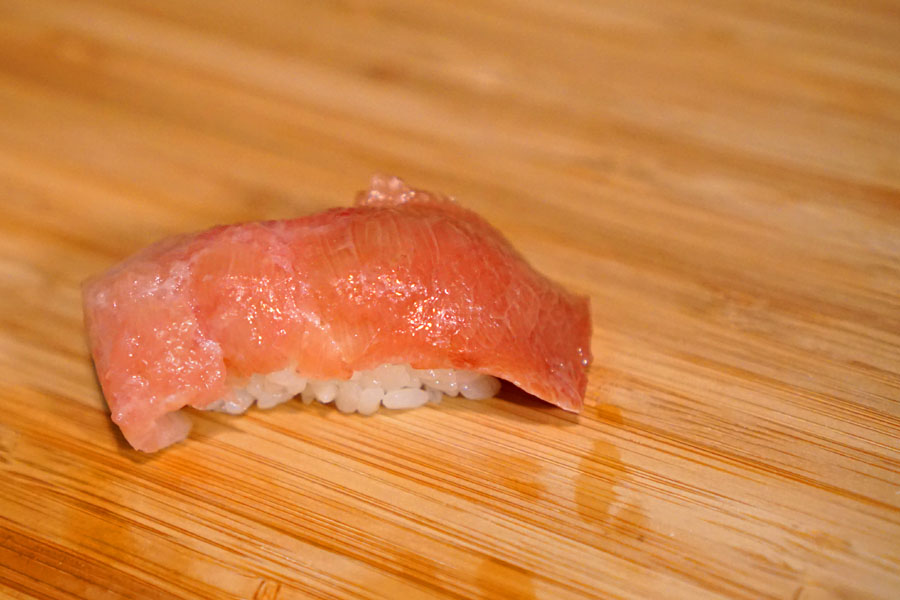 10: Hagashi Toro
I was pleasantly surprised to see
hagashi
on the menu, since it's a time-consuming preparation in which sinew/tendon is painstakingly removed between layers of tuna. The end result was a more complex, more decadent, more savory, and eminently sweeter bite compared with the otoro above, one with an astoundingly gratifying texture that was almost unlike anything else. Another thing I'll note is that the sweetness of Ii-san's rice melded particularly well here. The highlight of the meal for me.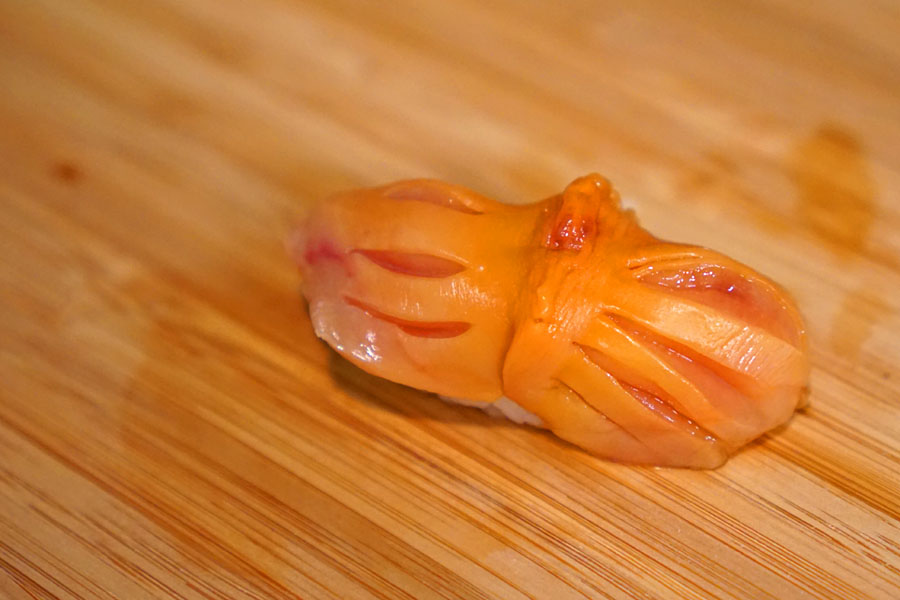 11: Akagai
Red clam (or ark shell) was another uncommon offering that I was glad to see. In terms of texture, I found the clam firm, but supple, while its taste combined sweetness and salt with a good amount of wasabi burn, the rice doing a commendable job moderating everything.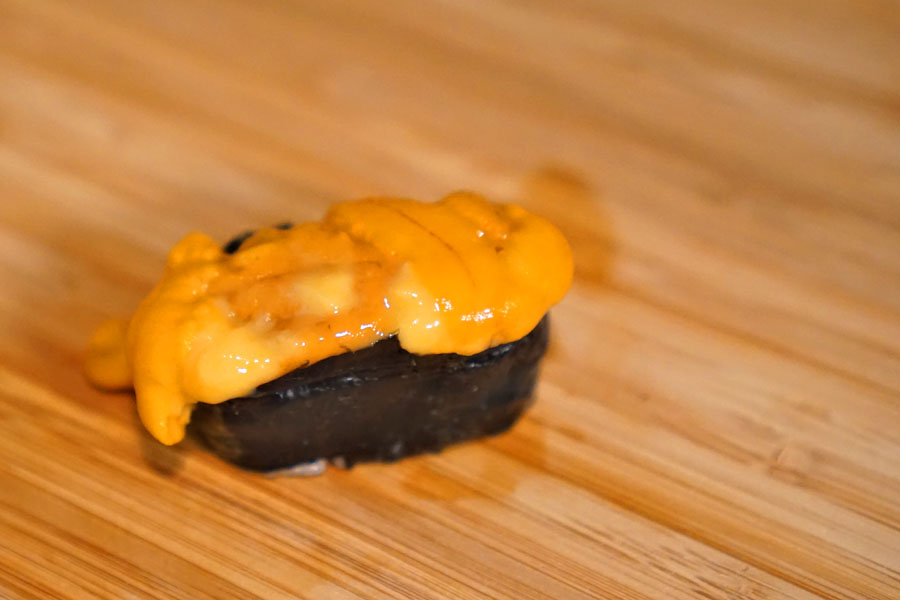 12: Uni
Sea urchin (from Hokkaido I believe) conveyed an extremely refined expression of sweet brine, and very little bitterness or minerality. The nori here was actually less prominent than I was expecting, with the rice instead working for contrast.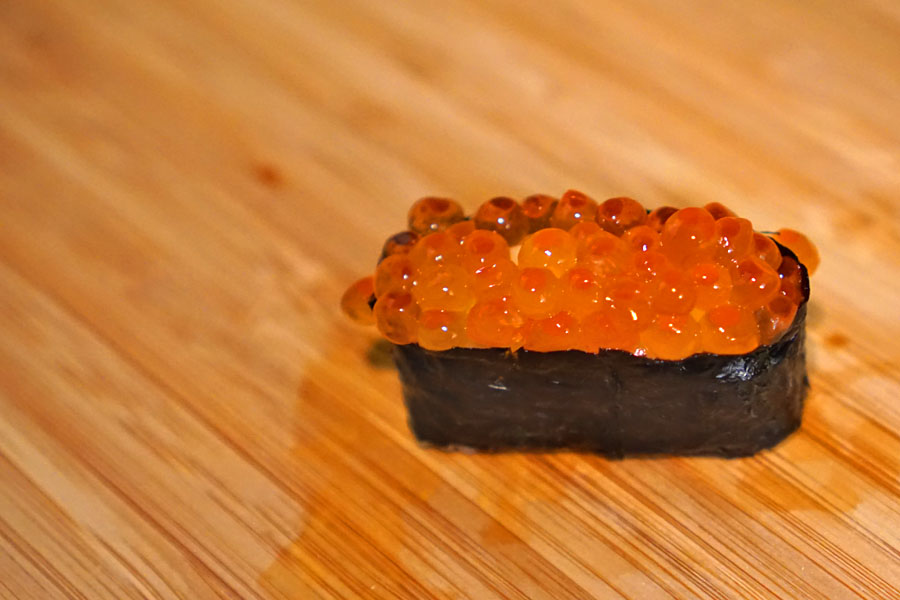 13: Ikura
The salmon roe delivered with its smart balance between umami and a very palpable smokiness, while again, the seaweed was relatively subdued.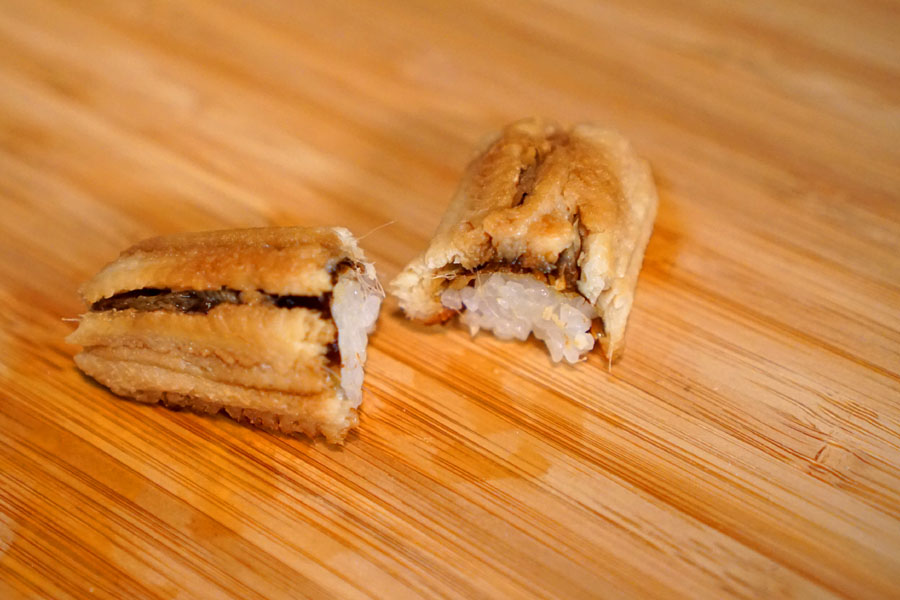 14: Anago
Closing things out was a commendable version of sea eel, one with a polished mingling of sweet and saline that made for a strong finish to the meal.
I was very impressed with Sushi Ii. This was possibly the best takeout I've had, ever, and in fact, it was better than a lot of the sushi I've gotten in Southern California while sitting at an actual sushi bar. The nigiri didn't
feel
like what you'd get in a to-go order. It didn't feel compromised, or rushed at all. It felt meticulous, sophisticated, sumptuous. Thus, even though I wasn't able to eat inside the actual restaurant, I'm pretty confident declaring this place the next great sushi spot in Orange County, and I look forward to returning for a proper meal once the coronavirus passes.