Auburn (Los Angeles, CA) [2]
Auburn Restaurant
6703 Melrose Ave, Los Angeles, CA 90038
323.486.6703
www.auburnla.com
Wed 04/15/2020, 07:00p-08:10p
[4/30 Update: Sadly, Auburn has announced that it's closing, *permanently*, which is a huge loss for LA dining. Its demise is the one that's hit me the hardest so far.]
In terms of 2019 LA debuts, Eric Bost's
Auburn
just might be my favorite. I'm
certainly
not
alone
in my praise for the restaurant, though at the same time, I do feel that the place is flying a bit under the radar. In any case, Auburn quickly came to mind when thinking about places for coronavirus takeout, though the spot initially closed after Gavin Newsom's March 16th shutter of dining rooms. It opened for to-go orders about a week later, with a menu that was somewhat reminiscent of the fare the restaurant usually serves. However, on this particular week, the team completely switched things up with a Sichuan-inspired menu put together by sous
Anthony Wang
.
About the Sous Chef
: Wang grew up in an immigrant Chinese family in Miami, though he spent much of his childhood in the tony Atlanta suburb of Roswell. After graduating from Centennial High School in 2012, he enrolled at Georgia State University. However, by May 2013, he had decided that he wanted to pursue a culinary career, and thus relocated to Boston to apprentice at Louis and Michael DiBiccari's Tavern Road. From there, he jumped to Hungry Mother in Cambridge and Spoke Wine Bar in Somerville, then moved to LA. Here, Wang cooked for Michael Voltaggio at both
ink
and
ink.well
before joining the Auburn team at the start of 2019. A bit of trivia: his older sister is none other than filmmaker
Lulu Wang
(of
The Farewell
fame).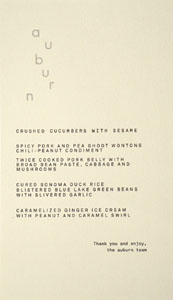 Tonight's menu was available
on Tock
, priced at $39 per person, plus 10% service and 9.5% tax. Click for a larger version.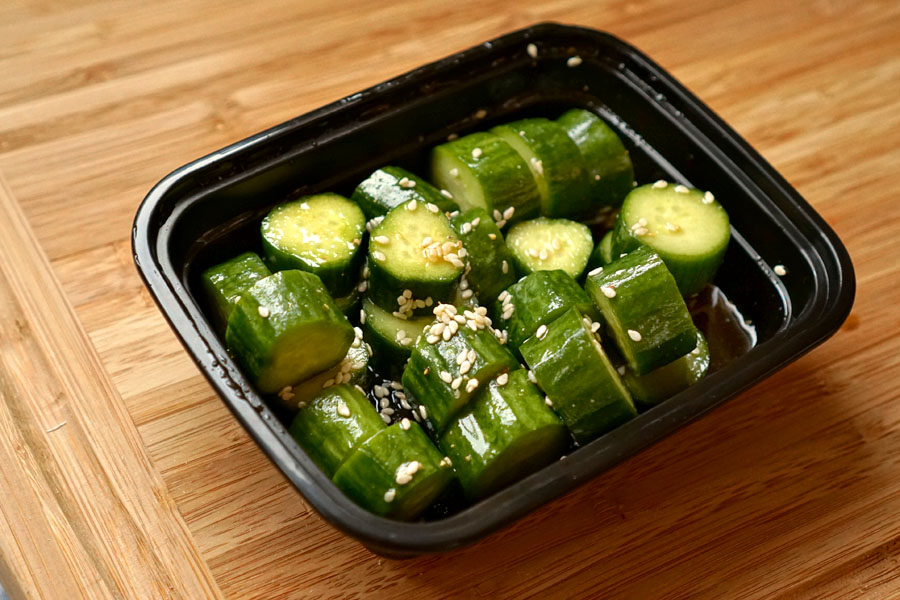 1: Crushed Cucumbers with Sesame
We began with Wang's version of
pai huanggua
. What delighted me here was the sheer crunchiness of the cucumber, and how its light, bright flavors interacted with that piquant dressing and the nutty notes from the sesame. This dish also functioned as a palate cleanser of sorts for the more potent items to follow.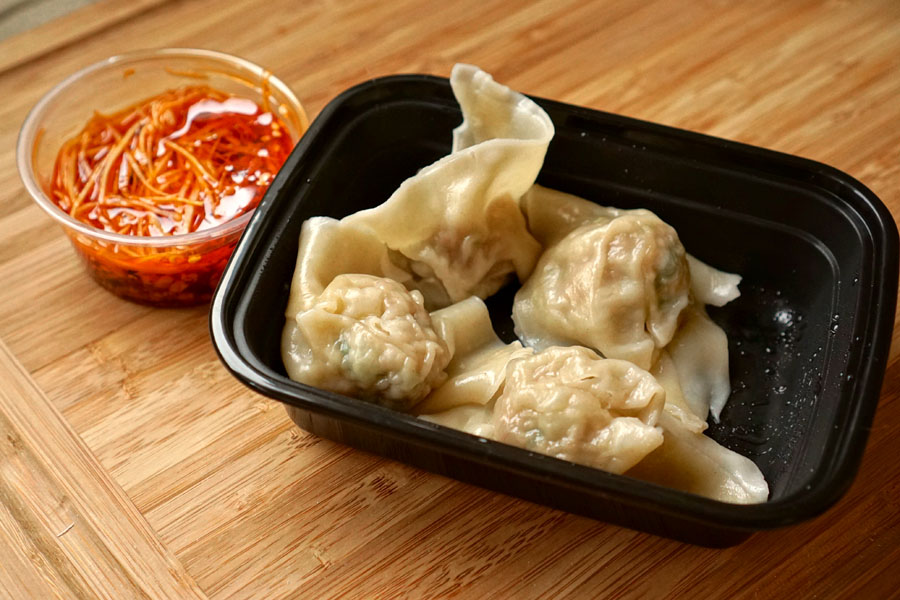 2: Spicy Pork and Pea Shoot Wontons, Chili-Peanut Condiment
I never say no to wontons. The skins here were a bit heftier than I would've liked, though their filling of pork and pea was an exercise in elegance. The dumplings really sang with a dip of the included chili sauce, which showed off some wonderfully crunchy bits along with plenty of ginger and a surprising amount of heat. I sort of wanted to put it on everything, and even saved the remainder for use later.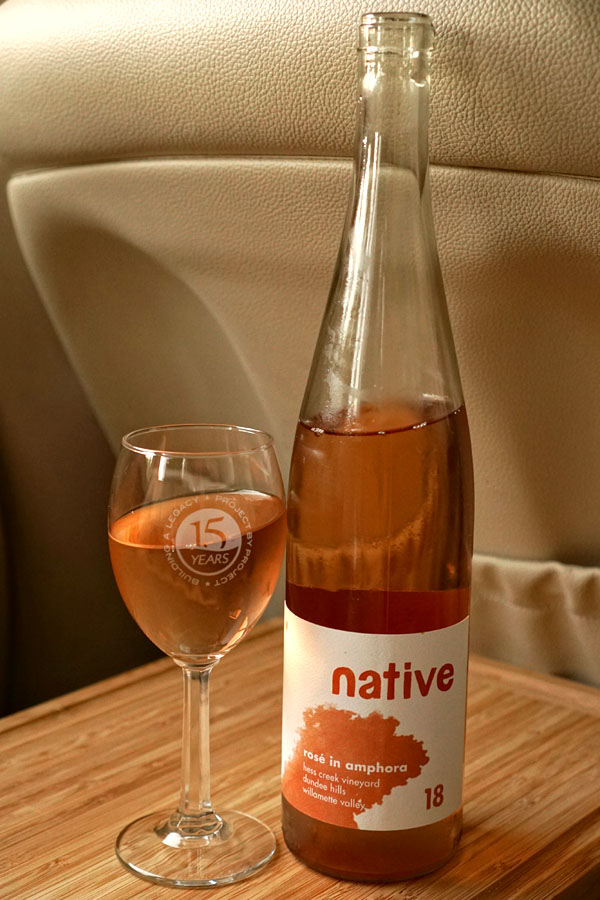 Drink duties were handled by a bottle of rosé, the
Pinot Noir, Native Wines, Dundee Hills, Oregon 2018 [$25]
. The nose here was pretty stupendous, offering up bountiful amounts of candied stone fruit that almost recalled peach rings. Tasting the wine, I found soft fruit and mineral transitioning to tarter, more acerbic notes on the back end. A fitting pair with the food.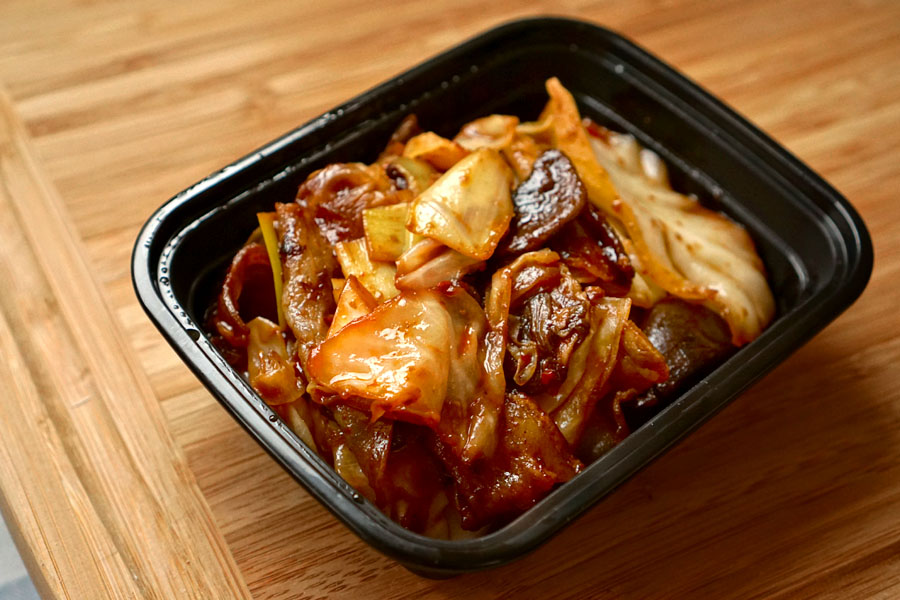 3: Twice Cooked Pork Belly with Broad Bean Paste, Cabbage and Mushrooms
The most substantial course this evening was the
huiguorou
. Thin-sliced pork belly was well seared, replete with some nice charred bits, and served as a base for the application of broad bean paste. Said
doubanjiang
resulted in a full-flavored expression of savor and salt, matched with a touch of sweet spice. Mushrooms imparted further umami to the mix, but even more crucial was the cabbage, which offered up both crunch and levity.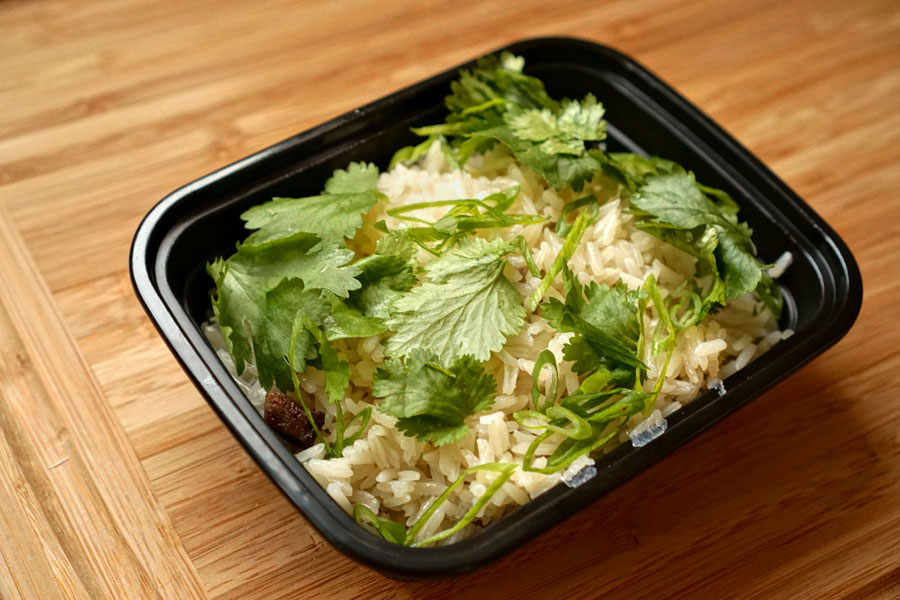 4: Cured Sonoma Duck Rice
Rice arrived fragrant and perfectly textured, its bits of salty
koji
-aged duck (from the previous week's menu) meshing well with the zippiness of cilantro and scallion.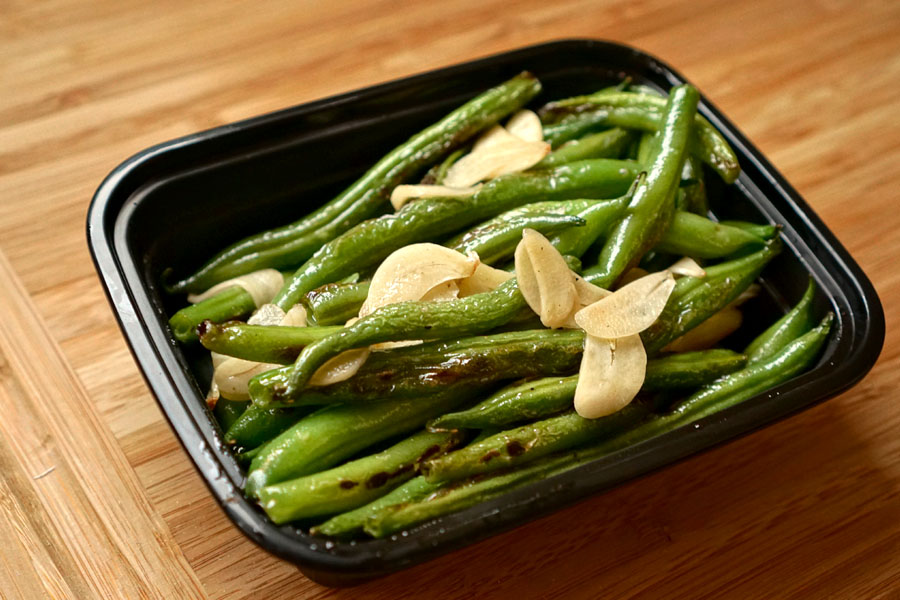 5: Blistered Blue Lake Green Beans with Slivered Garlic
I was smitten with the green beans as well, which were phenomenally crisp, and showed off a deft balance of smoke and savor to go along with the dish's healthy amount of garlic. These were some of the best green beans I've had in a long while, actually.
6: Caramelized Ginger Ice Cream with Peanut and Caramel Swirl
The ice cream was much more gingery than expected, and I really appreciated how the kitchen wasn't afraid to show off the pungency of the rhizome. It almost recalled the dipping sauce for the wontons above, especially with its incorporation of peanuts, while the caramelized bits boosted the sugariness level. Very, very nice.
Though the food tonight was pretty far removed from what's usually served at Auburn, I was still impressed with the clarity and finesse present in the cooking. This was one of the strongest COVID-19 take-out meals I've had over the past few weeks, and I'm thinking that I might even want to return to the restaurant before this pandemic passes.