Playground (Santa Ana, CA) [5]
Playground Restaurant
220 E 4th St, Santa Ana, CA 92701
714.560.4444
www.playgrounddtsa.com
Thu 04/16/2020, 07:10p-08:40p
Jason Quinn's
Playground
is arguably my favorite restaurant in Orange County, so when it came time to think of places for coronavirus takeout, it quickly came to mind. What's interesting is that they've really embraced the "
to-go
" mentality, offering the largest array of food
and
booze I've seen thus far. There was actually too much stuff I wanted to try, but I eventually settled on the following: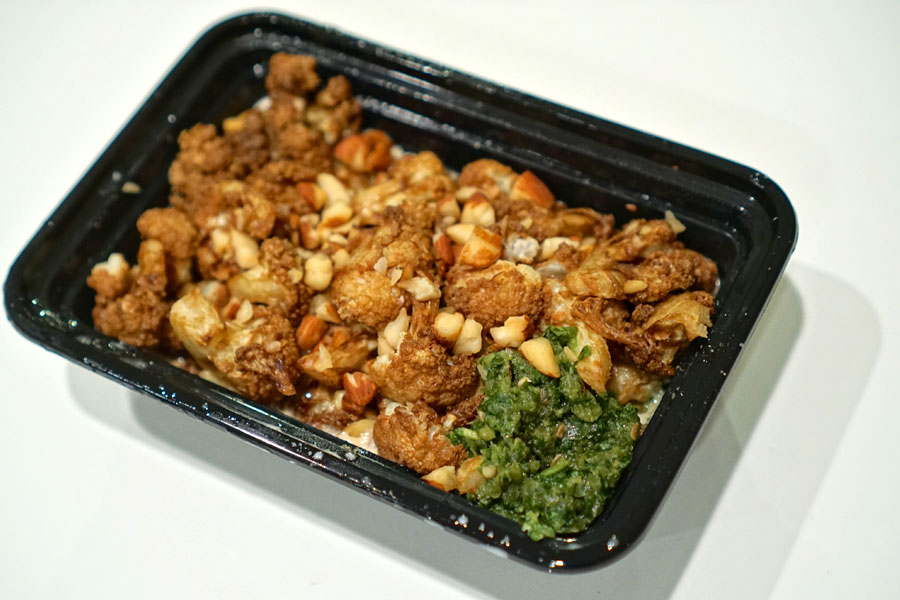 Roasted Cauliflower [$16.00]
| Zhoug (Spicy, Herby, Condiment), Tahini, Almonds
We started with the cauliflower, which I found smartly spiced and well textured, with a nice sear to boot. Not surprisingly, I enjoyed it even more with a dab of that delightfully zingy
zhug
.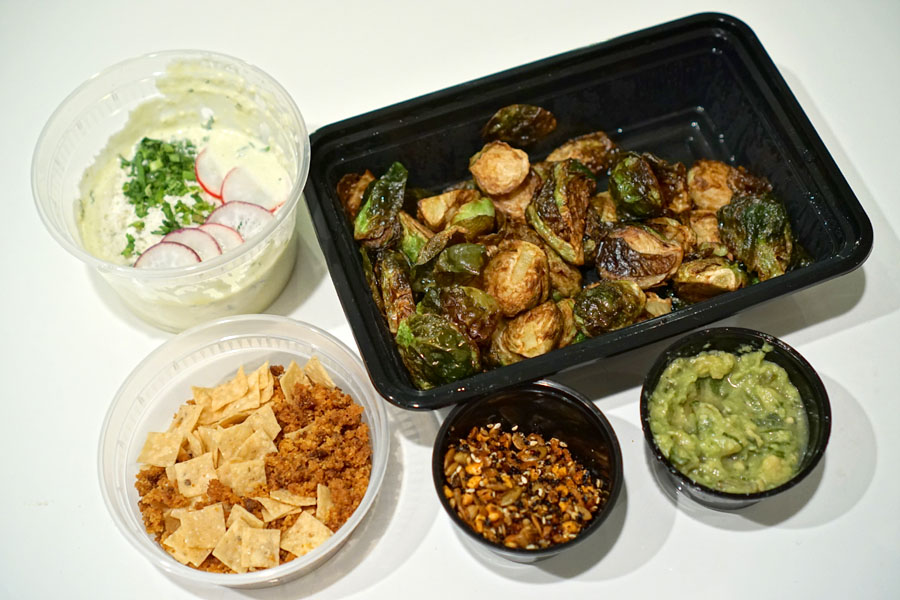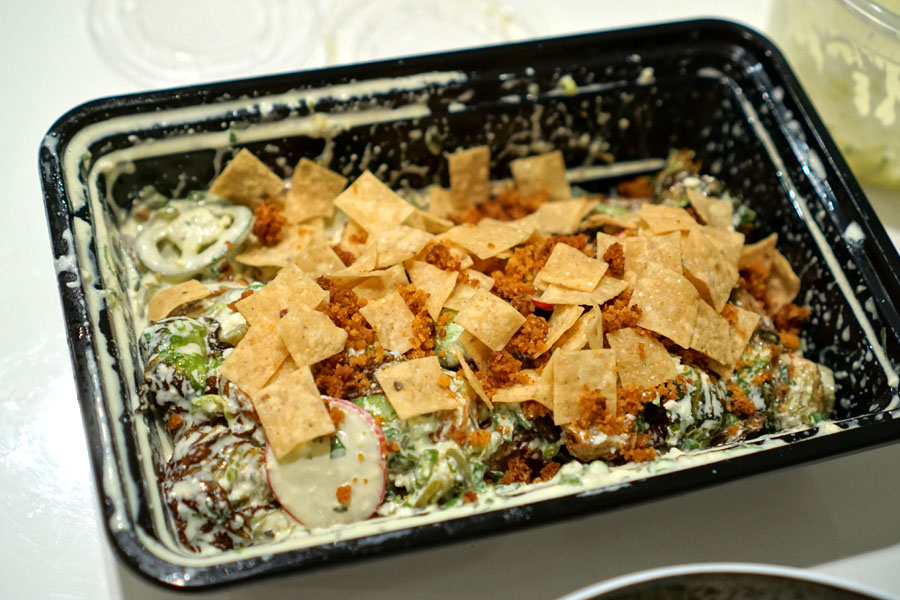 Brussels Sprouts Caesar [$16.00]
| Cotija Cheese, Cornbread Crumble, Jalapeño, Radish, Scallion, Cilantro
This fun take on a Caesar salad combined the bitterness and char of Brussels with a creamy dressing and an unexpected, but very welcomed heat from the peppers. I was quite a fan of those crunchy bits on top, too.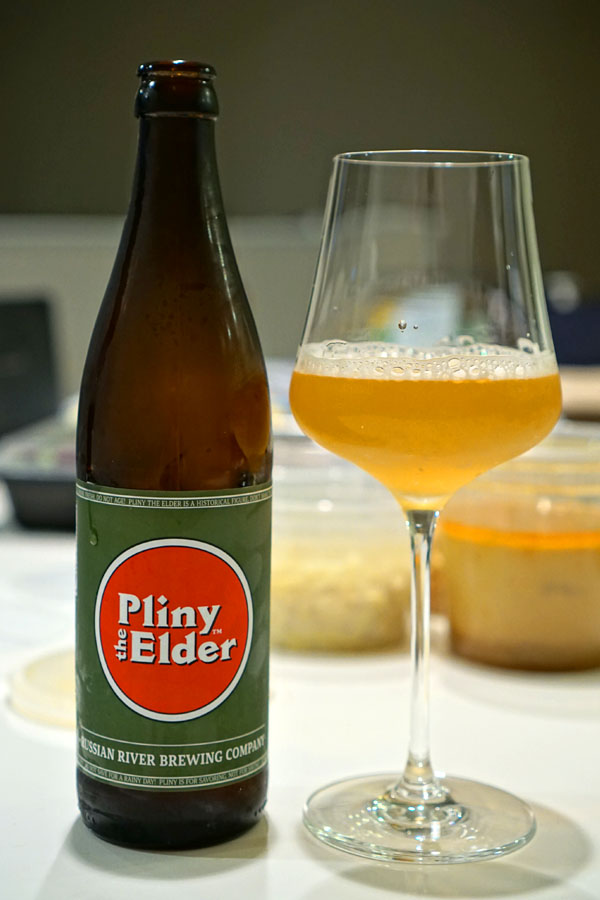 We opened up a few beers tonight, starting with an icon of the double IPA world, the
2020 Russian River Pliny The Elder
. Expressive nose featuring robust, almost OJ-like citrus notes along with piney, aromatic hops--just what you'd want and expect. The palate was near bracingly resinous and hoppy at first, with more citrus appearing in the middle, while the finish veered slightly herbaceous and astringent. I actually hadn't had this beer a couple years, so it was nice to revisit.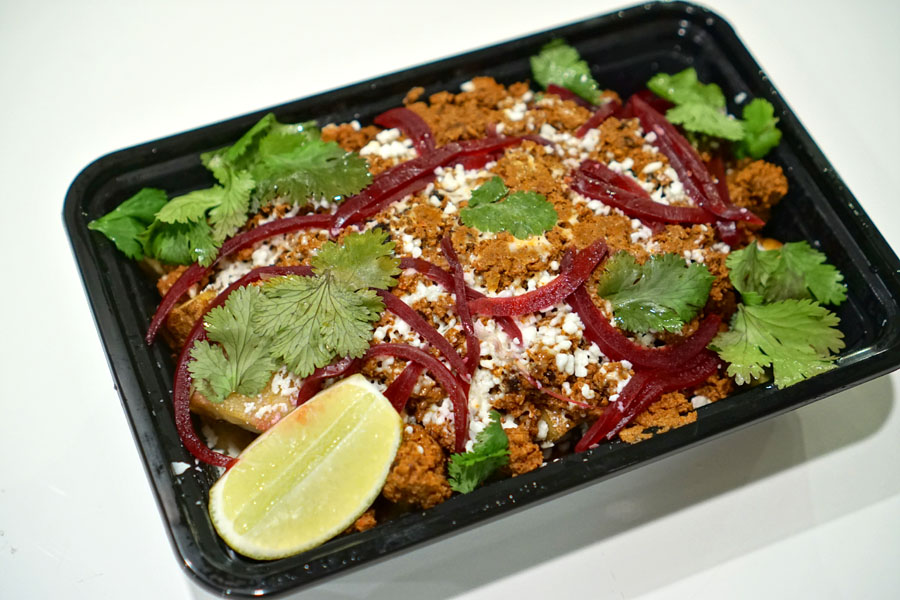 Loaded Chorizo de Pescado Potatoes [$24.00]
| Green Tabasco Creme, Pickled Red Onion, Cotija, Lime, Cilantro
I'm a fan of sausage and potatoes in general, so I felt compelled to try this take on
chorizo con papas
. It had all the classic flavors you'd expect, but with an added layer of brine that was somewhat disconcerting, while onion, cilantro, and especially that crema were crucial for contrast. Meanwhile, the potatoes functioned to moderate everything, and also added a much needed coziness to the dish.
Mazemen Ramen Kit [$13.00]
| (only for the brave) 1 pack thick chewy noodles, 1 cup infused a5 toriyama wagyu fat, 1 container smoked soy sauce & allium confit, 1 container scallion, 1 onsen egg, no protein
This was actually a finish-at-home item, and the final dish is pictured above. It was probably the most decadently-flavored presentation of ramen I've had. I was surprised at how forceful the sheer fattiness and beefiness of the wagyu came through, and even more surprised at how long those elements lingered on my tongue, boosted even further by the lushness of that slow-cooked egg. The zestiness of those scallions were absolutely key for balance.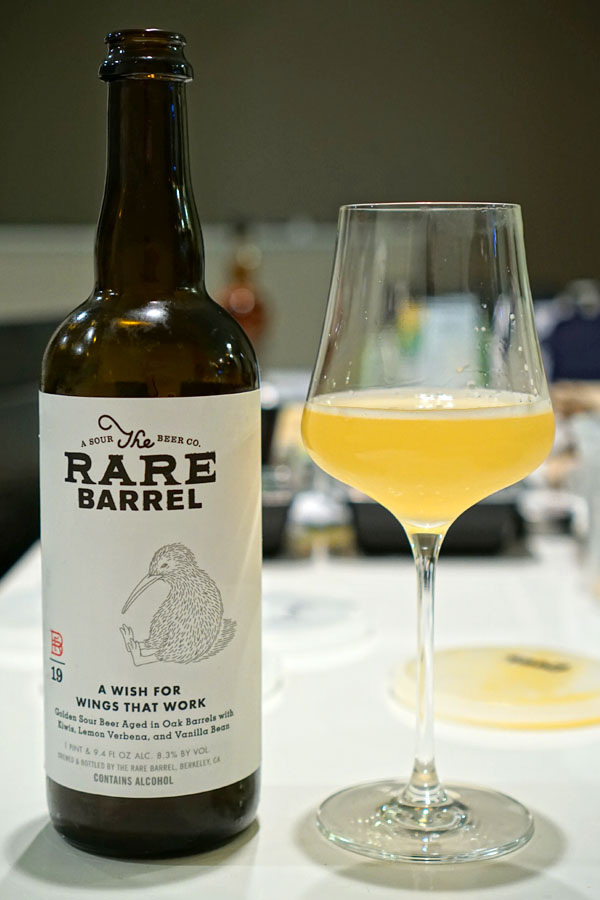 Next to drink was a bottle that I'd purchased from Playground as part of this order, the
2019 The Rare Barrel A Wish for Wings That Work [$26]
, a golden sour aged in oak with Hayward fuzzy kiwis, lemon verbena, and vanilla bean. The beer smelled of faint, eggy meringue at first, but this quickly dissolved to aromas of bright, tart citrus. Tasting it, I got more citrusy and tropical notes along with plenty of tartness and acidity, while fragrant vanilla appeared magically on the mid-palate and lingered long, which I actually thought was pretty neat.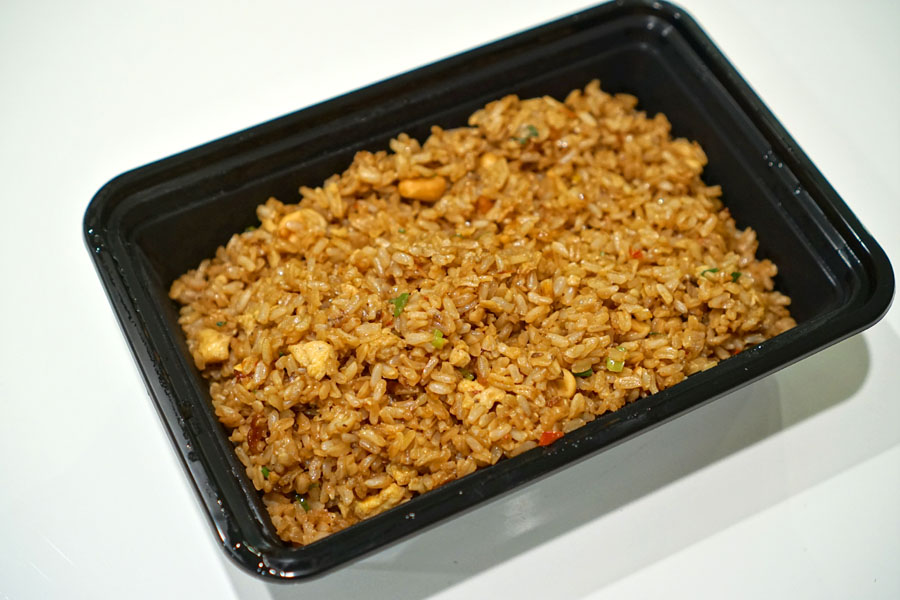 Brown Rice Nasi Goreng [$16.00]
| Indonesian-style Fried Rice with Housemade Sambal & Kecap Manis
In terms of taste, this take on Indonesian fried rice was pretty classic, providing all the sweet, spicy, and umami notes that you'd expect. What was different was the texture of the grains, which I'll say were "squeakier" due to the use of brown rice.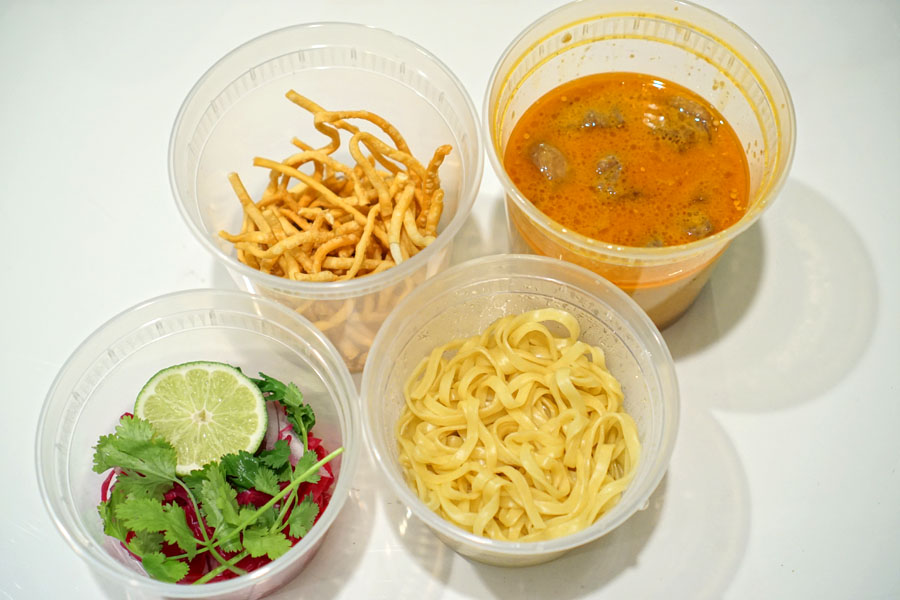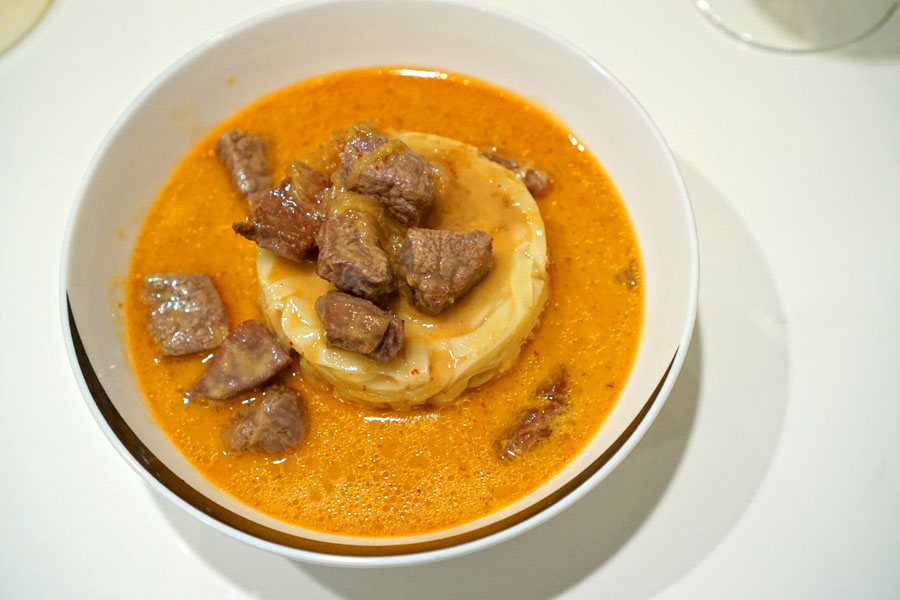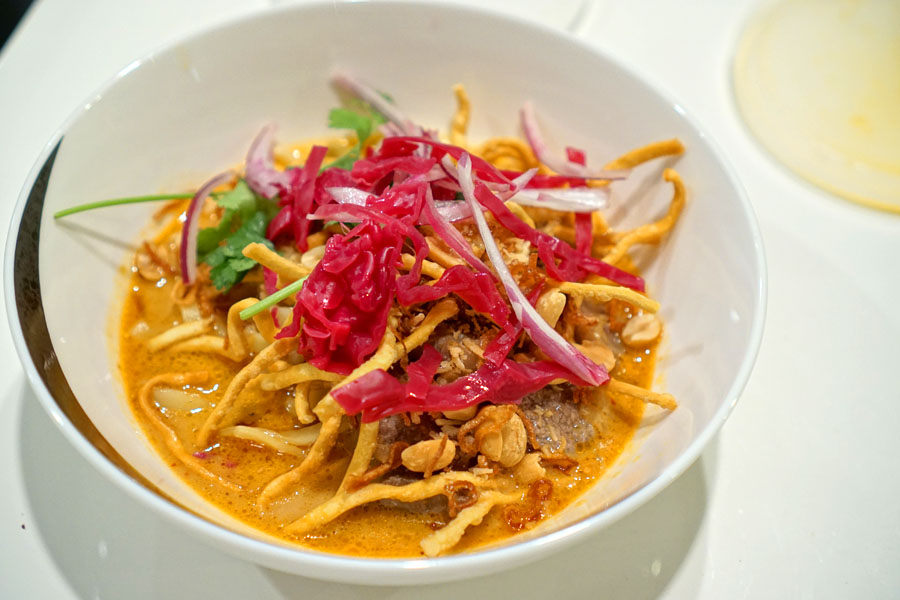 Beef Khao Soi [$26.00]
| Northern Thai Coconut Curry Noodle Soup aka The Soup You've Always Needed in Your Life!
Khao soy
is one of my go-to Northern Thai dishes, and Playground's was a commendable rendition. I enjoyed the texture on the noodles, which I'll say were close to al dente, and how that contrasted with the crunchiness of the large amounts of deep-fried "chow mein" present. There was a coconut-y sweetness from the curry that really pervaded the soup, but was never overwhelming, and I really appreciated the additional complexity imparted by the peanuts and veggies. A superb mélange of differing tastes and textures.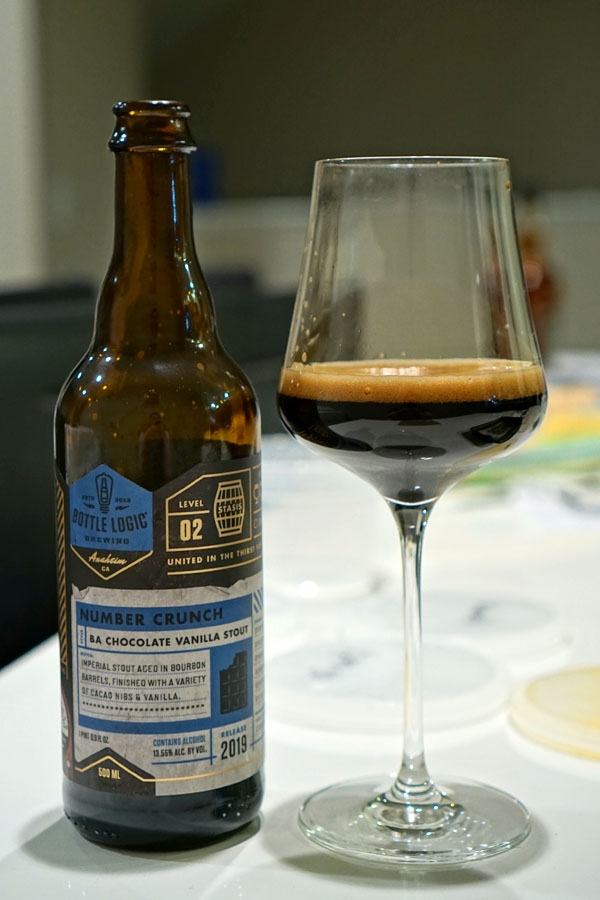 Our final beer was the
2019 Bottle Logic Number Crunch
, an imperial stout aged in bourbon barrels, with cacao nibs (Valrhona and Tanzania) and vanilla. The bouquet here was of astringent cocoa powder, with some nuts and a bit of a vegetal character underneath. Taste-wise, I got oaky, bourbon-y heat mixed with more chocolate, though not as much vanilla as I wanted (it did become more apparent as the beer warmed). A reasonable approximation of the stout's chocolate candy bar inspiration.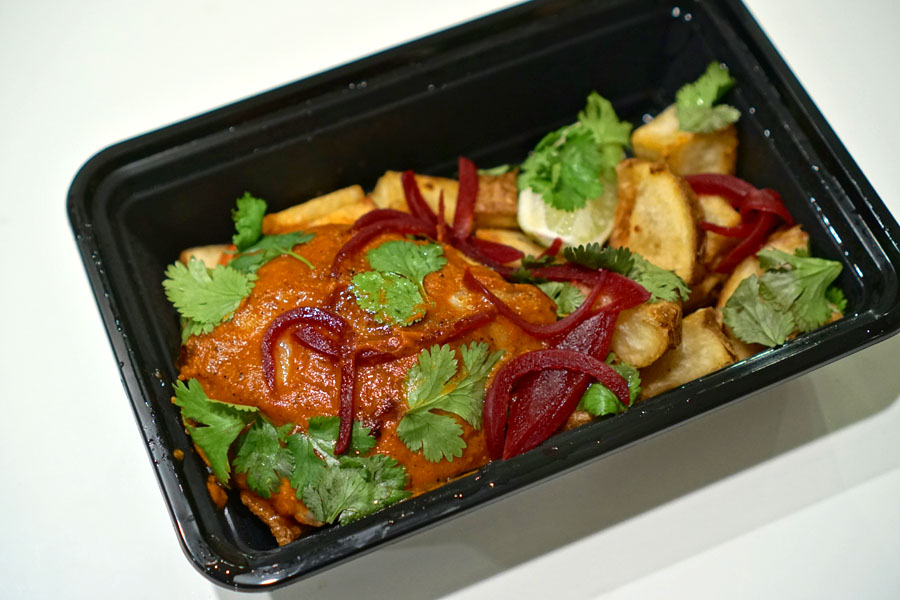 Pork Jowl Al Pastor [$30.00]
| Salsa Seca, Pineapple Guac, Fried Potatoes, Pickled Red Onion, Cilantro
Pork jowl arrived wonderfully textured, a deft mix of fat and lean that I found eminently satisfying. The meat's intensity was tempered by the piquant spice of its al pastor treatment, while the dry salsa offered up further points of interest. As with the chorizo above, the potatoes were a critical element here, as were the onion and cilantro.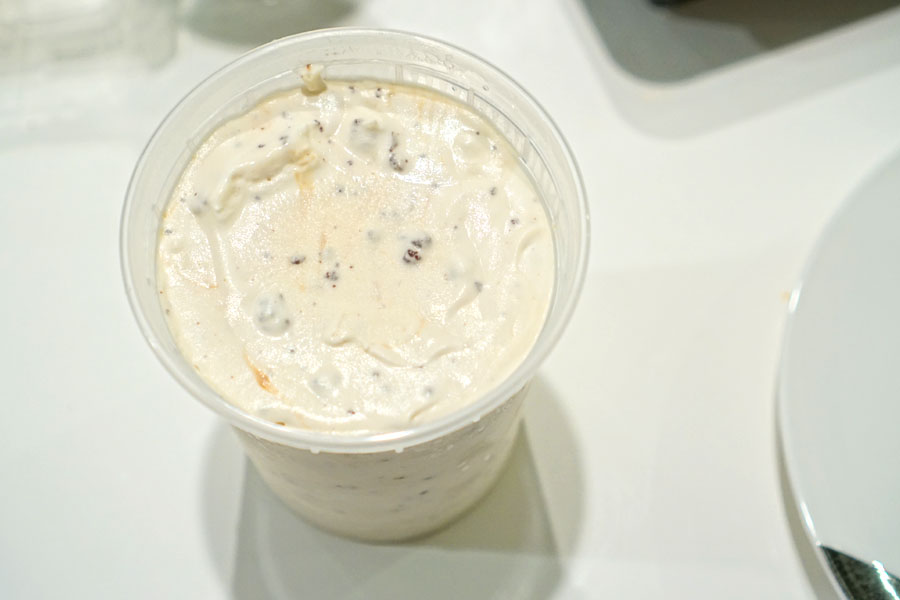 Carmel, Chocolate, Sea Salt, Brown Butter & Hazelnut Brownie Semifreddo [$15.00]
Our first dessert was clearly the most indulgent semifreddo I've had. Texturally, I found this amazingly luscious, velvety even, while chunks of brownie made it all the more decadent. Curiously, this actually reminded me of what I used to order at Cold Stone back in the early 2000s.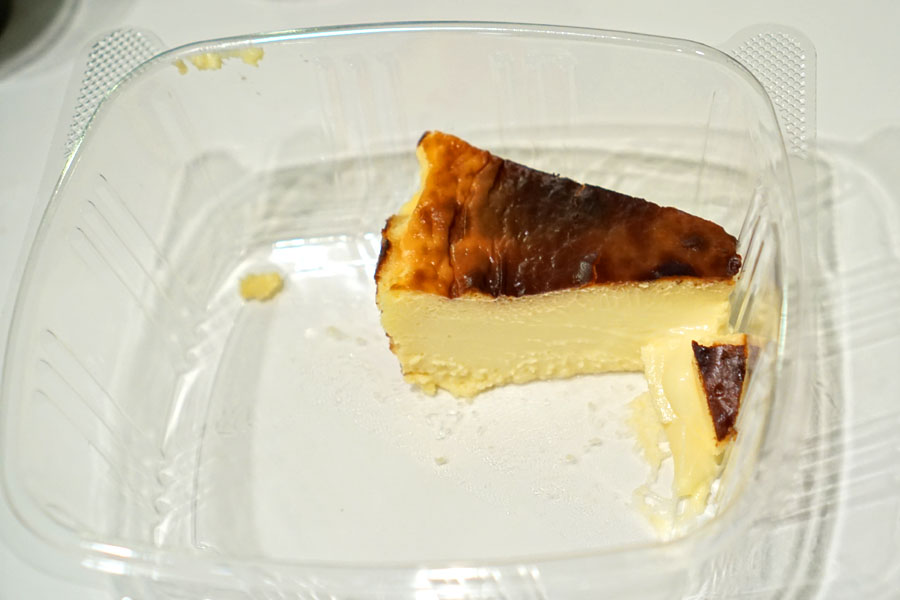 Burnt Basque Cheesecake [$8.00]
| Google La Vina, Spain. It's the best cheesecake there is!
Basque cheesecake seems to be having a bit of a moment now, as I've already had it twice during this COVID-19 scare, first from
Republique
and then from
Dialogue
. In any case, the version here was on the creamy, gooey side, and quite fragrant. It definitely had a very palpable cheesiness to it, along with an almost grassy funk on the finish that matched up well with the astringency of the charred bits.
All in all, a good showing from the team at Playground. The food we had was sort of all over the place, which means it pretty much stayed true to the ethos of the restaurant. It's really part of the appeal, and I do look forward to returning for a proper meal once this is all over (though I wouldn't be surprised if I were to come back before then!).