Best Fish Taco in Ensenada (Los Angeles, CA)
Best Fish Tacos in Ensenada
1650 Hillhurst Ave, Los Angeles, CA 90027
323.466.5552
www.bestfishtacoinensenada.com
Wed 05/20/2020, 08:00p-08:40p

With my recent visit to Los Feliz's Best Fish Taco in Ensenada, I crossed another place off of my "to-eat" list. I first found out about the Baja-inspired taqueria in the late aughts, not too long after it opened back in 2007.
BFTiE is the brainchild of Joseph Cordova, who reportedly moved to the Los Feliz area when he was just two years old. He used to be in the seafood business, and spent considerable time in Ensenada purchasing product from local fishermen. However, he wasn't impressed with the quality of the fish tacos down there until one of his employees introduced to a pitiful-looking, locals-only taco shack with no seating. Cordova quickly fell in love with the food there, and was thus inspired to open a similar spot Stateside, or so the story goes. He actually started out slanging tacos in Atwater Village before debuting BFTiE in July 2007, with his mother Elena helping out at the cash register. In addition to the restaurant (a term Cordova shies away from), he's apparently also involved in Gallery Chauvet (an art gallery) and various manufacturing businesses.
Also, do note that there was a second Best Fish Taco in Ensenada that opened up in Glendale (604 W Glenoaks) in March 2010. A third outpost dropped in November 2010 in Boyle Heights (2415 E Cesar Chavez), situated in the former home of New Formosa Cafe, though it looks like the place had to shutter for a bit before re-opening the following February. Both these locations are now closed. On a related note, the Boyle Heights address is currently home to Weird Wave Coffee Brewers, which was a flashpoint for gentrification protests a couple years ago; you might recall that it had its front windows broken.
A fun fact: BFTiE was featured in Kreayfish's "
Fishy Fishy
" music video, a parody of "Gucci Gucci" by Kreayshawn. After the video's release in August 2011, its creator, comedian Jeremy Burke, launched a recurring stand-up
comedy show
at the taco stand.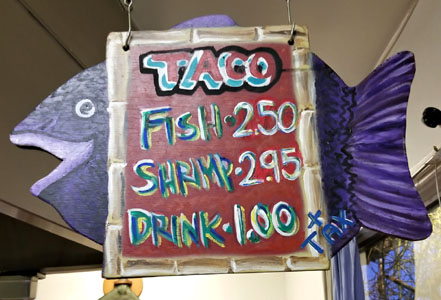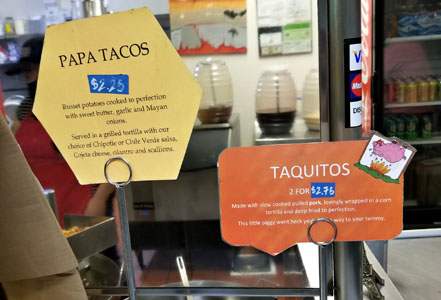 The menu here is dead simple, listing just a fish taco, a shrimp taco, and drinks, joined by occasional specials (which Cordova refers to as the "underground menu"). Did you notice that the wooden menu board's been painted over? Apparently it's been altered a few times, as the original 2007 prices were $1.50 for fish and $2.00 for shrimp. Click for larger versions.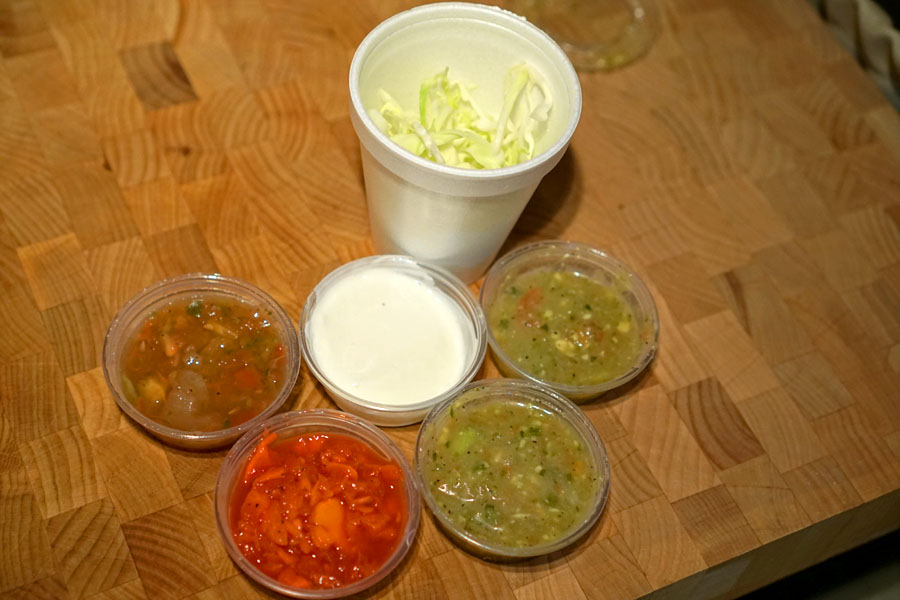 The tacos here come completely unadorned, and thus under normal circumstances you'd dressed them yourself at the salsa bar. However, given the COVID-19 situation, said bar no longer exists, so pictured above is what I received with my order. Of particular note is the pickled radish relish, which is a bit of an uncommon accoutrement.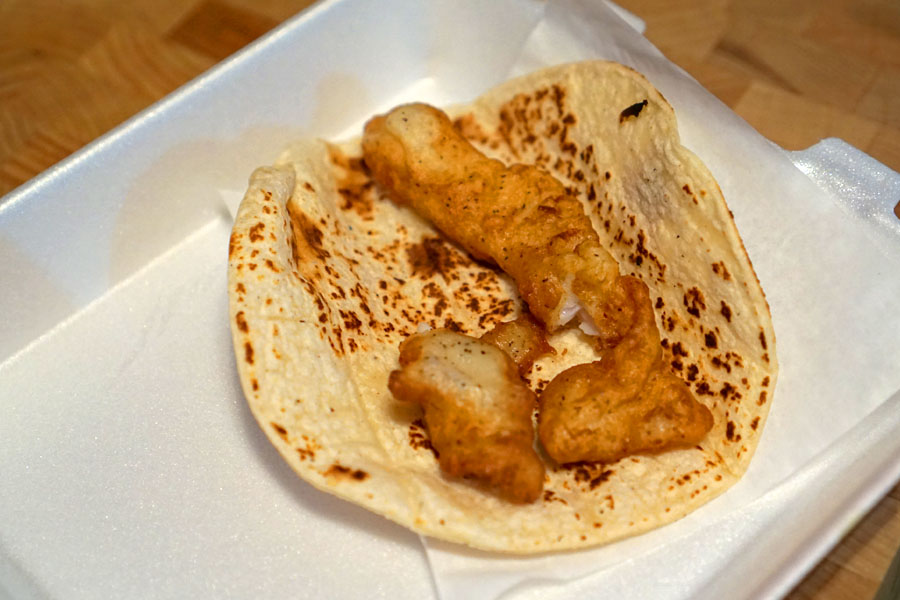 Fish Taco [$2.50]
Obviously I had to start with this place's namesake dish, which utilizes farm-raised basa, a type of catfish chosen for its sustainability and consistency according to Cordova, who also likens it to Patagonian toothfish (a.k.a. Chilean seabass). The
pescado
was fried to a relatively light, almost "fluffy" consistency, while the flesh inside was full-flavored, with a good balance of firmness and flake. Of course, the various accompaniments necessarily completed the taco, with the most in-your-face element being that aforementioned radish relish, which had this brazenly bitter, piquant quality to it. As for the tortilla, I did appreciate its griddling, though it was a bit tougher than I would've liked.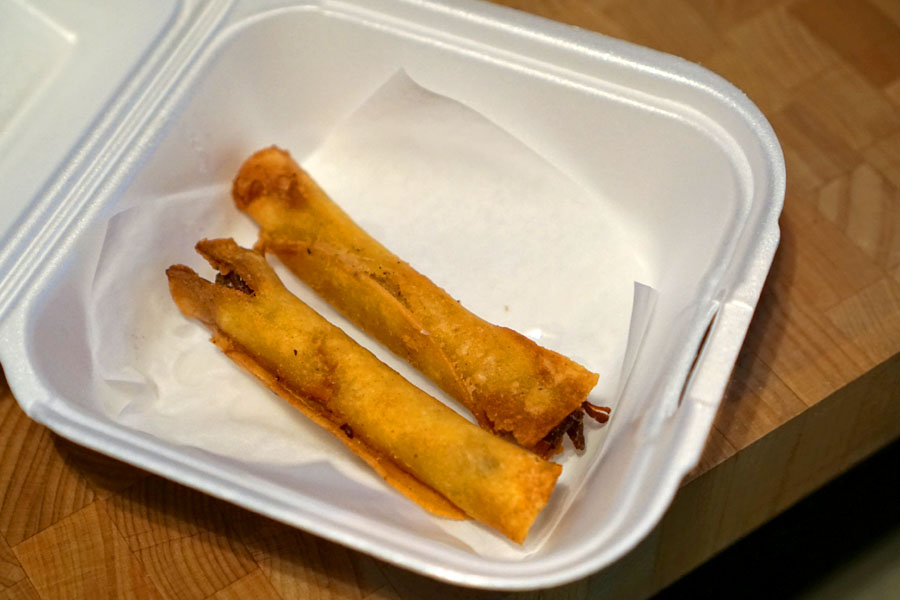 Taquitos [$2.75]
| Made with slow cooked pulled pork, lovingly wrapped in a corn tortilla and deep fried to perfection. This little piggy went heck yeah all the way to your tummy.
The rolled tacos were probably the smallest I've encountered. Because of that (I'm guessing), they were super crunchy, while inside was a filling of long-cooked, subtly sweet pork. The taquitos really called for a dip into one of the salsas above in order to open up.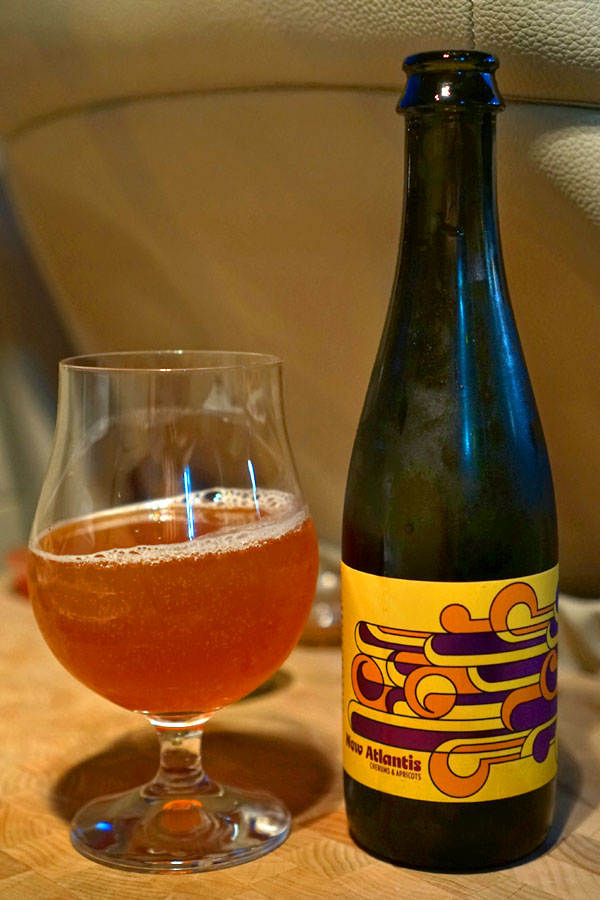 To drink, I went with the
2018 Modern Times New Atlantis with Cherums & Apricots
, a blend of red wine barrel-aged pale sours and saisons, with cherums (a cherry-plum cross) and apricots added. The beer smelled pretty great, with aromas of juicy, dark-toned stone fruit. Tasting it, I got a delectable mix of tartness and the advertised cherums and apricots up front, leading to oaky, yeasty notes toward the finish.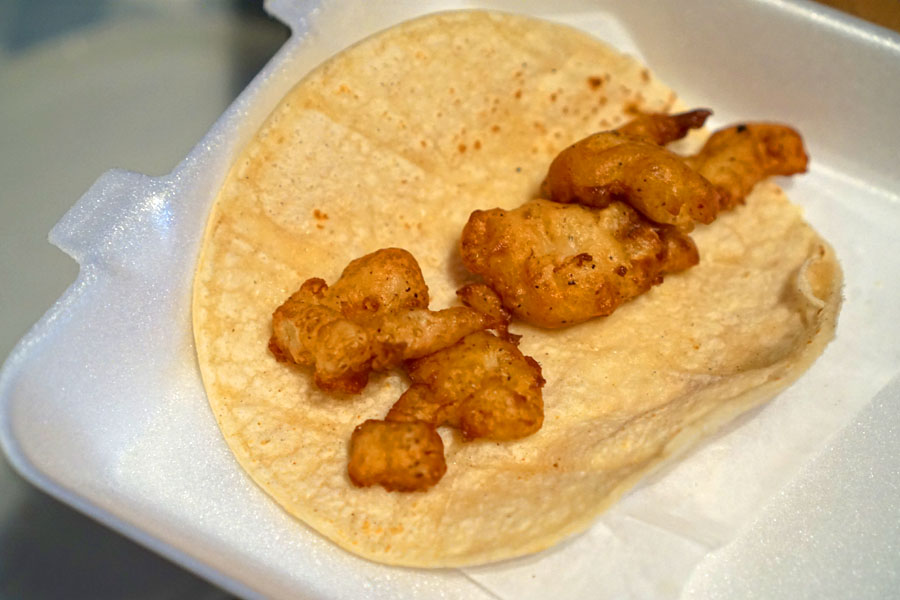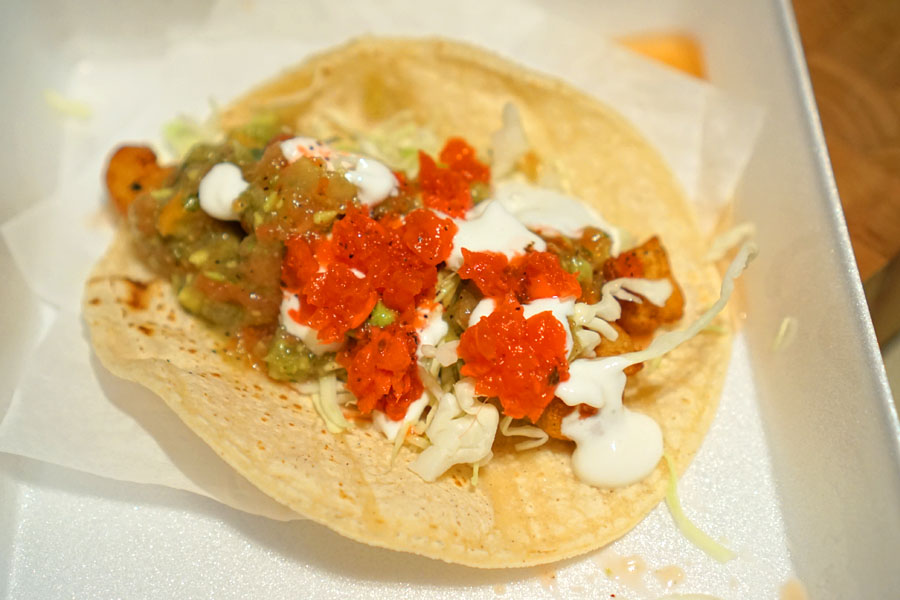 Shrimp Taco [$2.95]
I think I actually preferred the shrimp taco. The
camarones
had a lovely bite, which once again linked up nicely with the more restrained nature of BFTiE's frying process. Flavors were milder, sweeter, and certainly made sense with all the various fixins. Curiously, the tortilla was noticeably more supple than in the fish taco above.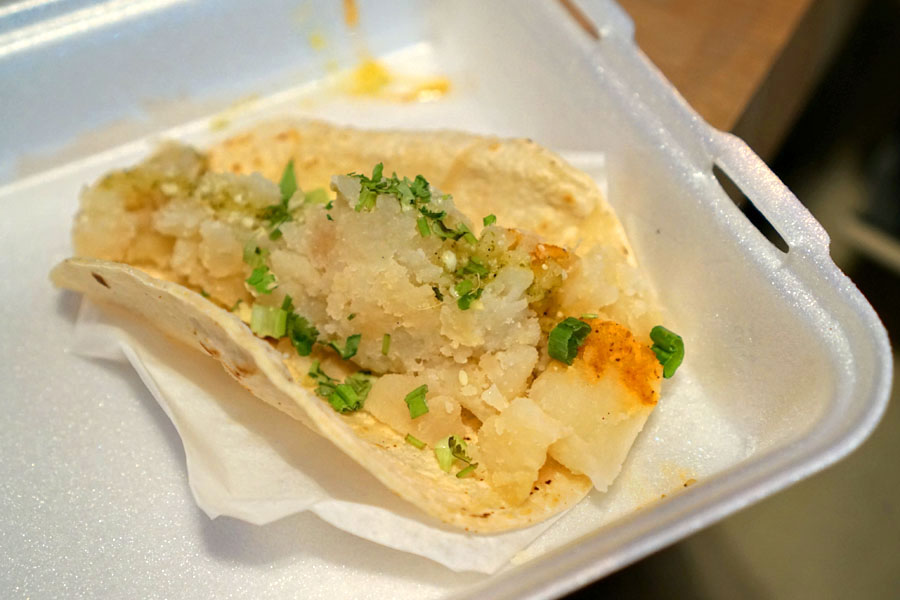 Papa Tacos [$2.25]
| Russet potatoes cooked to perfection with sweet butter, garlic and Mayan onions. Served in a grilled tortilla with our choice of Chipotle or Chile Verde salsa, Cojeta cheese, cilantro and scallions.
I ended with the potato taco, which I'd heard good things about. The
papas
here were finely mashed, but still substantial, and featured a marriage of savoriness and creeping spice, perked up by the zestiness of scallion. It was quite a worthy effort, so give the taco a try if it's available.
Among the fish tacos I've tried in LA, BFTiE's are arguably the most unique. They just have this different "feel" that I can't quite put my finger on. In any case, I'm glad I got to check this place out finally. As for what's next, Cordova would ideally like to open hundreds of locations, partnering with a family to operate each one, with the hope that ownership of these locations would eventually be transferred to those families. In fact, he apparently had locations in West LA and the SFV ready to go before the coronavirus struck, so time will tell if these end up seeing the light of day.