Vespertine (Culver City, CA)
Vespertine Restaurant
3599 Hayden Ave, Culver City, CA 90232
323.320.4023
www.vespertine.la
Sun 04/26/2020, 06:35p-07:35p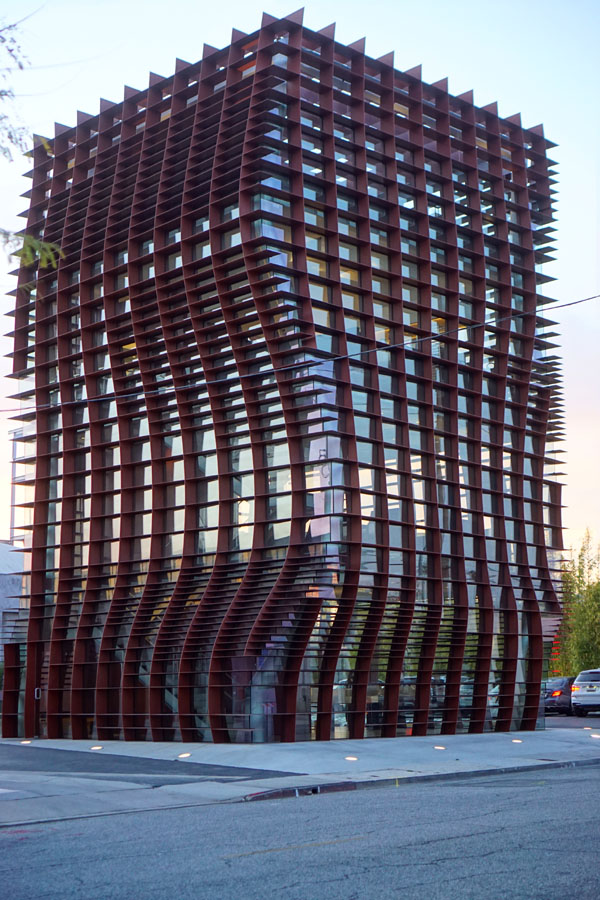 At this point, I think it's safe to say that Jordan Kahn's one of the more controversial chefs here in Los Angeles. Now there are certainly reasons for that, some valid, though at the same time, I've always felt that he was a unique talent, ever since I first encountered him back in 2008 at
Michael Mina
's ill-fated
XIV
. From there, I caught up with Kahn over at
Test Kitchen
and then at his highly contentious spot
Red Medicine
. Red Med closed at the end of October 2014, and the Chef sort of disappeared after that. However, he re-emerged in September 2016 with the secretive launch of Destroyer, a Nordic-esque day-time café situated in Culver City's Hayden Tract (he landed a "
Best New Chef
" nod from
F&W
for his efforts there).
The following February, it was revealed that Kahn was also working on a much more ambitious project, to be located right across the street in an Eric Owen Moss-penned structure called the Waffle Building. A bit of trivia: the Waffle was built on a plot that was previously home to
JJ's Cafe
, which shuttered in late 2008. Some more trivia: originally, the Waffle was supposed to house offices, but Kahn apparently became enamored with it and resolved to construct his dream restaurant there. Around June 2017, he began building up hype for Vespertine, in the process garnering much hate for its somewhat outlandish mythology. Take, for example, this line from an interview in
GQ
where the Chef describes the Waffle as a "
machine artifact from an extraterrestrial planet that was left here like a billion years ago by a species that were moon worshippers
."
Bombast aside, the 22-seat restaurant ended up grand-opening on July 6th, its 18-course menu priced at $250. A seemingly ambivalent review by Jonathan Gold appeared at the start of September, while Besha Rodell followed just days later with a four-star write-up. However, it turns out that Gold did end up enjoying Vespertine, as the spot, to the dismay of many, topped his list of "
101 Best Restaurants
," released that October. The restaurant appeared on the
LA Times
' unranked
2018 list
, but fell all the way to 101st place
the next year
(an intentional snub I must imagine). February 2019 saw Vespertine win "
Atmosphere of the Year
" from the World Restaurant Awards, but more importantly, in June Michelin gave the spot
two stars
in its first California guide, an honor shared by only five other establishments here in Southern California.
Given the loftiness of this place, I was curious to see how it'd adapt to serving coronavirus-induced takeout. The team began offering family-style dinners on March 20th, and on the 29th, a Red Medicine tribute menu was announced. This was followed by an American Southern menu on April 17th (remember, Kahn hails from Georgia), which is what I ended up getting.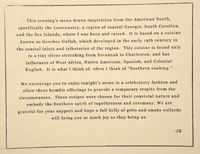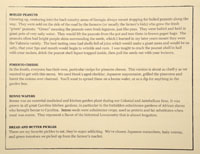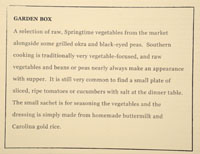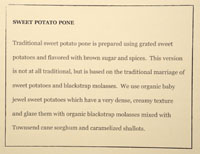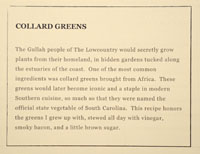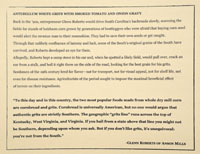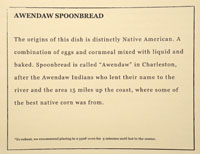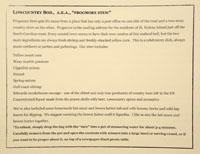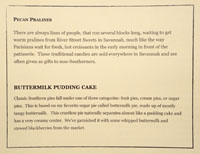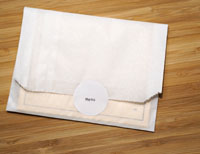 Tonight's 12-course Lowcountry dinner was priced at $65 a head (minimum of two people), plus a 20% service charge and 10.25% tax on top of all that. Included was a stack of cards that provided quite a bit of background on what I was about to eat. This was the first time I'd seen a menu presentation quite like this, and it was much appreciated. Click for larger versions.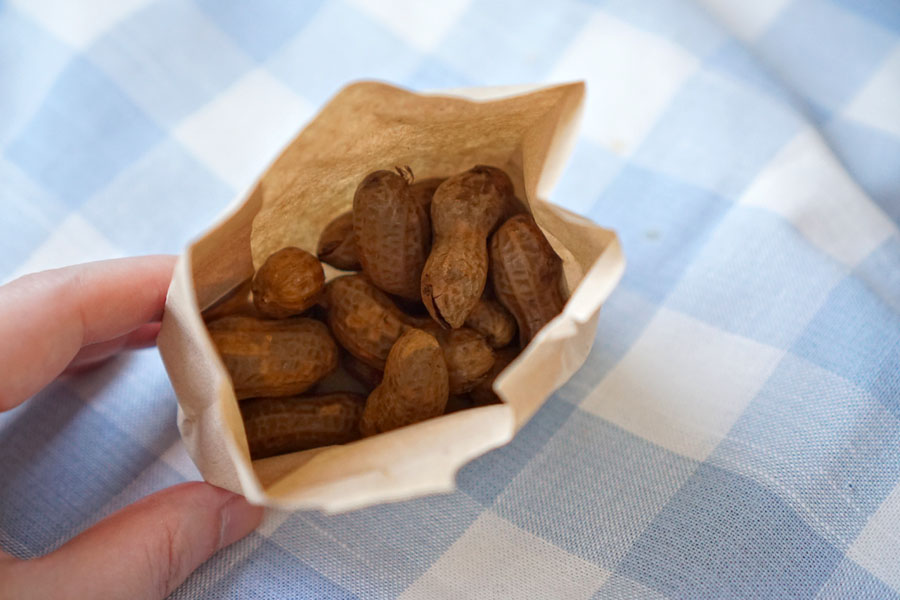 1: Boiled Peanuts
Serving as a bit of a snacky prelude to the meal were boiled peanuts, which I found pliant, moist, and seemingly loaded with the concentrated essence of the legume.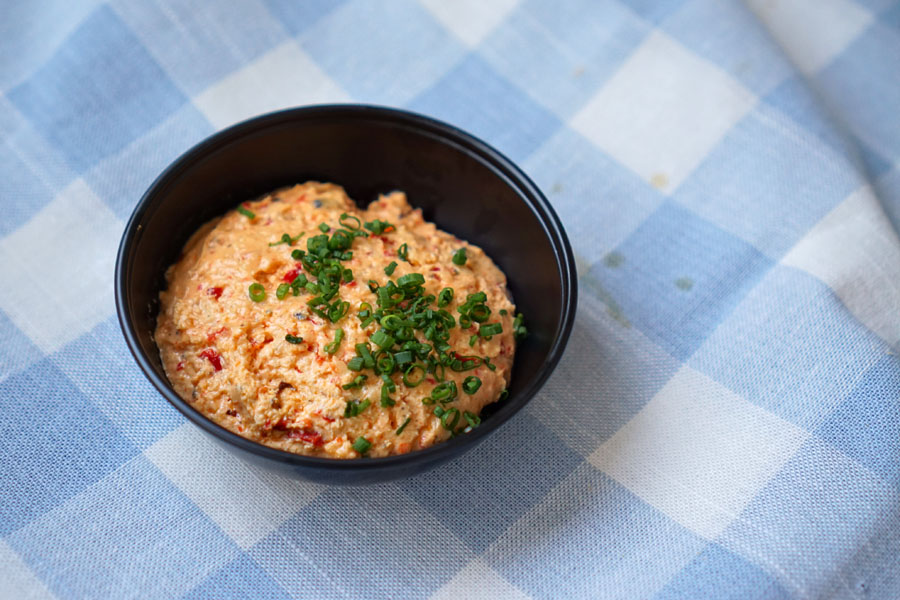 2: Pimento Cheese
Another snacky item was the pimento cheese, made here with Hook's aged cheddar, Japanese mayonnaise, grilled pimentos, and charcoal-burnt onions. What struck me first was how airy it was, while its taste was decidedly potent, bringing forth just enough heat to pair with the sheer, somewhat "trashy" cheesiness of the dip. I made sure to pair this with the benne wafers below.
3: Benne Wafers
Sesame crackers had a crumblier than expected consistency, along with a rich, salty savor.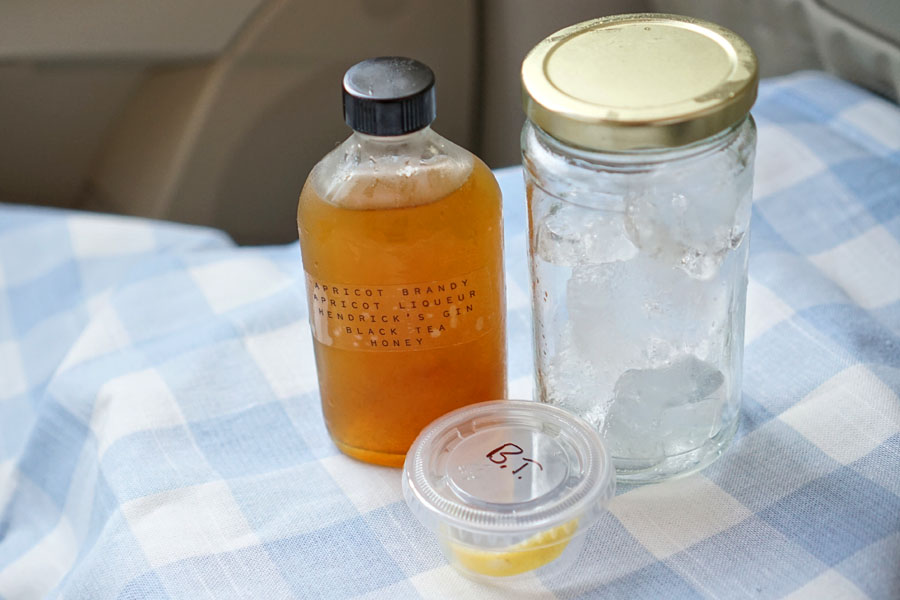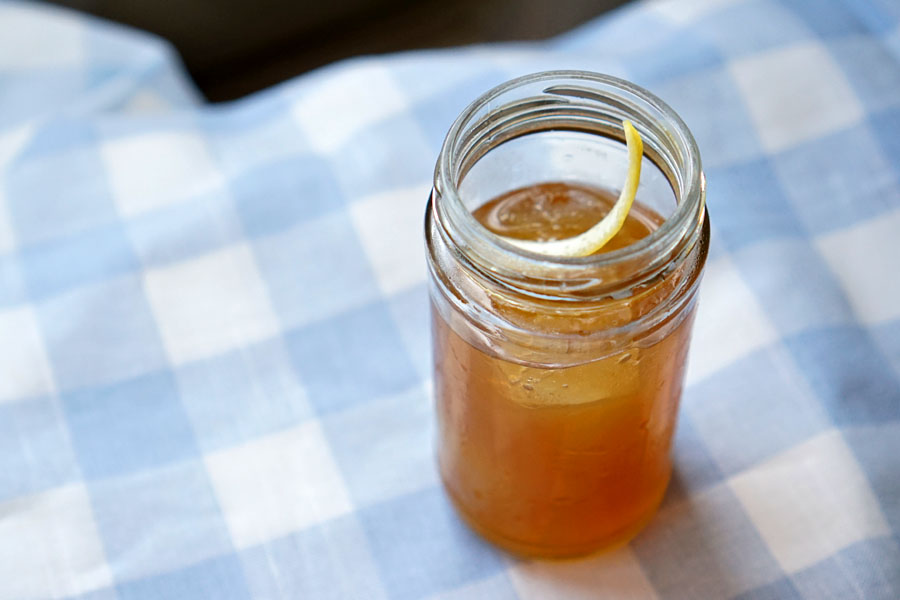 Black Tea, Honey, & Apricot [$18.00]
| Apricot Brandy, Broker's Gin, Black Tea, Honey
I have to applaud Vespertine's cocktail presentation for two reasons: the inclusion of ice, and the inclusion of a suitable vessel with which to consume the drink. The nose here was pretty distinct, giving up a bountiful amount of sweet, honeyed spice. Tasting it, I got more of those honey notes, which led to astringent, ginger-like elements (from the gin I'm assuming) moderated by nuances of tea and fruit.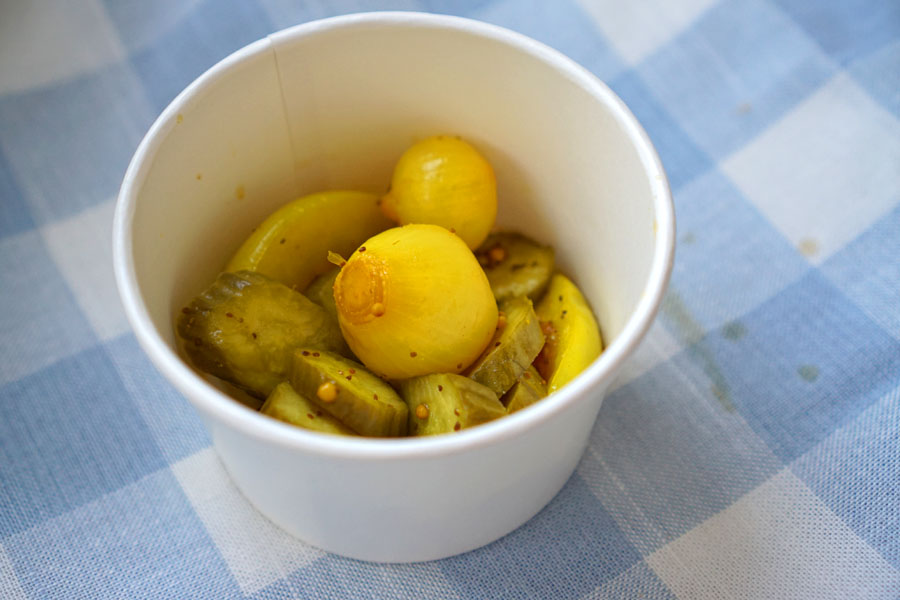 4: Bread and Butter Pickles
Japanese cucumbers, baby onions, and green tomatoes were used for pickle purposes, and they had this sort of mustard-y sweet 'n' sour thing going on that really made me think of the South. My favorite of the trio were the onions, thanks to the moderating effect of their inherent sweetness.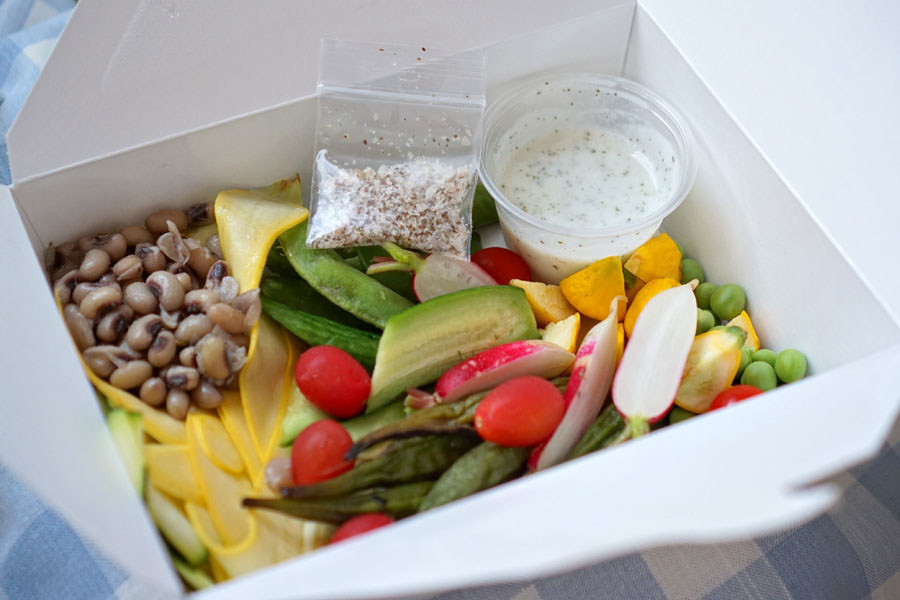 5: Garden Box
A crudités-esque box of veggies worked to balance out the heftier courses to follow, and my favorite items were the smoky grilled okra, radishes, and savory black-eyed peas. The key here, though, was the juxtaposition between the seasoning salt and that creamy buttermilk-Carolina gold rice dressing.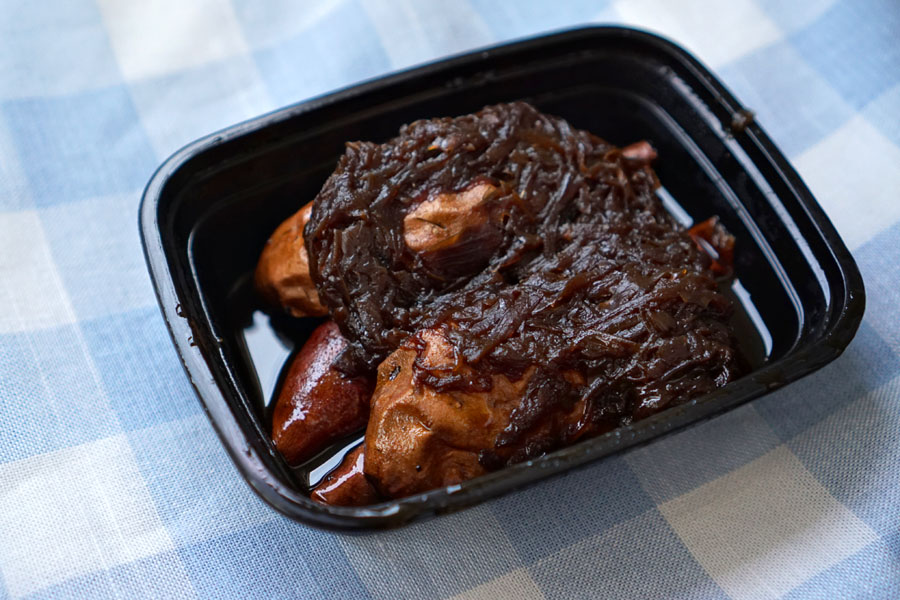 6: Sweet Potato Pone
Here were creamy, luscious Baby Jewel yams glazed with a mixture of blackstrap molasses, Townsend cane sorghum, and caramelized shallots. It was sweet on sweet on sweet on sweet, so not surprisingly, it was all way too sugary for me, though at the same time, the dish did make sense in this context.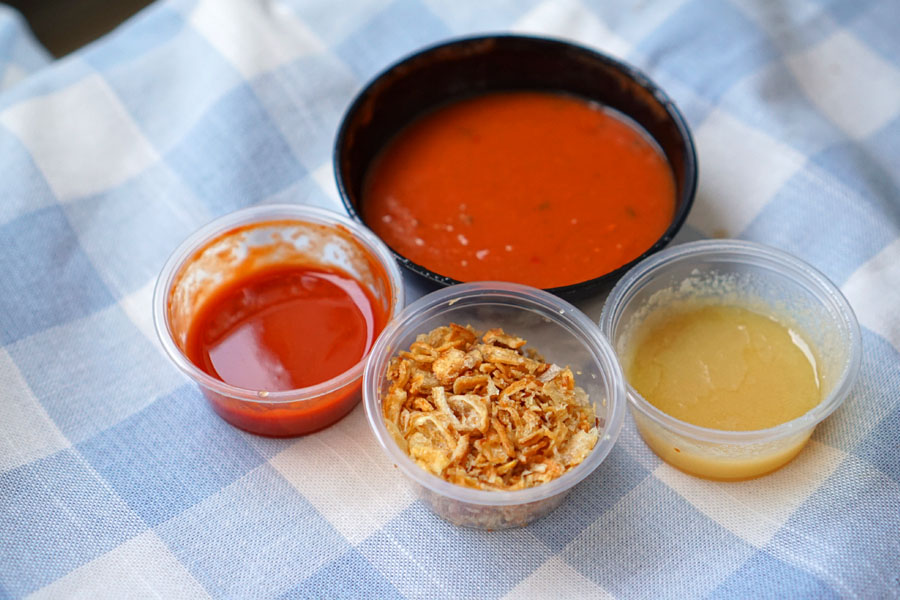 One of the many containers included in my order contained four accessories. Meant for the seafood boil below were a prickly-sour, homemade hot sauce and a sweet-ish, herb-infused brown butter. We also had a savory, tart, almost briny smoked tomato and onion gravy for the grits, along with some crunchy fried shallots(?), which I also used for the grits.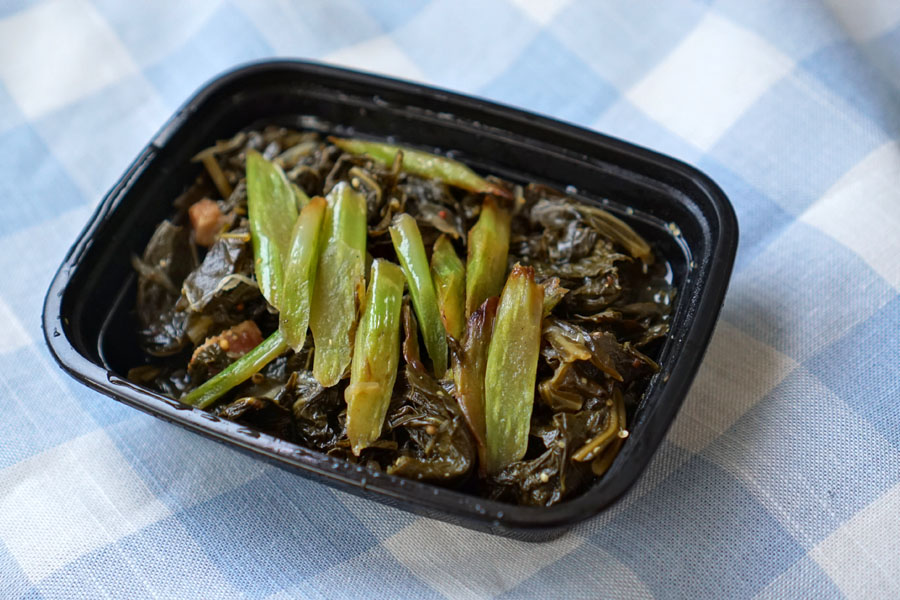 7: Collard Greens
Long-stewed collards were cooked with vinegar, smoked bacon, and brown sugar. I tasted boatloads of earthy bittersweetness and funk, backed by a persistent tanginess, making for some of the best I've had.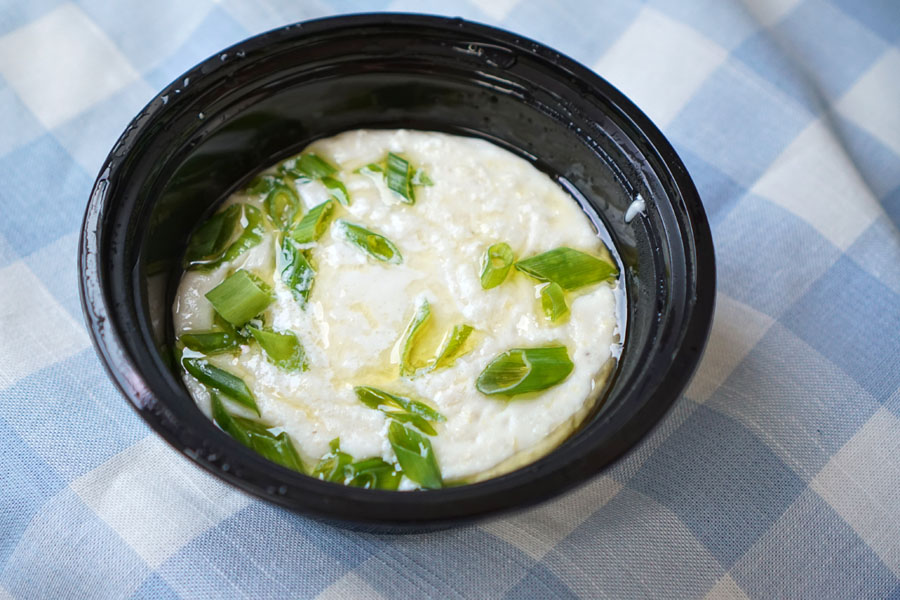 8: Antebellum White Grits with Smoked Tomato and Onion Gravy
Grits were spot on. I was a big fan of their creamy, melty texture, along with the somewhat lactic flavors present, while the scallions offered up a zingy contrast. There was also an underlying sweetness in the dish, which linked up well with the potency of the aforementioned tomato gravy.
9: Awendaw Spoonbread
This Native American-inspired spoonbread was not too far off from cornbread, and I was quite smitten by its gritty consistency, intrinsic sweetness, and well-placed pinpricks of salt.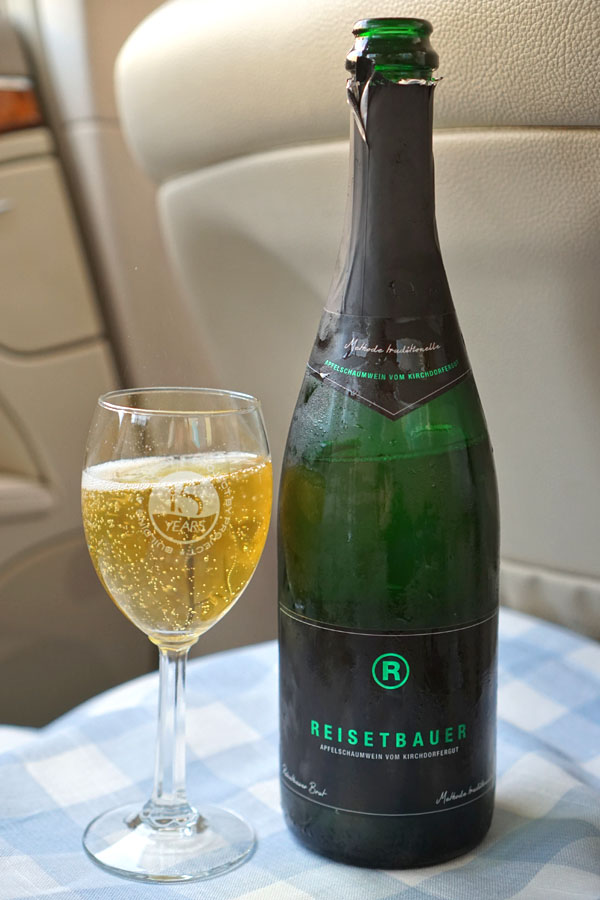 I also added on a bottle of the
NV Hans Reisetbauer, Apfel, Brut | Austria [$40]
to go along with the meal. The cider had a bouquet brimming with bright apple backed by a palpable spiciness. In terms of taste, there was more of that apple up front, but this quickly led to flavors that were almost painfully dry, veering acerbic in fact.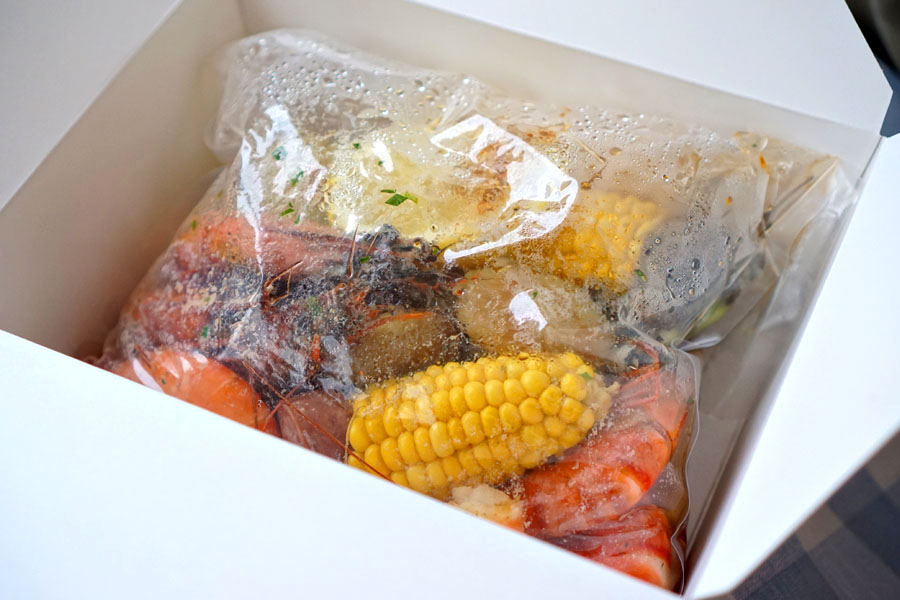 10: Lowcountry Boil, a.k.a., "Frogmore Stew"
Tonight's main course was a Low Country boil, with this particular example incorporating well-textured, full-flavored Gulf shrimp; snappy, cozy cuts of Edwards smoked sausage; delightfully sweet yellow corn; firm, hearty, brine-infused marble potatoes; melty 'n' sweet cippolinis; zesty fennel; and spring onions, all swimming in a heady beer-based broth made with prawn shells and various spices and aromatics.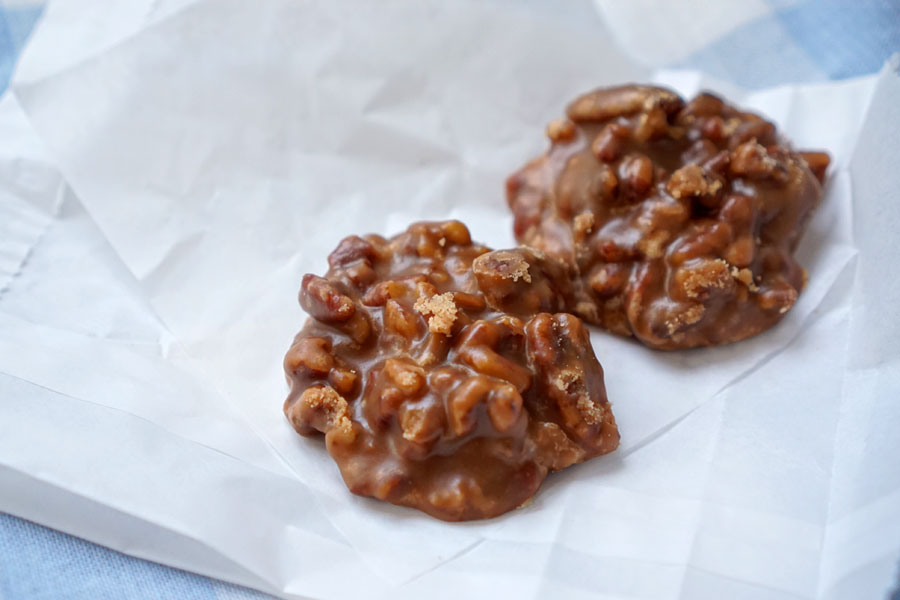 11: Pecan Pralines
Time for dessert. Pralines were both surprisingly supple but wonderfully crunchy, with a "falling apart" texture and a keen balance of caramel-y sweetness and the nuttiness of those pecans.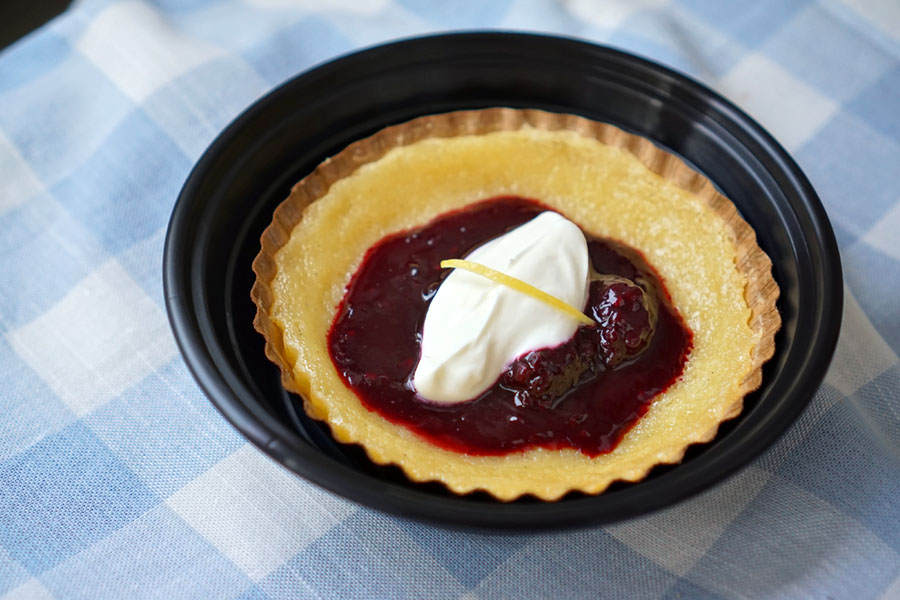 12: Buttermilk Pudding Cake
Last up was this rather lush buttermilk pie, which conveyed an appreciable sweetness evened out by a distinct lemony tartness, while stewed blackberries and whipped buttermilk added further points of interest.
Though this meal really wasn't anything like what's normally served at Vespertine, it did do an admirable job in capturing the essence and ethos of Southern cooking, and I think it does hint at the precision and finesse that surely goes into the regular cuisine here. This was a good reminder that I need to visit Vespertine for a normal dinner, and I do look forward to seeing what sort of thematic menus the kitchen here comes up with next.