Destroyer (Culver City, CA)
Destroyer Restaurant
3578 Hayden Ave, Culver City, CA 90232
310.360.3860
www.destroyer.la
Fri 05/01/2020, 06:30p-08:10p

As you'll know if you've been keeping up with this site, I was able to have takeout from
Vespertine
recently. After enjoying that meal, I felt compelled to give its Scandinavian-ish sister spot a try. Apparently, the idea for this place came about when Jordan Kahn was building out his dream restaurant across the street, and quickly realized the lack of lunch options in the area.
Destroyer opened in September 2016 to little fanfare, as its existence was largely kept secret. The new wave new wave coffee shop quickly found an audience though, and managed to land on my "to-eat" list pretty much right from the start. The problem was that Destroyer's a daytime-only affair, which had complicated a visit from me until now. However, due to the COVID-19 scare, the restaurant has since expanded into evening hours, which meant I could finally check it out.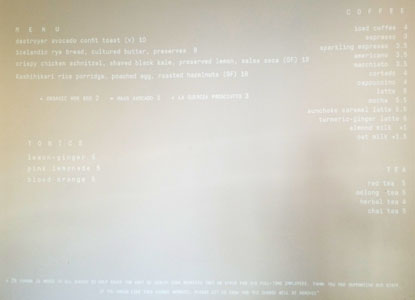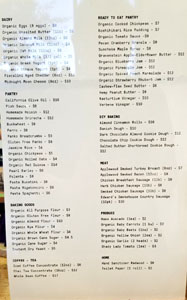 Unfortunately, the menu this evening was significantly abbreviated from what the restaurant usually serves, though there was a large array of baked goods and pantry items available. Click for larger versions.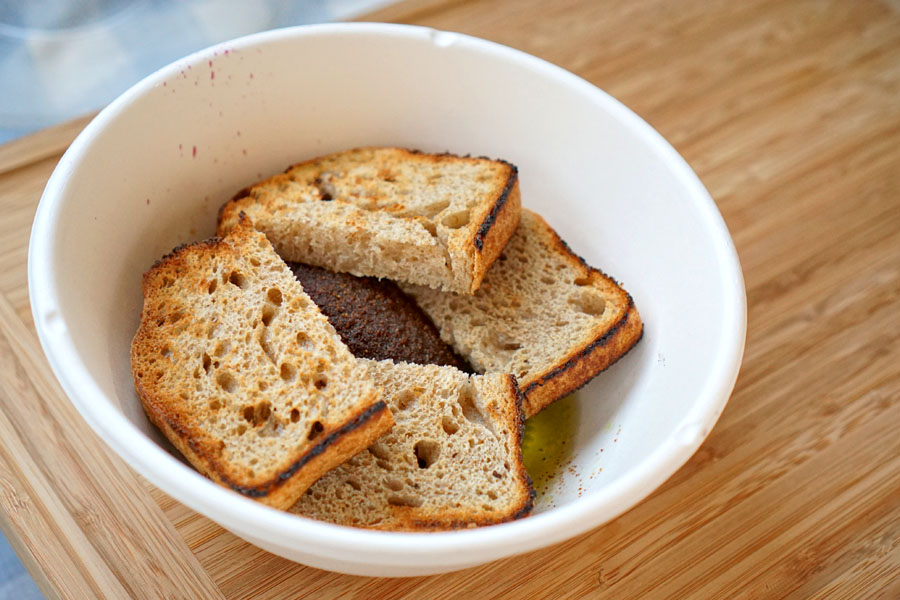 destroyer avocado confit toast [$10.00]
I know avocado toast is a bit trite these days, but believe me when I was that Destroyer's is the smartest version of the oft-maligned dish ever. The avocado itself was confit'd in EVOO, coated in burnt onion powder, then set in a liquid of herb juice, hemp oil(?), and pickled rye sprouts. This achieved a pretty remarkable depth and complexity, with an interplay of smoky, savory, sour, and nutty flavors marrying perfectly with the inherent lusciousness of the avocado. At the same time though, the accompanying toasted country bread was a crucial component, serving as a hearty, "seedy" counterpoint. I'd never had flavors quite like this with avocado before--a must try.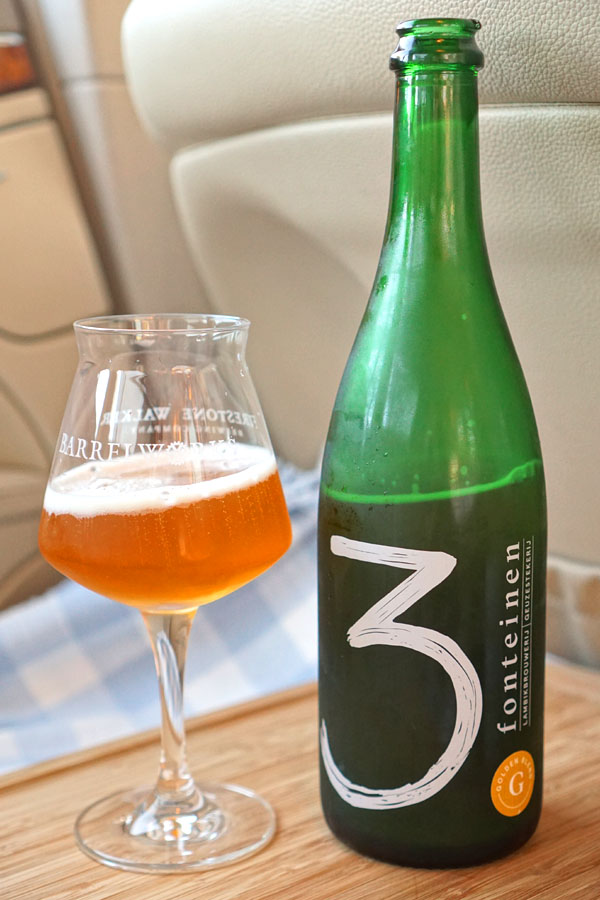 To drink, I opened up a bottle of the
2017 Drie Fonteinen Oude Geuze Golden Blend
, a blend of one-, two-, three-, and four-year old lambics, all aged in oak. The nose on this one was fantastic given its rich stone fruit aromas backed by oaky, funky nuances. Tasting it, I found the beer surprisingly quaffable, with more of that heady stone fruit achieving an almost candied intensity, though evening things out were the requisite tart, earthy notes.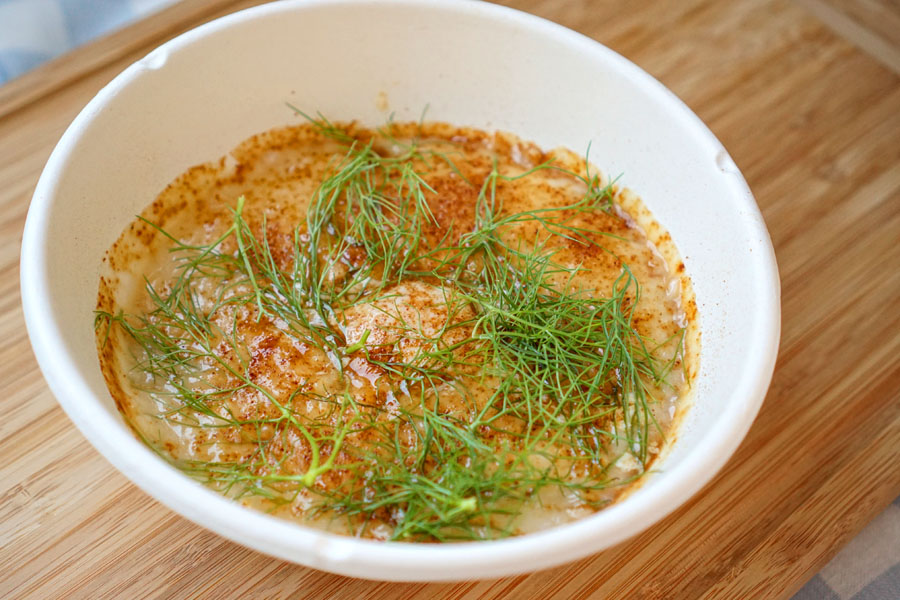 Koshihikari rice porridge, poached egg, roasted hazelnuts [$18.00]
The porridge was easy to enjoy. I found the rice spot on texturally and well-spiced, while the poached egg imparted a luxuriousness that pervaded the entire dish. My favorite part, though, just might've been the herbs, which offered up a wonderfully salty, grassy accent. I found this comforting, yet new, exciting.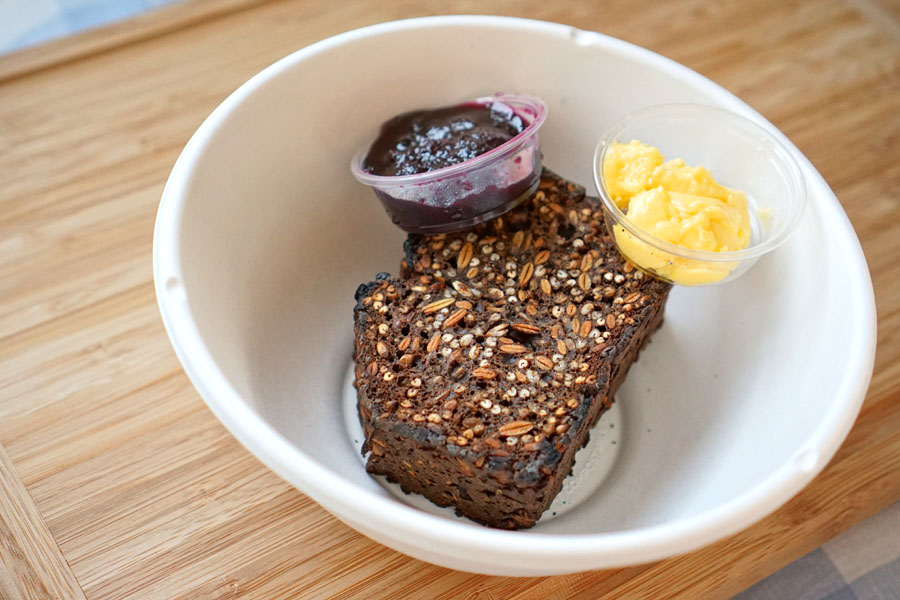 icelandic rye bread, cultured butter, preserves [$8.00]
Next came Destroyer's take on
rúgbrauð
, apparently inspired by the Chef's travels to Iceland. This will likely be the most substantial bread you'll ever had, and that's a good thing. I found it well balanced in terms of sweet and salty, so what really sang here was the incorporation of whole grains into the dough (sprouted rye berries, sunflower seeds, and pumpkin seeds I believe), which gave it a delightfully nutty, malty flavor profile. The included berry preserves did a great job moderating the potency of the bread, while an application of that silky cultured butter actually made me think of buttered popcorn!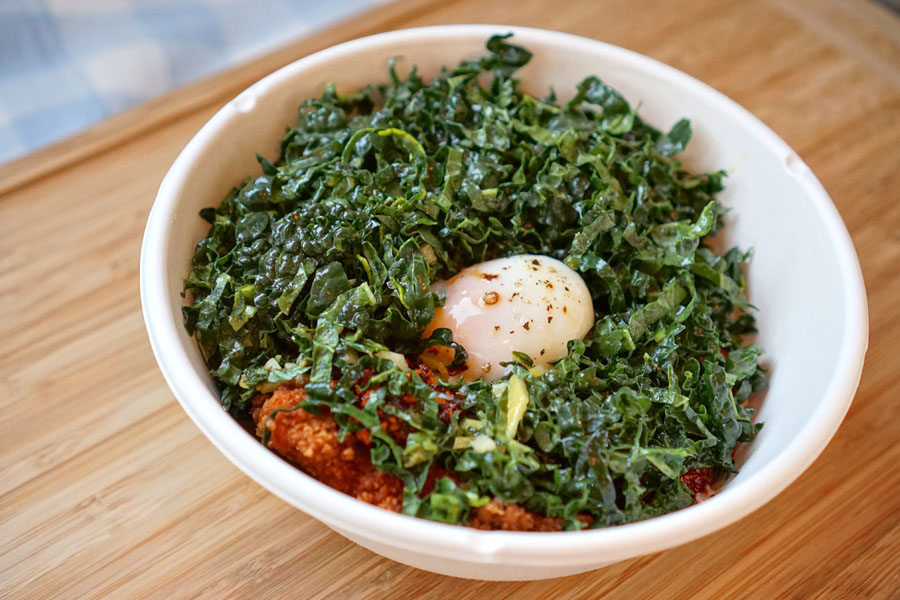 crispy chicken schnitzel, shaved black kale, preserved lemon, salsa seca + organic hen egg [$18.00 + $2.00]
Schnitzel is one of those things that I always have to order off a menu, and it didn't disappoint me today. The Mary's chicken cutlet had that sort of craggy crunch I was looking for, while the combo of salsa and lemon conferred a lovely sour spice to the bird. I was quite fond of those zesty greens, too.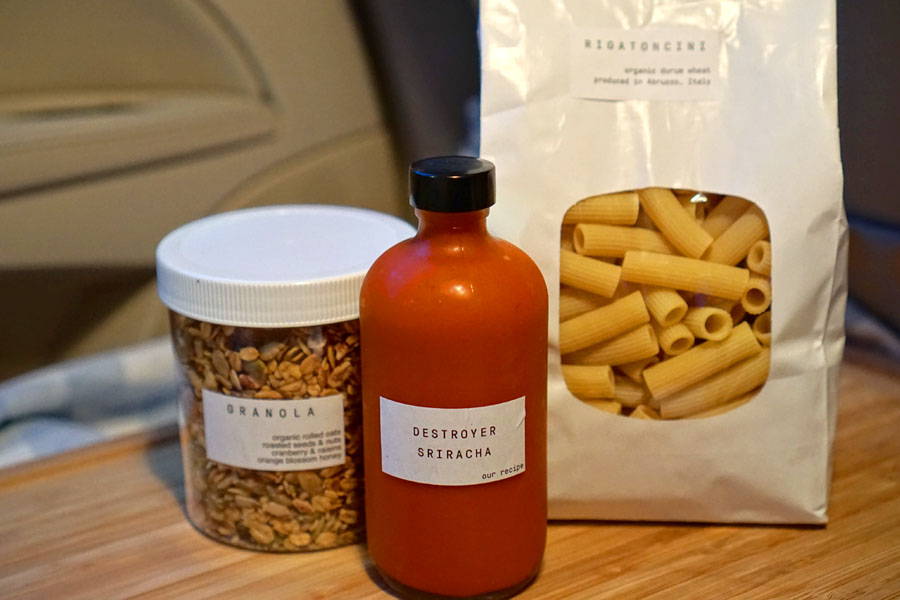 Granola [$8.00]
| organic rolled oats, toasted seeds & nuts, cranberry & raisins, orange blossom honey
Destroyer Sriracha [$12.00]
| our recipe
Rigatoncini [$6.00]
| organic durum wheat, produced in Abruzzo, Italy
I also picked up a few market items. Of particular note was Destroyer's version of sriracha, which reportedly utilizes three different types of chilies, caramelized shallots, and coconut vinegar. I found it relatively restrained in its heat, with a definite sweet-ish bent.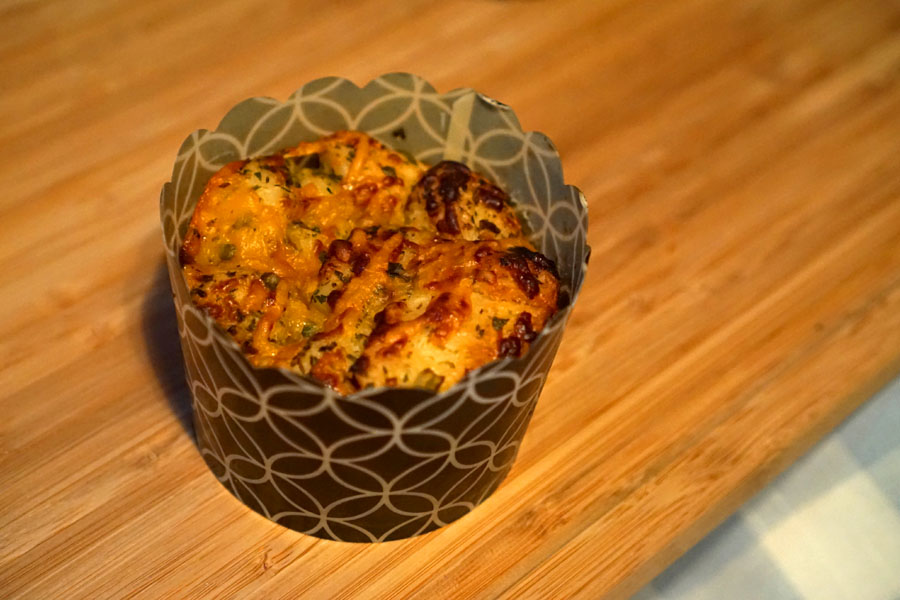 Savory Monkey Bread [$4.25]
At this point I moved on to some baked goods. Destroyer's savory take on monkey bread delivered with its mushroom-fueled umami flavors, cut by a persistent herbiness while the use of cheese added to the lushness of the pastry.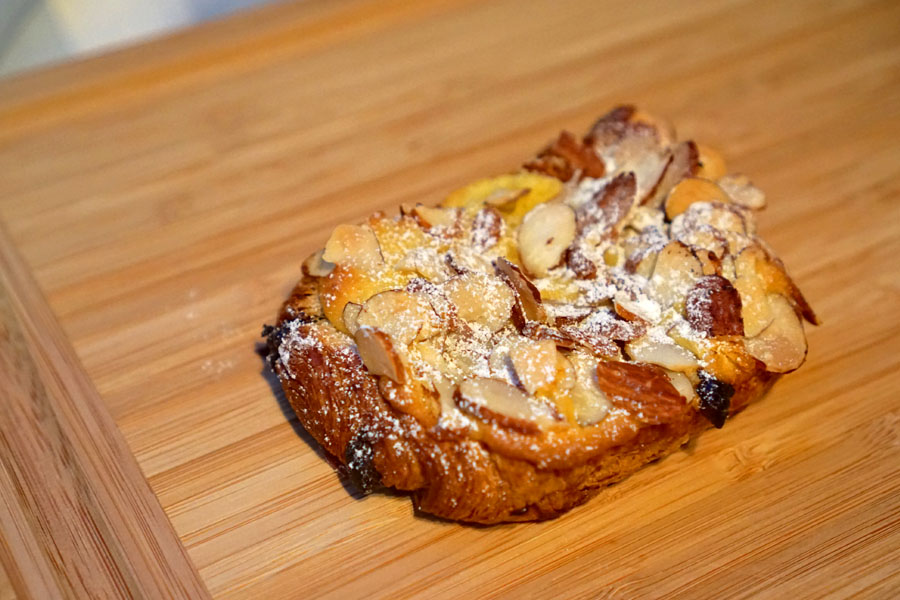 Frangipane Croissant [$4.00]
A flaky croissant served as a proper base for a marriage of sugary frangipane and slivered almonds.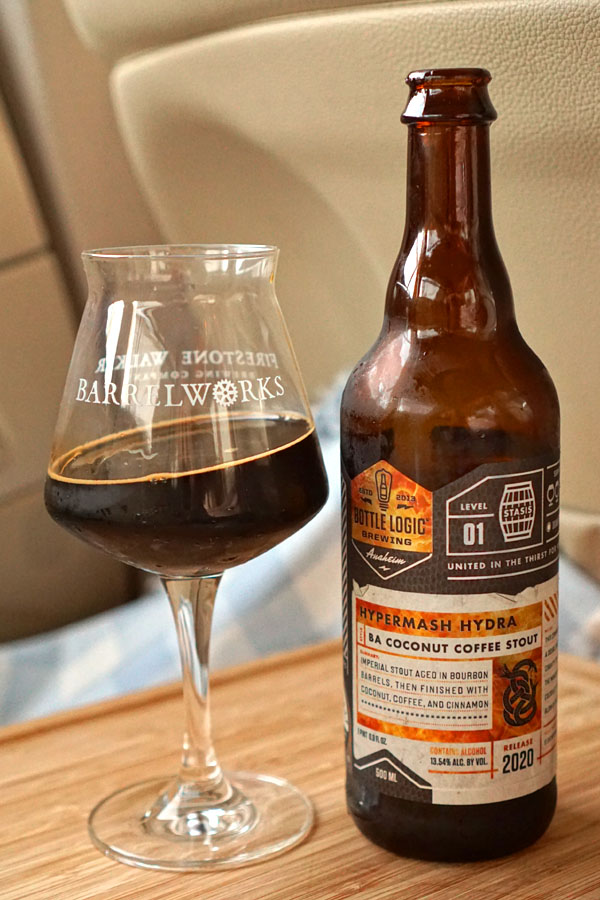 To pair with dessert, I opted for the
2020 Bottle Logic Hypermash Hydra
, an imperial stout aged for a year in bourbon barrels, then finished with coconut, Colombia Patroness coffee, and Saigon cinnamon. This smelled pretty amazing thanks to its massive amounts of intense coconut, backed up by waves of rich fudge. What struck me the most, though, was clearly the sheer thickness of the beer; in fact, it might've been the most viscous I've ever had. In terms of taste, think of a decadent coconut brownie at first, but with the astringency of the coffee coming in later, along with a slight heat, though surprisingly little cinnamon. I can understand why a lot of people are calling this Bottle Logic's best beer ever.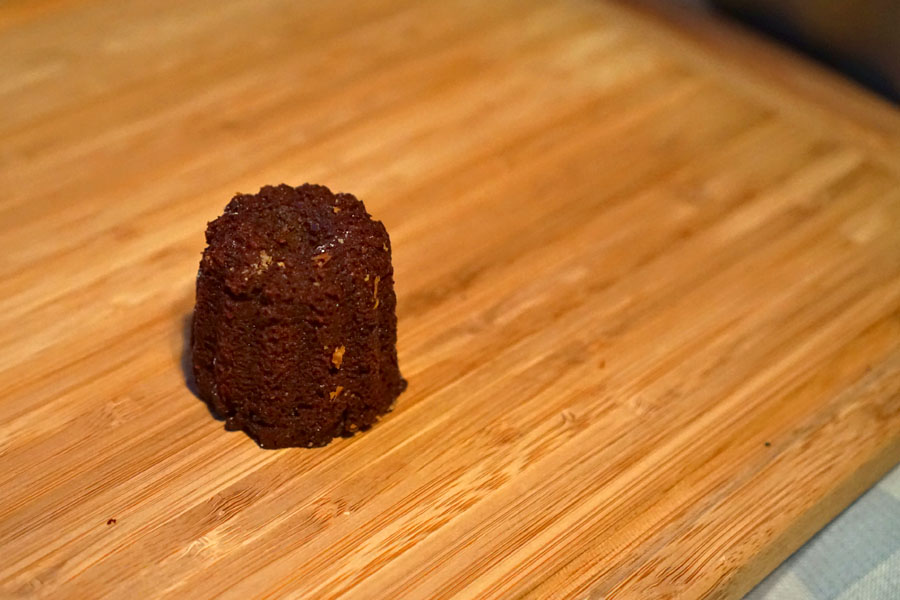 Chocolate Financier [$3.00]
No this wasn't a canelé, but rather a financier baked in a canelé mold. Despite the unexpected shape, this was all about classic chocolate flavors.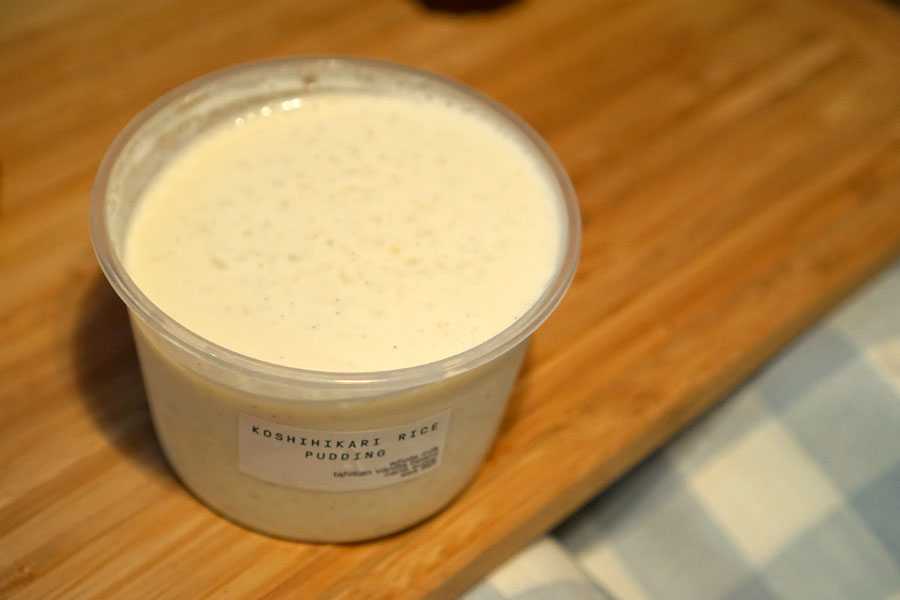 Koshihikari Rice Pudding [$7.00]
| whole milk, tahitian vanilla beans, cane sugar, sea salt
I also got some rice pudding, and I have to say that this was the most lactic example I've ever had. I found it almost cheesy at first blush, but this quickly gave way to flavors of sweet, fragrant vanilla.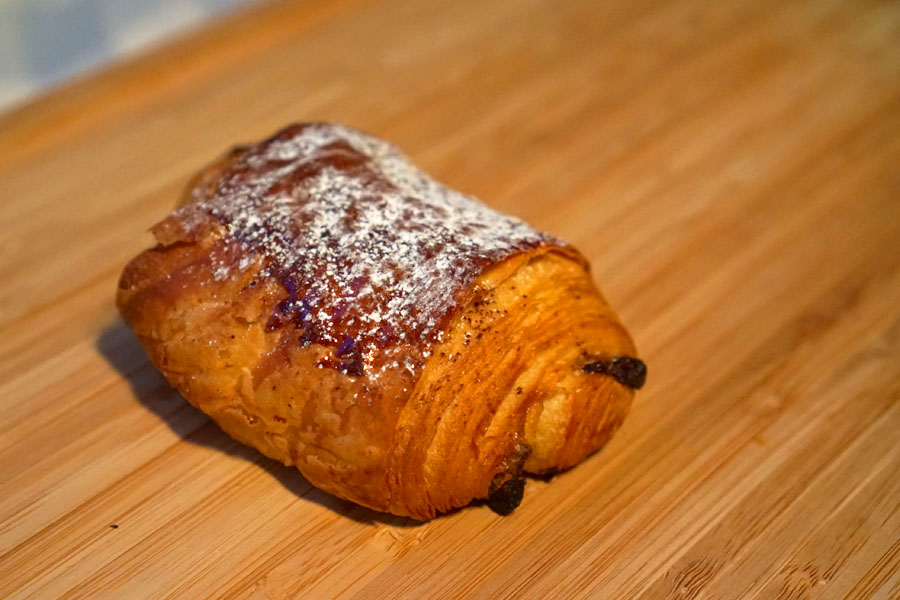 Pain Au Chocolat [$4.75]
Last up was the chocolate croissant, a supple but flaky example with the chocolate very seamlessly integrated (compared to the more distinct pieces found at
Konbi
).
Now I certainly wish I could've tried more of Destroyer's plated dishes, but what I did have was pretty impressive. The food is just approachable enough. It's cerebral, sure, but also somehow comforting--a bit subversive, yet satisfying I'll say. Hopefully I can return once this whole coronavirus situation passes.